Website design for
Sea therapeutics
Re-designed Sea therapeutics' website to be cleaner and with a clearer message.
The task
Sea Therapeutics is a holistic health brand, focusing on gut health and skin care. The previous website, built on Squarespace, needed a refresh. This project was focusing on modernising the website and creating a clearer message of what Sea therapeutics stands for and what it has to offer. The main focus was on redesigning the subscription page and make it clearer, in order to get more subscribers.
Who is the user?
To start with I wanted to know who the typical user is and why they are visiting the website. I wanted to answer the following questions:
Who is the user and what's their characteristics and needs?


What underlying need is met when the users visits the website?


What motivates the user to visit the website, and what makes the user come back?
I went through these questions together with the company. By answering these questions I could take notes on what the website should highlight on and how.
Wireframe
When I had a clear idea of what the website should highlight on, I started to create wireframes on Figma. This helped me to decide which interface pattern to use.
Style guide
My next step was to create a mood board in order to know which feeling the new design should bring. Since Sea therapeutics are taking inspiration from the sea and using natural remedies, I wanted to create a sea-inspired environment with an earthy and warm feeling. The mood board helped me to set the style guide.
Finished design
After my wireframes and style guide, I moved on to high-fidelity. I used new typography, interface patterns, colors and buttons. Here are the final designs.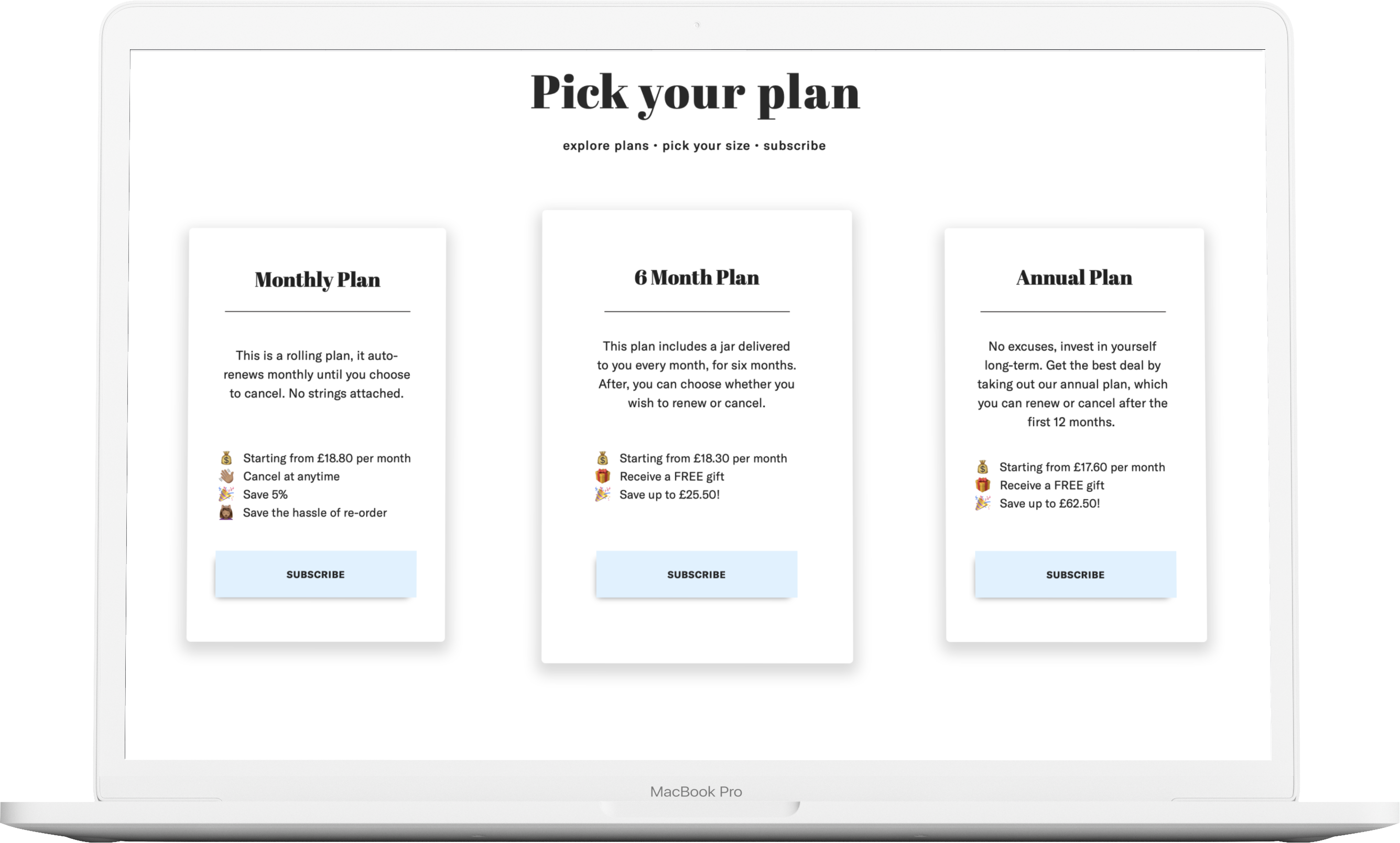 The outcome of the redesign
As mentioned earlier, one of Sea therapeutics main goals was to make the information on the subscription page more clear and easy to understand, in order to get more subscribers. The redesign helped the company gain 250% growth in subscription customers.
2x
increase in returning visitors
250%
increase in subscriptions
4x
increase in user interactions
What I've learned from this project
This project has taught me the importance of using the right interface patterns in order to make the site more user friendly, but also to highlight the right information. The new site is clean and modern, and draws attention to the most important parts of the website. By seeing the after effects, we succeeded with our goal to gain more subscribers. I always enjoy working on landing pages, so this was naturally a fun project to work on.