GREENCEPTION
Motivating students to make more sustainable choices using gamification and co-design
OVERVIEW
This project was started as an initiative by Linneus University and their work towards their sustainability goals Agenda 2030, set by the Swedish government. This goal permeates tall operations at the university and affects what they teach and how they work. In this project we were given a the task to create an application to visualize the effect our actions have on the climate.

Team: 5 UX/UI designers

Duration: 2 months

Tools: Figma, Photoshop, Illustrator, Blender, Zoom
CHALLENGE
The university can only measure a part of their operations (as CO2 emissions in certain areas) and lacks information about students attitudes towards sustainability. We wanted to fill this gap and involve students in the data by making them our target group and involving them in the design process. This project involved several participatory design and co-design methods for UX research.
GOAL
To influence students attitudes towards the climate and motivate them to make more sustainable choices. BRAINSTORMING
To make more sense of our problem and to have a starting ground the design team started the project by conducting a brainstorming session. In this session we used three questions as starting points:
How can I impact the environment?

How can climate issues make people feel?

How can I help others to become more interested in the environment?
After the group discussion we categorized our answers in to general themes to get a better picture of the potential problems we were facing. Our answers and themes were then used as a guide to how we conducted the future workshop.
COMPETETIVE ANALYSIS
For our competitive analysis we looked at 8 different applications that are used today to measure peoples sustainable or carbon footprint. The applications were analyzed by which functions they had, what thet measured, how they presented data and the general look and feel of them. The findings of the analysis also impacted what we wanted to find out when involving the users.

FUTURE WORKSHOP
To involve two of our user groups, university students and high school (gymnasium) students we conducted 2 separate future workshops. The goal was to:
Understand how the users felt about sustainability and the climate today and why

What actions they take to be more sustainable

What they wish they did

What would motivate them to make more sustainable choices
THEMES & HIGHLIGHTS
From the workshops we analysed the data into categories of what the users were mainly interested in.
Food: Reducing food waste, choosing food with less climate impact, eating more vegetarian food

Transportation: Reducing traveling by car, traveling by public transport

Recycling & consumption: Reuse bags for shopping, shop second hand

Knowledge & Education: Learn more about what is sustainable, impact others to live more sustainably, communicate more positive climate news

Competition/gamification: Competing with friends would motivate more sustainable choices, see clear progress of actions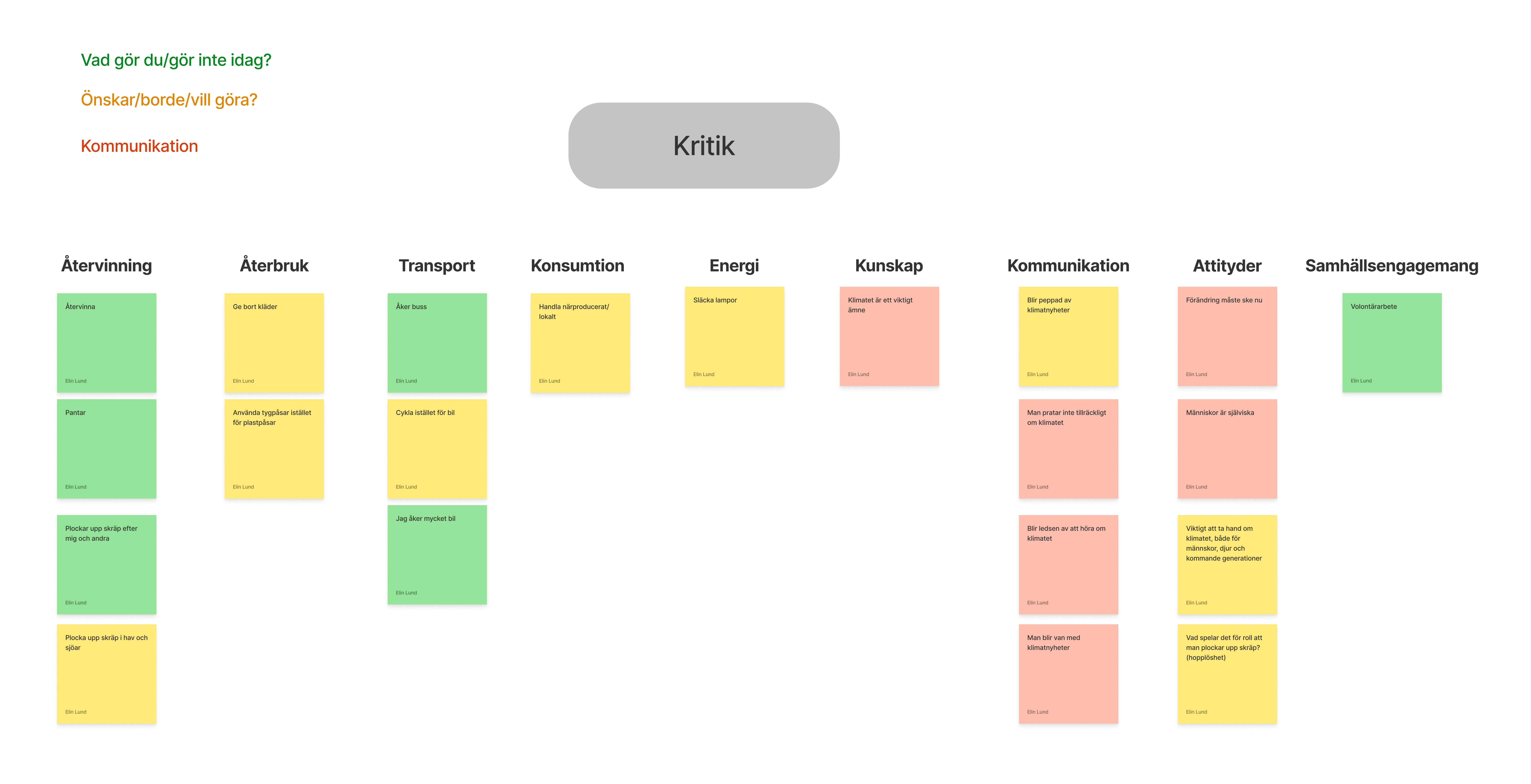 FOCUS GROUP
To involve the stakeholders of the project, Linneus University, we held a focus group together with two representatives from the university that were sustainability coordinators. In this way we could ask questions and start conversations about what the university does today and what kind of knowledge or data they wished they had.
Insights
They don't have access to data from students

The university can't actively tell students what they can or can't do (eg. How to travel to and from campus)

Would like to get a better understanding of students attitudes towards sustainability
FUNCTIONAL ANALYSIS
After our initial discovery phase we conducted a functional analysis with the purpose of compiling our data into actual functions. From the collected data we created different categories of functions we wanted to include in the app. These were:
Startpage with progress & summary

Information & tips

Quiz

Competition & community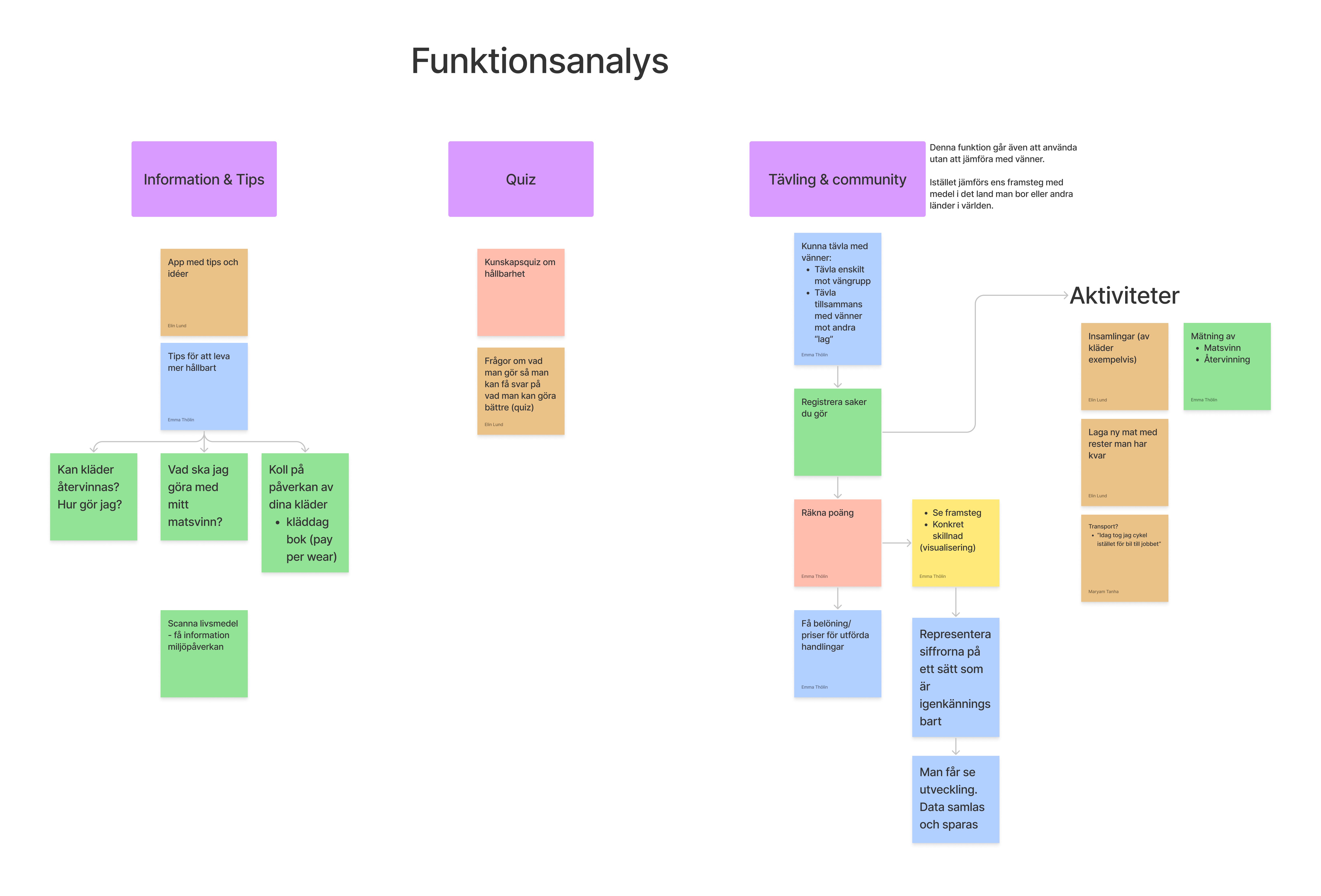 SKETCHES
To involve our users more in the process we conducted a brainstorming session where the users got to sketch their ideas of how the interface could look and how they wanted the data to be visualised.
They participants were given three different concepts to sketch:
Start page

Progress page

Comparison/competition page
SITEMAP
After having the sketches we began to write a list of functions that we considered necessary, this list was later used to create a sitemap. Our sitemap gave us a better overview of the pages that needed to be created and the features on each page.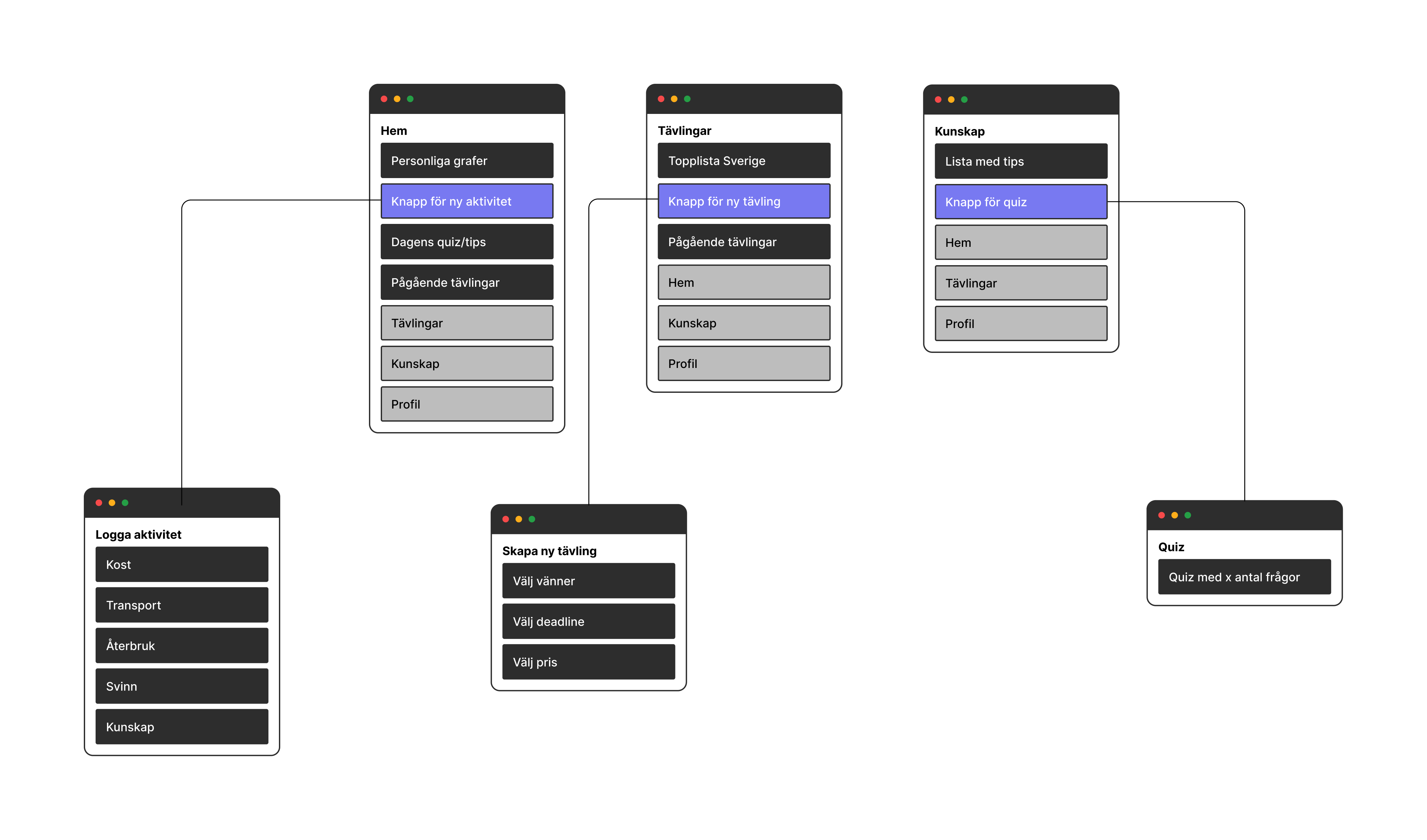 WIREFRAME
When we had a clear idea of which functions to focus on we digitised them into wireframes created on Figma. The wireframes were very influenced by the users' sketches, but also influenced by the design teams ideas.

Two people in the design team created their own version of the wireframe. These versions were then compared and combined to a common wireframe based on the best ideas on each version.
INTERACTIVE PROTOTYPE
Later on in the process we moved up to a higher level of fidelity by working on the style guide and interactivity through Figma. Since the content was information heavy, we wanted the interface to have a playful design with a clear structure to simplify the user experience, to do so we paired a round, more playful font with a simple and minimal sans-serif font. Additionally we added soft color tones and emojis to create a fun experience.

USABILITY TESTING
To test our prototype we conducted two different usability tests. During the tests the users followed a use case with different tasks. We used the method "Thinking aloud" which meant that the user talked through their actions and thoughts. The test was followed up by some questions about how the user felt using the interface.
User test 1
During the first test the users gave us feedback about what was good and what could improve. The feedback was then made into a list of things to change about the interface and products:
Create a clear and simple instruction for the physical products

Make the list for "log activities" more customizable with more options

Clarify how points are earned in the competitions

Make the diagrams more interactive
These changes were made before the second user test.
User test 2
In the second test the users followed a new use case with tasks adapted to the feedback and changes made. After the completion of the use case the users filled in a System Usability Scale (SUS) to evaluate the usability of the app. The score of the SUS 83,1 which is considered an excellent result. This score must be taken with caution since there were only four participants conducting the test.
WHAT I'VE LEARNED
Since this was a school project the main goal was to conduct user research and work with participatory design methods. This concept could definitely be developed further and would need a lot more work to actually be implemented.
In this project I have learnt to plan and conduct UX research in the form of workshops, usability testing and other co-design activities. I have also understood the importance of an iterative process and to conduct user tests early in the process in order to identify pain points quickly.