Brittany Bellanca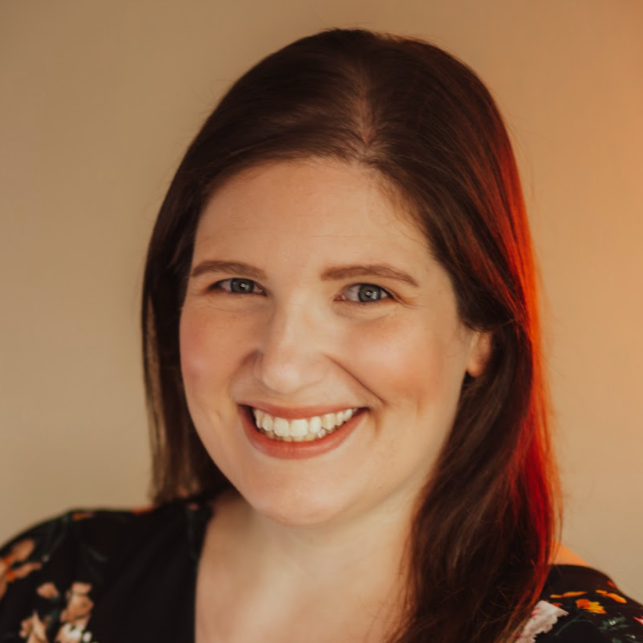 Brittany Bellanca
Product Designer | UX Strategist
Hey there! I'm an experienced Product Designer who enjoys creating intuitive visual interfaces and interactive experiences with multi-disciplinary teams.
Designing a tool to capture and share essential information
Standardization of the client onboarding process to optimize cross-team communication
Existing State
As our client base quickly grew, it became apparent that early client touch points lacked a unified approach leading to inconsistent information collection.
The Goal
To build a solution that would standardize and streamline the client onboarding process, making the experience more effective for all involved
Highlighted Skills
User research, need validation, feature prioritization, iterative prototyping, usability testing, platform integration, process optimization
Popmenu creates easy-to-use restaurant technology solutions that empower restaurant owners to take charge of their online presence.
Products include customized websites, interactive menus, and controllable reviews that aim to attract and engage guests, drive more transactions, and build long-term loyalty.
Onboarding Managers
A client's point of contact while their platform is being set up; included menus, photography, website launch & more
Website Designers
Contractors who specialized in both design & HTML/CSS coding; multiple designers may contribute to a single site
Popmenu Clients
Traditionally restaurant owners or managers, or occasionally, marketing & social media professionals
Capturing information from new clients was a critical first step.
When a restaurant becomes a client, a 30 minute introductory call was scheduled with an Onboarding Manager to collect essential information about the business like their locations, hours, and domain credentials.
However, new clients were very excited...and they talked...a lot. Additionally, clients were very busy and it was difficult to get them back on the phone later; if they were willingly giving extra information, it was critical to capture it as soon as possible.
So, onboarding calls would consistently last 45 to 60 minutes.
But sometimes, the information collected wasn't quite right.
Even though Onboarding Managers delivered every bit of information that a new client shared, sometimes it still wasn't the information that Website Designers needed to complete a strong initial build.
So, the Designer would need to request the information they needed from the Onboarding Manager, and the Onboarding Manager would ask the client. If we skipped these conversations, Website Designers had to guess at what the client wanted.
Without conversations, we saw frustrated responses from clients as their website preview did not meet their expectations.

Growth Stage Startup
Fall 2020 • The Popmenu team is just starting to expand and bringing new team mates on means we need to standardize processes.
Self-initiated Side Project
I noticed a gap during the Client Onboarding process so I explored the situation and prototyped solutions in the background of my primary tasks.
Fully Remote Team
I collaborated with Onboarding Managers and Website Designers, and later with a Product Manager, Product Designer, and several Engineers.
What information needs to be shared for website previews to be considered successful?
I interviewed Onboarding Managers and Website Designers to more deeply understand their experience and perspective in how they contribute to impactful website previews. I also reviewed a random selection of client emails and calls from various stages of the onboarding journey to gather their point of view.
I used Affinity Mapping to organize and analyze the data reported as "essential for success" by all users. Five core groups were revealed: Location, Menus, Images, Pages, and Site Styles.
Insight: Working with those impacted by any proposed solution was a great way to earn buy-in and trust early on.
Iterative prototyping and rounds of feedback inspired solution design.
I created quick prototypes and sought feedback from Onboarding Managers, Website Designers, and their leaders to mold this solution into one that benefited all parties.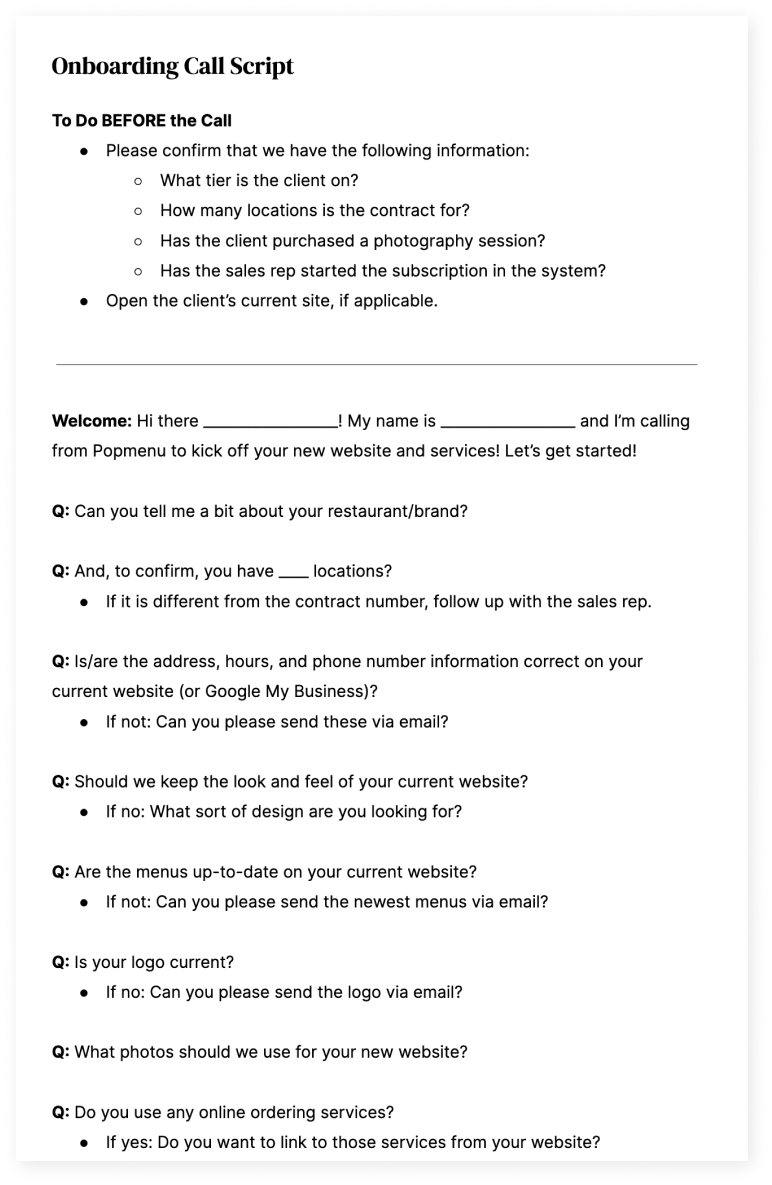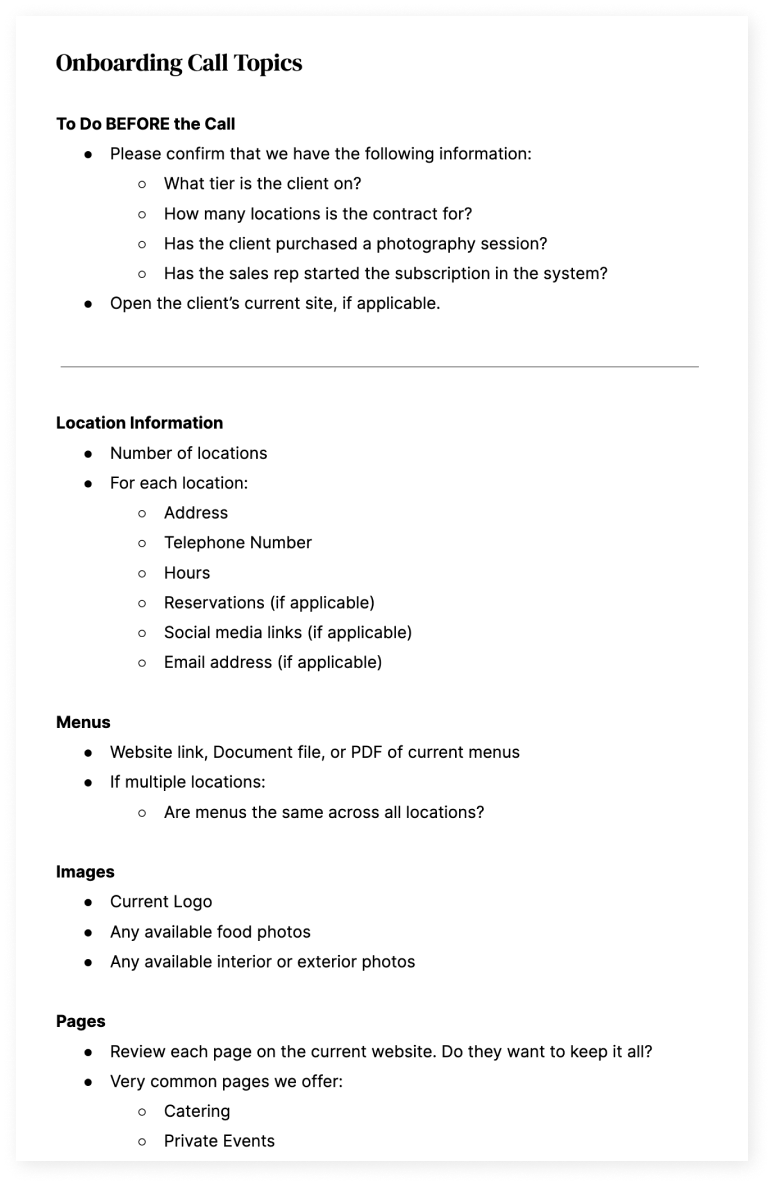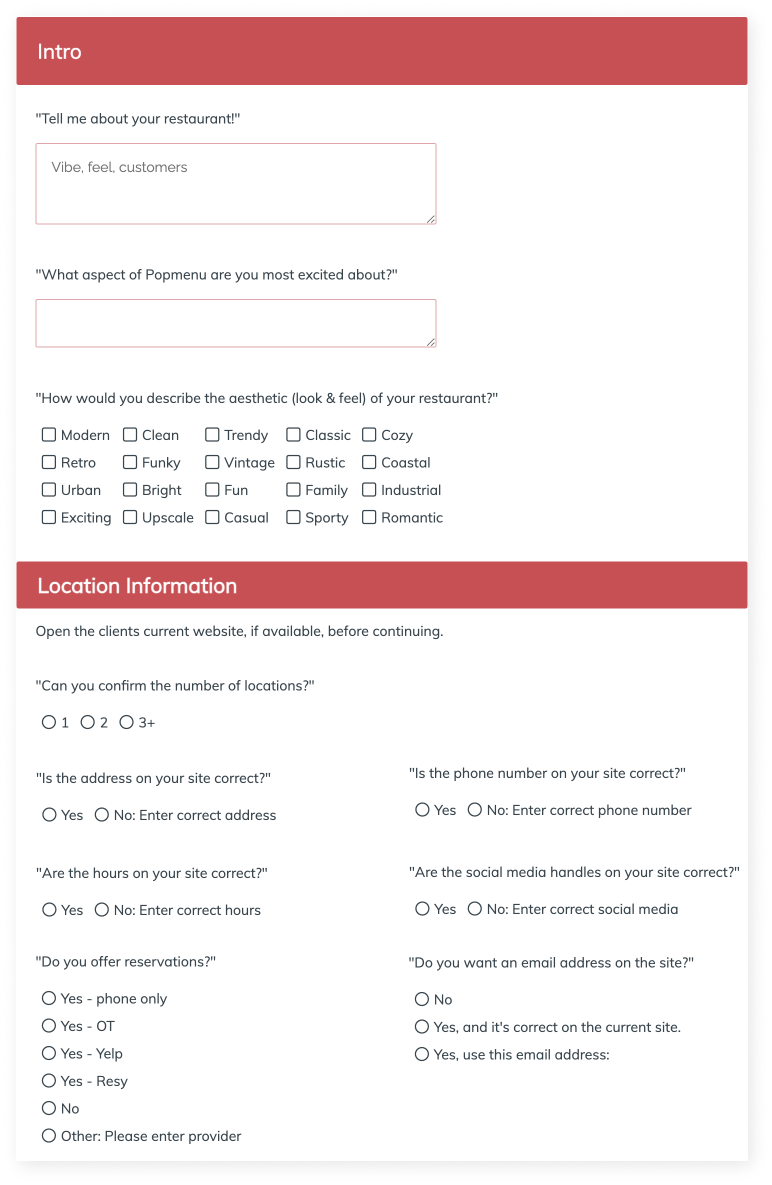 First Iteration
I decided to take a very old school, but also cost-effective, approach for version one - a Google document! The thought was that Onboarding Managers could use this document as sort of a "script" to ensure they collected essential information from the new client during their initial onboarding call.
Feedback
Onboarding Managers shared constructive feedback that consisted of both positive remarks on the document's potential and critical comments regarding how systematic it felt. They expressed concern that they wouldn't feel like they could be personable selves if they were reading a script.
Second Iteration
The second iteration was set up to prompt the Onboarding Managers memories. With all extra conversational aspects removed, the Onboarding Manager could rearrange the order of questions in a way that worked for them and simply type in the answers they received from the client during the call.
Feedback
While Onboarding Managers liked the idea of customizing the way the collected info, they did not like this iteration. They believed it would be overwhelmingly difficult to have authentic conversation with the client AND type up meaningful answers for the Website Designers to use during the build.
Third Iteration
For the next iteration, I tried using a web form to display questions and collect answers. With this, I could include methods of answering beyond basic typing inputs. So, I incorporated new fields like checkboxes and drop downs while grouping form content into the five groups identified earlier.
Feedback
The Onboarding Managers were super excited by this prototype! They loved the way the questions with suggested answers should reduce the amount of typing. And, they felt it was flexible enough to complete in an order that worked for each client. And, Onboarding Managers were eager to test this out!
It was important that Onboarding Managers felt comfortable using this form with clients.
I listened in on a few client calls with different Onboarding Managers while they used the form. I too filled out a form for the client during the call, then I compared the responses from each looking for consistency.
As Onboarding Managers used the form, they continued sharing feedback. After processing, I would make a few tweaks and check back in after another few calls.
Follow up conversations ensured questions stayed relevant and client answers provided the right information for successful builds.
I conducted check-ins with users every two weeks. As the Popmenu product grew, I updated the form to include new features and options as they became available.
Onboarding Managers
Expressed a sense of relief knowing that they were collecting such consistent information

Onboarding calls were now averaging 20 to 30 minutes
Popmenu Clients
More frequently expressed joy and excitement with their initial website previews

Began requesting fewer changes prior to their website launching
Website Designers
Completed initial site previews more quickly as they came to expect such consistent information

Made revisions more quickly as there were fewer requested changes
Additional Stakeholders
Excited that new process would create a more consistent experience for all new clients

Believed new process would improve scalability as the Onboarding and Website teams grow

Evolution to Self-Onboarding
The success of our Onboarding Call Form inspired opportunities for increased client self-efficacy.
Leadership was exploring ways to increase client independence within the Popmenu Platform. Driving questions included:
How is sales communicating our offerings to clients? As a software that the clients will use themselves? Or, as a service that will maintain the client's website?

What are the incentives for clients to learn our platform?

How quickly can we get clients in the system?
While we generated many opportunities, my multidisciplinary team decided to pursue the idea that clients could directly input the essential information for website builds themselves.
We redesigned the onboarding experience to shift accountability from our team to our clients.
The quicker the client entered the essential information in the Popmenu Platform, the faster we could turn around their initial website preview.
15 minute Kickoff Call
Upon first contact Onboarding Managers schedule a 15 minute Kickoff Call and invite the client to the Popmenu Platform. During the call, the Onboarding Manager now focuses on making sure the client can access the Popmenu Platform.
Step-by-Step PDF
Onboarding Managers empowered the client and by telling them that Website Designers would begin building the initial website preview WHEN the client finishes filling out and uploading the information we need.
Client Self-Onboarding Flow
Inside of the Platform, the client walks through a Self-Onboarding flow featuring the five categories of information identified during my research: Location, Menus, Images, Pages, and Site Styles.
Meet the Client Where They're At
We saw that clients often maintained their website information in many ways. So, it was important to offer a variety of collection methods to ensure the Platform was not a blocker for success.
A Gentle, Guiding Hand
We leveraged our design expertise to gently guide clients into choosing color styles and designs that looked great and were fast for Website Designers to implement.
Easy for Website Designers
The Platform converted the client's choices, uploads, and notes into an single page that Website Designers could reference while building and customizing the client's initial website preview.
The creation of client self-onboarding had massive impacts throughout the company.
Popmenu wants its customers to know that they are not paying for us to manage their website, but rather for access to a suite of tools and resources that enable them to manage their own website and online presence.
01. Reduced Call Time
Reduced Onboarding Call time from an average range of 30-45 minutes down to a consistent average of 15 minutes
02. Reduced Time-to-Launch
Reduced time-to-launch from an average of eight weeks to three weeks for restaurants with one to five locations
03. Increased Self-Efficacy
Many clients were signing up for their Platform accounts even before their Onboarding Call.
Of those who signed up before their Onboarding Kickoff Call, over 50% completed some or all of the Self-Onboarding flow.
04. New Policies for Increased Scalability
A new policy was drafted (and later implemented) to cap rounds of website revisions based on client's tier of service.
New mentality introduced: Popmenu offers SOFTWARE-as-a-Service empowering clients rather than a managed SERVICE.

Future Product Opportunities
How can we make this process even faster? Can the platform automate next steps without human involvement?

Is there a service where motivated restaurant owners could use our process and system entirely on their own?

Should we ask larger clients to participate in this process? Or do they have a totally separate onboarding process because they are a higher tier of service that includes additional phone calls, site customization, etc.?
Growing as a Product Designer
This project was incredibly energizing. I had begun hitting a point in my current role as the senior-most Website Designer where I wasn't being challenged to grow my skills. But I'm not one to wait for others to bring me learning experiences...I seek them out!
Taking on this project provided an opportunity to apply a distinct set of problem-solving skills focused on prototyping and iterating toward a product solution.
Want to see more?
Explore my portfolio & learn more about my creative process