Foody-Voody
Mobile app for quick meal delivery from local restaurants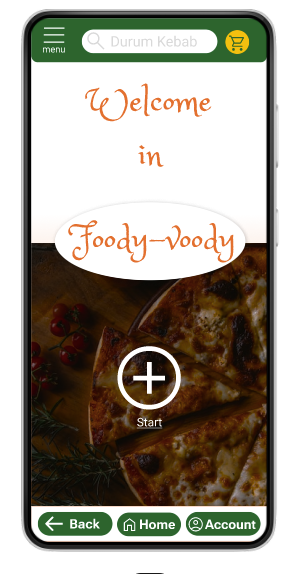 Project overview
The product:
Foody-voody is an app to help people manage food supply from favourite restaurants.
Project duration:
This project took me two months to create this app design
The main problem:
Time pressure, meal planning problems, long lines and lack of free tables at favorite restaurants
The goal:
Improve meal planning, eliminate the need to stand in line, create the possibility of booking tables.
My role in project:
UX Designer, mobile app design from conception to hand off
Responsibilities:
Conducting interviews, solution ideation, paper and digital wireframing, prototyping and usability studies conducting. Accounting accessibility, app design development
User research: Interviews
During the empathize phase of the project, I conducted user interviews to build empathy maps and new personas to inform the design. In 2 days, I recruited and interviewed 5 users remotely. Proper analysis was carried out to understand the problems of users and identify their needs. I referenced the user interview findings throughout the entire design process.
Pain point 1
Lack of time, Want to relax after a day at work
Paint point 2
Standing in lines takes a lot of time.
Pain point 3
Children with whom it is not always convenient to go to a restaurant.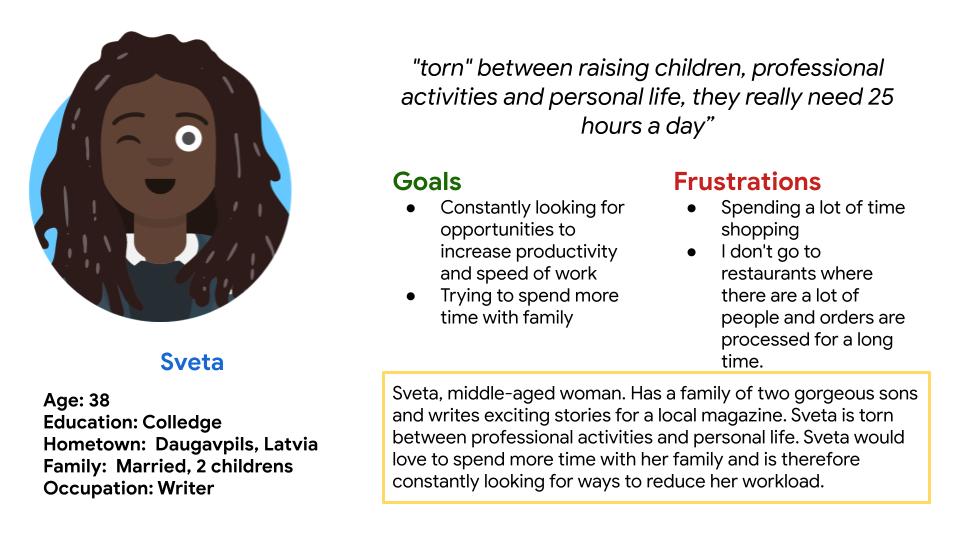 Personas
I wanted to form a deeper understanding of my users' goals, needs, experiences, and behaviors. So, I'm created 2 personas for each of our user segments. They were based on user interviews and surveys, and I kept updating them throughout the project as I gathered more data. I'm used these personas whenever I wanted to step out of ourselves and reconsider my initial ideas.
Problem statement
Sveta is a Middle-aged writer with family who need delegate cooking and house cleaning because she need more time for children and family.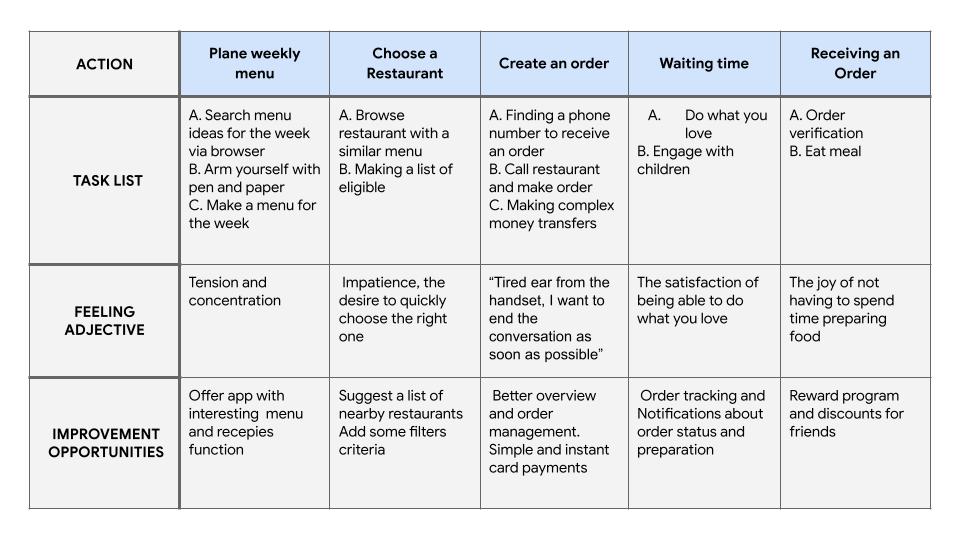 Customer Journey
I'm created a customer journey map to build a better understanding of how customers find and interact with the service and to discover opportunities for improvement. The map revealed many user problems and opportunities at the consideration and loyalty stages of the customer journey. Therefore, I'm paid special attention to these stages during the design process.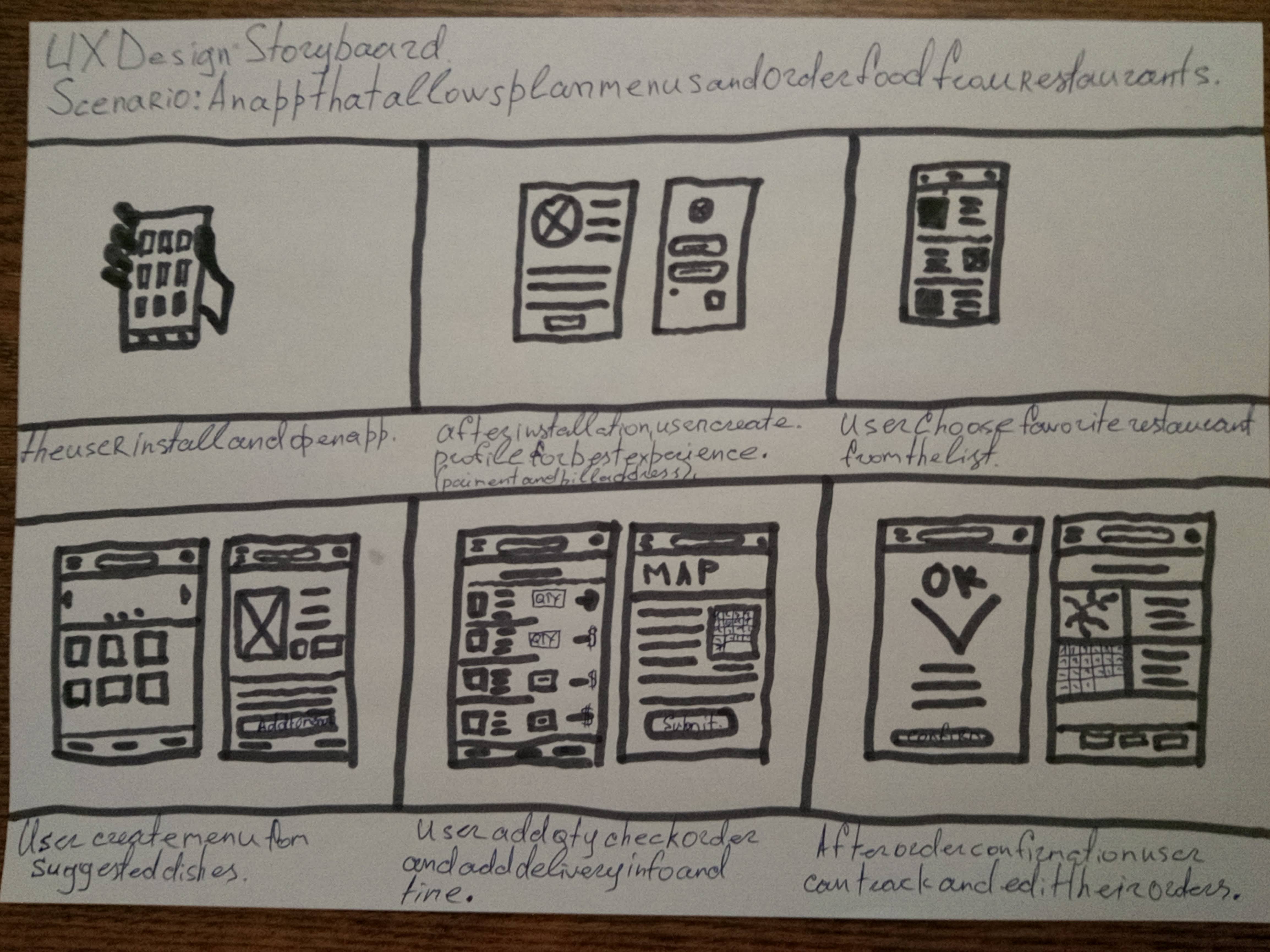 Ideation
Before I started designing wireframes, I did a short design sprint to understand how the design would help the user solve their problem.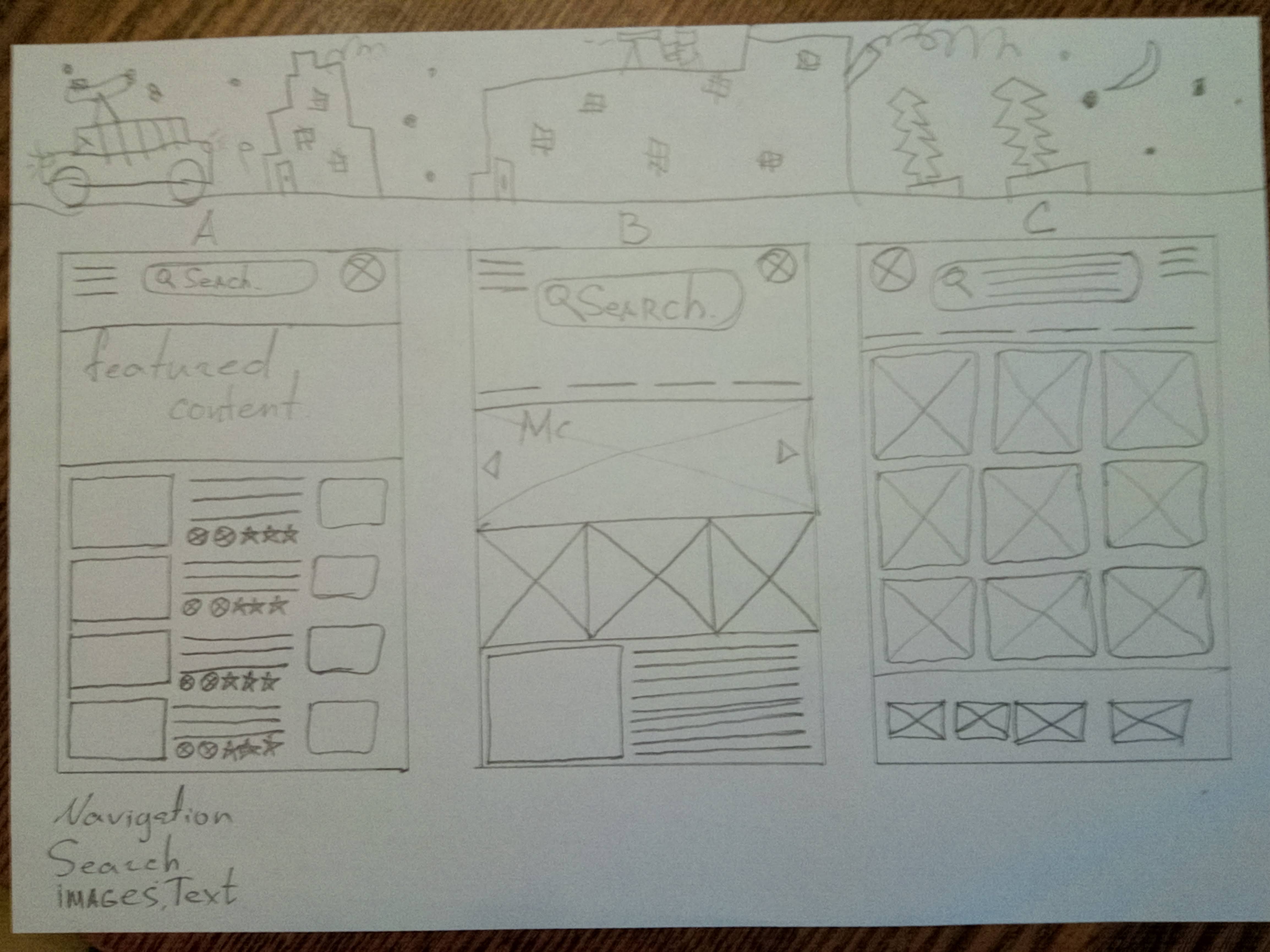 Sketches and Wireframes
After quickly design ideation I'm began the design process with low-fidelity sketches and wireframes to accelerate decision-making through visualization without losing time. My sketches were based on the initial user interviews and the business goal. They each pointed to the fact that there were too many distractions in the flow.
First paper wireframes. I didn't have more time to draw, so my son helped me.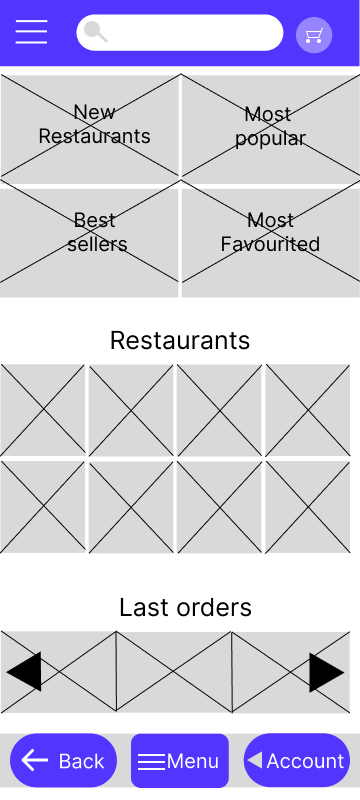 Digital Wireframes
Using Figma, I translated my first paper sketches into low-fidelity wireframes. Then, I improved them by adding a few relevant stock images. At this stage, the wireframes were defined enough for low-fidelity prototype, user testing and conducting first usability study.
Based on 5 tests, I've made a few improvements and moved on to creating high-fidelity prototype.
Usability Testing
I'm conducted two rounds of usability studies. Findings from the first study helped guide the designs from wireframes to mockups. The second study used a hi-fidelity prototype and revealed what aspects of the mockups needed refining.
Round 1 findings
Users had problems with the buttons in the bottom menu

Users had problems with the transition experience from user account to homepage

Users had problems with Integrity of information on order confirmation page
Round 2 findings
Users need Feedback from other users

Users had problem with support and need navigation information

Users need a call to action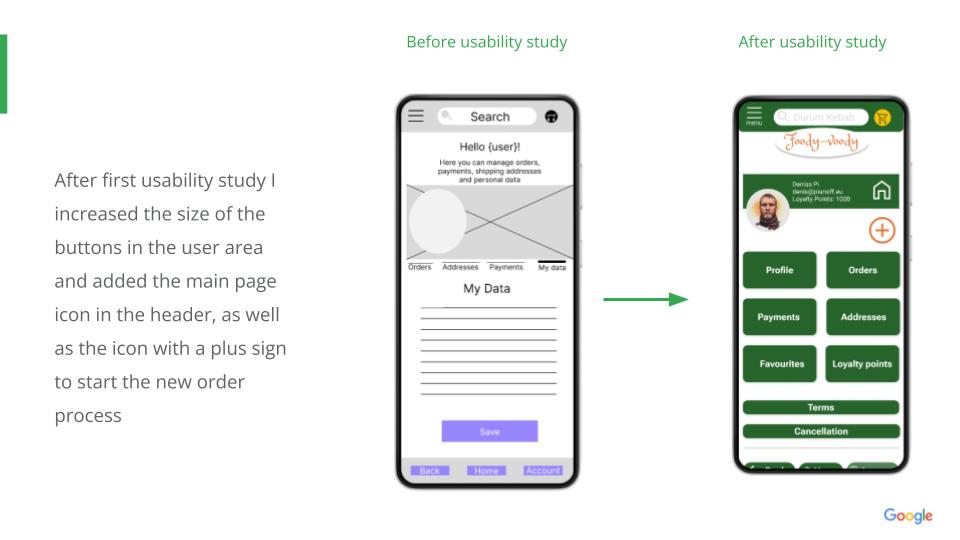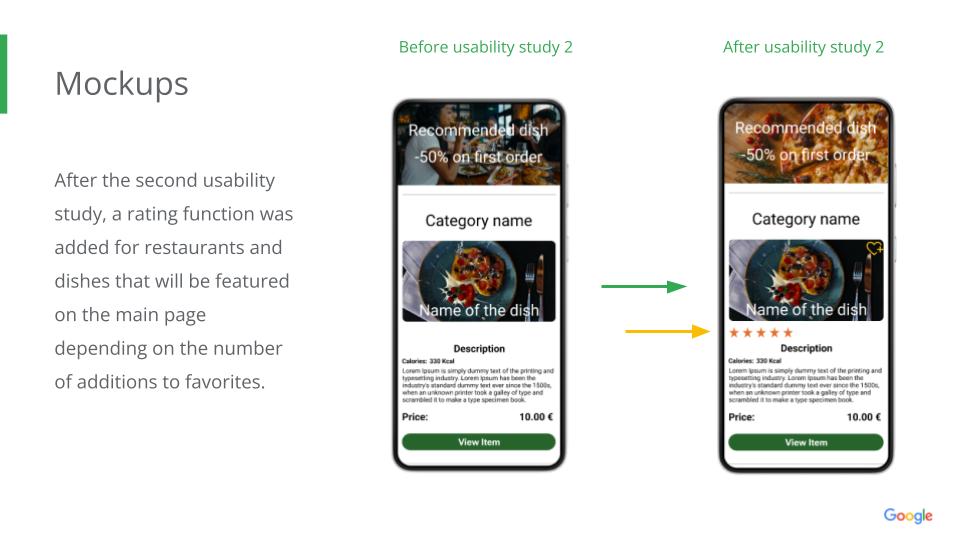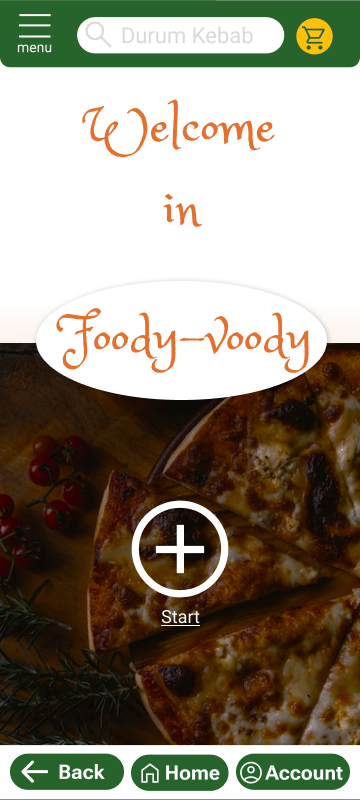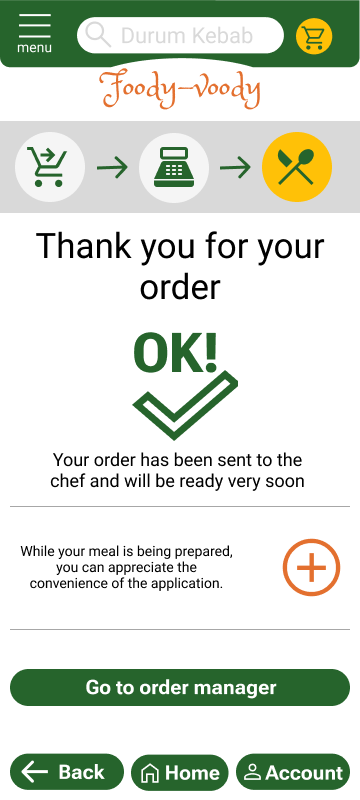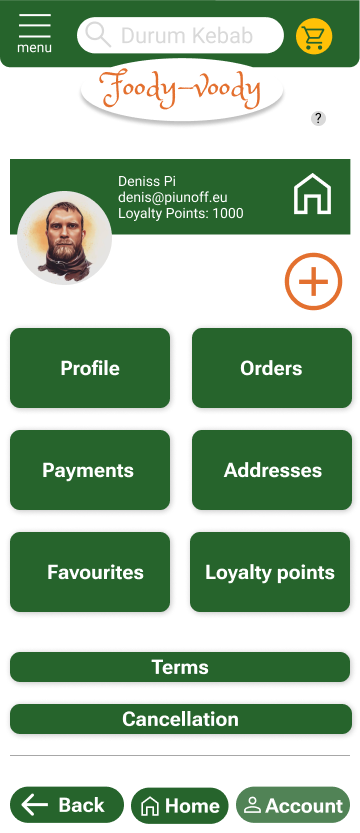 Foody-Voody high-fidelity prototype
The final High-fidelity prototype presented connections all about user account (Main user order management dashboard)
Accessibility considerations
Icons for better and easier navigation

Contrast colors and alt texts for screen readers

Detailed imagery to help all users better understand the design
Takeaways
Impact
Foody-Voody is social oriented app where everyone can find the desired delicacy for themselves, regardless of how much they have in their pocket
What i learned
I learned that usability studies is very important in successfully design process.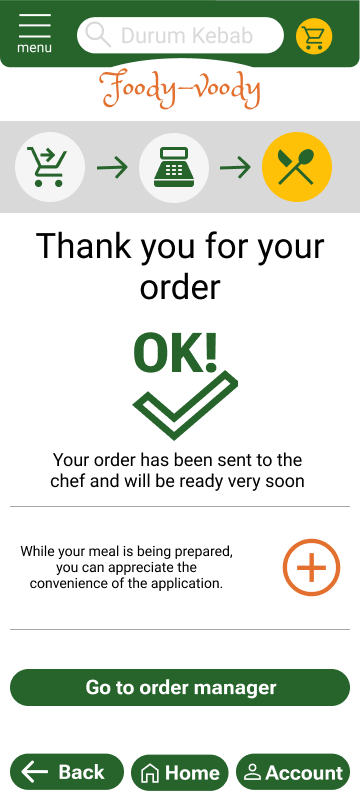 Next steps
Analysis of usage, research, identification of shortcomings and possible improvements in order to improve user experience
Let's connect!
Thank you for reviewing my work on the Foody-Voody app.
If you'd like to see more please contact me.
Web: www.piunoff.eu
Email: denis@piunoff.eu