Boldway
Theatre Assistant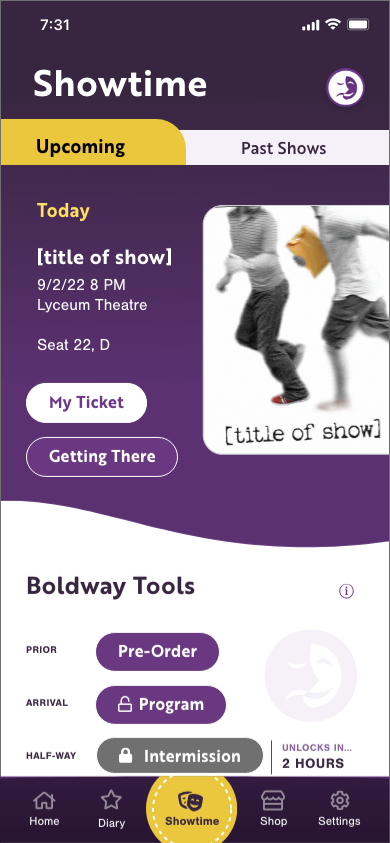 Theatre is my passion. Throughout my life, I've seen over 30+ live productions in local theatre, and on and off Broadway. Boldway is my final thesis for my MPS in UX Design degree at Maryland Institute College of Art (MICA).
Timeline
With some overlap and a total of four months, the project was more or less the following phrases:
Discovery: 8 Weeks

Prototype Build: 7 Weeks

User Testing: 5 Weeks
Roles
For this project, I was the one-person driving force to get Boldway to my audience. I performed the following: UX Researcher, UX Strategist, UX/UI Designer, Interaction Designer and Project Manager.
Tools Utilized
Design: Adobe XD, Adobe Illustrator, Adobe Photoshop, Procreate (iPad)

Project Management: Google Suite, Trello

UX Research: Zoom, Miro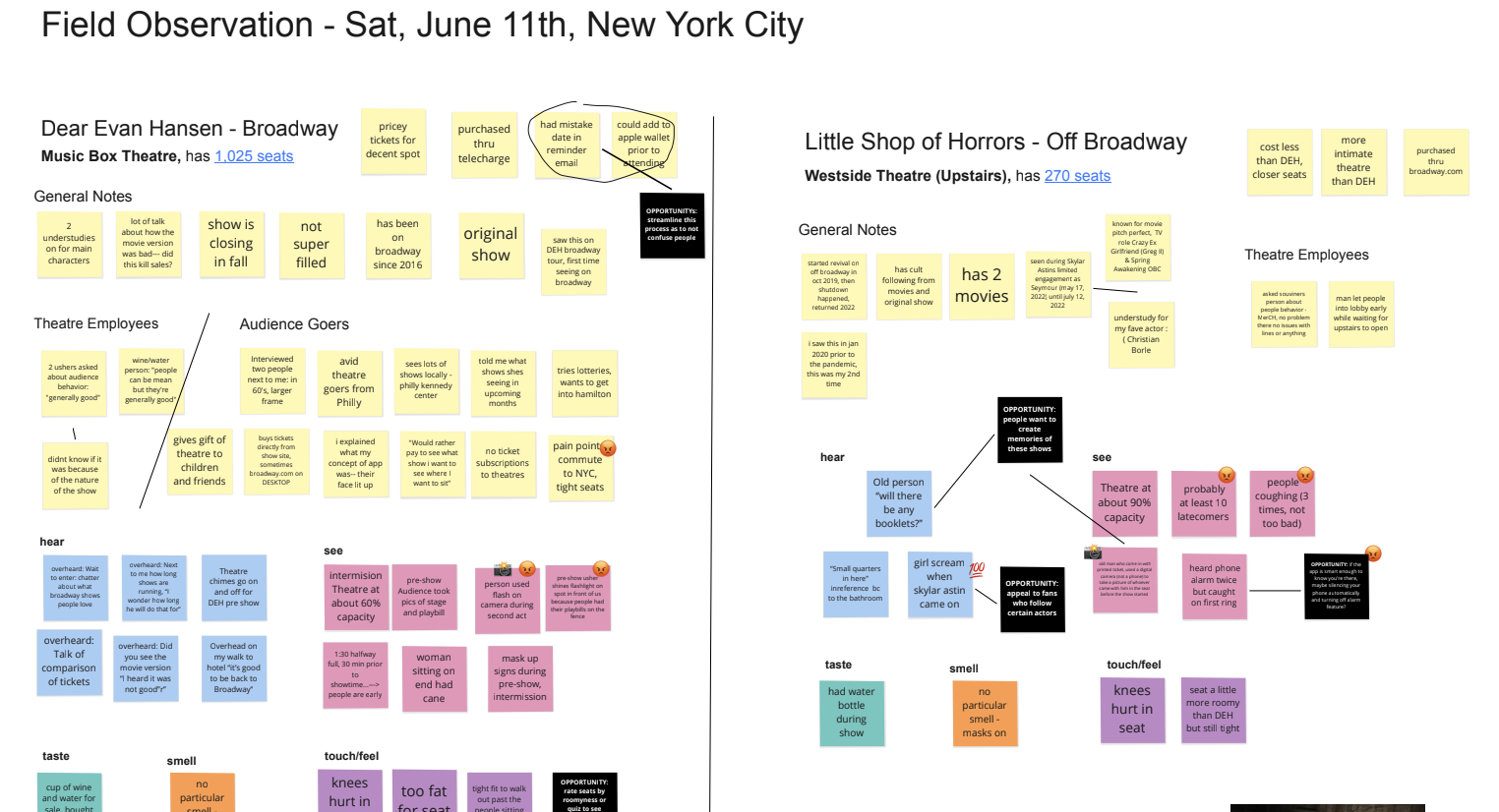 Approach
To fully immerse myself in the world of theatre and gather vital information for this project, I did the following during the discovery phase:
2 initial user interviews

1 Facebook Theatre fan group poll

1 Competitive Analysis Matrix

4 Field Research trips (including field observations of qualitative and quantitative data, a ticket method experiment, photojournalism, and talking to theatre employees/people in the audience)
My target audience is theatre-goers old enough to buy a ticket (18+)
Woes of theatre-goers
Even though theatre has existed for hundreds of years, there are still universal woes of theatre-goers that stay true today. Length of lines, bad audience behavior, ticket buying process, and seating issues.
Joys of theatre-goers
Theatre fans love a sense of community, being able to capture memories to look back on, and people LOVE to talk and bond about a show
Alice, 21
Huge musical theatre fan, follows the theatre community and even sometimes cosplays as musical characters
Pain points: Ticket cost, travel woes
Motivation: Love of theatre, broadway community
Karen, 45
Mother of a child who loves live theatre, and enjoys going with her to spend time together.
Pain points: Bathroom lines, seats are physically too small
Motivations: Her child's love of theatre and quality time
Eddie, 74
He is retired and has a lot of extra time on his hands. He often goes to his local theatre to watch performances because he is a loyal subscriber.
Pain points: Hard to adjust to new technology
Motivation: Wants to fill his time and enjoys watching live-theatre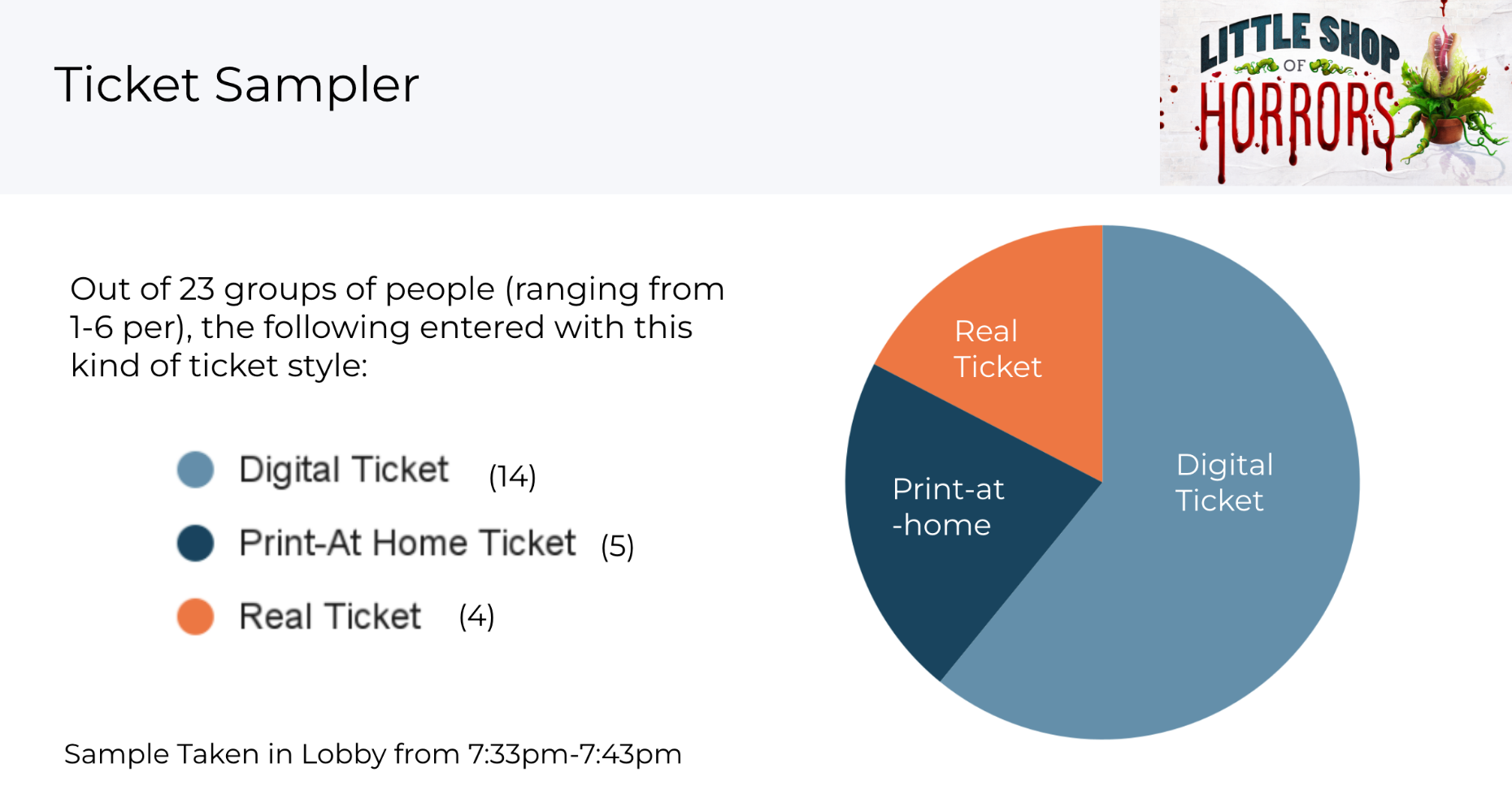 Viability of a Mobile App
While performing field research at Little Shop of Horrors (Off-Broadway) on June 11, 2022. I stood in the lobby for ten minutes while noting down what method-of-entry people used to enter when given the choice. I found that people were mainly using digital tickets from their phones. This proved that, when given the option, users would use their phones over printed tickets or print-at-home tickets.
What exists within the Market?
I performed an extensive competitor analysis, analyzing 14 different applications and websites that existed within the audience theatre-facing space.
What's missing from the market is an application that enhances the theatre-goer's experience for more than just one show. The Hamilton app is a great example of this; it enhances the joys of the Hamilton fandom, but doesn't offer any bonuses for going to the show with the application
Ticket purchasing applications such as Broadway.com and Telecharge, email the tickets to the user after their purchase. There is a drop-off of interaction after the user enters the theatre.
If we could combine that community and passion of theatre-goers with a REAL-time entry application it could make waves in the theatre world.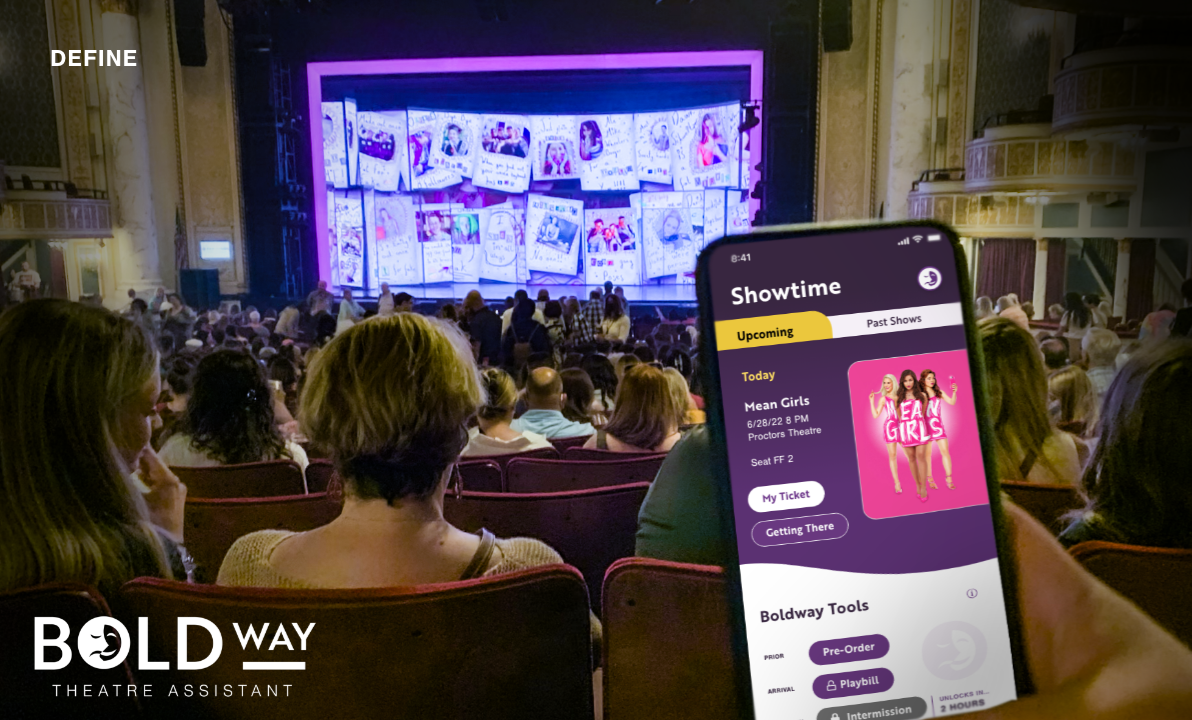 Boldway
My application enhances the joy and addresses the woes of theatre-goers to help put the power of their experience of the show into their own hands.
Boldway consists of two main parts:
1) Showtime: a time-based tool to take with you on your journey of seeing a show
2) Community, Diary, Shop: anytime features that serve to enhance the stickiness of the app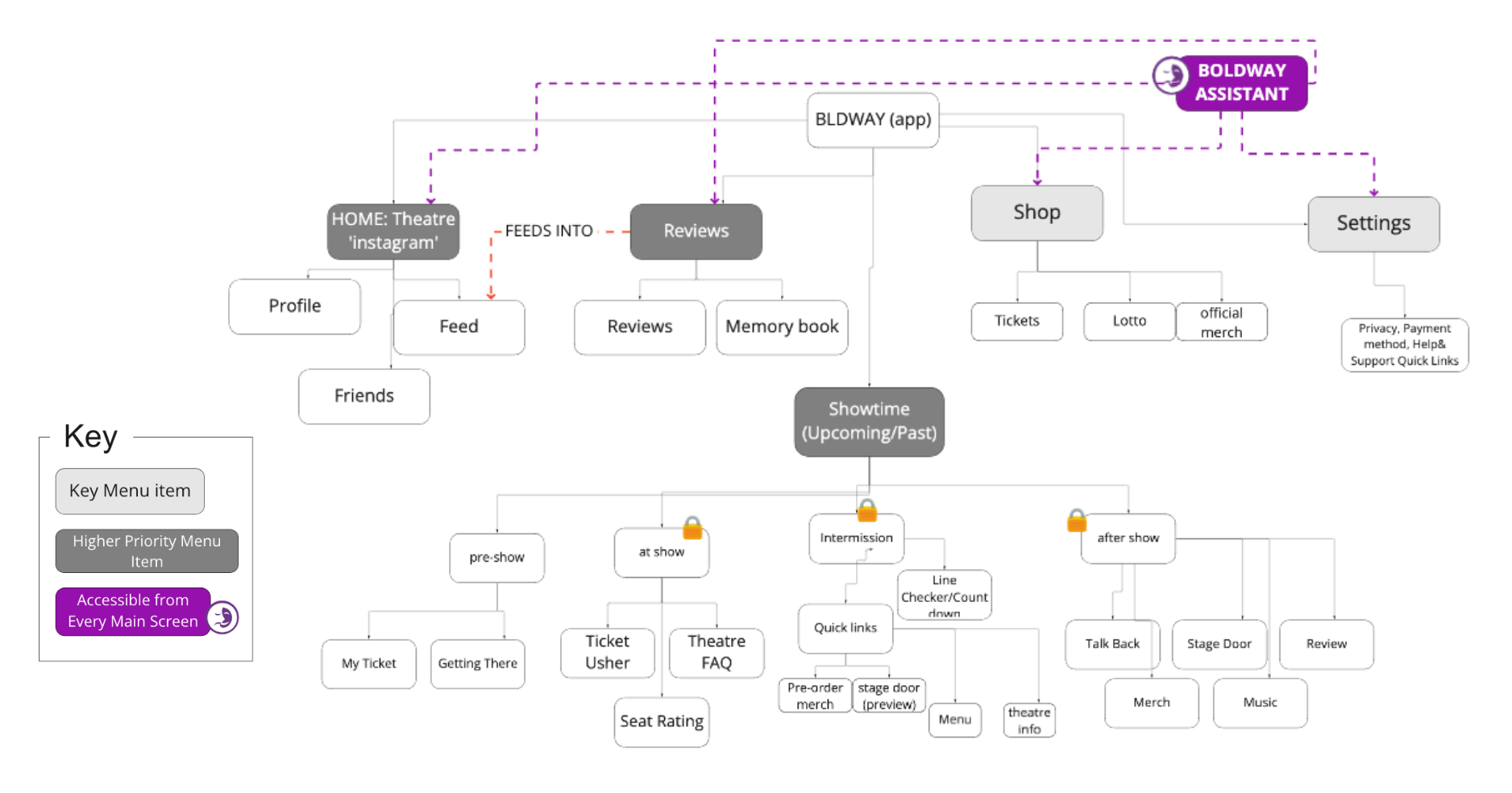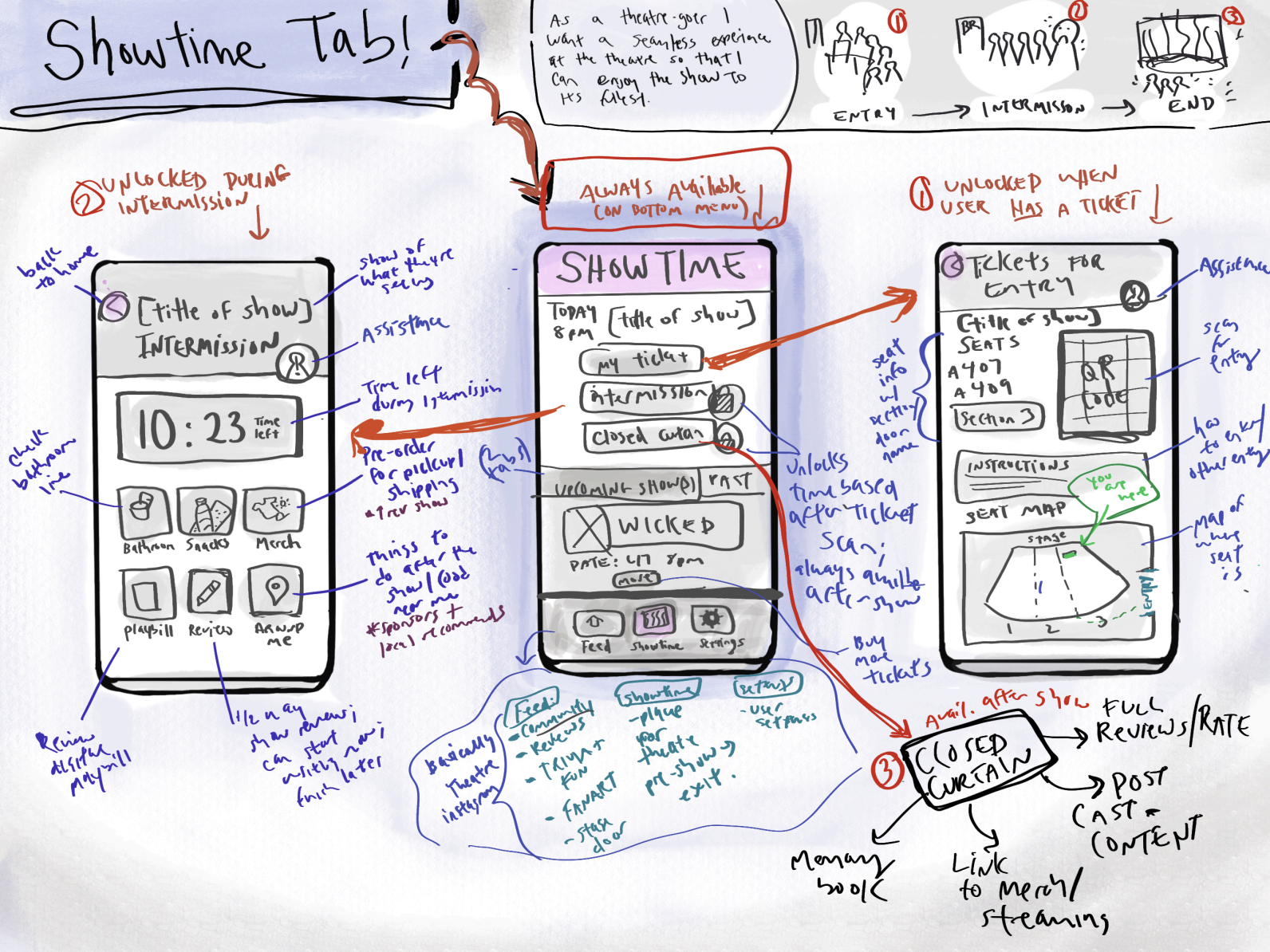 Brainstorm & Sketches
My process involved creating a mind map, crazy 8 sketches, and a more refined sketch of the Showtime feature. I also created an initial information architecture to try to visualize how the app may work.
One of the most helpful steps here was creating storyboards of my personas at the theatre and how they might use Boldway to enhance their experience.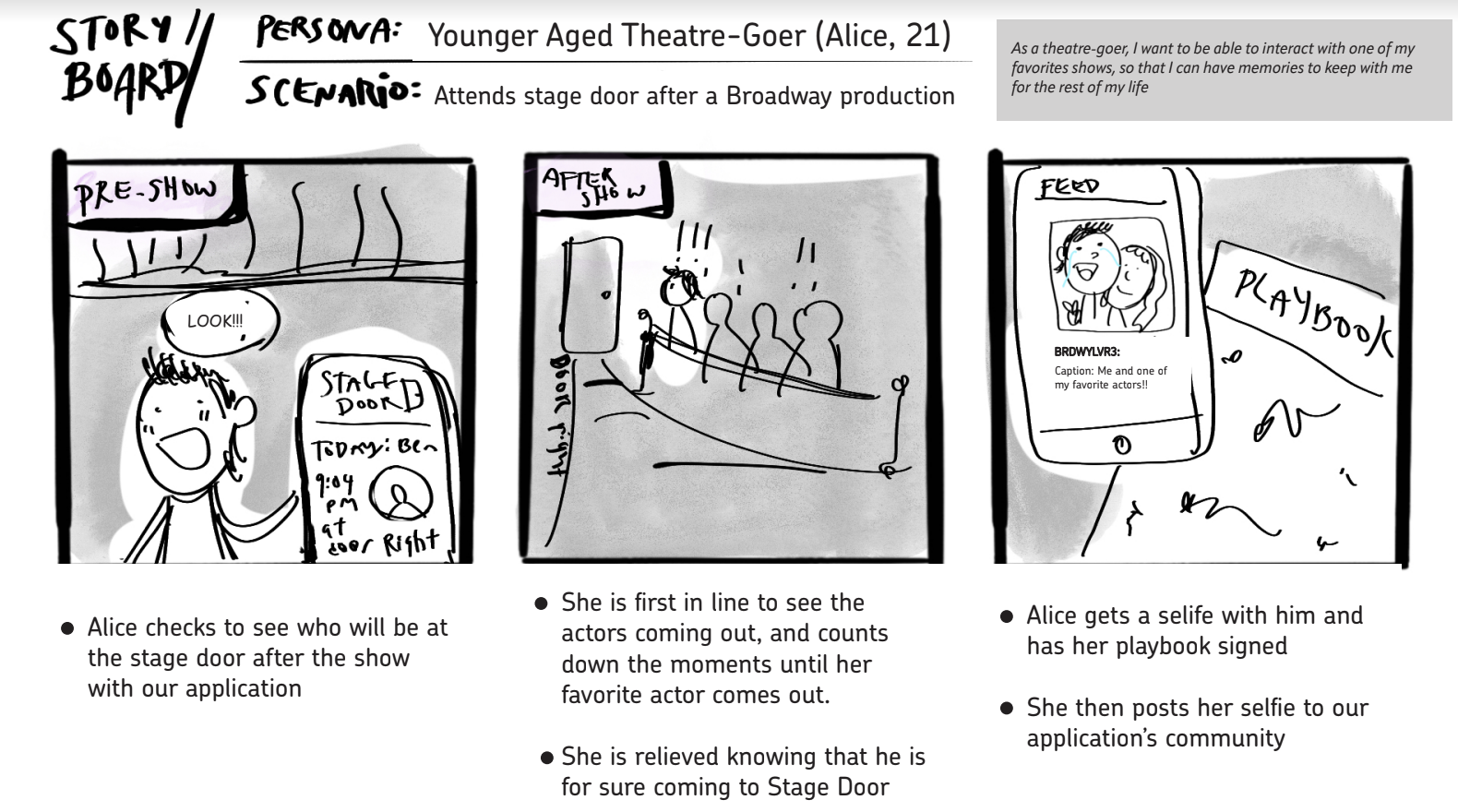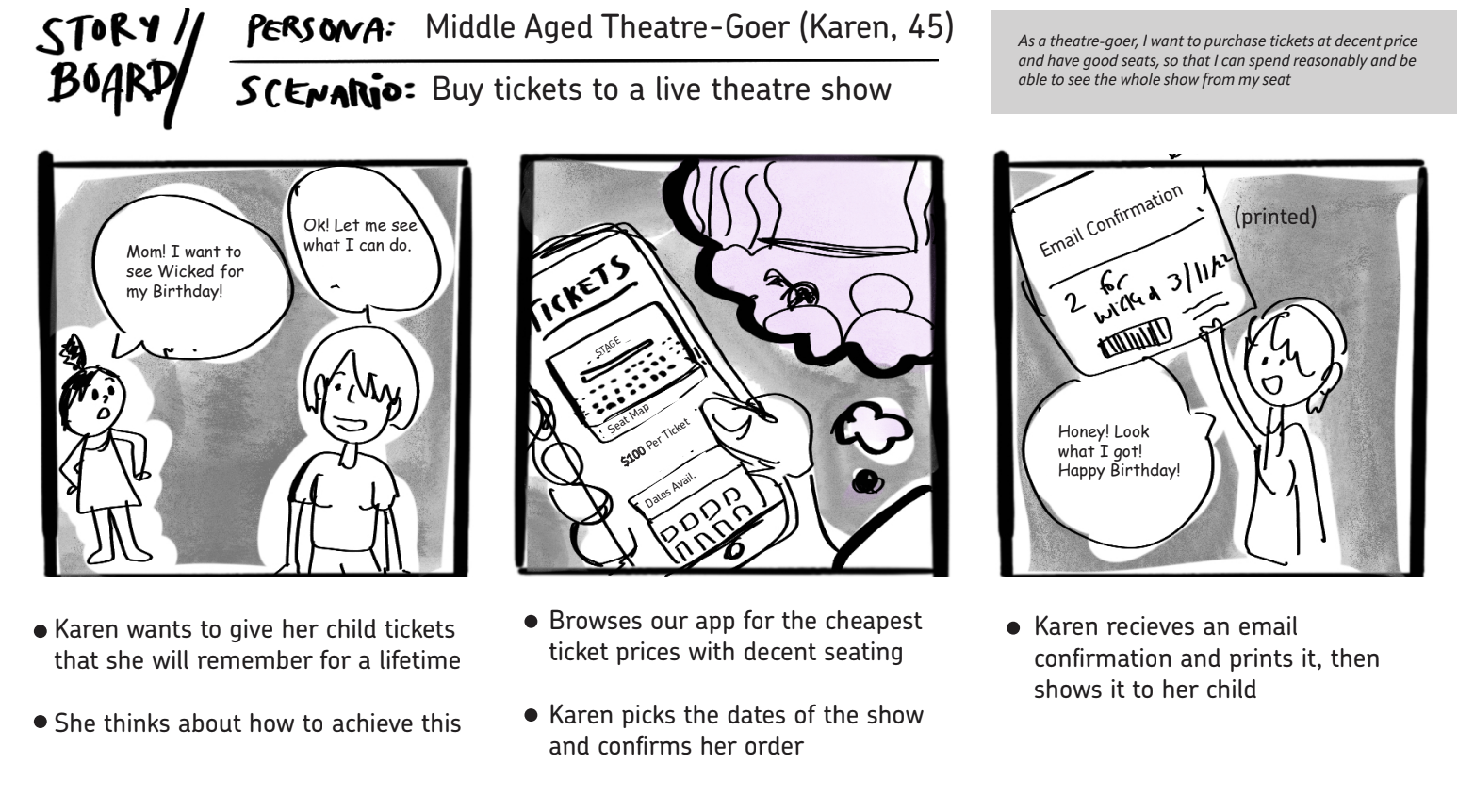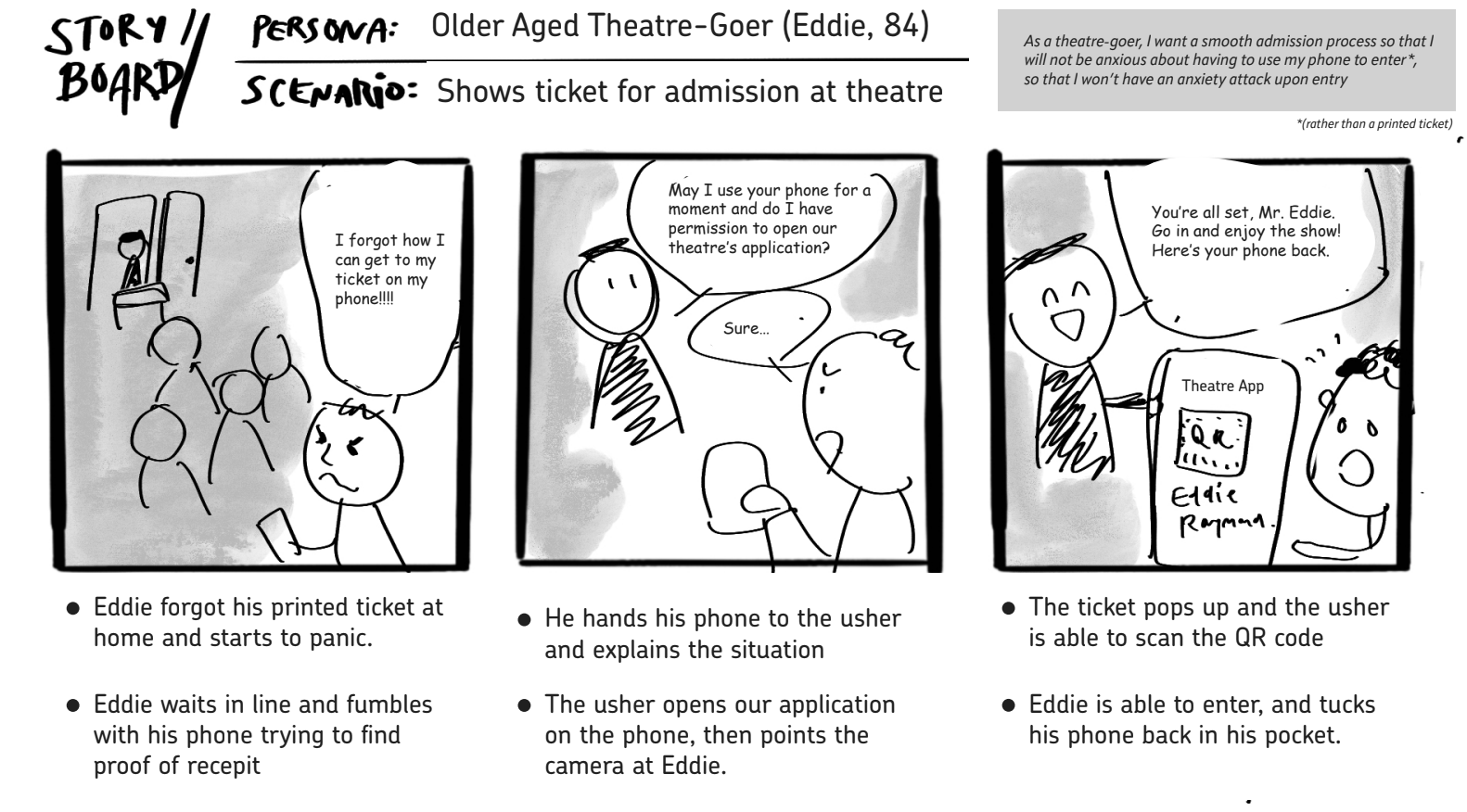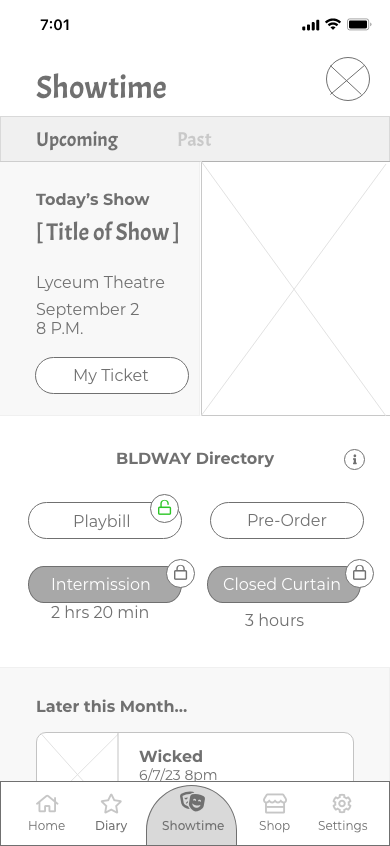 Mid Fidelity Wireframes
The Flows
Showtime: See a show and see what the app can do for you live. This served to test if the user would understand the time-based features.


Review: Write and publish a review to the Community. This flow gauged interest in the social media aspect of Boldway.


Purchase Ticket: Buy a ticket to a new show and sync it to your app. The goal of this is to see if users would understand how tickets sync with the application.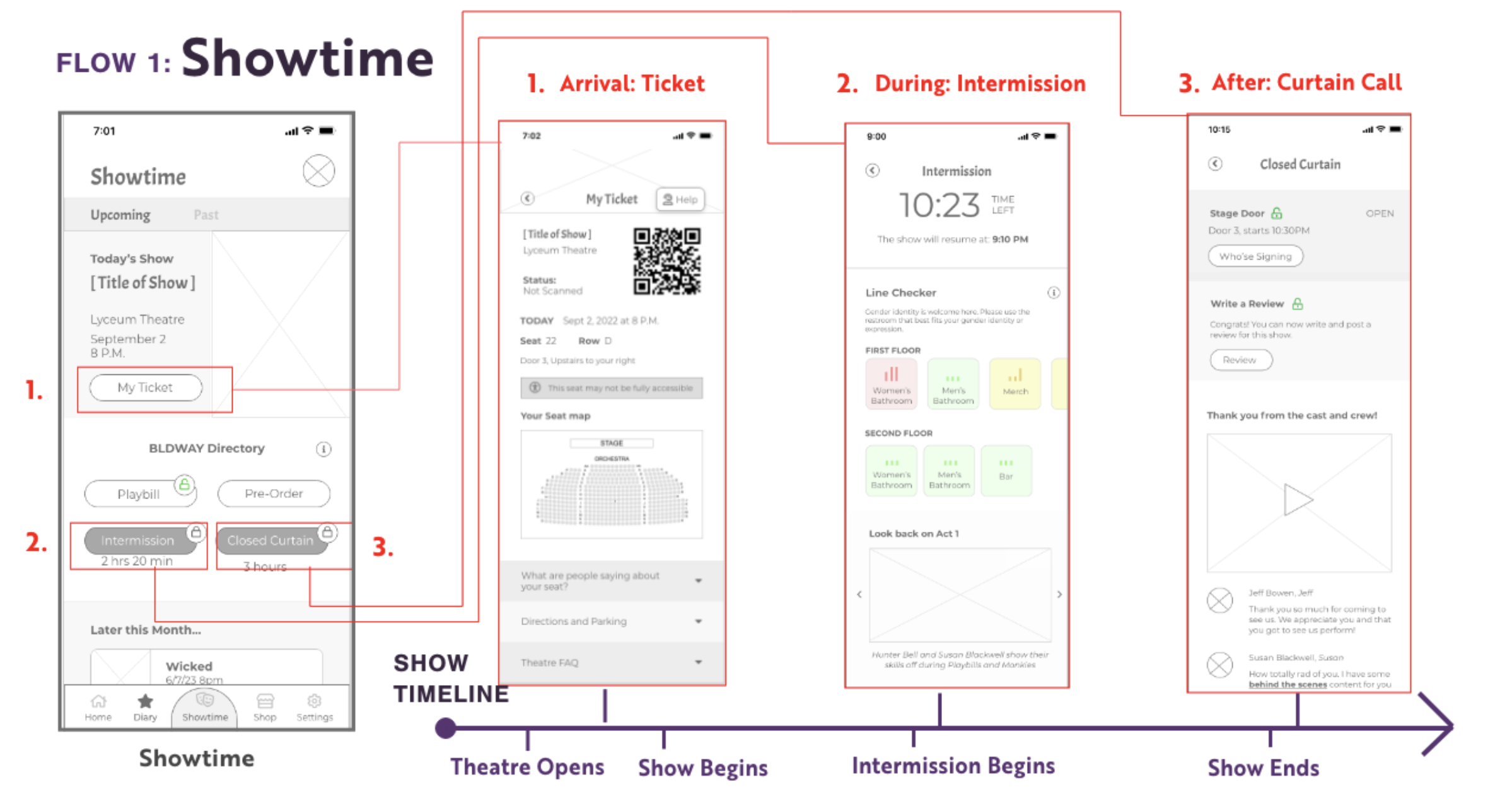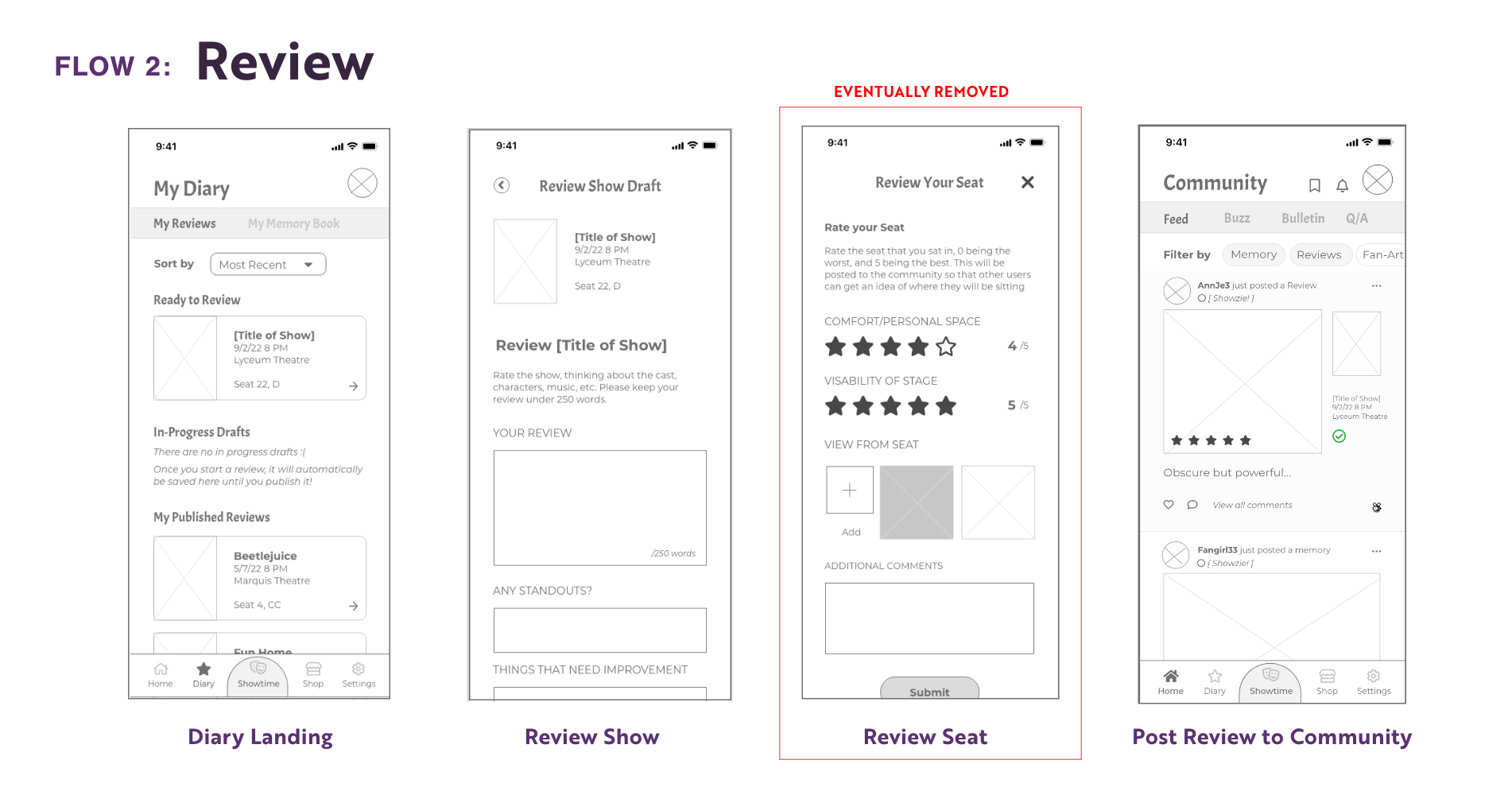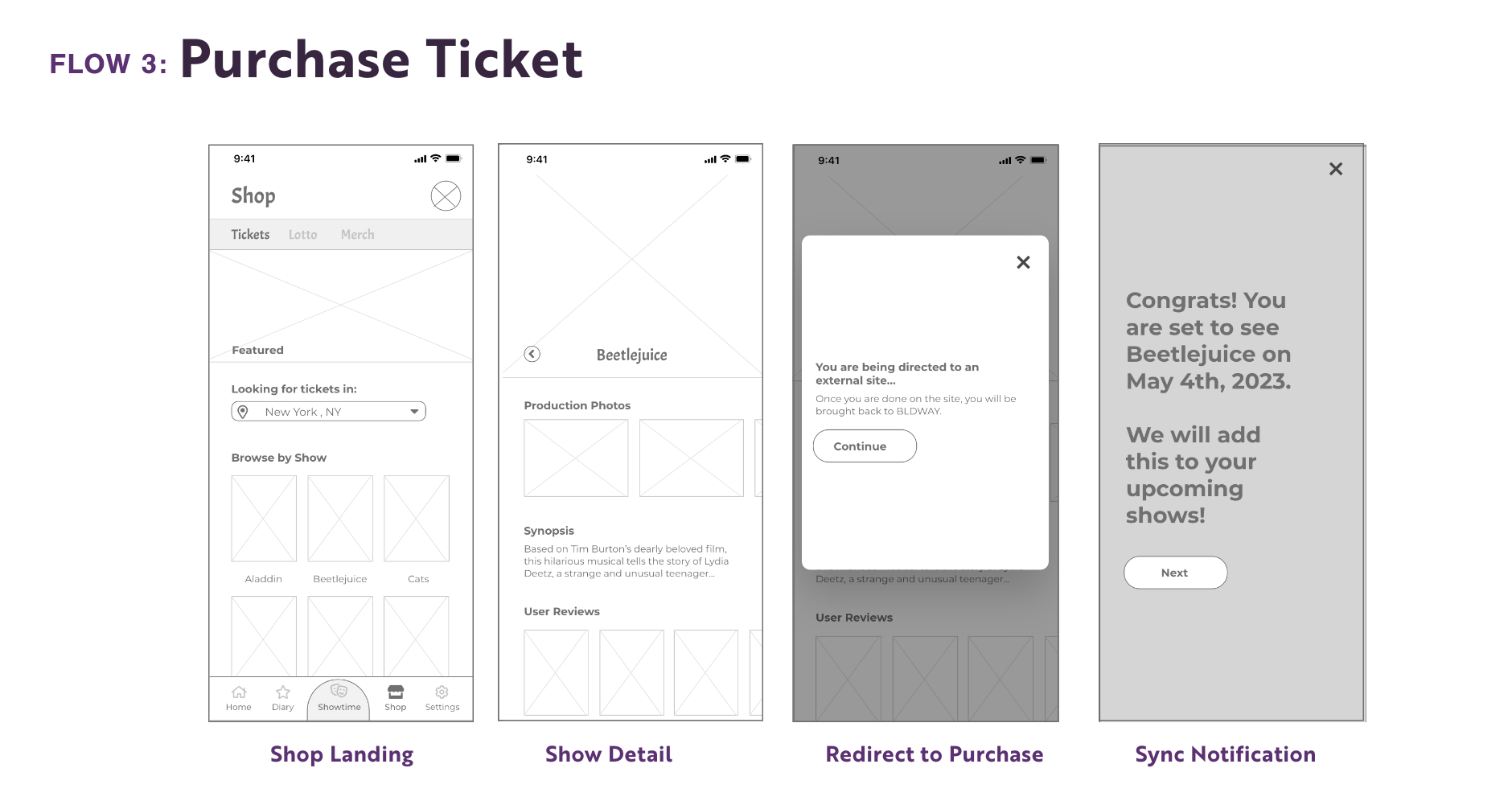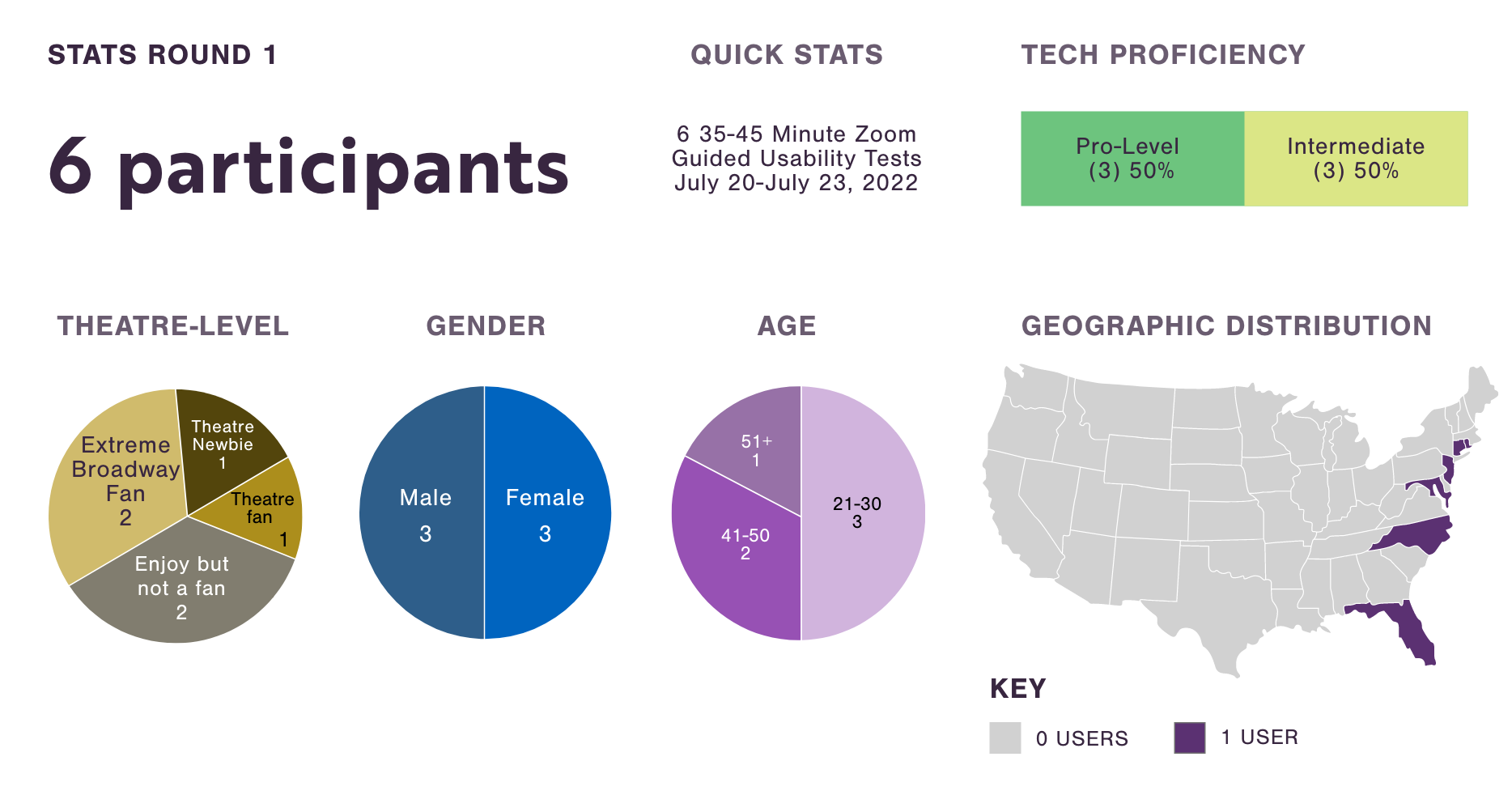 Round 1 Usability Testing
I performed 6, 35-45 Minute, Guided Usability Tests on Zoom with three mid-fidelity flows.
My usability test participants for this round generally had a diverse set of theatre-level passions, gender, age, and tech proficiencies. On the next round, I wanted at least one user that wasn't located on the east coast.
Objectives
Validate that users can understand the tasks

Identify pain points with the flows

Understand what users like/dislike about the product and why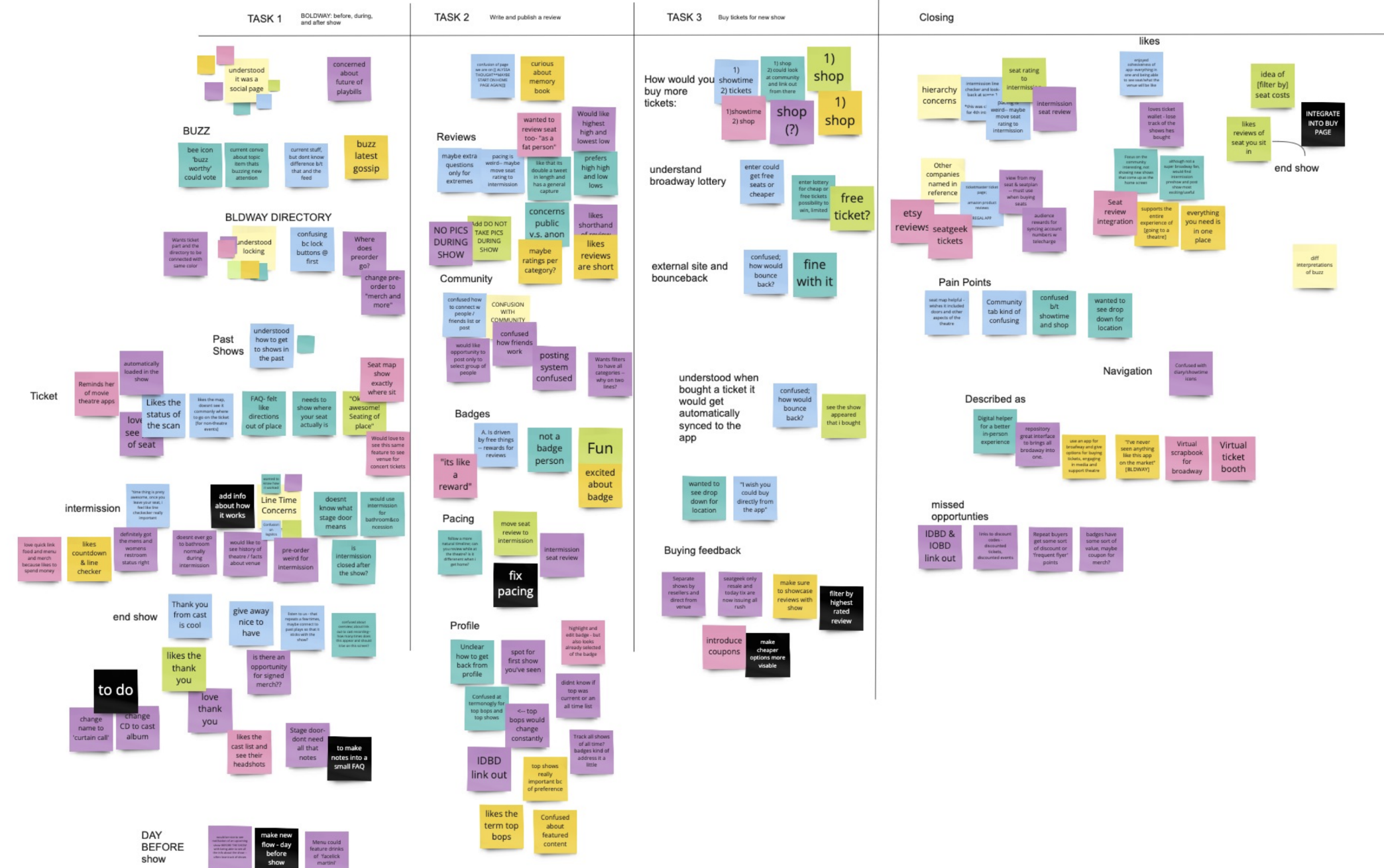 Takeaways from the first round
The interviews were distilled within an affinity map
Users generally understood the lock and unlocking time-based mechanisms, and how shows would sync with their ticket… but my users had confusion on the logistics of the community feature, general hierarchy and the location of the seat review.

I created a list of actionable items to fix my wires.

High-Fidelity Design
Wires were transitioned into high-fidelity screens, and I created an additional flow to address the confusion of the community system.
About the design system:
My palette has rich, bold colors that reflect the royalty and dramatics of theatre. Colors usage complies with WCAG 2.1 AA conformance.

For typography, I wanted body copy that was easy to digest, so I went with san serif Nimbus Sans. For Headers, I chose Brother 1816. I wanted something bold and contrasting, that had a unique flair to it. Both fonts are owned by Adobe Fonts.

My visuals and imagery were designed to be dramatic. The rounded corners reflect friendliness and a welcoming environment.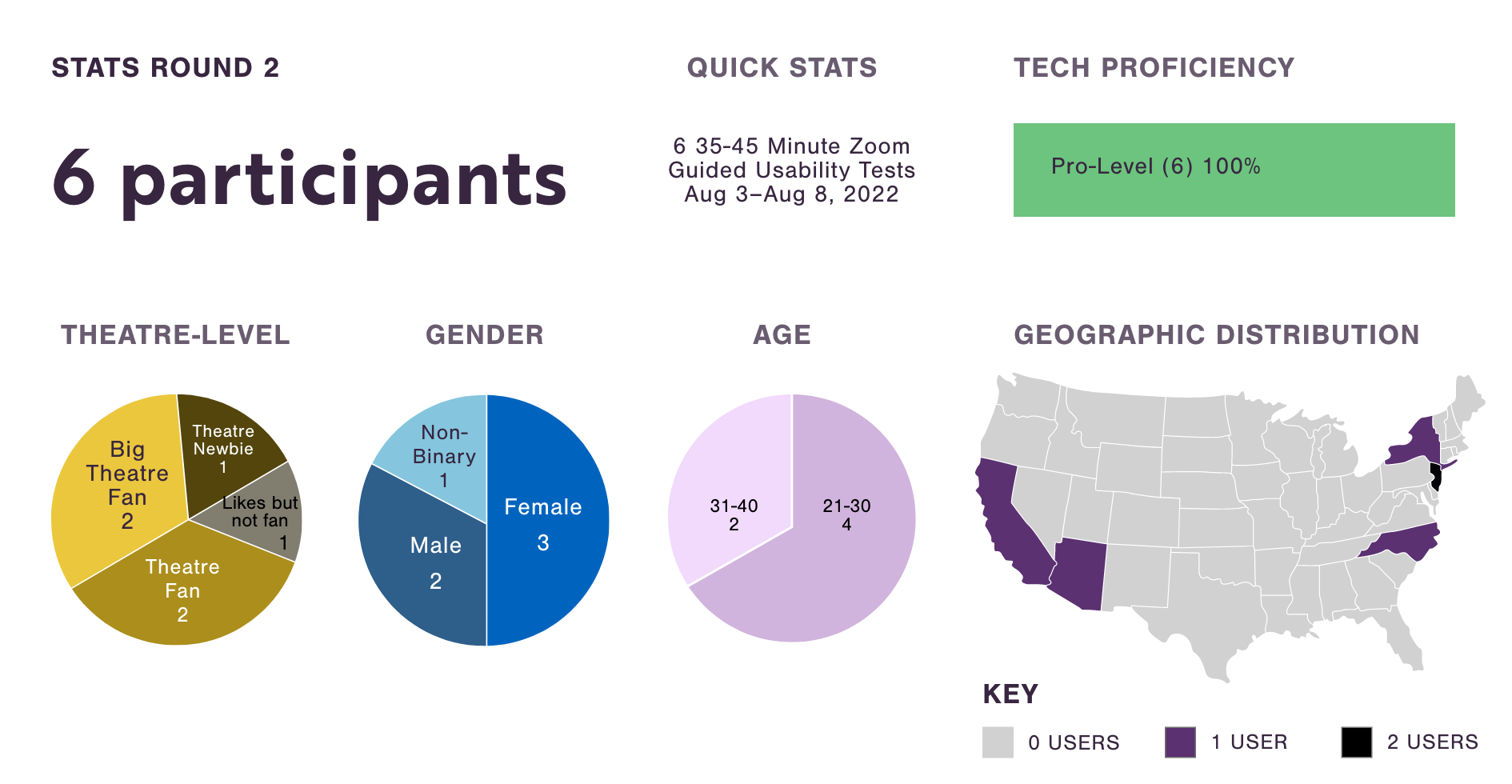 Round 2 Usability Testing
I tested again with one of the same usability test participants from round 1, and 5 new participants.
Users again enjoyed going through and pointed out different features that were of most interest to them…But they were still confused about the community, and where to buy tickets.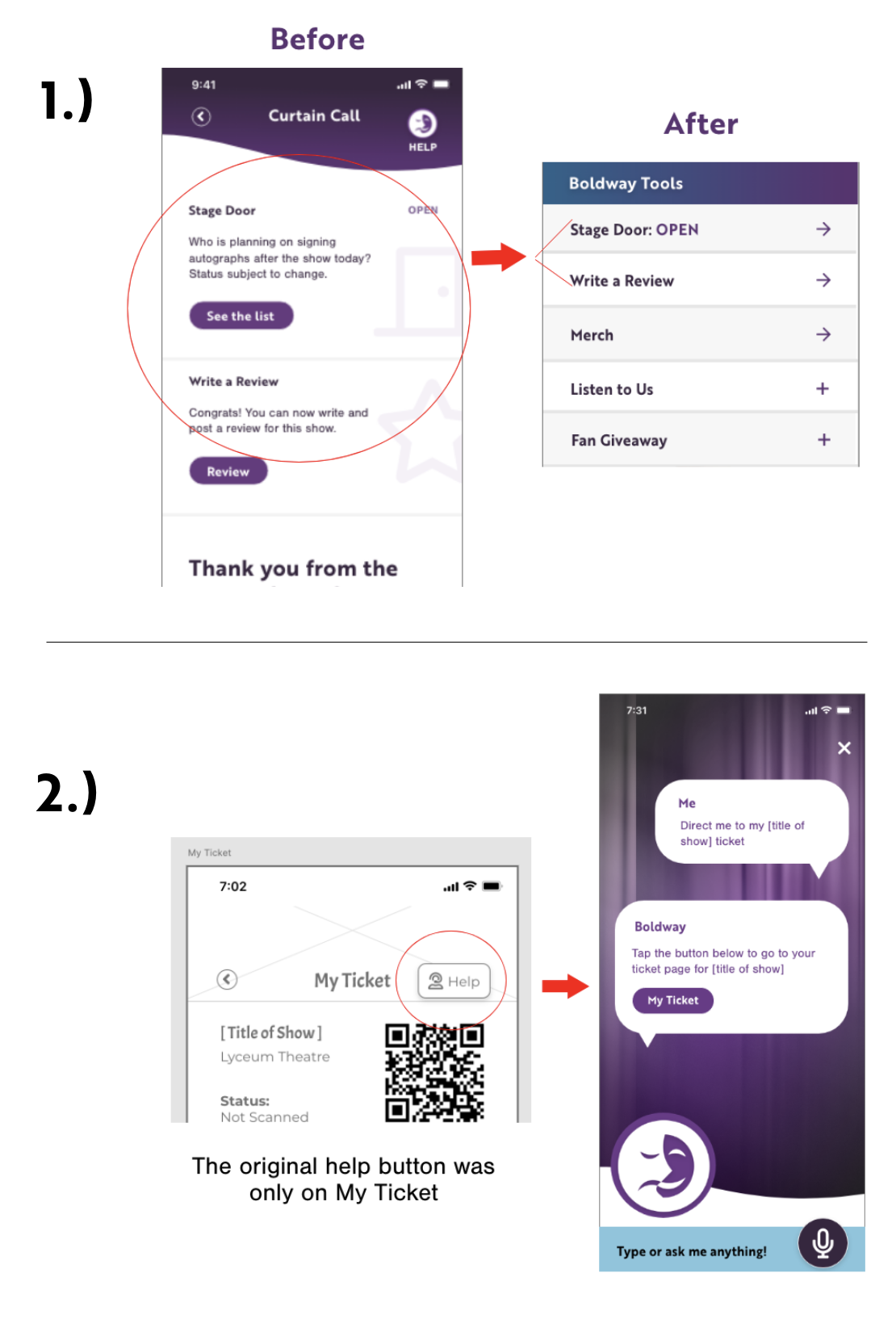 Concept-driven Changes
If users were excited about utilizing boldway rather than taking to an usher, then my app was doing its job to help enhance their experience.
1) I changed the hierarchy tools on multiple pages of the Showtime section to be branded as a Boldway tool, rather than an unorganized list as it was before. Users will hopefully be drawn to it as a recognizable toolkit throughout the app

2) Then to drive home my app concept further, I added a Boldway Assistant. If the user needed help at any point, they could tap on the icon to either talk or write to it.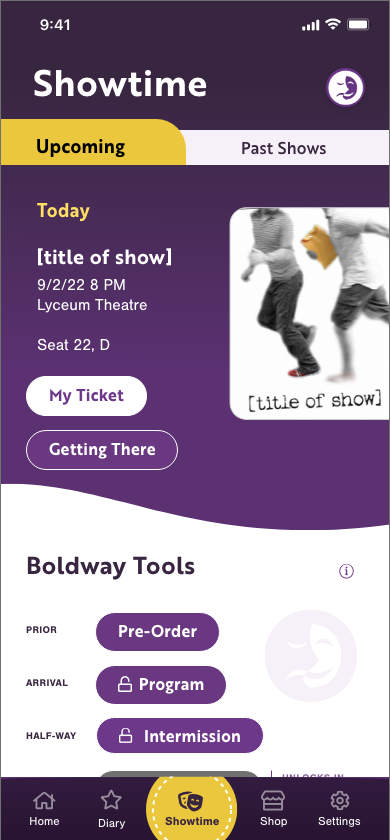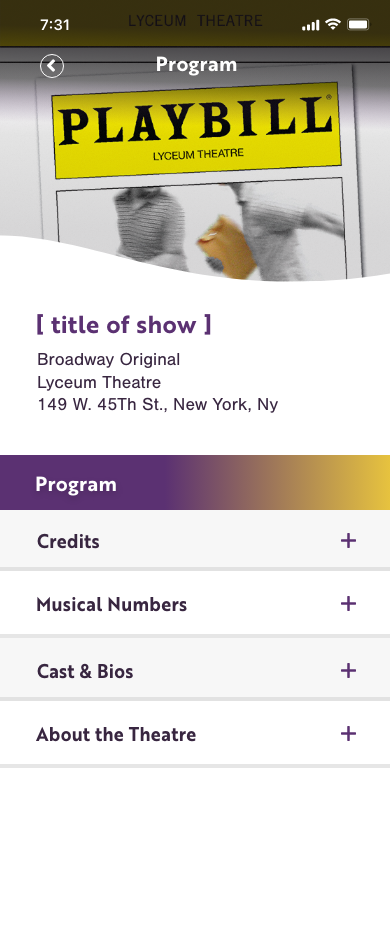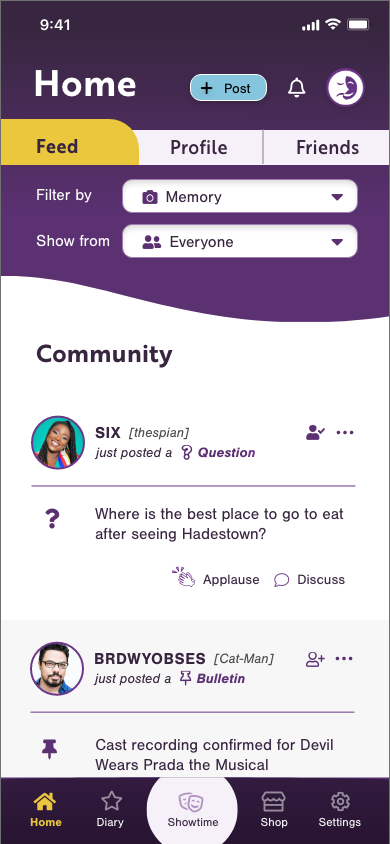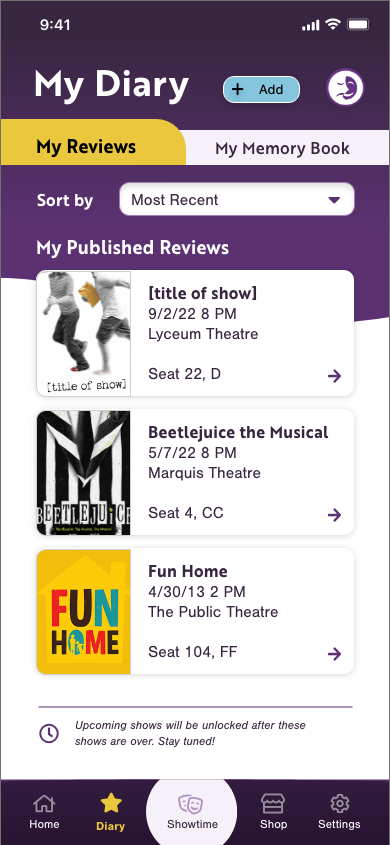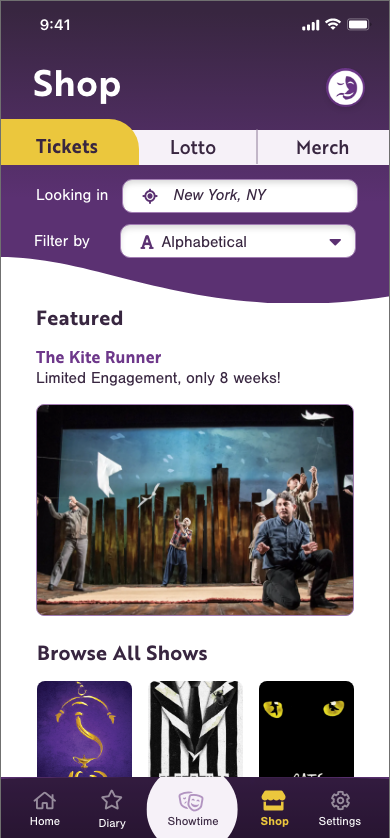 Lessons Learned
This four-month project as all the key players was the most fast-paced, heavy lift that I had ever endured. It wouldn't be a project if I didn't have my ups and downs throughout, but at the end of the day, I'm proud of my application and find the process to be beautiful
#1
Always refer back to your original assumptions and be constantly challenging them to create a stronger concept.
#2
Make sure you know your priorities every step of the way! You can pull data from your findings but what really matters is the actionable item. This pushed me every week to ensure I hit my delivery.
#3
Feedback is a gold egg. Get feedback, early and often and try it even if you don't think it'll work. Sometimes it might surprise you!
The future of Boldway
If I had more time for this project, I would do another round of usability testing with the changes I made. I would also like to design and iterate more on the integration of seat reviews, community experience, and explore rewards for users who keep coming back.
I would love to test Boldway in a real theatre with theatre-goers! The context of the environment of the theatre would capture essential insights.
2
Rounds of Usability Testing
Thanks for coming to the show!