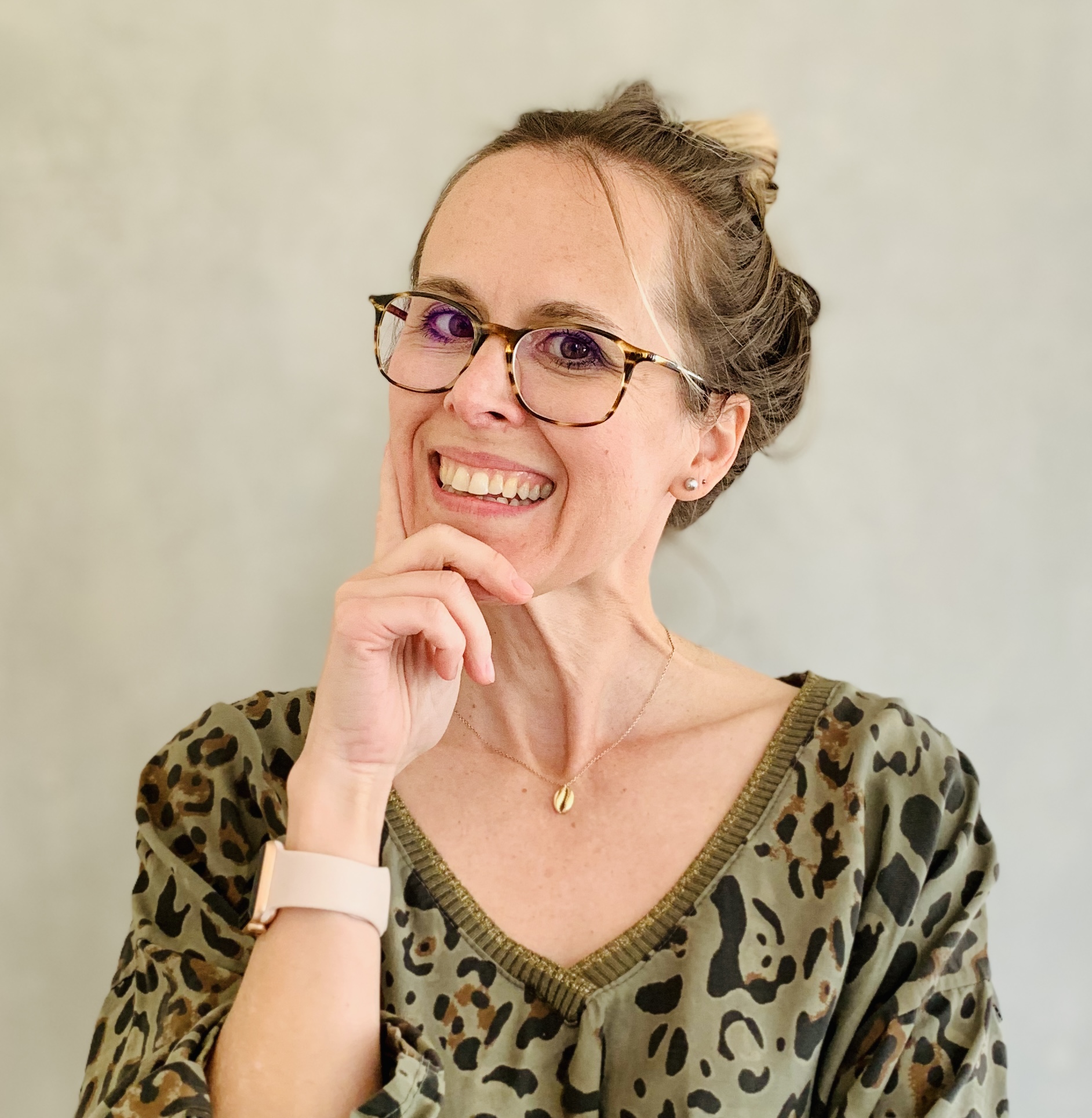 Susana Binder
Experience Researcher & Service Designer
Designing an eating experience without a kitchen
Research · Interviews · Design Thinking · Concept · Gamification · Video
Summary
Date:
June-July 2016
Goal:
Re-designing the eating experience at IED Design School Barcelona
Restriction: The school lacked a licence to cook.
Description:
The task was to design a concept for offering/serving food to students, teachers and staff. The briefing was conceived as a Global Design project that aimed to improve the existing offer of vending machines.
The project had to take into consideration and make use of all the knowledge that had been introduced in lectures and exercises along the course: communication, product, fashion, space.
My role:
Team: Research was conducted in an shared effort together with the cohort.
Individual: Once the research phase concluded, I was solely in charge of ideating and developing the concept and executing all the design elements.
Length:
7 weeks
Project Type:
Final Project for the Global Design Master at IED Barcelona
Deliverables:
-concept and design of a proposed solution
-presentation
-video
-dossier

Overview
Introduction ⎜Concept

Understanding users & processes

Insights

Coming up with a solution

Developing the concept ⎜More "inspiro" elements

Where and how to serve the food?

Creating the community

Participation & community through creativity

The Presentation

The Dossier

The Video

Takeaways
Introduction
For the Global Design Master's final project (2016) we were given the commission to re-design the eating experience at IED Design School in Barcelona, which at that moment only consisted of a few vending machines, very poorly located in front of restrooms and neon-lit rooms with no ventilation.
We kicked the project off conducting research as a group and then took it from there to develop our individual proposals.
I ended up designing a system based on inspiration & community, taking into account not only what food was going to be served but also how and by whom.
I thought of the place the pop-up kitchen I ideated for inspiro should be located at and of the spaces people could enjoy the food in.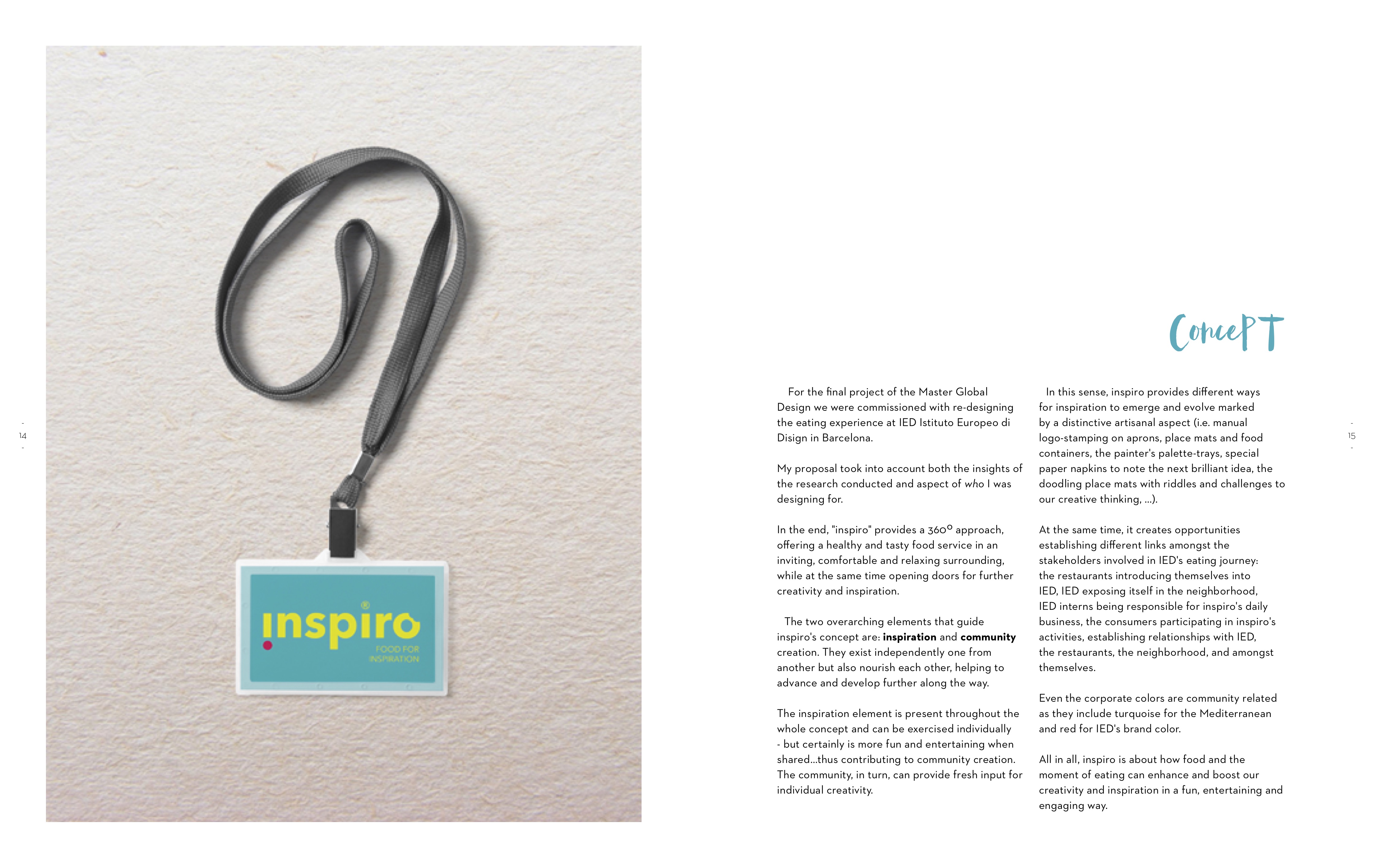 Understanding users & processes
Our research extended over almost three weeks and was structured into desk and field research.
The first step was to set up a time-frame for our research, determine the tools we'd be working with and split the tasks into groups.
During the desk research, we defined the context and gathered basic information relevant for our commission.
We tried to understand current food and eating trends, developed a food experience mindmap, drew a food process flow and set up a main top food trends mood-board.
We furthermore looked into understanding the specific food and eating experience in IED and came up with an IED food experience mindmap as well as an IED food experience visual map, highlighting the main top questions to answer during our field research.
We also set out to understand IED's "people-process-place"-context, performing some benchmarking as to how many students currently study at IED, what kind of studies they are enrolled in (BA, MA, summer), what their schedules are (morning, afternoons, evenings), how many hours they spend at IED, doing what, which routines they follow and why or why not, what barriers do they encounter, what do they think and how do they feel, which are their priorities and what would their personal wish-list regarding "eating at IED" look like?
The results were a map of IED in numbers, IED stakeholder profiles involved in the food and eating process, a map showing the IED journey, and a spatial map of IED's installations as well as a spaces mood- board.
The forth element of this desk research consisted in understanding Gracia's food services and the general context. For this, we worked out a diagram map of Gracia's food services, a Gracia mood-board and a mood-board of Gracia's food services trends.
Once the desk research was finished, we started with the field research.
We developed a stakeholder map, pointing out all converging interests, possible pain points, concerns to take into account...and subsequently initiated rounds of interviews with the aim of observing, but most importantly, understanding the emotional experience journey of our main stakeholders, namely students, staff and teachers at IED.
We also did a spatial analysis and layout and paid attention to audio and other sensorial perceptions during the evaluation process.
After the desk and field research phases were concluded, we created a persona and their corresponding experience flow for which we would then start designing our proposal.
Other topics we dove into were related to interesting existing food concepts (canteens, cafeterias, bars, food trucks, food trolleys, food boxes, street vendors); different approaches to food & design; to eating situations (eating on your own or socializing in a group, informal eating, seated or standing up, self-service or being served, "rituals" and habits, enjoying a "proper" meal vs the occasional quick snack); food formats (liquid, solid, dry, sticky...; one piece vs many pieces; loose); tools & containers (cutlery, bowls, plates, cups...); food properties (health issues, recommended intakes of calories, proteins, vitamins, food intolerances, ...).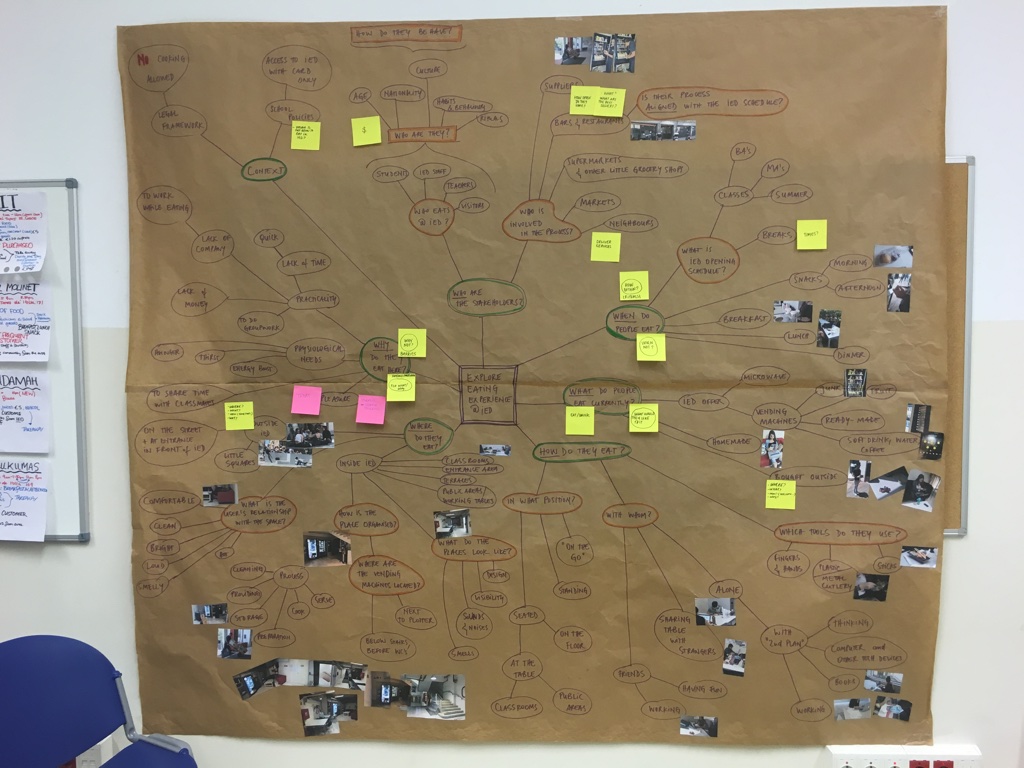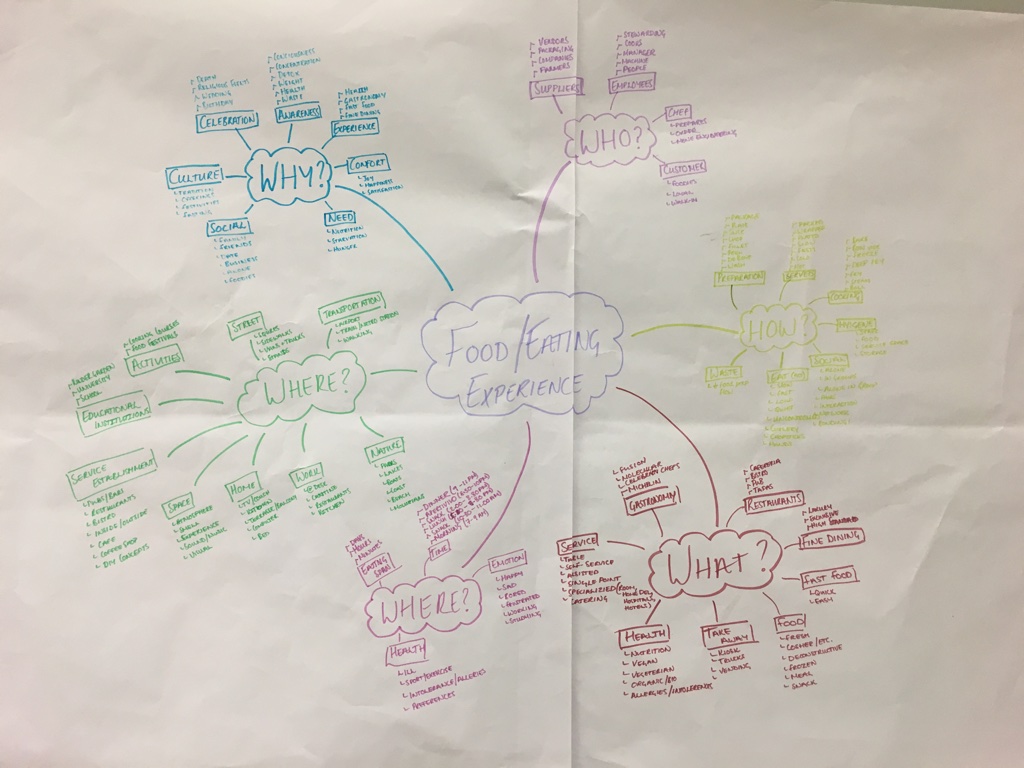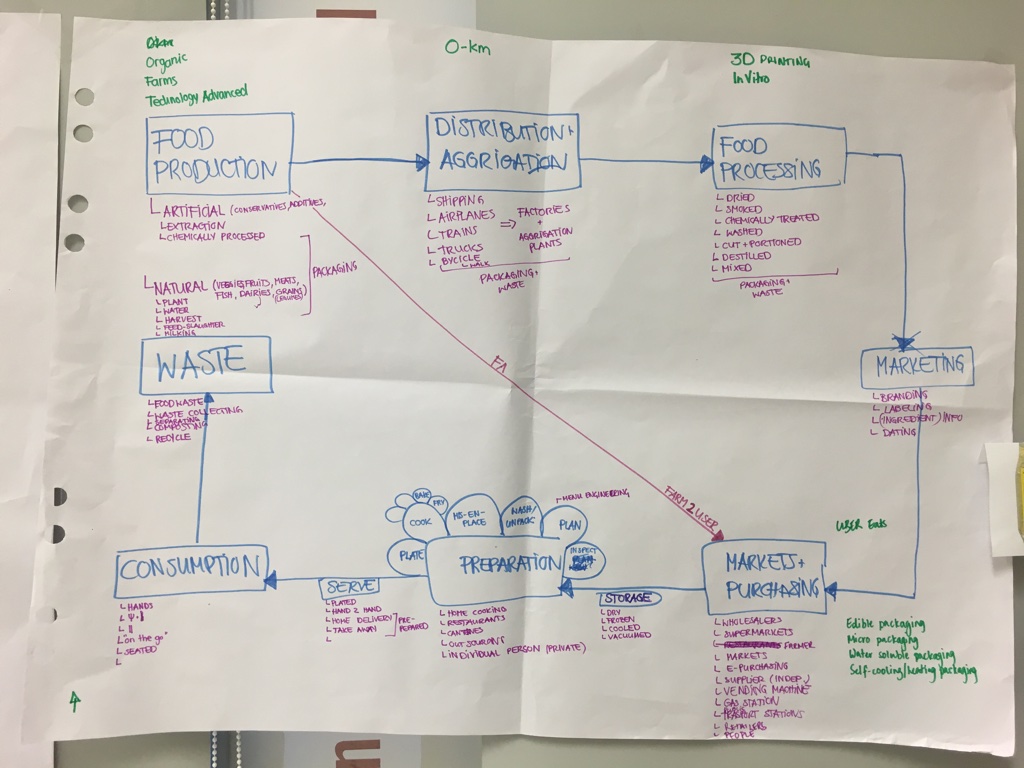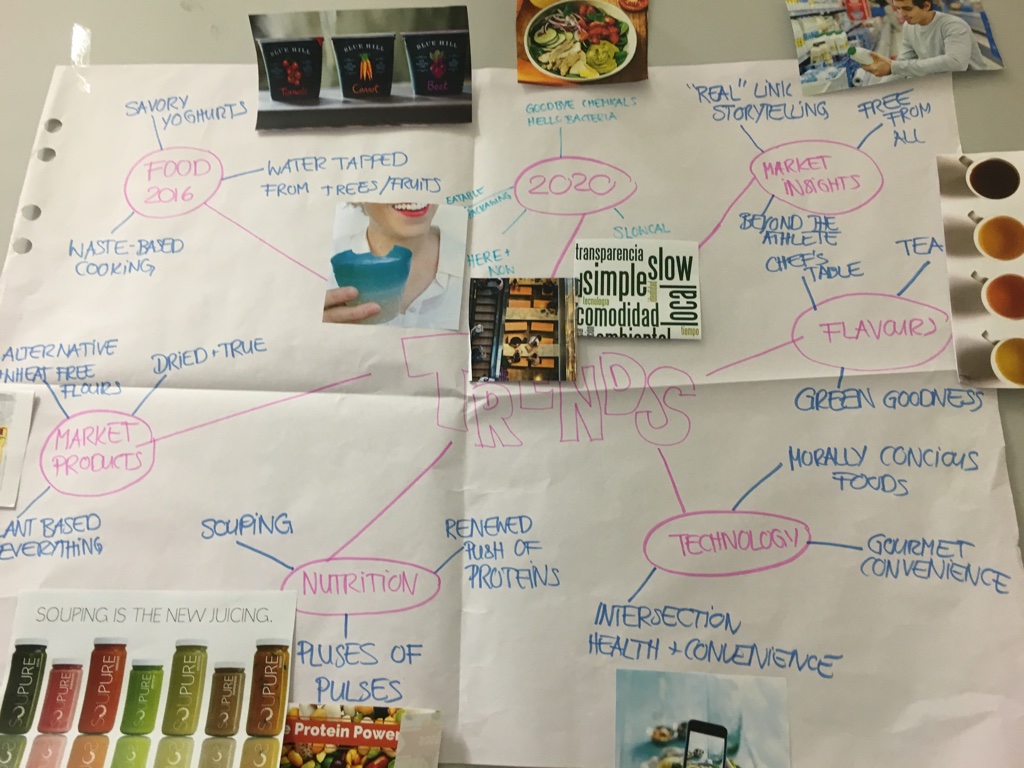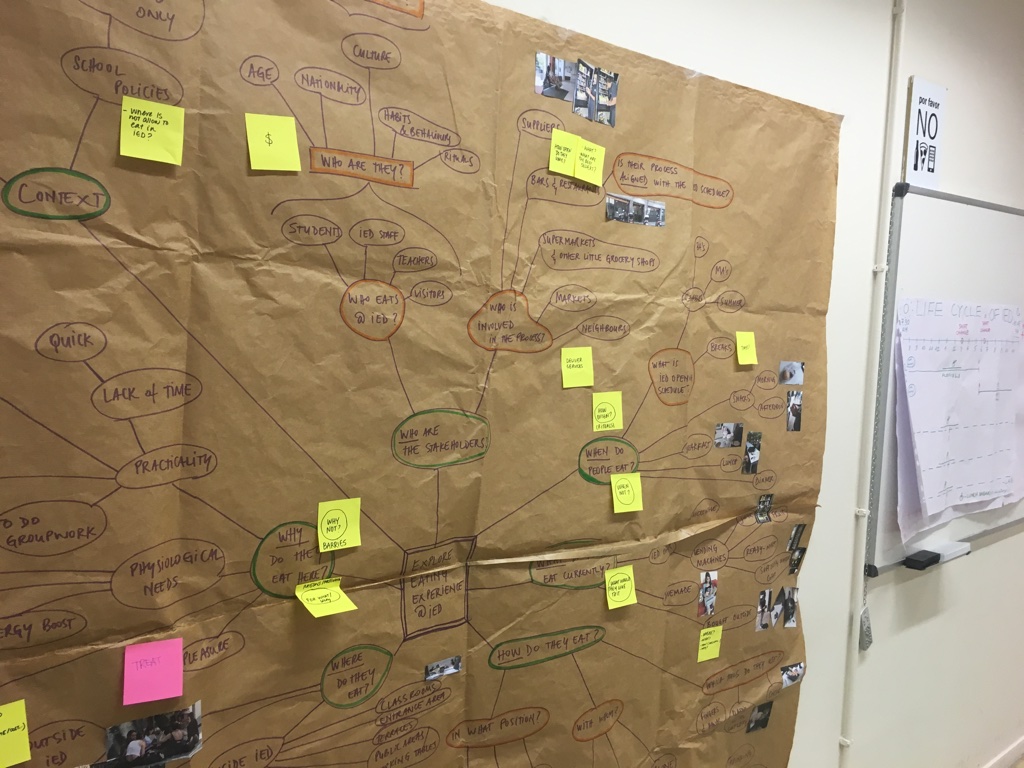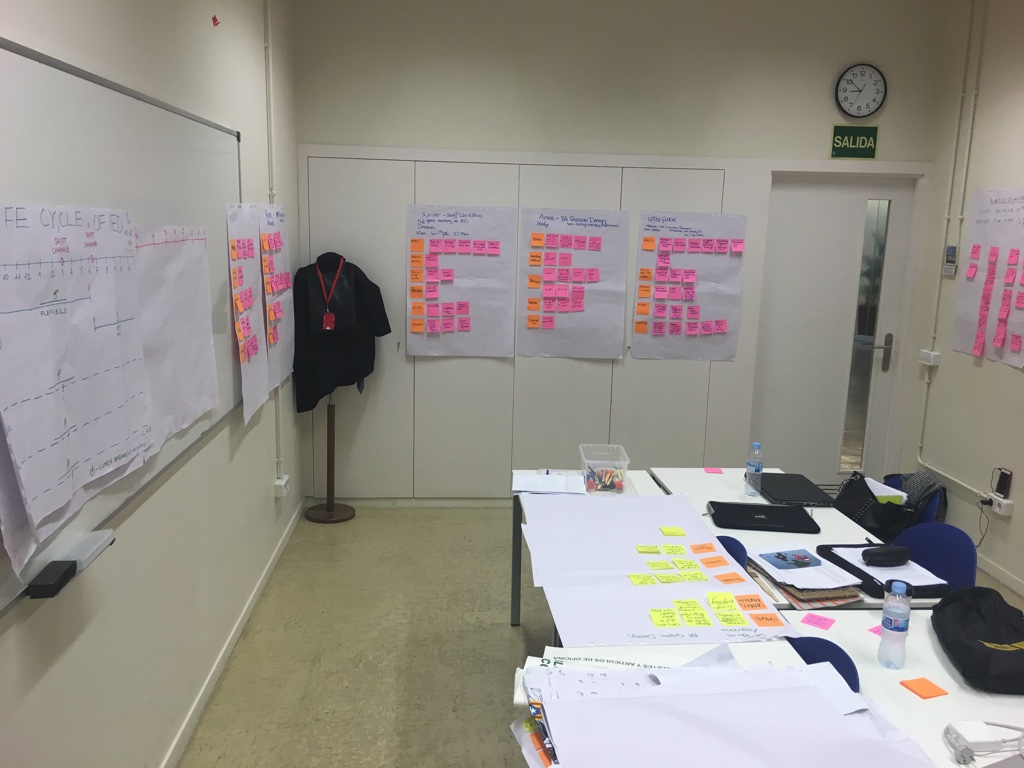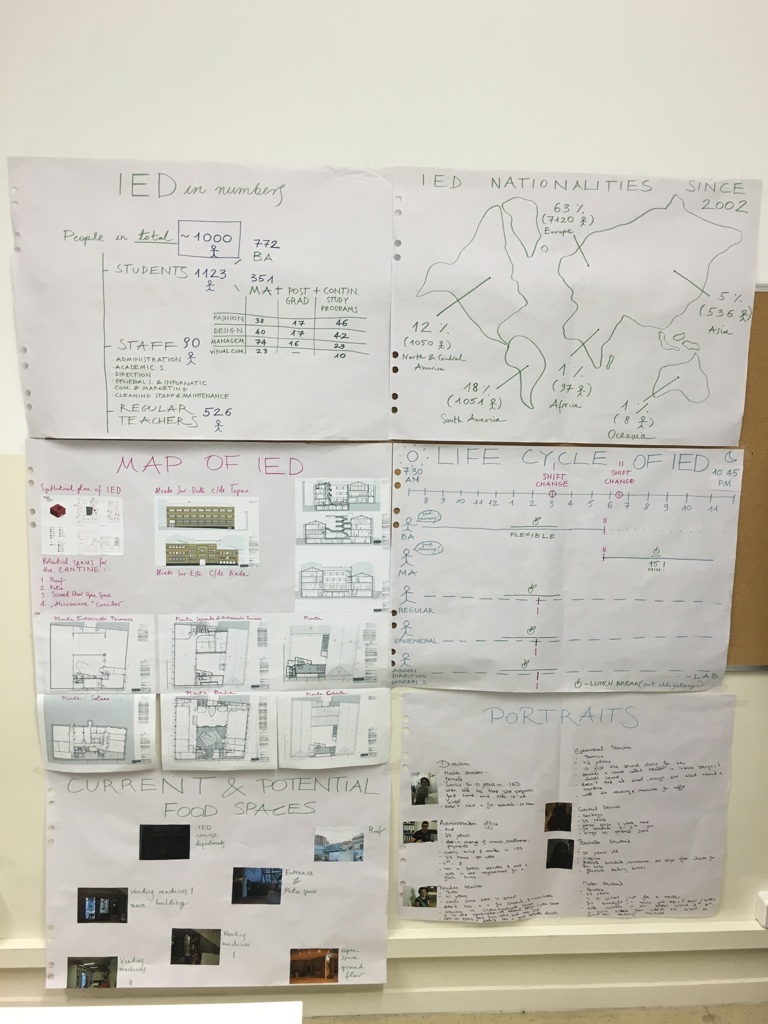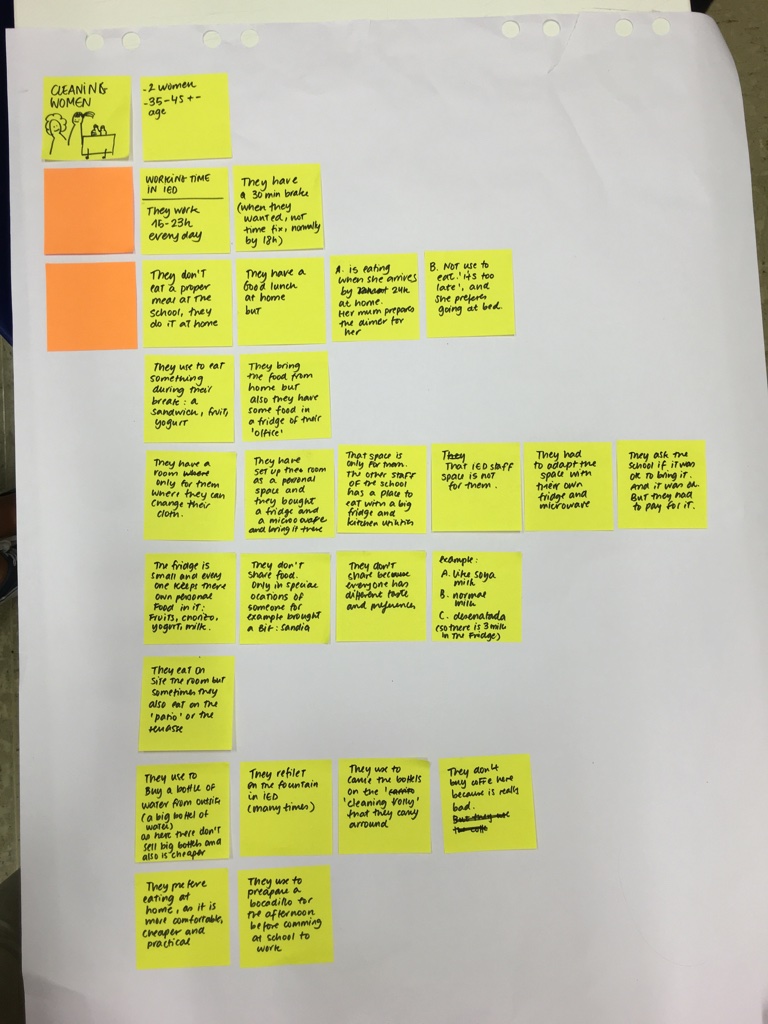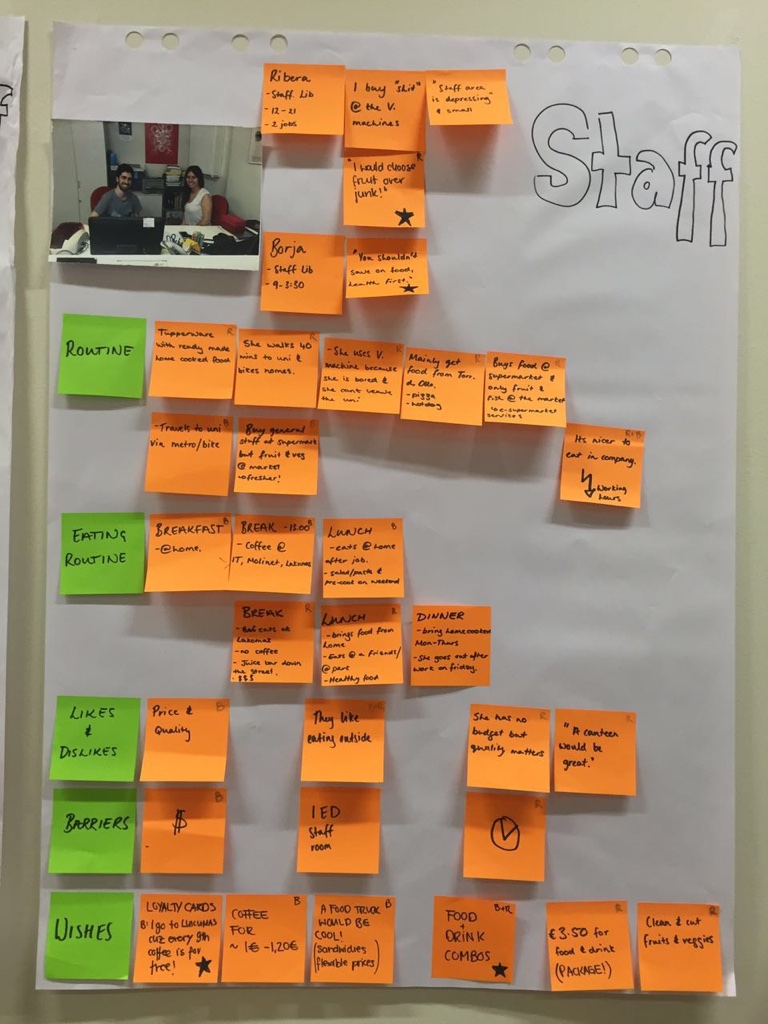 Insights
We found out that students spend vast amounts of hours at IED, with very limited time to "waste" on eating. This is why many of them eat while working on their projects or tasks, even though they don't like it.
Others prefer to go outside precisely to disconnect from the work and study atmosphere.
Yet others don't mind eating at IED and are looking to share these occasions with friends.
Some try to bring healthy food from home, also bearing the cost factor mind.
Summing it up, the findings of this extensive research amongst IED students, staff and teachers show that people's desires concentrate around six topics:
They want a quick eating solution with healthy food at an affordable cost. They furthermore look for ways to disconnect and share time in company, ideally in a comfortable environment.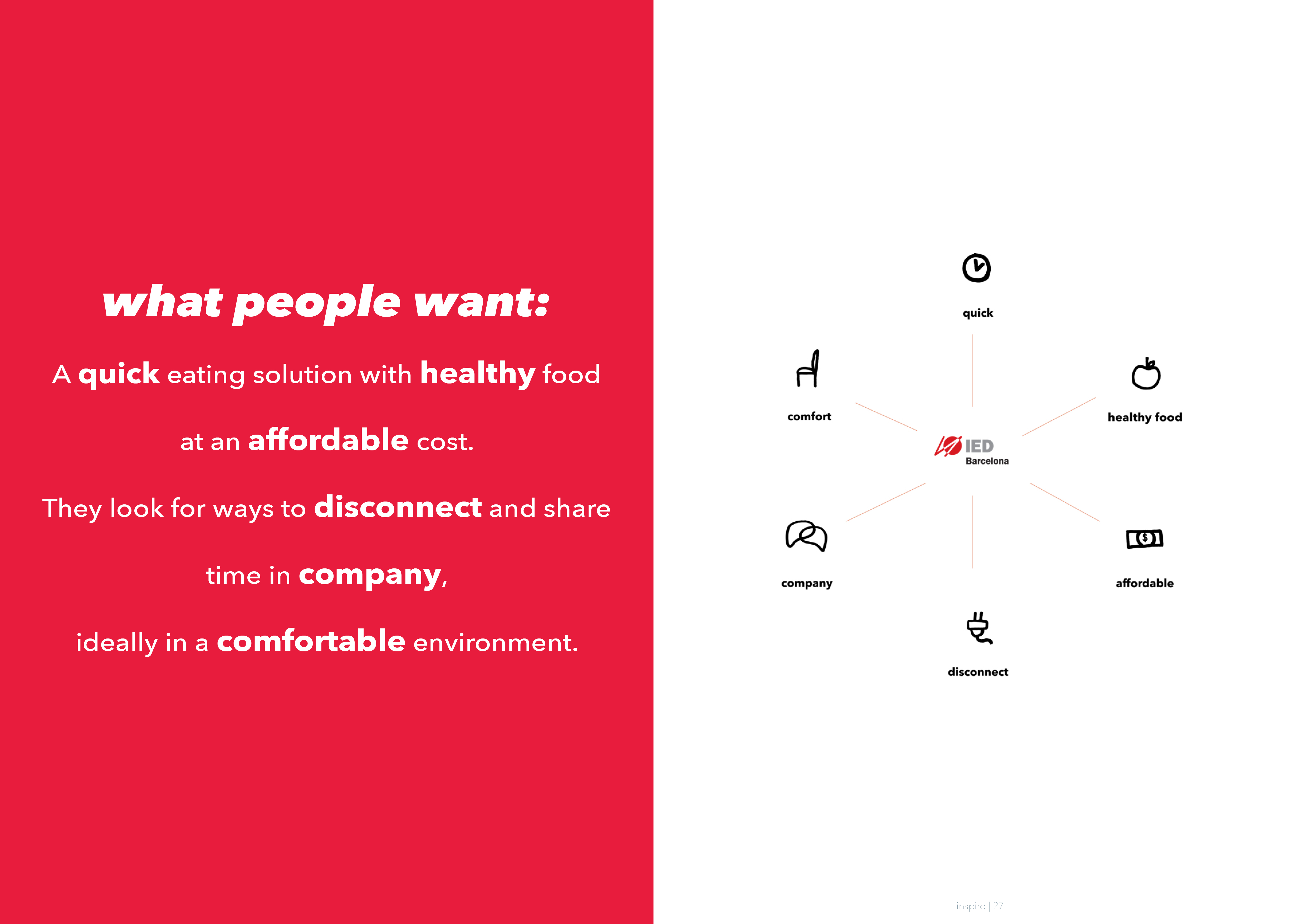 Coming up with a solution
The individual research I conducted evolved around the question of how I could satisfy the identified needs and wishes while taking into account that cooking within IED was not an option.
Topics I looked into were:
👉 Catering solutions, pop-up concepts, the trend of rotating chefs at restaurants and even as visual face related to a brand...
👉 Ways of creating community whilst enabling people to disconnect...
👉 Furthermore, the question of who I was designing for provided an essential input for my final proposal: aspiring designers, experienced designers, people who love beautiful and original things, constantly on the hunt for new creative stimulus.
In this case, I played with the "design" element present at IED and cooking as an expression of creativity. I looked into the trend of food design and attended the conference Design 4 Food, searching for ways to best fusion my insights with the commission at hand.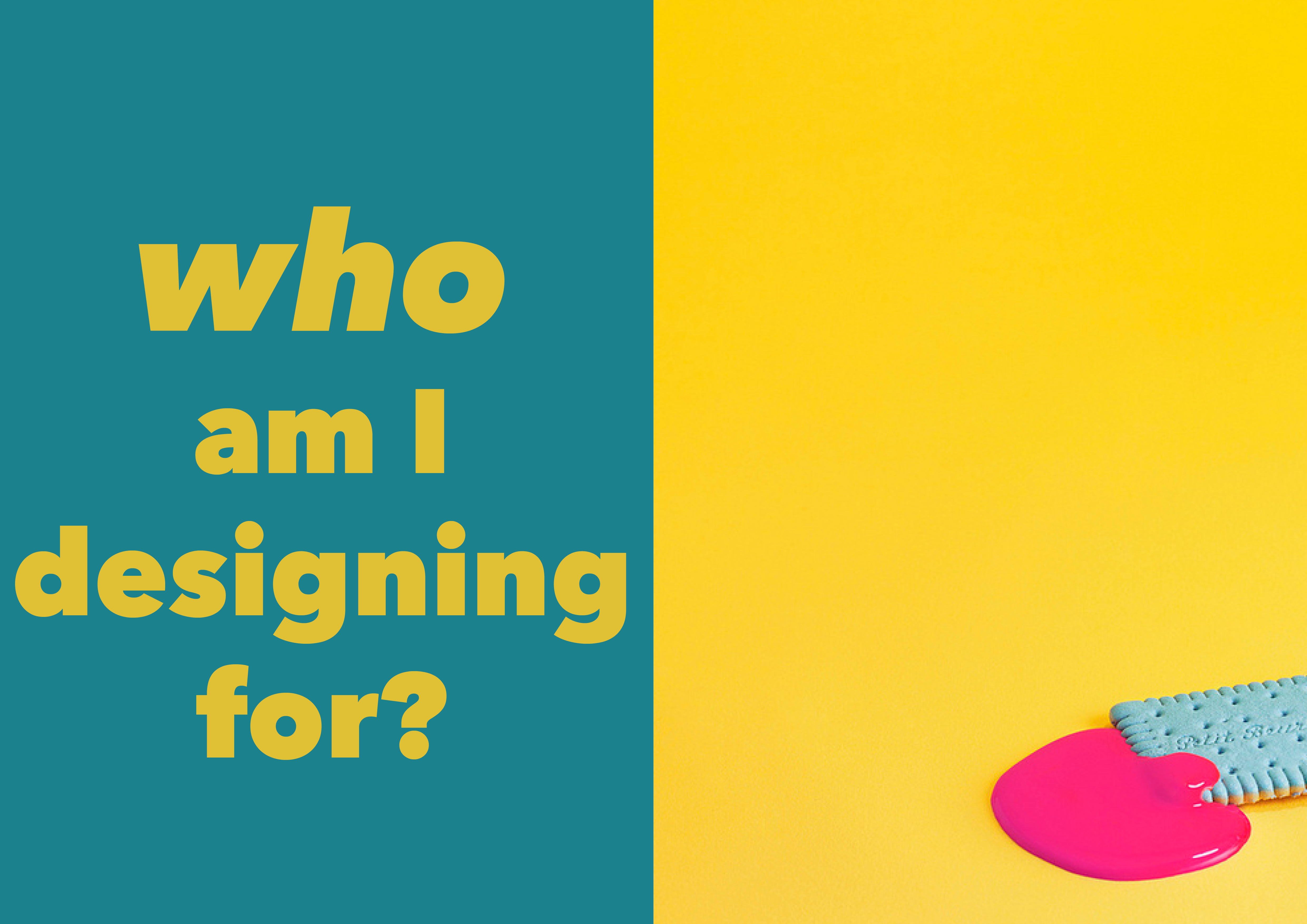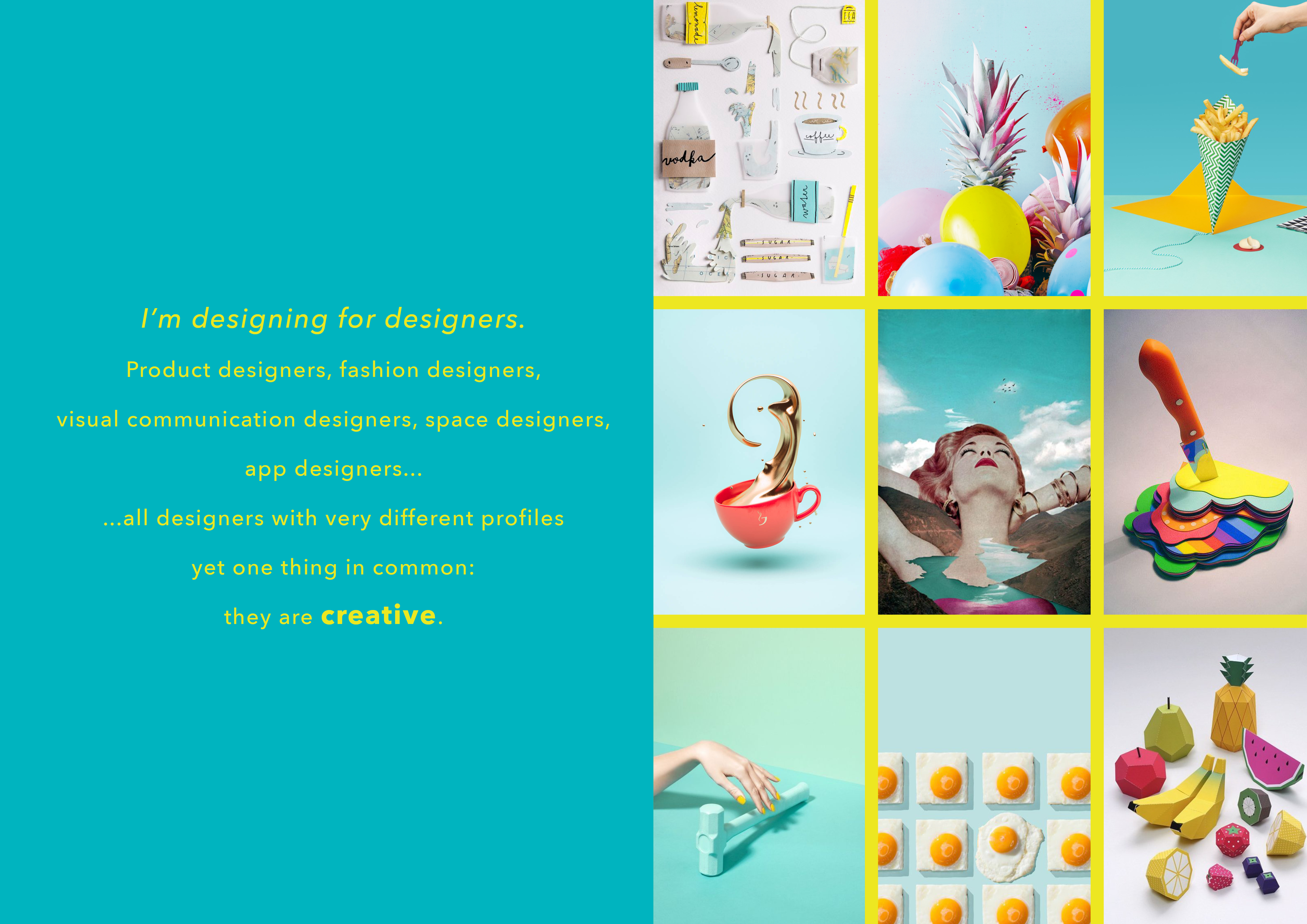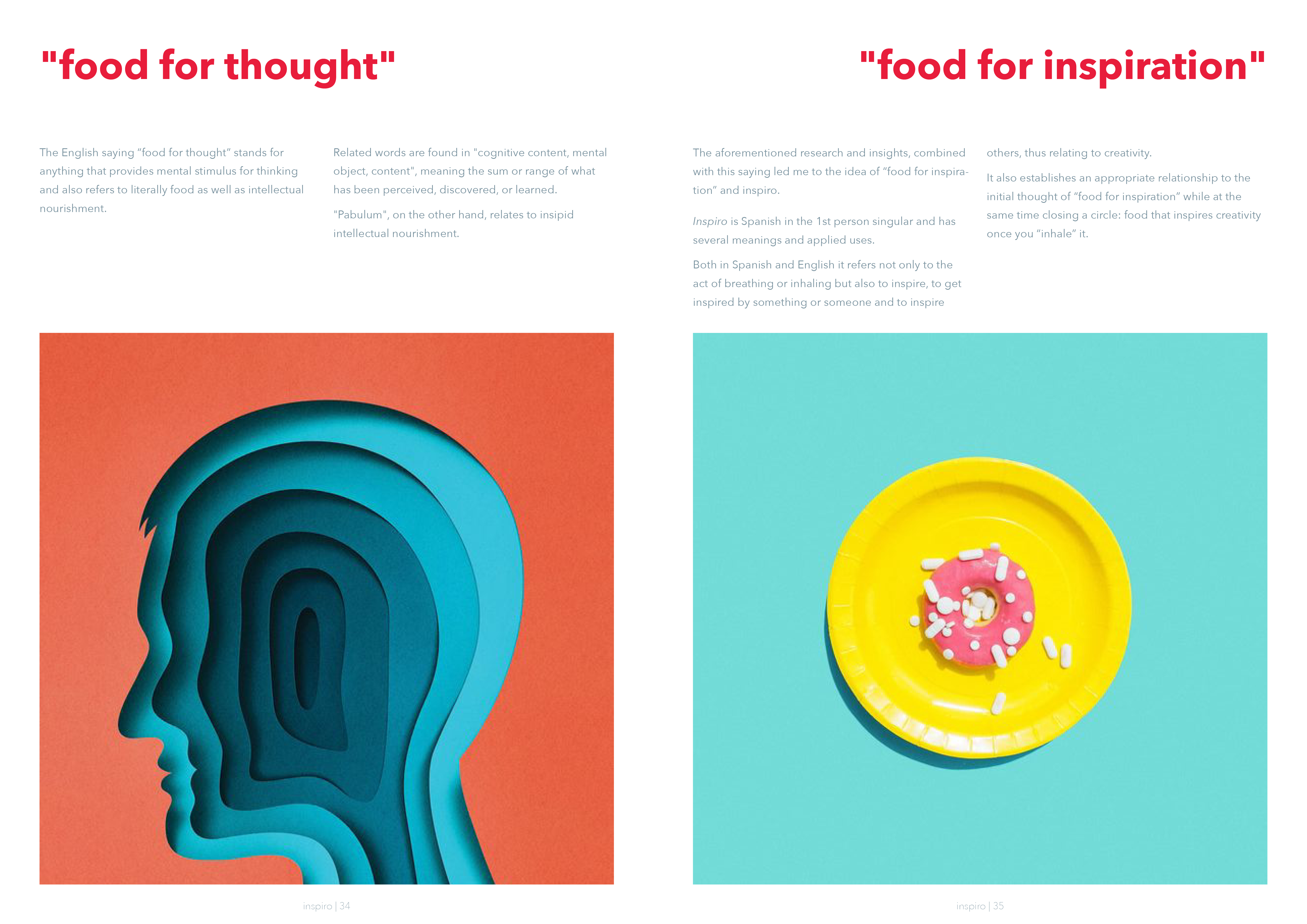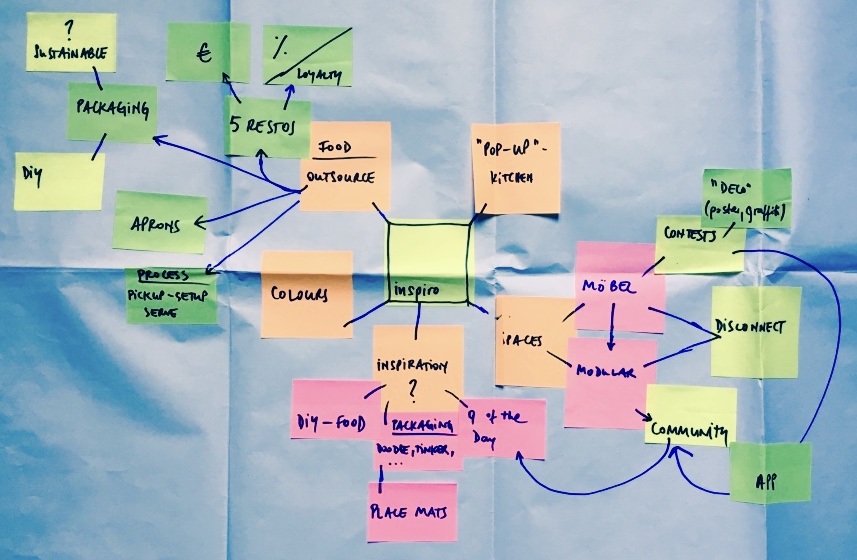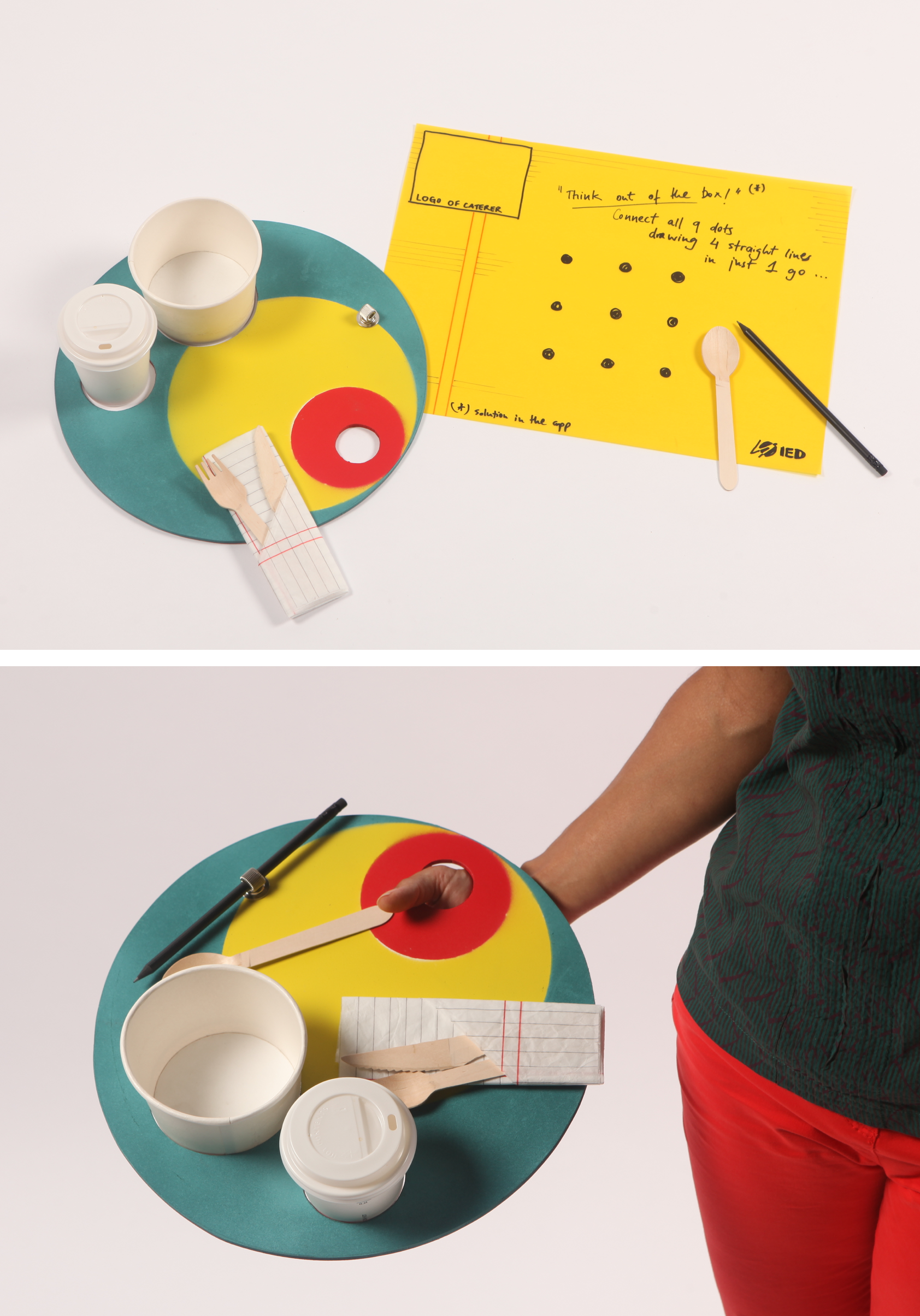 Developing the concept
inspiro's inspiration element is present in a distinctive artisanal and DIY element throughout the whole concept:

Starting with the stamping procedures for both the apron, the place mat logos and the food containers, thus ensuring the visual identification of the caterers.
Then there is the back wall of pop-up kitchen that works like a white-board allowing to be written upon.
We have the food which allows the consumer to come up with their own creations by combining ingredients, and the painter's palette-tray to be filled by the consumer, who then goes on to doodling on or playing the games provided by the packaging/place mats, or sketching on the special paper napkin, maybe trying to figure out the Question of the Day, sharing the meal with colleagues or digitally…thus coming up with new thoughts, ideas, and designs!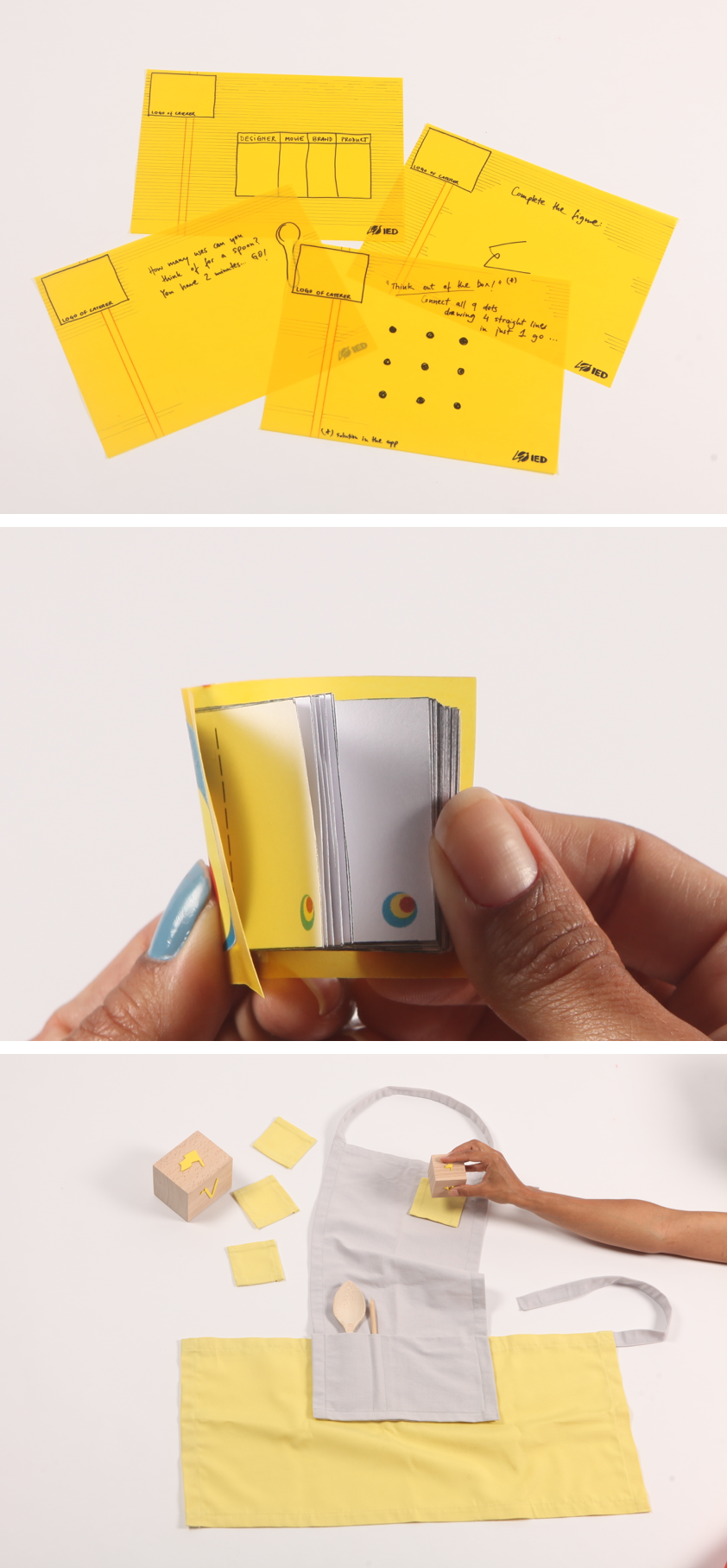 More "inspiro" elements
Food-wrapping paper (top image)
with rectangle for caterer's logo to be stamped, and which transforms transforms into interactive placemats with playful elements (LRTB):
IED adapted "city-country-river" game

Complete the figure

How many uses can you think of for a spoon! You have 2 minutes...GO!

Think outside the box! Connect all 9 dots drawing 4 straight lines in just 1 go...
The solutions are to be found in the inspiro app.

Loyalty booklet (mid image)
in form of a flip-book, playing with inspiro's logo, thus converting it into a toy.

Apron (bottom image) mirroring the pop-up kitchen's design
with removable stamped identifiers for the catering restaurant of the week. Includes a pen-holder.
Where and how to serve the food?
When I started to think of what kind of eating tools and tray my proposal would have, I considered everything from fingers and paper bags to regular trays or something inspired in a toolbox (see below).
Space and storage was an issue, however.
This and the artisanal and creative aspect of inspiro led me through the process I show you a glimpse of below.
The painter's palette-tray provides both an easy storage solution and adds to the inspirational touch of my proposal.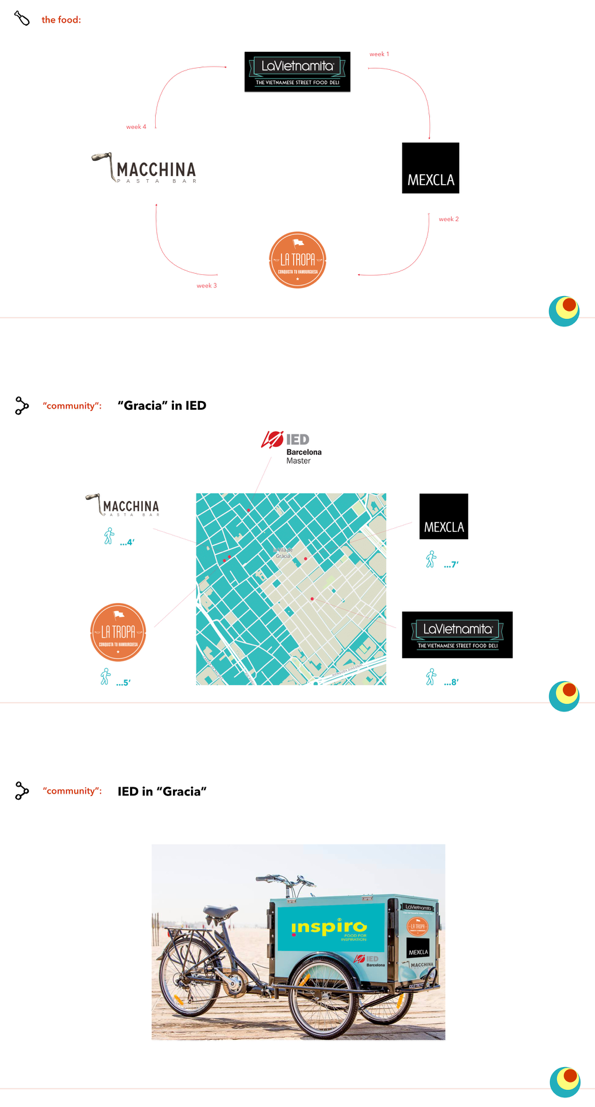 Creating the community
The element that binds it all together is the community aspect, which links the IED, its students and the neighborhood.
It unfolds on various levels:
IED invites Gracia inside its premises as a consequence of the pop-up kitchen concept. Taking regular turns, selected restaurants offer their food at IED. They represent not only the Gracia neighborhood but also IED's international student community.
The restaurants are located in the IED quarter Gracia and less than a 10' walk away. This way, they can be frequented even when it's not their turn at IED, allowing the restaurants to maintain a customer relationship with IED consumers thanks to inspiro's loyalty booklet. At the same time it lets the consumer continue to collect valuable stamps.
The consumer will furthermore establish different relationships with the food providers due to their rotational presence at IED, them offering their products at lower prices as they do in their restaurants.
IED and the restaurants are visibly linked through the bike-food-cart with which the IED interns in charge pick up the food at the restaurant.
The fact that it is IED interns running inspiro's service is another community building element inside IED.
Consumers, in turn, have all relevant information (such as collaborating restaurants, caterer of the week, their menus, the Question of the Day, solutions to place mat-riddles, ongoing inspiro related contests) on the inspiro app.
The winner of the Question of the Day gets a free coffee, soft drink or similar in value, a procedure which also contributes to the community aspect.
As to the relationship between IED and its students, these will feel they own the place as they will make it their's through active participation fostered by inspiro (see next paragraph).
Community building could go even as far as setting up special collaborations between IED and the restaurants with the goal of creating a food design department.
Participation & community through creativity
inspiro furthers active participation and involvement.
It does this through various channels, yet always based on inspiration and creativity:
Participation will start through contests for the space design of inspiro itself, its furnishings, the products used, the inspiro app, ...
In order to maintain the students' involvement over time, there will be monthly contests for visual communication design of inspiro posters, the restaurants' menus, or decoration of the eating spaces.
The contests will be addressed to all possible profiles of the IED student community.
Participation is also present when doodling together on the wrapping/place mats, competing amongst each other to be the winner of the Question of the Day* or of the games on the placemats, or to solve the riddles and challenges to their creative thinking...
Another participatory and community strengthening way is to share ones eating moments via the app.
Using the inspiro wordplay-like hashtags offers further entertaining way to generate buzz and community feeling: #inspiroinspira, #inspiroIED, #IEDinspira.
* Examples of Question of the Day are:
What table can you eat? A vegetable.
What kind of room has no doors or windows? A mushroom.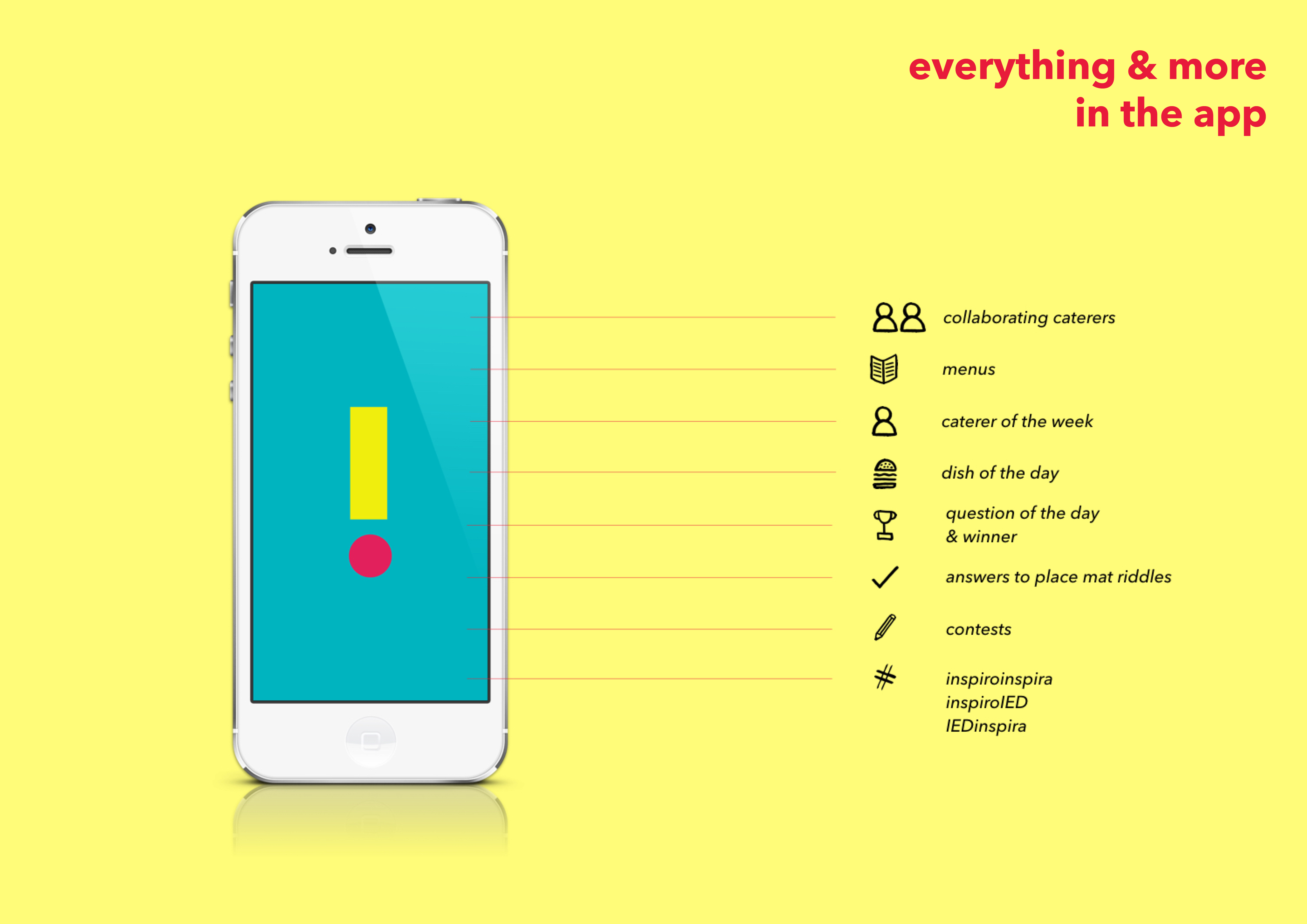 The Presentation
Below you'll find different versions of storyboards I did to help me design the presentation.
You'll also be able to watch a part of the keynote presentation I prepared to present my proposal 👇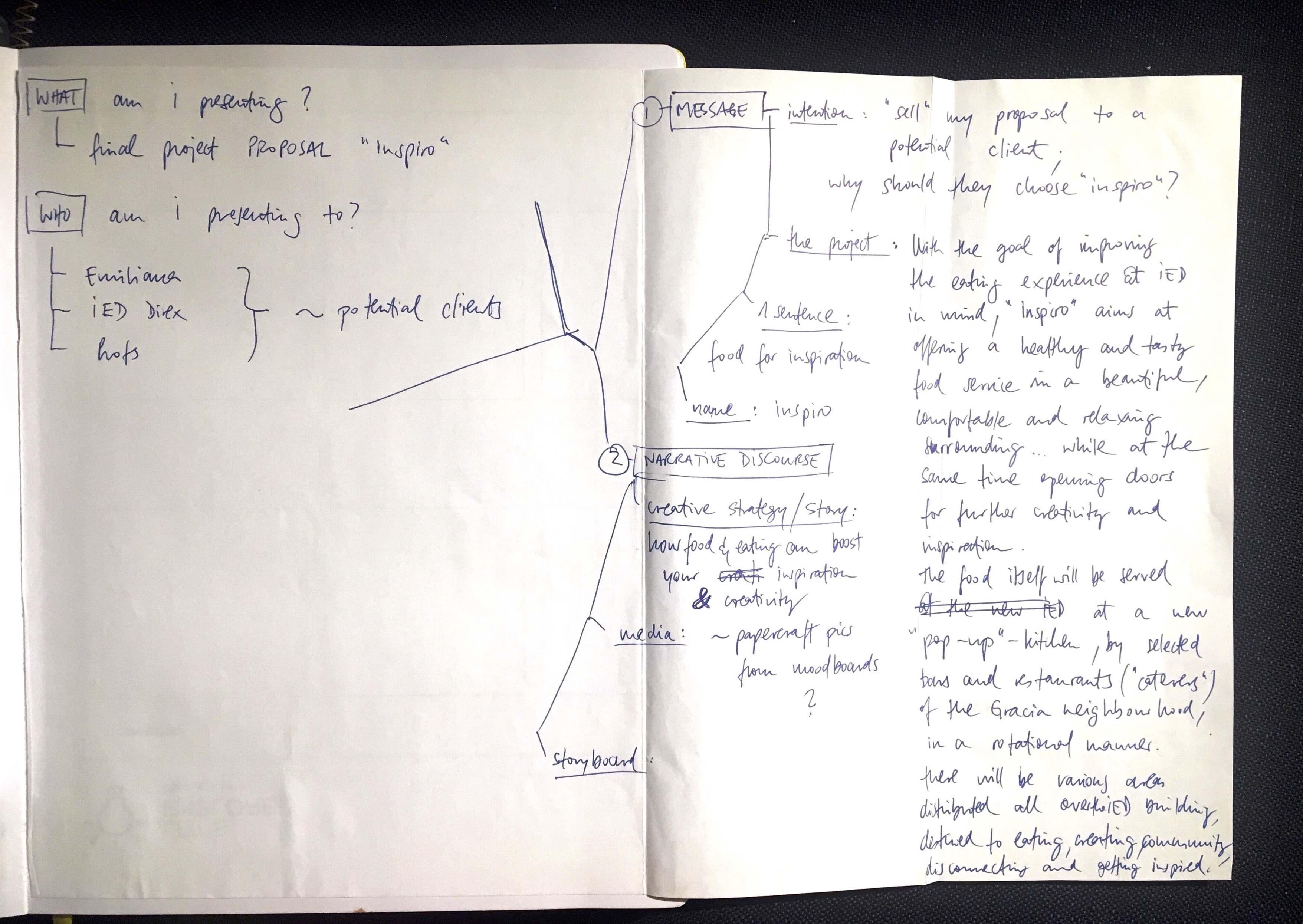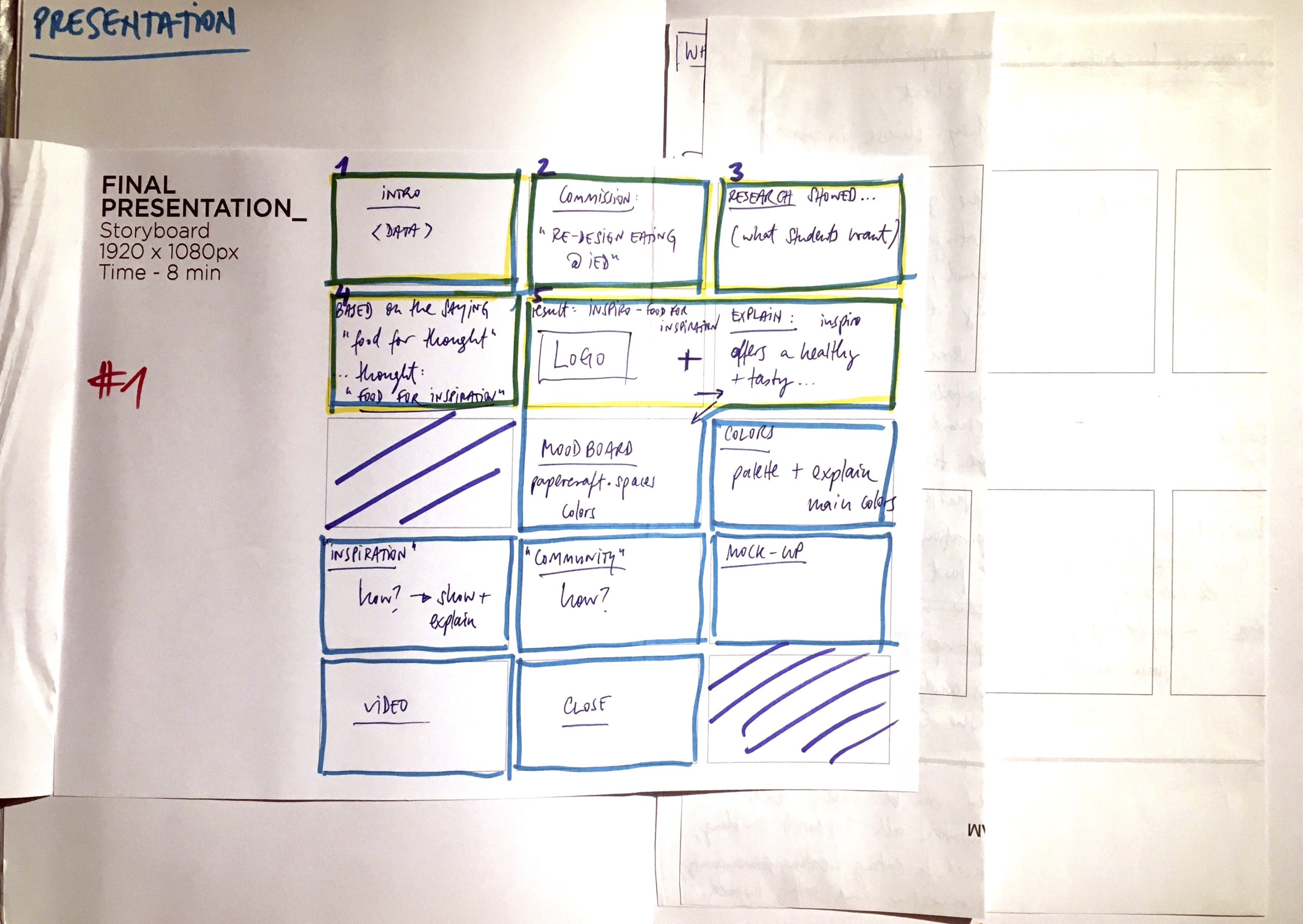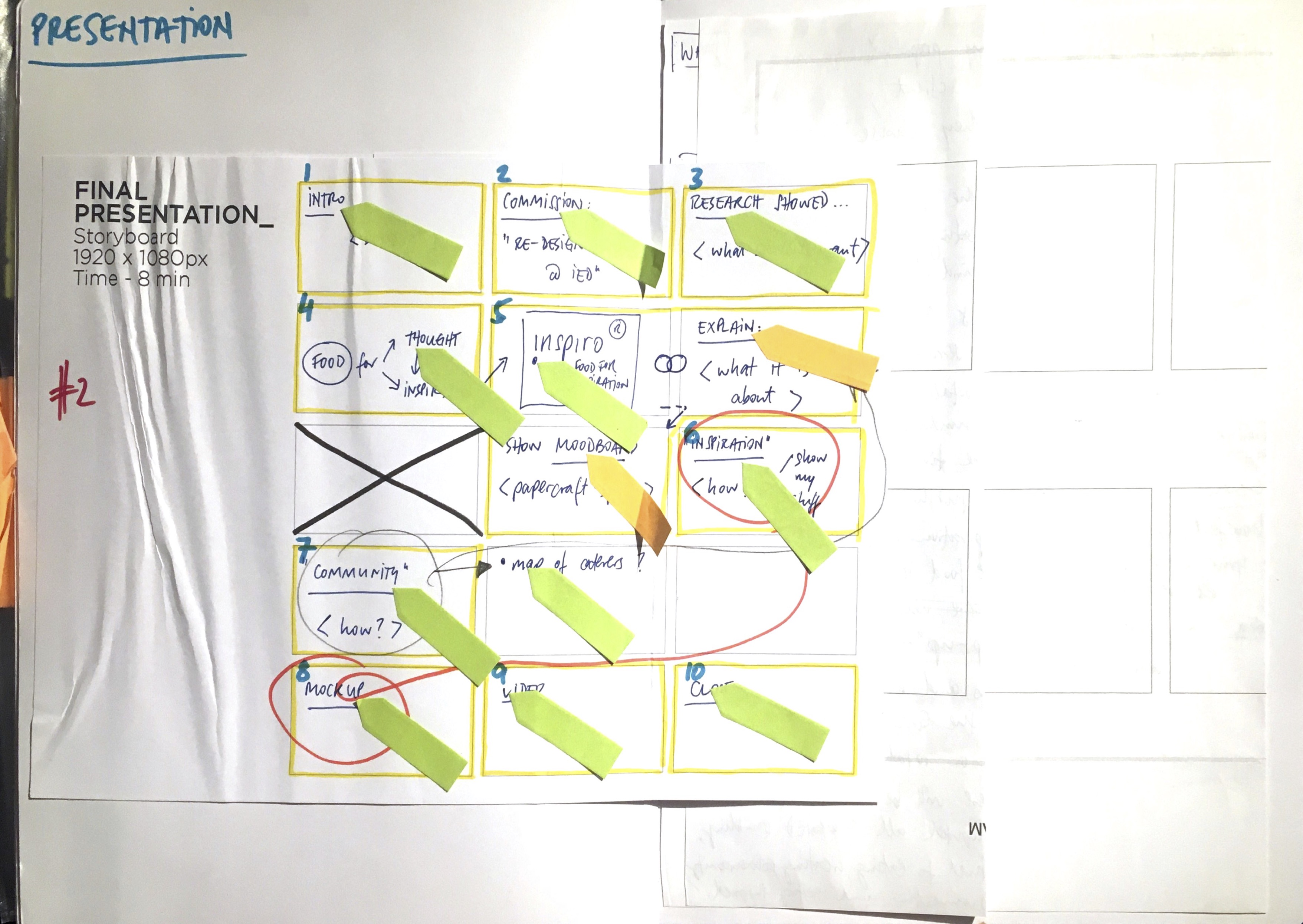 The Dossier
For the dossier we were required to deliver, I also started with a storyboard thinking of what content I wanted to show and how it needed to be structured to make sense.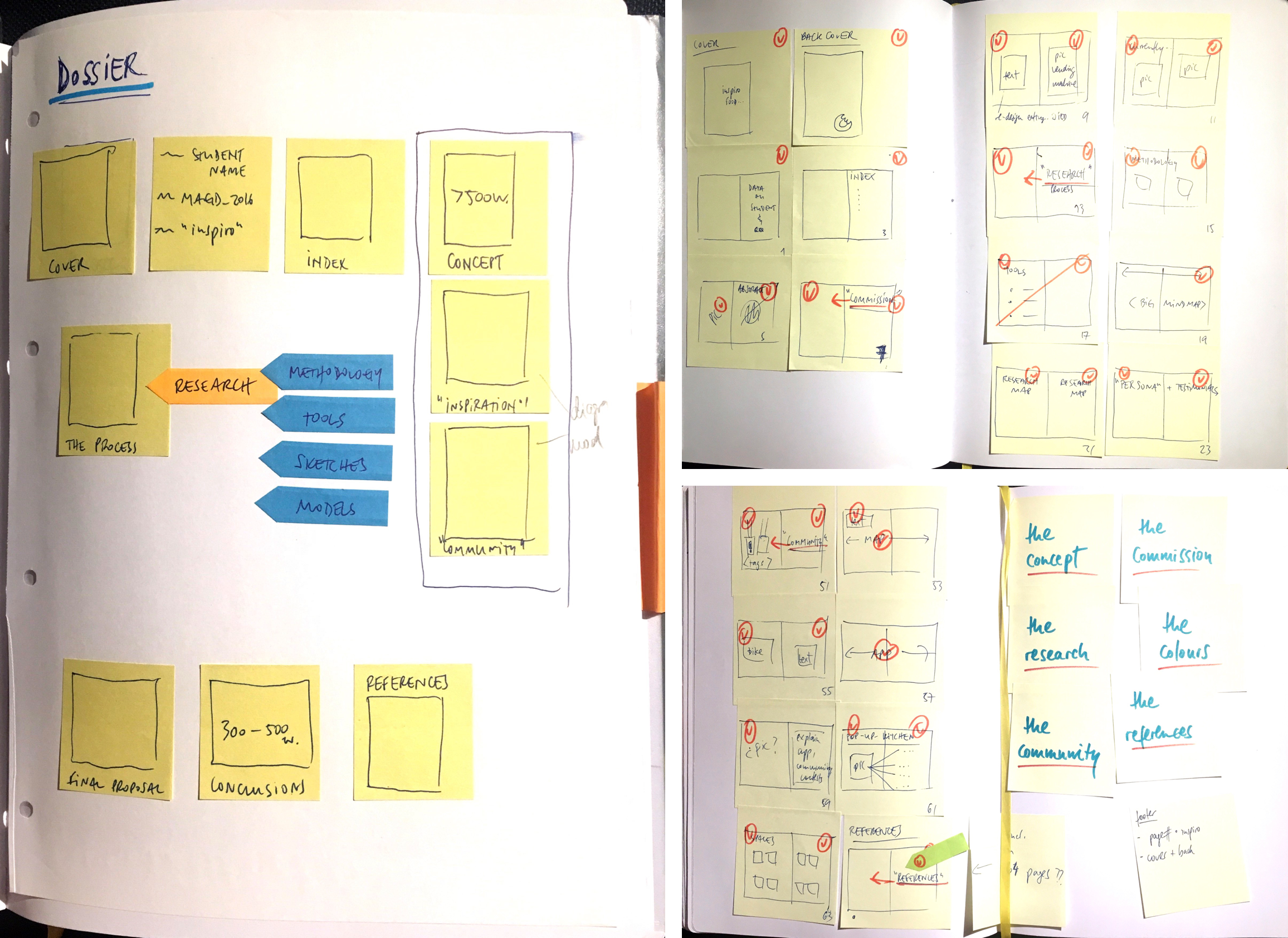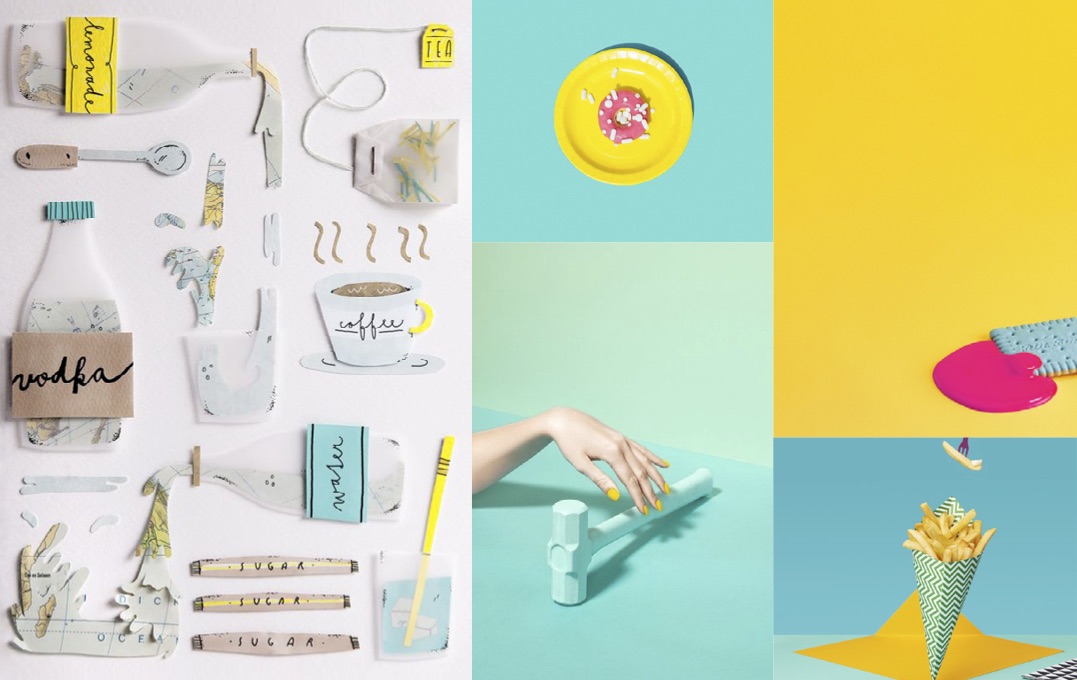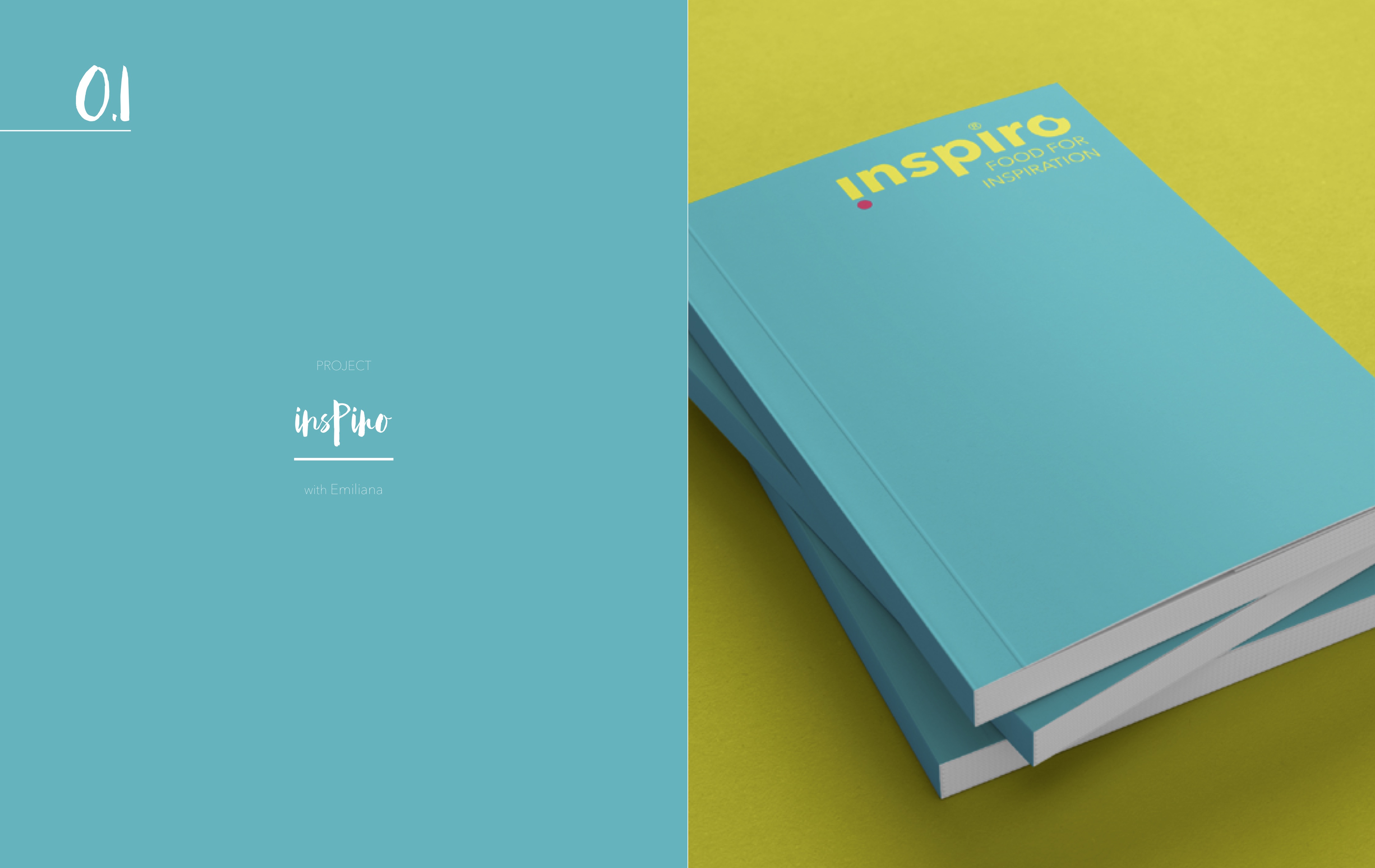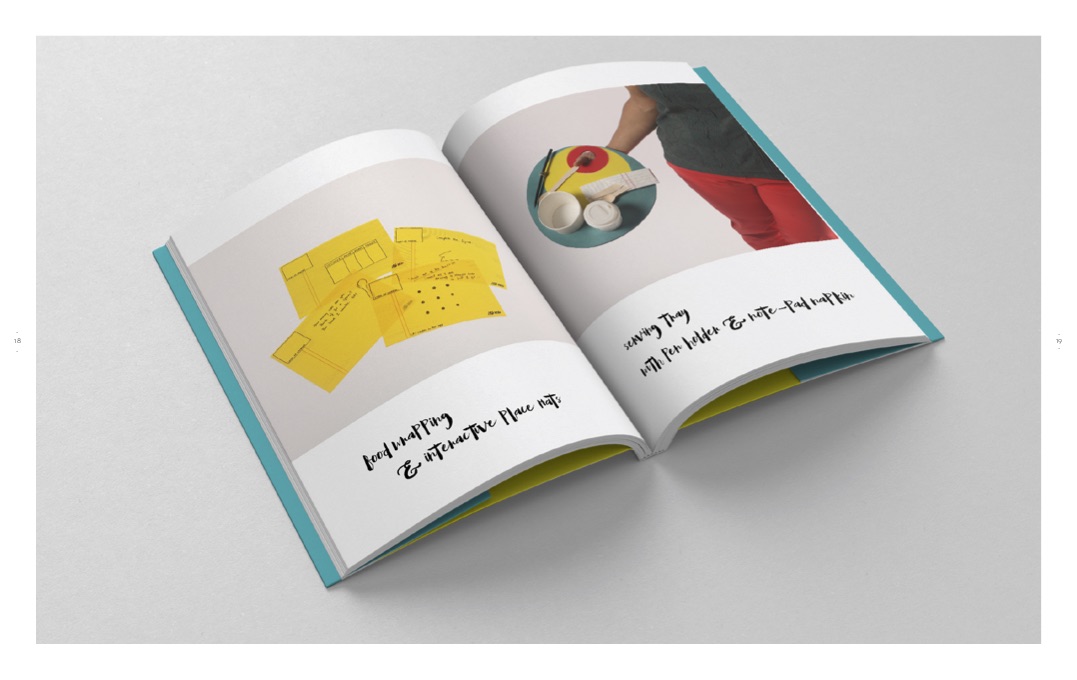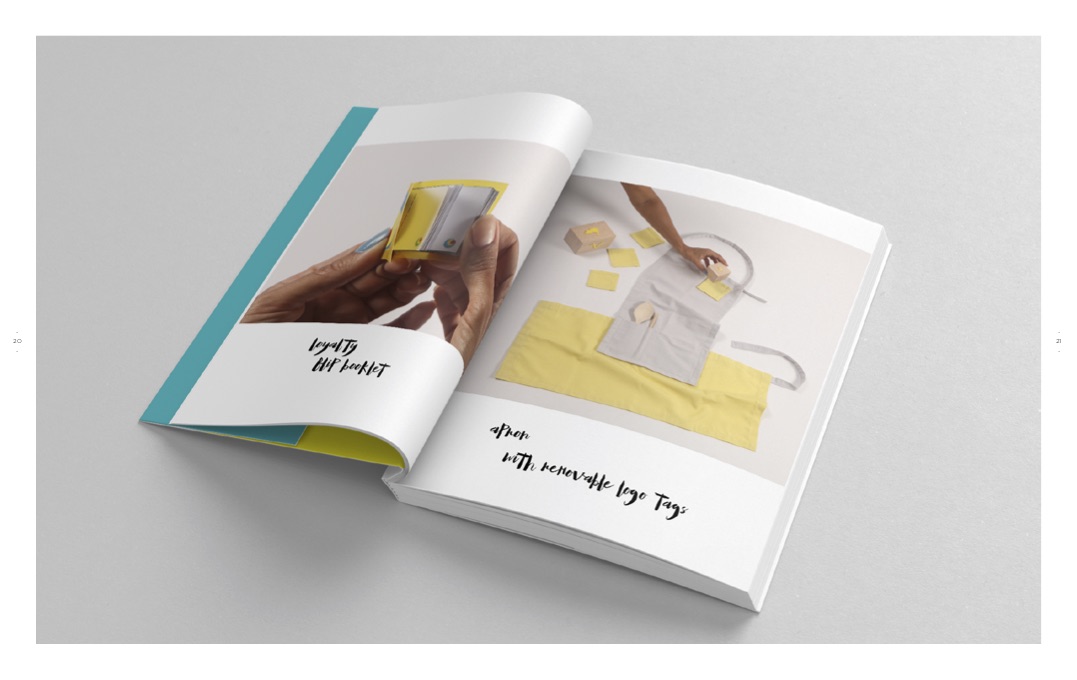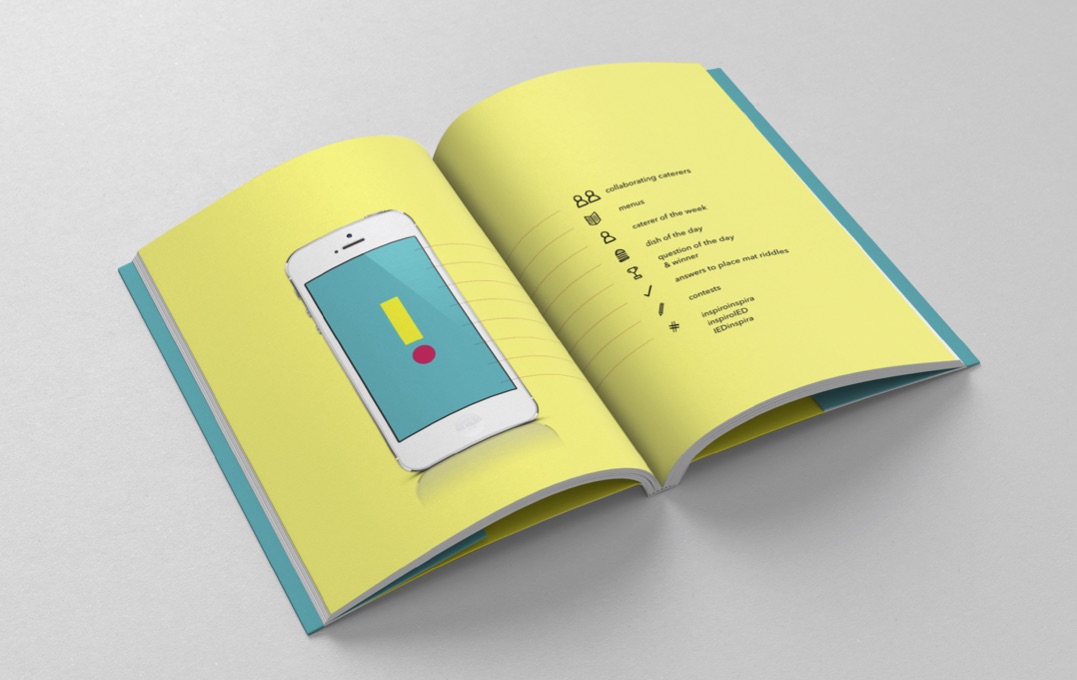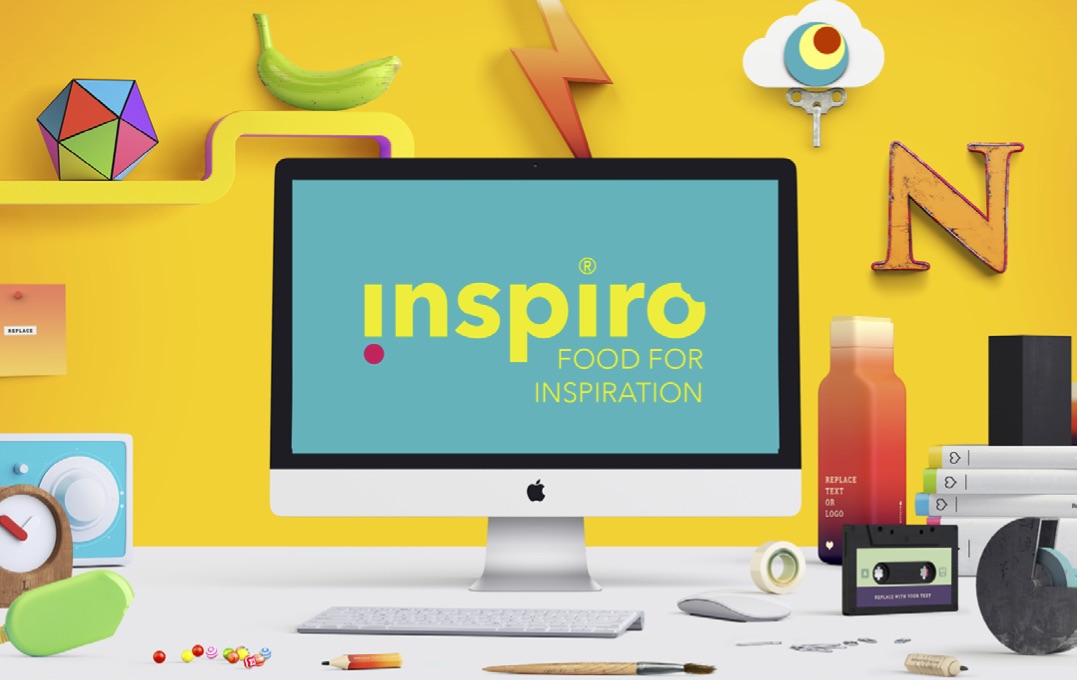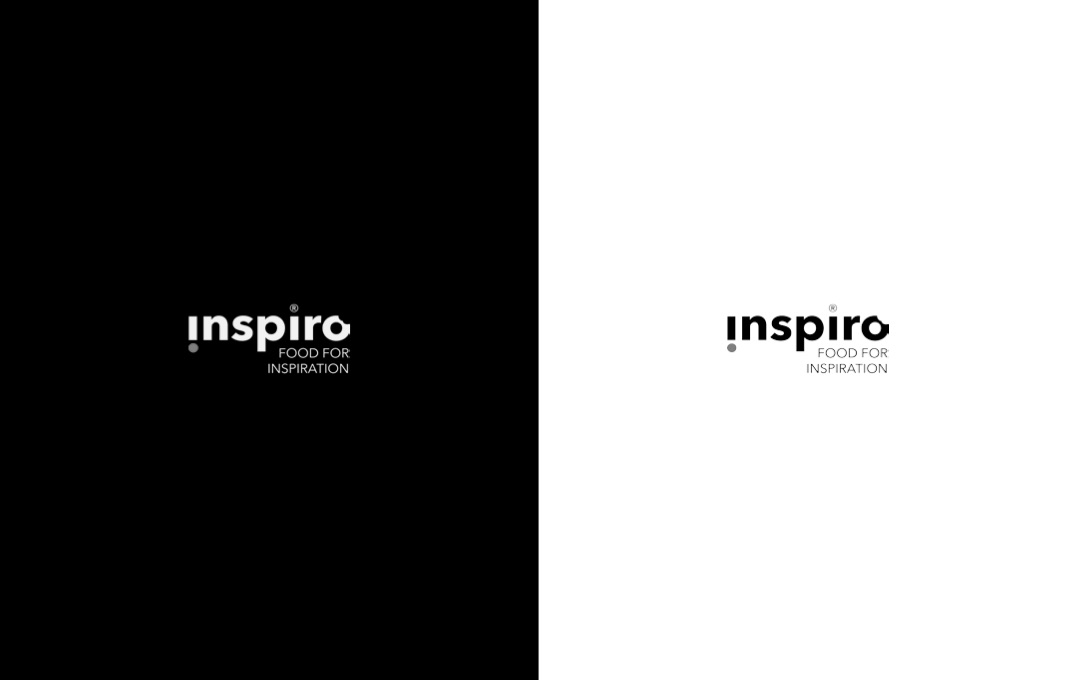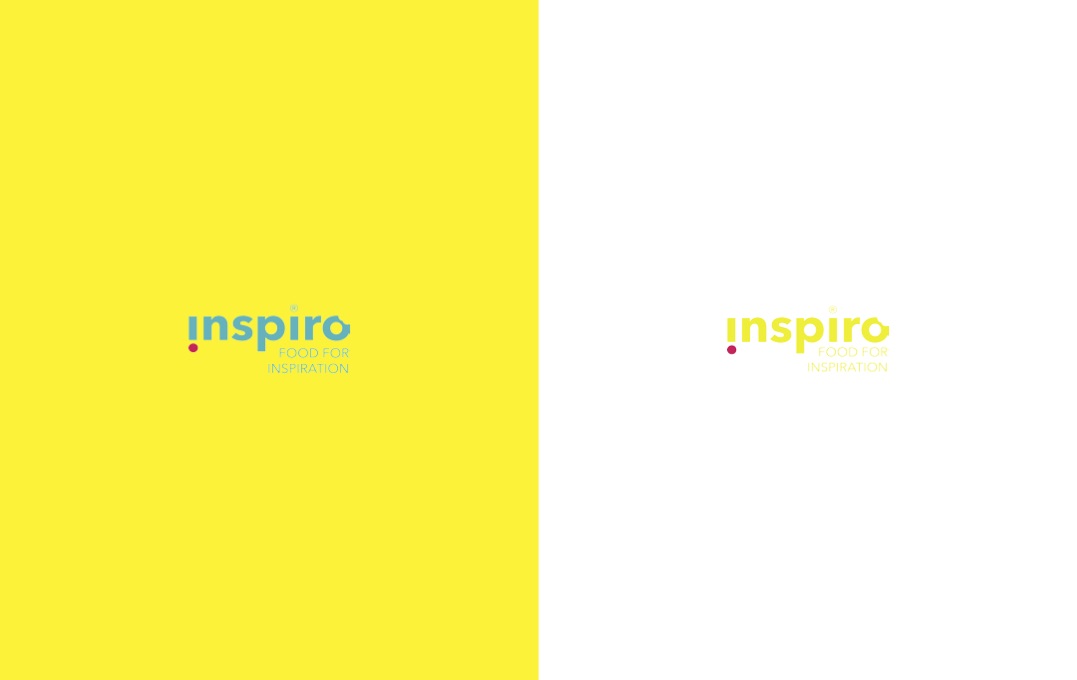 The Video
The last deliberable we were required to hand in, was a video to go with our project.
Below you see the storyboard and the final clip.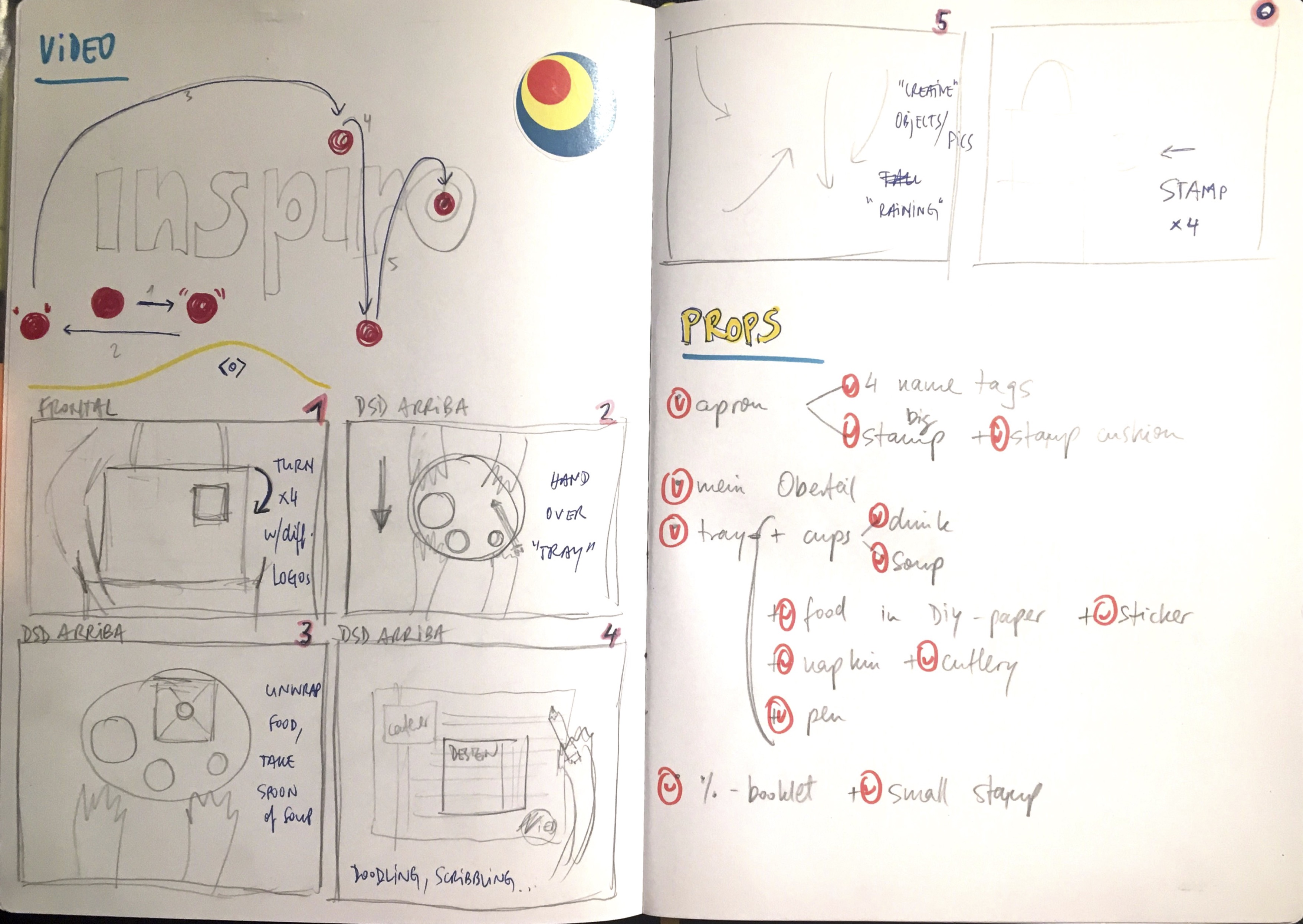 Takeaways
inspiro is the result of 6 months intensive immersion into the world of Design. A world that was completely unexplored by me.
I am not only very happy and proud with how far I came (you only have to compare with the project I participated in for the contest previous to this master) but also thankful that I dared to embark in this journey. From this moment on, it is clear to me that my professional future has to breathe, in and out: creativity.