WriteNow! Buddy
An App to Track Writing Projects & Motivate Writers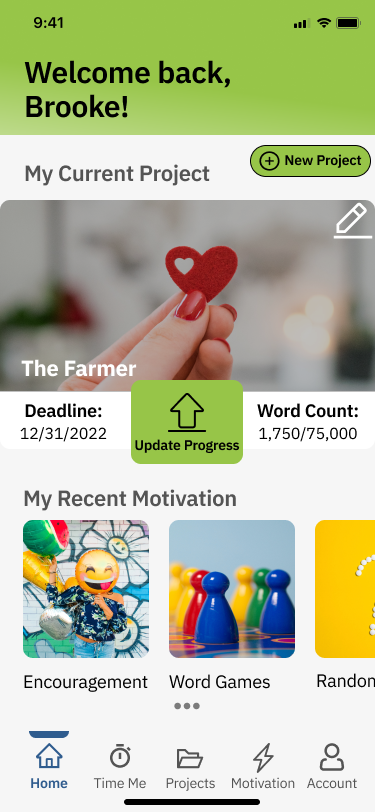 Overview
Many writers struggle in maintaining two things: the motivation to write and an organization of their projects to make writing easier. WriteNow! Buddy is an app designed to help users track their writing projects and gain the motivation that works best to help them finish their project.
The Challenge
Many writers get "stuck" in their writing and find it difficult to continue without extrinsic motivation or an intrinsic motivational prompt. In order to find motivation to continue writing, many users must find motivation on their own which usually involves getting distracted from writing. A second challenge writers face is organizing their writing projects.
Role
Sole UX Researcher, UX Designer, and UI Designer.
Tools
Figma, Invision, Miro, Figjam, Otter.ai, Zoom
The Solution
Writers have many motivational options to choose from but with the WriteNow! Buddy app, users can quickly access a variety of writing motivation options and then return to their writing project once motivated. This app also allows users to set project deadlines, create writing goals, and quickly track their word count progress for each project- which is motivational in itself to many writers.
Process
User Research & Synthesis
Ideation
Design & Prototyping
Usability Testing & Synthesis
Redesign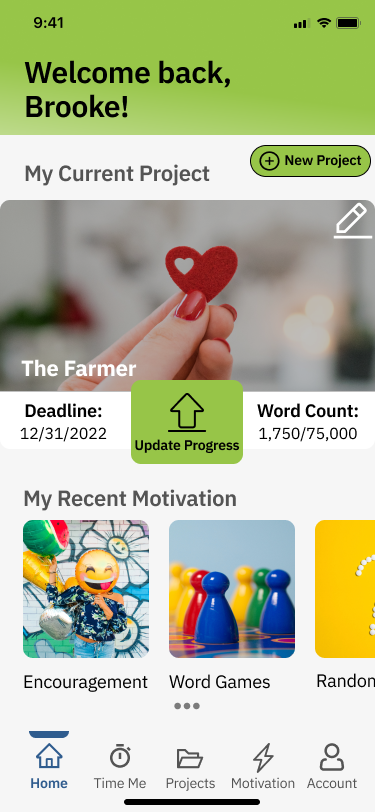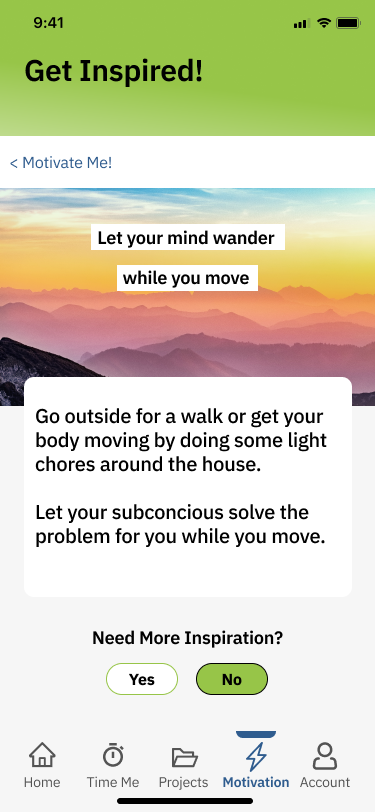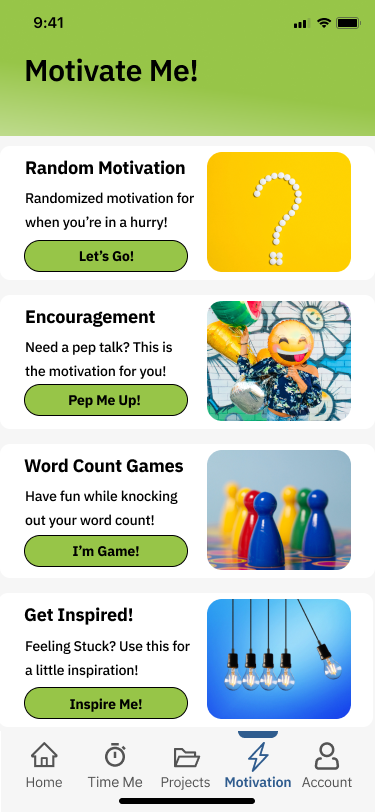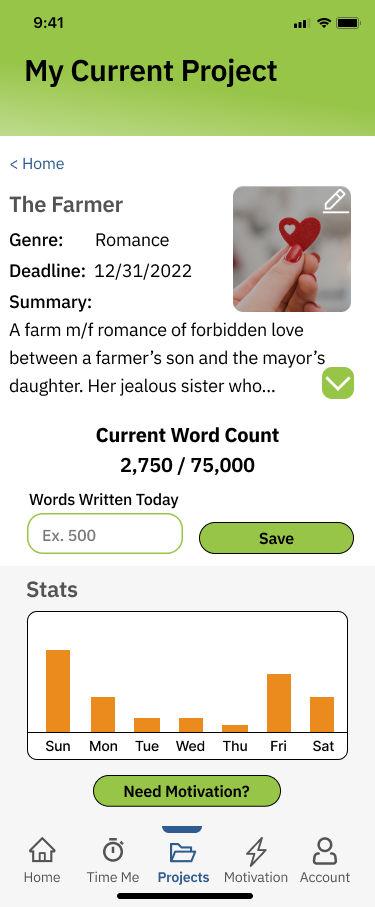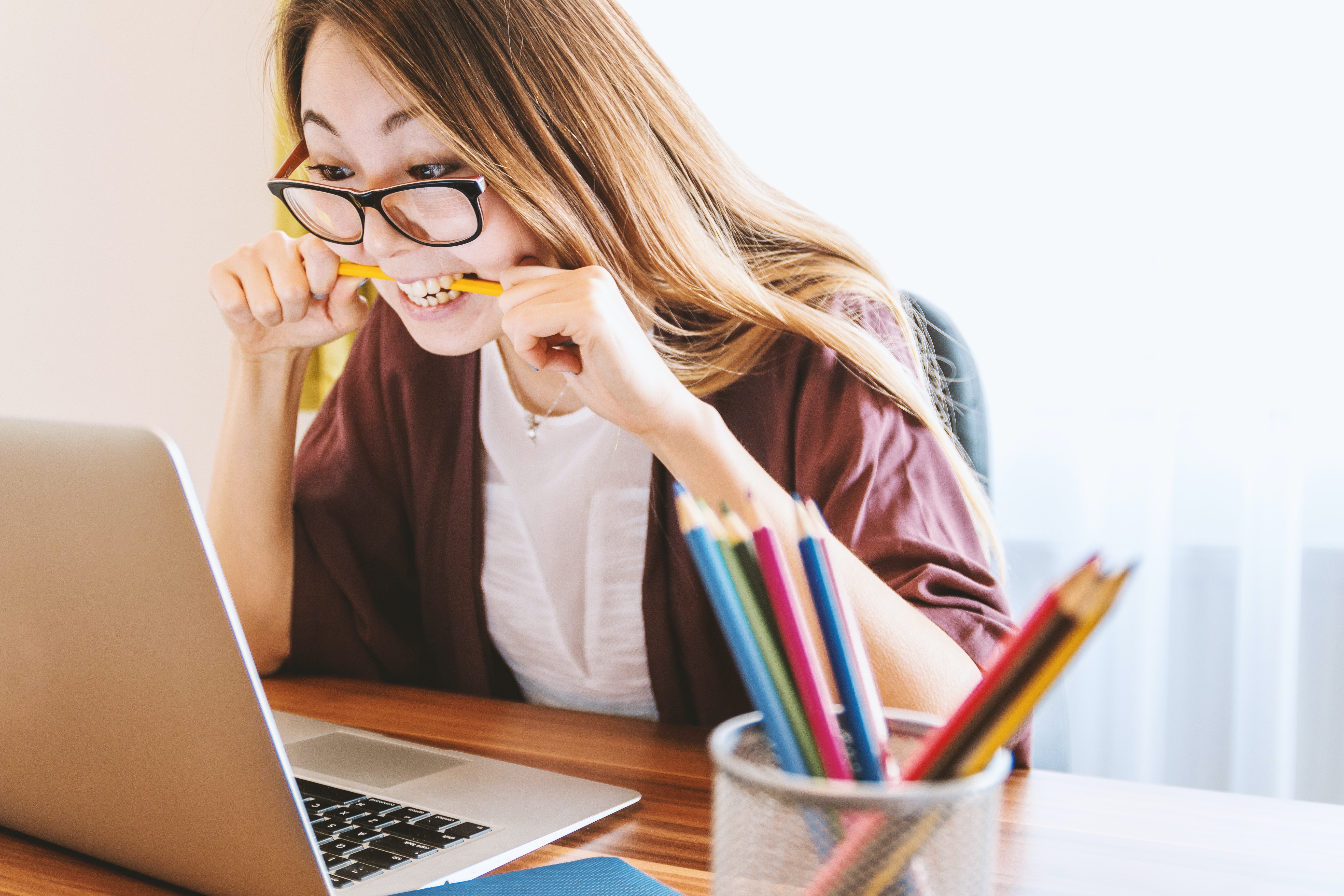 01.01 Secondary Research
I wanted to determine what motivates authors to write and found that successfully being motivated depends on one's personality traits. Both intrinsic and extrinsic motivation are important for helping people successfully achieve their writing goals, but the use of extrinsic motivation can actually negatively affect intrinsic motivation, causing people to become accustomed to receiving a reward for an activity that they previously gained joy from just by performing the activity.
Rewards or the gamification of motivation can also cause people to focus on quantity or speed over quality, causing them to rush through a task and possibly create poor writing simply to get the reward. Intrinsic motivation can be more difficult to create within others. Suggested methods of motivation are to set word count goals and a deadline for completing that goal, then try to set a specific time to write each day. Overall, writers are typically most successful when turning their writing into a habit, but, according to research, habits are difficult to form.
Only 20% of those who actively set out to write a novel actually finish.
01.02 Primary Research
To gain more insight into what motivates writers, I developed an online screener survey through Google Forms to identify and recruit participants. I gathered participants through convenience sampling by posting the survey link to writing groups across several social media platforms.
Screener Surveys
When creating the screener survey, the main objective was to identify users who had experienced a lack of motivation to write in the past year, were those who were willing to learn about how they were personally motivated, and those who had finished writing at least one book (but did not have to be a published author yet).
Survey Questions
How often do writers get "stuck" or find themselves unmotivated to write?

What helps authors push through a lack of motivation to finish their books? (i.e. How are authors motivated to keep writing?)

Can self-understanding of their preferred type of motivation (intrinsic or extrinsic) help motivate authors to write?

Are writers actually interested in learning their preferred type of motivation? heading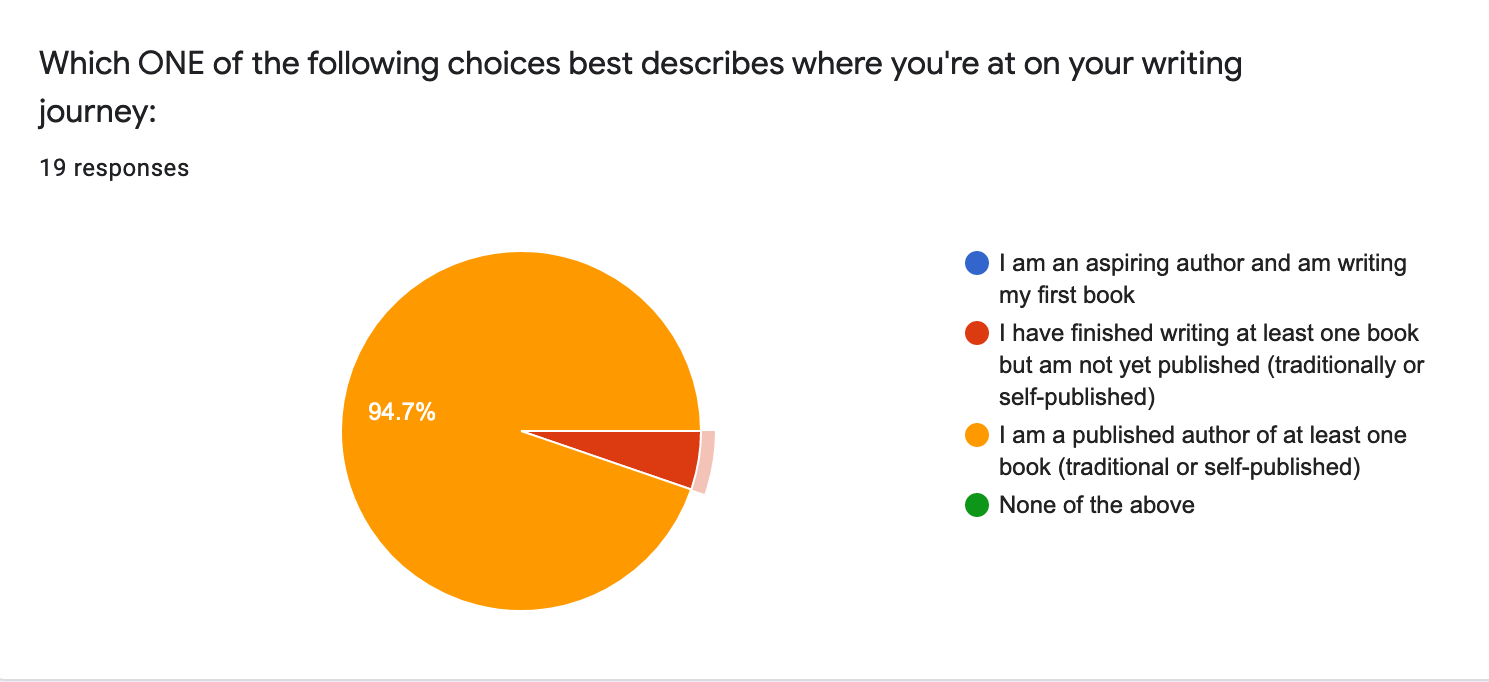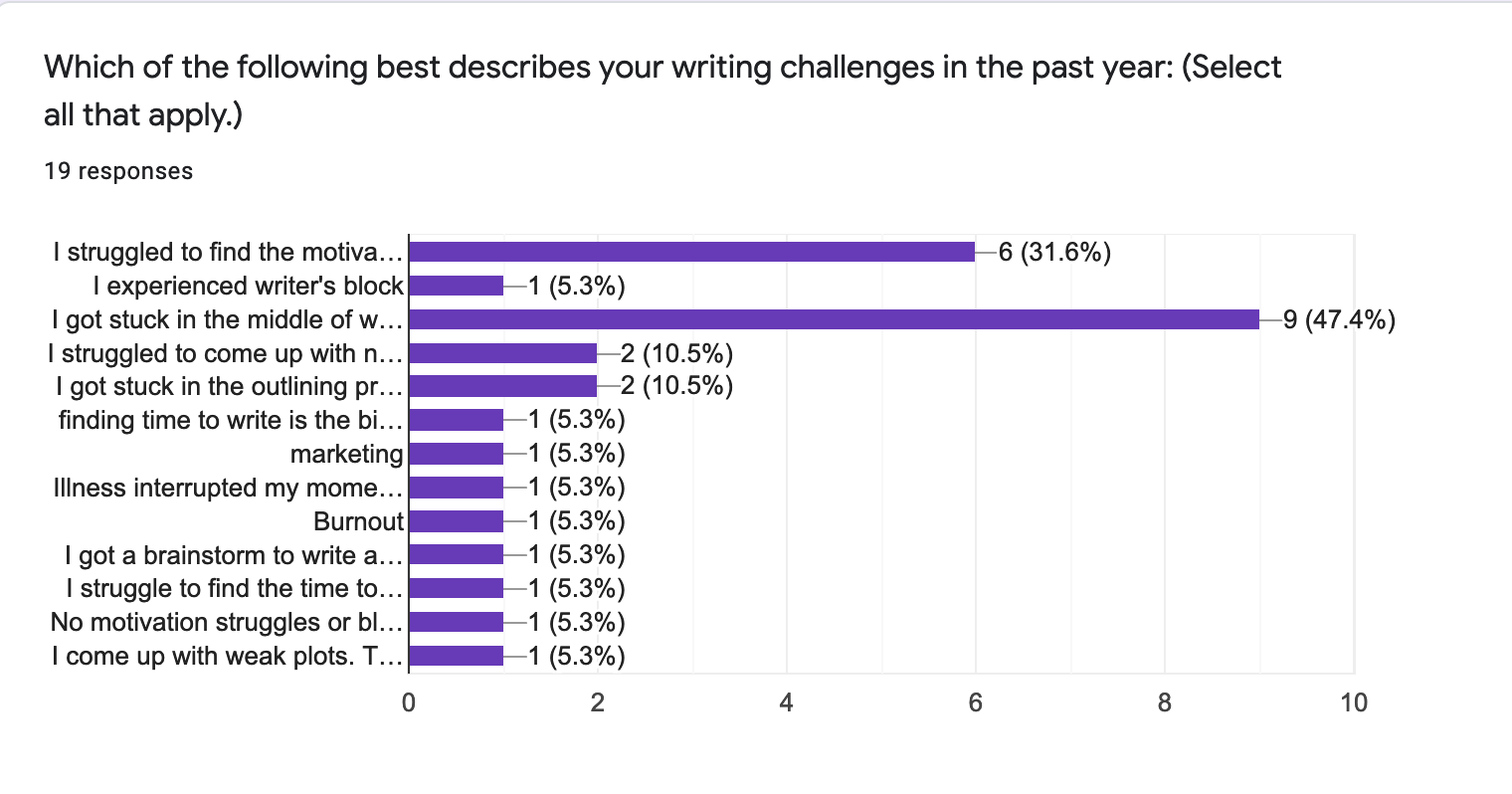 01.03 Qualitative Interviews
Out of the 19 survey participants, I conducted qualitative interviews with 6 participants who met the eligibility requirements and agreed to a recorded Zoom interview.
Research Goals:
Identify each writer's experience with writer's block or lack of motivation.

Determine how they've gotten through those bouts of writer's block in the past.

Determine what their feelings are on external rewards (badges/awards) versus intrinsic rewards (encouragement via app notifications.)
Findings
Almost all writers maintained a daily log of words written and some created daily word count goals.

Writers felt frustrated when they did not meet their self-imposed daily word count goals.

While most writers said they wanted to learn what their motivational styles were, they also each already knew what worked to motivate themselves.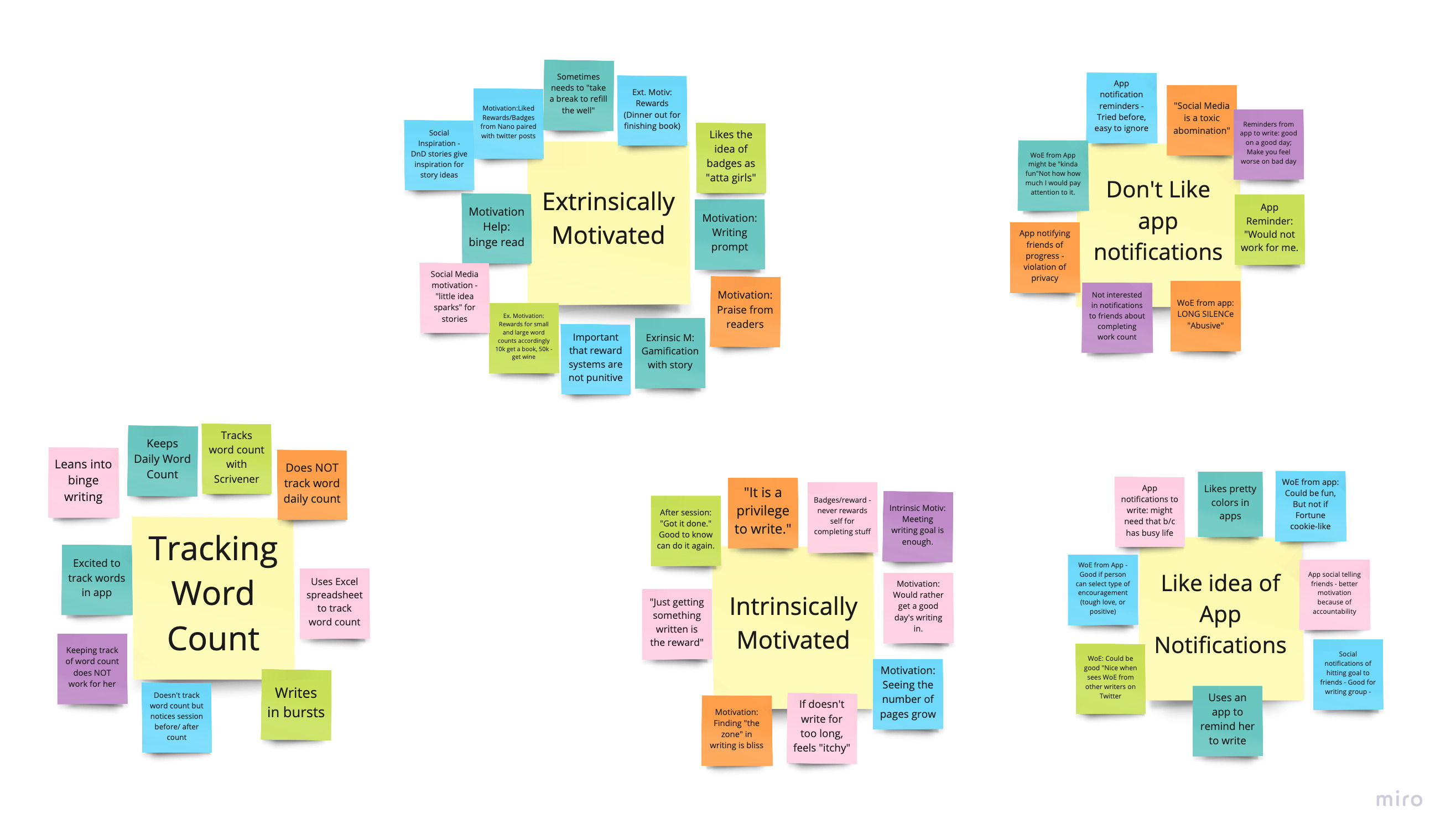 01.04 Synthesizing Data
Affinity Map
Once I completed and reviewed the interviews, I started analyzing and synthesizing the data. First, I created an Affinity Map using Miro to organize participant responses.
Empathy Maps
Affinity maps were then categorized into two Empathy Maps, the Intrinsically Motivated Writer and the Extrinsically Motivated Writer.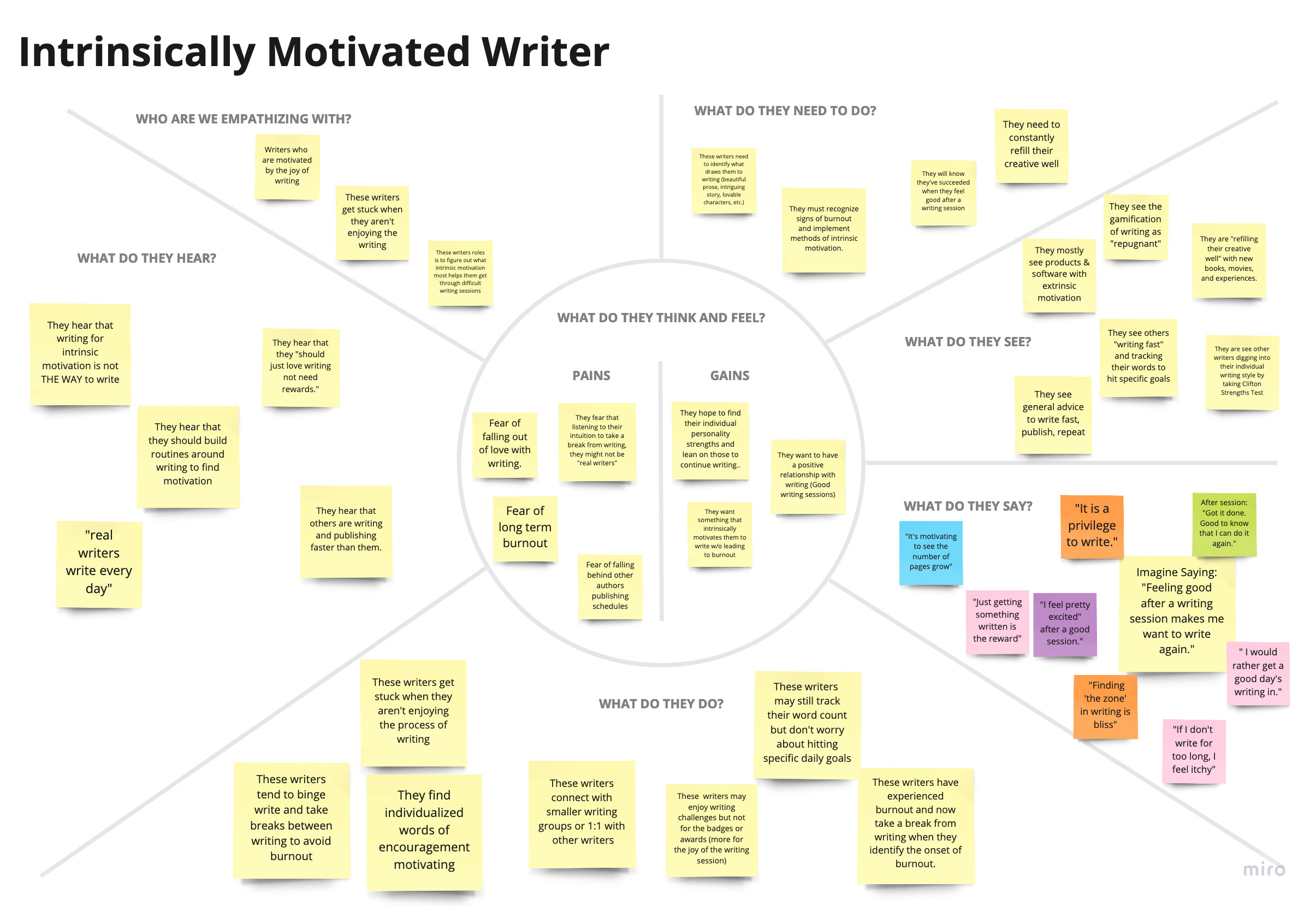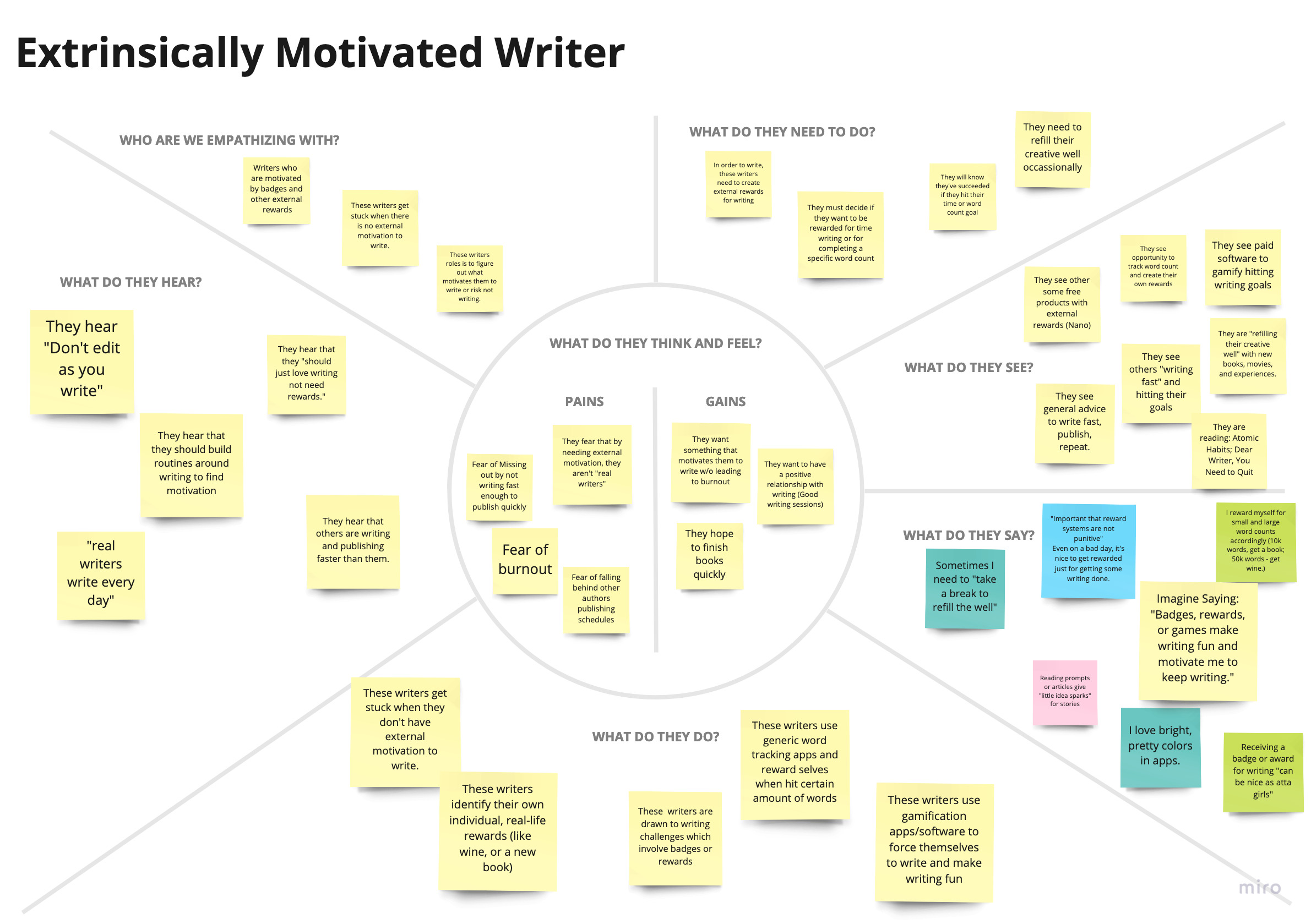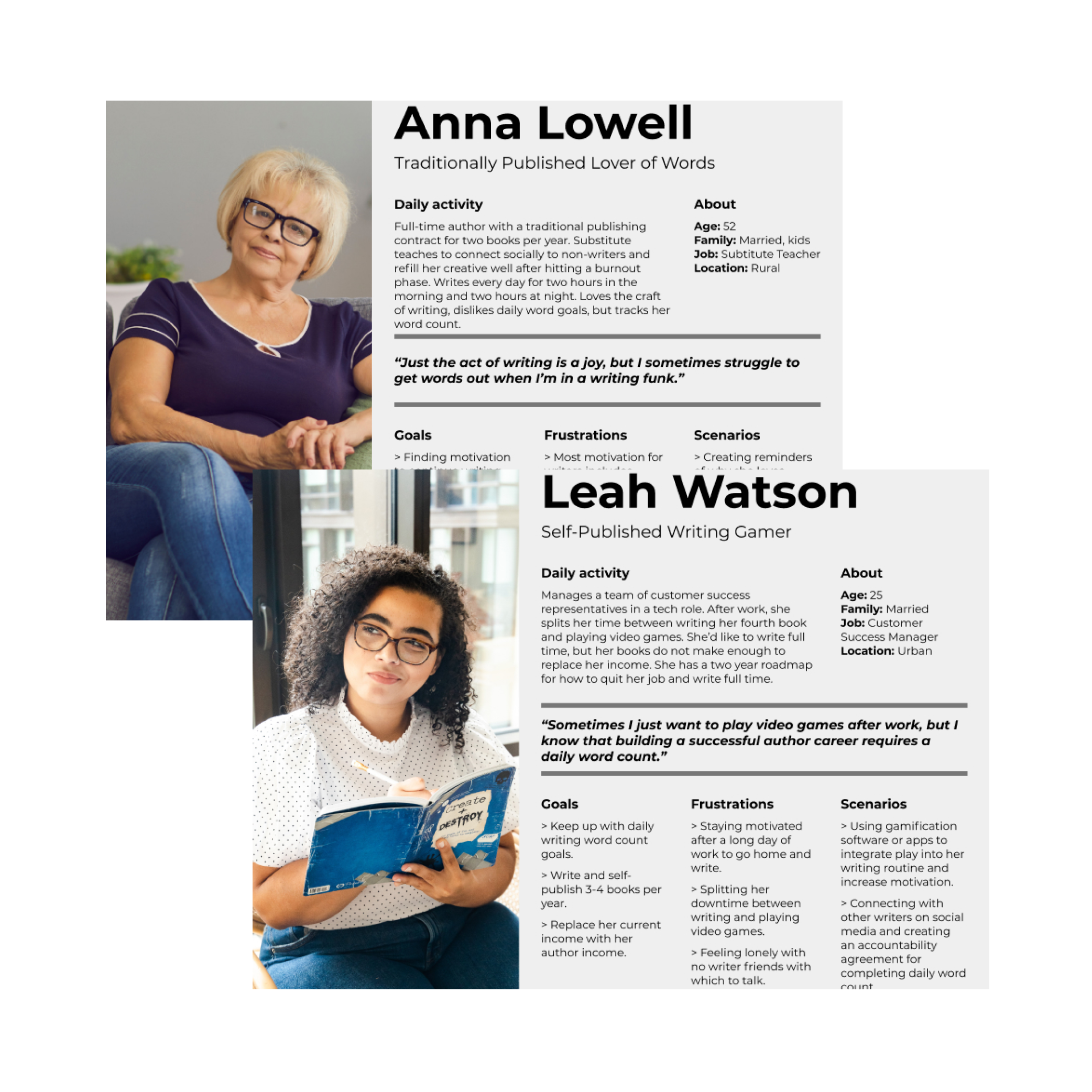 01.05 Personas
After a deeper look at the Affinity and Empathy Maps, I decided to create two Personas to better understand these users' needs and wants.
Anna Lowell, the Intrinsically Motivated User:
Full-time author with a traditional publishing contract for two books per year. Anna substitute teaches to connect socially to non-writers and refills her creative well after hitting a burnout phase. She writes every day for two hours in the morning and two hours at night. Loves the craft of writing, dislikes daily word goals, but tracks her word count.
Leah Watson, the Extrinsically Motivated User:
Manages a team of customer success representatives in a tech role. After work, she splits her time between writing her fourth book and playing video games. She'd like to write full time, but her books do not make enough to replace her income. She has a two year roadmap for how to quit her job and write full time.
01.06 How Might We Statements
After all the findings from my research, creating How Might We (HMW) statements was a fun and interesting final step in synthesizing the data. HMWs allowed me to generate creative solutions while maintaining a focus on the right problems to solve.
How might we help writers identify individualized motivation to successfully meet their writing goals?

How might we assist writers in finding and connecting with other, like-minded authors?

How might we help writers identify when they are nearing burnout and motivate them to get through it?

How might we provide writers with a space to build and maintain a positive relationship with their writing?

How might we develop individualized motivation for writers that meets their preferred notification method?

How might we design a product that provides personalized motivation for each writer's motivational style?

How might we help writers develop a writing habit that meets their writing style and goals?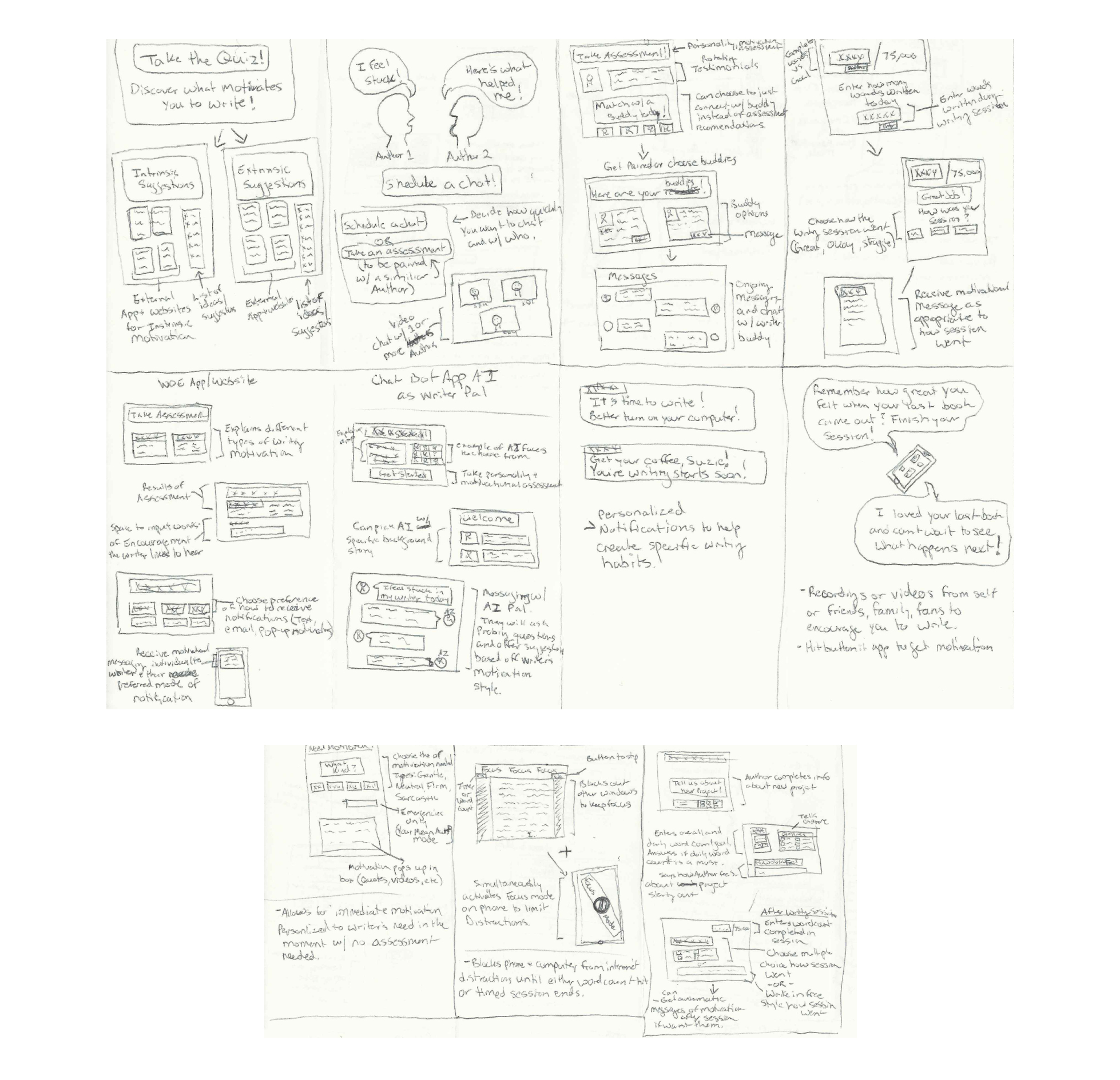 02.01 Ideate
Based off my research findings and the synthesis conducted, I was able to gain enough insight to brainstorm some ideas and establish concepts to tackle users' (writers') problems.
In a short 1 hour sketching sprint, I generated 11 quick sketches to get some of my ideas on paper.
This session really solidified that this product would be an app rather than a website.
02.02 User Stories
Major Shift in Design Thinking
I created User Stories and categorized them into High, Medium, and Low need categories, allowing me to build a common language and a mental model of what this project is.

My initial High Need User Stories were:
As a writer, I want the login process to be easy so that I can get motivated to write faster.

As a Writer, I want to learn what my motivational style is so that I can be motivated to write more.

As a writer, I want a simple method to get immediate motivation so that I can get back to writing.

As a writer, I want an easy way to track my word count so that I can know exactly how much more writing to do.
However, looking back at the Affinity Map and Empathy Maps, I realized most users already know their motivational style. As such, I modified the High Need User Stories to create fundamental value for users.
As a Writer I want to:
Log in quickly

Gain motivation to write

Track my word count
02.03 Site Map
Using the HMWs and High Priority User Stories as a guide, I identified which pages I needed to create in order to bring those specific functionalities to life using a Site Map.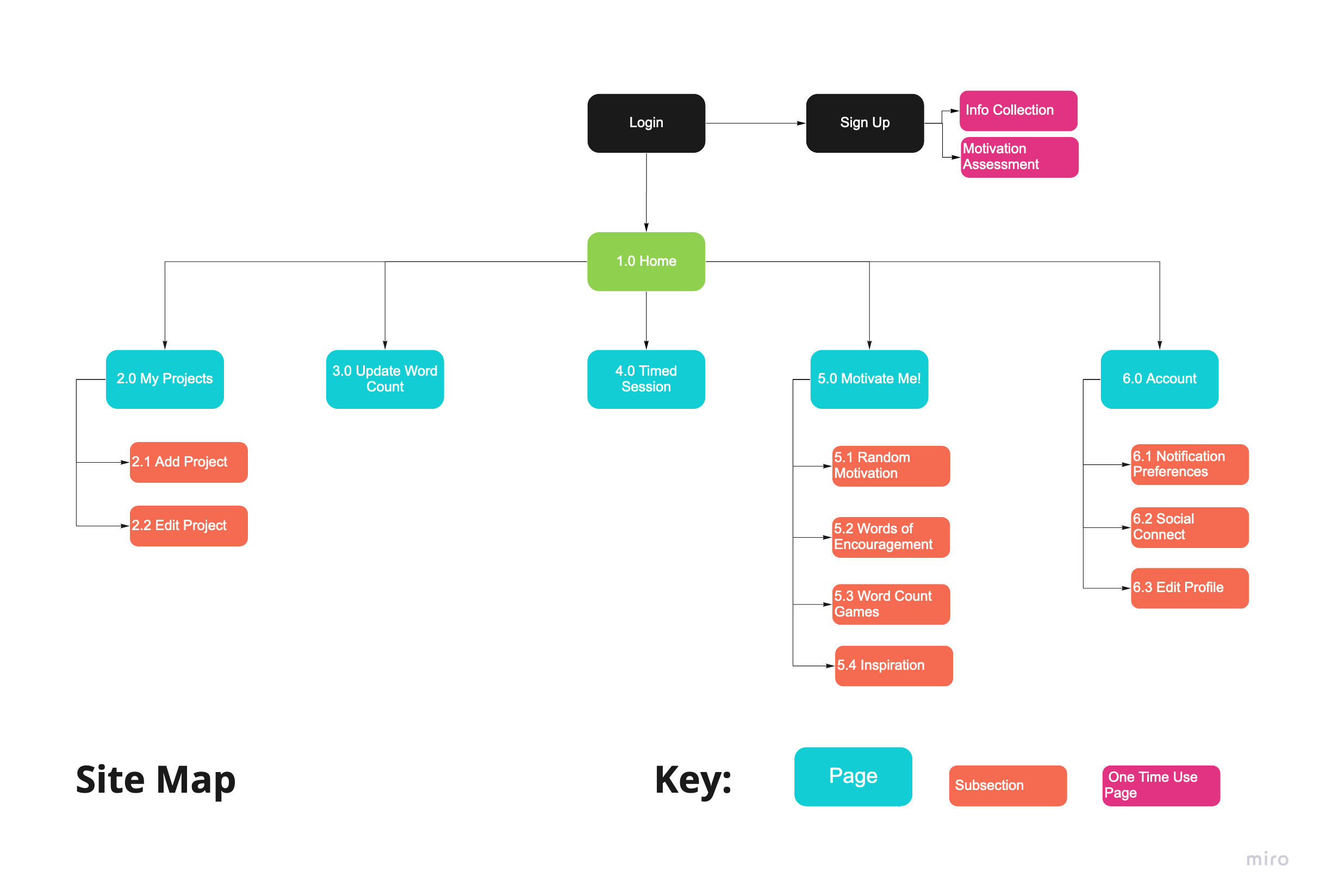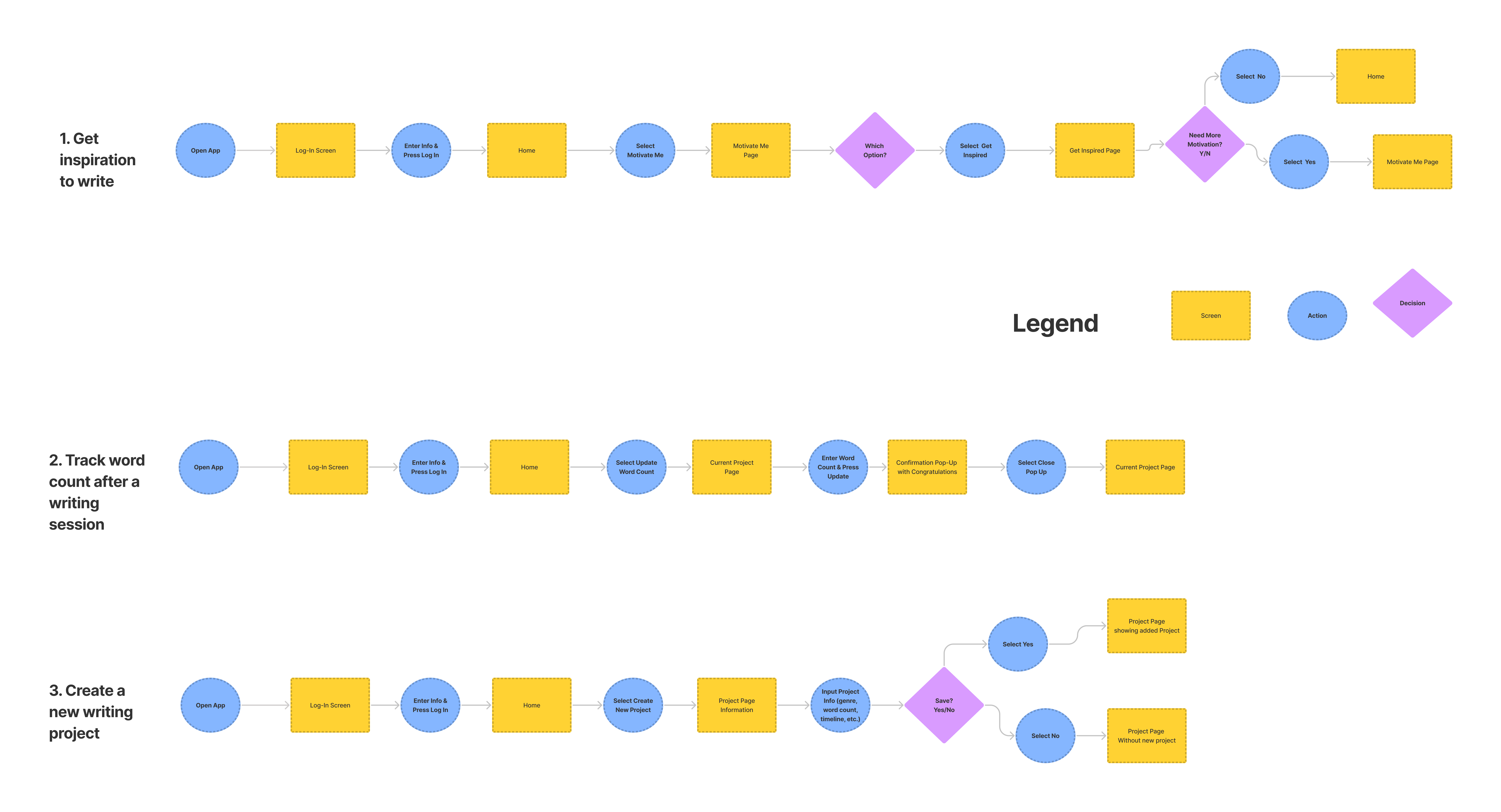 02.04 User Flows
Next, I Identified three red routes that are critical to my users:
Get Inspiration to Write

Track Word Count After a Writing Session

Create a New Writing Project
Then I developed three User Flows in FigJam
02.05 Sketches
Referring back to my User Flows, I sketched the 3 red routes in order to gain a better understanding of what would be needed on each screen to provide the user the specific functionality they need to complete the task.
02.06 Low Fidelity Wireframes
I set up a Figma file in order to have quick access to Sketches, User Flows, and the Site Map while I created a wireframe for each red route.
In the Wireframes, I focused on implementing general best practices while also keeping in mind what functionality was needed for the user to complete the specific task.
After four rounds of feedback and iterations, my wireframes were ready.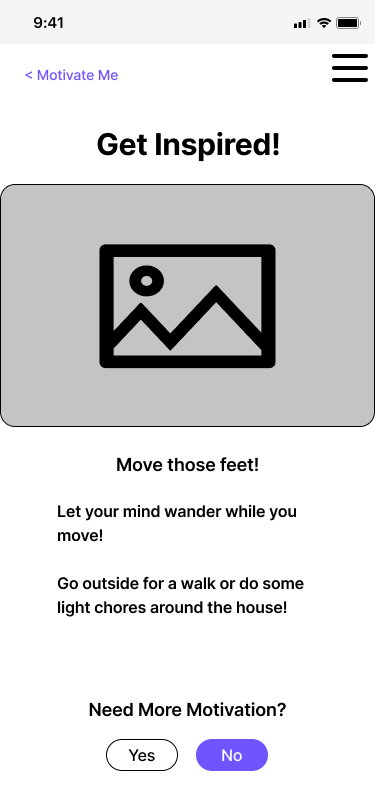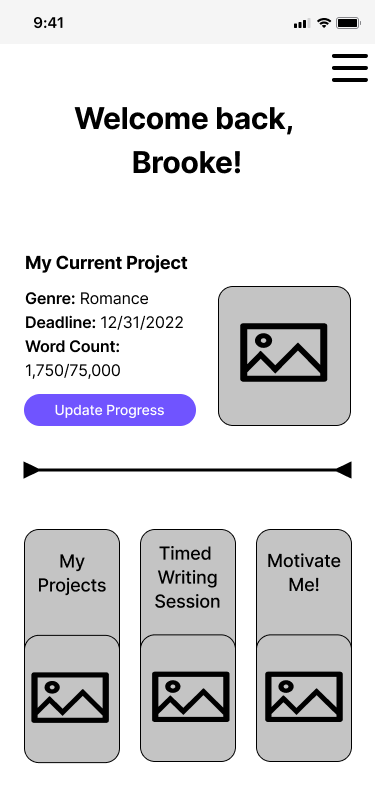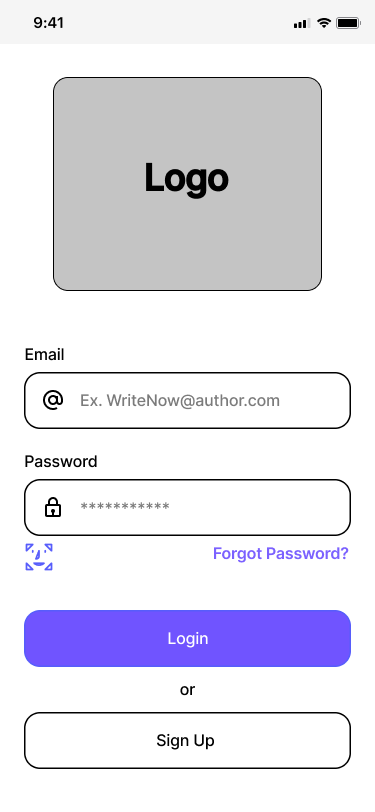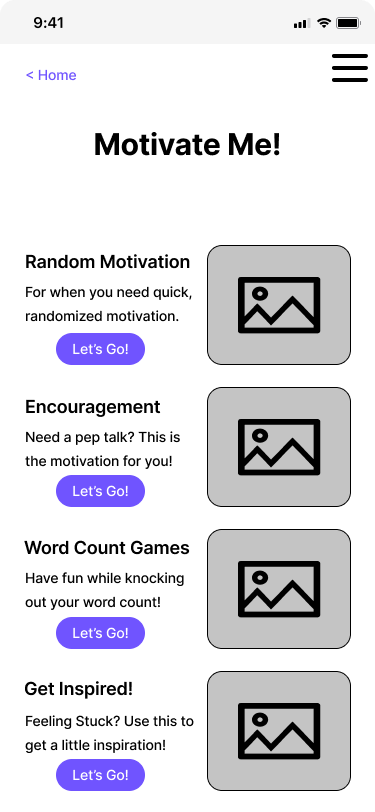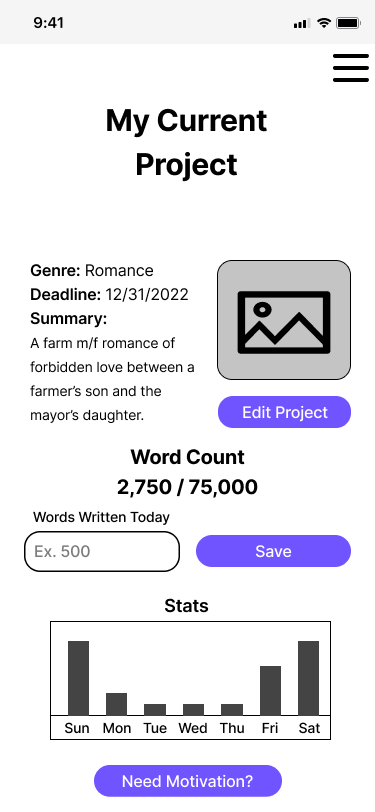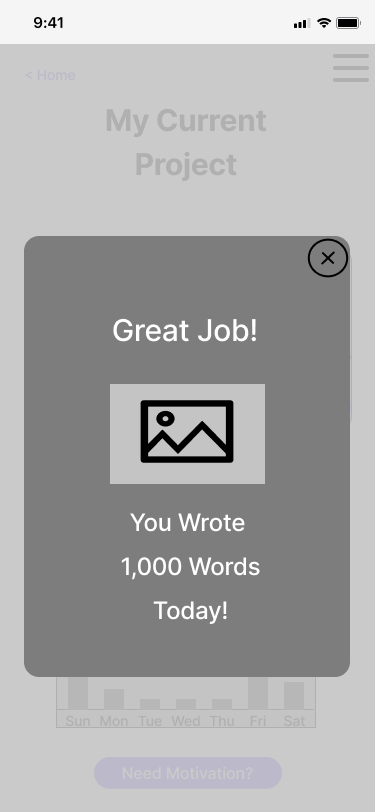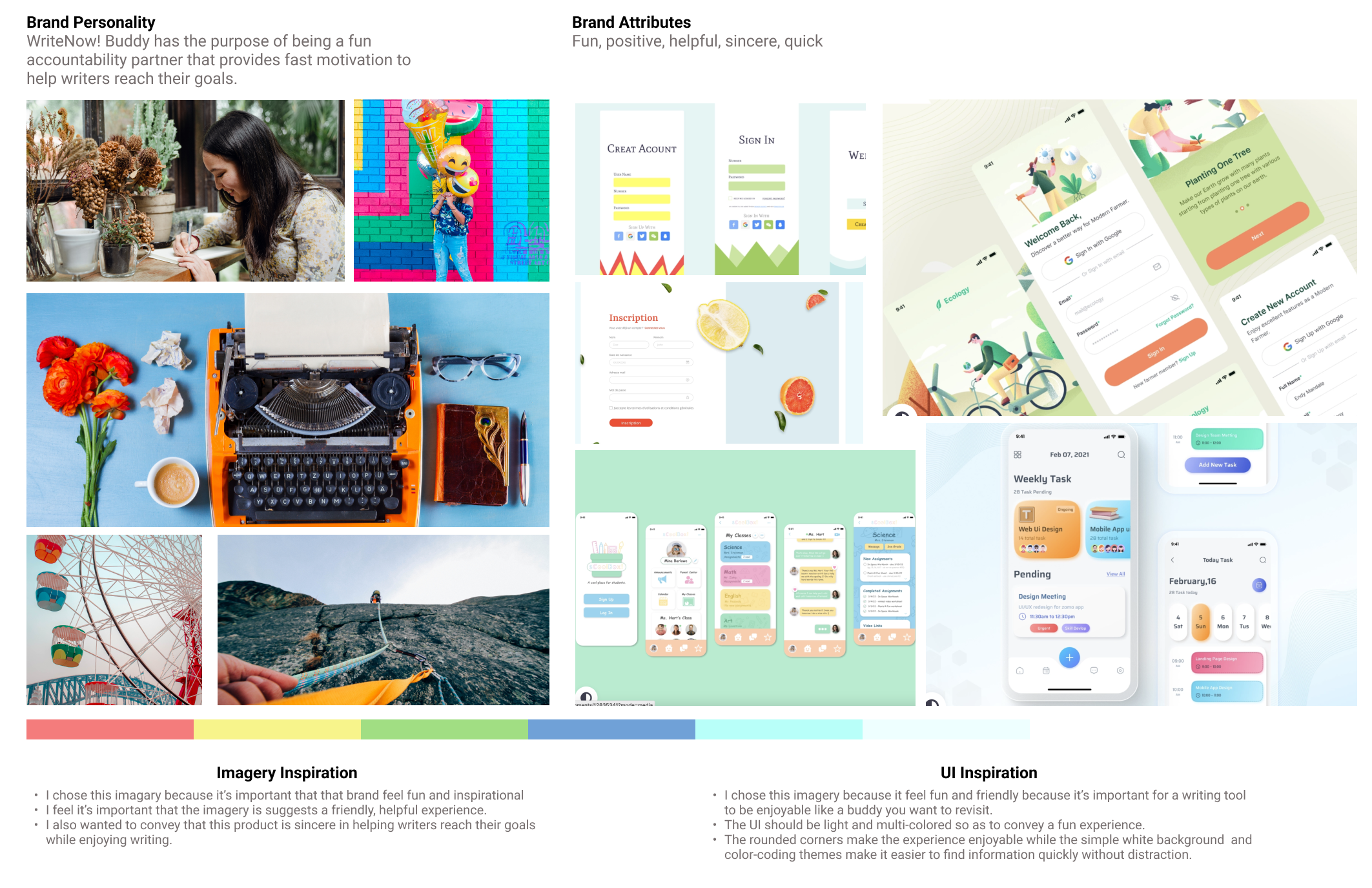 03.01 Brand & Moodboard
Thinking back to my user interviews and HMW's, I developed a brand platform to specifically convey that this product solves the specific problem of motivating writers.
I named the product WriteNow! Buddy and created the following Brand Personality:
WriteNow! Buddy has the purpose of being a fun accountability partner that provides fast motivation to help writers reach their goals.
With the WriteNow! Buddy brand in mind, I conducted some image and UI research to develop a moodboard that captured the feelings of fun while also focusing on identifying simple UI that will allow writers to quickly gain the motivation they need before getting back to writing.
03.02 High Fidelity Wireframes
With a focus on functionality while also keeping in mind what the latest design trends were, I created high fidelity screens which went through three rounds of review and revisions.
04. Usability Testing & Synthesis
04.01 User Testing
Once the high fidelity screens were ready, I uploaded them to InVision and created a clickable prototype. Then I developed a testing plan with a focus on the three user flows in order to test if users could intuitively complete the following tasks with the associated questions:
Test Plan Questions
Task 1: Can users easily find and access the motivational prompts?
Question/User Task 1: You're stuck in your current writing project and need inspirational motivation.
Task 2: Can users easily use the app to update the word count in an ongoing writing project?
Question/User Task 2: You've just completed a writing session on your current writing project and want to track your writing progress.
Task 3: Can users quickly capture a new writing project idea using the app's My Projects page?
Question/User Task 3: You suddenly got a great idea for a new writing project and want to capture it in the app and give yourself a deadline to complete it.
While I initially set out to conduct tests with 5 users, I felt it important to ensure some of those user were experienced writers. Ultimately, I conducted remotely moderated usability interviews with 7 users (2 published authors from my qualitative interviews and 5 people who wanted to start writing projects).
04.02 Test Results
After conducting Usability Tests, I organized the data into an easily readable table with all critical and major issues listed, then synthesized the resultant data with an affinity map. I found that there was 1 Critical Issue and 3 Major Issues.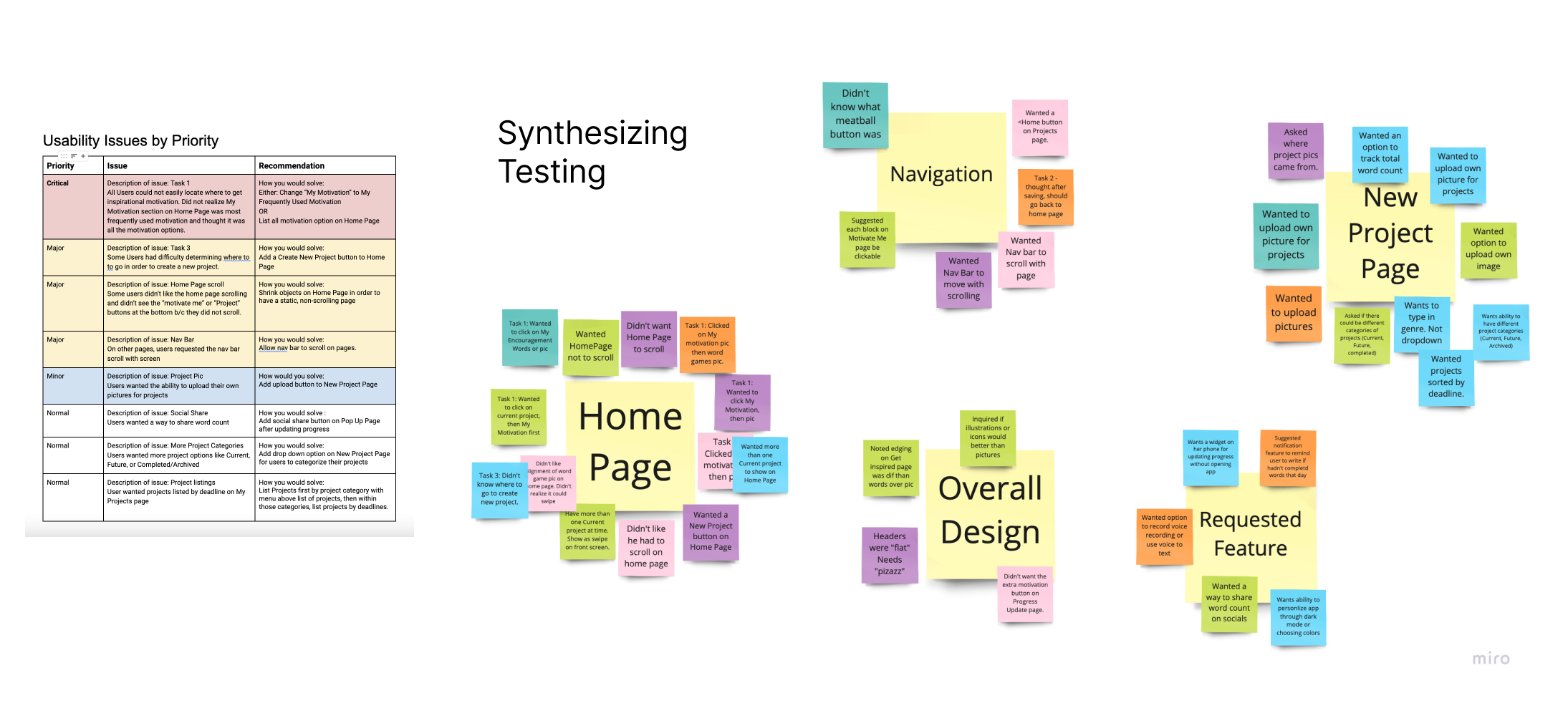 Critical Issue
Difficulty navigating from the home page to the Motivate Me page when trying to find inspirational motivation.
All users were immediately drawn to the My Motivation section on the Home Page and tried to click on the words "My motivation" or the pictures in that section. Most users did not realize that the My Motivation section on Home Page was a section of the user's most frequently used motivation. Most users opted to use the Motivate Me button in the navigation bar as a last resort. Many users said they might have found the Motivate Me button sooner had the Home Page not scrolled or had the Navigation Bar moved with scrolling.
To correct this, I changed the "My Motivation" header to My Recent Motivation and added a third option along with the widely accepted dots at the bottom of the scrolling section to indicate that the section scrolls will allow users to easily access their recent motivation. Limiting the Home Page to be static without scrolling will also help users find the Motivate Me button in the Navigation Page.
Three Other Major Issues
Major Issue #1: Confusion with how to create a new project from the Home Page
Solution: The easiest and most user-friendly solution here was to simply add a New Project button at the top of the home page
Major Issue #2: Users wanted the bottom navigation bar to scroll with the page so that it was always visible
Solution: Ensure the bottom navigation scrolled with the page.
Major Issue #3: Users wished to have the ability to upload their own images for their projects
Solution: Add an upload button on the New Project Page where users expected it to appear.
05.01 Redesign
Addressing the one Critical issue and the 3 Major Issues, I redesigned the product and also ensured that the highest accessibility standards were met, finally arriving at my final UI design.
What I've Learned
Research paired with interviews was key for this case study. Had I only conducted secondary research and not carefully synthesized user interviews, I would have missed the fact that most users already know what motivates them and don't want to lose writing time taking a motivation assessment. Simply providing a variety of motivational options was enough for writers to identify the motivation that worked for them.
It was fascinating to watch this project take shape as I considered the user interviews and shifted the app's priorities to focus on what the users (writers) said that they wanted and needed in an app. Though the initial prototype required some redesign, it was really encouraging that the writers who participated in usability testing requested that I create this app so they could start using it right away to track their writing projects and find motivation.
Next Steps
If I were to continue this project, I would add the other functionalities shown on the app. I would also include features requested by the writers during the usability testing such as:
The ability to add multiple photos to a project for further motivation.

A notification features to remind users to write.

A social media share feature for writers to post their writing progress and gain socially driven motivation to continue writing.