Custom Homemade Chef App - Overview
App Name: Le Maison du Chef
Software: Adobe XD, Photoshop
This was a solo assignment for school that challenged us to reach the objective of creating a custom app designated to ordering takeout from chefs that cooked at home (fictitious).
This app is primarily sampled as an iPhone app, there is no tablet or web previews for this study.
Creatively and logically made an app revolved around homemade meals

The target market would primarily be families that just want to order something quick but homemade for dinner. Would likely be people living in urban locations with a medium-high salary and have children. Might be interested in healthy living.

The challenge/objective for this was to create a very simple, straight-forward app system that didn't over-complicate ordering/searching.

I created everything including: wireframes, logo, basic style guide (typography, colours, sample imagery, etc), to the actual visualizations, animations/interactions of the app prototype.
View the link here: Prototype Sample
Includes: Buttons, Hover Animations, Scrolling (left/right, top/bottom) along with Navigation (nav functions only available on some screens).
I do not own the imagery. All imagery is sourced from Unsplash.
User Journey with App
Concern:
I decided to thoroughly map out how each user would navigate through the app I designed. I needed to assume from a developer's perspective on how certain functions would react in certain circumstances whilst maintaining a clean and easy flow for the user to glide through each screen with straightforward windows and options.
Mapping Points:
Creating the journey map allowed me to properly make a screen flow for the wire-framing of this assignment

The ultimate user goal is to be able to quickly and easily choose a chef, a meal and then checkout - with the final screen being a delivery map that shows the courier and where they are

User = signup/signin -> select cuisine -> select chef -> select meal and then pay for the order + delivery

Each step throughout the process should be flawlessly easy with little to no issues for the user, allowing for a fulfilling experience whilst using the map (ultimately encouraging them to use it more for the sake of convenience)

Signup/Signin both have a 'forgotten password' function allowing for users to reset their information if lost or forgotten via a fictitious website that this app would theoretically have

Mapping everything out assists with ensuring good user experiences
You will see below that my journey map also includes back-end things like potential errors or messages within the database based on user input/activity (ie, wrong credit card credentials).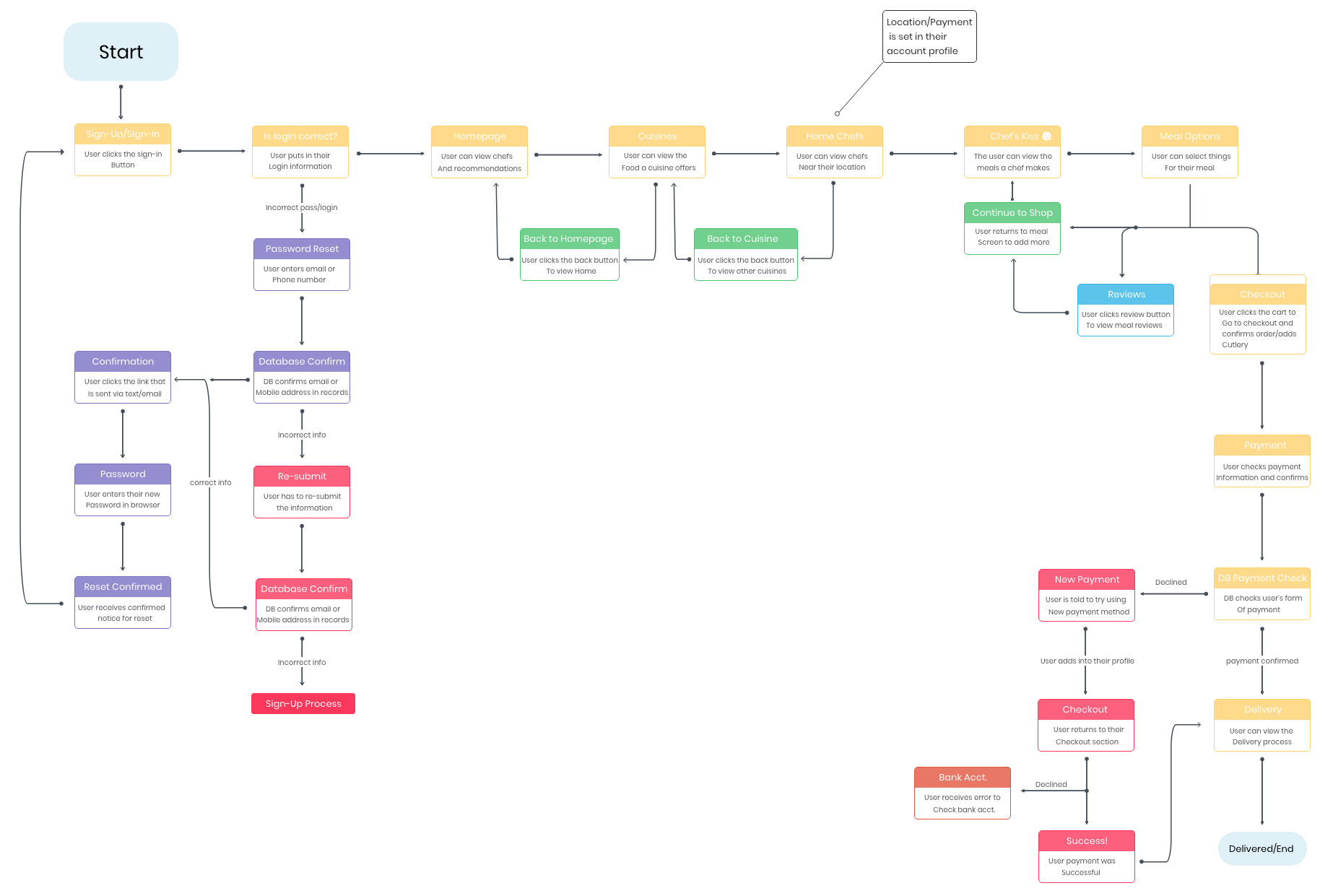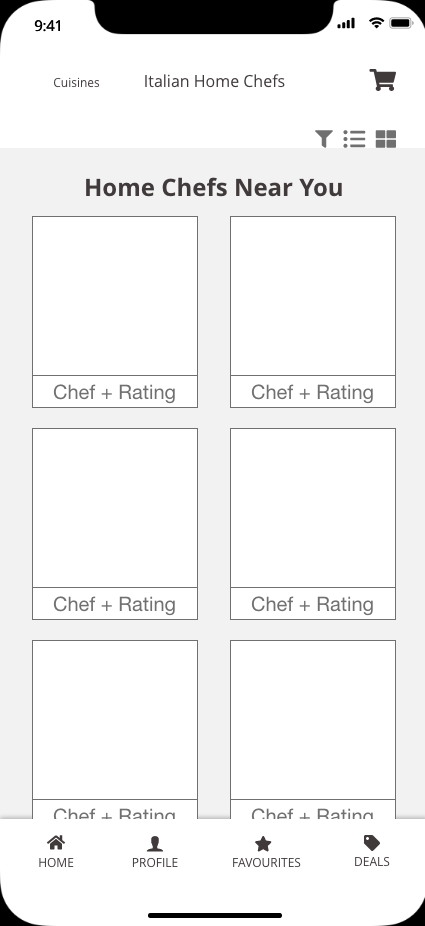 Wireframes
Prior to developing the general design with colours, typography and more, I designed some quick wireframes to ensure maximum positive user experience.
Worth Noting:
Wireframing the layout heavily benefits the design process

Paper-drawn wireframes -> translated into digital screens afterwards

All wireframes are low fidelity

Adobe XD used for wireframing, final output and interactivity elements
It's worth mentioning that the primary logo screen would have quotations on it that slide to the left to replace one another; the home/profile/favourites/deals navigation would allow users to view daily deals or coupons available for certain meals, store any wishlisted/favourited items and give them the simplicity of being a tap away from their profile settings.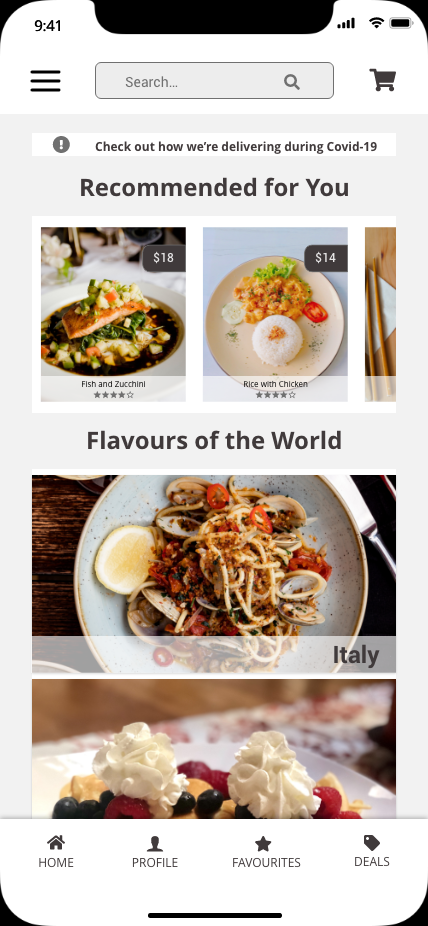 Design Thoughts
After solidifying the general design of the screens via wireframing and setting a general style guide for the application, I finalized everything into reality.
Key Notes on Design:
For this application, I wanted to go for a light and modern style

A lot of the inspiration for this app came from businesses such as Uber Eats,DoorDash and Skip the Dishes

For the app I used an iPhone layout and very specific typography to blend in

The interactivity and design of the app overall is something I'm very proud of

The design reflects the simplicity that I was aiming for in the original objective of the assignment

The app allows a simple flow for the user whenever they use the app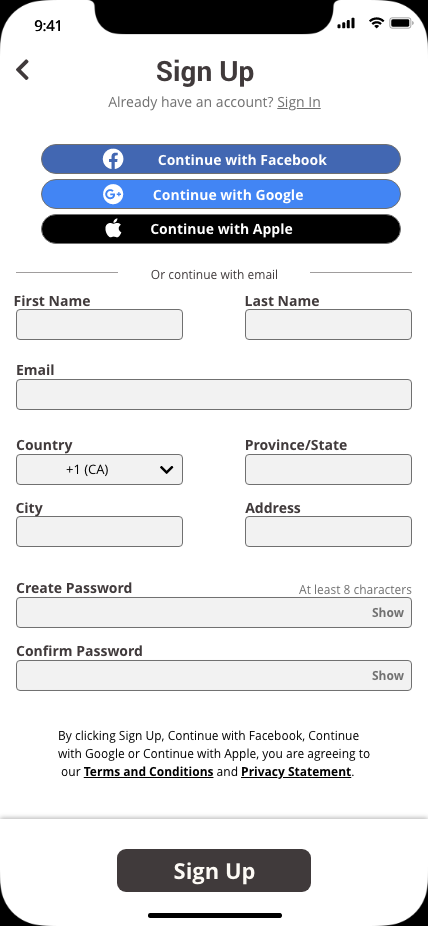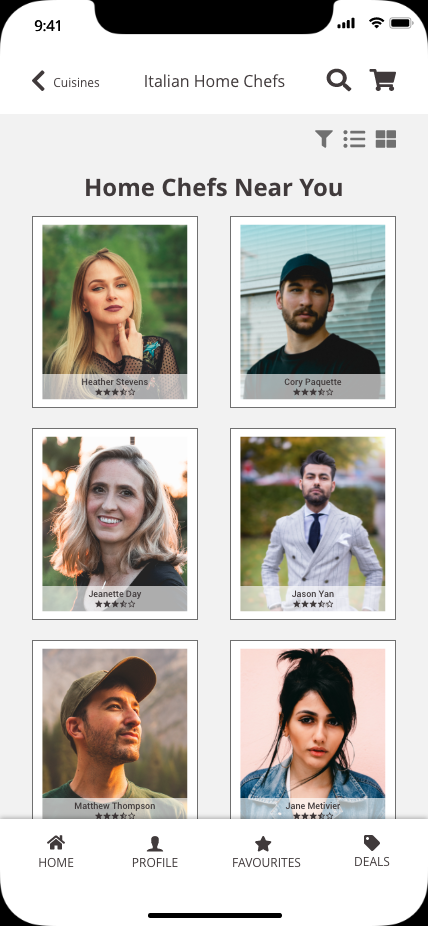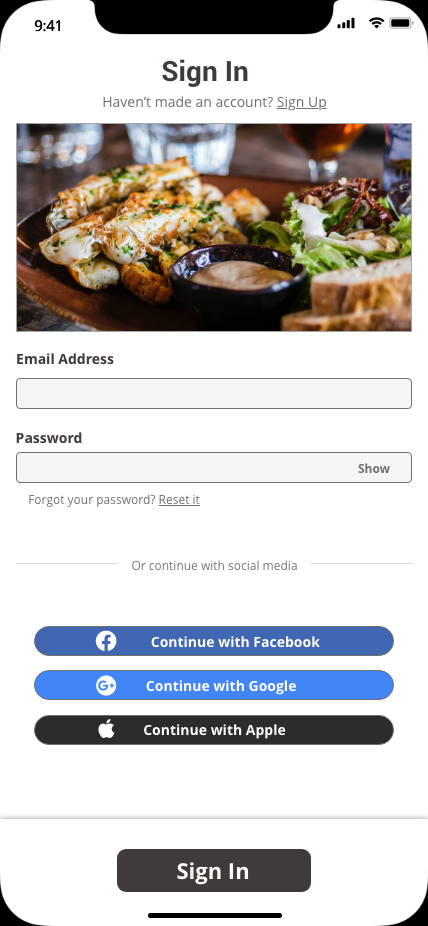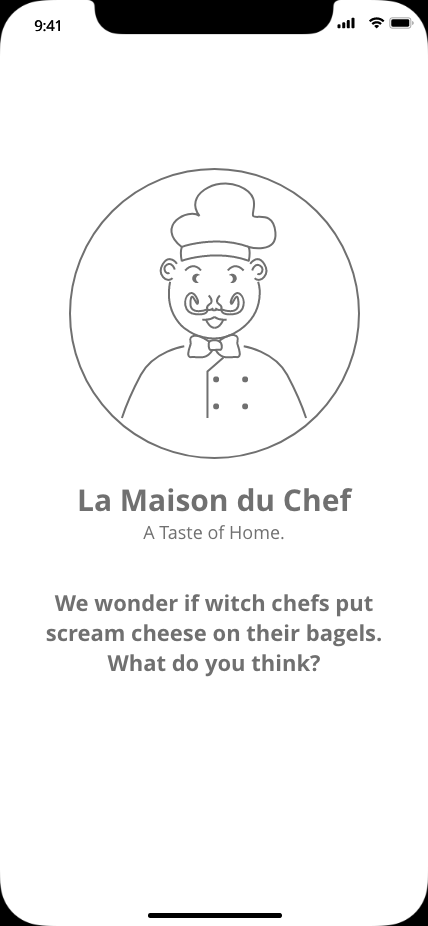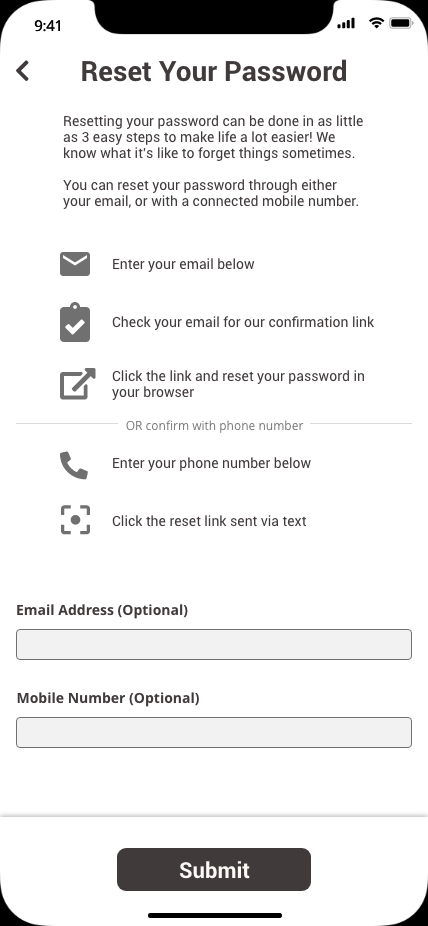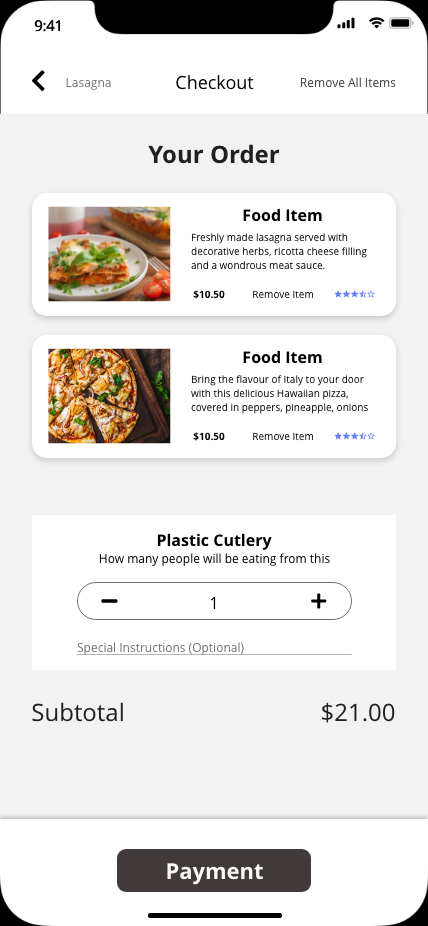 General Thoughts
Throughout the process of this assignment, I was really challenged to create something unique that would stand out against any potential "competition" that would theoretically exist if the app came into fruition. I really wanted to drive home the concept and make it as great for the users as possible aesthetically and as an experience.
Reflecting upon which I created, I think the only major things I would personally re-adjust are the sign-in and forgotten password screens (as they have more negative space than I would like), along with how some imagery are displayed

Overall, I feel like the design came to be the way I aimed for it to be
I will admit that I'm very pleased with the final result of this study; not only was I able to challenge myself to creatively and logically create screens that would enhance any users' experience with the app, but I also managed to create something totally unique to any other app out there.