DoorDash
Mobile App Redesign
UX Case Study
The Project
DoorDash is a San Francisco-based technology company that connects people with a variety of participating restaurants in their neighbourhood. I chose to redesign their mobile app as part of Academy XI's User Experience Design course.
I managed all aspects of the project, from the initial user research and ideation, through to prototyping and user testing.
Note: I am not affiliated with DoorDash, or any other food delivery company, in any way.
Duration: 3 months
Tools: Figma, Lucidchart, Maze, Excel, Google Forms
Context
I created a DoorDash account early one Saturday morning, and after entering my delivery address, I had quick scan of the Home screen. The first thing I noticed was that all of the restaurants were closed. This made me wonder how hungry breakfast-goers would easily find eateries offering breakfast, since there was no option to filter by open restaurants. The overall objective of the redesign was to identify other problem areas and propose solutions to improve the overall app usability.
The Process
Understanding the Target Audience
I began this project by learning more about DoorDash's target market. In a 2015 interview with the Stanford Graduate School of Business, CEO Tony Xu described the company's primary target audience as young families where both parents work full-time. DoorDash strives to bring good to people by giving them time back in their day, and offering them a wide range of choices.
"Young families are some of the most time-starved people out there, especially when both parents are working."
Comparison Matrix
Next, I identified the company's closest competitors, and carried out a competitive analysis in the form of a feature comparison matrix.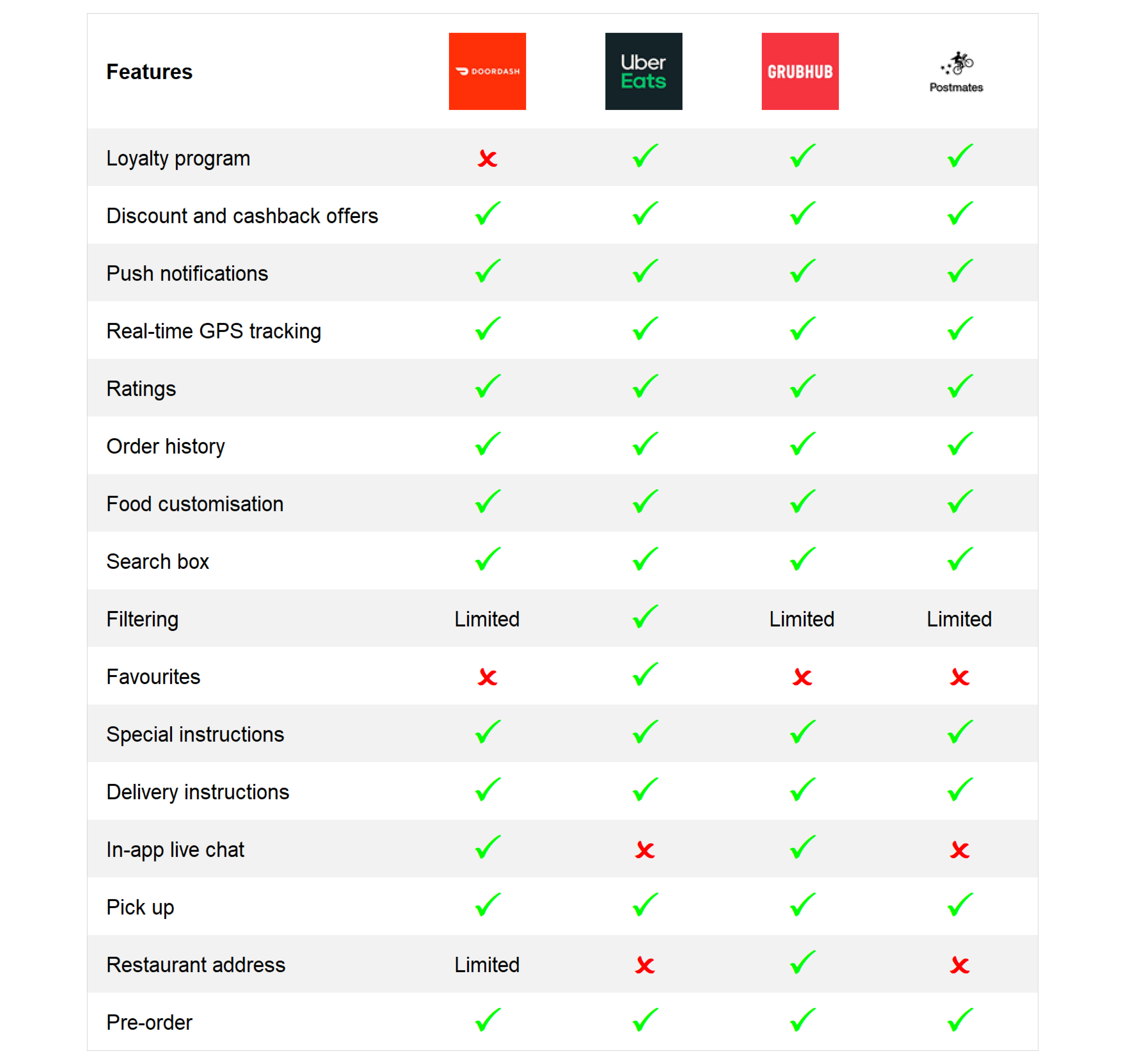 Secondary Research
Following the analysis, I conducted some desktop research to better understand how users feel about the DoorDash app.
These are the most common pain points I identified:
No "Favourites" feature — Users can't add restaurants to a favourites list.

Lack of photos to accompany menu items— Not all menu items have pictures next to them.

Restaurant addresses aren't displayed— It's only possible to see the address if the restaurant offers pick up. For deliveries, the location isn't visible until an order is placed.

No option to make a special request— The app has a "Special Instructions" field, but a number of users reported that they couldn't find it.

Limited filter and sort options— For instance, users can't filter by distance or fastest delivery time.

Difficulty finding the cart— Some users had trouble finding the cart, as it doesn't appear on every screen.
Primary Research
I surveyed 60 respondents about their usage and perception of food delivery apps. Overall, 30% of respondents reported using food delivery apps once per week in the four weeks before the survey. While 20% said they had been using food delivery apps two to three times per week.

Respondents were also presented with a Likert scale (1 = not at all important to 5 = extremely important) and asked to rate the importance of certain features.
Here are some of the results:
56% of participants rated the checkout process as extremely important

52% of participants rated the search box and filters as extremely important

27% of participants rated the favourites feature as moderately important by
Finally, participants were asked to comment on what they like most about their preferred food delivery apps. I used an affinity map to organise and sort responses into groups with common themes.
Here are some of the key insights:
1
Convenience and ease of use are important to users
2
Users want to be able to select from a large variety of restaurants
3
Promotions are a key factor in deciding what app to use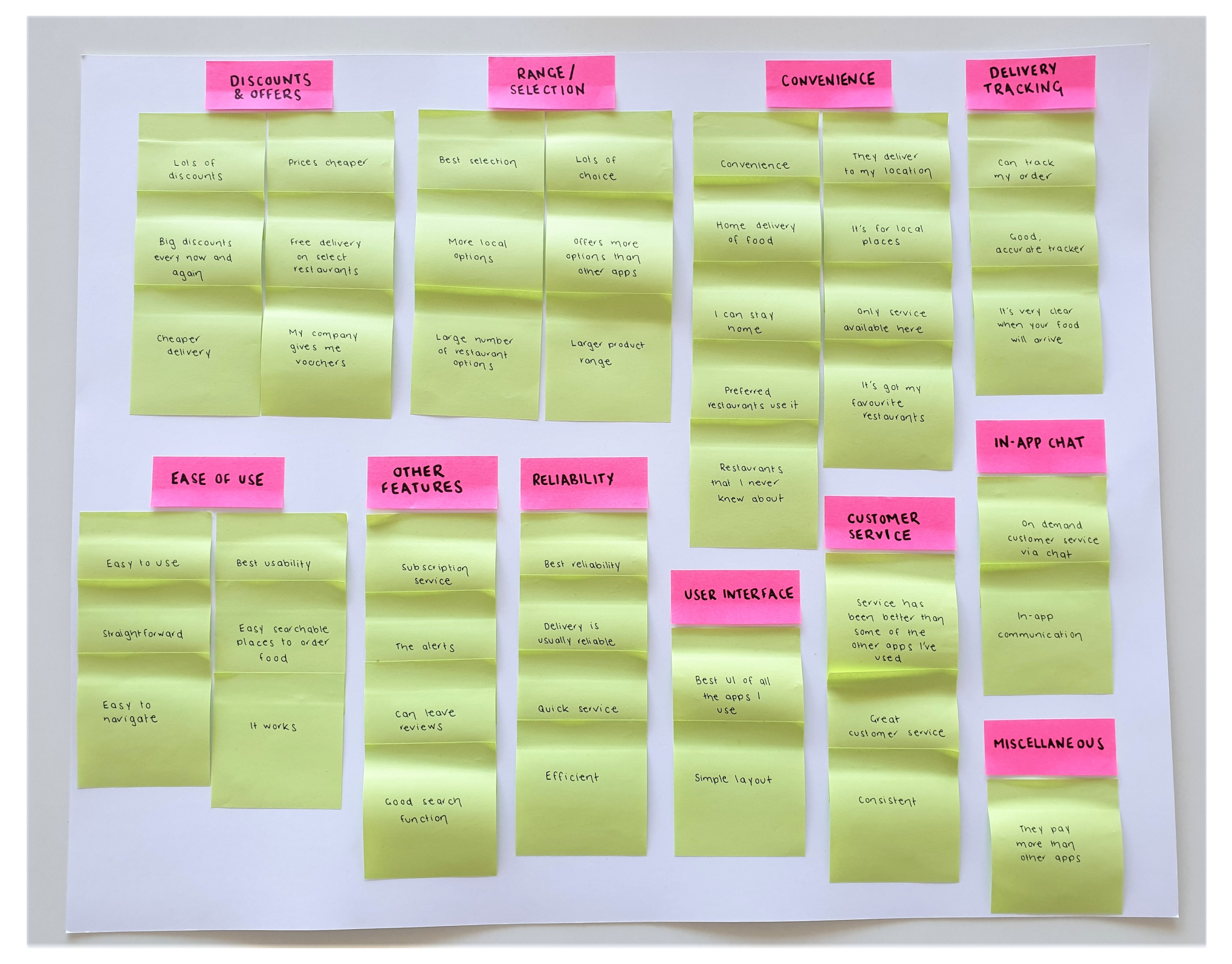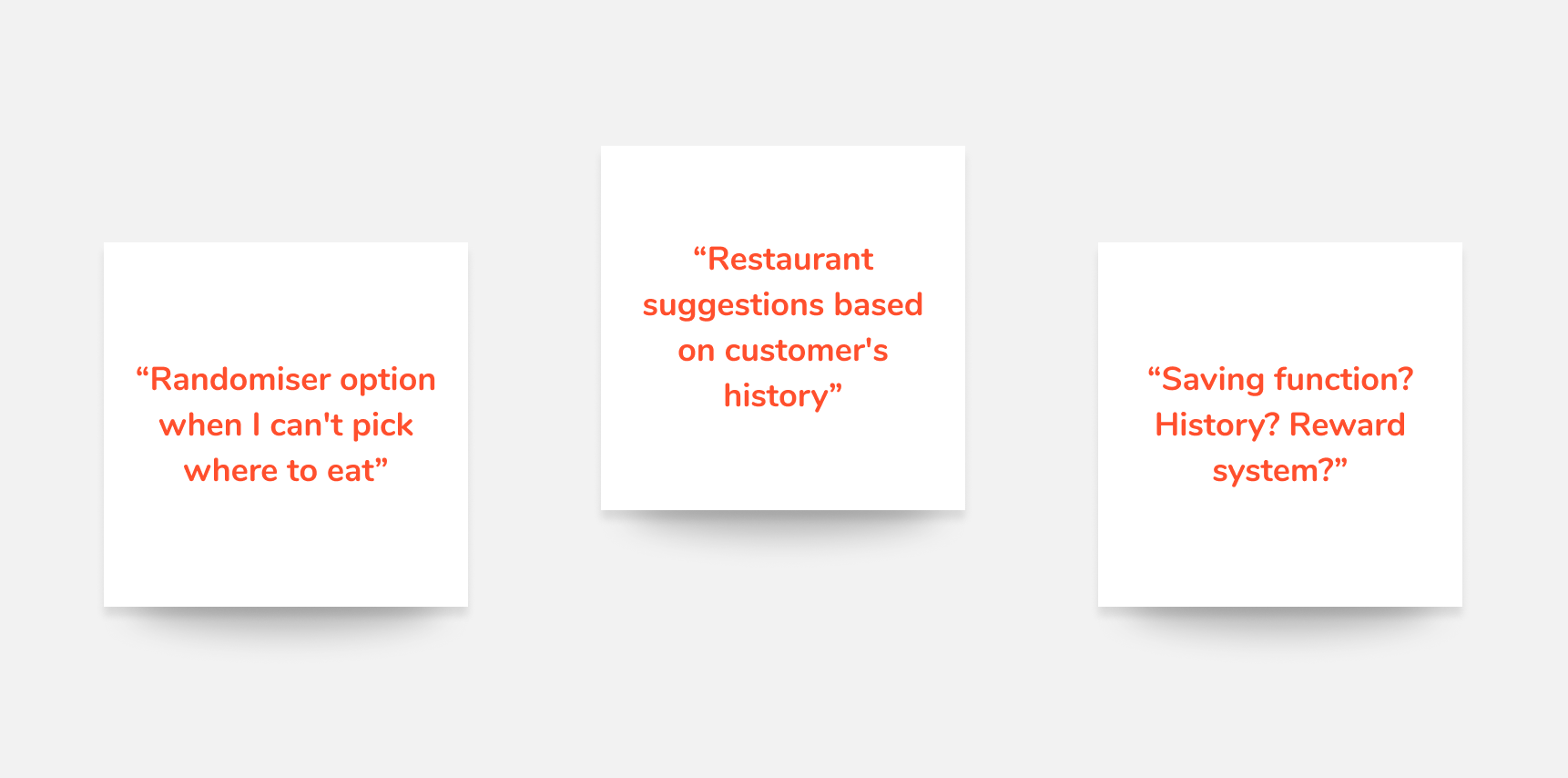 Those surveyed were also asked the question, "Are there any key functionalities missing for you from food delivery apps?" The responses to this question revealed that respondents greatly value personalisation and customisation.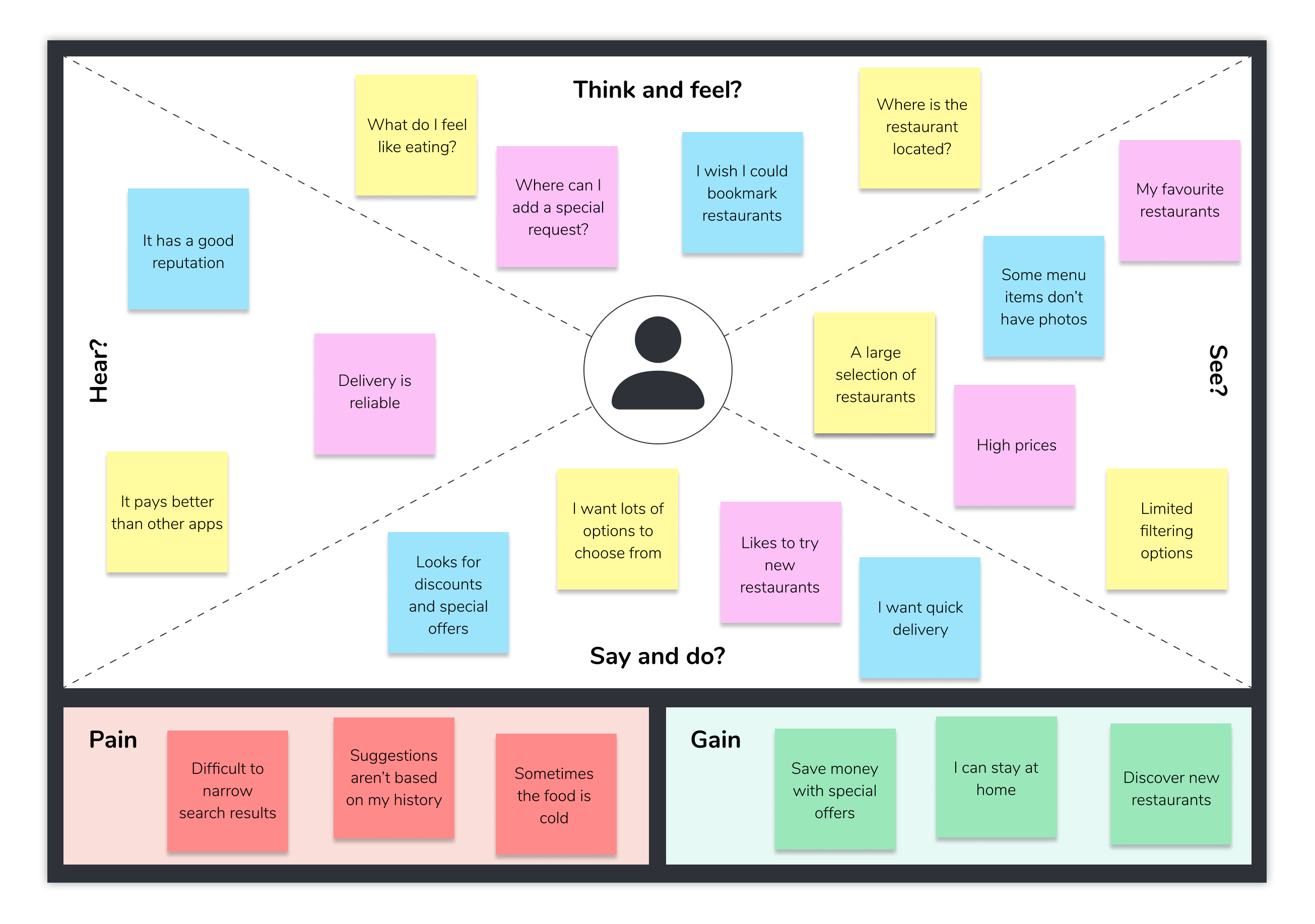 Empathy Mapping
Following my research, I created an empathy map to put myself in the shoes of a food delivery app user, and gain insight into their behaviour and feelings.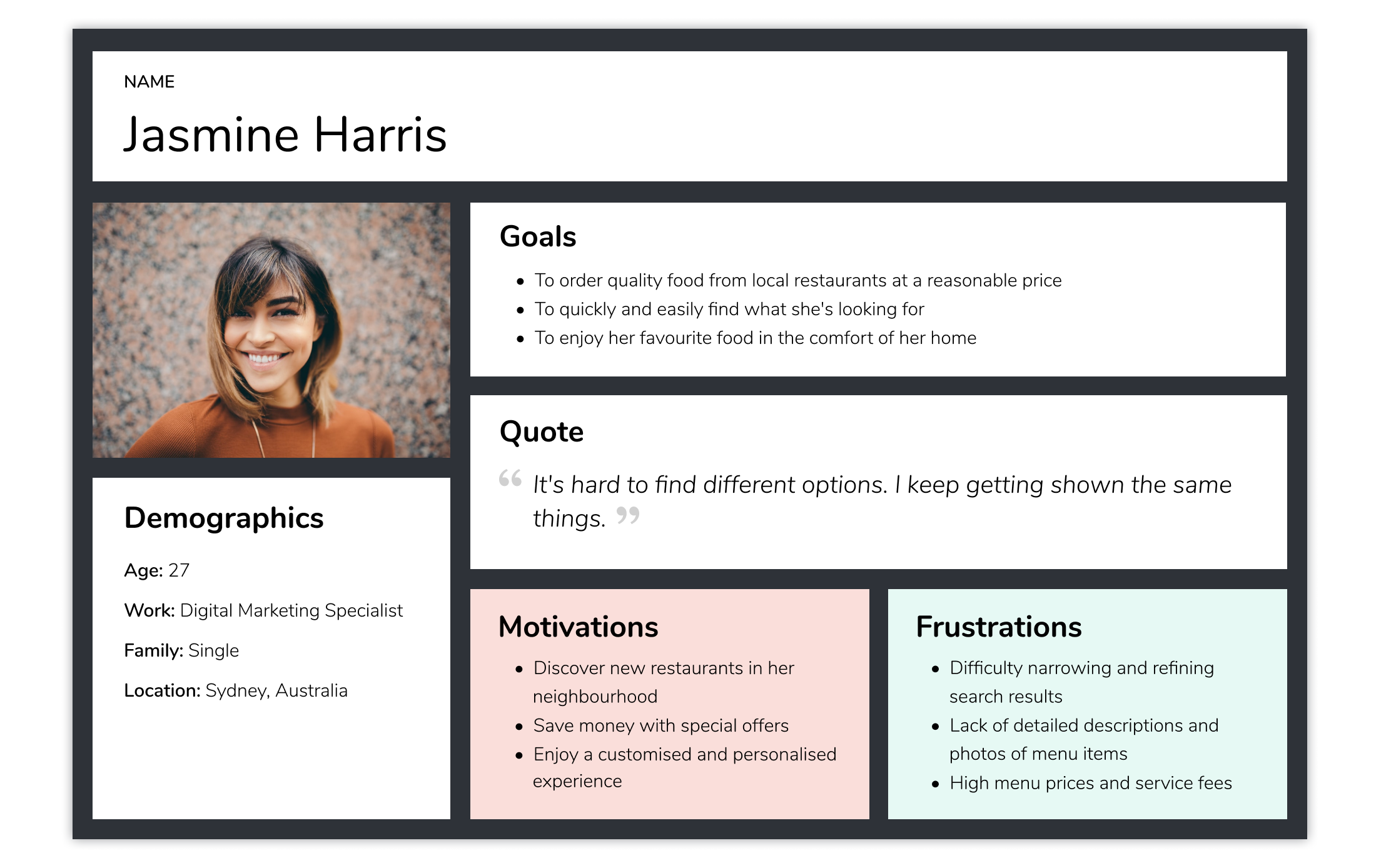 User Persona— Meet 'Jasmine'
The insights I uncovered from both my primary and secondary research allowed me to create a user persona, 'Jasmine', on which to base my redesign decisions.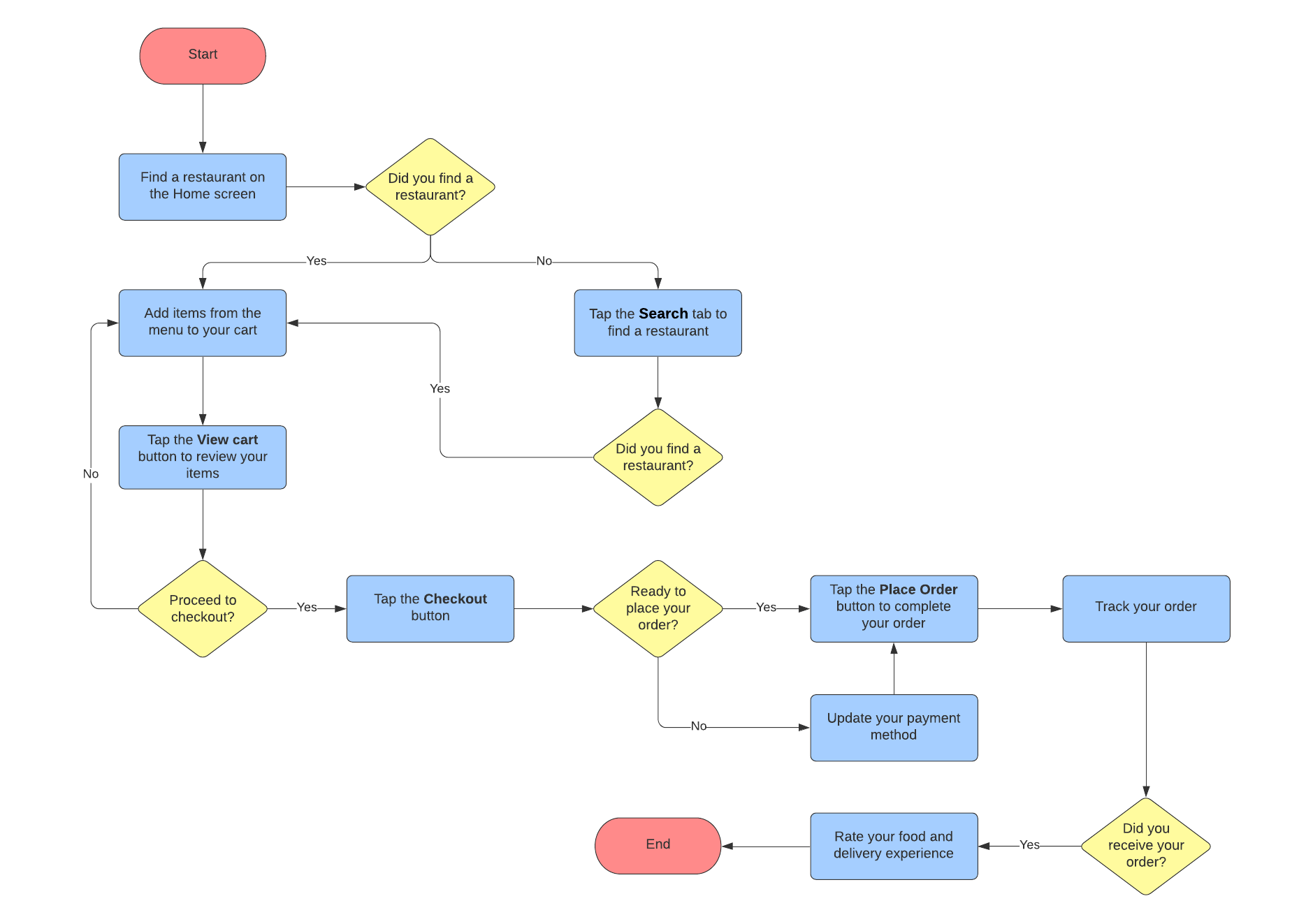 User Flow
After discovering more about the typical food delivery app user, I put together a user flow to visualise their steps and thought process.
How Might We (HMW)
After crafting my user flow, I devised a number of HMW questions:

Wireframes
Using the HMW questions, I sketched initial designs on paper and used Figma to create mid-fidelity wireframes.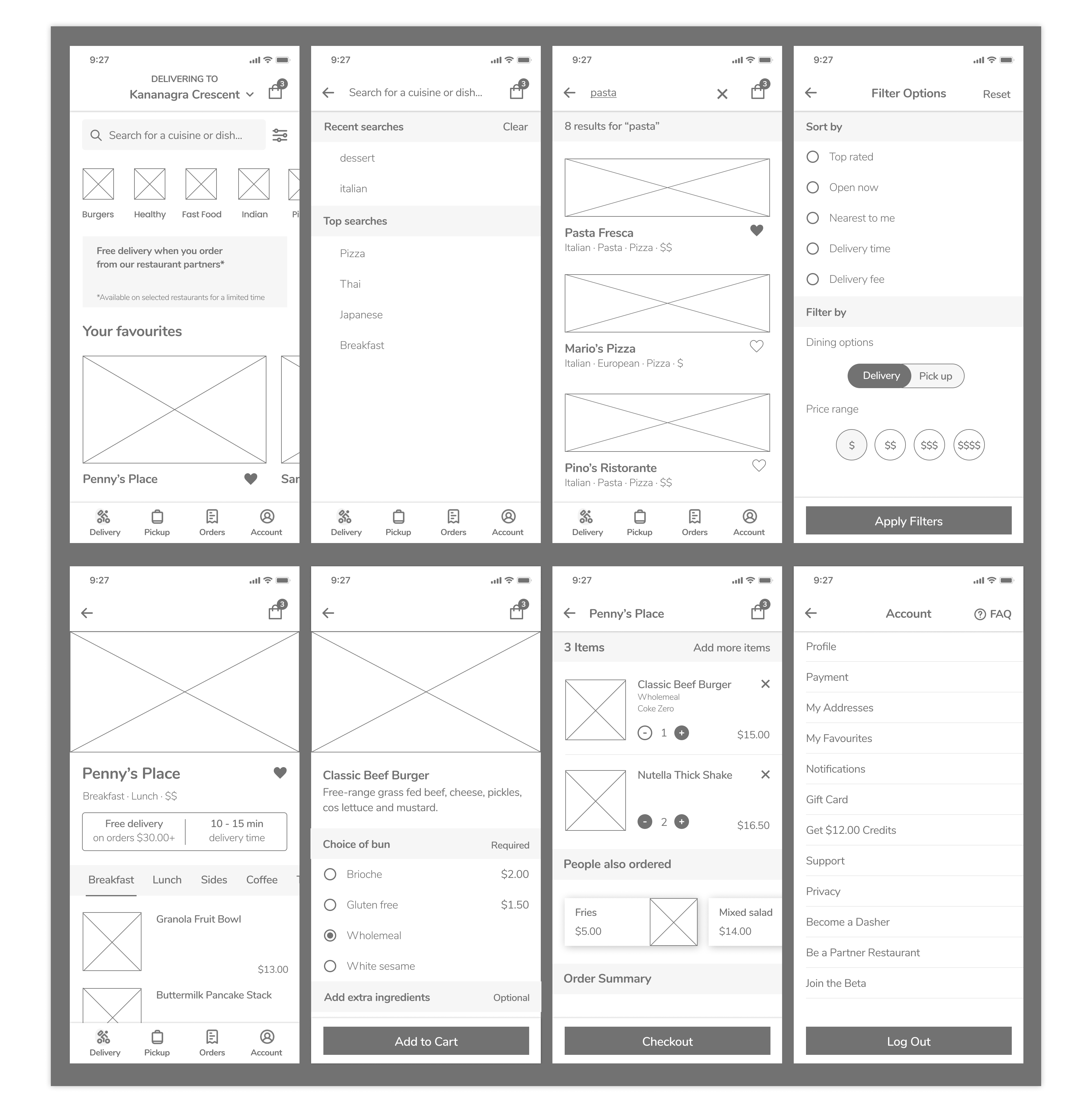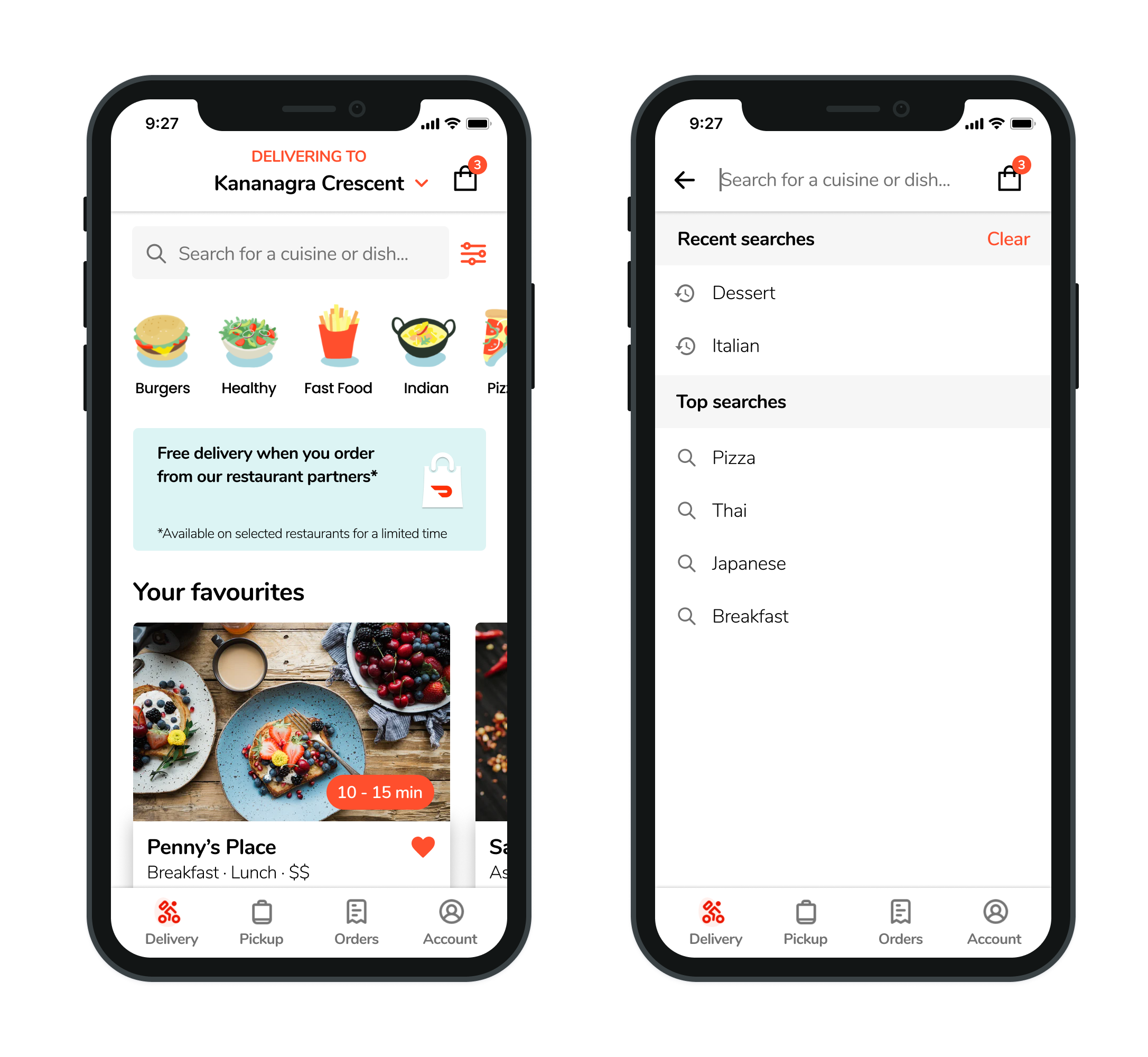 Experience 1 — Search
Search Tab
To make the search tab even more discoverable and easily accessible, I placed a search box at the top of the Home screen.
Search Screen
The search box doesn't make it clear what users can search for. I included a sample search query in the input field so that users know what type of queries can be used.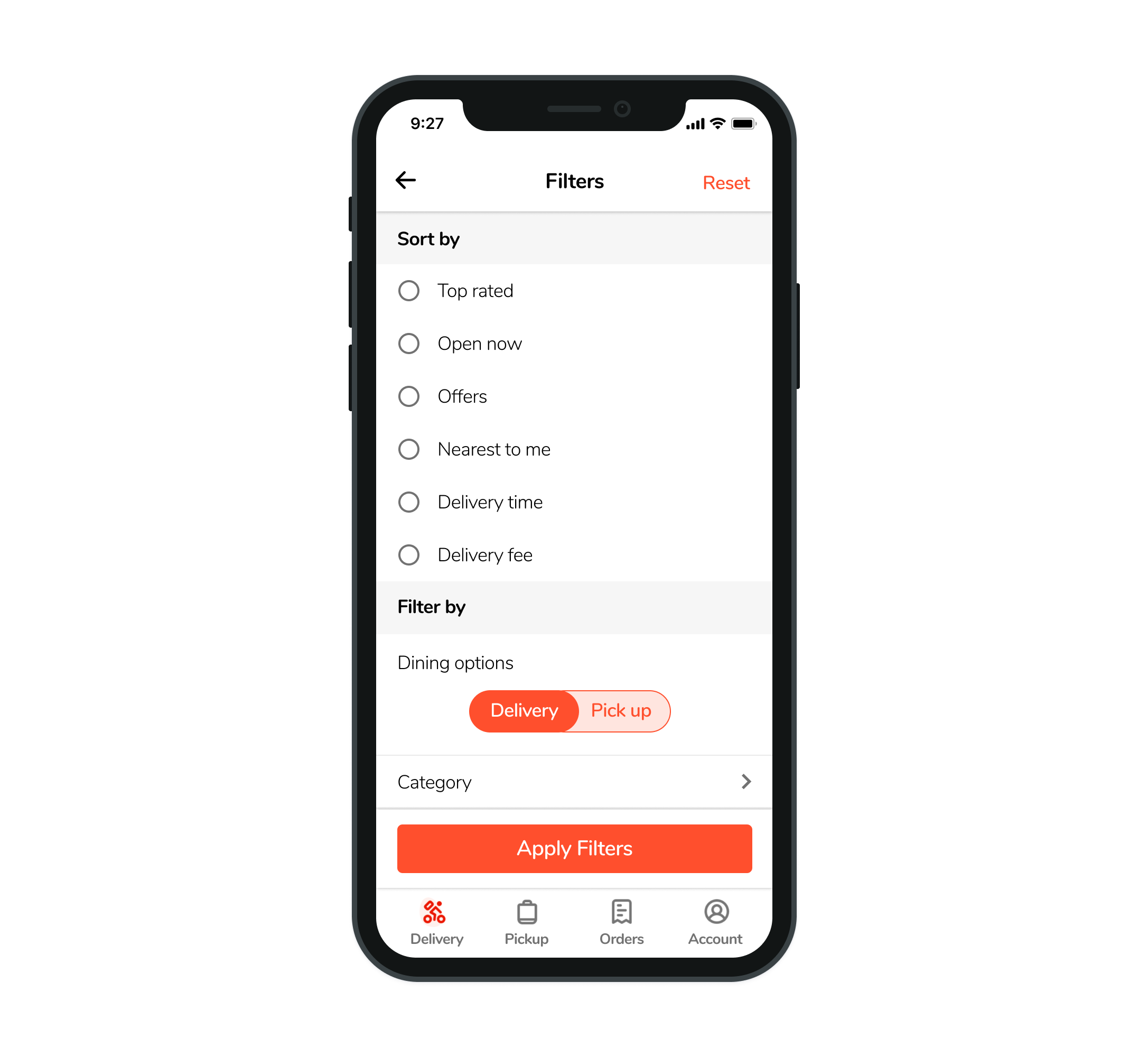 Experience 2 — Filtering
To help users narrow research results and find what they're looking for as quickly as possible, I placed a refine icon to the right of the search box on the Home screen. I also added a number of additional sort and filter options.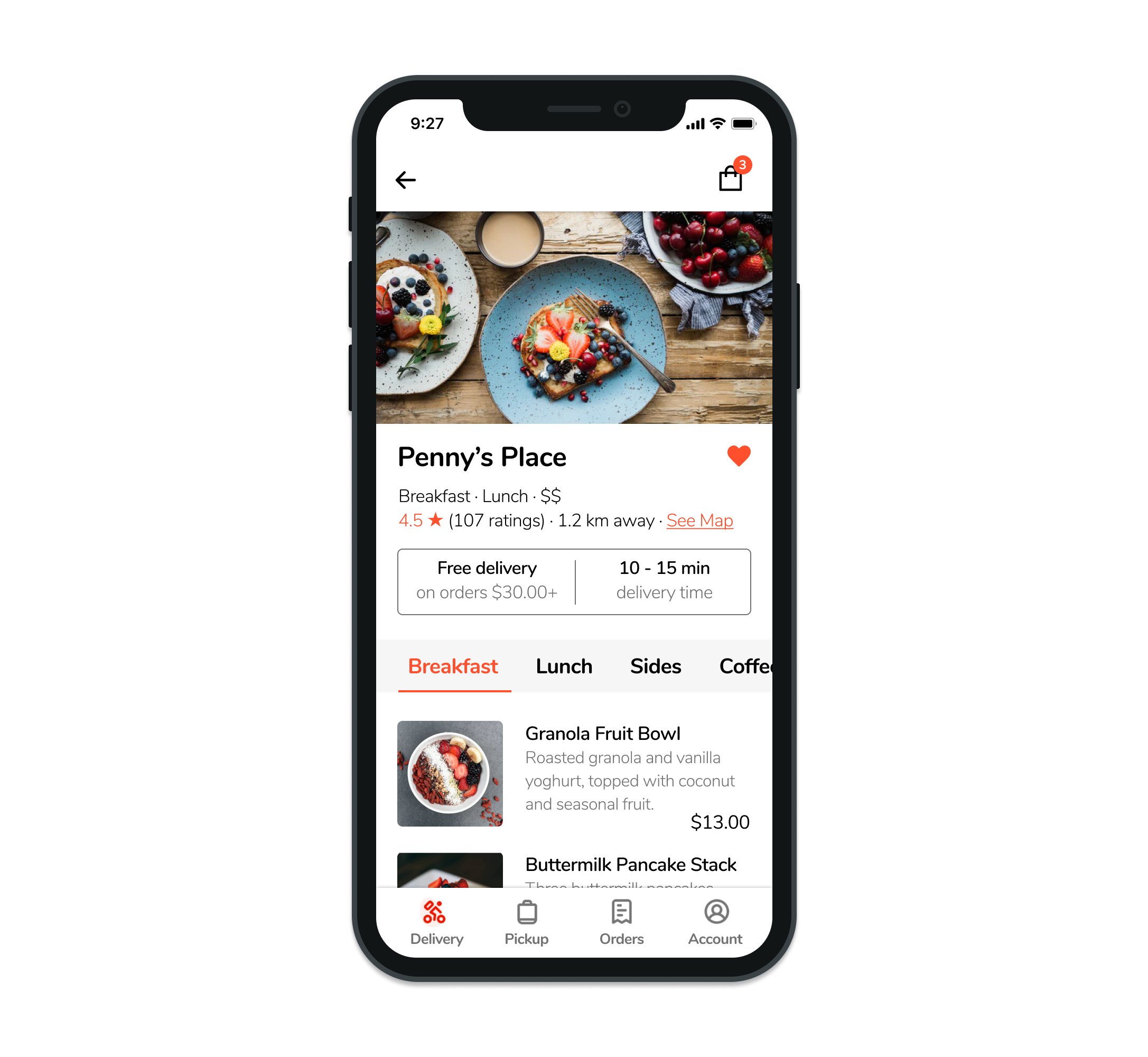 Experience 3 — Restaurant address
While tapping on "Pickup" reveals the address, for restaurants that don't offer pick up, no address is shown. To address this pain point, a map functionality has been added. When the user taps on the hyperlink, their default map app will launch where they'll be able to see the restaurant's address.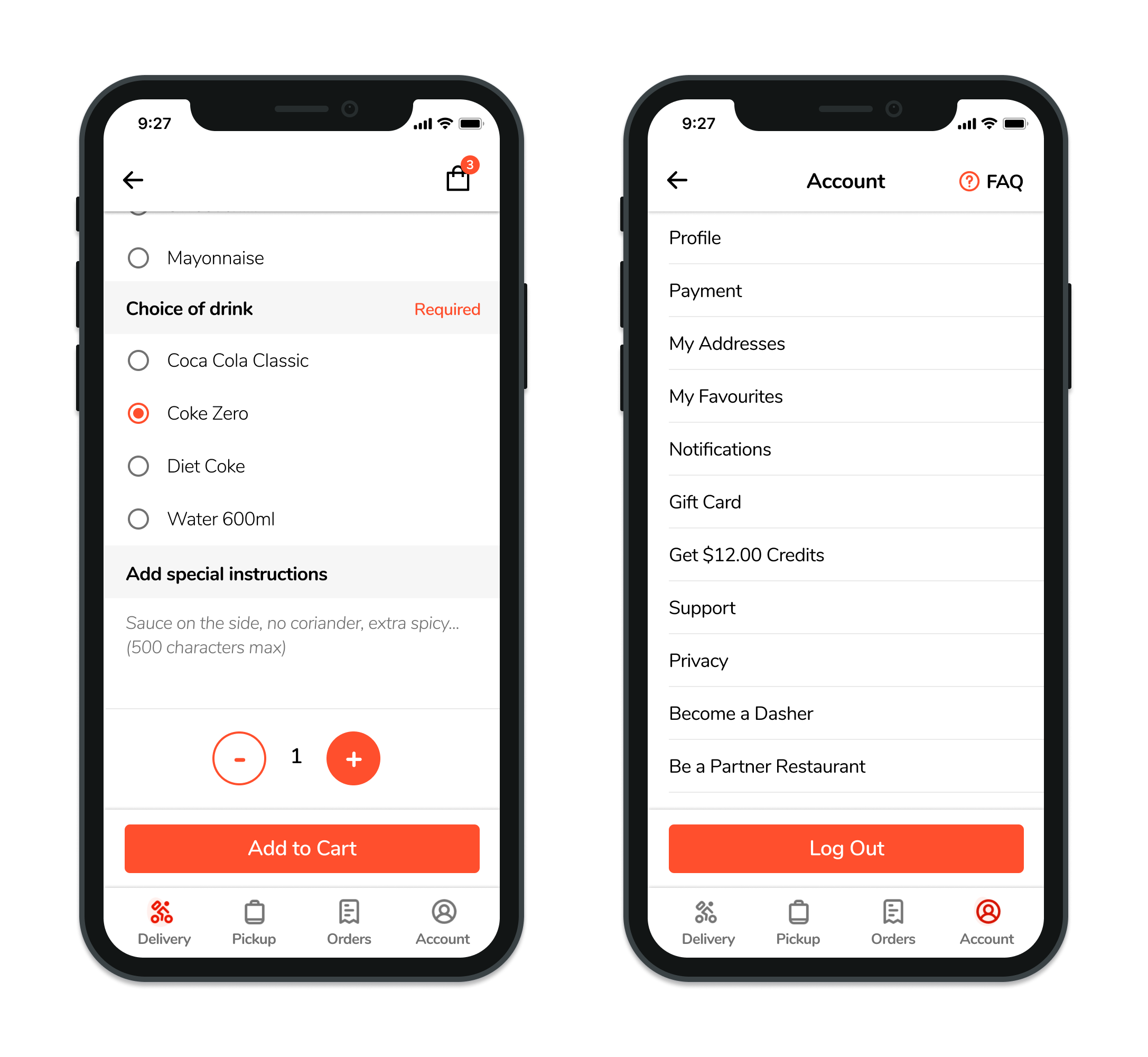 Experience 4 — Personalisation
Order History
Currently, users need to tap on the Orders tab to view their past orders. To emphasise a user's order history, I included a section titled "Recently ordered from" on the Home screen.
Favourites
Giving users the option to add restaurants to a Favourites list helps them spend less time searching, and is a convenient way for them to create a list of restaurants to try as they discover new ones. Users can favourite a restaurant by simply tapping the heart icon.
Special Instructions
Users either missed or didn't know how to specify a special request. In an attempt to resolve this pain point, I decided to include the comment field on the same screen to remove the need to switch to another screen.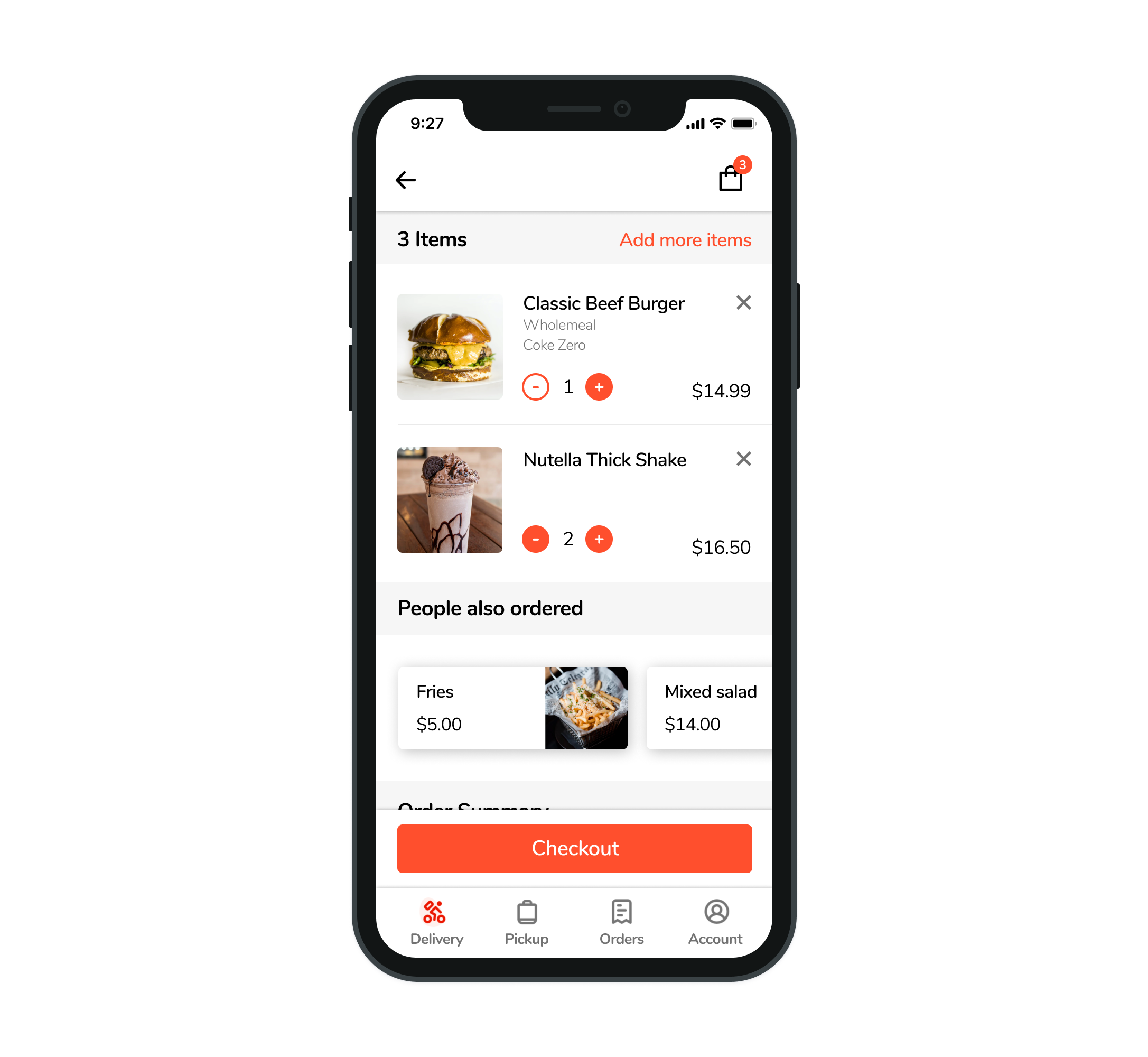 Experience 5 — Checkout
Shopping Cart
There are two ways to edit the cart:
Tapping the pencil icon on the top right gives the user the option to remove an item.

Long pressing on an item reveals both an edit and a delete option.
In my opinion, the long press functionality isn't very user friendly, as the user has to learn that it exists on their own. To make it easy for users to remove an item from their cart, I have added a cancel icon.
Lastly, to increase the discoverability of the cart, I added a shopping bag icon to the top right corner.
Usability Testing
To validate my proposed solutions, I asked three users to perform the following set of tasks using the prototype:
Add "Crêpe House" to your Favourites list.

Locate the shopping cart.

Find the "Special Instructions" box to add a custom request.

Erase your search history.

Open "Penny's Place" in Google Maps.
Surprisingly, all users managed to successfully complete four out of the five tasks. Two users had some difficulty with the final task, as they weren't quite sure what to tap on to see the address. I took their comments into consideration and changed "Open Map" to "See Map".
Reflections
Overall, I'm really pleased with how my first UX case study turned out. In particular, I learned how important it is to consider the user in every stage of the design process. I underestimated the amount of time it would take to finish the project, so next time I'll need to set realistic deadlines. I also would have liked to have conducted more usability tests to see where additional improvements could be made, however, the pandemic made it challenging.
Thanks for taking the time to read my case study! If you have any feedback or would like to get in touch, please feel free to contact me.