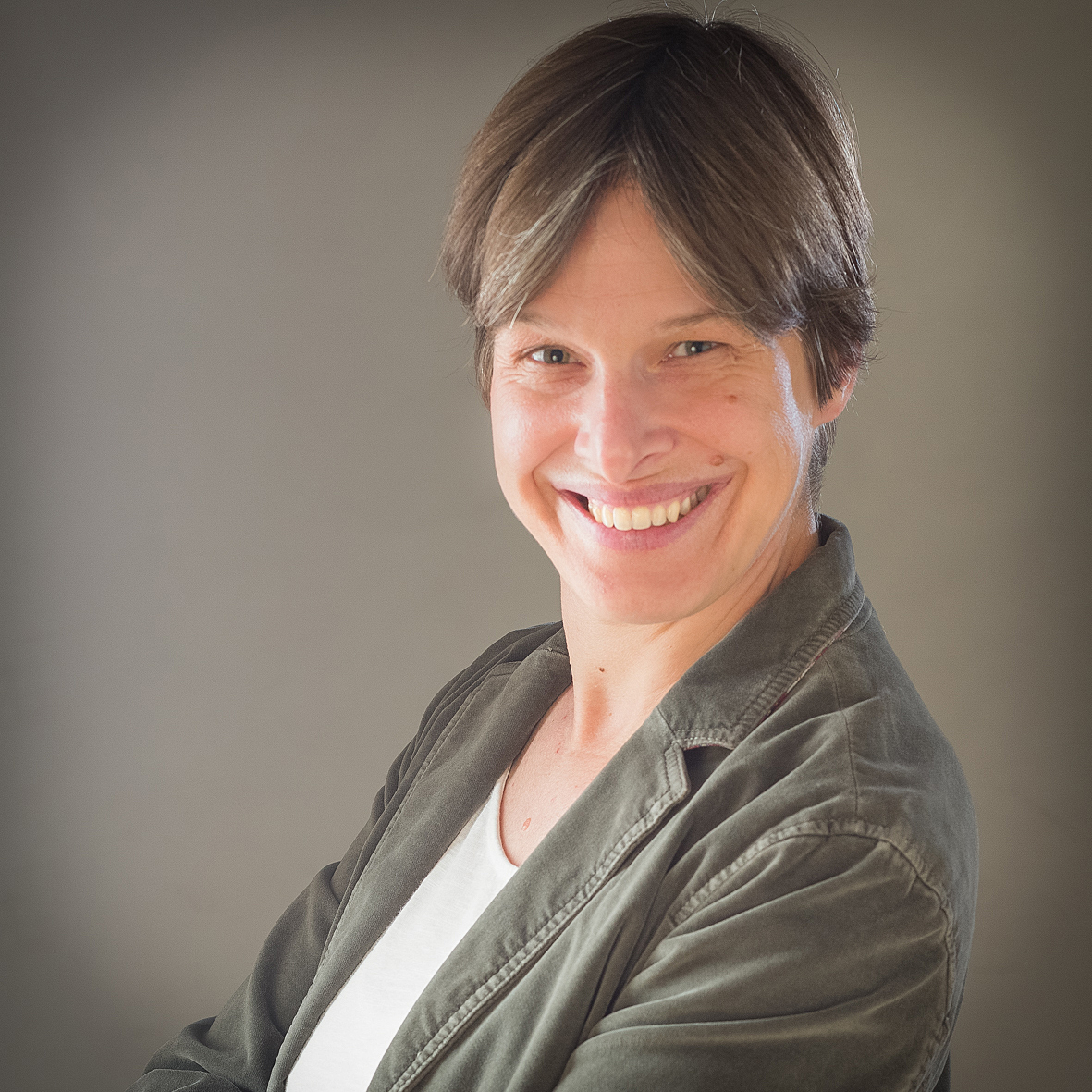 Aude Lerner
UX writer | Portfolio |
Matching tool
Tone of Voice
For the company L&Partners, an early-stage startup, I worked on a web-based platform designed to match Swiss startups with Chinese investors.
One of my tasks was to shape our brand voice and write copy for the platform. What you see is work in progress. Unfortunately, I had to leave the project before the platform was shipped.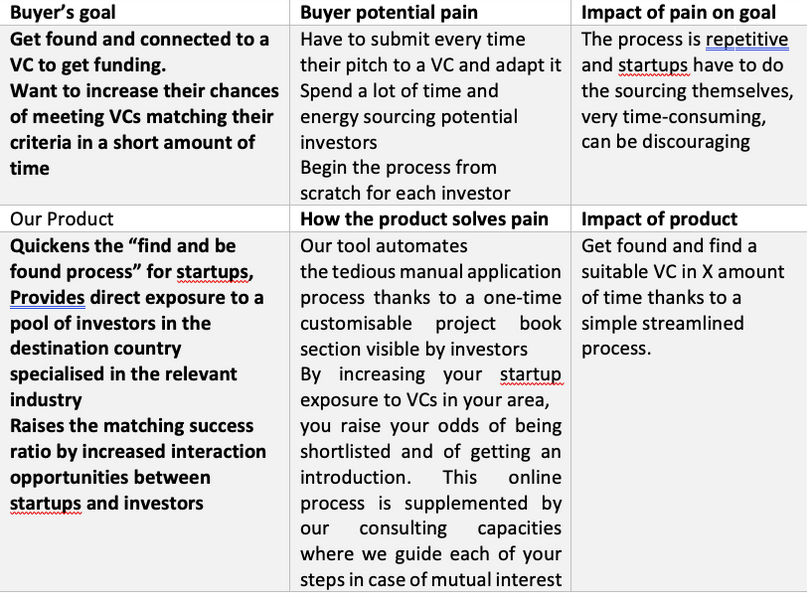 To define our voice, we had to proceed step by step, which meant defining our mission first.

We dug into our customers' pains and needs to highlight our UVP and what added value we bring to both sides – VCs and startups.
Mission
We are business facilitators; we are here to help both startups and investors maximise their business opportunities and close deals more easily.


Competitive analysis

We then conducted a competitive analysis to see how our competitors brand themselves, how they communicate and how distinct we are in our DNA and communication style.
Finding: Most competitors had a very conservative voice and were rather self-centered.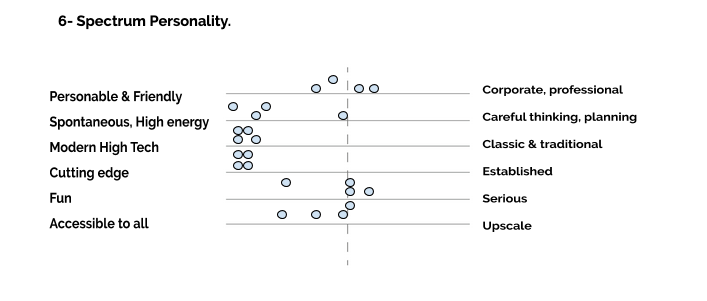 Identity
The competitive analysis allowed us to define our strengths and weaknesses and what we don't want to sound like. The next step was to have a brainstorming session during a branding workshop where all stakeholders (4 persons) were asked to define the personality of L&Partners and communicated how they wanted the company to be perceived.
Outcome:
Most people defined the brand as:
Modern

High energy
Serious but not stiff
Personable and friendly

OUR IDENTITY

We are trusted experts who understand the strength of belonging to a global innovation ecosystem.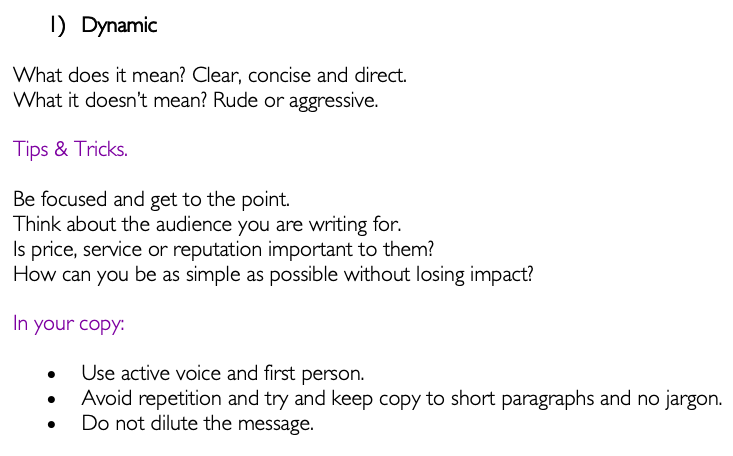 Voice Attributes

From there, we could define our Voice attributes
High Energy>Dynamic
Personable>Empathetic & Reassuring
Modern High Tech>Expert

and get started with the Style guide. In the next section, I show how being dynamic translates in our writing.



Tone of voice implementation example

I wrote and edited the copy for a specific section of the homepage called Tech Digest to support the user experience. That's how I did it: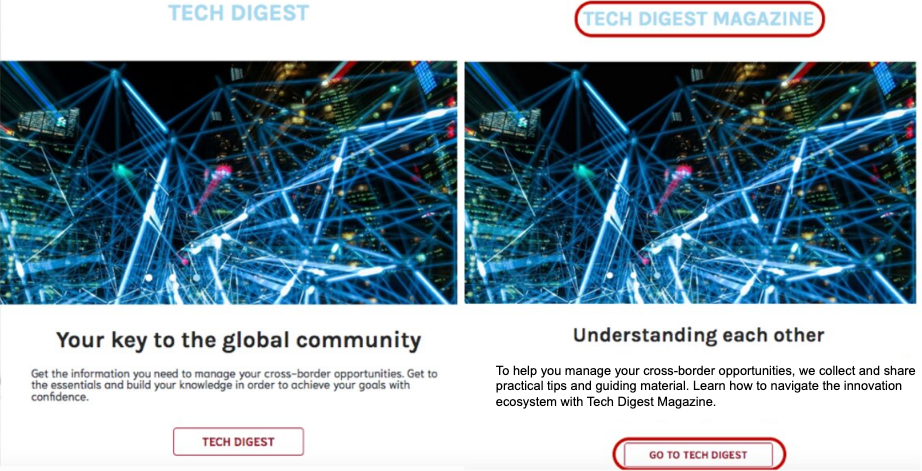 Process

Heading: I renamed this section heading "Tech Digest Magazine" for more clarity so visitors would understand at once what this section is about.
Subheading: I highlighted the added value for the magazine's readers, answering the "why" they should come and read the Tech Digest:
To always know what is going on in the innovation ecosystem and how to speak the same language (literally as well as figuratively speaking).

Body: I rewrote the copy for clarity, matching our tone of voice (expert and reassuring) while focusing on the users' needs. The text is geared at 2 different audiences (Chinese and Swiss) who want to grow their mutual knowledge of startup funding and fundraising. The last sentence should compel the users to click the CTA button.
Call to action button: I used a dynamic verb to make it more appealing and prompt the users to take action.
More about the project...
Landing page

I also wrote copy for the landing page (except for CTAs) and for the next screens featuring the benefits.

I wrote the baseline version, the earliest version to compare any changes against.