The Problem
Thimble is a fast-growing STEM kit provider for K-12 students. They had used a learning portal designed by themselves when the company first started. They switched to a WordPress plugin, later on. However, with their booming business, the current plugin does not seem to do the job as they would expect anymore. Thimble was not sure if they wanted to build a custom tool or work with a cookie-cutter solution. An LMS (Learning Management System) is in need to cater to both the teachers' and students' needs.
The Process
01 Test Thimble's currently-in-use plugin's features and what it is lacking. Identify Thimble's needs from both teachers' and students' perspectives.
02 Research and assess LMS options on the market, as well as other possibilities.
03 Analyze all the information collected and propose the best possible solution.
Duration
4 Weeks
July 2021 - Aug 2021
Role
UX Researcher on a Team of 4
Competitive Analysis
The team worked with the client through what their current system lacked and identified all the important features they would need for their current status and future growth with the new LMS.
For Students
Optional login/password (potential synching with Clever or Google Classroom)

Step-by-step written instructions with images and video tutorials

Troubleshooting forum: Students can get their questions answered in a forum by teachers, other students, or the Thimble Support Team.

Thesaurus with technical terms and theoretical concepts: A place where students can find terms they don't understand.

Lessons offered in different languages (English, Spanish): Lessons can be available in different languages with a click of a button

Tracks student progress: Can determine how far a student is into their lessons.

Badges and certifications: To award kids that have successfully completed a number of lessons

Potential coding interface: To teach students coding multiple languages (C++, Scratch/Blockly, Python, etc).

Student portfolios: For students to keep track of their own projects over time.
For Teachers
Login/password

Step-by-step written instructions with images and video tutorials

Ready-to-teach lesson plans

Lessons show alignment to curriculum standards with an explanation on how our product aligns to specific standards (NGSS, TEKS, SEL, etc)

Lesson plans can be edited and combined with other external resources on the fly (ie., the teacher adds YouTube video or PDF to enhance the lesson)

Professional development library

Contains videos for teachers to teach themselves how to use projects and self-certify / earn teaching credits.

Ability to administer quizzes, assessments

Can manage individual student progress or class as a whole

Can grade students on work
Among all 14 LMSs that the team assessed, there are 2 cookie-cutter ones and 11 can be tailored to specific needs and requirements, 3 of which are specifically for coding and are highly integrative with most LMSs on the market. The team compared and evaluated all 14 LMSs thoroughly according to Thimble's desired features and functions.
See the team's Evaluation Summary below.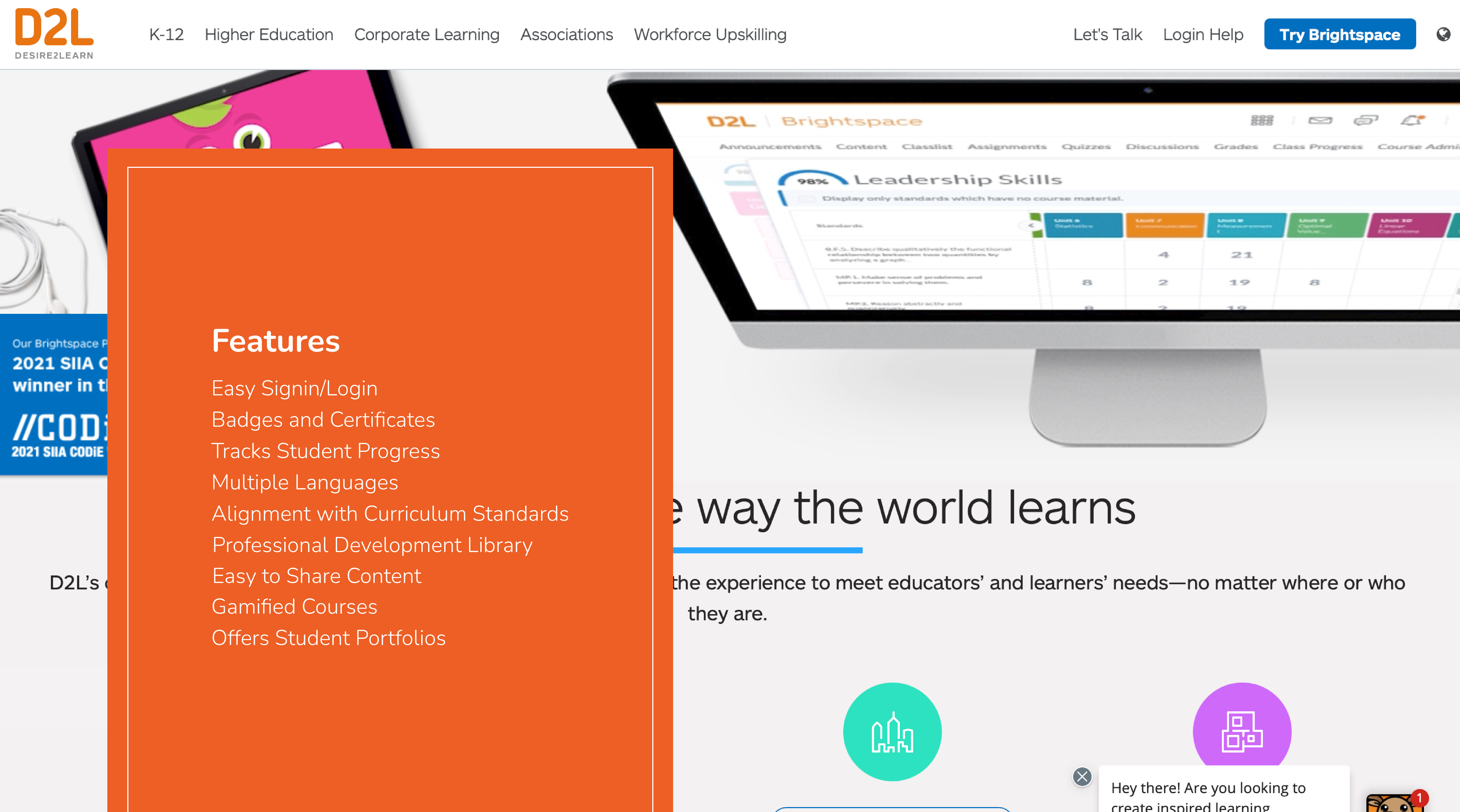 D2L
D2L (Desire2Learn) is one of the cookie-cutter options. It fits public K-12 schools very well with almost all the features and requirements the client would like. It is accessible through desktop computers as well as the application on the phone. The only drawback is that D2L does not have a coding interface.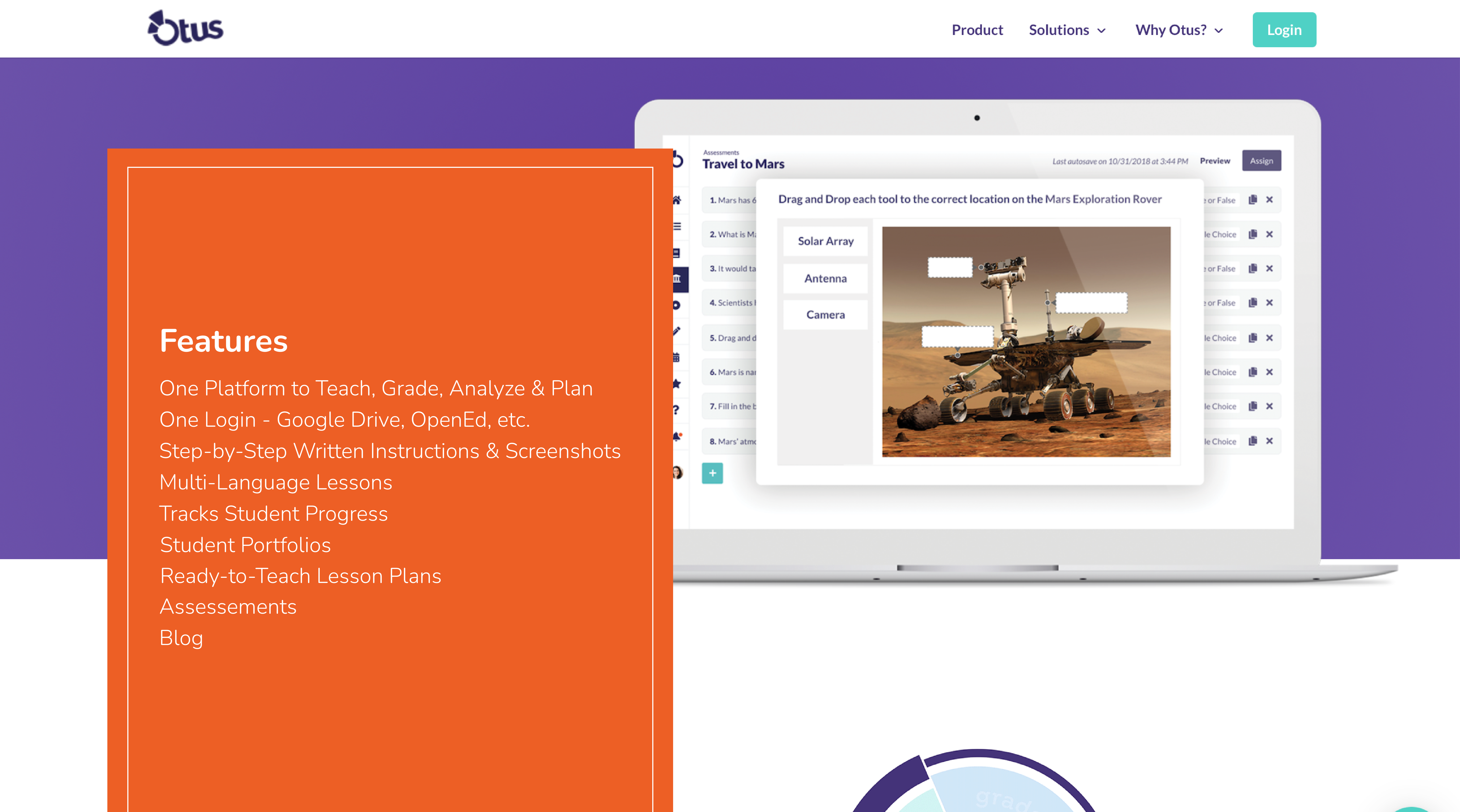 Otus
The team registered for a free account through Otus - one of the tailorable options. Their interface is very easy to navigate for teachers and students. It is highly integrated with many popular systems making it possible for students and teachers to log in with their Google Drive or OpenEd account. The only disadvantage here, again, is that it lacks the possibility of a coding interface.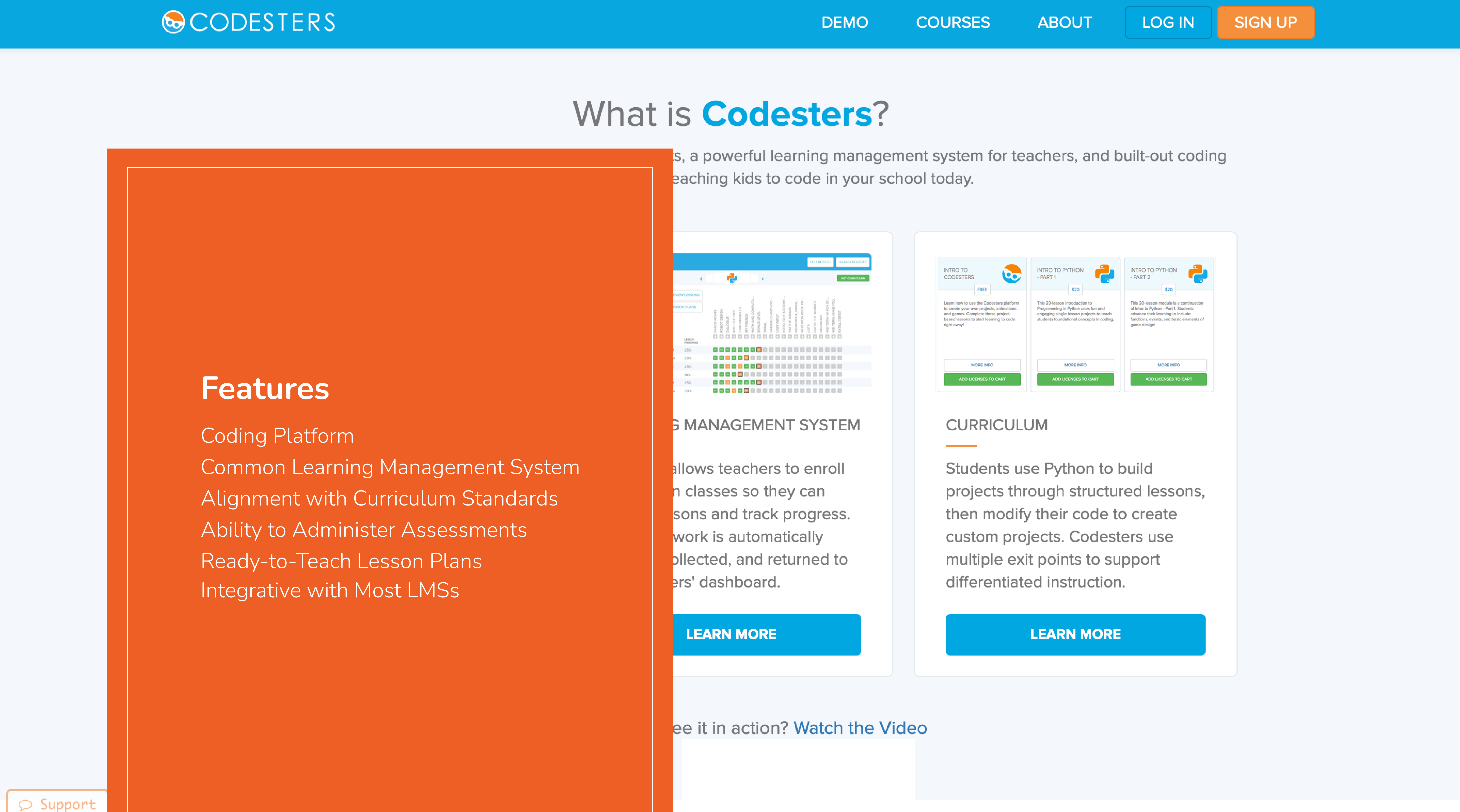 Codesters
Codesters is one of the three STEM-focused platforms the team has found. It offers very holistic coding courses with well-designed lesson plans that are ready to use. It also has a built-in Learning Management System, although it does not offer as many features as non-STEM-focused LMSs. However, it is totally integrative with all the popular LMSs on the market, which makes it a great option for Thimble to consider.
A Glance Into All Options
With more than enough information that the team has collected, a few thorough rounds of assessment later, we were ready for the proposal. The cookie-cutter option was eliminated because none of the options would be able to fit all of Thimble's needs.
Custom Built
After evaluating more than a dozen LMSs and coding-focused K-12 websites, we have determined a custom-built platform is going to be most beneficial for Thimble to present their lessons and project kits to schools. This will allow Thimble to integrate its curriculum within the existing LMS that schools already use. It will also allow for an interactive coding interface that cookie-cutter solutions just can't offer.
LMS Integration
A combination of a conventional K-12 LMS and a coding-specified LMS/platform should also be able to meet most of Thimble's requirements at the current stage. Although, with Thimble's rapid growth in the near future, this solution might not be able to keep up and offer a smooth experience for teachers and students.
Takeaway
Thimble was very clear about what they wanted for their future LMS with all the features needed, the research, therefore, was made easier than expected.
The main takeaway for this project is definitely "keep an open mind and always be curious." Openmindedness and curiosity are the keys to a great research project.
Looking Forward
Thimble's next step is to decide whether to go with an existing LMS with an integrative coding platform or custom-build their very own Learning Management System.
The team will be watching the Thimble project very closely and ready to work on their new LMS design if it is their decision in the near future.