1985 is a shopping app created to help users in their online shopping journey. The app provides an "intuitive, all-inclusive" online shopping experience, mimicking the way users browse social media.
PROBLEM
Mobile users often struggle with online shopping due to a lack of functionality and usability, with issues ranging from saving products to tedious checkouts and tracking orders. Many brands prioritize desktop sites over mobile, resulting in disjointed user experiences. Inconsistent shopping apps only add to the confusion, with luxury fashion brands often discouraging users from making direct purchases from their phones. These issues become especially problematic for users who shop on multiple sites and must repeat the frustrating process multiple times.
SOLUTION
To address the problems faced by mobile users when online shopping, I developed 1985, a comprehensive and user-friendly shopping app. This app offers all the functions that traditional shopping sites often lack, including the ability to save products, locate coupons and sales, complete fast and efficient checkouts, and easily track orders. Additionally, 1985's algorithm curates product recommendations based on users' preferences, taking into account the brands they follow and products they like, while also suggesting new items based on current popular trends.
MY ROLE
UX/UI Designer & Researcher
TOOLS
Miro, Zoom, Figma, Slack
TIMELINE
Overall: 6+ weeks
Design & testing: 6 weeks
PROCESS
Research, Ideation, Wireframes, Design, Hi-Fidelity, Testing
SECONDARY RESEARCH
While doing secondary research, I found the most common problems mobile shoppers experience.
No Wishlist
Most consumers won't buy an item immediately and will use their carts as a reference list to return to later. Users tend to forget about items or find it a hassle to go back and find them when sites don't save them automatically.
Slow Checkout
Many customers have said that too many steps in the checkout process are one of the main reasons that they do not shop on their mobile devices.
Product Discovery
When viewing products on a large screen, customers can see the product image, information and reviews displayed side by side. On a mobile device, they typically see one thing at a time.
Security Concerns
According to Statista, 35% of people do not shop on their mobile devices because they are concerned about security. Retailers should offer a variety of digital payment options that allow customers to choose how they want to pay.
Lack of Incentive
Coupons and discount codes are proven incentives for online shoppers. Offering mobile only promotions increases the incentive for users to shop on their mobile devices.
Filling in Forms
Most mobile users agree that it's frustrating to fill in forms on mobile devices. Using up-to-date technologies for location-based services and synchronized accounts will increase the possibility of a user completing a purchase.

PRIMARY RESEARCH
To gain insight into how users online shop, I used screener surveys to recruit participants. After interviewing them and collecting the data, I was able to synthesize my findings into affinity groups, empathy maps and personas.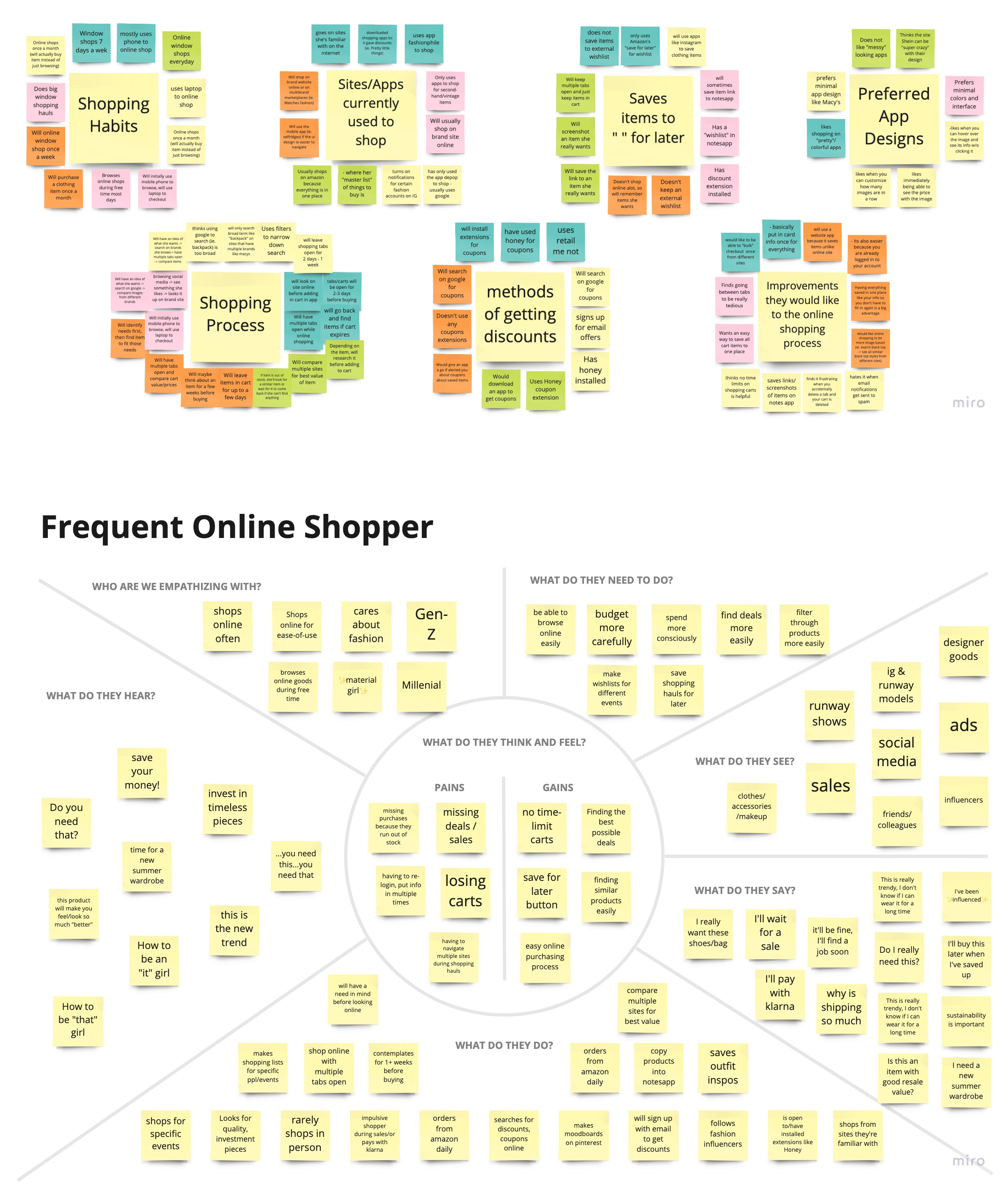 Surveys
When creating the screening survey, the main objective was to find participants who online shop frequently and to evaluate how people shop across different sites.
Interviews
I conducted user interviews in order to get a better understanding of how users shop online, and what steps within the online shopping process users would want improved.
Affinity Mapping
With all the notes and recordings from the interviews, I put everything into perspective, synthesized with the participants, and created an affinity map with six categories.
Empathy Map
An affinity map was then categorized into the "Frequent Online Shopper

PERSONA
After a deeper look into my empathy map, I created a persona.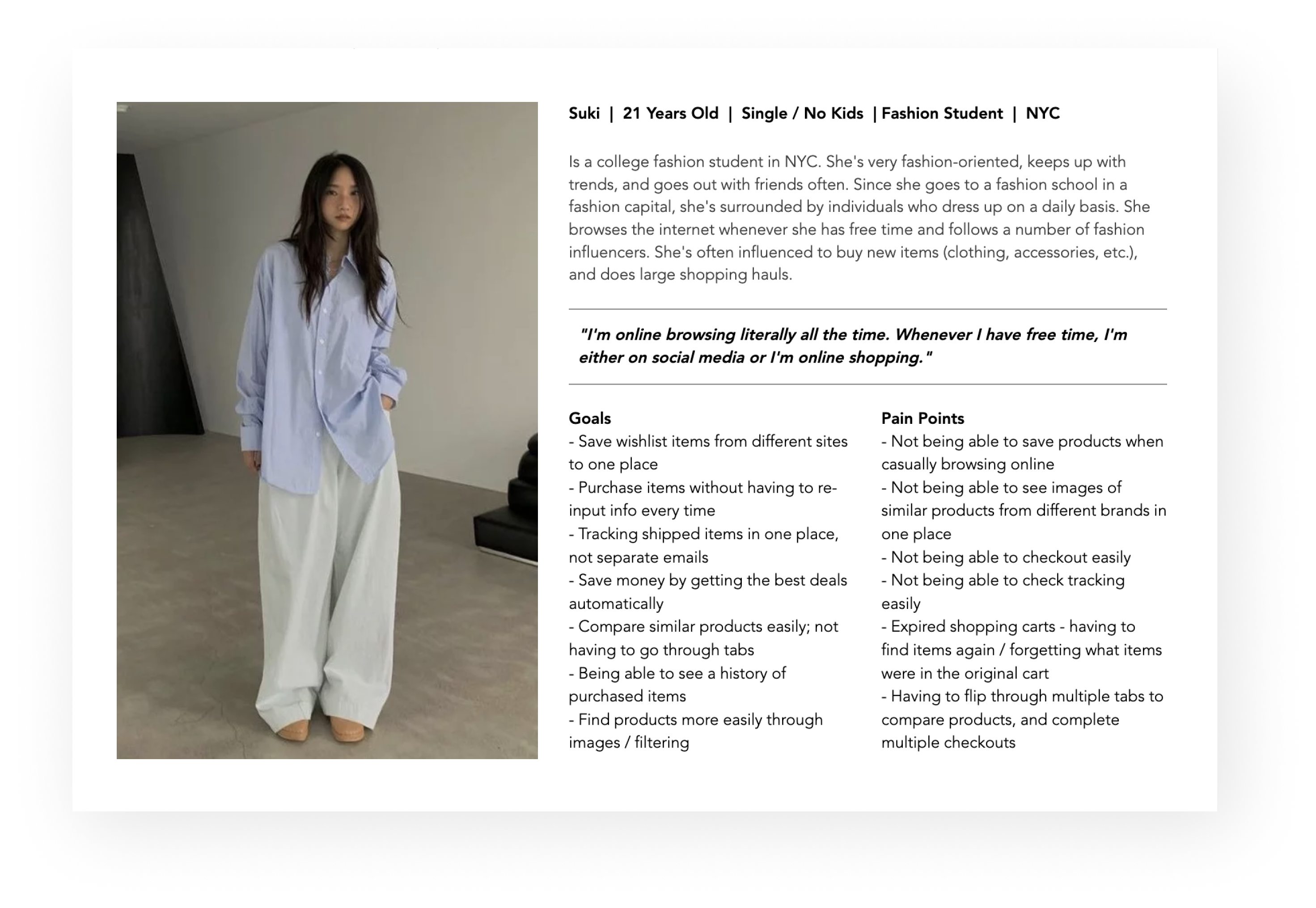 HMW's
The final piece of my research was to synthesize this data, with How Might We (HMW) statements to clearly communicate the most important problems users want solved.
HMW make it easier for online shoppers to save items while they're browsing?
HMW make the checkout process more efficient and convenient?
HMW make it easier for online shoppers to see all the available options from different sites (ie. black pump heels)?
HMW help consumers save money, by finding the best deals?
HMW make product comparison across different sites, easier for the consumer?
HMW help online shoppers make less impulsive purchases?
HMW help online shoppers track their purchases more easily?

USER STORIES
Before I could get started with designing, I had to identify the most important functions this app needs. User stories were categorized by priority, the highest being the most crucial functions, this helped me understand the necessary features and elements that needed to be implemented for a smooth experience.
High Priority
I want to be able to compare items from different stores easily.

I want to be able to track all my orders in one place so that I can check the shipping more easily.

I want to be updated when an item I want is on sale so that I can get it at the best price.
Medium Priority
I want to be able to compare items from different stores easily.

I want to be able to track all my orders in one place so that I can check the shipping more easily.

I want to be updated when an item I want is on sale so that I can get it at the best price.
Low Priority
I want to able to categorize my saved items.

I want to be able to see all my purchases so that I can track how much money I'm spending.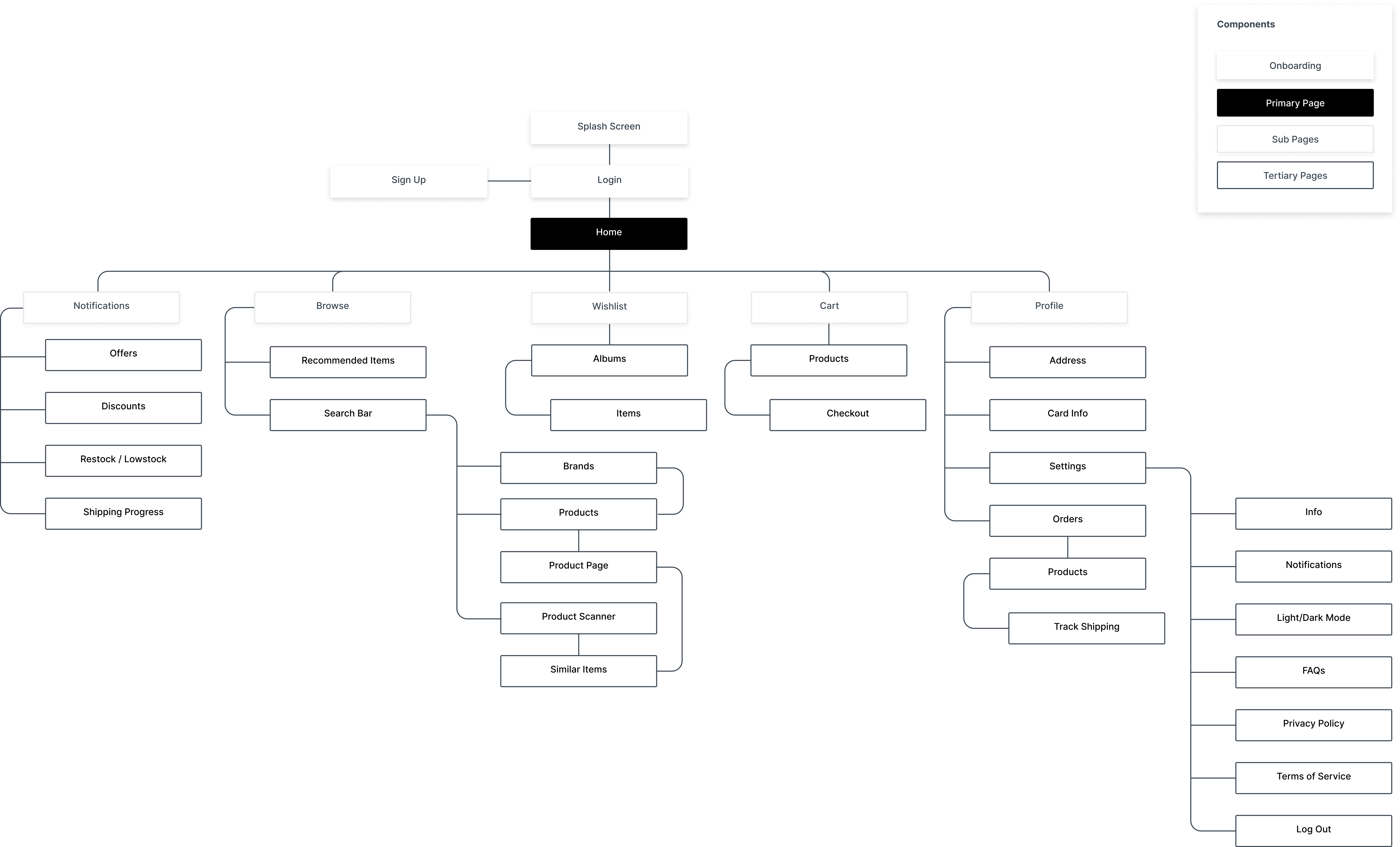 SITEMAP
Now that I had a better idea of what my users needed, I created the sitemap with the intent of designing the app to be navigated intuitively, similarly to how users navigate social media apps like Instagram. The sitemap also made sure that all the information, functions, features, and screens were included.

USER FLOW
My user flows helped me understand how I wanted each screen to be laid out in order for users to complete their tasks. From my MVP's I chose three routes that were essential to 1985. SKETCHING
Sketching helped me bring the apps user flows to life. During this process, I grasped an overall idea of how I wanted the app to feel and look --- modern and minimalistic.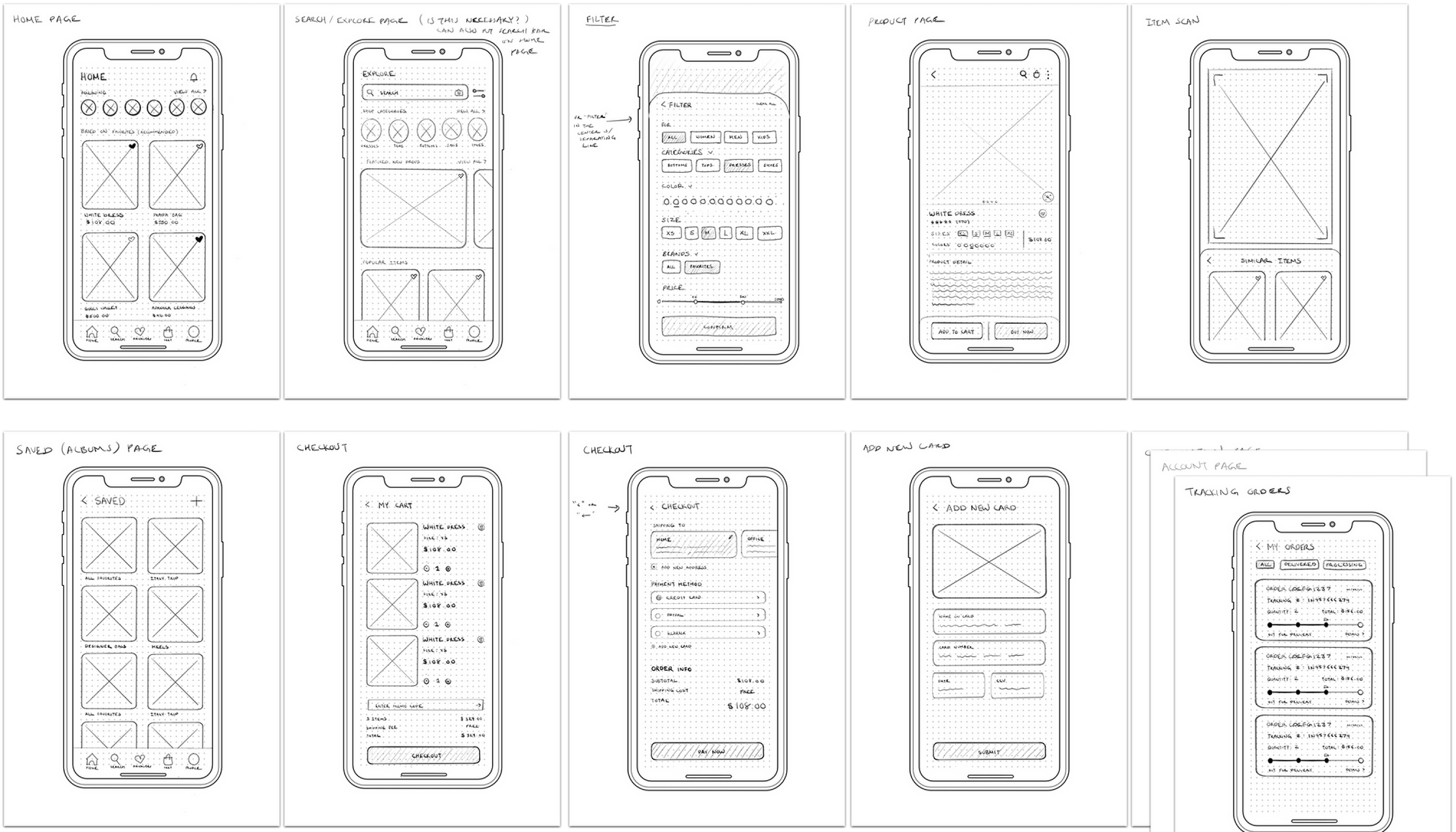 WIREFRAMES
I began working in Figma and converted those sketches into low fidelity wireframes; doing so helped clarify how I wanted functions spaced out on screen as well as give me much better insight into how I could simplify and prioritize functions.

MOODBOARD & STYLEGUIDE
To keep the design consistent throughout the app, I created a style guide for the main fonts, iconography, and colorways.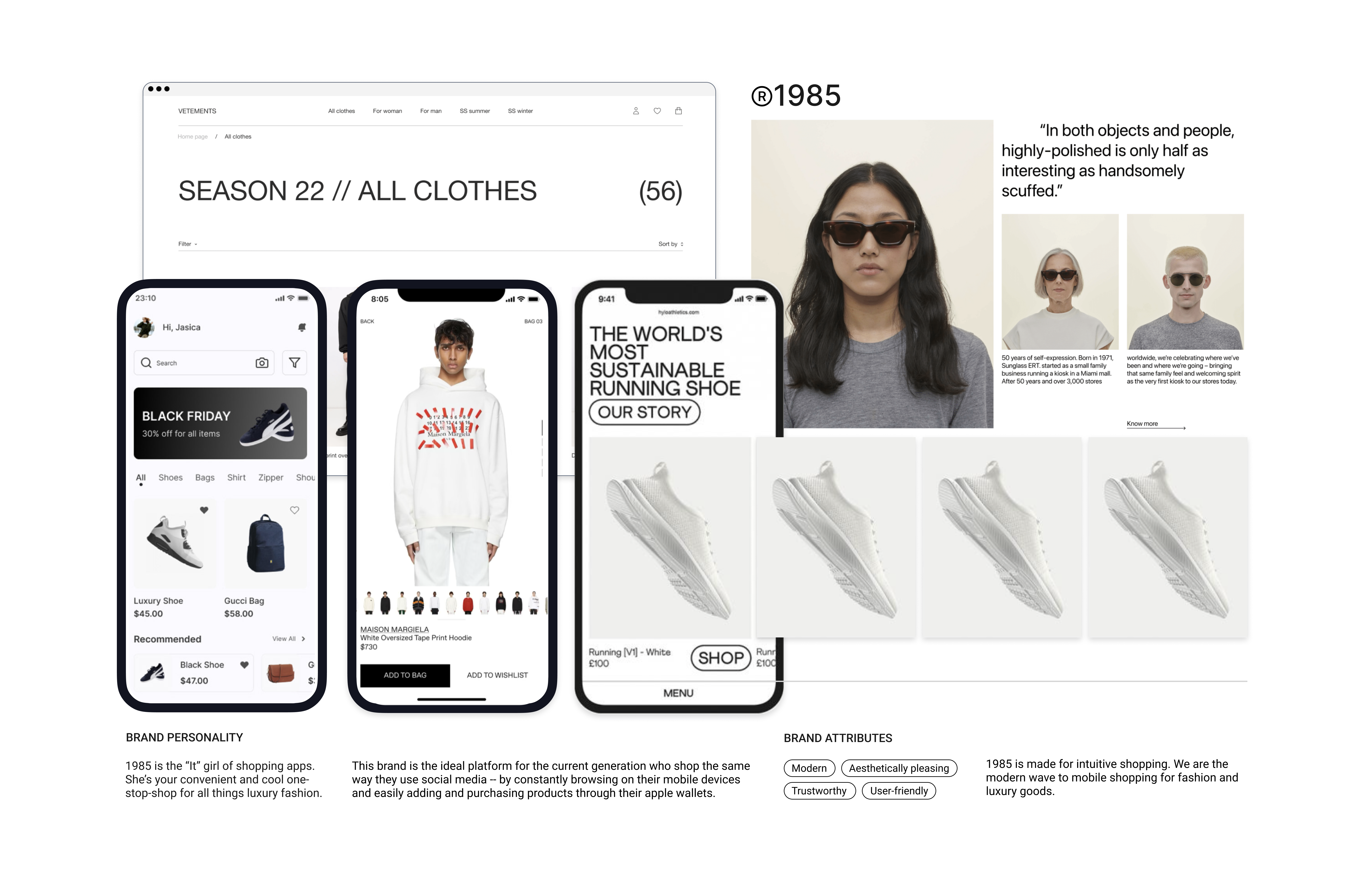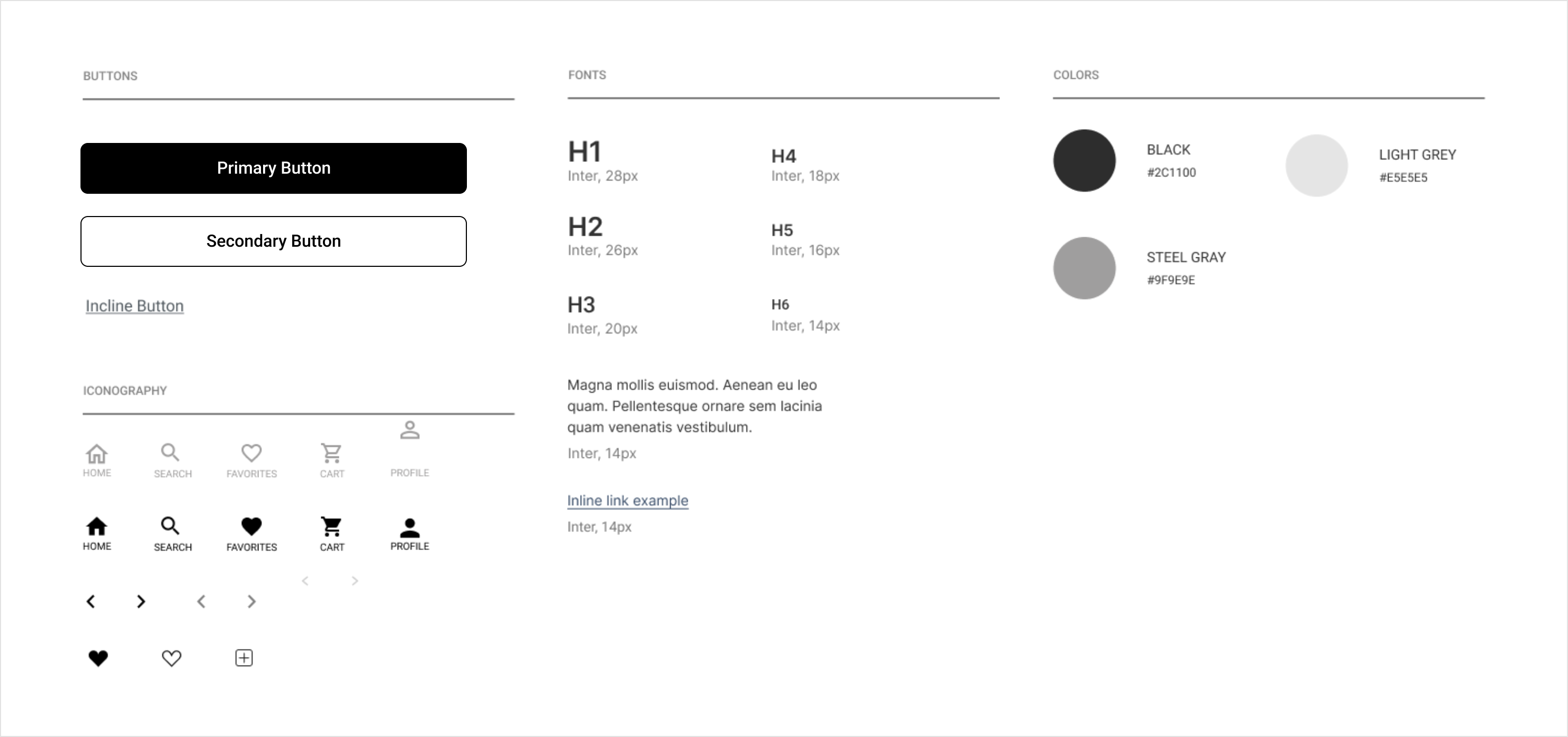 HIGH - FIDELITY SCREENS
The main goal in the design process was to make a simplistic experience for users to follow and enjoy the journey of caring for their plants. I made a few changes along the way, allowing me to make better use of space and reconstruct certain aspects of the app.

USABILITY TESTS
I was ready to test the app and conduct usability testing. I wanted to evaluate how users would complete tasks and navigate throughout the app. All participants had previously taken the survey and were reached out to conduct the testing.

Many testers were intrigued to know how to use other aspects of the app that were not developed or prototyped yet, however, they were redirected to the tasks at hand.
Test Objectives

- Understand the users first impressions of the product
- Recognize any pain points the user has while navigating through the product
- Understand how the user feels during the process of using the product
- Observe reactions and expressions by the user while using the product
- Understand the strong and sucecssful attributes the product contributes

TESTING & REDESIGN
During the testing, there wasn't any significant element or design issue that users wanted changed, but there were a couple features that they wanted to experience during testing that they think are important for the app.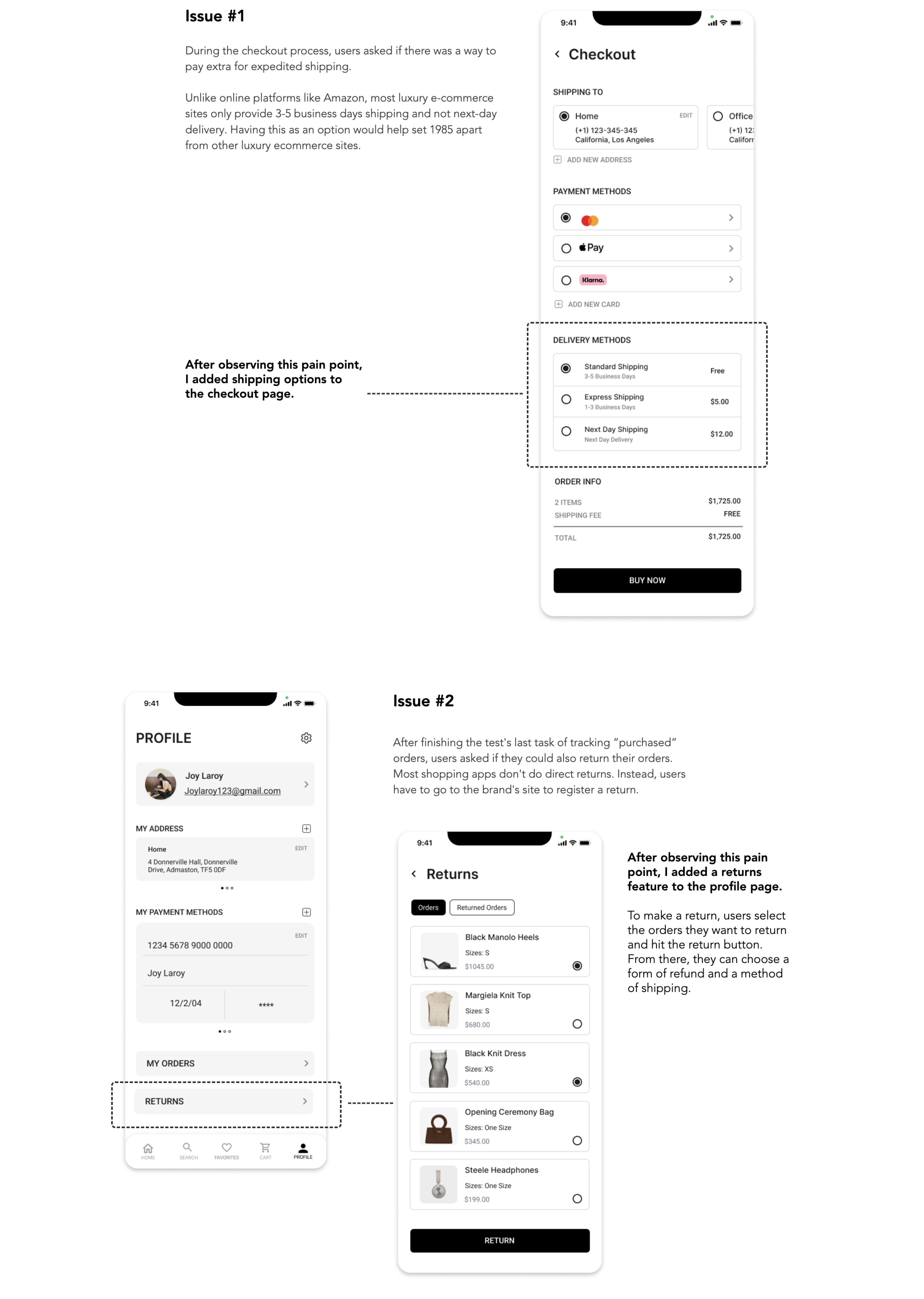 TAKEAWAY
As an aspiring UX/UI designer, I decided to challenge myself by creating an eCommerce app, and it was an enriching experience. While developing the app, I delved deep into the UX process and identified my strengths and weaknesses. Coming from a design background, I was most enthusiastic about the UI aspect of the project, but I also discovered a newfound passion for user interaction.
During the prototyping phase, I observed how users interacted differently with the app, which was fascinating. However, I also faced some learning curves, primarily during the initial stages of the case study. One of the most significant lessons I learned was that I am not my user, and I cannot assume that everyone thinks the same way I do. While conducting primary research, I was surprised to discover that each user has unique behaviours, perspectives, and goals. It was a wake-up call that even though people may have similar pain points, they are not the same. Through conducting one-on-one interviews, I gained valuable insights into what users genuinely wanted, rather than what I believed they did.
Moving forward, I am excited to take on new UX challenges and enhance my UI skills further. Thank you for taking the time to read about my design and thought process! I hope you found my UX/UI case study reflection informative and insightful.