Clare Balmer
Service Designer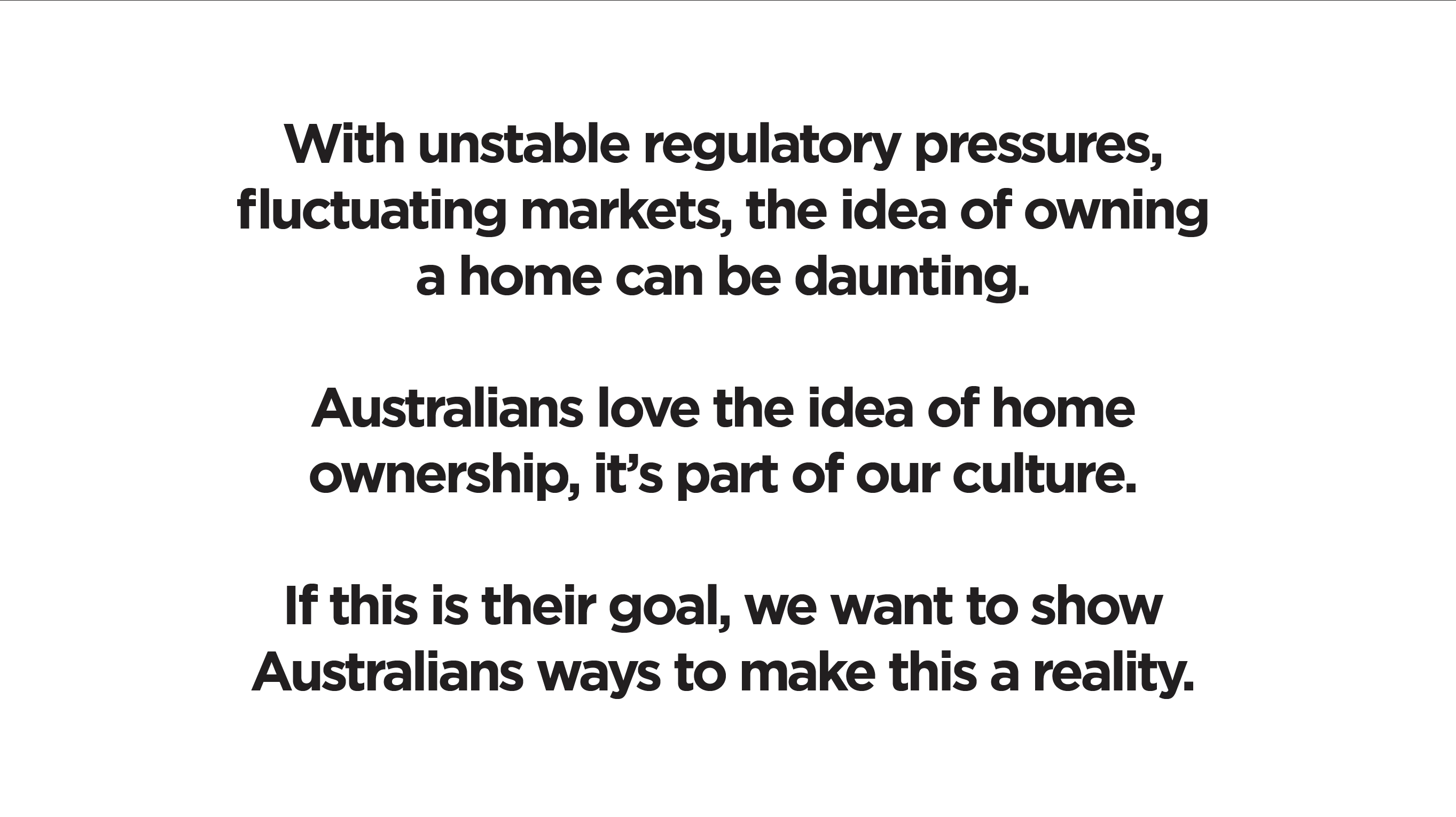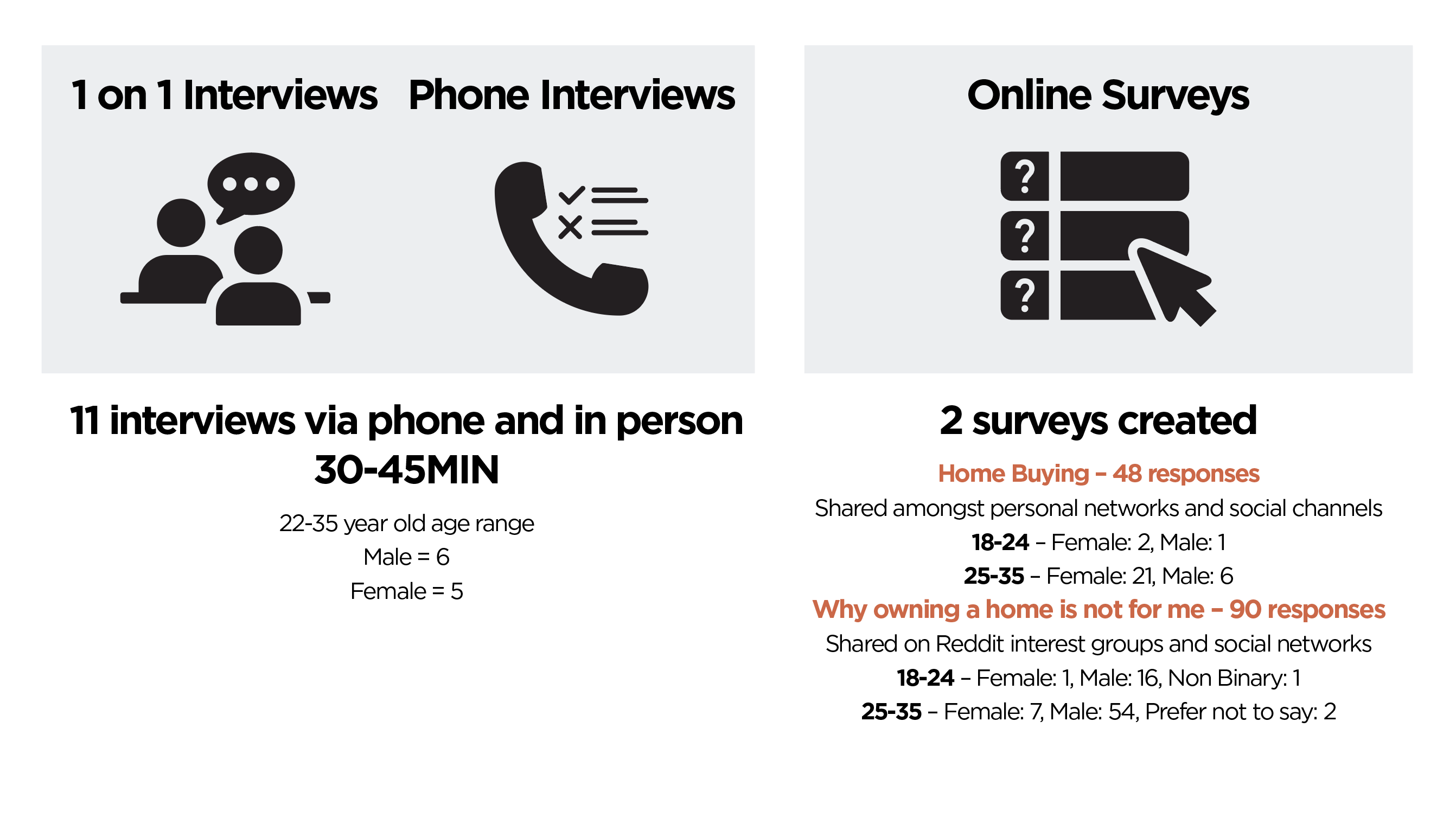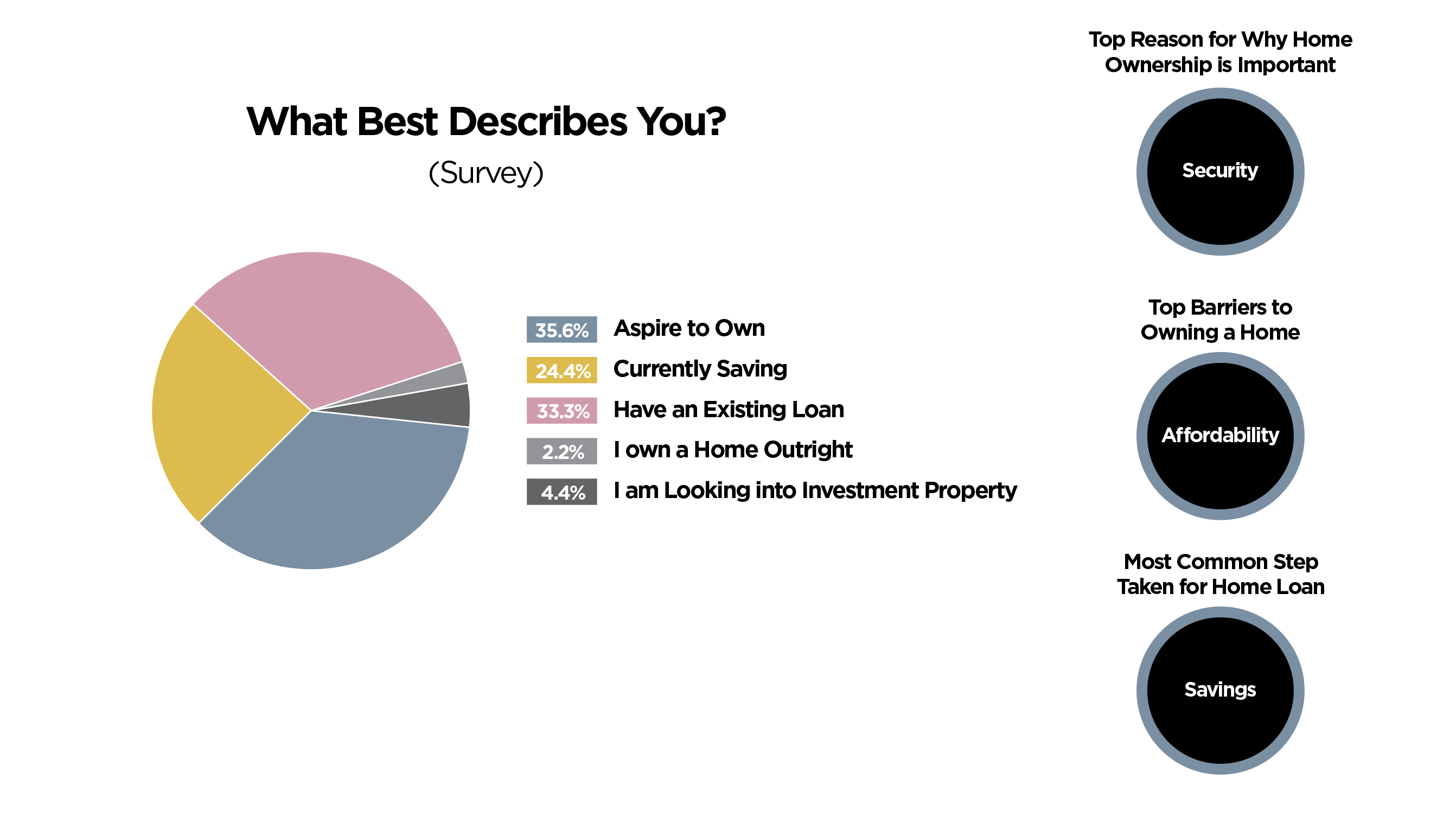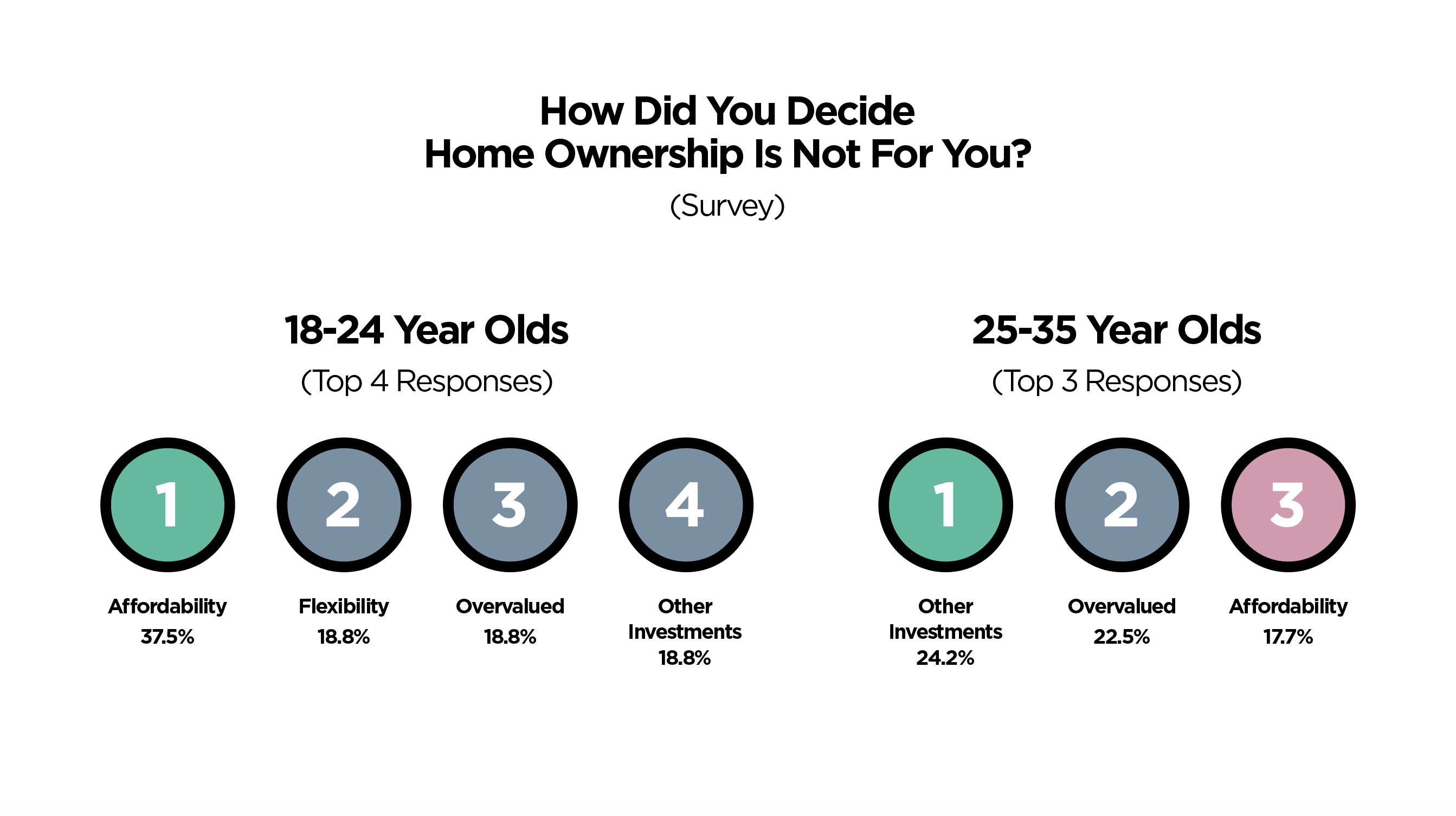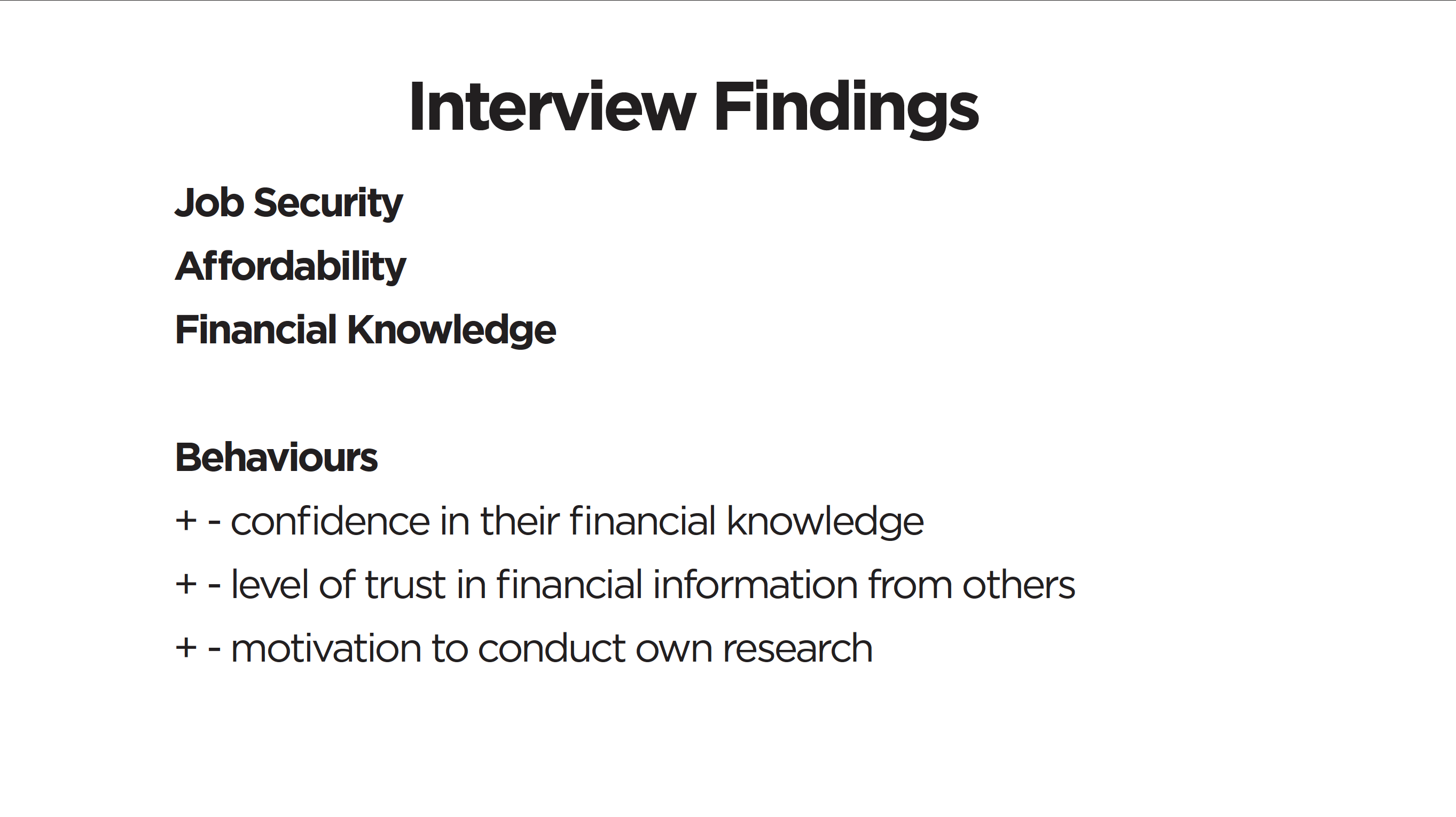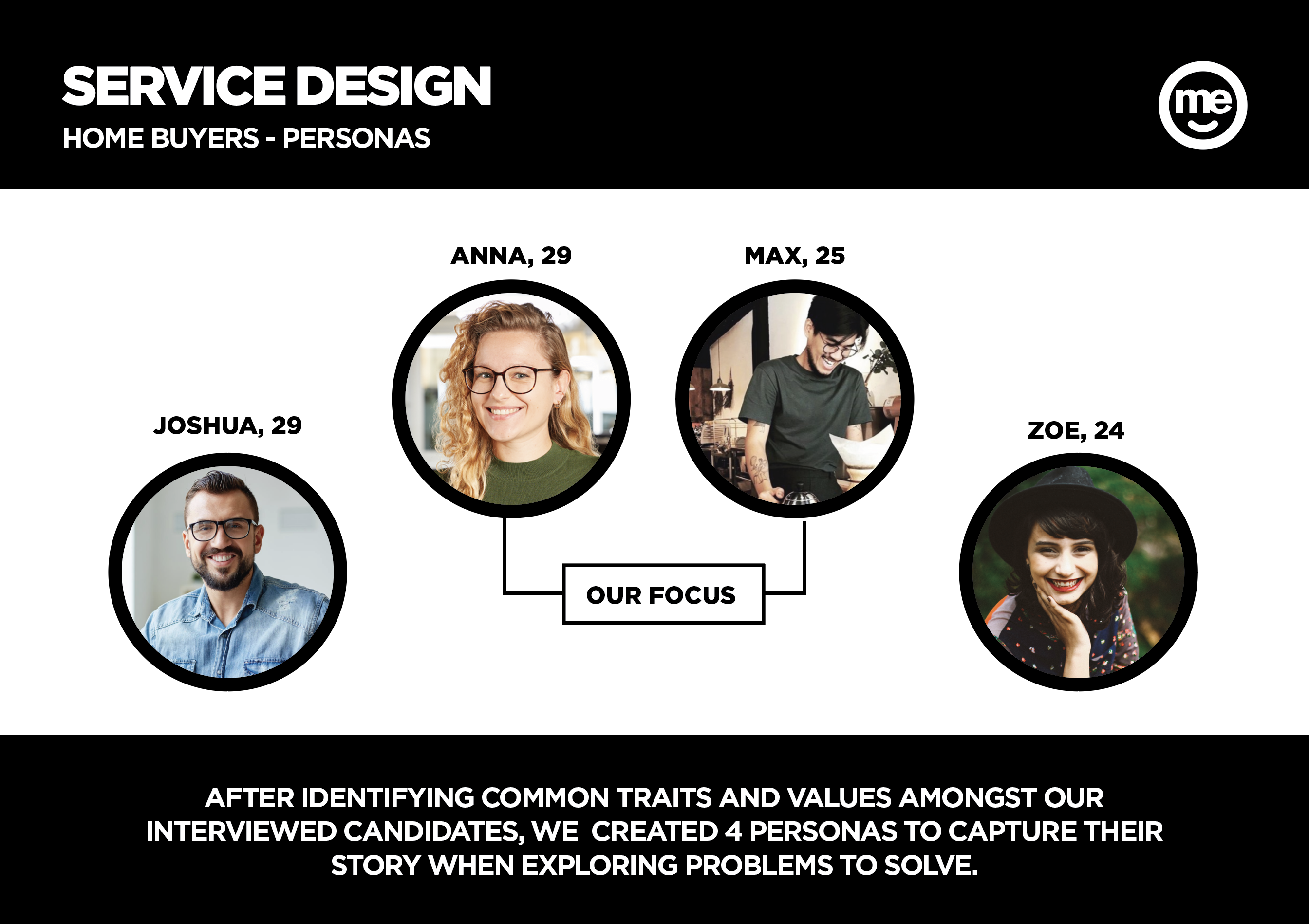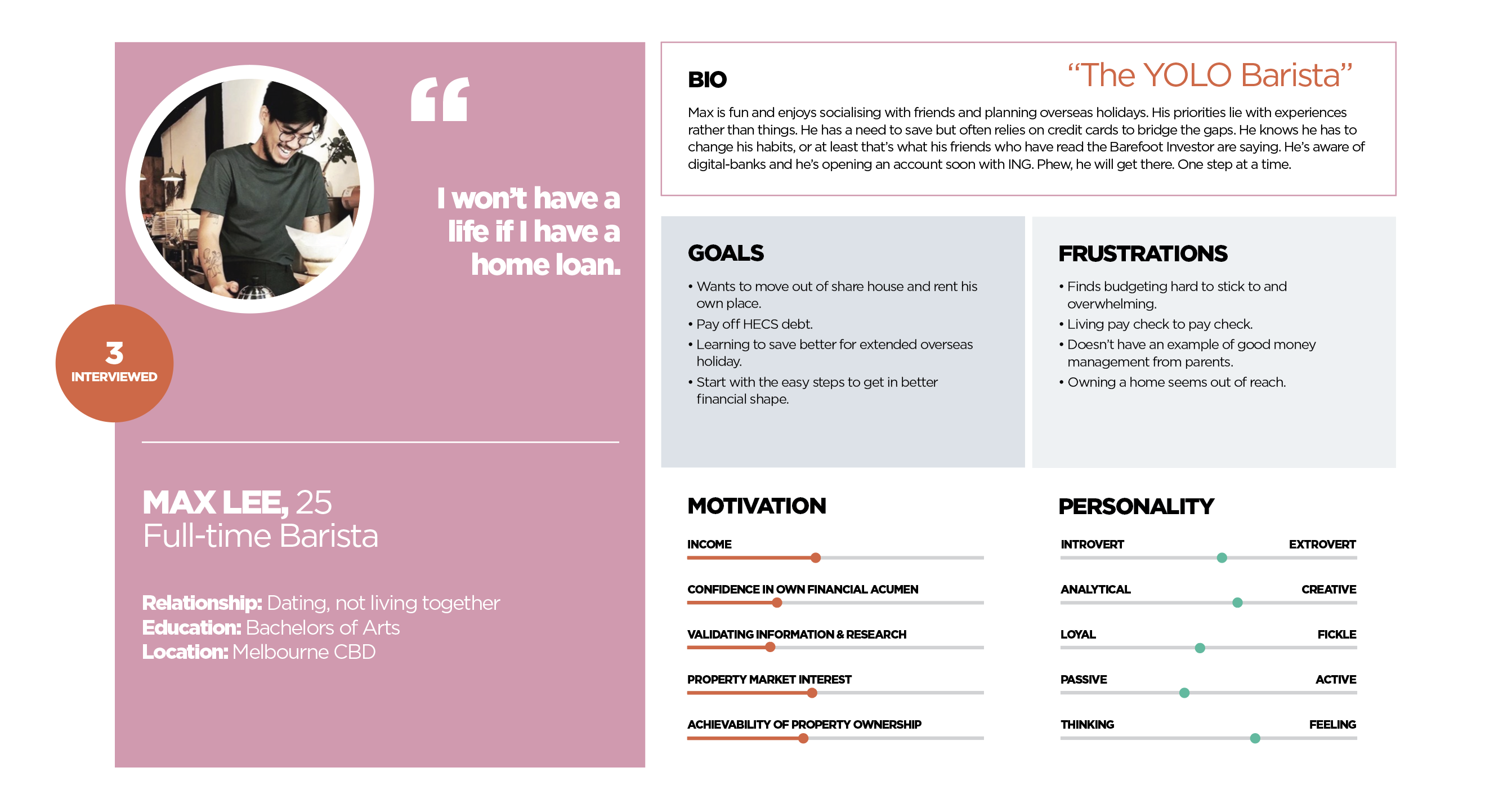 Persona – Max
Max is fun and enjoys socialising with friends and planning overseas holidays. His priorities lie with experiences rather than things. He has a need to save but often relies on credit cards to bridge the gaps. He knows he has to change his habits, or at least that's what his friends who have read the Barefoot Investor are saying. He's aware of digital-banks and he's opening an account soon with ING. Phew, he will get there. One step at a time.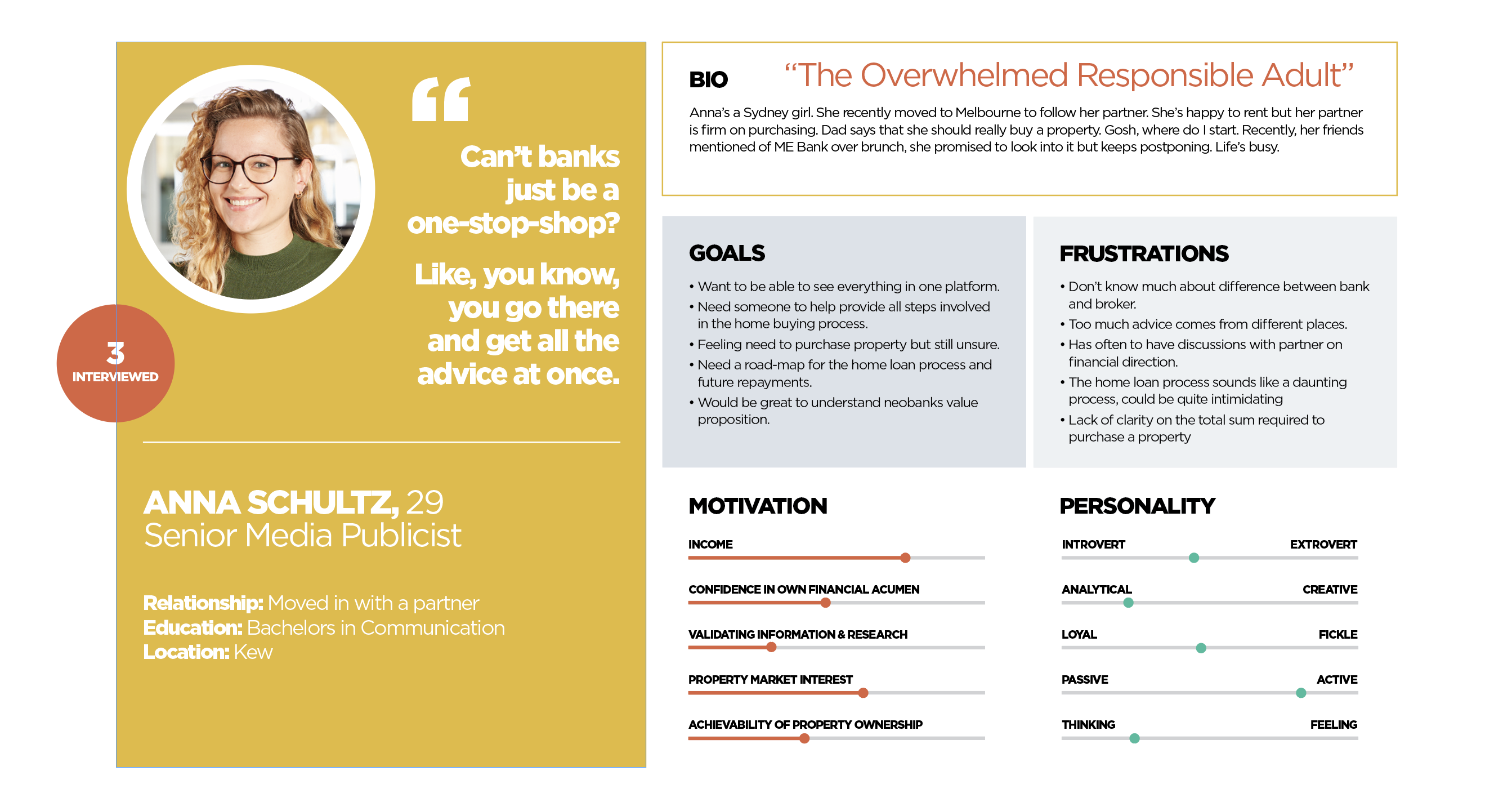 Persona – Anna
Anna's a Sydney girl. She recently moved to Melbourne to follow her partner. She's happy to rent but her partner is firm on purchasing. Dad says that she should really buy a property. Gosh, where do I start. Recently, her friends mentioned of ME Bank over brunch, she promised to look into it but keeps postponing. Life's busy.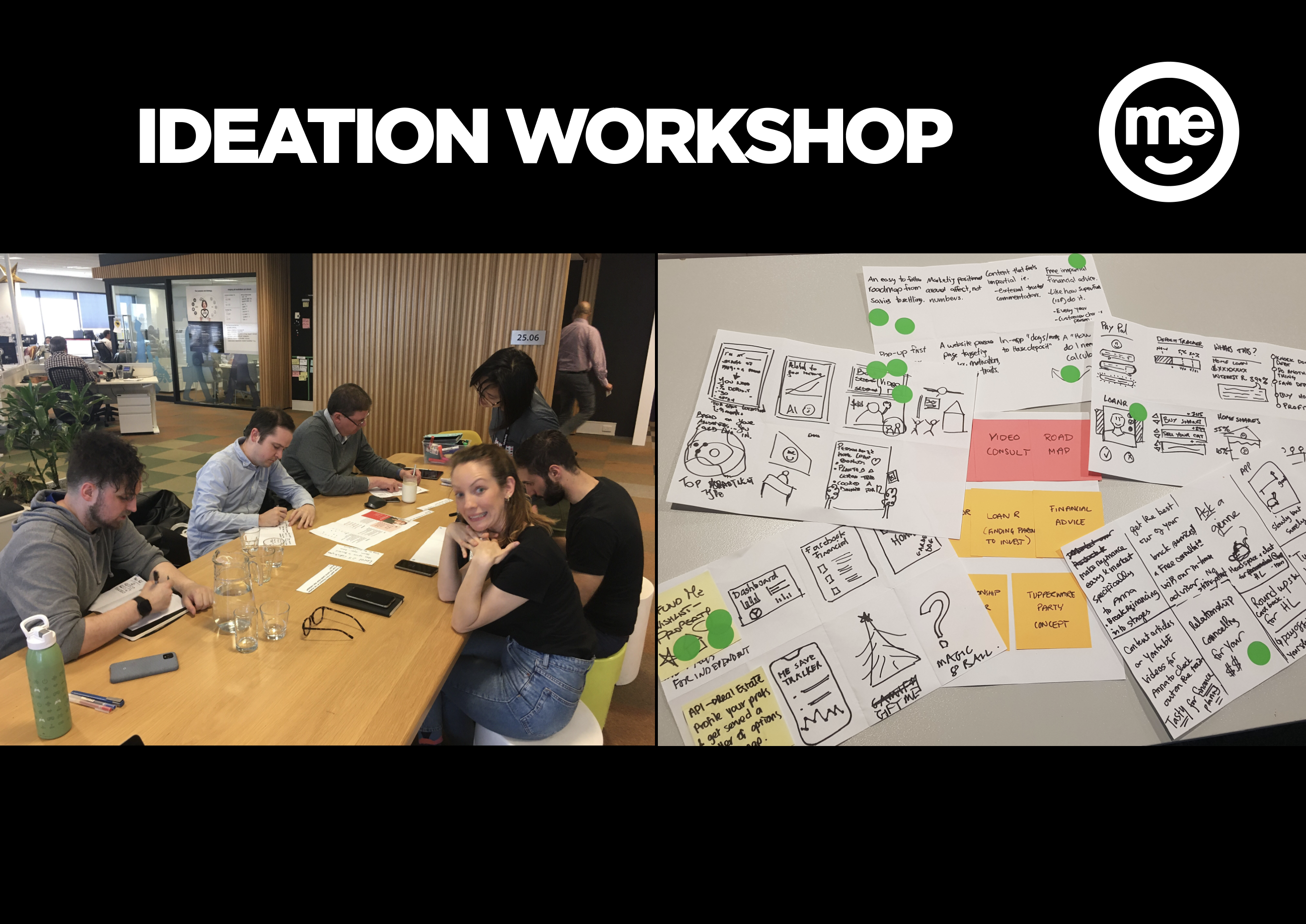 Me Bank Facilitated Workshop
Our Service Design team conducted a workshop with the internal experience teams at Me Bank. This facilitated product ideas for the customer types we discovered during research. Fast concepts were formed and voted on for further exploration.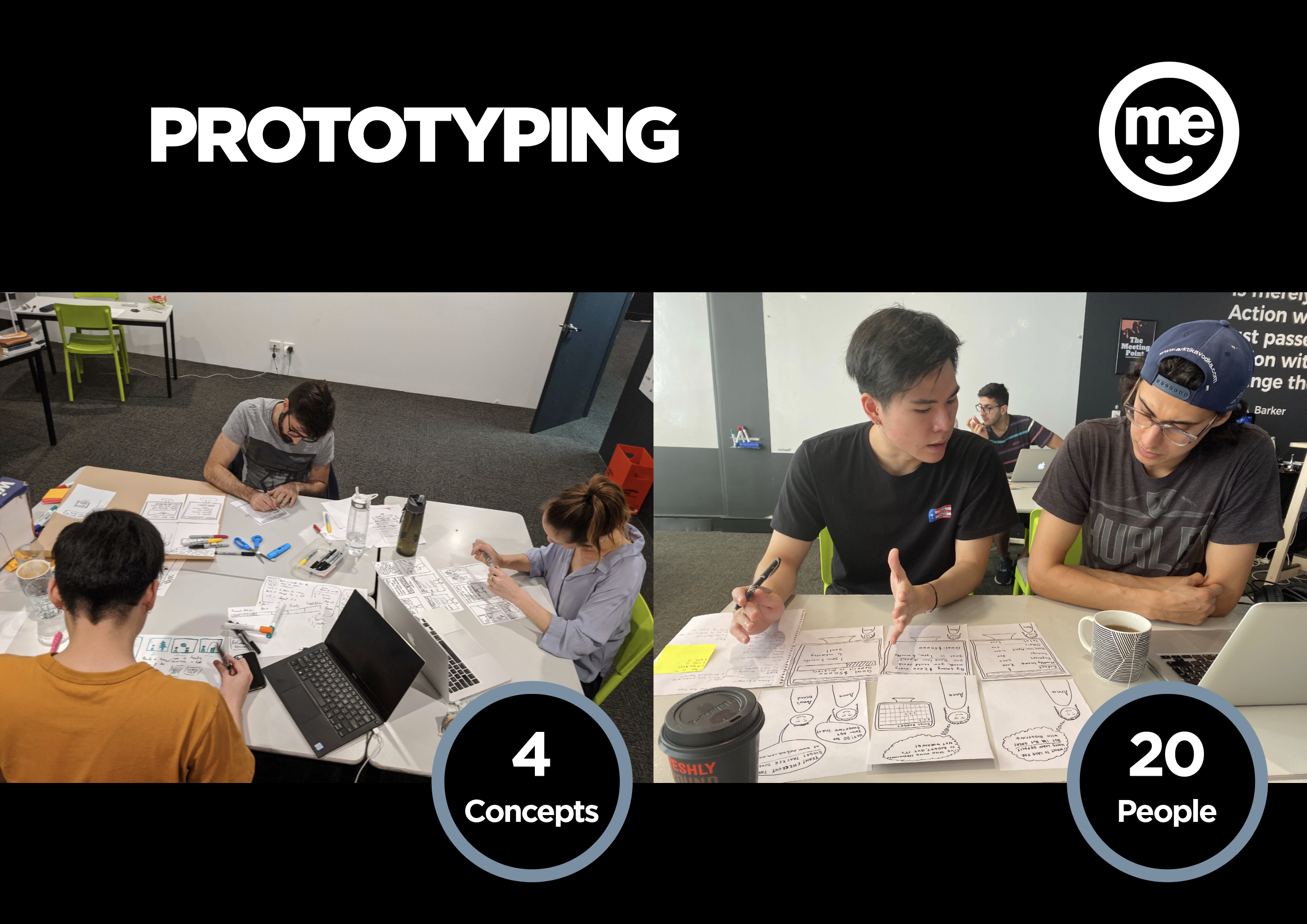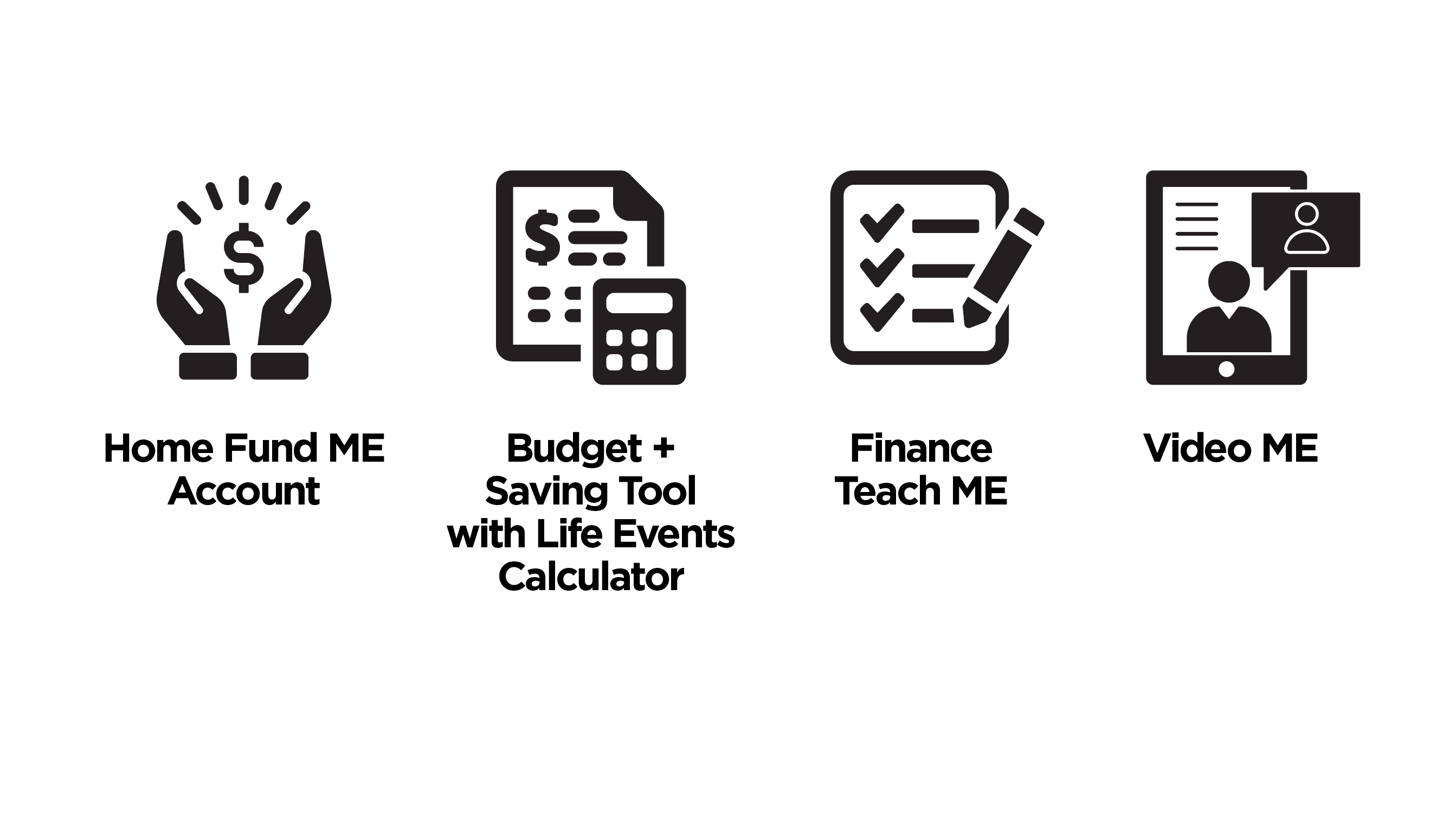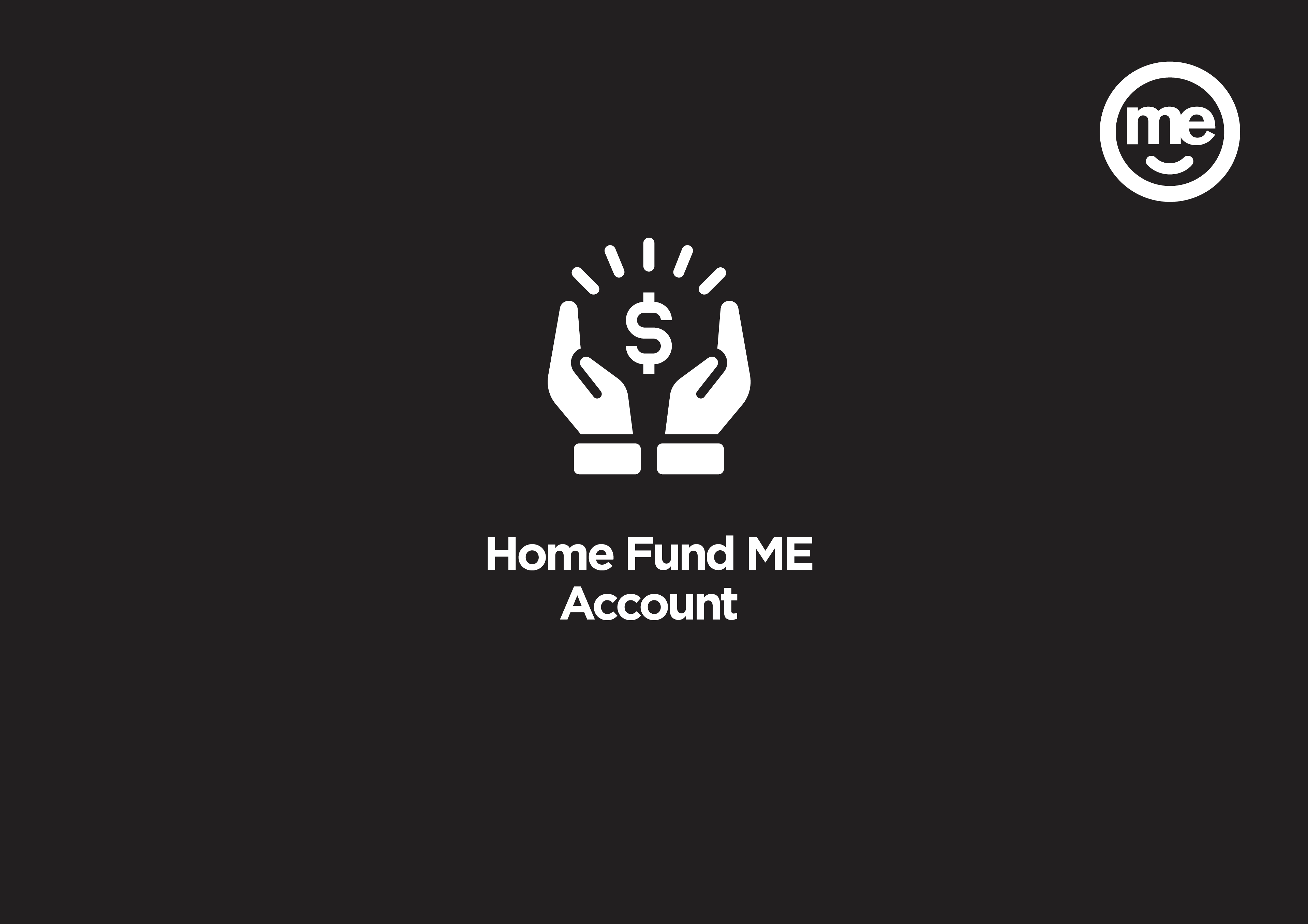 An account which others can gift money towards to fund a house deposit goal. A tool to keep the recipient on track with their home ownership goal.
FEATURES
Start an open fund and provide a way for others to complement own efforts towards property ownership. Way for the contributors to visualise progress made to the home-fund. Take financial knowledge test before being able to open account. Funds should be made available only towards home deposit.
BENEFITS
Promote sense of accountability and create a sense of goal towards home ownership. Up-skill financially by following the educational part of the Home Fund ME. Remove barrier of being able to ask for funds towards home deposit in an alternative (and creative) way.
Key Testing Insights:
+ People appreciate the idea of removing the pain of gift buying and helping someone with a set goal.
- A small number of users would feel self conscious of sharing that they have this account and asking for money."I like it, but coupled with up-skilling in financial literacy so it's not just another piggy bank"

"I am really surprised this has not been done before."

OPPORTUNITIES
Anna loves the idea of experiences and getting gifts with meaning. She loves celebrating big events with family and friends and creating ways for them to be included in her goals with a Home Fund Me account.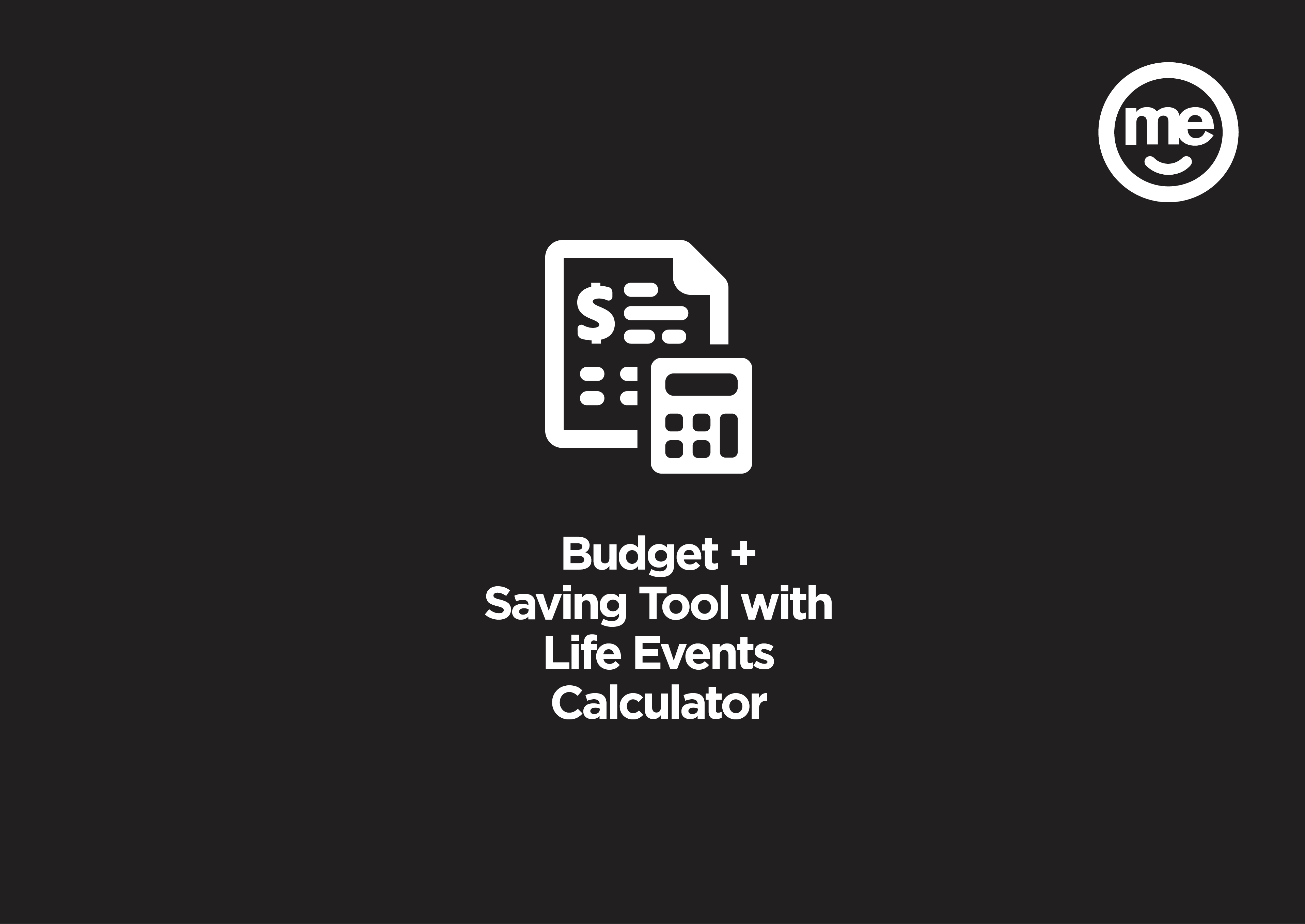 A saving & budget calculator that guides the First Home Buyer to budget their money at any stage of their journey.
FEATURES
Suggestions on estimation of salary should be allocated into home deposit. Progress bar (gamification) to help users visualise their home loan deposit goal. Life events calculator that gives users an estimation of how much it would cost for potential life events like baby, education, etc
BENEFITS
Motivate the users to be consistent with their actions in terms of saving and budgeting. Reduce any doubts and uncertainty users may have with suggestions and estimated figures. Educate users with budgeting and saving by offering auto generated suggestions based on salary and expenses.
Key Testing Insights
+ People want to improve their budgeting and saving skills and be able to visualise the goal they are aiming for with a rough idea of other costs that may come in later in their life.
"It keeps track of my goal which encourages me to save more."

OPPORTUNITIES
+ Anna needs to view her spending, plan for a savings goal to buy a house. But life also happens in the meantime. How do I plan for a baby, or a great overseas adventure and still reach my goals?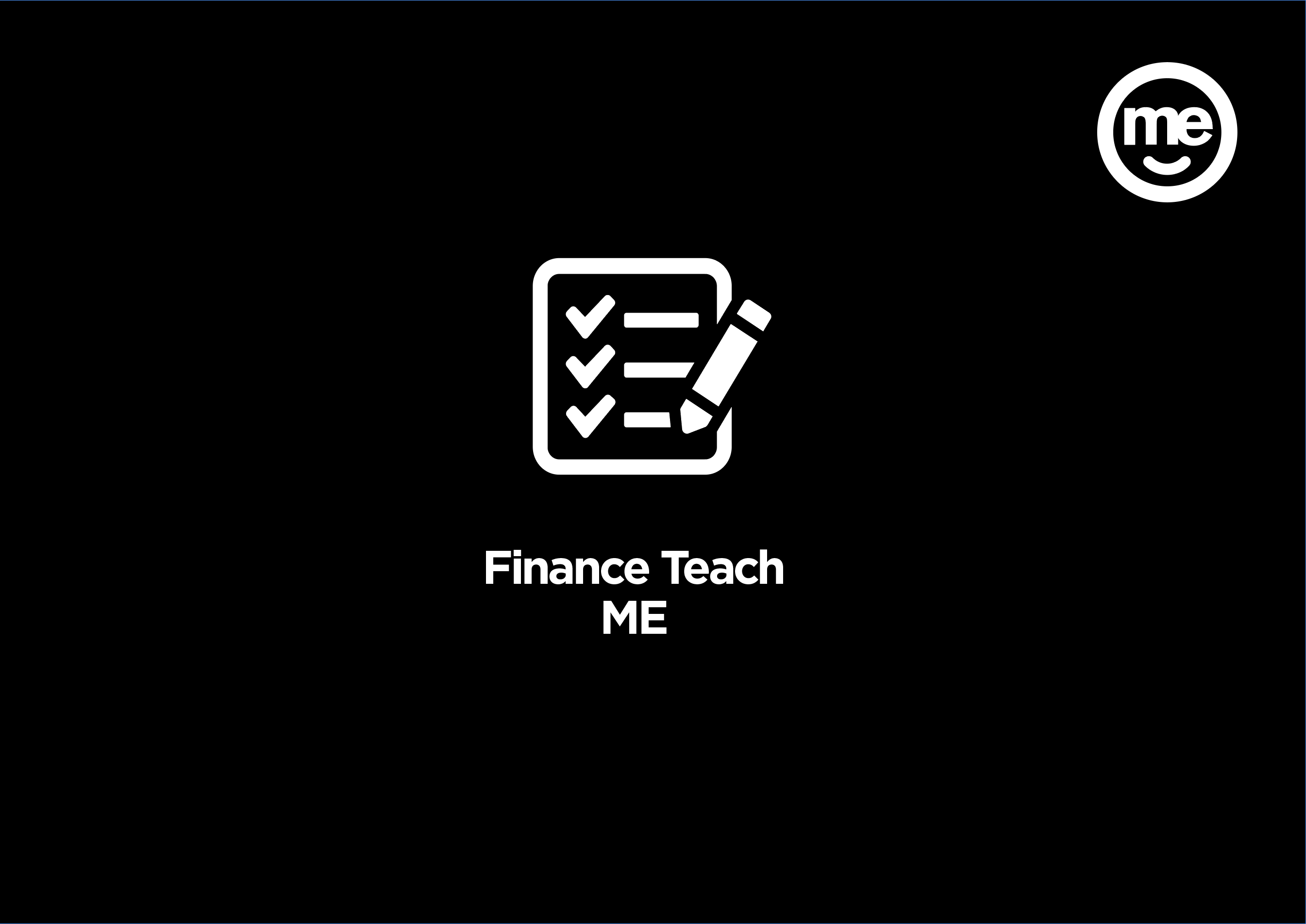 A tool to help ME's customers build confidence in their financial knowledge and then validate it.
FEATURES
Gamifies learning around financial acumen. Centralises information in one place. Steps are concise and easy to understand.
BENEFITS
Provides clarity for those who are unsure around the basic steps for acquiring a home loan.Provides a pathway for trust between customers and their bank. Provides a way for people to test and validate their knowledge. Would compliment future plug-in to other ME products.
Key Testing Insights
+ People are very open to something that saves them time spent searching for financial information.
+ Almost no one had trust concerns around a bank supplying this kind of info and like the idea of an all in one source.
"Bank jargon is disgusting so something that breaks that down is awesome"

"This is a cool knowledge base for everything you'd need to know"

OPPORTUNITIES
Anna isn't clear on what steps are involved in purchasing a house and what financial information she needs. This is a great way to fill those knowledge gaps.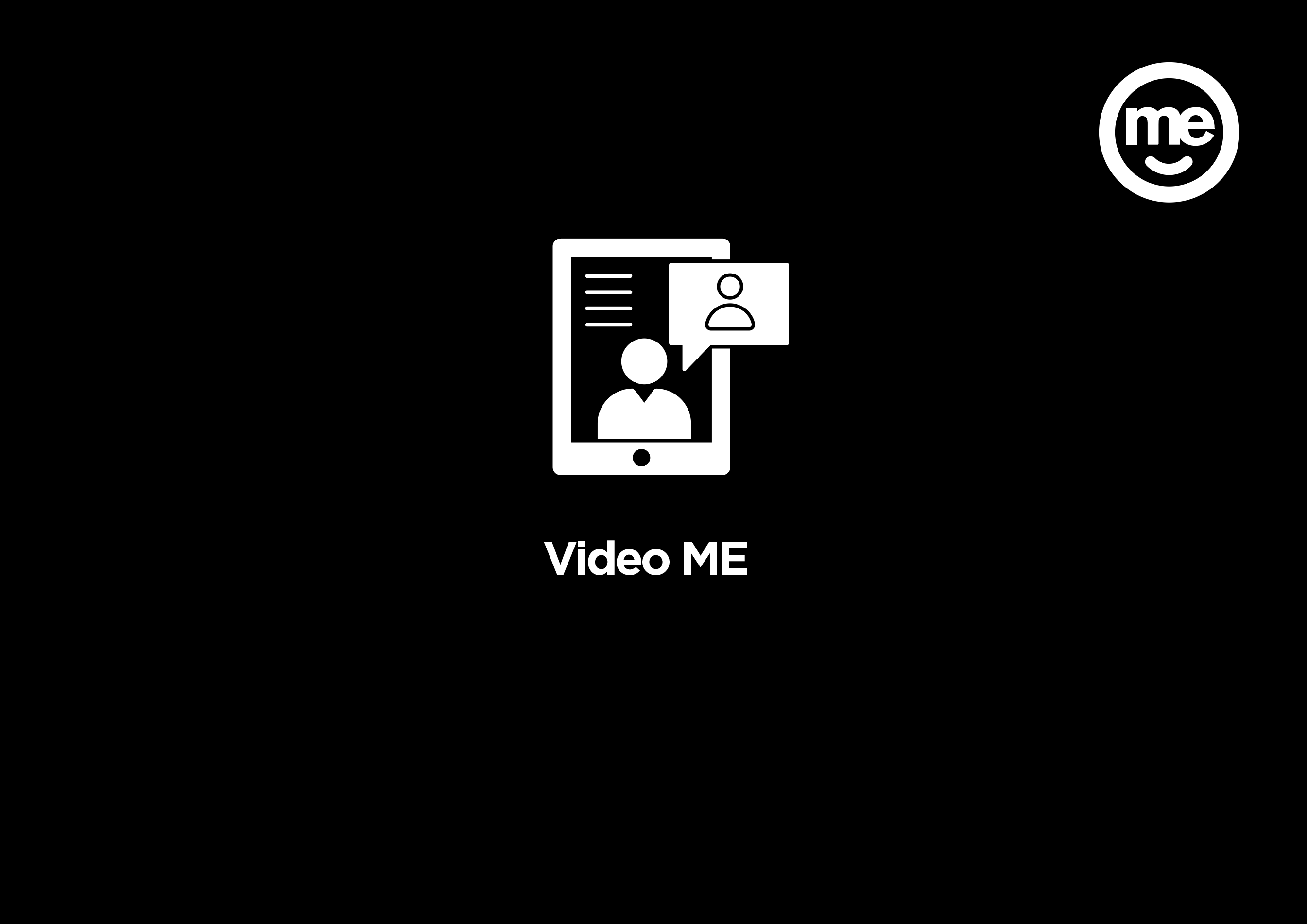 An option for remote customers or those busy and needing appointments with a banking specialist to fit in around their schedule.
FEATURES
Provide a platform for both mobile lenders and customer to connect via a video-feature. Being able to have multiple participants on the call (approved by both parties). Provide the mobile lender with the right information before hand to maximise time.
BENEFITS
Being able to schedule video conversations during business hours. Being able to add multiple participants if the receivers of financial information are in separate locations. Give a more personal feel as opposed to a phone call wherein a face-to-face is not available.
Key Testing Insights
+ A great, convenient way for busy people to schedule appointments.
"It's hard for working couples so this is great"

"Could work really well for people who live far out"

OPPORTUNITIES
Connect with Anna and her partner to discuss financial options to prevent relaying information between each other when making financial decisions.