Crystal Talley
UX/UI Designer
PLEDGE HEALTH
Automated back office for healthcare practices
In the past few years, there has been a constant increase in deductible rates in insurance plans. Many across the country have been affected by this and in turn, are paying more out of pocket. The Pledge Health company allows independent practices and insurance companies to easily verify patient insurance eligibility and benefits, generate out-of-pocket cost estimates and collect patient responsibility, increasing the likelihood of patients paying on time or even earlier.
Challenge
Pledge Health is launching its Minimum Viable Product (MVP) and is looking for UX/UI input.
Solution
We will conduct an evaluation of their MVP and provide suggestions for improvements and create a simple, intuitive experience for their healthcare providers to create patient cost estimates.
Project Duration
4-6 weeks
The Process
Brainstorm

Evaluation

Research

Moodboard and Style Guide

Low Fidelity Wireframes

High Fidelity Mockups
Teamwork
As a team of 5 Designers, we divided the responsibilities into the following categories: Discovery, Evaluation, Design Sytems, and UI - Wireframes. Although we each provided input to all the steps, I focused specifically on
Design Systems

Style guide

Color Explorations

Moodboard

UI

High-Fi wireframes (Web and Mobile)

Client Presentations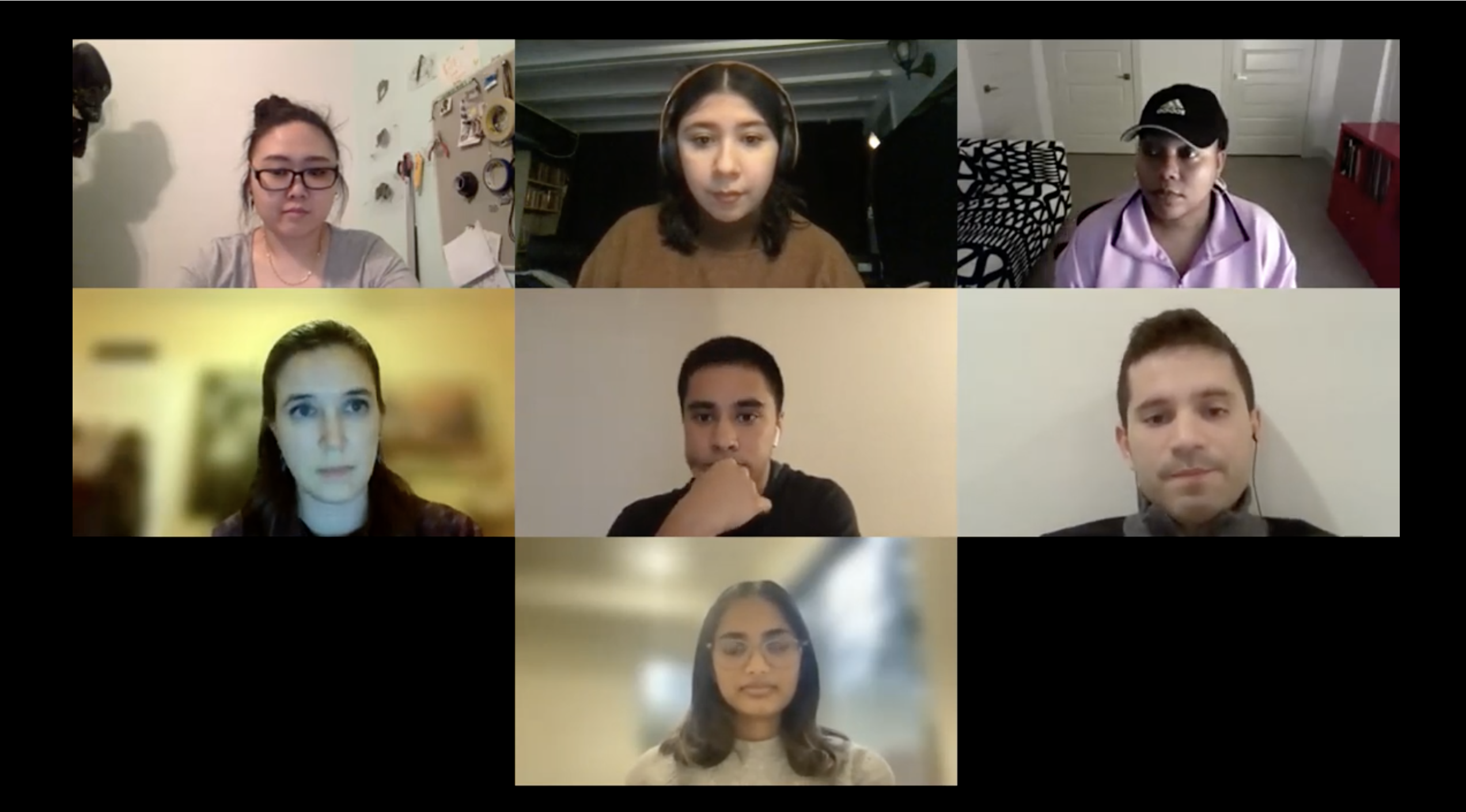 Brainstorm
As a team, we met with our client to begin the brainstorming process to gain knowledge and gather information so that we could deliver a smooth experience for the provider and the patients. After we had a clear understanding we then began to break down responsibilities amongst ourselves in the following categories: Discovery, Evaluation, Design Sytems, and UI - Wireframes.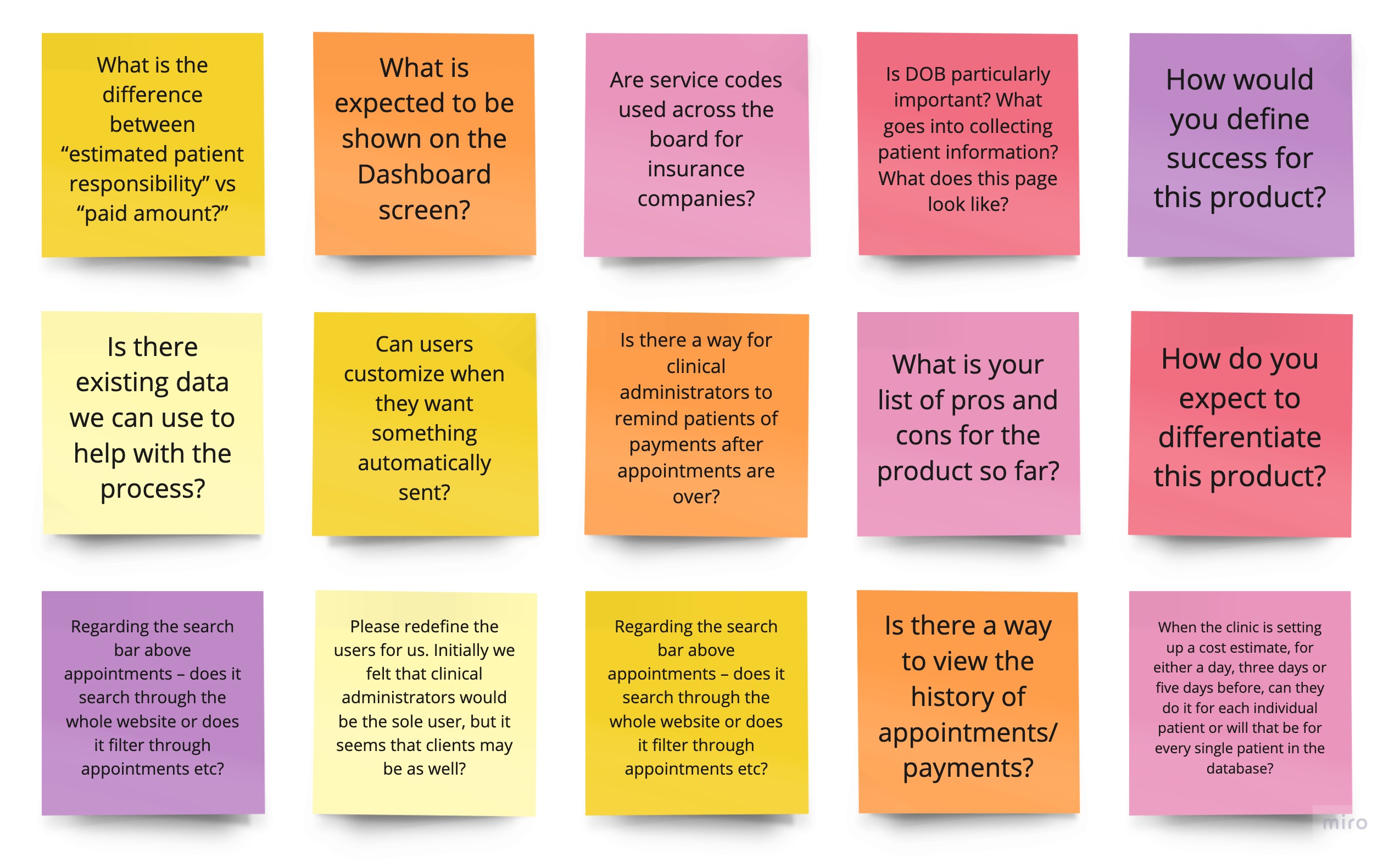 Q&A
In our initial meeting with the client, we compiled a list of questions to clarify goals, clarify layout and sitemap expectations, and user-specific questions to ask the clients.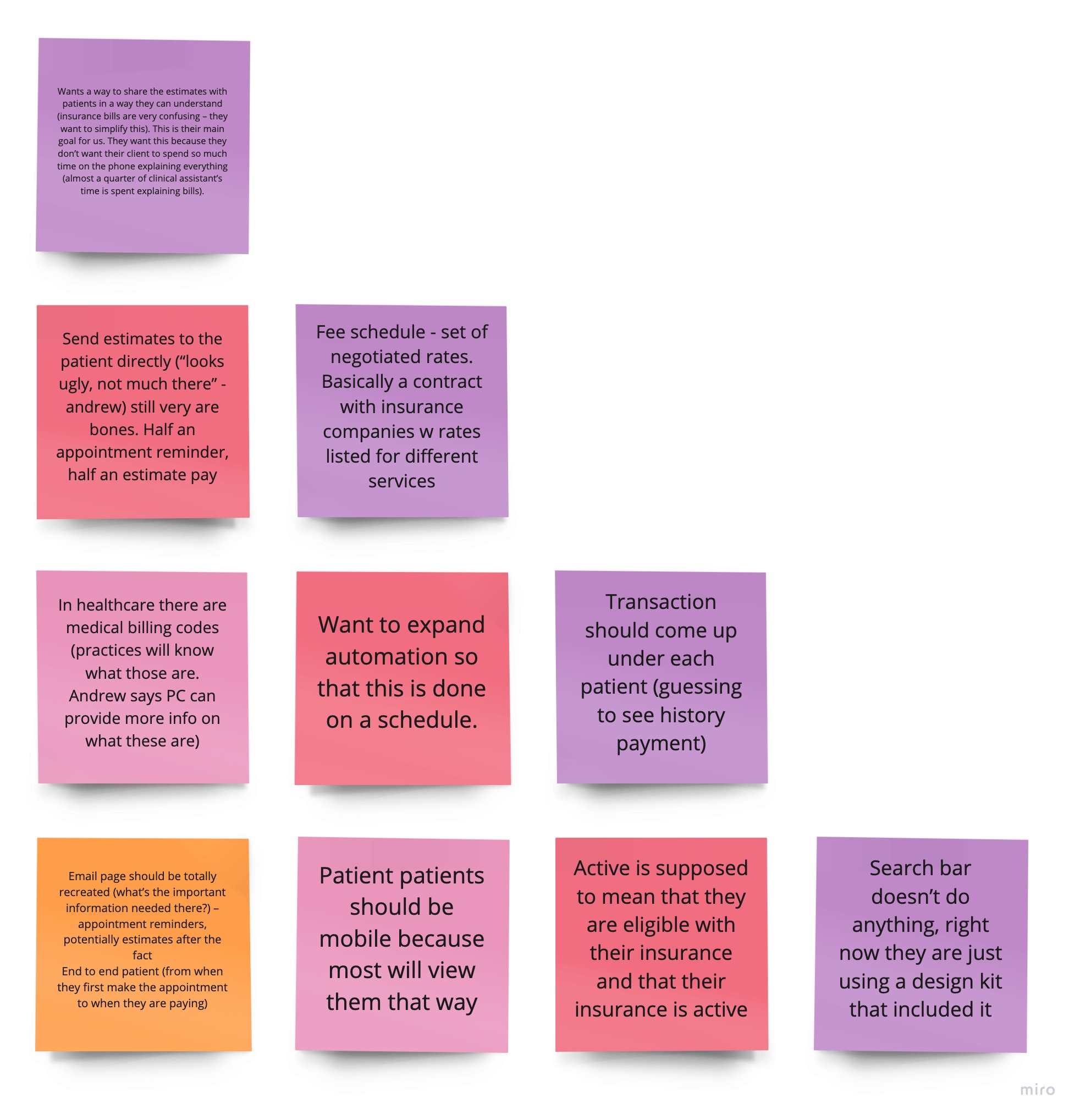 Insights
The first meeting with the client was a great opportunity to understand who Pledge Health is, what they do and what they offer. It also gave us insight into what they would like their platforms to convey, For example, it gave us knowledge about is their competitors' pros and cons, and what kind of experience they want to offer to their clients. Basically, Pledge Health wants to eliminate all unnecessary struggles patients and practitioners face during the confusing and complicated billing process.
Evaluation
My teammates conducted an evaluation of Pledge Health to find assets and pain points. The evaluation helped us visually break down the usability and UI features to determine how to improve the functionality of the website. Given the desired deliverable for the client, we conducted a full evaluation of the existing screens. Particular attention was paid to the components and navigation. Since there was an established need for improved ease of use and automation, our team used this perspective to make recommendations. We discovered a gap in the execution of client communication and overall decided that restructuring the components would lead to a smoother user experience. This is what ultimately led to the use of card components to group functions and integrated email invoicing.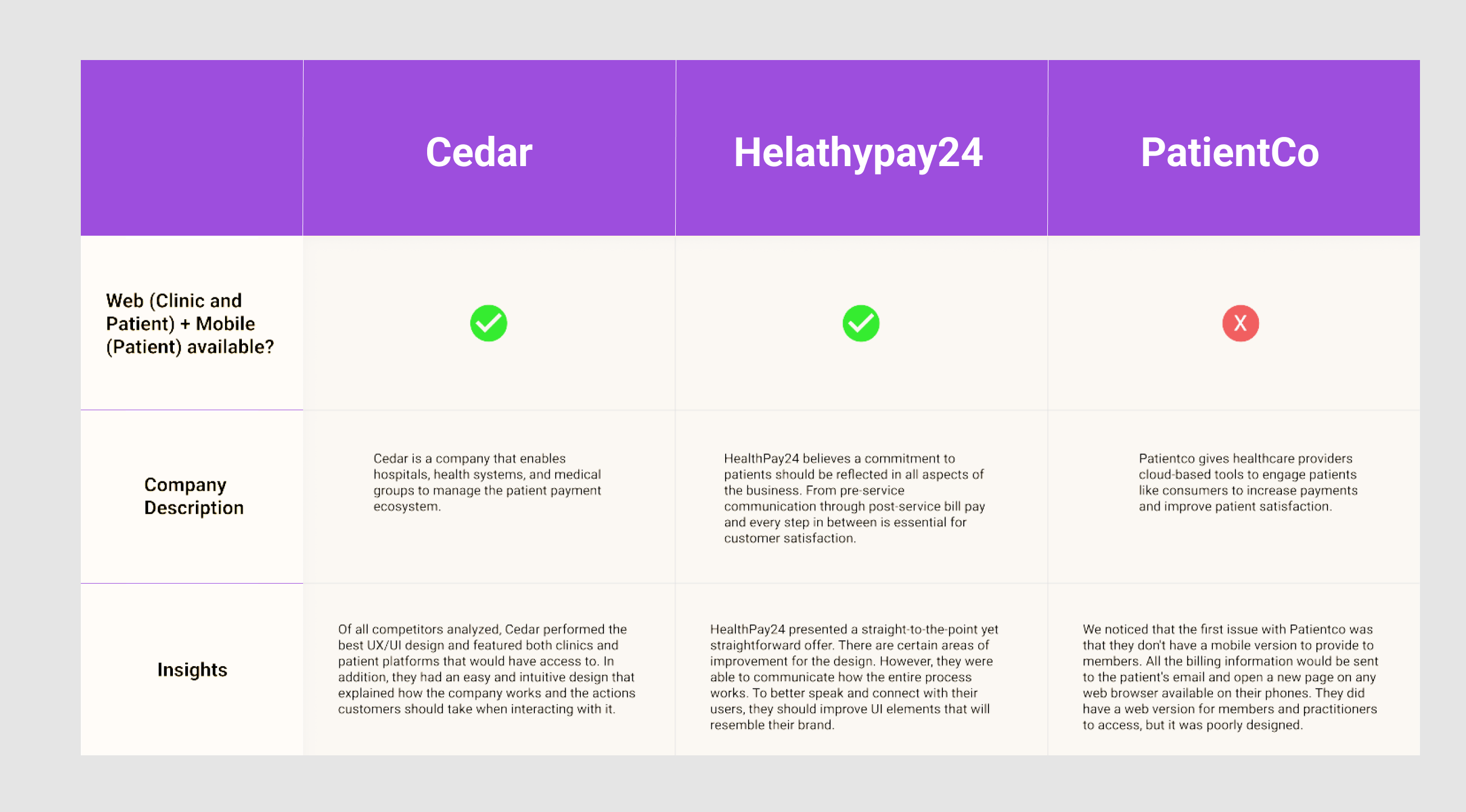 Competitive Analysis
The team analyzed three competitors to understand industry standards and common practices and find assets and pain points. The competitive analysis helped us visually break down the competitor's usability and UI features. We observed that there seemed to be a gap in their current website and mobile design around accessibility and documentation.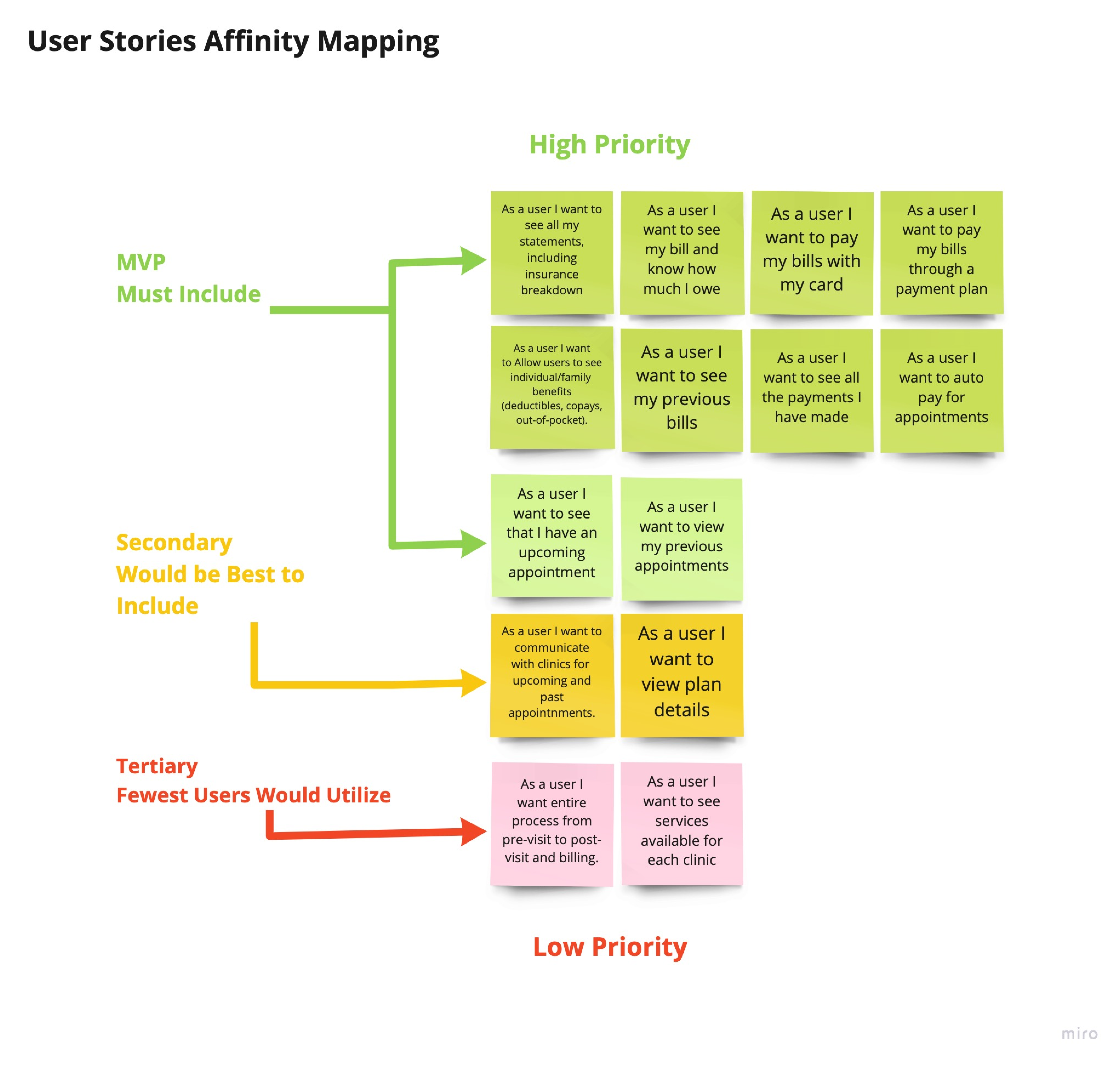 Users Stories
Before we got started with designing we wanted to identify the most important functions of this website. User stories were categorized by priority, the highest being the most crucial functions, this helped us understand the necessary features and elements that needed to be implemented for a smooth experience. We kept in mind that our target audience is practices who want to easily verify patient insurance eligibility and benefits, generate out-of-pocket cost estimates, and collect patient responsibility.
HMW's
The final piece of the research was to synthesize this data, with How Might We (HMW) statements to communicate the most important problems users want to be solved.
Allow the user to view previous appointments?

Allow the user to view their bill?

Allow the user to pay their bill in different ways?

Allow users to see previous bills?

Allow users to see all statements, including insurance breakdown?

Allow users to auto-pay for appointments?

Allow users to view plan details?

Allow users to see services available for each clinic?

Allow users to communicate with clinics for the upcoming and past appointments?

Allow users to see individual/family full benefits (e.g.deductibles, copays, out-of-pocket)?

Allow users to see the entire process from pre-visit to post-visit and billing?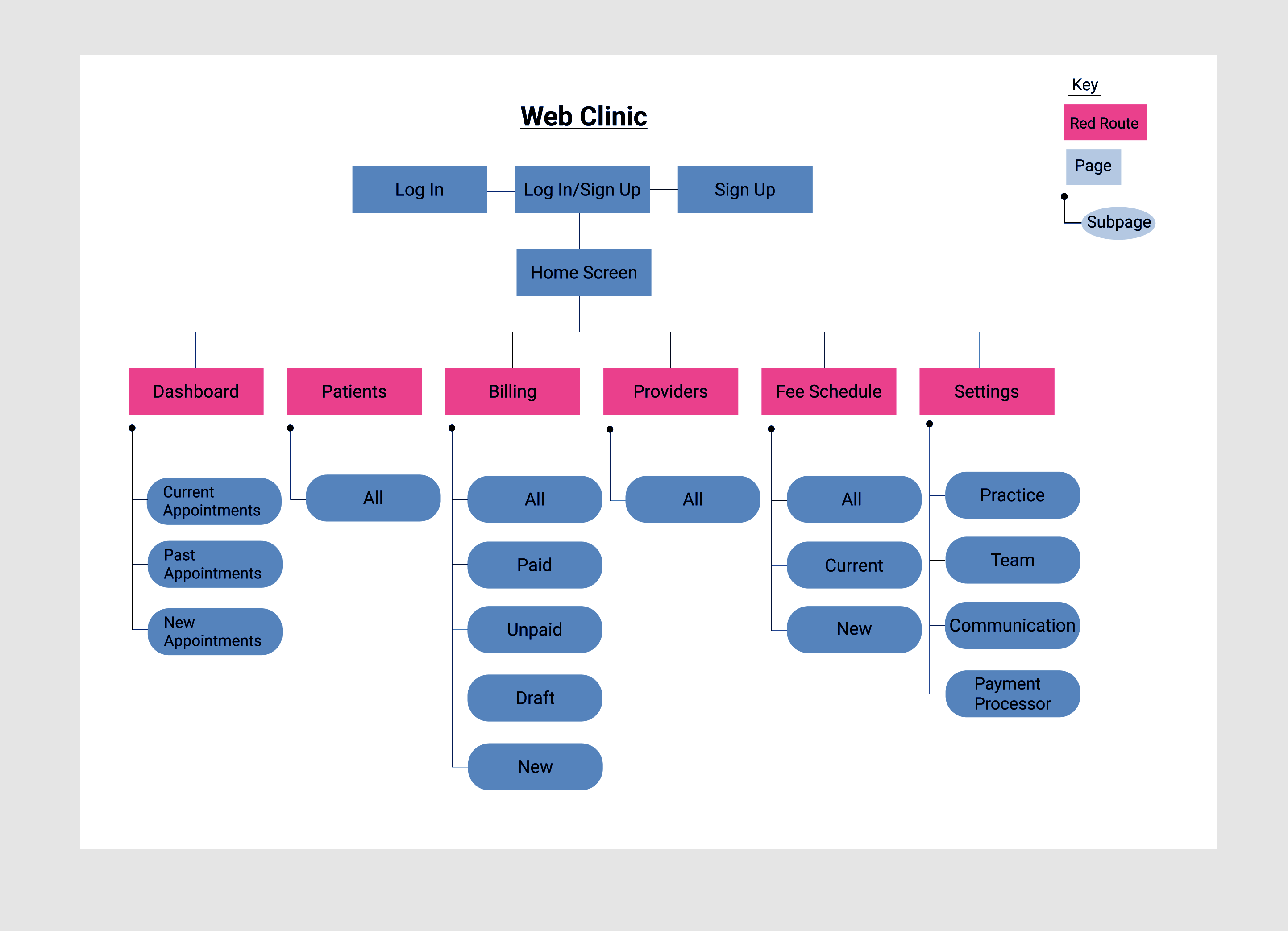 Site Map
The team created a sitemap as hierarchical diagram models to show related content and where they would best be applied. This will improve the user experience for Pledge Health company. Site Maps are an essential step of the user center design. It ensures that the user will experience an easy flow process through the website and or application.

Color Explorations
When exploring colors for the website we decided to keep it very simple. I began with a palette that plays with multiple accent colors of oranges and yellows. Together we made the design decision to simplify the colors keeping in mind that we still wanted to portray a sense of safety and calmness throughout the entire design. We decided to stick closely to the original website colors. We chose two greys, a dark text color, and one accent color.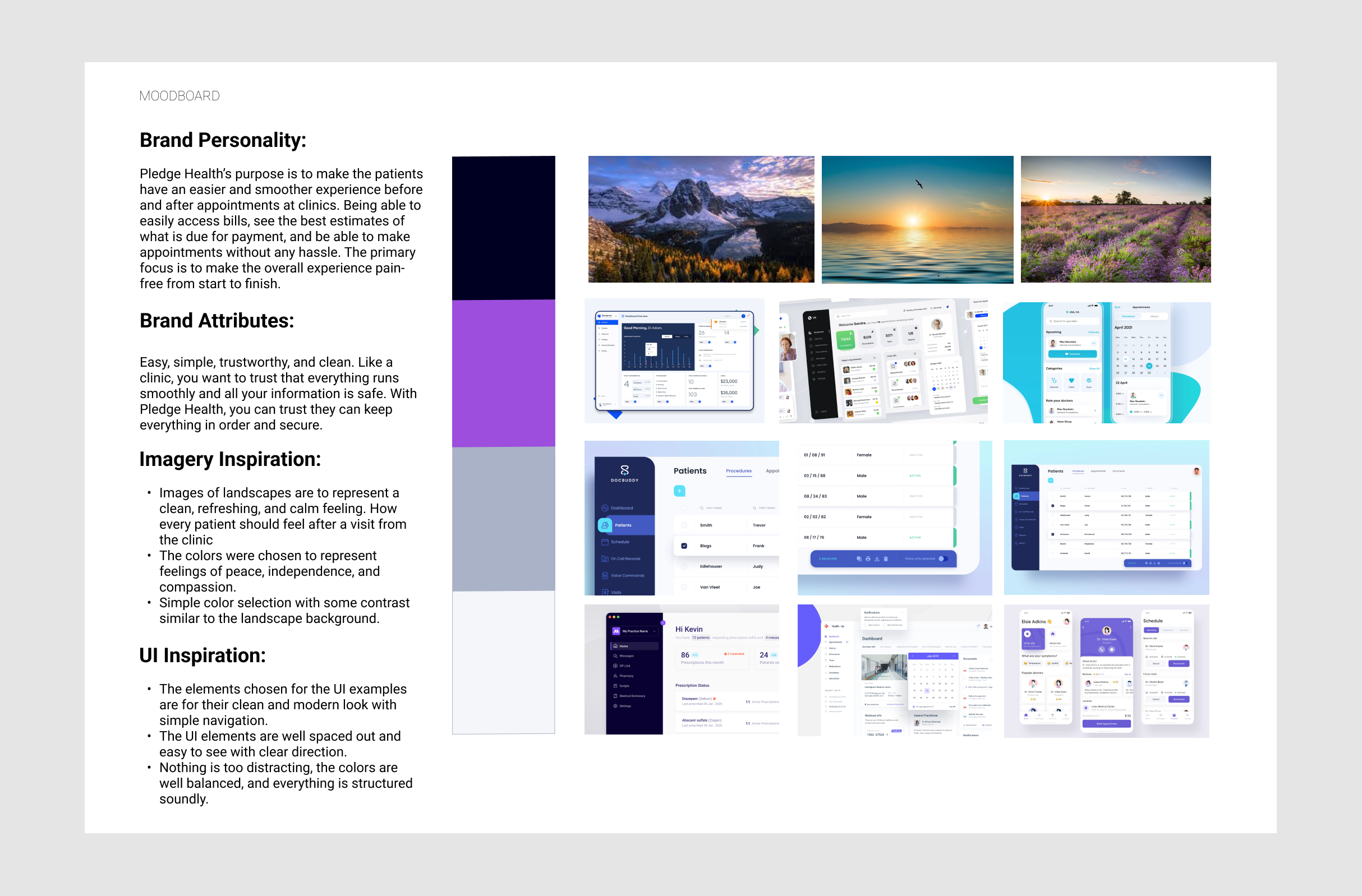 Mood Board
I created a mood board to determine the look and feel of the website. In the mood board, I created a collage of imagery from various sources. These images would represent the visual aesthetic elements users would relate to our brand. These images are deeply connected to feelings and emotions of calmness and trust taking into account the color psychology involved when interacting with a brand.
I also created a collection of guidelines, principles, and relevant assets. I started with a Brand Platform to present the mission statement, the promise, the personality, and the attributes. This will help people relate to Pledge Health on a personal level.
Brand Platform
Brand Personality:

Pledge Health's purpose is to make the patients have an easier and smoother experience before and after appointments at clinics. Being able to easily access bills, see the best estimates of what is due for payment, and be able to make appointments without any hassle. The primary focus is to make the overall experience pain-free from start to finish.

Brand Attributes:

Easy, simple, trustworthy, and clean. Like a clinic, you want to trust that everything runs smoothly and all your information is safe. With Pledge Health, you can trust they can keep everything in order and secure.
Imagery Inspiration:

Images of landscapes are to represent a clean, refreshing, and calm feeling. How every patient should feel after a visit from the clinic
The colors were chosen to represent feelings of peace, independence, and compassion. Simple color selection with some contrast similar to the landscape background.

UI Inspiration:

The elements chosen for the UI examples are for their clean and modern look with simple navigation. The UI elements are well spaced out and easy to see with clear direction. Nothing is too distracting, the colors are well balanced, and everything is structured soundly.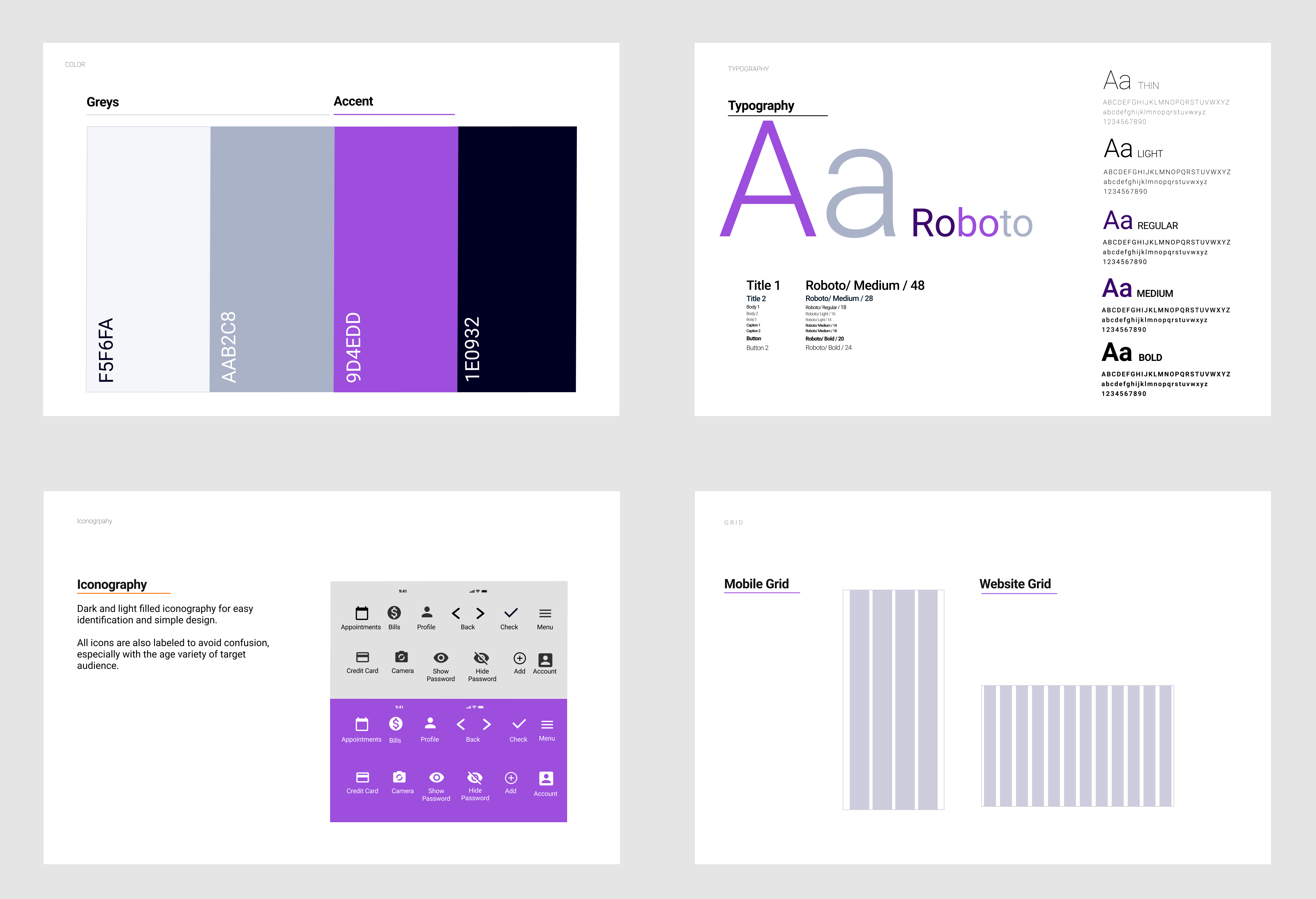 Style Guide
When creating the UI for this design I wanted a simplistic style. I paid special attention to the brand attributes which are easy, simple, trustworthy, and clean to determine the color scheme, typography, iconography, and web/mobile grid.
As a team, we came together to make the design decisions for the high-fidelity wireframes to make sure the screens are all cohesive. We first began building up the website based on the color explorations and style guide on two screens. Once we agreed on the design we split the screens into sections Dashboard, Patients, Billing, Providers, Fee schedule, and Settings. We each worked on a section of the layout based on the template of the first two screens. After the completion of the basics of the screens, we came together as a group to make design changes as needed on each screen. Our main focus was to provide information in a way that transitioned smoothly from one choice to the next to create an easy user experience.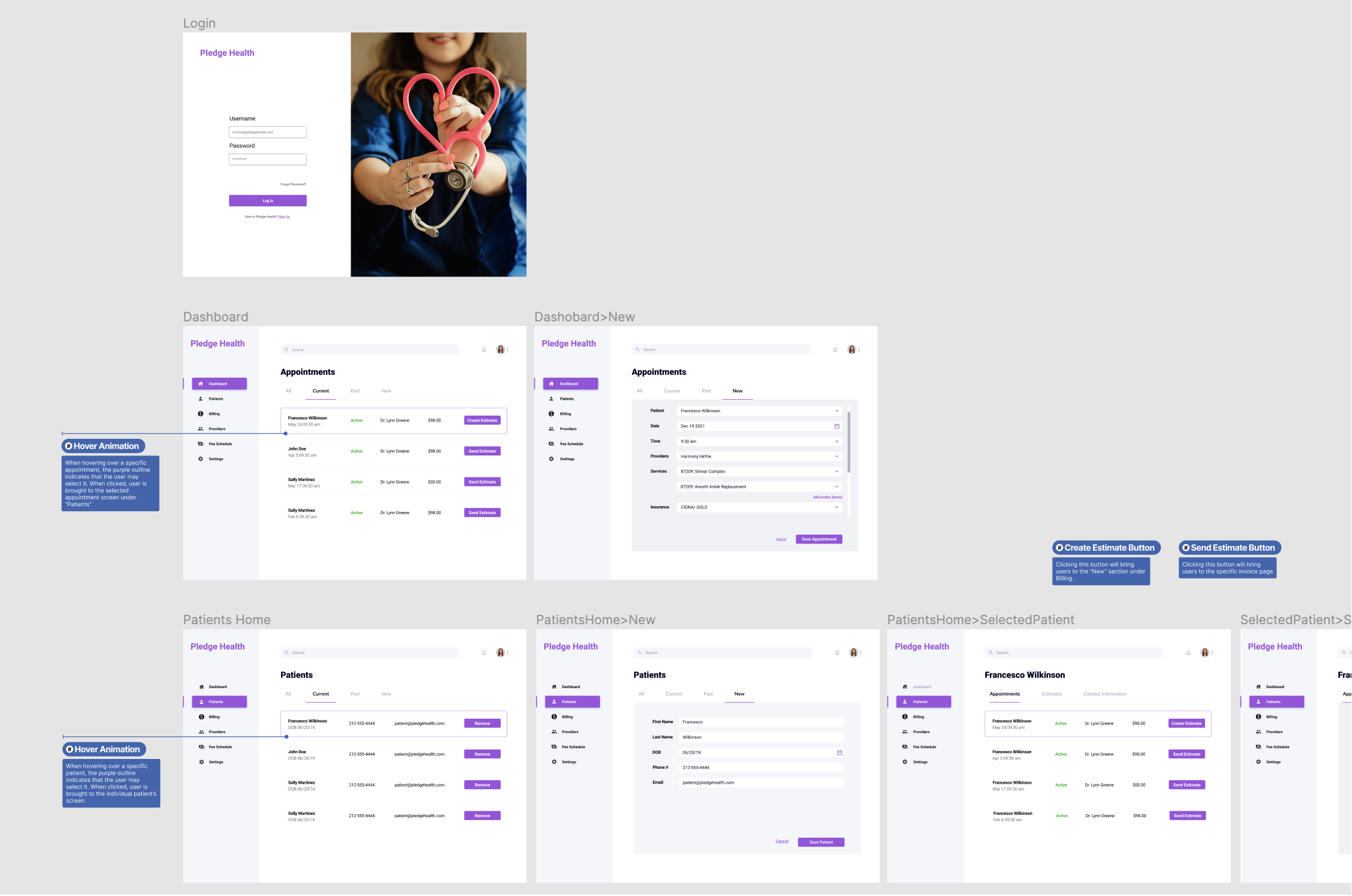 Development ready
To deliver the final product to the client we made sure to add additional annotated frames - this allowed us to better communicate with our client (answer "why?") and explain to the developer what coding decisions are needed moving forward.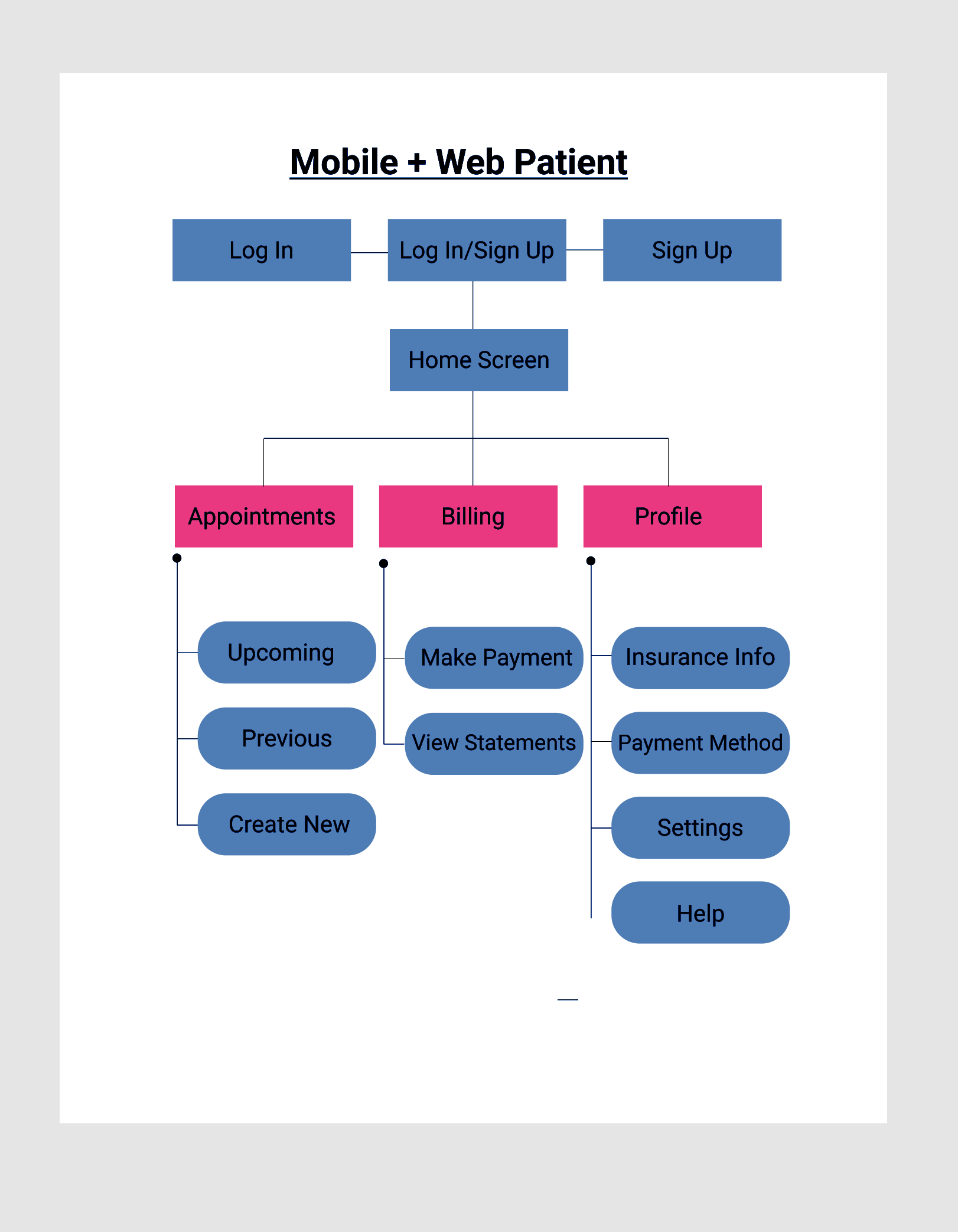 Web & Mobile (Patients)
In addition to the complete website for providers shown above, we decided to explore further into the patient realm. Utilizing all the research that we accumulated previously our team decided to come together to create the patient portal for the website and mobile app.
Low & High - Fidelity Wireframes
Mobile (Patients)
Low & High Fidelity Wireframes
Web (Patients)

Working with The Pledge Health company to create an end-to-end product that will help so many practices and patients navigate through the challenges of medical billing easily, was a great experience. Throughout this journey, I learned so much about the ends and outs of medical billing as well as the perspective of the providers versus the perspective of the patients. I had the opportunity to work with a very knowledgeable team, some with backgrounds in insurance which was a major asset to the team. Throughout this process, we learned how to communicate as a team, learn from one another and come together to portray one cohesive vision. We learned how to take our mishaps and as well as our accomplishments with stride and in the end, everything came together for the good.
I learned so much from this project, but the most important thing was understanding that all design processes go through different phases at different times. At the end of the day, it is a matter of adapting to changes during distinctive situations.