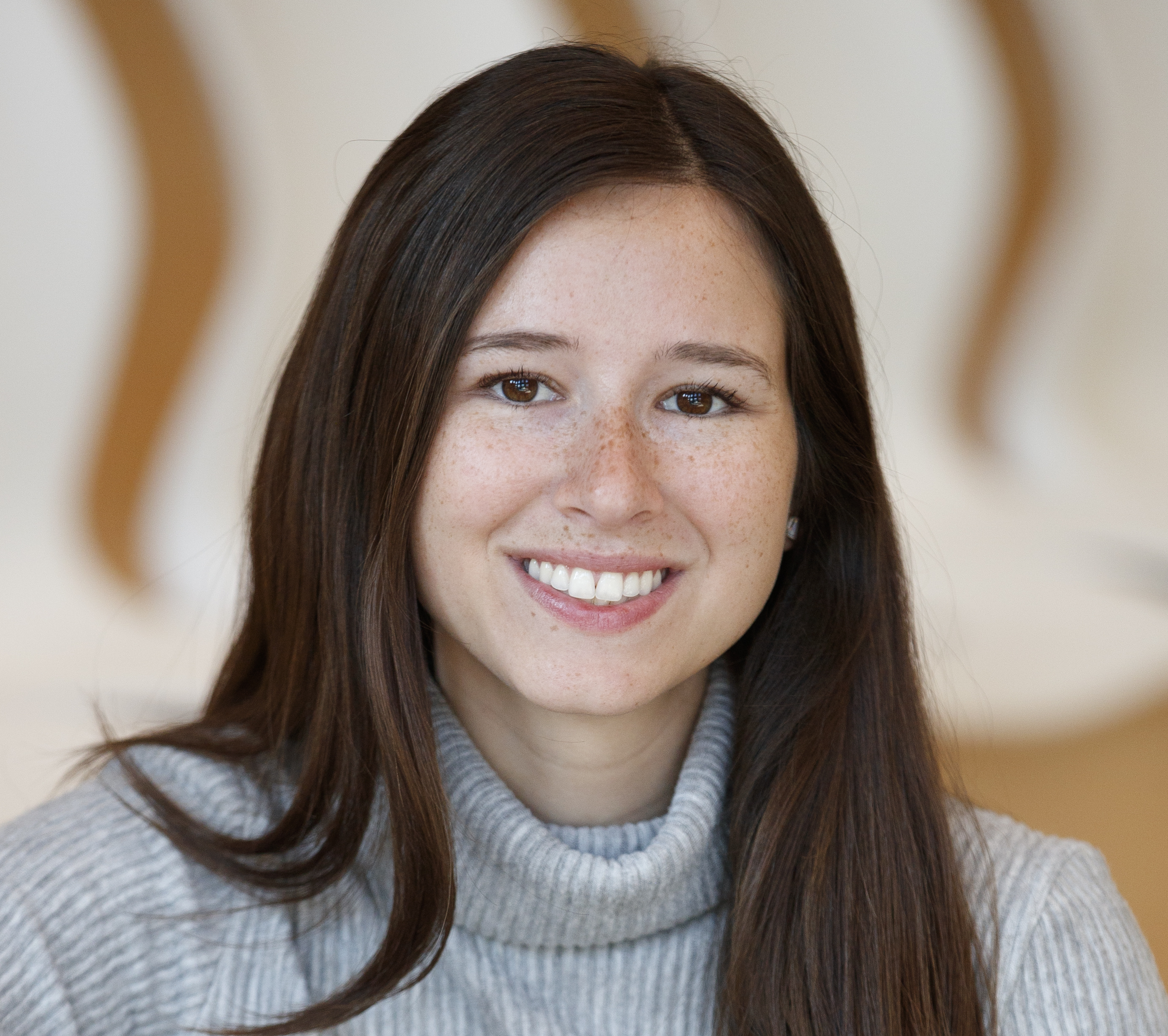 Elisabeth Pefanis
UX Designer
Mural Routes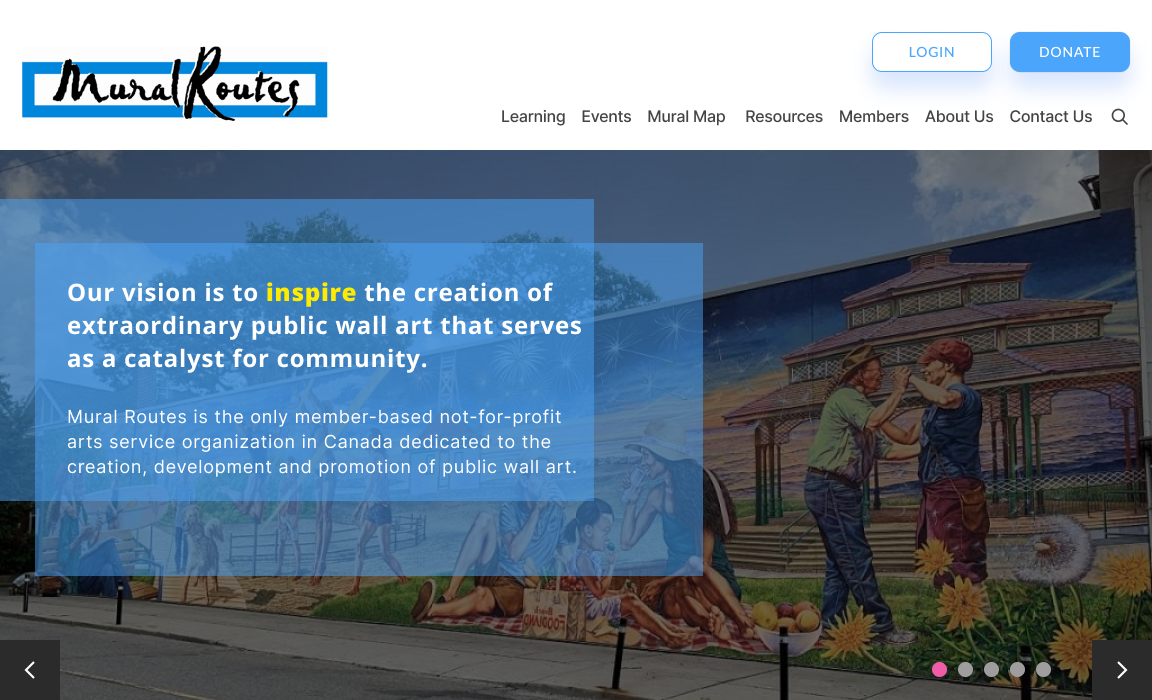 Company Overview
Mural Routes is the only member-based not-for-profit arts service organization in Canada dedicated to the creation, development, and promotion of public wall art. The website promotes public wall art in partnership with artists that serve as a catalyst for community building.
Design Challenge
Users enjoyed the colorful visual design and purpose of the Mural Routes website but struggled with some parts of the navigation, lack of transparency of donations / benefits of becoming a member, and the immediate purpose of the website.
Proposed Solutions
Recommendation 1: Reduce visual clutter and implement visual hierarchy/structure

Recommendation 2: Improve site's information architecture

Recommendation 3: Encourage users to donate and/or join
Design Process
Role: UX Researcher

Skills Applied: Moderated user interviews, information architecture, and data analyses/aggregation

Scope: ~2 months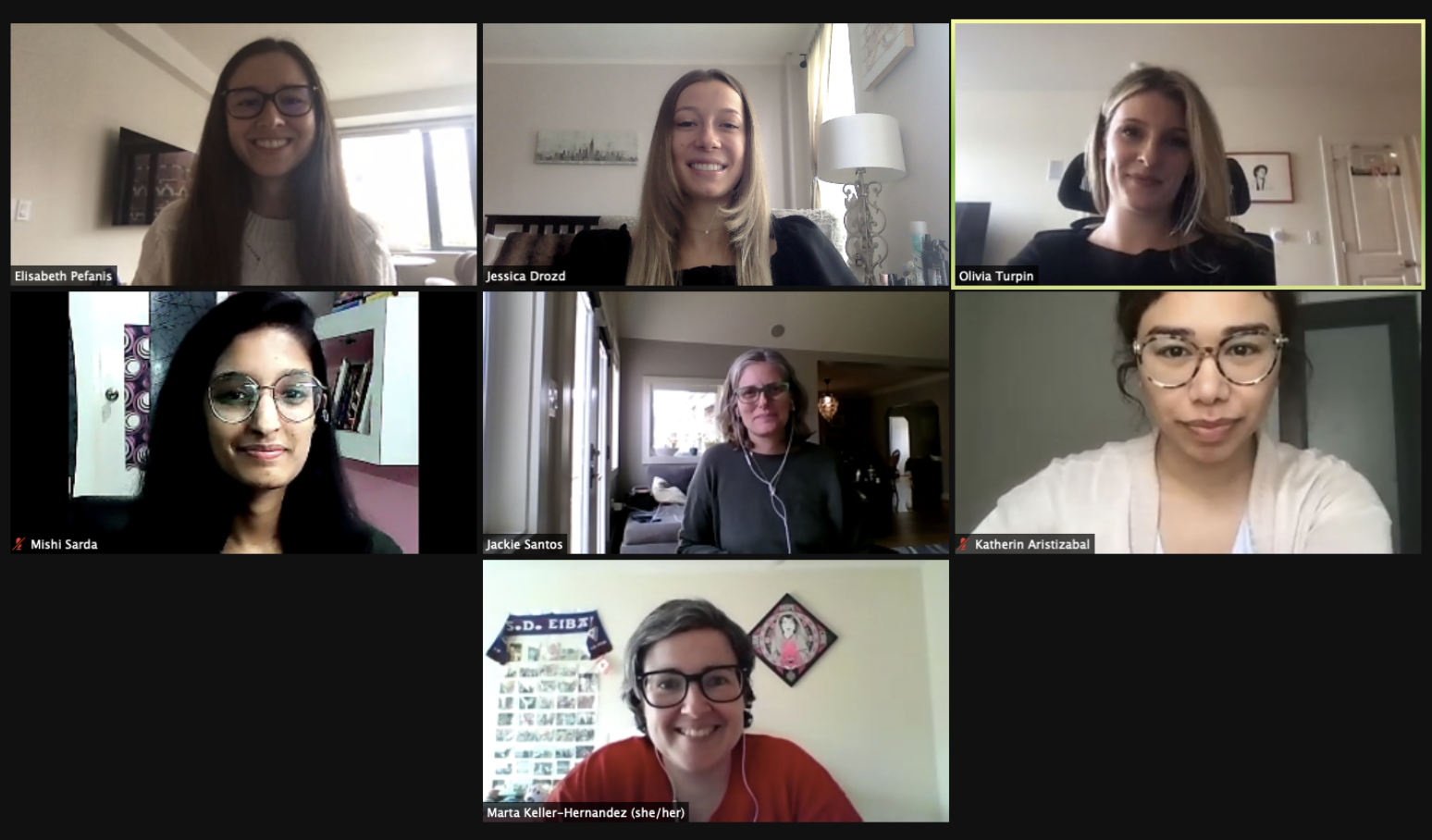 Research Objectives
To begin the usability study, our team of UX Designers from the Pratt Center for Digital Experiences met with Mural Routes to clearly define the goals and objectives for their website:
Understand users' navigation process

Uncover any discoverability or accessibility problems that users may be having when interacting with the website

Discover any improvements that could be made to the current interface to enhance user-friendliness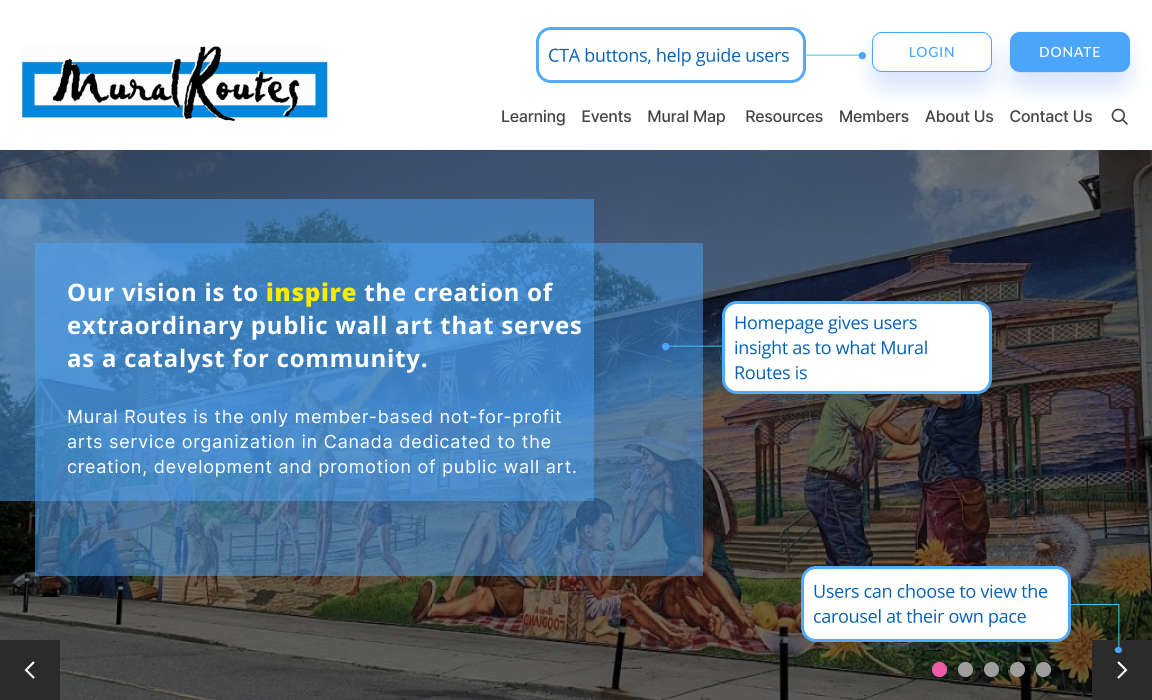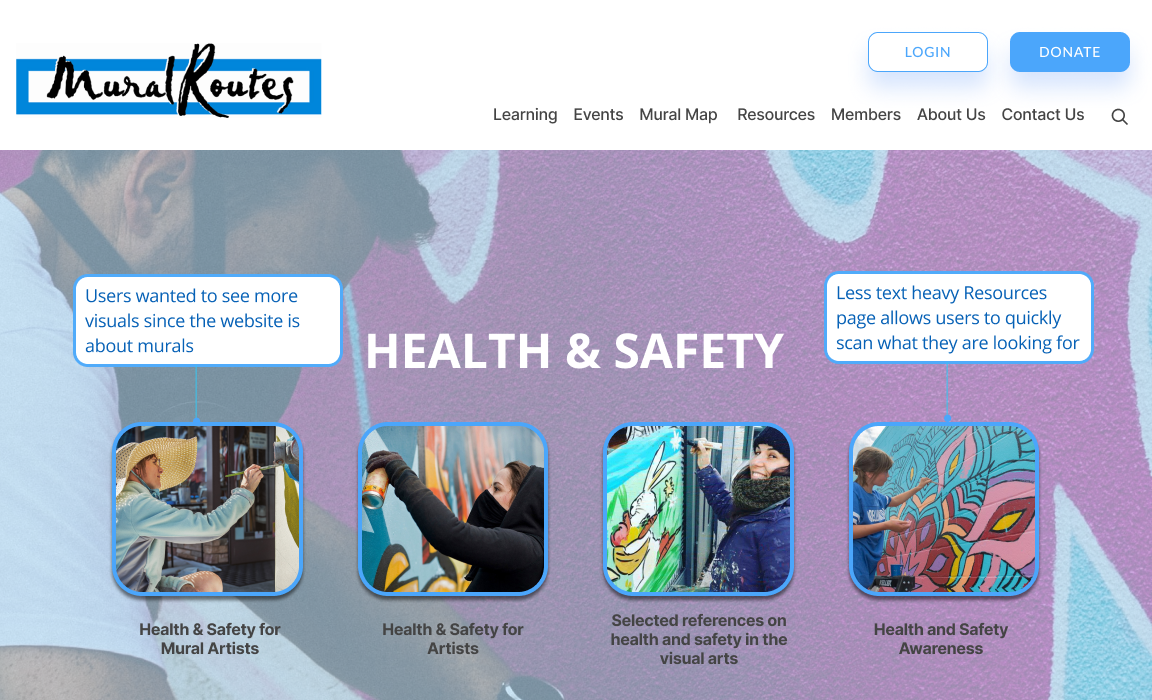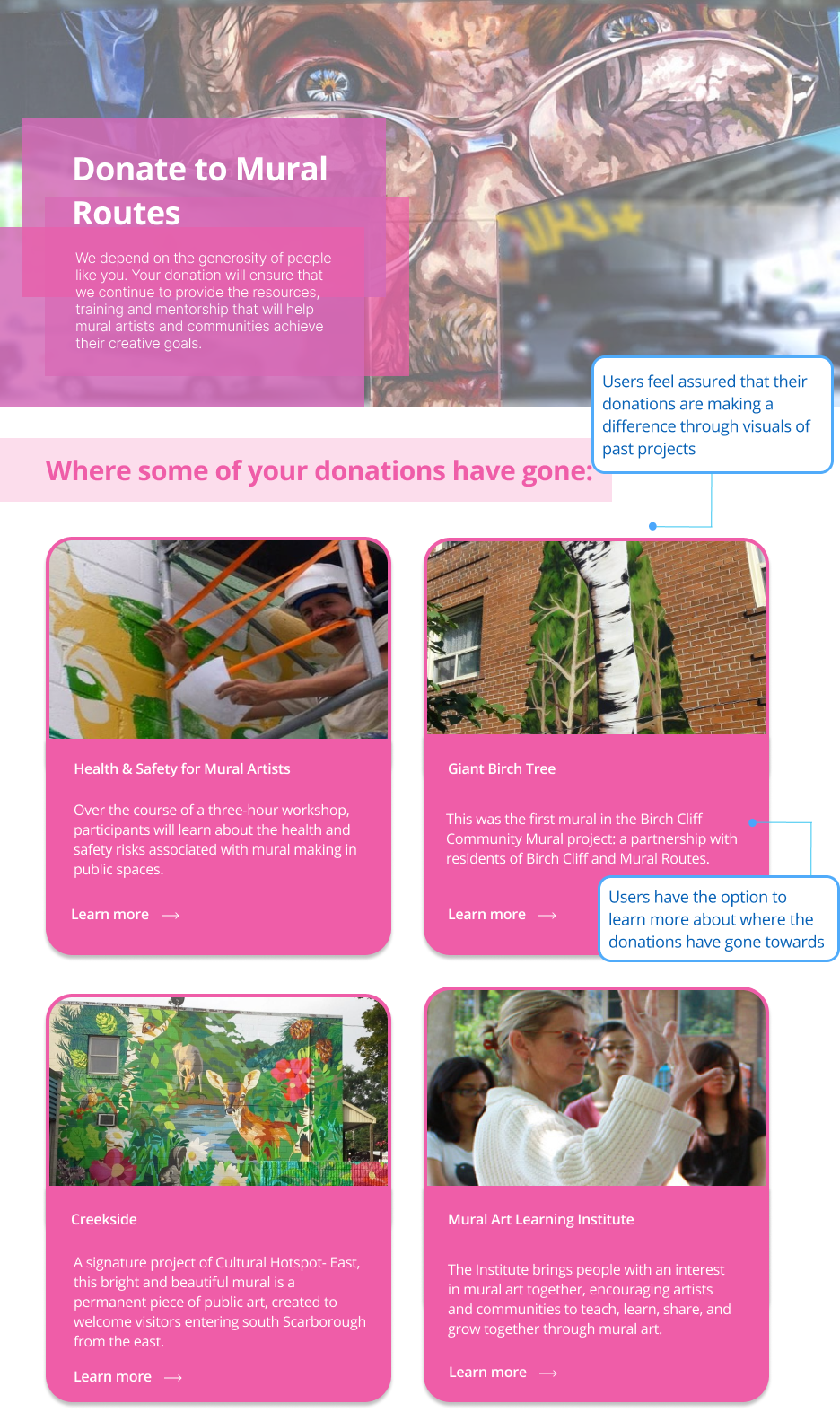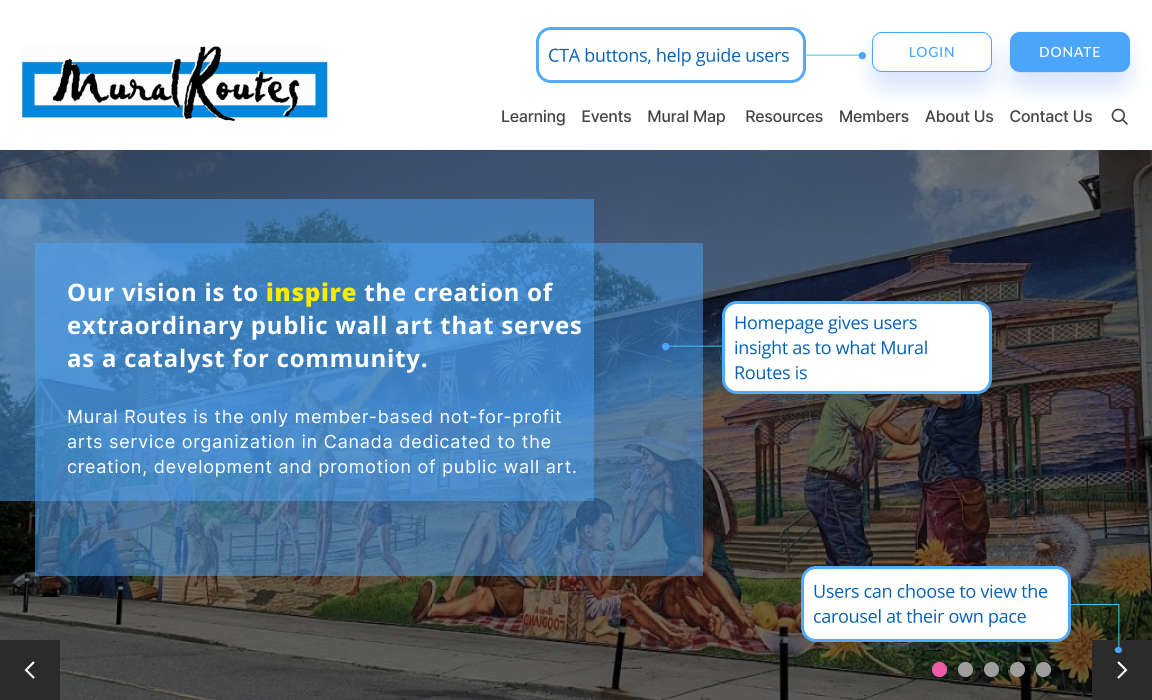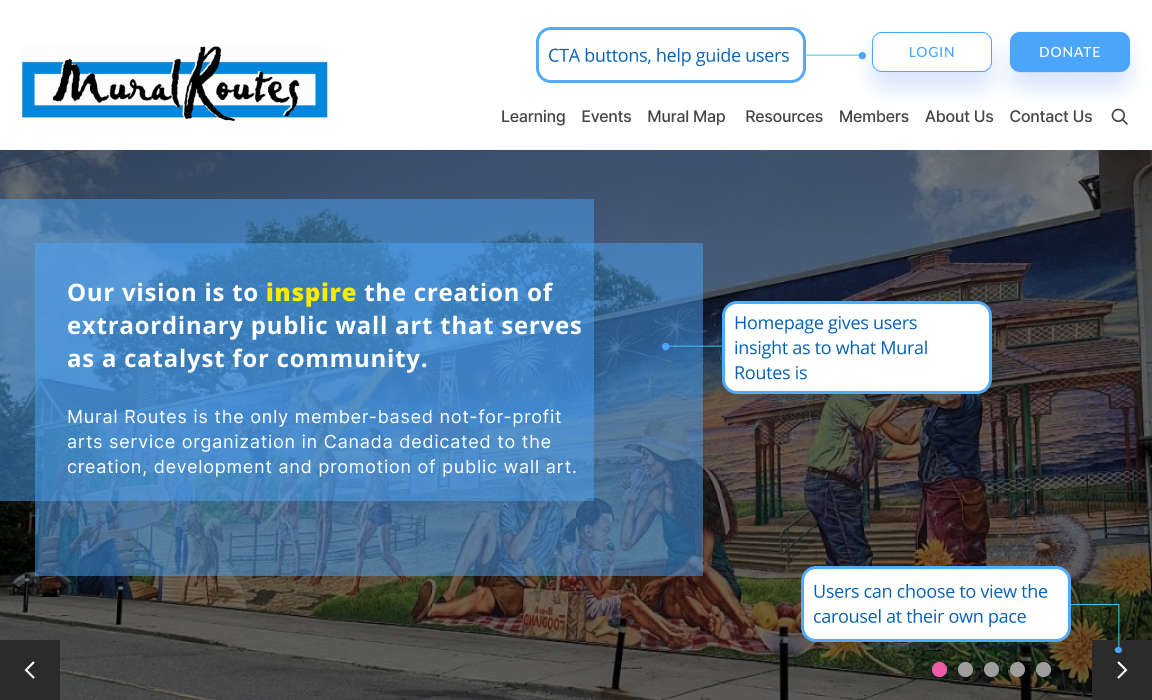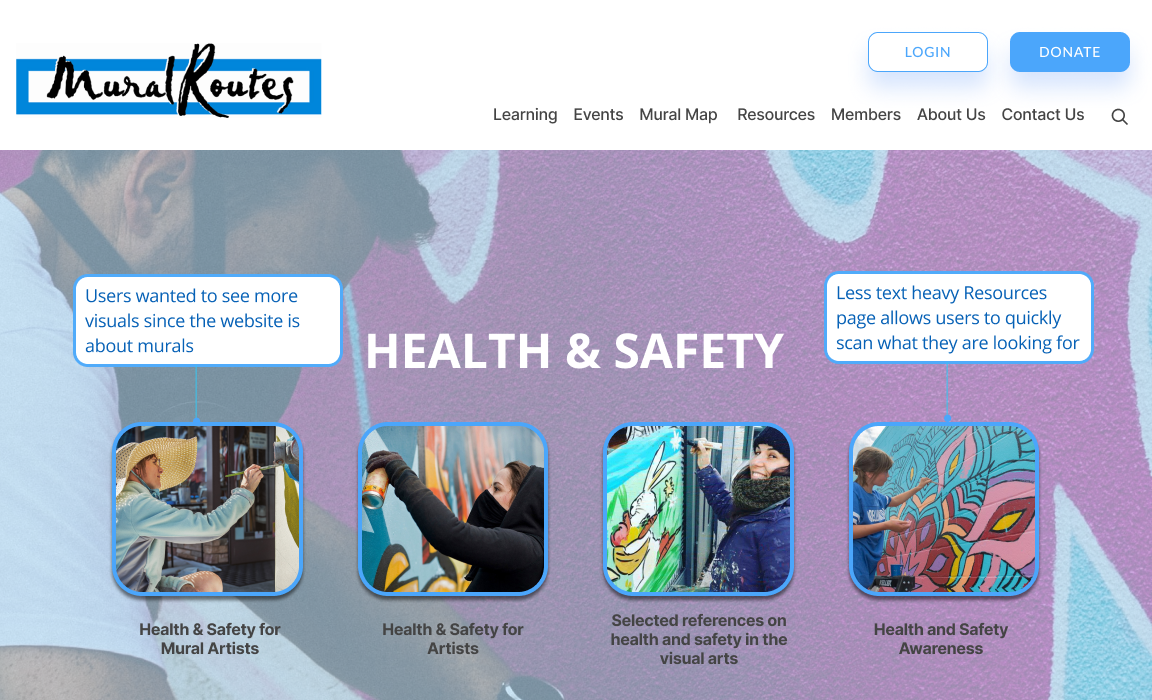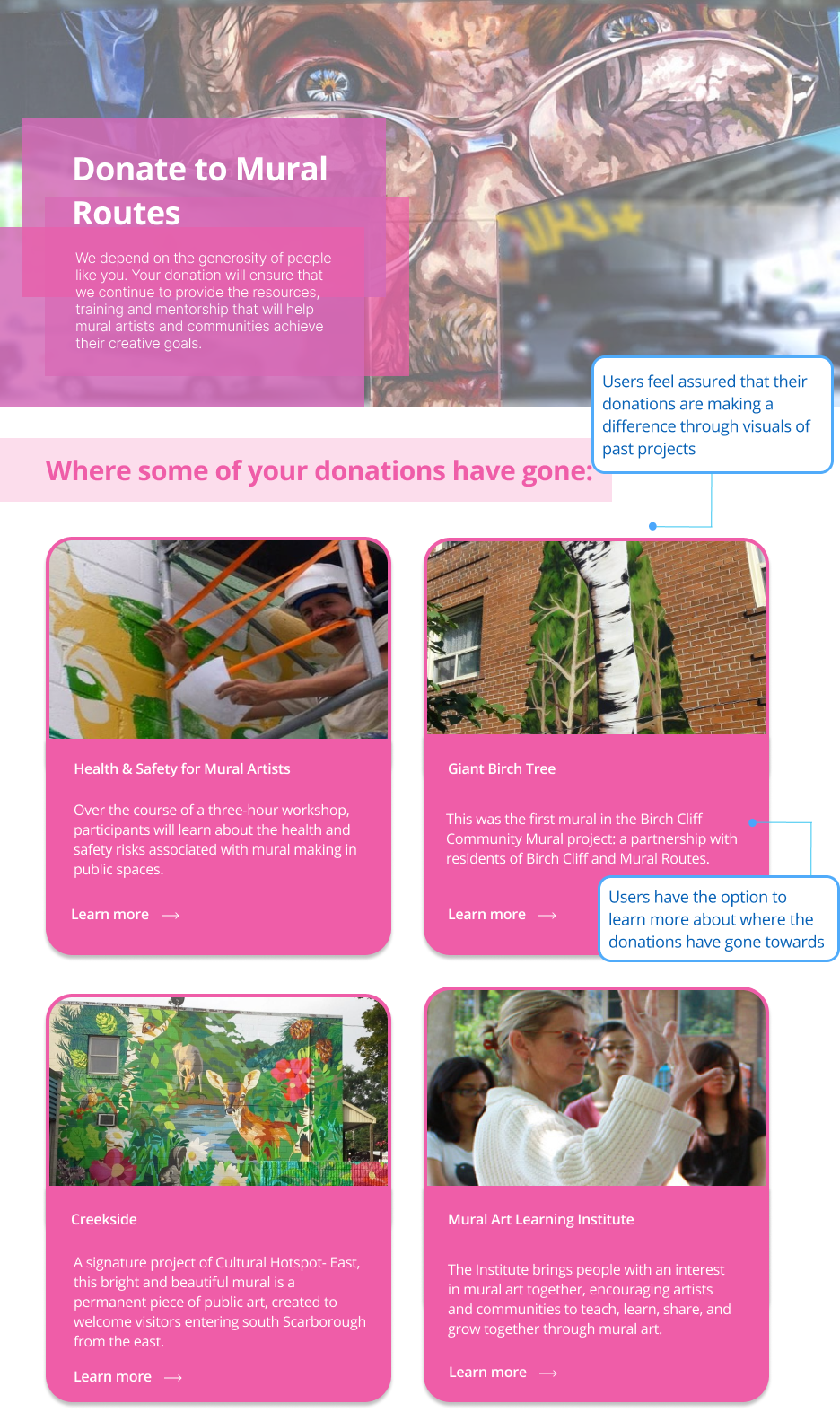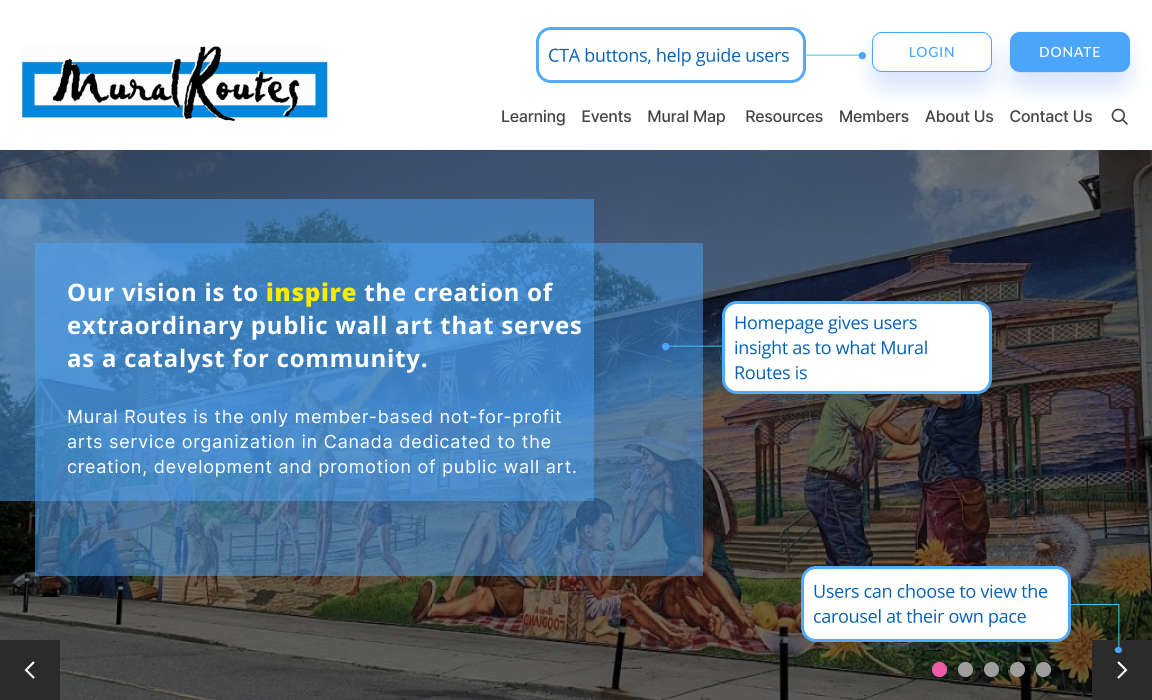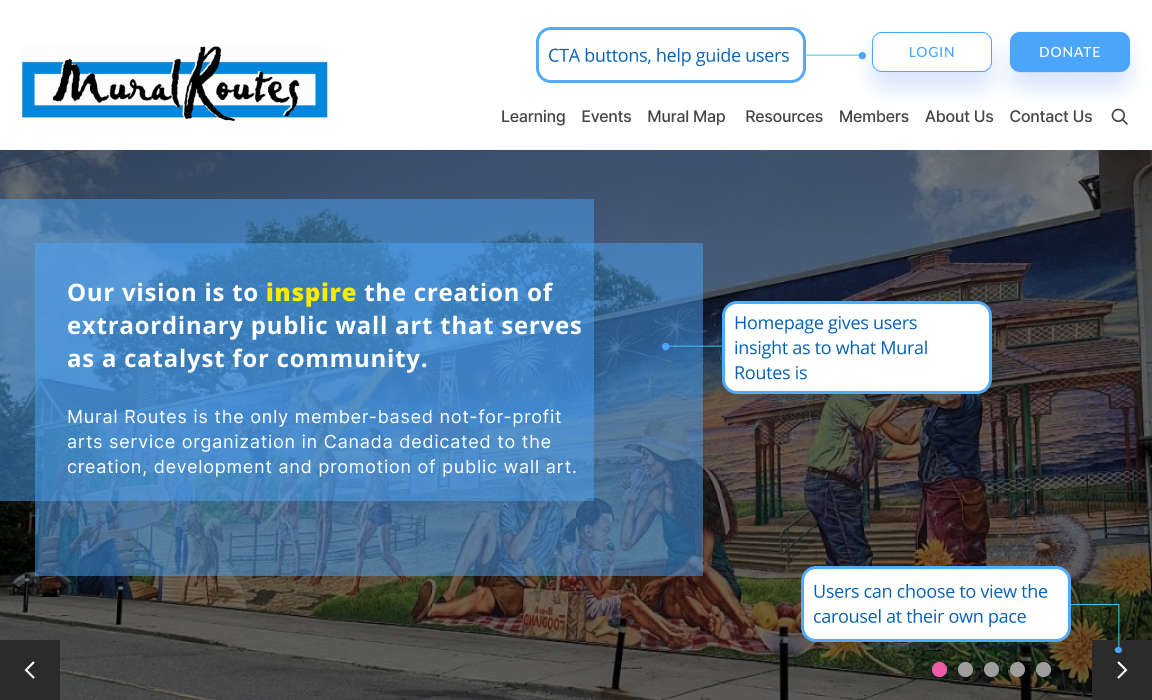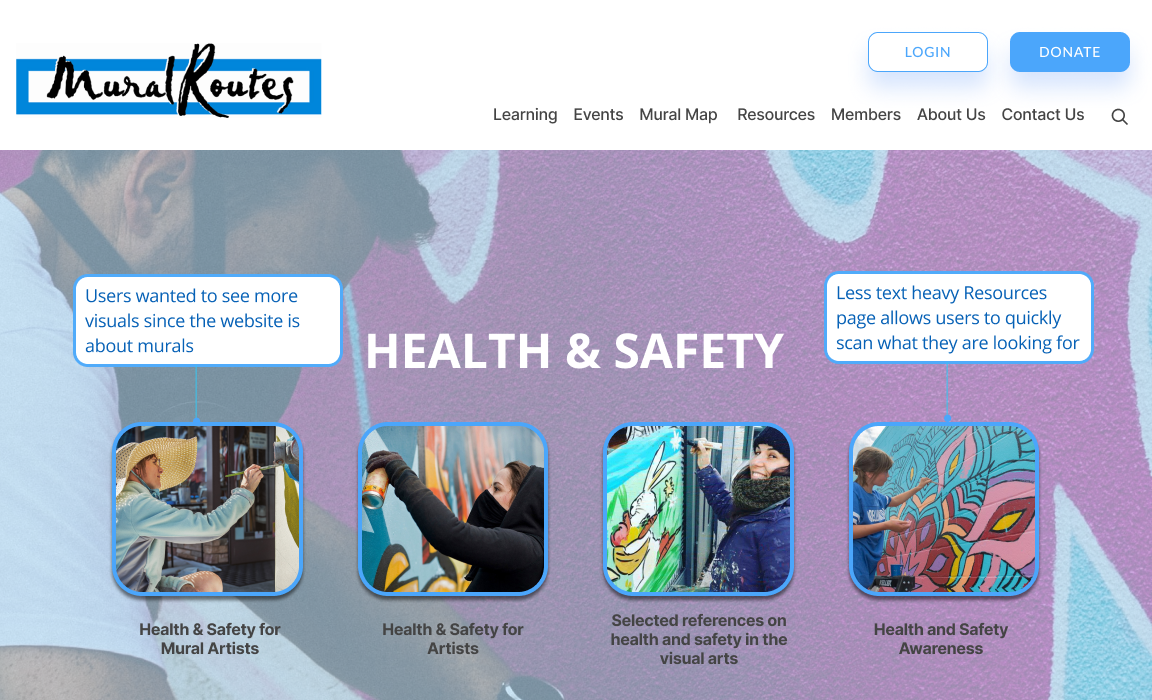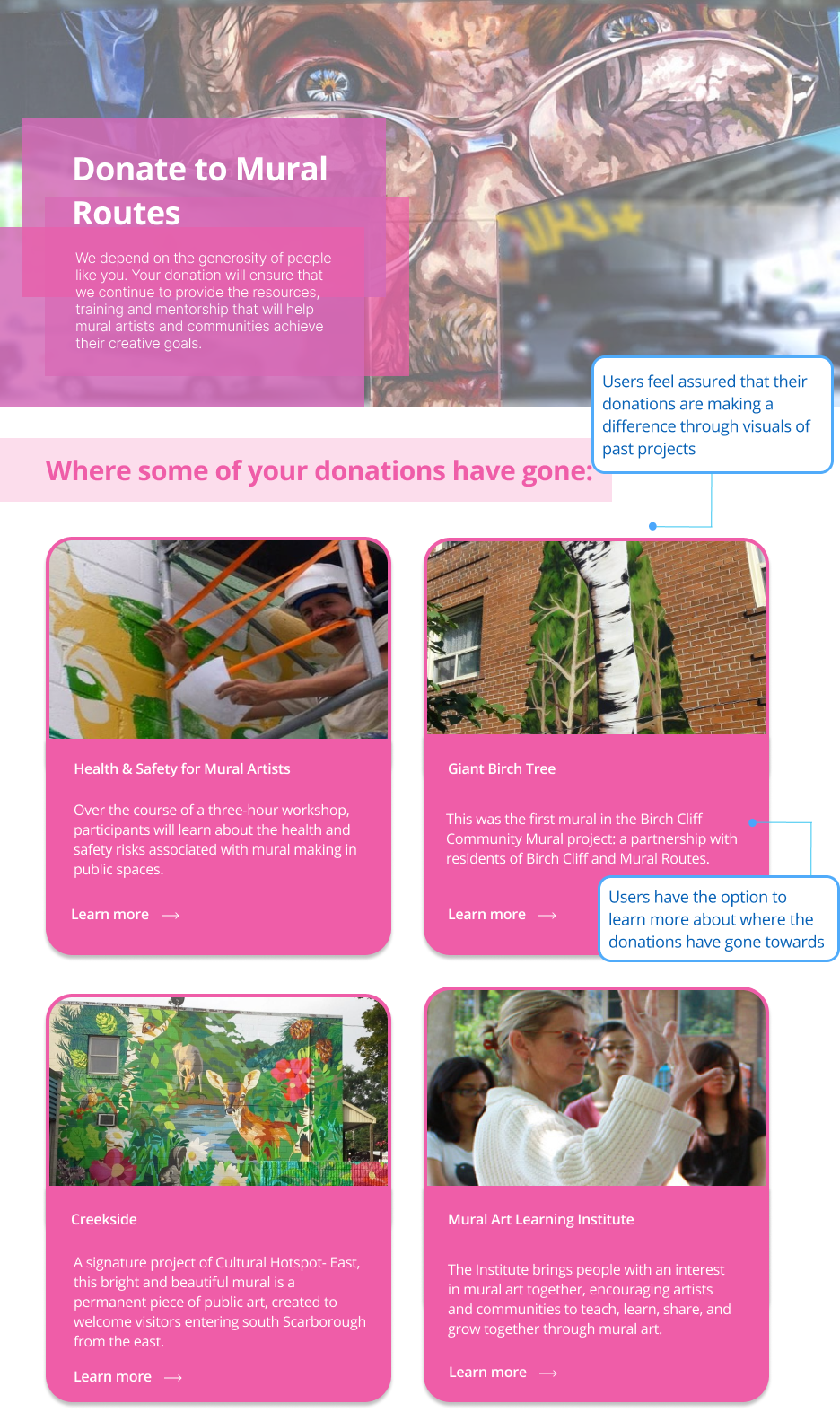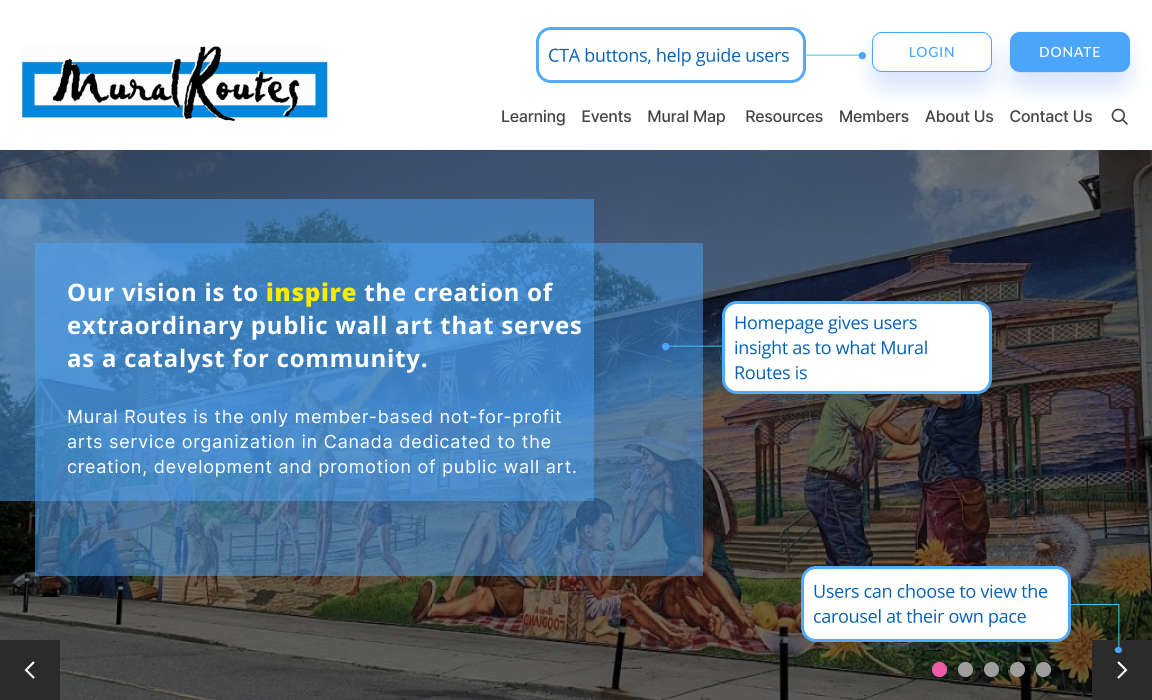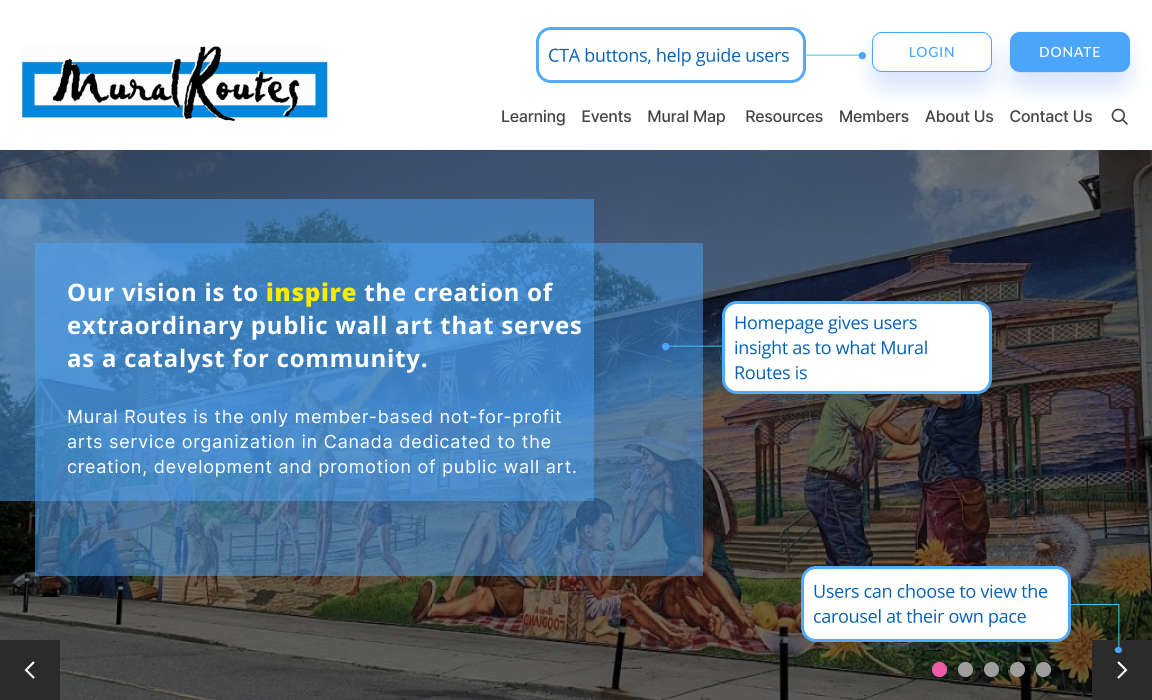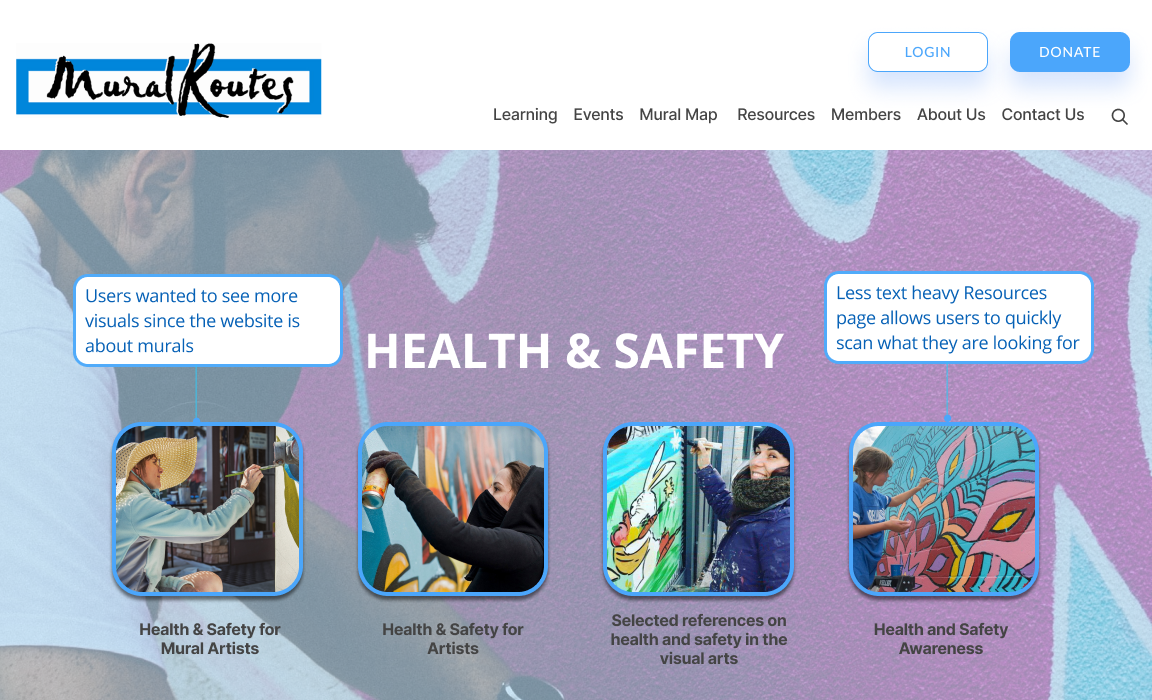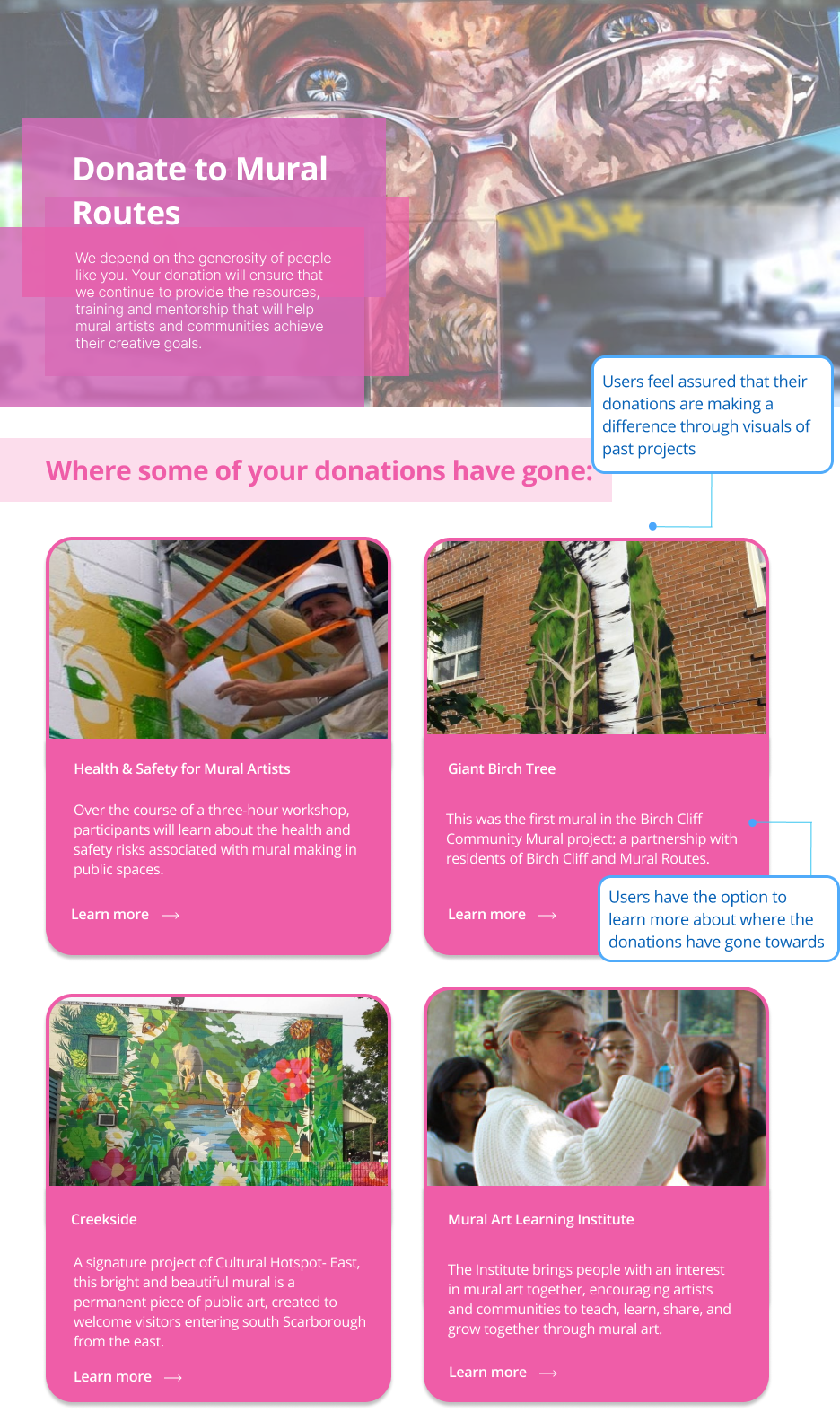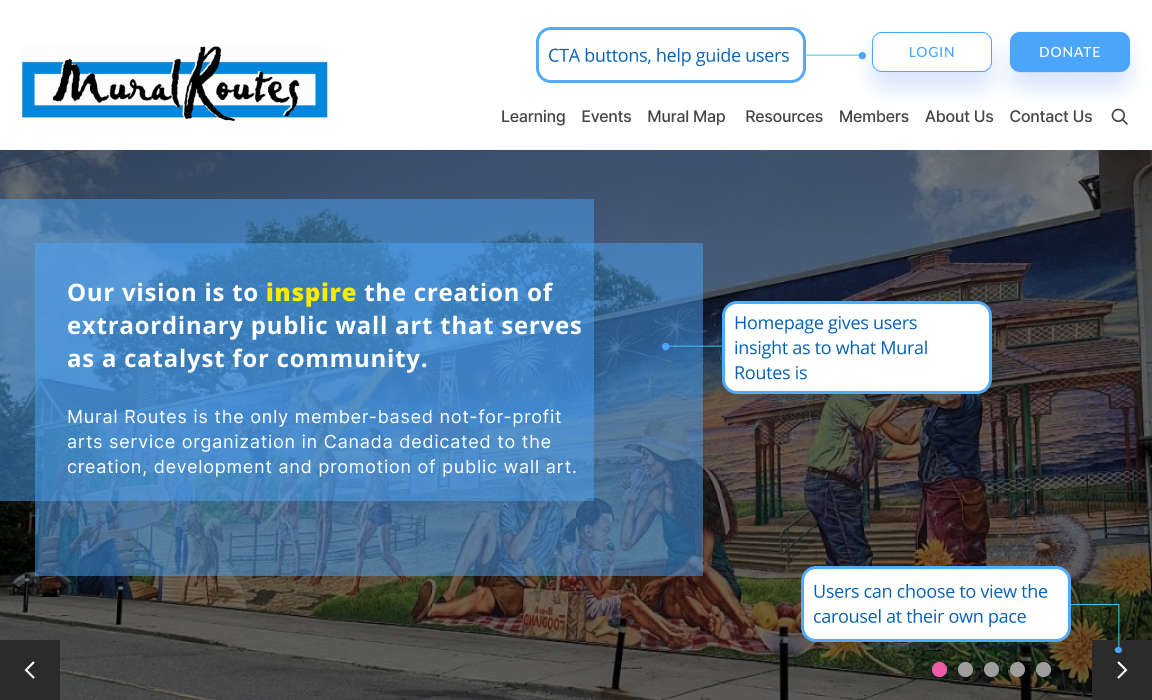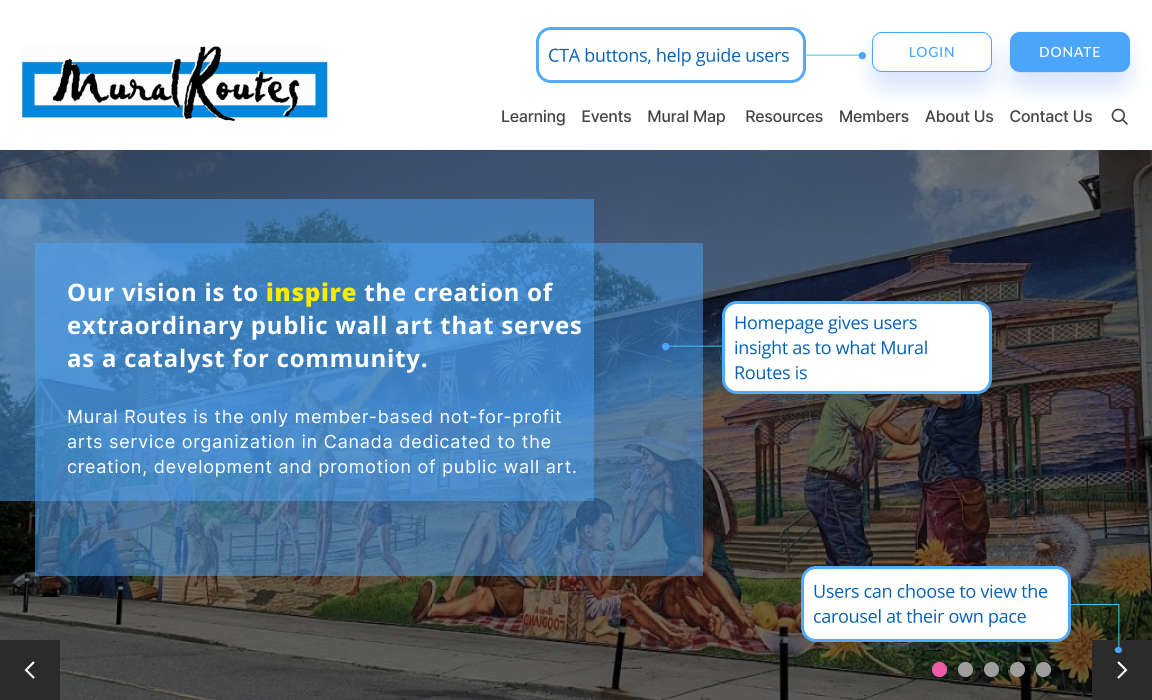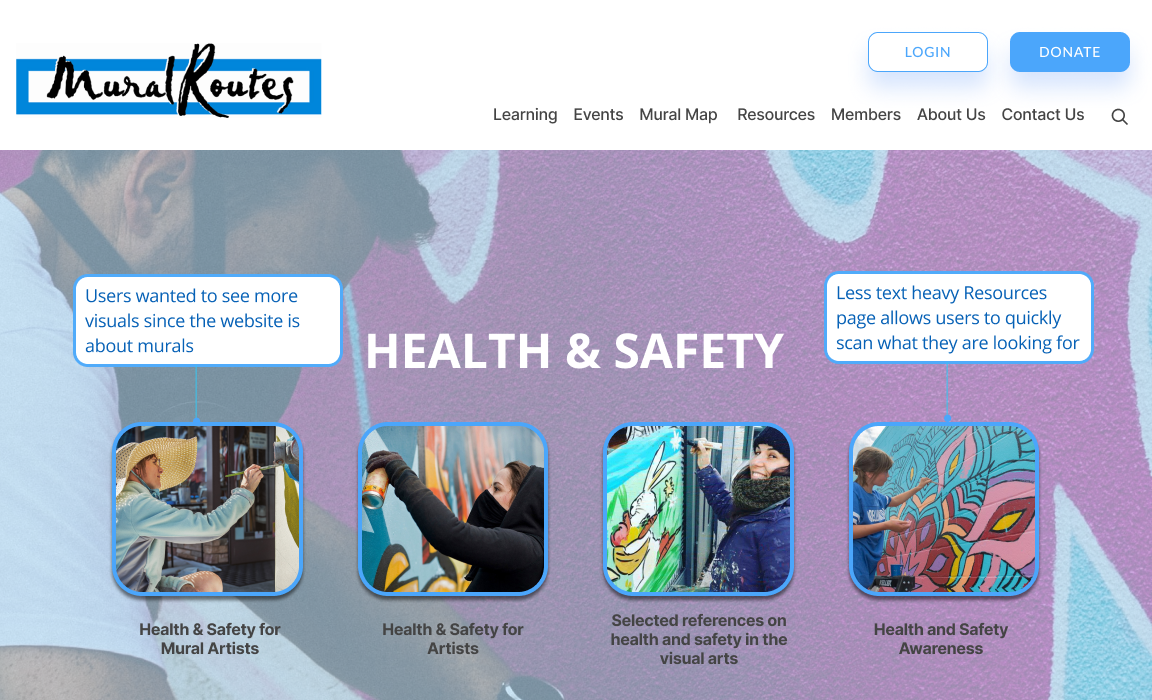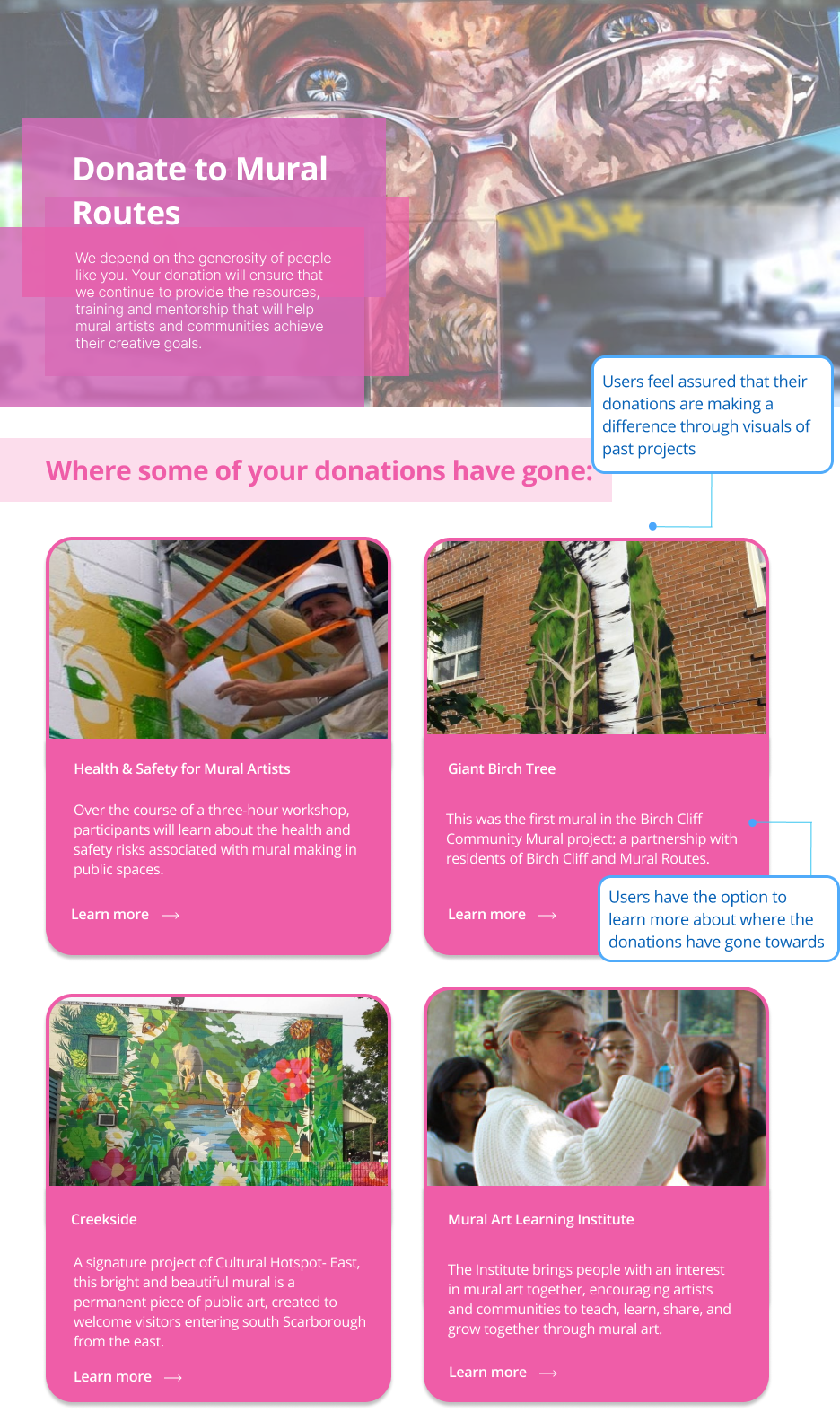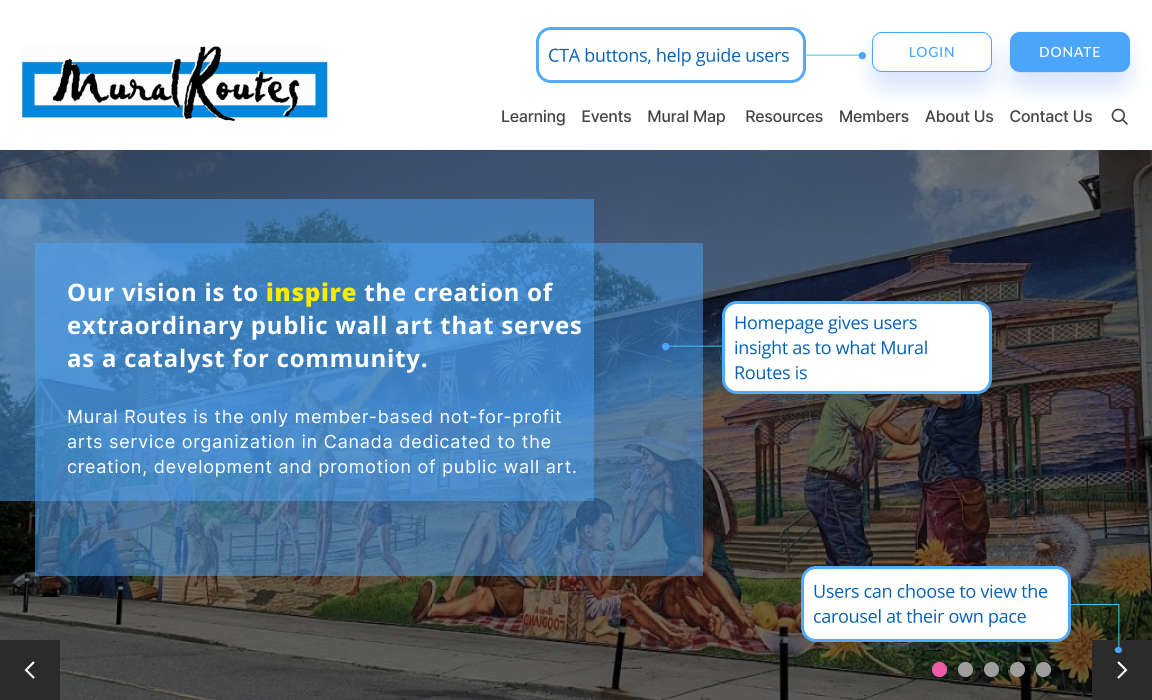 Moderated User Testing
Choosing Participants
Our participant recruitment strategy targeted the user profiles for Mural Art Enthusiasts & Professional Mural Artists/Artists. The recruitment of participants was conducted via social media channels, the Pratt School of Information mailing list, and through targeted recruitment of known mural artists/artists.
To select participants that fit our defined user profiles, a screening questionnaire was developed to examine participant responses against a number of criteria related to their relationship with mural art and art organizations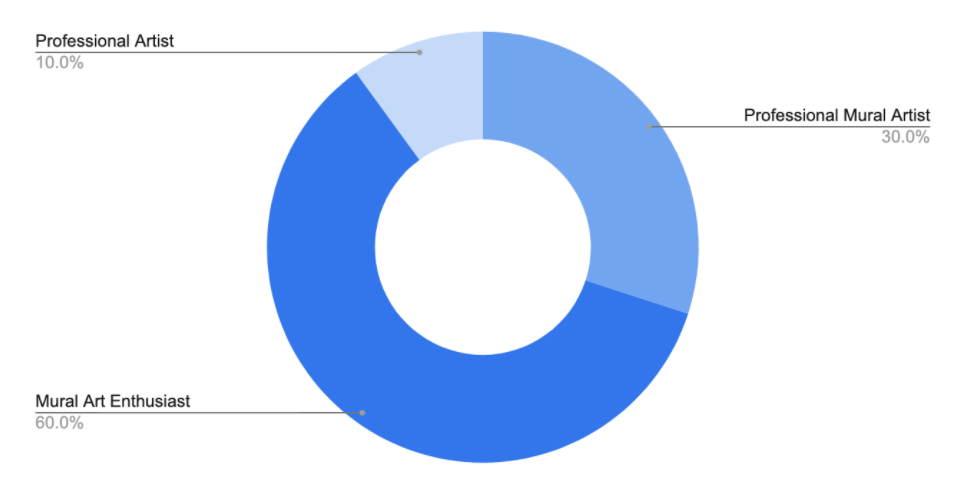 User Profiles
Following the recruitment screening process, 10 participants were selected to participate in the user tests.
Testing Structure
Our team of 5 evaluators conducted the usability testing with these 10 participants using the tool UserZoom Go on their desktops/laptops.
Tasks
The following 6 tasks were presented to the participants to complete while using the website. After completing each task, participants were asked about their general thoughts about the page, and measurements on completion rate and semantic differential (task difficulty scores) were taken
TASK 1: Find information about becoming a member

TASK 2: Find the last time a monthly member meetup happened

TASK 3: You are interested in taking a mural art class. Find a mural art class that has recently been offered by Mural Routes

TASK 4: You're interested in creating a mural project on a building in your community, how would you find relevant information for this project?

TASK 5: You want to read about the Keynote speakers from the latest National Mural Symposium. Find the report from the last Mural Symposium

TASK 6: You are concerned with how murals are being maintained in your community and want to make a donation. How would you do this?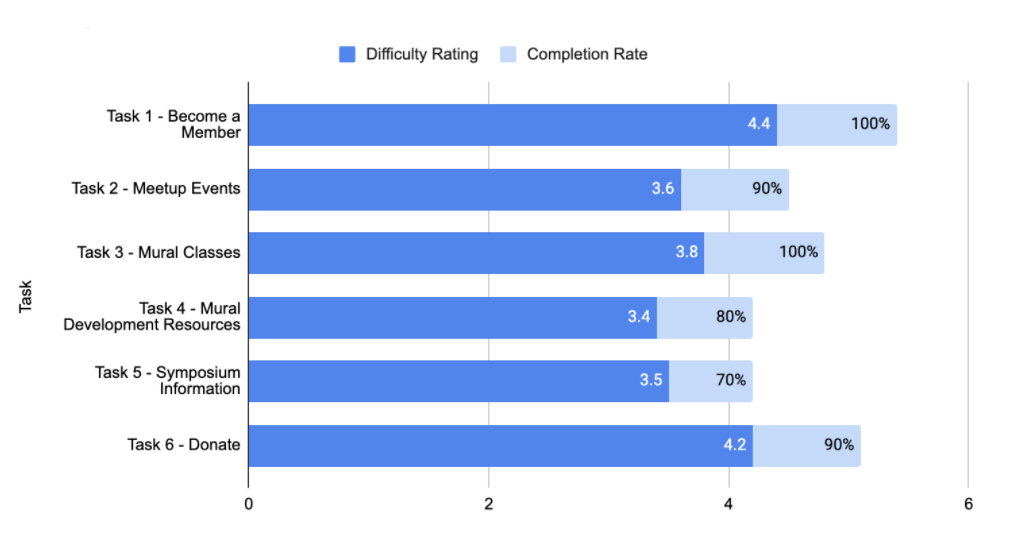 Results Overview
The difficulty rating is on a scale of 1 - Very Easy to 5 - Very Difficult.
I created a spreadsheet with all of the interview answers and formulas to easily measure how the user's rated each task and calculate the completion rate.
80%
Would Use This Site Again In The Future
3.7
Average Score For Website Navigation
"I feel like I can join the community members and be able to donate to help mural artist and projects"
Highlight From User Interviewe
Key Takeaways
Our findings from these user tests demonstrated that participants felt the website provided a strong connection to the mission and community of Mural Routes.
Some areas of the site that posed the most difficulty for users included:
Discovering upcoming events

Navigating the Resources page

Overwhelming amount of text

Lack of images

Automatic scrolling carousel on the homepage

Felt the homepage was too busy

Lack of transparency of donations

Didn't immediately understand the mission of Mural Routes

Wanted more information on the benefits of becoming a member
The new designs focus on the three recommendations to address the above issues:
Recommendation 1: Reduce visual clutter and implement visual hierarchy/structure

Recommendation 2: Improve site's information architecture by restructuring content and including drop-down menus

Recommendation 3: Encourage users to donate and/or join by giving them clearer information about Mural Routes' offerings
Recommendation 1: Reduce visual clutter and implement visual hierarchy/structure
Areas of Opportunity
Add Mission Statement: Include the vision of Mural Routes on the homepage so users can immediately identify the purpose and feel connected

Remove Automation From Carousel and Red Swirl Background: Allowing users to continue at their own pace and removing distracting backgrounds will reduce distractions and increase awareness

Add More Images: Users want to see the products and feel connected

Reduce Text: Helps users accomplish their goals by prioritizing key information

Add Current Projects Below The Fold: Users can see the most recent projects without having to search for them in the about section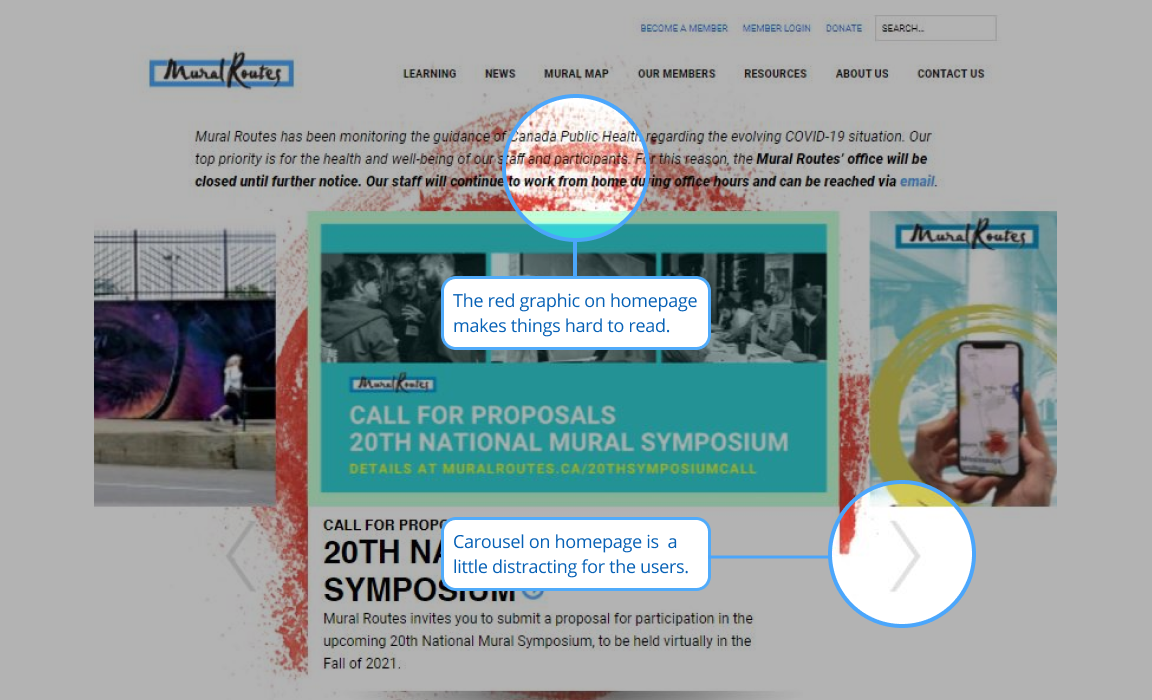 Recommended Homepage
Our proposed design keeps the playful tone of the website but has toned down distractions like the amount of text, graphics, and automations.
Images of murals and a quick mission statement are given the spotlight in the carousel. The user can now quickly understand the purpose of the website and accomplish their goals.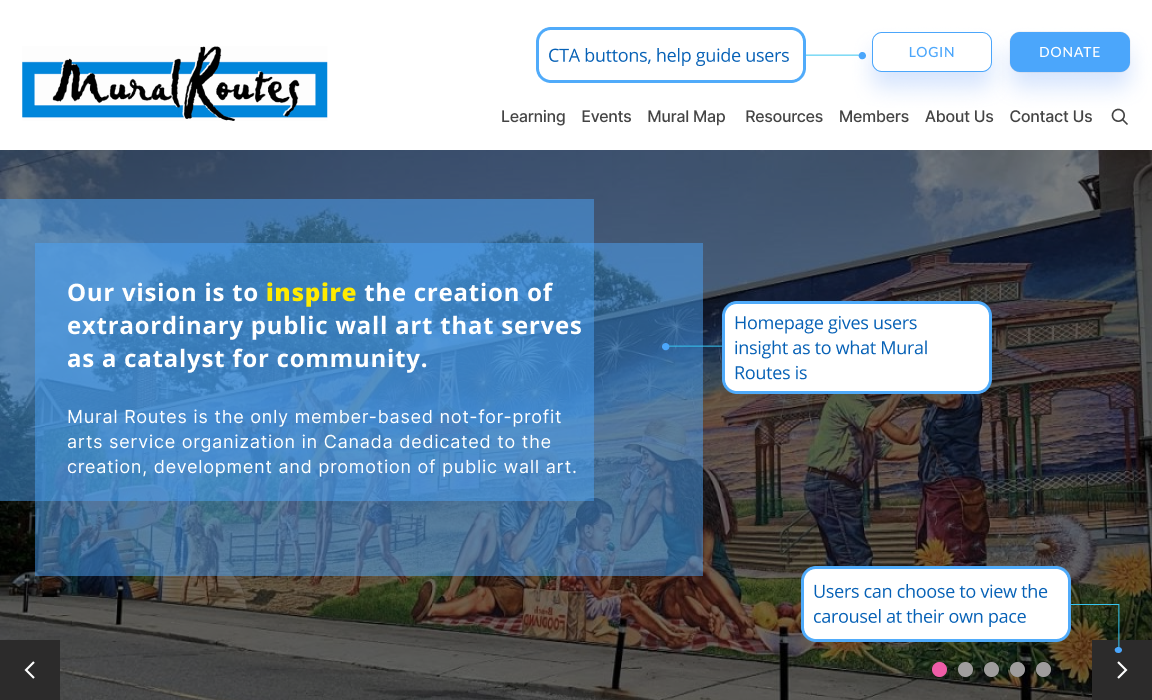 Recommendation 2: Improve site's information
architecture
New Recommended Site Map
Based on the research conducted and taking into account learned user behaviors, I reimagined the site map to place content where users expected it, prioritize key content important to Mural Routes' mission, and group similar content together.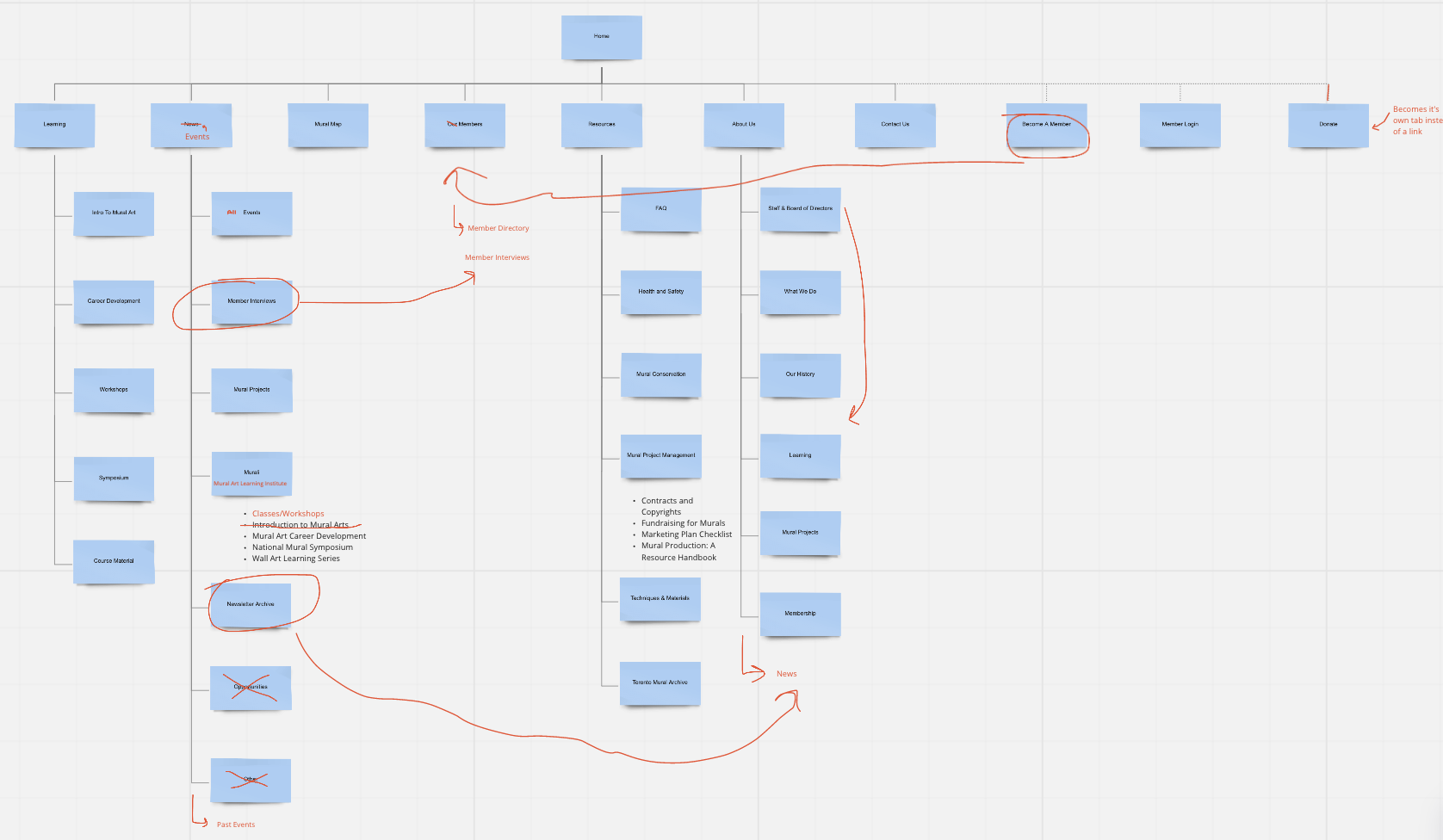 Areas Of Opportunity
Replace "News" with "Events": Users were confused to find events in the news tab

Move "News" under "About" section: This is where users would expect it to be

Add dropdowns to navigation: Users will be able to easily see what is available in each section

Move all member related content under "Member" tab: Users were confused that member information/events was not under the "Member" tab but was instead under "News"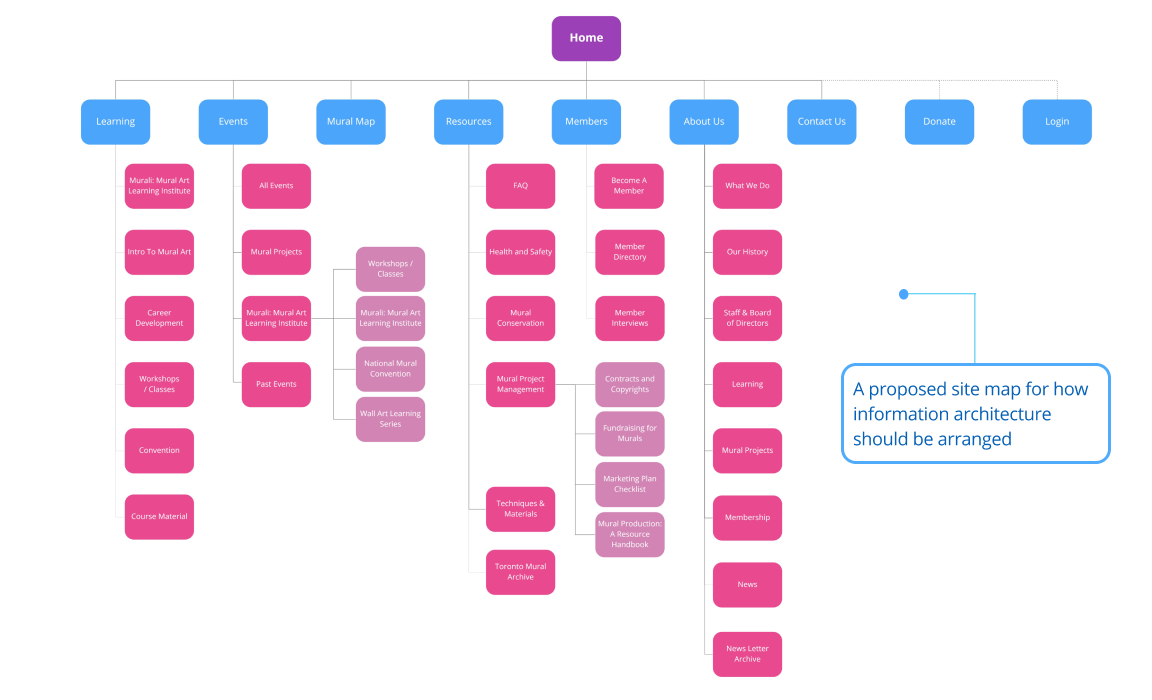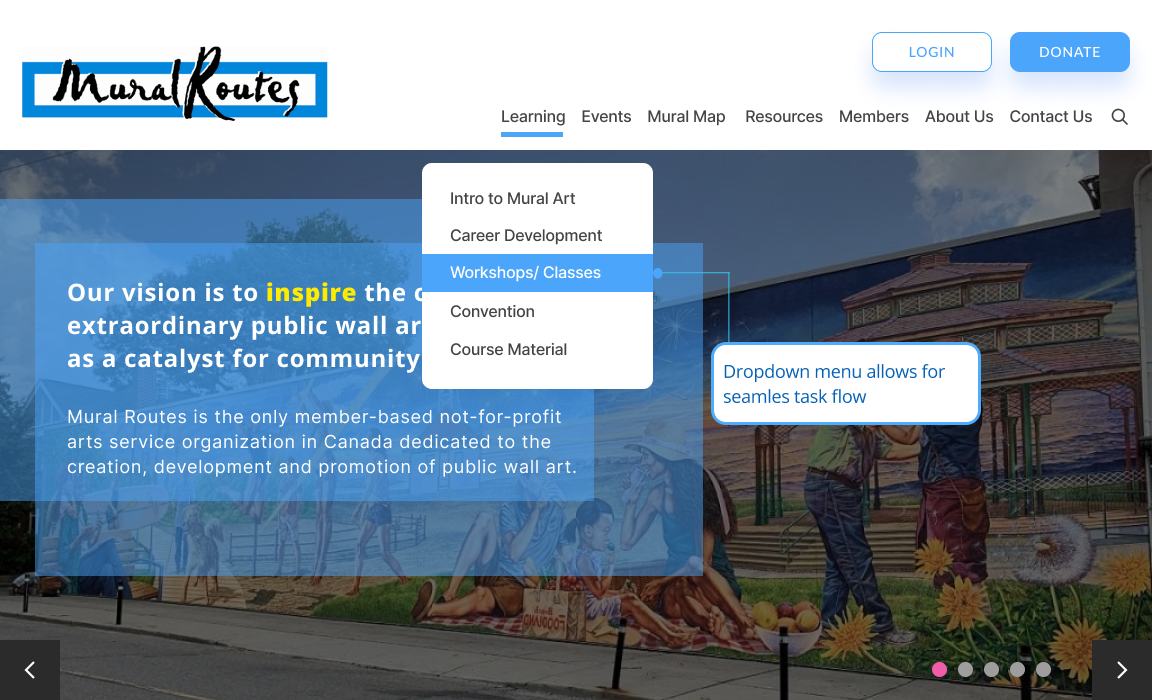 Adding Dropdowns
Dropdowns allow users to quickly understand what each section contains and how they should navigate the website to accomplish their goals.
Recommendation 3: Encourage users to donate
and/or join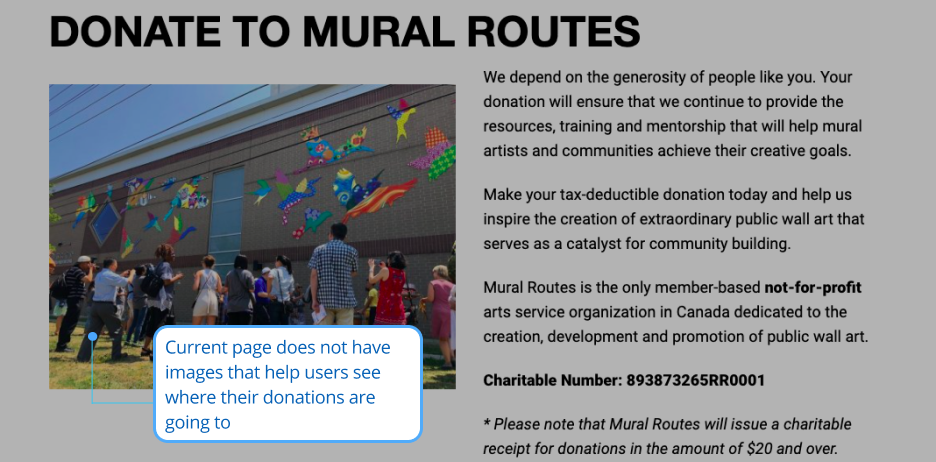 Areas Of Opportunity - Donation Page
Add Images: Users want to see the murals their donations are helping to create and maintain

Reduce Text: The amount of text is overwhelming and distracts the user from the goal of the page - to donate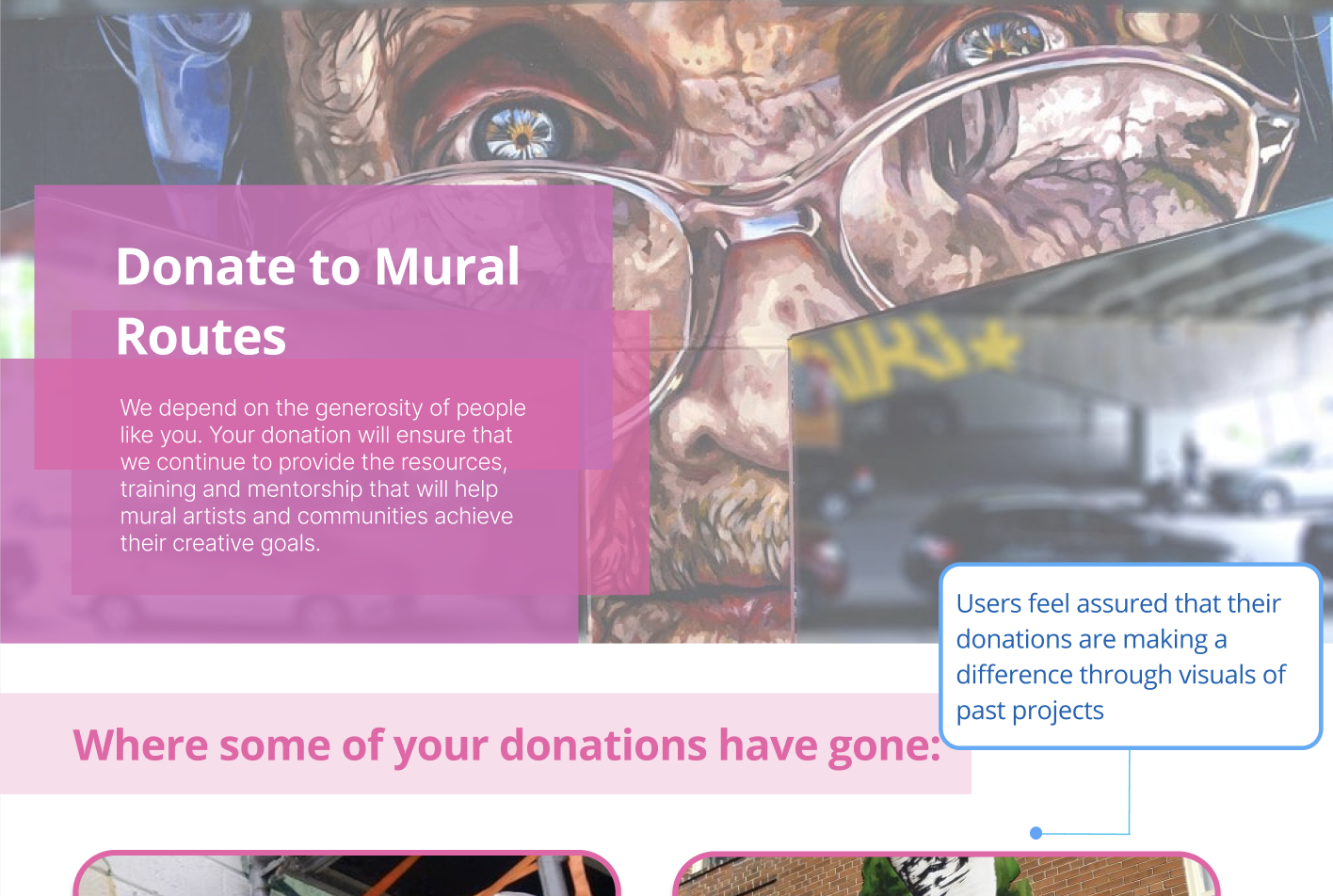 "If people know where their money is going, they will trust you more to give it…"

Areas Of Opportunity Continued - Donation Page
Add Transparency/Control: Users want transparency and control as to where/how their donations will be used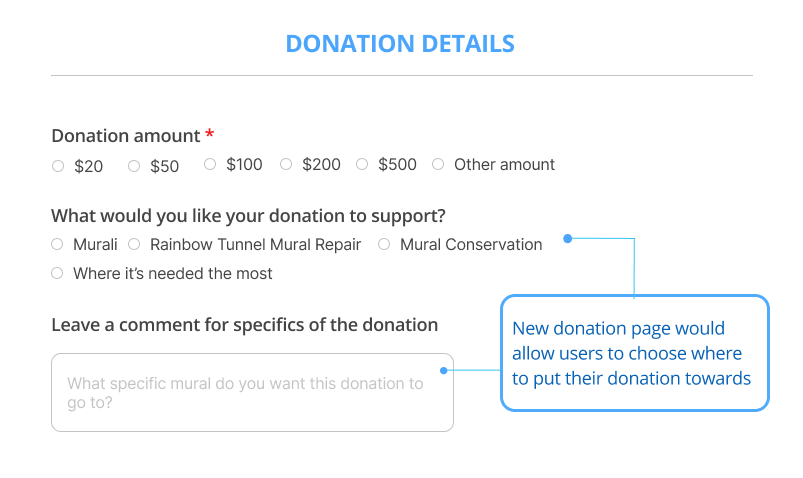 Recommended Donation Details
Allow users to choose where their donations will go so they feel more comfortable to donate.
"The information is helpful for people who already want to become a member, but it is not very helpful for people who are not sure or not completely convinced about becoming a member"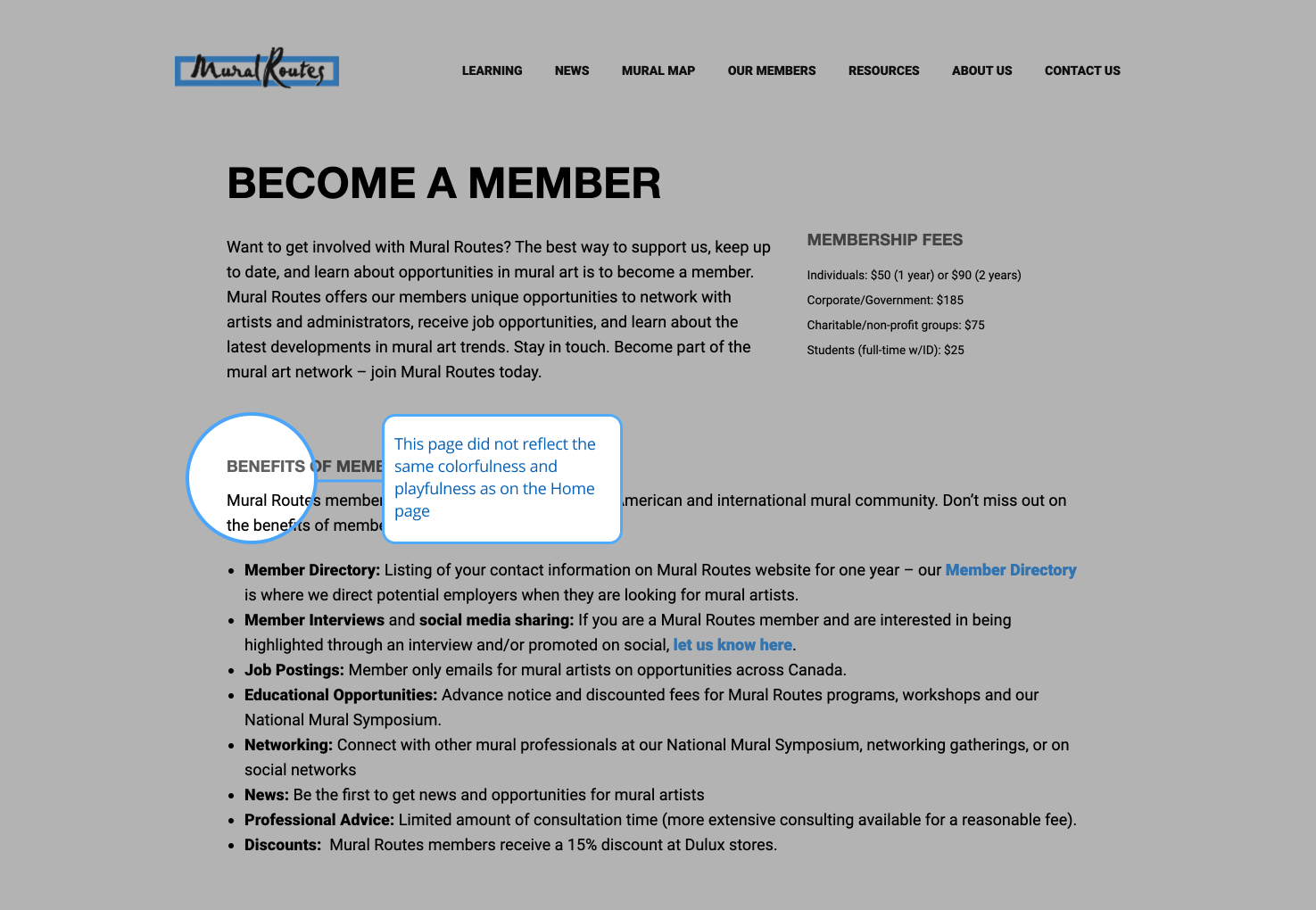 Areas of Opportunity - Membership Page
Reduce Text: The page does not reflect the playful nature of the rest of the website. Users want text to be prioritized and have the ability to read it quickly

Add Testimonials: This page is missing motivation to become a member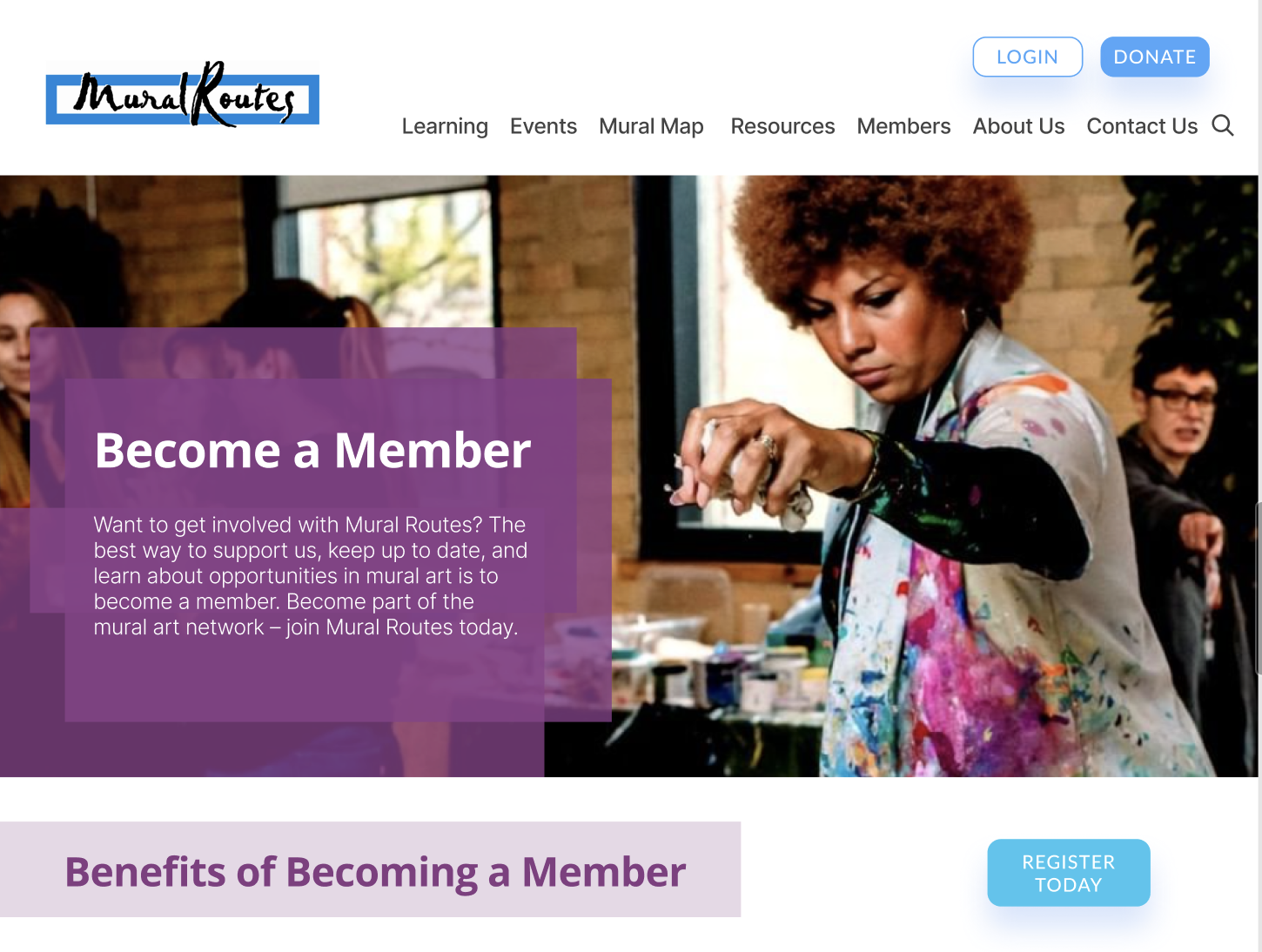 Recommended Membership Page
More images and color has been added to the page so the theming is consistent with the other updated pages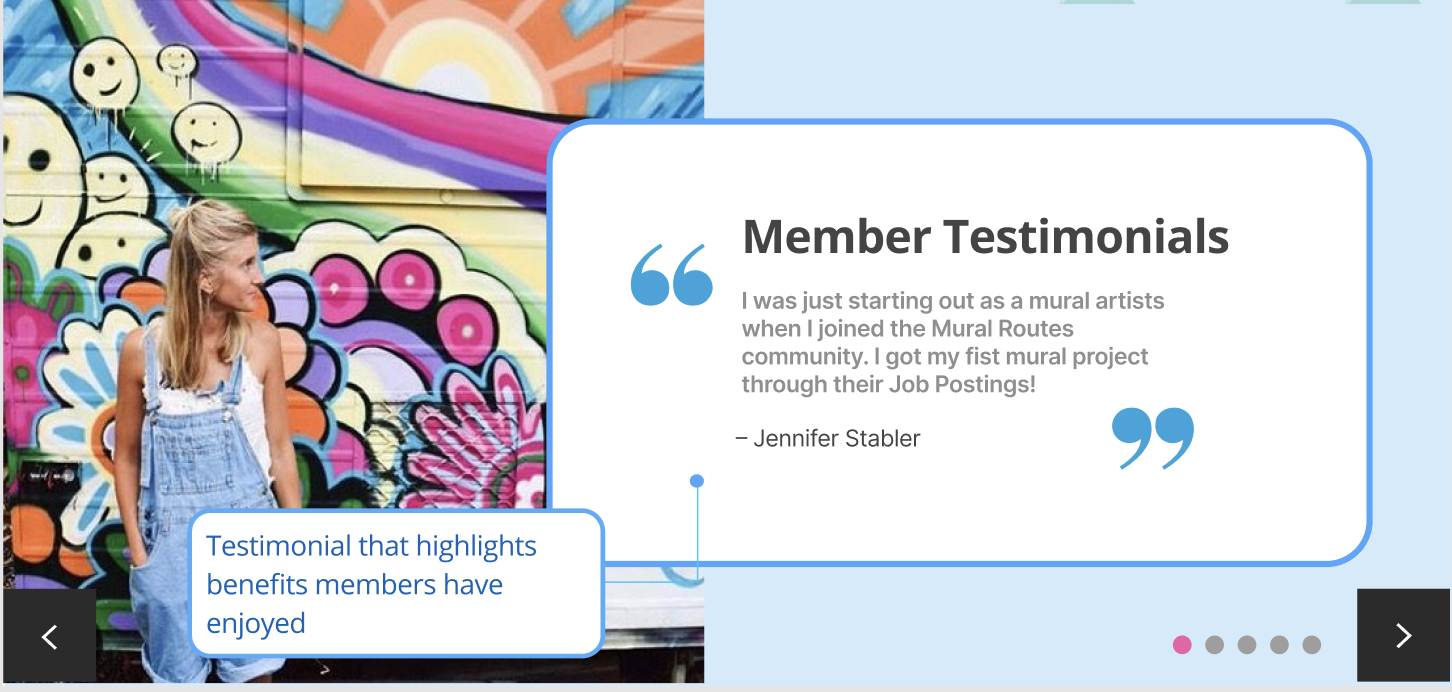 Member Testimonials
Adding testimonials helps encourage others to become a member and inspires trust
Client Feedback
We presented to the client and provided a report with the in depth findings. The presentation was well received by the client and included problems they knew about as well as some new pieces of information. What was most helpful were designs that illustrated how some of these findings could be implemented.
Key Takeaways
Mural Routes provides a great benefit to the mural art community - helping connect artists to organizations, maintaining murals, and providing resources. The research that led the design was centered around bringing awareness to all of the great benefits Mural Routes offers.
Next Steps
Add more pictures that highlight murals and the Mural Routes community

Add more context about Murali: Mural Art Learning Institute

Reduce text

Add consistent theming and messaging throughout the website

Make designs responsive