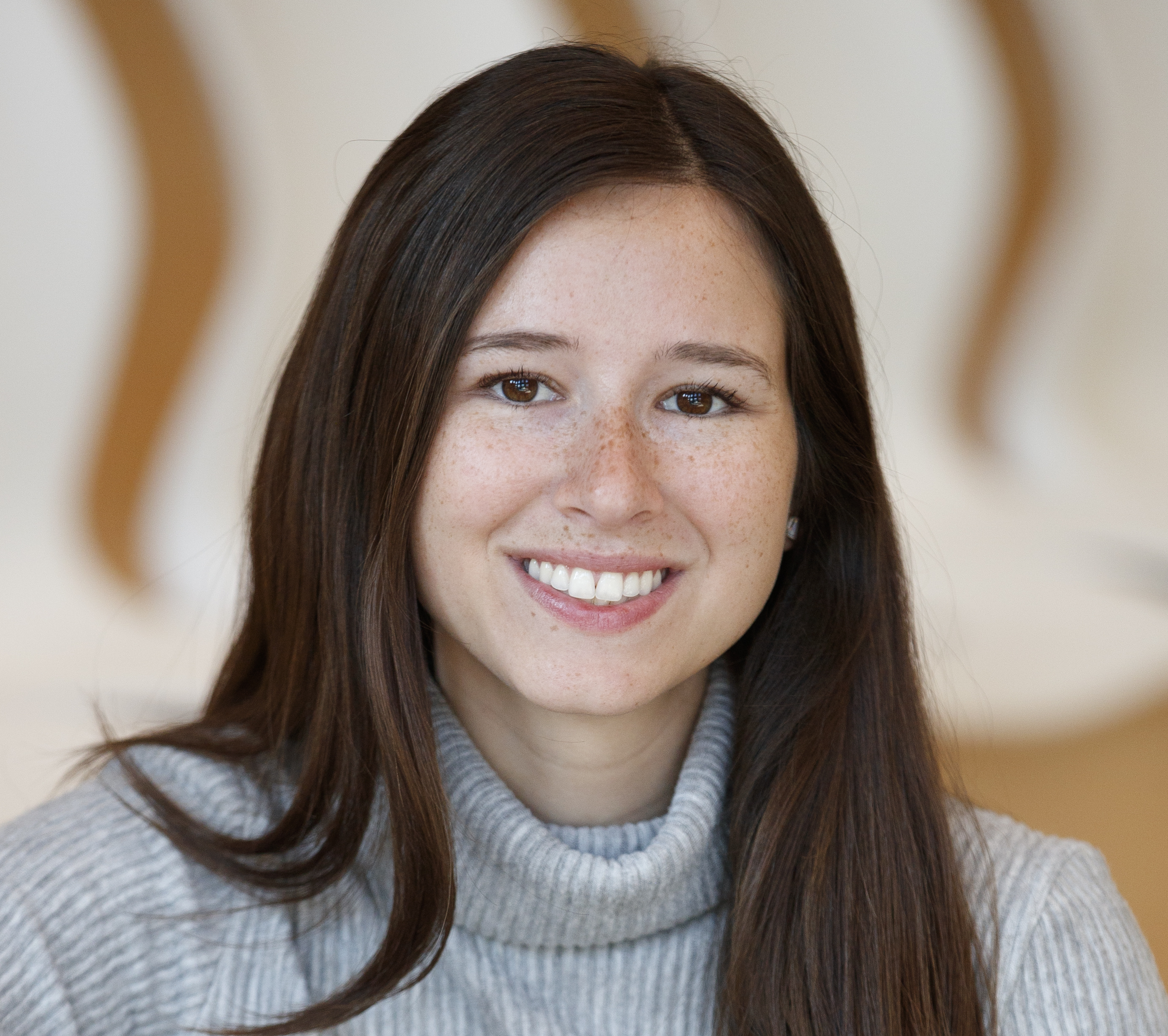 Elisabeth Pefanis
UX Designer
TrueCoach
App Redesign Concept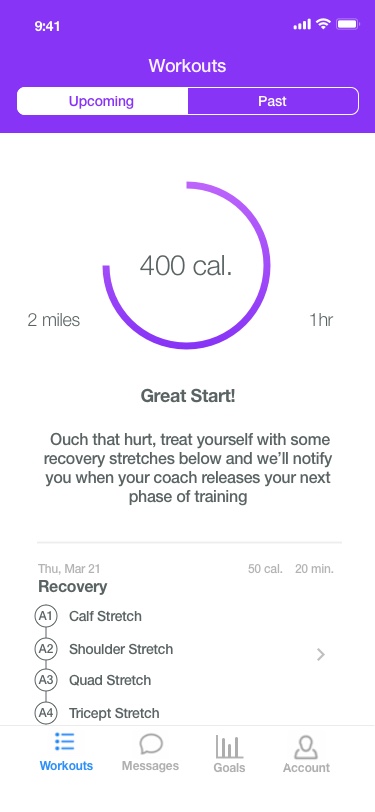 Company Overview
TrueCoach is an app for fitness coaches that helps them save time, deliver a better experience for their clients, and grow their training business. Coaches can send their clients workouts, communicate with them, and track their progress all through the app.

Design Challenge
I conducted a survey on why people use personal trainers and the top three answers I received were for knowledge, accountability, and goals. The app fulfills the need for knowledge and accountability by connecting to a trainer, but does not focus on the desired goals.
Proposed Solution
Incorporate more features that focus on goals and remind the user why they got a trainer and what they're accomplishing from it.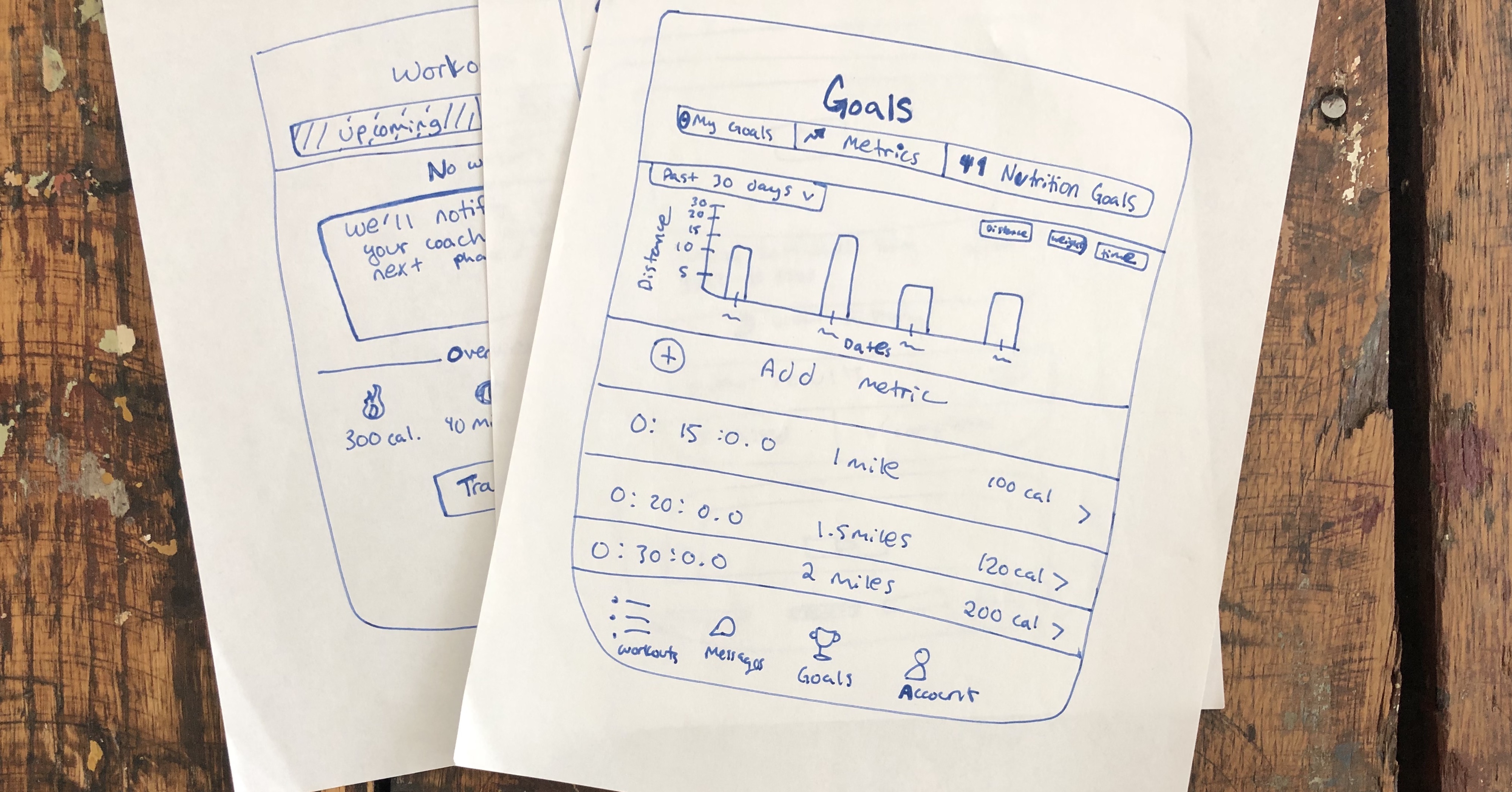 Design Process
Role: UX Designer

Skills Utilized: heuristic analysis, surveys, visual design, competitive analysis, and business strategy

Scope: 1 week
Nielsen's 10 Usability Heuristics
When conducting the analysis I focused on Nielsen's 10 usability heuristics and used the colors green, yellow, and red in my comments to symbolize if something was good, moderate, or needed improvement -
Visibility of system status

Match between system and the real world

User control and freedom

Consistency and standards

Error prevention

Recognition rather than recall

Flexibility and efficiency of use

Aesthetic and minimalist design

Helps users recognize, diagnose, and recover from errors

Help and documentation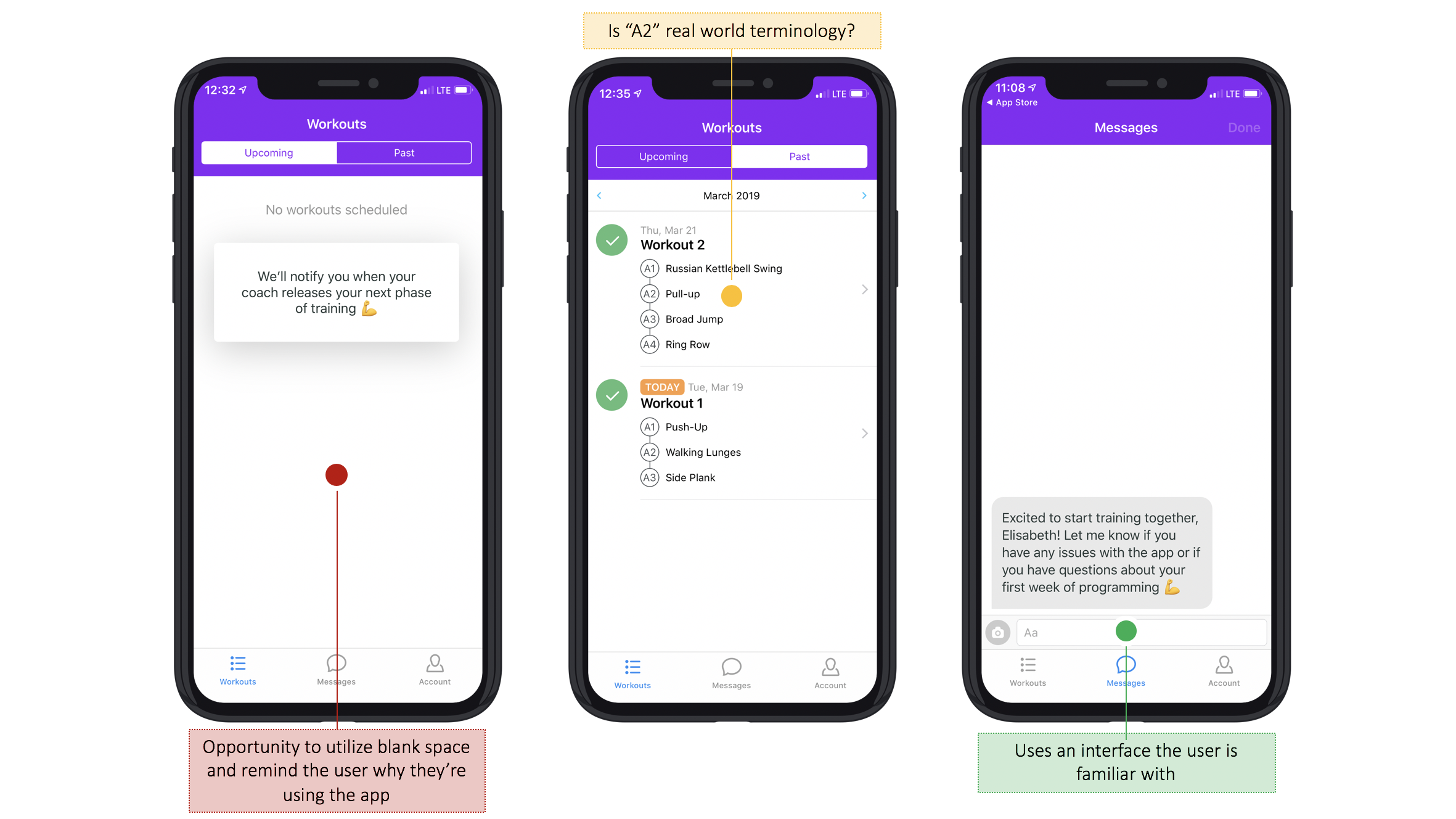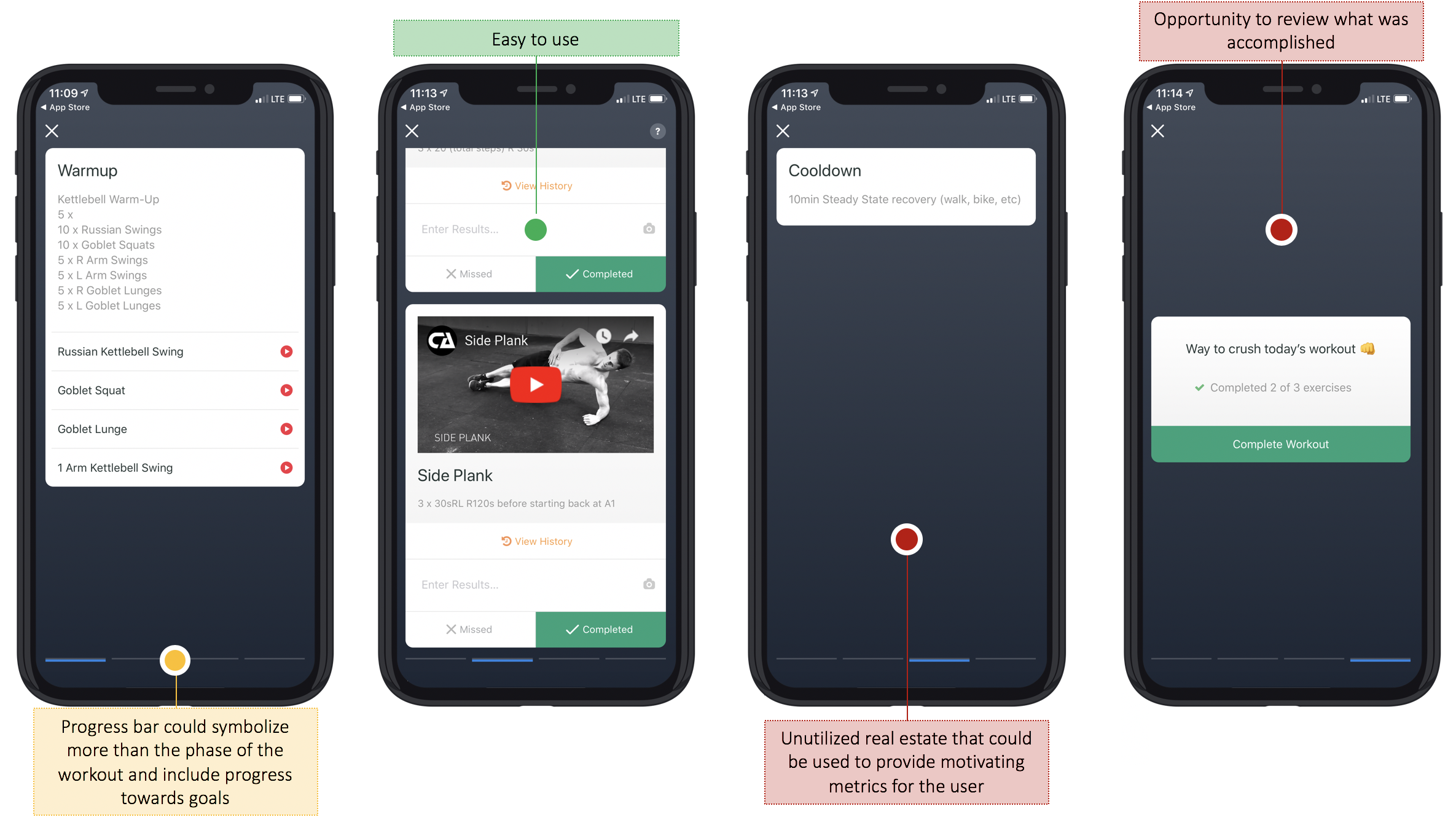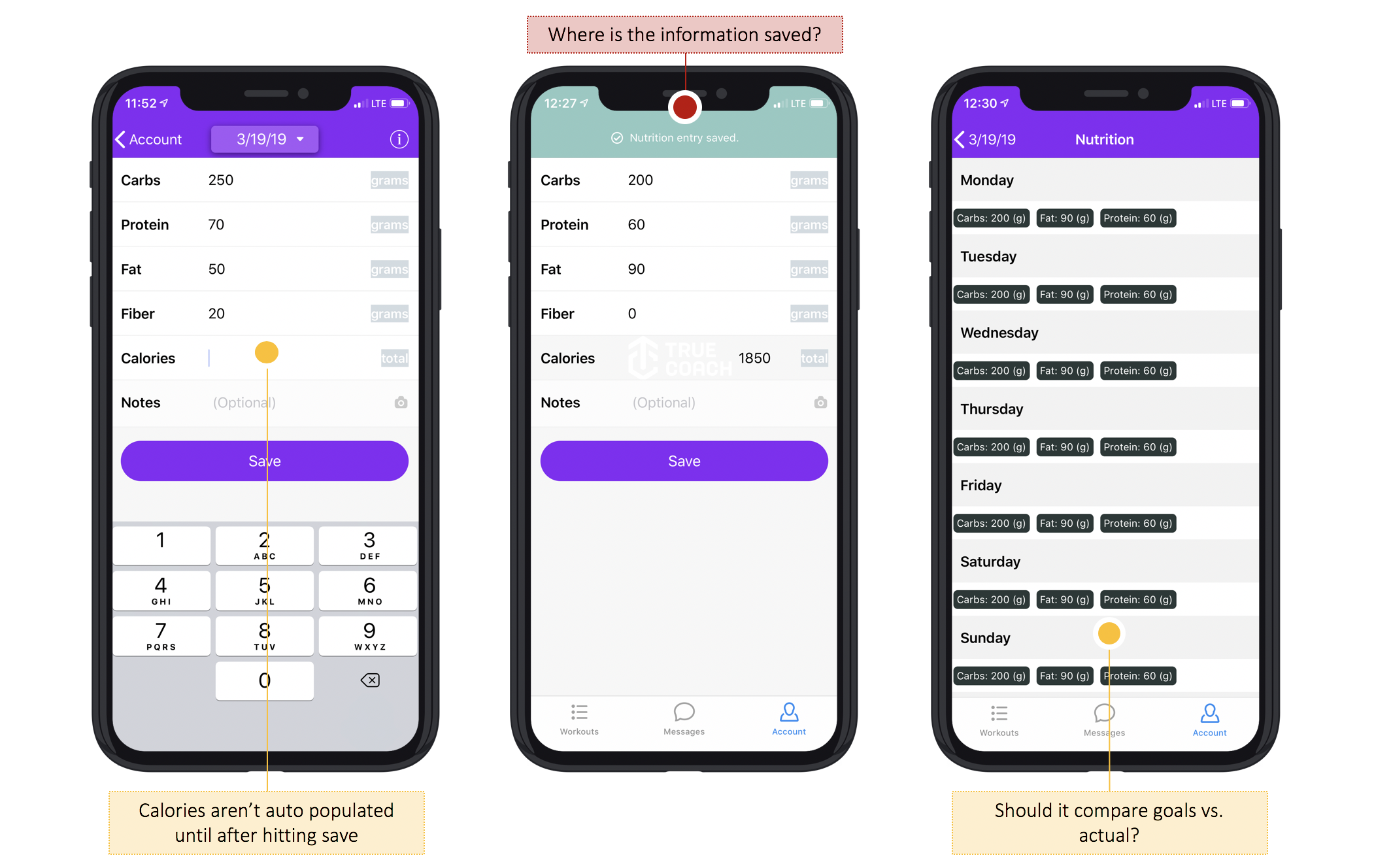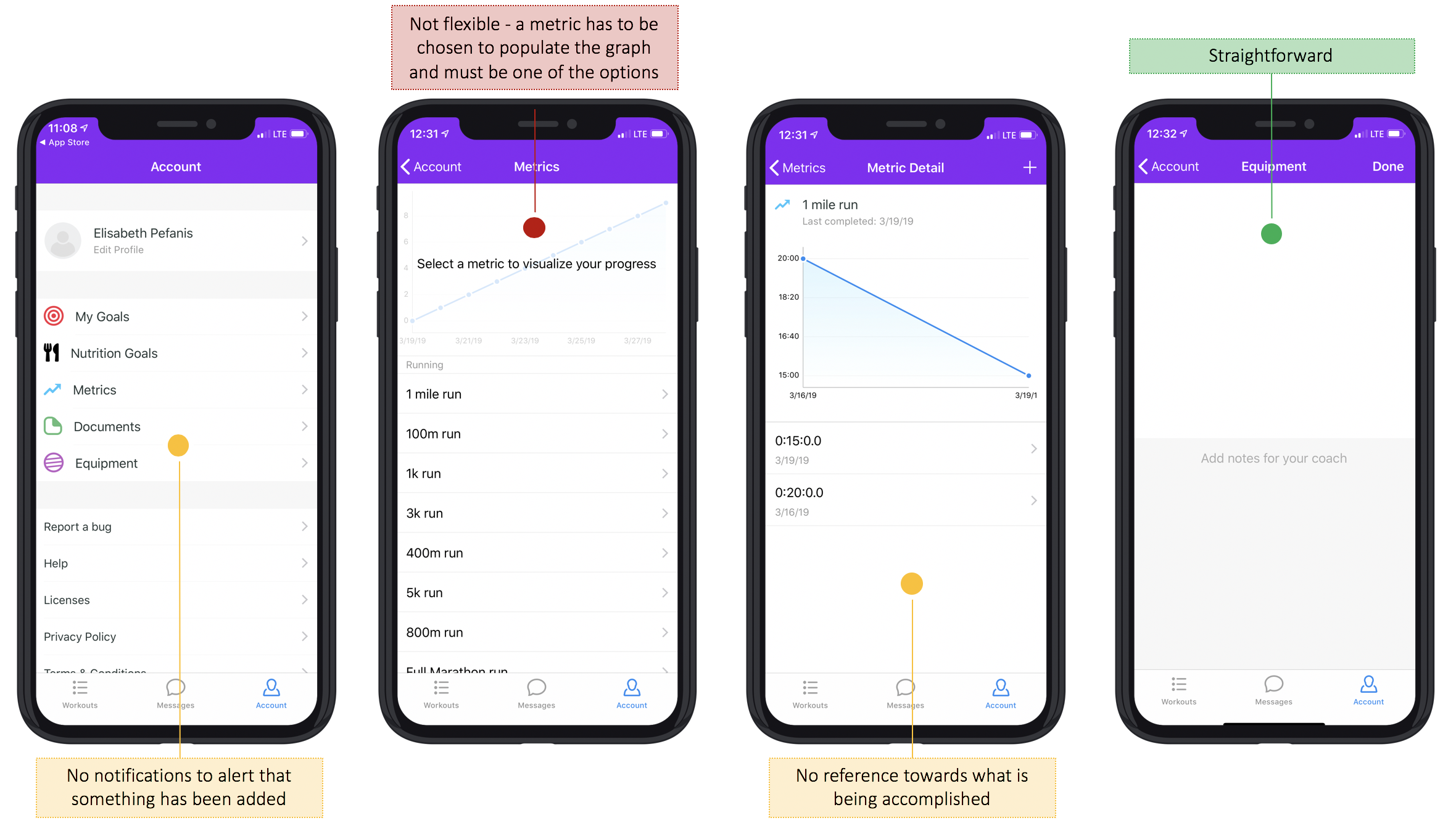 Summary
Based on the analysis there were two areas I could focus on –
Nutrition – adding more value to the existing experience through enhanced tracking and measurement features

Goals – making goals a more prominent piece by surfacing it throughout the app in a variety of ways
I chose to focus on goals because reminding users of the reason they have a trainer in the first place creates stickiness, contributes to growth, and increases revenue.
Key metrics would include engagement, workouts completed, or reduced churn rate.
I asked 7 people "Have you ever used a personal trainer and why?" The answers revolved around three things -
Knowledge

Accountability

Goals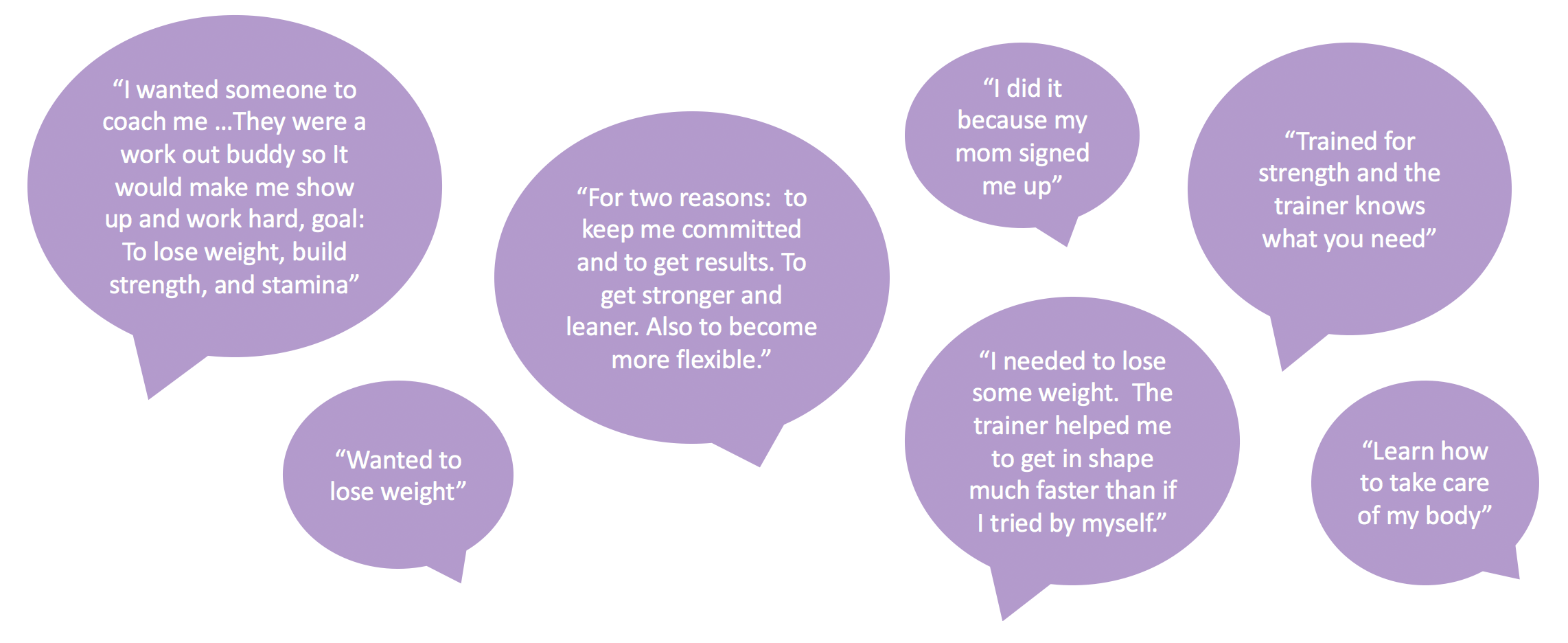 Key Takeaways
The survey suggests that people get personal trainers because they want someone who is knowledgeable, will keep them accountable, and achieve the results they want. The app addresses the user's need of knowledge and accountability by having a trainer and the following features -
Personalized work out schedules

How to videos

Chat

Workouts log

Nutrition tracker
While the app covers knowledge and accountability, the app lacks a focus on goals. The user can log their workouts but it is buried in the account section.
After the heuristic analysis and survey I knew I wanted to bring goals to the forefront of app and incorporate it throughout the user's experience so they are reminded of why they got a trainer and what they're accomplishing from it.
Competitive Analysis
& Business Case
Competitors
I looked at the following competitors and popular fitness apps to see how they focused on goals -
Fitbit

Nike

Sweat with Kayla

MyFitnessPal

Strava

GAIN Trainer

FitSW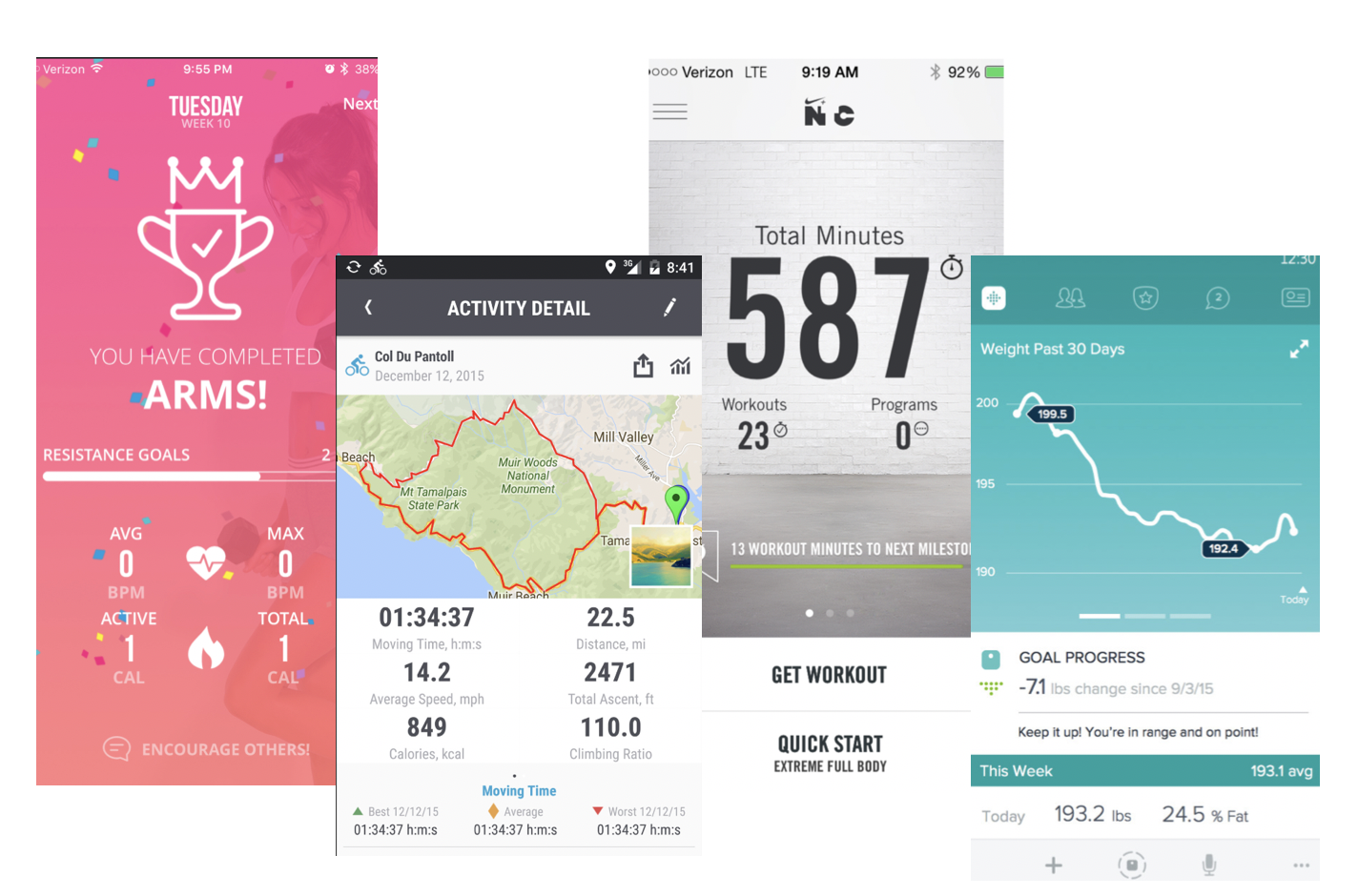 Visual Representation of Progress
Progress towards the user's goal is shown in a variety of ways -
Bars

Charts

Maps/Comparative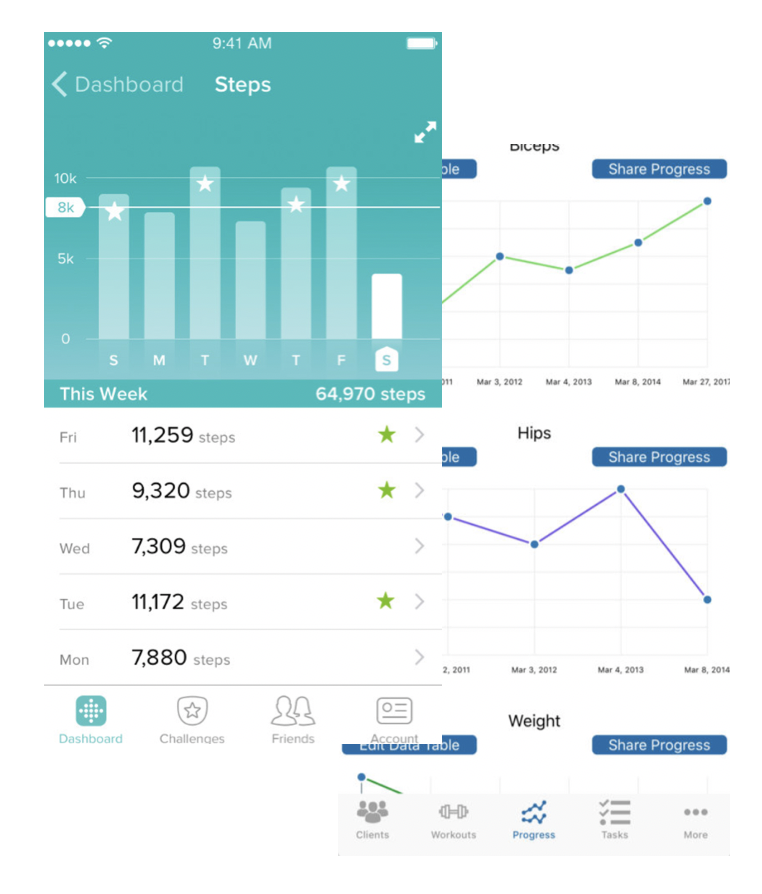 Navigation
Within the navigation, goals are shown in their own tabs. Some examples include -
Progress

Challenges

Activity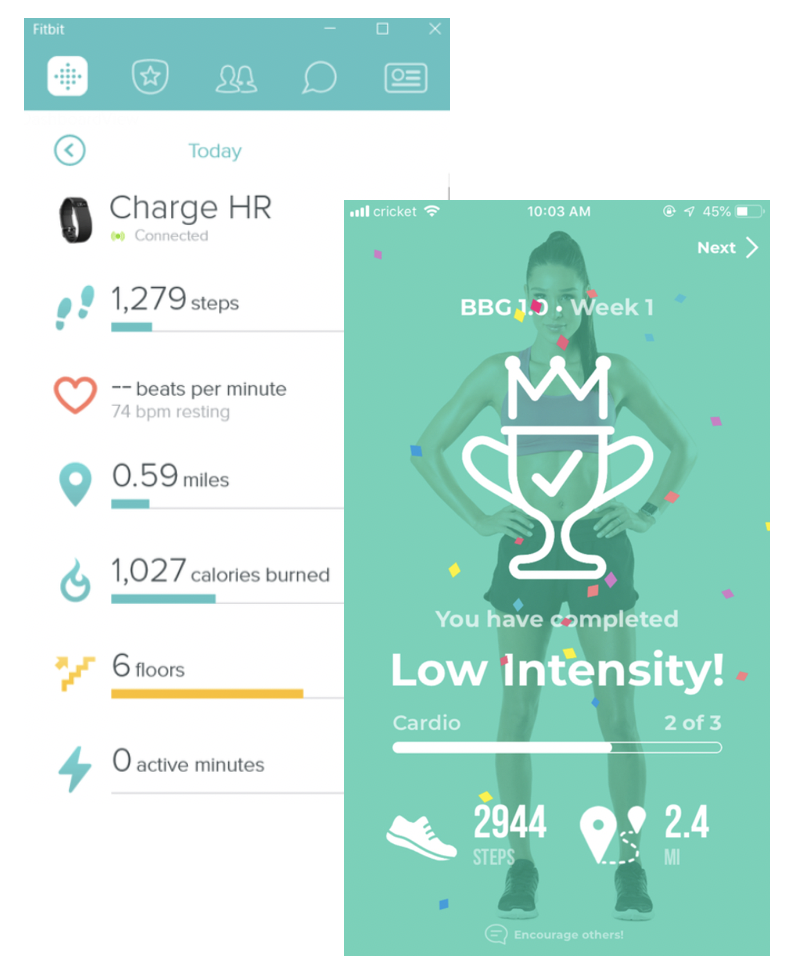 Measuring Progress
When a workout is completed or in progress competitors show an overview of what was accomplished through -
Steps

Reps

Calories

Time

BPM

Distance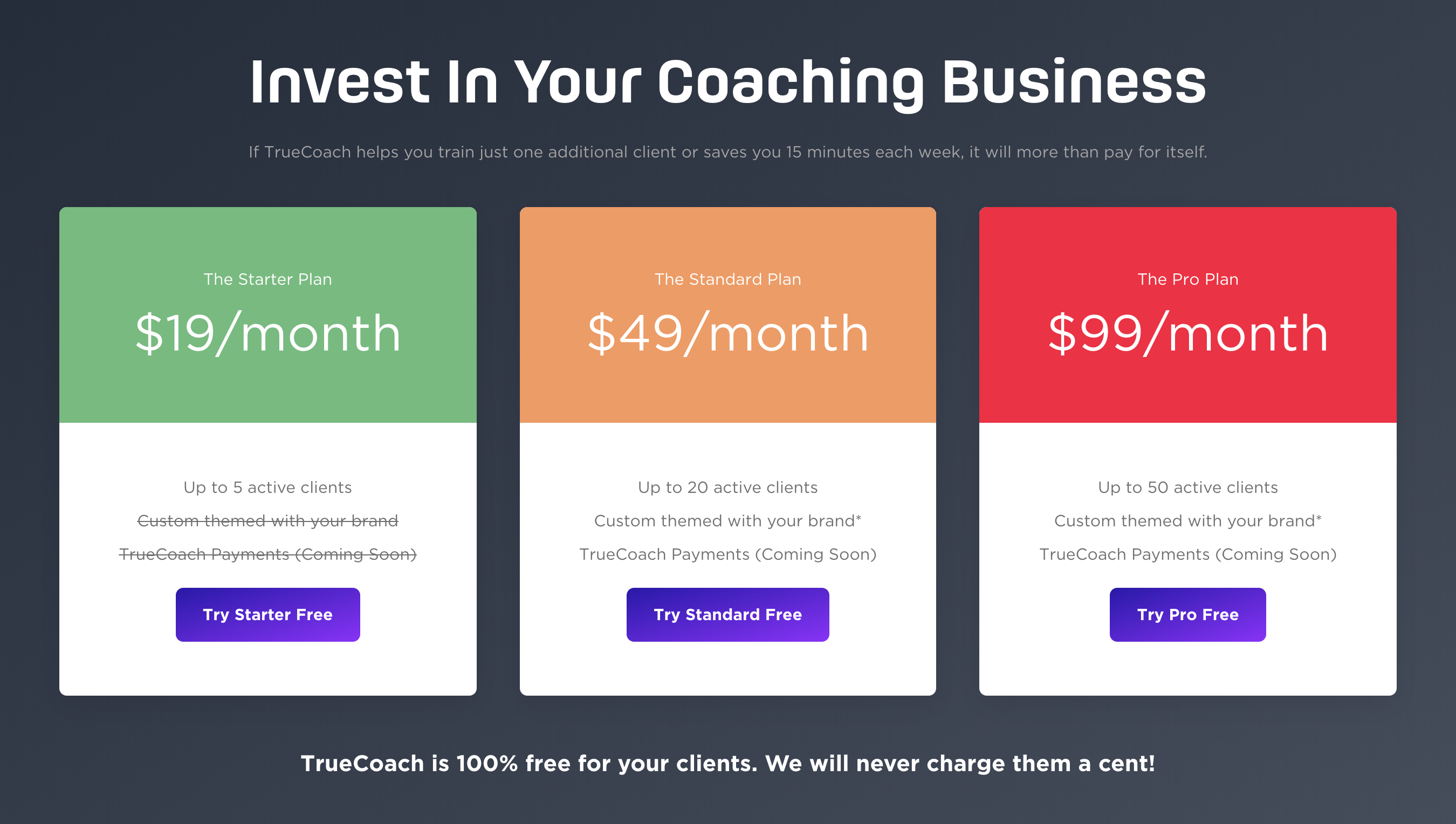 Business Case & Key Takeaways
TrueCoach's business model is based on subscriptions, the more clients a trainer has the more premium of a plan they'll have. By investing in the trainers and helping them grow their business TrueCoach will also grow.
KPIs

Workouts completed
Increased engagement
Reduce churn
The designs center around increasing the visibility of the user's goals through -
Utilizing previously blank space to encourage new and returning users to keep working towards their goals

Creating a section for goals that includes –

My Goals

Metrics

Nutrition Goals

Tracking and measuring progress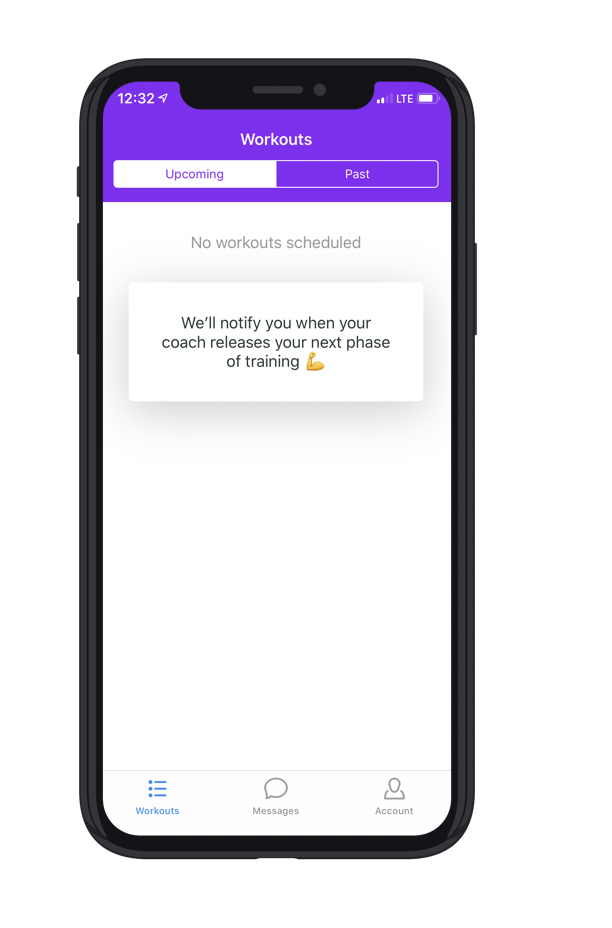 Before: Upcoming Workouts
If the personal trainer has not created a workout for the user this is a great opportunity to remind them why they've invested in a personal trainer; to reach their goals.
At this point the trainee has already discussed with their trainer what goals they're trying to accomplish and their is an opportunity for personalization.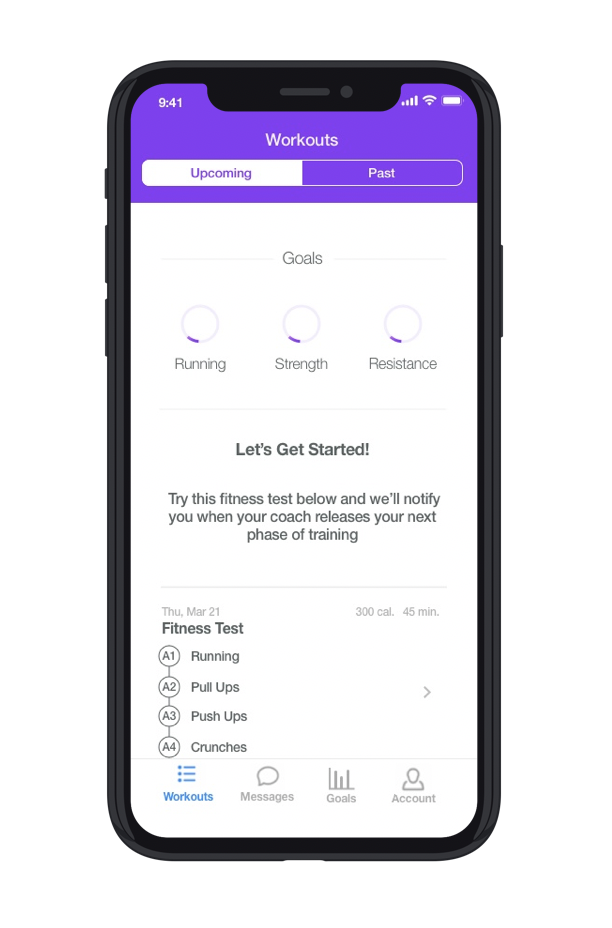 After: Upcoming Workouts New User
Instead of a message to come back later when a workout is scheduled and blank space, the page now features goals as the first thing the user will see. These would be what the trainer and the trainee pre-agreed upon so the trainee is already reminded why they have made this investment.

Underneath the goals is the welcome message with a predetermined standardized fitness test to keep the user engaged until their coach has created their customized workout instead of leaving and coming back later to check when their workouts have been added.

In the fitness test section it includes the amount of calories burned and amount of time the workout should take, as an extra reminder of what the user is accomplishing.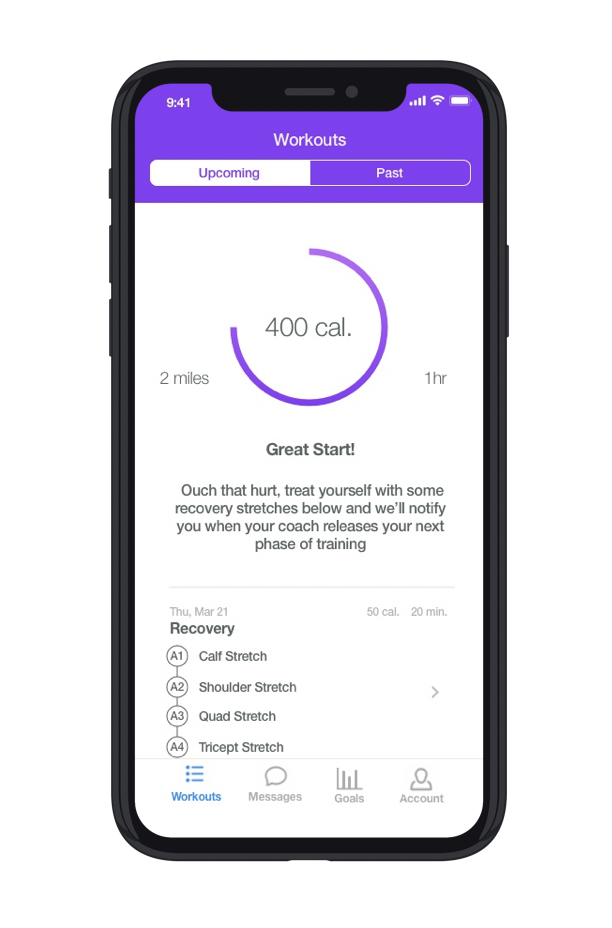 After: Upcoming Workouts Returning User
When the user has finished a workout and there are no more upcoming workouts, the space is utilized to show them what they've accomplished, a congratulatory message telling them they'll be notified when there is another workout, and a recovery workout.
The recovery workout could include yoga, stretching etc. but is just another option that keeps the user engaged if they want to do more.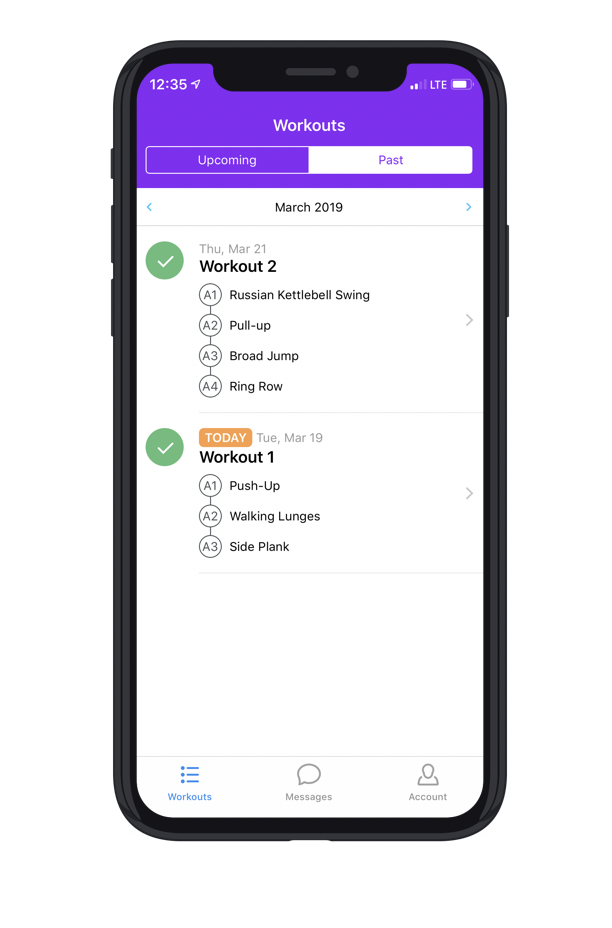 Before: Past Workouts
This section gives an overview of the past workouts the user has done. They can come back to this section to reference them at any time.
Having this information readily available is useful for the user and to add more value in the designs below I added a graph recapping what they accomplished in that time frame and changed some of the visual aesthetics.
My goal was to sprinkle throughout the app reminders of the benefits the user is getting by having this app/trainer. By adding an overview of their successes with a graph it serves as that reminder.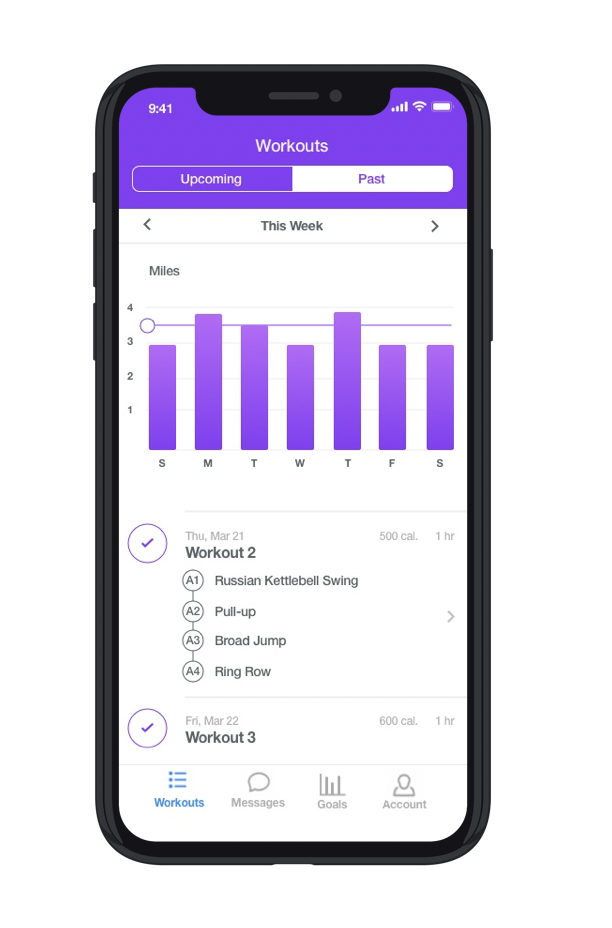 After: Past Workouts
I changed the color of the check marks to have a more cohesive design and added a graph so the user can still reference workouts they've done but also see what progress has been made towards reaching their goal.
One of my goals was to improve my running habits so the graph is tracking miles over the past week. This could be different depending on the user and if data can be pulled from the metrics section or by completing the workouts scheduled.
The purple line on the graph signifies what the goal is.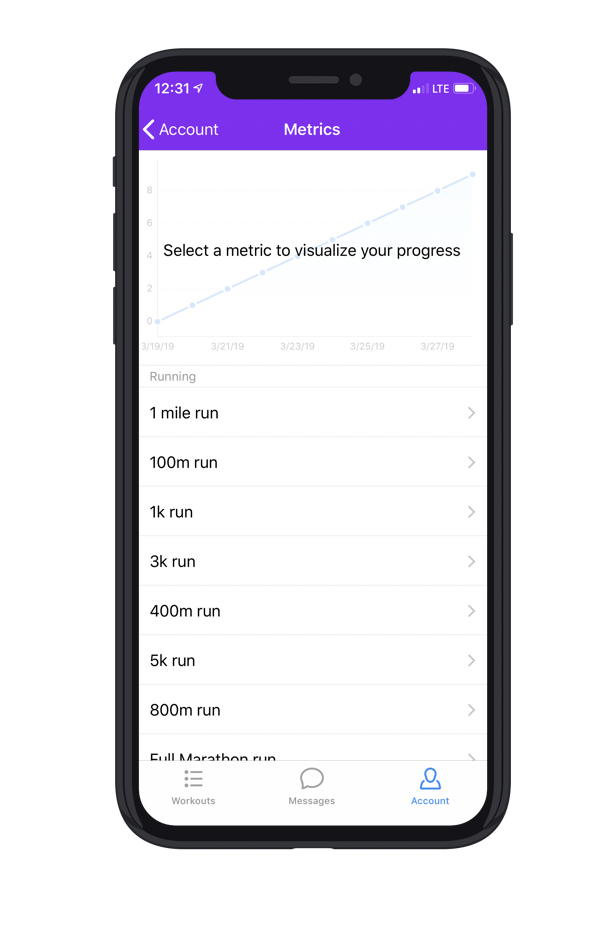 Before: Metrics
The Metrics section is within the Account tab and for the graph to populate one of the options has to be selected (ex: 1 mile run).
To log a run the user has to choose one of the options and put in the amount of time it took them to complete the run. A custom amount cannot be entered, it must be one of the existing options.
When I began drawing and brainstorming changes for this section the following stood out and can be seen in the designs below
Auto - populated graph (nothing has to be selected for it to have data)

Goals section where Metrics, My Goals, and Nutrition Goals will live

Flexibility with inputting workouts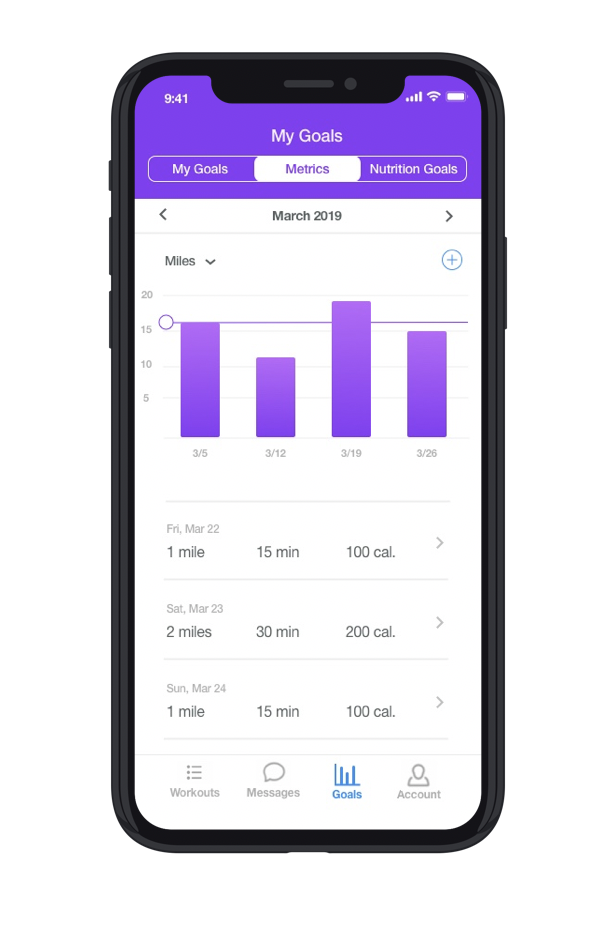 After: My Goals/Metrics
I added a goals section based off of research findings from the competitive analysis and survey. My goal was to improve my running habits so this graph tracks miles but my other goal was upper body strength so there is another graph for pull ups that can be toggled in between.
The goals section includes features that are already in the app they just now have their own section and have been brought to the forefront.
The metrics section is similar to the existing section but the graph has a different look, adding a workout is more flexible, nothing has to be selected to populate the graph, and calories and time are included to reinforce the goals of the user.
Interview personal trainers to determine –

If they set goals and what they are

How they measure it / what metrics they use

What their clients want to see for progress / goals

Interview the clients of the personal trainers –

Ask why they decided to use a personal trainer

What do they expect from the app

What goals do they have

Does the app help accomplish those goals
Other Considerations
Some things that were out of scope but I still wanted to address are –
Adding more to the nutrition section like comparing if they hit the goal or not for that day and a way to track progress

Adding more progress tracking features and overview to the workout flow (like calories burned and progress towards goal)