VocabApp
How I designed an app for vocabulary learning
About the project
VocabApp is a project I worked on in a UX Design Course at CareerFoundry. I had to research and create a vocabulary learning app from scratch, which has provided me with a solid foundation in UX Design and Design Thinking.

VocabApp is a language learning app which contains exercises based on real-life situations and allows users to customize their curriculum, so that they achieve maximum learning effect. This project aims to design a mobile app that empowers people to learn new vocabulary and let them put the acquired knowledge in practice immediately, supporting their private & professional goals.
The problem
Learning new languages challenges both our minds and especially our time. We all wish for the most effective solution when it comes to memorizing new vocabulary and achieving our goals rapidly, regardless if these are private or professional ones.
It is hard to find an engaging & not time-consuming way to learn a new language, which does not feelike a school book and allows people to deal with challenges of everyday life in a short time.
My role
As a UX Designer for this project, my role was exploring the problem, conducting generative interviews, creating proto-personas, and outlining the tasks and flows necessary to design a positive experience for vocabulary learning.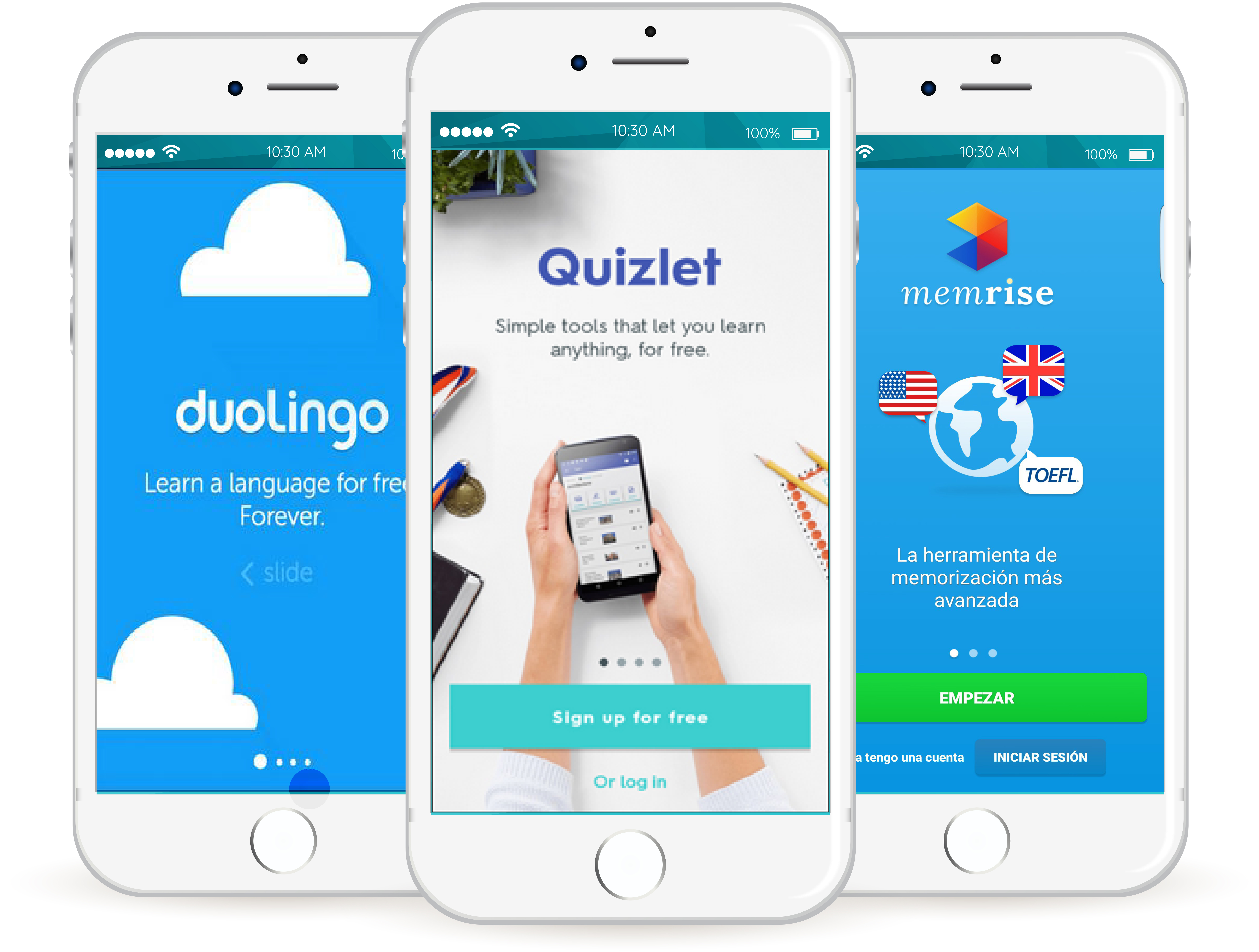 Research
Initially I conducted a competitive analysis by taking a comprehensive look at other vocabulary learning apps to see what kind of solutions were proposed to the problem, if any. I not only wanted to see what was offered but also what was working and what wasn't, eventuelly including features into my product that I felt were essential. It was exciting to discover the gaps and to start coming up with creative ideas.
The competitors included Quizlet, Memrise and Duolingo. I compared the selected apps in terms of features, user-centricity, usability and visual appearance.
An even more exciting part of this discovery was talking and listening to people's real needs, goals and frustrations. The user interviews helped me take a look at the problem from different points of views and thus define it more accurately.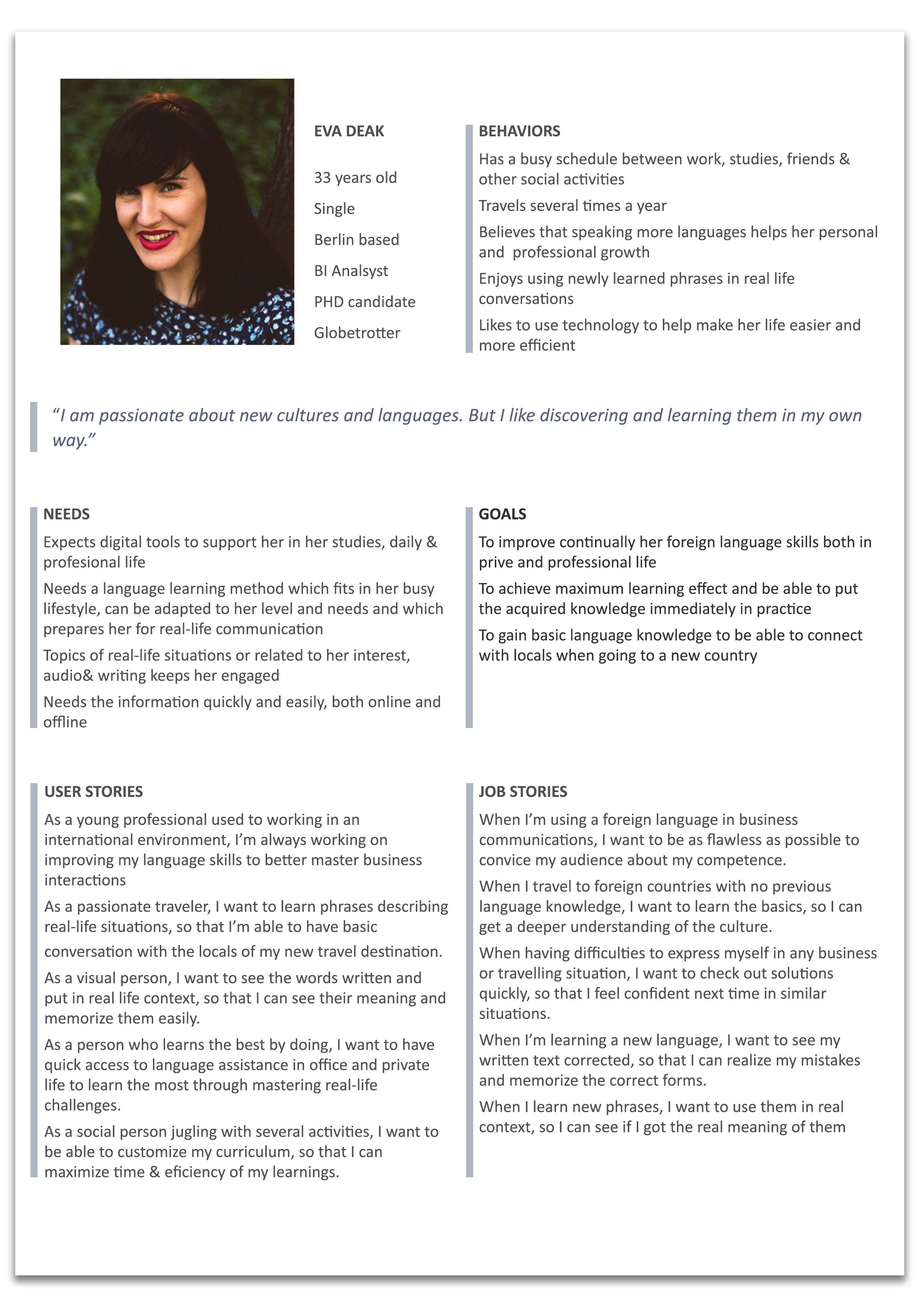 Persona
Based on my user research my user persona Eva was born. She helped me to craft the problem statement, design possible solutions and guided me through the design process.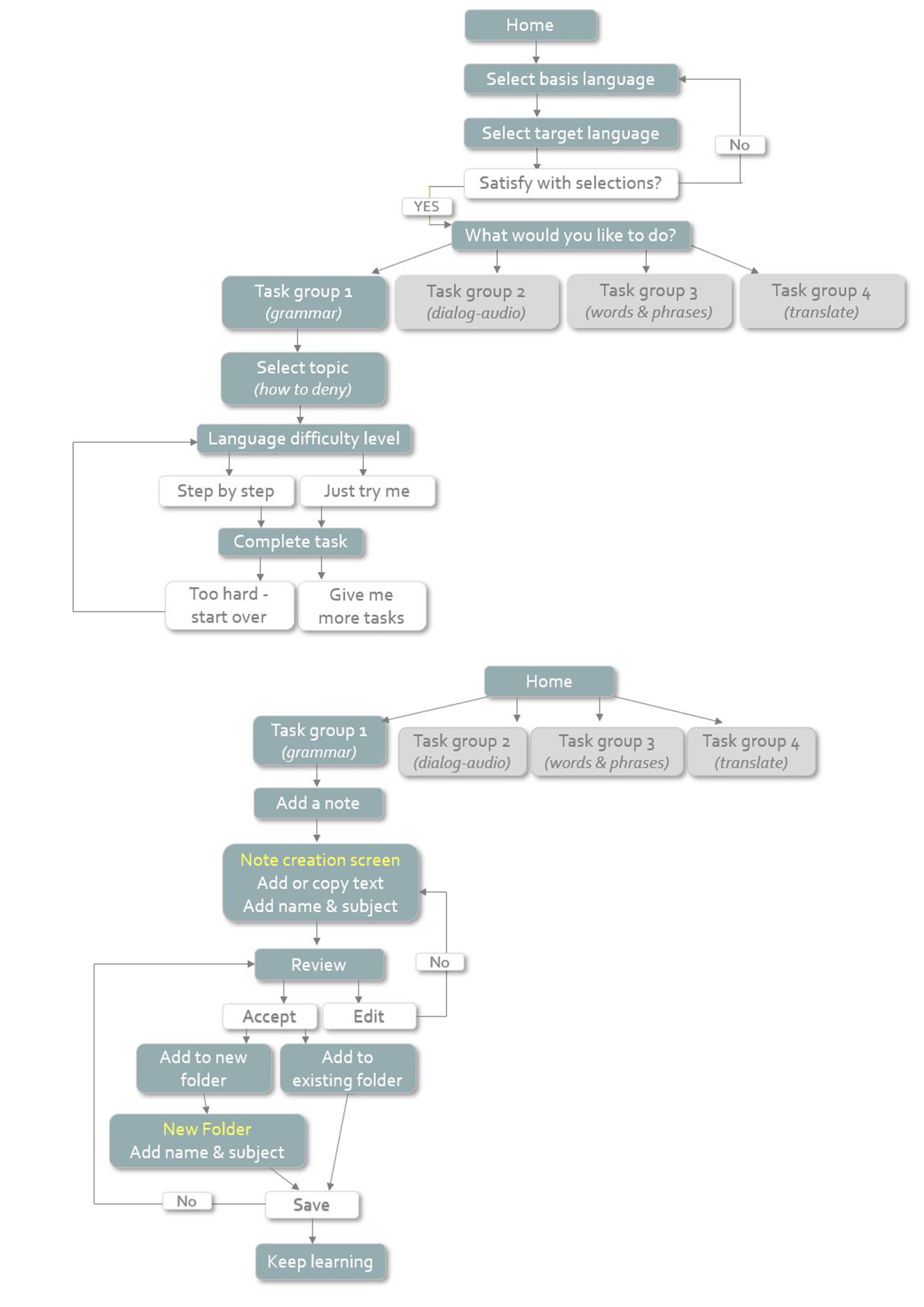 Task Analysis & User Flows
After determining the main user goals, I picked two tasks which I felt were the most important for my persona, Eva. First, I identified the entry point and success criteria for each task, then I wrote out a task analysis for each of them. Keeping this in mind, I started to create the user flows.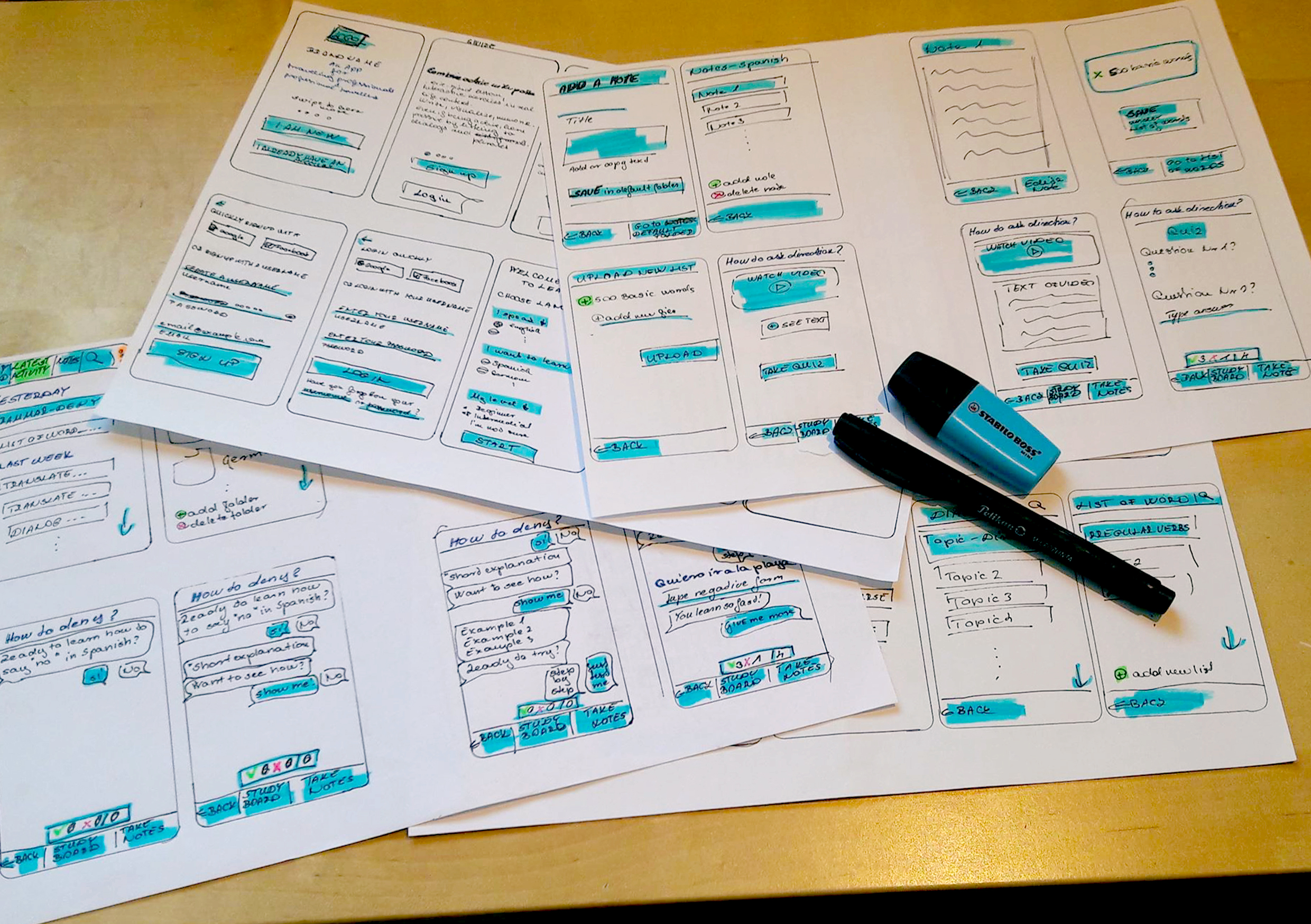 Sketching & Wireframing
I started the design process with paper sketches. It was an exciting part of the process, watching my initial research and ideas come to life, first in the form of wireframes and later in the form of a low-fidelity prototype.
Prototyping & Testing
I built up a low-fidelity prototype with Prott and created a test plan with specific tasks for my users to accomplish. Putting the first rough version in the hands of my users helped me to see if the basic features of the app were working and also where some of the pain points were.


Challenges
One big challenge was the lack of consistent navigation, especially backwards. In addition to that, users felt that the process of adding notes & adding a new list of words would take too long for them – "Too many steps to take a short note".
Solution
I created new icons with text labels which made the navigation more straightforward. I reviewed the steps of the above-mentioned tasks. I not only tried to reduce unnecessary steps but also tried to create a similar flow for the two features as much as possible, so that the navigation became finally consistent.

I was excited to see people's reaction when they tried to complete the tasks again. My app performed better this time and I saw more happy faces.
The most interesting part for me was to listen to people, hearing their stories, needs and desires. The most challenging part was creating features for the app based on the obvious and latent needs of the users and the most exciting part was to observe them testing the early prototype and listening to their feedback.
The greatest takeaway for me from this initial project was creating user personas and user flows. My persona helped me to never lose focus on my users' needs. Building user flows is essential to hash out complex tasks prior to wireframing.