Sparkle
Window-cleaner booking app
What is it we're doing?
An app that connects homeowners and renters who want to have their windows cleaned with local, rated window cleaners
Role: Researcher, Design & UX Writing
Team: Solo
Timeline: 3 weeks
Tools: Google Docs, Canva, Miro, Figma
Deliverables: Minimum viable product for an app
After struggling to find out how much it would cost to get the windows on my house cleaned, I realised that the traditional model of hiring a window cleaner doesn't fit with our modern lifestyle. As consumers we've become used to selecting and paying for services online, when we want them. The window cleaning industry is falling short in meeting this need. Why?
The majority of window cleaners are self-employed, solo operators who decide when and where they work. Because of this, there's often no pattern to when they'll be working in a specific area. Most tend to work on a cash basis and offer no facility to pay online. This also doesn't fit with the growing needs of a cashless society. Finally, advertising is done via leaflets, notices on community boards or in shop windows, or in free local papers. This doesn't fit with a society who primarily carry out searches online.
Competitor analysis
I did independent searches to where window cleaners can be hired and paid for online. The top competitors are:
Fantastic Cleaners

Cleaning Day

Happy House Cleaning Service

Keen Clean
Insights:
Competitor research shows that there isn't a single website for finding window cleaners and comparing costs. Users have to input needs into each individual website and submit contact details to receive a quote - often receiving this by email and some time after the details have been submitted.
There's an opportunity to simplify the process of comparing costs of window cleaners, booking, and paying for services.
Secondary research
While only 15% of adults use a professional window cleaner, this number is increasing year-on-year

Cleaning windows is rated as 9th most hated household chore

On average it can take longer than 2 hours to clean windows on a small house

Price to hire a window cleaner ranges from £9 to £150 +
Primary research
To design a user-centred solution and validate my secondary research findings, I conducted qualitative research by interviewing 10 people that were made up of homeowners and renters. After analysing my notes I was able to group my findings into the following pain points:
Information search
Window cleaners advertise their services in various ways; ads in local papers or on shop windows, flyers through doors, online ads on community sites. There was a common theme that searching for a rated window cleaner was time-consuming and frustrating.
Cost comparison
Users are price sensitive but indicated they would be willing to pay more for a top rated company. It's important to them that they can compare costs based on their needs (i.e., property-type, number of windows needed cleaning, inside or outside).
Booking experience
Booking a window cleaner is frustrating and cumbersome. Users strongly indicate they want a tool that offers easy and immediate booking, where they can pay online, and that provides a feedback or rating system post service.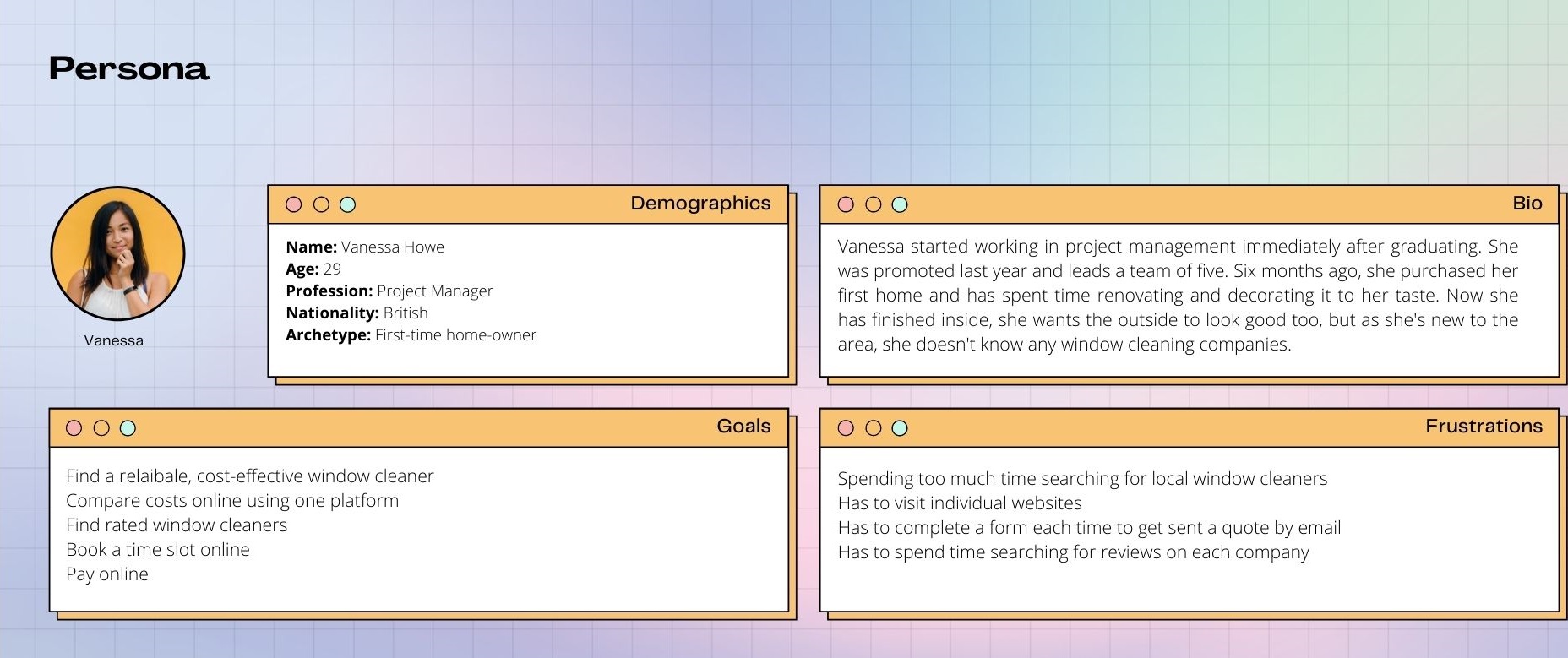 Customer persona
Next, I created a customer persona to fully understand the needs, experiences, behaviors and goals of users. Meet Vanessa, I refer to her throughout the entire process to ensure a human centred solution.

Tone of voice
To ensure the copy, messaging, and voice were consistent I created a mini content style guide: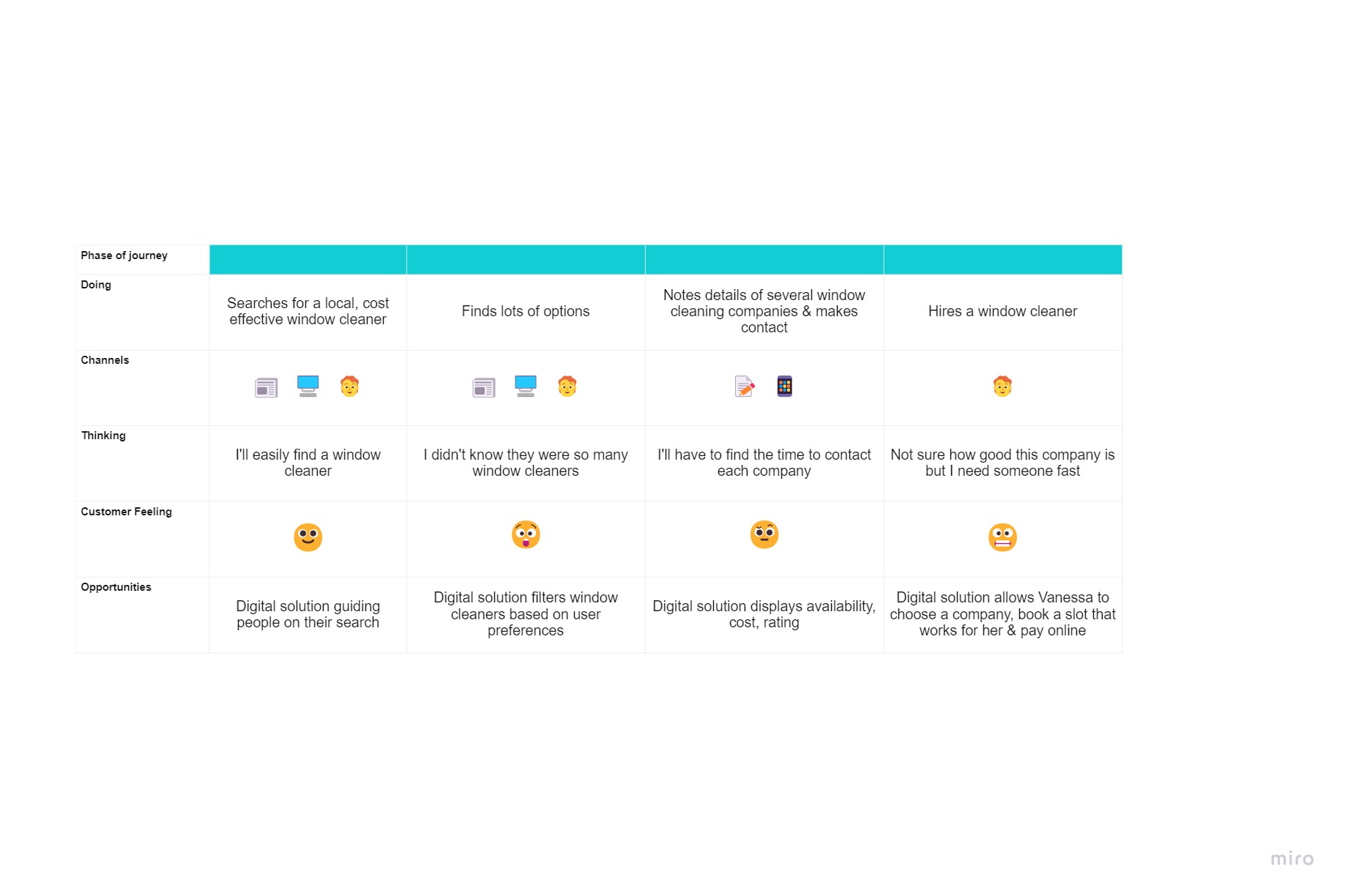 After identifying Vanessa's needs I was able to create a Journey Map to understand her thoughts and emotions throughout the process. Vanessa was able to achieve all her goals but there's room for simplicity.
After analyzing what's involved in Vanessa's search for a window cleaner and understanding how a digital solution can simplify it, I made a list of all the features Sparkle should have and sorted them based on their priority.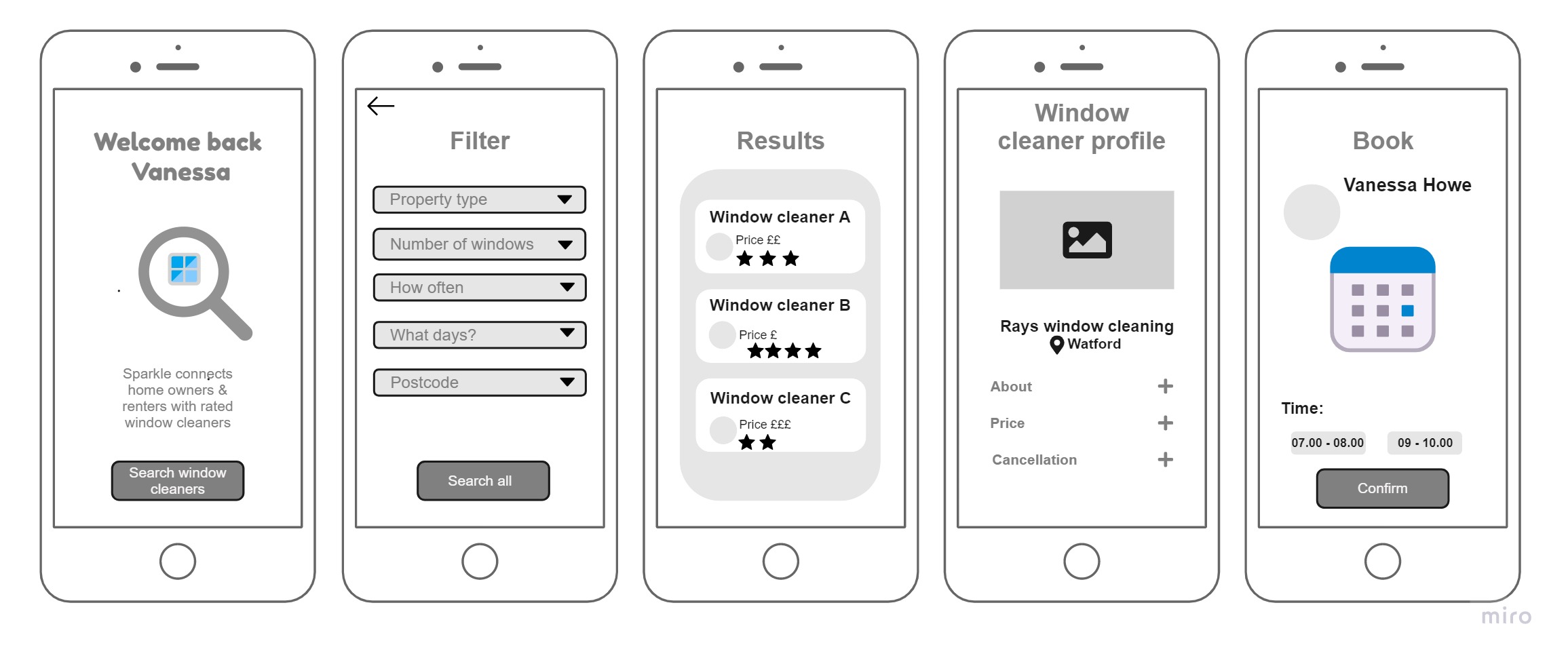 I started the ideation process with pen and paper sketches which I then polished up in Miro into a wireframe.
Testing is essential to uncover biases and misconceptions. Testing was conducted with friends and family between the ages 24 to 55+. Testers pointed out a couple of areas for improved:
They would prefer other sign-up options, like social login, using Apple ID, and Google credentials, as today, this is standard practice with apps.

Users found it annoying having to input property details and cleaning requirements for every new search. A solution is to save these details to the user's profile, which can then be pulled through to the search.

A couple of users found the ££ signs that represent the cost range confusing. They we'ren't aware that £ - £££ is a costing range. I plan to replace this with a starting price per clean.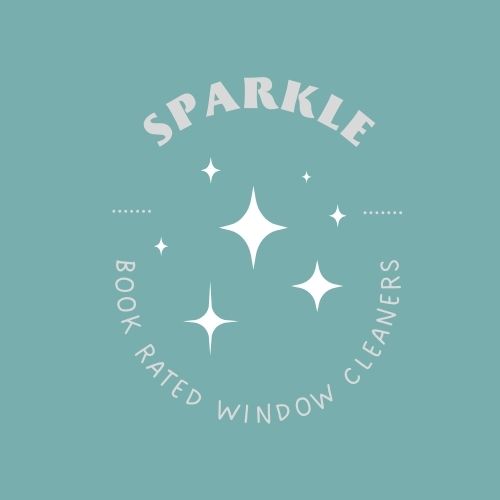 When brainstorming a name for the app, I wanted something that was immediately apparent to people that this was a cleaning app. Sparkle immediately jumped to thought. It's simple, short, and easy to remember. Plus, Sparkle means 'shine brightly' and 'fun and merriment. This ideally fits with the app's purpose; for user's windows to shine brightly, and by hiring a professional window cleaner to clean windows, users have more time to spend on fun activities.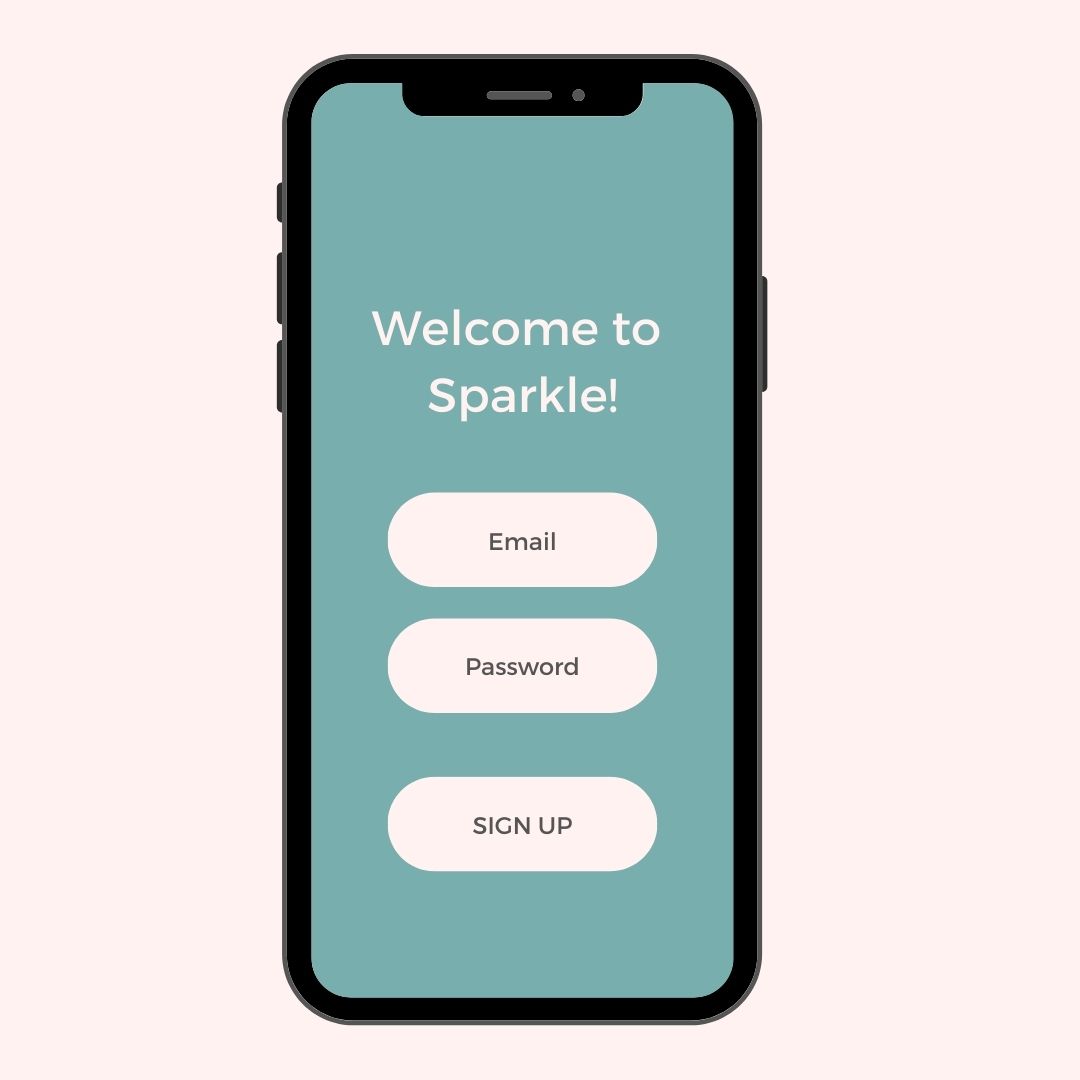 I wanted to show what the sign up page would comprise of as it wasn't detailed on the wireframe. Currently, sign up is with an email and a password. In the future I will add social logins.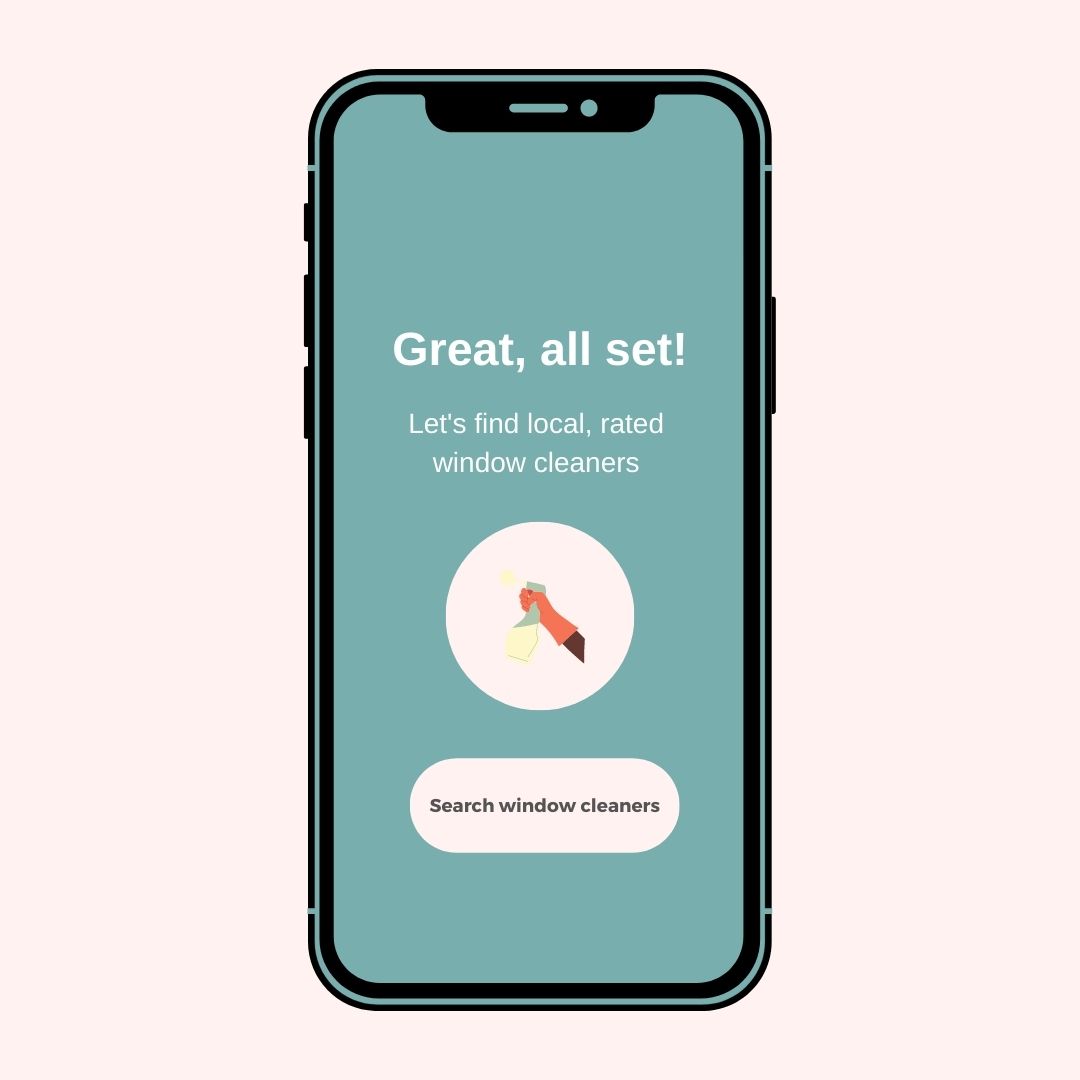 After successful signup, this is the confirmation page that Vanessa will see. This page will only appear once. When Vanessa logs-in again, she will be taken to a personalized search page.
Research
Defining user's pain points and understanding who your users are is instrumental to rolling out a successful product.
Listen to feedback
User testing is key to eliminating your own bias and identifying areas for improvement.
Design
Aesthetics are less critical in product design. Instead, user flow and copy must work together to create a seamless user experience.