Uchop
Content design, microcopy and CTAs for landing page
What is it we're doing?
Role: Content design & UX writing
Team: Two
Working with: Product owner
Timeline: 2 weeks
Tools: Miro, Google Sheets, Teams
Deliverables: Customer-centred writing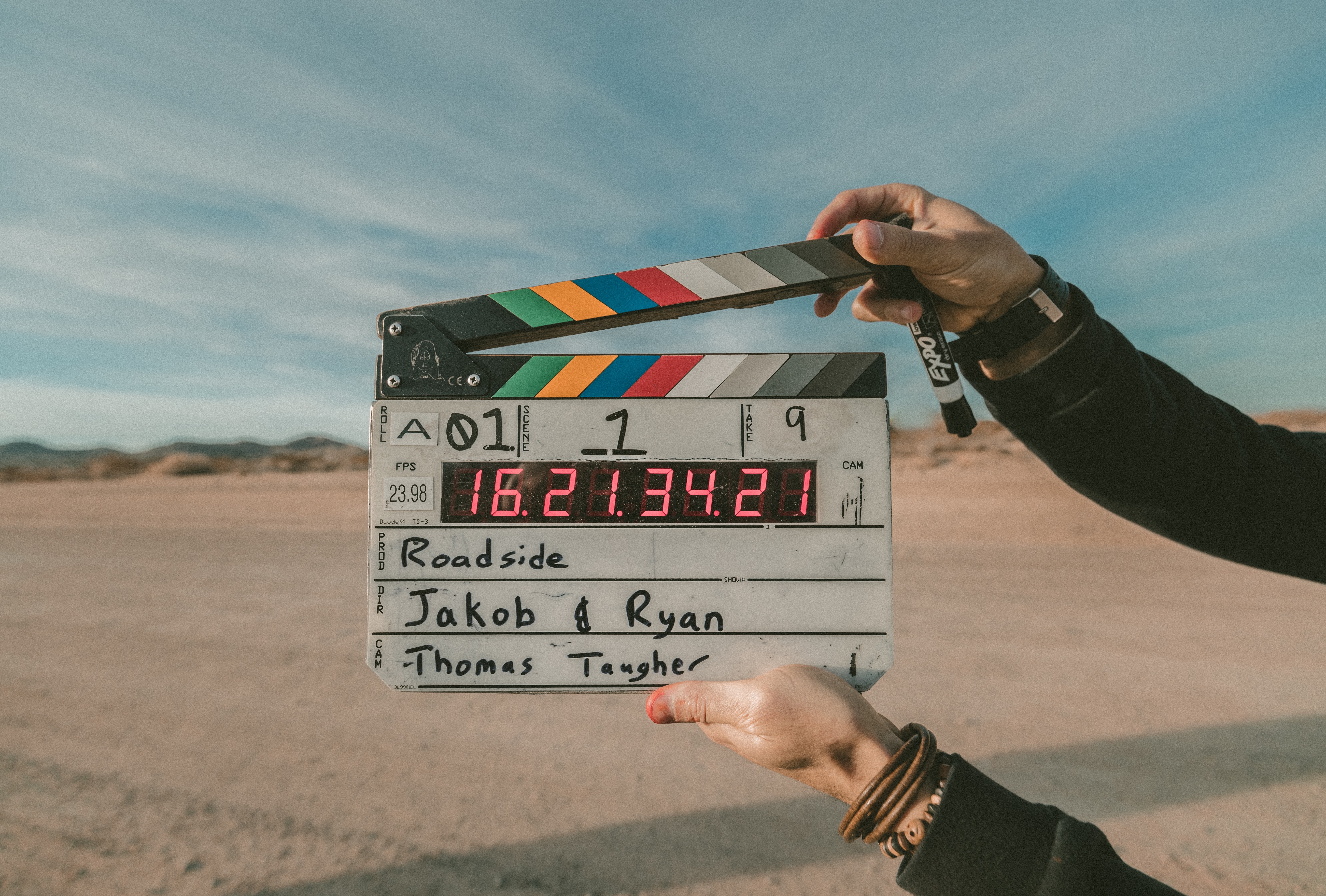 Background
Uchop is a Geneva-based non-profit organization that provides a free platform for academics, researchers, students, organizations, and event organizers to share ideas and raise awareness of sustainable initiatives using short-form videos (called chops).
The Product Manager had written the original UX copy, but the team felt it didn't clearly communicate the platform's benefits to users. The layout of the page was text-heavy and hard to follow.
My brief was to design a landing page with clearly defined sections that used clear and concise product-benefit lead messaging and relevant, actionable CTAs.
Tone of voice
Uchop is about sharing, often complex, information in a clear format. So, their tone of voice needed to reflect this. From research the team had on users they decided that Uchop's tone of voice would be straightforward (using simple language that is delivered in short sentences and paragraphs), and emotive (you are not just uploading a video, you are inspiring environmental actions and change).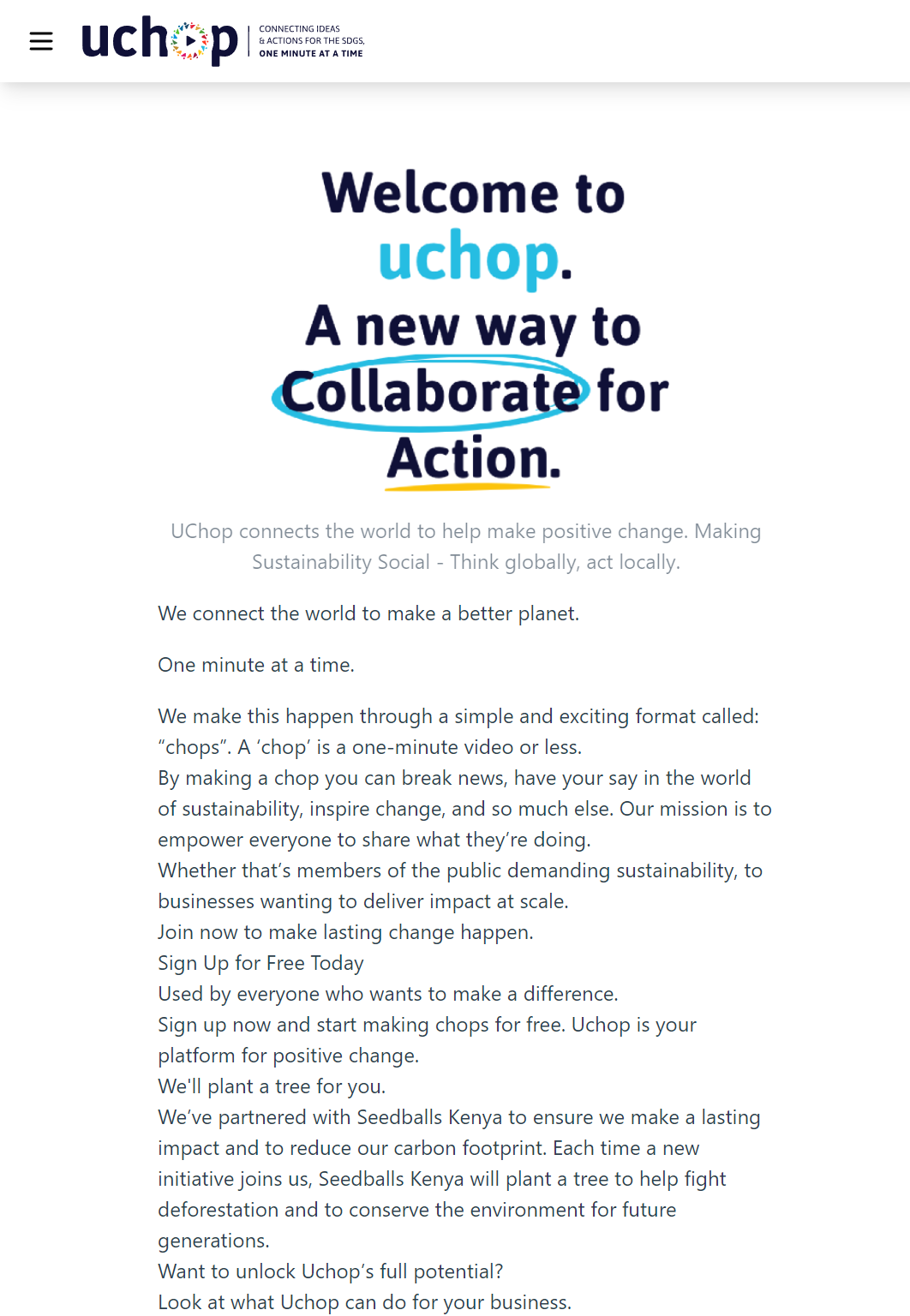 Here is the original landing page that the Product Manager had created. As you can see, there is no definition of headers, there's a lack of consistency on how the copy is laid out, CTAs are hidden within the copy, and overall the page is messy and is difficult to read and navigate.

I started by looking over the user personas the team had supplied me with to understand their needs deeply. The overall need was for a platform where short-form videos telling sustainable news, ideas, and initiatives could be quickly uploaded in real-time and shared with the broader sustainable community.
The user base is international, and English is often their second or third language, so the UX copy had to simple and clear. They are also busy, professional people, so time is precious. I concluded that the simpler the landing page design is, the better.
I came across this landing page by Shopify that I felt matched what was needed for Uchop.
Proposed design and UX copy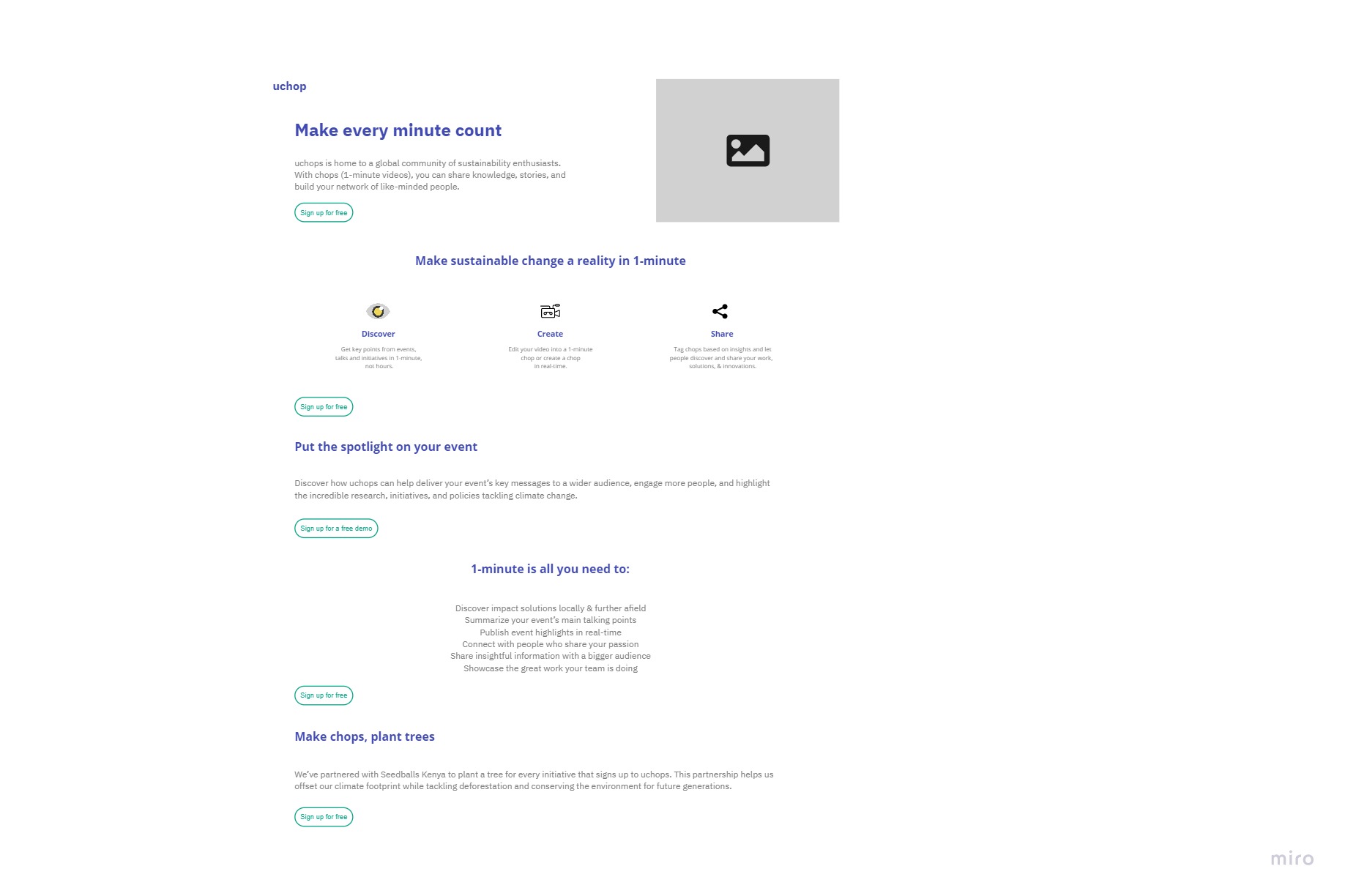 My vision
After sketching my design on paper I created this wireframe in Miro, and I then added the UX copy. I presented it to the Product Manager and following a critique and a couple of changes it was signed off based on the following reasons:
Clearly defined sections

User centred main headline

Concise CTAs that stand out with the use of contrasting colors

Key points are present above the fold

User benefits are presented using bullet points

Scroll the image to see how the page looks on a desktop or click the 'View page' button to be taken to the live page.