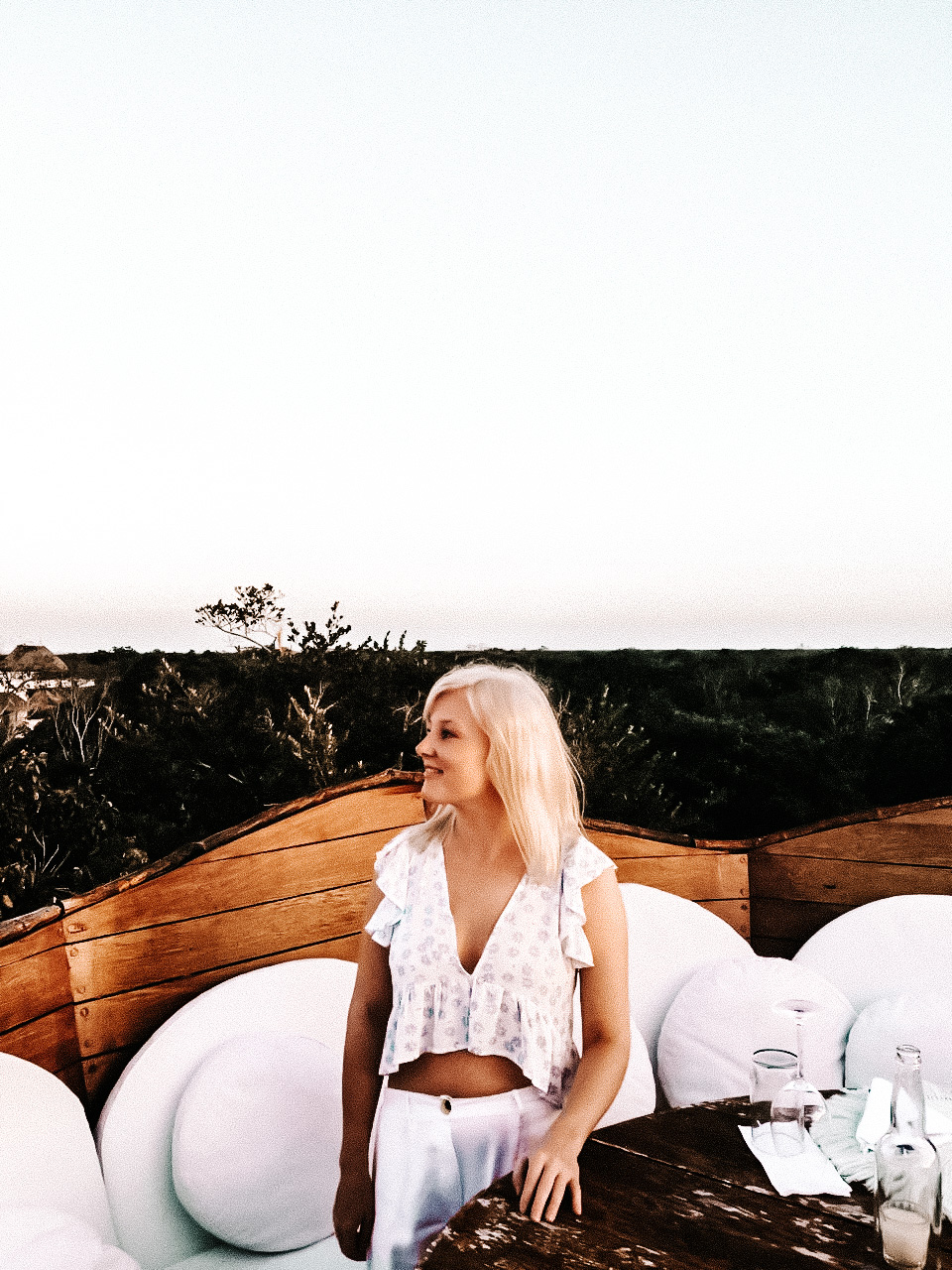 Ewelina Majkutewicz
UX Writer
Handshake mobile app
UX writing project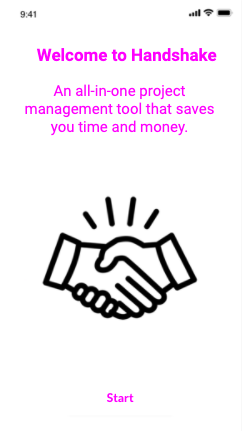 Project
This is a UX writing project for the UX Writing Fundamentals certified course from the UX Writers Collective.
Handshake is a fictional project management and payment app designed for Freelancers and Business Owners.
Business Owners use the app to pay freelancers and track the progress of hours worked (paying and tracking).
Freelancers use the app to bill Business Owners and report progress on a paid project (billing and tracking).
These two user types share the app. Each of these users has a view of one side of the app: one uses it for billing and the other for paying.
Freelancers are the primary users. They report billable hours and request payment. Small Business Owners are secondary users. They can approve hours and send payments to the freelancer.
I had 4 different tasks:
Proposing a tone of voice and mapping the tone across the app experience

Proposing headline + subhead pairs for the onboarding screens

Creating welcome and cancellation emails

Creating reviewing and editing UI copy
"I loved the approach you took with all of your design insights, including asking questions of the team!

Your proposed changes were completely persona-motivated. You helped the team understand proposed changes and the "so what?" behind them. Continue to ask questions and collaborate!

Fantastic, appropriate voice throughout. This is a difficult skill to perfect, and it was well executed in your writing!"
Feedback from Carly Gray (instructor)
Personas
Based on the interviews, UX researcher set up 2 personas. I referred to them throughout the entire writing process.

Research
Before deciding what terms to use, I did research and competitor analysis.
I had to understand what words both Freelancers and Business owners use when it comes to projects, work, and payments. I researched competitors and took a look at discussions on popular communities such as Quora, Reddit, Twitter, Facebook, and LinkedIn.
This content research helped me understand what terms and tone Freelancers and Business owners use commonly. Based on the data, I chose the most popular words to mirror users' language.
To make sure Handshake sounds natural, used plain English.

Before making the final decision, I'd test the copy on potential users.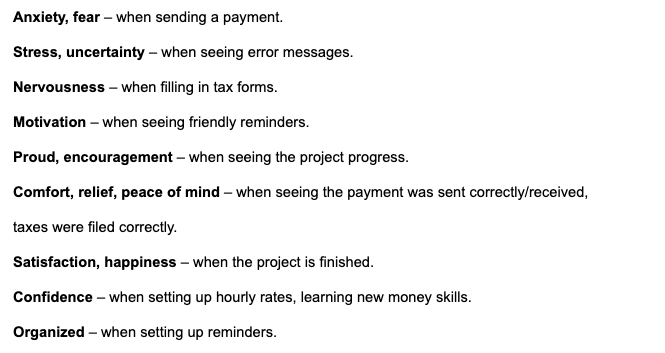 After the research, I had a better idea of how Handshake should sound. I started to think about the emotions users might feel while they're using the Handshake app.
I came up with a list of adjectives and different situations.
Empathy and compassion are essential for good UI writing.
I wanted to acknowledge these emotions where appropriate in the UI.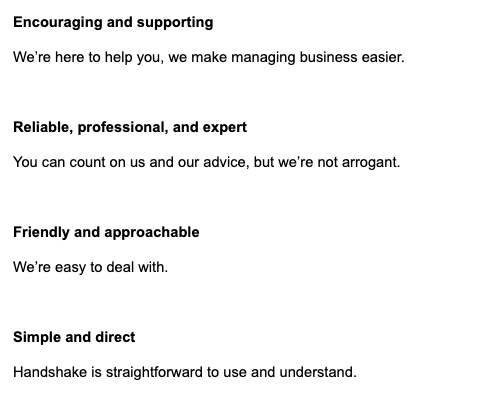 I started to think about the voice attributes for Handshake.

How should the text in the app sound?

What words should I use to describe the app's voice?
I proposed adjectives that explain Handshake and the idea behind it.
No jargon and technical terminology. Handshake uses conversational, simple language that helps users get the job done.

Headline + subhead pairs for the onboarding tour screens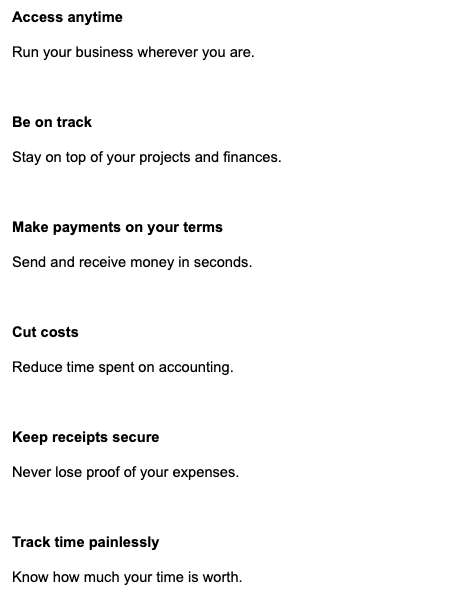 The designer asked me to brainstorm some headline + body sentence pairs for the app's onboarding tour screens. I had to provide at least 6 options that describe shared benefits for both Freelancers and Business owners.

Each pair reinforces a solution to a problem or an annoyance expressed by users.
Welcome and cancellation emails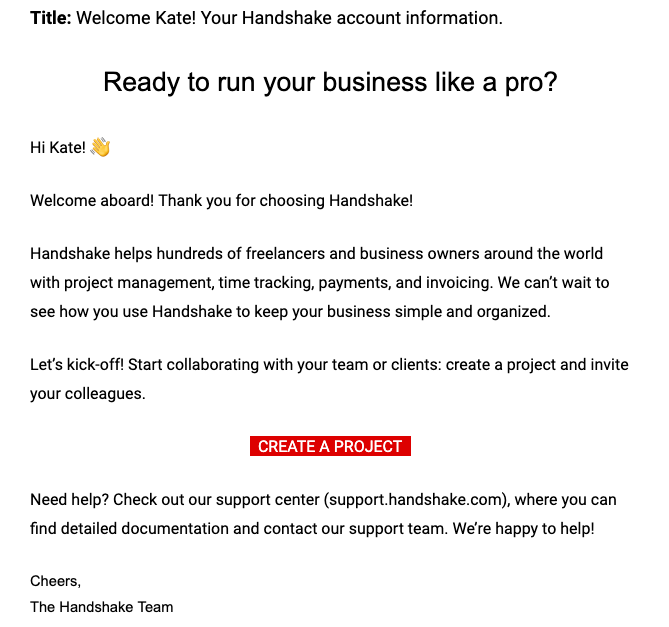 Firstly, I had to write an email for people who just signed up to use Handshake for the first time.
My goals:
Remind users of the main features and benefits

Thank users for signing up
Offer help
Provide a clear CTA that inspires action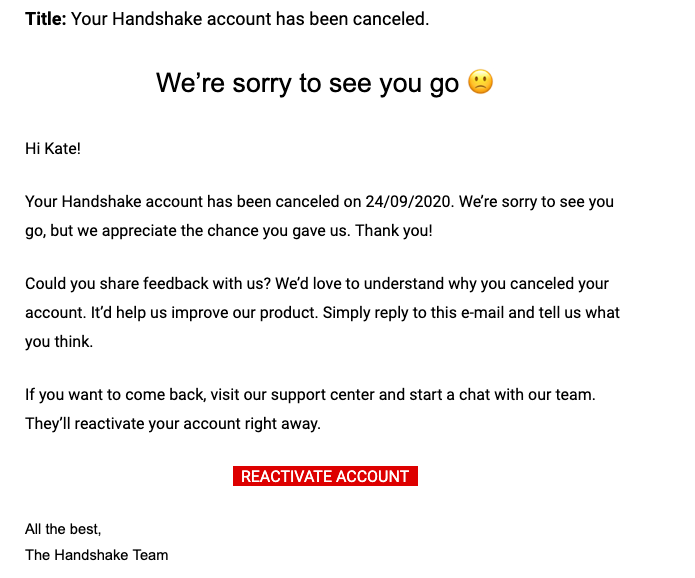 Then, I wrote an email for customers who just canceled their accounts. I wanted to create a simple, yet positive message. I used the opportunity to get feedback from users.
My objectives:
A clear and straightforward message

Thank customers for using Handshake
Provide a simple CTA that prompts action
Provide a survey to let customers share their feedback
I was provided with mockups and had to rewrite the text using my recommended voice and tone. I had to make sure users have all their questions answered and instructions are clear.
The design has flaws, however, changing the re-designing mockups was not part of this challenge. I focused only on the copy.
My role:
I edited the UI copy including titles and CTAs.

I added microcopy suggestions.

I incorporated a suitable tone for each step.
My edits are in pink.
My comments/questions I'd ask designers are in grey.
Welcome screens edits:
- I added a short copy presenting Handshake benefits

- I added a "Forgot your password?" link to offer users' help
- I edited the success message to make sure users know what to do next and encourage them to take action
- I replaced vague headlines with clear objectives
- I replaced technical jargon with simple terminology to make copy easy to understand
Business owner setup process edits:
- I reviewed and edited terminology
- I corrected punctuation, spelling, and grammar mistakes
- I added microcopy
- I included focus placeholder text for clarity
- I edited headlines to keep them in the same content pattern
- I focused on users' goals
Freelancer setup process edits:
- I reviewed terminology to keep it consistent with the Business owner set up process
- I corrected punctuation, spelling, and grammar mistakes
- I added microcopy
- I included focus placeholder text for clarity
- I edited headline to keep them in the same content pattern
- I focused on users' goals
Success message edits:
- I added "OK, got it!" button so users can close the pop-up
- I celebrated the user's success and made clear what they achieved

- I included short info of what to do next
Business Owner ongoing use edits:
- I added additional info next to Week 1 and Week 2 to keep it consistent with the Freelancer view
- I replaced dollars with $ to keep it consistent across the app
- I edited the UI copy to make it more concise and easy to understand
- I edited the confirmation dialog to prevent mistakes
Freelancer ongoing use edits:
- I edited the UI copy to make it easy to understand and consistent with other screens
- I edited confirmation dialogs to prevent mistakes