goodpear
MICA MPS UXD THESIS CAPSTONE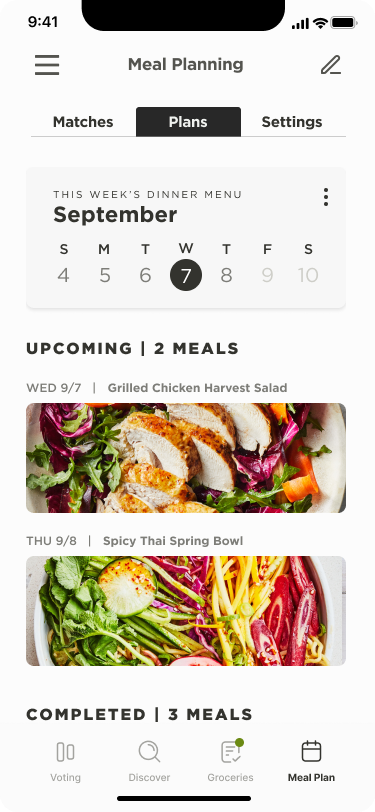 This is goodpear
A collaborative meal planning app that aims to save user time, money, and reduce food waste-so they can focus one what really matters-one another.
Role: UX Researcher | UI Designer | Project Manager | Content Strategist

Timeline (16 weeks): The discovery phase of this project started in MICA's MPS of UX Design program's UX Product Management course, and then finished discovery through design prototype during the Capstone Development and Presentation course.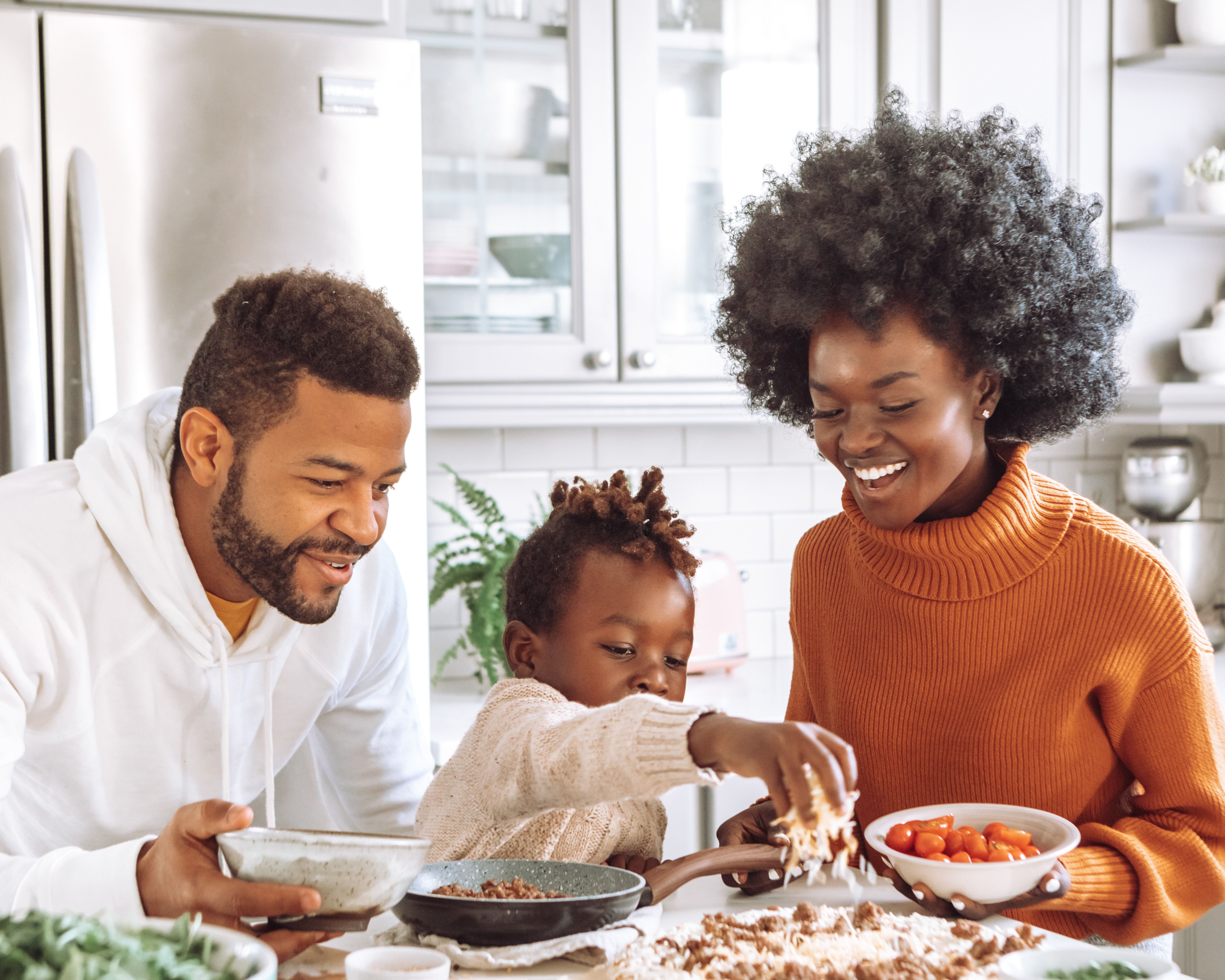 In 2020, we learned to savor the moments that were already there.
As many of know, this was a momentous year of change. But despite all the challenges we faced, as a society we had the opportunity to slow down, learn new habits and reintroduce new ones.
During the pandemic 93% of household were cooking at home more than they ever had before - recreating nostalgic meals, trying new recipes, and cherishing the time around the dinner table with their loved ones.
To put it simply, dinner bringing people together.
Key factors in play
As the pace of life picks up again there are a few factors that stand in the
way of enjoying our time around the table.
01 energy & decision fatigue
Choosing what's for dinner can be an exhaustive process. There are so many factors to consider and it's typically the last thing on our minds, especially after a long day.
02 stress of tight budgets
While cooking at home is the cheaper option, the current economic climate has people looking for ways to save money and cut costs wherever possible.
03 meal prepping takes work
A large majority of people find traditional meal planning to be a laborious process to start & maintain. While people see the benefits, most do not have the time to invest in the routine.
How might we make it easier & more exciting for budget conscious households to plan what's for dinner so that they can focus on what really matters.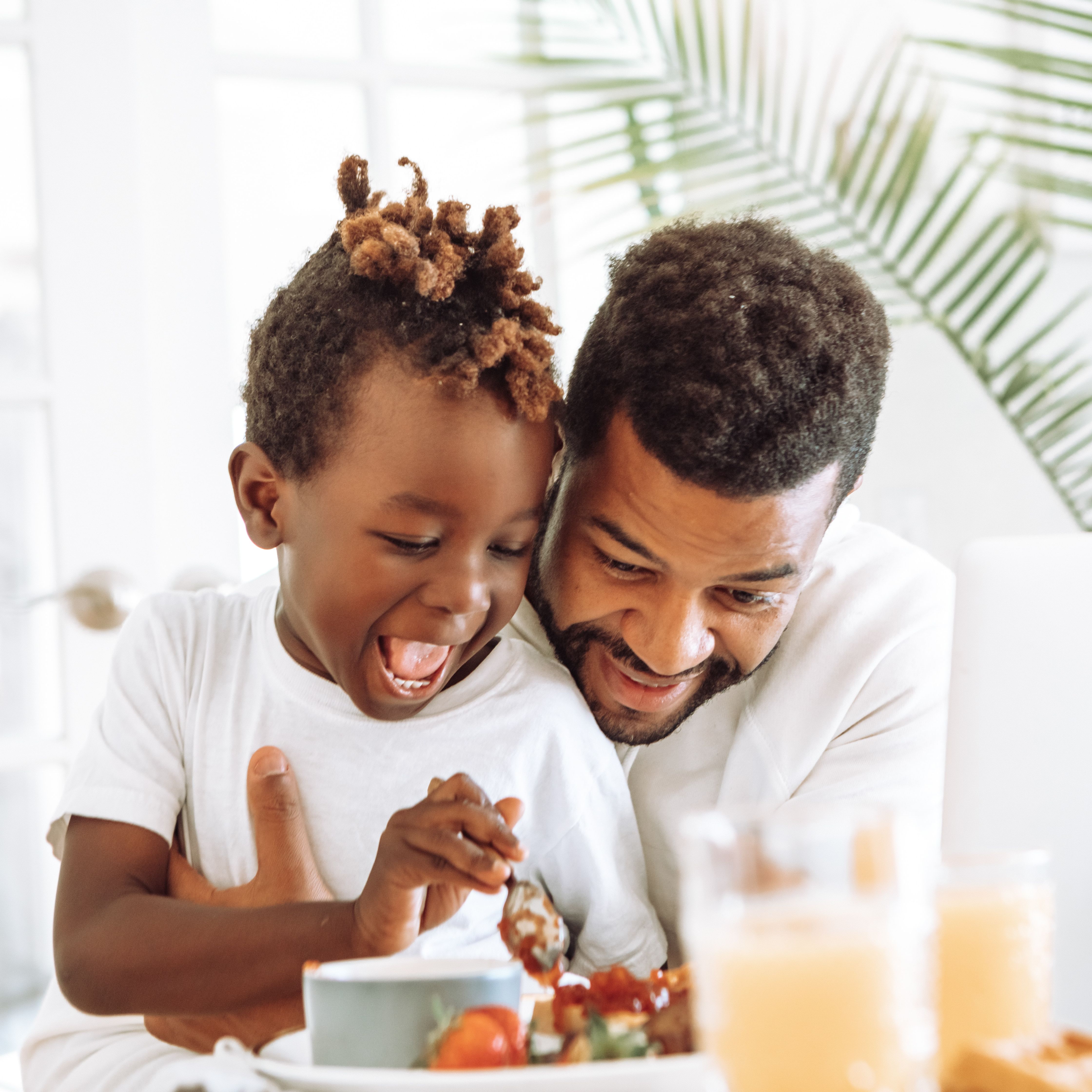 Evaluative Research
Google Survey | 95 total Respondents
I started with some evaluative research to survey the main pain points & delights associated with cooking at home
Top 3 pain points:
Time needed to cook

Energy required to plan or cook

Frustration of frequent food waste
Top 3 delights:
Generally healthier

Cheaper & more cost effective

Good use of quality time with others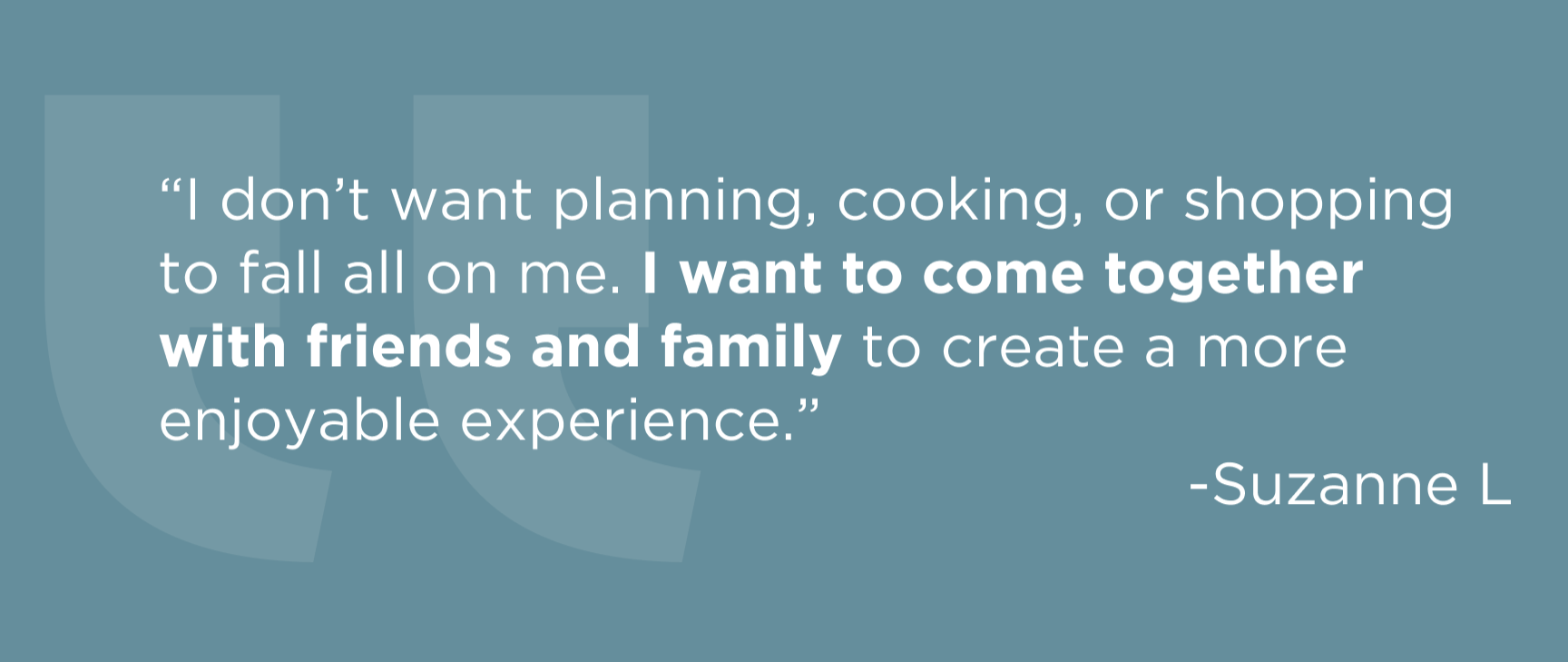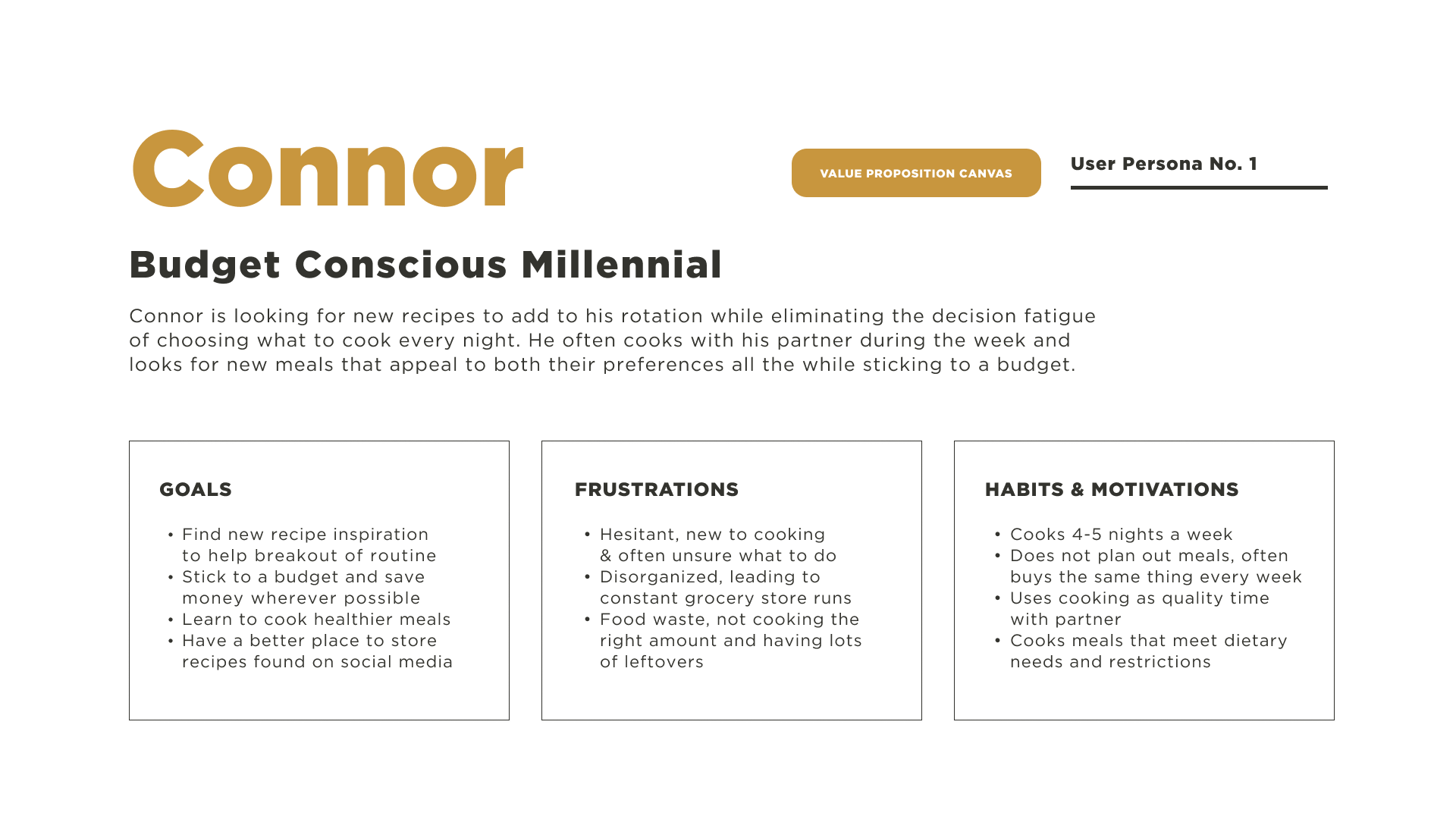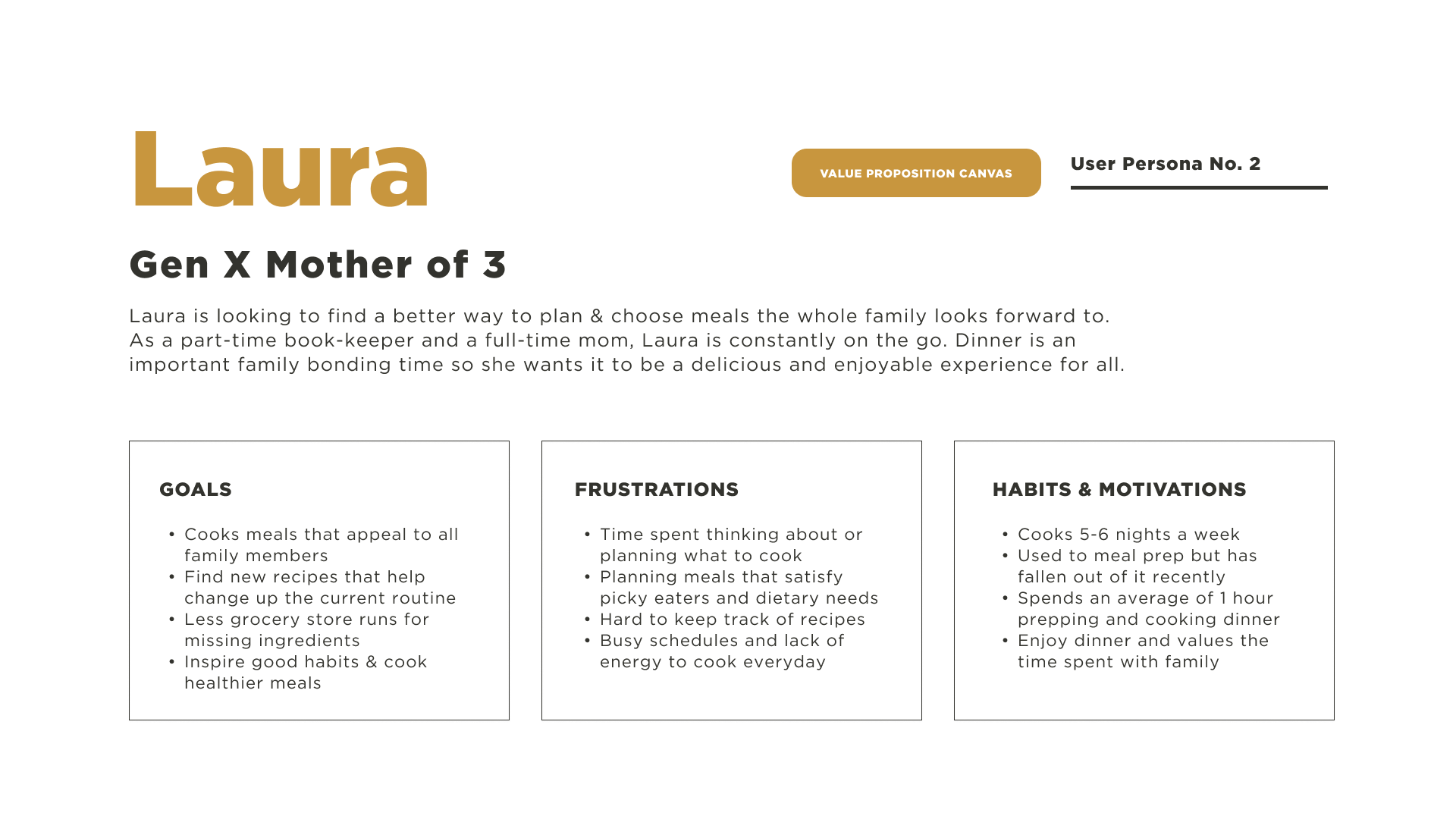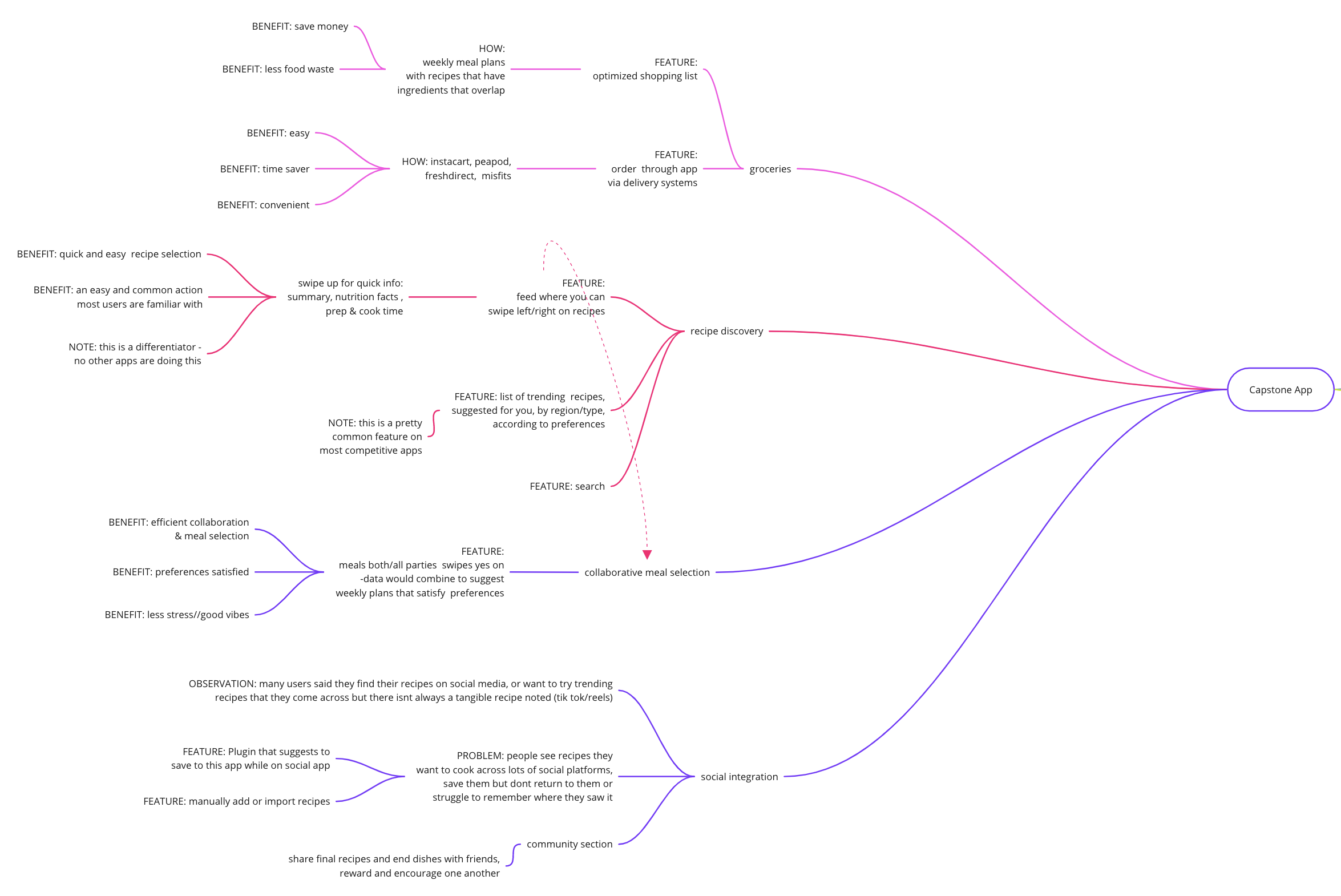 Mind Mapping
This was used to start visualizing ideas coming out of the research phase. Using a mind map allows you to start seeing how concepts and possible features can all connect in a system.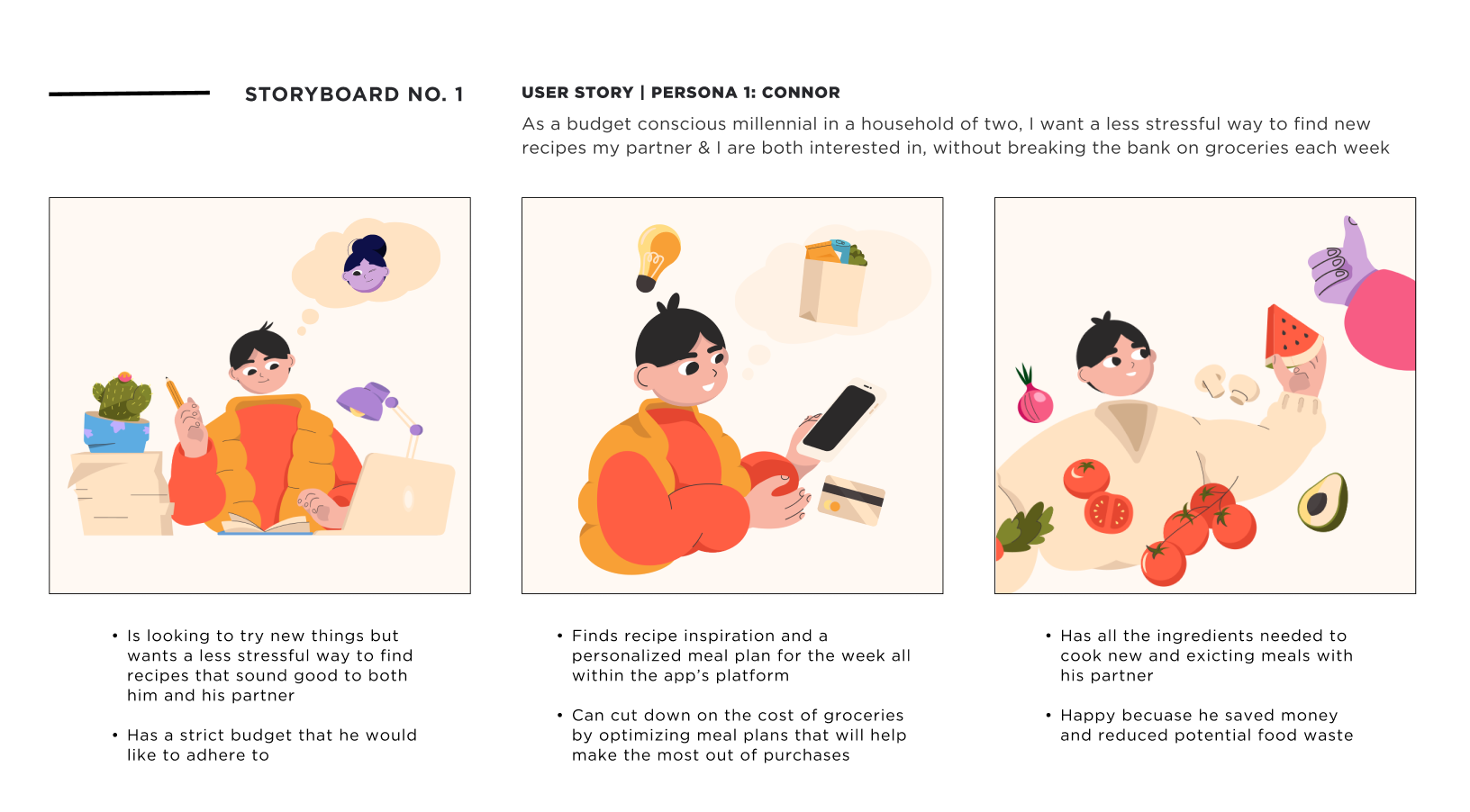 User Storyboards
Storyboards were used to string together personas, user stories and various research findings to develop requirements for the product. The benefit of using this tool at this stage is that it makes even the most complex ideas incredibly simple & clear.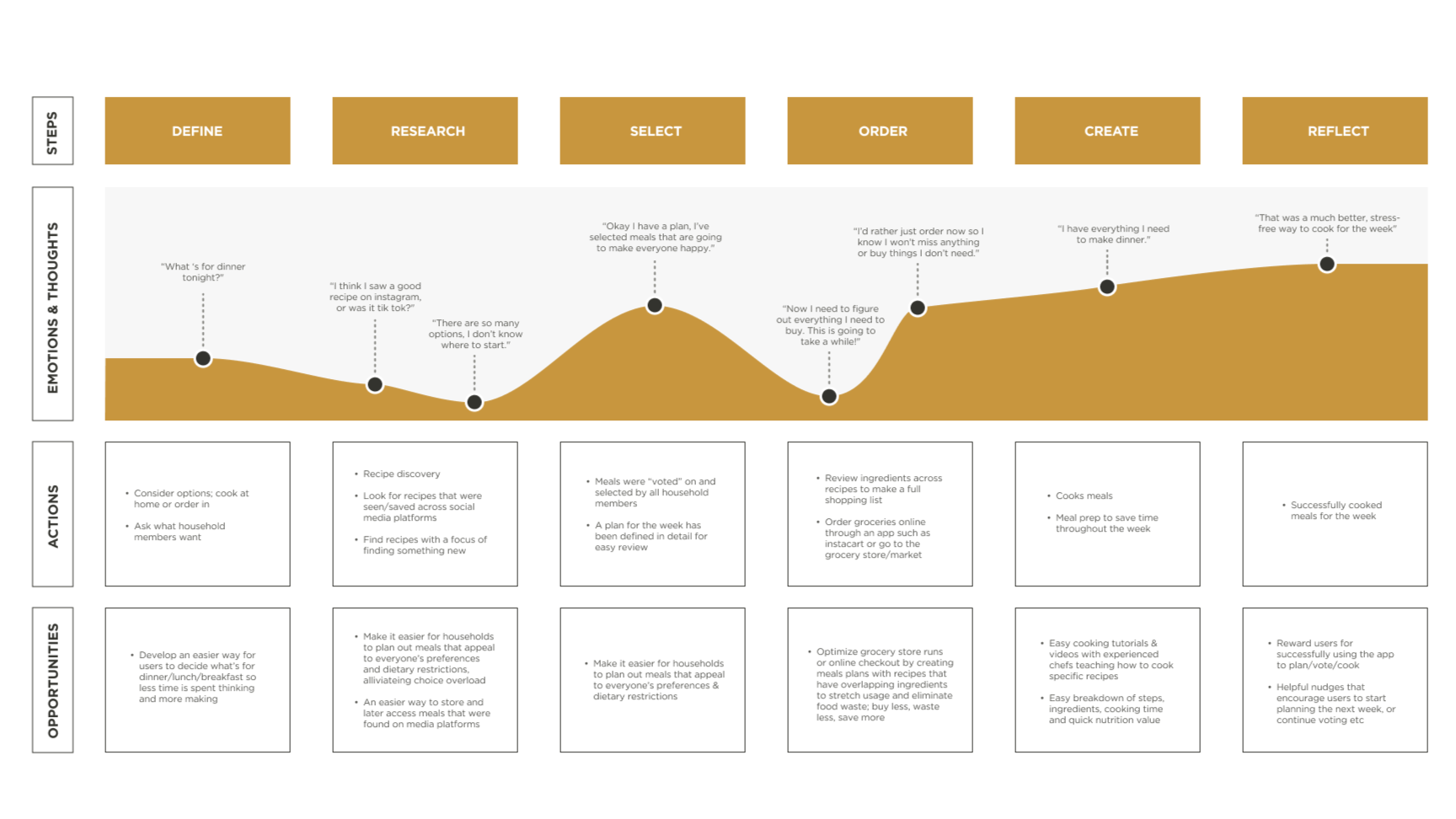 User Journey Map
Developing a user journey map helped visualize the experience from the user point of view to identify key flows and interactions needed to accomplish their goals. This helped with the development of the IA for the product.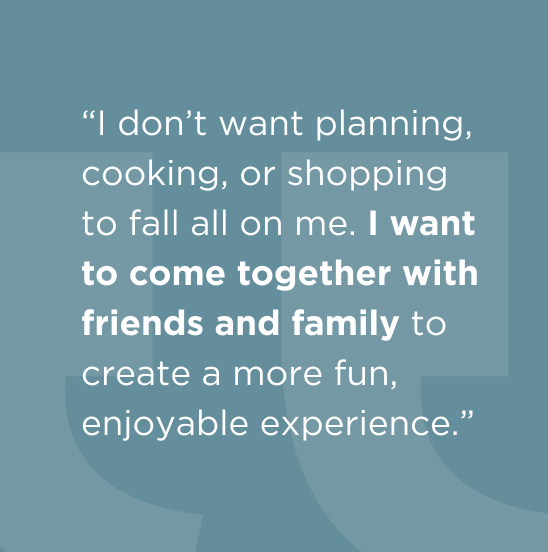 User Testing
OVERVIEW
Two phases of testing were implemented at lo-fidelity and hi-fidelity.
Main Takeaways
Icon selection must be incredibly intentional, they can be hard to interpret for users so in many cases labeling them or using a simple button is better

Key features and layout might make sense in a chart or IA layout but the true test is seeing if it makes sense to users as they are going through a task

Many users were excited about the features they saw and wanted to see even more of the experience to understand the impact from end to end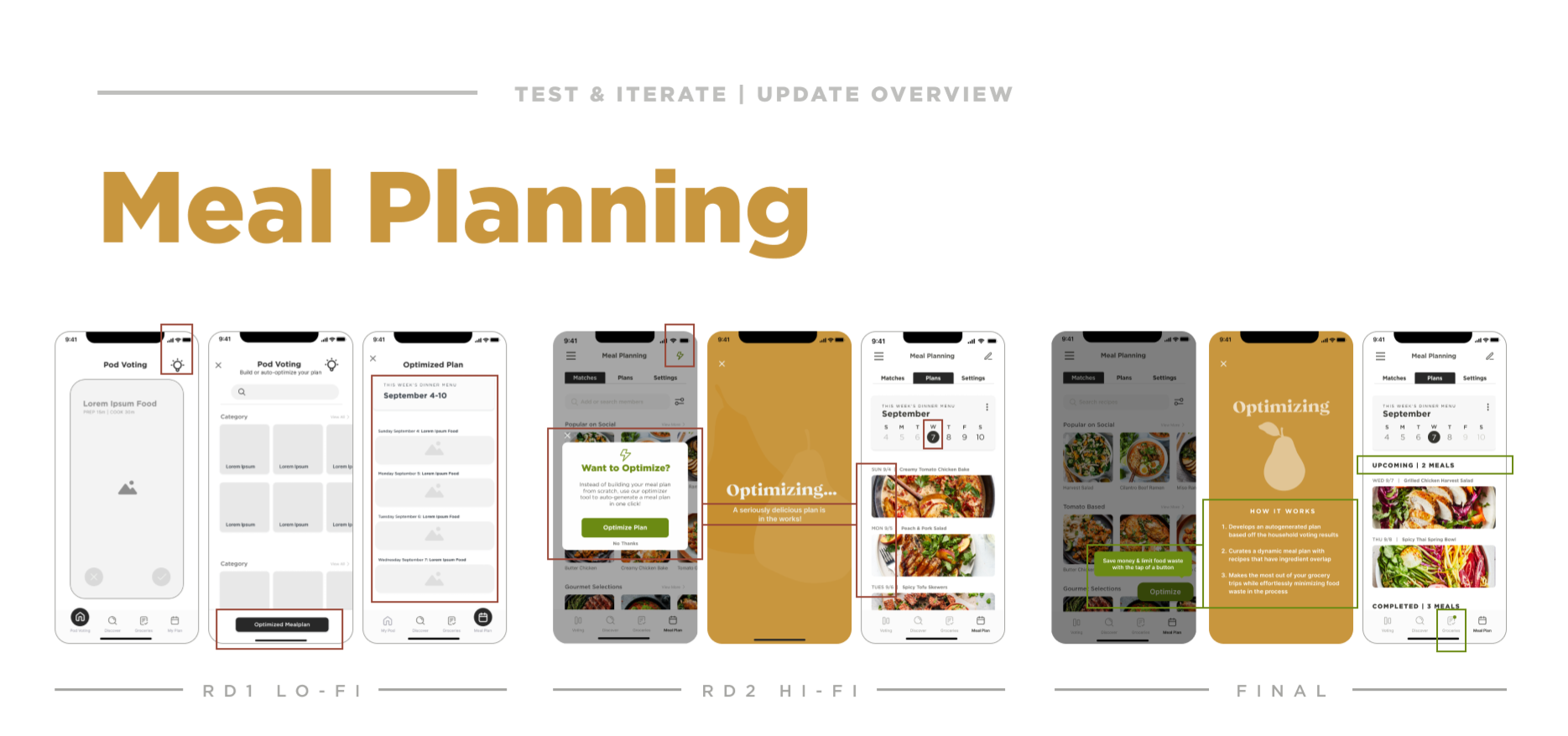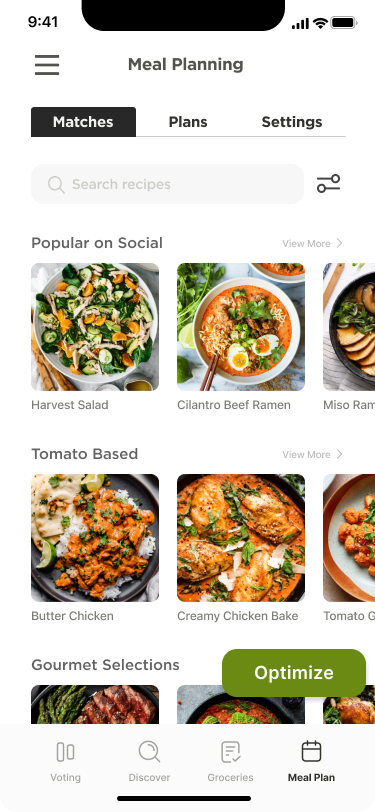 UI Design
Using Figma, 100+ screens were created to create an immersive experience across 4 key user flows: Onboarding, Voting, Meal Planning, Discover.
DETAILS:
Visual style: Fresh, light and minimal to allow the appetite appeal remain the focal point of the experience.

Apple & Uber were used as design inspiration for their clean and minimal design aesthetic. Additionally, food magazines such as Bon Appetite were used as references.

This was designed for mobile since the core voting feature utilizes "swiping" such as common dating apps. It's built for convenience and ease of mobile interaction.

Users appreciated how breathable the design was, making it very easy to navigate and discern where they wanted to go next.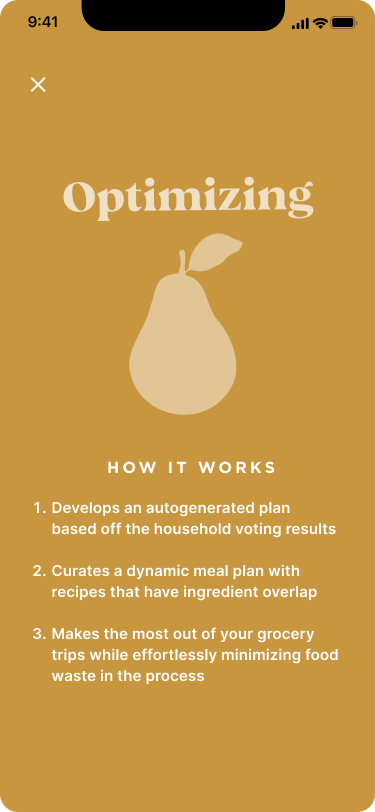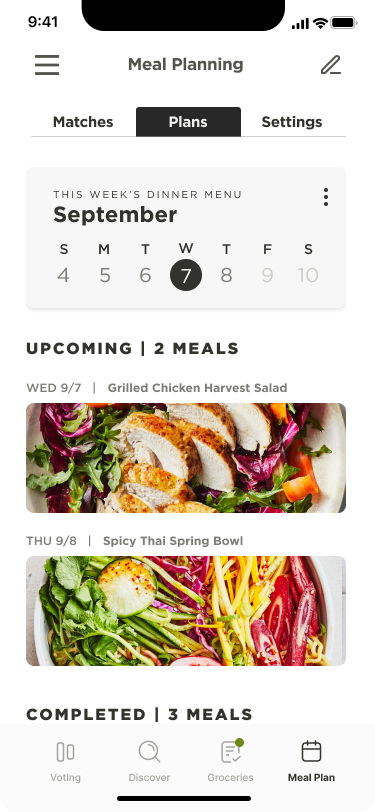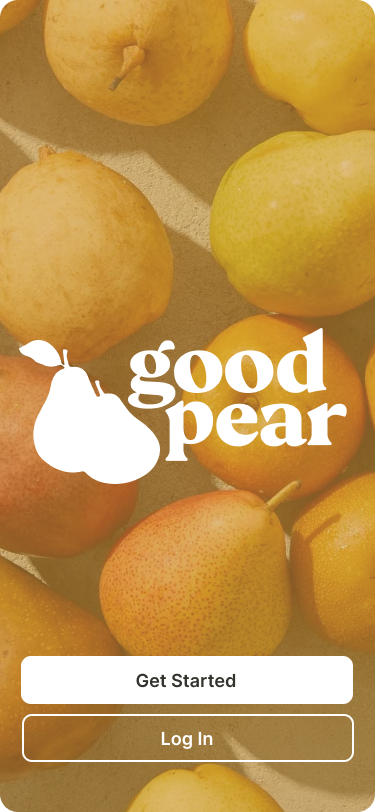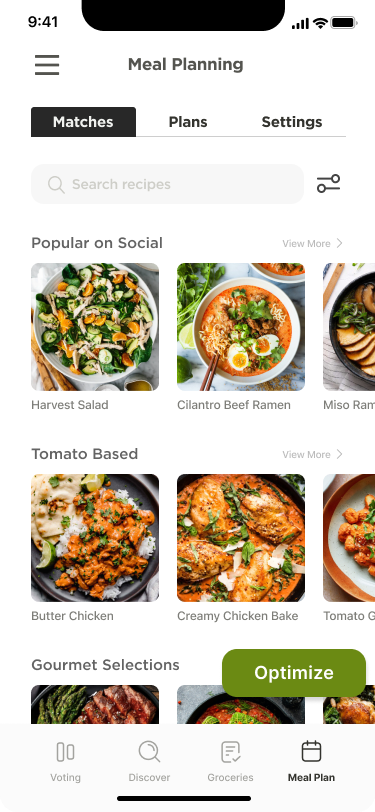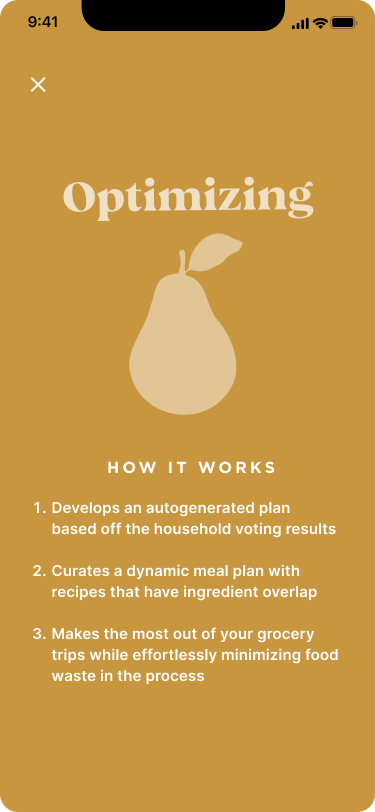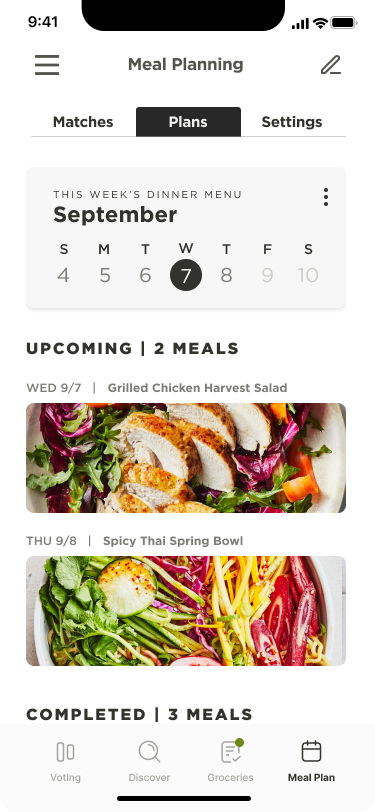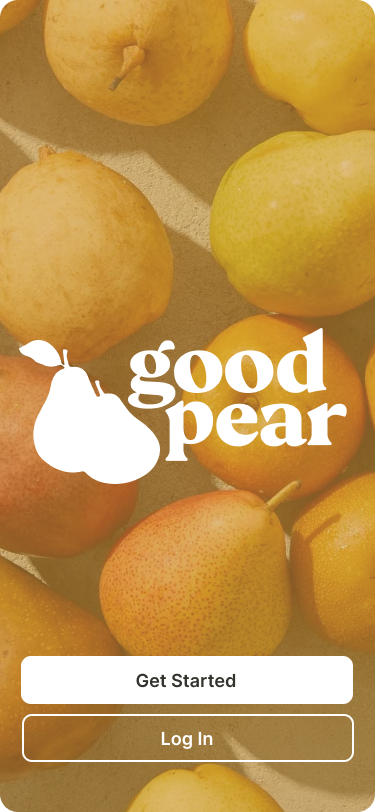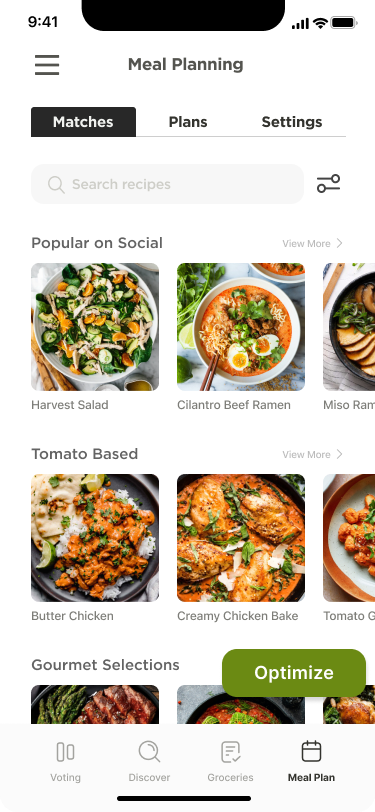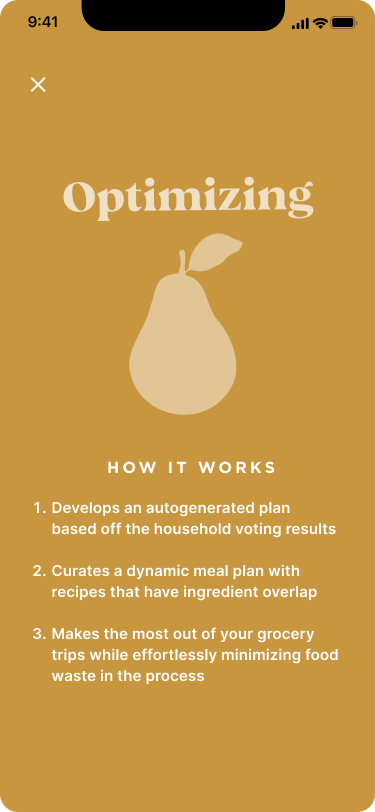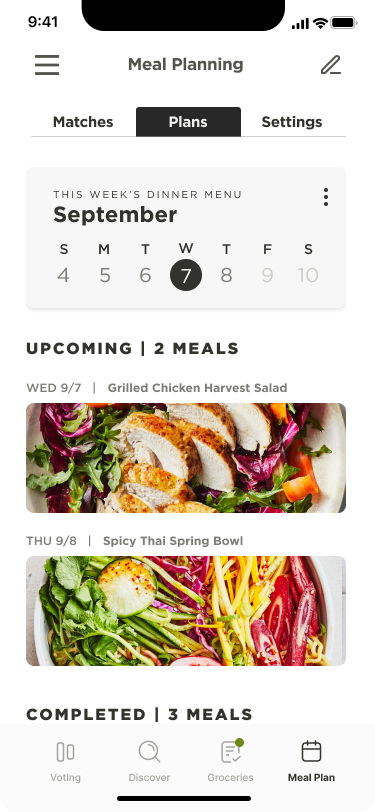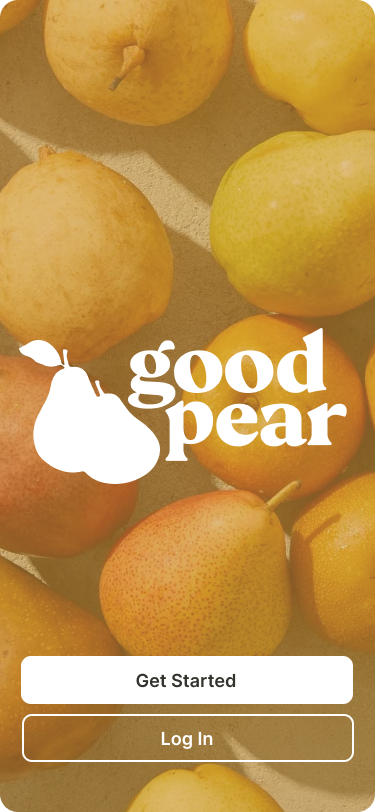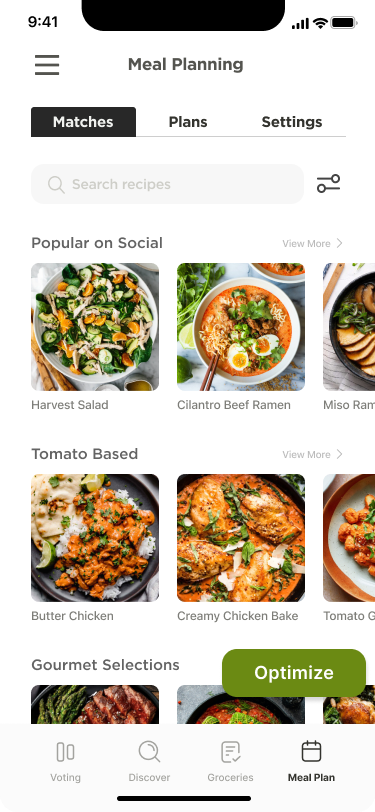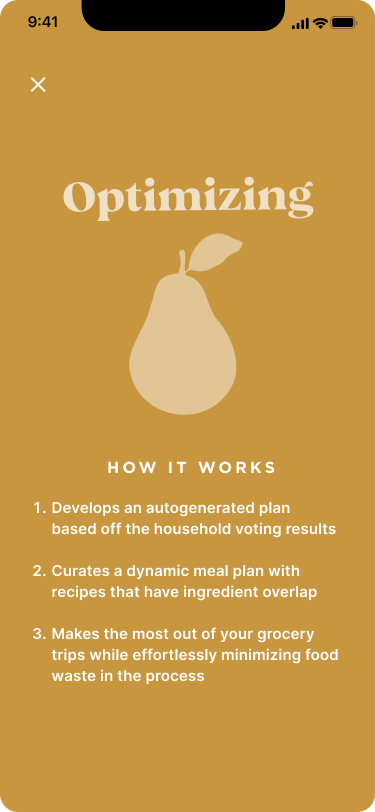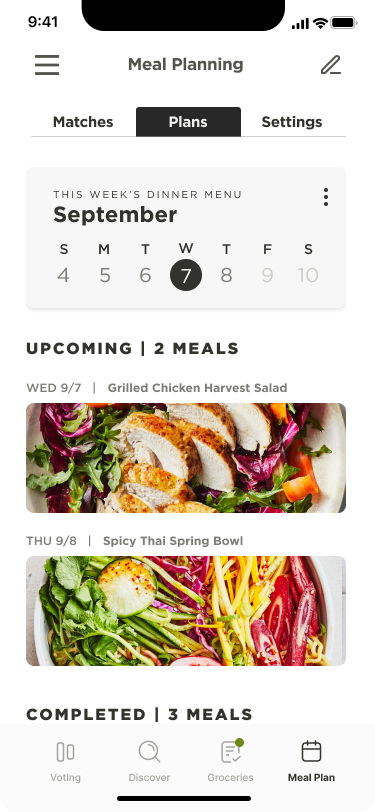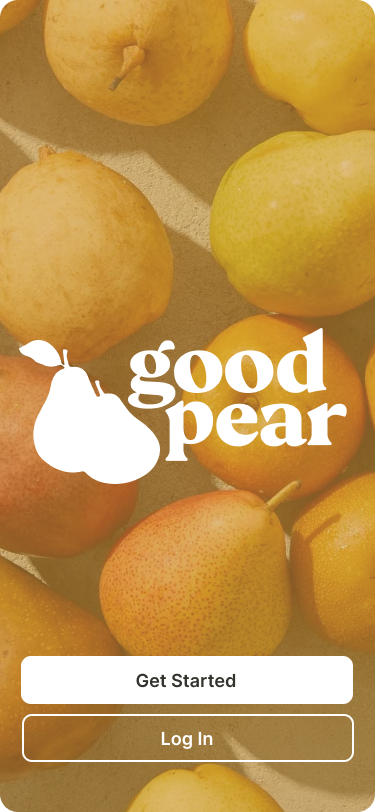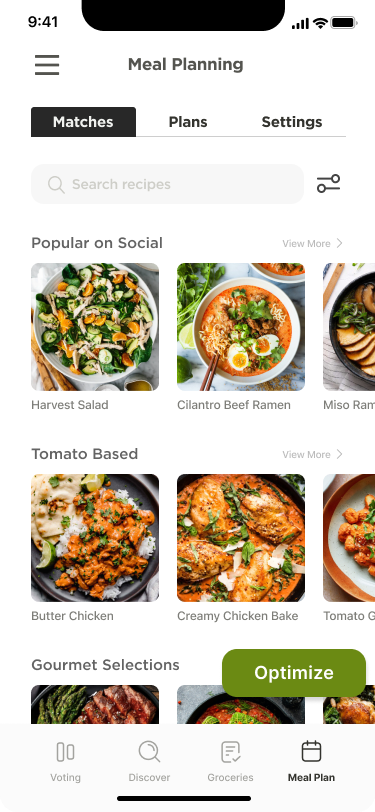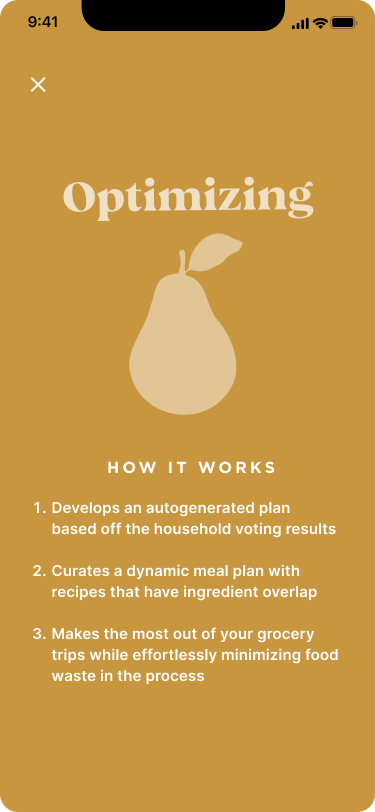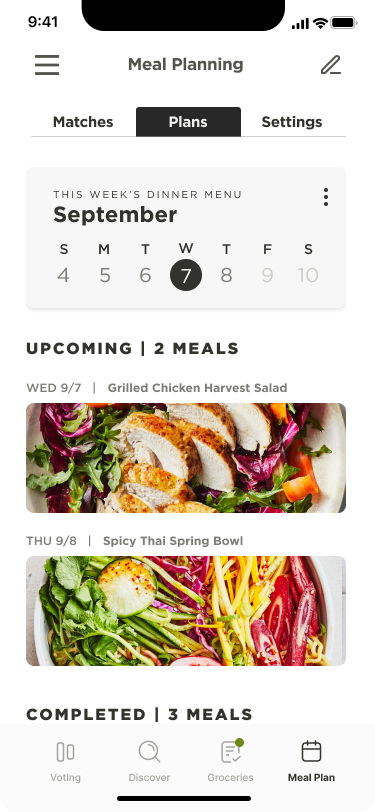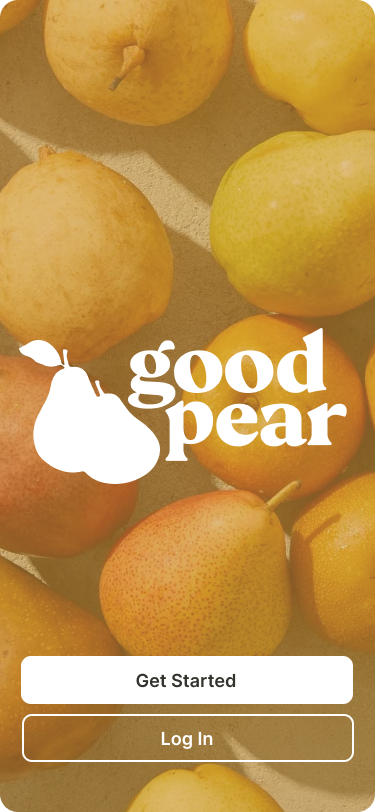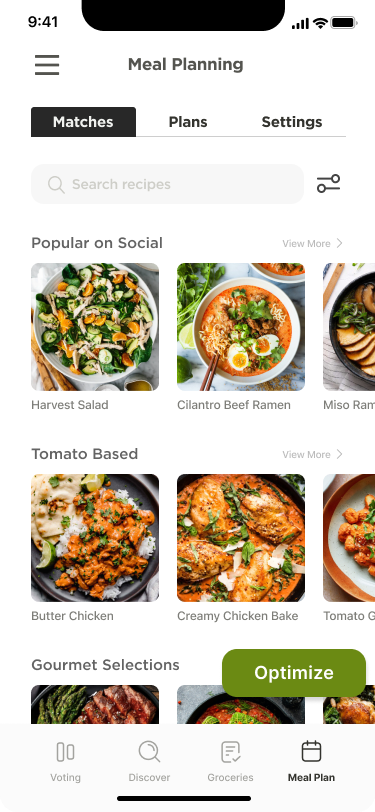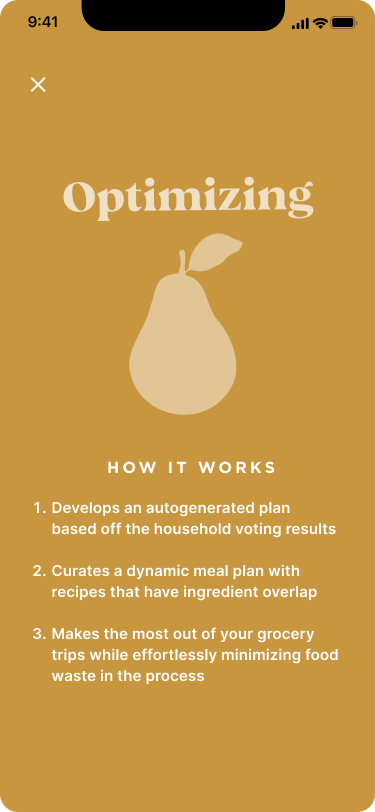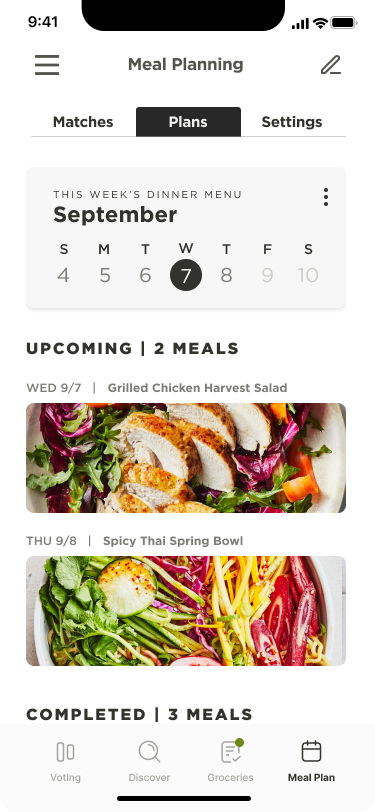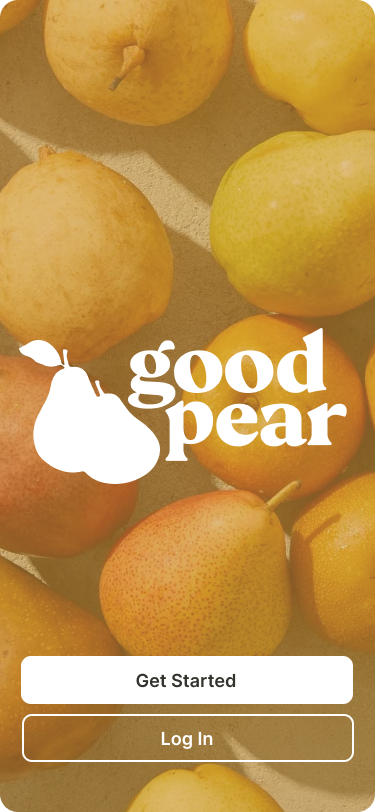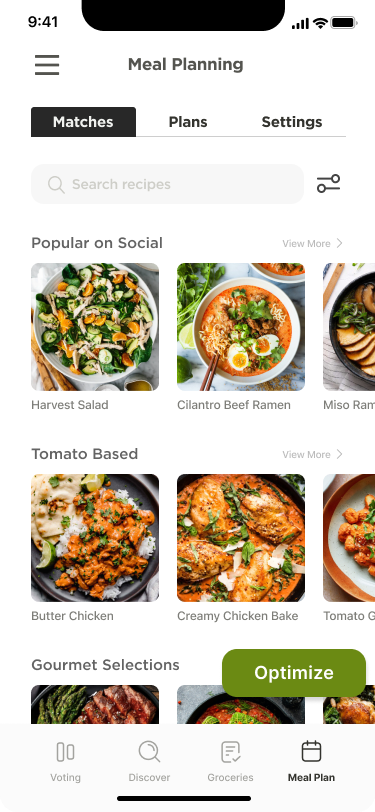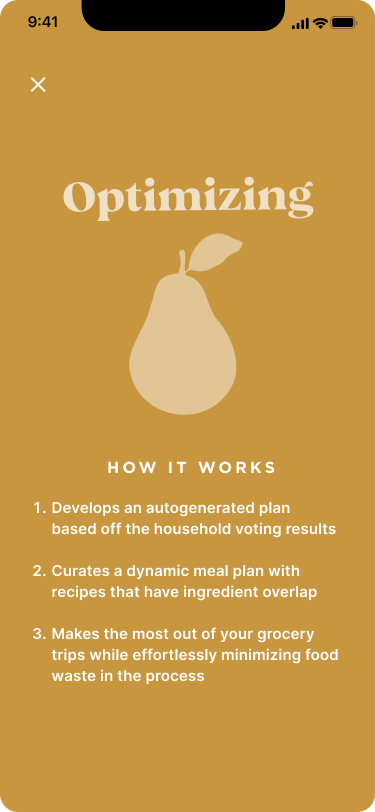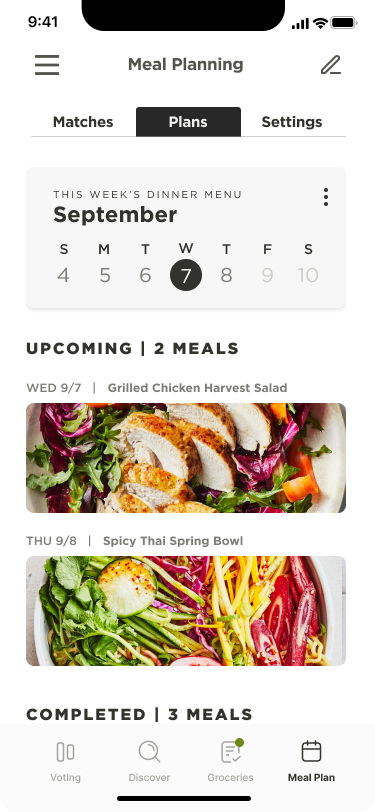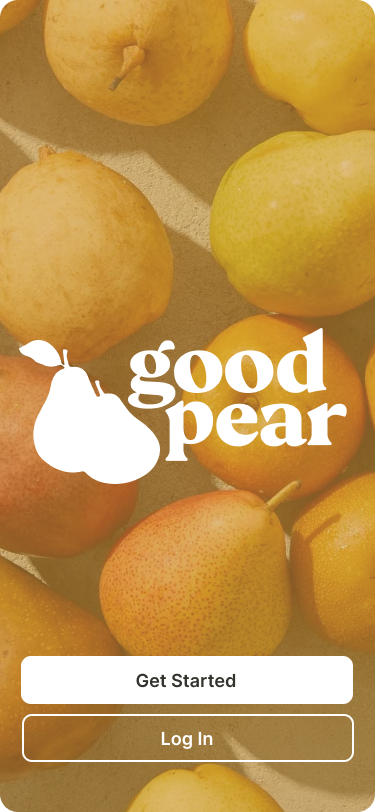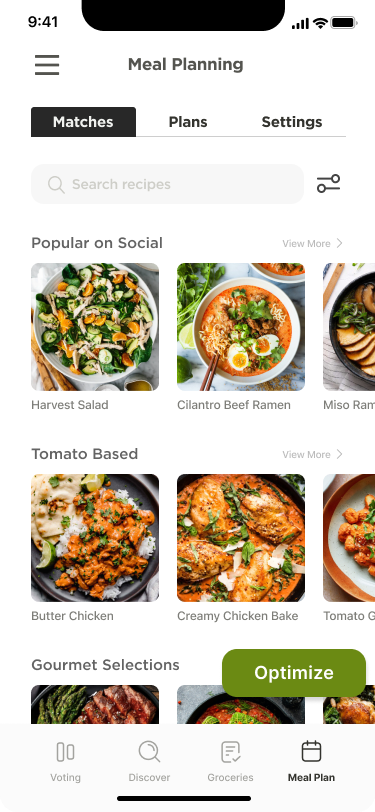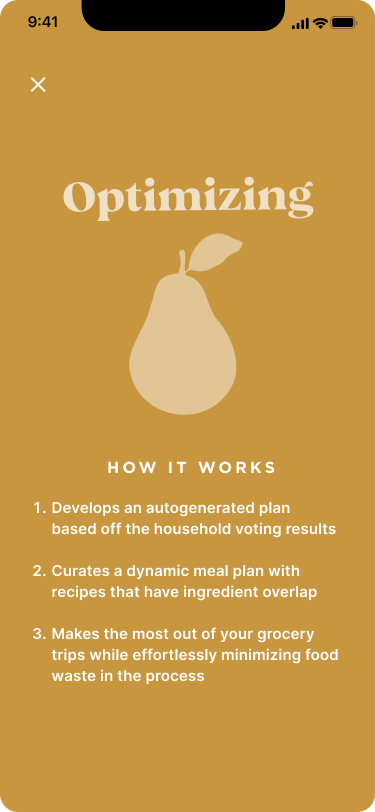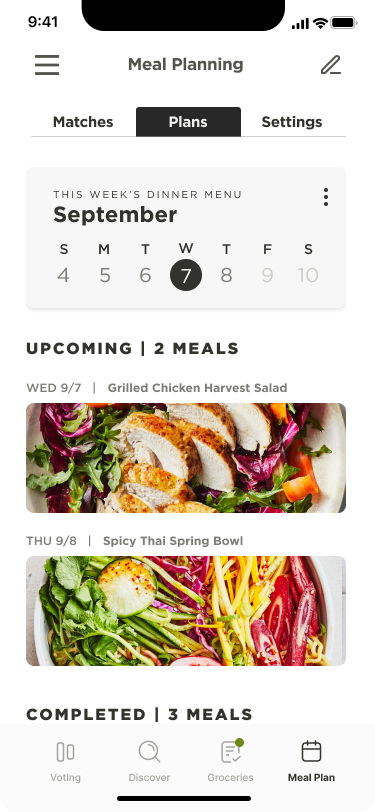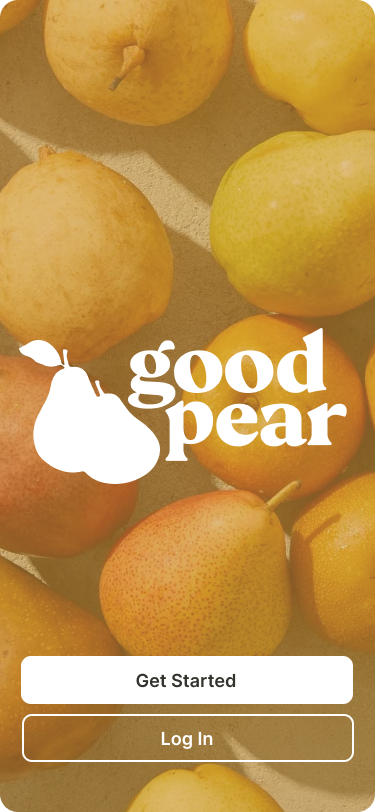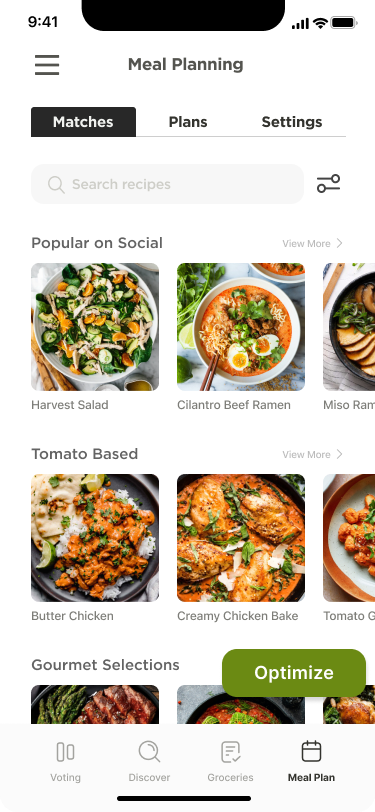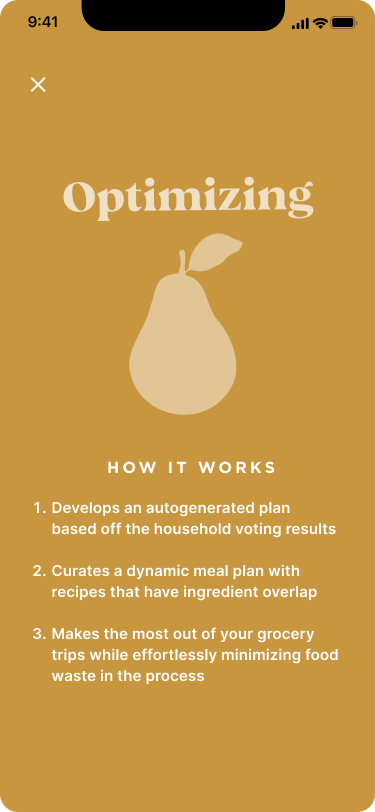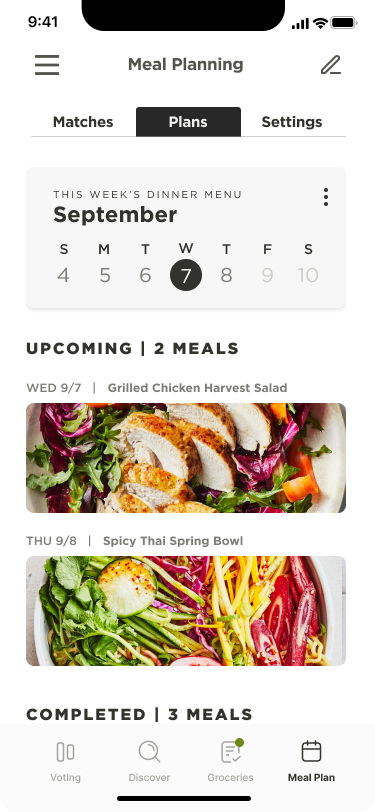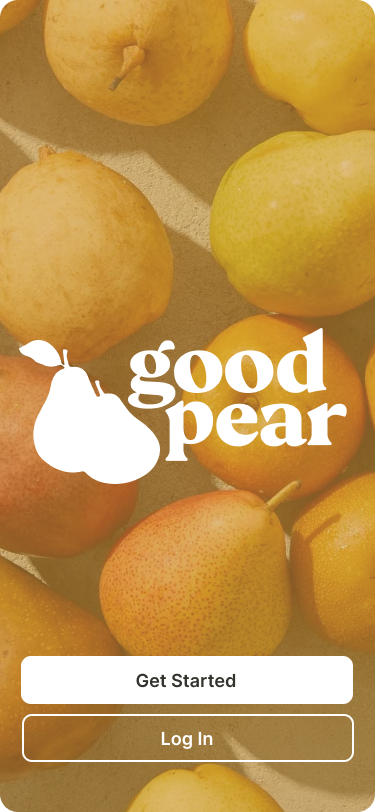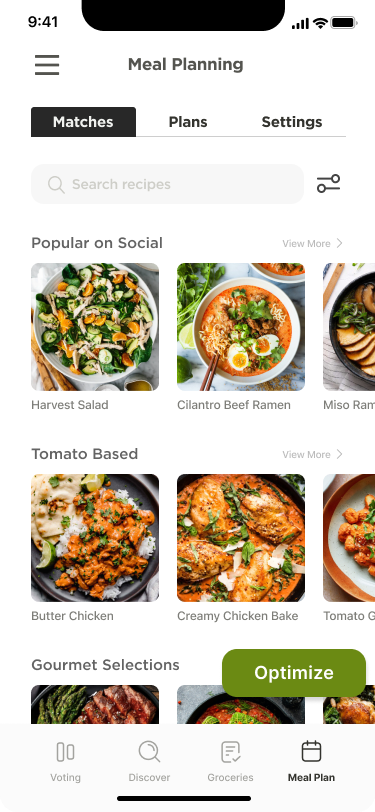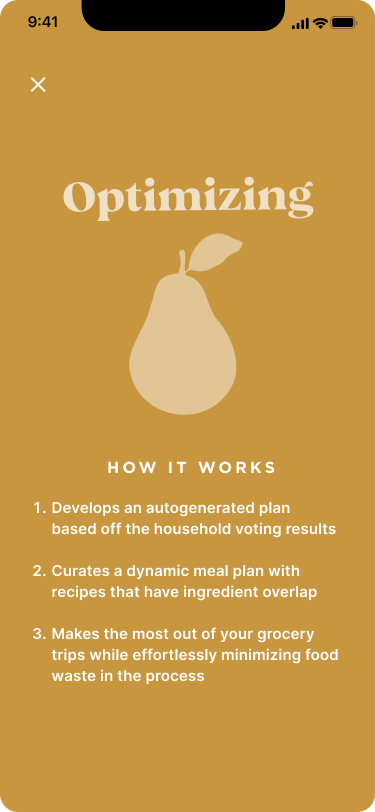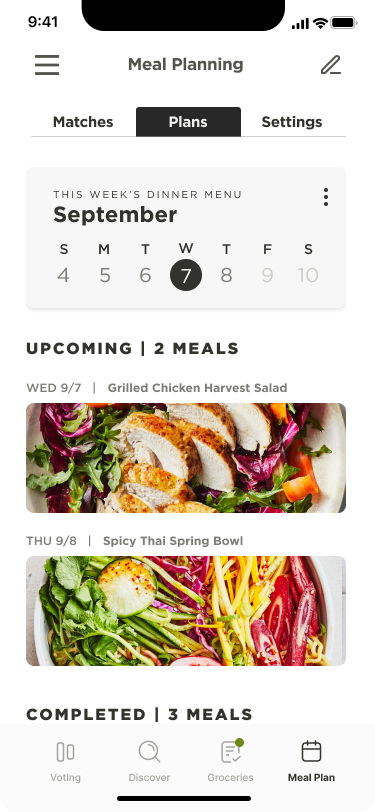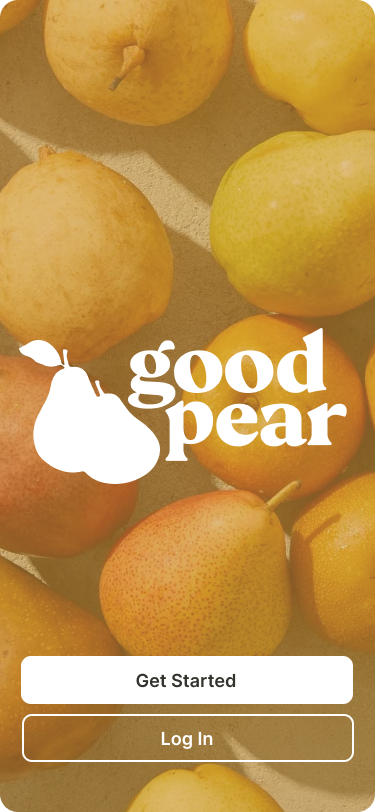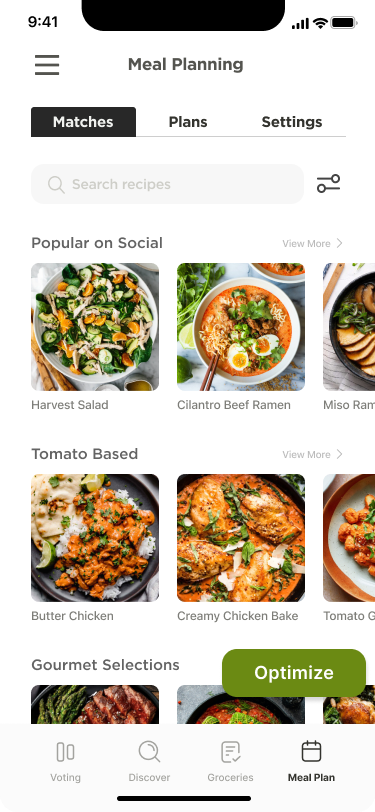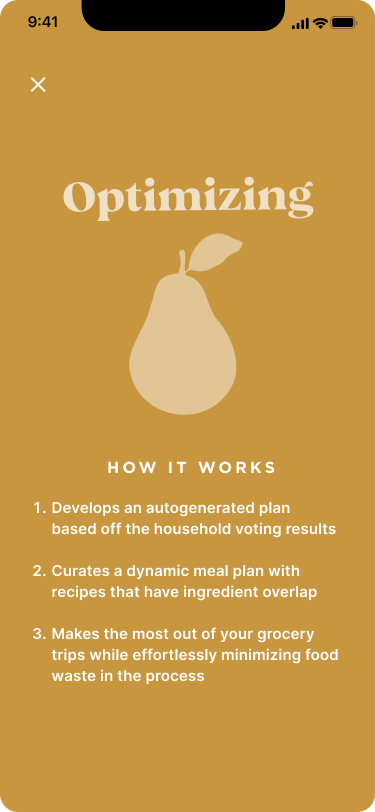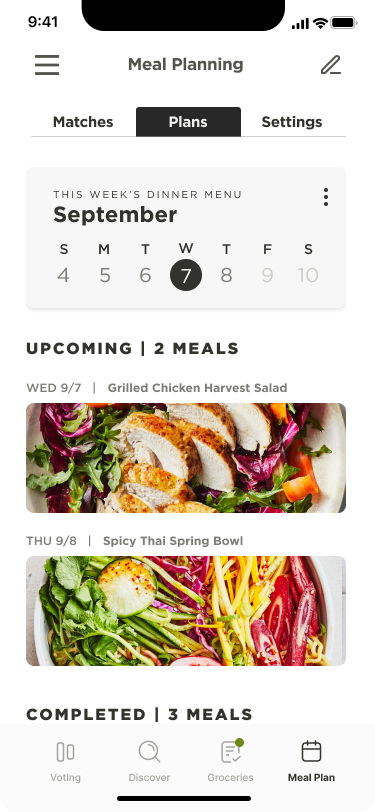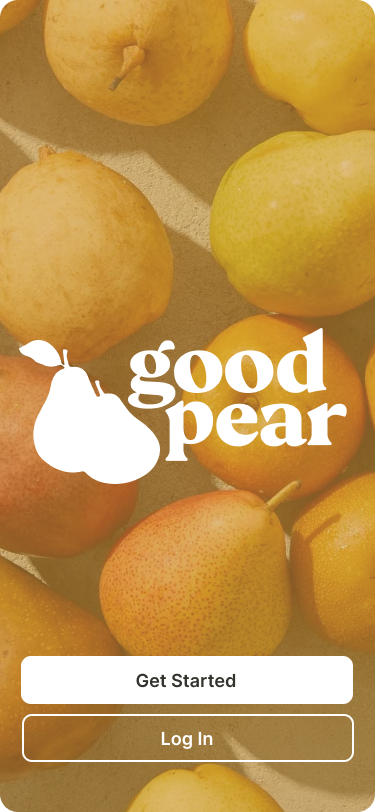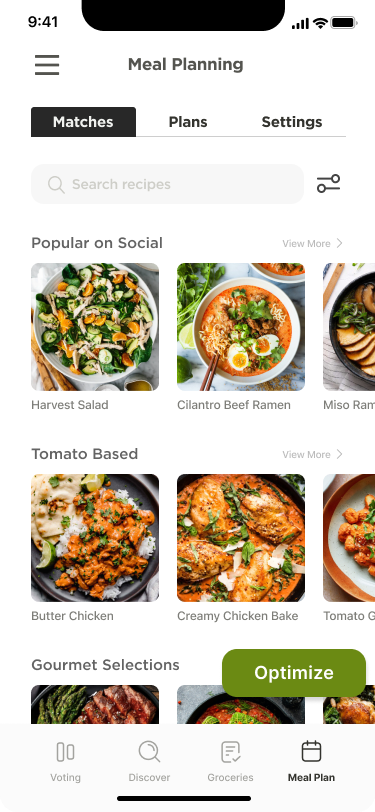 Learnings
It's important to get feedback early and often, testing at lo-fi can be invaluable especially if there are questions on the information architecture

It would be helpful to iterate more—especially early on—to prevent locking into a design layout that might not work as hard for the user

Lastly through this course I learned the impact of storytelling as crucial part of the UX process and its role for success of a new product
Next Steps
Incorporate food waste metrics & budgeting dashboards in addition to exploring the future state where alternate/temporary households can be created

Re-test and continue to iterate!