Don't make me think
Paytm Lite
How did this project start?
It's all started with two stories, Firstly, when one of my friend who generally use Paytm to recharge, pay bills and book tickets told me that he ended up booking a wrong train ticket, and later added that it's hard to use Paytm nowadays. Secondly, when I encountered these Youtube videos on "Paytm full training in Hindi | How to use Paytm | Full Paytm training", "How to use Paytm in Hindi | Full Process Sted by Step" and "How to use Paytm in Hindi full step by step" crossing 7 Million plus views in total. And then I decided to dig deeper into this problem.
UX Techniques Used
User Interviews | Competitive Analysis | Empathy Mapping | User Personas | User Flows | Wireframing | Prototyping
Timeline for this Project
1 week
Personal Goals
Finish a design project from start to finish.
Learn how to conduct and analyze user research.
Learn and apply Design thinking throughout the project.
Learn to use Figma for wireframes and prototypes.
Definition
Defining what is Paytm, its business side, various features and services offered by the company to its consumers.
What is Paytm?
Paytm is a digital payments platform that allows you to transfer cash into the integrated wallet via online banking, debit cards, and credit cards, or even by depositing cash via select banks and partners. Using the money in the Paytm wallet, you can pay for a number of goods without using cash.
Features of Paytm
Among the transactions you can make on Paytm are recharges for mobile phones, metro cards, DTH cable, data cards, etc, as well as postpaid payments for mobile phones, landline/ broadband, electricity, water and gas bills, etc. You can also book tickets for buses, trains, flights, movies, hotel rooms, etc. and pay for Uber cab rides using the platform. Additionally, you can buy goods on the company's e-commerce platform using the wallet, and even make offline payments at over 8 lakh merchants, Paytm claims.

Paytm Payments Bank
A Paytm Payments Bank is simply a bank that allows you to deposit up to Rs. 1,00,000 in the wallet/account. RBI, the Reserve Bank of India, let these services offer interest on these types of accounts to customers.
However, Paytm Payments Banks cannot issue loans like normal banks. They can, however, offer ATM and Debit cards, so you can get a virtual debit card at the very least from PayTM.
Research
Primary Research: I started my research by visiting the Play Store and the Apple App Store to collect data regarding experience and reviews of people.
In-Person Interviews: For this, I framed a few questions and then asked some random people like my friends, strangers and family members to gather data about their experience regarding Paytm.
Describe yourself and your job in 3 sentences.
Why you use Paytm for?

How do you feel about Paytm User Interface?

Use 3 words to describe Paytm
What other apps you have used except Paytm?

How do you feel about the Home Screen?

What are the best features of Paytm?

Tell me about the time when Paytm made you feel satisfied?

Tell me about the time when Paytm made you feel frustrated?

Is there any feature that you think should exist on Paytm but it's not there yet?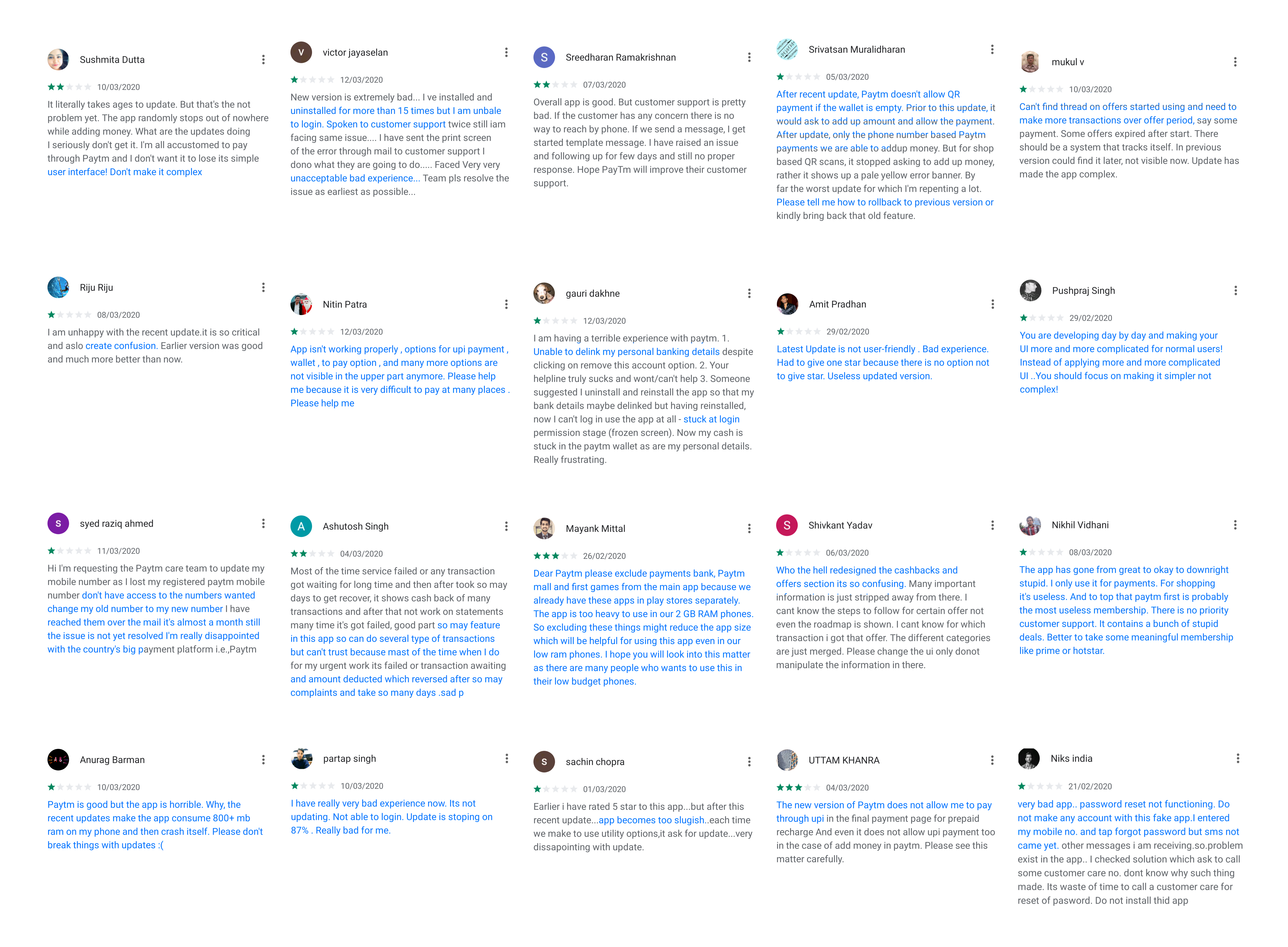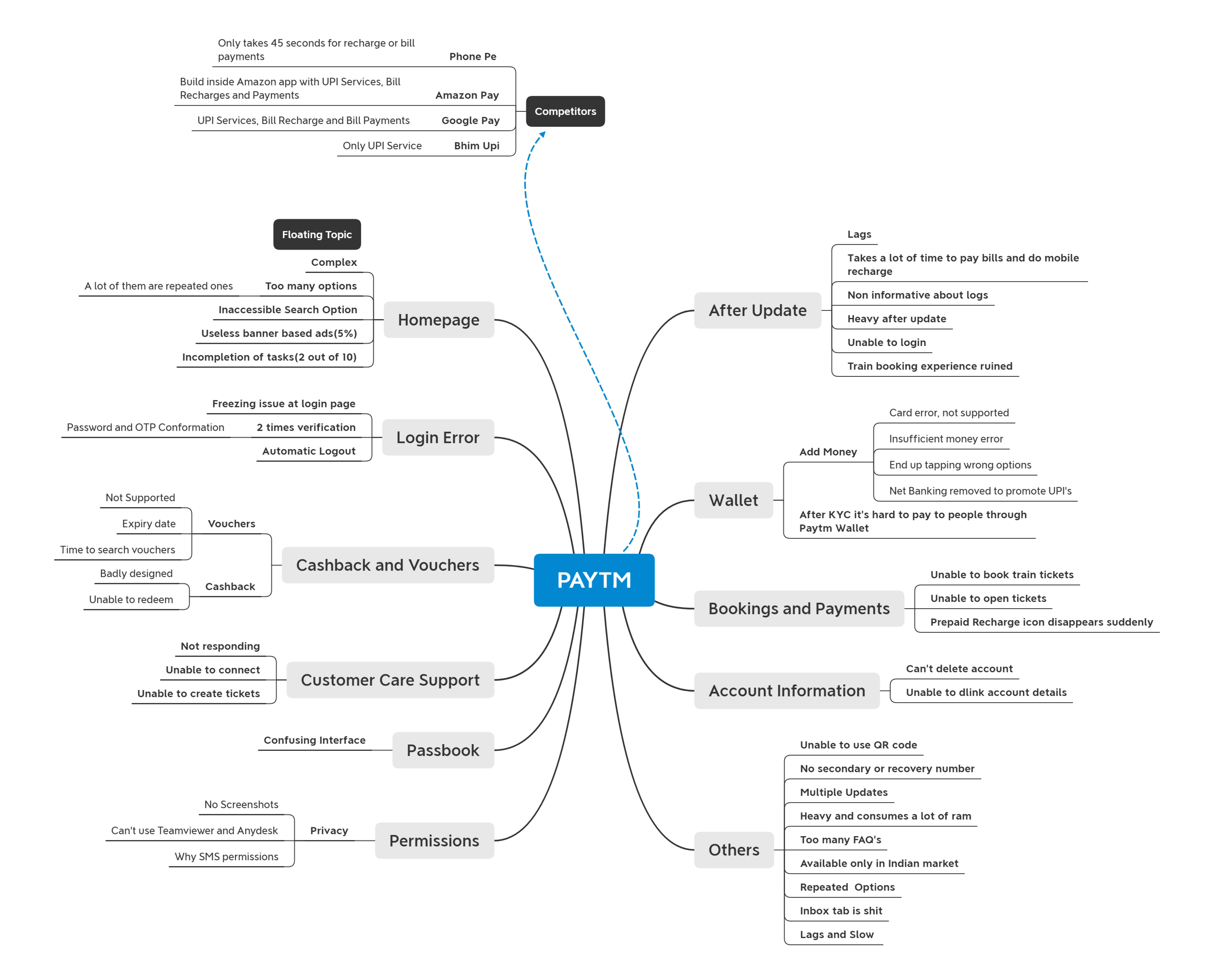 Analysis
Major Pain Points in the Current App: After interviewing the users, these are the major problems which the users are facing. This app is a complete headache for some users, it has many UI problems, let's look at it one by one.
1. Two Steps Verification for Logging in
You have to verify twice while login into Paytm, once you have filled your phone number and password after that, an OTP will come on your registered phone number for second verification, just to log in.
2. Cluttered Homepage UI
Too many options are there on the homepage, some of them are repeated, it feels like a website is directly converted into an app. Because there are too many options, some options are formed under groups therefore, you have to put some serious effort to find some options.
Repeated options are there on the app like "Pay" or "Scan Any QR", Add money option twice on top and "Shop Now" or "Shop" etc.
Because of too many options, users get distracted from the main goal as according to 2 out of 10 users who went for a recharge or bill payment end up surfing Paytm mall or playing Paytm games for hours.
Search option is inaccessible because of its location.
No direct customer support is available on the homepage.

Inbox tab is incorrectly defined as it looks like a notifications tab but actually it's a personalised entertainment tab.
Banner based adds are of now use only 5% users pay attention to those adds or scroll down enough to look at those ads. (Based upon user interviews)
Pop up ads when you enter into the app is another bad experience.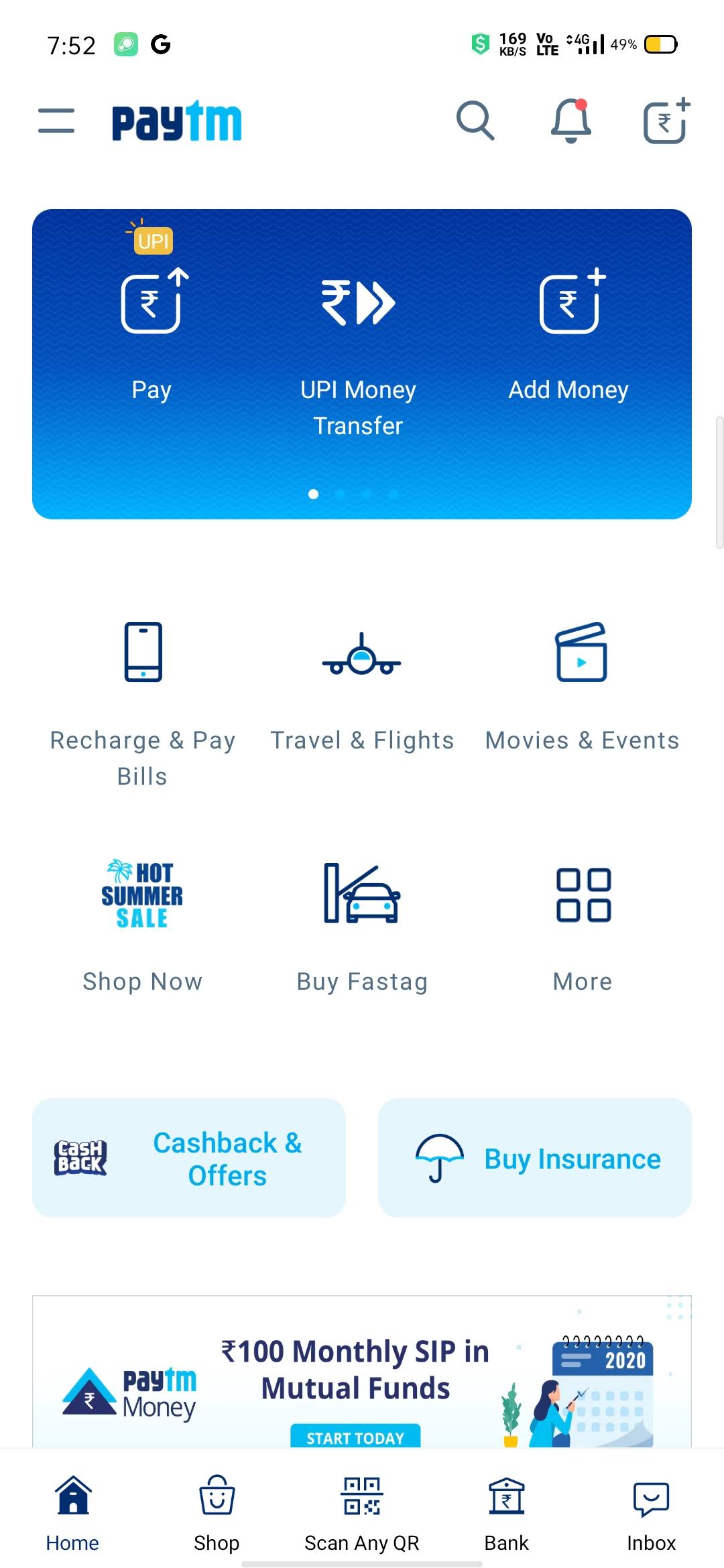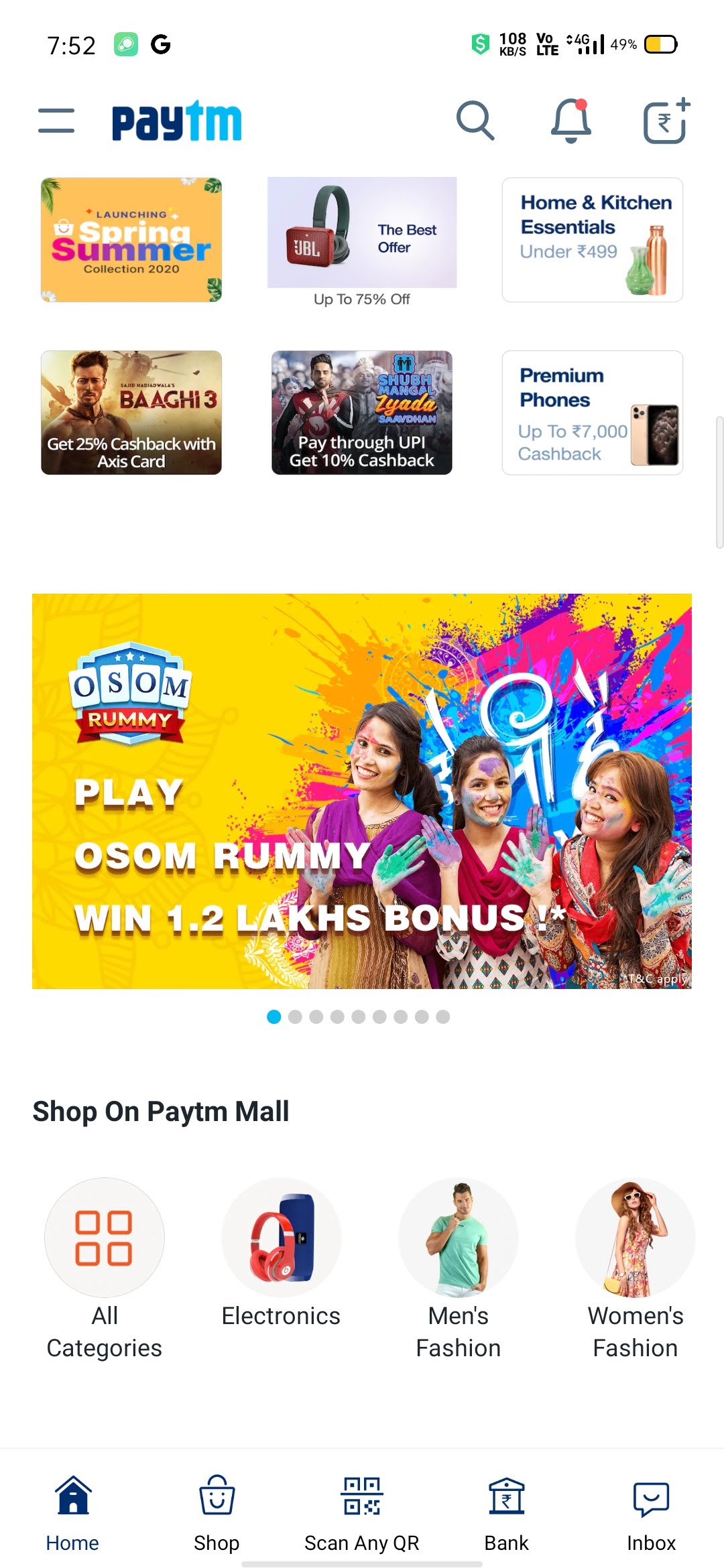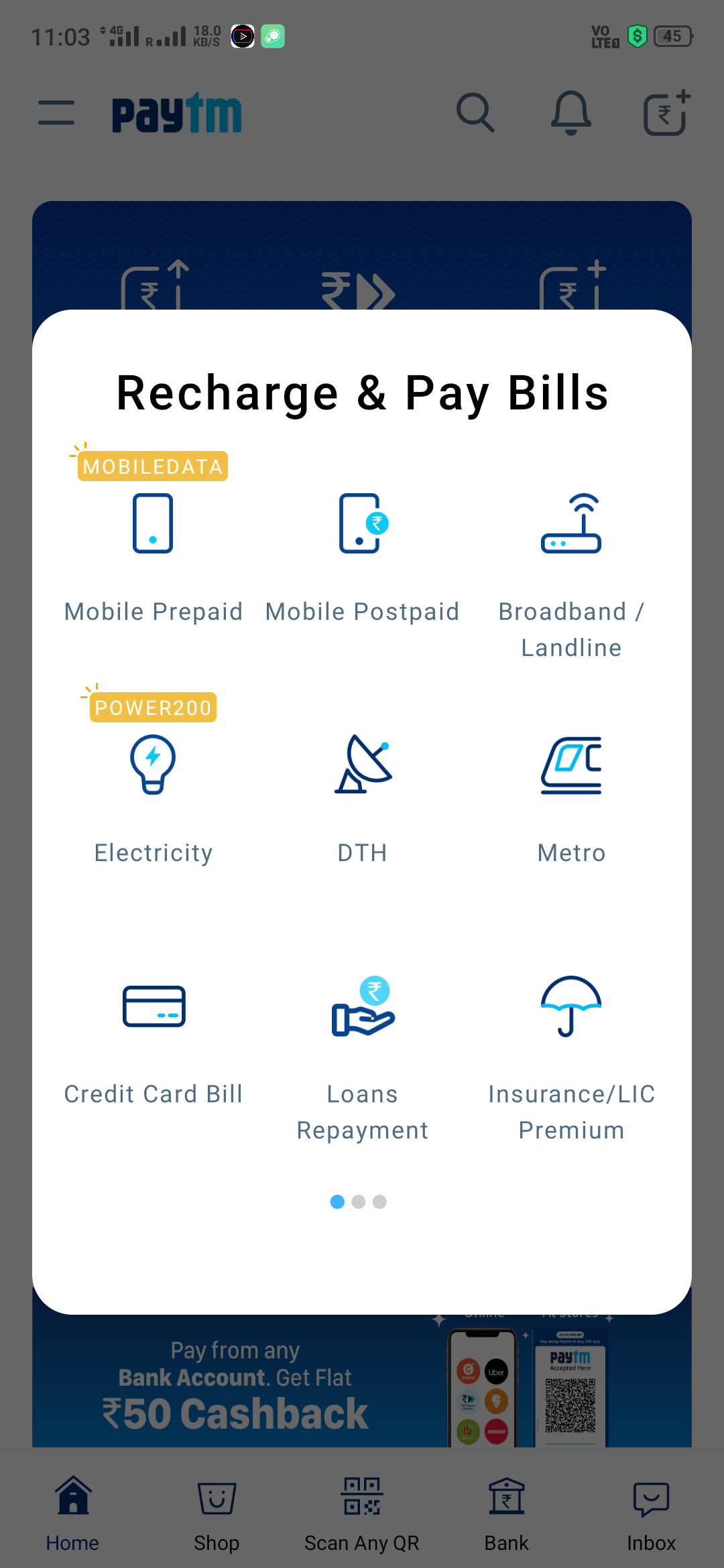 3. Extras: Paytm Mall and Paytm Games
Paytm Mall and Paytm Games are available as two separate dedicated apps on play store and then also they are included in the Paytm app that increases of the size of the app, which leads to more use of ram on smartphones and it becomes harder for lower-end smartphones to provide a fluid experience leading to lags and taking more time in performing a particular task.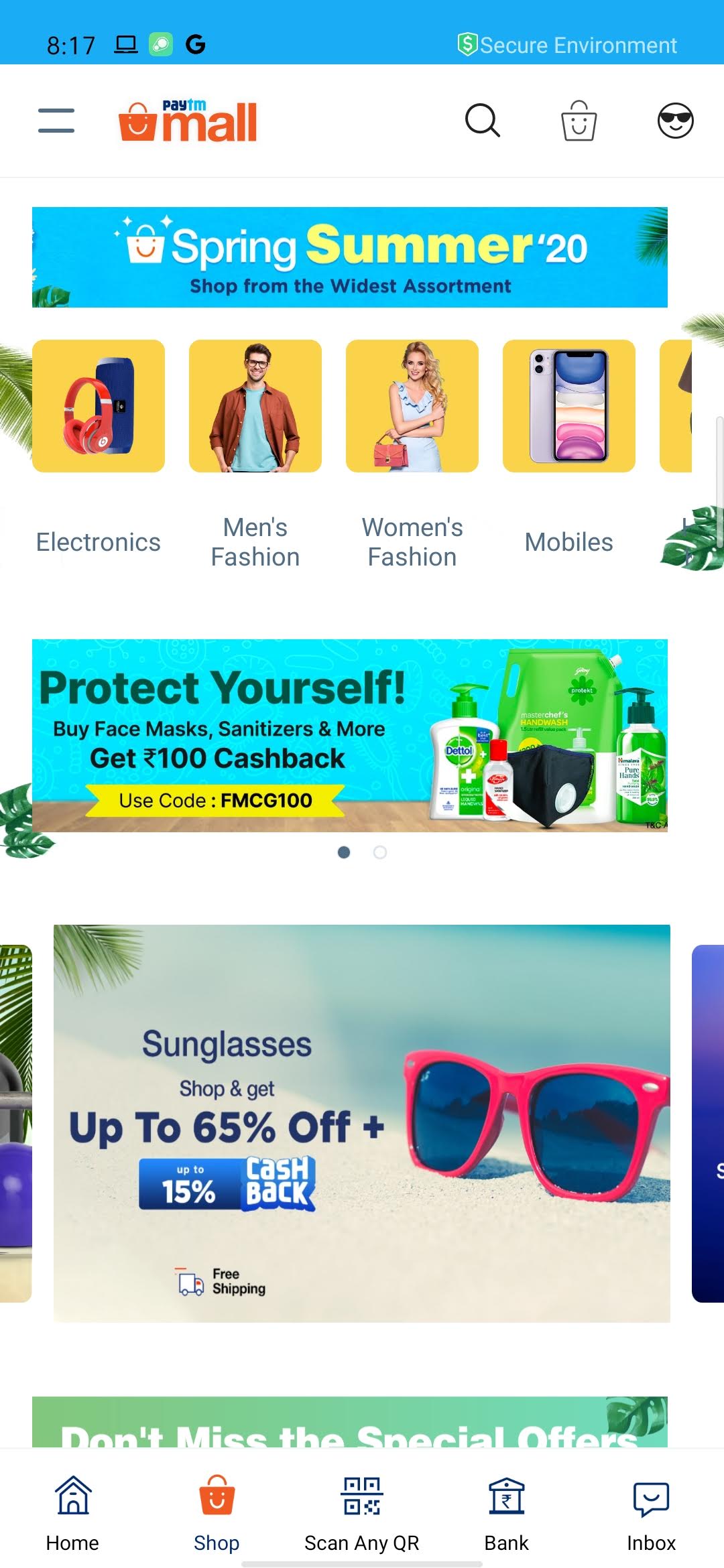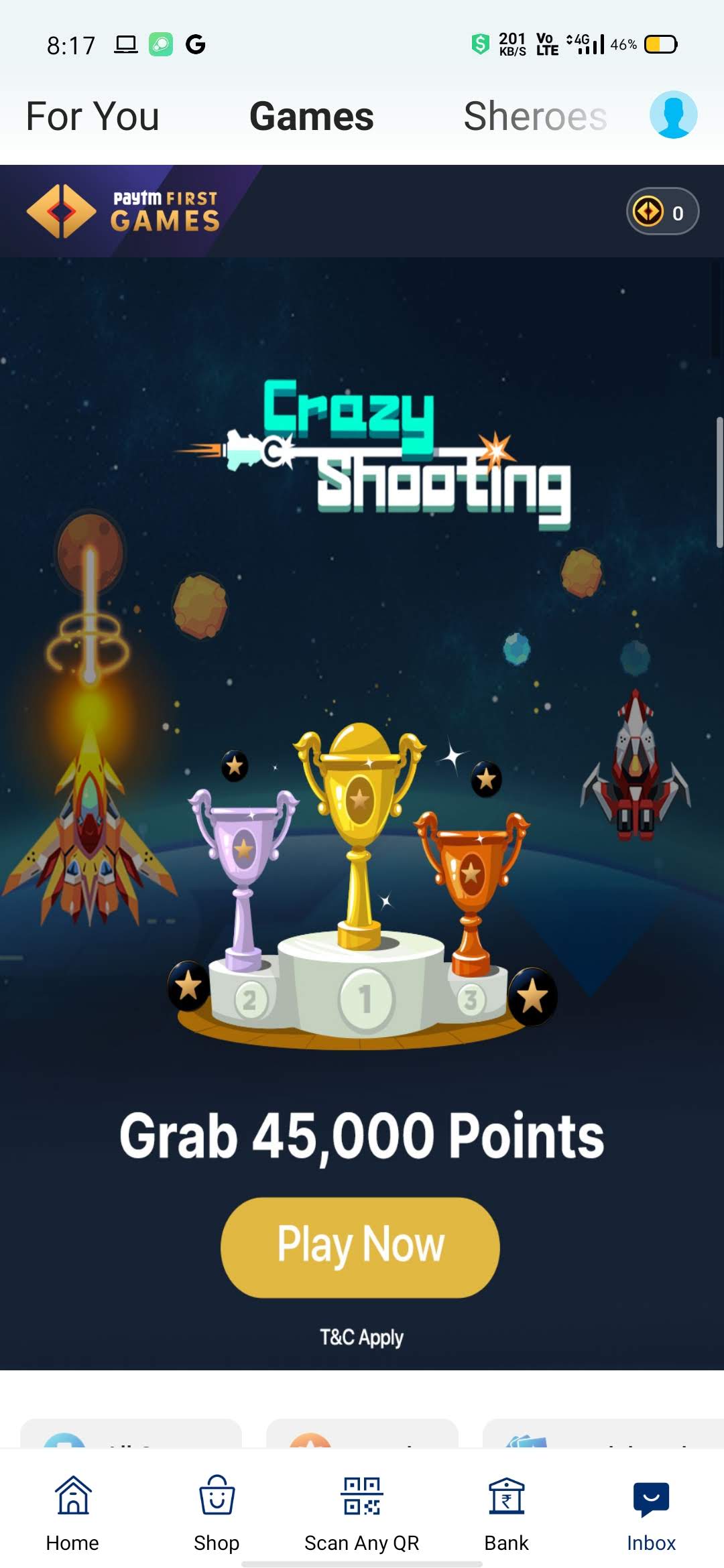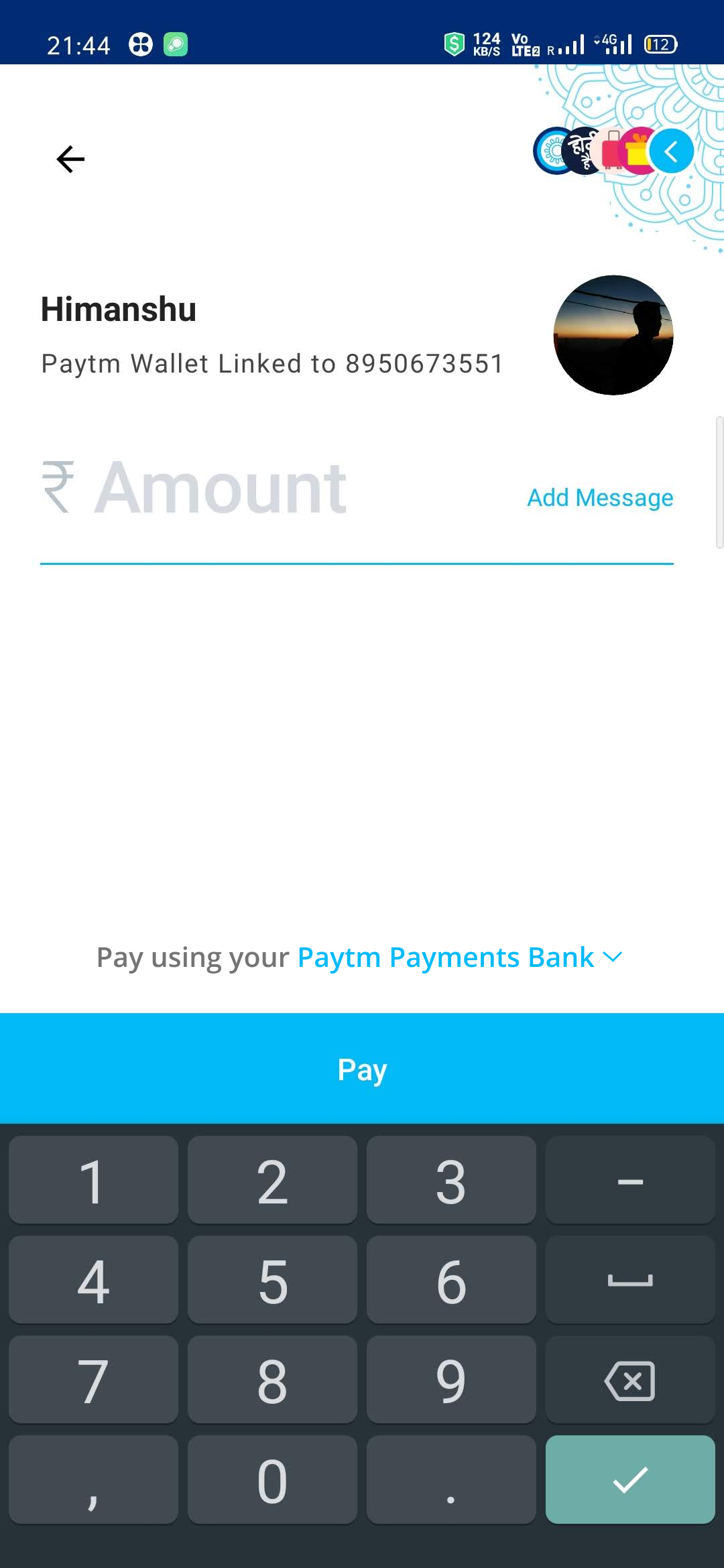 4. "Pay Using" Option Gets Ignored
Sometimes we are in a hurry to pay someone through Paytm wallet but when the keyboard is on the by default option is "Paytm Payments Bank" which you have to change manually to wallet due to that we end up doing a UPI transfer rather than a wallet transfer.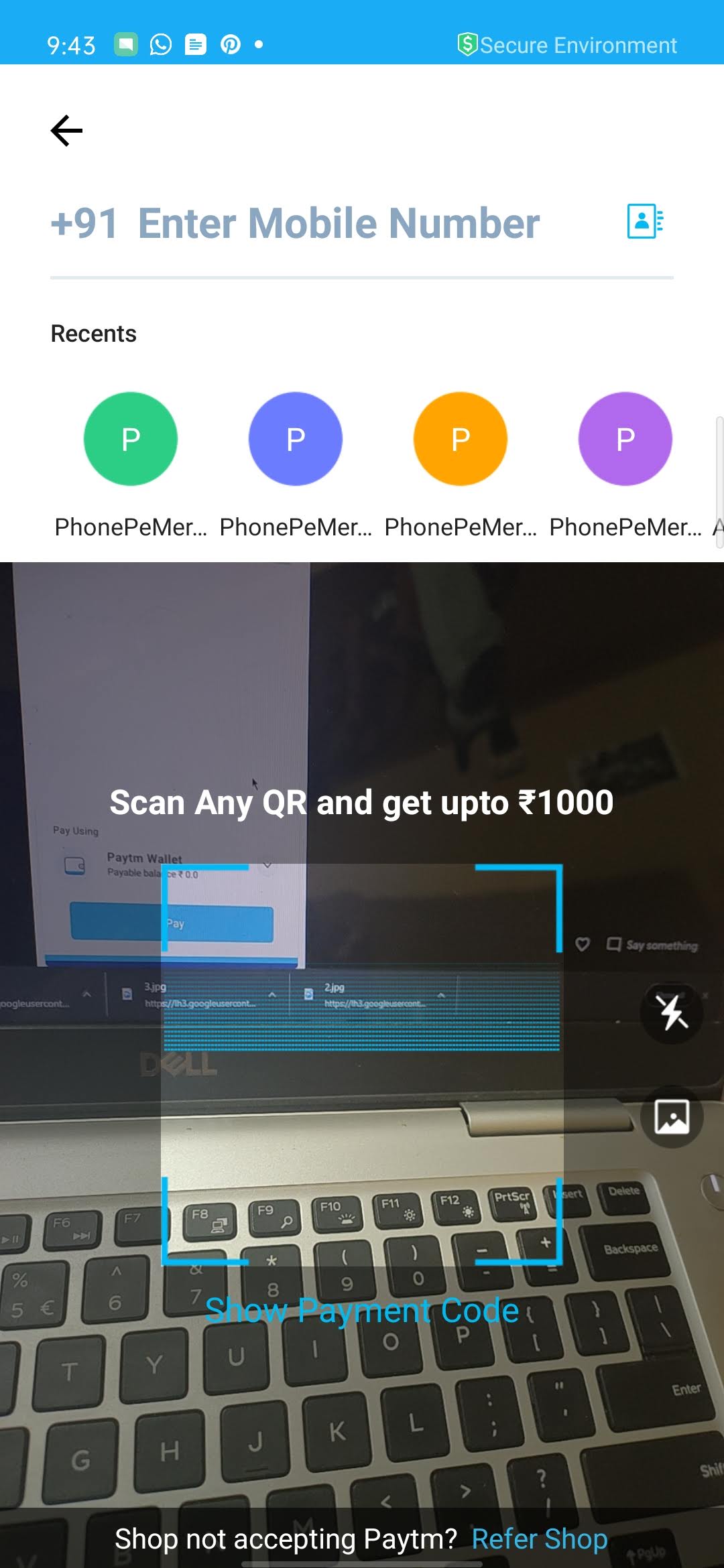 5. Hard to Reach on top
While using pay option on Paytm its hard for a user to reach on the top of the screen, and manually type a phone number.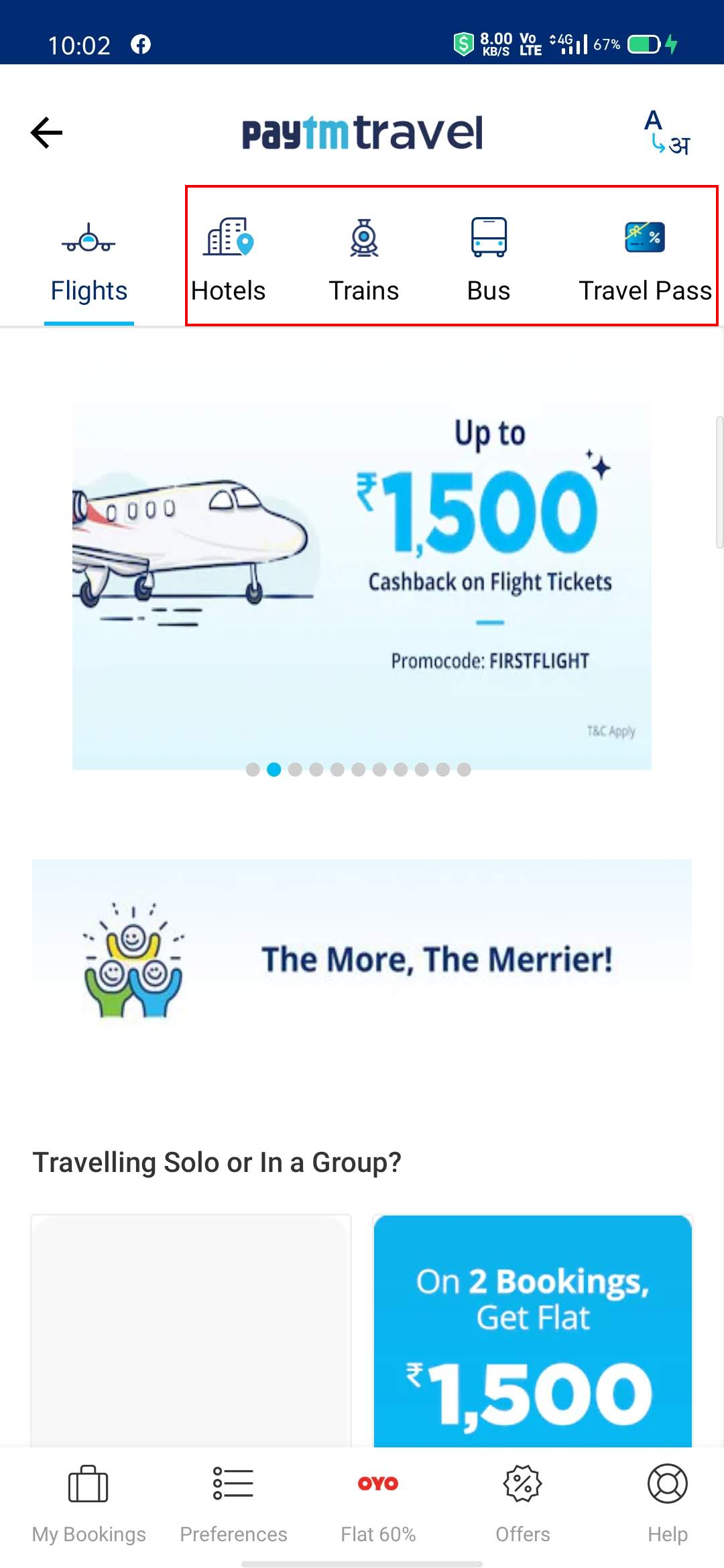 6. Inappropriate Swiping Options on the Top
Why will I book a Bus or Hotel if I am booking a Flight or why I need a DTH Recharge option by swiping on the side while recharging my phone. These options create confusion for the user.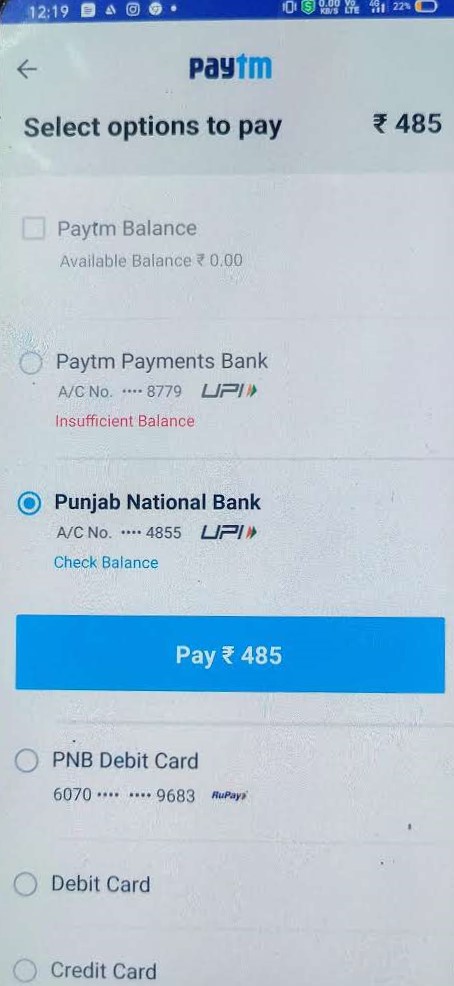 7. Confusing Payments Page
30% of users reported that sometimes while making a payment in a hurry the sometimes end up paying from the wrong payment method as they have multiple options.
8. Privacy Issue
Paytm doesn't allow you to use screen sharing apps like Teamviewer and it doesn't work if it's installed on your phone. It also takes all permissions on your phone like call logs, microphone and location etc. Plus it doesn't allow you to take screenshots nowadays.
9. Privacy Issues
You can write here as much as you want, this text will always look nice, whether you write longer paragraphs or just a few words. Click here and try it out.
User Personas
In order to keep the actual behaviours of real users in the mind, I developed 2 personas based upon the common existing customers of Paytm.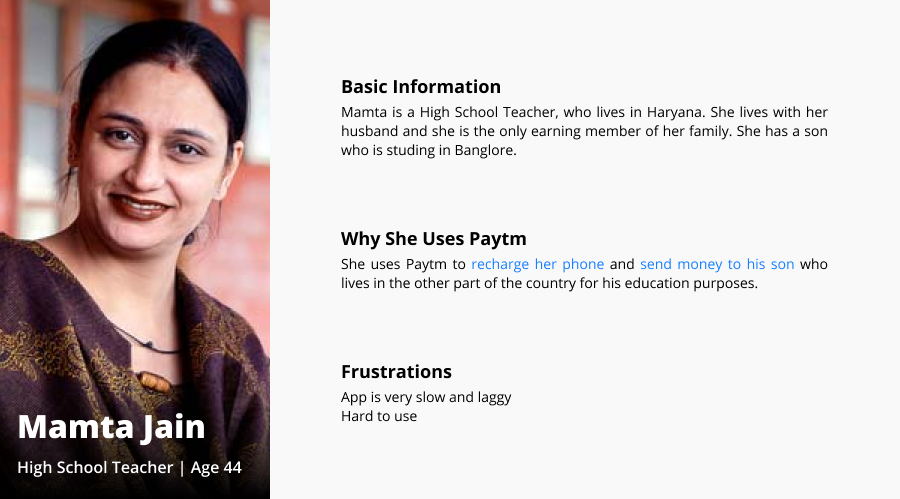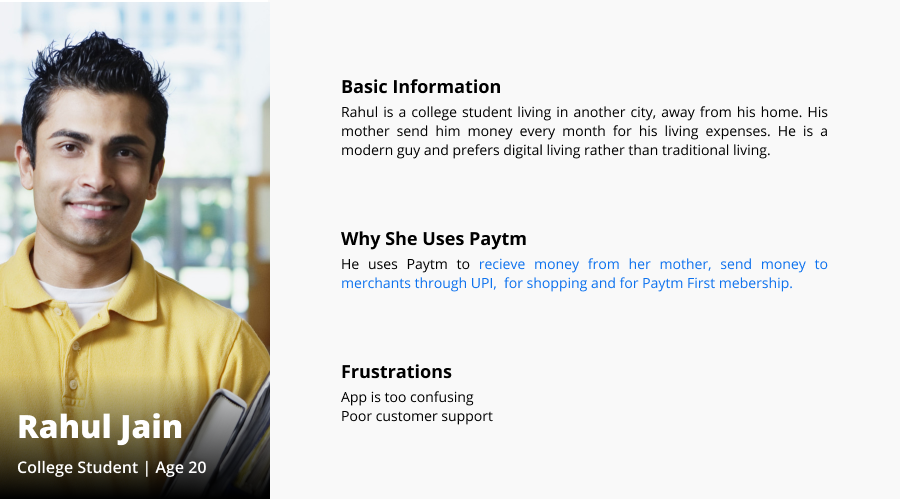 Information Architecture
Various options you have when you land on Paytm homepage screen and its homepage architecture.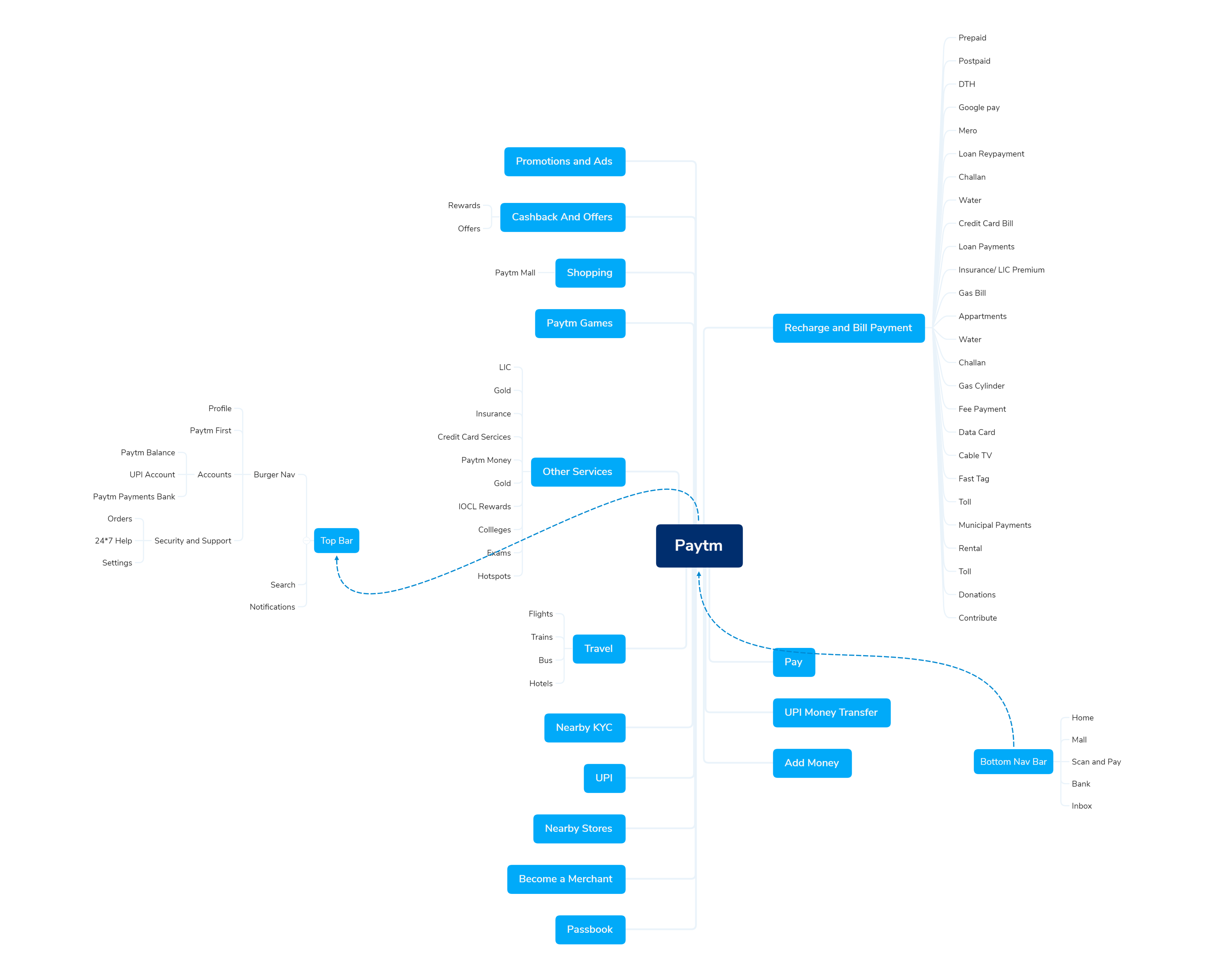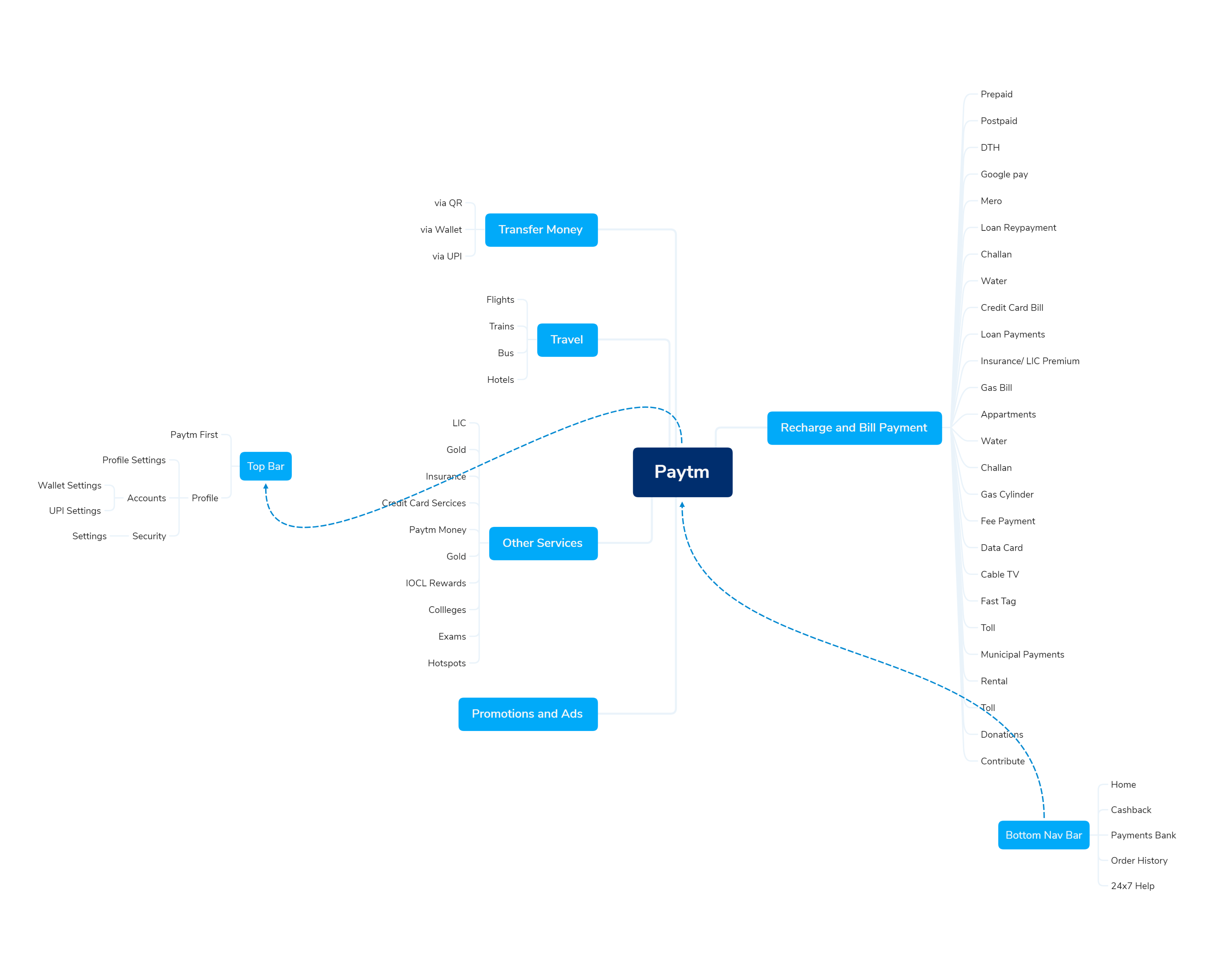 Wireframing
Based upon the architecture I decided to create my wireframes, I created low fidelity wireframes to come up with more and more ideas.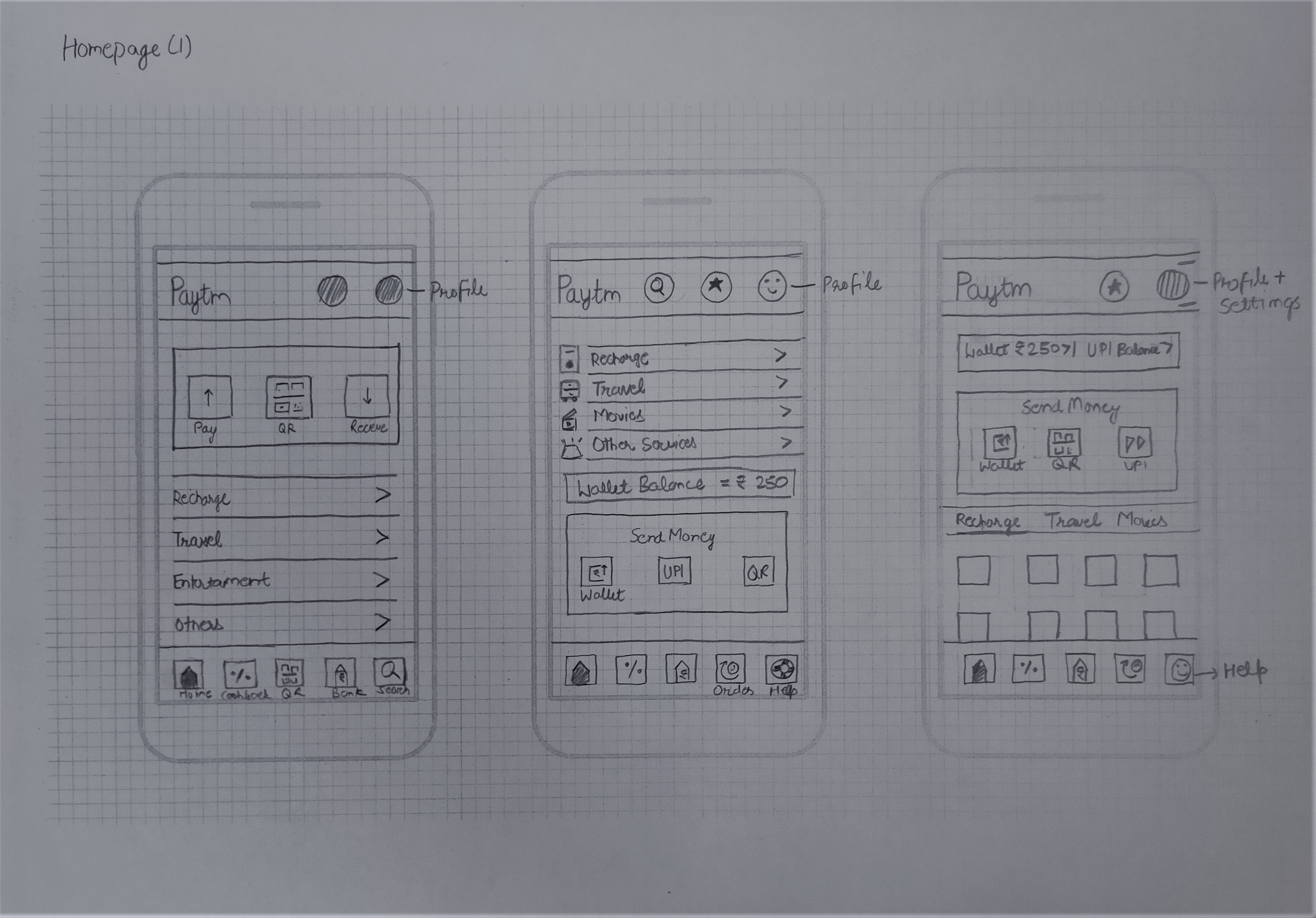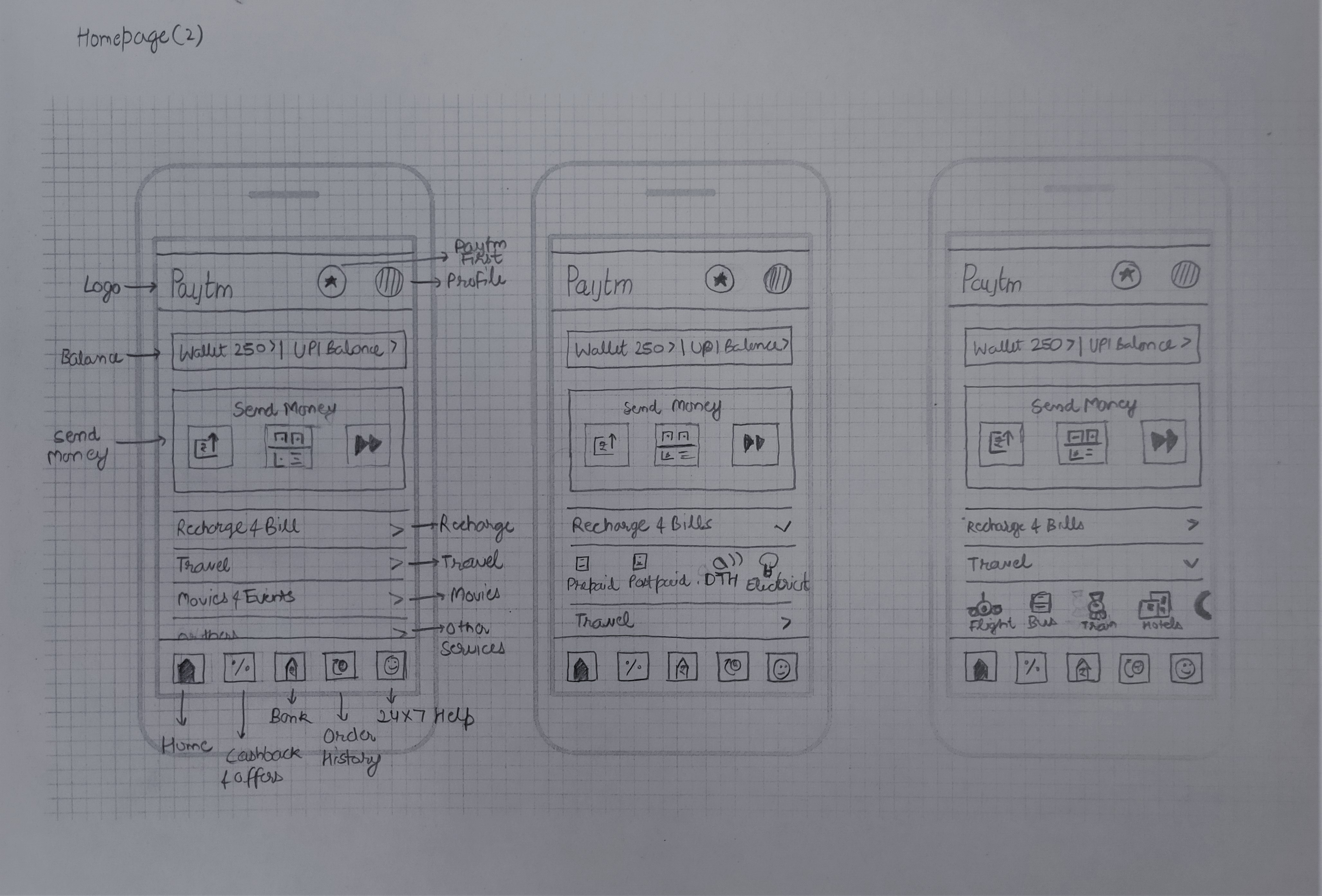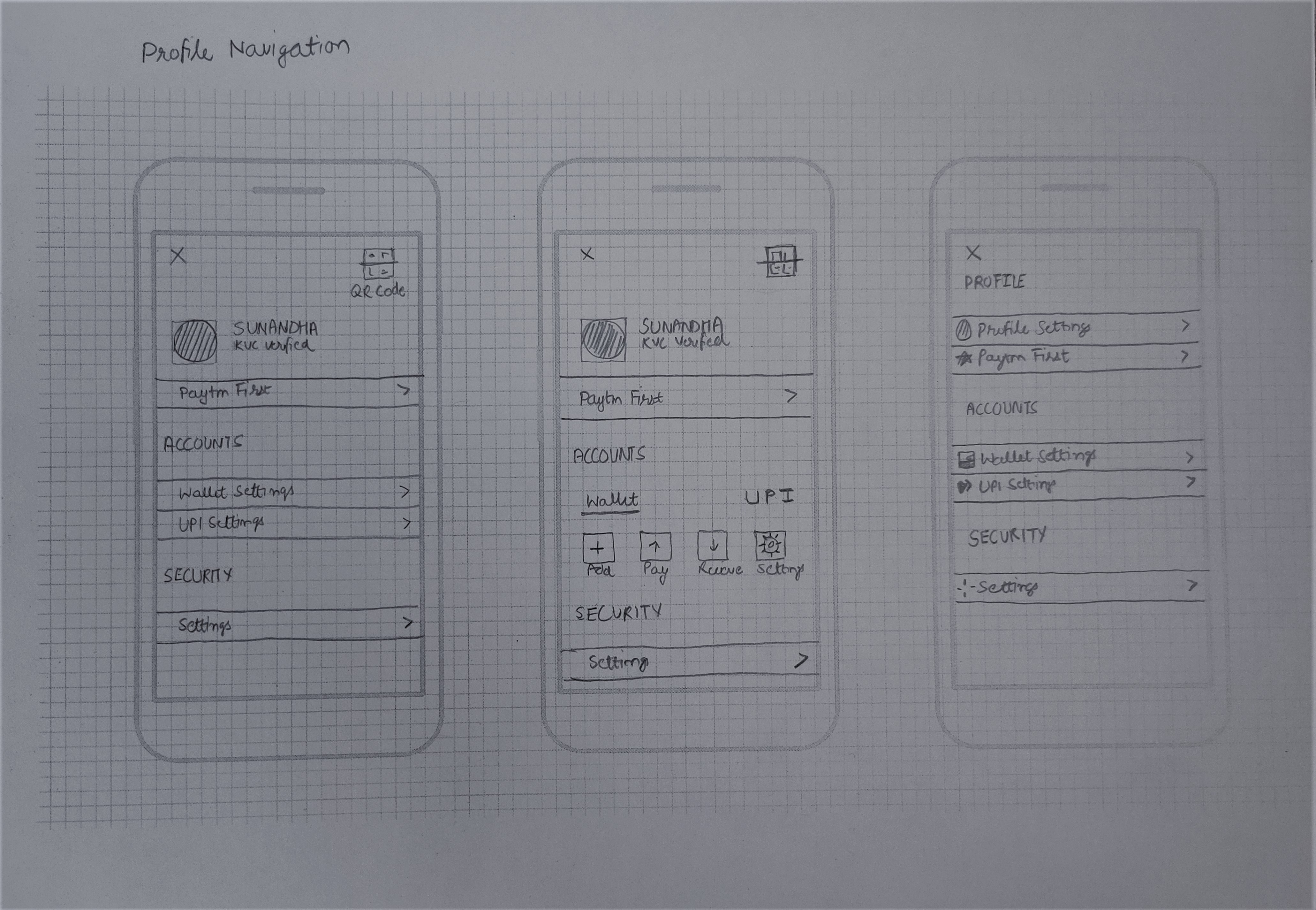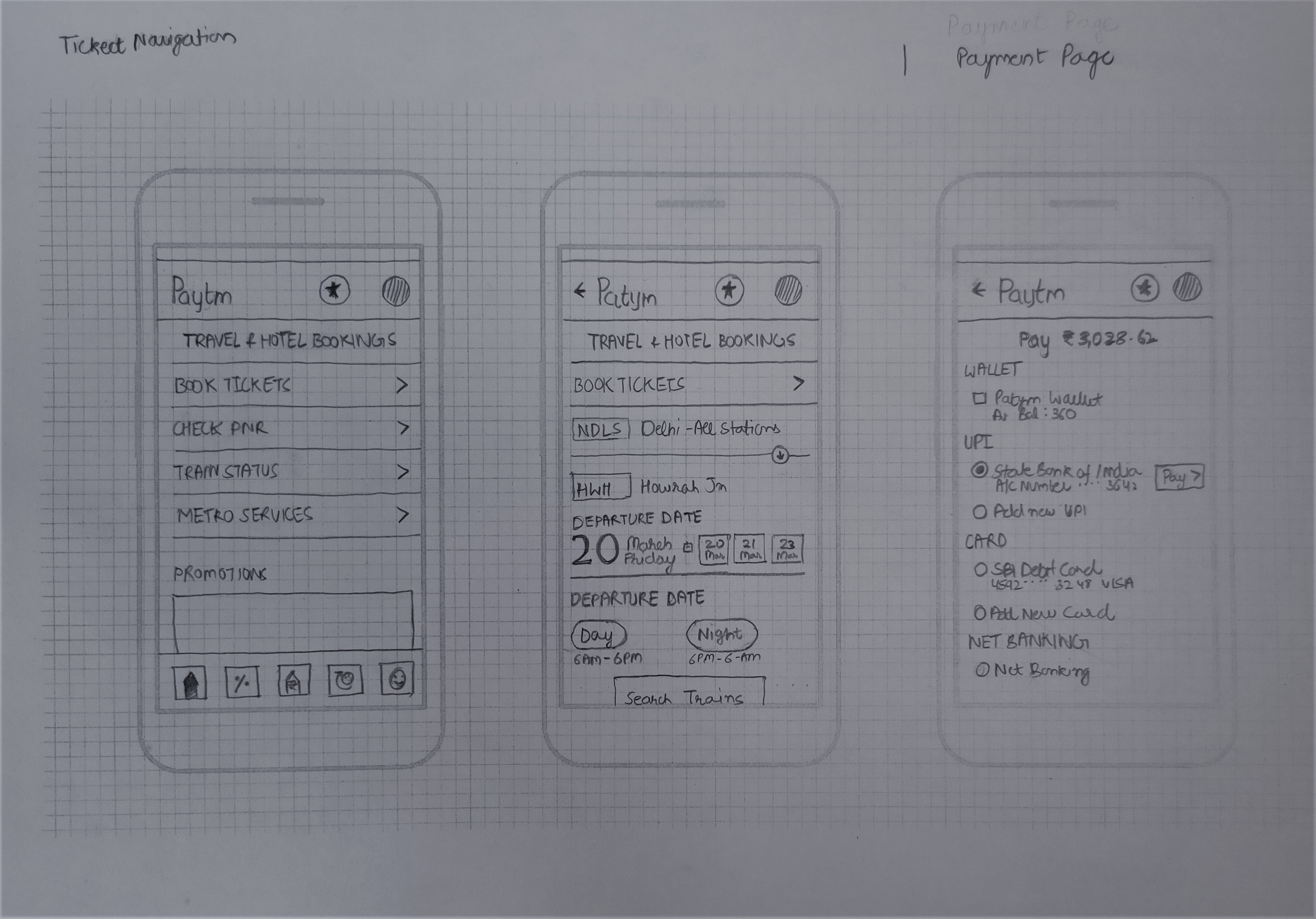 Introducing "Paytm Lite"
A lighter app with no extras like Paytm Mall and Paytm Games. A very cleaned interface is designed keeping in mind the major features of the app. High Fidelity Wireframing
High Fidelity Wireframes were created based upon low fidelity designs.
Homepage
Paytm Wallet balance is directly displayed on the homepage and UPI balance can also be accessed with one click.
Money can be transferred through QR, wallet to wallet and UPI to UPI.
People can directly access Cashback, offers, order history and customer care.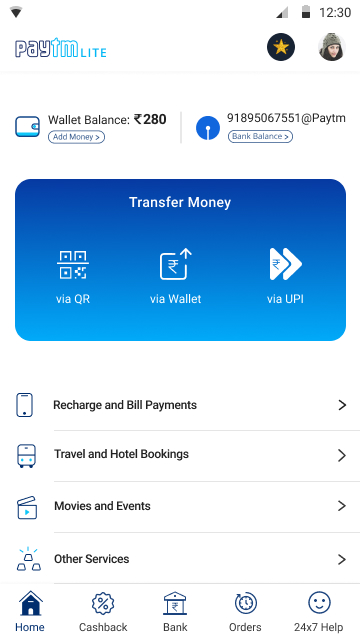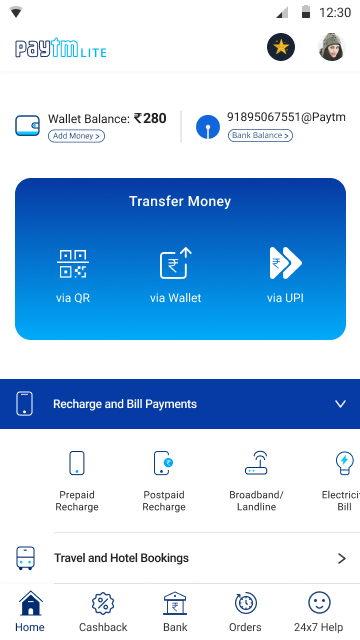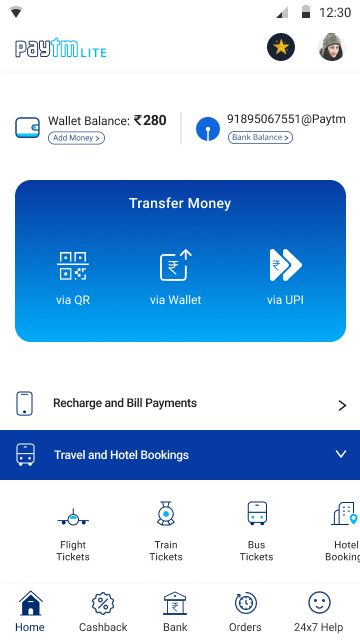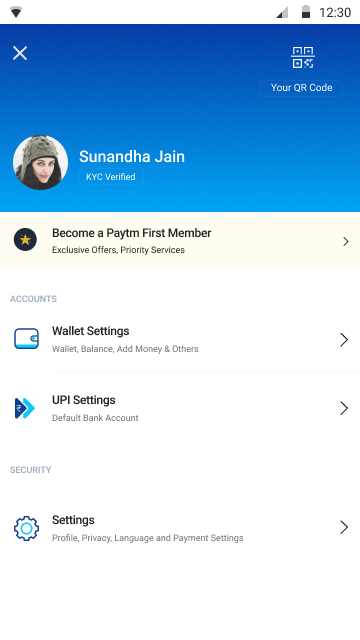 Side Navigation
Side navigation includes Wallet settings like add money, UPI settings like primary account etc and main security settings like password and language etc.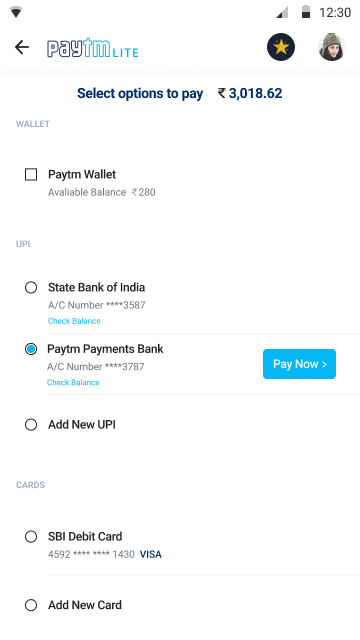 Payment Page
The division is made on the basis of wallet, UPI, cards and net banking for clarity.
Prototyping
Note: Please view it on a desktop or turn on the desktop mode in the browser of your phone.
What I Could Have Done Better
More usability testing with the users.
Invest more type on developing screens for Paytm lite.