Go Drivin® 
A touring and navigational curated self drive maps around neighbourhoods, localities, townships and cities.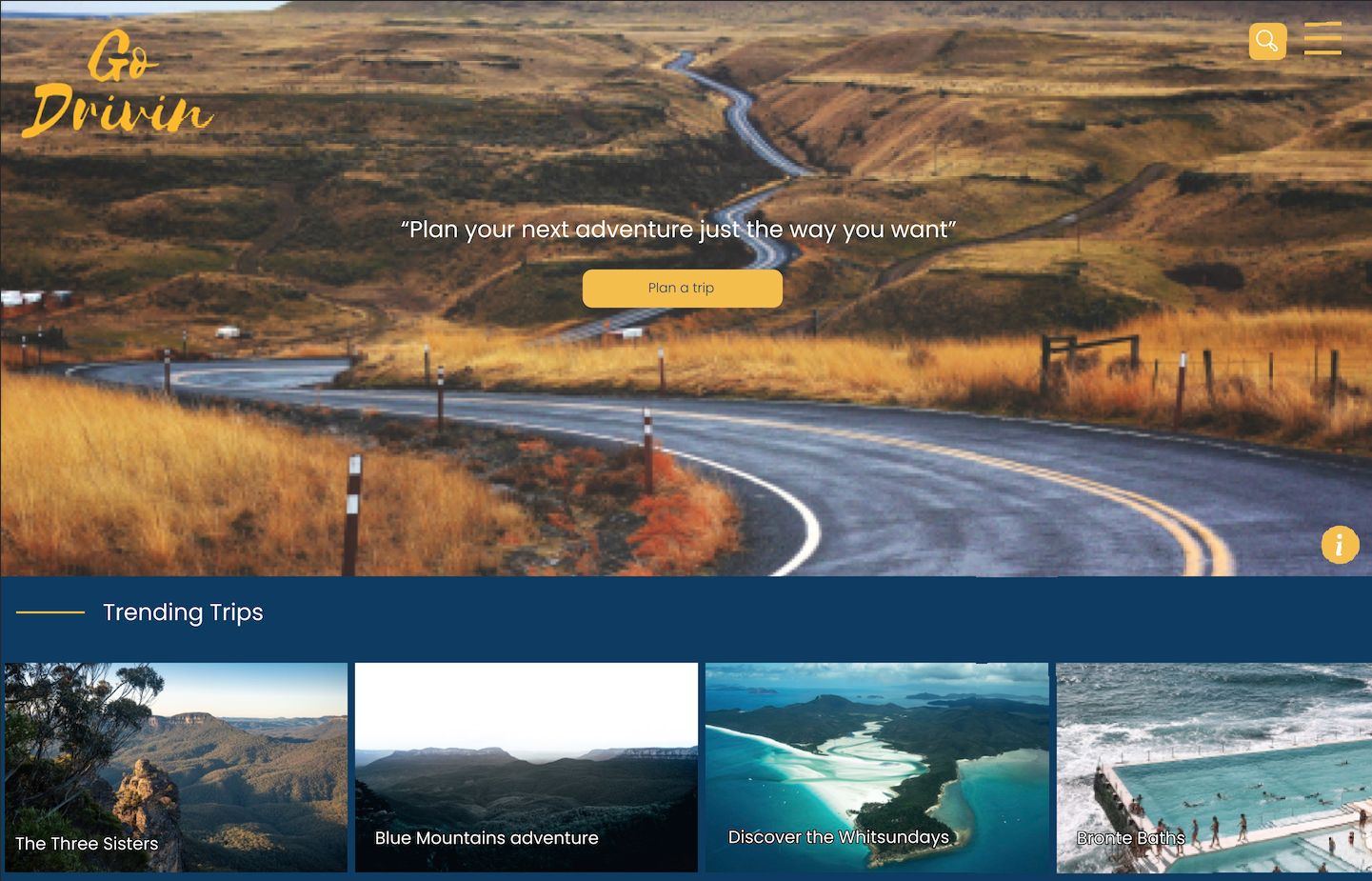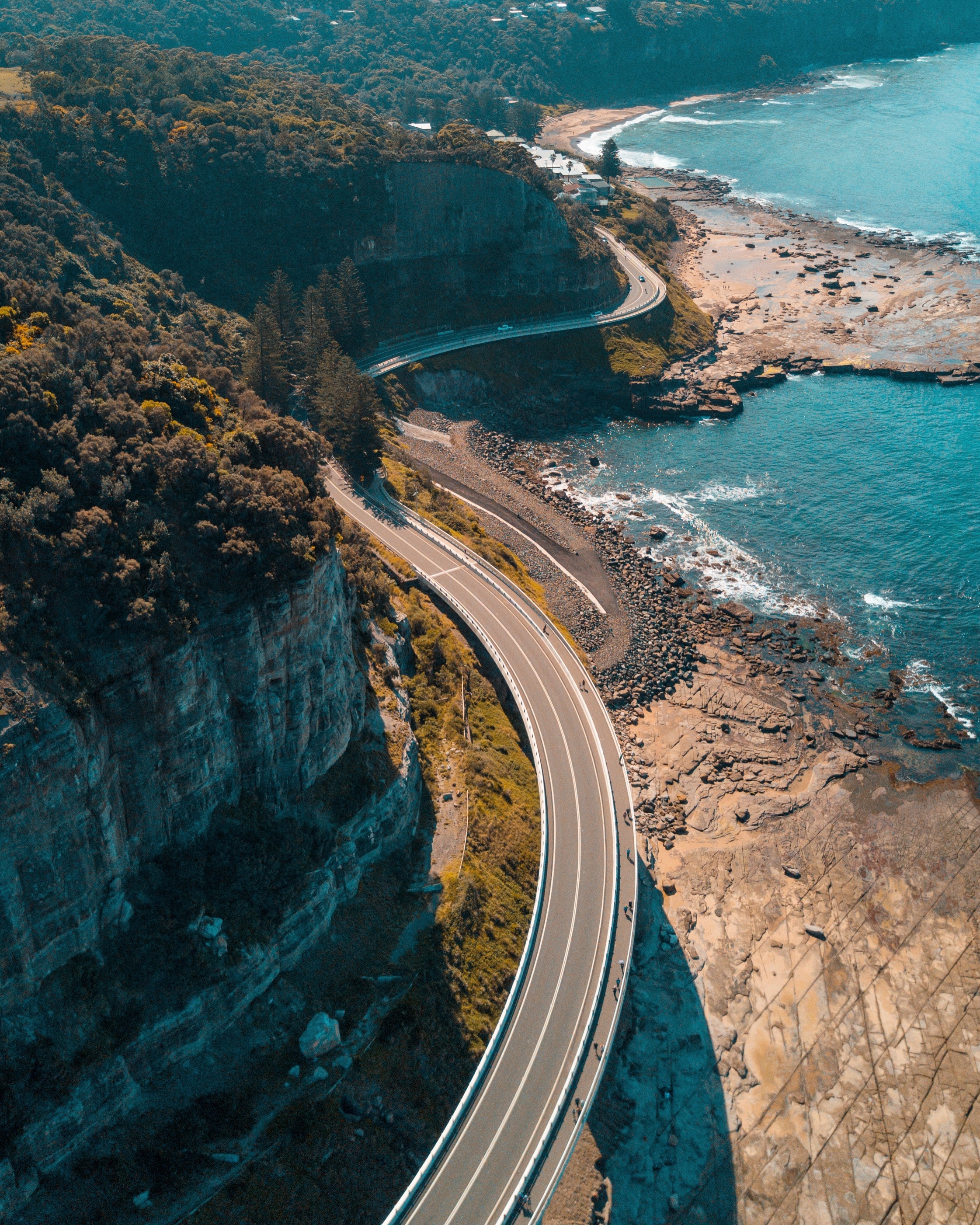 Background
Go Drivin® is NSW based company founded in 2017 and was created from a passion to make the planning of a "driving trip" easy, fulfilling and simple to implement with little effort or knowledge.
The Brief.
"The problem, in the melee of information, sources, brochures, guides, and images that the drive market is bombarded with, people are often seeking a solution to a one stop shop.
The user needed a place to simplify all the information and be able to enjoy the entire planning process."
My Role
My target audience was any traveller wanting a simple way to explore, and discover Australia in an effortless, simple, and bespoke way.
Our Team wanted to empower and enable travellers by enabling Go Drivin® users access to user friendly curated self drive maps around neighbourhoods, localities, townships and cities.
I have been working remotely assisting the Go Drivin® team. In this role I have conducted user research for product development and product market fit, created a user persona, conducted user testing, designed the prototype, and redesign their landing page.
I followed the UX double diamond process, designing accordingly based on research insights and iterating where necessary.
Goals
To help users explore travel destinations through interactive, dynamic, and symbiotic relations.

Have an ease of use and functionality.

Make it visually appealing and engaging.

Help Go Drivin® understand their target audience.
I worked in a team of 4 throughout the time frame of a month to achieve our task and goals.
10
Website/Competitor Analysis
Research
To better understand the Go Drivin® platform, I first conducted contextual analysis by exploring their website, testing its features, functionality and overall experience. I formed clear assumptions and wanted to validate them with new users.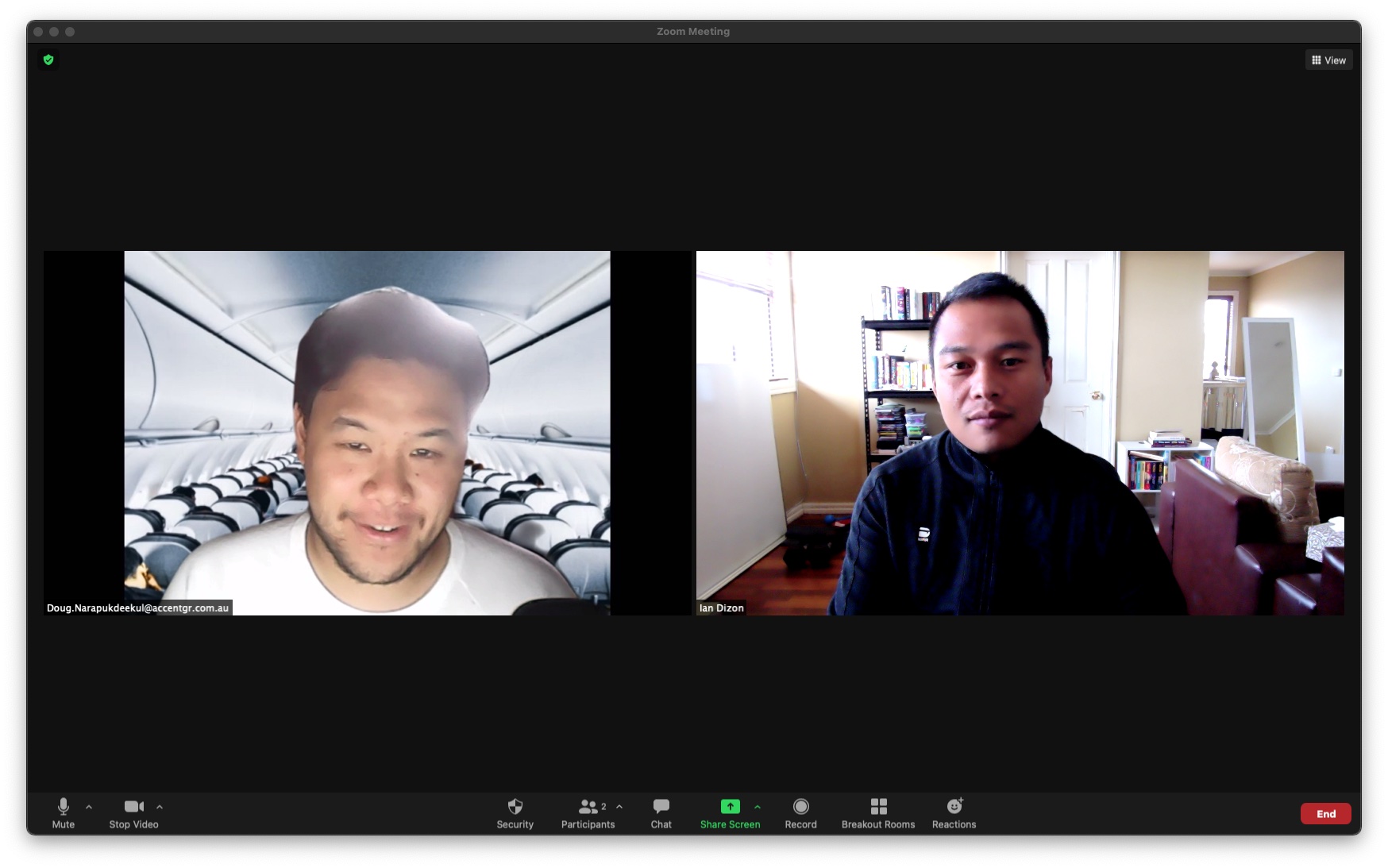 Interviews
Based on the brief, I conducted user interviews to get a better understand of the problem.
These in-depth interviews were conducted via zoom or a phone call, asking questions revolving around their goals, motivations, and usability of the Go Drivin® website.
10 interviews were conducted with users.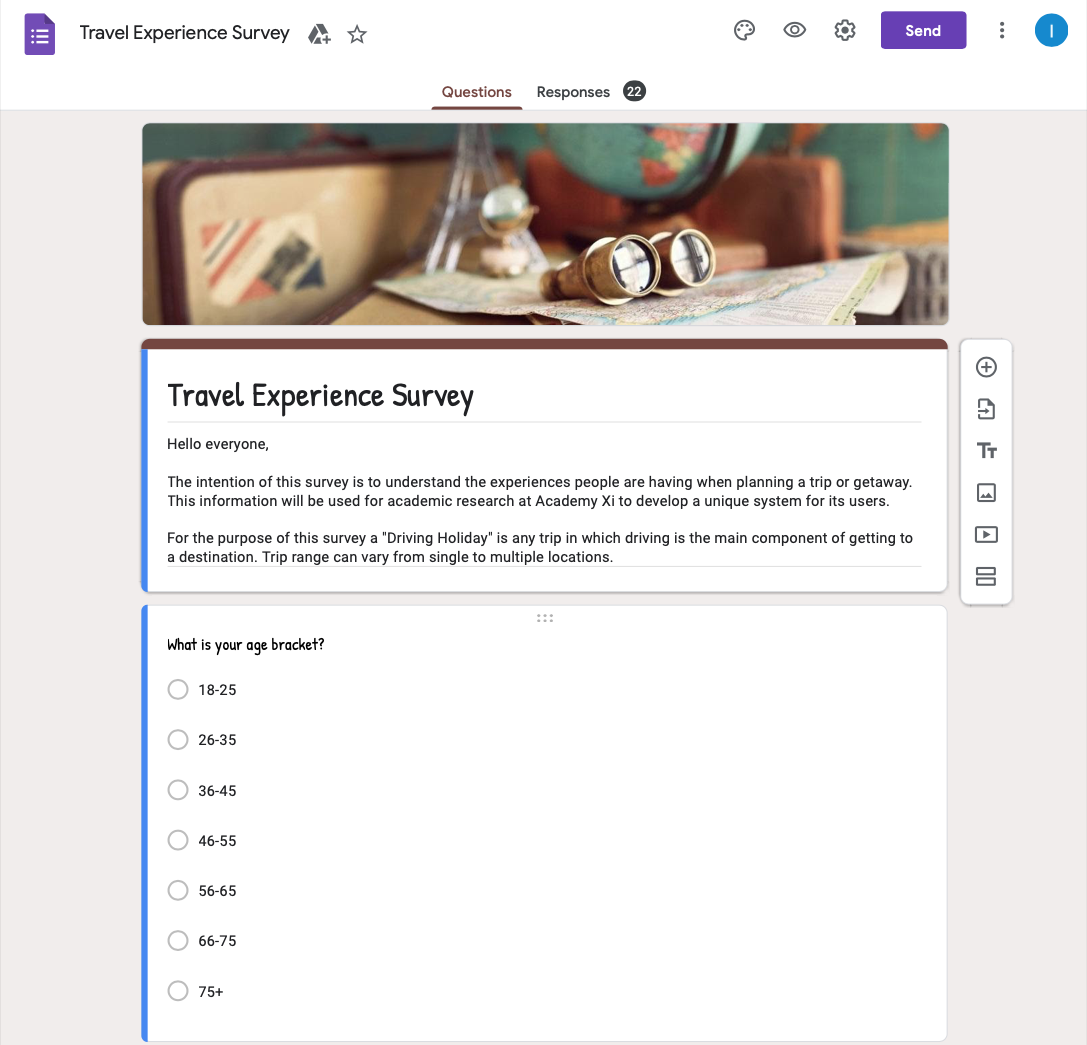 Surveys
We surveyed users to try and get a better understanding of their travel habits, and experiences planning a trip.
This survey was constructed using google forms and distributed online via forums, reddit, facebook groups.
The Survey had 22 replies.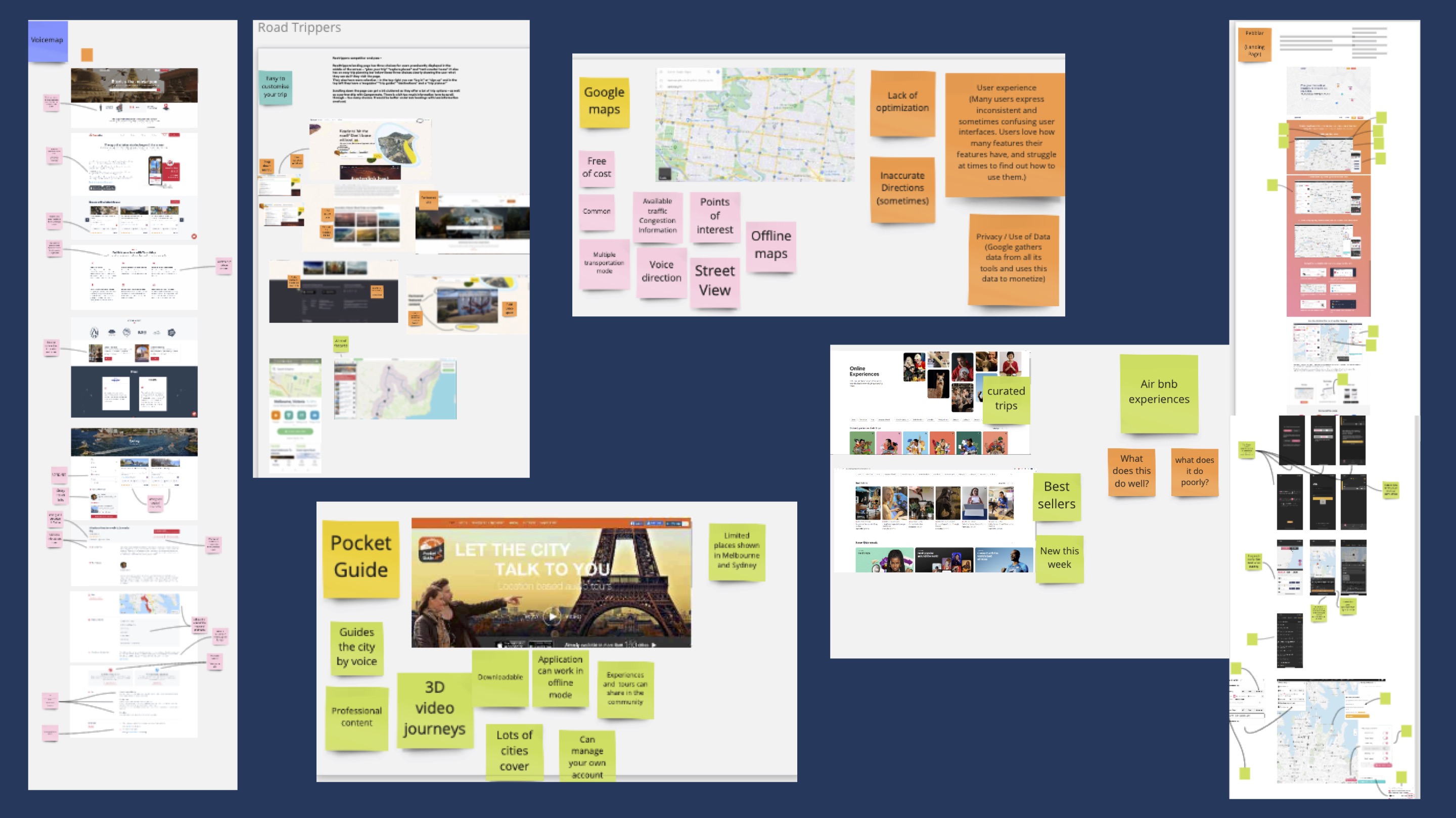 Competitor Analysis
I looked at other competitors such as VoiceMap, Road Trippers, TripAdvisor, VisitNSW, AirBnB experience, and Google Maps to see what they did well and what didn't do well.
I also conducted usability testing on GoDrivin's competitors and see what features and pain points users may be experiencing when given the task of planning a trip.
Insights
Although some users found the user experience challenging and experienced initial frustration on Go Drivin® website, they were able to see the benefits through their own discovery and experimentation.
67% of users travel to feel a sense of adventure
"I'd like to see what local attractions are on offer. Like undiscovered gems. I want real local knowledge."
72% of users would prefer to use a website to plan their plan their trip.
New Problem Statement
We created a new problem statement based on our insights.
"As a busy Australian, I really enjoy my holidays. However, due to COVID-19 restrictions, I cannot travel overseas like I used to. I am frustrated by this and looking for alternatives. I want to learn more about traveling around Australian but do not know where to start."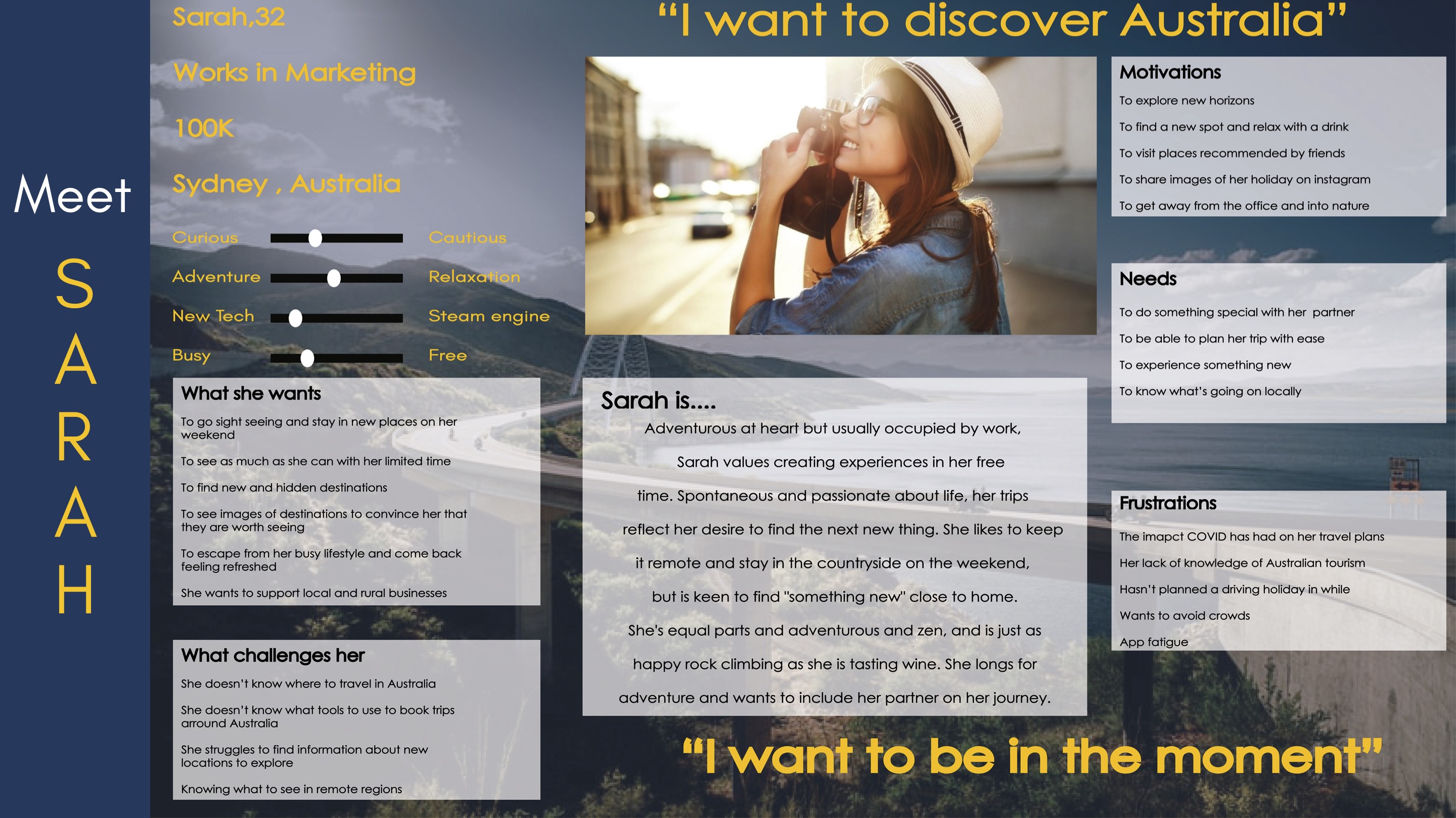 Persona
Based on our research, insights from the results, and our new problem statement I created Sarah to represent the 25-35 year old demographic. We thought this could be an untapped area that could be explored and represented. Which was an area that was missing from the research provided by GoDrivin. We referred to our persona through out the product development process.
User Journey
I mapped out Sarah's steps to simplify her journey, and highlight the task she may be doing to help her reach the most important goals. I thought about key touch points both digital and physical that she may experience both good or bad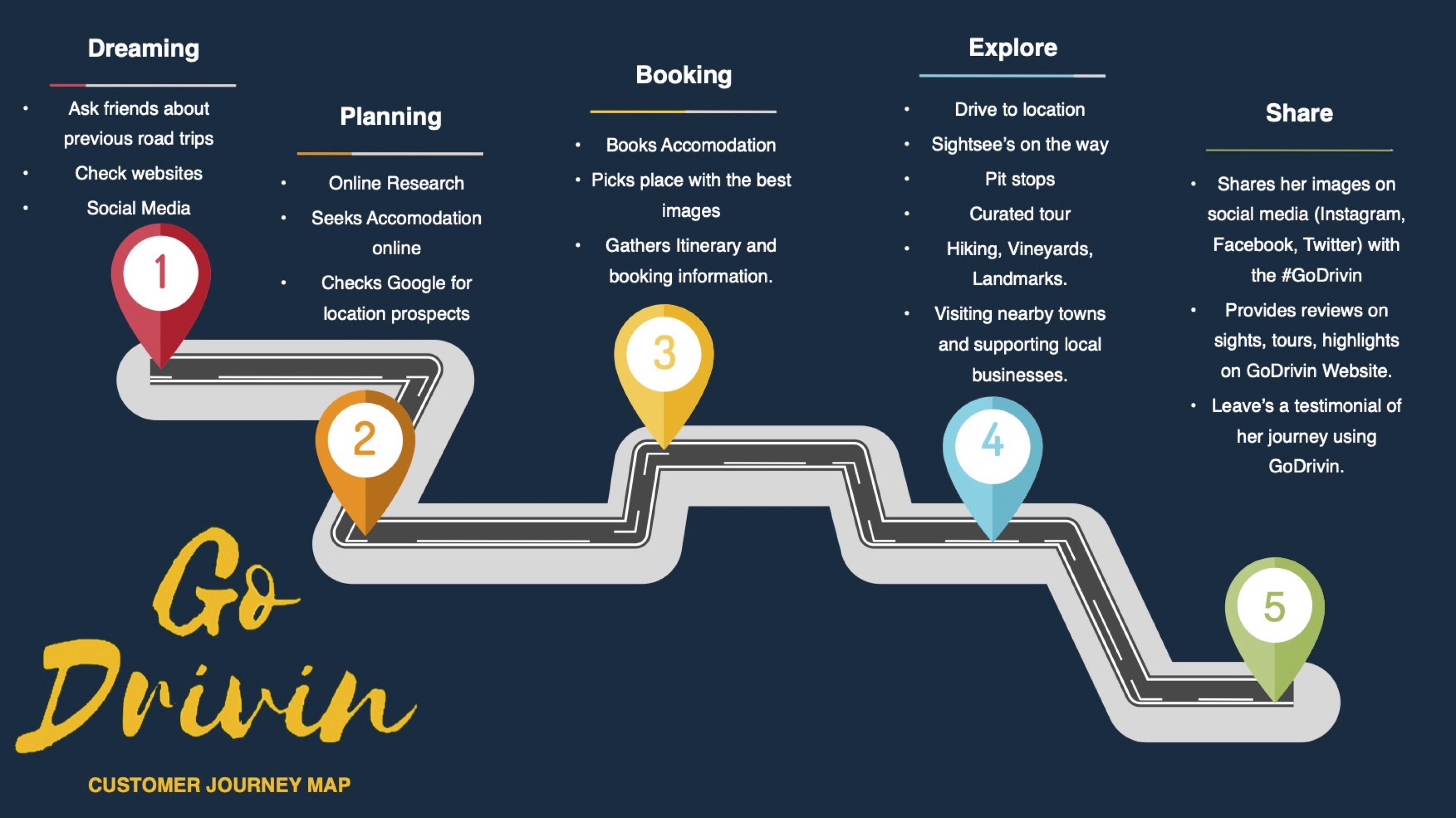 How Might We?
We thought about the How Might We's, to help alleviate any sort of pain points through her journey of planning a trip using GoDrivin as the main platform.
How might we help Sarah to find new travel experiences?
How might we highlight the features of the GoDrivin website for Sarah?
How might we let Sarah know what activities to do along the way?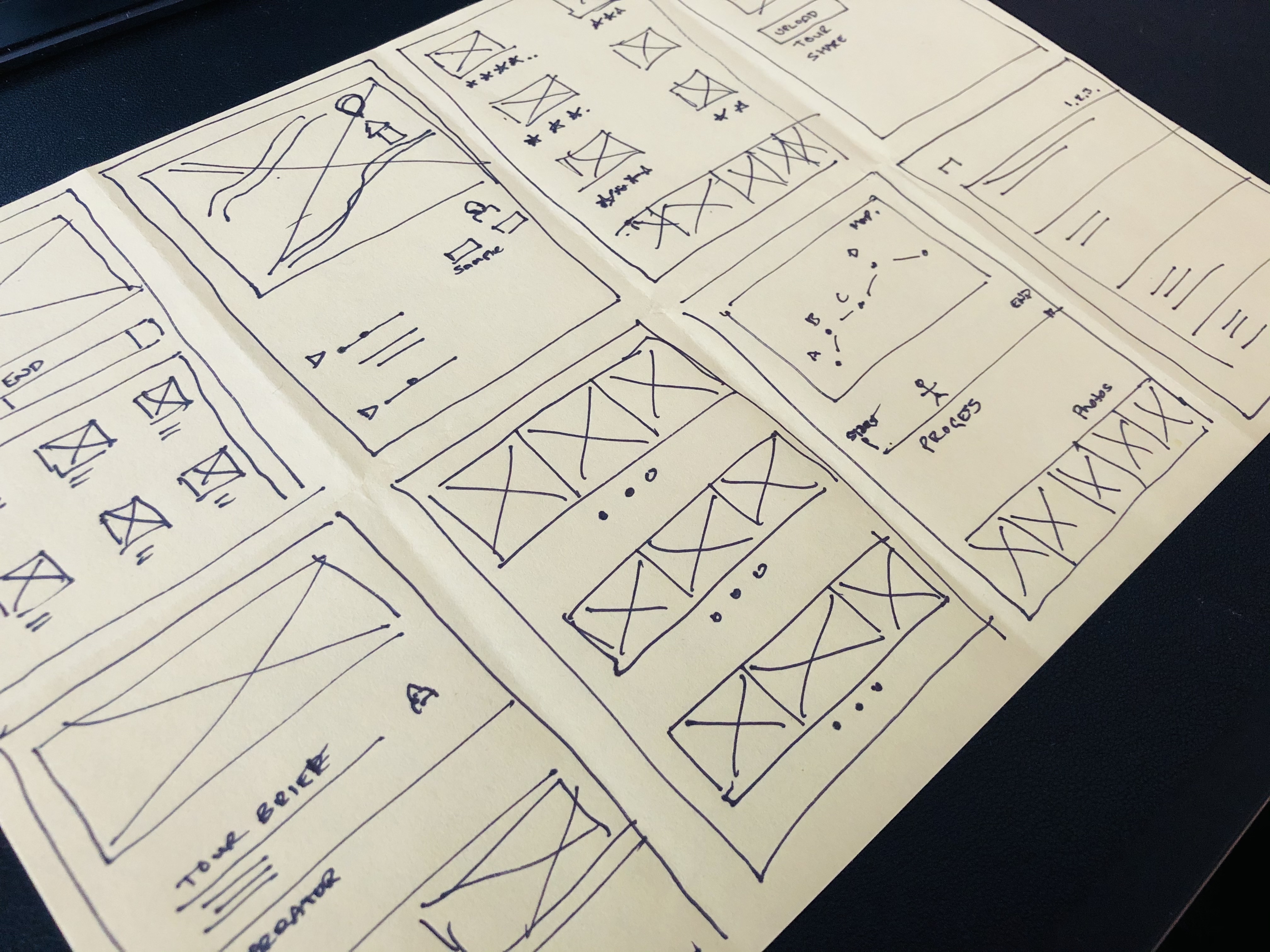 Ideation
I start the design process with sketches of low fidelity wireframes. This is the way I iterate through many design options quickly.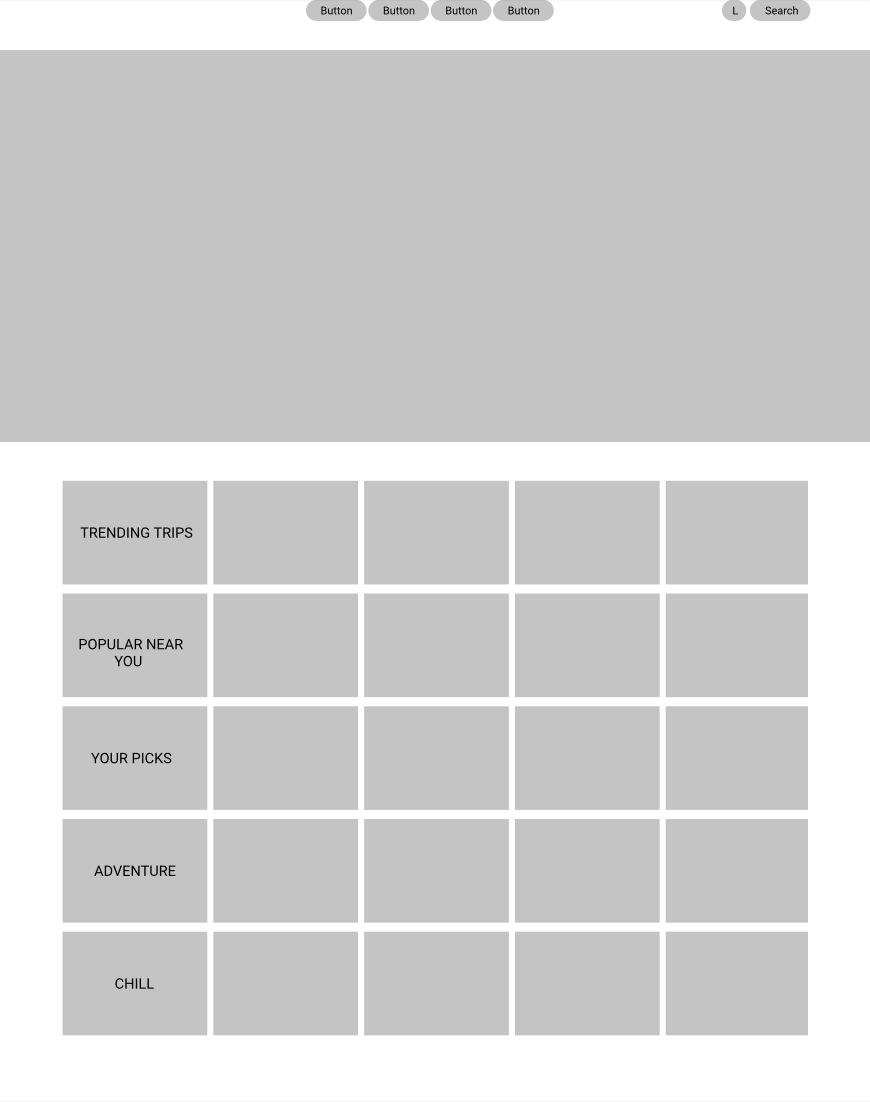 Wireframes
At the beginning of my design process I created wireframes for testing purposes. I A/B tested different layouts to see what users preferred.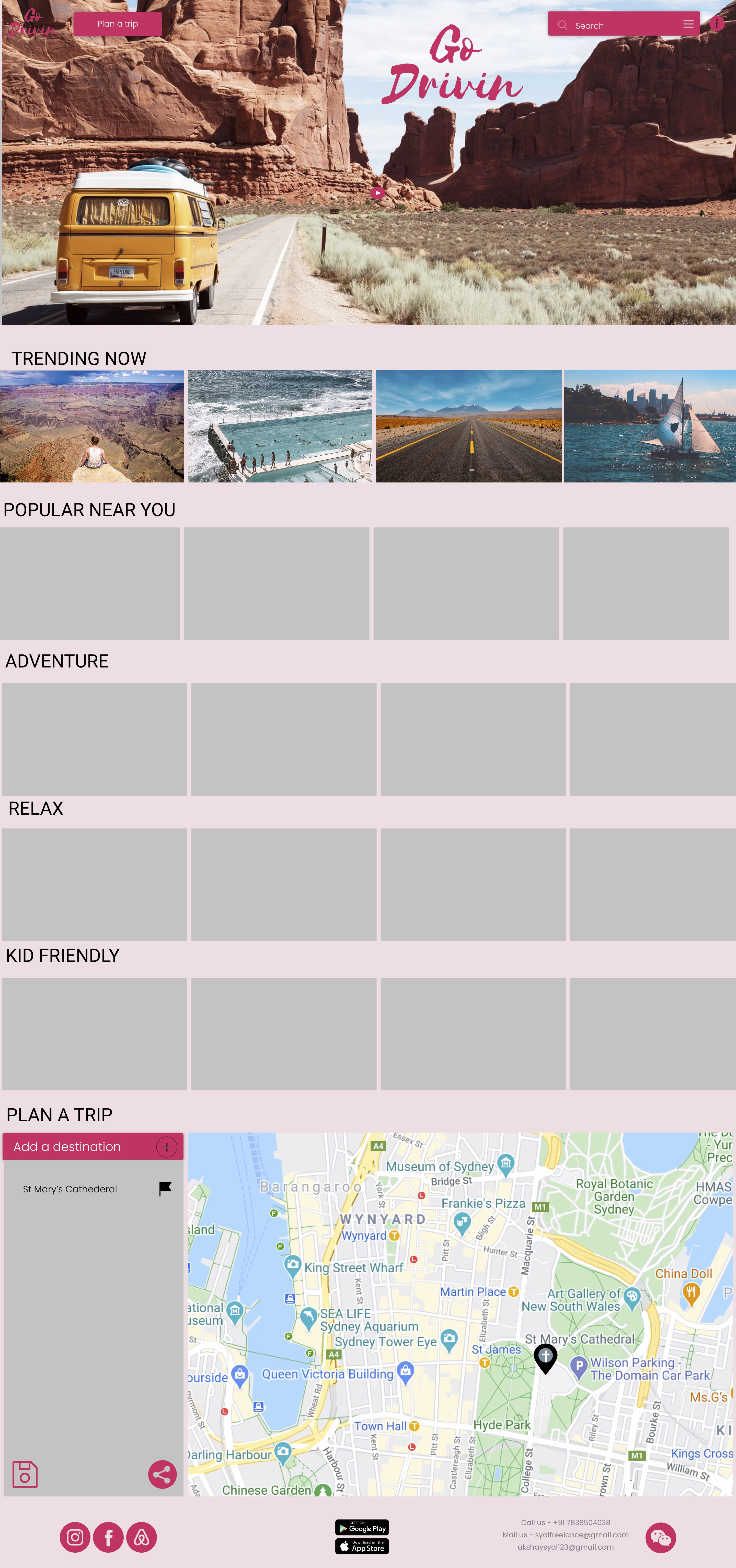 User Testing
Prior to launching the product, me and the team created two prototypes, a lo-def and mid-def and tested usability, ease of functionality and features.
We tested on 17 users throughout our usability testing phase. All our usability test were conducted using zoom and screen sharing functionality.
I received feedback such as:
"Plan a trip icon needs to be larger and clearly visible."
"The trip addition sign needs to be clearer."
"Adding stop button did not function as intended."
From here based on the feed back, I was able to create different iteration of the prototype to address and resolve the issues.

UI Design & Final Iteration.
Once I tested out all usability mistakes, I started designing the final screens in Figma, I followed the GoDrivin Styleguide, for the colours and fonts.
The layout of the landing page was inspired by Netflix and other travel websites to create a sense of discovery, exploration and have an ease of use.
I designed mainly for desktop use, based on the research.
The overall layout and design also help achieve business and user goals of having a landing page that is well optimised, functional, informative and easy to navigate.
High Definition Prototype