Canditude
Empowering recruitment websites and job boards with automated video pre-screening offering recruiters and employers more value during the recruitment process.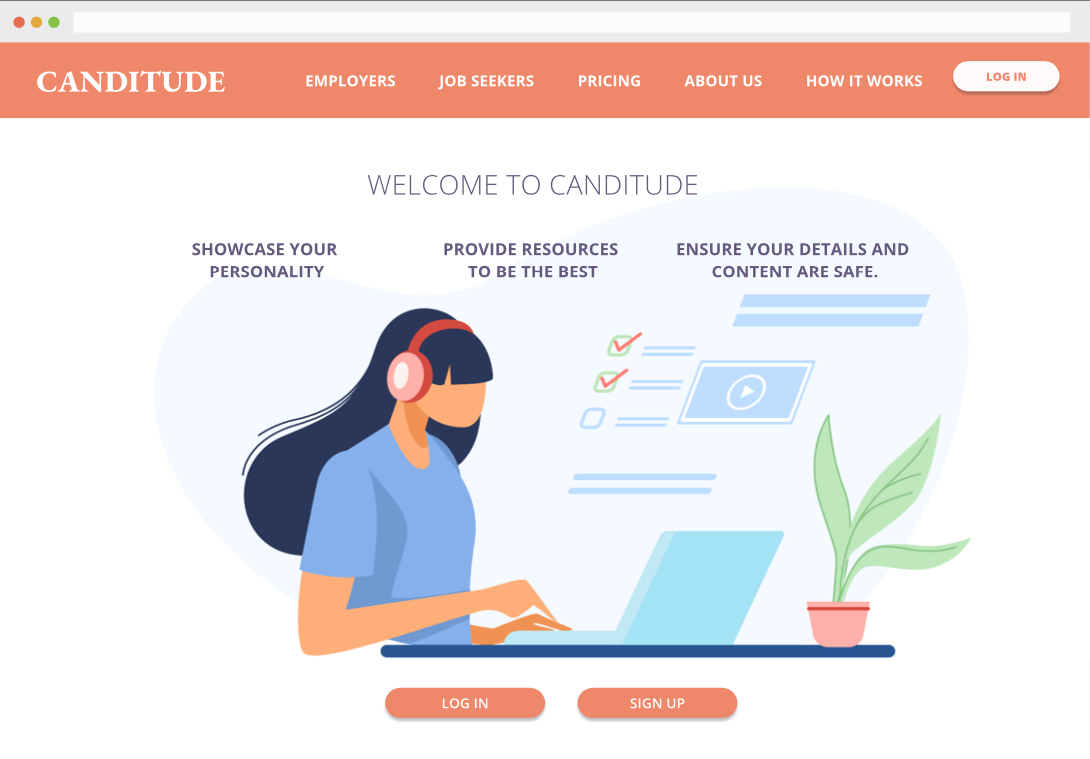 Background Information
Canditude is a Sydney, Australia based Human Resources start-up found in 2020. It stands on the pillars of Trust, Empathy, and Privacy to empower the recruitment process for both employers and candidates by providing an automated video pre-screening offering.
The Brief
After liaising with the Founder and CEO, Sayuj. I was given the brief of assessing how the Canditude product could be designed to offer functionality whilst keeping its brand values of Trust, Empathy and Privacy in mind. I was to design from the perspective of a candidate, starting from the point of identifying the job they want to apply for through to the completing the interview and looking for feedback.
My Role
I have been working remotely along side the Canditude Team, assisting them with their early stage development and growth of their platform.
In this role I have: conducted user research for product development and market fir, conducted competitor analysis, created user personas, assisted in the design of their user flow and customer journey, re-design their product page and have been consulting their team to develop features and functionality.
Goals
Suggested Deliverables:
Wireframe that maps customer journey with the product design.

Personas that align with customer journey

Styleguide for Canditude platform.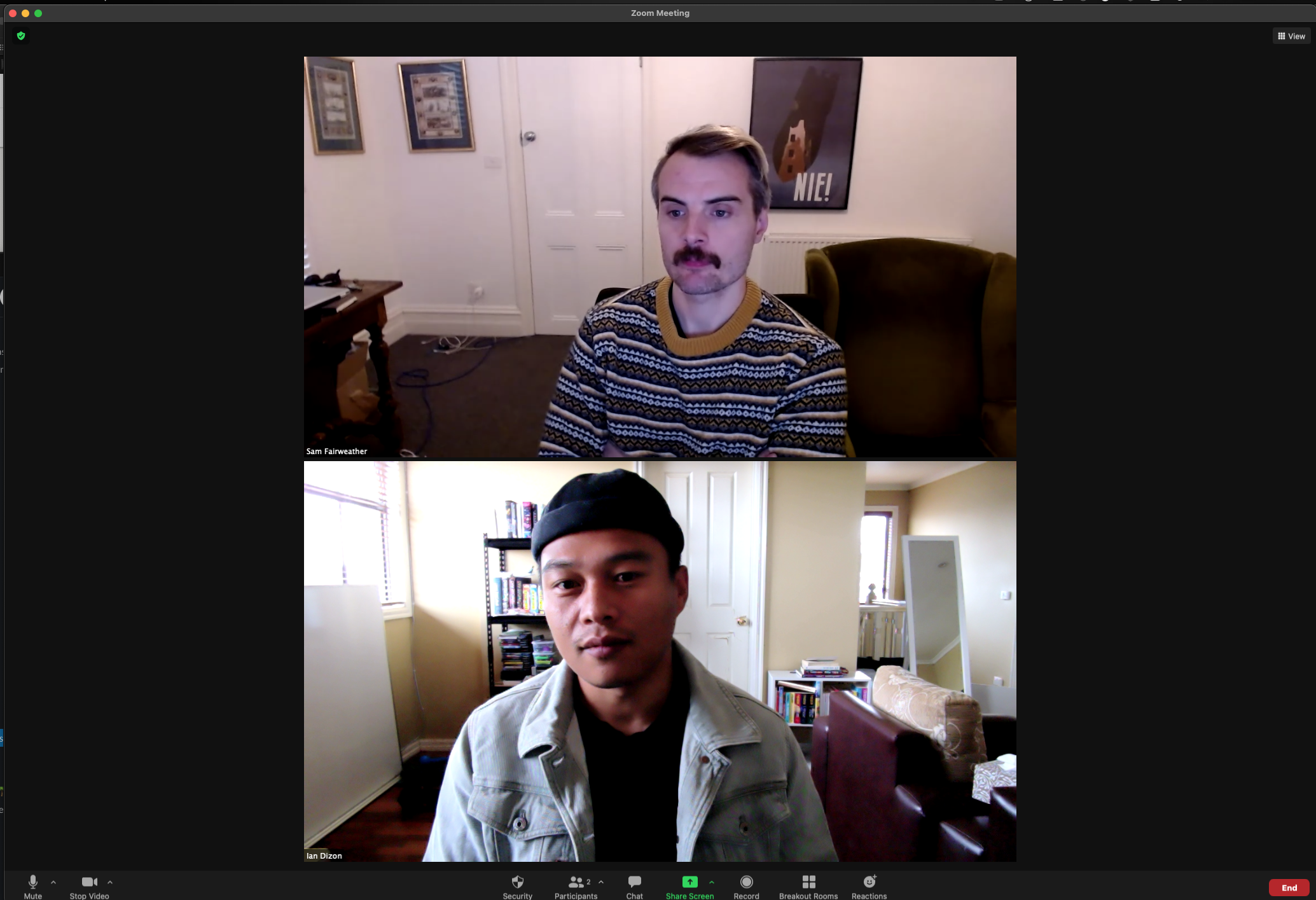 Interviews
At the discovery phase of my project, I conducted interviews to get a better of the problem.
These hour long in-depth interviews were conducted via zoom or phone call, asking question about their journey through the process of conducting a one-way video interview, goals, motivations, usability and functions of the platform provided to the candidate.
11 interviews were conducted with users.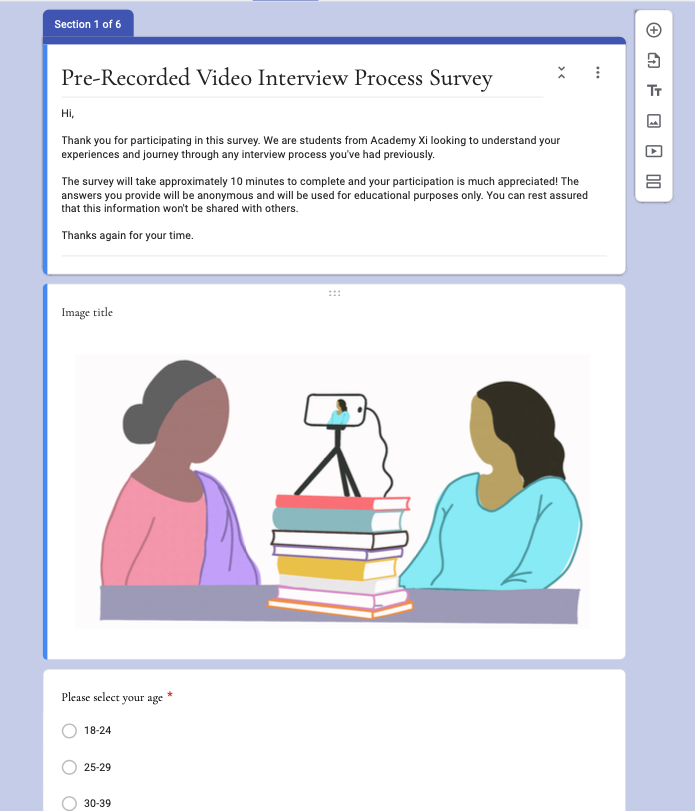 Surveys
We also sent out a short survey to seek further information regarding the user's journey and experience when being asked to conduct a one-way interview.
This survey was constructed using google forms and distributed online via forums, reddit, facebook groups.
The Survey had 21 replies.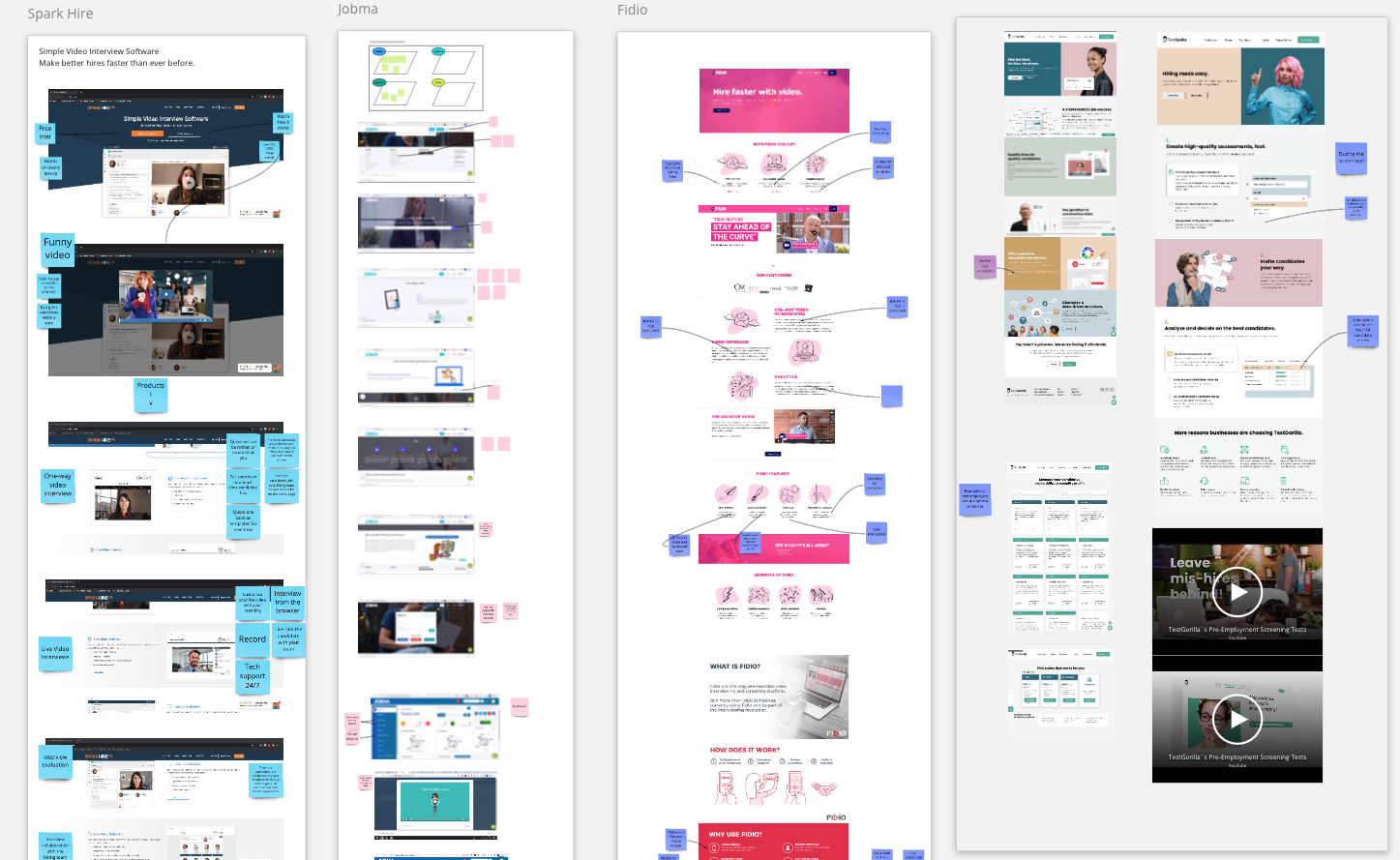 Competitor Analysis
I conducted competitor analysis on existing products, mainly focusing on platforms that provide one-way interviewing. Platforms such as, GorillaTest, Spark Hire, Jobma, and Fidio. I wanted to a deeper understand of their functions and how it may benefit Canditude whilst adhering to our design principles.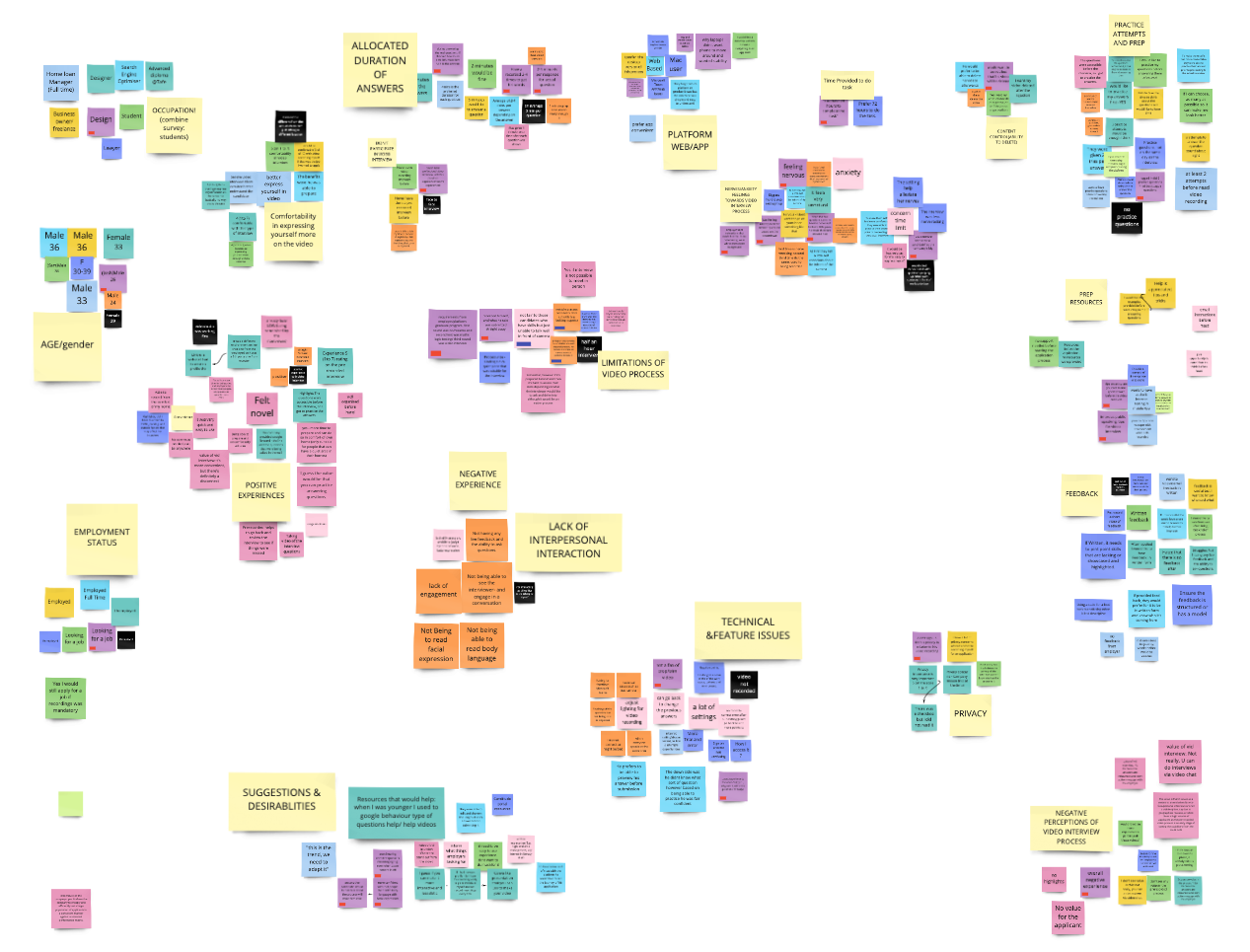 Insights
After the competition gathering the data during the discovery phase, and synthesising. I noticed some key insights and pain points that myself and the team could focus on.
Users lacked confidence and felt self conscious about being in front of a camera.
The user would like to be notified about the progress of their application.
The user would also like to practice conducting a one-way interview, prior to the eventual interview task.
83 %
Prefer to conduct the interview on a desktop.
81%
Said that 5-7 minutes would be the appropriate given time to answer a question.
New Problem Statement
Based of our research, and insights we created a problem statement that addresses the user journey and flow.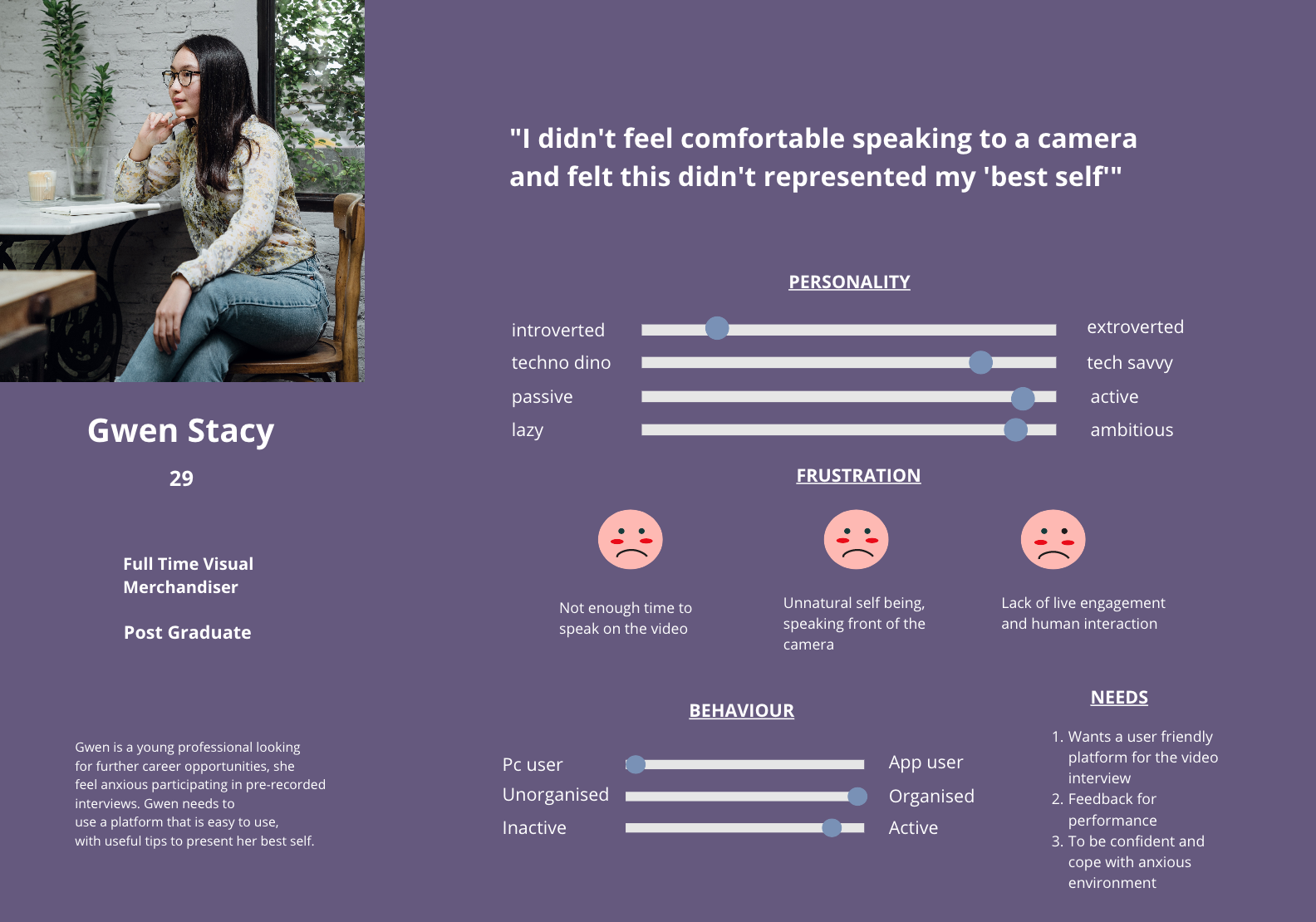 Personas
Based on the interviews, survey and competitor analysis I set up two personas. These two personas represent the candidate and the HR manager conducting the hiring.
Persona #1 is Gwen, our job seeker.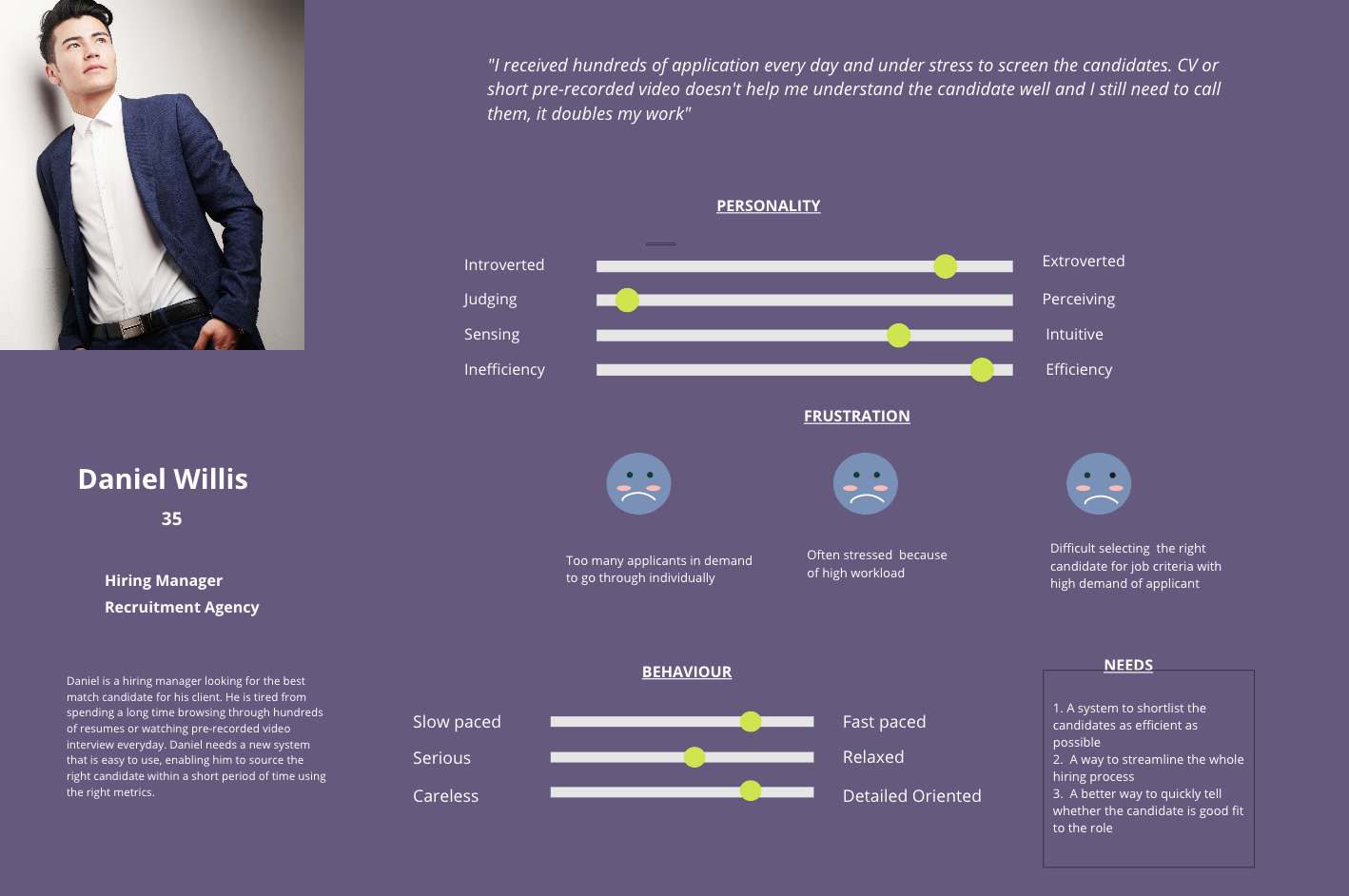 Personas cont.
Persona #2 is Daniel our HR Manager.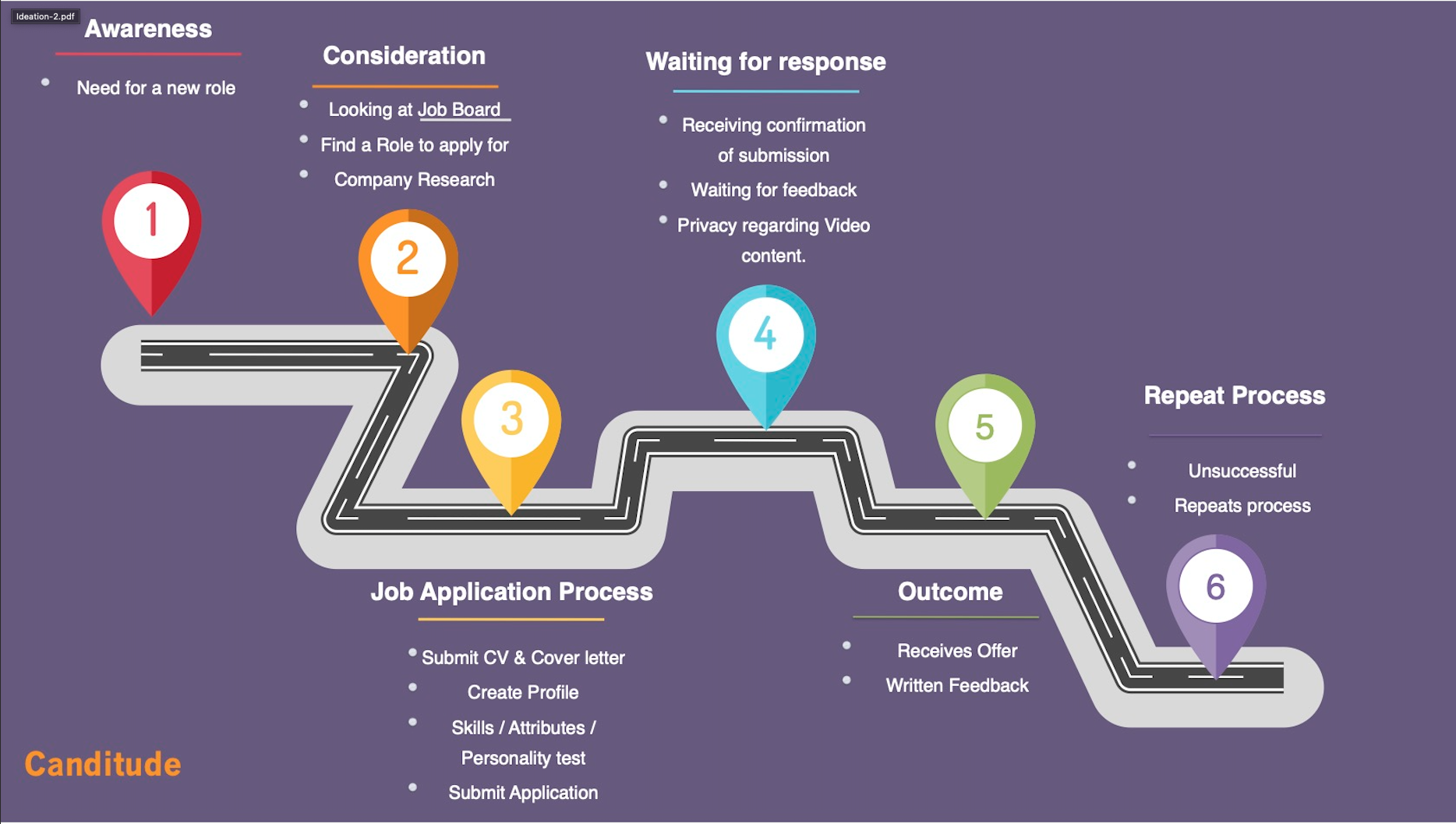 User Journey
From here I created a Journey Map for Gwen based on 6 scenarios. I thought about key points both digitally and physically that she may experience.
Whether its Searching through Job boards, Proceeding with her application, participating in a one way pre-recorded video interview, awaiting for feedback and the outcome of her application. I thought about what sort of pain points Gwen may experience based on research as she goes through her Journey.
Some of these could be being uncomfortable being in front of a camera, or not feeling like she's prepared for the interview, contemplating whether her content is safe and secure online, providing resources for her and thinking about what sort of opportunities are and how might we go about solving these pain points for Gwen.
How Might We?
From what we gathered from our research, and the pain points of the persona. I thought about the How Might We's to help their journey and achieve their goal.
How Might We provide Gwen with Valid Feedback?
How Might We make the process seamless and frictionless?
How Might We humafy the experience?
How Might We help Gwen get comfortable in front of the camera?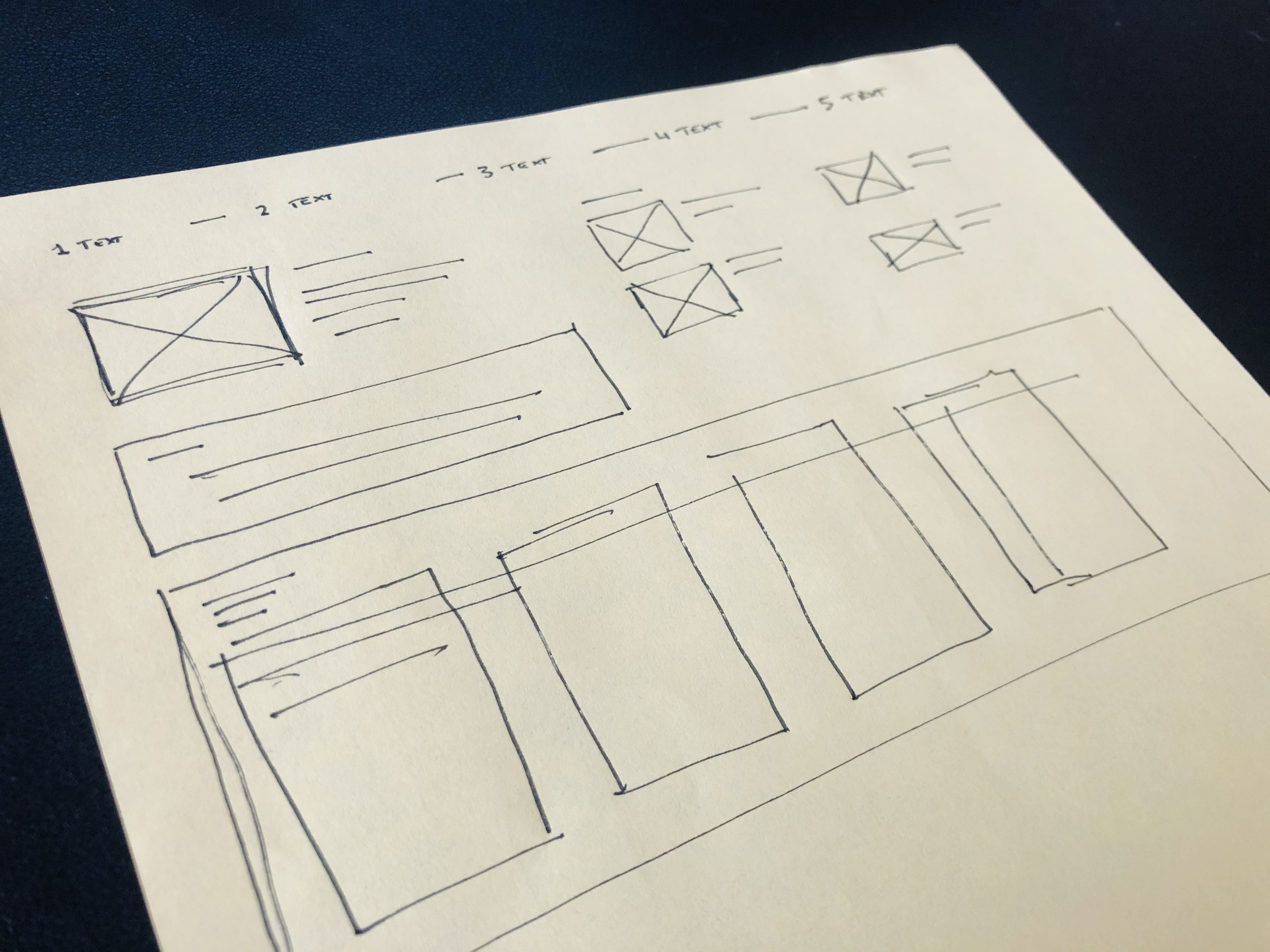 Ideation
Sketches
I start the design process with sketches of low fidelity wireframes. This is the way I iterate through many design options quickly based off the insights.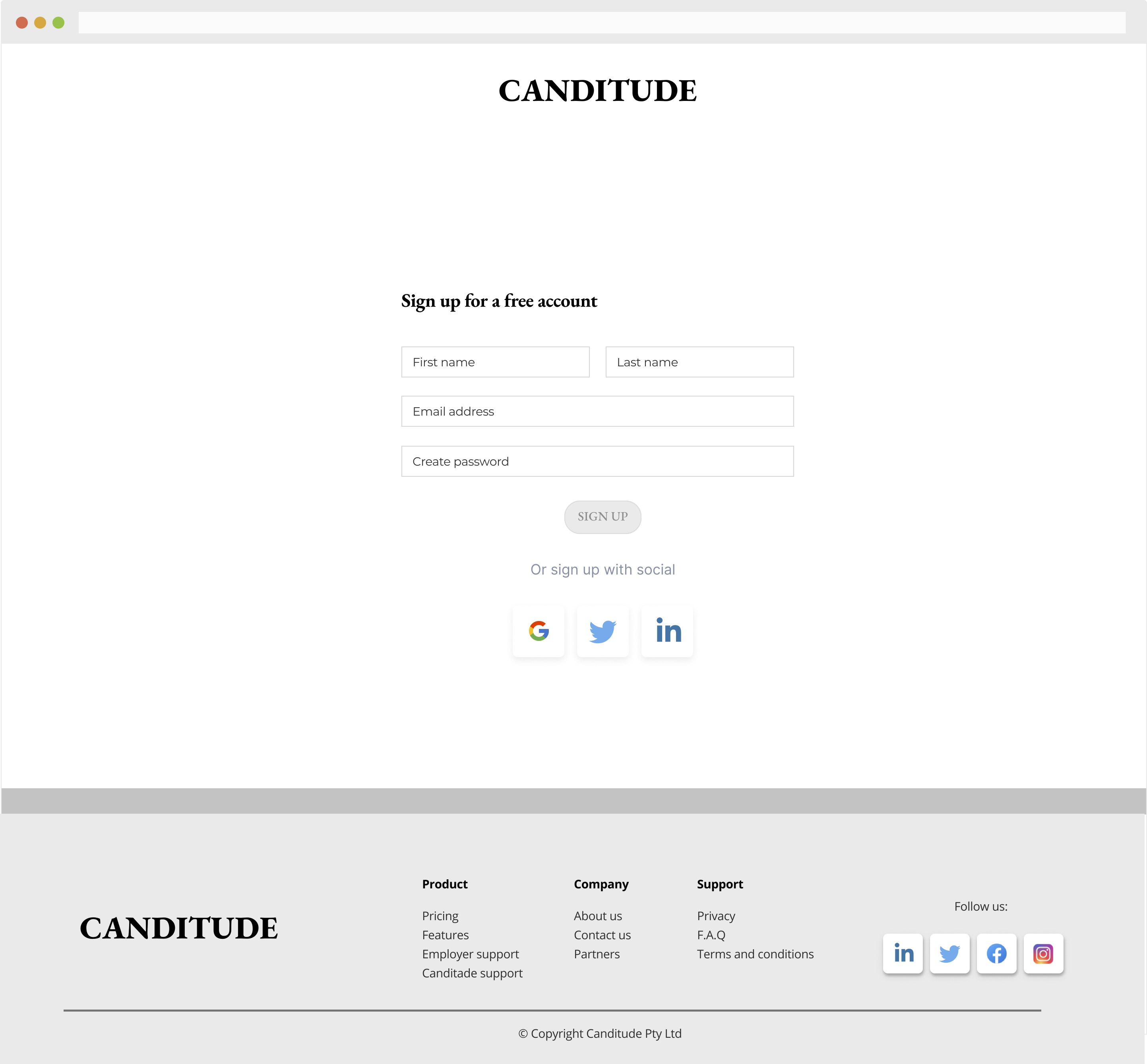 Wireframes
At the beginning of my design process I created wireframes for testing purposes. There were 6 interactions of the wireframes and journey leading into the Hi Def version of the prototype.
Myself and the team created a user flow, highlighted the MVPs, and created a style guide to represent the Canditude core values of Empathy, Trust and Privacy to help build brand identity.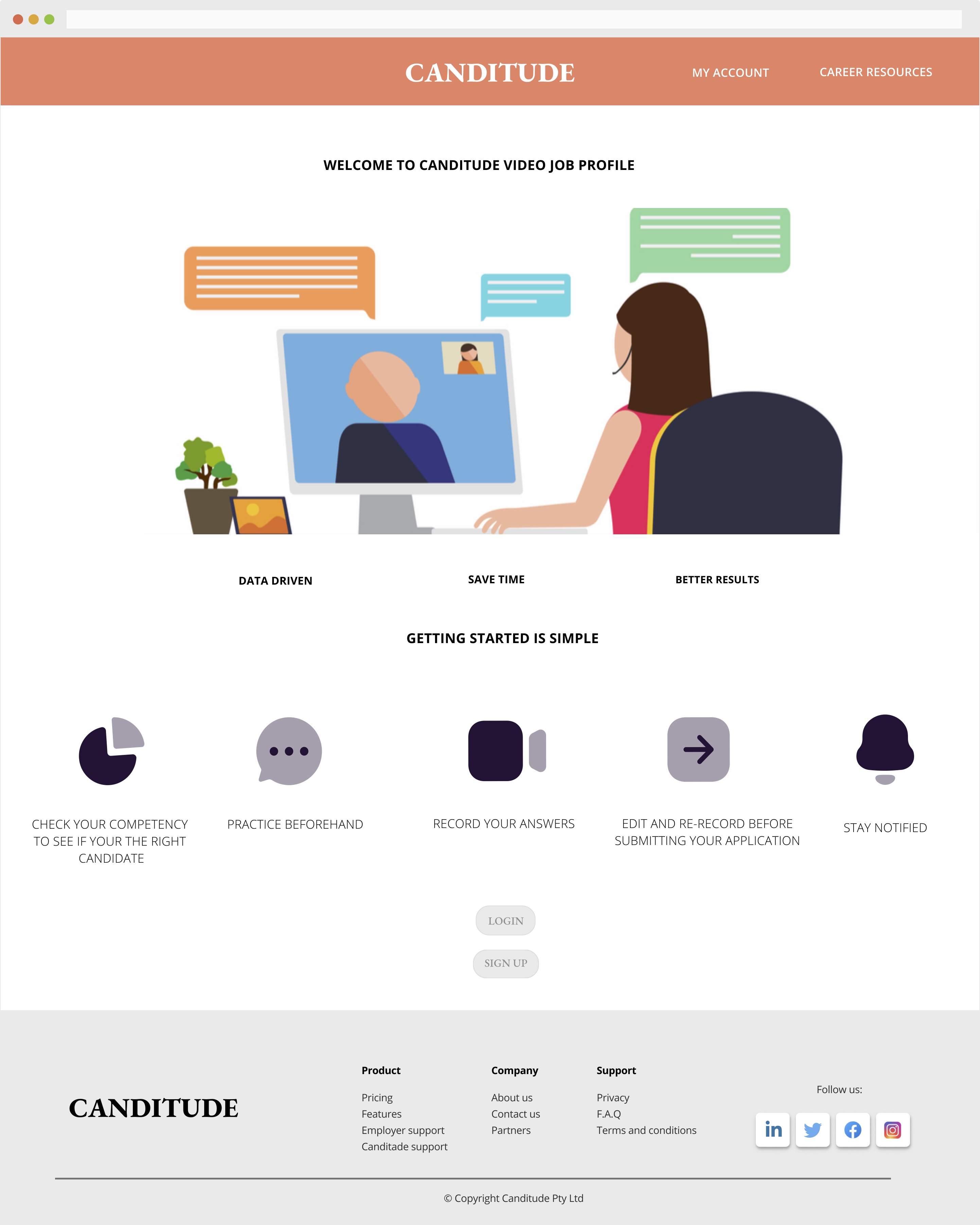 User Testing
Prior to launching the product, me and the team created two prototypes, a lo-def and mid-def and tested usability, ease of functionality and features.
We tested on 17 users throughout our usability testing phase. All our usability test were conducted using zoom and screen sharing functionality.
I received feedback such as for the Lo Def prototype:
"I can't find where to apply for a job."
"80% of the users were confused about the dashboard and the menu bar on the side."
"80% thought the calendar feature was useless."
From here based on the feed back, I was able to create different iteration of the prototype to address and resolve the issues. Upon making amendments and further refining the journey and user experience.
I tested the Mid-Def prototype and received the following feedback.
"Practice questions page needs more explanation."
"Process is simple and standard."
"This is the reason why I would come back to the website."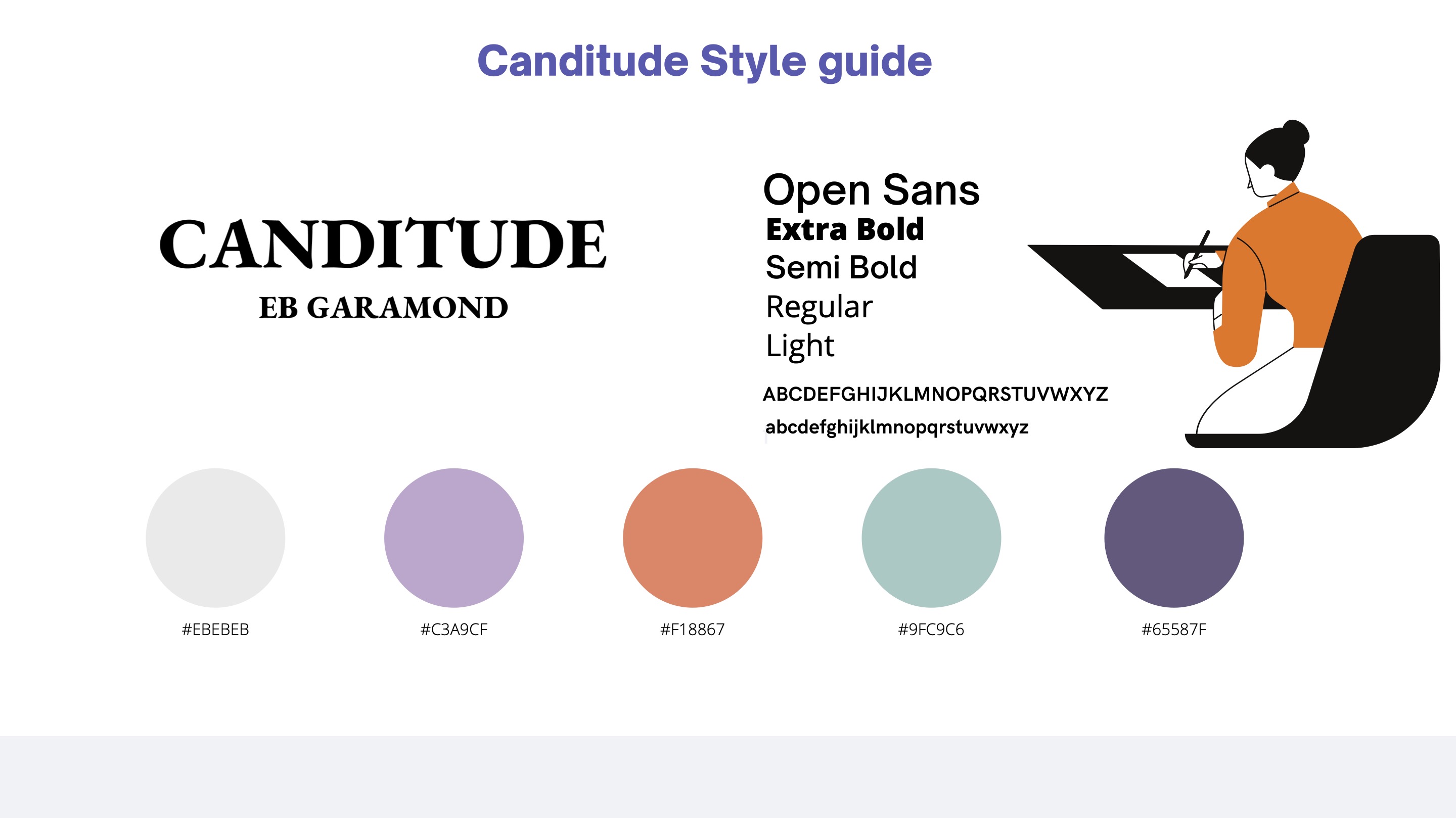 UI Design & Style Guide
Once I tested out all usability mistakes, I started designing the final screens in Figma. I created a style guide to help build brand identity, and choosing colours to match the Canditude brand values.
The user flow and journey was built with ease of use in-mind and ensuring it was seamless and frictionless. I designed mainly for desktop use, based on the insights from the research.
The overall layout, design, and functionality is to help the candidate achieve their goal and also highlight features such as the career resources, aptitude, personality and culture fit test to highlight their strengths and provide them with the confidence moving forward to the one-way video interview.
High Definition Prototype