What does it mean to be a freelancer in Portugal
A user research project for Classe B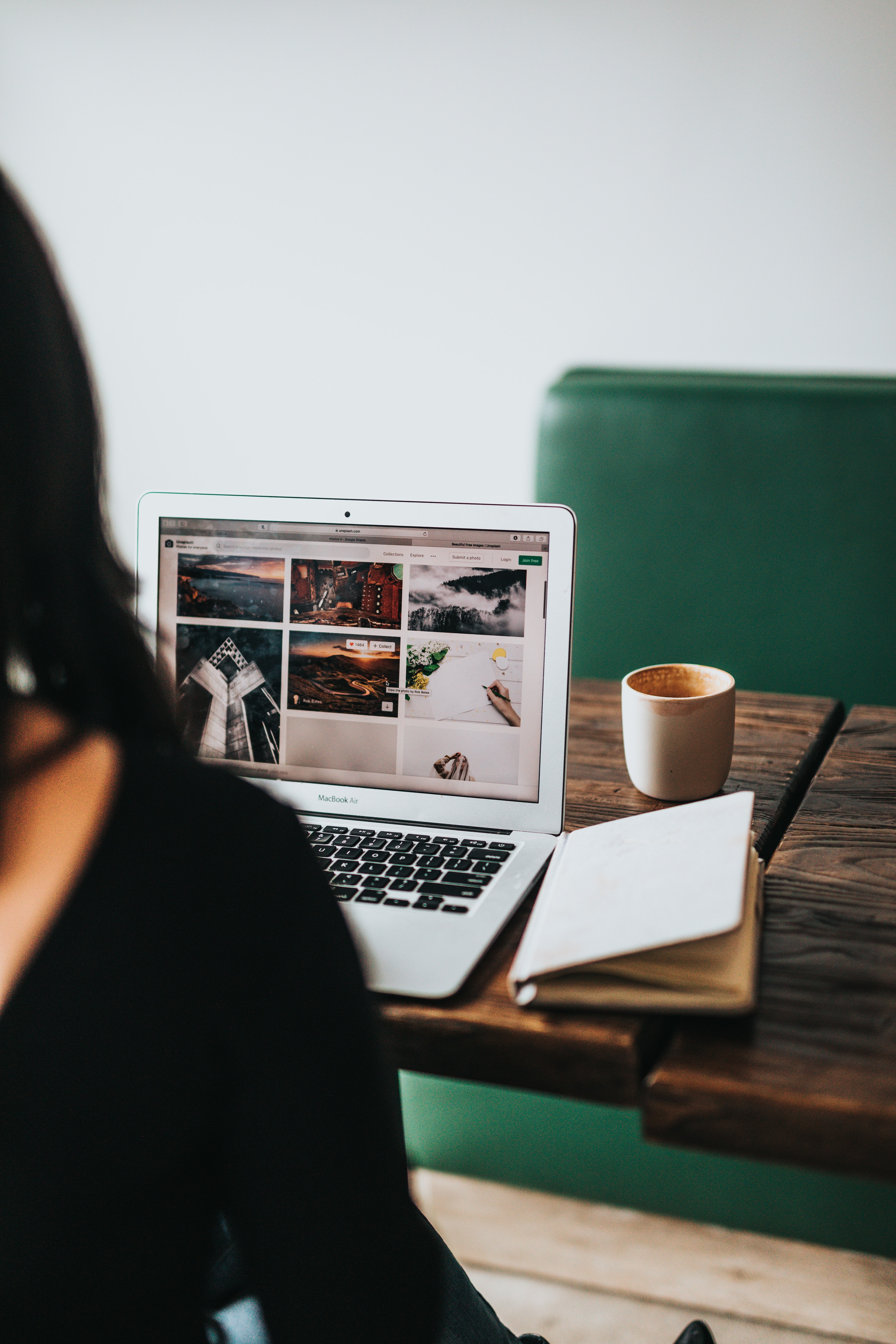 More than 16.5% of the Portuguese population work as a freelancer. With this study, our purpose is to understand the needs, worries and expectations of an independent worker in Portugal.
The Problem
Freelancers usually work alone and don't have a professional structure to support them with social, financial, or legal issues.

The Goal
Our purpose is to develop a digital platform for the Portuguese freelancer's community with guides, articles, and educational resources.

In this project, I was responsible for
Affinity Diagram, Exploratory User Interviews, Thematic Analysis, Personas, User Journey Mapping

Tools
WhereBy, Notion, Miro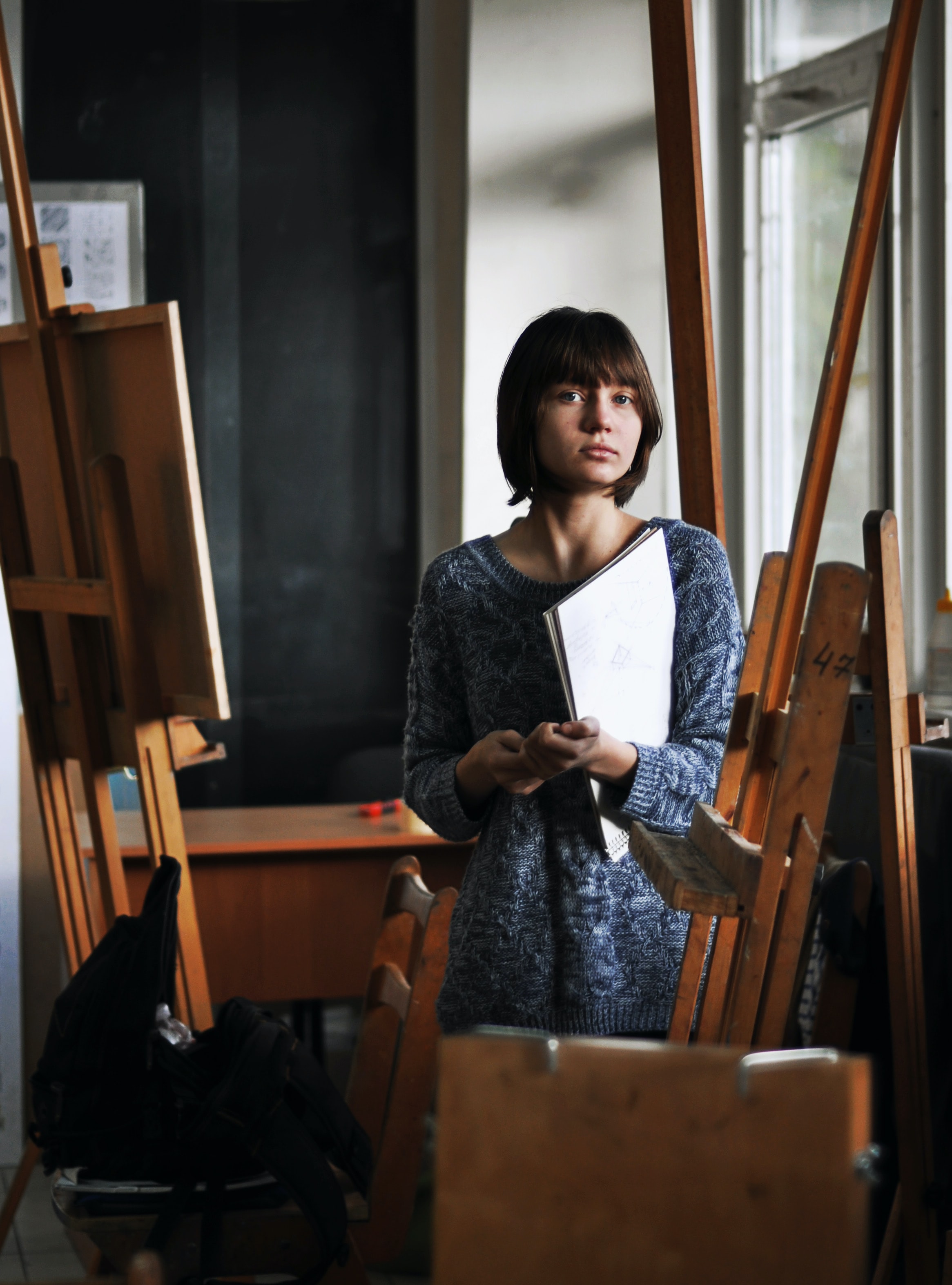 Defining a hypothesis
I had the chance to start working with Classe B in the early stages of the platform. After a short interview with the project managers - where they introduce me to their ideas, values, and goals - I identified and formulated a hypothesis that would be our starting point.

In Portugal, freelancers lack resources to help them thrive as independent workers. This can lead to unreliable incomes, demanding work conditions, or scarcity in work-life balance. When these workers need to take care of legal and financial issues, like securing their safety during work hours or learning how to do their taxes properly, bureaucracy is usually on the way.

Creating a platform where freelancers can access all the information they need in plain language will give them the right tools to transform their work.

To test this hypothesis, I conducted exploratory user interviews with freelancers from different fields to understand their needs and worries as independent workers in Portugal.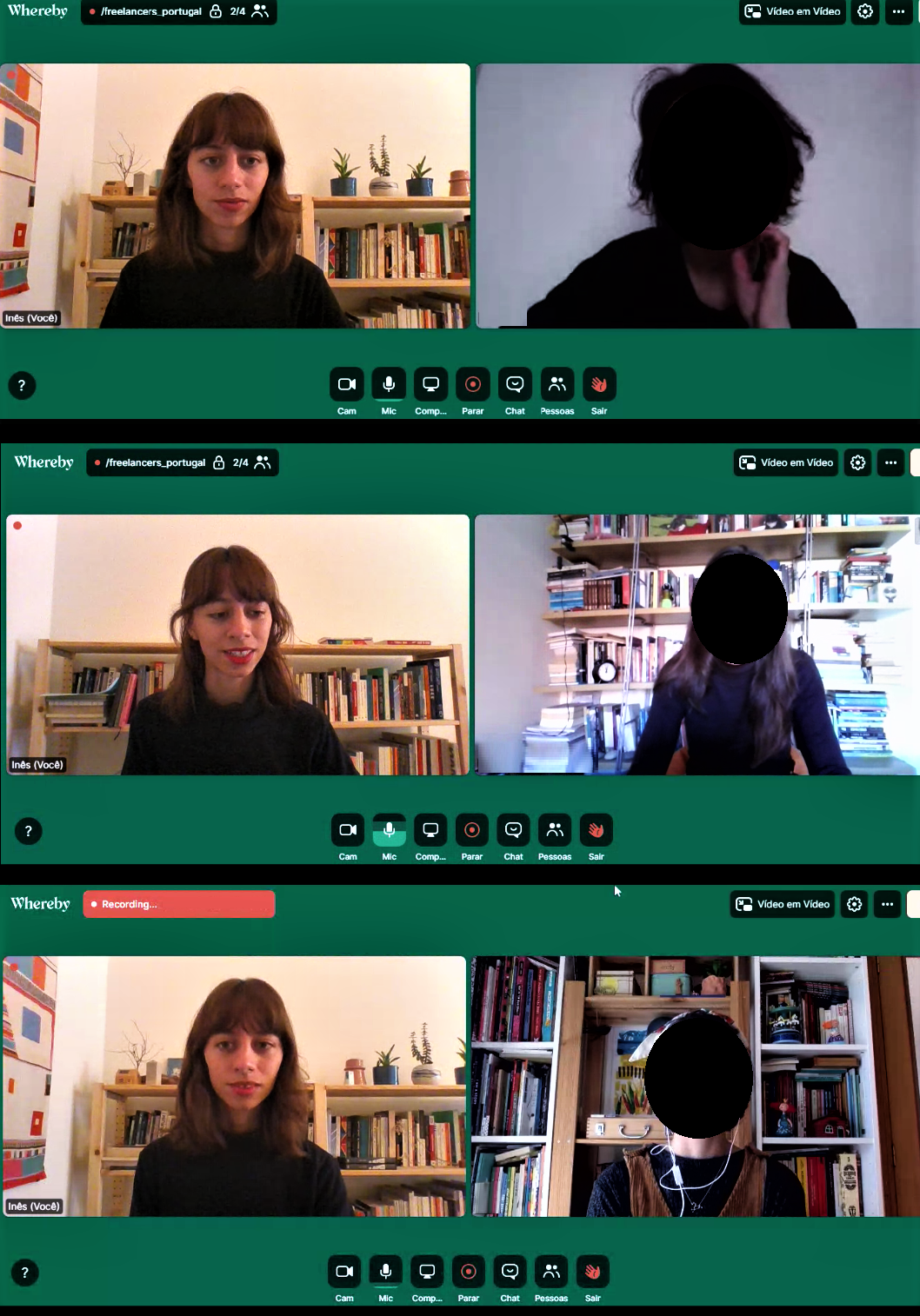 Remote in-depth interviews
First, I used an affinity diagram to segment 50 different professions into two mains groups. After analyzing what was common between the various occupations, we divide them into physically demanding and mentally demanding roles.

Based on these two segments, I recruit a total of 10 participants from our networks. This was a good solution as the platform doesn't have social media accounts where we could find potential users.

After a brainstorming session with the project managers where we thought about possible questions for the semi-structured interview, I identified all the themes. Then I order them to ensure a smooth conversation flow.

Each interview took about 45 minutes and was realized on WhereBy. I choose that platform, so it was easy for the participants to connect without installing software. The interviews were recorded with the interviewee's consent. While transcribing the interviews, I used Notion to identify the main subjects.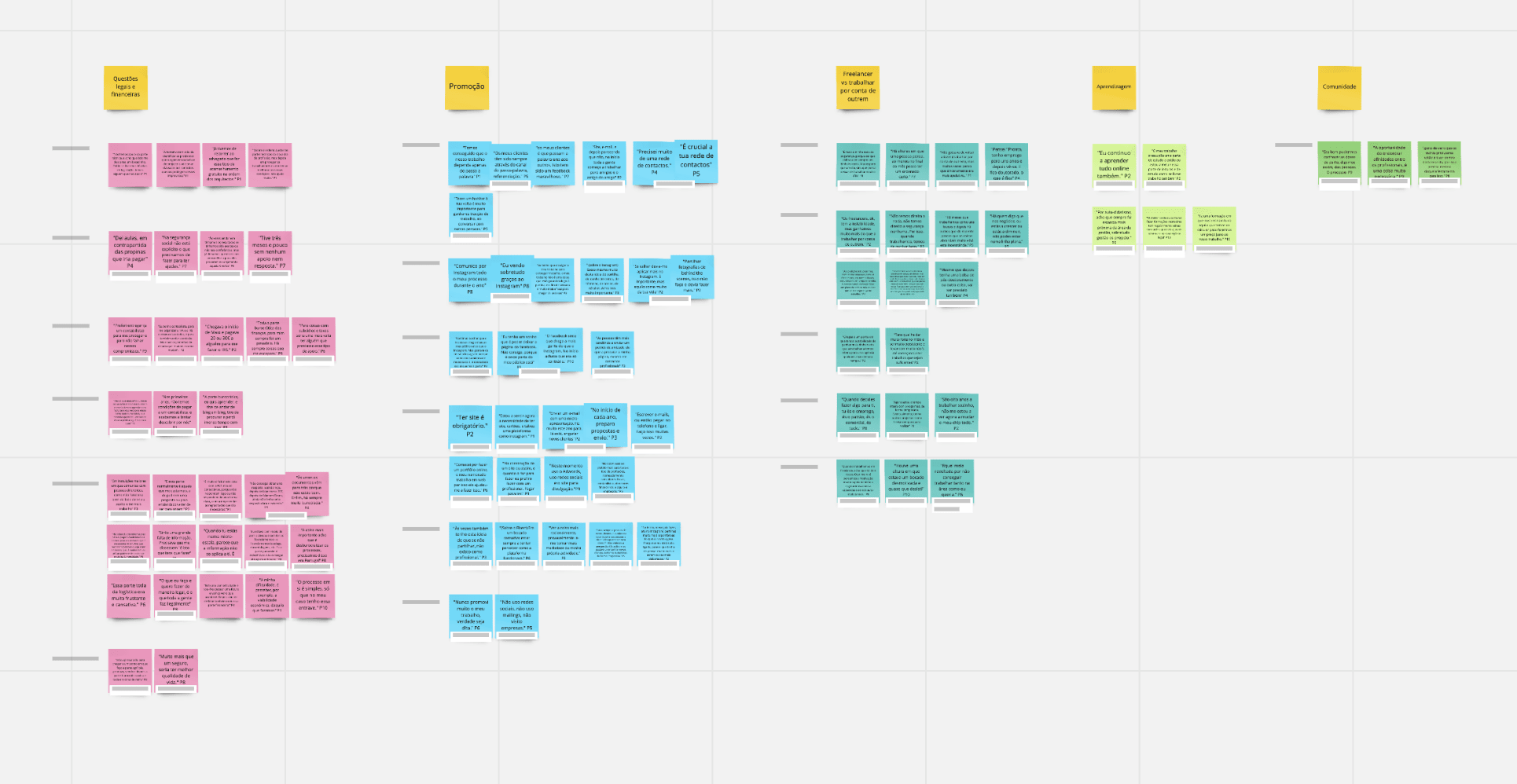 Performing a Thematic Analysis

To make sense from all the qualitative data I gathered from the interviews, I performed a Thematic Analysis to familiarize myself with the data. First, I mark some preliminary ideas in the transcript to generate initial codes. Then, I started an iterative process to find themes. This analysis helped me understand which are the main worries for Portuguese freelancers.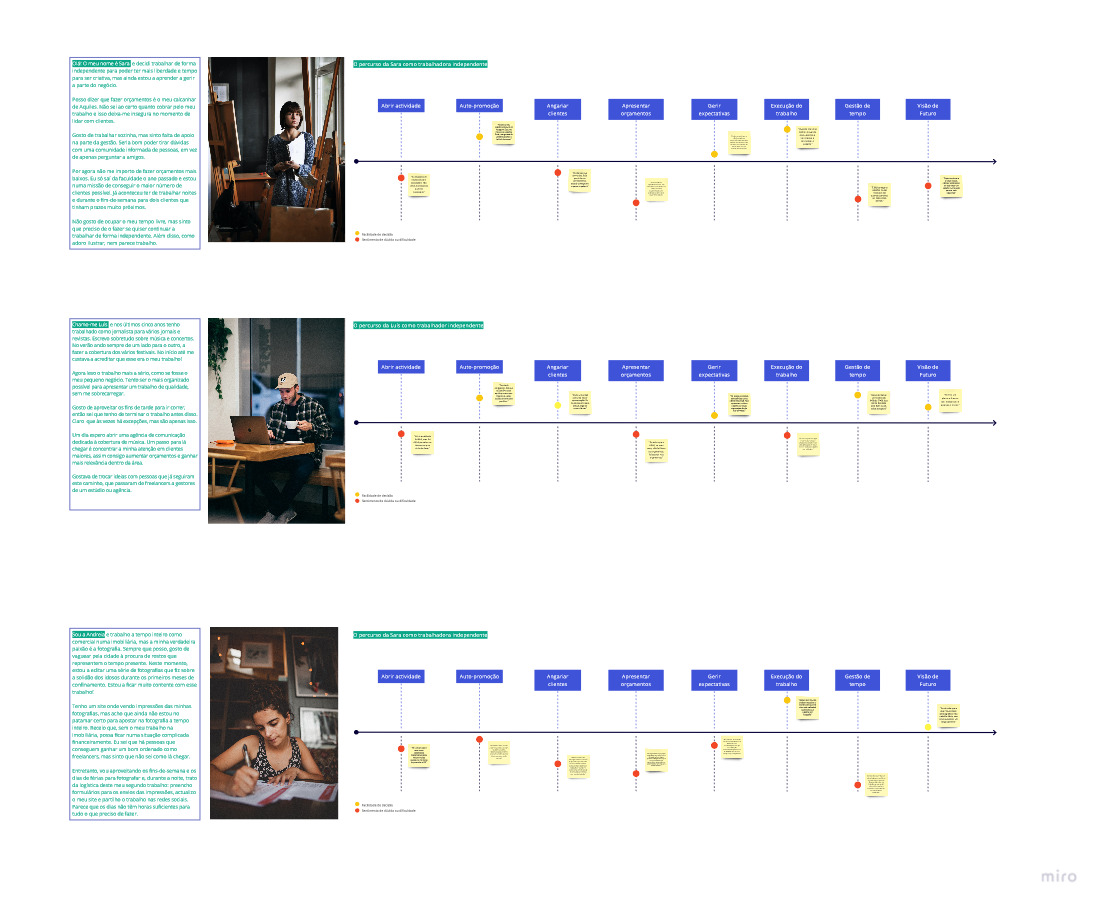 Deliveries: Personas
I used Personas to inspire Classe B's designers to create more meaningful ways of connecting with freelancer workers.
Since the website is designed for independent workers from different fields and walks of life, I decided to focus on someone who has just started working as a freelancer, on an independent worker that wishes to have their own business and someone who is juggling freelance work with a full-time job.
Deliveries: User Journey Mapping
To better understand each person's journey, from looking for new clients to time management, I create a User Journey Mapping with Miro.
Results
When I first talked to Classe B's project managers, there was an idea on the table about the creation of a platform to help Portuguese freelancers improve their work life. Subjects such as finances and legal matters were some of the topics that were being though for the website.
After this research, we learned that independent workers' needs are more vast than we initially thought. After analysing more than 9 hours of in-depth interviews, we realized that the platform should not only give practical information about how to deal with money and bureaucracy but should work as a community that cover topics such as mental health, work-life balance and self-promotion.
Knowing how freelancers felt from the moment they decided to work independently to managing clients and promote their skills, Classe B's project managers created a new set of categories with contents that could follow the Portuguese freelancers along their professional journeys.
Besides the definition of new categories and contents for Classe B's platform, we are already planning a usability test to analyse how people will navigate through the website.
"The first time we spoke with Inês about Classe B, we were still not sure of the dimension that the project could have or even the target audience that we had in front of us. Inês was a key player in figuring this out, guiding us through an extremely detailed process of user research always tailored to our needs. Her willingness and friendliness to guide the interviews are notorious and this is reflected in the excellent results collected. We were able to gather countless testimonies, which after being reorganized and meticulously analyzed, resulted in our key personas and key goals for the project. We also accepted Inês' suggestion and we'll soon start the process of user testing with our website and we already know it's going to be a huge help to the project.
Thanks Inês!"
Bárbara Nogueira | Project Manager