How the project started
We formed our start-up Equalytie during my Master's Degree at Kingston Business School London in collaboration with Young Enterprise UK as part of our Design thinking for Start-up module.
Name Equalytie stands for 'equality' and a 'bow-tie' as the aim of the final product was to raise awareness about the importance of equality in the workplace. However, our project name was not Equalytie at the beginning, as we came up with this name during our design research (find out how below).
Our target audience was young professionals aged 25-35, who suffer from inequality in the workspace the most based on our research. We created a product with the aim to raise awareness about the importance of equality. Our mission for the future was to organise workshops, events, collaborate with more charities and organizations that support gender equality and overall create a movement to support gender equality.



My role
My role was Managing and Design Director and I was in charge of leading the design strategy as well as managing a team of four on this project. Task included:
Designing and implementing product strategy and development
Conducting user research and analysis, present the data visually
Designing research activities, helping engage project teams and others with research
Running research activities
Engage team and stakeholders with research
Actively contributing to what type of research, strategy and design will provide the best results
Analysing research data and clearly communicating the findings
Defining MVP
Designing Wireframes, UI Design and Prototyping
MVP definition
Designing a branding image
Design the product and packaging as well as creative strategy for social media marketing
Overall manage a team and a project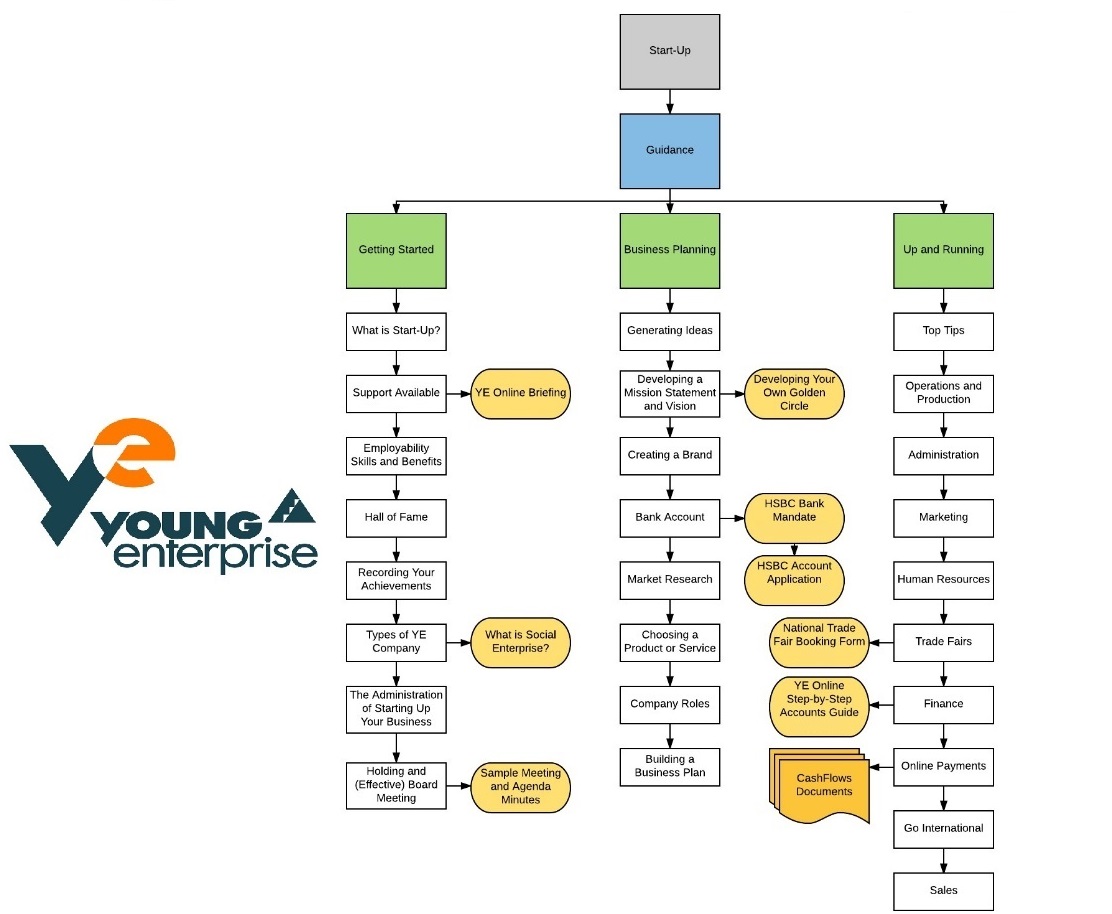 Project guidelines/roadmap
Our project was in collaboration with YE Enterprise UK and graph on the left-hand side shows the basic structure and suggestions of a project guideline by YE.
The aim of this project was to execute user research and design a viable product or service, create a start-up at the end with a viable business plan and trade created product or service.
One of the main aspects of creating a startup was also to have a positive social impact. It was important that product or service that would be created would affect the surrounding and address community with a positive note, whether the project's outcome would be an actual product, service, campaign, activity or policy.
Principles of a project
what, why, how
"Design is a systematic and data-driven process"
The statement above was a mantra of this project because the design is systematic process due to its techniques that are based on discovery and data research. The project was based on user research and systematic decisions that were implemented at the beginning of the project. We were relying on our data from user research and designed a product according to these principles.
To portray the message in the best way for the user, an understanding of the design and its process was crucial. A systematic and data-driven process allowed us to create a product at the end that was efficient, easy to use, as well as easy to understand for our targeted users. The product we designed conveyed brand values, mission statement and company aims that users recognised it at first glance.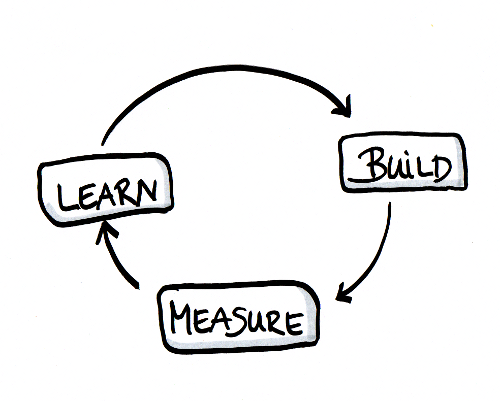 The process of the research
Build. Measure. Learn.
The Lean UX principles were used for the purpose of Equalytie research and we focused on users and their needs through the whole process of the design research.

We formulate and validate the hypothesis. Conducted early user testing with a rough mockup to unveil unexpected pain points of users. We defined MVP and focused on research results to only create features that users really need. We developed a final product, its logo with branding and at the end sold the products on trade shows.

"Working women are paid less than working men" (here)

"Women are underpaid, compared with men" (here)

"Despite being more educated than men and constituting nearly half of the workforce, women are promoted at work far less often than men" (here)
"Women surpass men on education attainment", 37.1% of women hold at least a Bachelor's Degree compared to 34.9% for men but are still paid less and underrepresent leading roles (here, here)

"In nearly every industry, the gender pay gap begins at graduation." (here)

Traditionally know 'male-dominated jobs' make it difficult for women to find a foothold in the workplace and there is inequality based on gender across all industries and rungs of the ladder (here)

There is a lack of women in leadership positions and big gender inequality in CEO positions, men outnumber women in leading positions in all regions evidence shows and women still make less than their male colleagues (here, here)

In the S&P 500, less

than 10% of women are top earners

and

less than 5% of CEO's are women

(here, here)

"If you're a woman, you will earn less than a man." (here)

In 2020 there are still just 6 female chief executives in the FTSE 100, meaning that 94 of them are males (here)
Due to some policies or government rules, there is still a big gender gap in education in some countries, which has a negative effect on women's ability to provide for themselves and their family (*p.421)
"It's true that you would expect a woman working in the UK to earn less than a man." (here)

Not having equal access to schools and education for girls in some countries lead to negative economic growth (*p.422)
It is a human right to have equal access to education for all children in order to have fuller, healthier and satisfying life (*p.422)
Evidence shows that the gender pay gap increases even more later in life once women become mothers (here)

Workplace gender discrimination negatively affects women's earnings and opportunities and therefore such inequality contributes to women's lower socioeconomic status (here)

"Women work more but are still paid less" (here)
*Source: here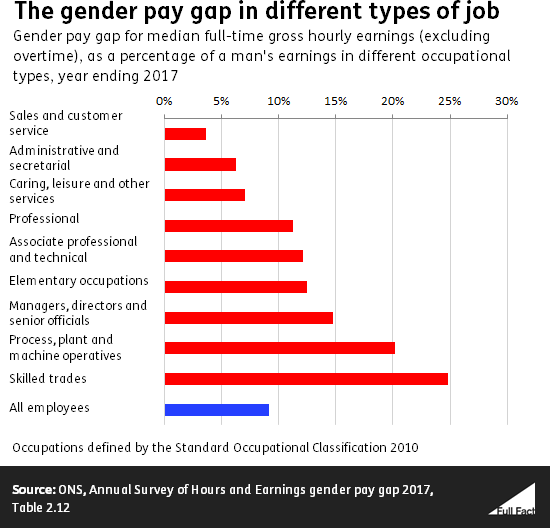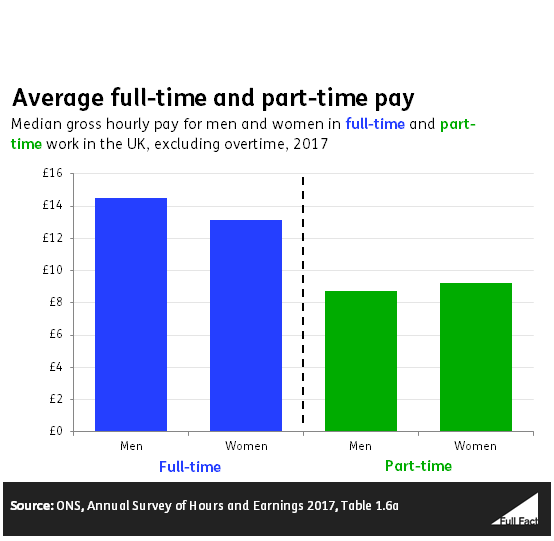 Graphs source here
Why does this matter
Why is it important to solve this issue or try to raise awareness about the facts mentioned above
"Achieving gender equality is important for workplaces not only because it is 'fair' and 'the right thing to do,' but because it is also linked to a country's overall economic performance" (here)

"If the United Kingdom closed its tech gender gap, GDP could increase by up to 5%" (here)


Workplace gender equality is linked to improved national productivity, economic growth, increased organisational performance, enhanced companies' ability to attract talent, retain employees, better organisational reputation (here, here, here)

Organisations which are less supportive towards gender equality harm women's motivation, goals and performance at work and ultimately leads to women's leave of the organization (here)

Women make up 47% of the UK workforce (here)

Countries with more gender equality have lower poverty rates (p.422, here)

Unequal representation of women in the board create further barriers to women's advancement at work and reduces women's economic security (here)


Hiring women in leadership roles have a positive short-term and long-term impact and a positive difference in the company as well as the global economy (here)


1 in 3 female graduates has a Degree in Health-related Studies or Education, compared with only 1 in 11 male graduates (here, here)


In most countries around the globe, women are performing better than their male students (here, here, here)

Having at least 1 female director on the board appears to cut a company's chances of going bust by about 20% while having 2 or 3 female directors lowers the risk even more (here)

Women have the skills Employers need as 63.6% of girls achieve 5 or more GCSEs at grade A to C or equivalent, including English and Mathematics GCSEs compared to 54.2% of boys (here)

Inequality at the workplace harm women's access to jobs, opportunities for development, ratings of performance, and lead to stigmatization (here)

Gender equality at the workplace builds stronger reputations for companies, increase the inflow of highly qualified candidates for jobs and has better overall organizational performance in corporations (here)

Variety of studies confirms that gender equality has a positive social impact and builds a more prosperous global economy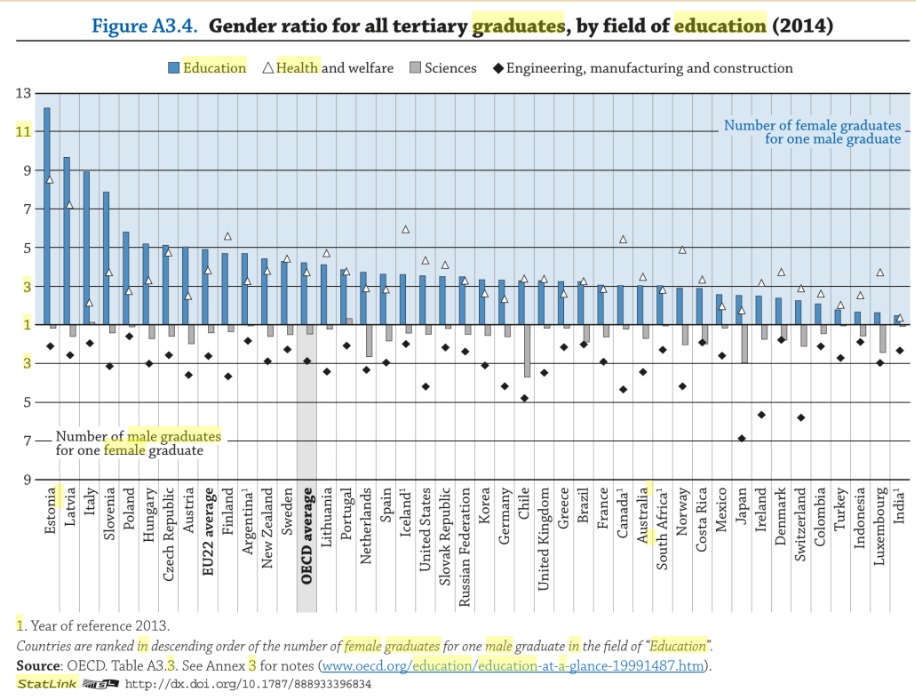 Design a product, service or campaign to raise awareness about gender inequality at the workplace. Design something that will be desired by people but at the same time representing the cause.
Research summary
Before starting with the research I created a research methods summary and what are we going to research at a certain stage.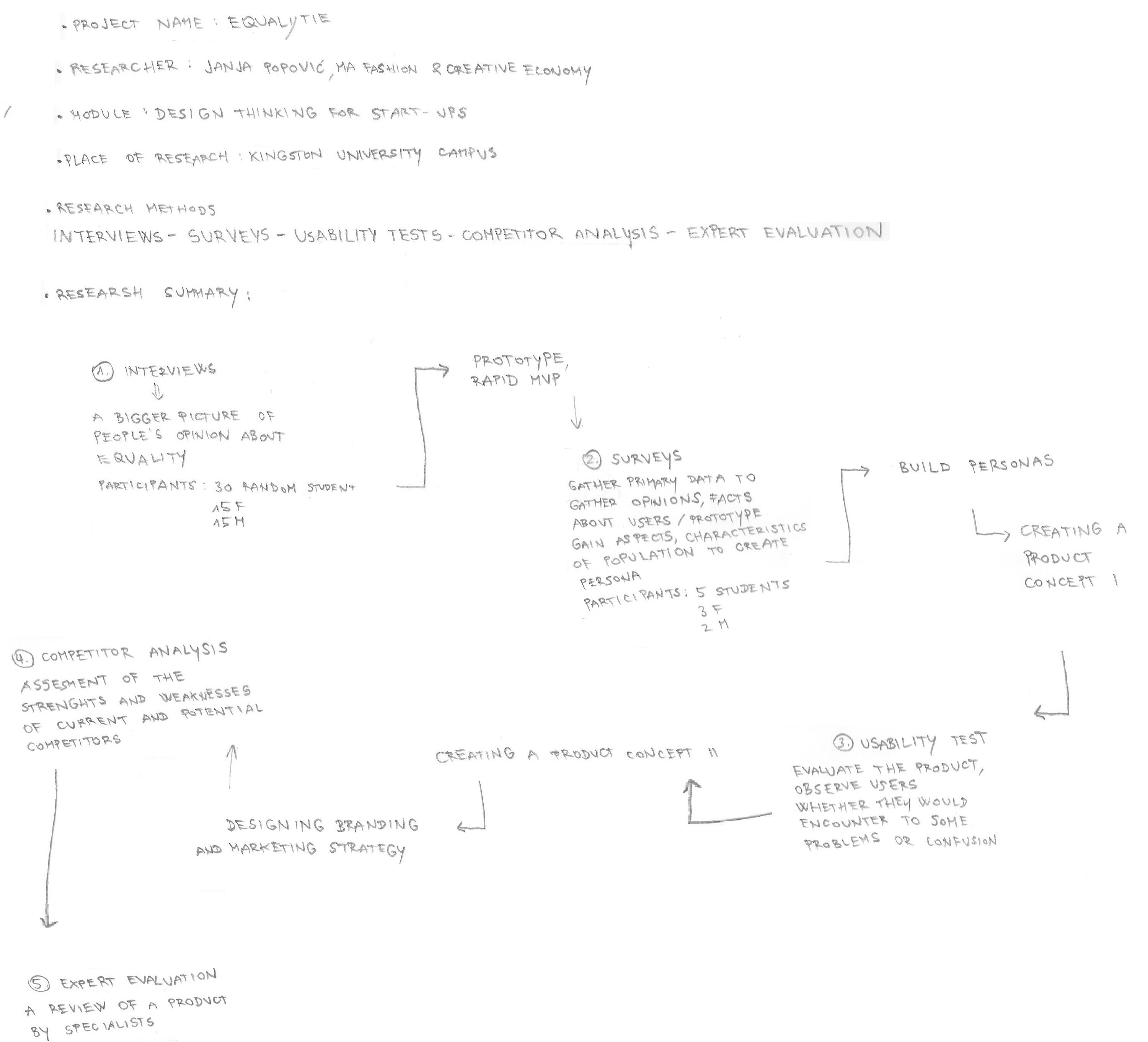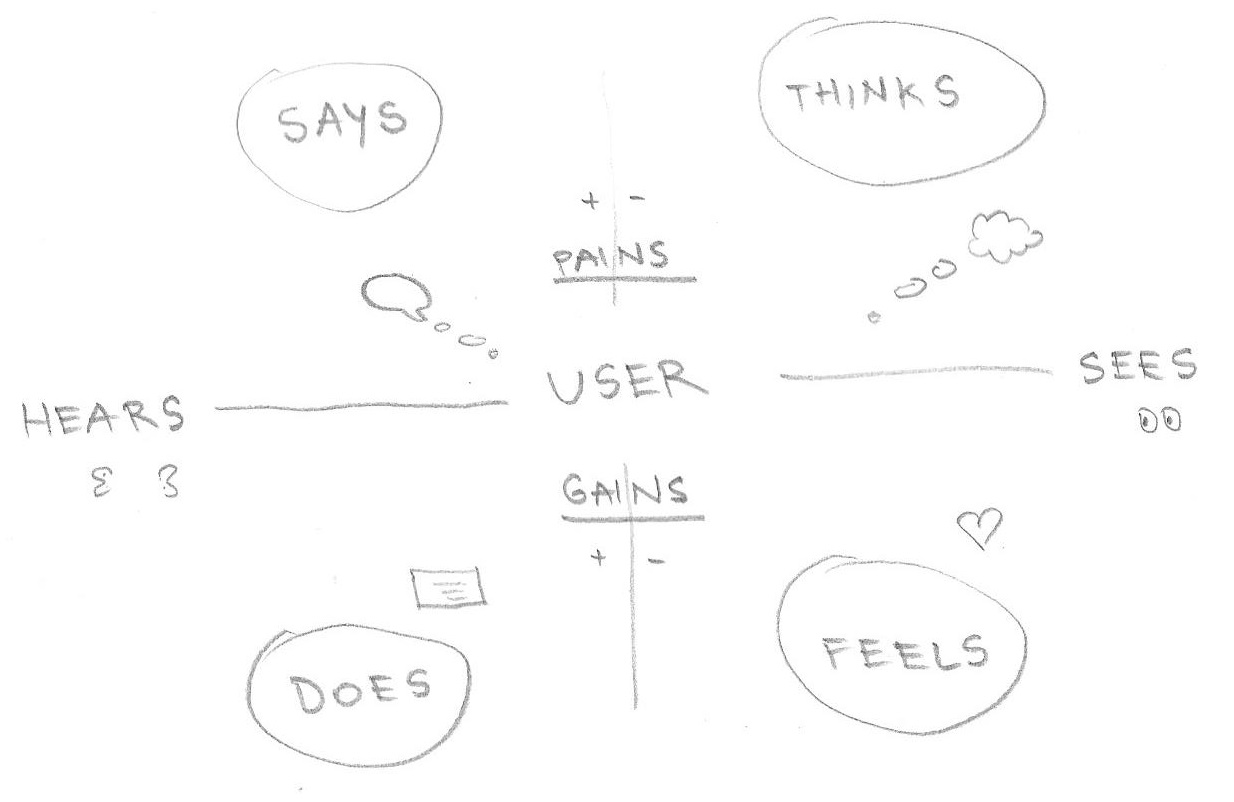 Empathy map
To better understand who are we going to design an experience for, as well as helping us to make decisions later on in the design process benefiting the user an empathy map was created. Empathy map helped us to map deeper insights about our users and it allowed us to create a group of potential users, which we later put into customer segmentation and create personas. The empathy map had four main quadrants containing Says, Thinks, Does and Feels.
Empathy mapping was driven by qualitative research method and also helped us to understand what aspects of users we knew, understood and could relate to, and what areas of their needs do we need to research further.
This was great practice as it gave us a clearer road map on what area do we need to gain additional data.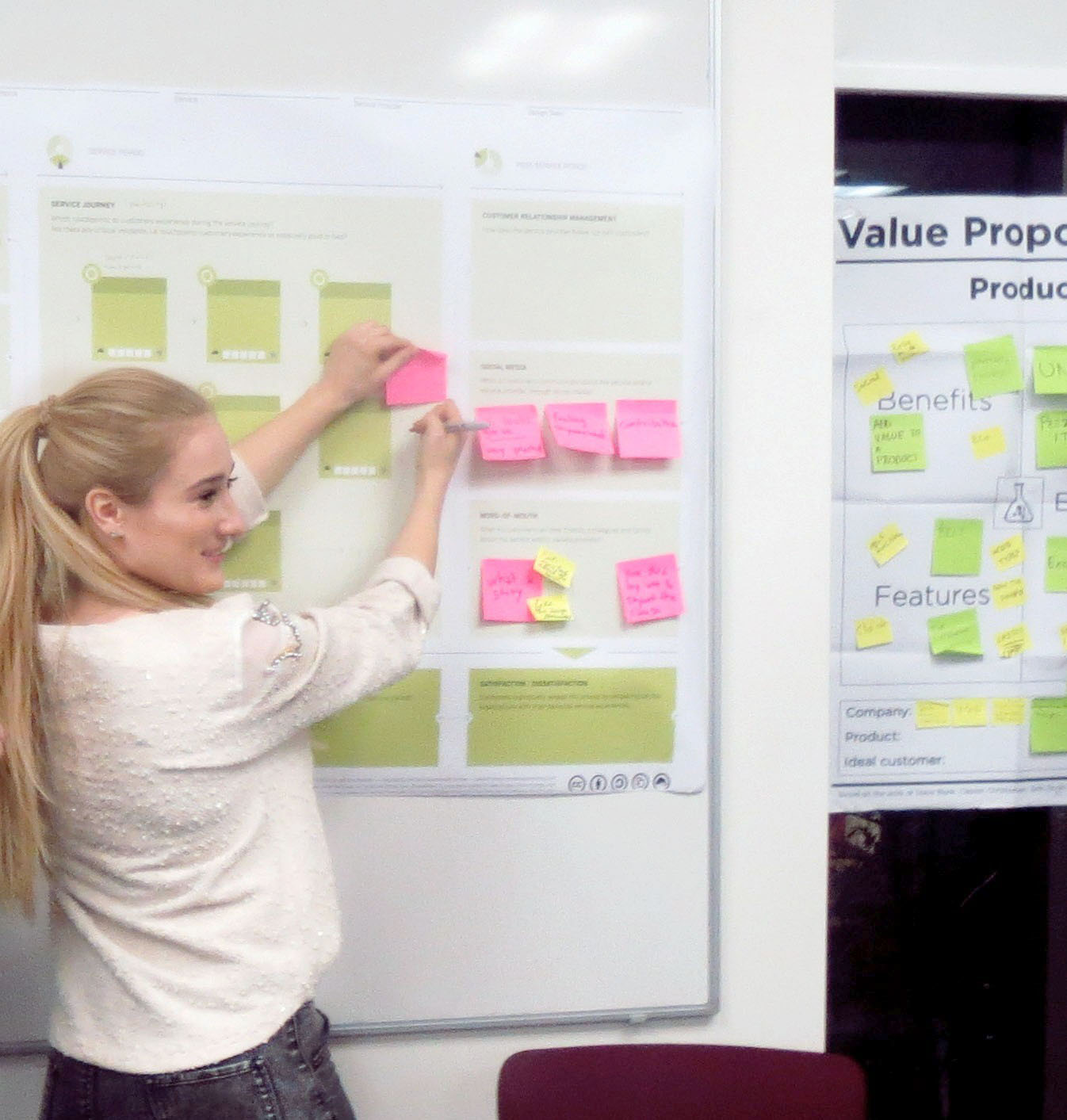 Interviews
Product development user research to develop user personas
Firstly, we started with a bigger picture of learning people's opinion about equality. We wanted to know how do people perceive equality, what goes to their mind when someone says equal, how would they describe equality, do they support any cause or charity that is raising awareness about equality in the workspace.
Secondly, we created the product mockup based on user research and wanted to learn would people wear a wooden bow tie to support the cause is there any other option on how people would show support of being part of the cause, what are people's preferences bigger or smaller bow tie, why certain shape and do they have any pain points.
At the discovery phase of this project, we, therefore, conducted user interviews in order to get a better understanding of the problem. The exploratory research study took place at Kingston University London and around its campuses. We used qualitative methodology at this stage with face-to-face interviews to find what our potential users think about the product.

Audience
The research included 30 students who we interview randomly around the campuses. There where equal part of female and male participants, so 15 of each gender. The participants varied from course they studied, from the economy, design, law, nursing, accounting etc.
Observations
After we conclude the interview we created the affinity map with post notes. Each observation was written down on different post note and added to the wall in no particular order. We had then a team discussion about our observations and group post notes in certain groups. We find some similar observation and created user personas based on the research. Through an analysis of collected users' feedback, we came to the conclusion that we will create a product which will be in the shape of a bow tie.
Process
There were 30 interviews completed and here are some questions I asked my interviewees at the first stage of product development in the research stage:
Do you support any cause that is raising awareness about equality? If yes, when was the last time you support them and how?

Did you ever buy any product that supports the mission of equality?

Do you feel you are treated the same as your female/male colleagues at work?

What do you consider as being equal in the workplace?

What does equality represent to you?

Do you wear a bow tie?

Would you wear a bowtie if it would support the cause?

How do you like to express your contribution to being part of the cause?

What do you think about the name Goodwood (later Equalytie)?

What do you think about the colours used in a logo, what associates you with these colours?

Would you buy this product?

How much would you pay for it?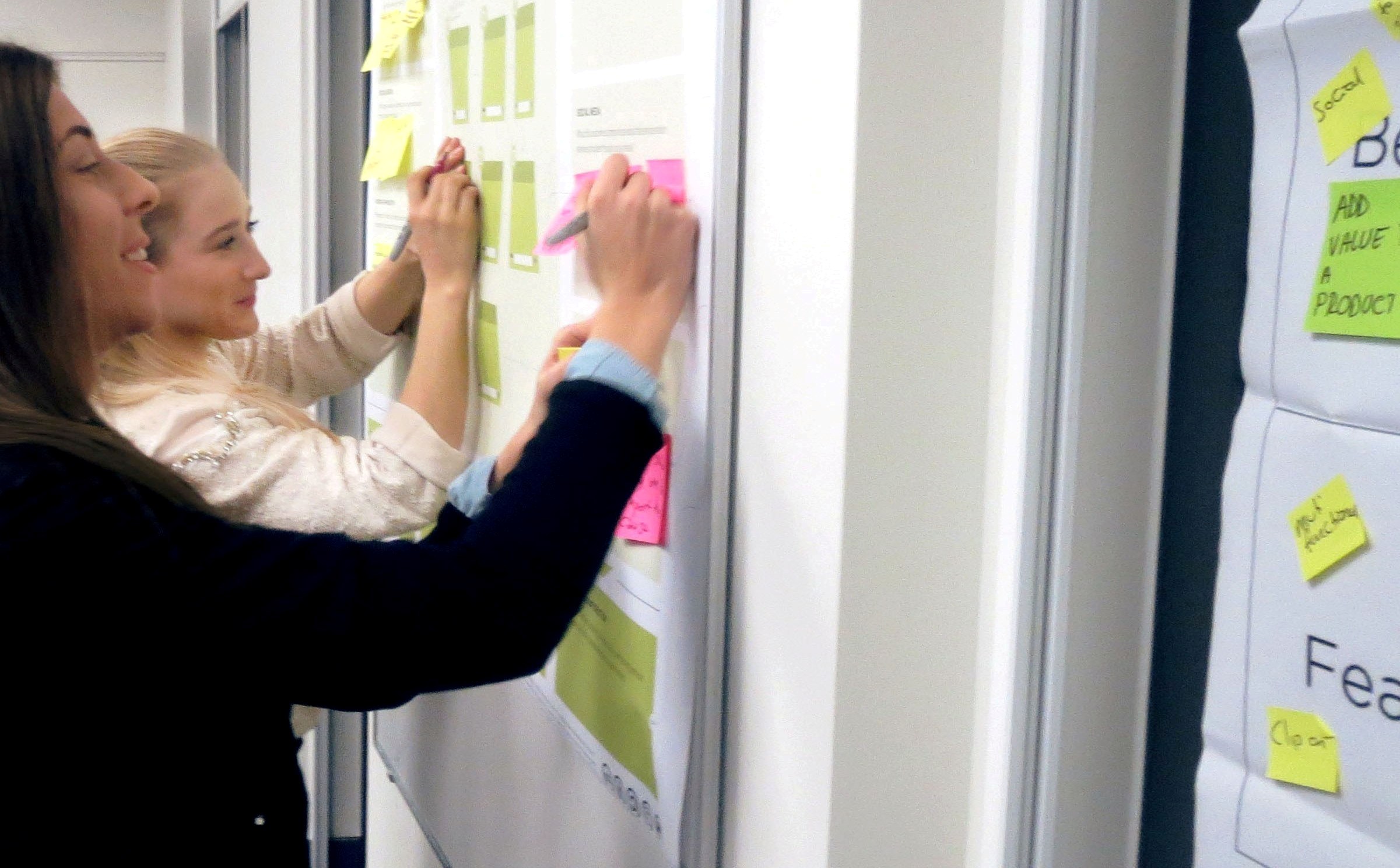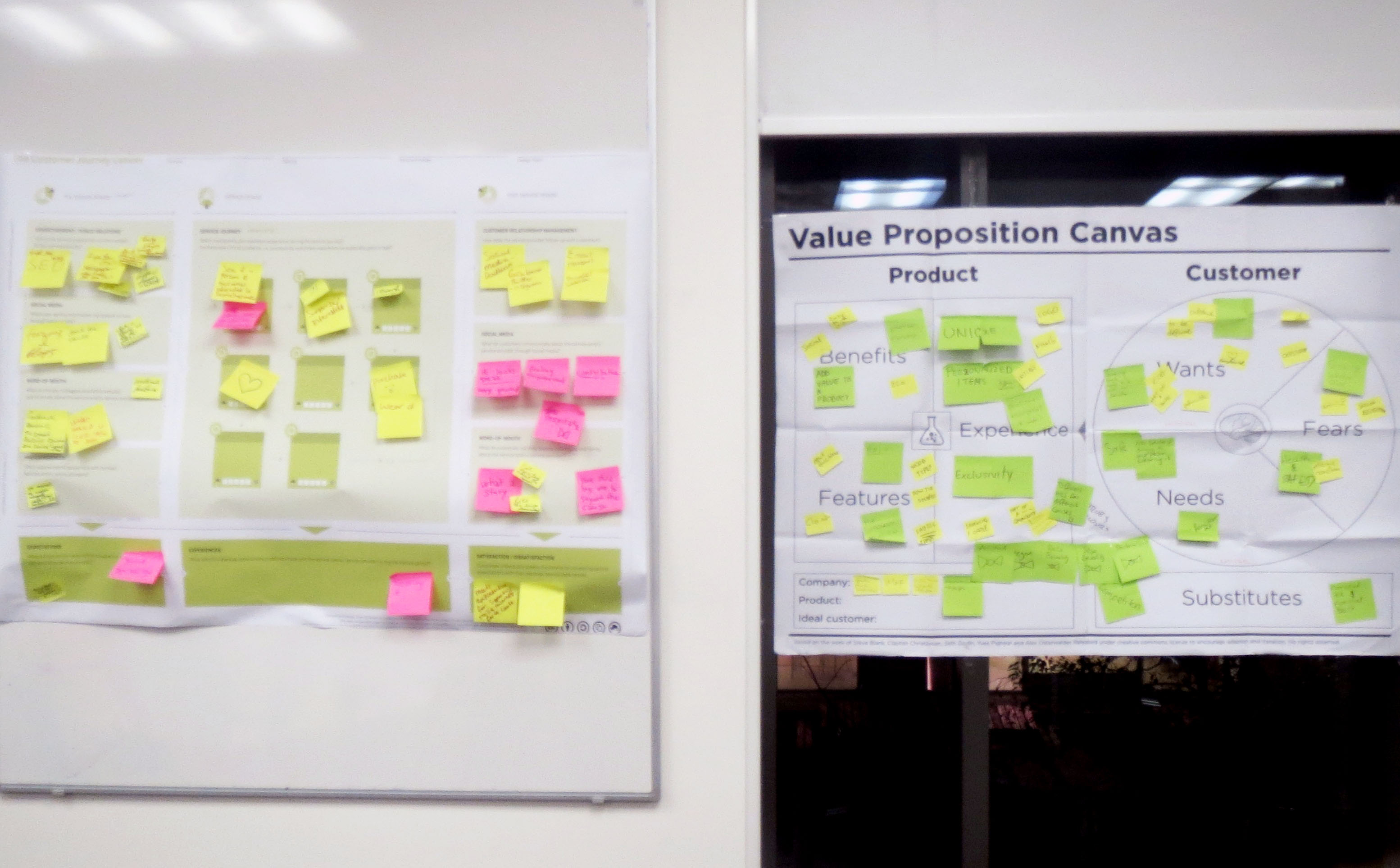 Conceptualisation
The meaning of the motive - 'bow-tie'. Exploring the meaning and the effect of that exploration on a design decision.
The bow tie itself can be considered as a symbol that speaks of men and women at the same time and hence represents something both genders can relate to as well as being associated with the term -equality. For example, bow ties are worn by young little girls on their ponytail representing something girly, sweet and cute yet when they grow up bow ties are reserved for men that are worn with their suits suddenly representing masculine, power and prestige. The history of bow ties starts in early 1618 when Croatian soldiers used something to keep together their collars on the shirts. Later it has crossed gender lines into women's wear in the 1920s.
The rationale for the product was, therefore, to be worn as a symbol and a beacon of empowerment.
Hypotheses
1. Users are willing to wear wooden bow tie as a fashion accessory supporting the cause
2. Users are willing to pay around £15 for this product

Surveys
After we designed the MVP, we wanted to gather feedback from our potential users. Such quantitative approach as survey was implemented on carefully selected sample of students. We designed a questionnaire to gather facts, opinions and attitudes to gather primary data.
We used in dept, around half an hour interviews with students around campus
We used five people for this particular study, three female and two male participants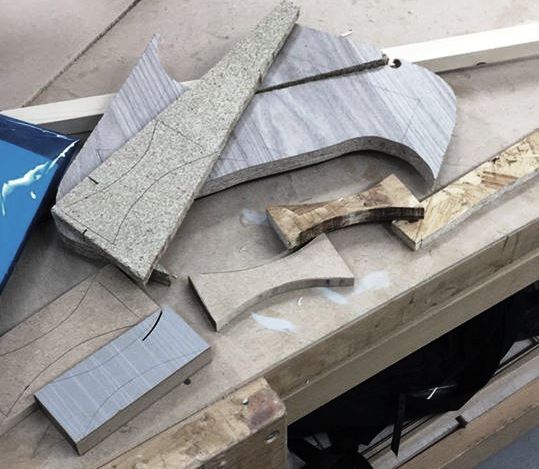 Main observations
We gained a better understating of how people around Kingston University perceive equality, but what was particularly consistent across research was this three finings:
Interviewees felt that smaller product was more handy, practical and convenient than bigger bowtie

Interviewees said they would not wear a product that would have a pin or something similar as they would be worried that the fabric of their coat, jacket etc would be ruined

Majority of participants did not connect Goodwood with equality and the name was confusing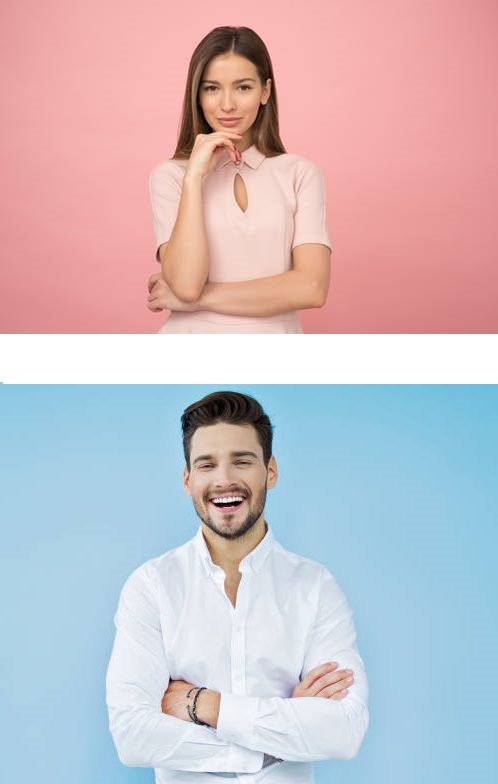 Personas
Based on the conducted interviews we set up two personas, one female one male and we referred to them throughout the entire product development process.
Those two personas had a big impact on the overall look of the design and branding development. For example, we used two lines in our logo representing the sign equal = in colours blue and pink. The feature such as pin on the wooden bowtie was removed and changed to a magnet due to our personas complaining that pin on the bowtie might ruin their coat or other garments they might wear.
We reflected back on our personas constantly thought the design research.

Elizabeth
27 / young professional / London / thinks equality is important and is active by raising awareness by educating other colleagues about it/ during her free time plays volleyball/ is aiming to get promoted at her job and is currently doing additional online courses
Motivations
Being part of a bigger goal and mission and be part of the global community and movement

Get promoted at her job, feel equal as her colleagues

Being recognised by her loved ones' matters to her the most, she is actively engaged with charities that support equality in the workspace and is actively volunteering when some opportunities arise
Pain points
She does not like to wear too obvious products that would scream that she is supporting a certain cause

She does not like plastic brooches with pins as they ruin her clothes and they are not eco friendly

She does not like to support big corporation or charities which are not transparent on how they use funds she gave for supporting the cause
Sean
29 / young professional / London / thinks equality is important but does not too much about it/ during his free time he likes to travel with his friends/ is happy with his current job, already got promoted and is not thinking about learning or getting new qualifications for his career
Motivations
Having a close group of friends not interested in the bigger mission

Help his sister to be better at her job, help sister to get promoted

Status and recognition from the outside world is important to him, wants to help the girl he once hurt so he secretly supports the charities that are fighting for equal rights in the workplace
Pain points
He does not like big plastic brooches as they do not look neat and sophisticated

He does not like to be too obvious that he is supporting a certain cause

He does not like to carry around heavy items
Ideation and concept creation #1
Name of the brand: Goodwood
Product: Fashion accessory that can be worn in different ways, wooden bowtie that can be worn as a belt or fashion accessory
Price point: around £15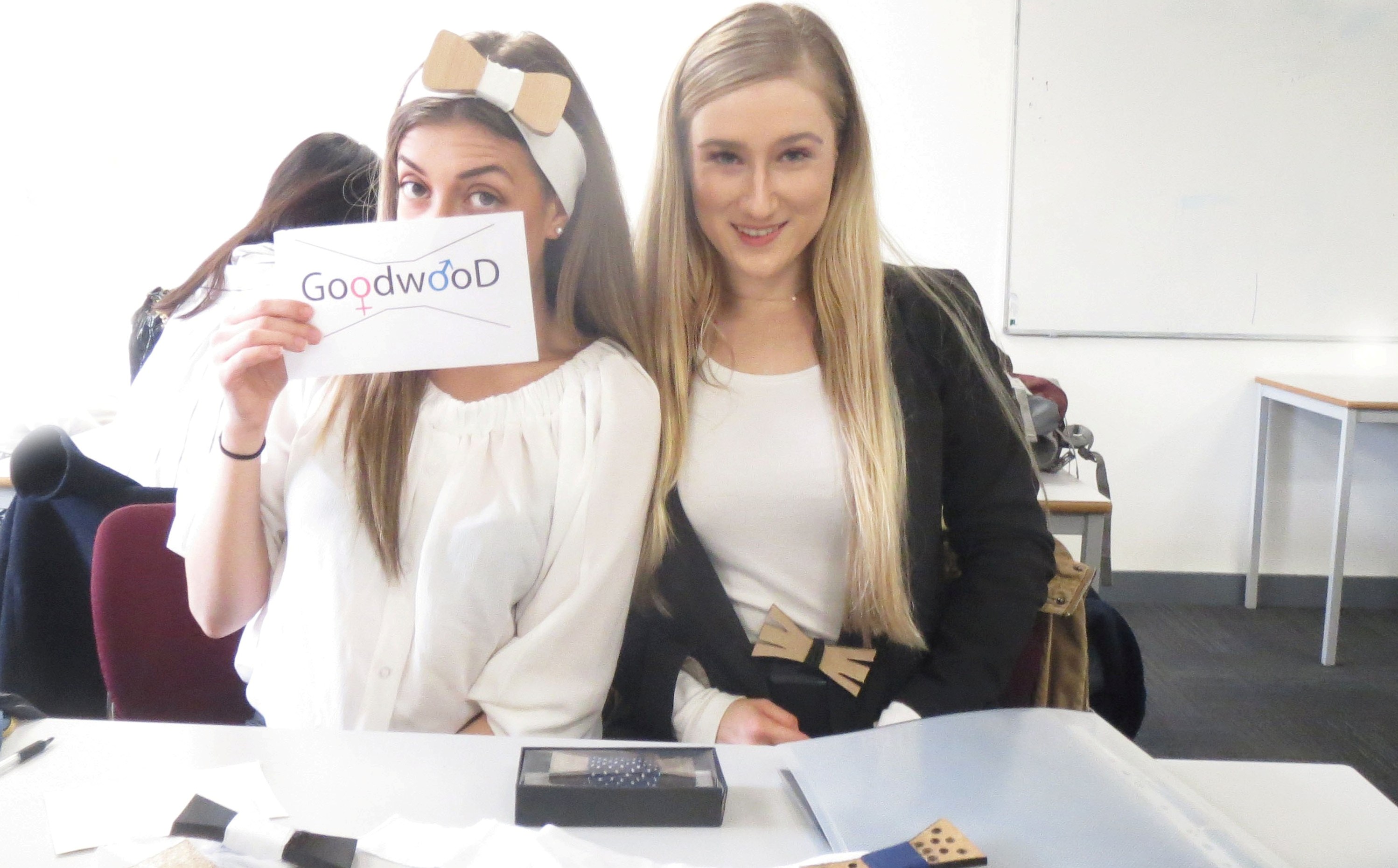 Hypotheses findings
The user is always right
1. Users are not willing to wear a wooden bow tie as a fashion accessory
2. Users are not willing to pay around £15 for this product
Both of our hypotheses ended up not being valid when doing research, which was really helpful as it gave us a better understanding of what users actually want. However, we learned that users are willing to support the cause and almost all of the interviewee liked the idea of having a product with a mission.
Solution
1. Design a product that will work more like a totem or symbol rather than a direct fashion accessory
2. Design something of smaller value for the price of around £5
By designing something of smaller value users would be more willing to contribute to a cause and buying something that can work not only as a fashion accessory but also as a totem or symbol of empowerment and will also have a bigger emotional value for the user.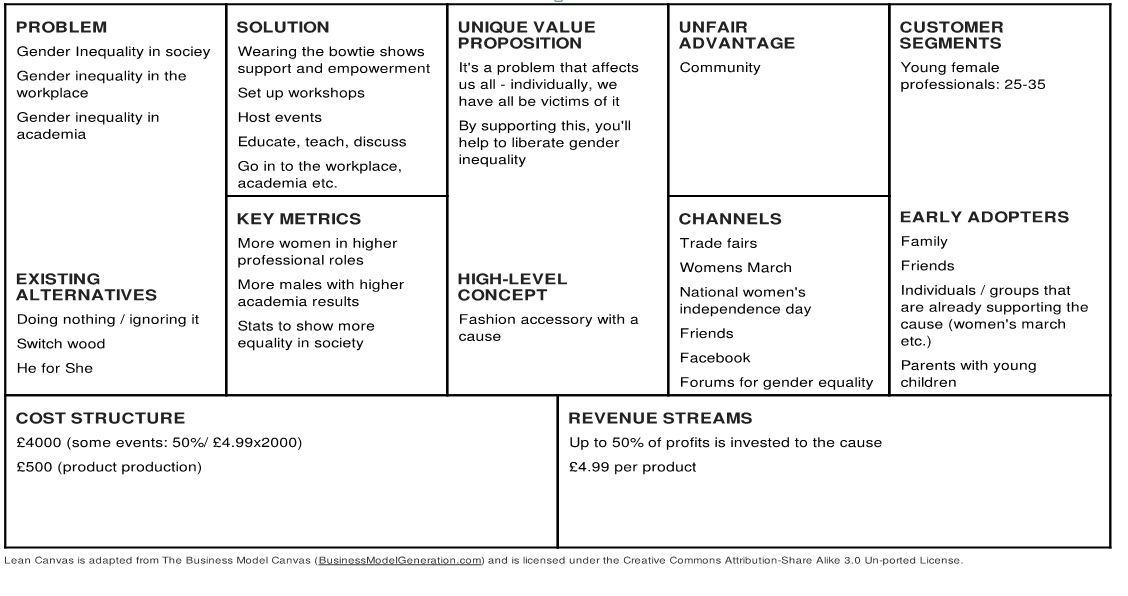 Results and learning
Our proposition at first was to design a bow tie of a smaller scale that would have a pin at the back and would work some kind of a brooch. But once again, our assumptions about how would our users like to have the produced design was wrong.
Through the interview process, we learned that users are not really eager to wear a brooch with a pin as the pin might ruin their fabric and is not really good for their garments. This was once again really useful feedback as we would not though about this if we would not deep research about what our users want and think. So, we came up to a solution that the magnet at the back of would be a better option than a pin and we proceed with the product development, now when we researched in deep about every possible feature on our product.
Another valuable lesson we learned was about our product name. Throughout the research, our users gave us their honest opinion about product name and we clearly observed and analysed their words through testing. We took their feedback on board and came up with a new name- Equalytie that was a better match to our design and whole branding image, but most importantly the name was more meaningful for our users.
Ideation and concept creation #2
Name of the brand: Equalytie

Product: Symbol of representing equality, a wooden bow tie that works as a totem and symbol of empowerment and equality that can be attached to any fabric
Price point: around £5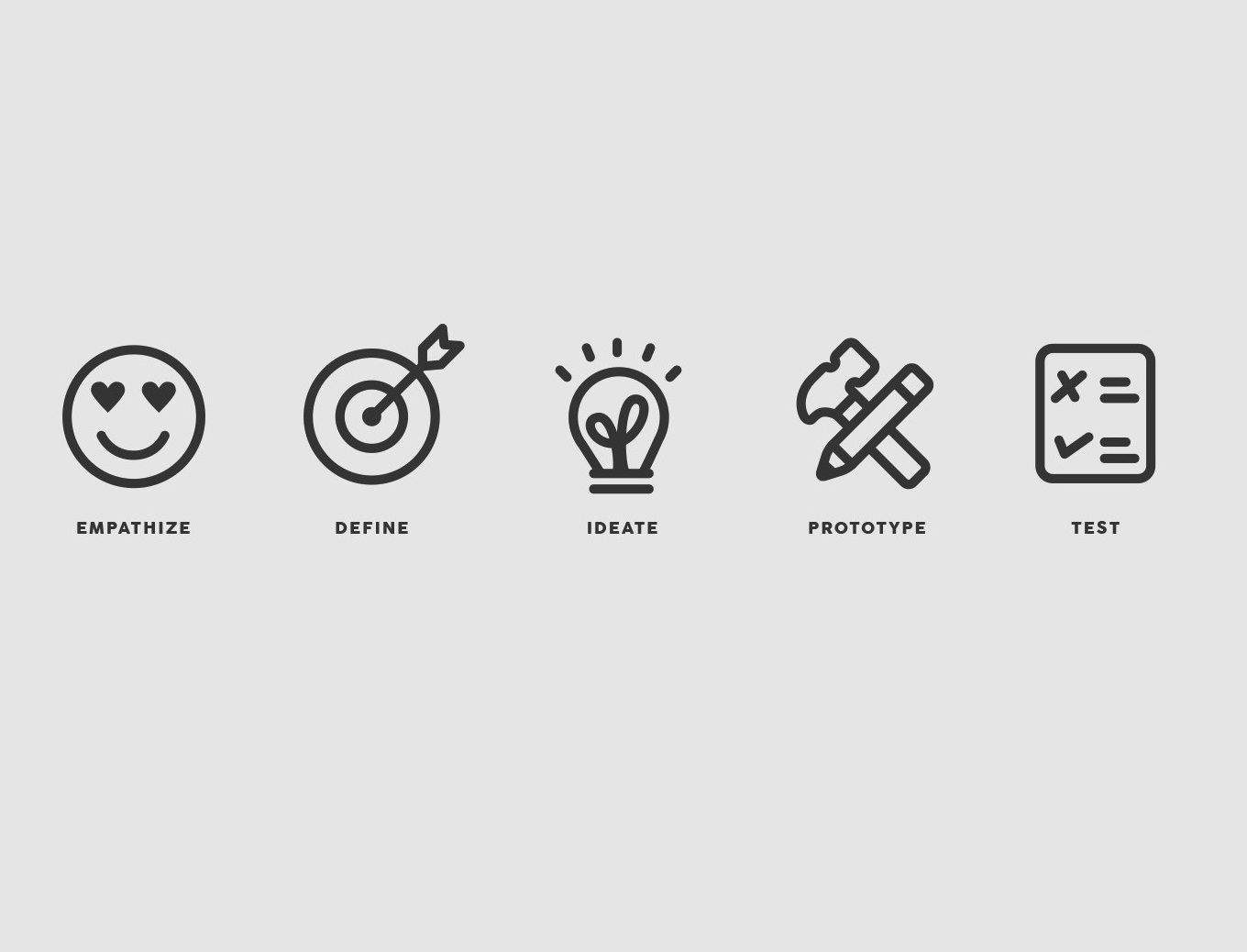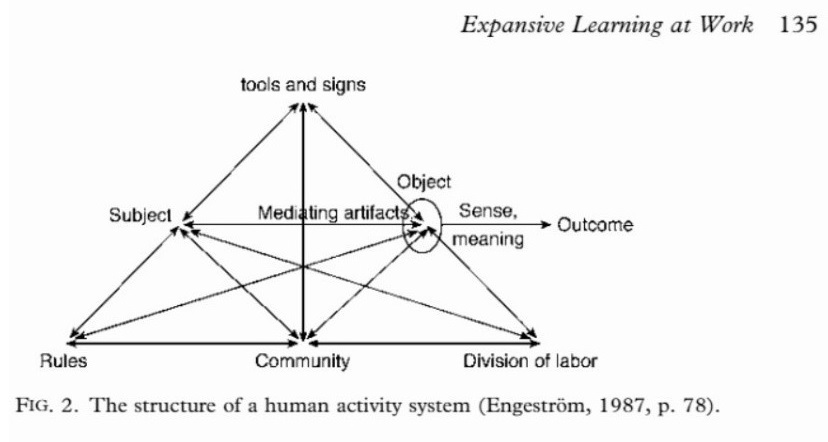 Combining Empathy map with Activity theory through design thinking
In order to bring emotional value to our product and create a product that "…users care about" (Graham, 2017) we used empathy map, activity theory and design thinking approach.
We used observation from an empathy map when we used magnets on our products rather than pins. The reason was the realisation that the majority of our consumers did not like pins saying that they ruin the sensitive fabric. We wanted for our consumers to wear our symbol of gender equality on a daily basis, therefore magnets were the solution to solve this particular issue, which was solved with the design thinking approach and empathy map.
Engeström's (2001) Activity theory illustrates that human actions towards cultural artefacts conquered individual in society. The person could no longer be understood without his cultural means and society could no longer be perceived without the individuals who designed the artefacts. Without those means, objects were raw materials. This theory was embedded in our product. Equalytie bowtie became cultural item presenting persons' action in supporting the gender equality cause as the key to understanding the human psyche. With this in mind, our Equalytie bowtie was a human-centred design presented in a commercial manner.
REFERENCES Kelley, T., Kelley, D. (2014) Creative confidence. London: William Collins., p.175-200. / Graham, P. (2017). How to Make Wealth. Available at: http://www.paulgraham.com/wealth.html (Accessed 26 Apr. 2017). / Engeström, Y., 2001. Expansive learning at work: Toward an activity theoretical reconceptualization. Journal of education and work, 14(1), pp.133-156.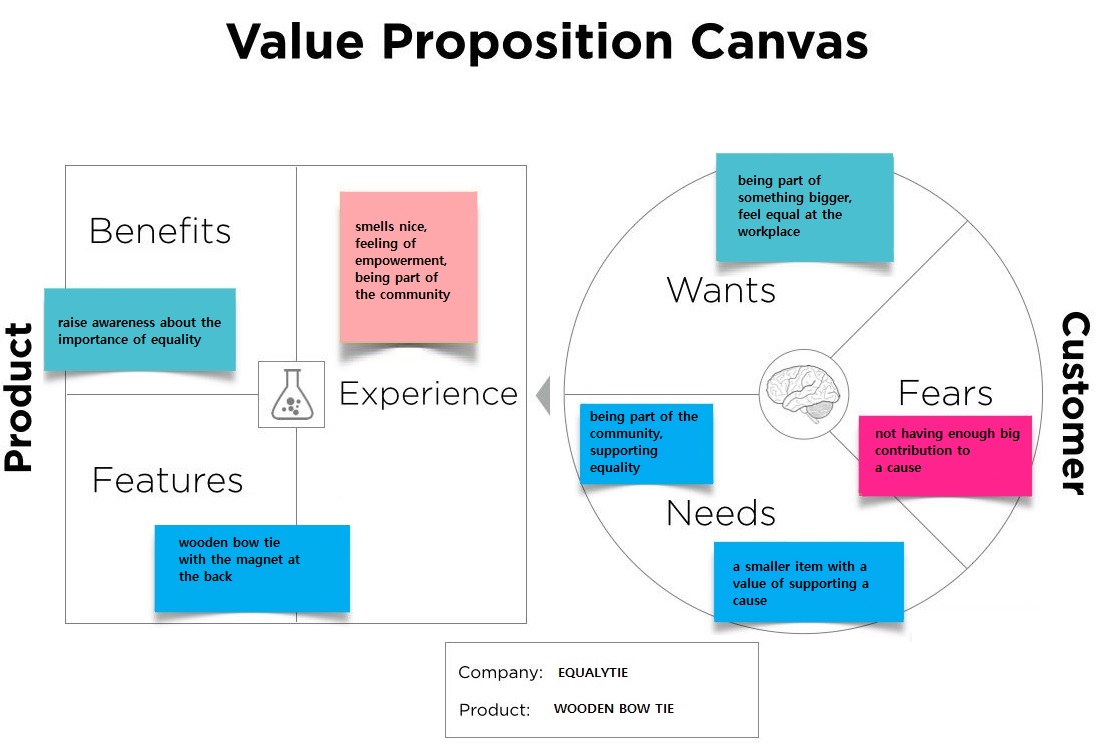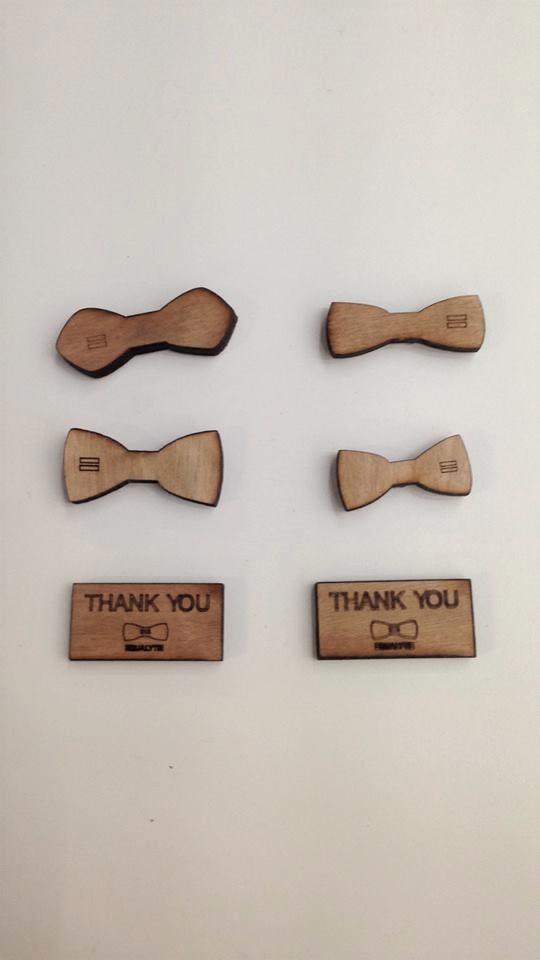 Further research on the product feature
We learned that users are more willing to wear a smaller bow tie rather than a big bow tie as a fashion accessory, so we proceed with that fining and focused to produce an item of a smaller scale with lower price value. So the next stage was to clearly define how would the product work, how would users wear it, especially as the majority of users mentioned that they would not wear it around the neck or somewhere very visible.

Further research on the product name and branding
Once when we defined the product shape, size and features, we wanted to understand how do our users perceive our branding and product name in particular. This is because, studies show that branding and product names make a memorable experience on users, allows users to connect emotionally and it gives users some kind of predisposition or guidance on what to expect from company or product.
Our idea was to name our brand Goodwood because the product we made was sustainable and made from 100% of wood. We felt combining words 'good' and 'wood' would make a great name- Goodwood, however, after in-depth interviews of our ten potential users, we learned that might not be the case.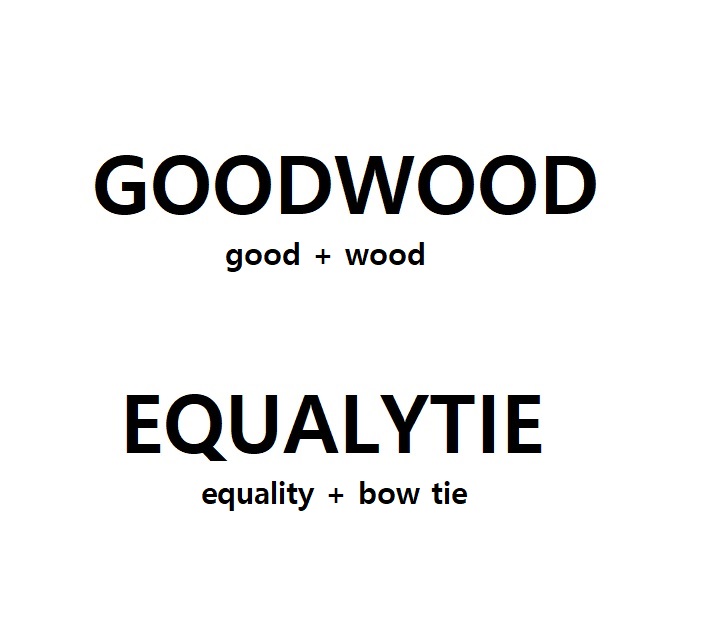 Users' feedback and iteration
Some of the feedback with regards to product name Goodwood were:
"It's a bit confusing, what does it represent?"

"It's okay, but I wouldn't connect this name with your mission about equality. Nothing about Goodwood associate me with equality."

"I understand it has a mission to do something good, but when I hear Goodwood I don't think about equality."
After we pivoted our name and changed it to Equalytie. We did users' testing again and this was the feedback:

"Oh I just saw it says equalytie, I thought it says equality, that's so cool! The name really says what the product does!"

"Equalytie it's just perfect and it is really catchy"

"The name is super amazing, it defines what the product is. Spot on."
Actions taken from the user research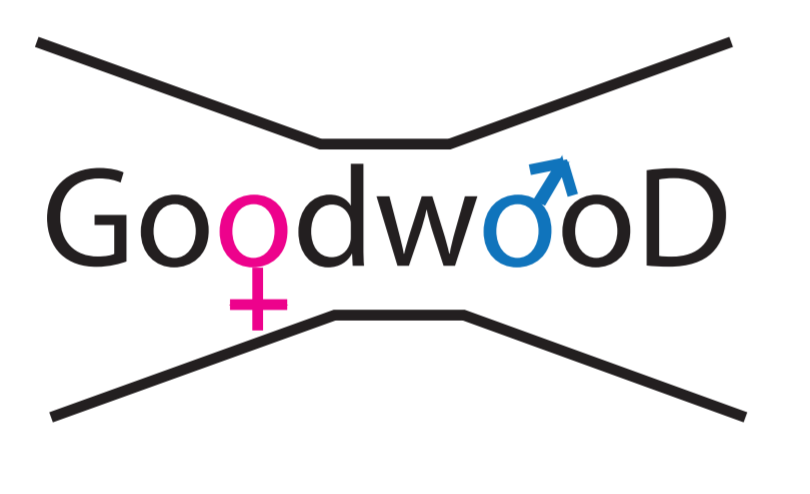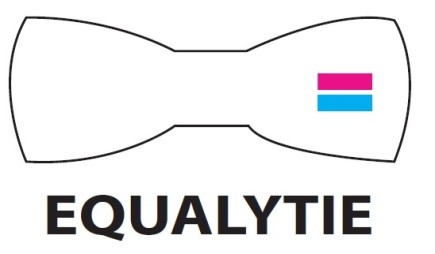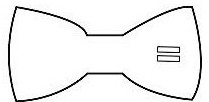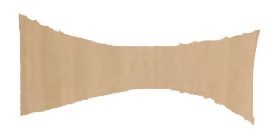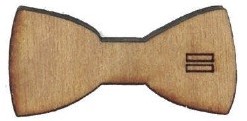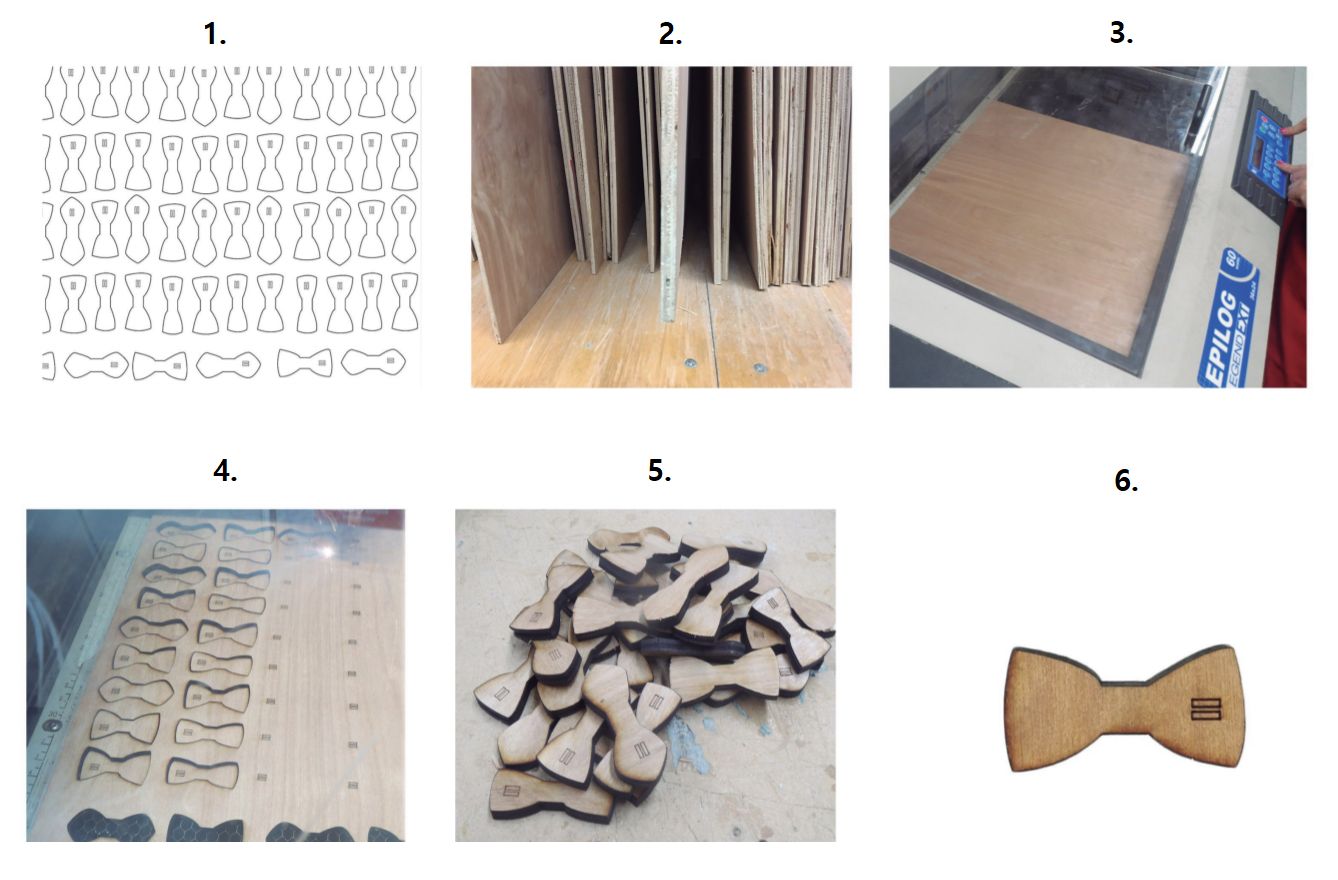 Product development
1. Design the wooden bow ties in the Adobe Illustrator file for the laser cutting machine.
2. Choosing the right wood - Not to thin so that the wood would not burn during laser cutting process, not to thick so that it would not be possible to engrave into the wood and laser-cut a nicely shaped bow tie.
3. Preparing the right settings according to the chosen wood material. We went for the 5mm wooden surface, perfect for our product and this laser cutting machine.
4. Lasser cutting in the process.
5. Choosing the suitable bow ties as some of them were not engraved fully or laser cut perfectly for variety of reasons and matched our set of standards.
6. The final product- Equalytie wooden bow tie.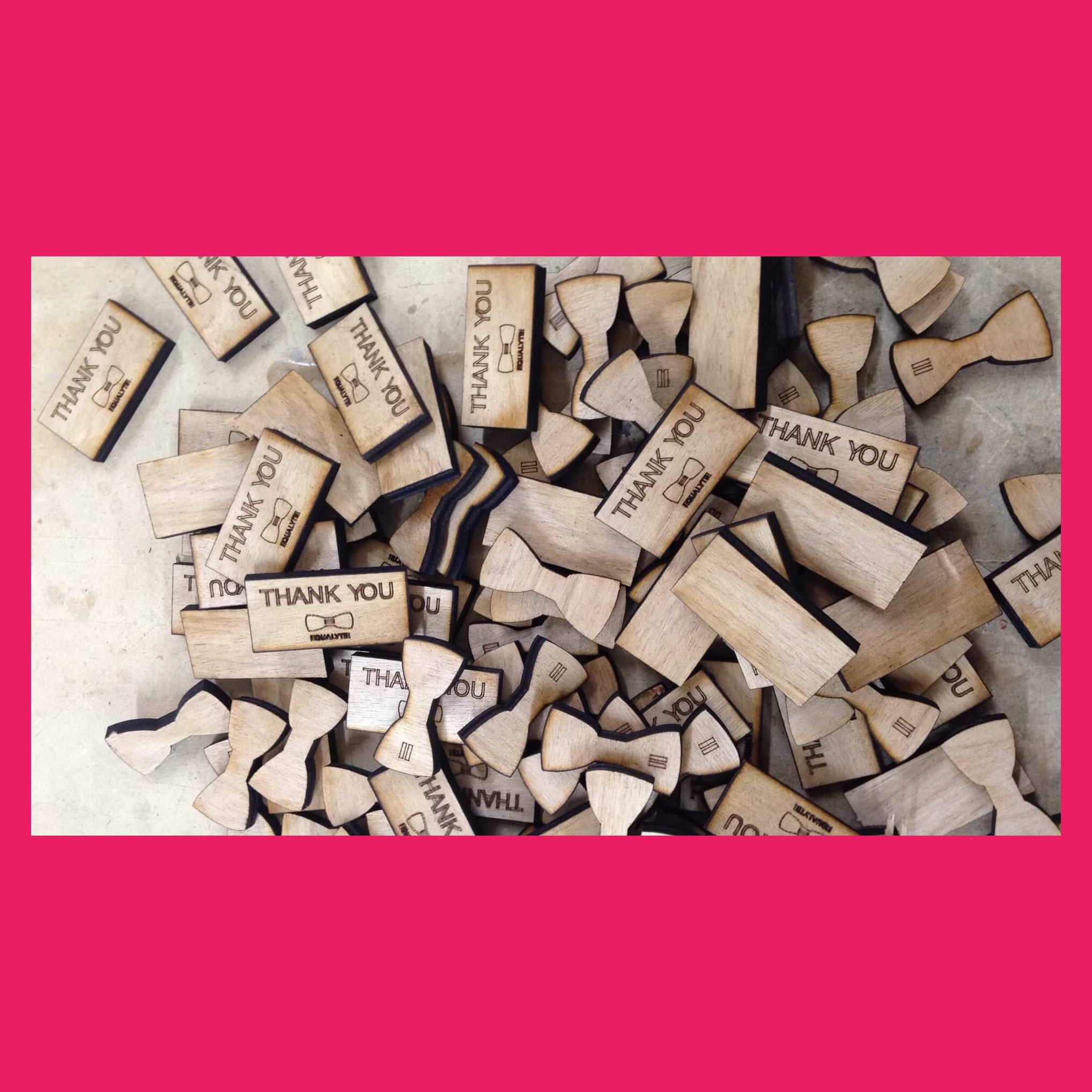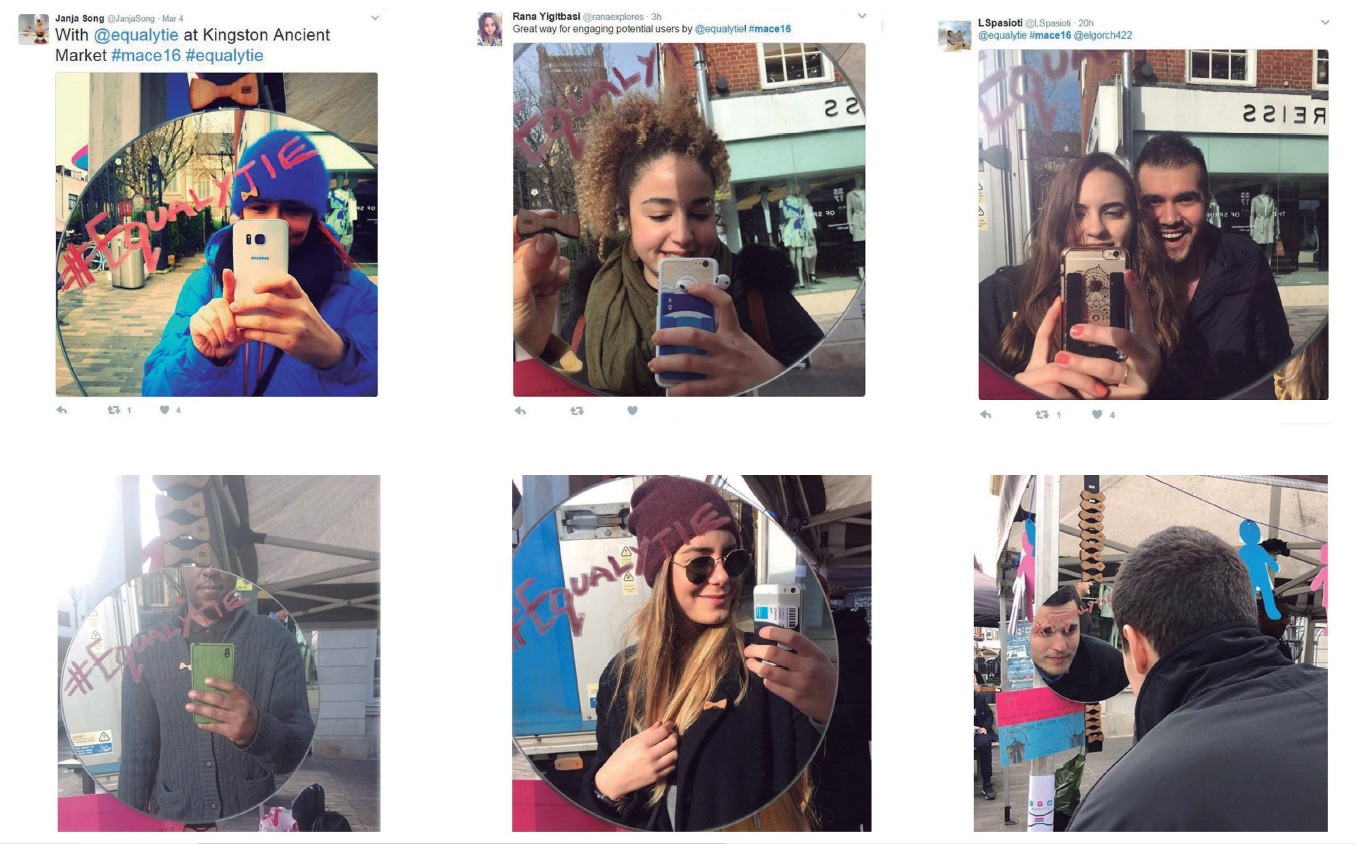 User testing
After our 3rd iteration of the product, we produced the final smaller version of the Equality bow tie and tested it at the trade fair show at Kingston market. We made our stand interactive in a way that people could try the bowtie, take a photo wearing it and share it with their friends via social platforms. We used this time at the trade fair show to really interact with users and our clients and engage with them in a conversation to gain as much feedback about the product as possible. We put our users first since the beginning of this project so when we created the final version of the Equalytie bowtie we really gained a lot of positive feedback.

Therefore, to fully evaluate our product by testing it on users usability testing was used. While being at the trade fair shop we were able to see direct input on how real users use and interact with the product. We also asked five randomly selected people to complete tasks, such as take the bow tie and show us how would they wear it, without telling them where is the magnet and how to attach the bow tie on the fabric. While completing such a task, users were being observed whether they would encounter some problems or experience confusion.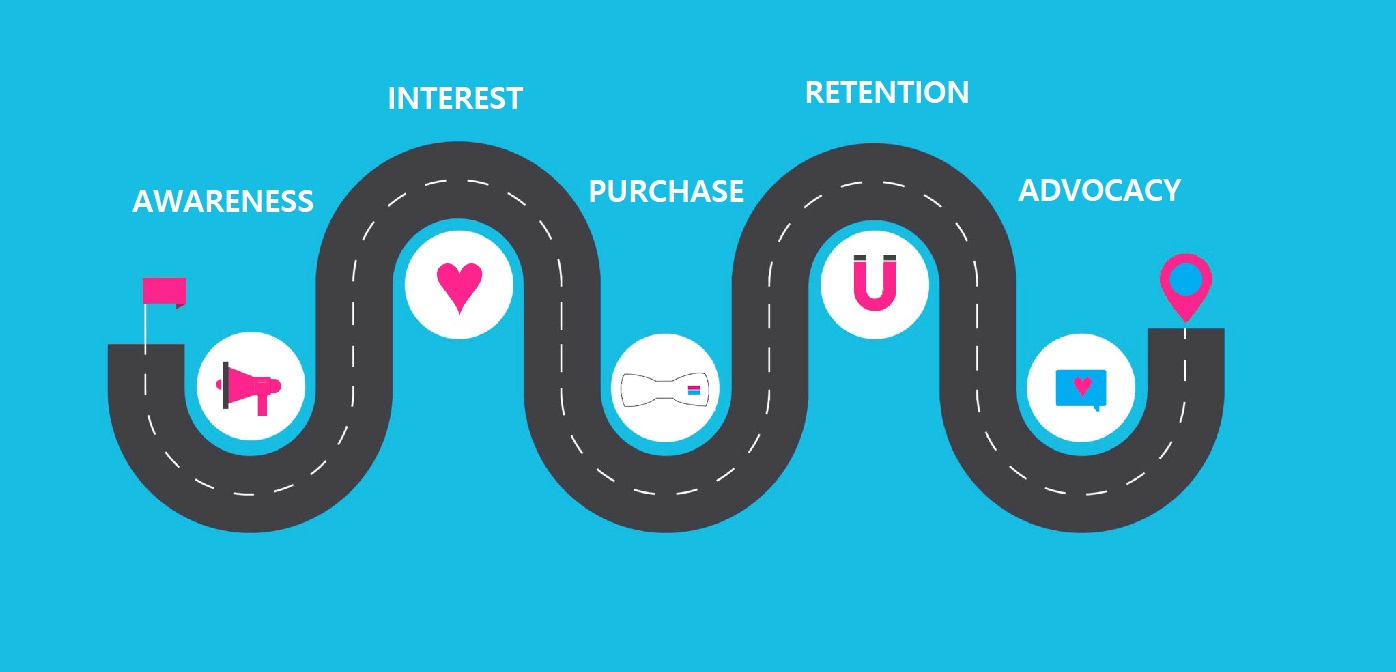 Customer Journey
To better understand how customers find and interact with our product and brand I created a Customer Journey Map with the main steps of the customer journey.
Summarising the Design research process
Throughout the process of developing the product, logo and branding a non-linear, iterative process was implemented.
In order to understand our users, we challenged our assumptions and by listening to users' feedback, we redesigned users' pain points. This was also possible because we developed MVP and prototype the product before putting it into the final production by testing it with users thought each phase.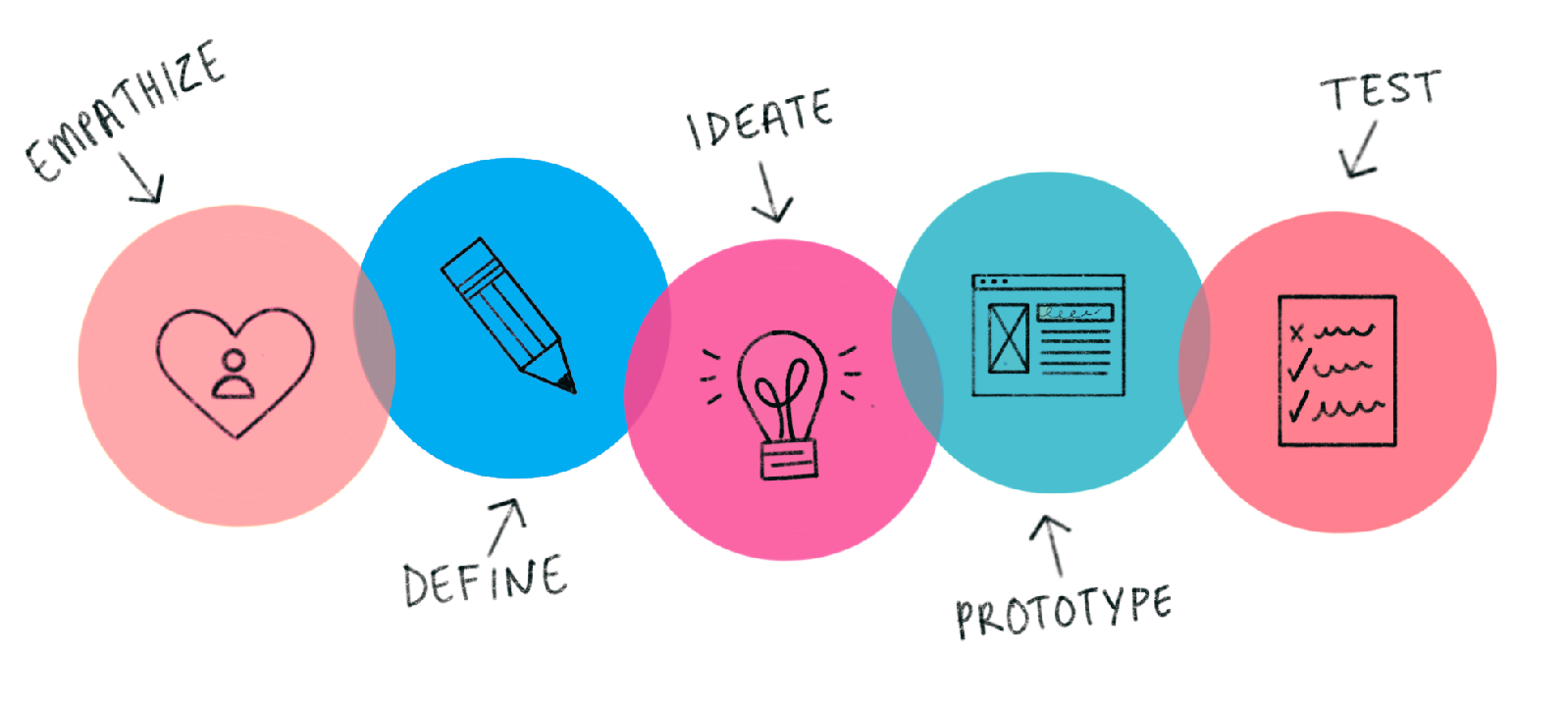 Step 1: Empathize—Researching users' needs

At the first stage, we needed to gain better understating of the problem through user research. We interviewed a few people and gained a better understanding of the overall opinion of our targeted audience. Empathy, understanding and listening were crucial at this stage to gain a real understanding of users and their needs.

Step 2: Define—Stating users' needs and problems
The next step was to gather all information, analyse the data and clearly write down the observations. We also created an affinity map to define personas and their core problems.
Step 3: Ideate—Challenging assumptions and creating ideas
At this stage, we were ready to already generate a few ideas on how to create a product and brand aligned with our customers' needs. Research in the previous stages allowed us to already see a few alternative ways to the problem and identify potential solutions.
Step 4: Prototype—Creating potential solutions
At this experimental phase, we built a few prototypes of our bow tie. The first prototypes were really inexpensive, made out of paper and cardboard material (representing the wood) and they represented the mockup of the scaled-up version is our case. The main point was that we built a specific feature and shape which allowed us to do further research for the perfect shape and style of a product.
Step 5: Test—Trying our solutions with users
The ''final'' step was to evaluate the solution which was identified as the most suitable based on the research. Once we completed Step 5, we started with Step 1 again until we found the most suitable solution for our users.
Summarising research methods
Throughout the duration of a project, we used different research methods to gain relevant results, such as interviews, surveys, usability tests, field research, competitor analysis and expert evaluation.
1. Interviews were used in a qualitative way to gain answers to our questions from users. Qualitative research approach allowed us to focus on obtaining data through open-ended and conversational communication and therefore gain a better understanding of users' opinion. Such research method also allowed us to learn not only what users think, but why do they feel. This research method was used at the beginning of a project.
2. Surveys were implemented at the second stage to inspect and take a view of our potential users from a general point of view, rather than interviewing our users in a prearranged face-to-face interview. The man aim was to find "why" questions, whereas later at the next stage in the field researcher we observed "how" the users we spend time with interacted and how they used the product.
3. Usability tests were used after we built the first prototype to test how do users interact with the product.
4. Field Research as a qualitative method of data collection was used to observe, interact and understand users how do they act and interact with the product while being in a natural environment. For example, we used this method to observe people at Kingston University campus to gain a better understanding of our users.
5. Competitor analysis was used to identify major competitors and research their products, sales, and marketing strategies and pricing. It helped us identify what competitors are doing differently than us and possible opportunities we might miss.
6. Expert evaluation took place at the end of the project and allowed us to review our product's by usability specialists and our mentors at university. Besides giving us feedback on our product, evaluators also put on the user's hat. They walked through the user road map based on task scenarios, used the product and asses workflow issues.
Final results
After user testings and iterations we created a final Equalytie wooden bowtie, that was made of 100% recycled wood. The bow ties were priced at £4.99. The rationale for the size of the product was due to the design research and feedback we gathered from our potential users once we started as 'Goodwood'.
The bow ties were 4cm long and 2cm wide and had one piece of the small, but strong round magnet (half cm in diameter) attached to the back of each bow tie. Each customer also received additional magnet that helped them to clip the product on their clothes and made the product pleasant to use. The rationale for choosing to attach the magnet instead of a pin was due to the research which showed that people find pins unpleasant to wear as they might ruin their garments. Such detail also added additional value for the user.
By wearing Equalytie bowtie people show their symbolic support to support the cause of gender equality. Sustainable and authentic item is wearable as a symbol of standing behind the Equalytie cause.
50% of our sales would go to organising events in the future. Such events would help us to further raise awareness about the issue of gender inequality, educate people about our mission and help us to reach more users.
Some examples of how that 50 % of our sales from Equalytie bow ties would be used:
Workshops to educated individuals, groups and organisations about the cause

Events related to supporting women such as Women's March, peaceful protests, etc.

Discussions and talks about gender equality
Visits of businesses, big corporations, educational institutions and raising further awareness of the issue
By taking actions about this cause we would contribute to bringing together individuals from a variety of backgrounds in order to form a
community with the general consensus of gender equality.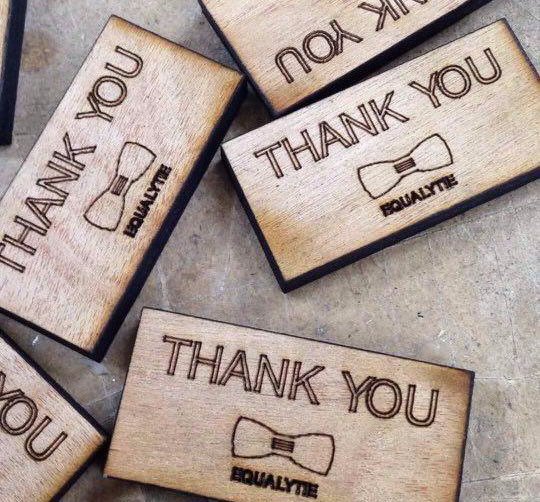 Thank you notes
We came to the idea to also produce Thank you notes and express gratitude to our customers for supporting our mission and company Equalytie. Such an approach also helped us to build a stronger bond with our users. We also learned that when we gave people this unexpected treat they were more willing to provide additional funds to support our cause.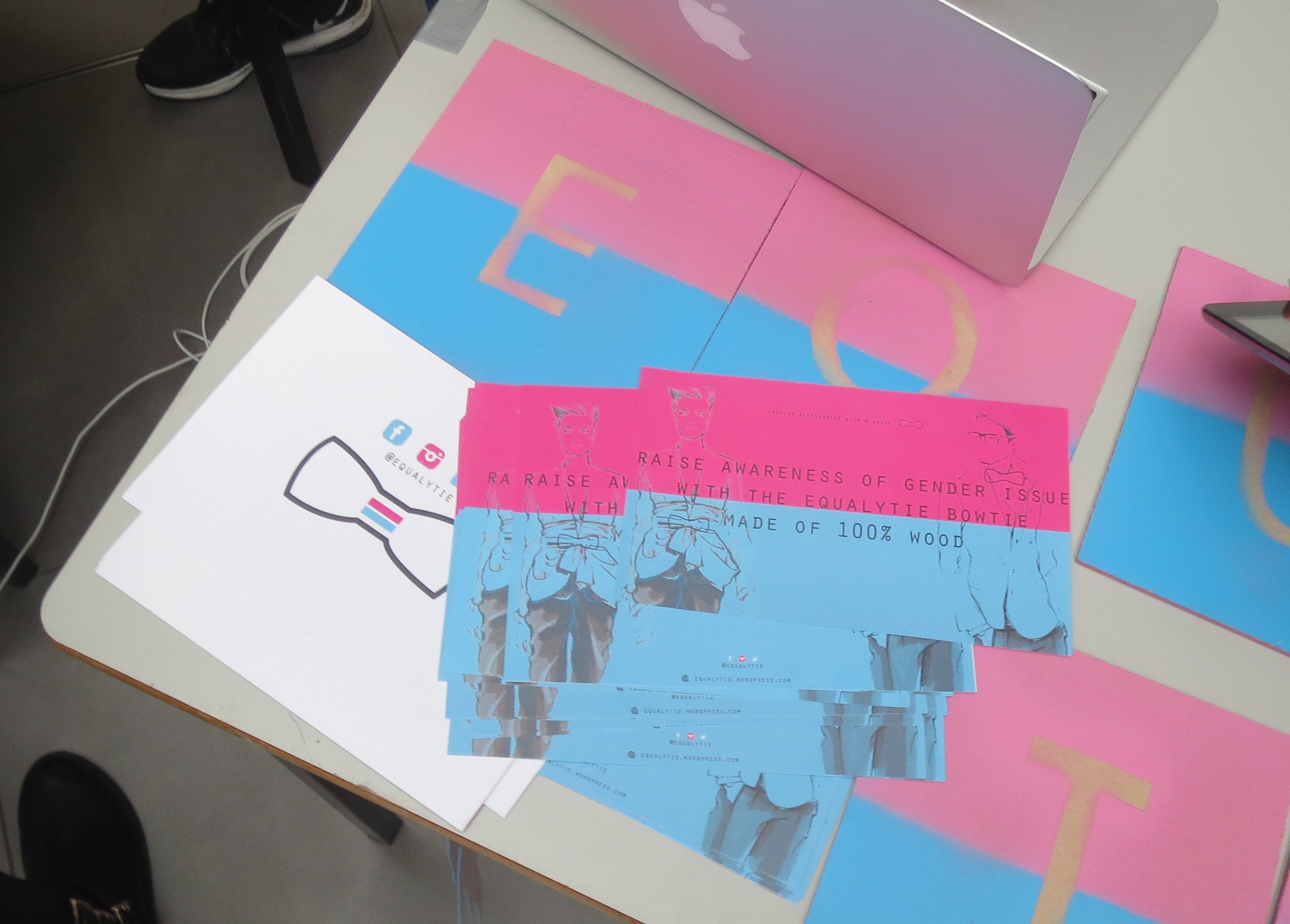 Marketing
After we created a product we prepared a marketing strategy for the campaign to strengthen the branding and raise awarned about our mission.
Early Adopters
Females aged between from 25 to 35.
Primary market (Target group)
Young professionals in the UK, female and male from 25 to 35, which are the most affected group by the inequality in the workplace.
Secondary Market
As a secondary market, we were targeting men and women aged from 25 to 45, who acknowledge there are some gender equality issues in society, but they are not willing to be an active supporter of the cause. However, they are aware that purchasing one of our products will still contribute to the cause.
Needs and market
We learned that gender inequality is a big issue that is reoccurring in many aspects and events. Gender inequality is evident within the workplace in many places, thus the need to change this is a major one.
A recent study states that unlocking or giving women equality within the workplace to reach their full potential could be worth £23 billion a year. in the UK alone. During the research for this project, we gained a lot of feedback from potential users and discovered that our target audience is willing to wear the Equaytie bow tie as a symbol of gender equality and support our project.
Alternatives and competitors
During our research, we found out that we were not the only ones on the market with such product, however, our product was unique and different in many ways. Equalytie bow tie had a very authentic and genuine unique selling point. For instance, our uniqueness is in the story of the product, the cause attached to it and the meaning when wearing it as well as about the community we built during the project.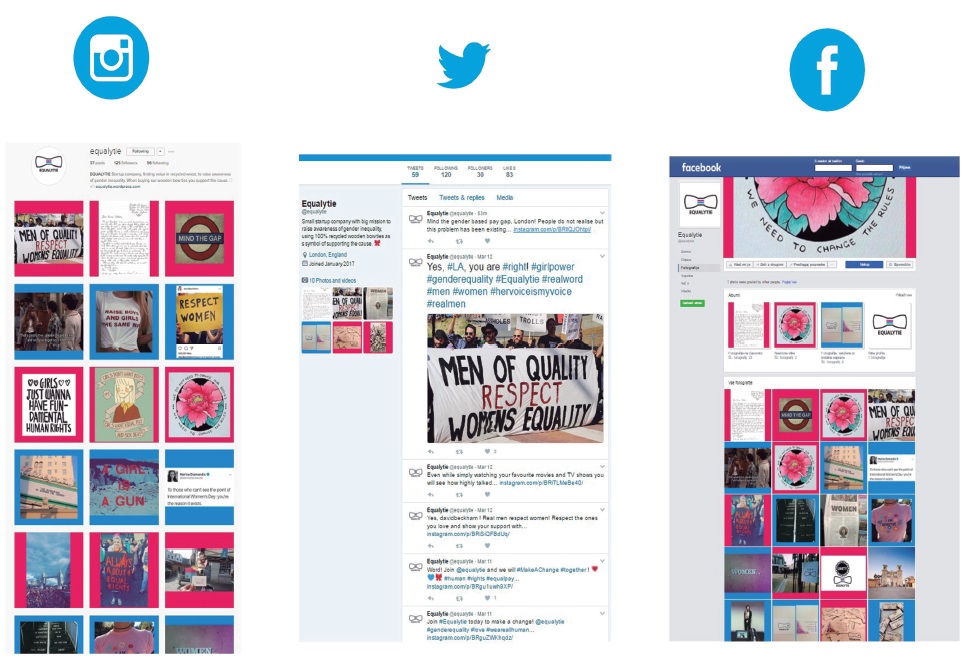 Marketing channels
Our main marketing channels were: family, friends, colleagues, partners, our website, social media, trade fairs and events. Majority of our sales were made through those channels. Channels such as 'Women's March' movement, the trade fair and others of such similar nature, allowed us to gain an insight into what the end-users actually thought about our product and our cause. We got a lot of positive feedback, support and constructive criticism, that we have taken on board and will look in to in for the future references as well.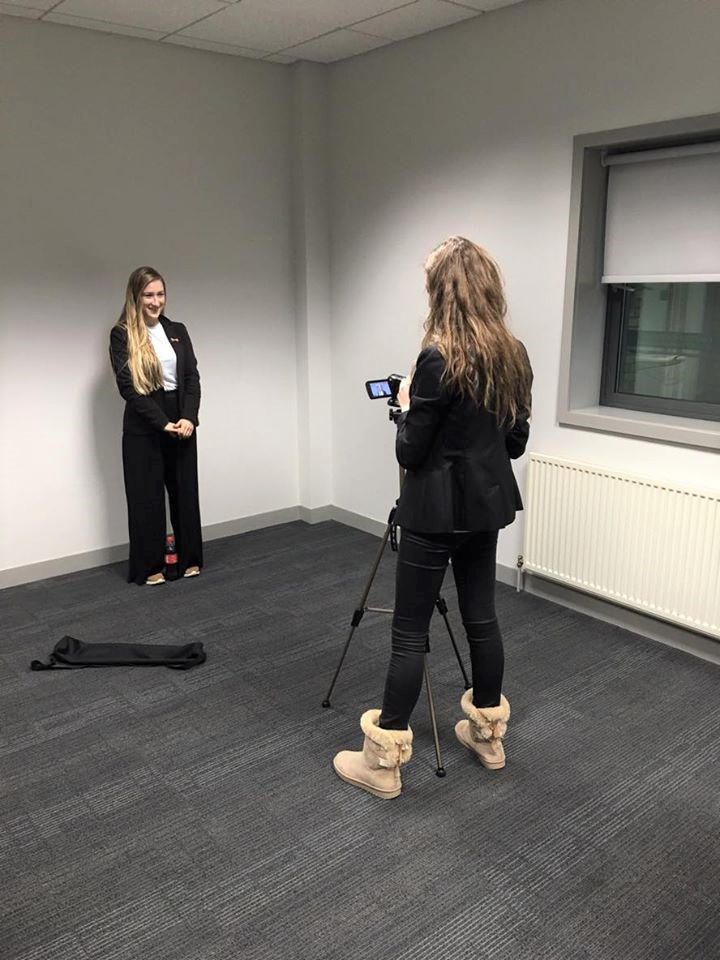 Advertising and communications / digital, social media
Equalytie had public profiles on Facebook, Twitter, Linkedin and Instagram. The main social media platform used is Facebook as it allows to create space both for promoting our businesses, sharing pictures, update the audience on our activity and to involve more people in discussions about the cause. We learned that majority of our users use Facebook so using this social media platform allowed us with the whole engagement process with our current and potential users.
Social media platform Facebook also allows us to reach the targeted audience based on their interests, previous 'likes' and to direct our posts and advertise directly to them. Additionally, this platform allows us to build a community of like-minded people.
The strategy used involved gaining engagement and users by using hashtags and uploading up-to-date news and more visual content to attract users' attention to our brand. Replying to comments and also communicating with users via private messages was essential in our networking and engaging process. Another aim of using certain social media channels was to overall strengthen the brand's presence and visibility online.
Our Instagram strategy was to create consistency in our content- all images included the brand colours as background. This not only looked more aesthetically pleasing for the eye but added further value for our content as it helped users to start recognizing our branding faster.
Twitter gave us the opportunity to engage with users and share articles relevant to our company and its mission, whiled Linkedin was used mainly for business relations purposes, such as speaking with potential business owners or executives for potential business collaborations.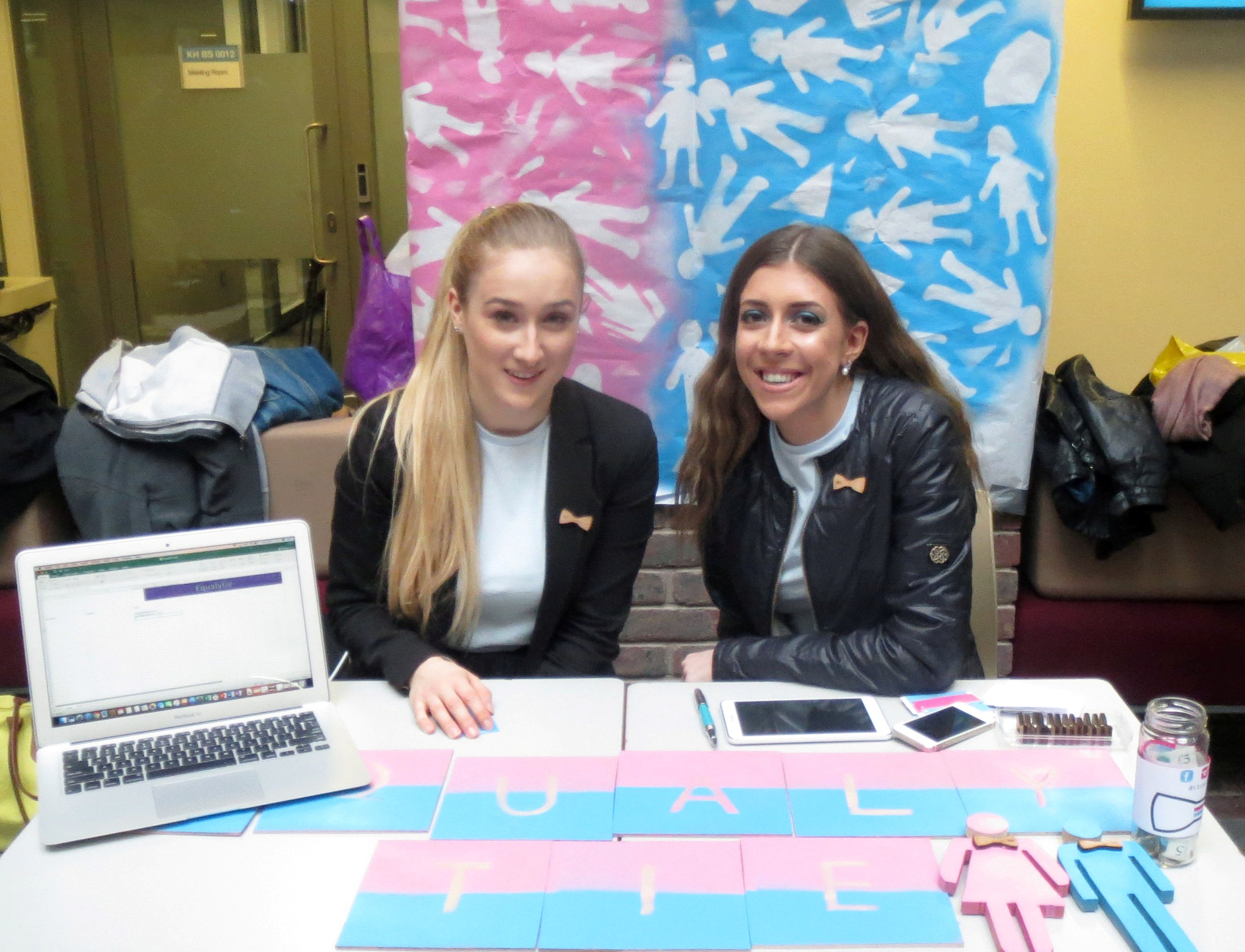 Direct marketing- events
Equalytie was present as a brand on a few trade fairs based in Kingston, London. We also attended one of the 'Women's March' event in Central London since the audience of such an event was our target group.
All of the events turned out to be really valuable since they provided us with further feedback and more people got to learn about our brand. Nevertheless, we learned that such direct marketing needs further financing to help running it more professionally. Our future plans, therefore, included being present on other equality relatest events such as Fawcett´s social events, WOWWomen of the world´s festivals, etc.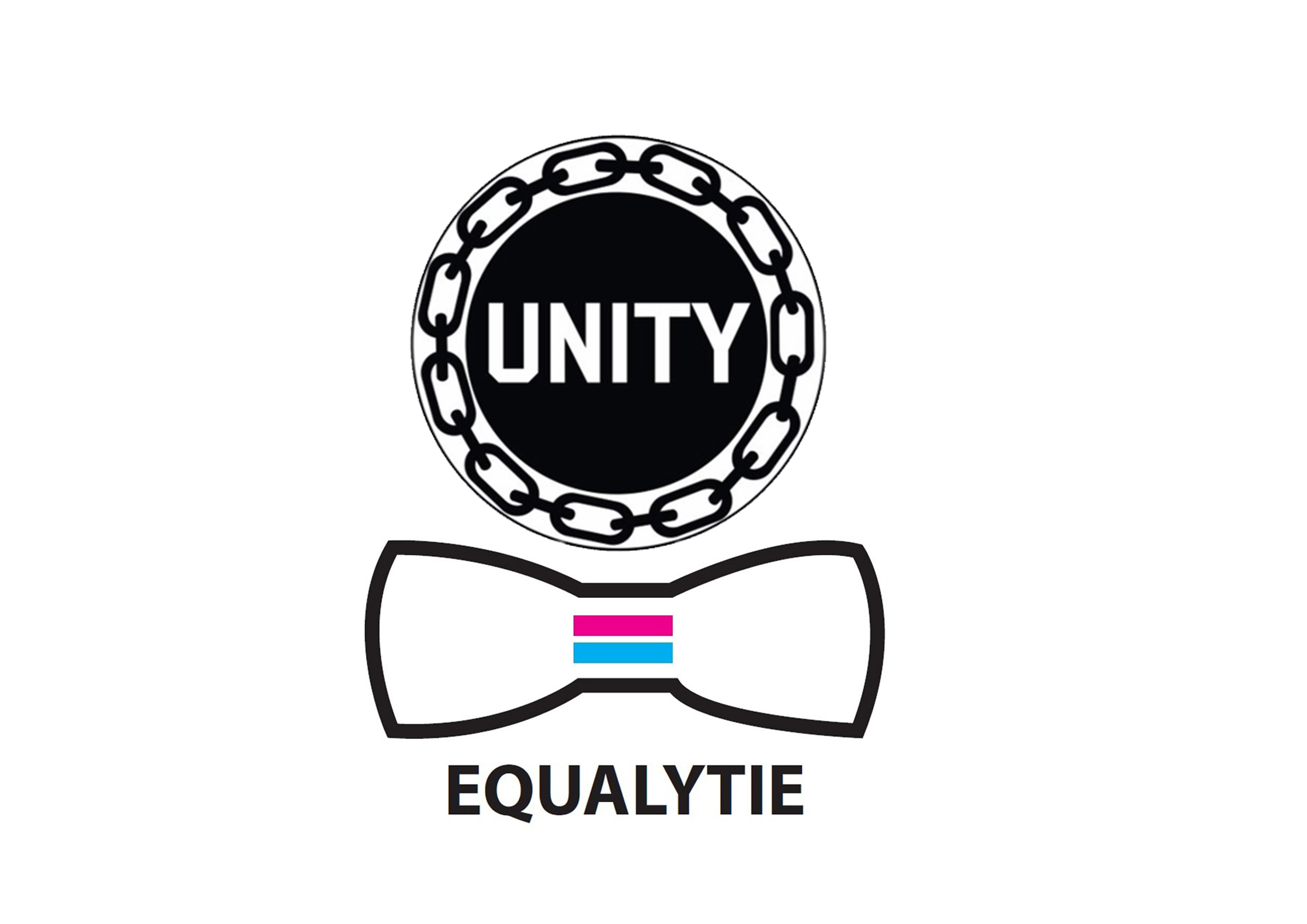 PR
As part of our public imaging, we created a collaboration with another student organisation named 'Unity'. 'Unity' was an organisation fighting against racism and we thought that it will be beneficial for both parties to collaborate and work together on the marketing campaign.
The reason to collaborate with 'Unity' was to create bigger marketing opportunities for both businesses as both organisations supported human-related causes. So together we created a campaign 'Make a change' that stood for raising awareness about gender equality. The outcome was efficient for both companies since we learned a lot from the experience and such campaign also helped us to reach a bigger audience and expand our network.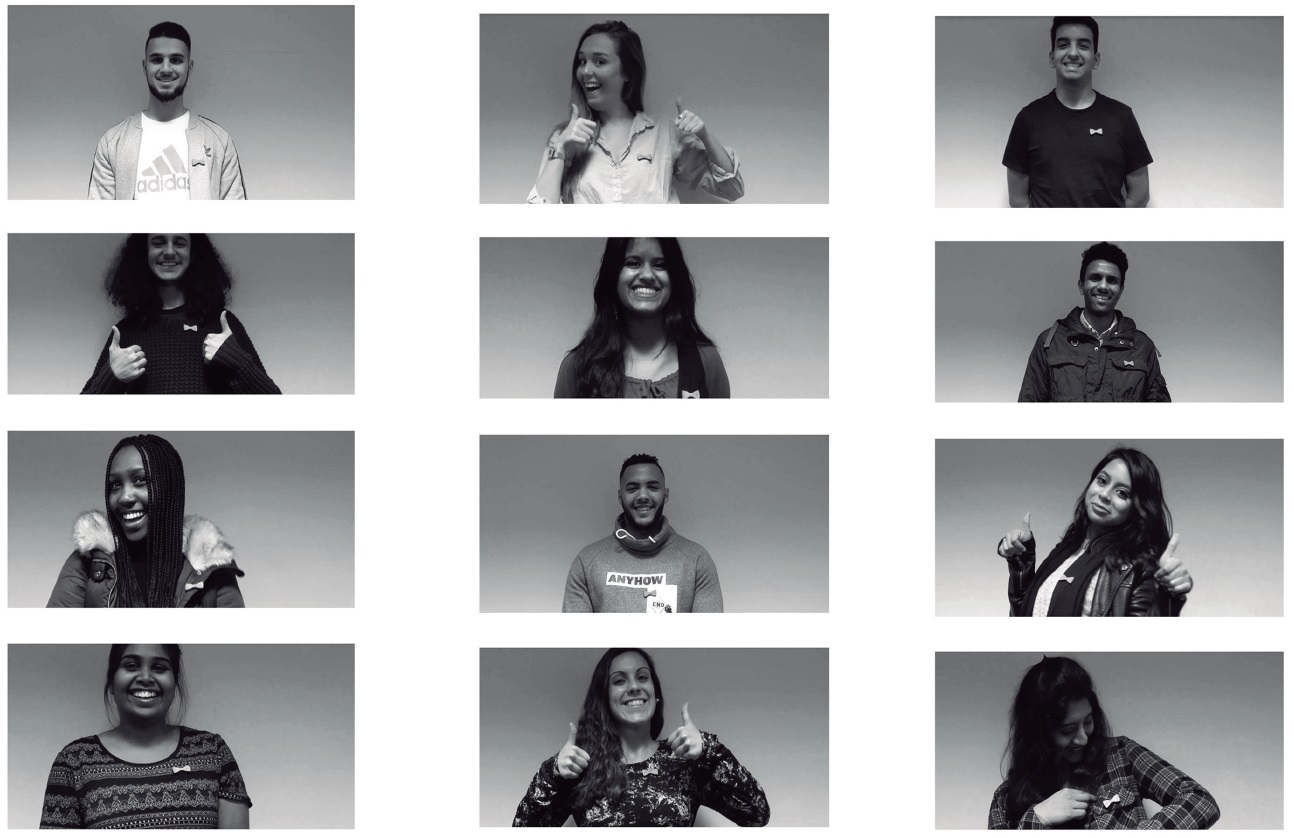 Equalytie promotional video ad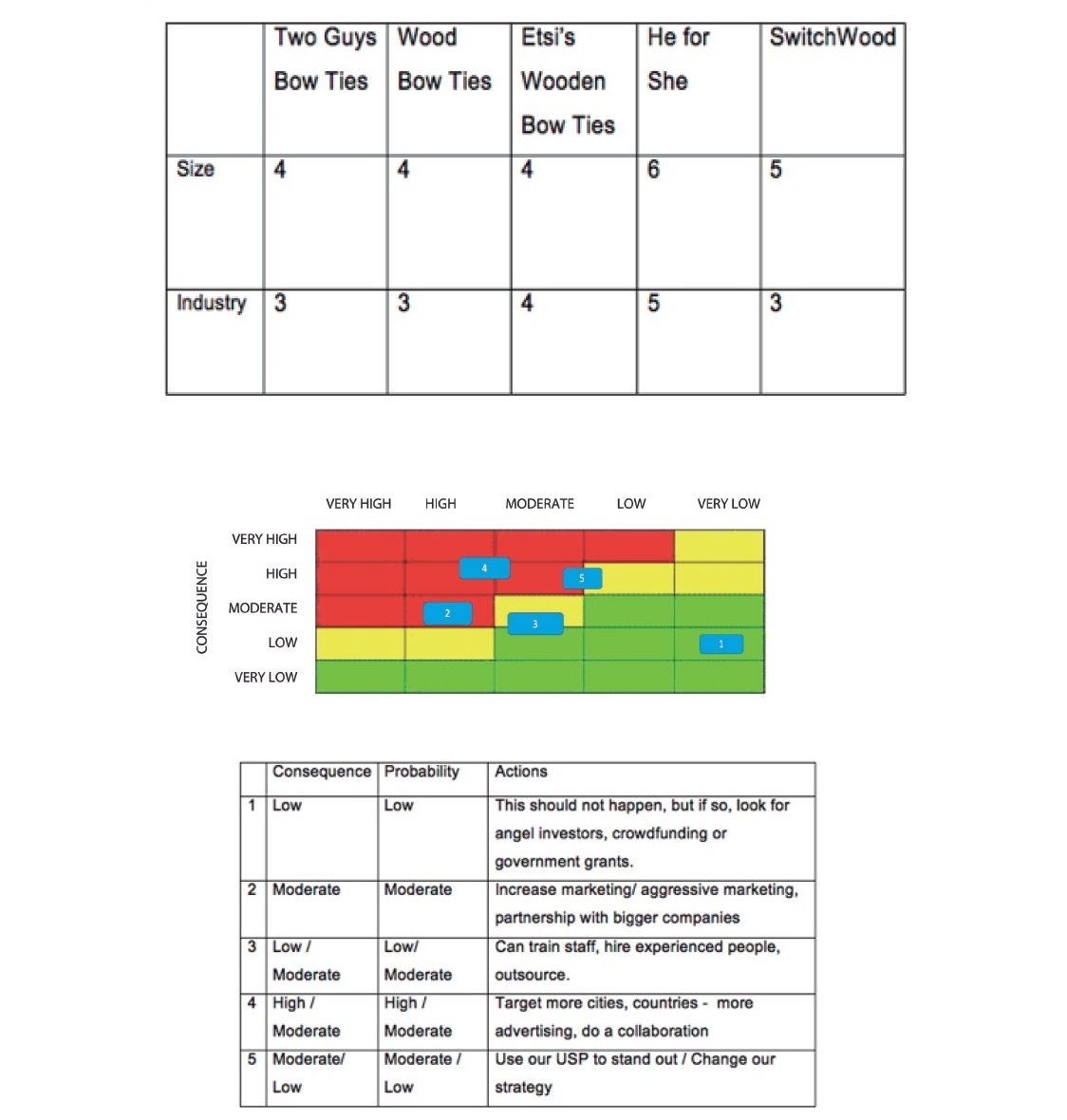 Risk assessment

The following risks and consequences have been highlighted in the photo on the left-hand side.

Size of company: out of 10 (Regarding sales, market size/ share, customers/ price). Same industry: out of 10 (Regarding products sold/ cause)
The Equalytie project at this stage was officially over, as the module came to an end and we submitted our business report for the module. However, I did not want to end it just yet. I challenged myself to design a further digital version of Equalytie project, so my new design challenge was:
To design mobile app for a fashion accessory with a cause

1. Building wireframes and low-fidelity prototypes
Before I went deeper into creating storyboards and wireframes, I defined a new problem statement, specifically for this mobile app, as the one above was more focoused on the general problem and targeted at a physical product. This new problem statement allowed me to more clearly describe user's need that should be addressed and allowed me to clearly inform the design process.
Goal statement
Persona: Dianne, a young porofessional woman
+
User story: As a - young professianal woman. She wants to - buy fashion accessory with a cause. So that she can – support the initiative and raise awareness about inequality in the workplace
=
Problem statement: Dianne is a young professional woman who wants to buy a fashion accessory with a cause because she wants to support the initiative about raising awareness about inequality in the workplace.
After the problem statement was defined the next step was to define a goal statements covering what the product lets users do, who the action affects, why the action positively affects users, and how the effectiveness of a product is measured.
To answer the who, what, why, and how, I used the user research that was already contucted for the development of a physical product with a goal statement including the following actions - "Our product will let users perform specific actions which will affect a specific user by an action. We will measure effectiveness by its impact."
Goal statement: Equalytie mobile app will let young professionals support Equalytie mission and buy Equalytie wooden bowtie which will allow young professionals to support the cause and raise awarenes about the inequality in the workplace. We will measure effectiveness of the app by number of weekly purchases of Equalytie bowties.
A problem statement was defined by my and team's previous work combining who, what, and why into from other parts of the research and ideation process. Who came from the persona. What came from the user story. Why came from the empathy map and user journey maps, and how came from group's brainstorming.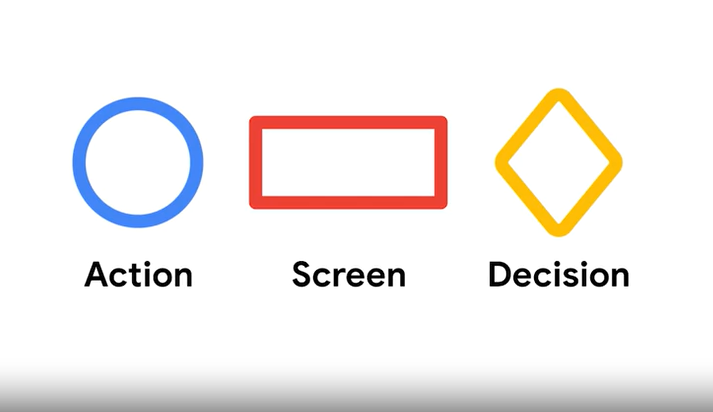 User flows
The next step was to outlining user flows, where the goal was to map how users will achieve a specific goal of buying an Equalytie bowtie and supporting the mission as they move through an app.
This was neccessary to have a better idea of the app's functionality before the design process was taken.
Circles on the user flow indicate the actions users take when moving through a product design. Rectangles indicate the screens of a digital product that users will experience while completing tasks. Diamonds symbolize the decisions users make and either move them forward through the flow or back to an earlier part of the flow, whereas lines provide direction through the user flow based on each user's decision.
For better user experience I had the following questions in mind:
What is the main user flow that users will take when using the app?

What screen will users start on?

What actions will users take?

What decisions will users have to make along the way?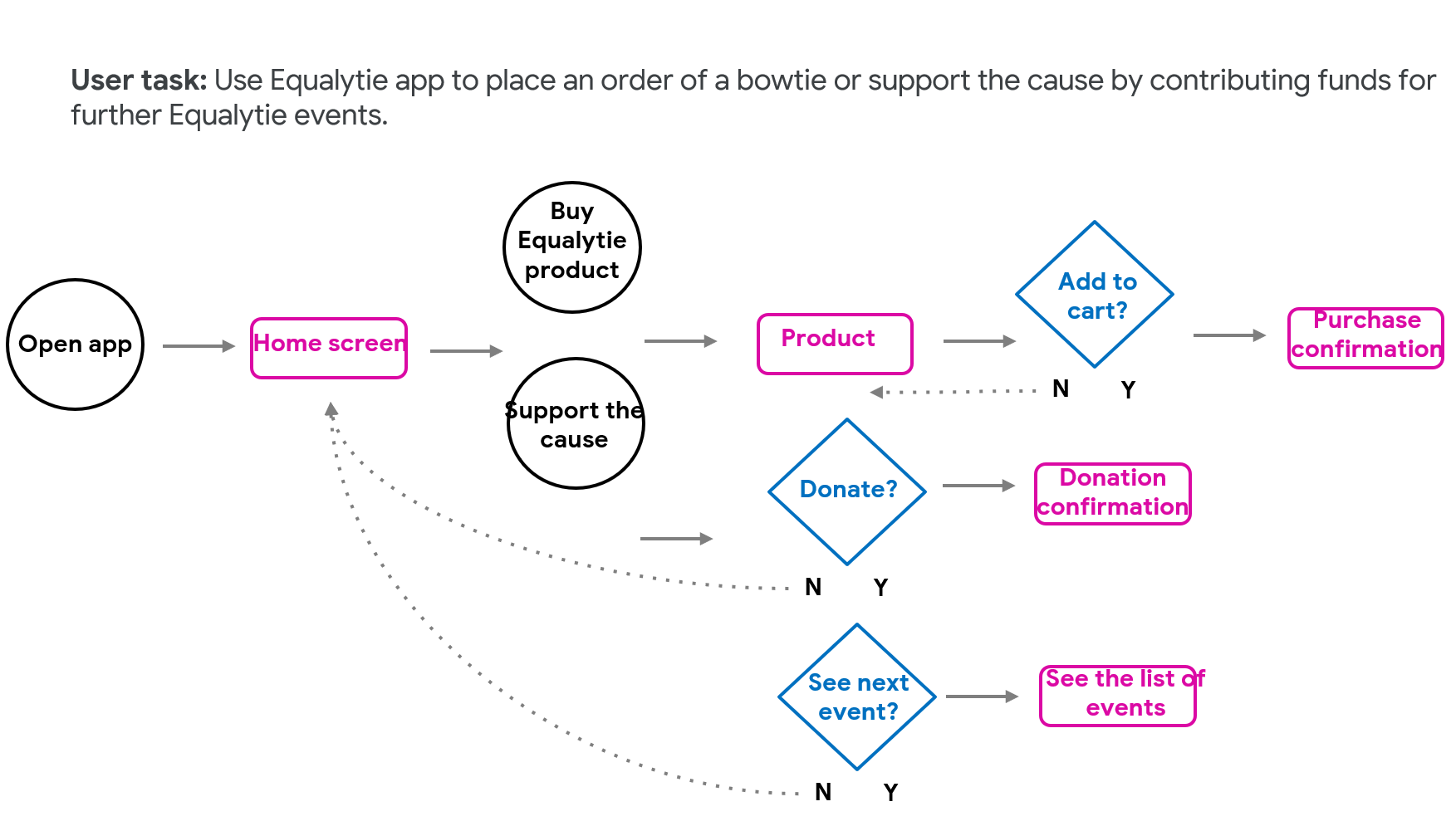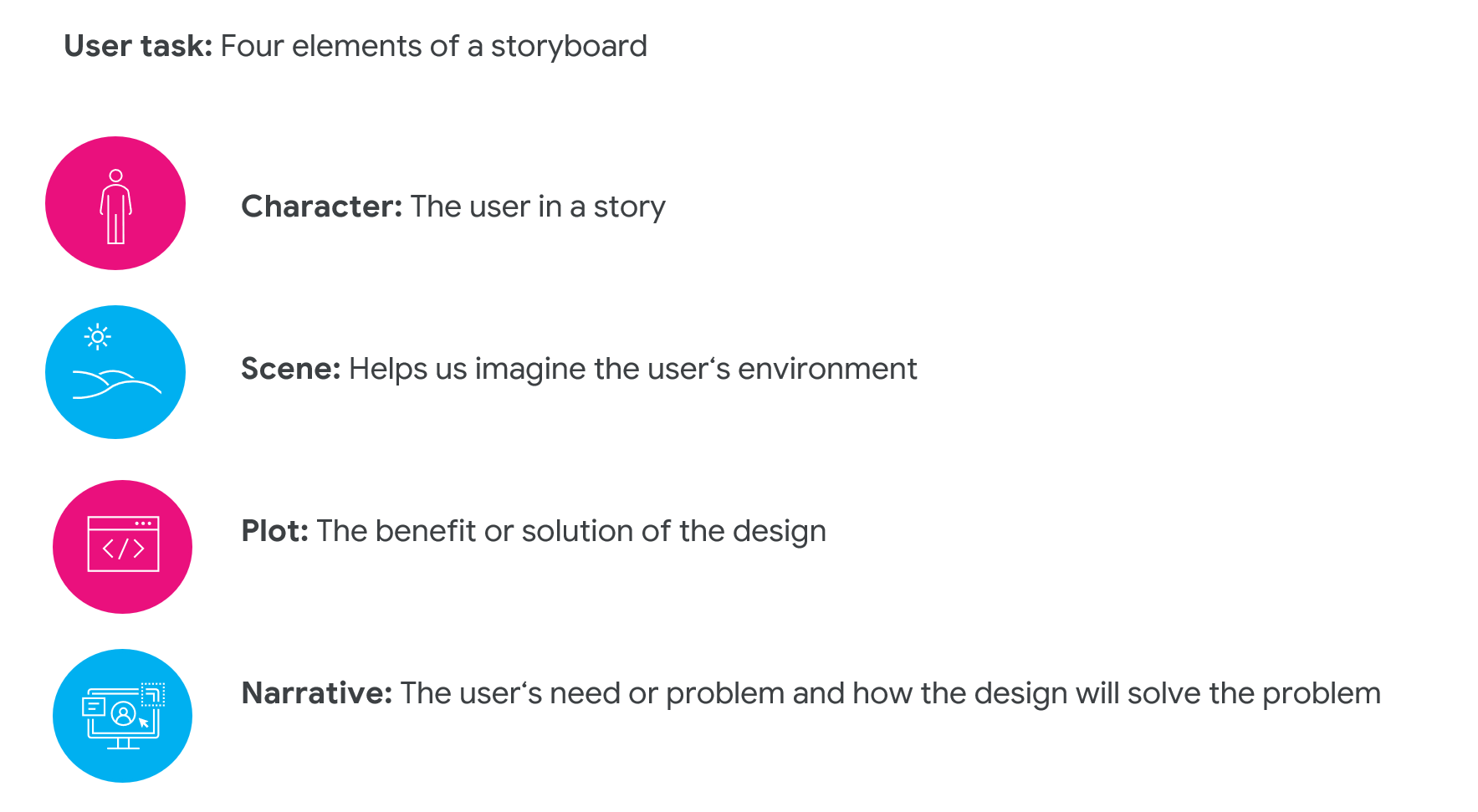 Storyboards
Storyboarding, as a tool for ideation helped me outline an ideal flow for my design. Here I sketched a storyboard as a series of panels or frames that visually describe and explore a user's experience with our product.
While big picture storyboards focus on the user experience (the how and the why), close-up storyboards focus on the product (the what) and how user will interact with the product, eg. transition from the one screen to another.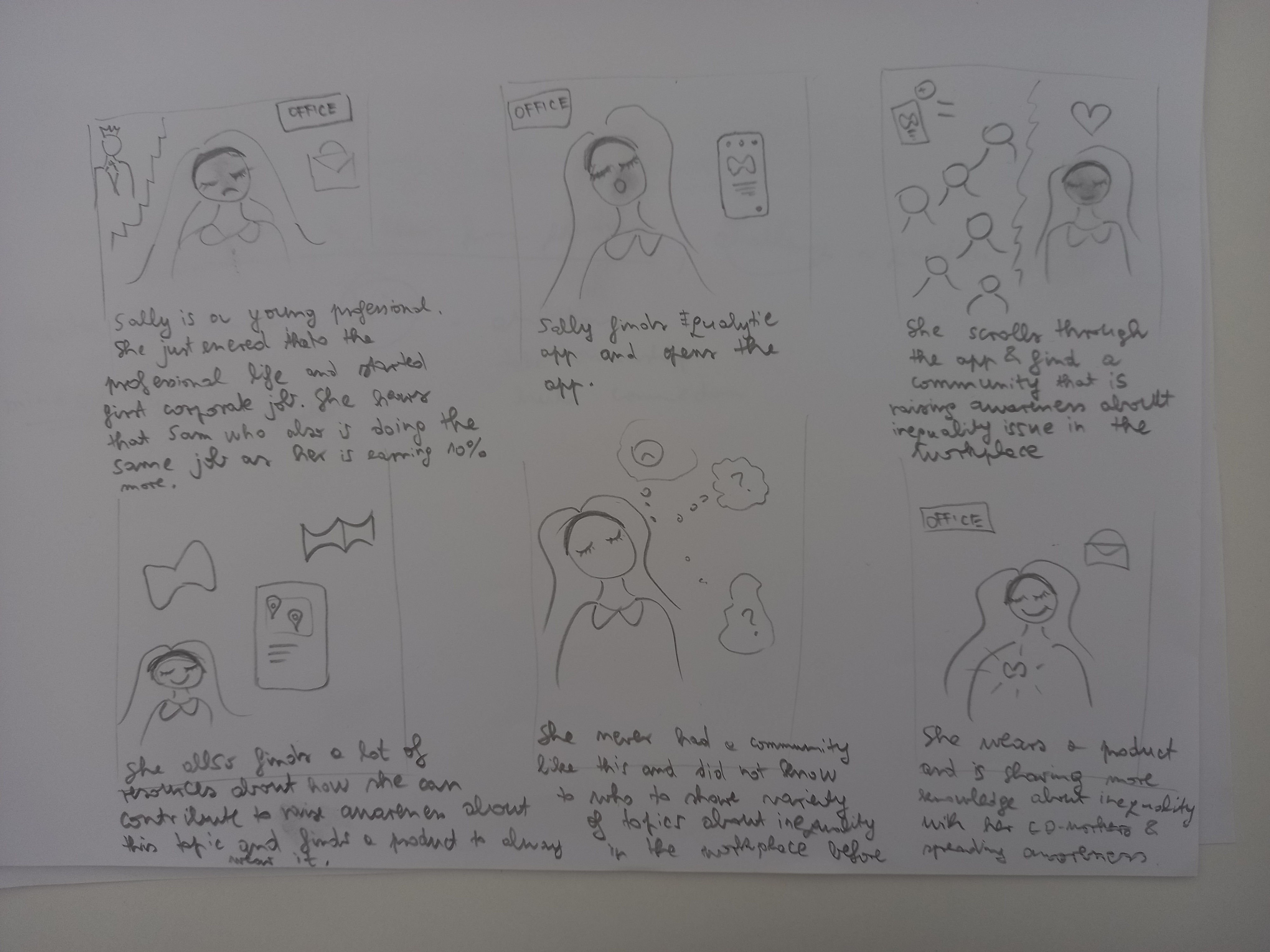 Big picture storyboard:
User experience, focused on the user
Why does the user need our app?

How will the user use our app?

Why will the user be delighted by the app?

A problem statement: An app that allows users to buy a product and support business mission by donating or attending events

A goal statement: Use Equalytie app to place an order of a bowtie or support the cause by contributing funds for further Equalytie events.

Set up the storyboard.

Added scenario to the storyboard.

Drawn one idea per panel.

Exposed pain points for the user along their journey.

Included the user goal / conclusion in the final panel.
Sketches should focus on the user.

Sketches should indicate the environment or context where the user is located.

Sketches should focus on the specific need or pain point experienced by the user.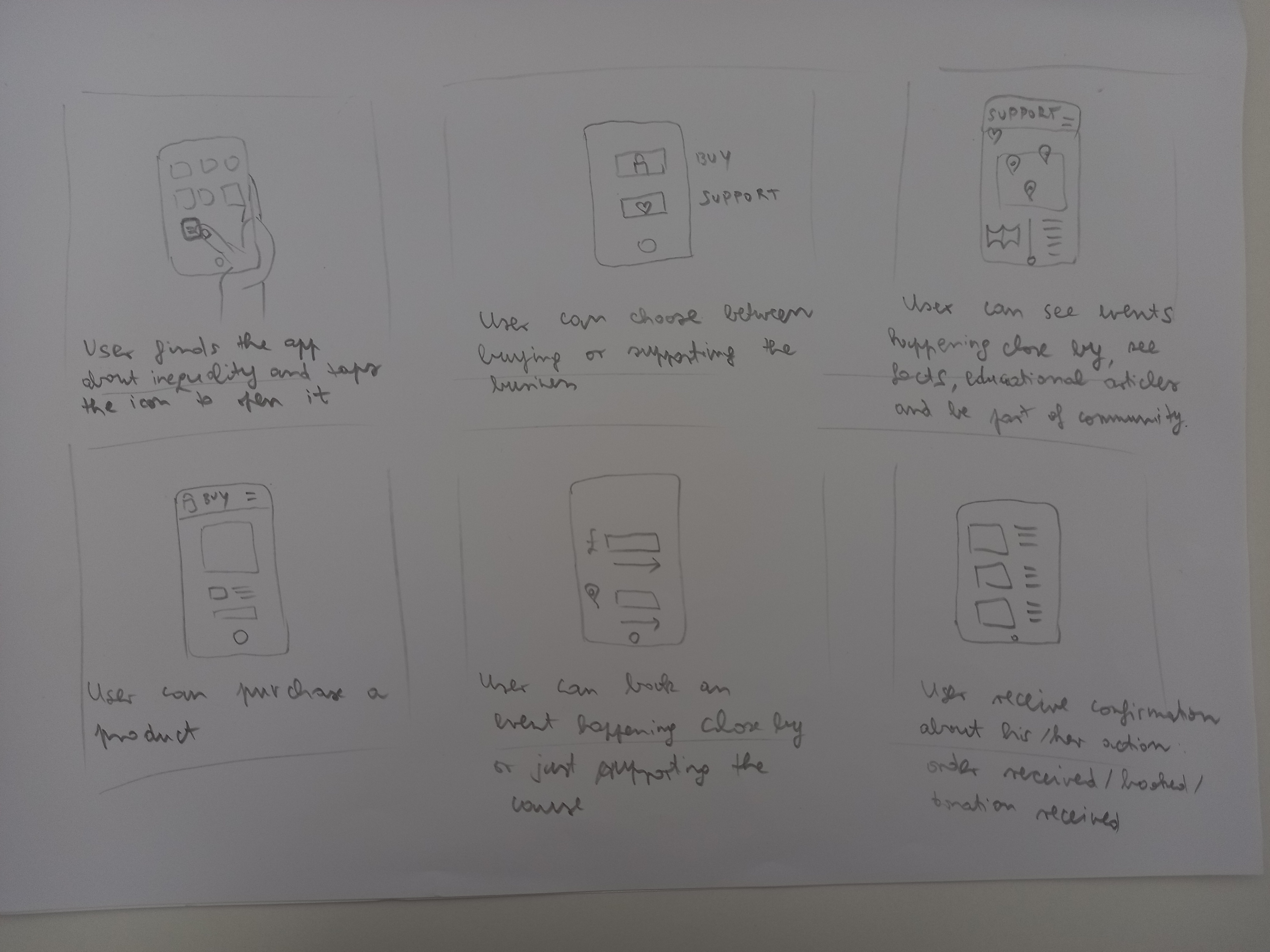 Close-up storyboard:
Product-focused
What happens on each screen of the product?

What does the user do to transition from one screen to another?

What are some assumptions we are making about this experience?

What are some potentially complicated interactions or pain points that will need to be addressed?

A problem statement: An app that allows users to buy a product and support business mission by donating or attending events

A goal statement: Use Equalytie app to place an order of a bowtie or support the cause by contributing funds for further Equalytie events.

Set up the storyboard.

Added scenario to the storyboard.

Drawn one idea per panel.
Sketches should focus on the product instead of on the user experiencing that product.

Sketches should indicate the interaction that a user may have with the product by depicting sample screens.

Sketches should indicate any transitions between screens or states that the user may need to perform.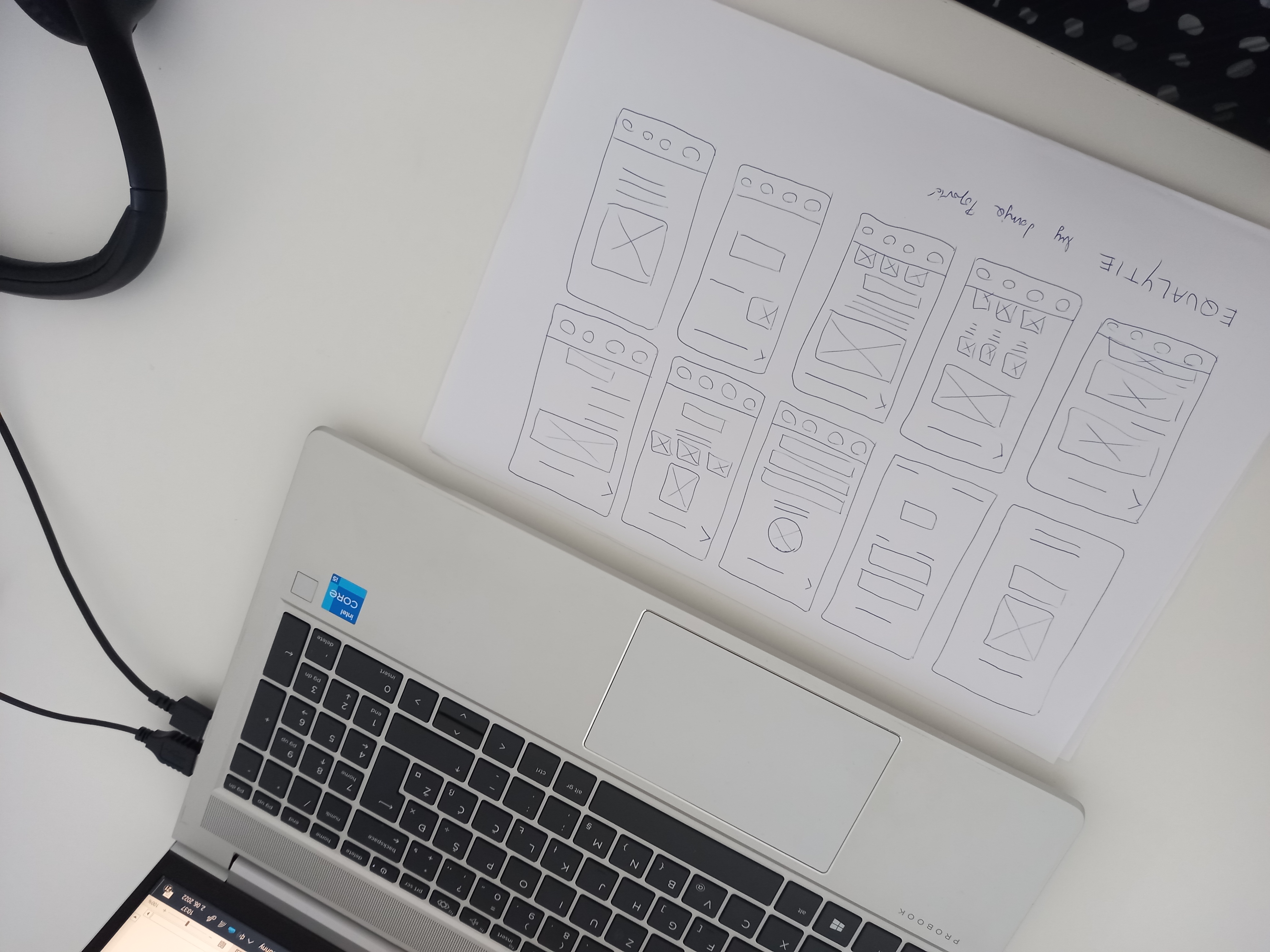 Wireframes
The next step was to create a wireframe for the app where users could purchase the product or support the cause. The app would also work as another way of connecting with the brand. At the beginning of my design process, I created wireframes for testing purposes and followed with the designs from there on.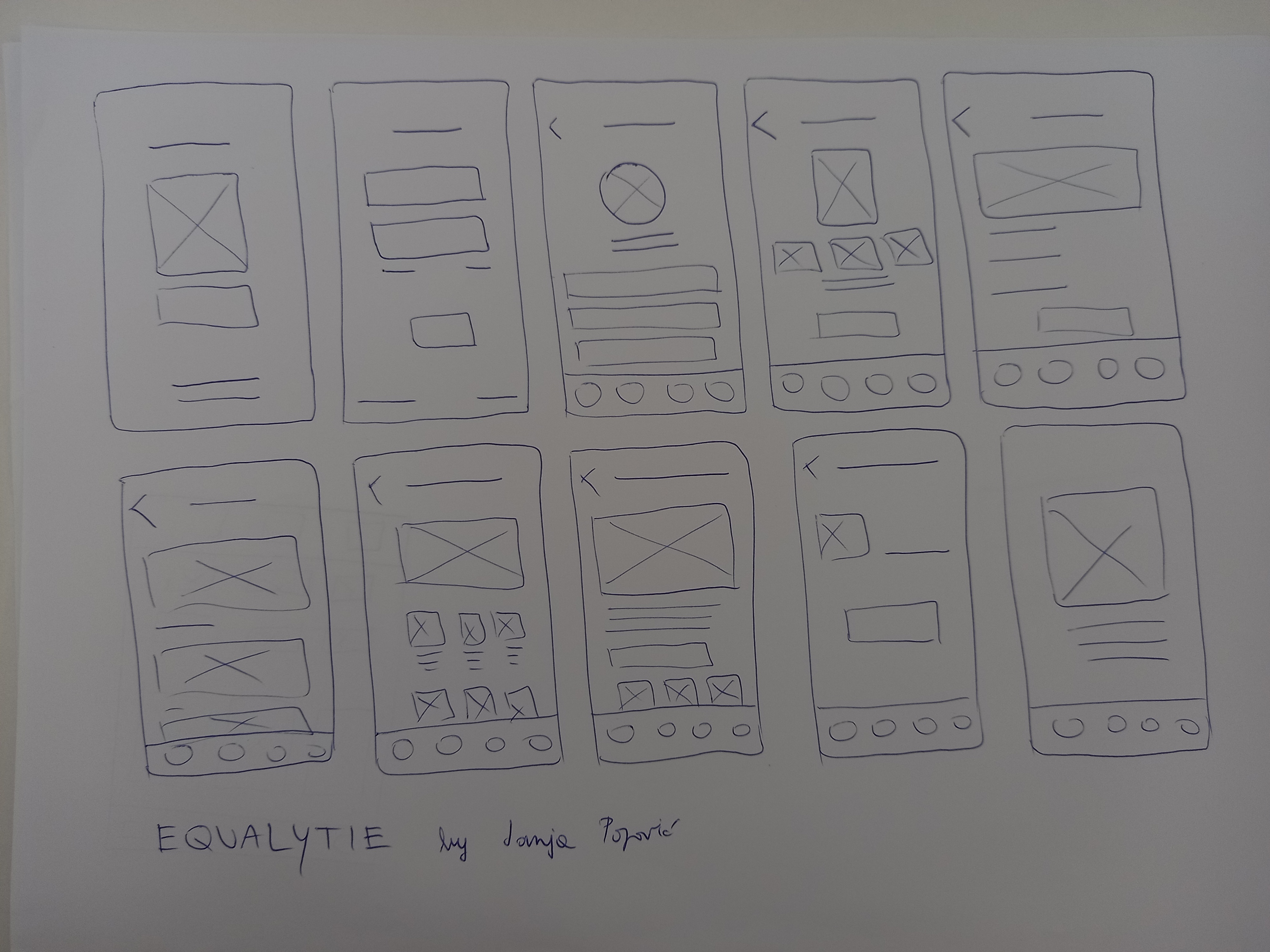 Information architecture
To help organize content and make it easier for users to understand where they are in a product or mobile app, and where the information they want is, the IA was used.
To support the wireframe creation process Information architecture provided clearer direction and understanding when beginning with the wireframes. Strong IA can help in a better thought-out product, and it helped me to visualize how each screen will be navigated by the potential user.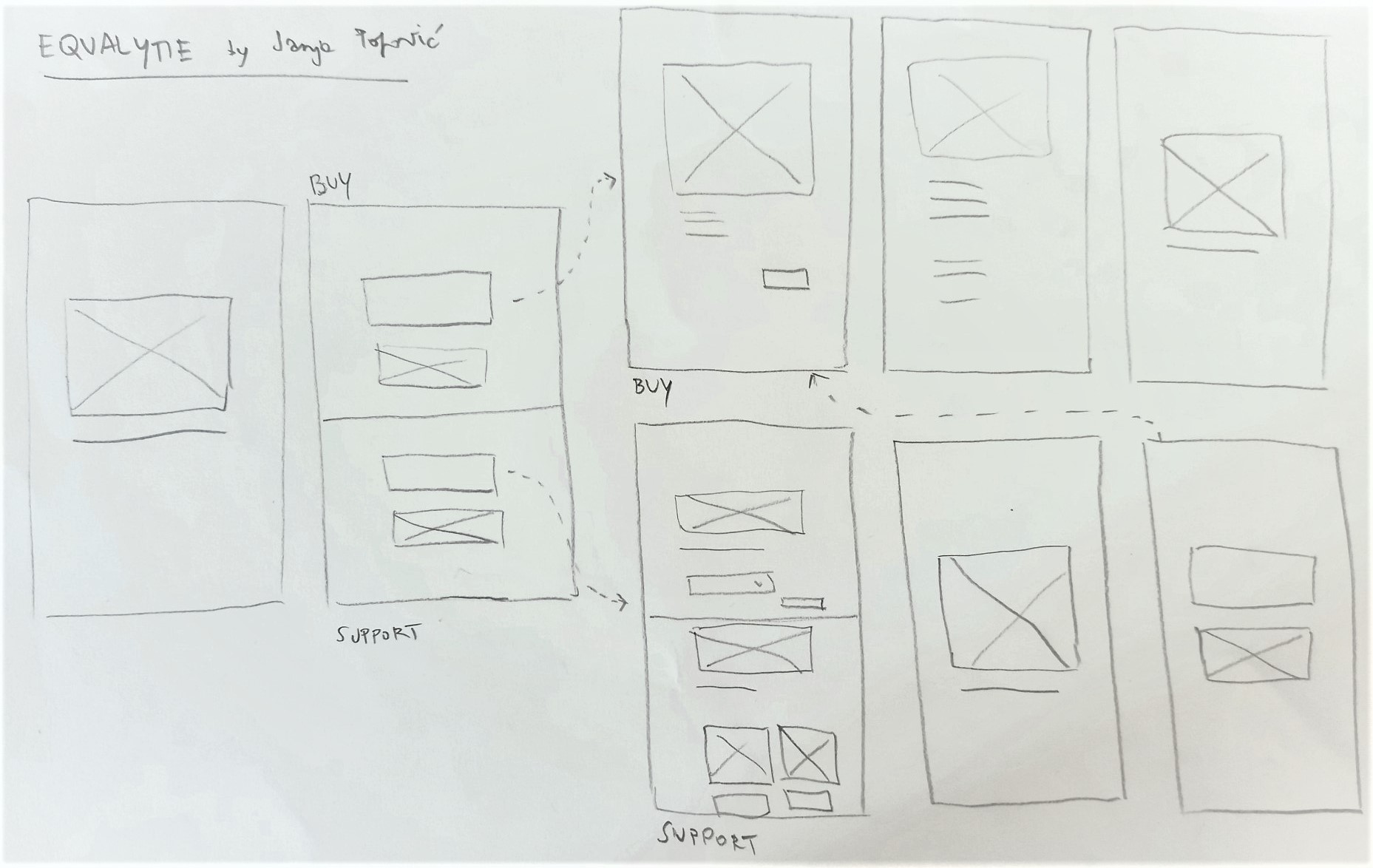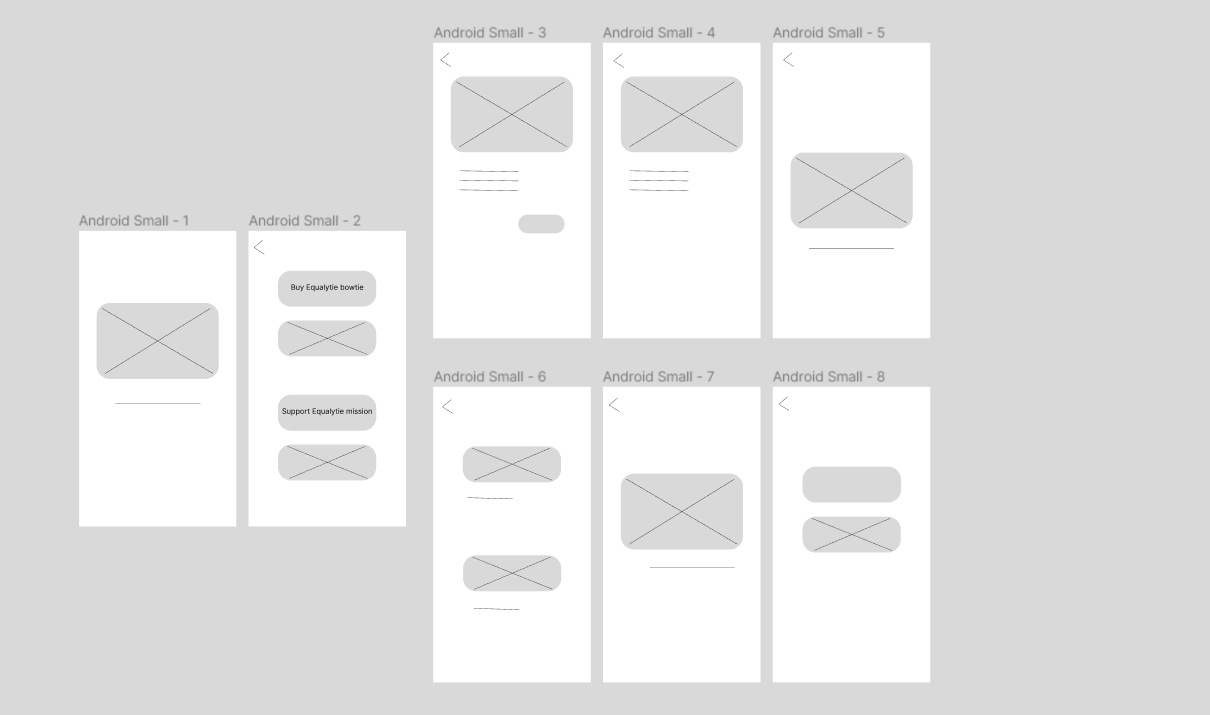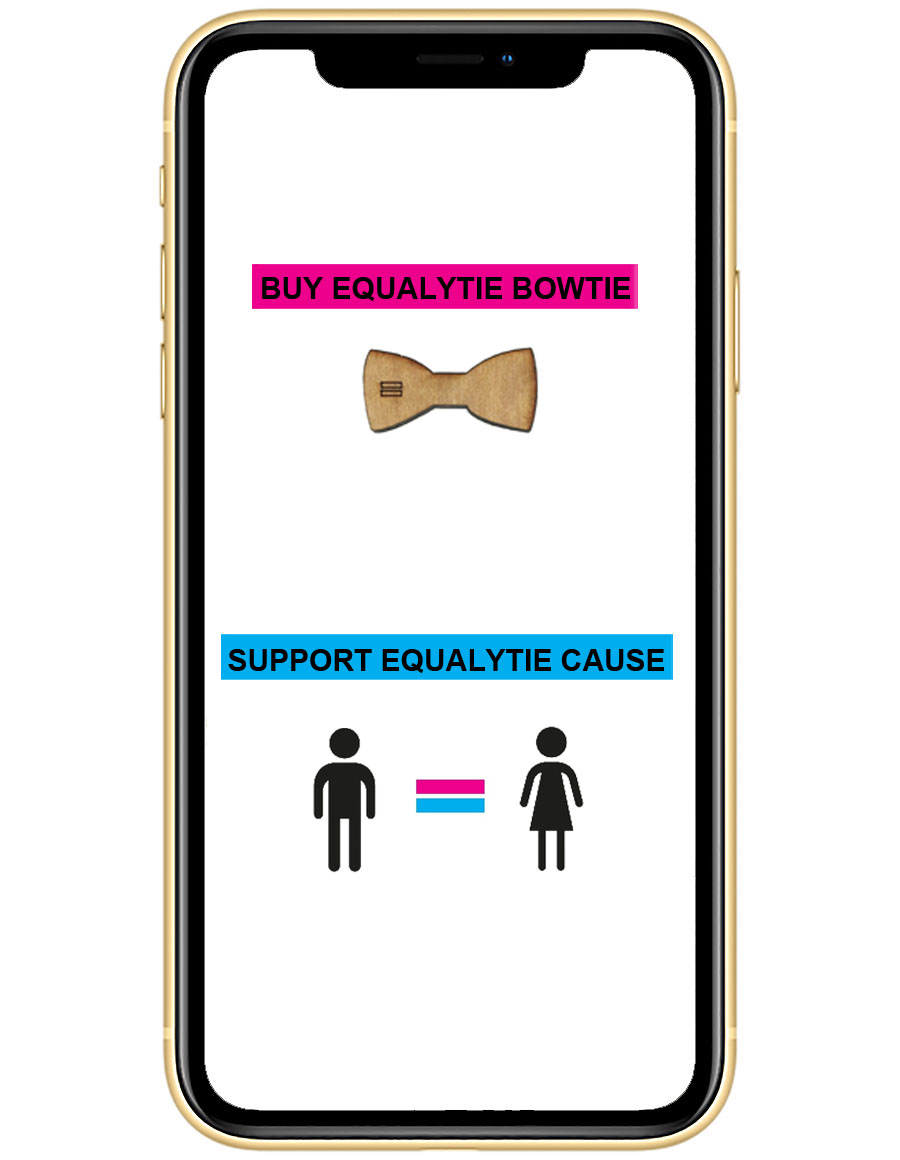 UX/UI Design
Once I tested out all usability mistakes, I started designing the final screens in Adobe Photoshop. I tried to make a very simple app, using colours pink and blue which we used in our logo. These colours were used to be consistent with the branding and identity. I designed 5 steps for the users once they open the app. The mockup of the app is shown below.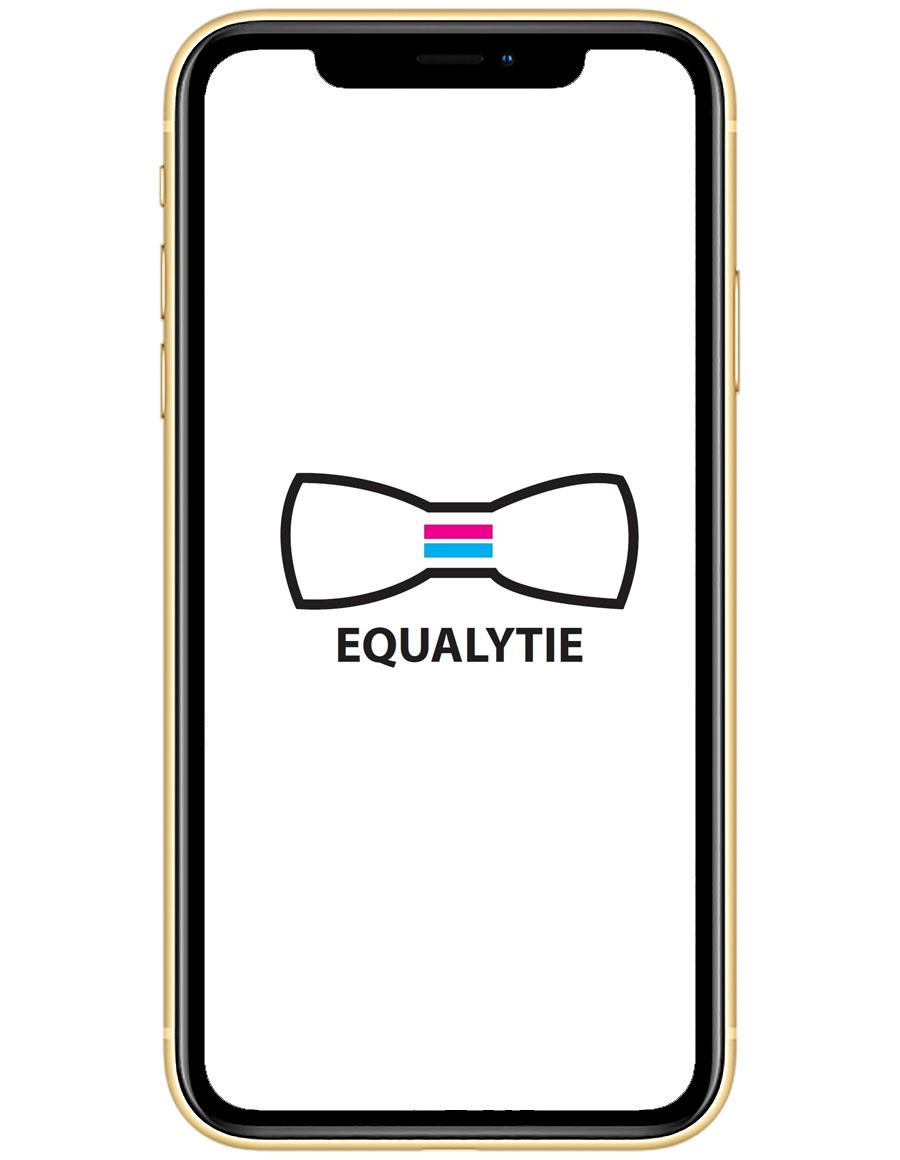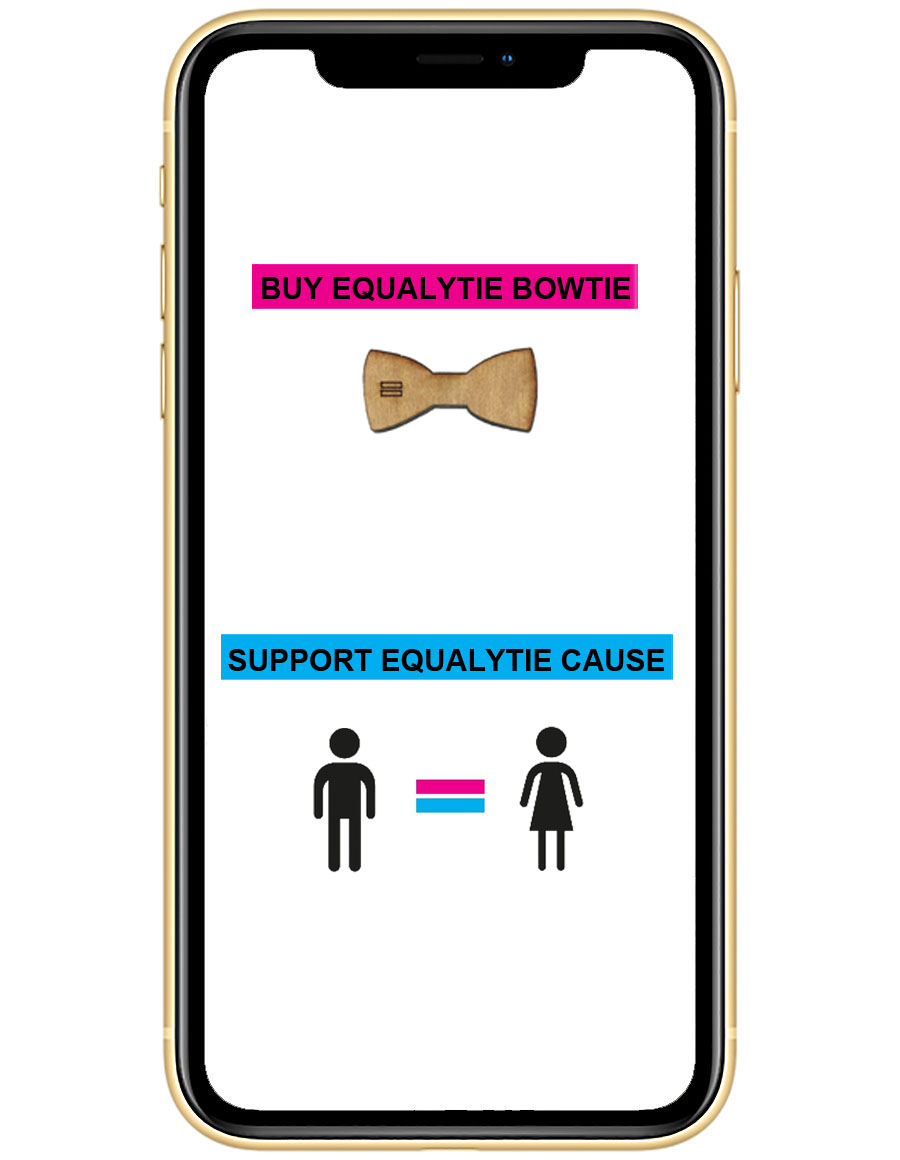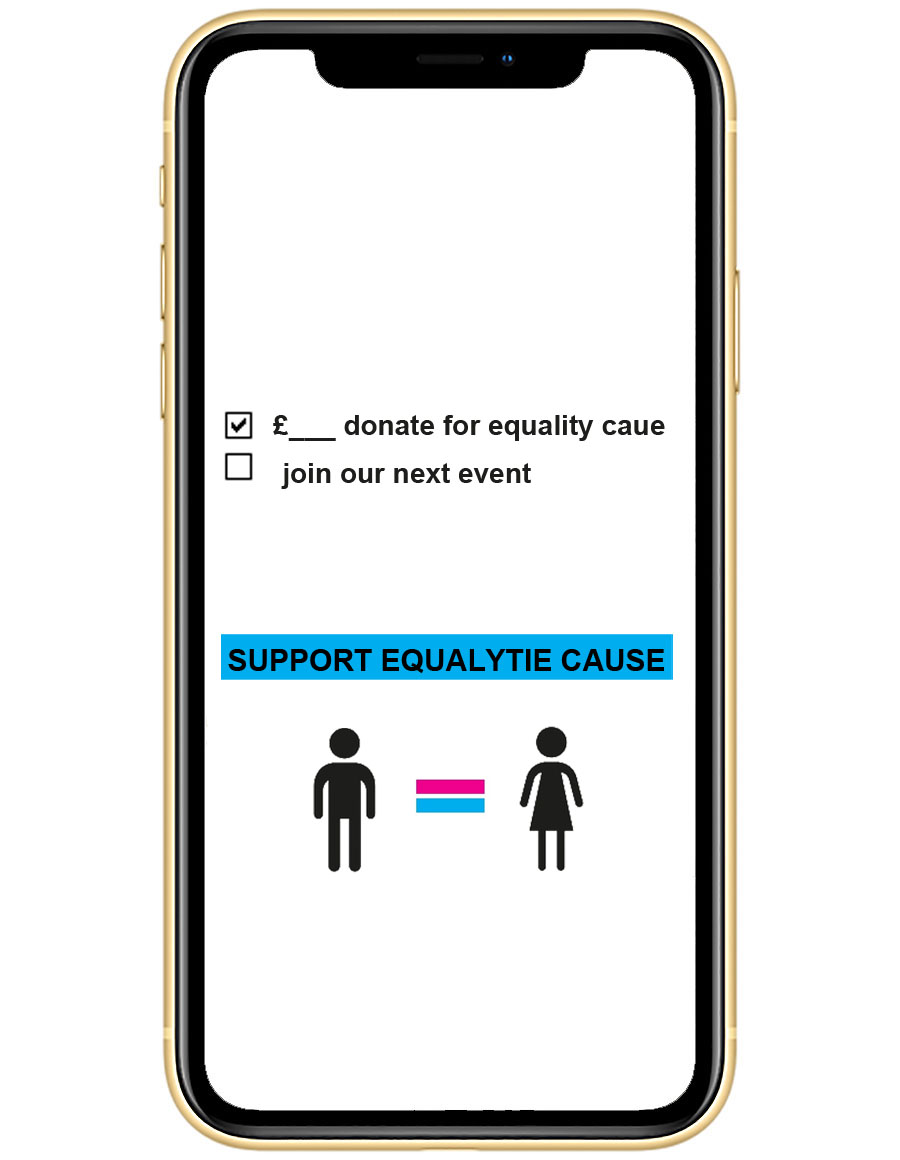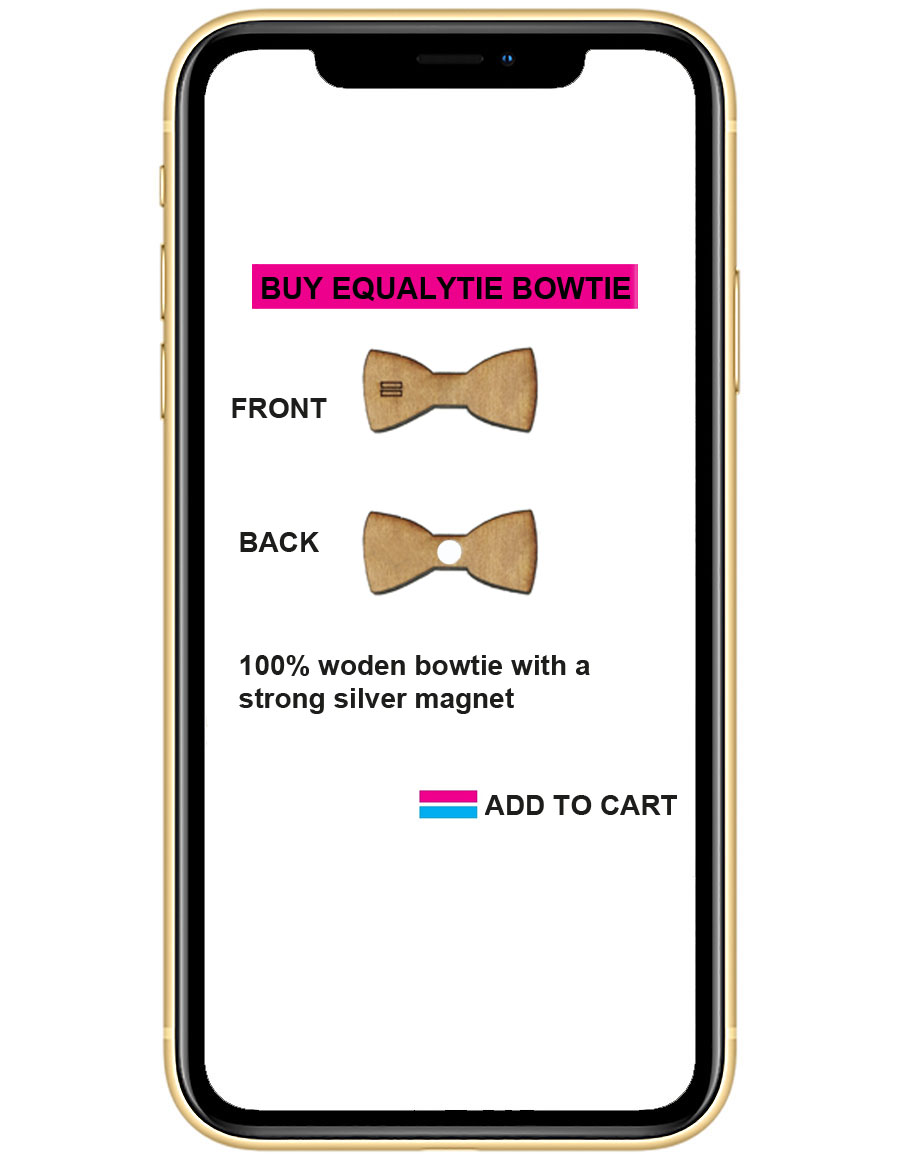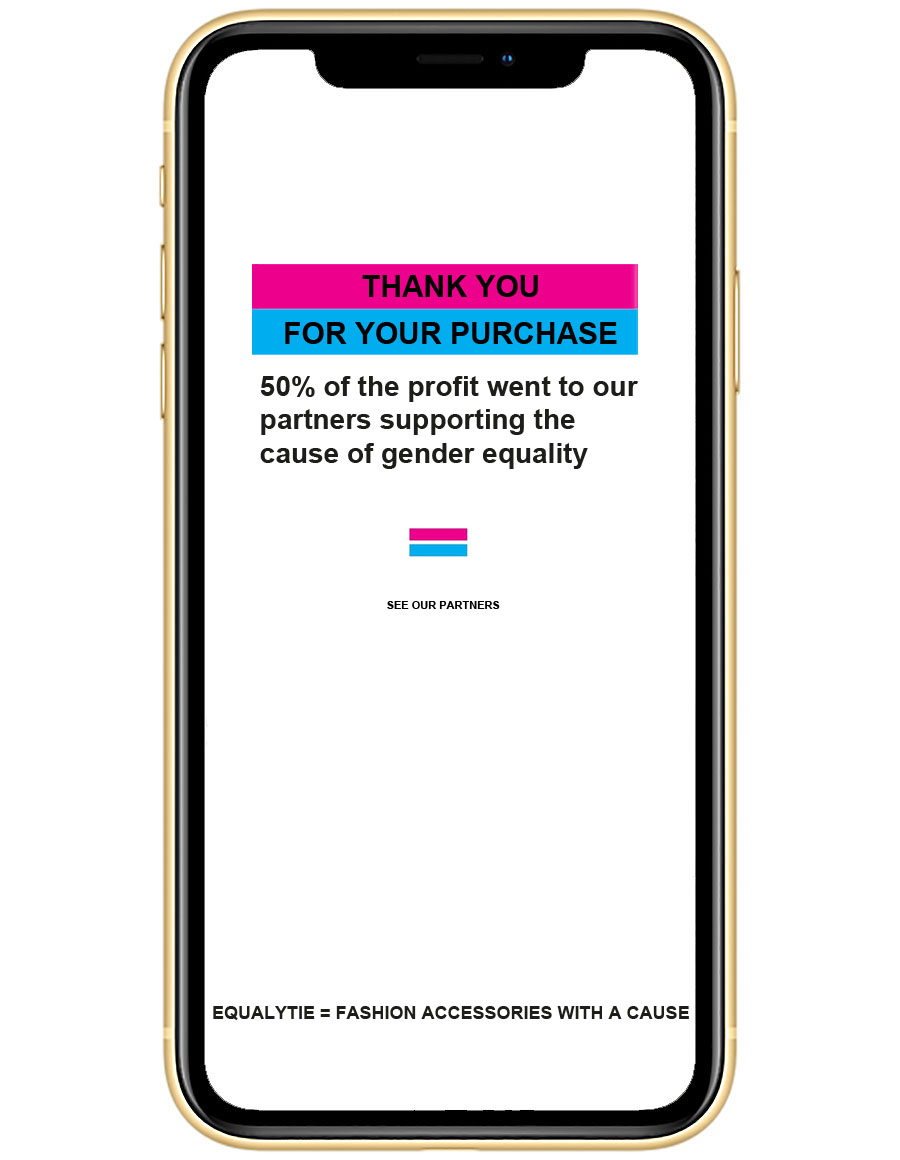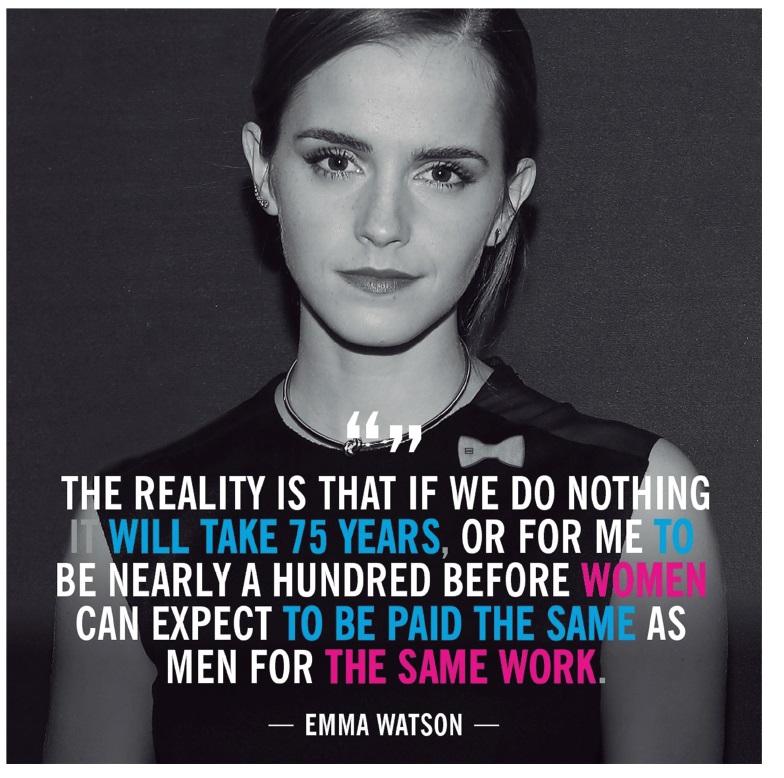 Future ambitions
Raise awareness for gender equality in the workplace
Raise awareness for gender equality in academia
Establish our company in major cities in the UK than in emerging

markets & USA

Branch out to different inequalities (disabled people, elderly people etc.)
Expand the products ranges, create eco-friendly fashion brand, sustainable fashion, that has a positive impact on our environment

and people

Host local events that encourage gender equality (talks,

videos, workshops, education events, etc.)

Collaborate with established companies of similar nature (E.g. He

for She) – collaborate with the government (Grants, loans, endorsements,

support).

Get celebrity endorsements to wear our bowties (E.g. Emma

Watson)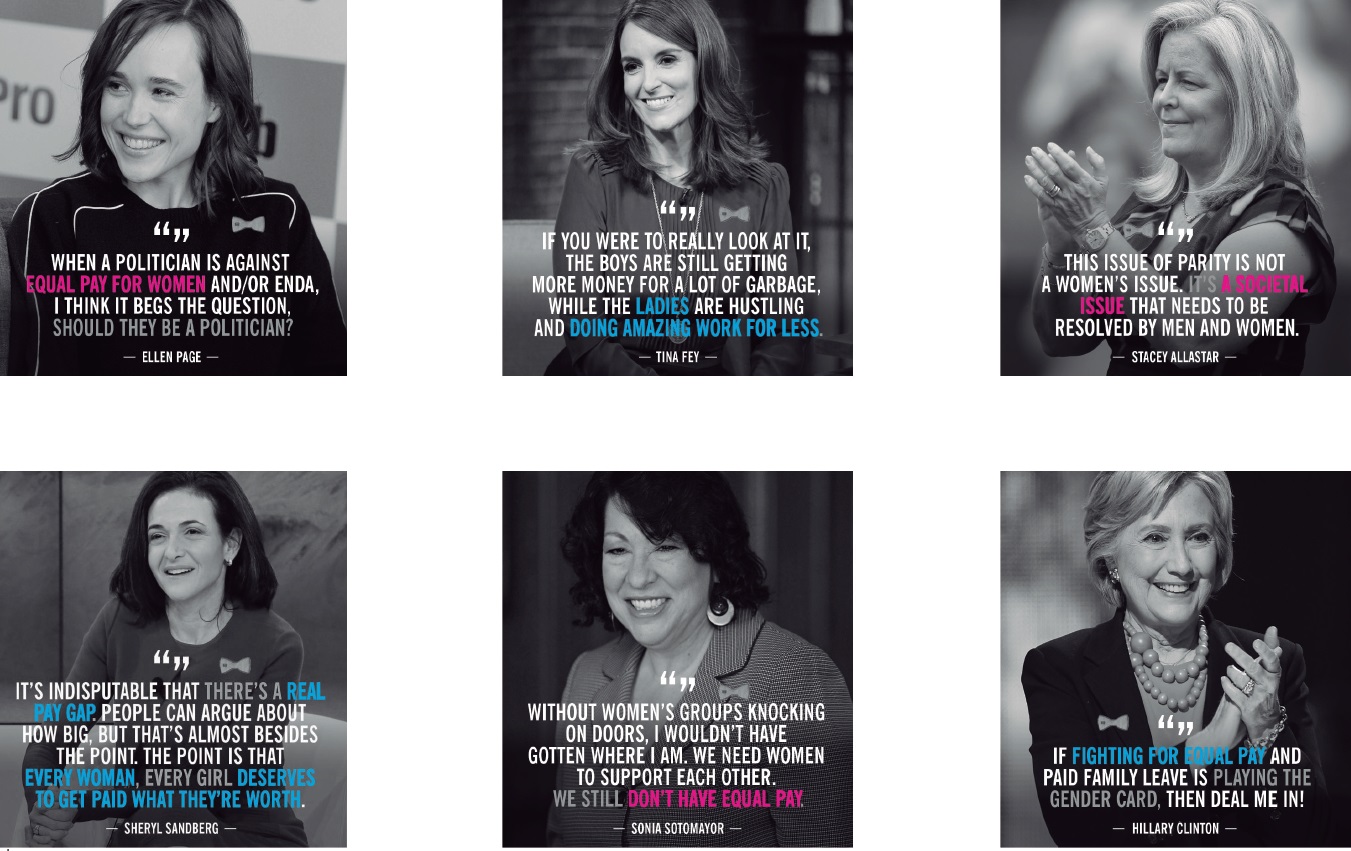 Conclusion
What have I learned from this project?
During this project, I have learned that prototyping and creating minimum viable product have many benefits and works as a great learning curve. I have seen this when we used the paper to create the first mockup of the bowties as we could see an improved version and get the gist of how the final product would look like by not spending a lot of expensive resources. When we tested our products with different materials, such as cardboard paper, we had a clear idea of the shape of the bowtie so it was easier to translate it into the digital version, in our case using Adobe Illustrator file and latter produce the final version for the laser cutter on the wood. By doing so, we avoided potential wasted resources, so our final product on the wood looks just as we prototyped from the paper in the first place future failures in terms of shape.
In terms of social media strategy platforms, I learned the important lessons, which is that having engaged audience and engaging with our users on a daily basis is more important than just having a big number of followers. We were able to build a small but very strong community of followers in these ten months of running a project, engaged with them and iterate our product according to their needs. What it really counts at the end of the day is a user engagement and how many of them were actually ready to support our cause and buy our product.
The gender equality cause behind our brand made our product speak for itself and added value to our brand, so our customers were emotionally more connected and willing not only to buy our bowtie but also make an additional contribution and support our cause. Therefore, adding value to the branding really matters. We also realised that unexpected little gifts could so whoever make an additional contribution for the case also got a special wooden card with engraving words 'Thank you'. This always left customers happy when they left our counter at the trade fairs shows or elsewhere.
Regarding the customer feedback, I have learned the importance of really listening to users' feedback as our ignorance at the beginning of the project almost cost us a lot of lost sales and invested money. By approaching our early adopters at Kingston University and executing design research around the Kingston University campus we have realised the important fact that most of our potential customers were not ready to spend £15 on the wooden bowtie. Therefore we pivoted and made smaller bowties with the sale price of £5. Coming to conclusion to produce a smaller bowtie which people would wear as a symbol to support gender equality was, therefore, a really good choice as the company break-even within the first six months of trading. The purpose of the design research, therefore, played a vital role to help us to maximise the sales, have a better margin., but most importantly designed the product that our users would actually buy and support. When we changed the sizing we were also able to produce more bowties on the wood surface, which cost us on average £0.32 per piece.
Design thinking for start-ups module thought me the importance of doing design research in order to understand our customers, their pain, gains, their needs and adjust accordingly. Keeping in mind these factors is crucial when creating a product, branding strategy or even a social media strategy by only using relevant social media and appropriate marketing channels for the users.
The project was overall successful as we prepared a clear strategy, as well as executed data-driven user research before producing a massive amount of products and most importantly pivoted a few times according to the market needs to then produce the product-market fit at the end.
The way we measured success with this project was whether we created a starting point of a positive social impact in our community (Kingston University campuses), in our case- equality. I feel our project was a success as we did create a product with a cause and people were willing to support it. This is evident by how quick we break-even and how many users (almost every person we interviewed) that from now on they will be more aware of inequality in the workplace in the UK and beyond. The project reached our community and beyond, we raised awareness and educated people about the inequality, we addressed community with a positive note as well as opened a new space for the beginning of a conversation about how inequality in the workplace affect each individual and afterall the global economy.

3
Iterations of the bow tie
6
Months of trading after we
break-even
50%
Of the profit for supporting the cause
"Looks so cute.
Considering the cause, I never realised that inequality in the workplace in society today still exists, this opened my eyes and made me think."
Ana, 24 on her Equalytie bow tie
"The bow tie smells so nice, like fresh wood. It reminds me of home. Also, it supports a cause, that is so close to me.
The magnet on the bow tie is such a great idea, as I can wear it even on outwear to show I support the cause and it doesn't ruin my clothes."
Dianne, 27 on her Equalytie bow tie
"A product with a cause, that's amazing. And it is so discrete I can wear it any time."
Josh, 26 on his Equalytie bow tie