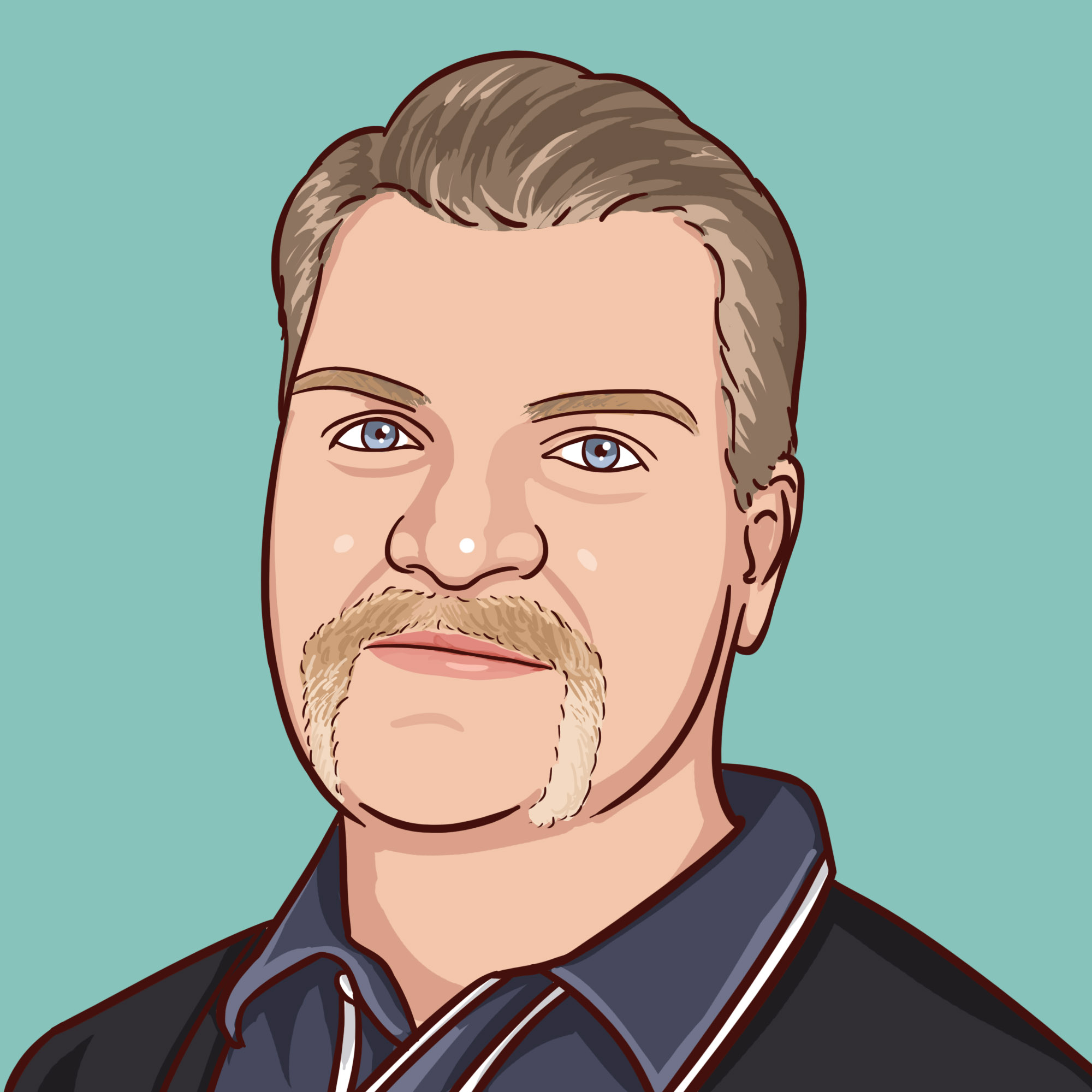 Power mapping study
Ease of use of the donation funnel
Prostate Cancer Association
Power mapping study
The Prostate Cancer Association is a non-profit charitable organization collecting donations for prostate cancer research.
My role in this project
I had previous to this project, designed and developed the brand identity and designed visuals for website, ads, etc. In order to better understand the online donation flow, I conducted a power mapping study. The goal was to get more people to make credit card donations.
Test hypothesis
Since we have observed that few people reach the donation form by analyzing the GA data and finding severe drop-offs at news pages. We want to make it easier to reach the donation form from newsfeed for problem-aware personas like Slow Steve. This should lead to more donations made online and the effect will be measured by increased traffic on the donation form Pay-button.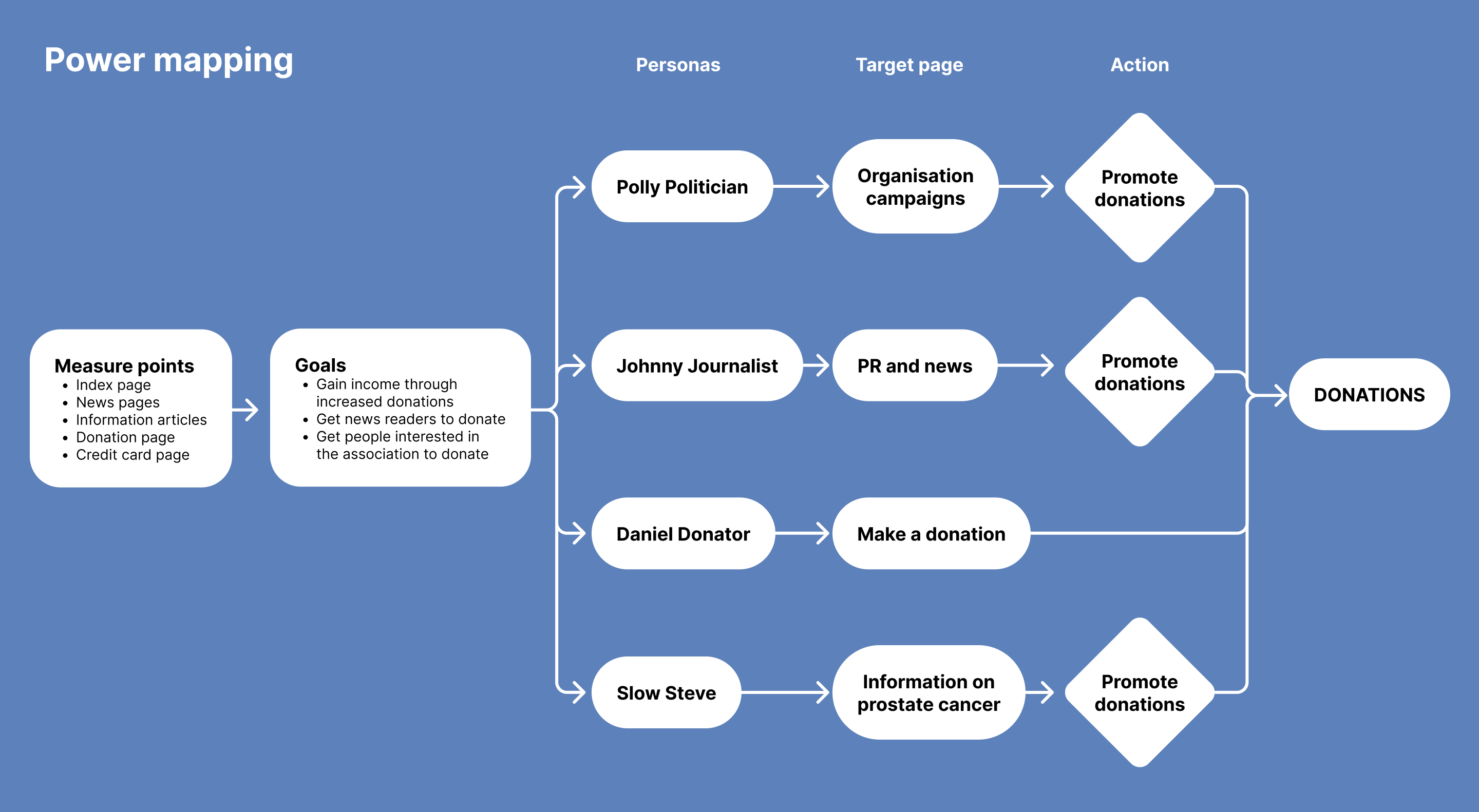 Power map
By examining visitor information in Google Analytics, I created a report with recommendations for increased attention to card payments key points. Contact areas interesting for the different user personas were to gain increased traffic and increase the donation flow's exposure. The user personas are based on information provided by the association. Here is mentioning two of them:
Persona Polly Politician
Many politicians like to stay well informed about health issues. Prostate cancer is one of the dominant medical conditions in Sweden today. They tend to follow campaigns to stay in touch with the trending issues.
Slow Steve
This private person likes to be informed and has a well-grounded idea of where the donation will go and who receives his money.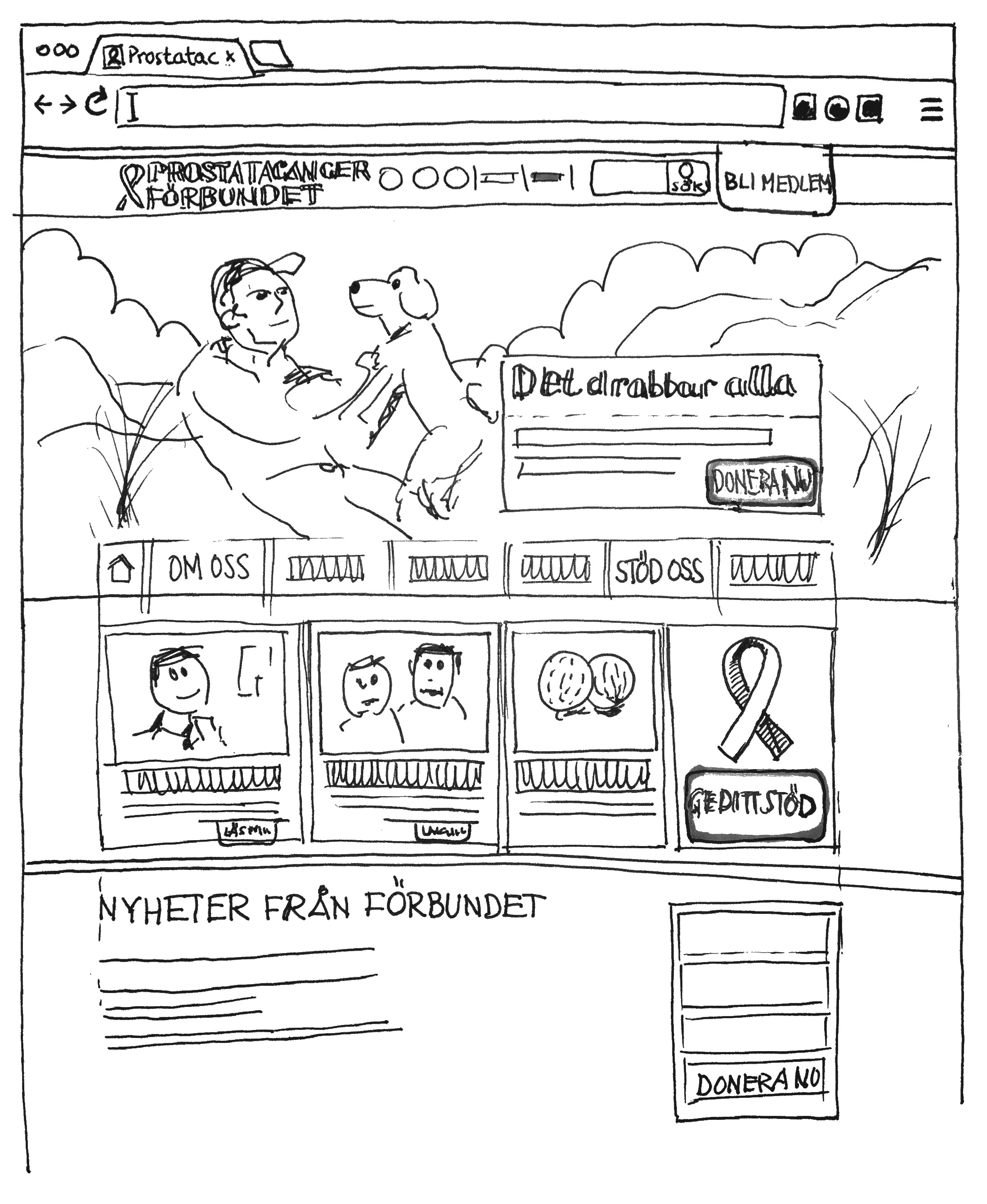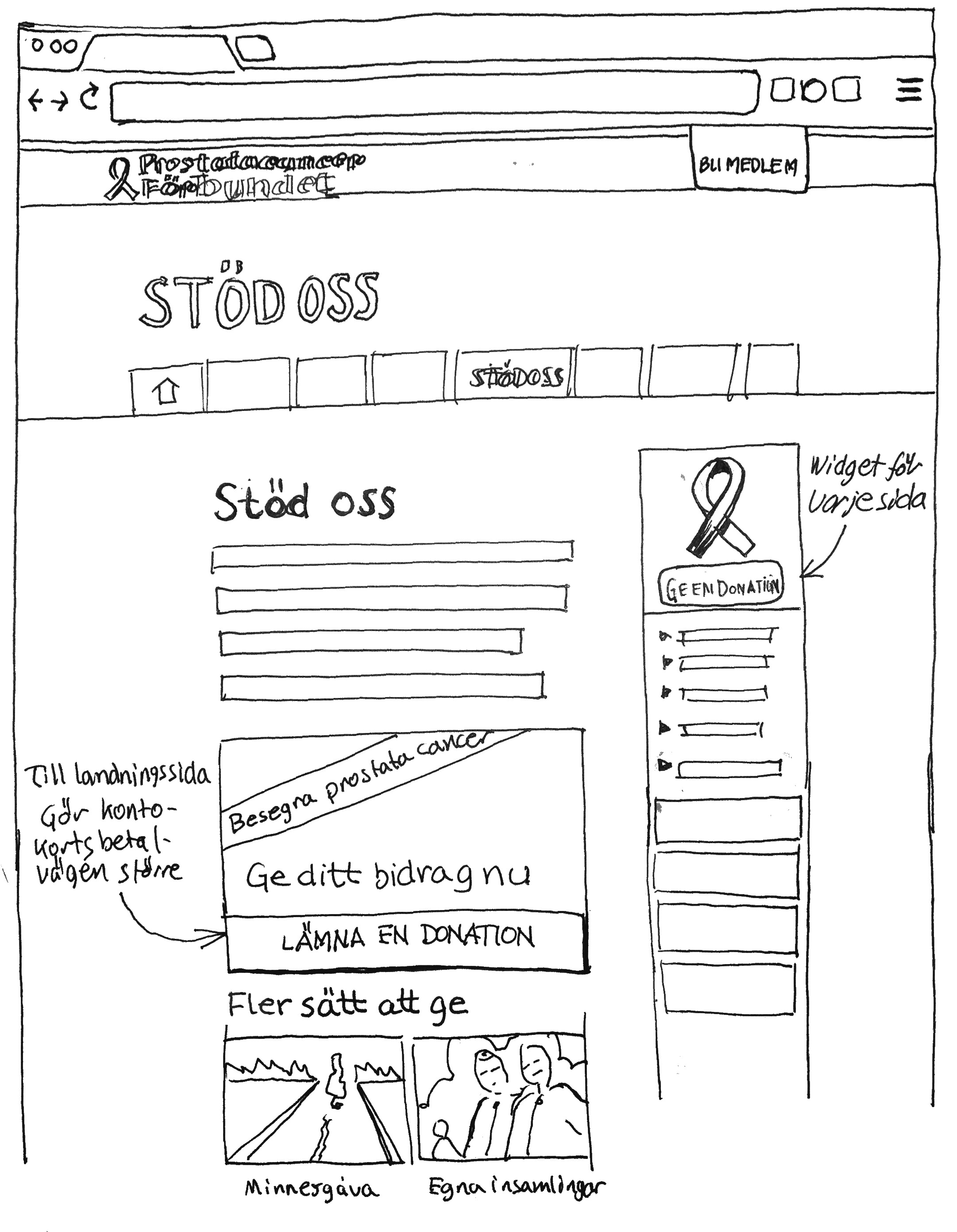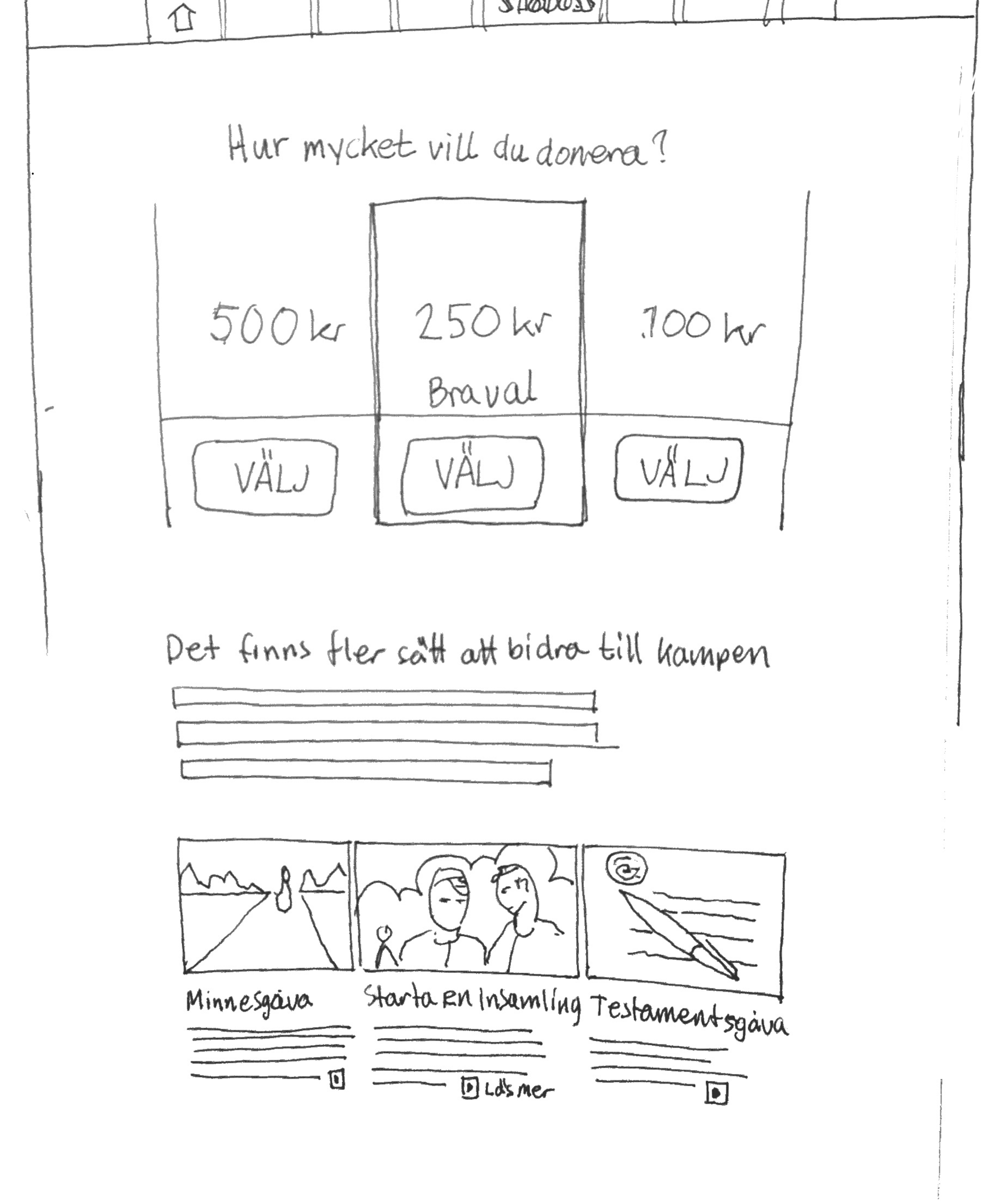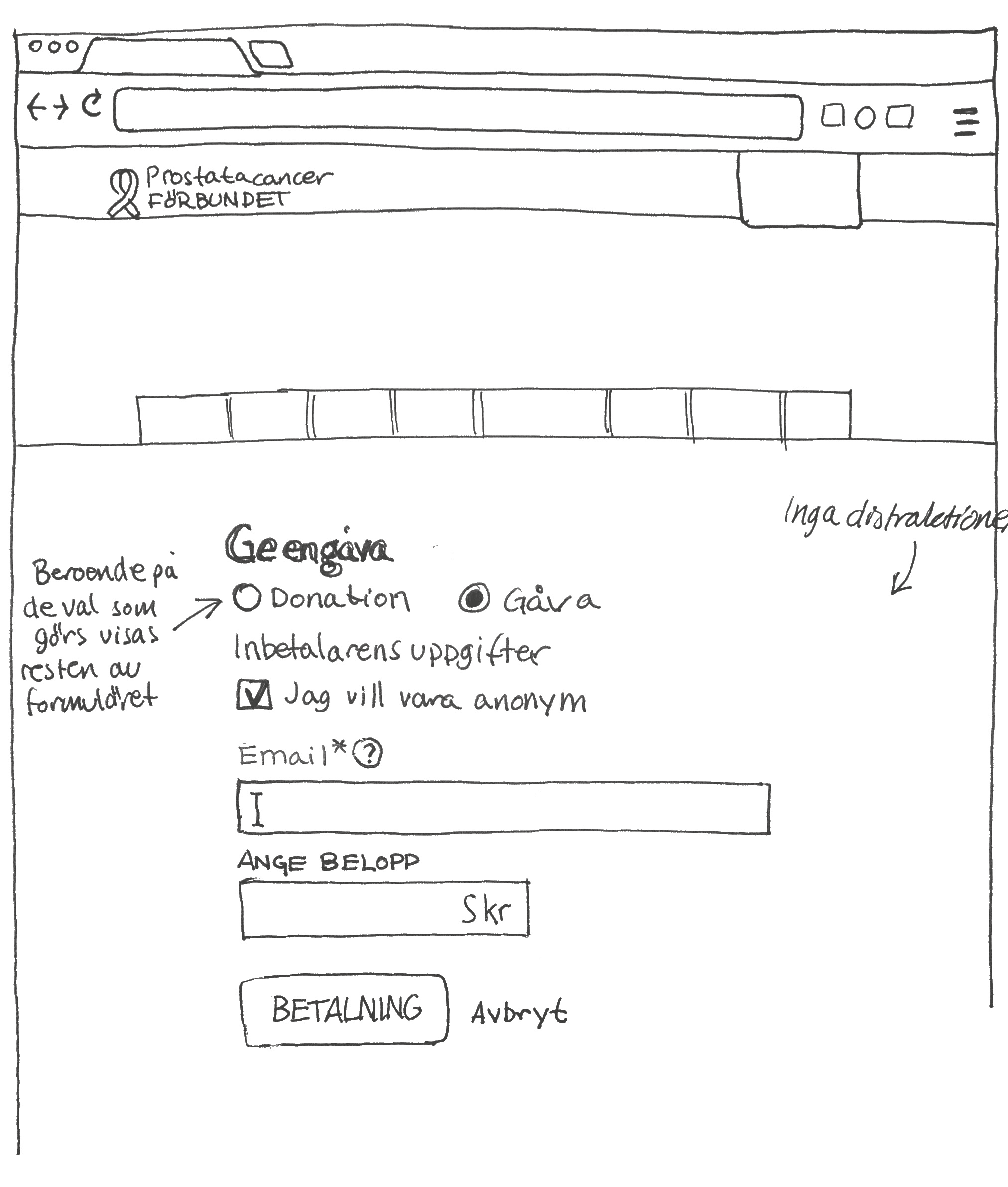 Remove obstacles
Index page
Create uncluttered flows and make it easier to focus on a finished donation.

Obvious starting points to the (credit card) Donation page.

Capture news and information enthusiasts.
News and article pages
Prime positions for making donations. Use the fact that this person just read up about the issue and is with high probability, motivated, and ready to make a donation.
Donation page
Remove anything that relates to other issues. let the visitor focus on the task at hand.

Set a simple default donation method. Make it simple to chose another method but not causing a detour in the funnel.

Use a set of pre-defined donation sums but also allow for an open text field.

Ask if this is a one-time contribution or a recurring donation
Thank you page (not among the images)
Promote bragging rights by linking to social platforms or start a donation competition.
Sensitive subjects have delicate ethics
Learnings
It is not always the most effective and powerful method that can be used as intended. In the case of the Prostate Cancer Association, there are delicate ethics to be considered. Pushing the donation agenda can be seen as most inappropriate in certain contexts. In the case of begging for money in a serious article about cancer or dying loved ones will come through as blunt and greedy.
The suggested exposure positions was considered to challenge this ethical boundary and were deemed unfit for the website. Something I, myself had realized during this journey but wanted to get confirmed.
Unfortunately, in the end, the easy-to-use funnel idea was not implemented due to issues with the technical platform and it is still a rather complex process to make a donation.
I would have liked to follow up this research by evaluating the 10+ donation methods provided. Are they all used or do the selection fail due to Choice Paralysis?