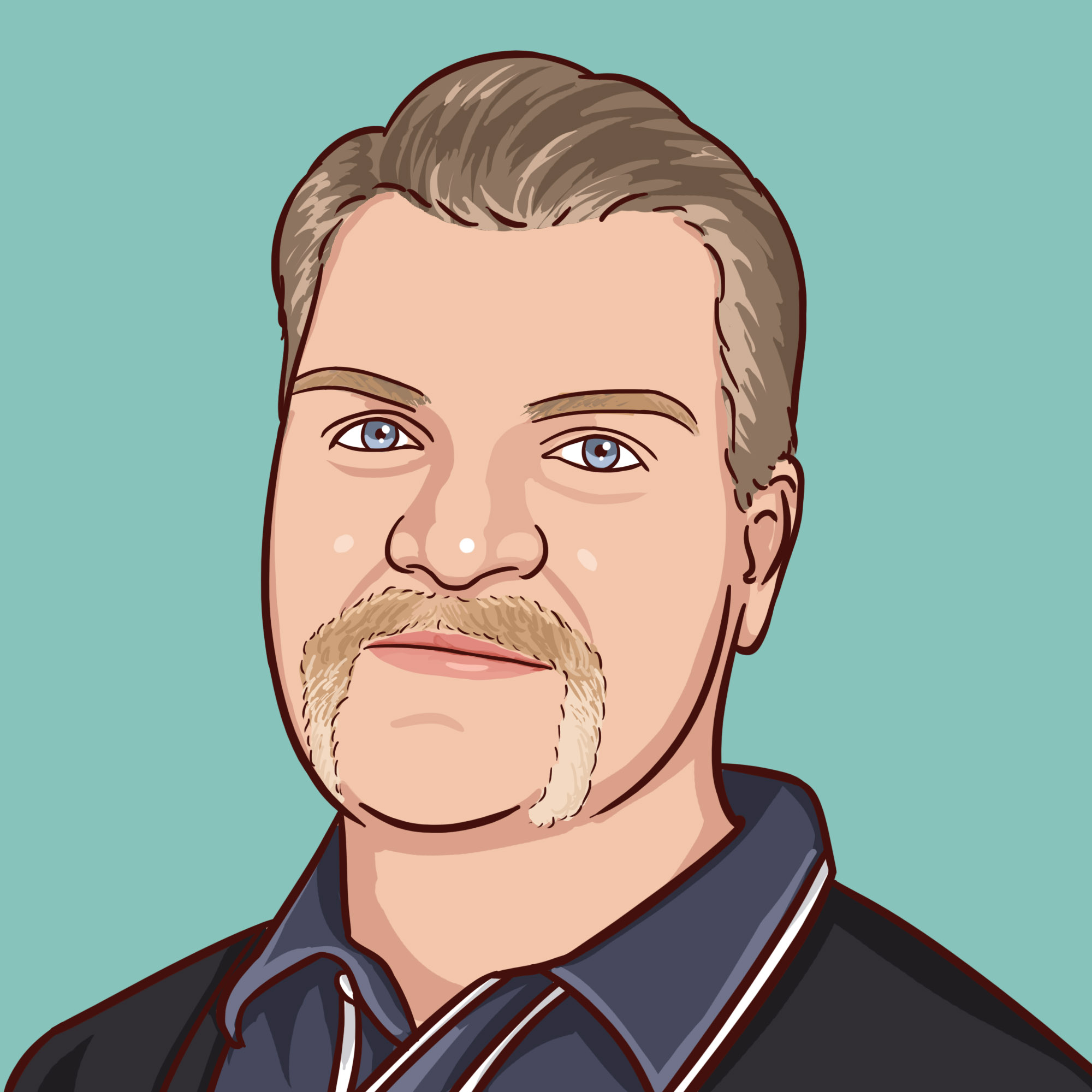 Making people stay
An attempt at improving sign ups and lowering churn rate
Casino Room
Client: E-gaming website Casino Room
Project: Landing page Sign up
Role: UX-design lead and Art Director
Time: 2015-2018
Challenges: The competition of the gaming industry is fierce. In getting new players through the door one of the most important choke points is the signup funnel. This is why this is always a high priority and there is always room for improvements considering conversion to be made. But it is not only getting the users in, but you also want them to stay and come back. An existing customer needs little further investment.

The player leaves when the Signup bonus is out
Hypothesis
The hypothesis was built on measurements in Google Analytics that the sign up had some drop-offs but furthermore, new users did not return again. The churn rate was hurting the business.
"By building a new landing page addressing churn related issues and by adding motivating tidbits through the sign up would be measured in final sign-ups and fewer drop-offs over time."
By targeting several user personas and giving them enough information and motivation on their way through the process, new users would be more inclined and ready to go through with the final steps and then sticking around, spending their money.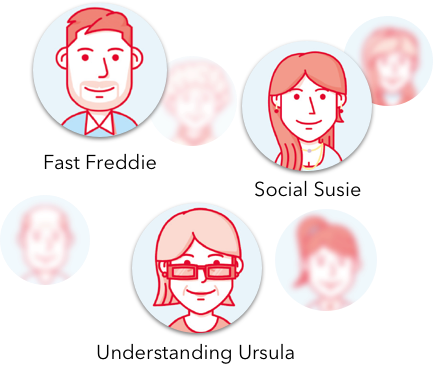 Personas
By targeting several user personas, known since previous using hotjar.com, and talking to customer service we gathered a small crew of personas.
A couple of examples
Fast Freddie: Has no time to read up on any details. "-Just get me in so I can play and have fun". He poses the greatest risk of abandoning his account as soon as the Sign-up bonus has been spent. He is most likely a middle-aged man.
Understanding Ursula: The opposite of Freddie. She wants to make a well-educated decision and needs lots of information and details. And more information. Considered to be most probable to stay.
Social Susie: Wants to know she is in a good crowd. She doesn't make decisions by her lonesome. No sir! Is there anyone else who has tried this and how was their experience?
Note, these personalities actually don't exist and any visitor might change persona in the middle of visiting a page.
Illustrations by Stefano Bellucci Sessa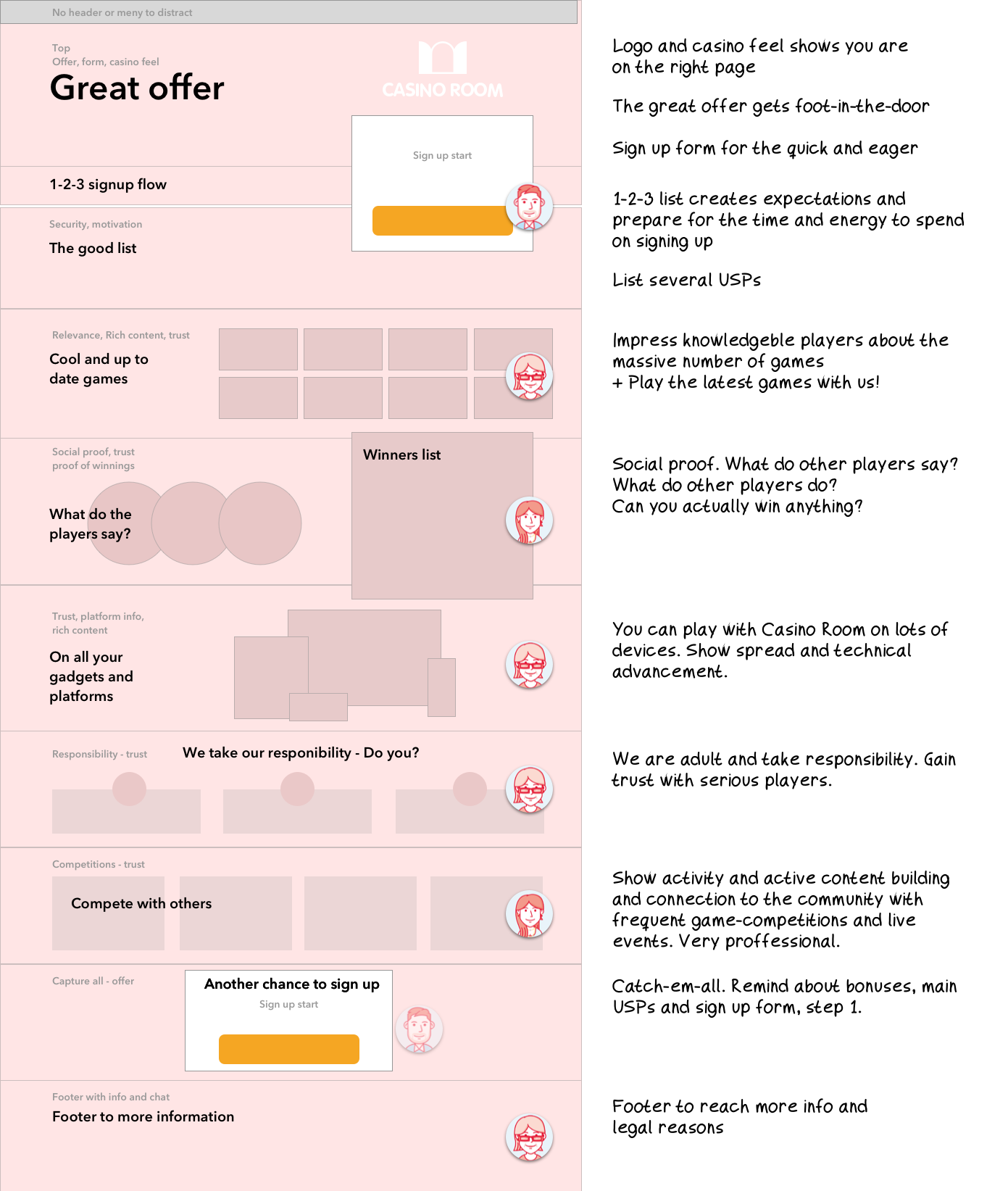 Wireframing
The first wireframes sketches gave a "layered" landing page giving the persona most willing to drop the company as soon as the signup bonus was spent. Fast Freddy was given a fast way in at the very top of the page while making sure not even he would lose out on any information. He would be both cost- and value-aware (signup bonus offer) and be sure that going with Casino Room was a great choice even in the long run.
Social Susie would also let know how an impressive amount of gamers, all around the world, would love and play on the site.
Further down the page the information-hungry Understanding Ursula would get to know the details and gain trust in Casino Room. Leaving her secure in her choice to stay and play.
Starting with wireframes made it easy to get a good grip of the layout and disposition of all sections and details of the landing page.


Hi-fidelity mockup
When we felt ready we designed a hi-fidelity mockup in Photoshop of a new landing page and made some changes to the design visuals of the signup.
Relying on the brand identity I had developed previously the wireframes quickly turned into saturated designs.
Why spending time on a high-fi designed prototype? It was important for the brand to be looking it's best even for a test audience. Besides now we could get some feedback on the design as well. Remote user testing is expensive after all.
– Now we were curious and wanted to know how it would be perceived.



Be sure to say thank you in the final screen of your prototype
Testing
By creating a thorough, rather high-end prototype in Invision.com with hotspots, several steps, and alternative routes we could run our remote user tests.
The test users of Usertesting.com helped us find several kinks, logical errors, and miscalculations in the flow. Through a number of initial iterations, we ironed out the bumps in the road and had the remaining 5 users go through the flow giving many valuable insights.
One of the initial users actually tried to make the final scene play the game for over 30 minutes (It was just a screenshot of a game, sorry friend).
Note: Some unanticipated knowledge came out of these trials regarding remote testing. You need to run a couple of dry runs to work out problems with the actual prototype and… Be sure to say thank you on the final screen.

Some take aways
The insights from this projects led to a slick sign up funnel that increased conversion and generated a high boost of sign ups, now with well informed and "good quality" customers that simply didn't cash out on the sign up bonus. It also gave birth to a series of slimmed-down versions of the landing page all run through the Unbounce.com web service.
You can only take it that far
After some time the implementation of the new "awareness" signup funnel, we could not get rid of the churn problem. A new strategy was called for and the marketing and Sign-up offers, the weapon of any online casino, was boosted as well.