Social Media for Climate Activism
The client, Earth Love United, is an international non-profit organization, based in Nigeria, that fights for environmental justice and advocates for climate change. The organization strives to drive awareness of climate-related issues and advocates for climate solutions through social media campaigns, podcasts, newsletters, and their founder's book, The Green Energy Boom. ELU is particularly interested in getting young people involved in the fight for climate justice, by connecting them to mentors in the environmental justice world. Our team created the design for a social media app based on this premise.
Tools
Figma
My role
Part of five-person team of UX/UI Designers at Moment Studio. My work included competitive analysis, recruiting interview participants, conducting interviews, creating initial sketches, low-fidelity wireframes, and high fidelity screens.
Project Summary
The Earth Love United Mobile app is a centralized resource where users can find out about trending news in the climate justice world, connect with like-minded individuals, and meet new people.
The Challenge
Young people, the target audience for this product, can get intimidated by the scope of environmental justice issues. There is a seemingly endless supply of contradictory information, and it is difficult to parse through and find what is accurate. This can be a barrier to getting involved in activism. ELU needs to engage a global youth audience in climate activism and connect them to more experienced mentors.
The Solution
The ELU app combines elements of both well-known social media apps like Facebook with the matching functions of dating apps such as Bumble. Users select their interests (such as clean water, etc.) and create a profile. They are able to look at other profiles and match with like-minded individuals. Users can form clubs in order to facilitate offline activism as well collaborate internationally.
Secondary Research
Through our secondary research, we found that Generation Z is more active in addressing climate change than older generations. Younger activists, like Gretta Thunberg and the Sunrise Movement, are at the forefront of the conversation. Moreover, 32% of GenZ individuals in the studies that we referenced have donated money, contacted an elected official, volunteered, or attended a rally. This is true across party lines in the USA; both Republican and Democrat identifying GenZ-ers feel the need to prioritize climate change. Therefore we know that the ELU's app has a potentially very large user base.
Further in our research we found more principles of youth engagement in climate change: ensuring that youth can speak for themselves, investing in rising leadership, and uplifting intergenerational collaboration by providing youth with mentors. Therefore, we knew that one of the key elements of the ELU app would be for mentors in the environmental justice movement to have the opportunity to match with young activists. This would eliminate a measure of gatekeeping that youth often face in looking for knowledge and resources.
Competitive Analysis
I specifically conducted the competitive analysis. I focused on three other mobile apps: We Don't Have Time, Earth Hero, and Klima. Each of these apps had distinct approaches to the climate change problem. We Don't Have Time closely resembled the feed format of Twitter or Facebook. Users could follow an influencer or other member on the app who posted articles and opinions about environmental justice, but there is no option to message other users. Earth Hero is a habit tracking app that allows users to see their real-time carbon footprint, and then take environmentally friendly actions on a daily basis. Klima also allows users to calculate their environmental footprint, and is essentially a paid subscription service that members donate to reduce their footprint.
Of the three apps, only one focused on social media and was targeted towards adults without an ability for messaging. The other apps focused on individual carbon emissions, with the option to either change personal habits or pay for a service. Our product has the potential to be innovative because of its niche focus: climate action social media for youth and mentors.The UI of all three apps was straightforward and easy to use, which had the potential to drive conversion and increase user engagement.
Primary Research
We recruited our interview participants through a combination of screener surveys and word of mouth. By sending out screener surveys, we ensured that our participants were between the ages of 18 - 22 and had an interest in sustainability, climate change, and conservation. We had interviews with five participants in order to gauge their knowledge of climate change and their involvement with social media.
I interviewed one of the five participants, an 18-year-old high school senior.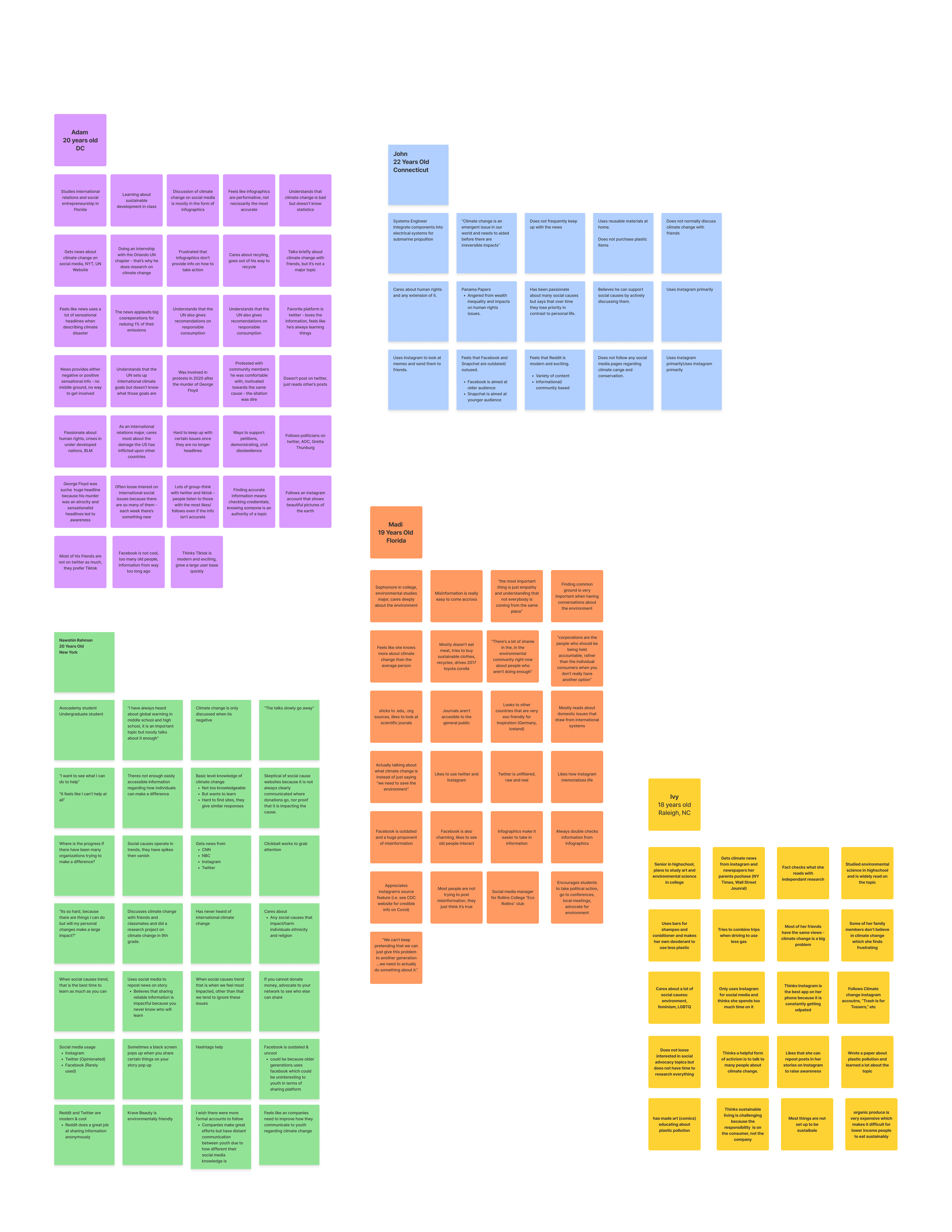 2. Synthesis and Ideation
Affinity Mapping
Based on our interview notes, we were able to create five affinity groups:
Our participants' relationship to social media

What they care about

Misinformation encountered

How to support climate actions

Challenges faced by our participants in climate action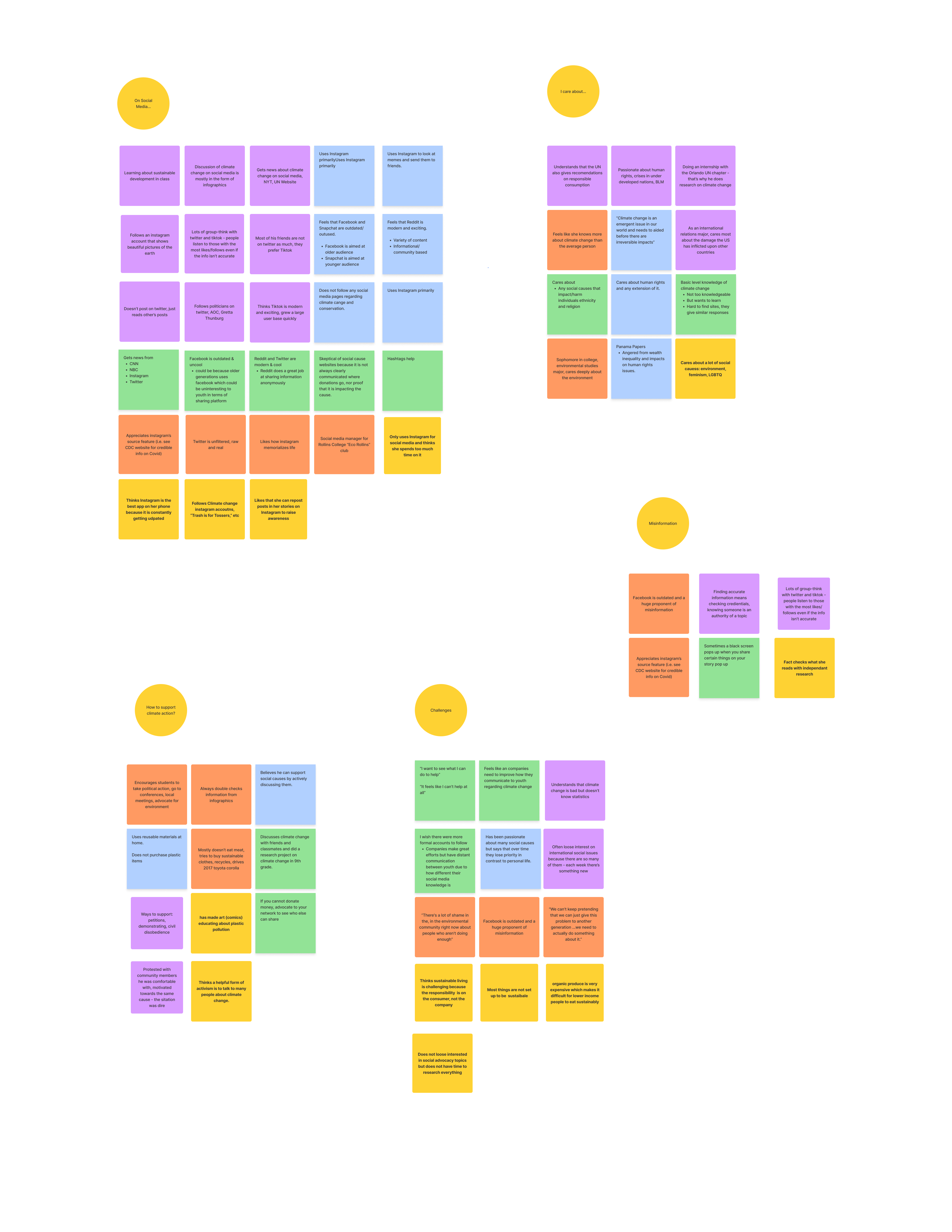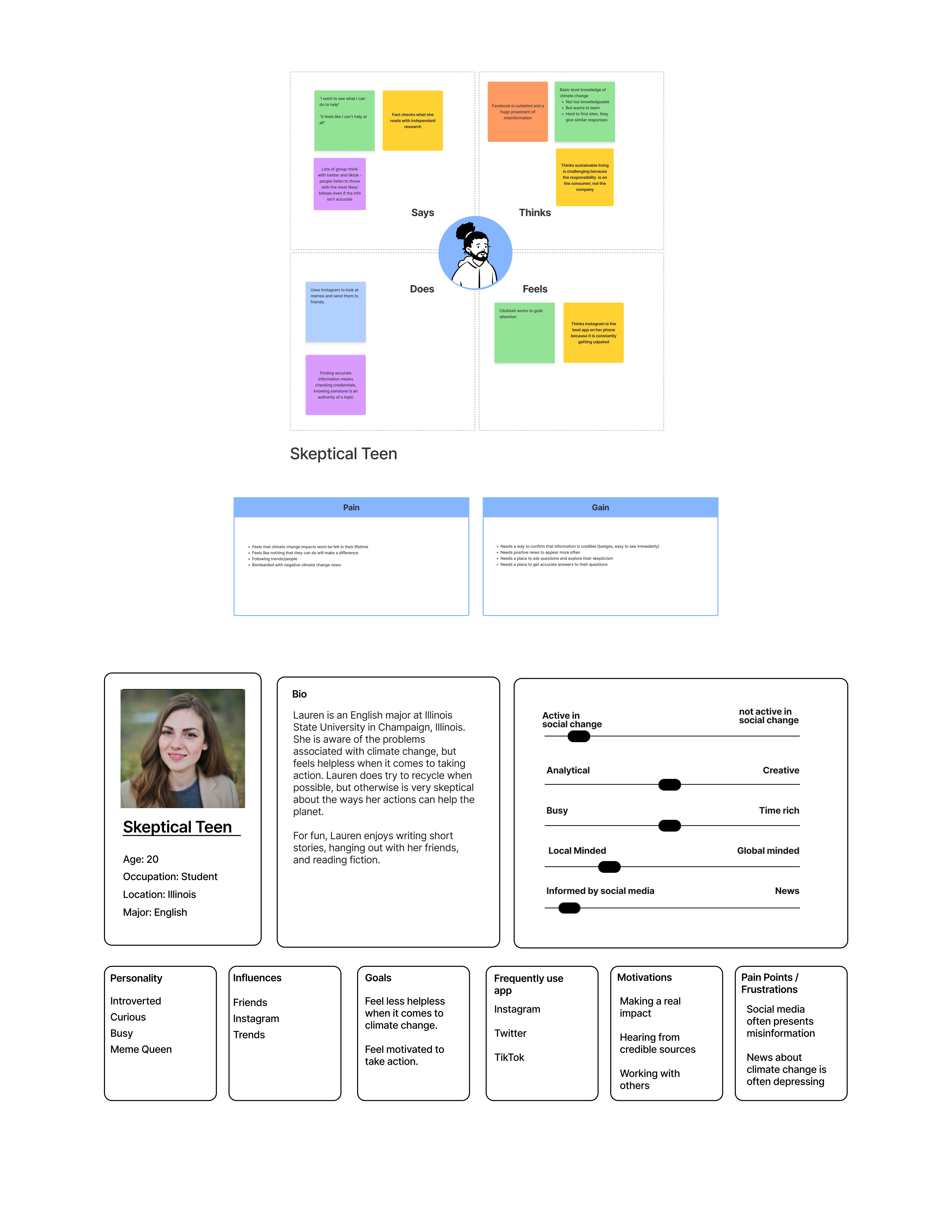 Empathy Maps and Personas
Based on our affinity maps, we were able to create three distinct personas. The first persona, the Skeptical Teen, is interested in climate change activism but believes that her actions will not have a big impact. I created this persona specifically.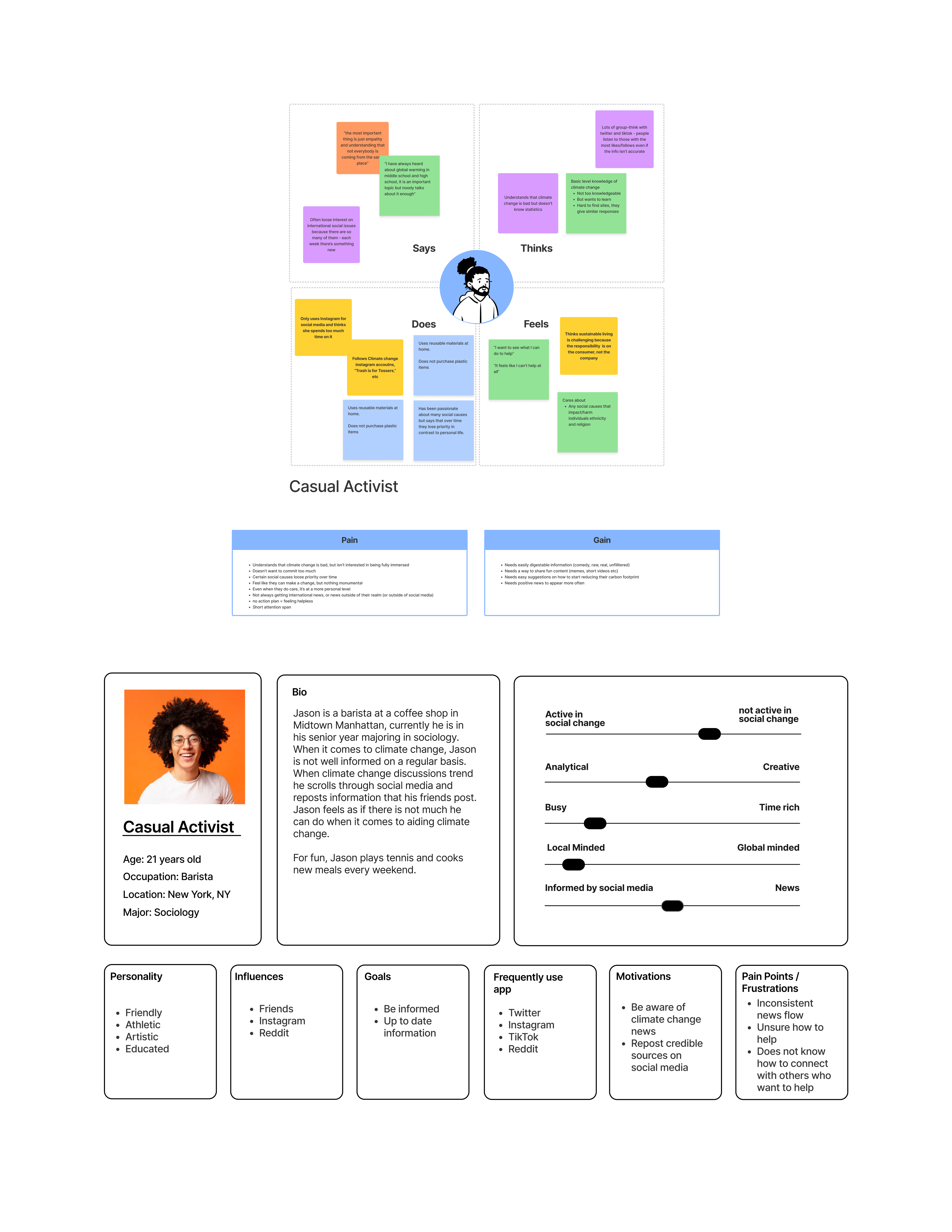 Our second persona, the Casual Activist, is interested in climate change but is not well-informed. He gets most of his news about climate change from social media.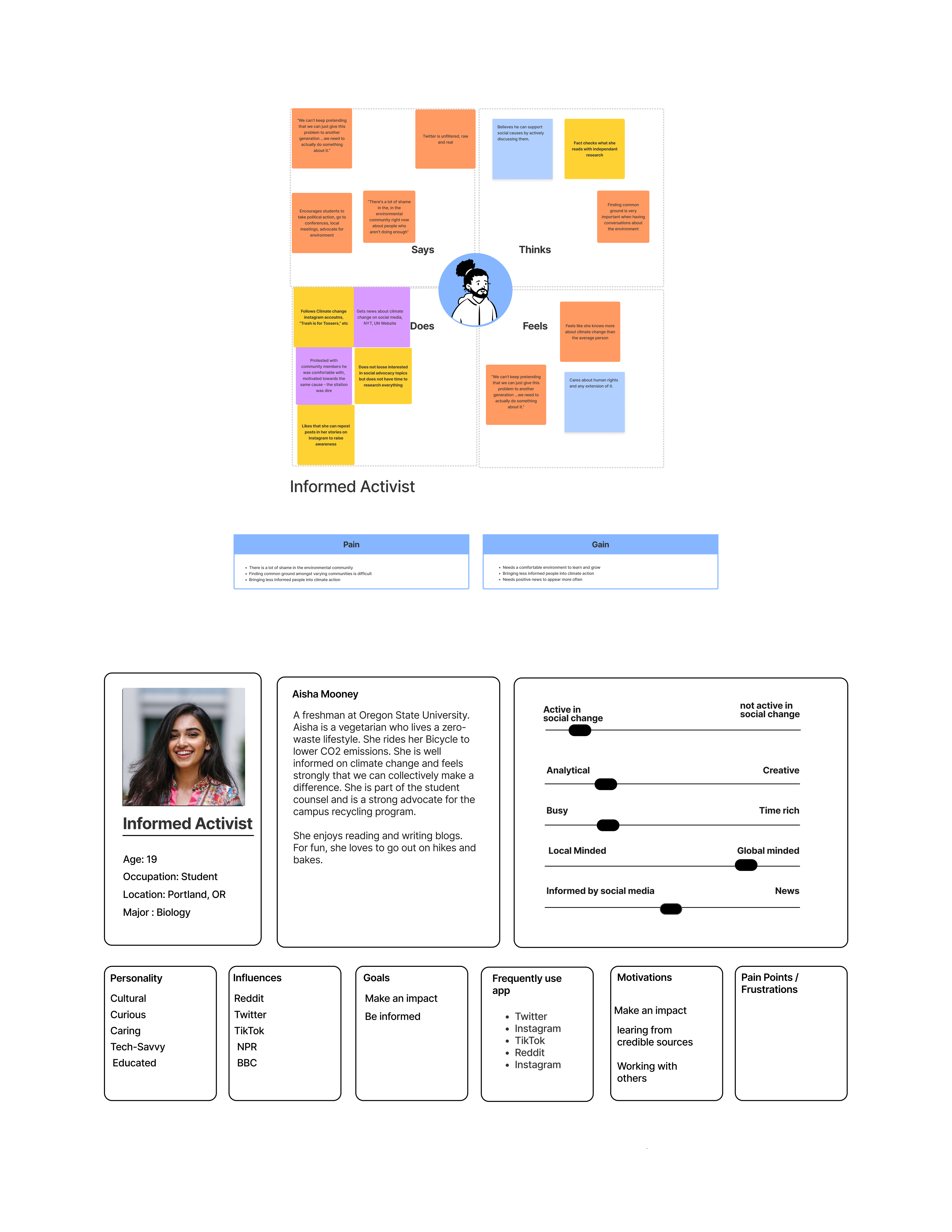 Finally, our third persona is the Informed Activist. She is the most involved of the three potential users in climate activism, consumes news from credible sources, and makes changes in her personal life to mitigate her carbon footprint.
How Might We Statements
After creating our three personas, we knew that our app needed to serve a diverse array of climate activism familiarity, as some users would be more experienced than others. Based on this information, we create our How Might We statements, which fell into five categories:
How might we verify users based on credibility?

How might we inform people of international as well as domestic trends?

How might we inform people on the various ways of helping?

How might we connect users?

How might we help people who are like-minded interact with each other?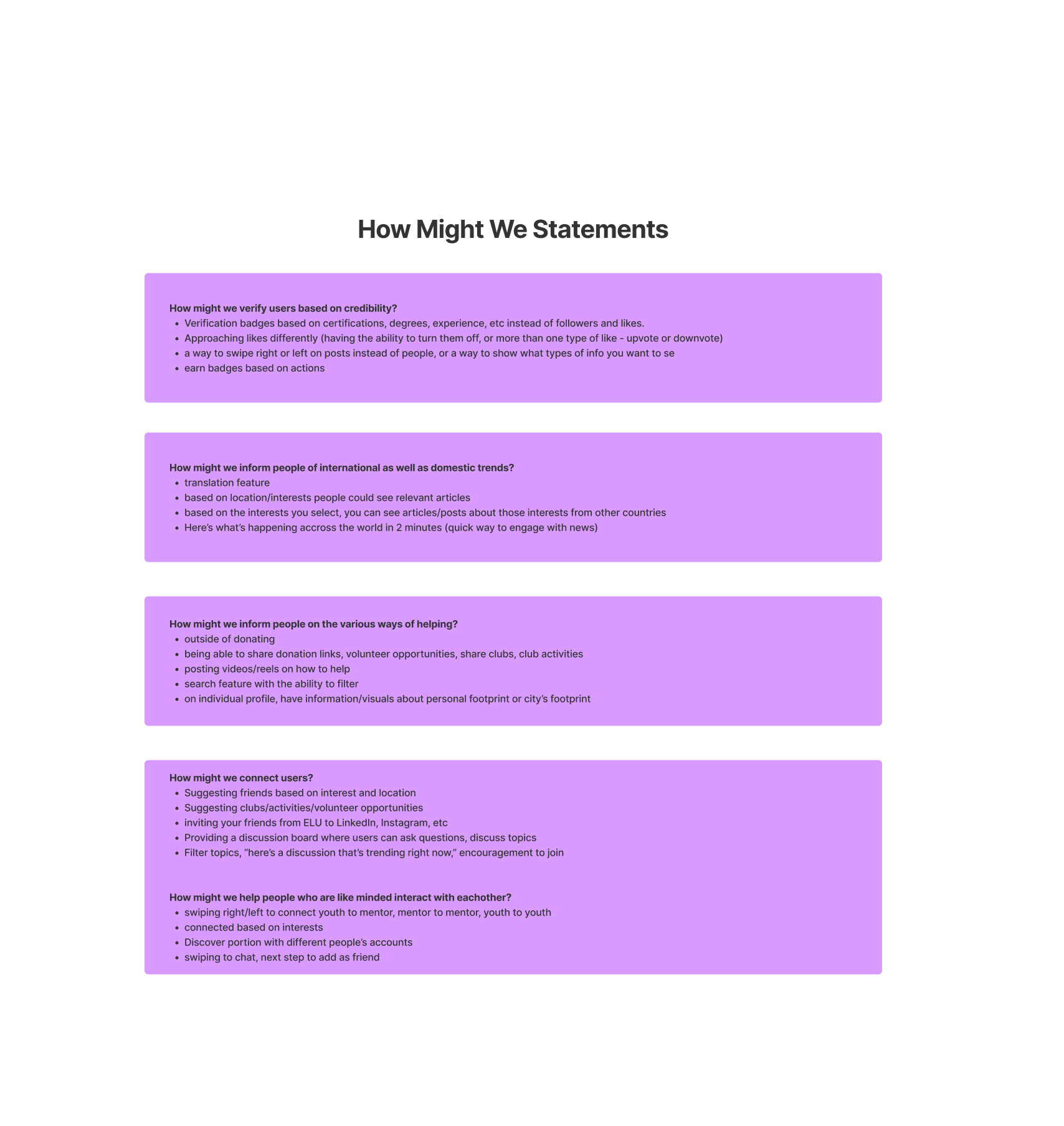 User Flows
Based on our "How Might We" statements, we created our user flows:
Onboarding

Edit Profile/Interests

Create and post new content

Post status image, article, video, or poll

Comment on content

React to/save content

Share content

Report content
I created the "share to newsfeed" user flows.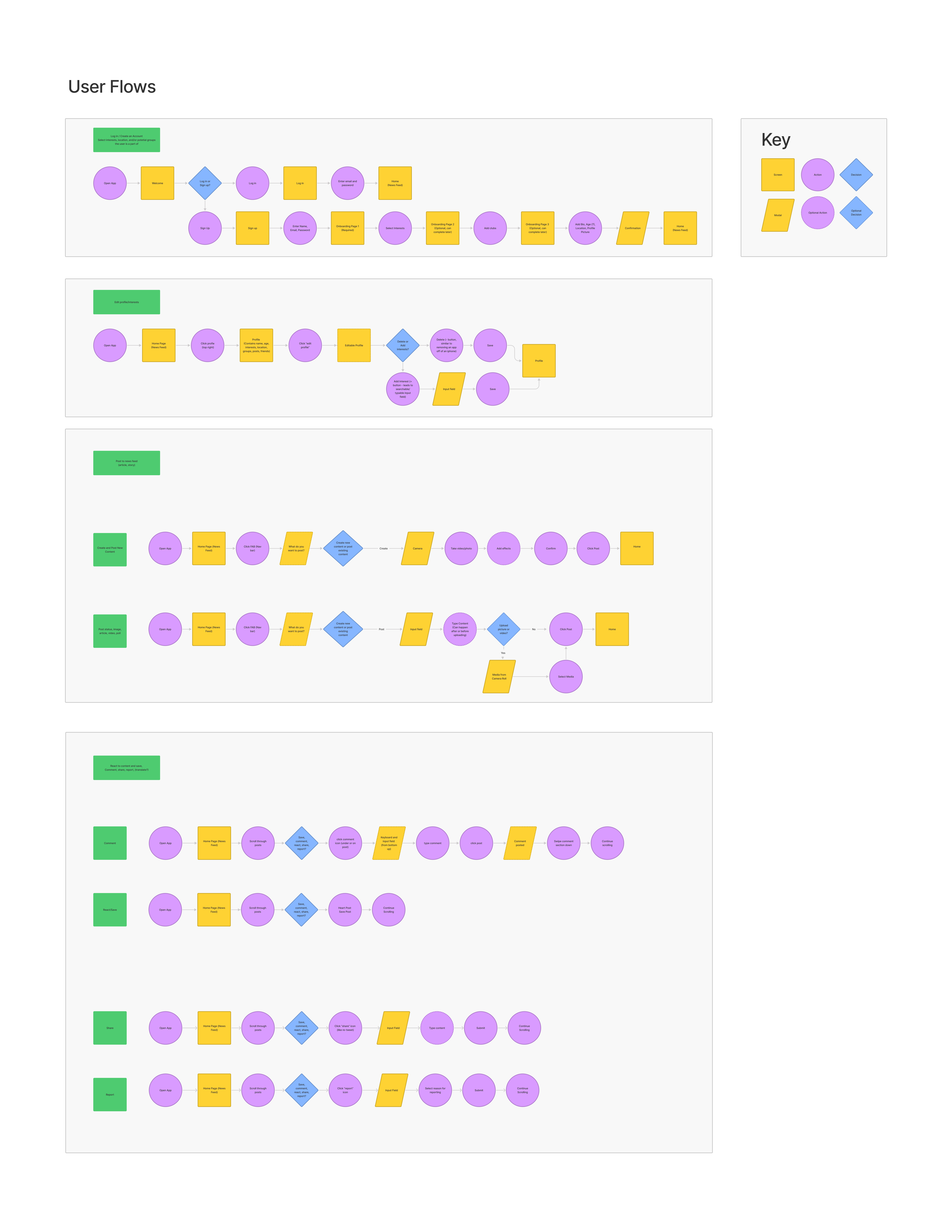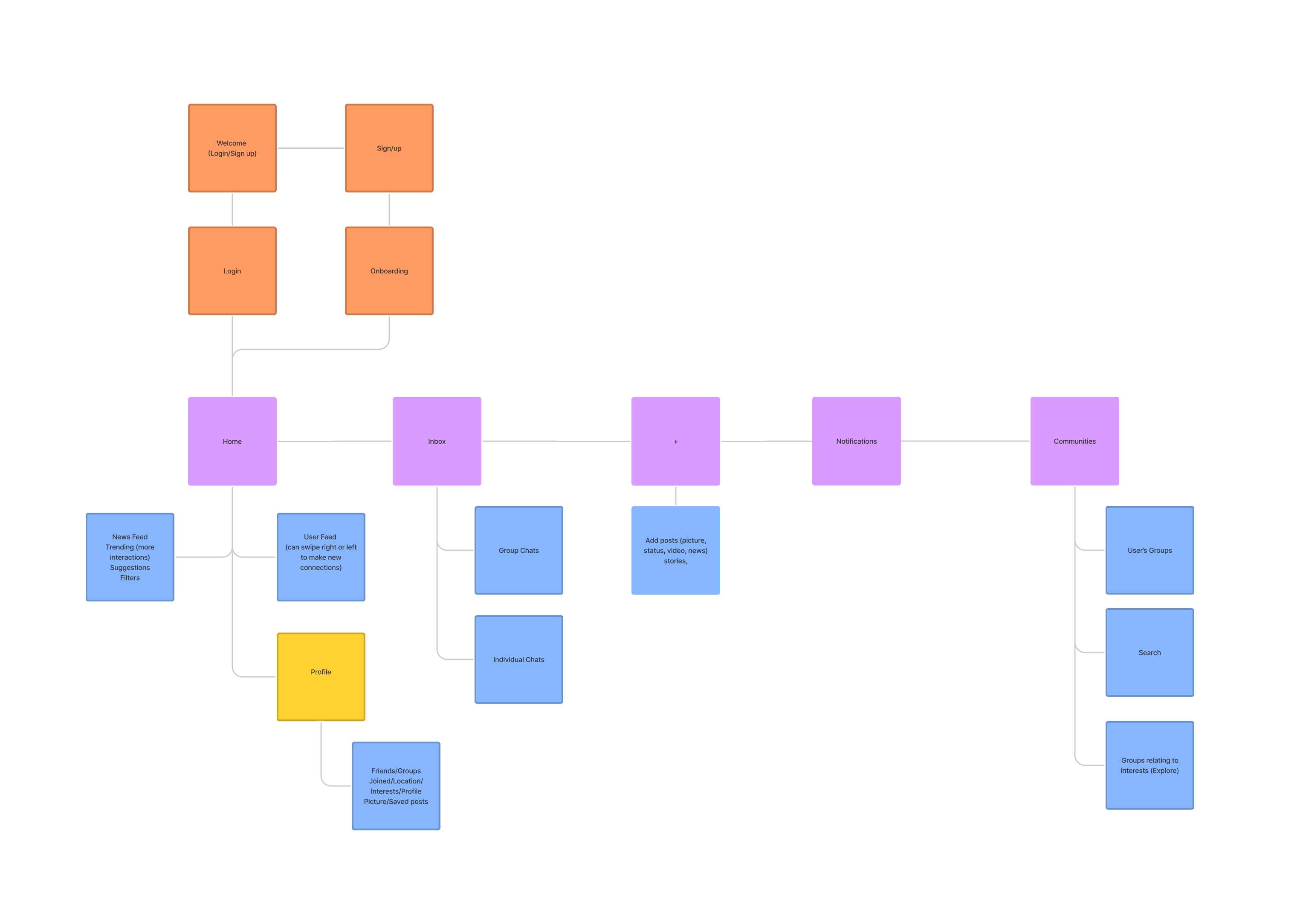 Site Map
After meeting with our client, we were able to hone in on our site map. We decided upon five navigation categories: home, inbox, add content (+), notifications, and communities.
Sketches
With our initial user flows and site map complete, we collaborated on 55 initial sketches for our wireframes. I created half of the sketches.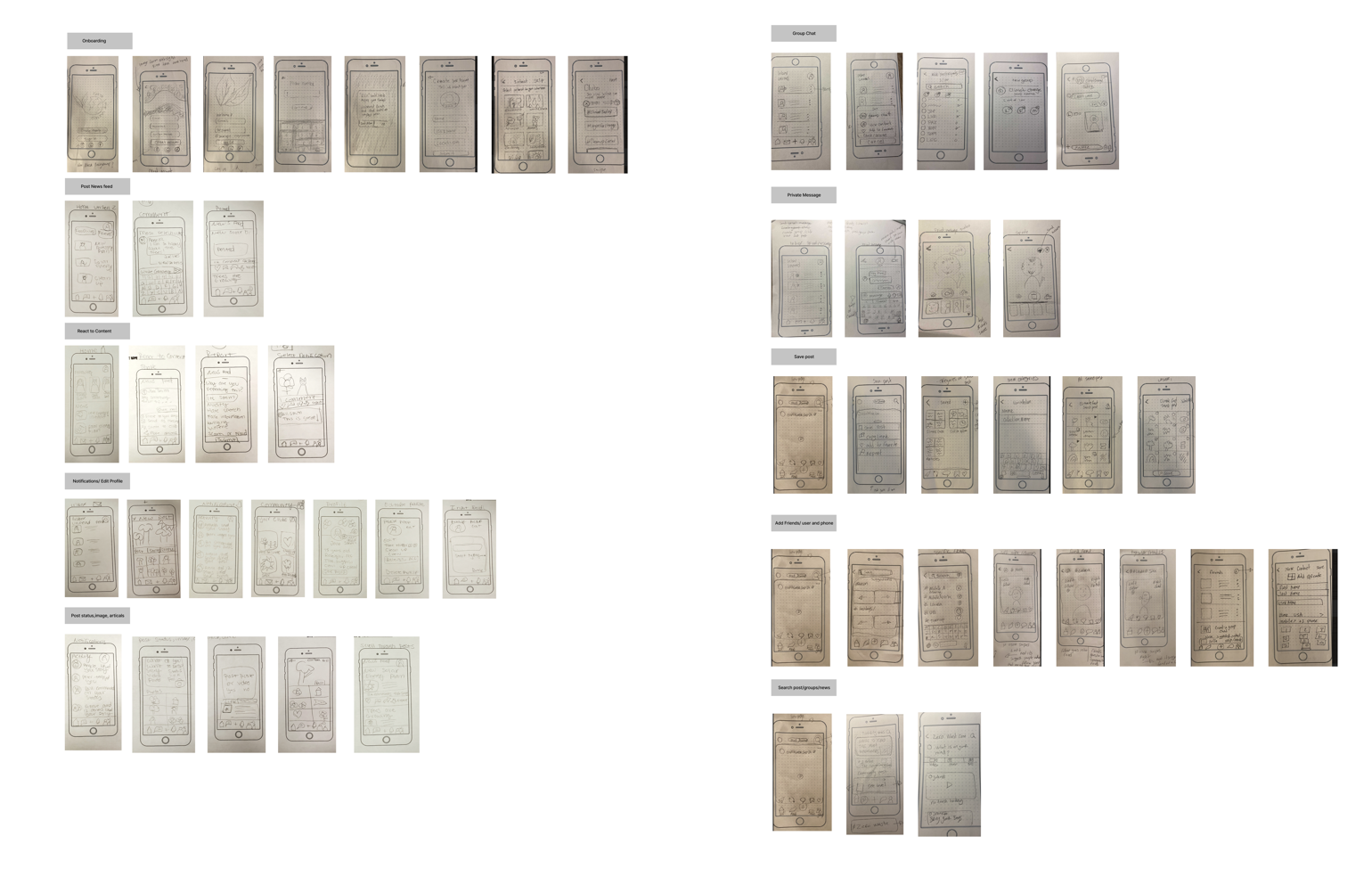 3. Design
Based on our sketches, we created our low-fidelity wireframes. We created multiple versions of the home page, as the client wanted a combination of news and updates from the people that the user would be following. Eventually, we decided upon a feed that looks a lot like the Facebook news feed. We also decided to have the profile page mimic what would be a dating app profile on an app like Bumble, as that would cater to the function of the app that allows users to match with like-minded individuals. We also created multiple iterations of the inbox screen. I worked in depth on the profile wireframes.
Style Guide and Components
In preparation for designing our high fidelity wireframes, we created a style guide and a set of components. The client listed Spotify as a UI inspiration, and we incorporated shades of green and a black background into our color scheme. As can be seen in the style guide, we took the Earth Love United logo and updated it into a more contemporary graphic and word mark.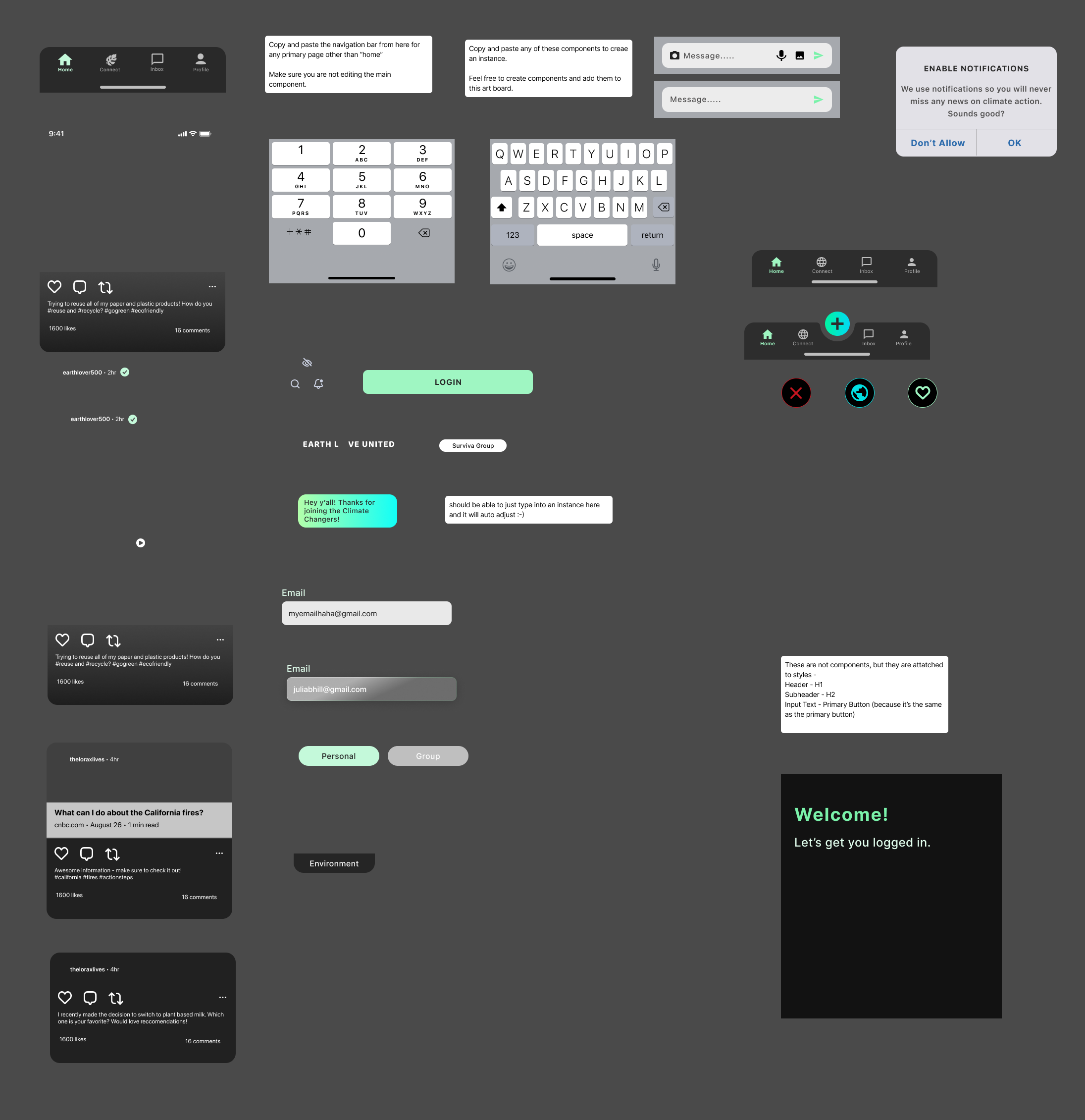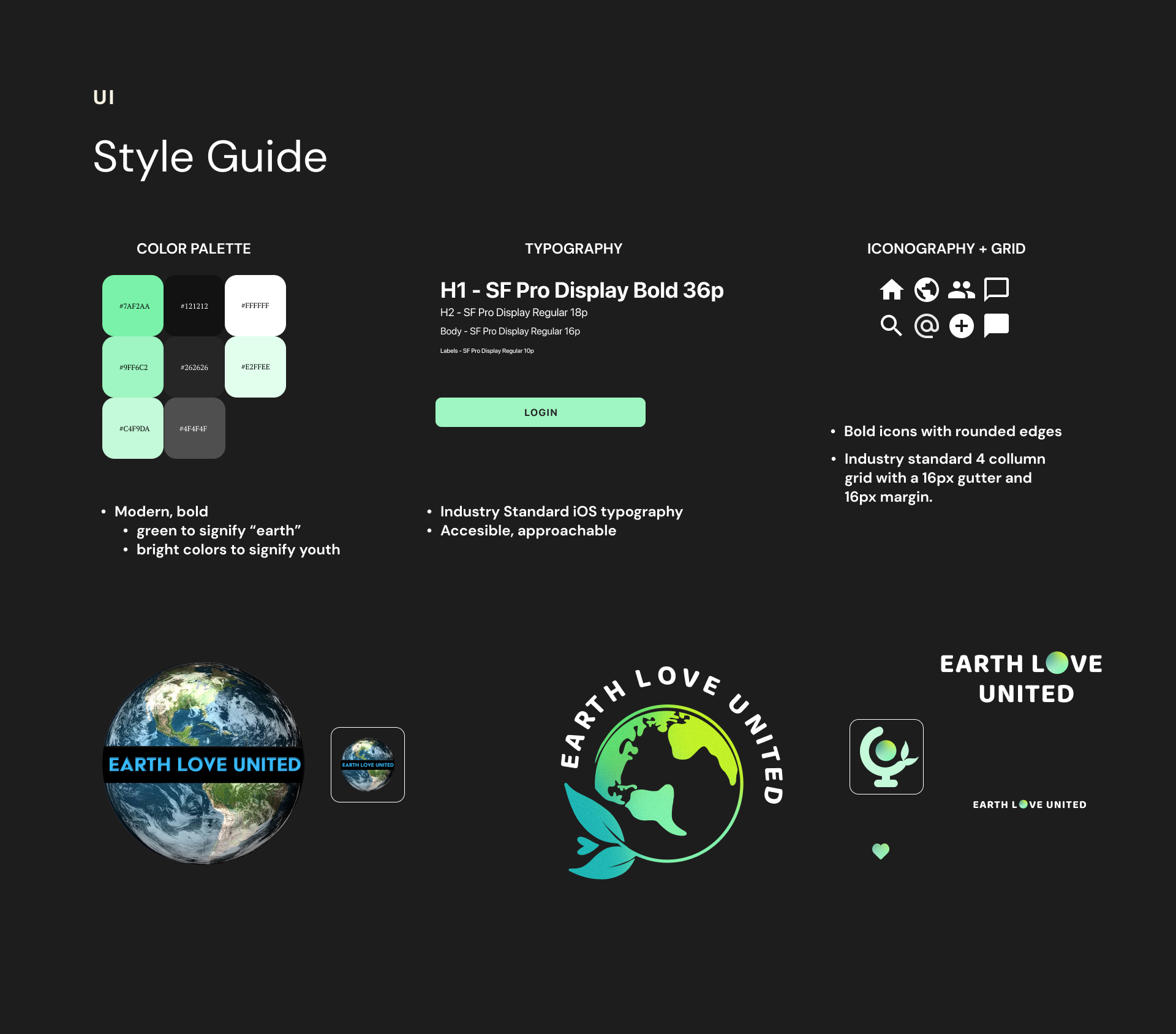 High Fidelity Wireframes
For our high fidelity wireframes, we used a combination of high quality images and illustration. The illustrations gave the product a more youth-friendly, approachable look. While having a playful element, we wanted to make sure that the product has a polished, mature feel so that users can feel a sense of credibility and trust when using it. I worked in depth on the profile high-fidelity screens.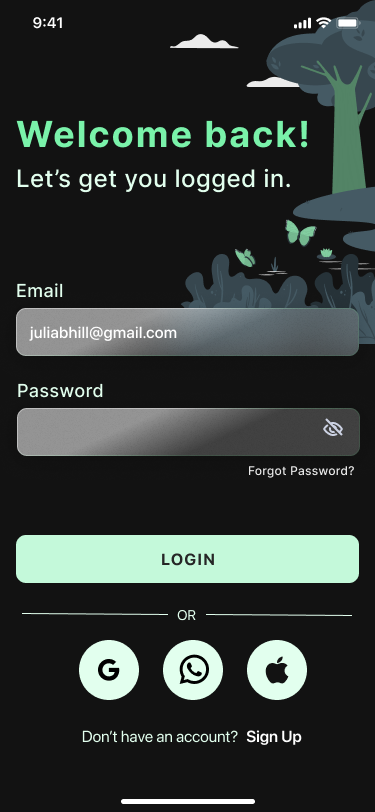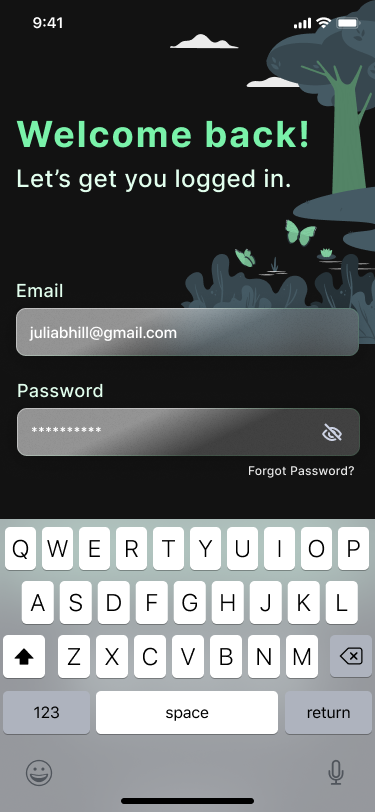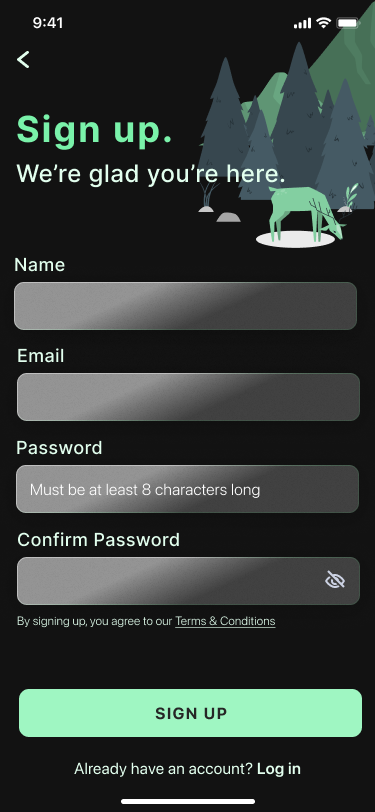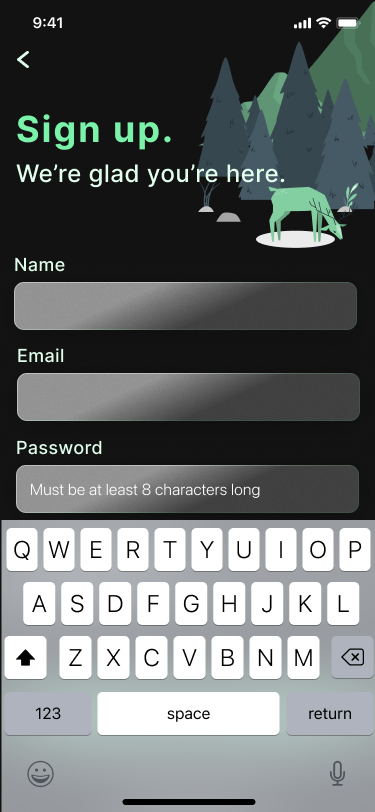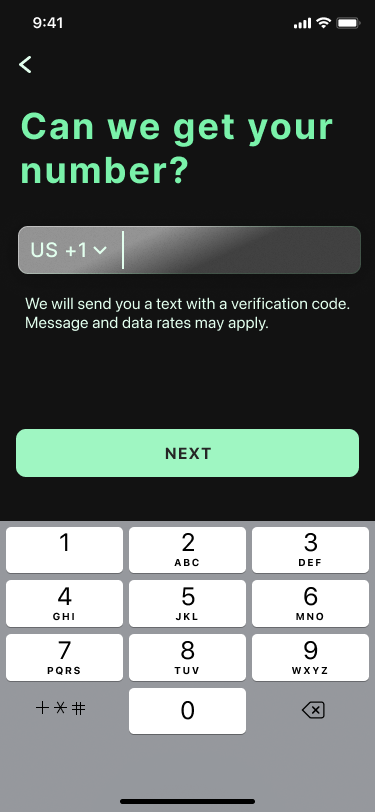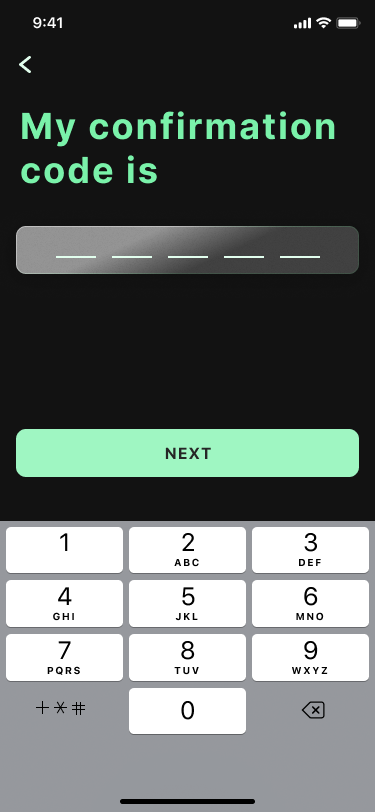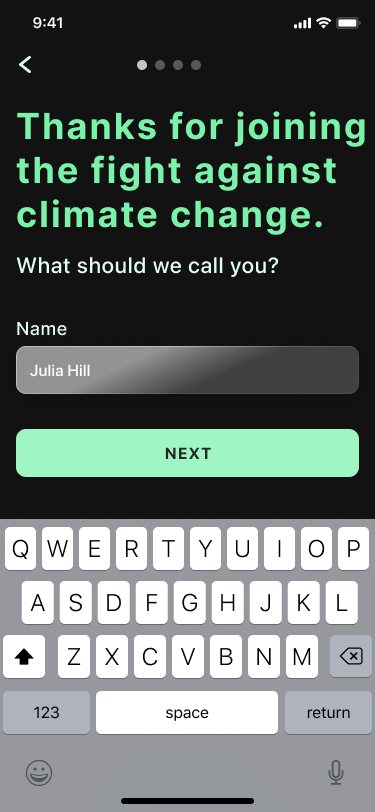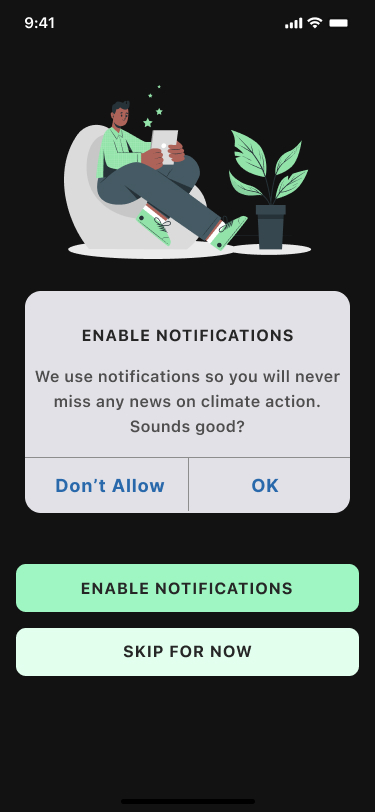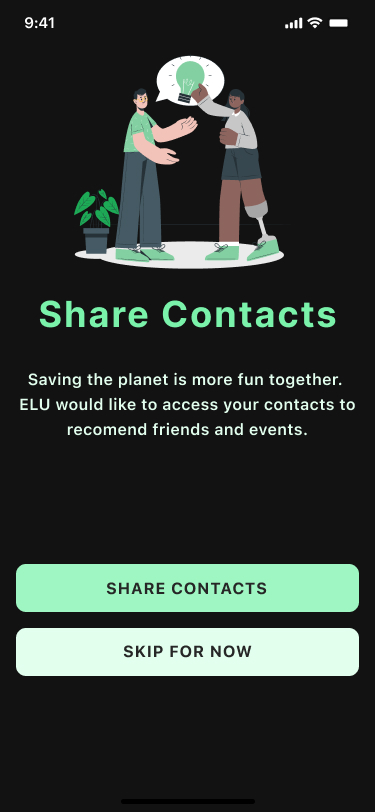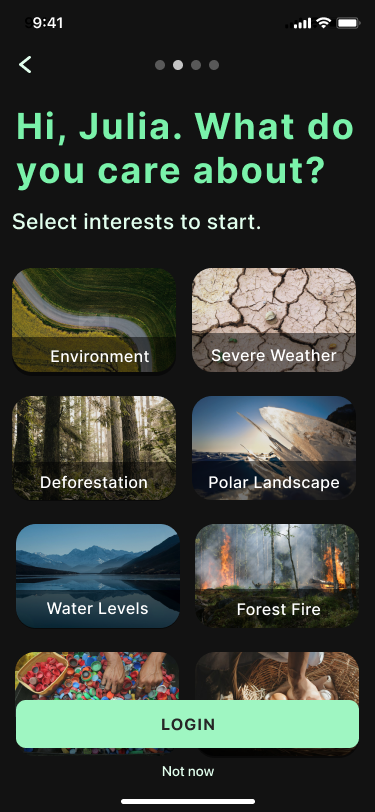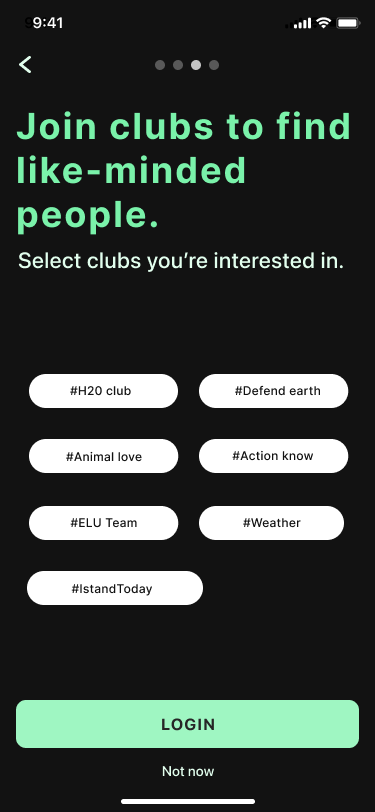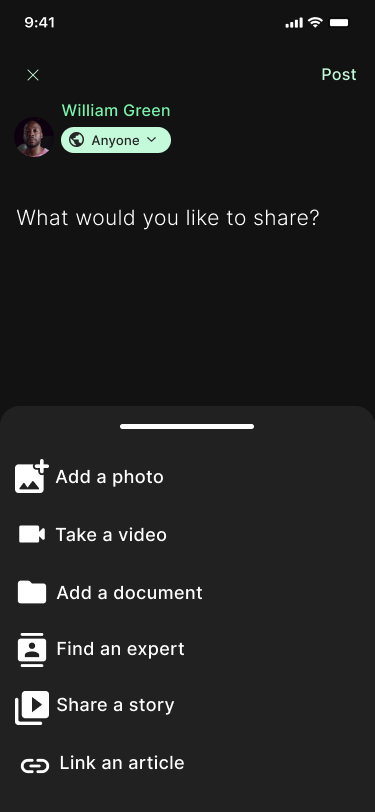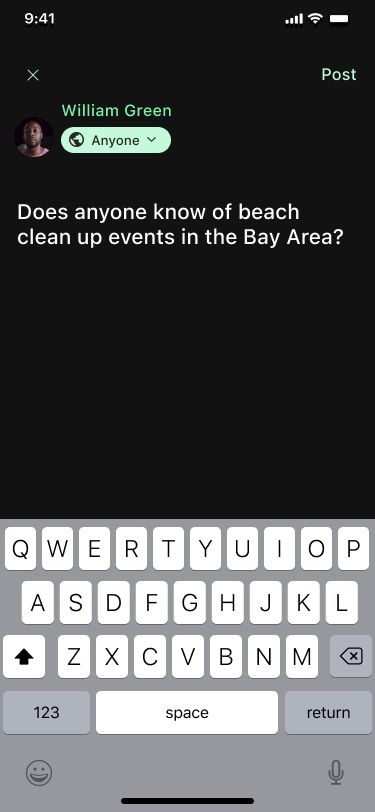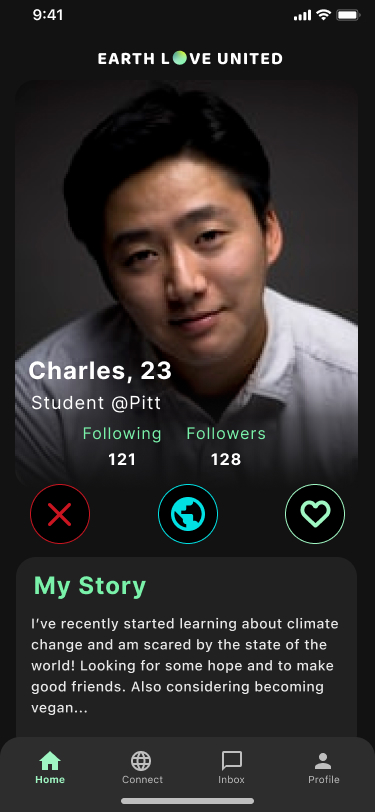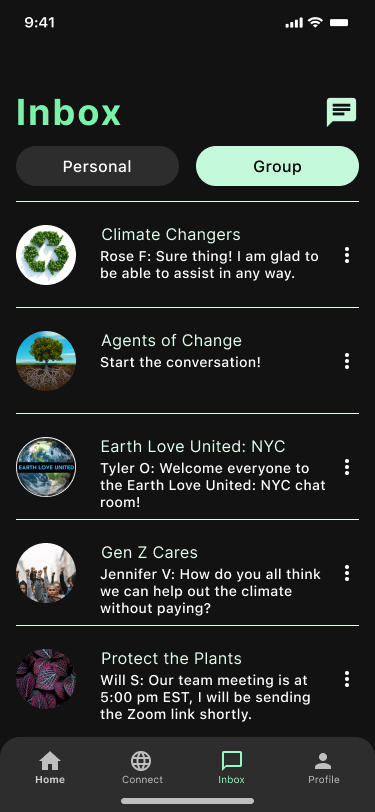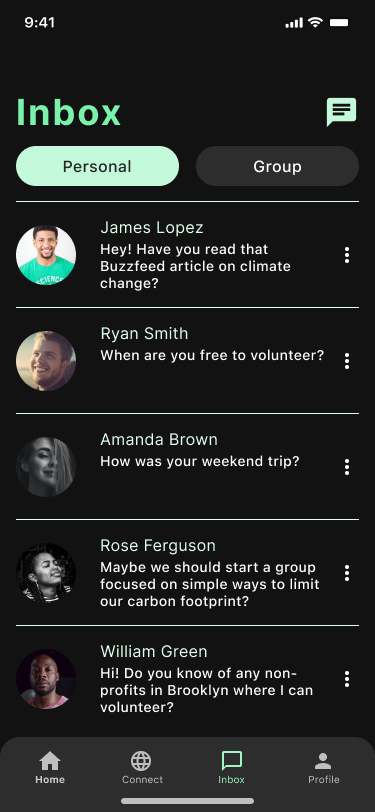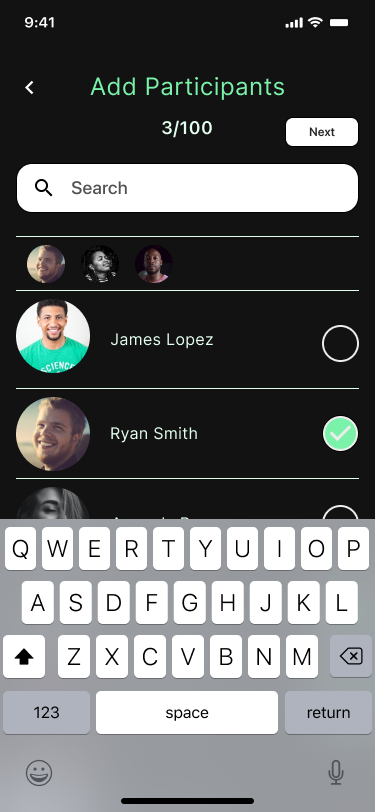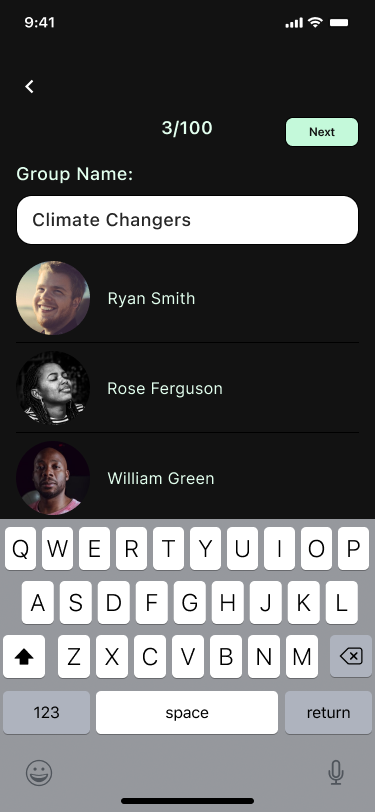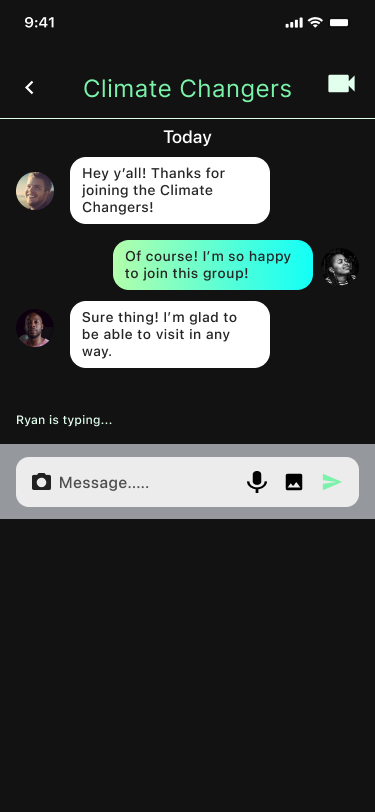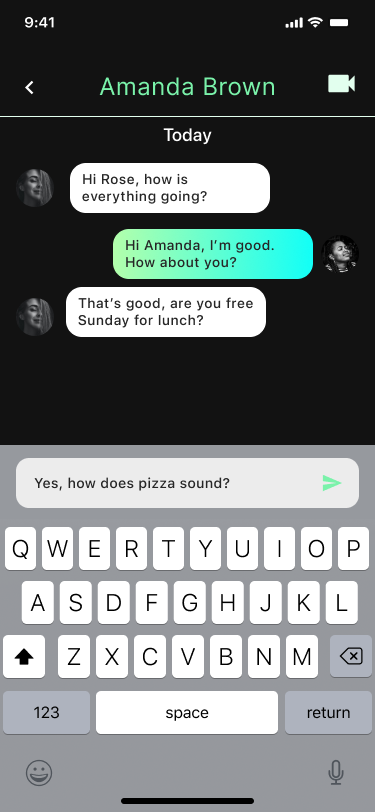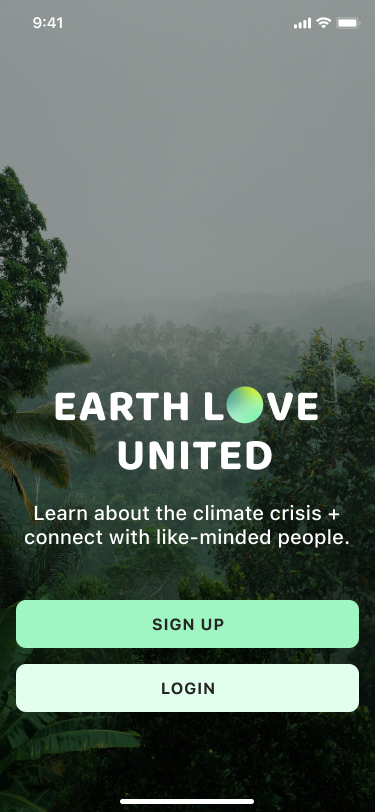 Prototype
After showing our high-fidelity screens to the client and getting feedback, we created our interactive prototype in Figma. I created the profile - post user flow in the Figma prototype.
4. Hand Off and Accessibility
After finishing the prototype and presenting it to the client, our work on the project was finished. At this point, we handed off the project to another design team at Moment Studio to conduct usability testing and finish the final designs. An important consideration that I personally noticed and advocated for was that the font and color of the onboarding entry fields (white on gray) was not AA contrast compliant, and would need to be changed. I designed alternate screens that were AA compliant, and we passed on this additional version to the next team.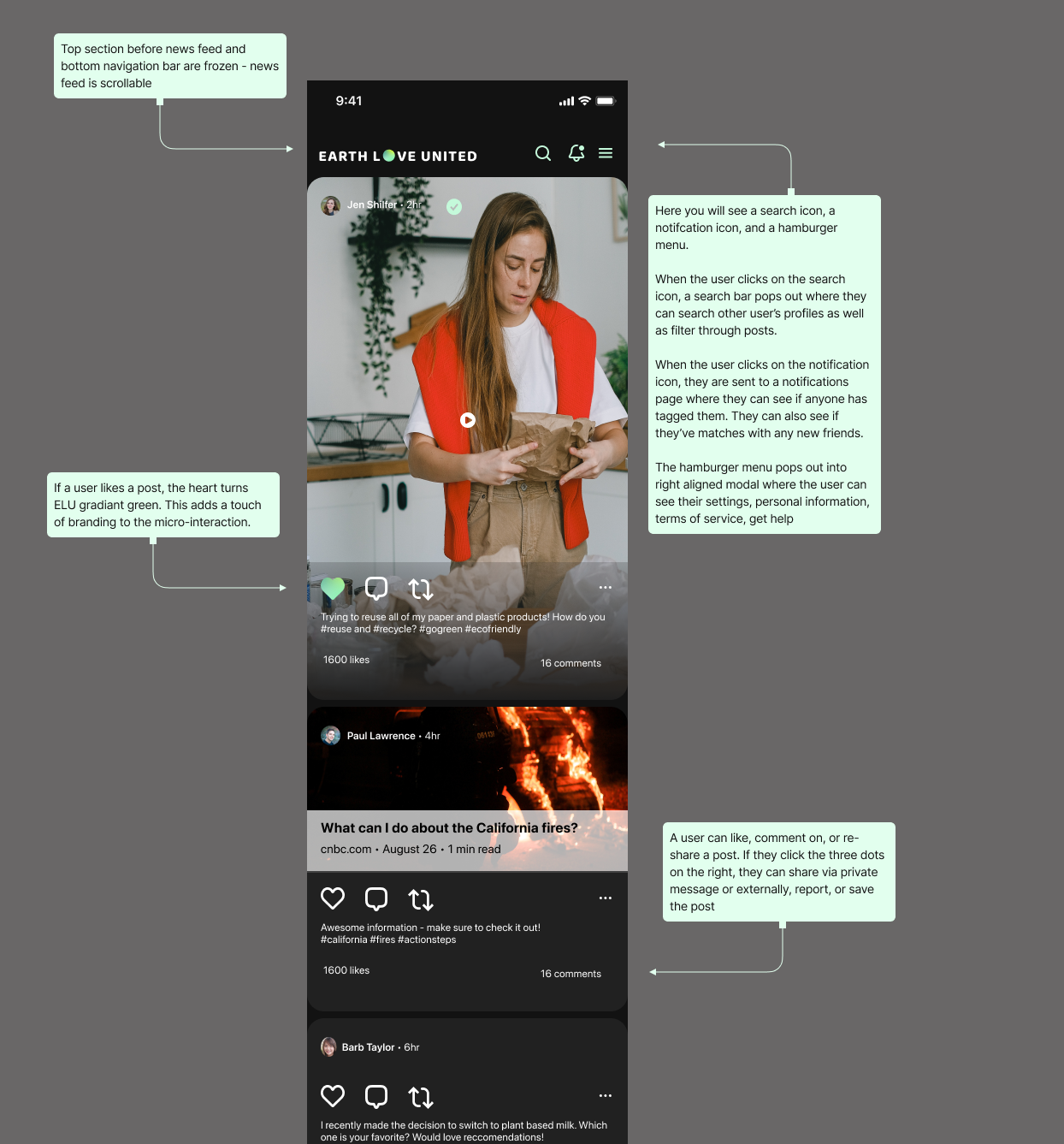 In handing off our final design files, we made sure to include detailed annotations of how the app would function. This would not only help the next design team, but the developers who would later work on the product as well.
5. Reflect
Through the ELU Design process, I learned a great deal about collaborating with my fellow designers and working with a client. Communication was key. Luckily, we had a great UX lead who kept us organized, updated, and helped us stick to our timeline. She also was able to navigate our relationship with the client with finesse and sensitivity. Initially, the two stakeholders that we worked with had divergent ideas about what their app should be. They were not sure whether it should primarily be a newsfeed or a way for users to match with each other and make connections. Through the iterative design process and careful listening, we were able to create a solution that met both needs.
In the future, I hope to serve as a UX lead on a project and use the skills that I learned from our lead in making a project run smoothly.