What do artists need to sell their work?
Local craft fairs and markets where artists, artisans, and makers of all varieties sell their goods is a great way to support the local economy. As COVID restrictions are loosening up, markets have come back as a way for artists to sell their goods and many new venues are hosting markets as well. Artists have many factors to consider before they sign up for both large art fairs as well as local craft shows. These factors include cost, competition, and whether or not their work would be a good fit for the venue. There are multiple diffuse ways that artists can use to find and apply for craft fairs and art shows such as local newspapers, social media, and craft websites. However, it is difficult for artists to find one centralized resource where they can both find venues as well as apply, and they thereby need to replicate their application multiple times.
In working on this project, I was inspired by my friend Rebekah Evans, an artist in North Carolina. During the pandemic, she left her unfulfilling customer service job to focus on her art full time by selling her work online and at art fairs and markets. The resulting product, MakerHub, is a place for artists to efficiently find and apply to markets and vending opportunities to sell their art.
Project duration
8 Week Project
My role
Sole UX/UI Designer.
Tools
Figma
Miro
Invision
Project Summary
MakerHub is a centralized smartphone application and desktop website that will be a one-stop shop for artists looking to sell their work, thereby contributing to the local culture and economy in their communities. By offering a robust suite of search options, artists can narrow down art fairs and markets that would be a good fit for them, thereby cutting down on time for this administrative task so that they have time to focus on what really matters - their art.
The Challenge
Artists find themselves overwhelmed in the market research and application process. It is often unclear what would be a good fit, because there are often no reviews of smaller events. Also, it is easy to miss application windows and deadlines without a consistent method of tracking everything that comes up. Finally, artists end up uploading the same information and images multiple times when completing applications, thereby repeating the same work over and over.
The Solution
Having a small business is enough work on its own, without having to sift through vending opportunities on social media, local newspapers, and word of mouth.The goal of MakerHub is to cut down on unnecessary searching and reapplying by creating a product with which artists can personalize their search options, find opportunities that are a good fit, apply with their profile, read reviews, and get notifications of upcoming deadlines.
Secondary Research
For my secondary research I was mainly focused on the existing methods artists use to find vending opportunities. I read a number of how-to articles on art blogs for artists looking to break into the market and art fair scene. Currently, a number of methods exist that artists can use:
Etsy teams: major areas of the US have forums on Etsy and members can interact and alert others of craft shows

Event listing websites such as Eventbrite

Official city calendars

Community Facebook pages

Churches and schools
The issue with these methods is that they are often unreliable sources of up-to-date information. Facebook pages may not be updated regularly, and churches and schools may not list all the available opportunities in their newsletters and on their bulletin boards. In addition to needing to cross-reference multiple sources for information, artists then need to verify whether the information they find is still relevant.
Primary Research
To get insights into how artists search for and apply for markets, I used word of mouth and screeners surveys to recruit people to interview. After collecting interview data, I was able to synthesize my findings into affinity groups, empathy maps, and personas.
Surveys
When creating the screener survey the main objective was to find participants who identify as an artist, artisan, craftsperson, or maker. The other criteria was that they participate in 2 to 4 markets per year, to make sure that they were involved in the research and application process.
Interviews
I conducted user interviews in order to get a better understanding of how find markets that they want to apply to, and what challenges they face in the application process.

2. Synthesis and Ideation
Affinity Mapping
With my interviews I was able to narrow it down to four main categories: products the artists are currently selling, biggest challenges, researching markets and fairs, rewarding aspects, and application process.
Key takeaways
Artists struggle with keeping track of due dates and being able to find markets in one coherent place. They want to be able to search for markets based on the location, booth fee, and number of vendors attending.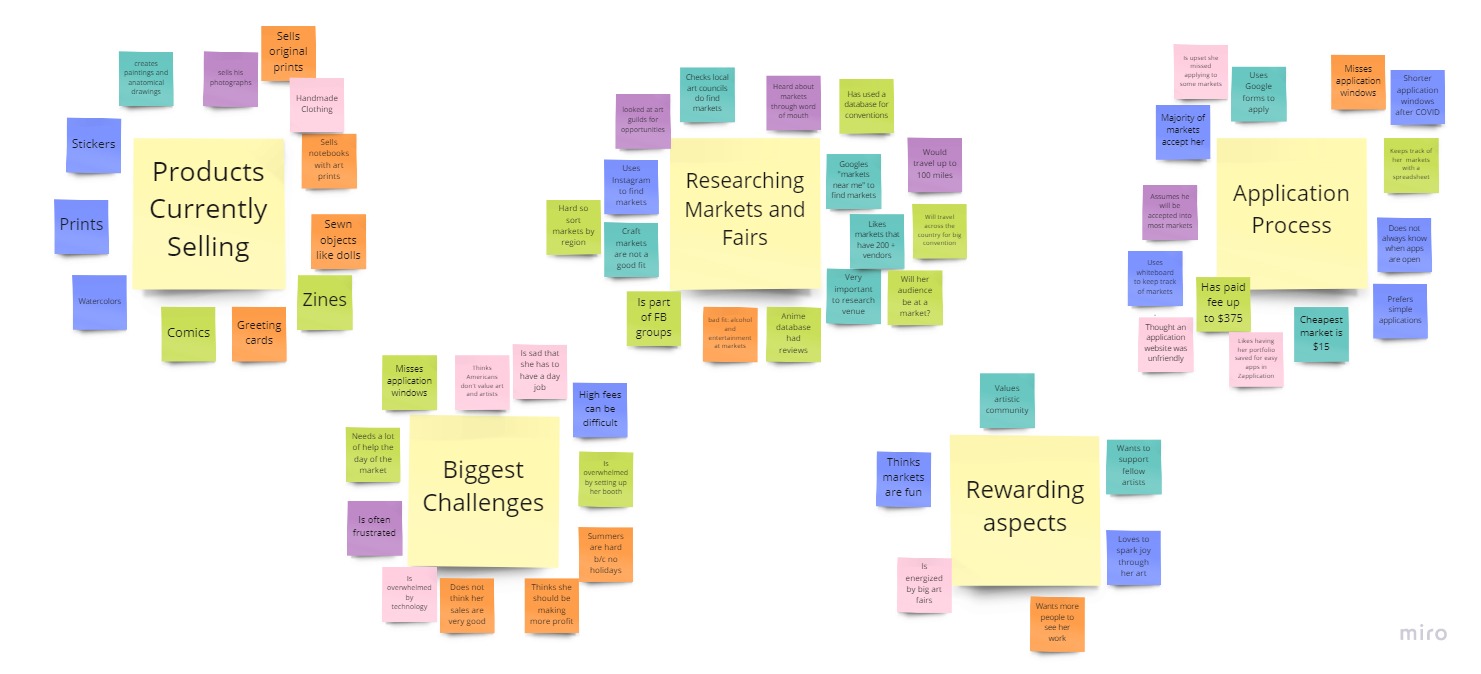 Empathy Map
Affinity maps were then categorized into two empathy maps: the local and the traveler.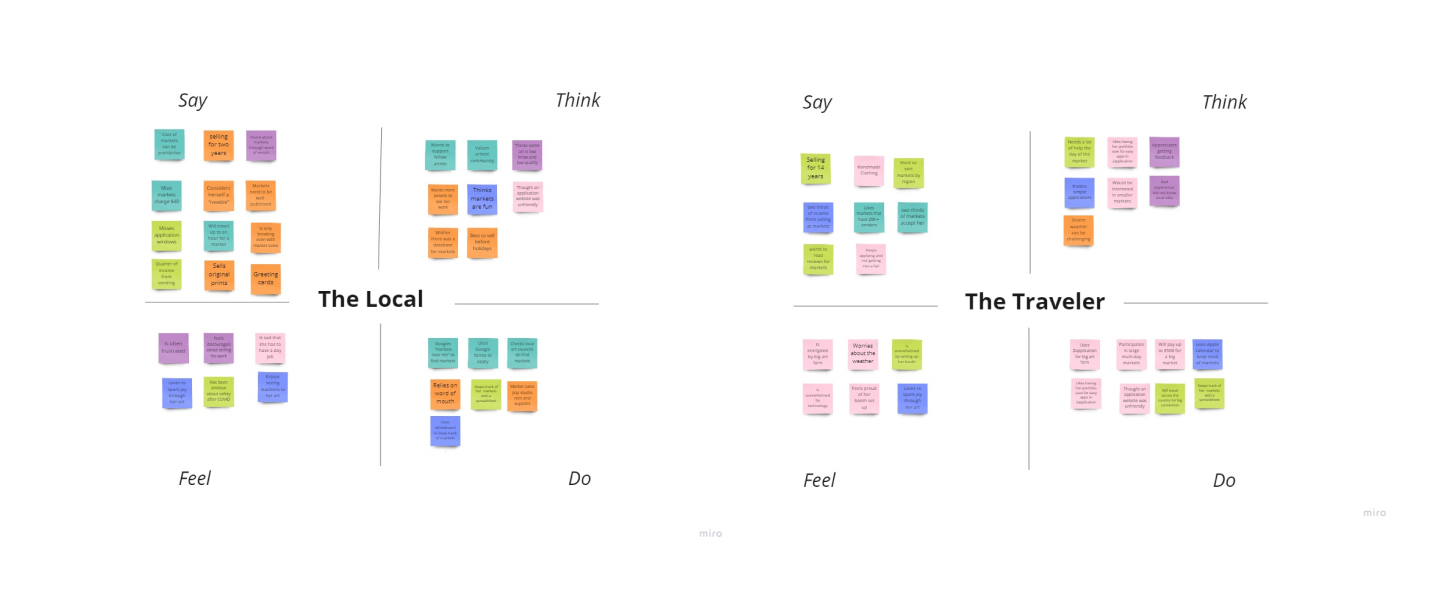 Personas
Based on the empathy maps, I created two personas:
The Local
works part time as an administrative assistant and sells original art and prints at markets as a side hustle. Her ultimate goal is to be a full-time artist once her business makes enough profit. Because of her full-time job, she does not have a lot of time to devote to researching different vending opportunities. She needs a database for markets, and some kind of reminder system so that she does not miss application deadlines.
The Traveler
works-full time as an artist and creates unique articles of clothing. She has been selling at markets and craft fairs for ten years, and travels all around the country. Because of the strain of travelling, she wants to do smaller local markets and make connections in her community. She often does not know where to look for smaller markets, and can get overwhelmed by unfamiliar technology.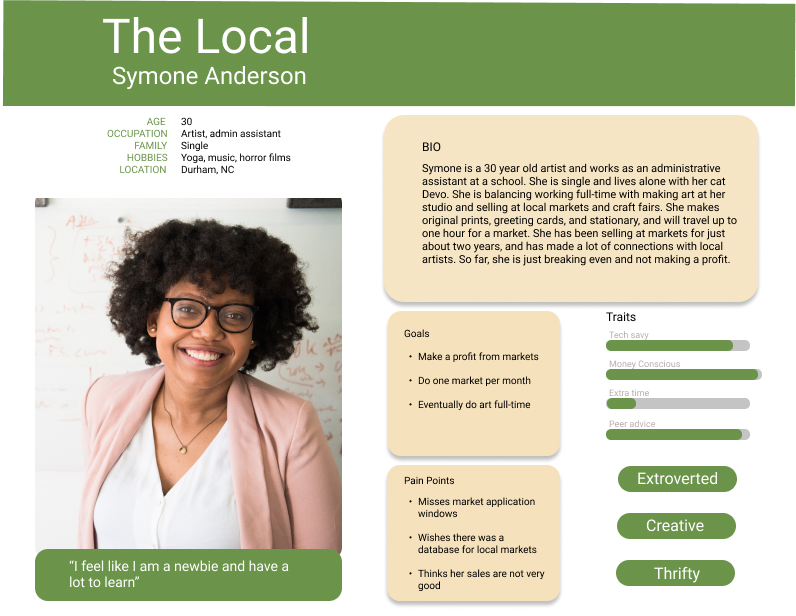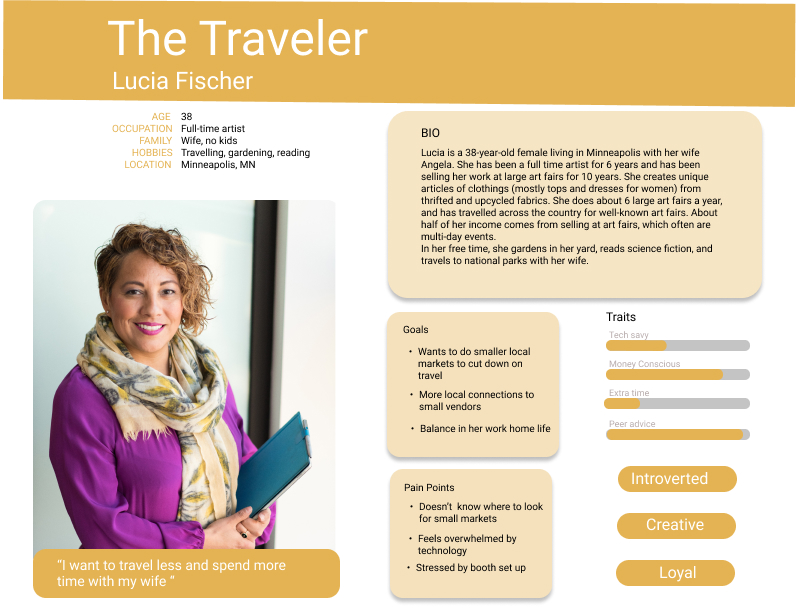 HMWs
The final piece of my research was to synthesize this data, with How Might We (HMW) statements to clearly communicate the most important problems users want solved.
How might we simplify the market and fair research process for artists?

How might we alleviate the frustration in the market application process?

How might we help artists find a sense of community?

How might we give artists a way to share their vending experiences?

How might we help artists keep track of their vending commitments?
User Stories
Before I could get started with designing I had to identify the most important functions this app needs. User stories were categorized by priority, the highest being the most crucial functions. This helped me understand the necessary features and elements that needed to be implemented for a smooth experience.
As a user, I want to
create an account so I can apply to markets, keep track of my markets, review markets, and communicate with other artists.

reset my password so I can get in when I don't remember it.

log into my account so I can search for markets.

sort markets by region so I can decide where I want to sell my products.

keep track of deadlines so that I do not miss an application window.

sort markets by booth fee so I can make sure that I can afford applying.

upload photos to my portfolio so I can apply to markets.

keep track of the markets I have committed to by using a calendar.

input my location so that I can search markets close to me.

read reviews so I can decide if a market is a good fit for me.
Ideation: drawing
At this point, I had a rough idea of what some of my screens could possibly look like, so I drew some rough sketches to better visualize it.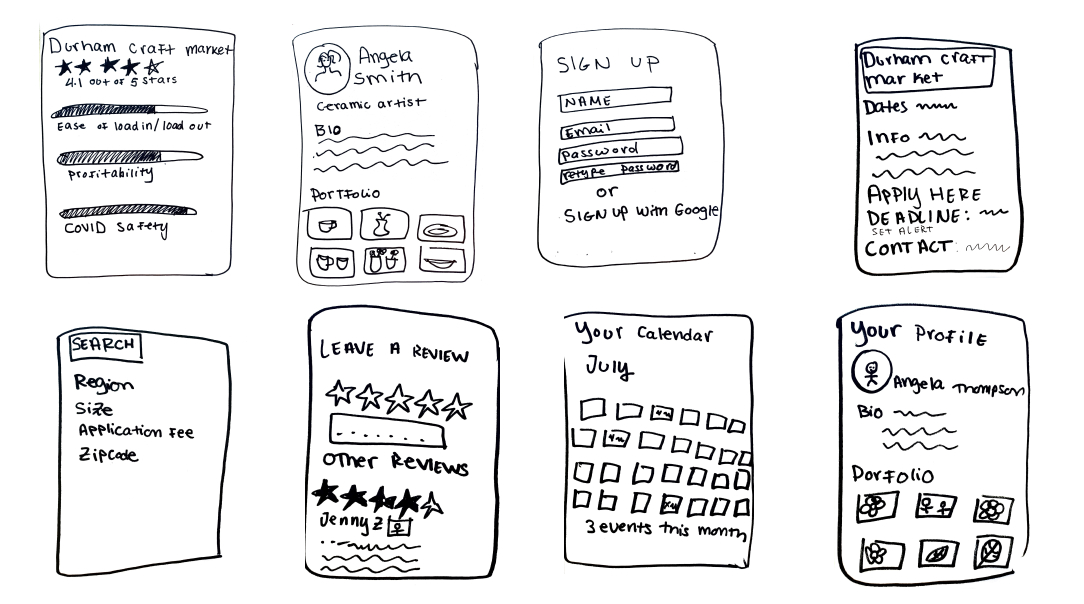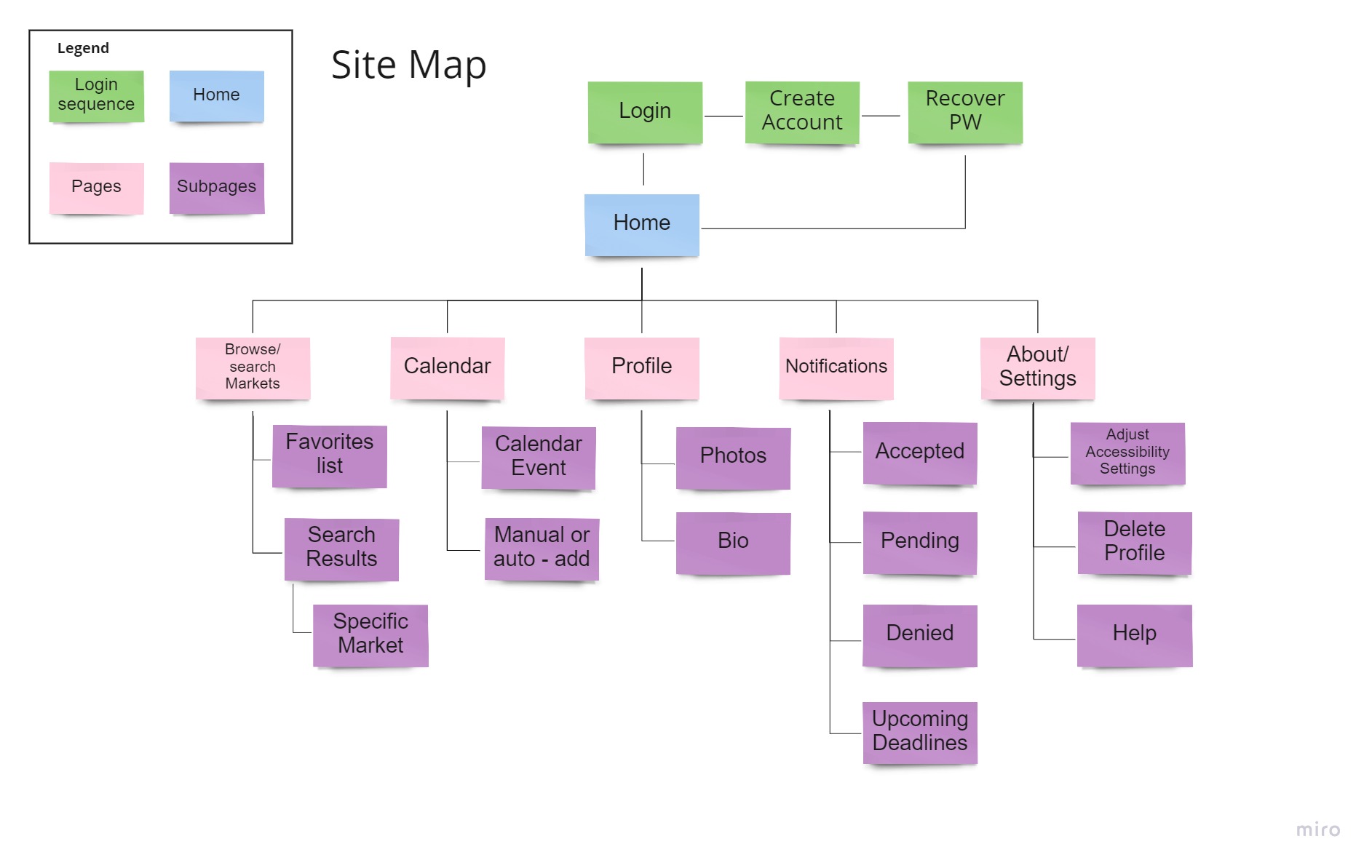 Sitemap
Now that I had a better idea of what my users needed, I created the sitemap with the intent of simplicity. Applying to markets does not need to be complicated and I did not want to create an experience that was overwhelming to the user. With this in mind, I knew I wanted users to create a profile with their portfolios, browse for markets, apply to markets, and view their personal calendar of events.
User Flows
With the map completed, I was able to determine the three user flows that were most important to the product, based on my user stories. These user flows were to create a profile, browse for markets, and apply to markets.



Sketches
Once my user flows were complete, I then was able to create more specific sketches of my screens.

Low Fidelity Wireframes
I began working in Figma and used those sketches to create low fidelity wireframes. Doing so helped clarify how I wanted functions spaced out on screen, as well as giving me a much better insight on how I could simplify and prioritize functions. I created a total of two versions of 10 screens for a total of 20 wireframes.
Branding
I created the following brand platform in order to define the personality of MakerHub, which would then guide my design decisions.
Mission/Vision:
The mission of the product is to create a centralized location for artists, artisans, and makers to access organized listings of markets and fill out vending applications. The product will help owners of creative small businesses to streamline their processes, thereby increasing revenue.
Brand Personality:
MakersHub is a space for makers to easily and efficiently find high-quality places to sell their work.

Having a small business is time-consuming enough - the process for applying for markets and fairs should be easy.
Brand Attributes:
Approachable, fun, trustworthy, seamless.

Approachable because the product should be easy to use for people with a broad range of experience with technology; fun because showcasing your work and finding opportunities should be enjoyable; trustworthy because makers' business needs will be taken seriously; seamless because the process should be easy and speedy.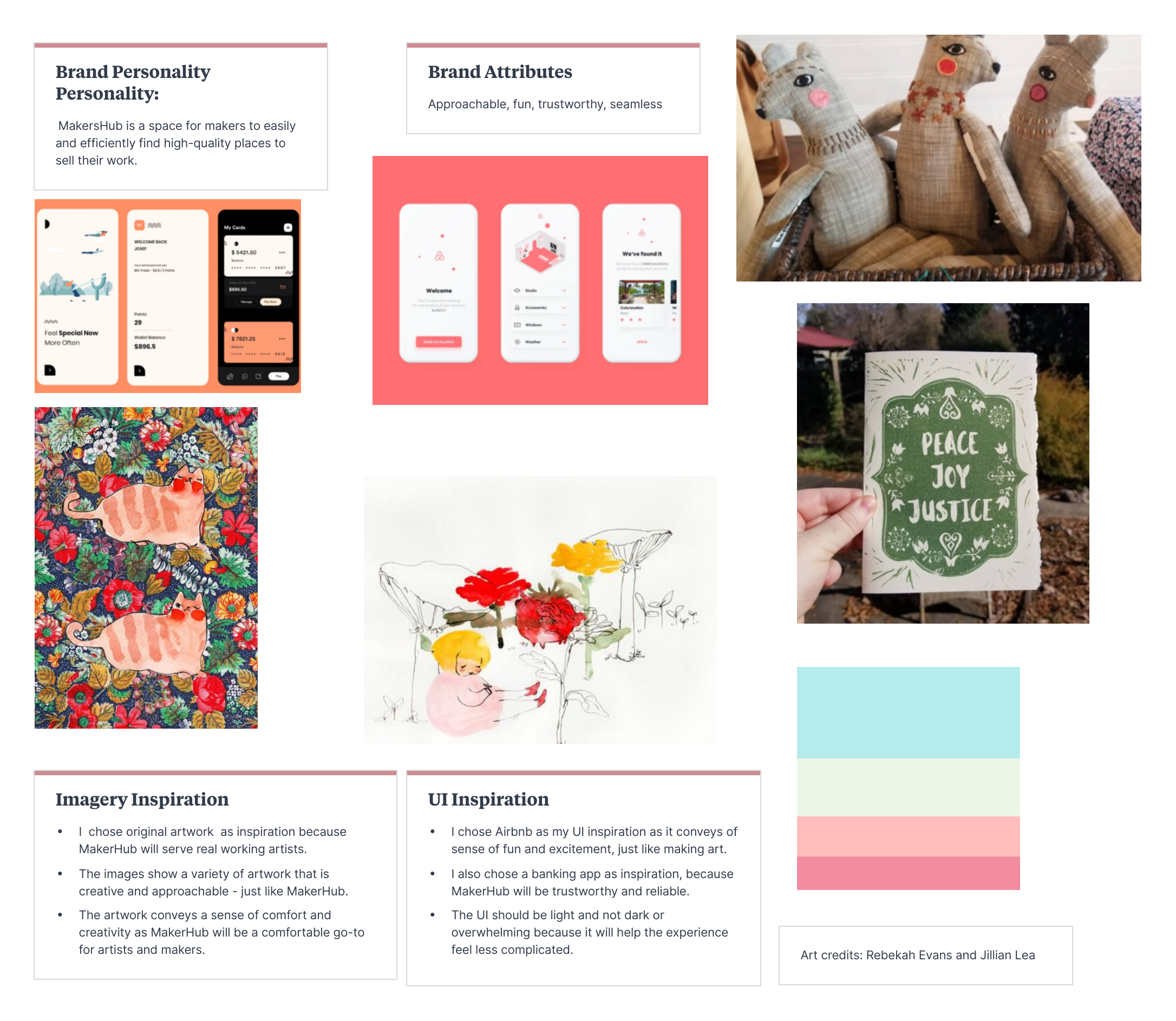 Design and Accessibility
Now that the app had a flow and structure to it, I wanted to keep the style simple and minimal. Accessibility was a key consideration, as I believe that truly good design should be accessible by users regardless of their ability or familiarity with technology. For this reason, I tested my primary colors with the Web AIM contrast checker to ensure appropriate visibility, and chose a white background. I chose a sans serif font with a minimum size of 16 px for legibility.

.

High Fidelity Wireframes
The main goal in the design process was to make a straightforward experience in searching for and applying to markets, making an otherwise mundane chore an easy and enjoyable experience. I made a few changes along the way allowing me to make better use of space and re-construct certain aspects of the app. I also added a few illustrations to add some fun to the experience. I created a total of 10 screens with six versions for a total of 60 wireframes.
Usability tests
Using Invision, I made a prototype of the MakerHub with my three user flows. I was ready to conduct usability testing. I wanted to evaluate not only how users would complete tasks, but the design as well as how they would navigate throughout the app.
Objectives
The main goal is to uncover usability problems in the three red routes of the prototype.
Test Tasks
Can users create an account?

Can users find a market to apply to?

Can users apply to a market?
Methods
Five moderated remote usability tests were conducted via Zoom.
Participant Characteristics
The participants were English-speaking smartphone owners who use a minimum of three mobile applications a day.
Recruitment Method
As the test moderator I recruited test participants through my own personal social network.
Testing Results
Overall, users found MakerHub fairly easy to use and understand. The testing did allow me to identify minor problems to address.
Issue #1
The browse feature needs more options in order for users to find results more efficiently.
Summary:
There was not a way for users to sort by application fee when looking for markets.

It was unclear to users what "size" meant.

Users wanted to include dates in their search.

Accessibility was important to users in their search.

It was unclear to users what "region" meant
Some users expressed the desire to be able to search markets close to their geographic location via a radius tool.
Recommendations:
Add a slider to sort by application fee.

Clarify the meaning of "size" to "number of booths."

Add a wheelchair symbol for accessibility

Add a field to include dates.

Add "miles from me" slider.
Issue #2
Home page lacked clarifying information
Summary:
A test participant noted that the home screen seemed generic and not personalized to the user.
Recommendations:
Change text from "featured markets" to "featured market near you," and add the user's zip code.
Issue #3
Market profile page lacked information
Summary:
Participants expressed a desire for either more information or a link to the market's website.
Recommendations:
Add a website link on the market profile page.
Redesign
After gathering all participants' feedback I was then able to redesign to arrive at my final UI design. I changed some other elements as well: I moved the notifications icon next to the profile icon on the top right for easier access. I also added an accessibility symbol in the form of a wheelchair icon to the market profile page to indicate whether a market was wheelchair accessible or not.
After consulting with my colleague who is a UI expert, I updated some aesthetic interface elements as well. I changed the font to Roboto, in order to match current mobile font trends. I also changed the look of the browse screen, and added icons to the market profile screen to increase readability.
Key takeaways
Throughout my research and design journey, I really became in touch with the needs of my users. Through user interviews, I got an indepth look at what artists really needed to solve their problems in looking for and applying to markets. I enjoyed designing the UI elements, as I was able to put my research findings to the test. Finally, my usability tests were very helpful as I was able to find out so much more that I had not considered previously in terms of how I can improve the experience.
Future Considerations
In order to develop this product fully to be ready for release, I would need to design the calendar function. I would also need to design all the functions that market and art fair organizers would use in sorting through artist applications. Finally, in order to make MakerHub accessible to users with screen readers, users uploading images would have the option to record alt text.