Alpha Physical Therapy & Recovery
Expanding a small business' online presence with a premier responsive web page design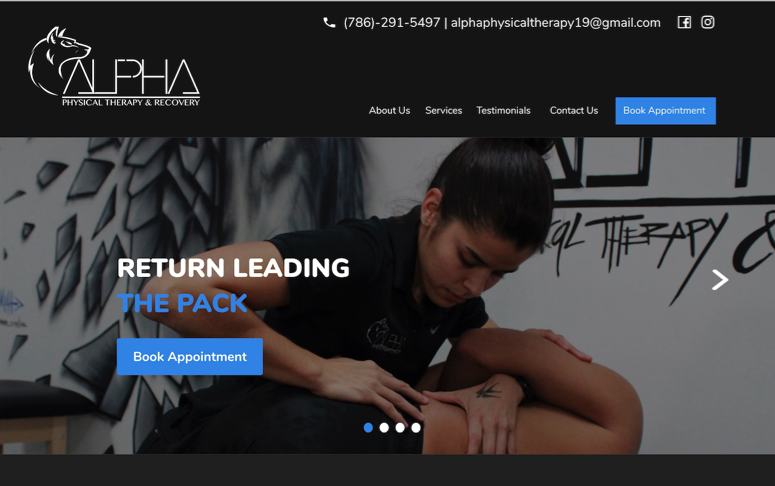 Overview
Alpha Physical Therapy & Recovery is a new PT clinic located in Doral, Florida. This small business did not yet have a website and needed to have one created to expand their online presence with the goal of attracting and increasing new clientele as well as promote Alpha PT & Recovery. I was the design lead working with another team mate on the project.
Primary business goal
Attract & increase new clientele for two services:
🔹 PT Evaluation
🔹 Recovery Session
Project constraints
🔹 Site will be created using Squarespace
🔹 UI requested to be designed in dark mode
Role
User interviews, Research, Personas, Moodboard, Style Guide, Sketching, Wireframing
Challenge
Design a website for Alpha PT that will serve as a new method of acquiring new clientele while also promoting the Alpha PT brand overall within a sprint of 2-3 weeks.
Solution
Identify user desires and needs, and provide a complete website design (from research to development) that will subsequently be handed off and built on Squarespace.

User Interviews
Who were we really designing the website for? The first step we took was to gather what we could about Alpha PT & Recovery's current patients by conducting user interviews. With the constraint of time, we were only able to speak with two patients but still able to gather a decent amount of insight from them.
Key Insights
Discovery by word of mouth was shared between both patients.
Differentiation of Alpha PT vs competitors

Current patients felt they received personalized treatment as opposed to the standard cookie-cutter approach they've received from other physical therapy offices.

The owner and sole physical therapist of the business, Nicole, is seasoned in her work and has had the particular experience of working with athletes and helping to rehabilitate them back to their peak performance.

Overall experience with Alpha PT

The experience is not the only thing that is appreciated by her patients, but also the innovation and use of new tools.

Receiving treatment for physical therapy is very personal to patients. The unique, personalized approach that Alpha PT takes with their treatment helps motivate patients to get to the next level.

General sentiment towards Physical Therapy businesses

Other PTs typically have so many patients that it's hard to receive full attention as a patient and it's easy to feel as if you're just a number.
Personas
With the data and research we've gathered in the initial stages of our design process, we created two user personas: one for a recovery client and the other for a PT client. Both personas represent the target audiences of Alpha PT.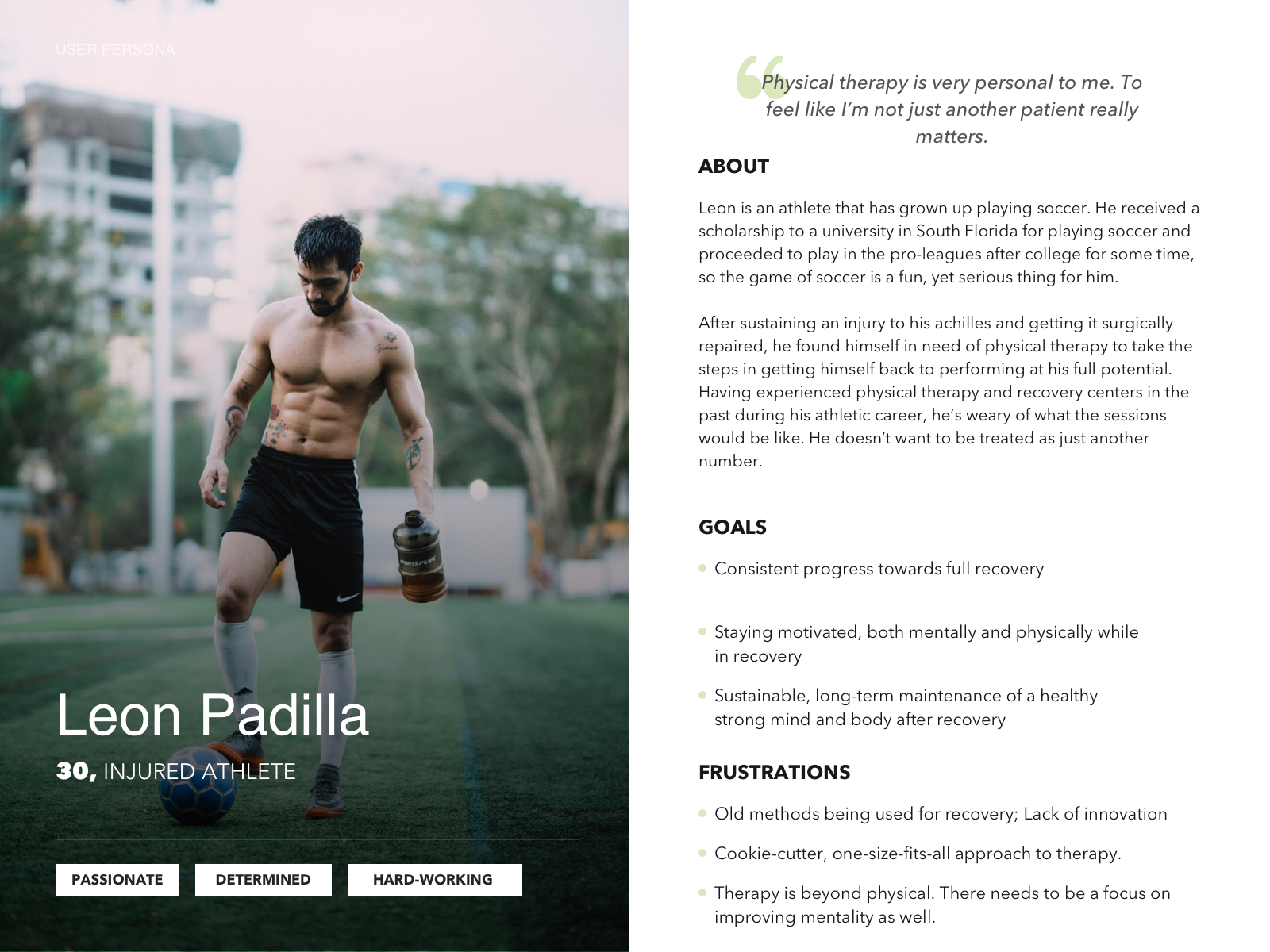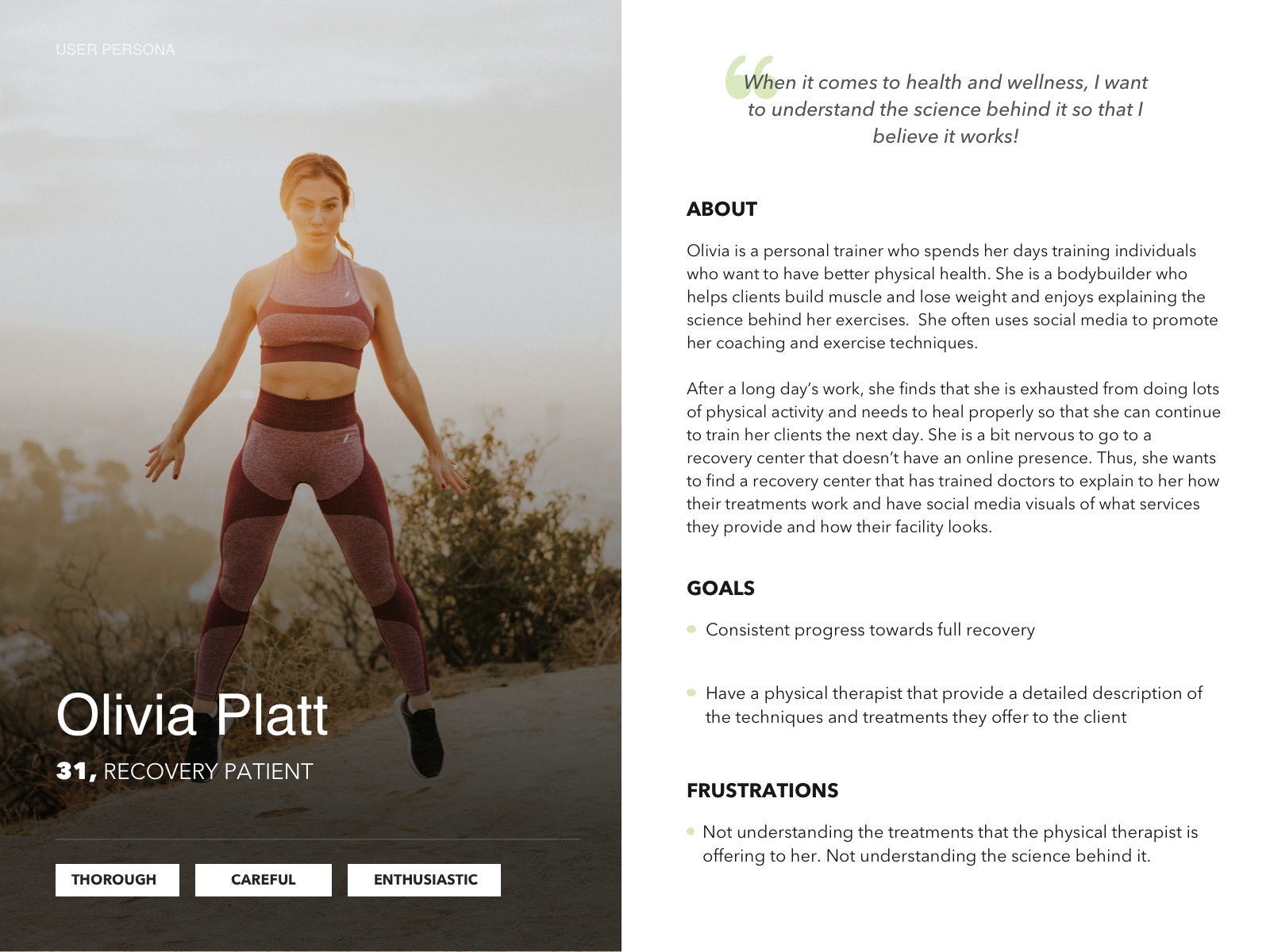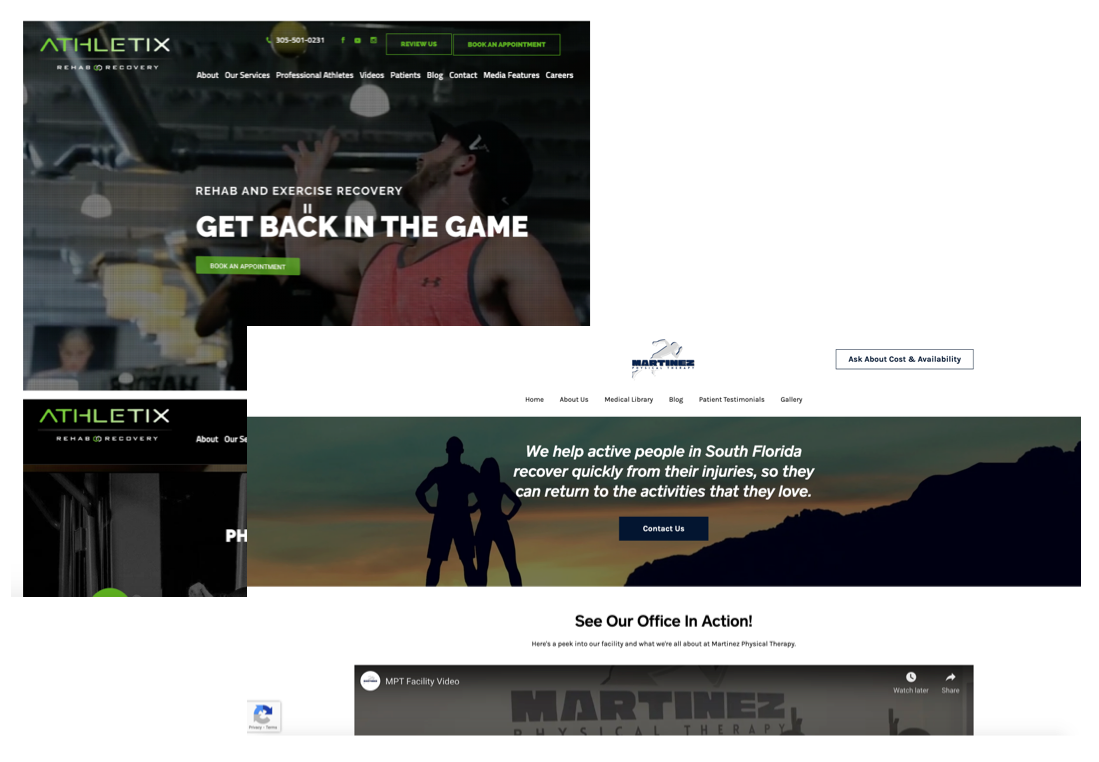 Competitive Research
We took a look at two different local South Florida physical therapy facilities to gain insight on how other established PT businesses in the area had designed their pages and what content they chose to provide to illustrate their offerings as well as market their brand.
Athletix Rehab & Recovery

A lot of wow factor. Good use of imagery with the video assets, particularly for showcasing some of the techniques they use and the facilities they work in. The site mapping includes a section solely for displaying professional athlete endorsements.

Uses more than one CTA button to drive appointment bookings.

Despite how impressive it is to see celebrity athlete endorsements, there aren't as many 'average joe' reviews being promoted. How can the average person know this facility will also value their patronage as much as a professional athlete's?

Martinez Physical Therapy

Simple and plain, but effective messaging and organization of information for the audience.

Navigation of their page is really simple.

There's a good amount of information to get familiar with their offerings but leaves room to learn more by coming into the office.

Uses some video content on the homepage to give the potential patient a "live-action" glimpse into their facility and the people who work there.

More than one clear CTA button.

Has dedicated patient testimonial page.
Information Architecture
Sitemap
Below is our initial sitemap for the webpage. It was originally turned out to be more complex than the structure that we ended up with as we re-examined the preset layouts within Squarespace and shifted our design to work around one selected layout.
The website was then condensed to a homepage, 'About Us' , 'Services', 'Testimonials' , 'Book Appointment' and 'Contact Us'. Contents within these pages were reduced, such as 'Patients' evolved to a 'Book Appointment' page because the stakeholder's appointment-booking platform was externally accessed and subsections were not necessary for the first iteration of the website. (IE: 'Make payment').
Low-Fidelity Sketches
We put pencil to paper to envision the structure of the site and roughly how it will be designed. This stage of design caused us to rethink our site mapping and the changes are visualized here.
Wireframing
We then brought our drawings to life onto Figma where we made sure to prioritize the features that would best address the user needs through the website.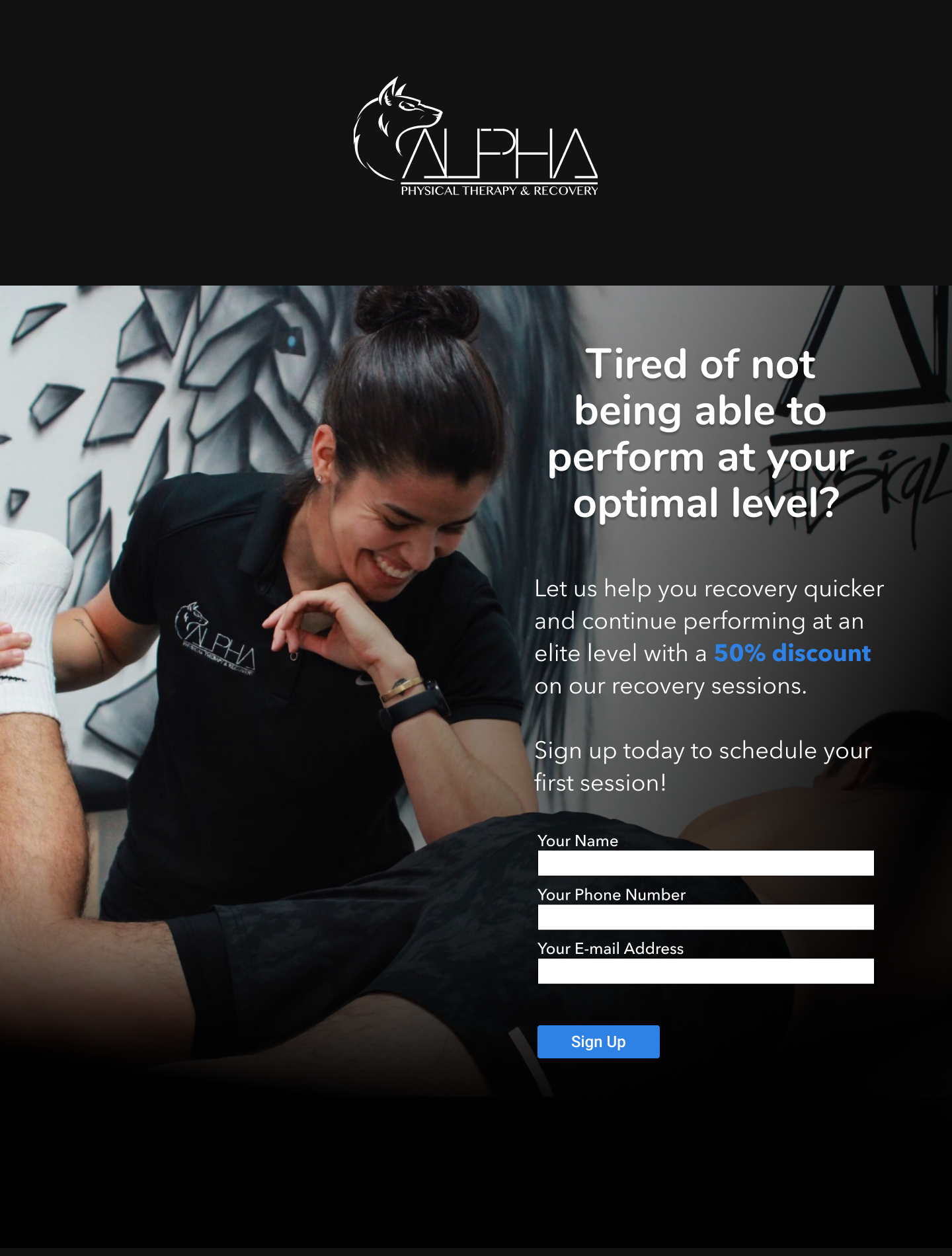 Landing Page Ideation x Wireframe
The client also wanted a simple one-off landing page she could utilize for her ad campaigns. Her ads would offer a discount off recovery sessions and drive to a page where the potential customer would sign up to schedule their first session at a discount.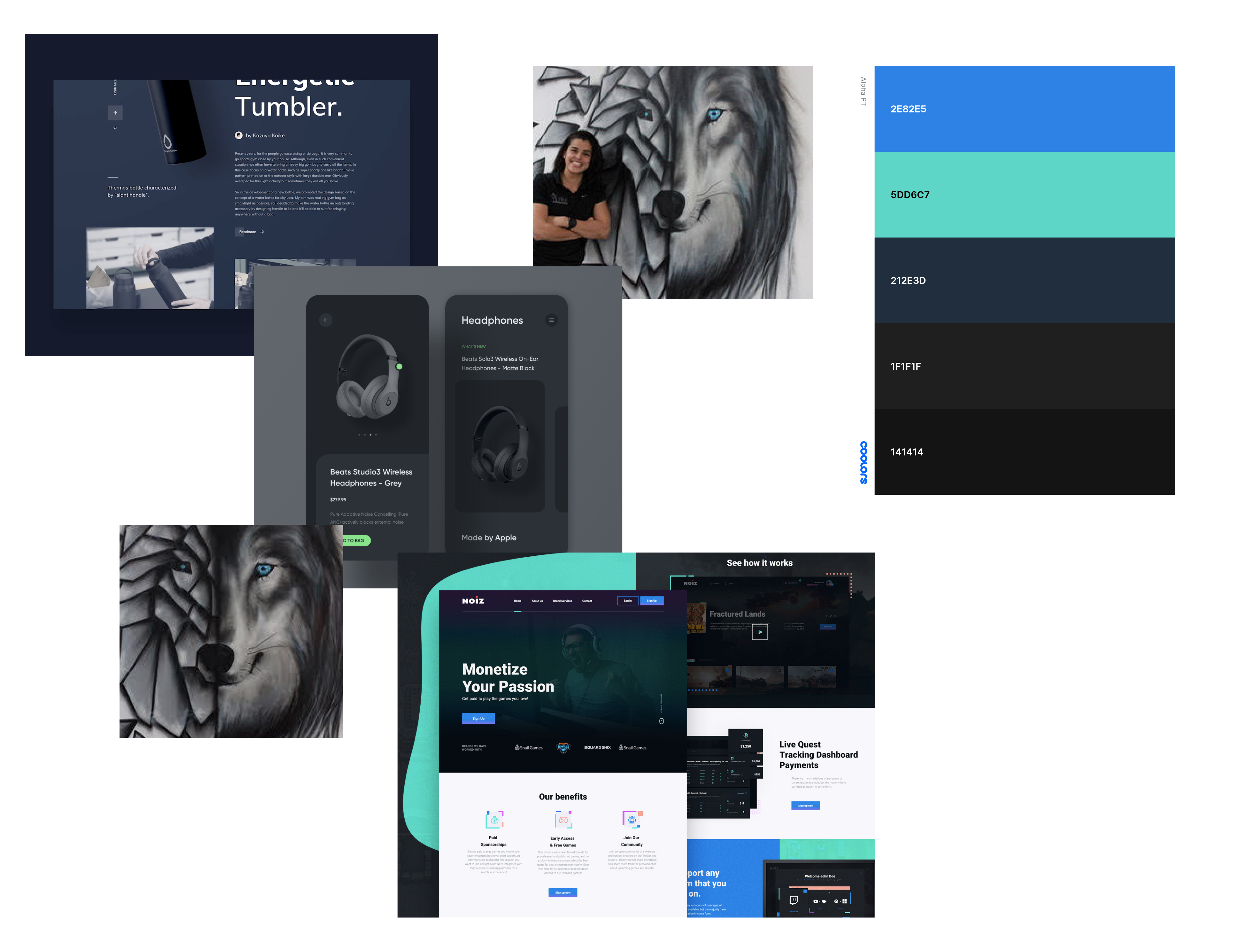 Mood Board
Before moving onto high-fidelity wireframes and prototyping, we needed to establish the visual aesthetics of the site. Keeping in mind that the client wanted a dark UI, we put together a mood board that served as a compass for us to head directionally upon presenting to our stakeholder.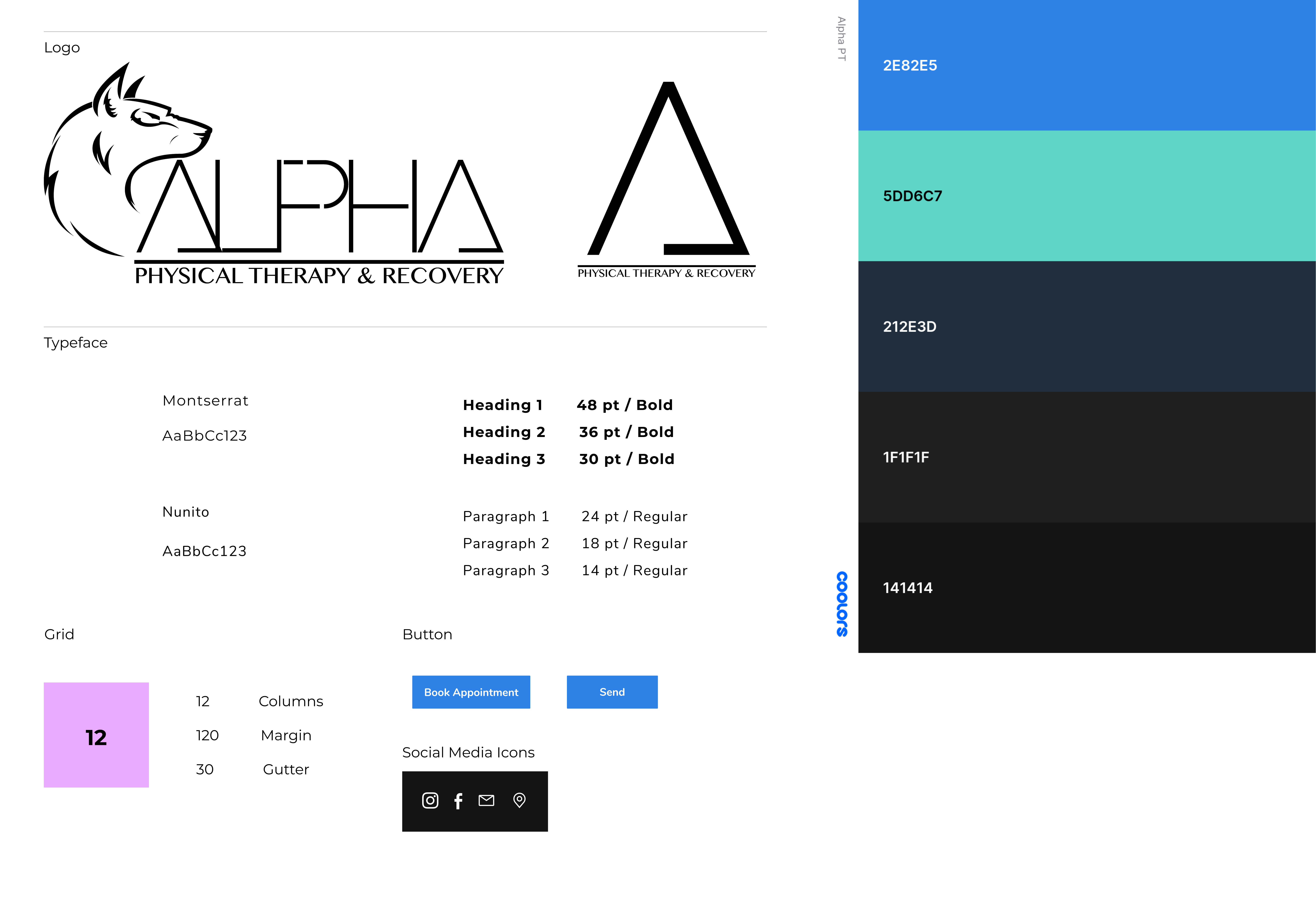 Style Guide
With the approval of our stakeholder on components of the mood board, we moved on to establish a quick style guide for us to align our design with.
(Logos were already provided to us by the client.)
Reflection
Due to this being a design sprint with the final design handed off within 3 weeks, I felt slightly rushed and wish I had more time to spend on fixing some nitpicky items on the UI. This in combination with working with another person on this project was an added challenge as well mostly because it always takes at least a bit of time to organize as a team before setting out to accomplish anything. All in all, we worked collaboratively to design a successful website end-to-end that addressed our stakeholder's business goal and within the constraints given on the project.