Kate Betteridge
Mixed-Methods Researcher
Healthcare Industry - Remote Contextual Inquiry
How might we maximize the quality and quantity of time Care Navigators spend with patients?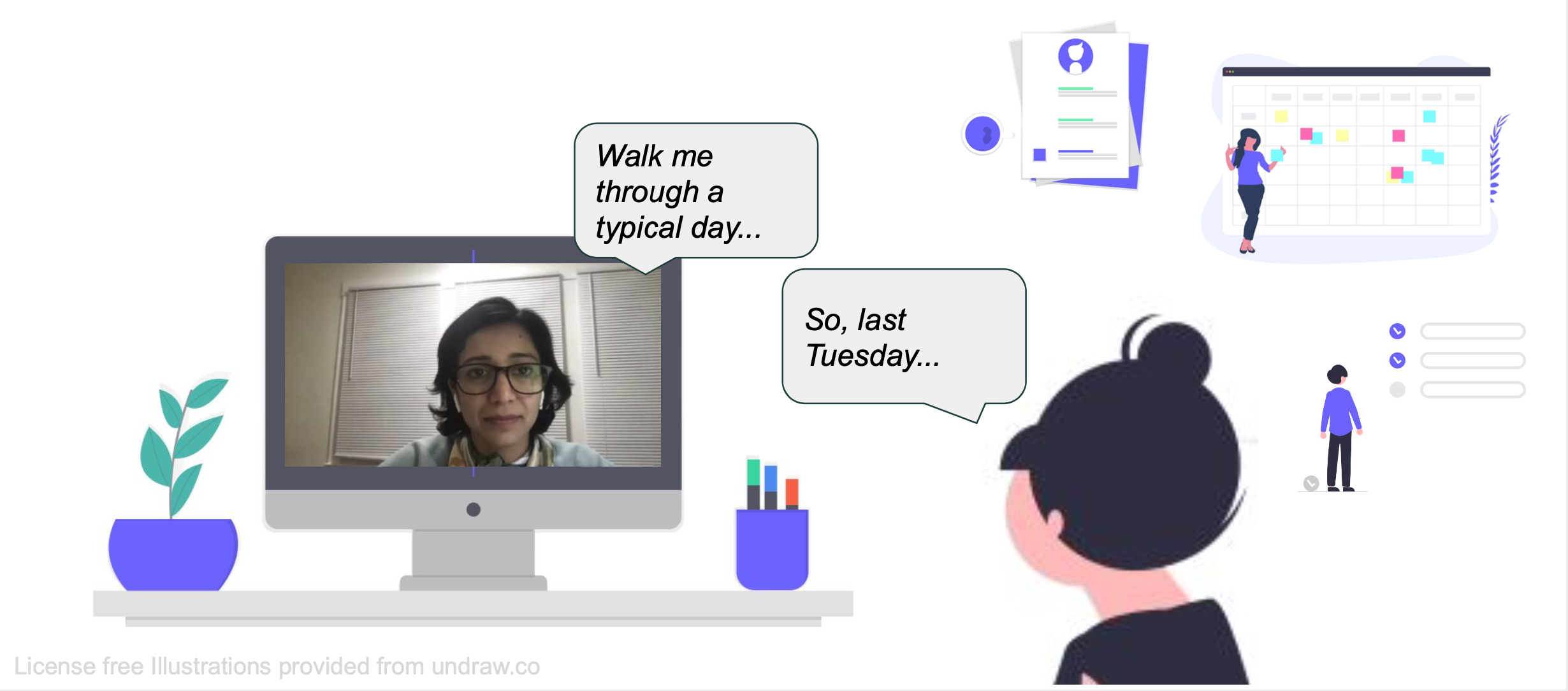 Project Overview
Role: UX Researcher (team of 4)

Client: Mental Healthcare Startup

Timeframe: September 2020 - January 2021

Methods: Remote Contextual Inquiry (involving semi-structured interviews, photo elicitation [visual card sort], cognitive walkthrough), affinity mapping, grounded theory coding, task/workflow analysis

Deliverables: discussion guide, interview recordings, 100+ page report, journey maps, client presentation
Problem Statement
A mental healthcare startup came to us with a problem. They were planning to scale and were worried that a fragmented technology platform was interrupting the work of a core group of employees (Care Navigators) and that it would be a bottleneck to future growth.
We designed a field study to better understand the role of Care Navigators, their needs and values, and their workflow and tasks while working with different technologies.
Study Goals:
Gain an understanding of the full workflow of Care Navigators and their needs and challenges throughout

Synthesize aggregate data into frameworks to better understand the global Care Navigation experience

Articulate opportunities for innovation in the form of research findings, journey maps, and stories
Guiding Questions:
How is the role of Care Navigation perceived across the organization?

How we improve the quality of time that Care Navigators spend with members?

How do Care Navigators perceive their work and how it fits into their identity?

What benefits does Care Navigation provide to the organization?

How might we maximize the quantity of time that Care Navigators have to devote to business critical tasks?
Methodology
15 employees across the organization were interviewed in 60-minute sessions. All interviews were conducted via Zoom.
For the in-depth interviews with the Care Navigators, we divided the sessions into three parts:
Introductory questions (20 min): First, we discussed the participant's background and their daily activities. This approach was effective for the discovery phase and to pair with data from other segments for more effective analysis.

Photo elicitation (20 min): Next, we moderated a visual card sort where participants were shown a collection of work-inspired photos and were asked to group them in categories and define associated emotions, as well as select an image that best described them as a Care Navigator. We used this technique to identify mental models and needs. This exercise supported eliciting and prioritizing high-level needs and reflected different aspects of the Care Navigation role.

Workflow analysis (20 min): Finally, participants shared their screens with the researchers as they walked us through their most recent work tasks, which allowed us to observe interface issues directly. This exercise helped us identify workflow details and more product-oriented needs.
Key Findings
Through our workflow analysis, we identified 117 key tasks and 34 problems which we put through a Red Routes severity analysis framework. Most critical were interruptions via Zendesk and Slack during phone calls to patients, which broke Care Navigators out of flow states.

We found a significant disconnect between how Care Navigators and internal stakeholders view the Care Navigator role. Care Navigators view their role as relational: they are "plasterers" covering organizational messiness to preserve the patient experience. Stakeholders view Care Navigators' role as transactional: they are "quarterbacks" fielding questions from across departments. Each measures success differently as well.

Zendesk was the largest source of frustration and overwhelm for Care Navigators. Zendesk was being used as a patient management system, but the workflows were set up to handle a different type of customer interactions. During the debrief, we were able to highlight that streamlining the Zendesk workflow is one of the most effective ways that the client will be able to maximize the Care Navigators' bandwidth.
Lessons Learned
One of the things that most suprised me as a trained design researcher is that the client requested we not present recommendations, only research findings. Through conversations with stakeholders it became clear that any recommendations we made would have fallen flat since we did not have the full picture of the organization's inner workings. By focusing on findings in our report and presentation, we ultimately delivered more actionable insights.