Teddy Laguerre
UX designer
BREEZE
Nourishment for your mind, body, and soul

Many individuals struggle to implement self-care into their day-to-day lives. Self-care is the practice of taking action to preserve or improve one's health.
The client wanted an app to help people struggling with self-care. I'm interested in this topic due to my firm belief in self-care. Working in the human service field I have encountered many people who struggle with stress, anxiety, poor health, and depression due to not taking care of themselves and their mental health. Self Care is important for one to fully take care of themselves, and those around them.
Project Summary
Breeze is a self-care app meant to help improve one's mental health with healthy self-care practices. Many people ignore the importance of self-care and do not realize the impact it has on their mental health. Many people want to improve their mental health but are not sure where to start. With Breeze, users will have a tool that will not only help improve their mental health but make their self-care journey feel fun and natural.
Project Duration
8 Weeks
My Role
UX researcher, UX designer, UI designer.
Deliverable
Design high-fidelity wireframes that can be used to build a mobile application
Challenges
Self-care can feel like a difficult task for many people. Some feel that it's not essential, that it's selfish, or they do not know where to start. many of the participants struggled to identify healthy coping skills to for self-care.
Solution
I assisted the participants in walking them through healthy self-care practices. Everyone should be able to engage in self-care to improve their mental health. Self-care should feel natural and not like a chore. The Breeze app will provide an easy tool to monitor and keep up with one's self-care routine. Once you're able to get in control of your self-care routine your quality of life will improve.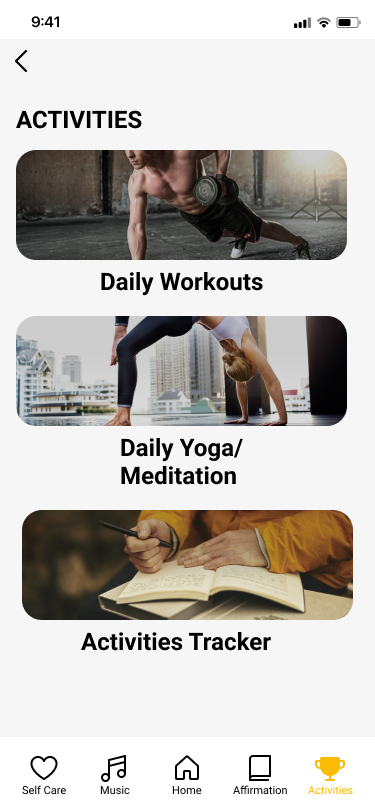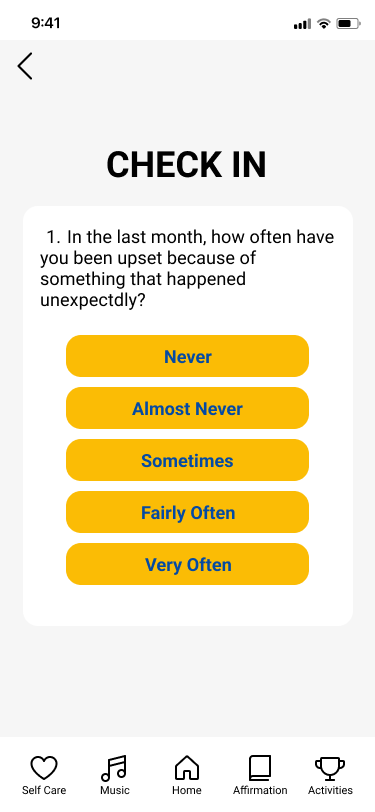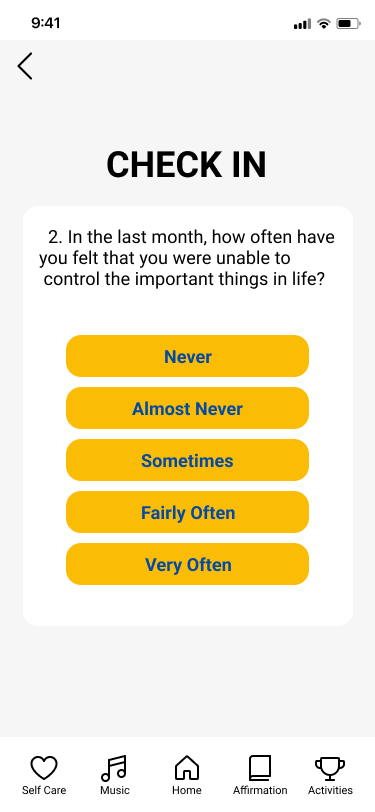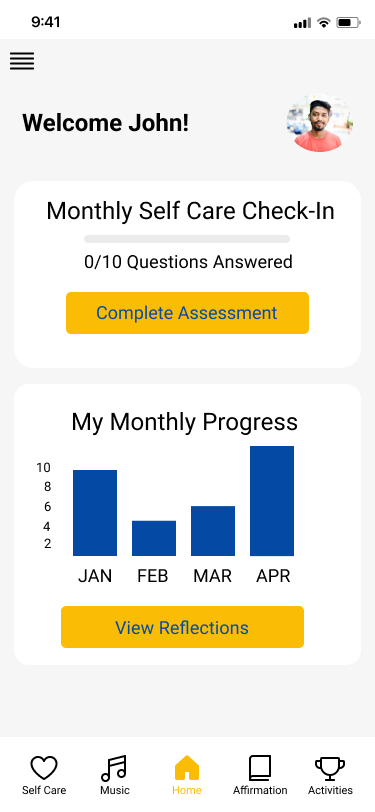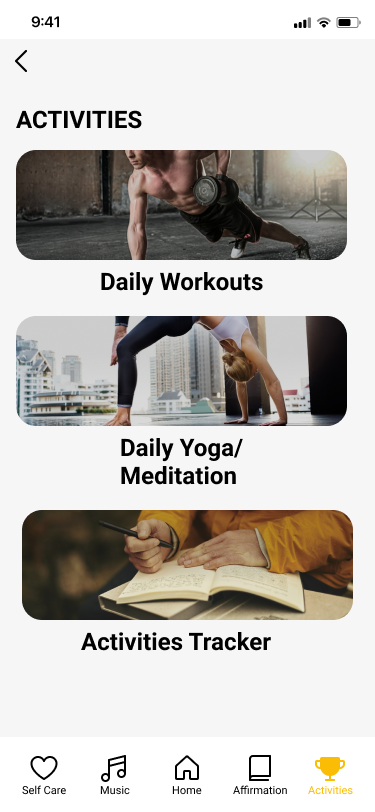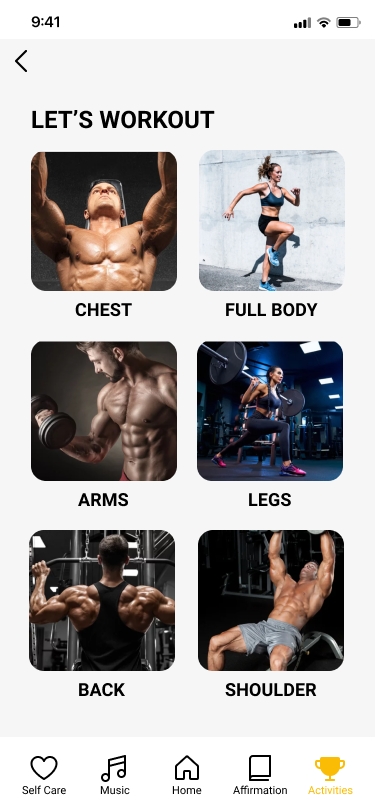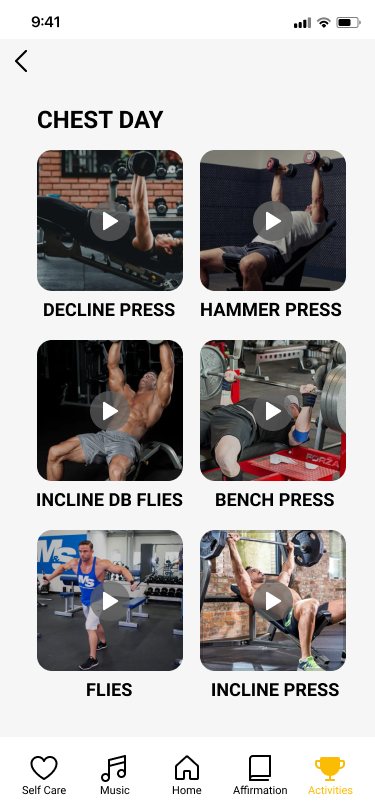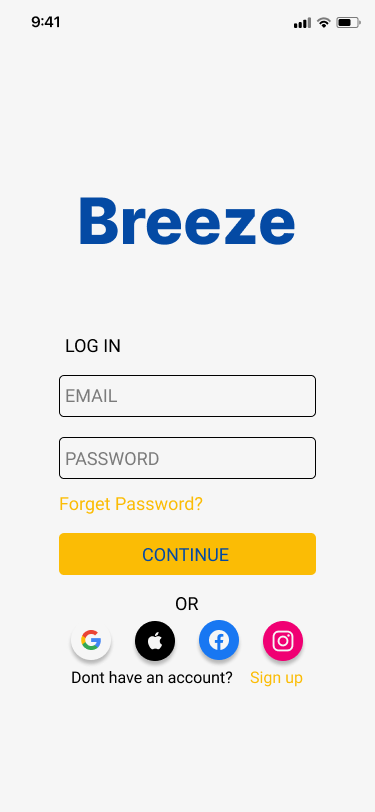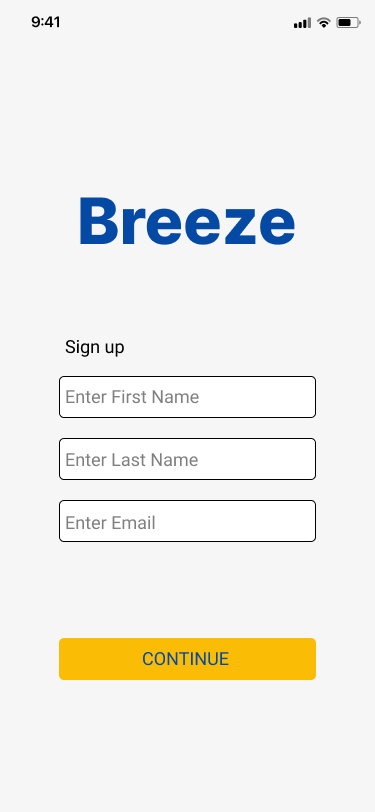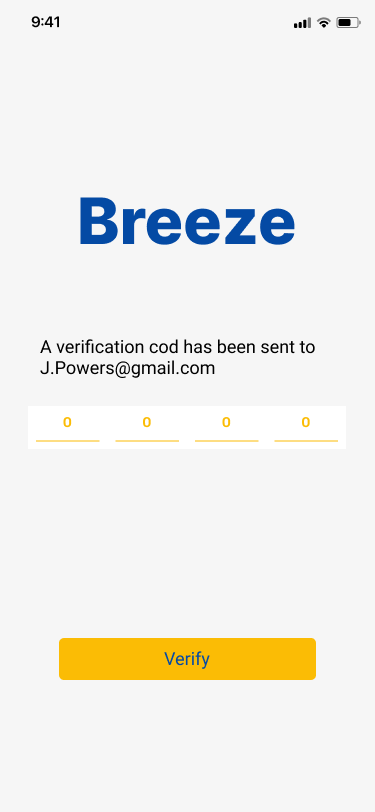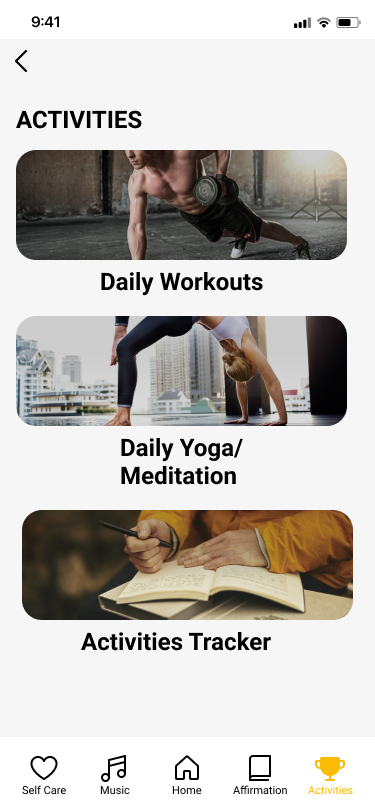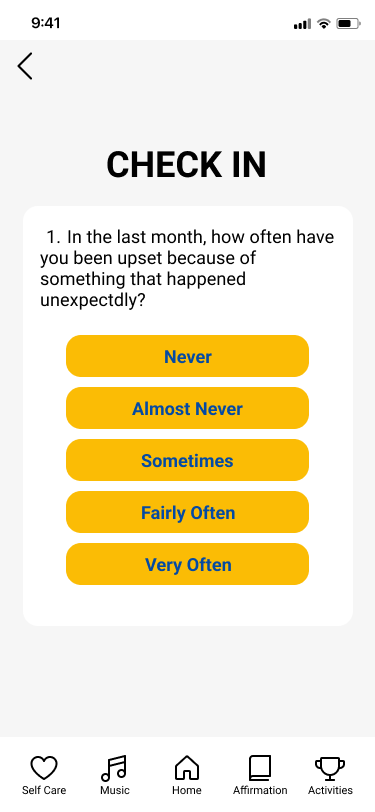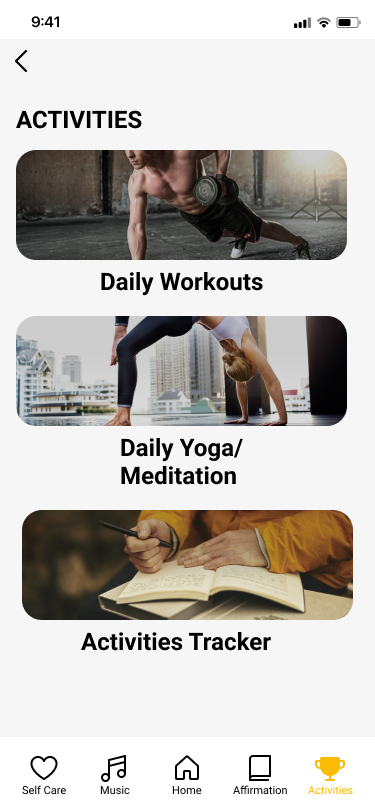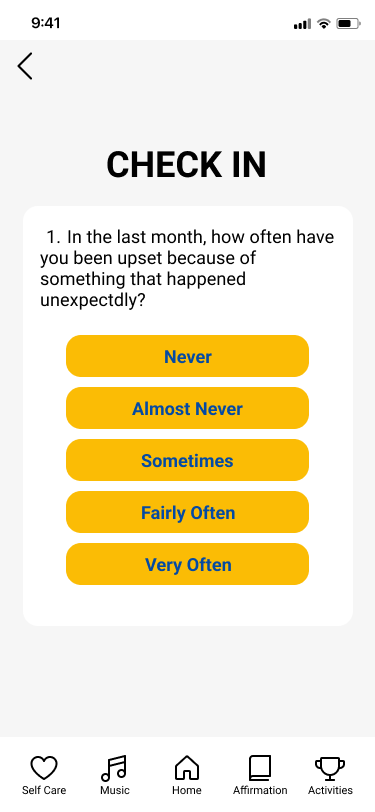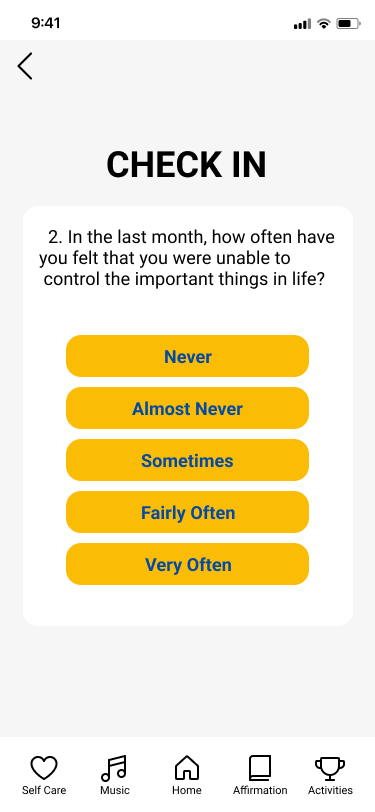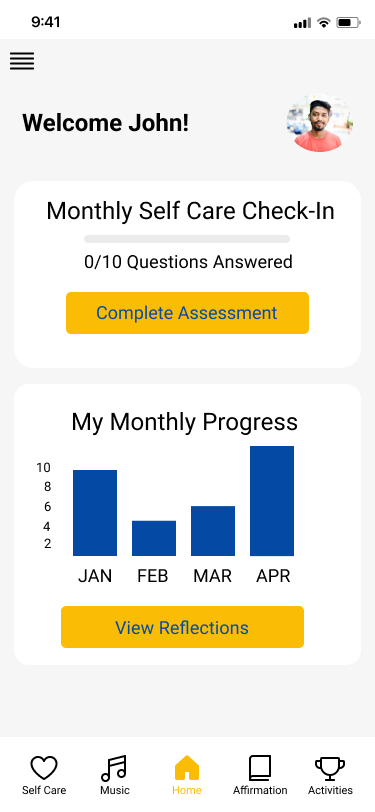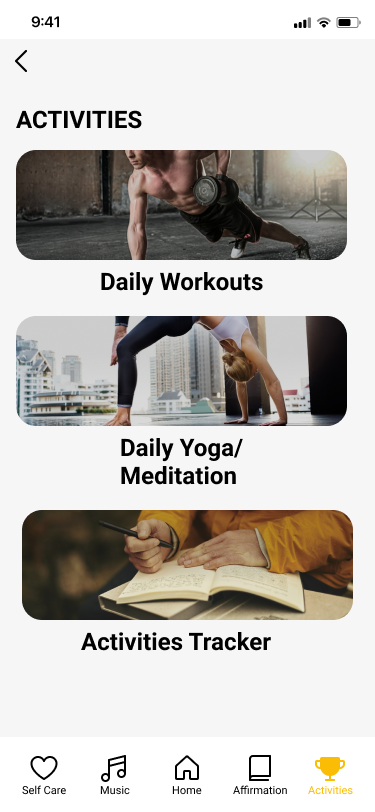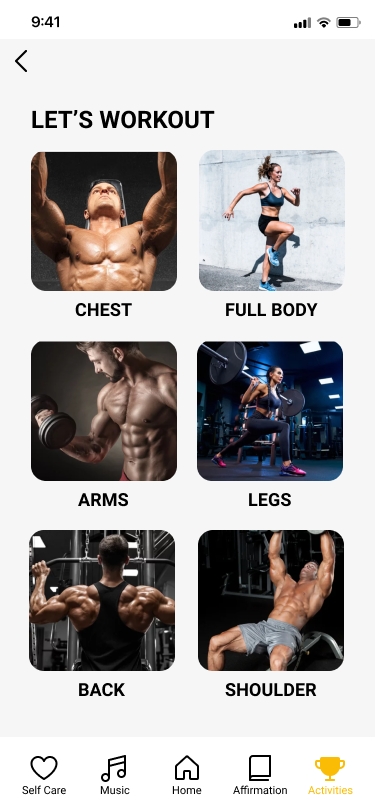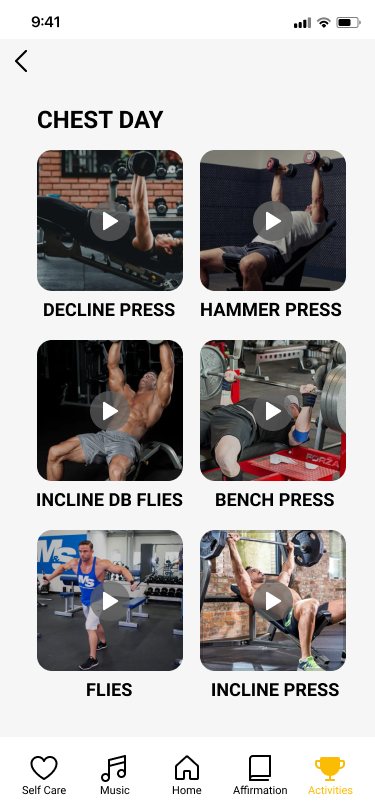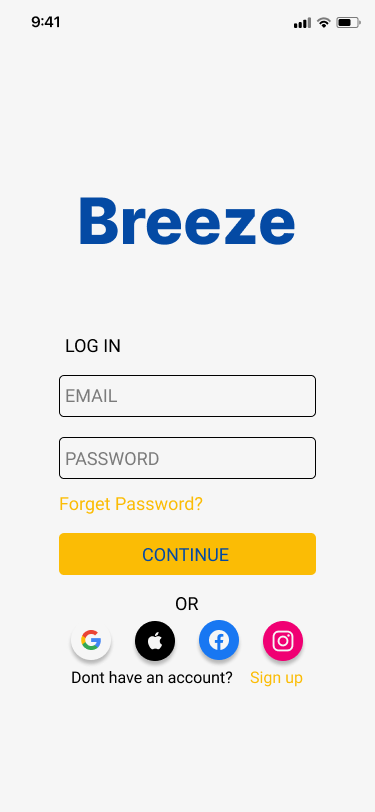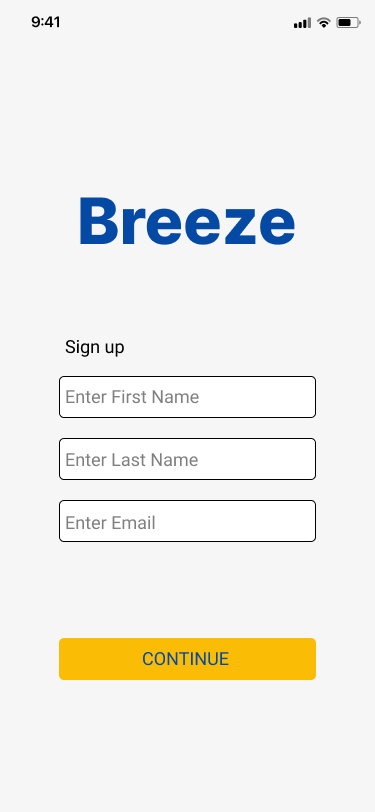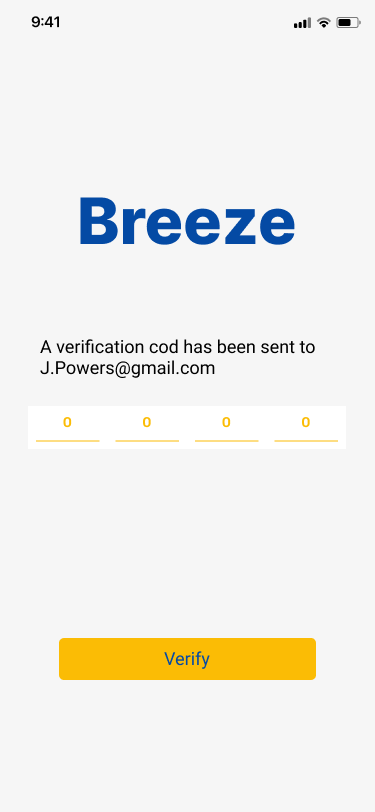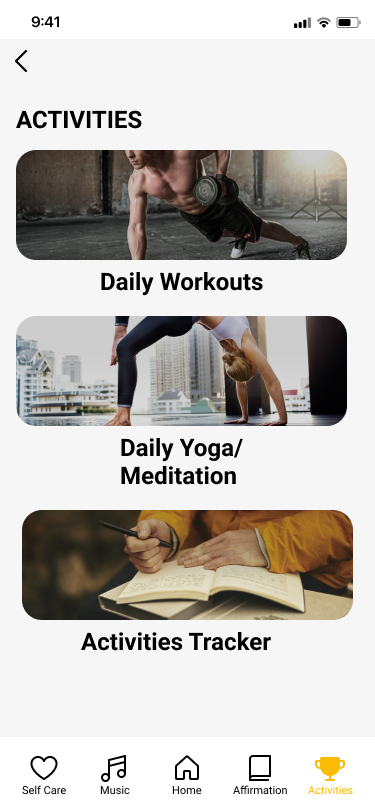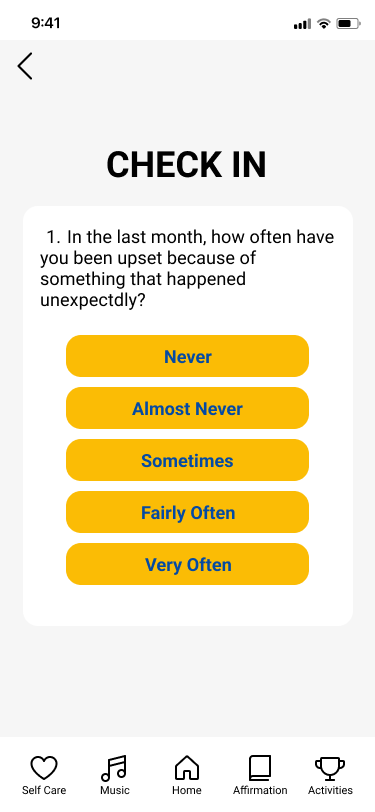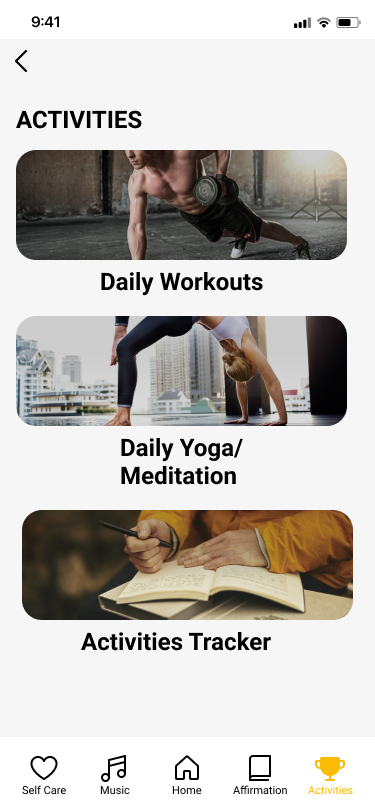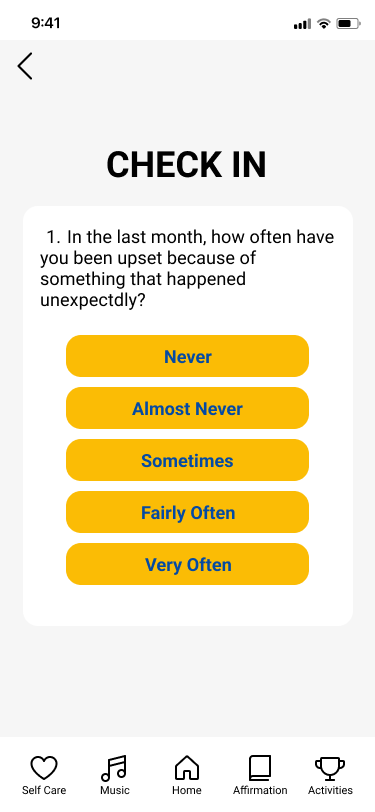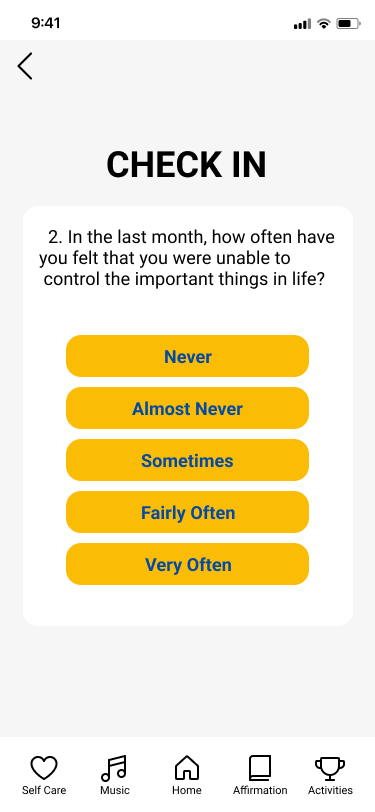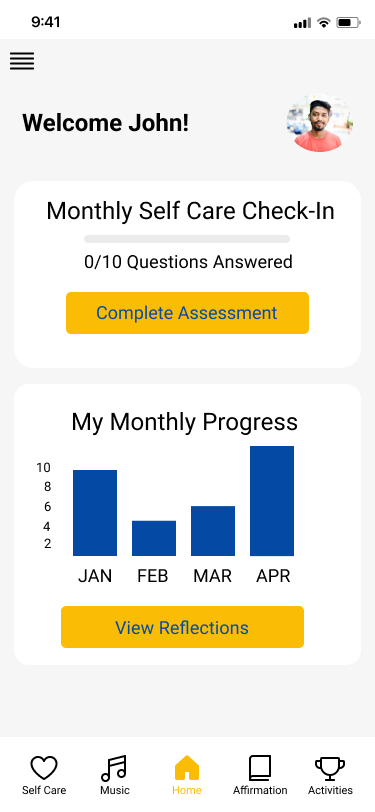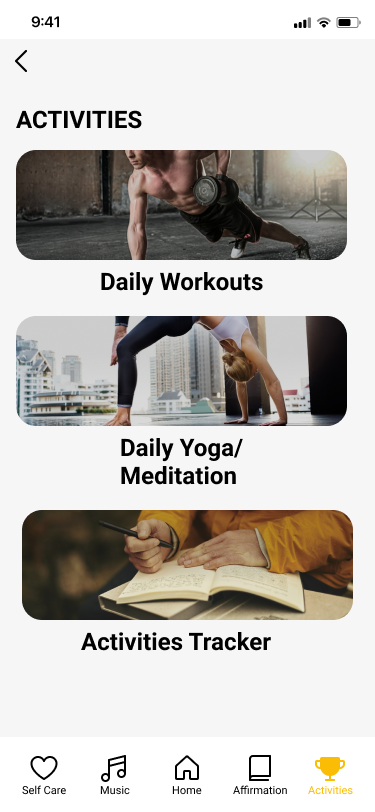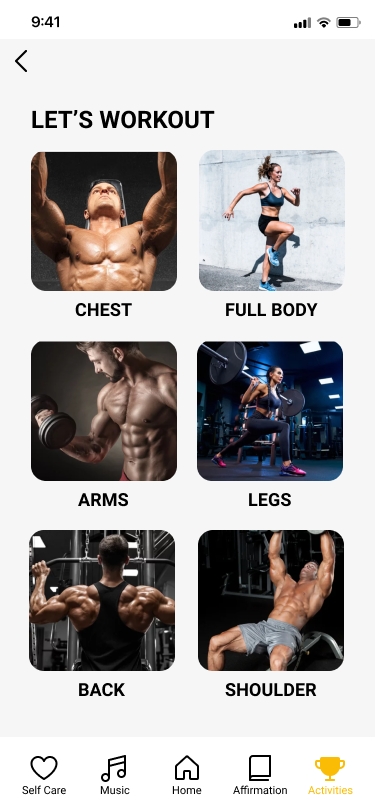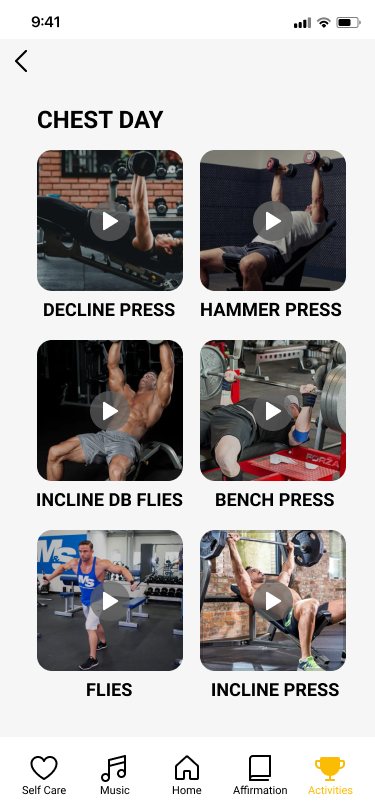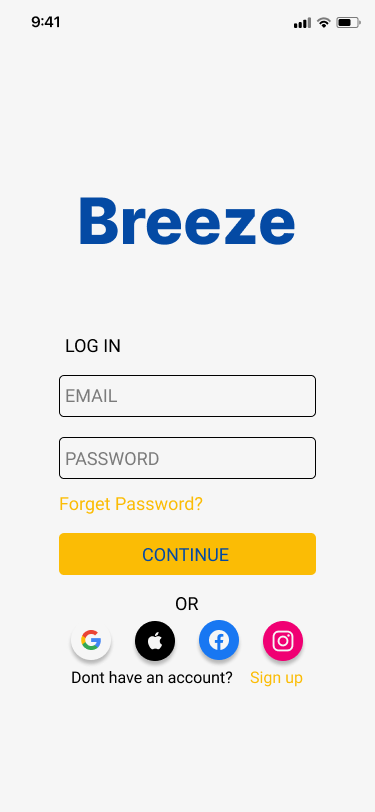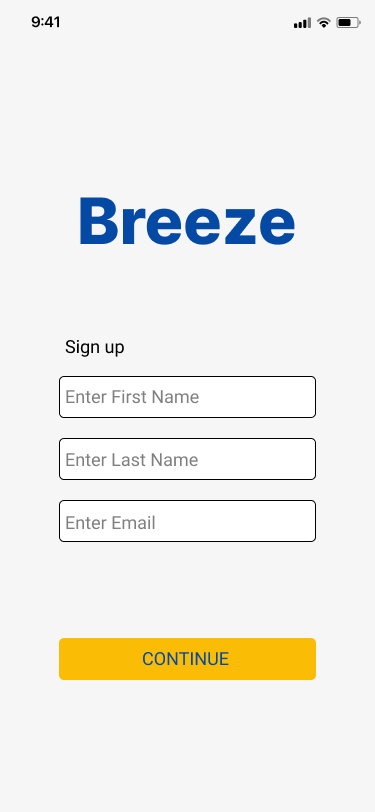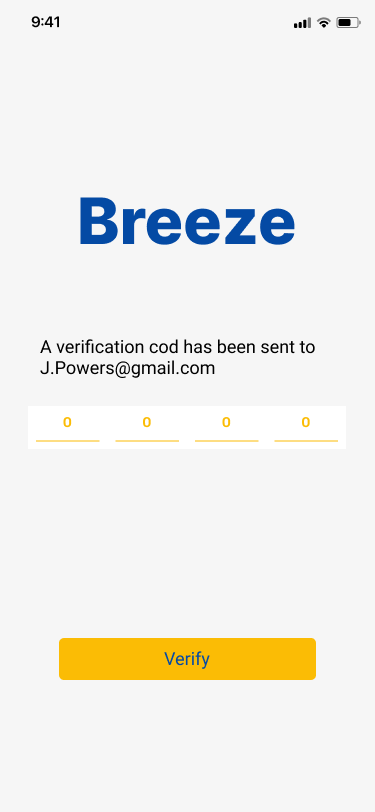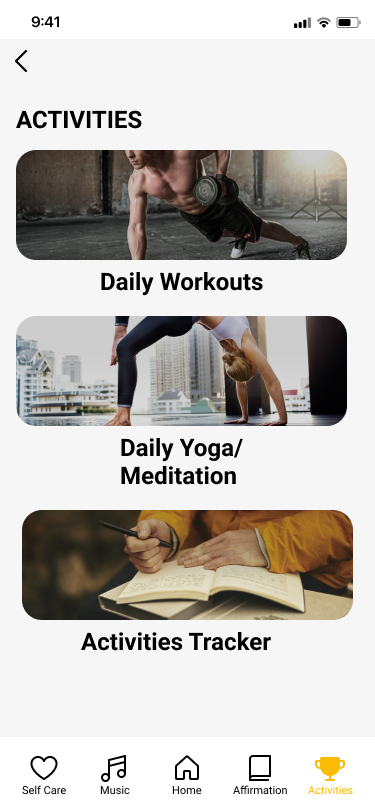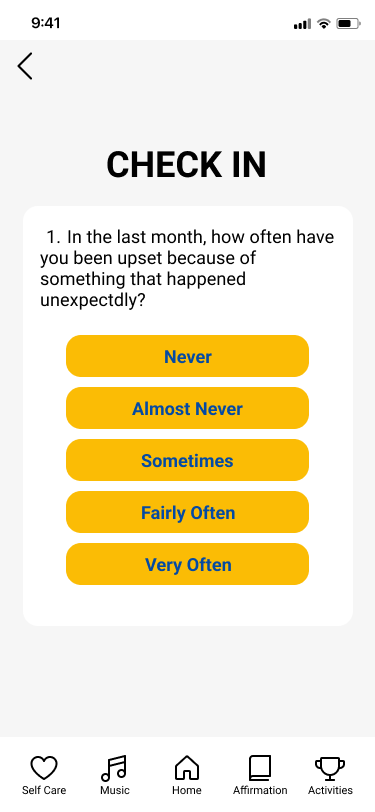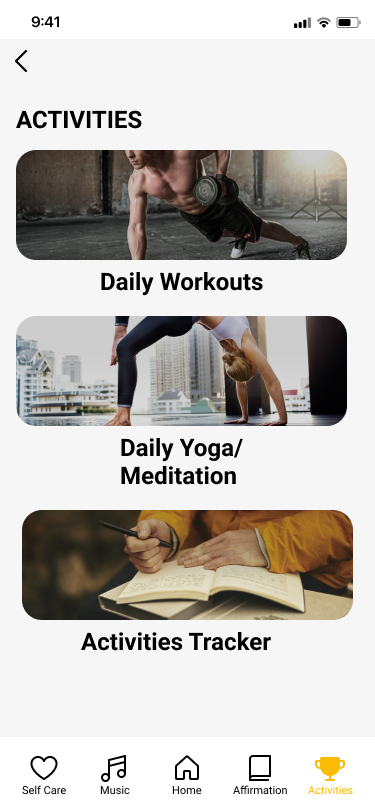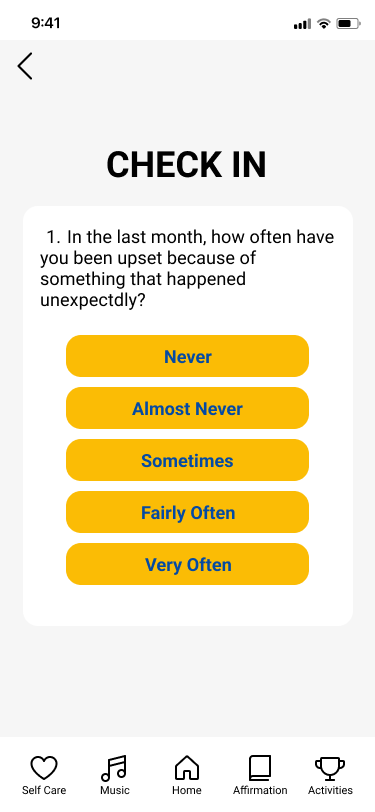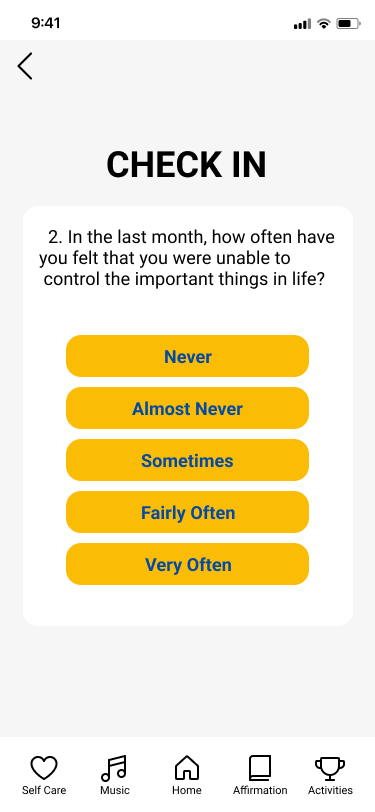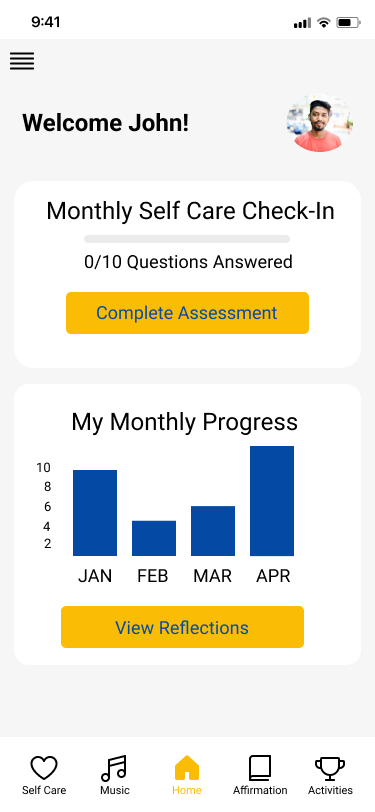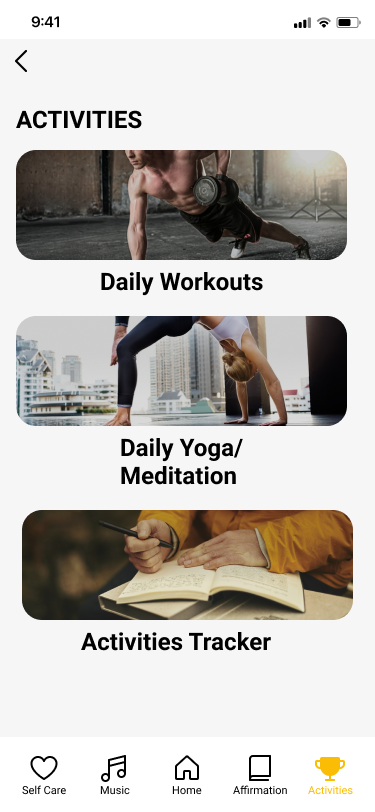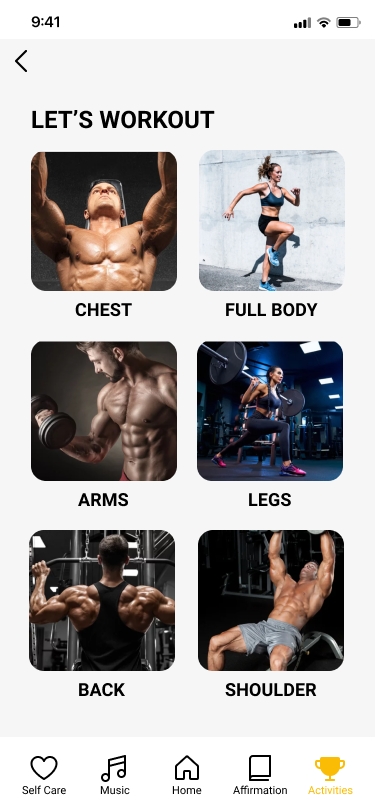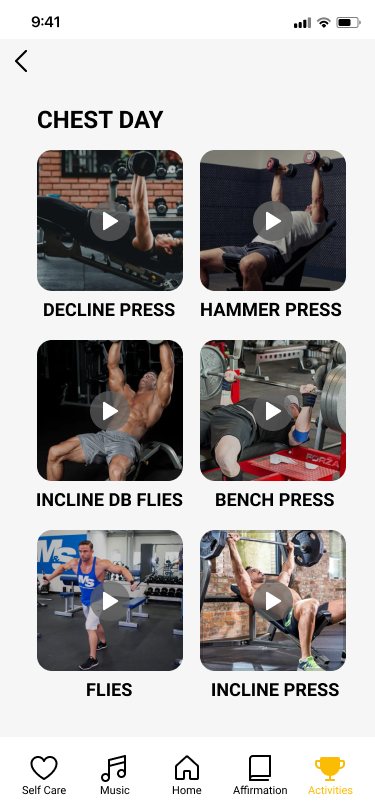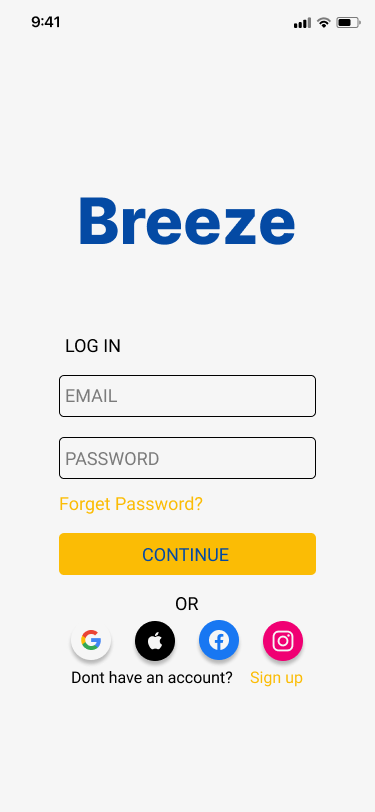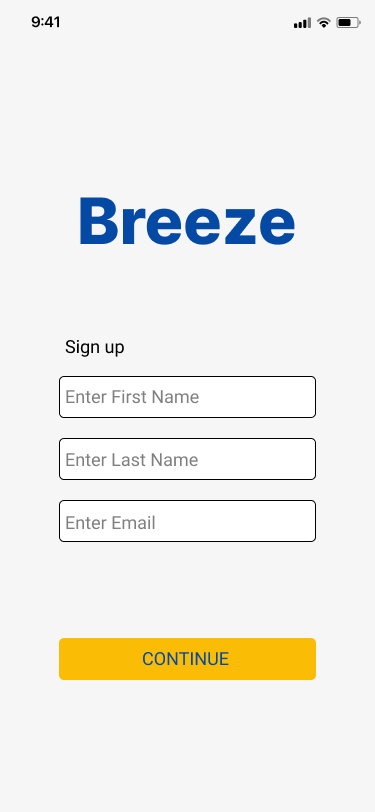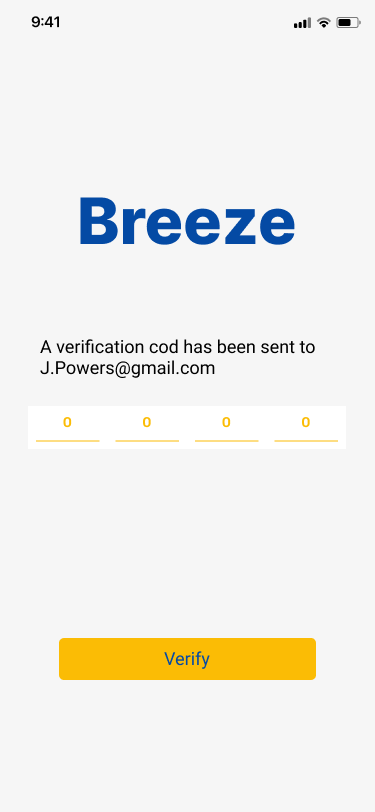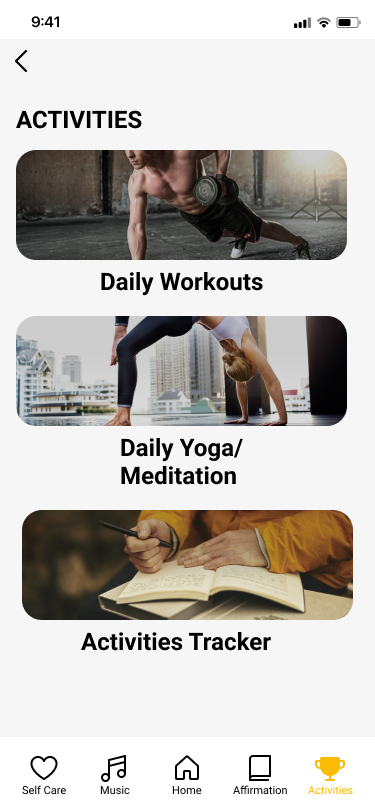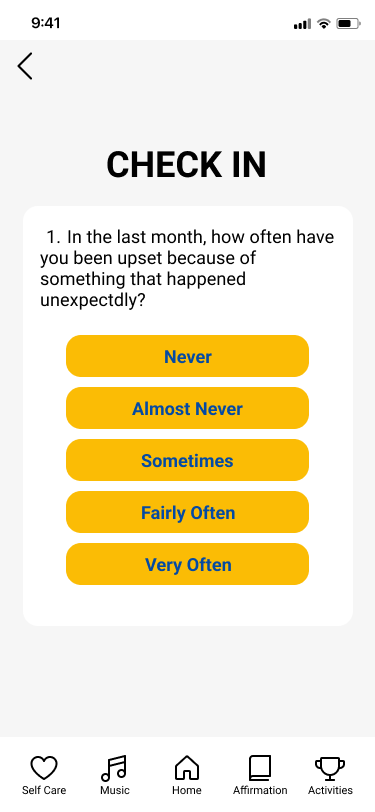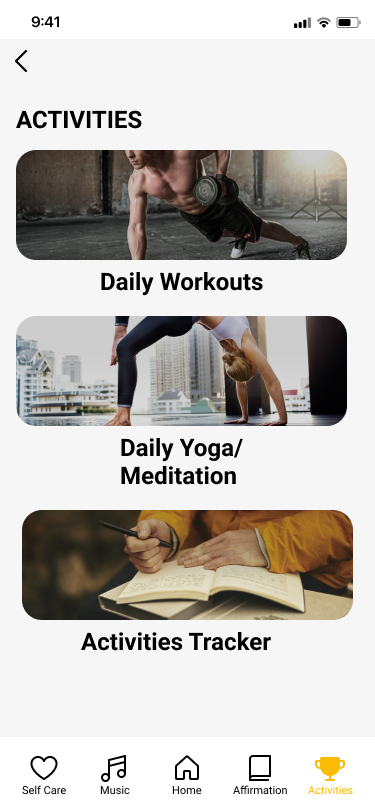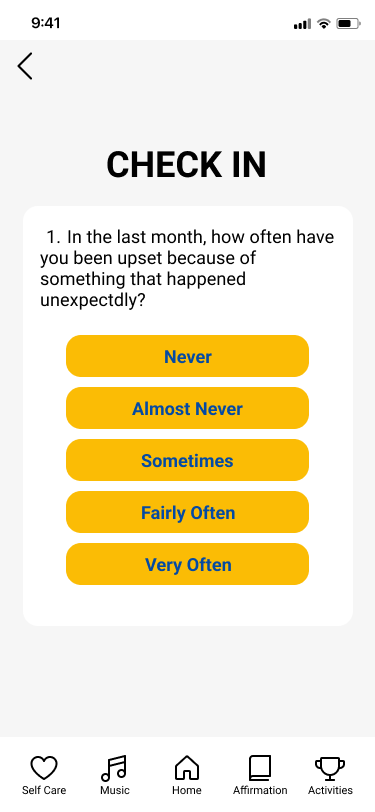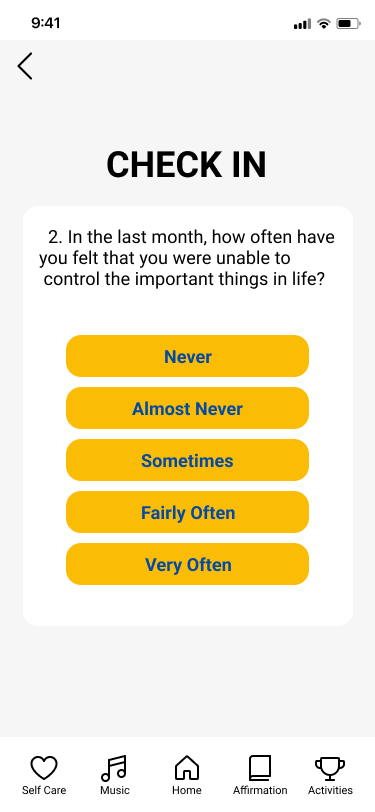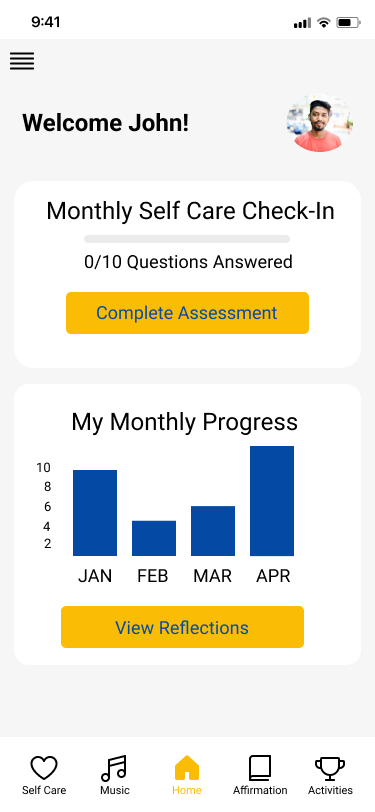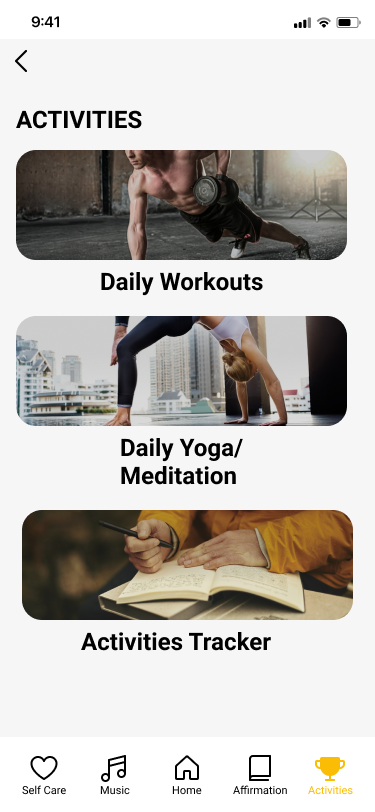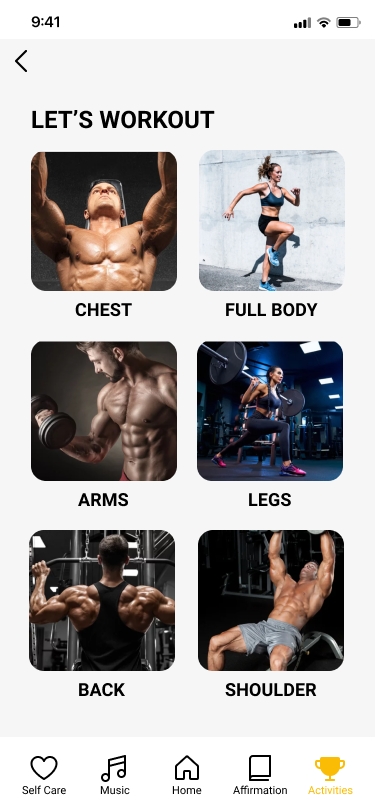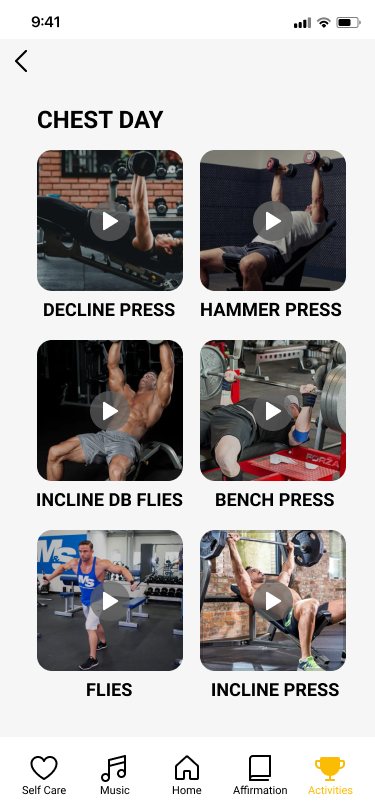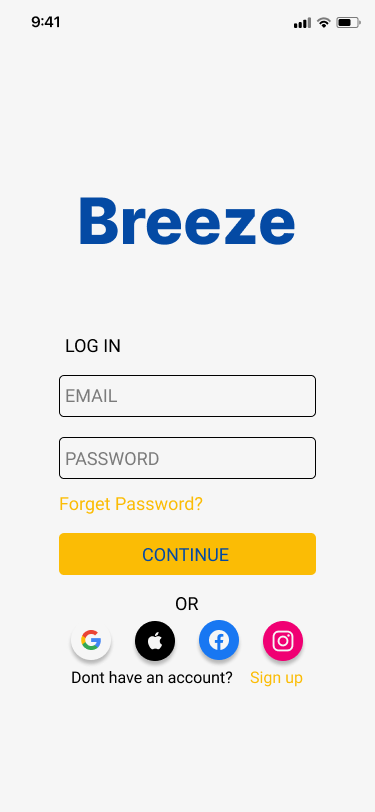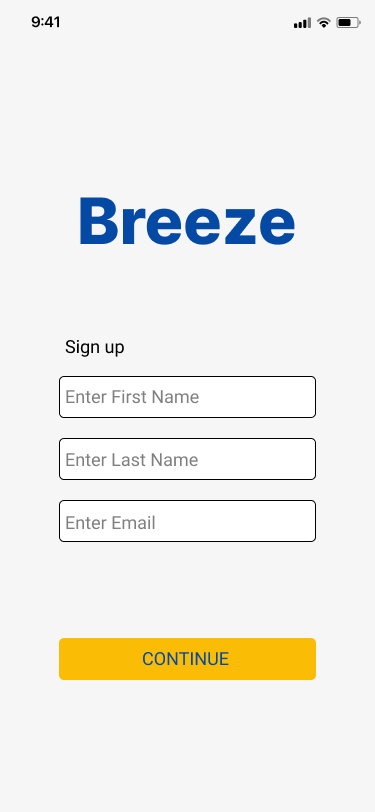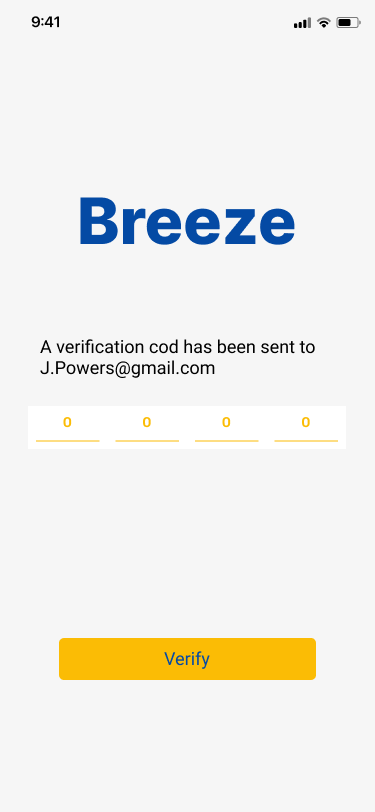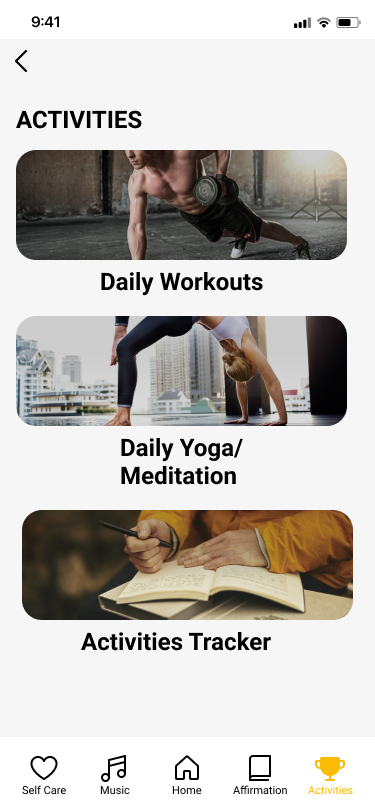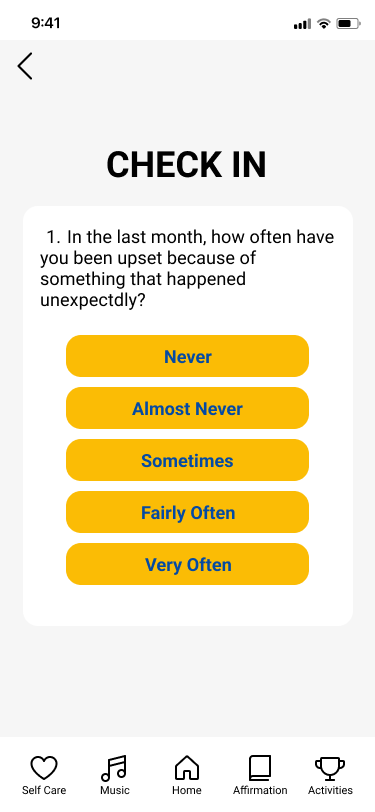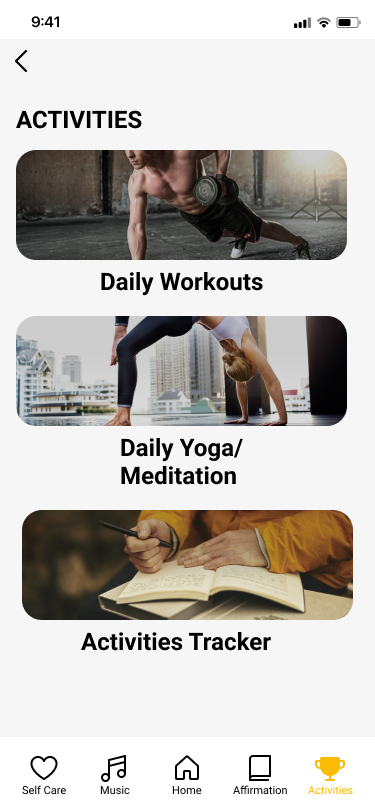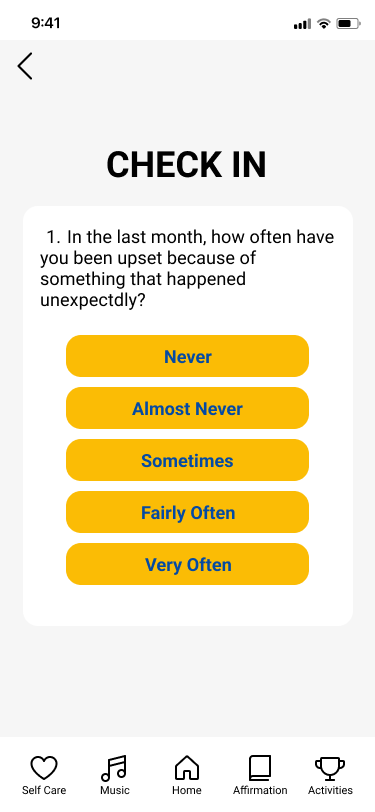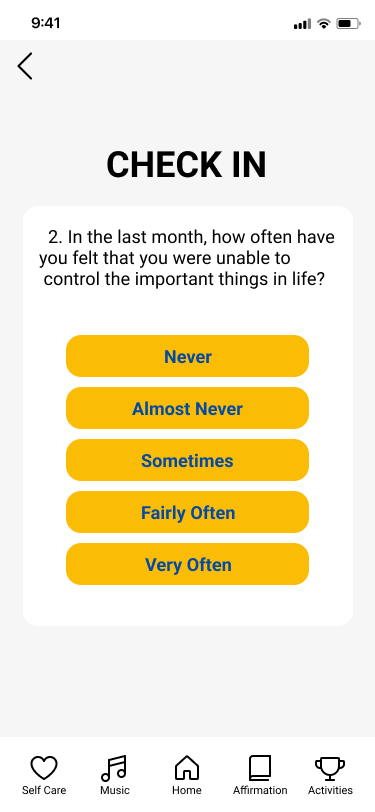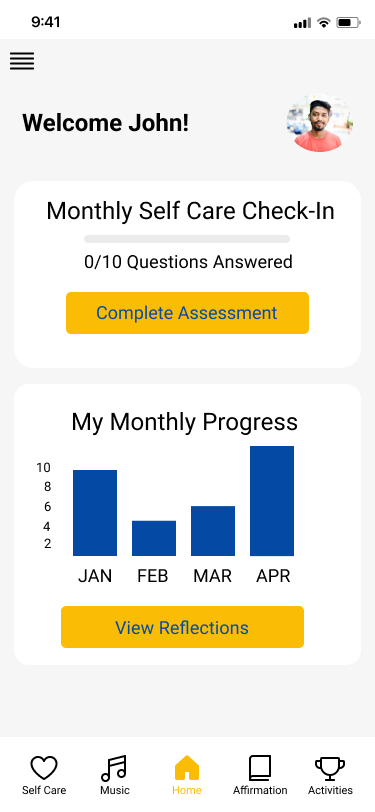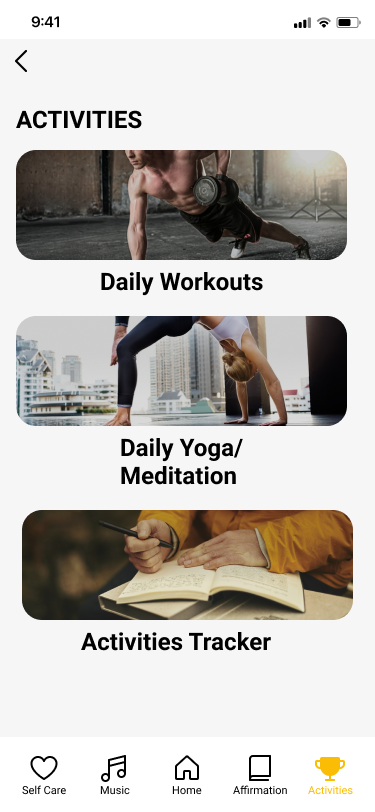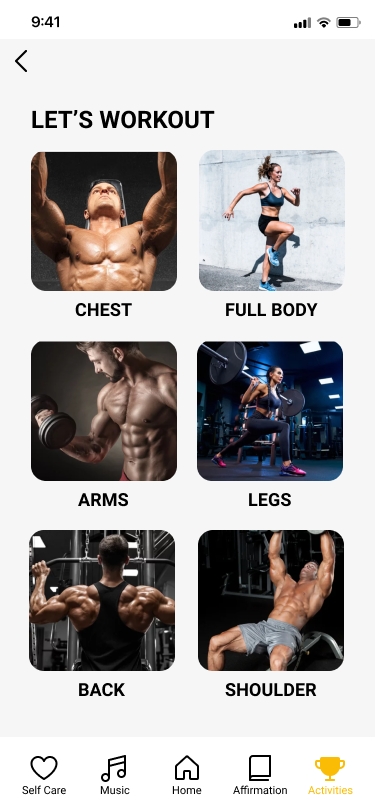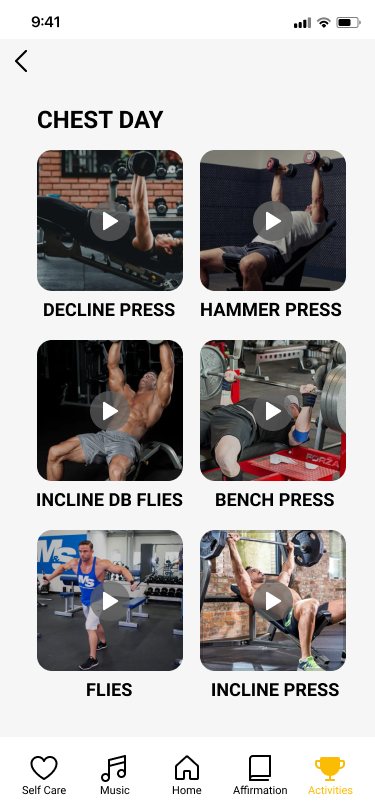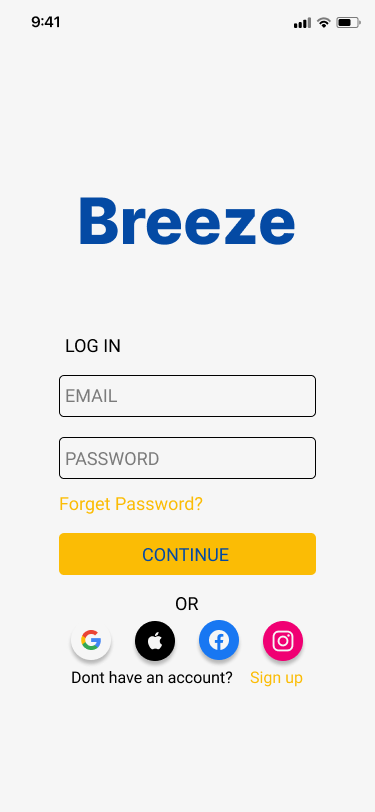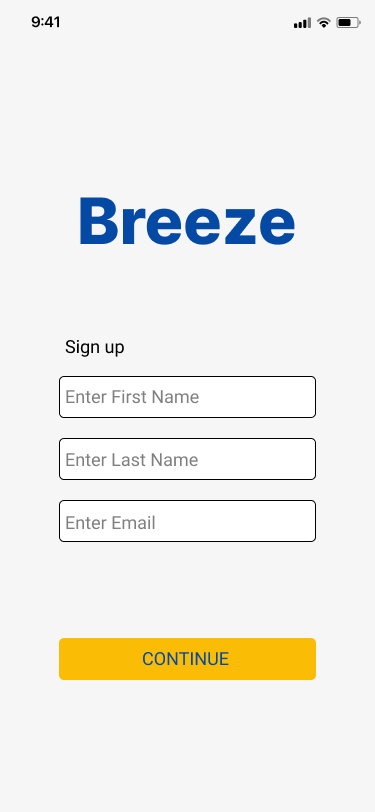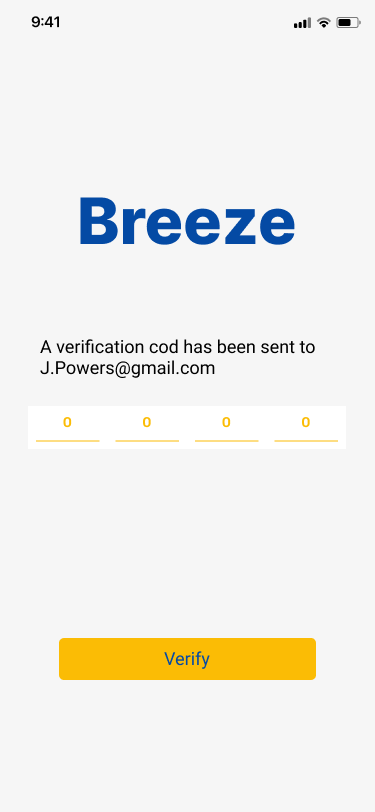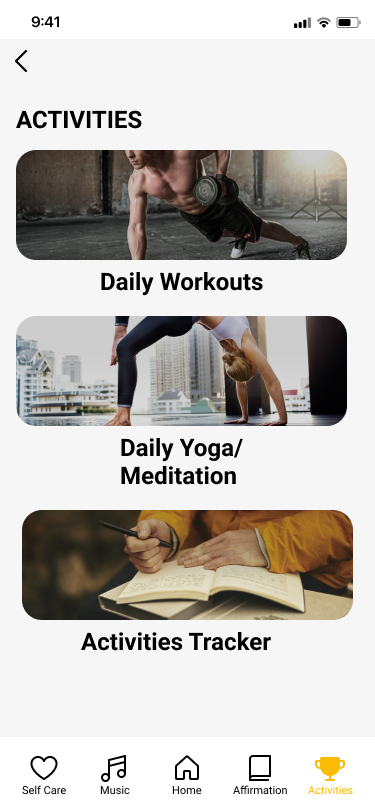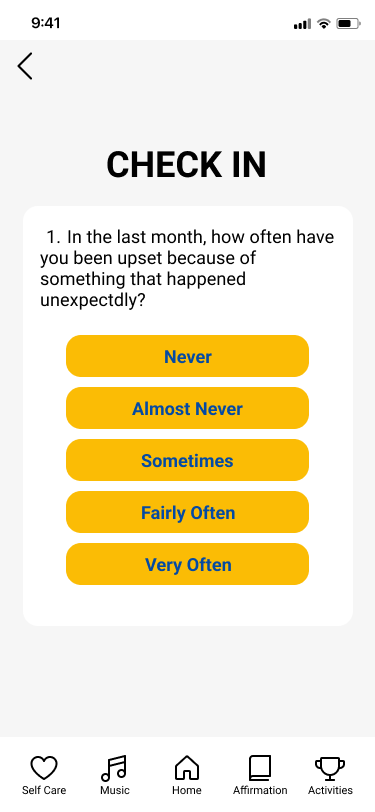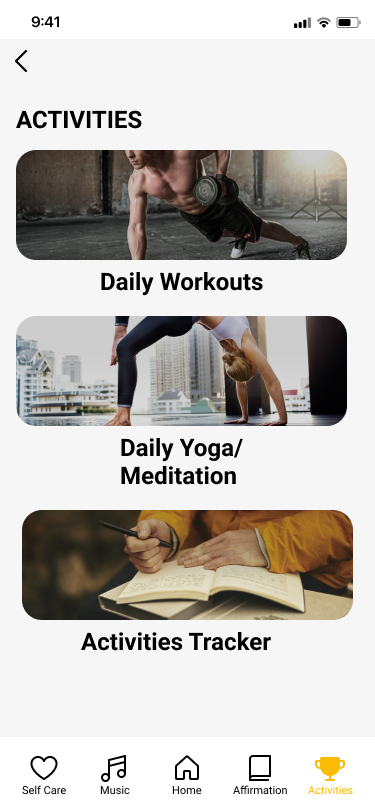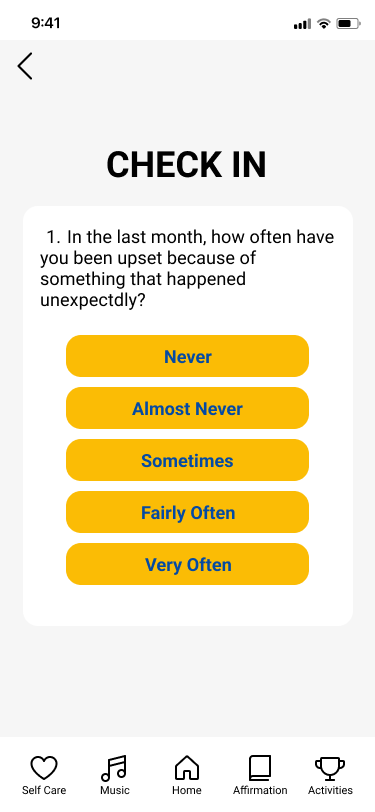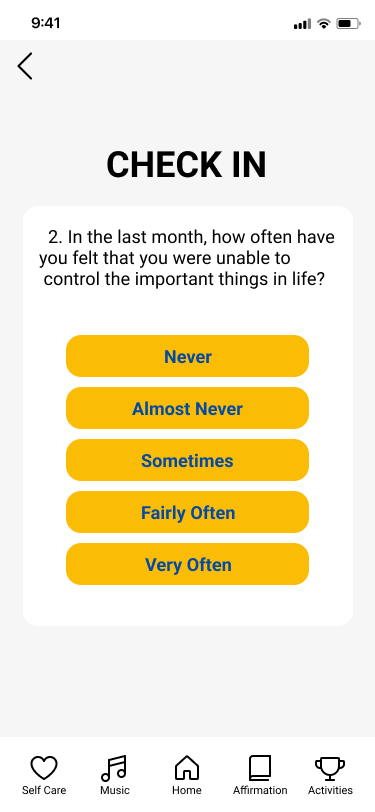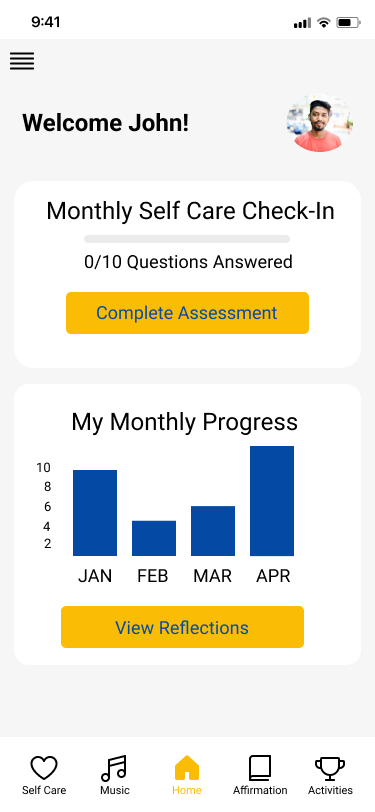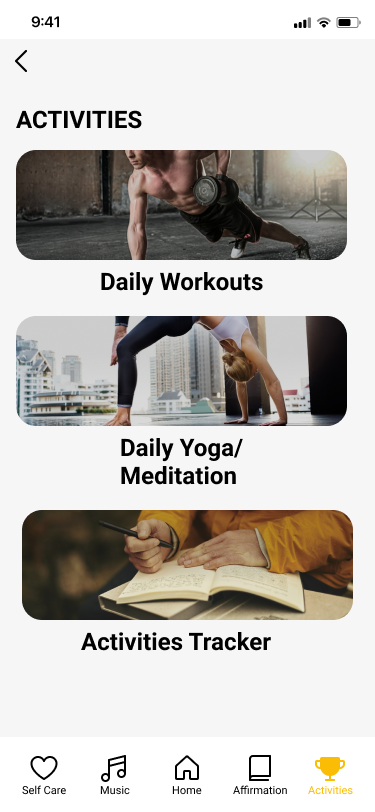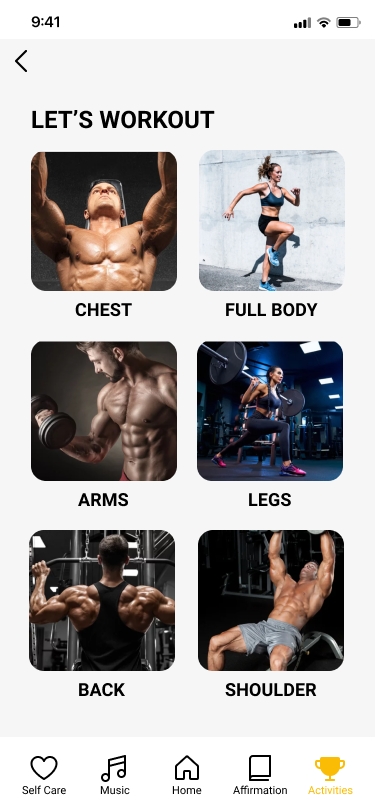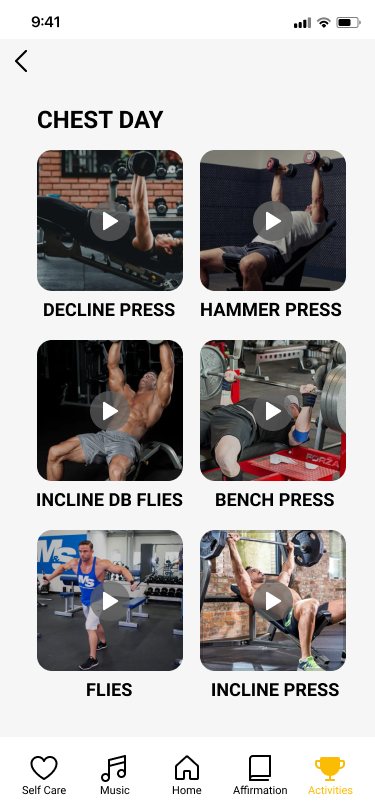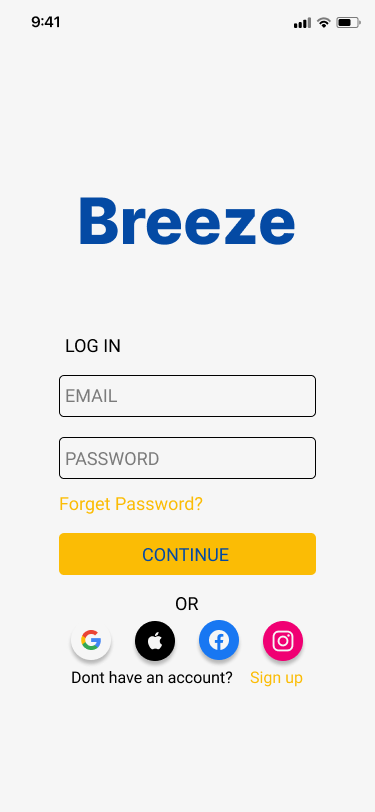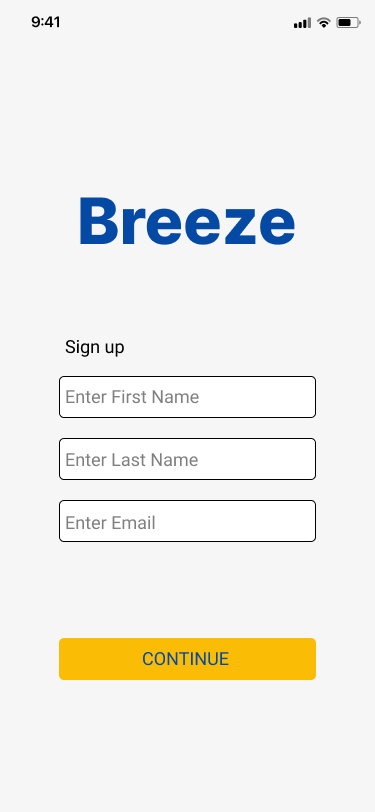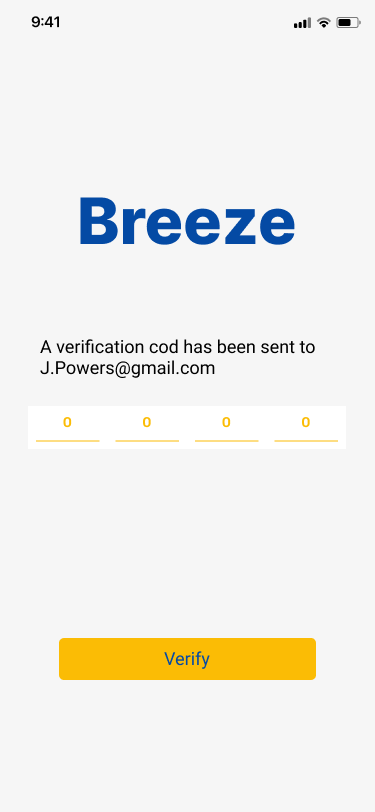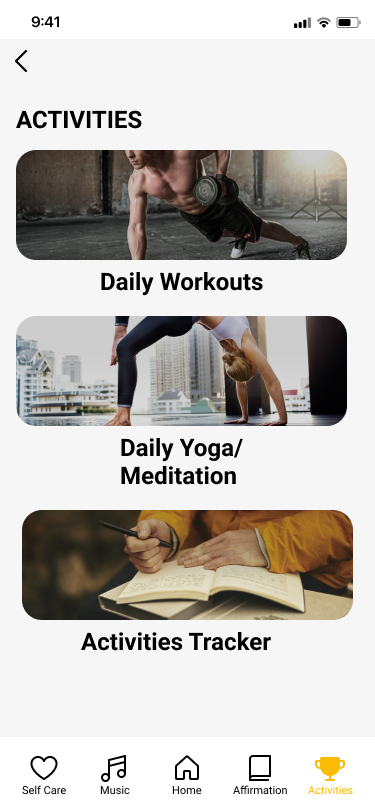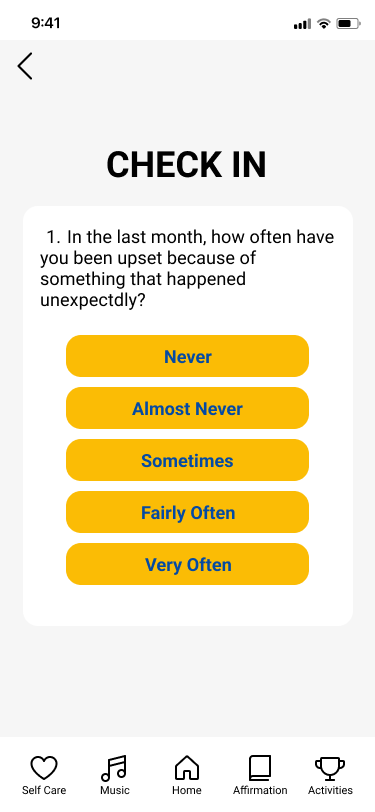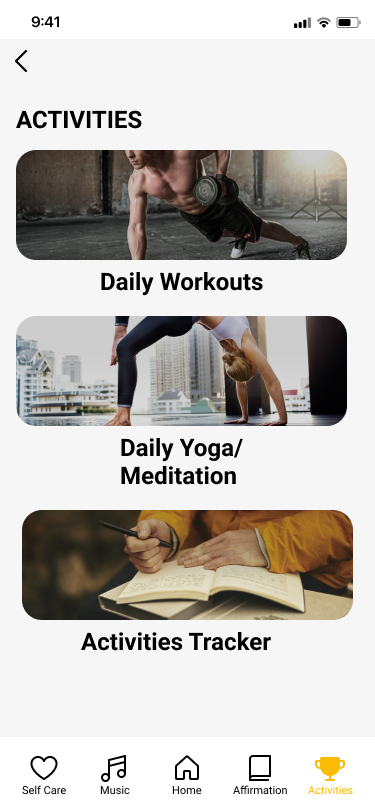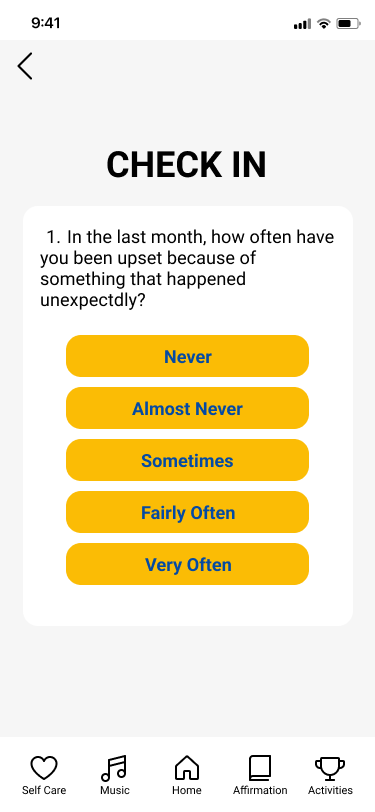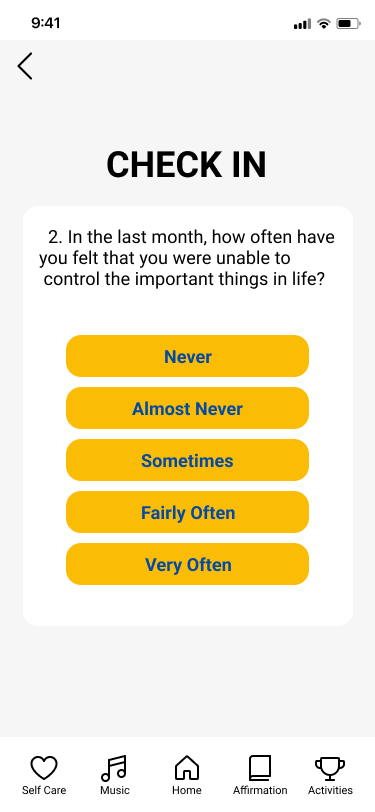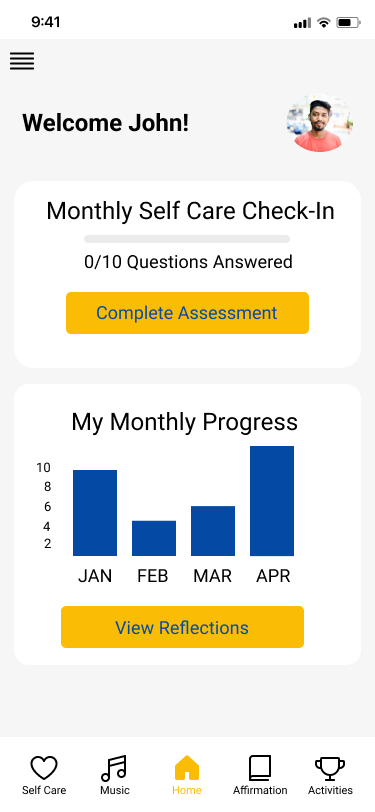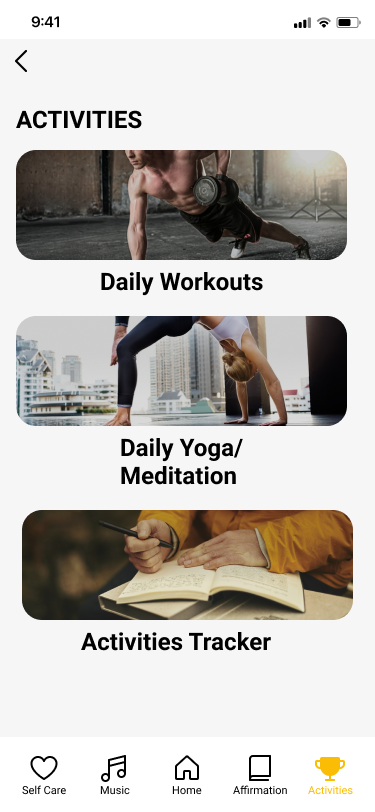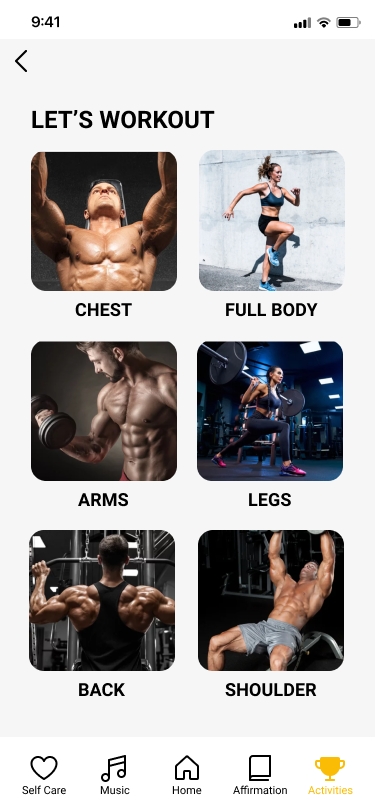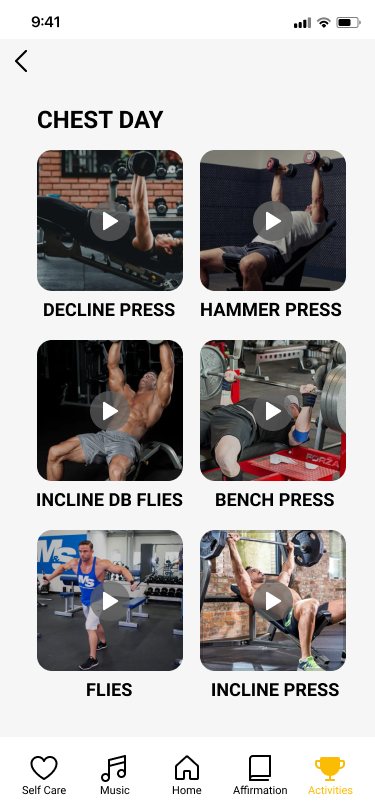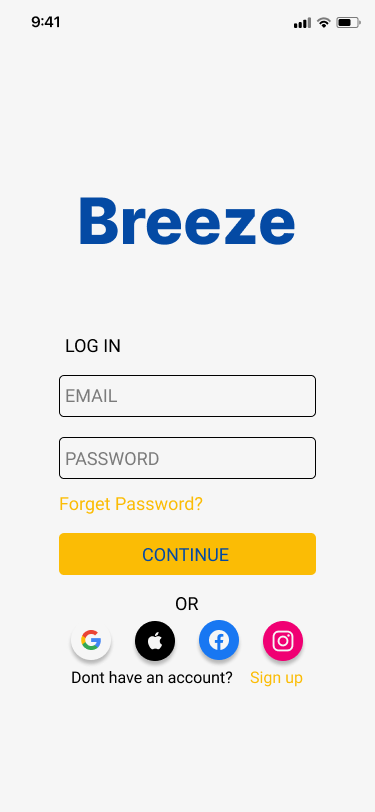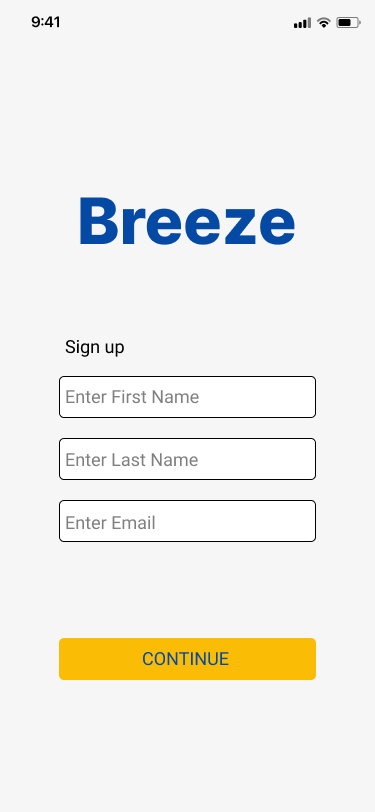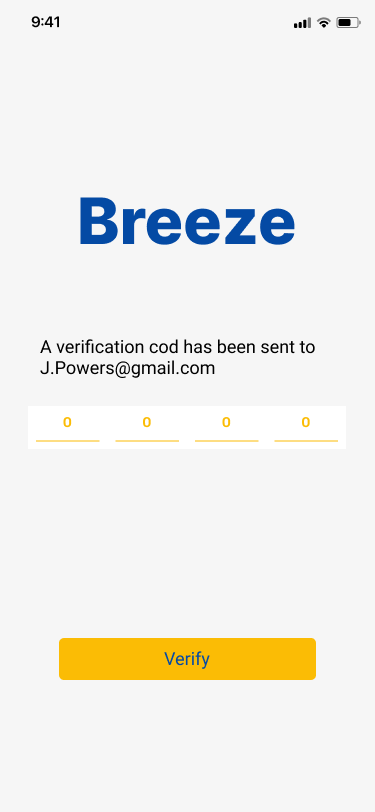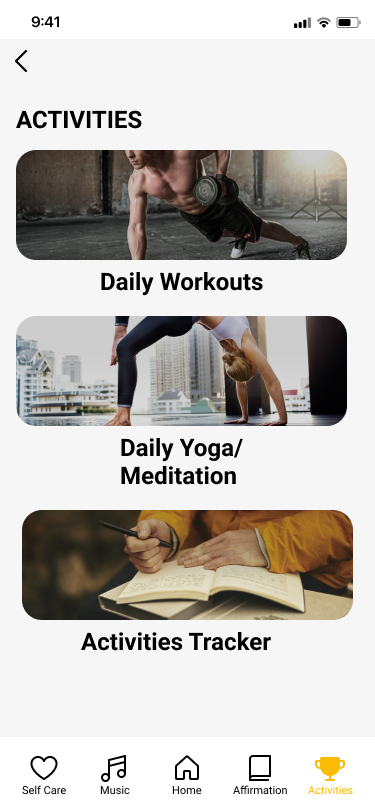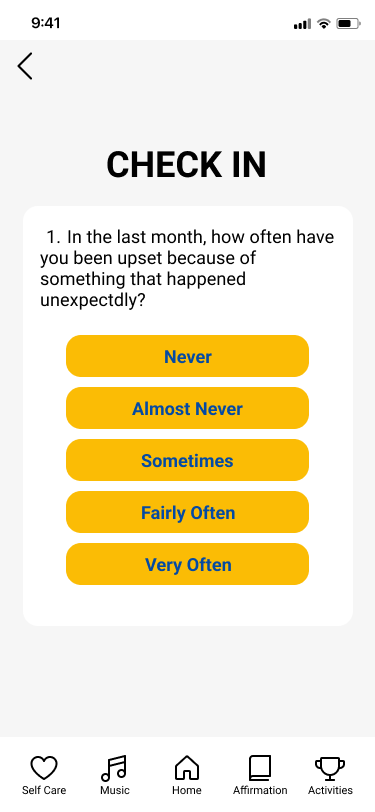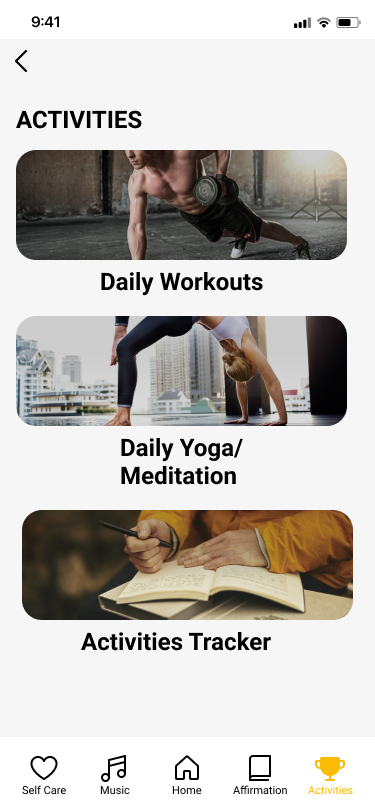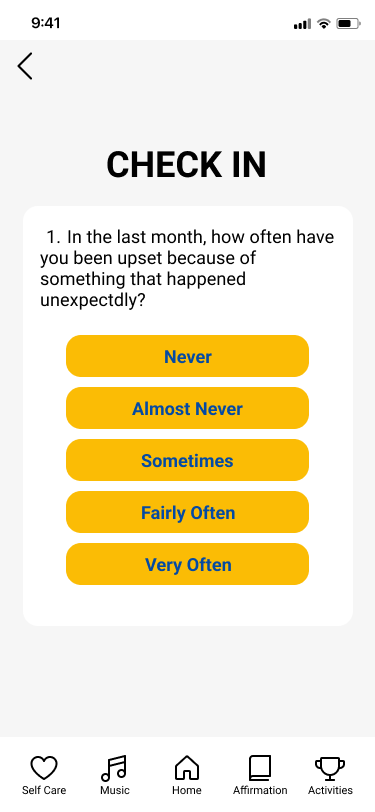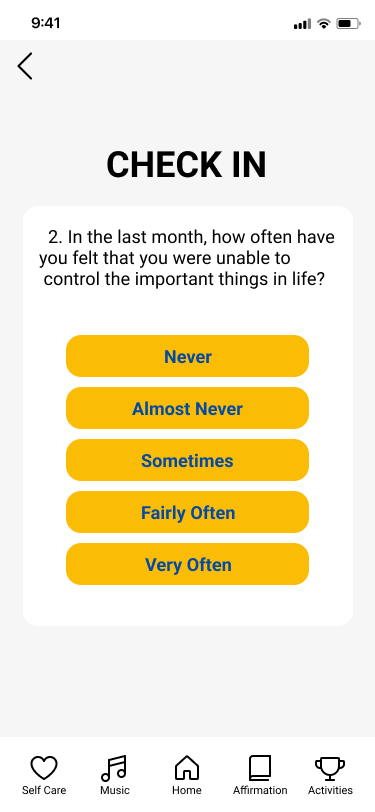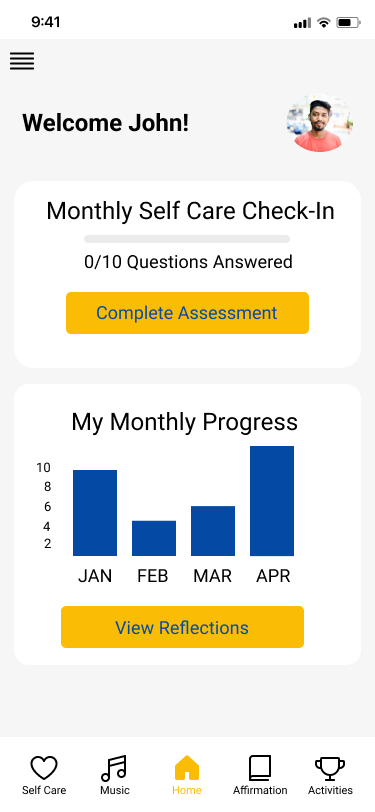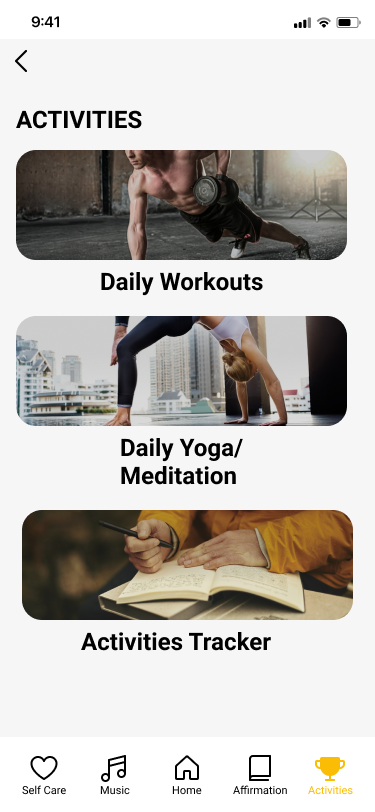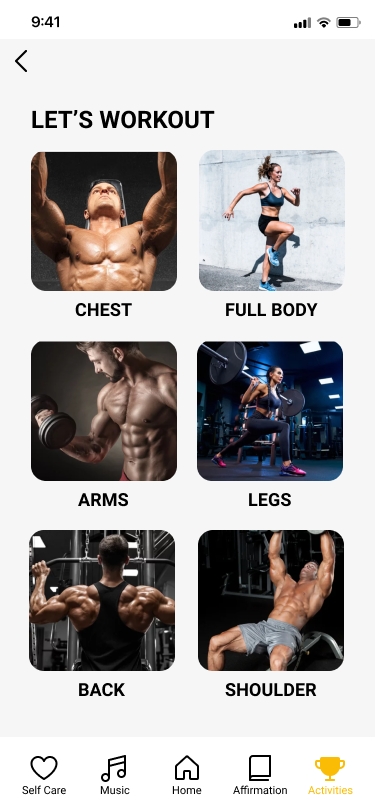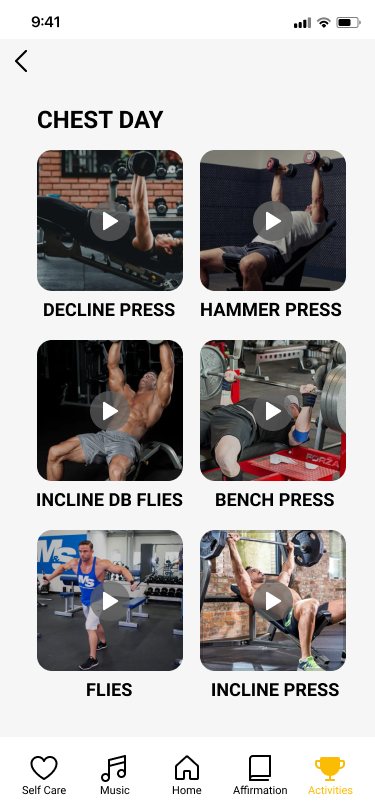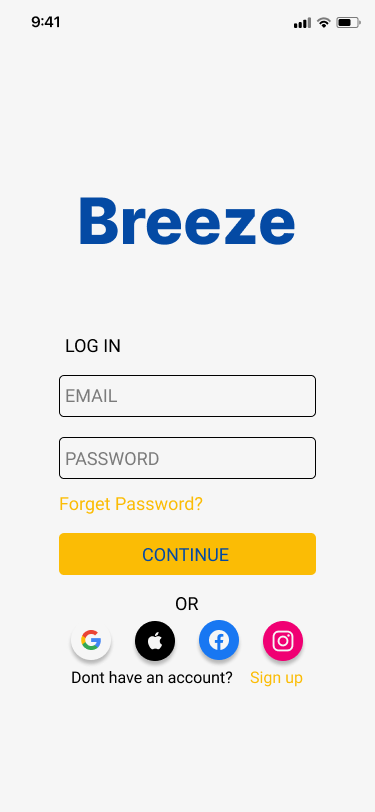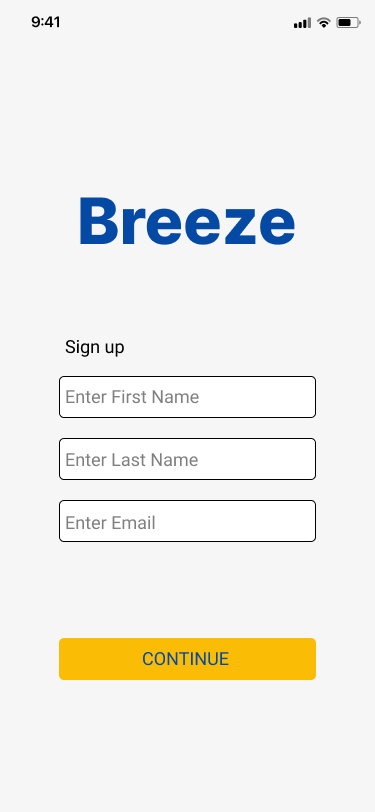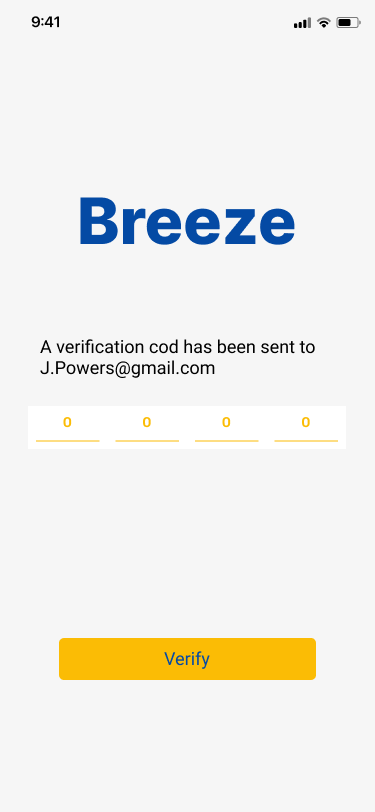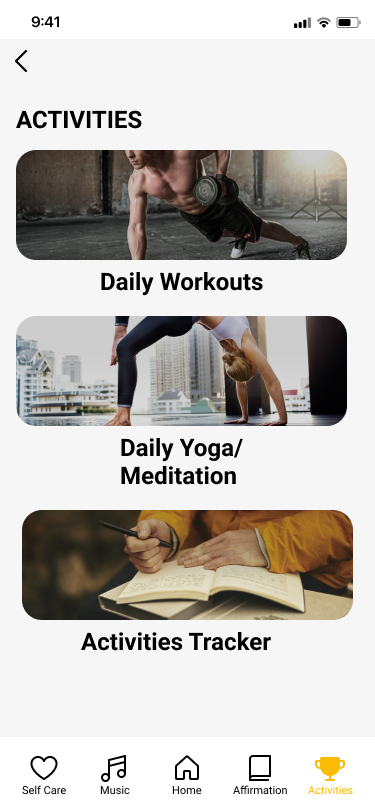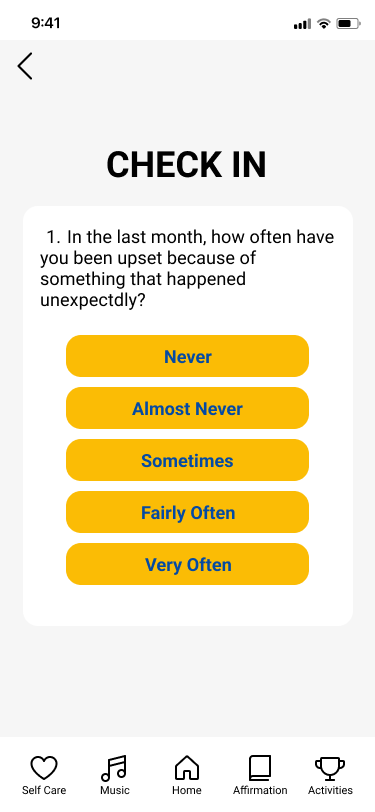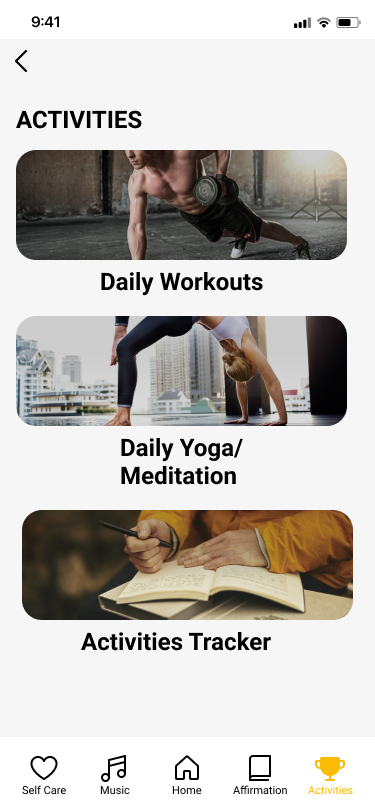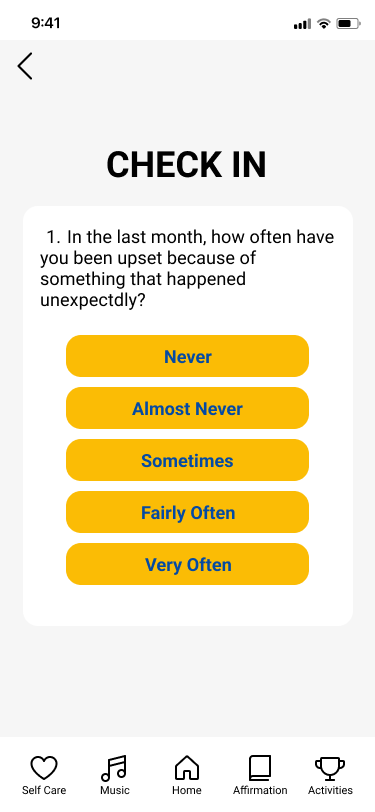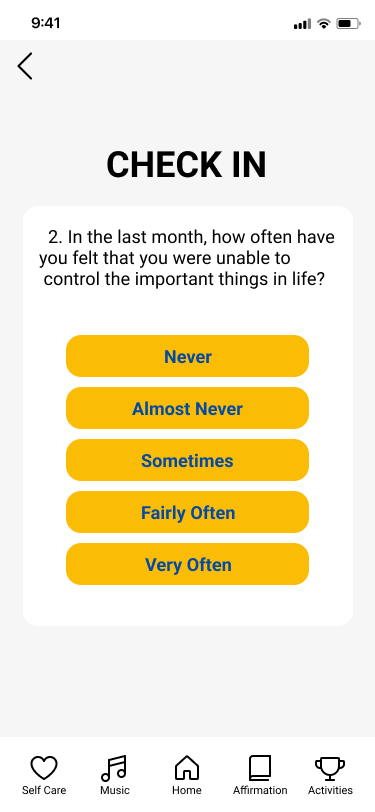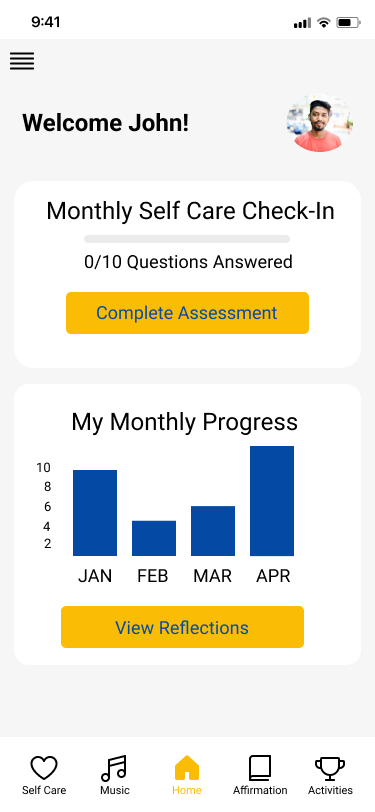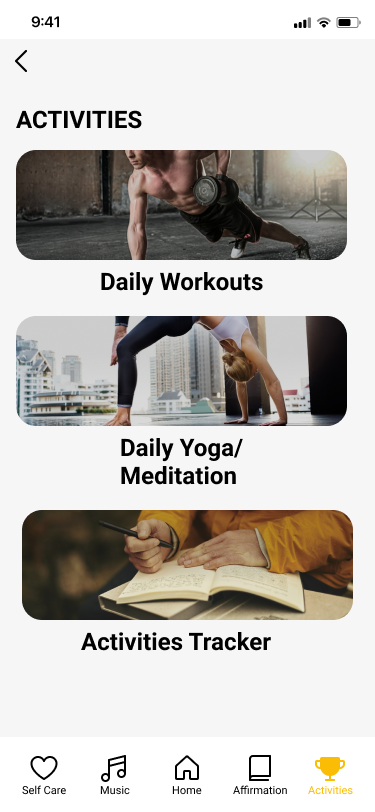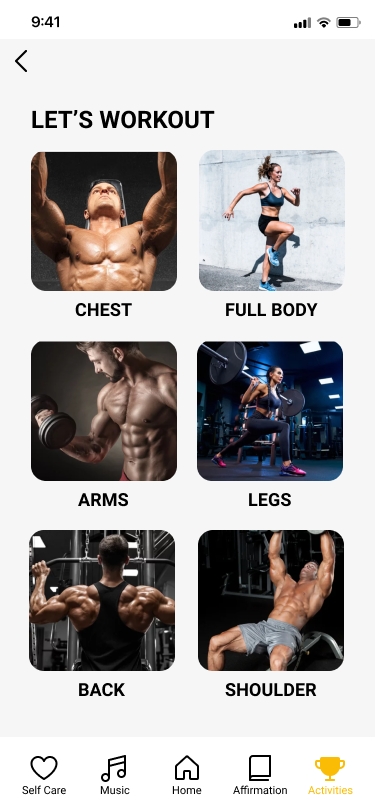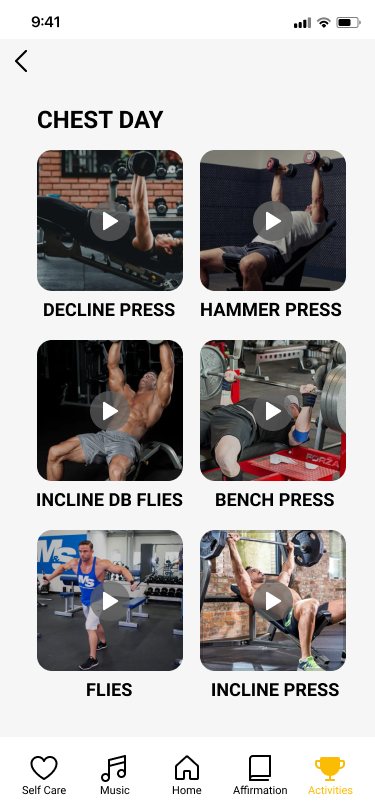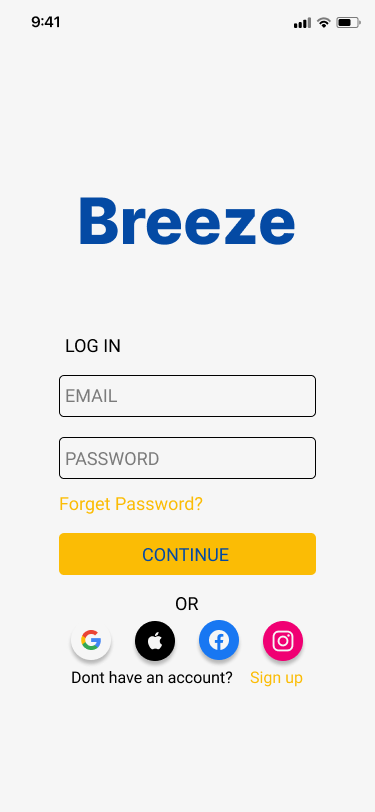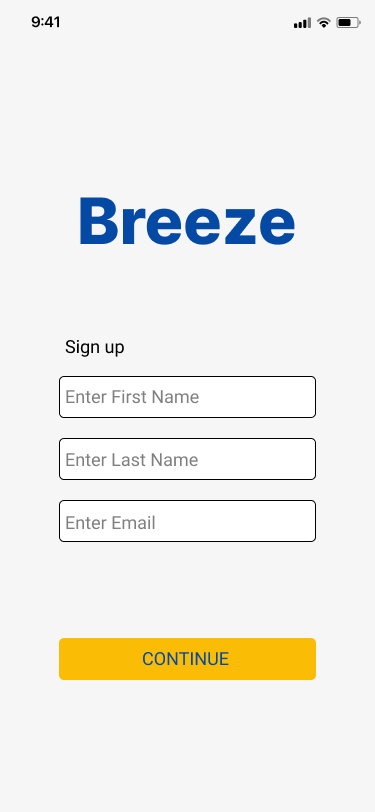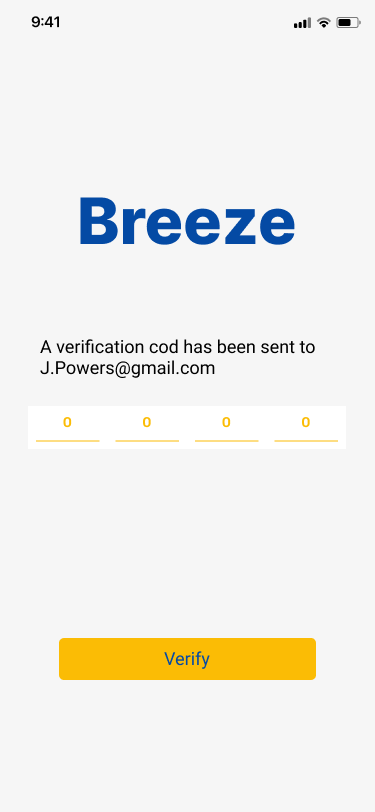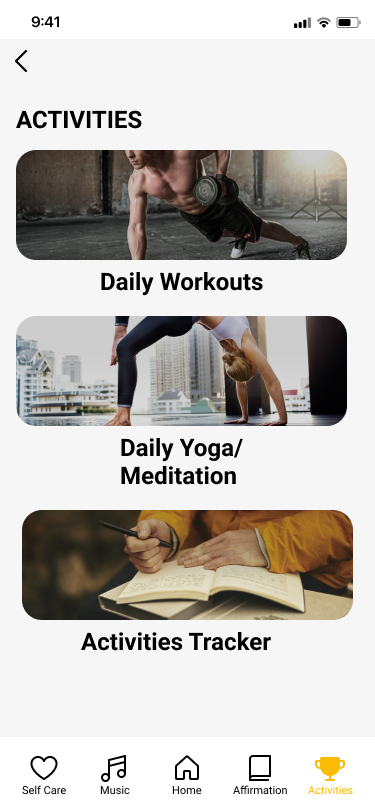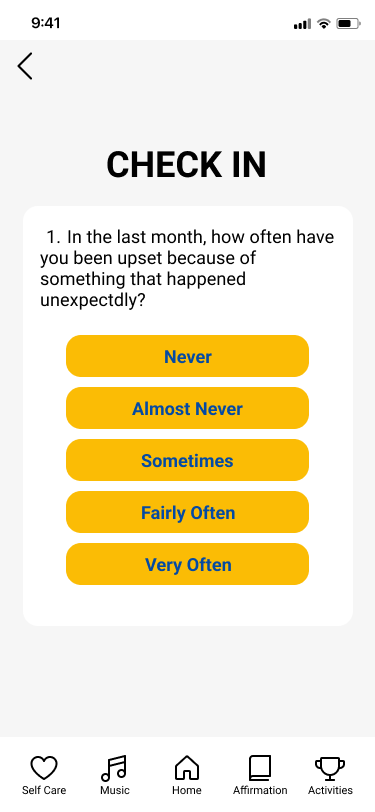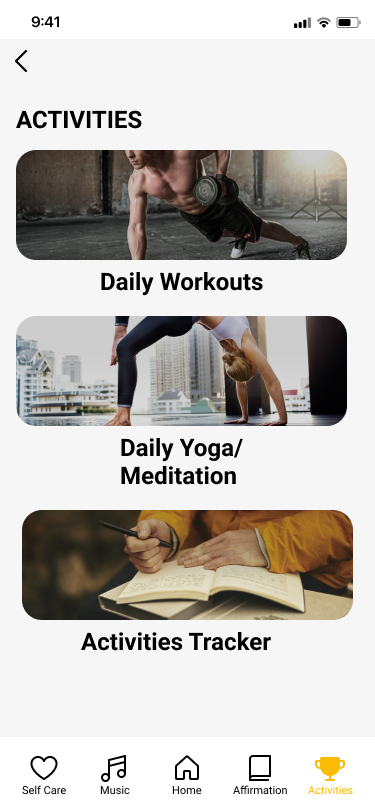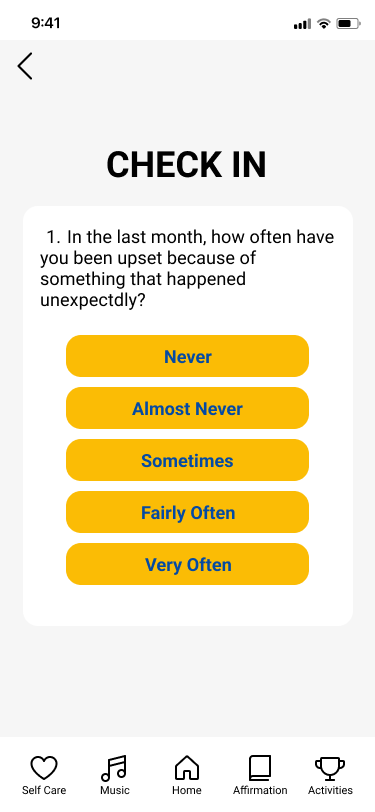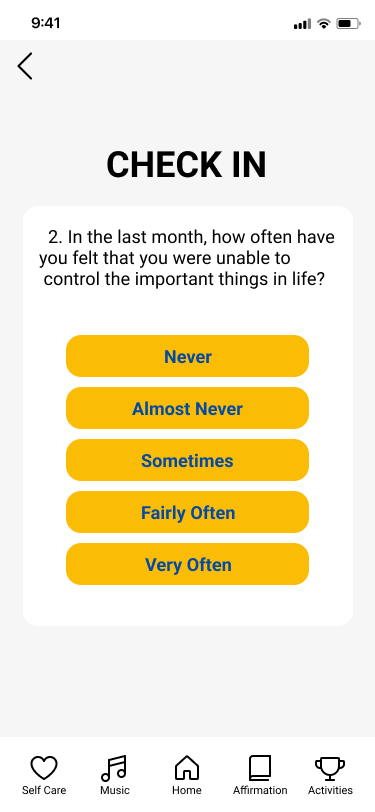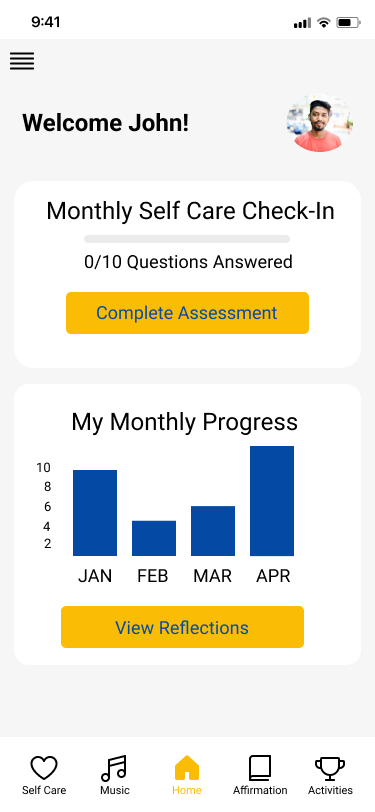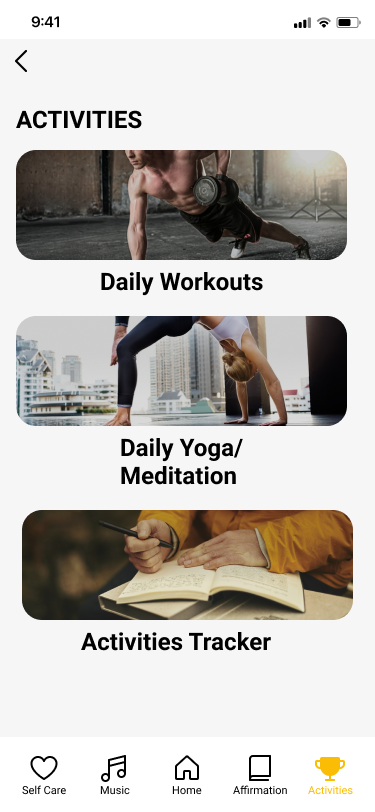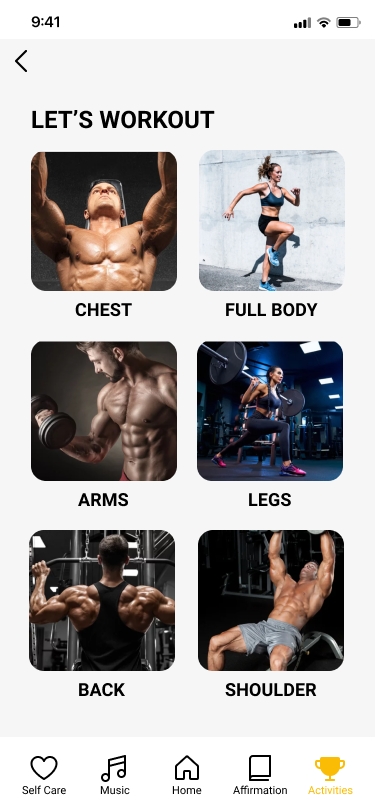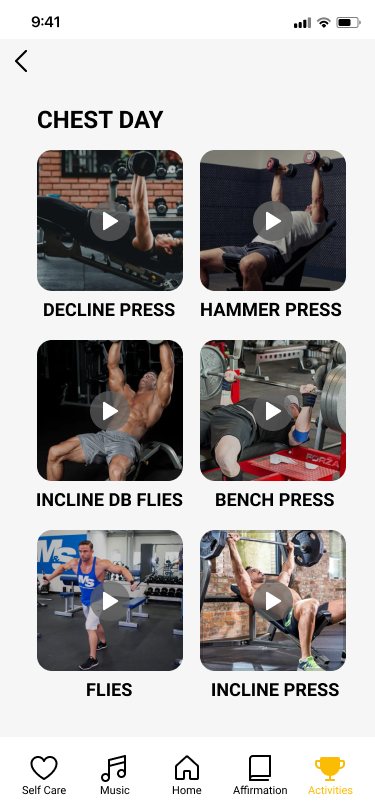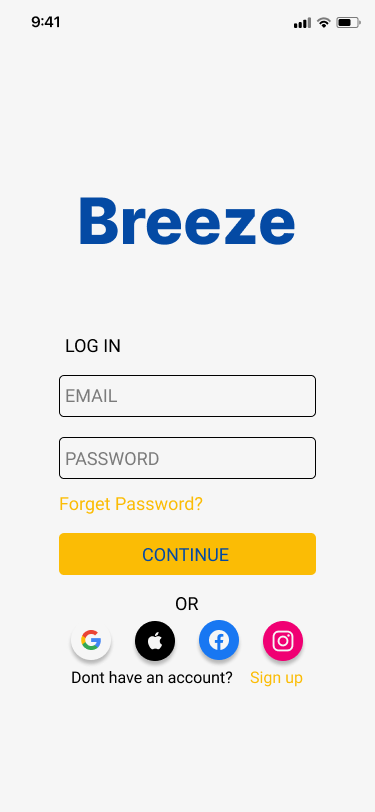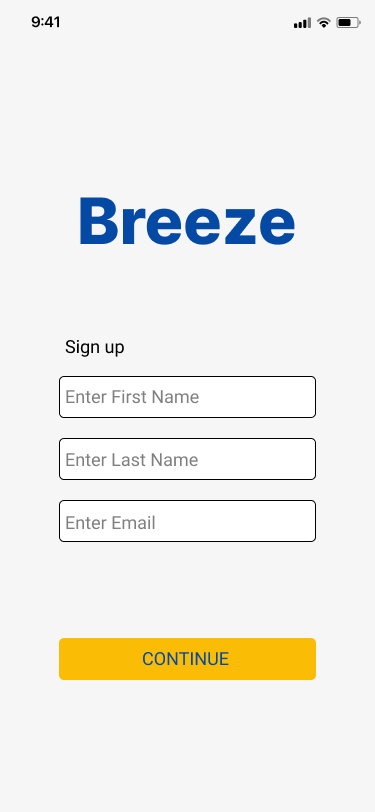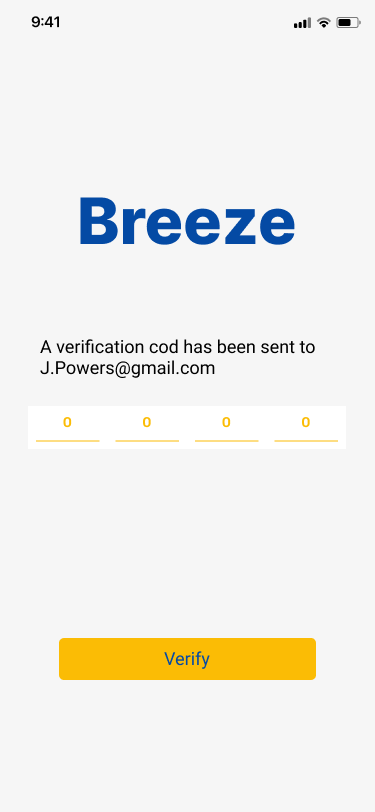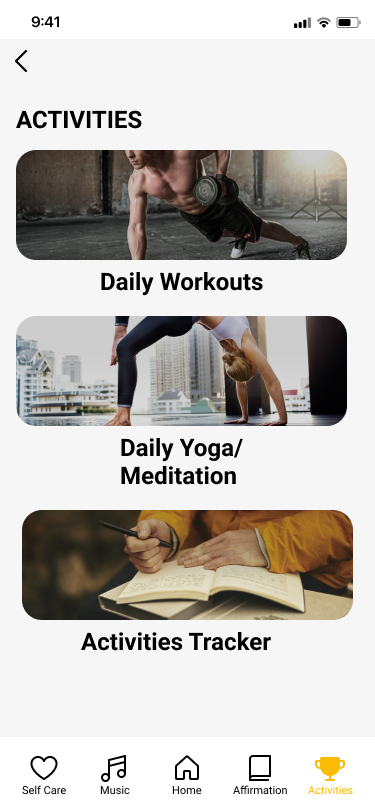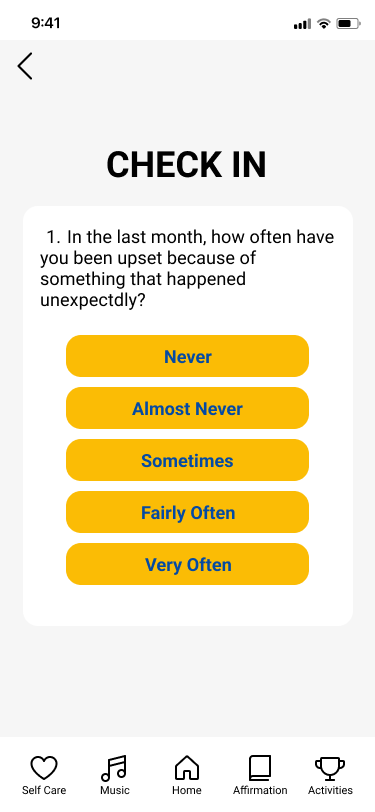 Secondary Research
My secondary research made me realize the practice of self-care needs more attention. Self-care is important and it has many benefits such as promoting good health and mental health. For one to be healthy, work efficiently, and take care of others they need to take care of themselves. Self-care is the practice of taking an active role in protecting one's own well-being and happiness, in the practice of taking an active role in protecting one's well-being and happiness, in particular during periods of stress. Conversation of Self Care has increased since 2015 and more and more people are starting to see the benefits.
Primary Research
To get insight as to how users perceive self-care, I used a screener survey to recruit participants after interviewing them and collecting more data where I was able to compile my findings into affinity groups, empathy maps, and personas.
Screener Surveys
When creating the screener survey, the main objective was to find participants who were familiar with self-care, practice self-care, or struggle to practice self-care. I sent out a screener survey via social media to assess the demographic I was looking for. I had a total of 20 responses and 5 were interviewed to better understand pain points and behaviors towards self-care.
Interview
To get a better understanding of how people utilize self-care, I conducted user interviews. I went into more depth about users' self-care practices or their absence of self-care and barriers that got in the way of practicing self-care.
Synthesis
Affinity Mapping
With my completed interview, I was able to narrow it down to four main categories. These categories included understands and acknowledges the importance of self-care, believes self-care should be practiced regularly, barriers to self-care, and self-care routines.
Empathy Maps
Affinity maps were then categorized into two empathy maps, the self-care routine advocates and the Advocates of putting oneself first. Empathy maps were created to better understand user needs. These maps were a visual guide to help organize insights, observations, and important quotes collected from the interviews. The Empathy maps allowed me to narrow down users' most common feelings, thoughts, and behaviors. This allowed me to identify my two personas.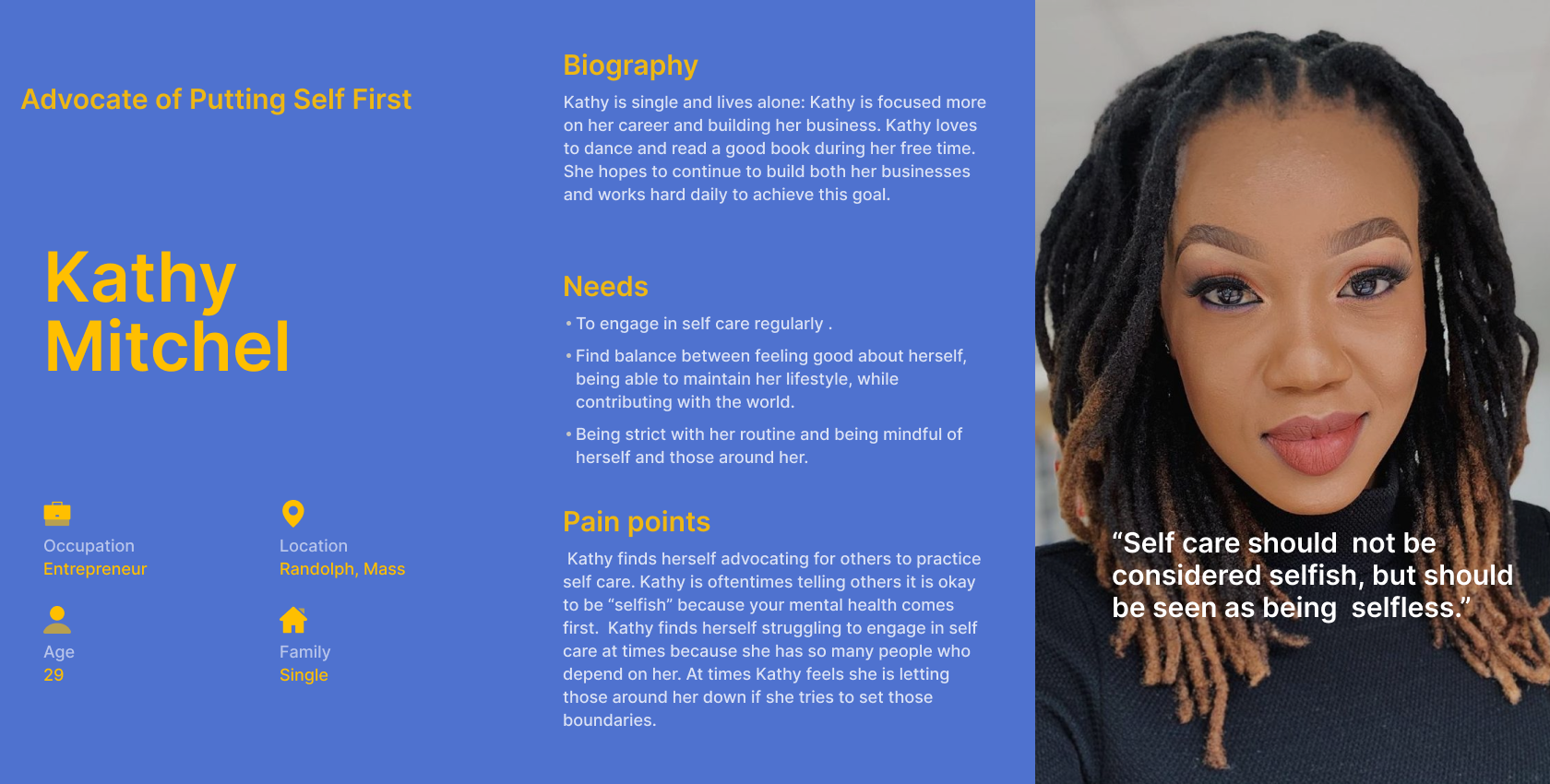 An advocate of putting self first
Kathy is single and lives alone: Kathy is focused more on her career and building her business. Kathy loves to dance and read a book during her free time. She hopes to continue to build both her businesses and works hard daily to achieve this goal.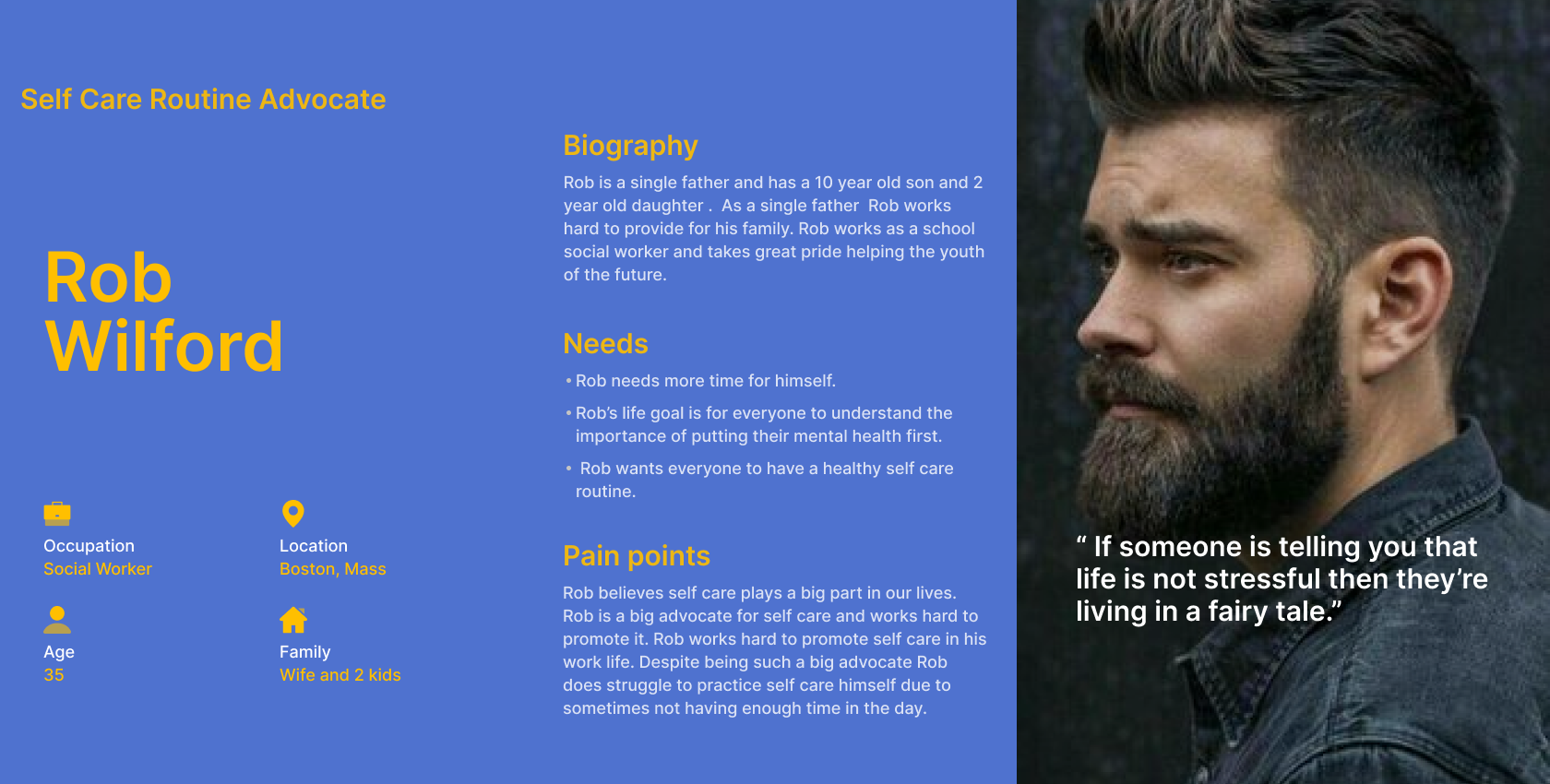 Self Care Routine Advocate
Rob is a single father and has a 10-year-old son and a 2-year-old daughter. As a single father Rob works hard to provide for his family. Rob works as a school social worker and takes great pride in helping the youth of the future.
HMW's
The final piece of my research was to synthesize this data, with How Might We (HMW) statements to communicate the most important problems users wanted to be solved.
How might we remove barriers that contribute to our stress?

How might we normalize that you do not need to spend a lot of money to practice self-care?

How might we normalize self-care being a necessity and not a selfish act?

How might we normalize self-care being part of our regular routines?

How might we normalize self-care being a part of our daily conversations?
After completing HMW's It was time to ideate and begin sketching screens to find possible solutions to solve the user's problems.
User Stories
The user stories were categorized by priority. The highest on the list is the most crucial function. This list helped me understand the necessary features and elements that are needed for a user to have an enjoyable experience.
As a user, I want to...
Create an account, so I can follow my self-care journey and keep myself accountable.

Be able to network with others who are struggling with self-care. I feel that peer support can go a long way and better everyone.

To get daily reminders to utilize self-care because sometimes we forget to check in on ourselves.

Be able to better manage my stress so I can be the best version of myself.

Be able to remove barriers that get in the way of self-care. Sometimes life gets in the way or we don't realize what barriers are impacting us from practicing self-care.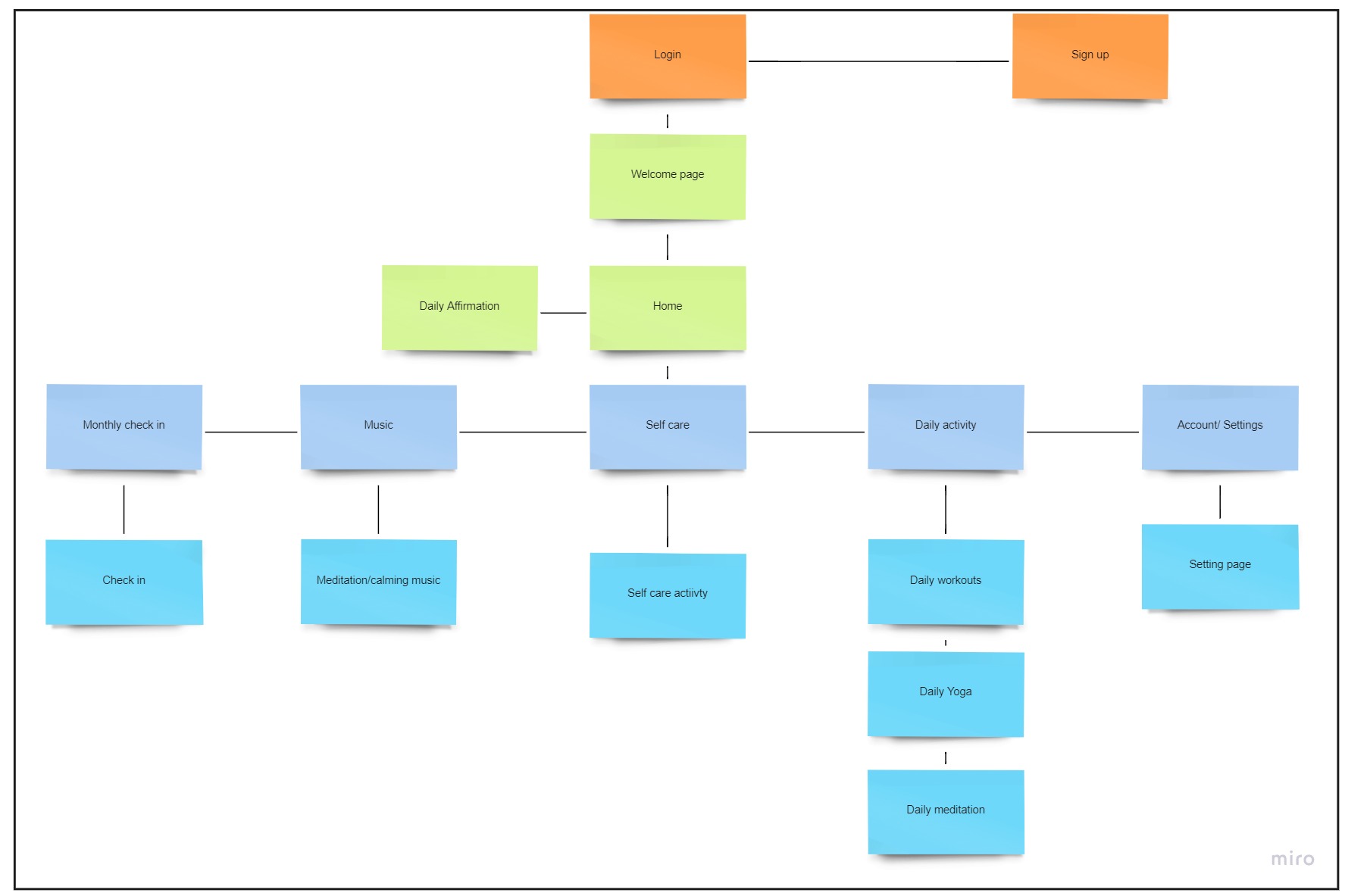 Site Map
Once I was able to get a better idea of what my users needed I created my sitemap with the hopes that I could provide a simple platform where users will be able to track and engage in self-care activities. I wanted to create an experience for users that was not too overwhelming and easy to understand.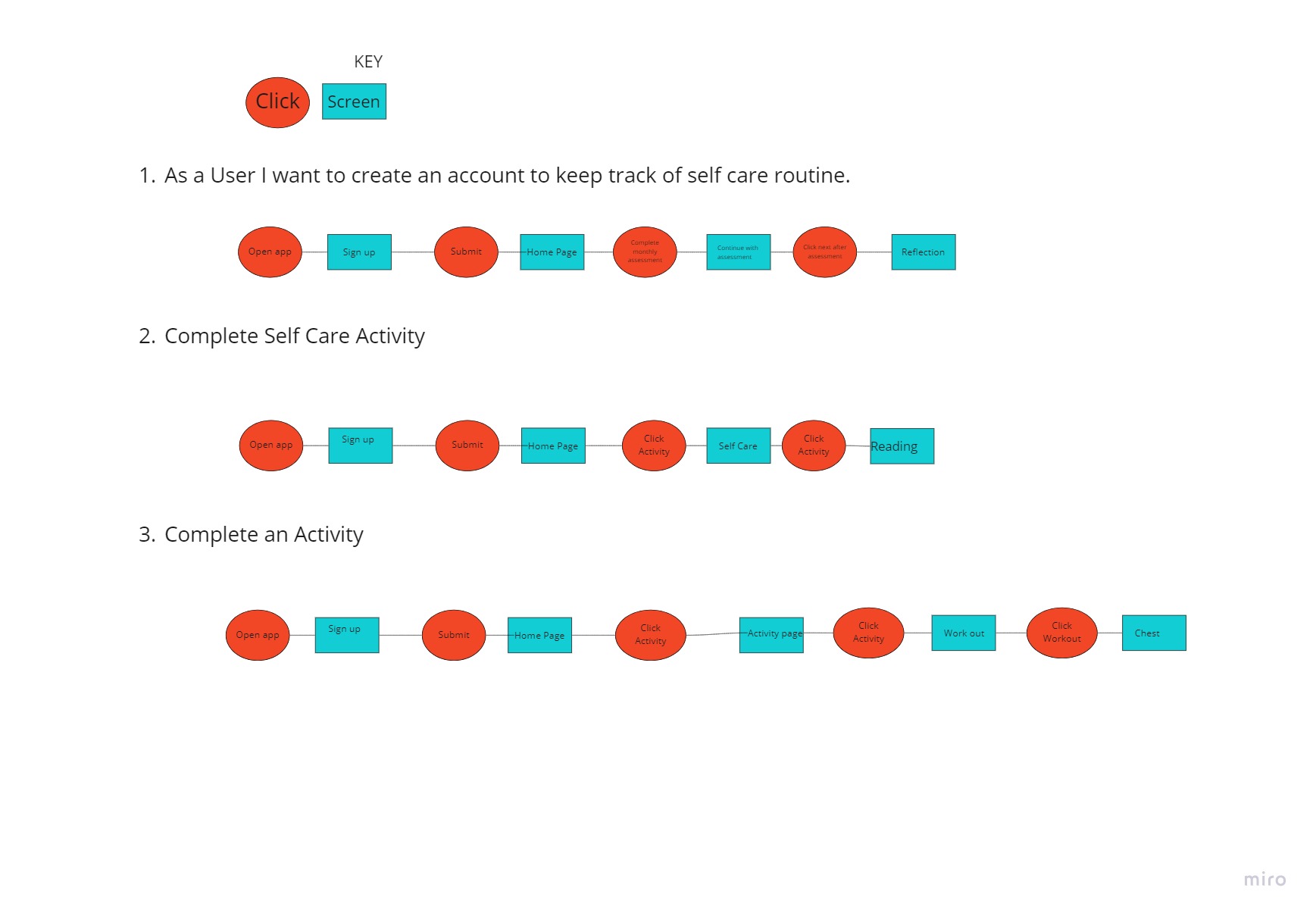 User Flows
User Flows
My user flows helped me decide how I wanted to layout each of my screens for each user task. I chose routes that were essential for users to engage in and track self-care activities.
Route one allows users to create an account on the app.

Route two allows users to explore self-care activities and complete a task.

Route three allows users to complete an activity.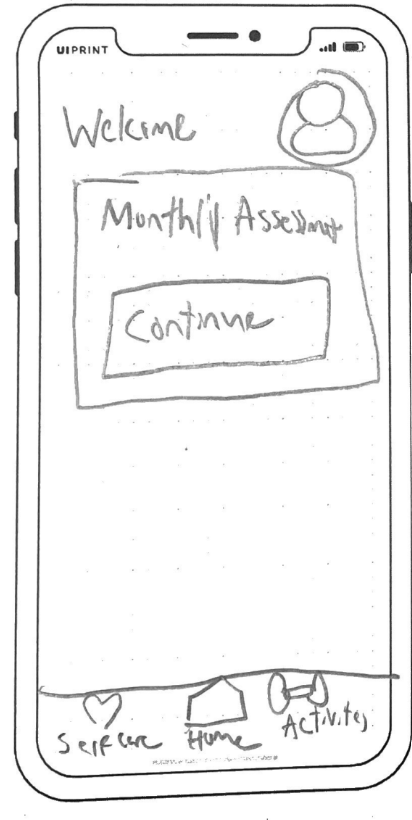 Sketching
Sketching was helpful because it allowed me to bring the user flow to life. I wanted the screens to look simple and easy to use. After a few simple sketches, I was able to come up with the beginning ideas for my screens.
Low Fidelity Wireframes
I brought my sketches into Figma, where I created my low fidelity wireframes. This enabled me to better understand my screen functions and how I wanted things laid out to better prioritize my screens functions.
UI Design
I wanted to keep the style of the app simple and minimal. I did not want my iconography to look too flashy with information being displayed. Since this is a self-care app I wanted to go with calm soothing coolers that will invite feelings of comfort and relaxation.
High Fidelity Wireframes
The main goal of the design process was to make a simplistic experience for users to follow and enjoy their self-care journey. The nice simple design will make it easy for users to enjoy and add to their daily routine. I used my original low fidelity wireframes to enhance the user's interface according to my style guide. In total I created 24 screens.


Usability Test
This test was conducted to target issues with usability in the Breeze app prototype. The goal of usability testing is to track issues and make sure the app runs smoothly. This Test was conducted remotely over zoom with 5 different tests. The participants either have a background in UX/UI design or have experience in the human service field.
Issue 1 findings
Issue #1
The user expected that they would be able to click the activity and self-care button once on those screens. Users stated that they do not like having to click the back button when they should be able to just click the self-care or activity button on those screens.
Summary:
Three participants said they wanted to be able to utilize self-care and activity buttons when on the screens.
Recommendations:
To address this issue I have made those changes. Users will be able to click the activity and self-care buttons when they're on those pages so they do not have to keep clicking the back button.

Issue 2 findings
Issue #2
The user expected that they would be able to modify their time for self-care activities but were disappointed that there were set times.
Summary:
Two participants expressed that they would like a complete button once the self-care activity is complete.

One participant expressed that once the self-care activity is complete there should be a congratulation screen that connects back to self-care.
Recommendations:
To resolve this, I updated the timer screen and added a task complete button.
Issue 3 findings
Issue #3
The user expected that the affirmations would be easier to view on the home page. Users felt that the experience could be improved if you could see your daily affirmation on the home page.
Summary:
Participants expressed there should be changes with the placement of the affirmation icon. The user expressed that as a user they would like to see their affirmation as soon as they log onto the app.
Recommendations:
To resolve this, I have updated the home screen with a daily affirmation. I have also updated the navigation bar and added a music button.
We live in a fast-paced world where we sometimes forget to put ourselves first. Self-care allows one to recover from stress, trauma, and burnout. Once we're able to recognize our stressors we can properly develop healthy coping skills to take care of ourselves, which will then benefit those around us.