Teddy Laguerre
UX designer
Teach 360
Voice Recognition to Optimize Learning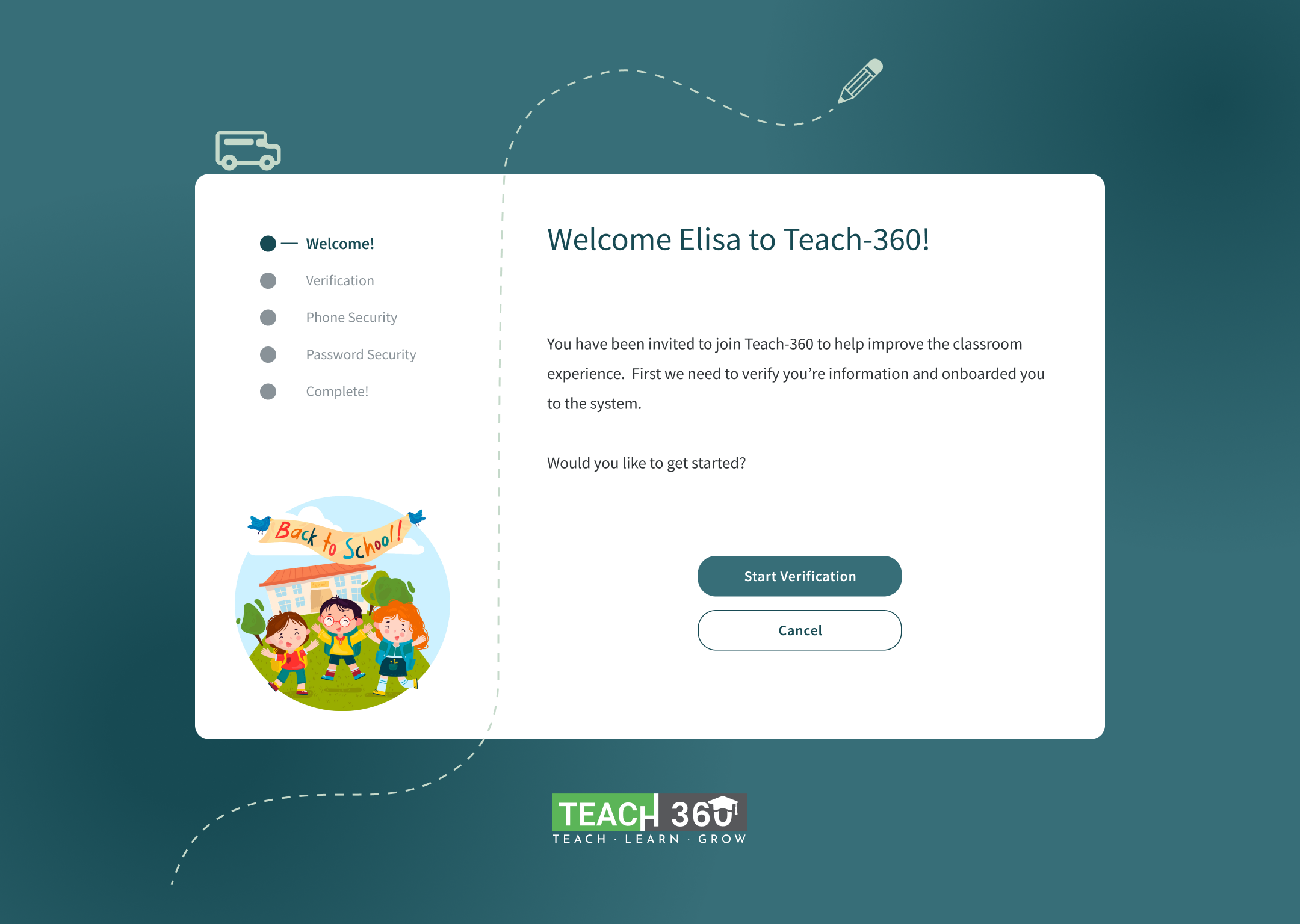 Overview
Through voice recognition and transcription recording, Teach360 will capture raw data during classroom instruction from both students and teachers in an organized and easy to use format to better evaluate the teacher's performance. The information gathered will show the level of engagement between a teacher and their students, allow coaches to better understand how to evaluate and train teachers, and show important trends in the student's level of questioning.
Project duration
8 weeks
My role
UX Design

UI Design

Figma Prototyping
Tools
Teamwork Process:
I worked in a group with four other UX/UI designers. We identified what deliverables we needed for the client. For this project, we decided to delegate certain tasks to each member. My main focus in this project was the teacher flow, teacher low fi, and hi-fi prototyping. I also worked on the hi fi prototyping for the admin. Even though we had our own designated tasks we oftentimes collaborated. The tasks we collaborated on were the following; establishing a persona as part of our case study research, style guide, and the design iteration process of the final UI's.
Client Needs
Our goal was to help Teach 360 with a website/product redesign. Our tasks were to design a flow for Teachers, Coaches, Trainers, and Admin for desktops, as well as establish a formal style guide for Teach 360.
The Challenge
The challenge was to design and develop four different user portals to the platform in addition to an Onboarding process unique to each user.
Our Solution
Collaborating as a team of 4 product designers through the design process. Utilize access to the client to receive client feedback and adjust the design as needed throughout the process. Present deliverables to the client once the project was completed. we would also focus on the UI design and possible design iterations. Since Teach 360 already had its core audience, we didn't feel the need to do much research or investigation on who would find this app the most accessible.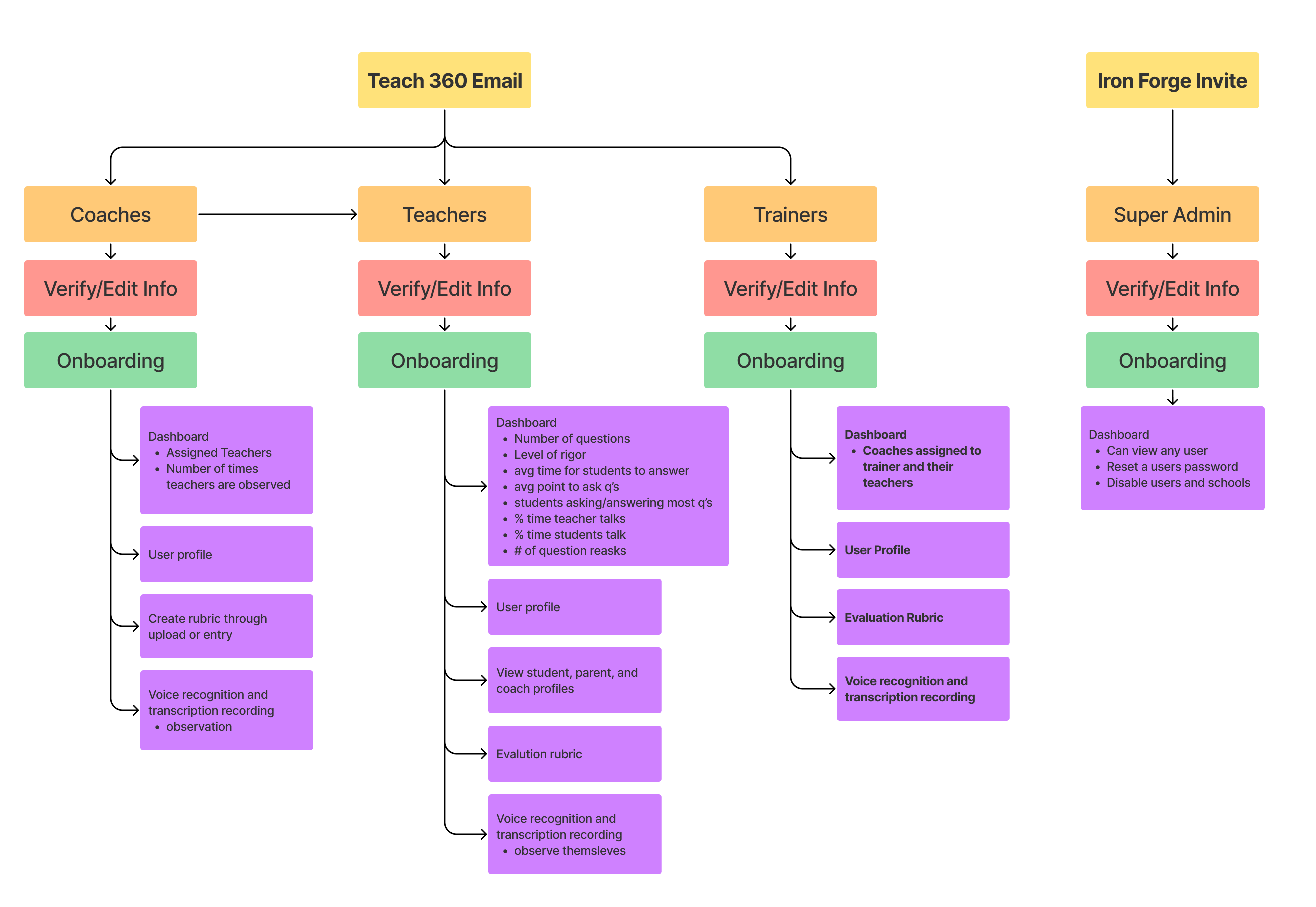 Site Map
As a team we created a sitemap to get a better understanding of our specific user needs. This allowed us to understand the relationship of users with one another. We focused on the following users.
Administration

Teachers

Coaches

Trainers
Persona
Based on the information we had from Teach 360. We were able to develop 4 personas as a personal guideline for each user.
Since we knew who Teach 360 target audience was. It was easy to create created personas.

Tech 360 target audience is Teachers, Coaches, Trainers, and Admins.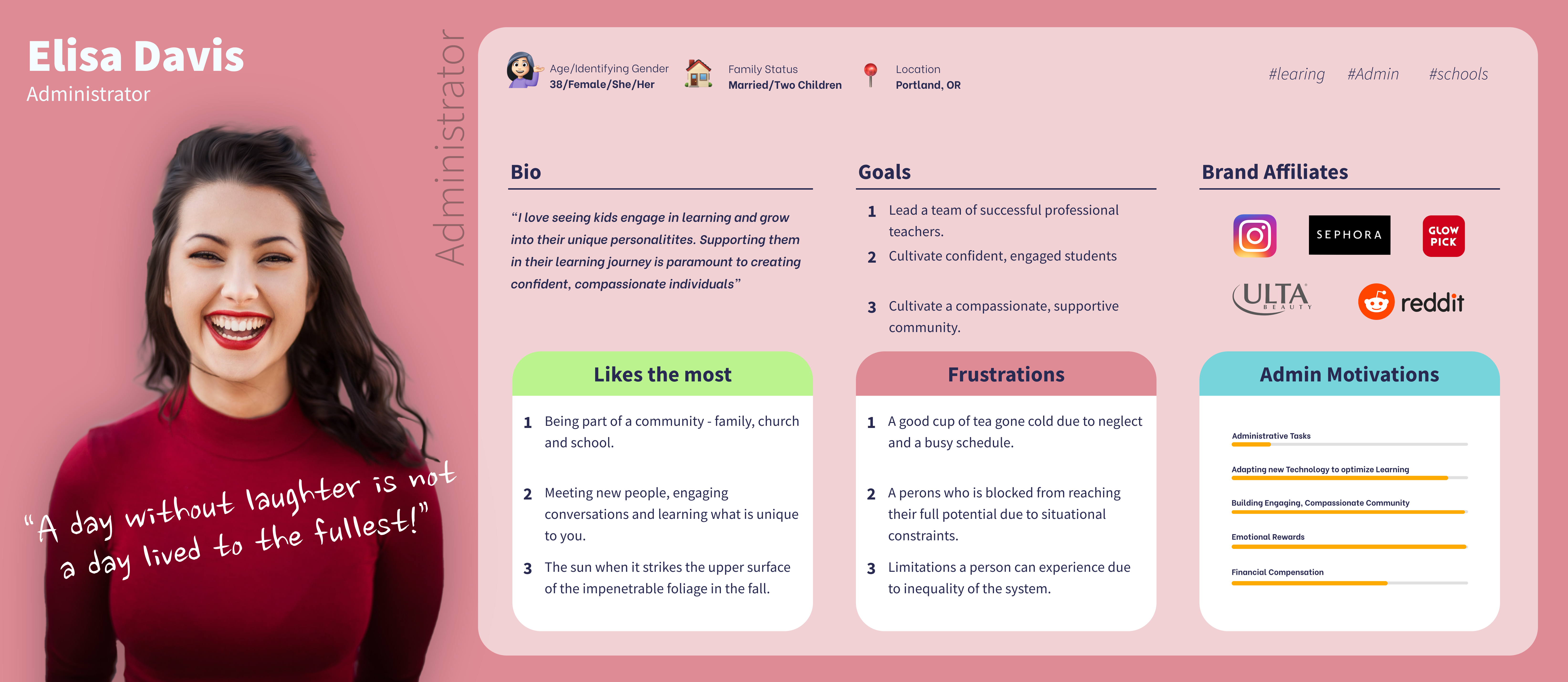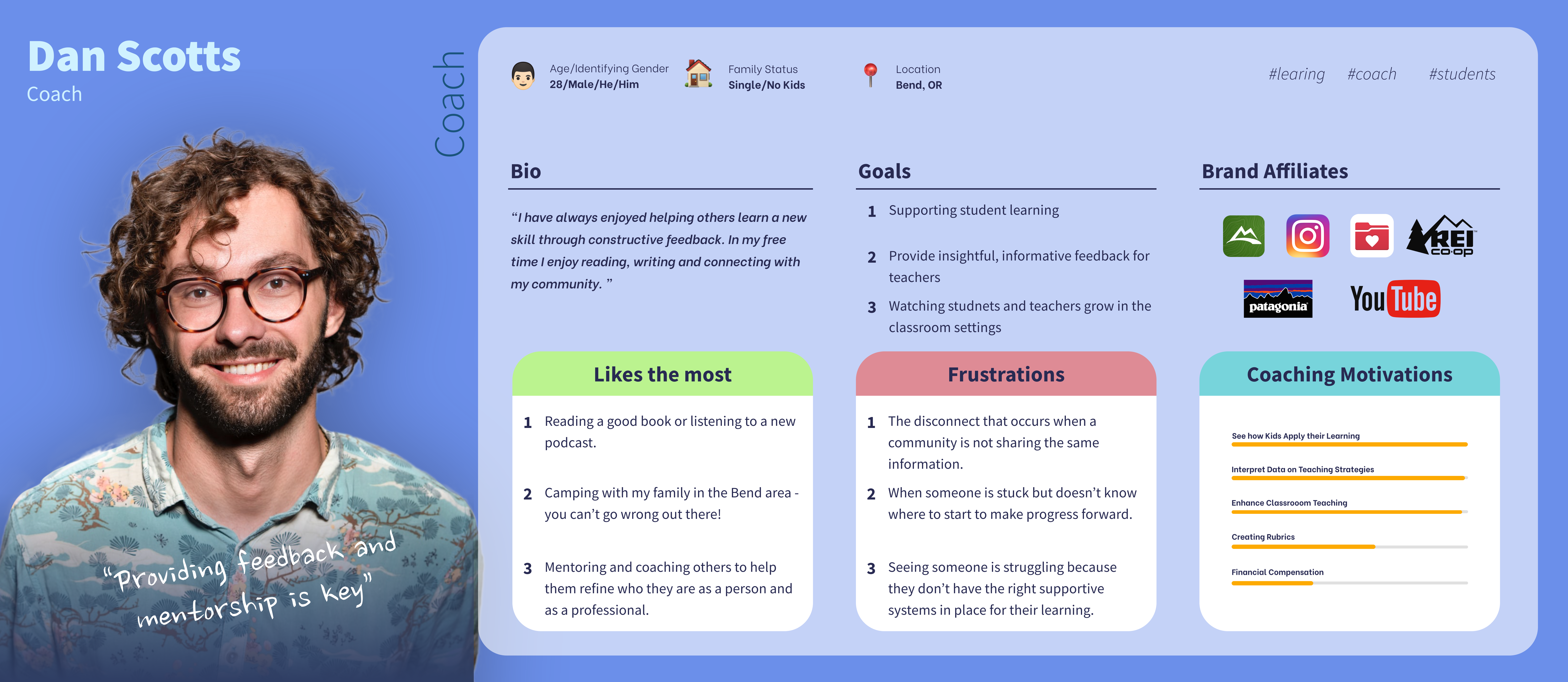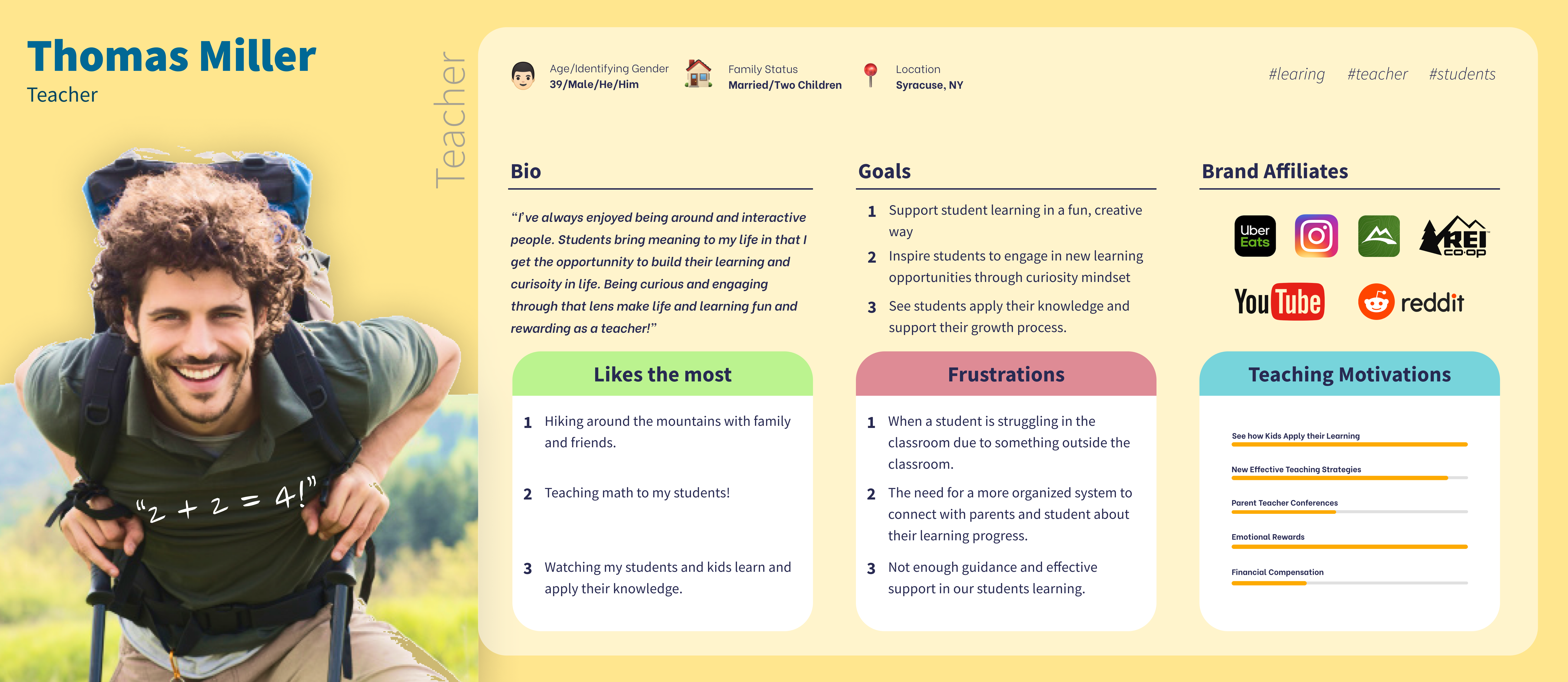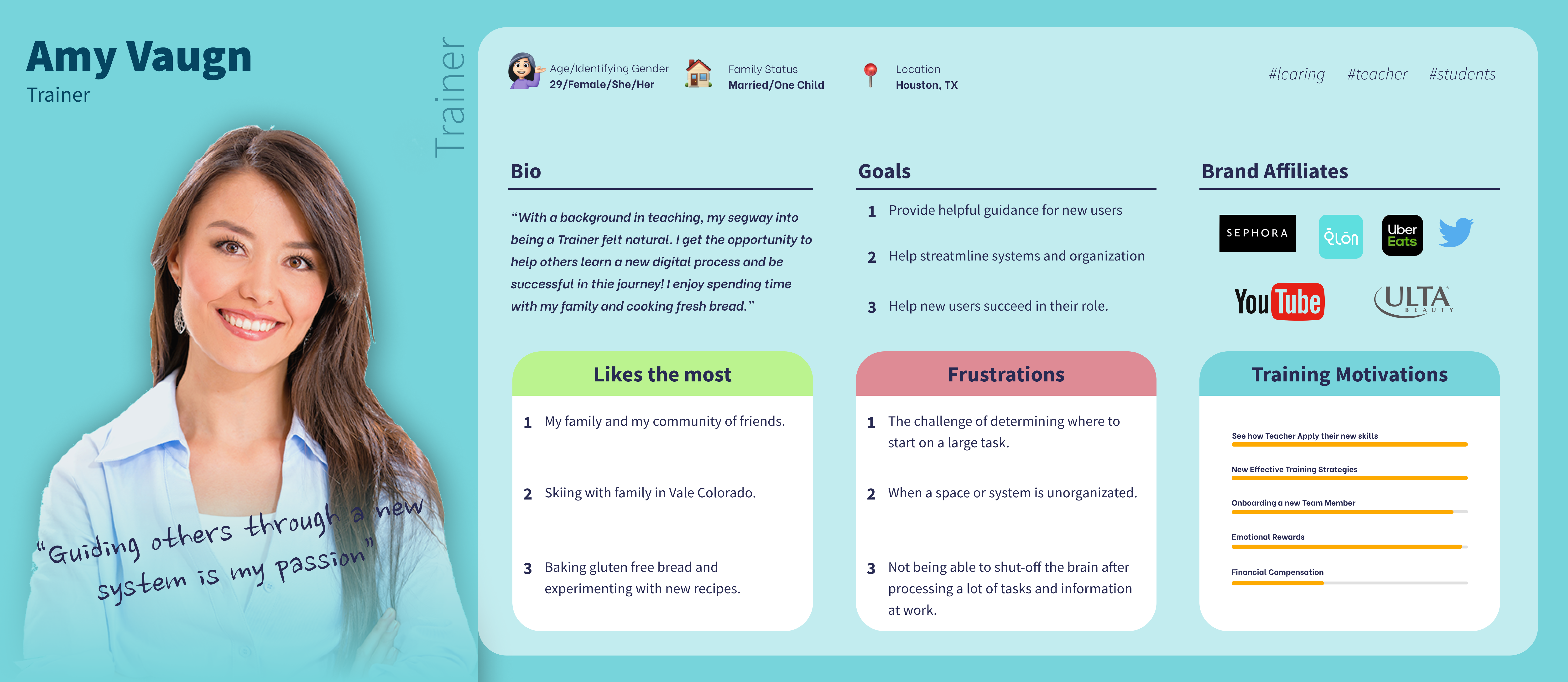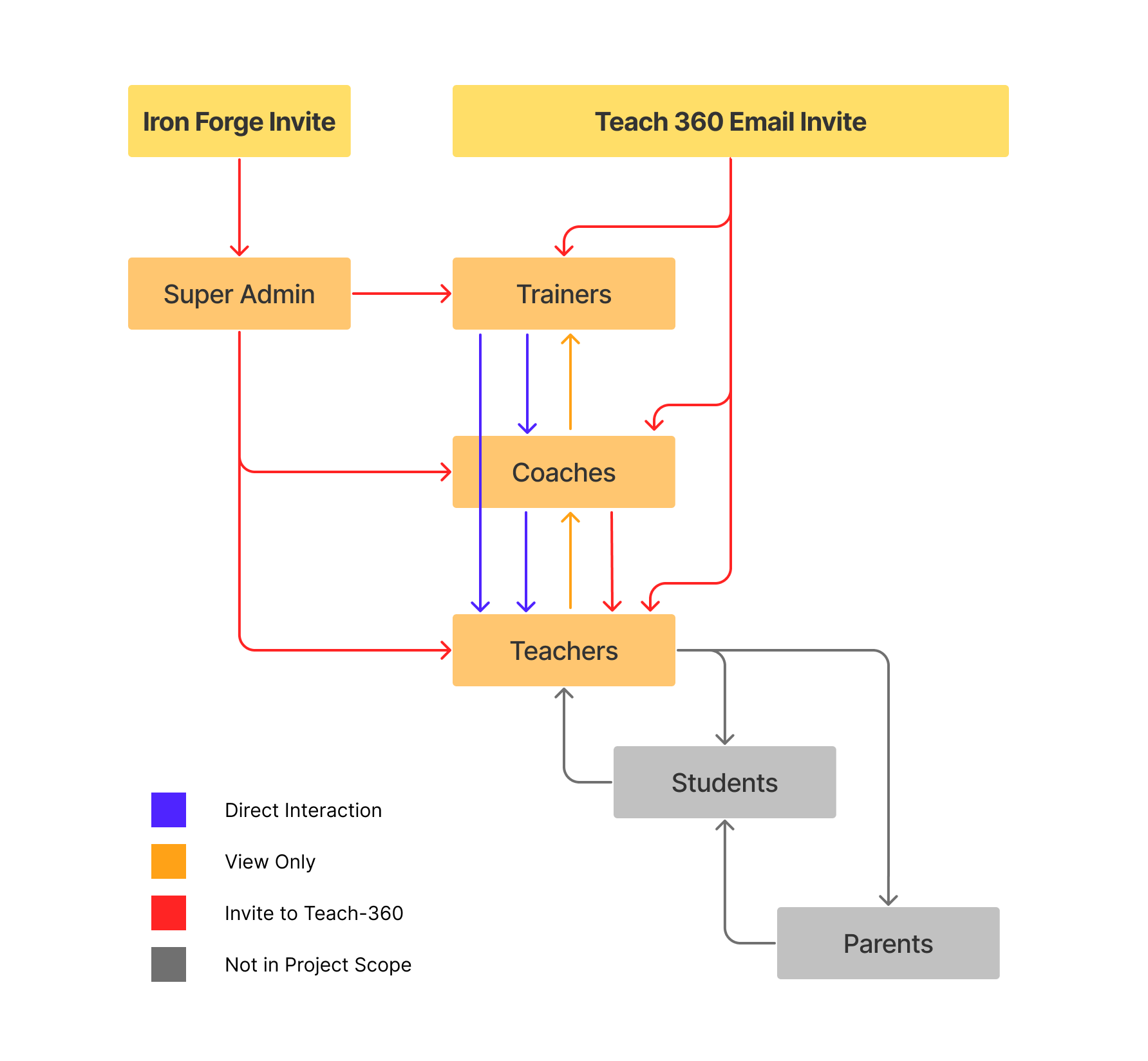 Information Architecture
Once we completed our personas we created our information architecture to better understand our user flow. This helped the team to better understand user interactions.
Red routes
Each team member focused on a user flow. The flow I focused on was Teacher Dashboard/ Observation.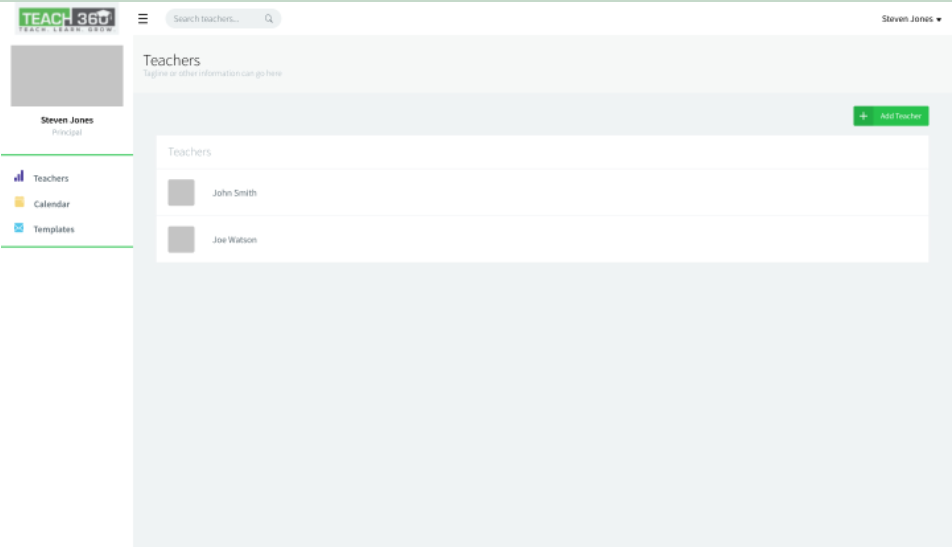 Existing Platform
The following image is the original Teach 360 design. This minimalistic prototype had very few features for us to explore. This original design gave us a good place to start. The client also expressed that they were open to any design changes. As a group we enjoyed how much freedom we had with the overall design and colors.
Low Fidelity Wireframe
To better understand the screen functions we created lo-fidelity wireframes.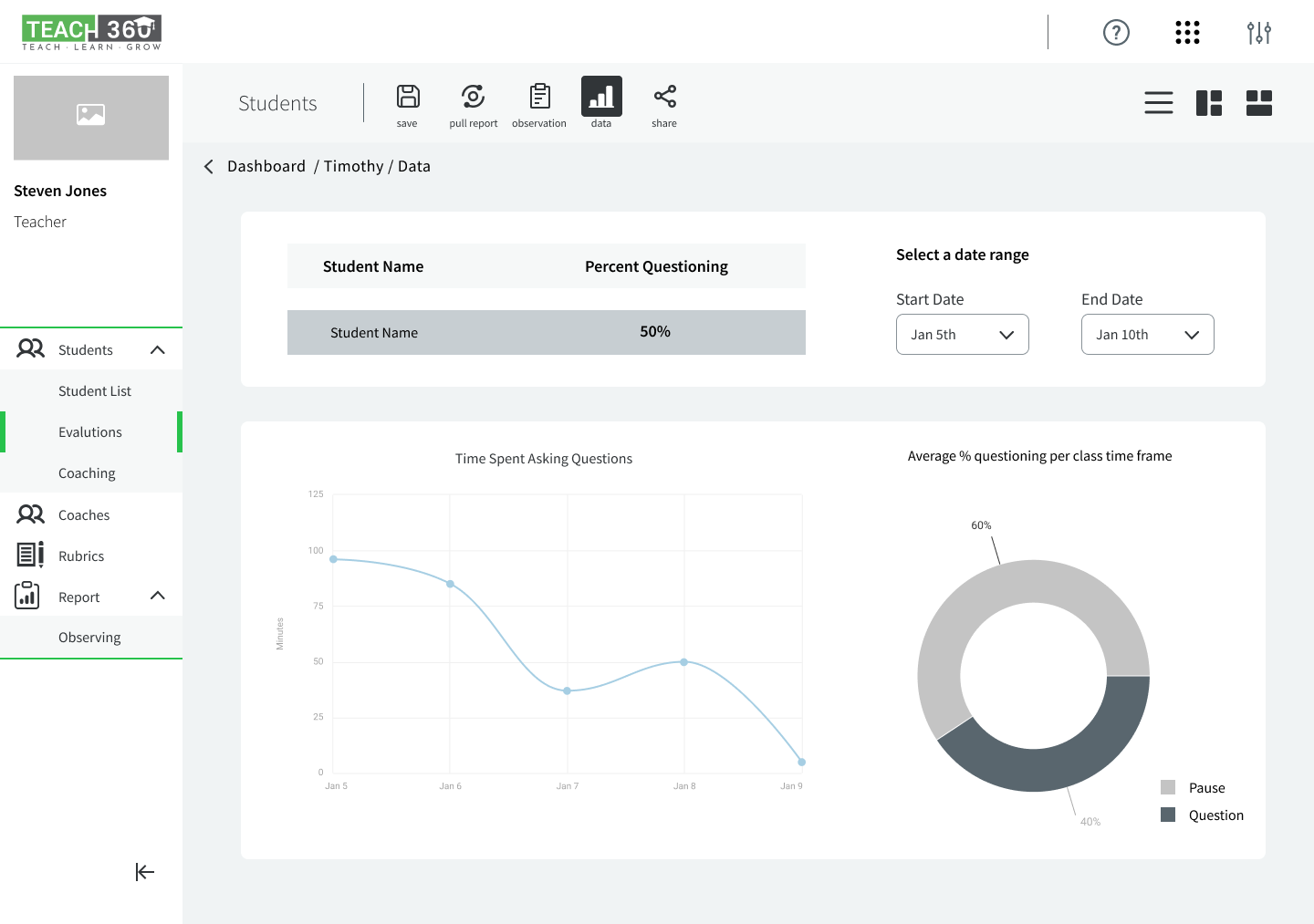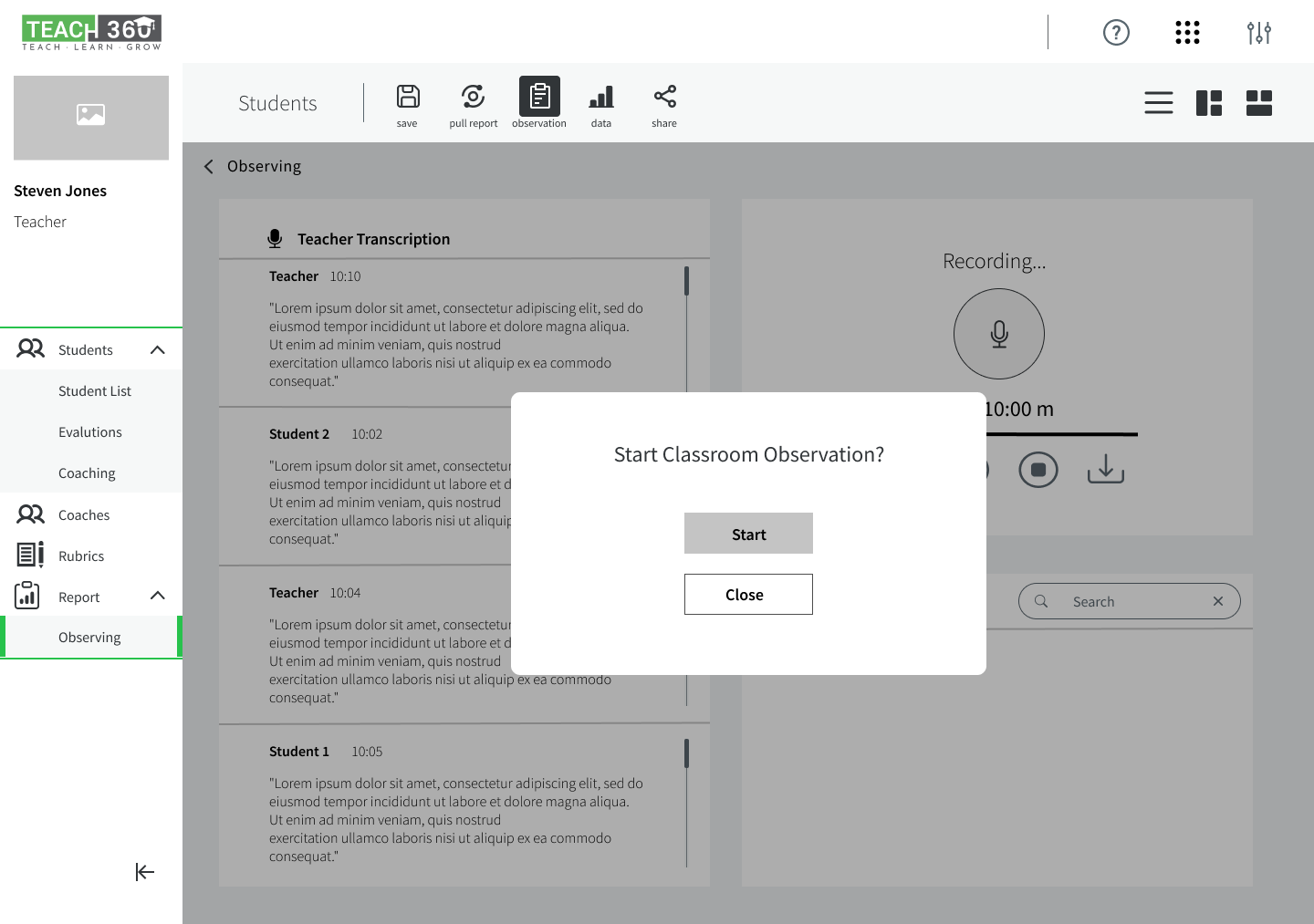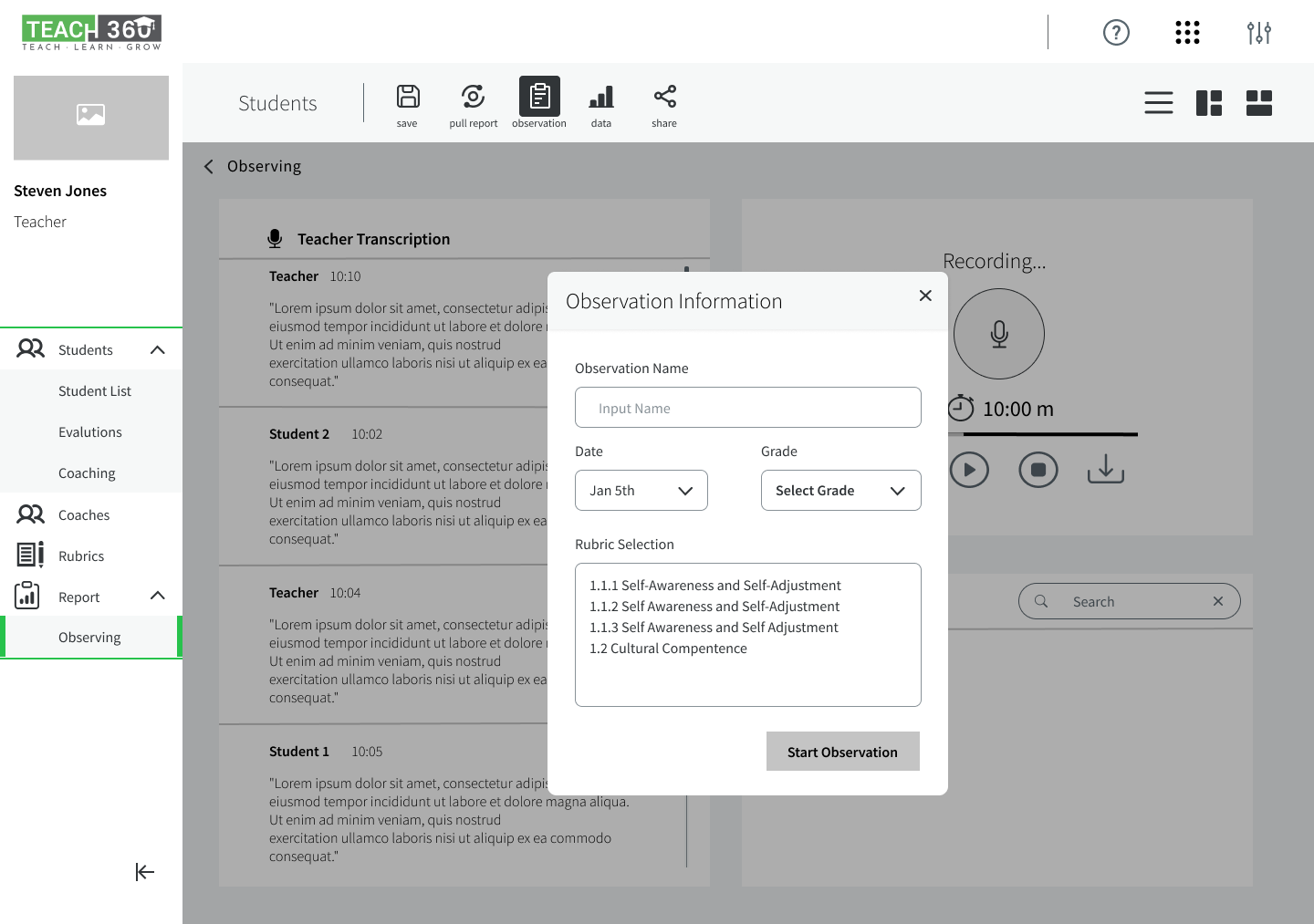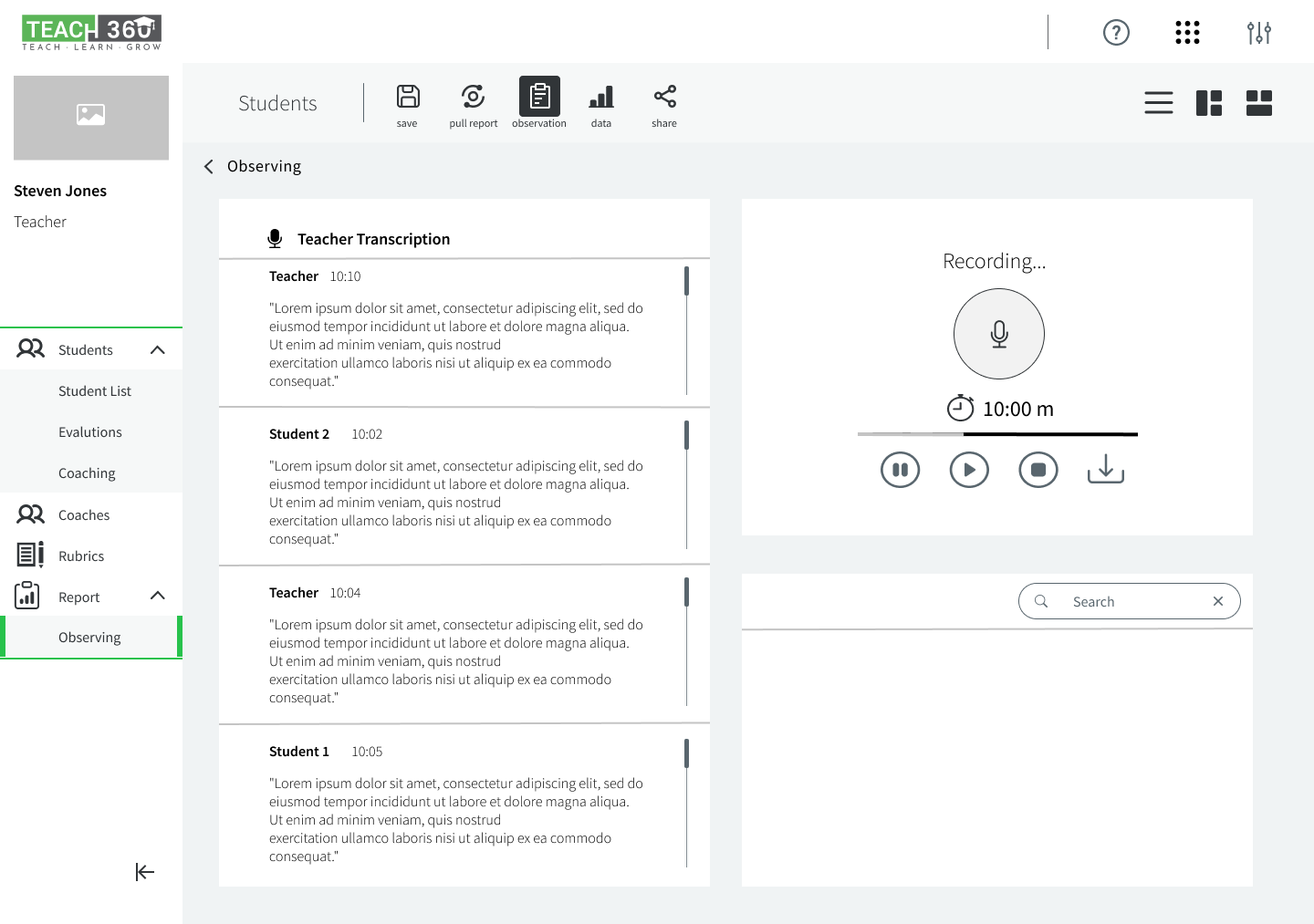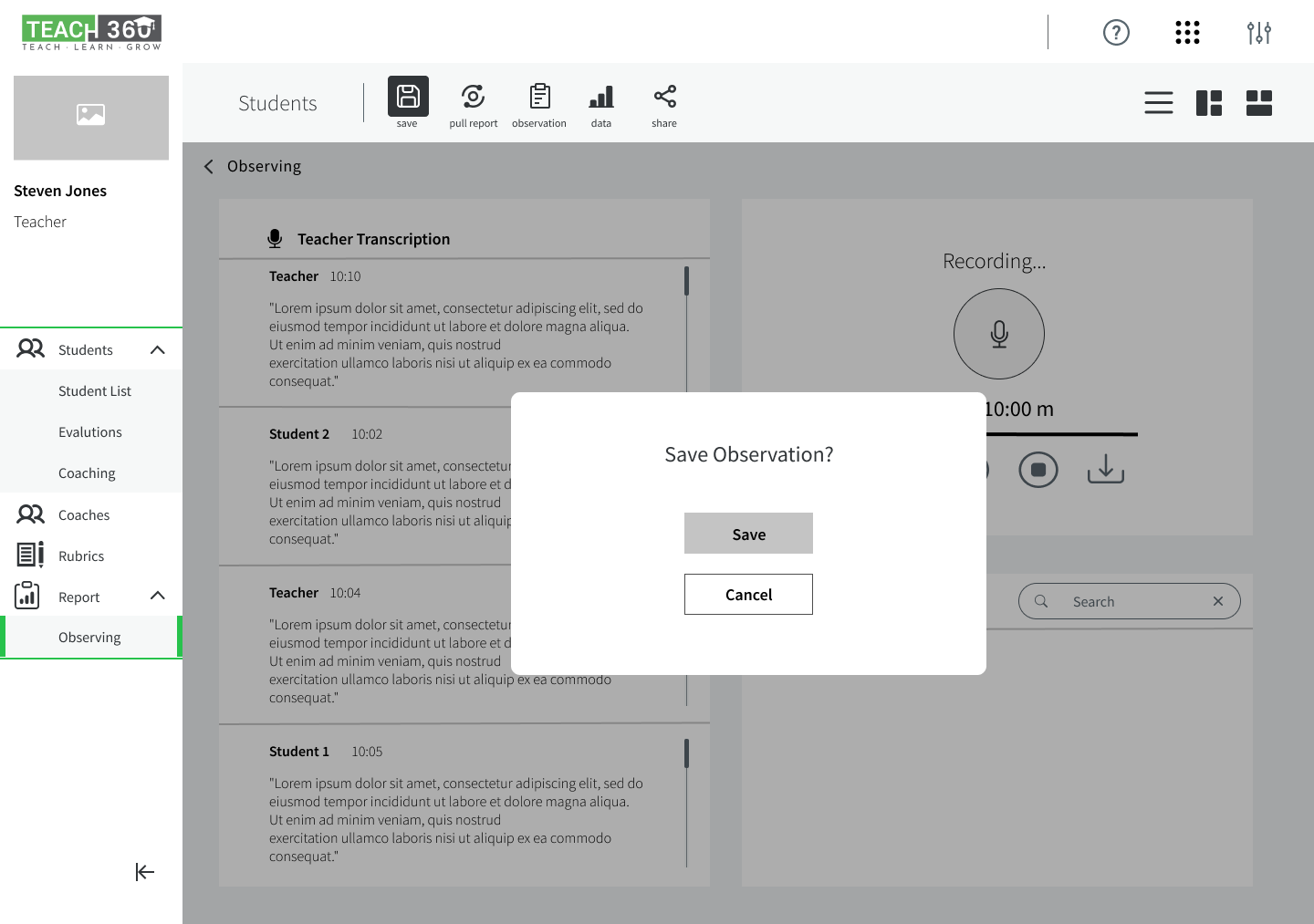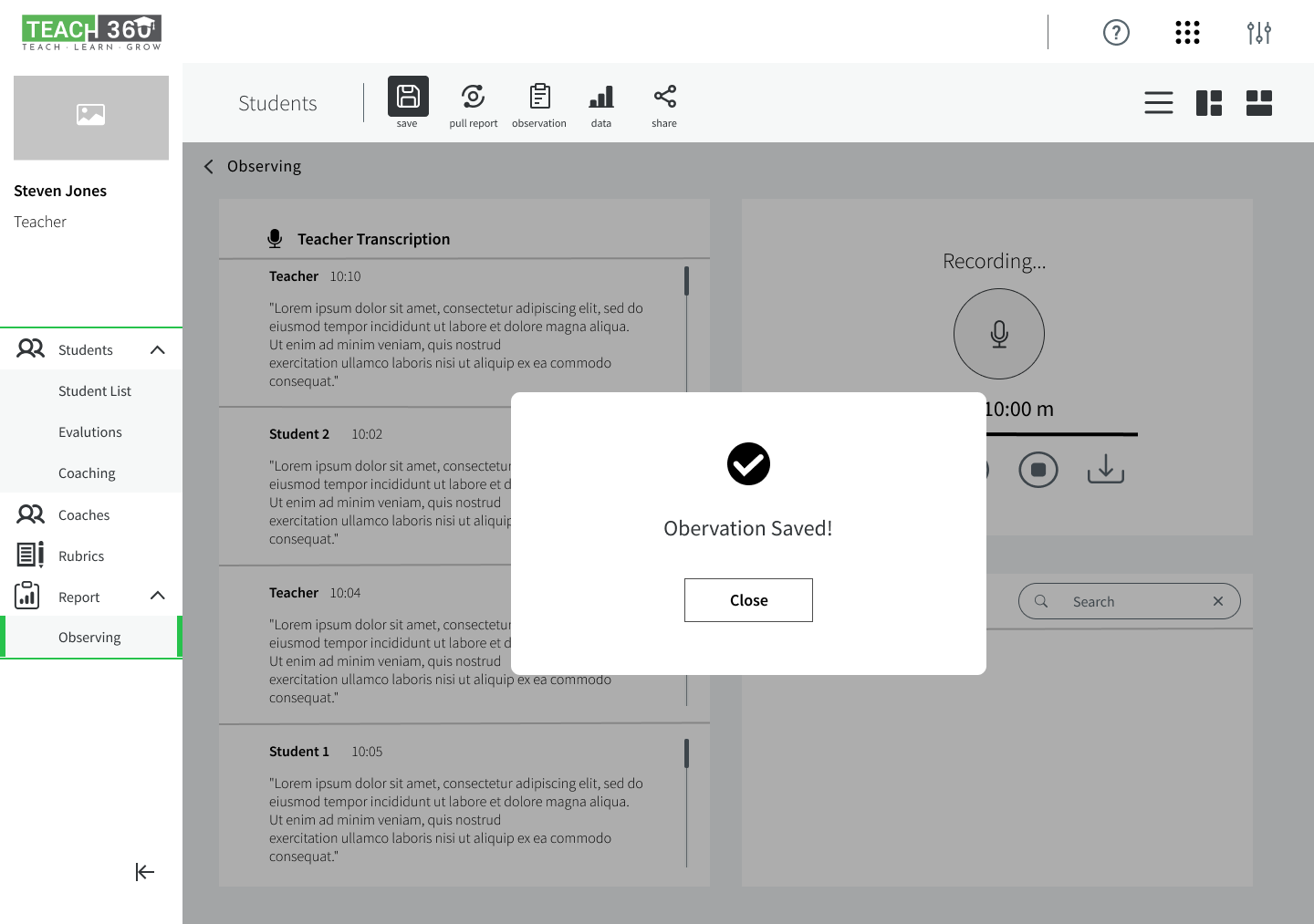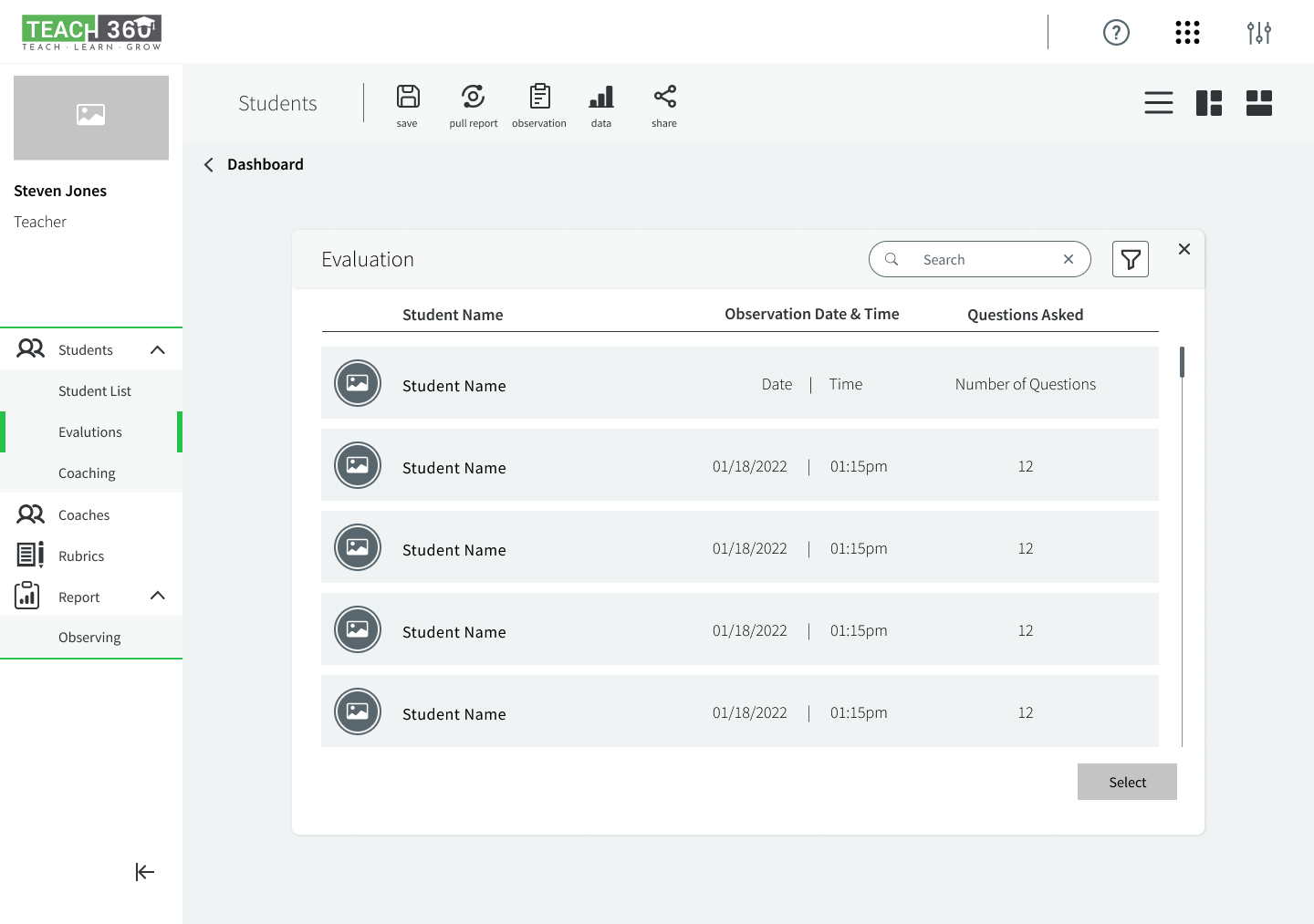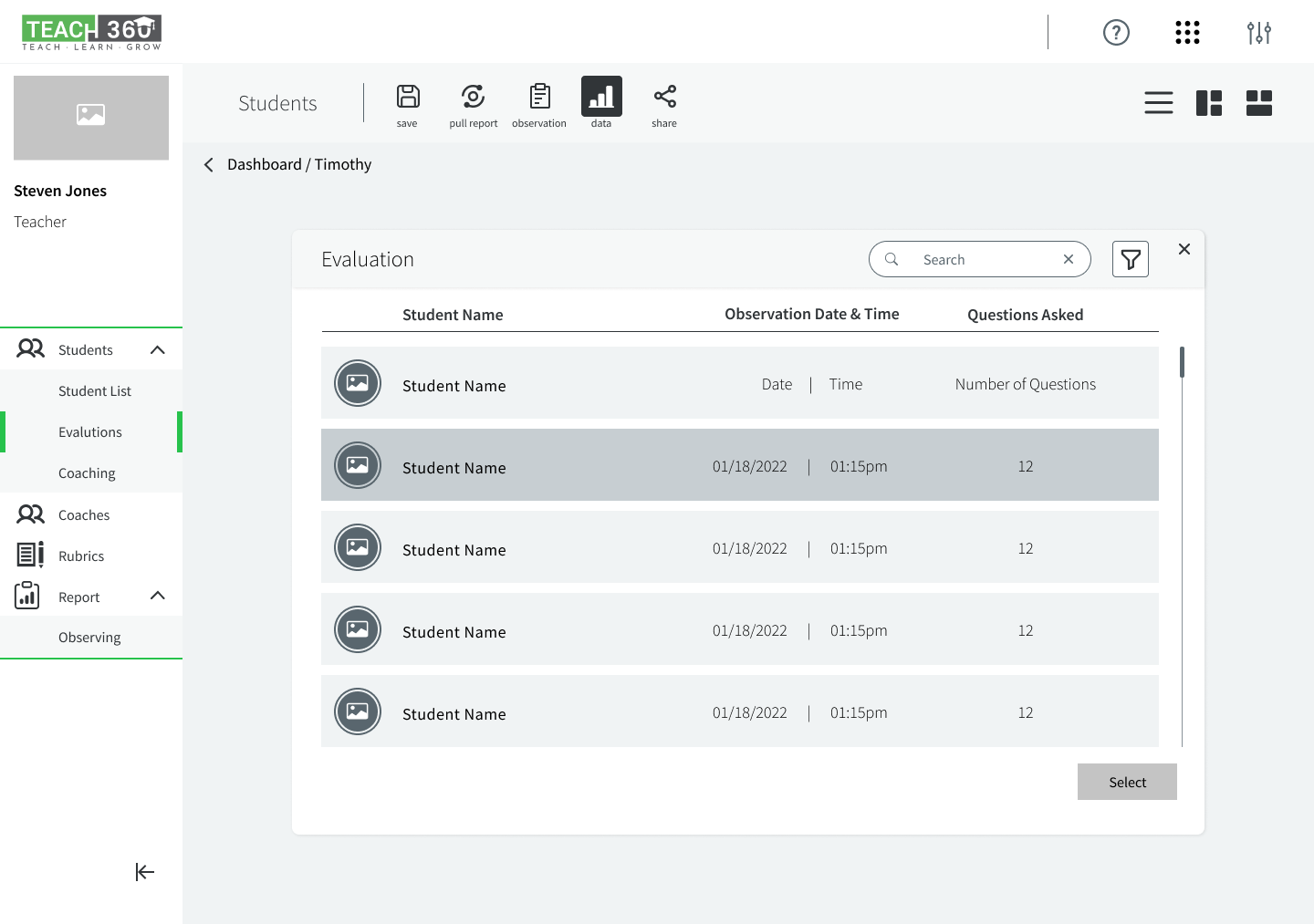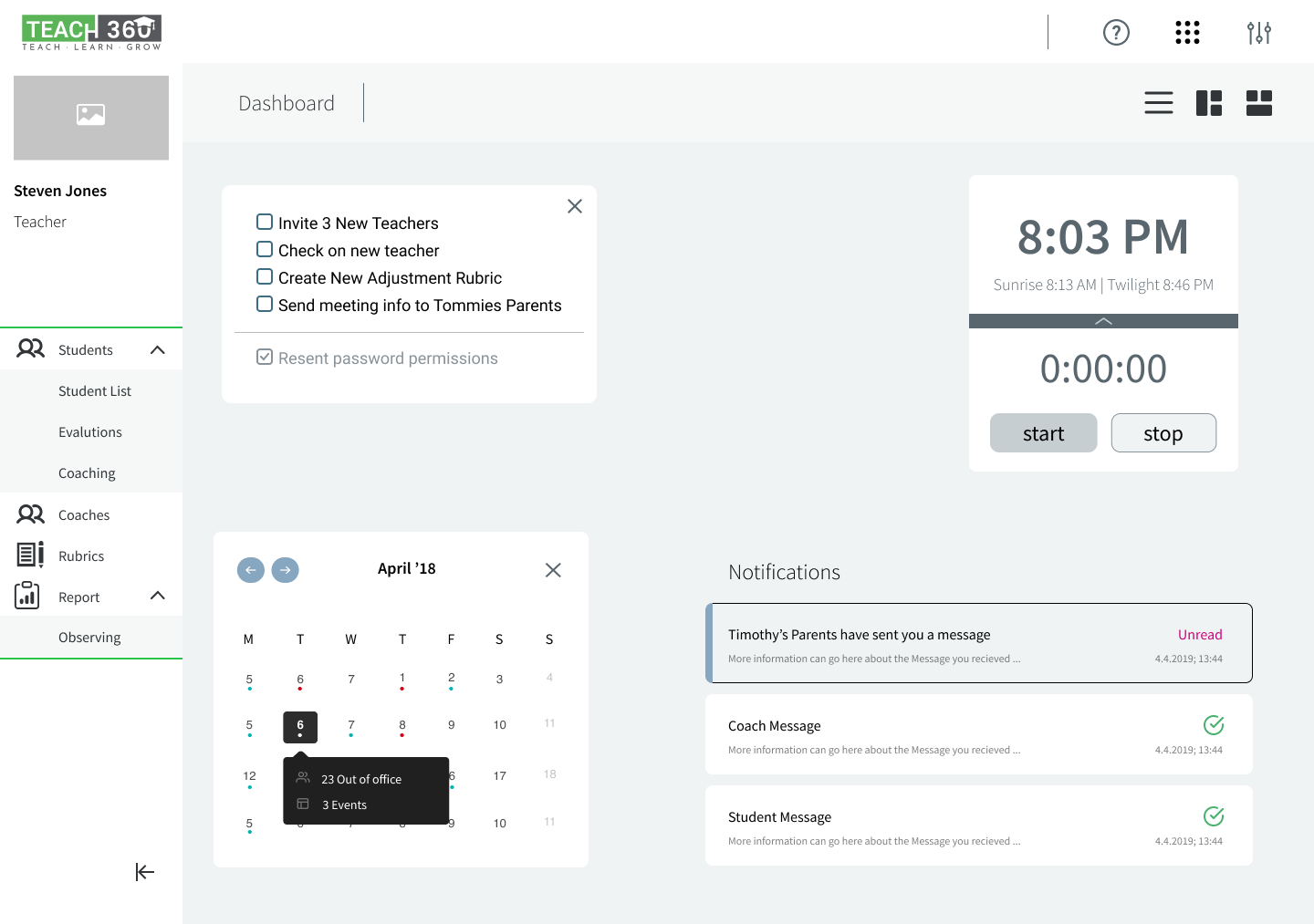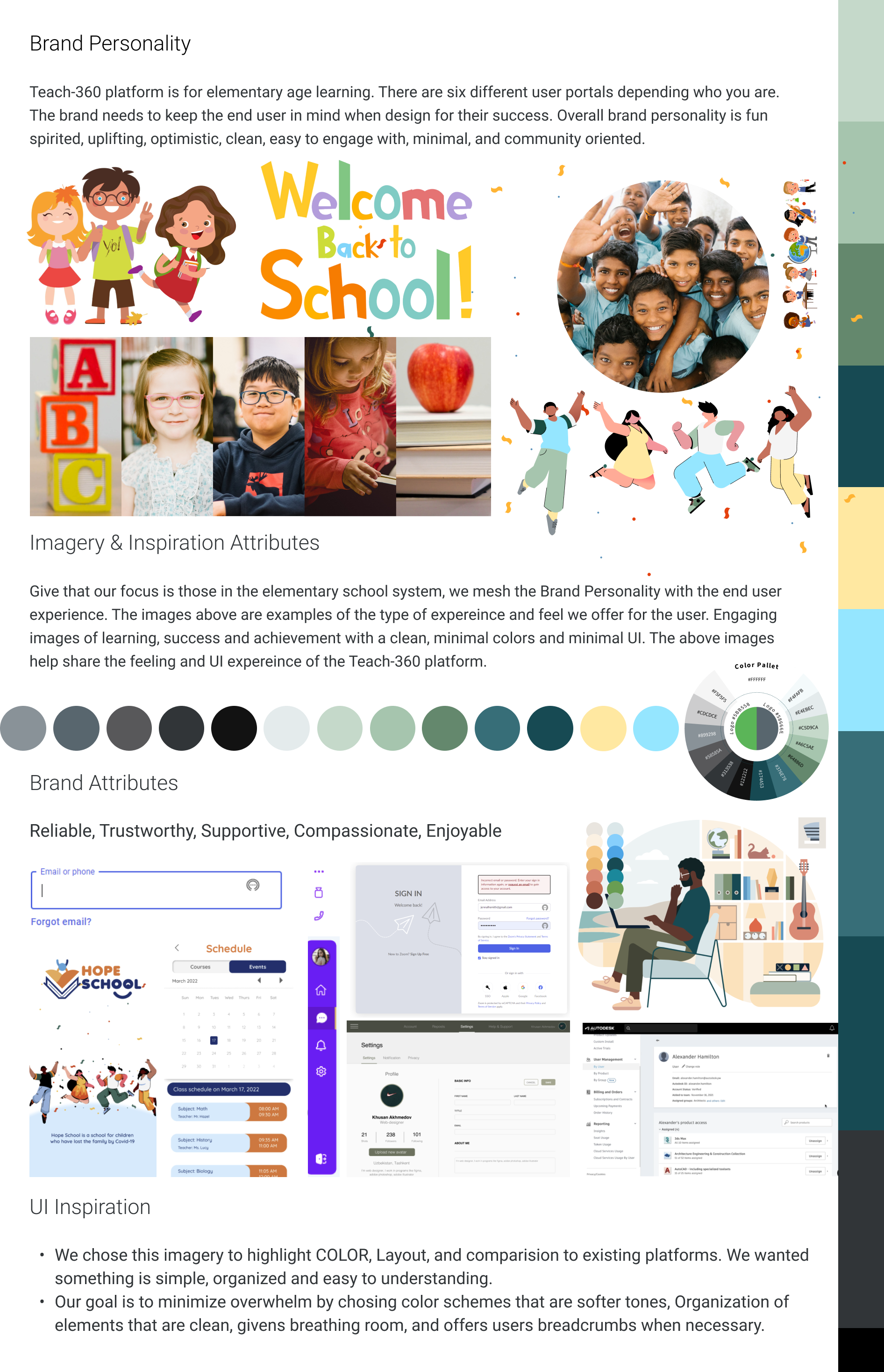 Moodboard
Our Moodboard provided us with inspiration for what we wanted to achieve with Teach 360 platform. The moldboard assisted the team with putting together UI inspirations as well as establishing a strong color palette for our design.
Style Guide
As a team, we created a style guide to ensure consistency throughout our design. The client will also be able to utilize this when they create future profiles.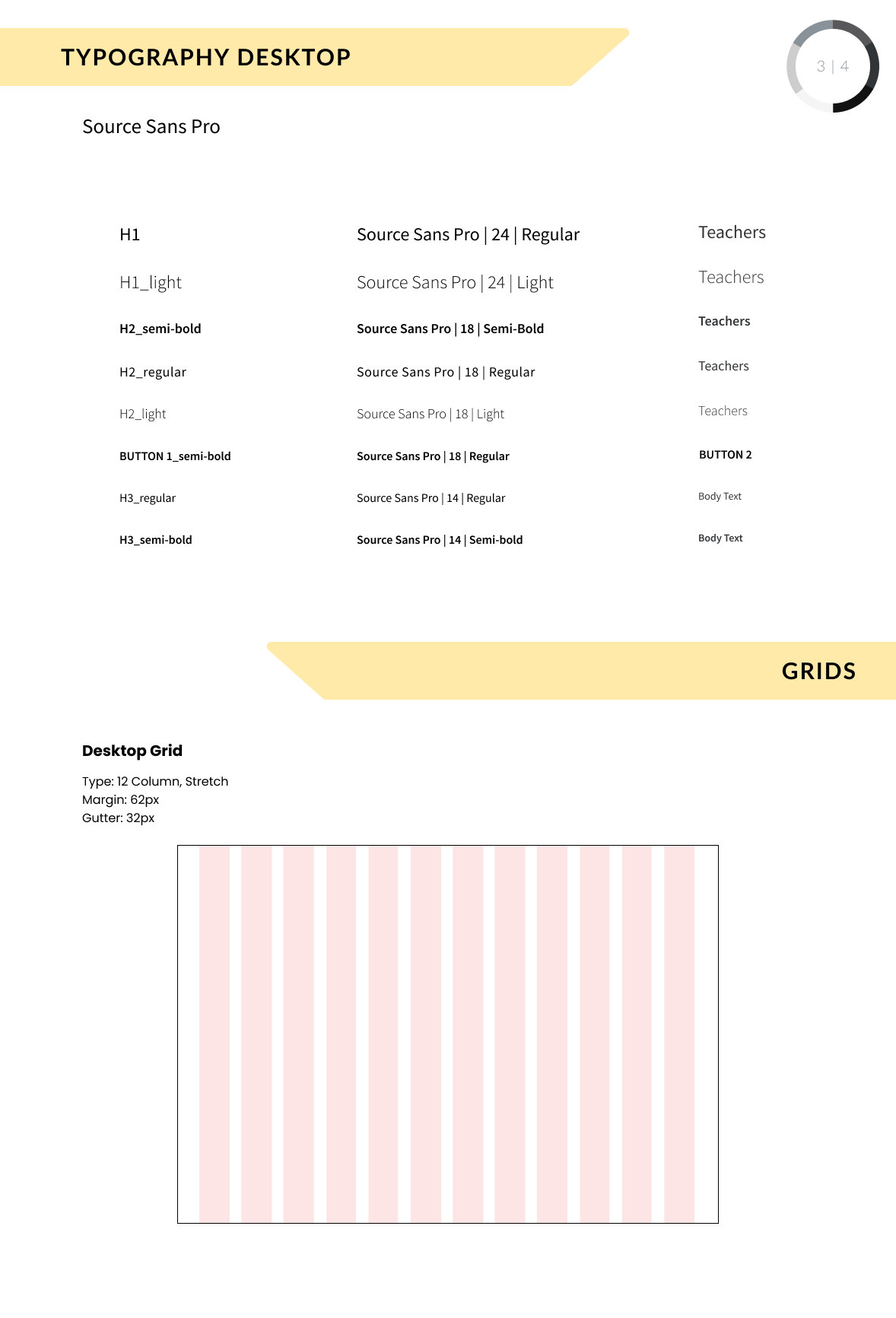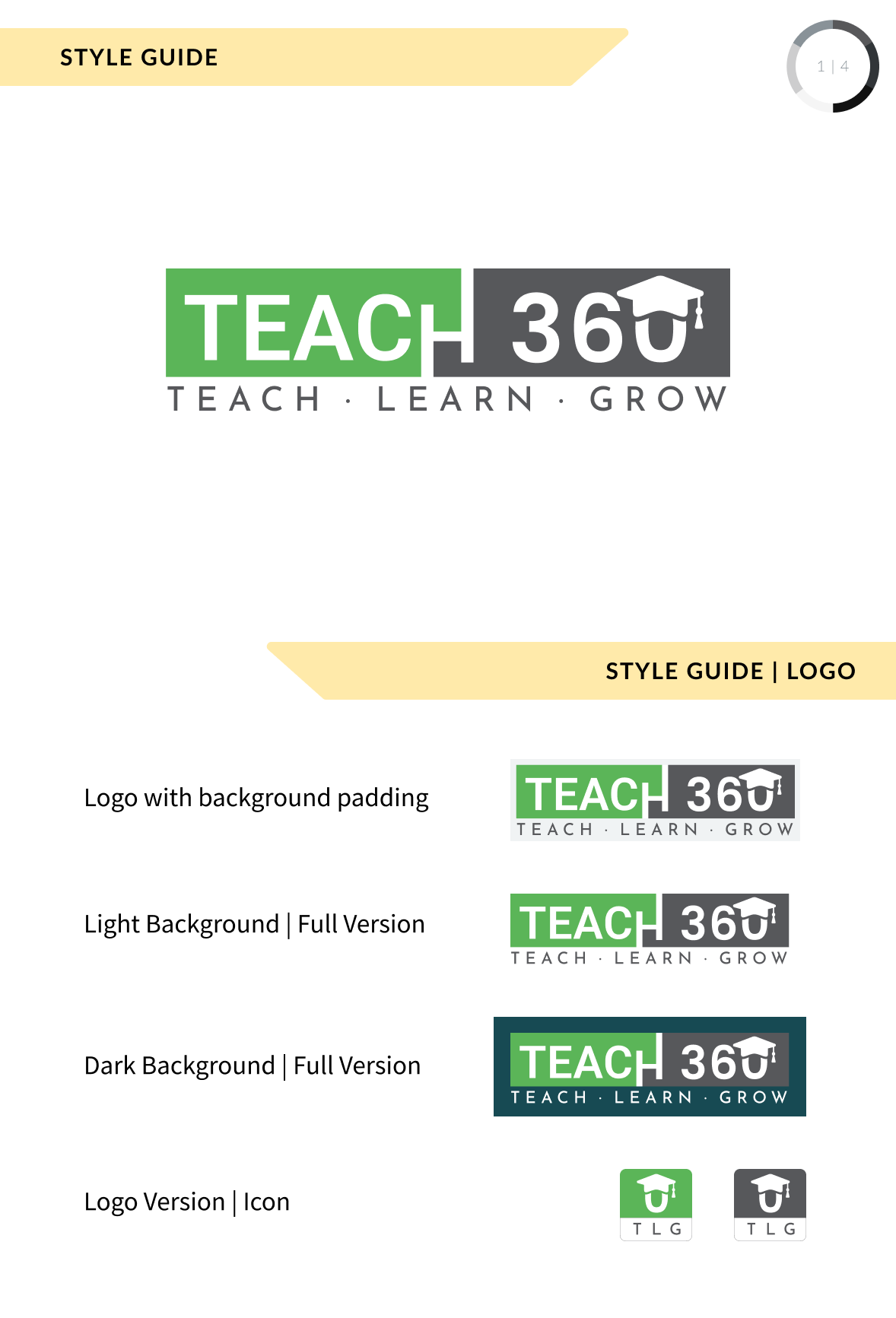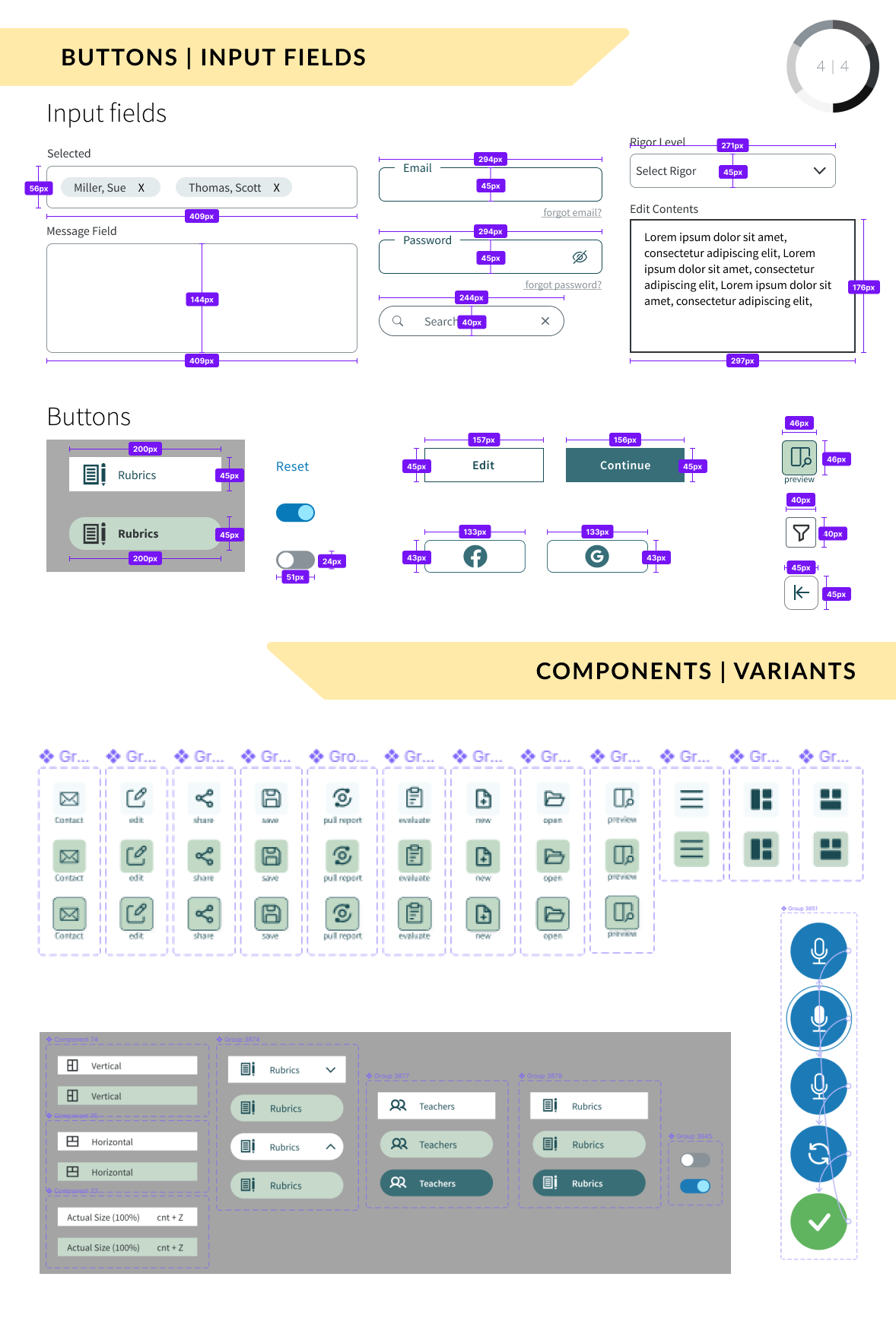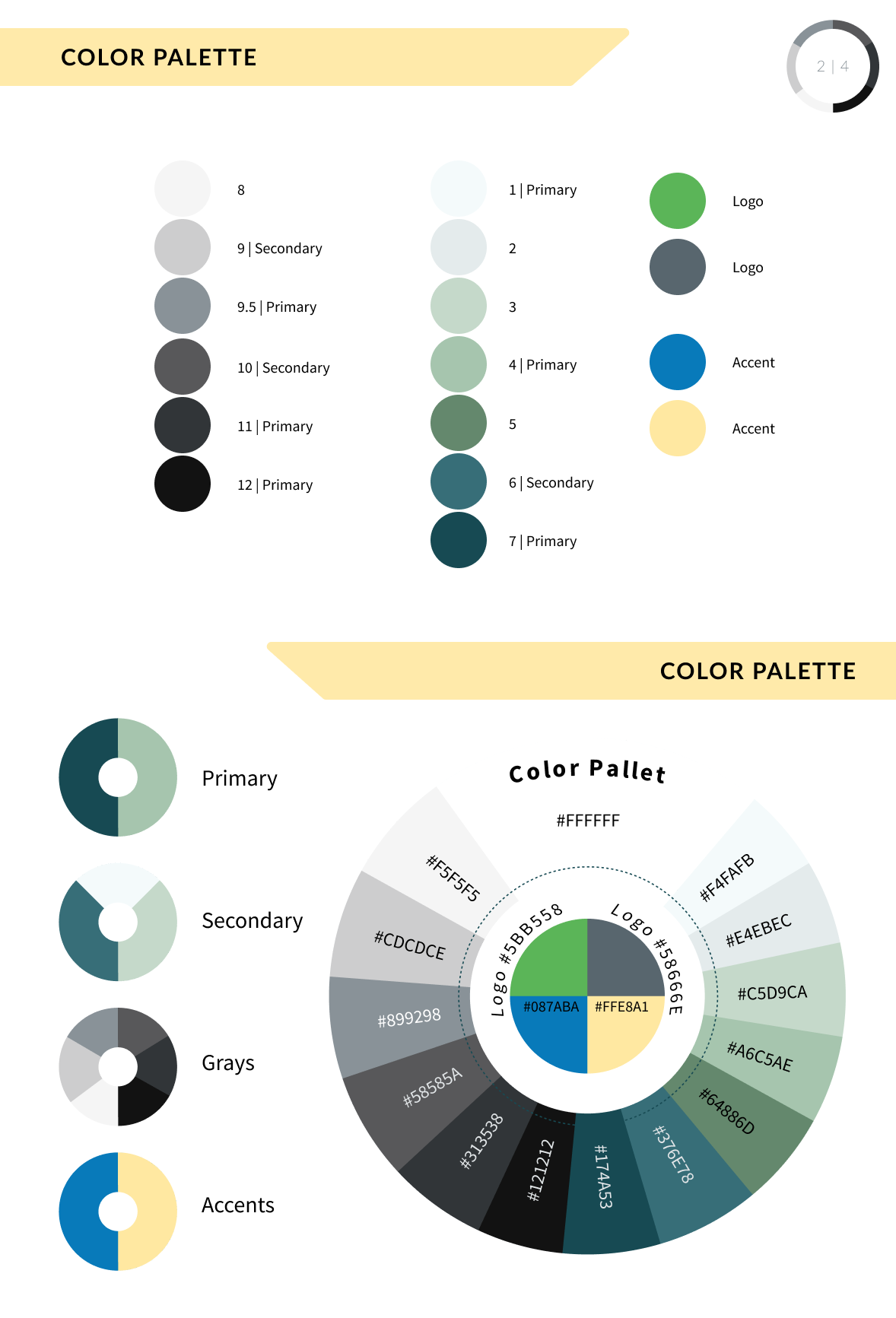 High Fidelity
We then created High fidelity wire frames for all four users. There were many similar elements between the users while there were also unique traits that stood out.
Onboarding

Teacher

Coach

Trainer

Admin
Usability Testing
The usability testing was conducted in order to target issues with usability in the Teach 360 prototype. The goal of usability testing is to track issues and make sure the prototype runs smoothly for users. This test was conducted with 12 individuals for each of our user flows. Each test was conducted on the User Testing website by random testers. I focused on user testing for the admin prototype.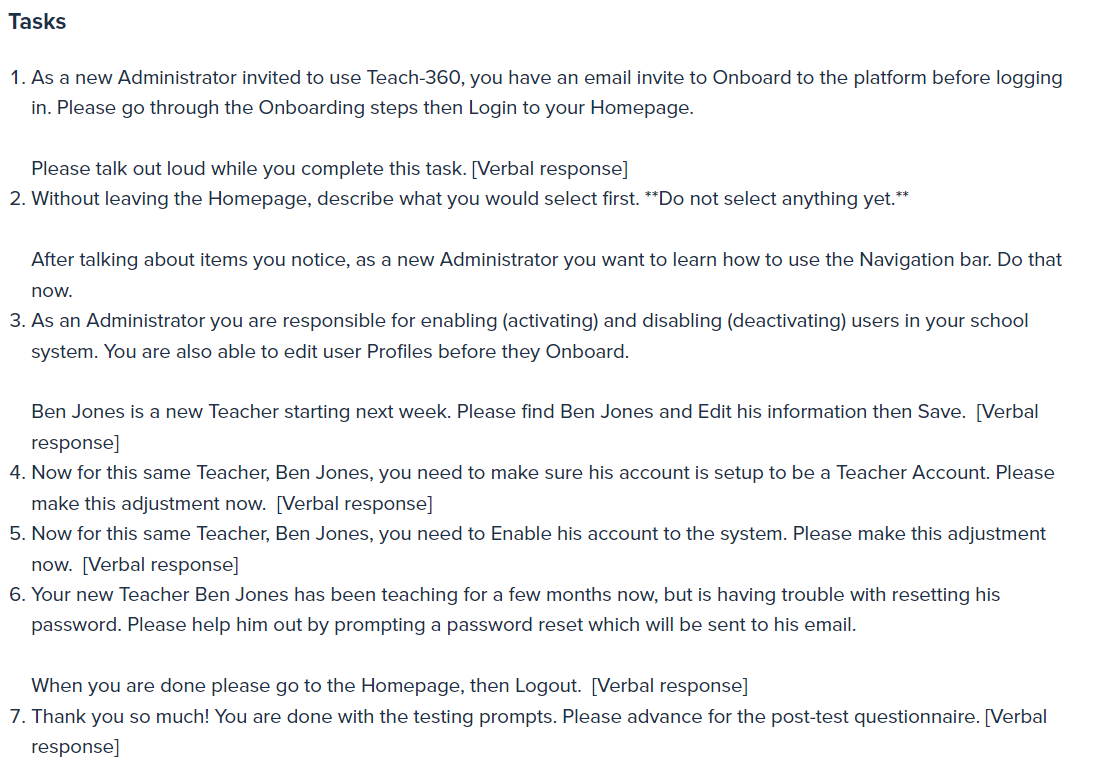 Prototype
Our team used usertesting.com to allow us to see how users interacted with the product. Test plans were created for each individual user prototype.
User Testing Results
Each member of my team launched three tests for a particular user. The Coach was a bit more complicated so we had two members each for the coach. We felt the extra data would be beneficial for our test results. The test was reviewed and notes were taken in the form of a flow showing concerns, users' comments, and compliments. We then ranked the success of each task was ranked to identify pain points in the design. The team ranked any problems from high priority to low priority.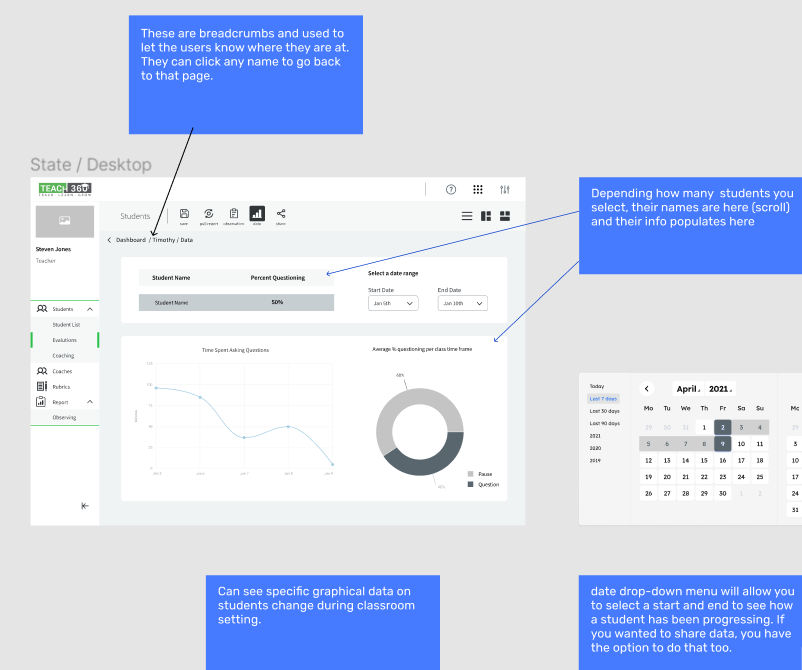 Developer Handoff
Some quick highlights for an easy handoff Notes were added about the specific designs in the final product.
Conclusion
Biggest Challenges
Working in a team with 4 designers at times had its difficulties. There were many different ideas of how to approach different designs. In order to solve this issue we took the time to communicate or ideas and often times finding ways to collaborate our ideas together.

I think the biggest issue my group and I dealt with was meeting our deadline with little client feedback. We decided to continue to move forward and updated the client on every step in the design process. When we did receive feedback we would make edits accordingly. Due to the lack of feedback we completed the project later than expected.
Big Success
This was a long project that required a lot of different functions for four user profiles. I feel our team did well collaborating and keeping UI designs consistent.