Teddy Laguerre
UX designer
Stack Maps

Desktop interface design for a video library and player page in order for it to be more engaging for the user to learn coding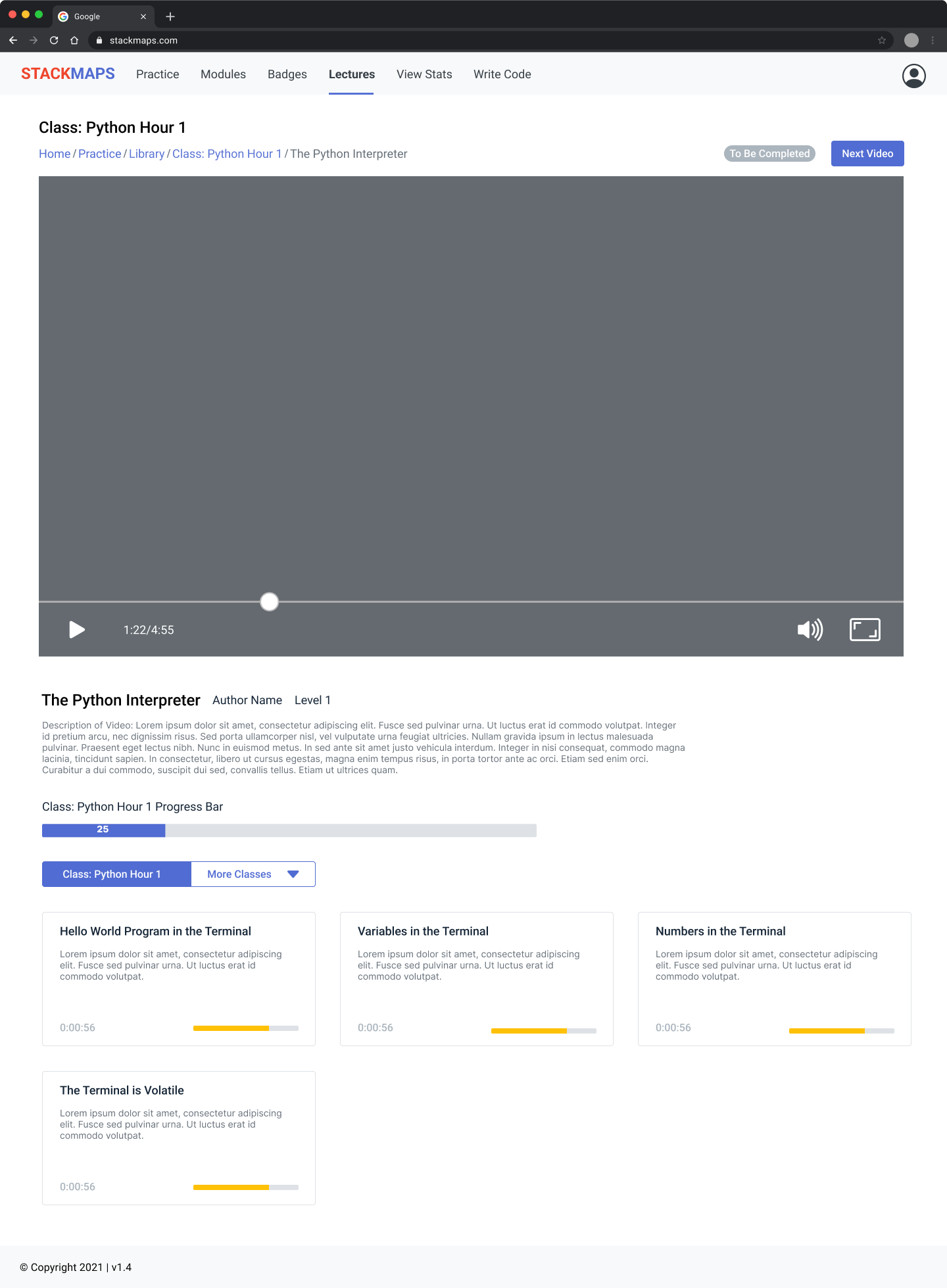 Overview
StackMaps is an online learning portal for developers on learning new ways to implement sections of code. The client Central Inventions, which has previously worked with Moment Studio, needed additional pages designed for their platform.

These pages included a page with a video player and a page with a list of the available videos, separated by level and content. Our team was brought onboard to assist in the creation of UI iterations of these screens for their platform.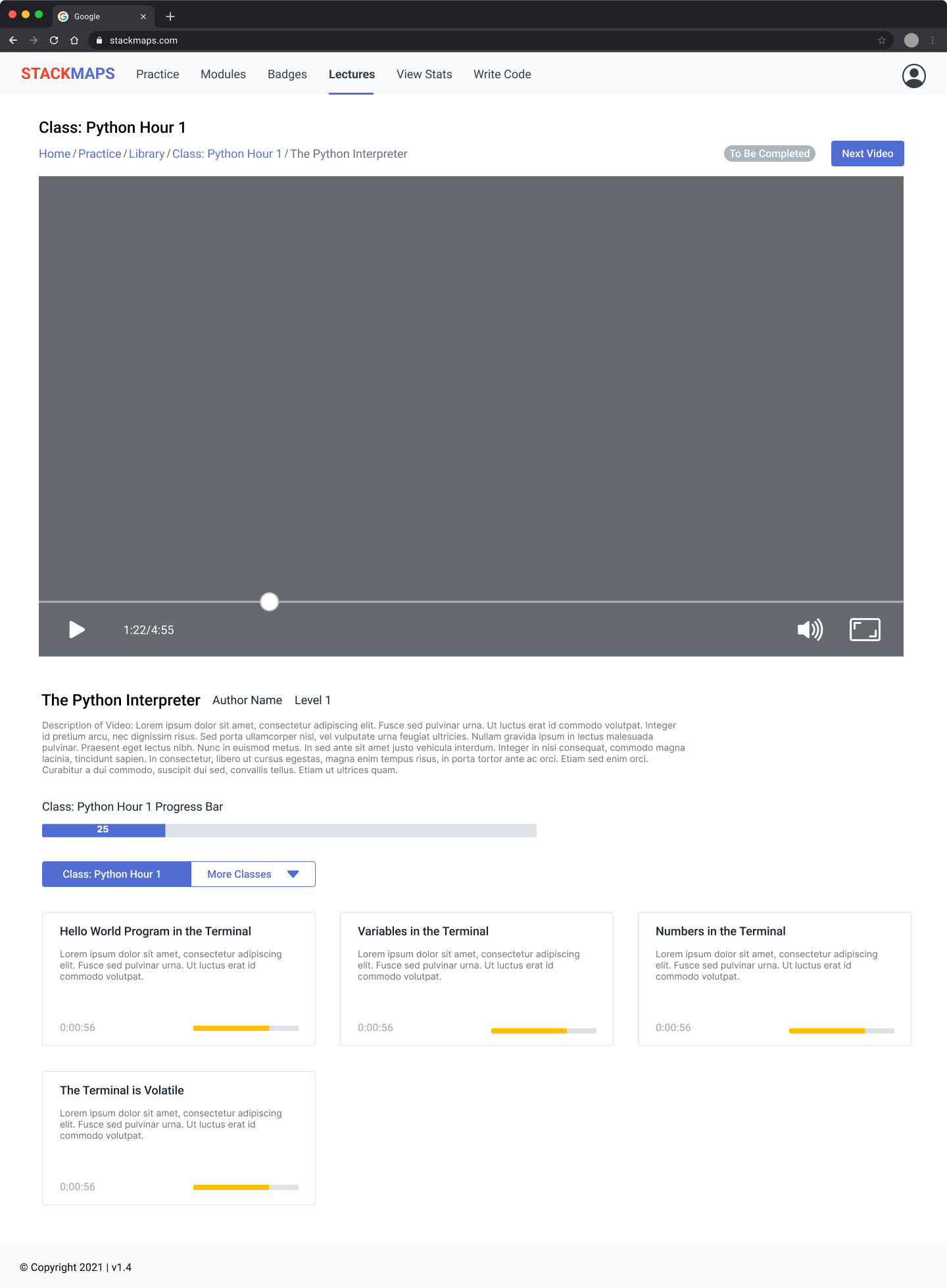 Challenges
StackMaps has a new video feature within their portal. The company, Central Inventions Inc, would like to enhance the feature's UI. They need near-term improvements and the developers are using Bootstrap. My team and I needed to implement a video player and a list of video screens. The big challenge was creating the UI iteration for these screens and using only Bootstrap components. We also had a tight deadline which limited time for iterations/testing.
Solutions
Visual interface design for StackMaps' new video feature using Bootstrap guidelines to facilitate and speed up developer handoff.
My Role
UI/UX Design

Collaborated in a team of 4 designers.
Tools
Figma
Timeline 2 weeks.
Process
Wireframes

Style Guide

Hi-fidelity designs

Developer Handoff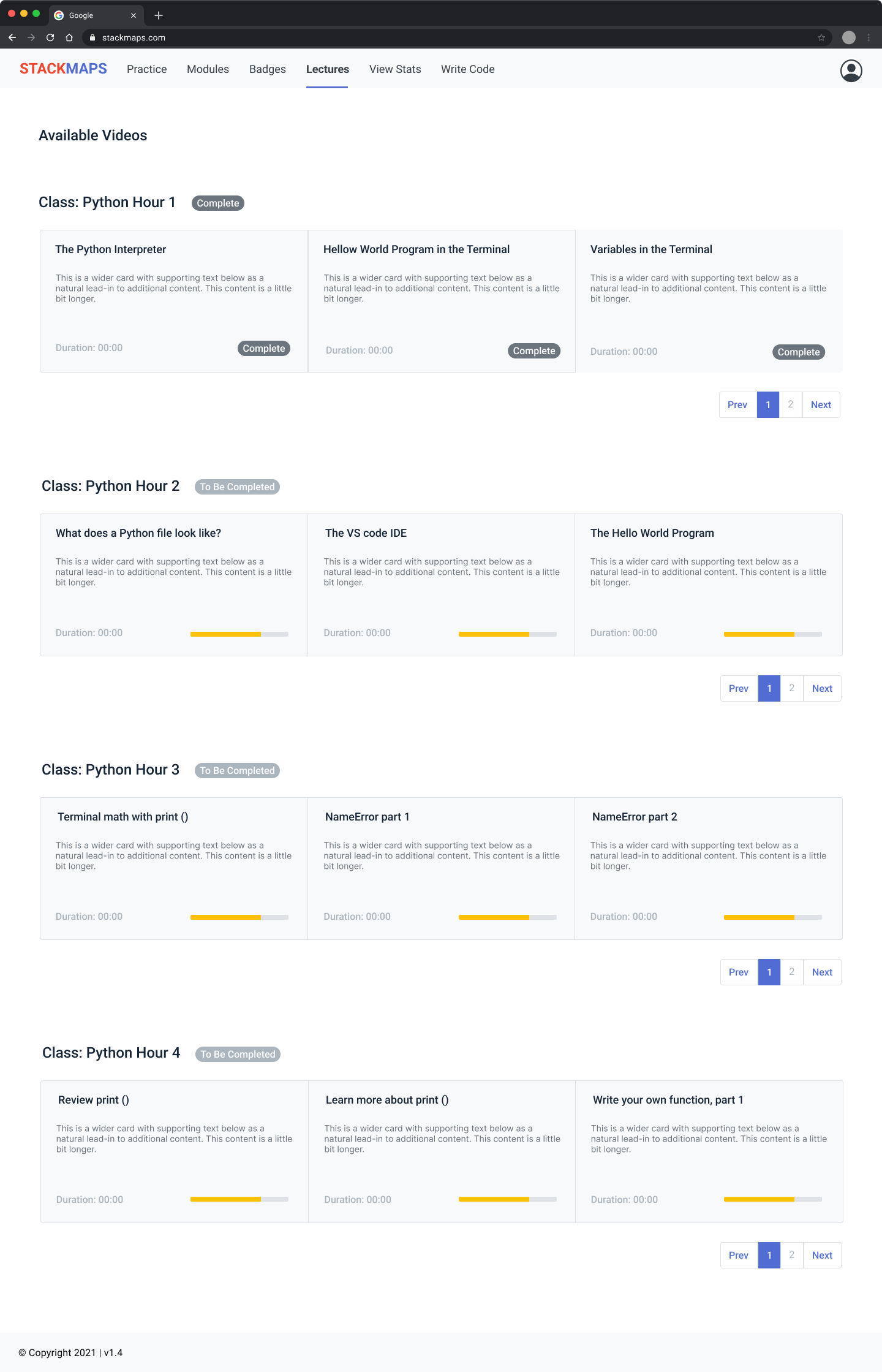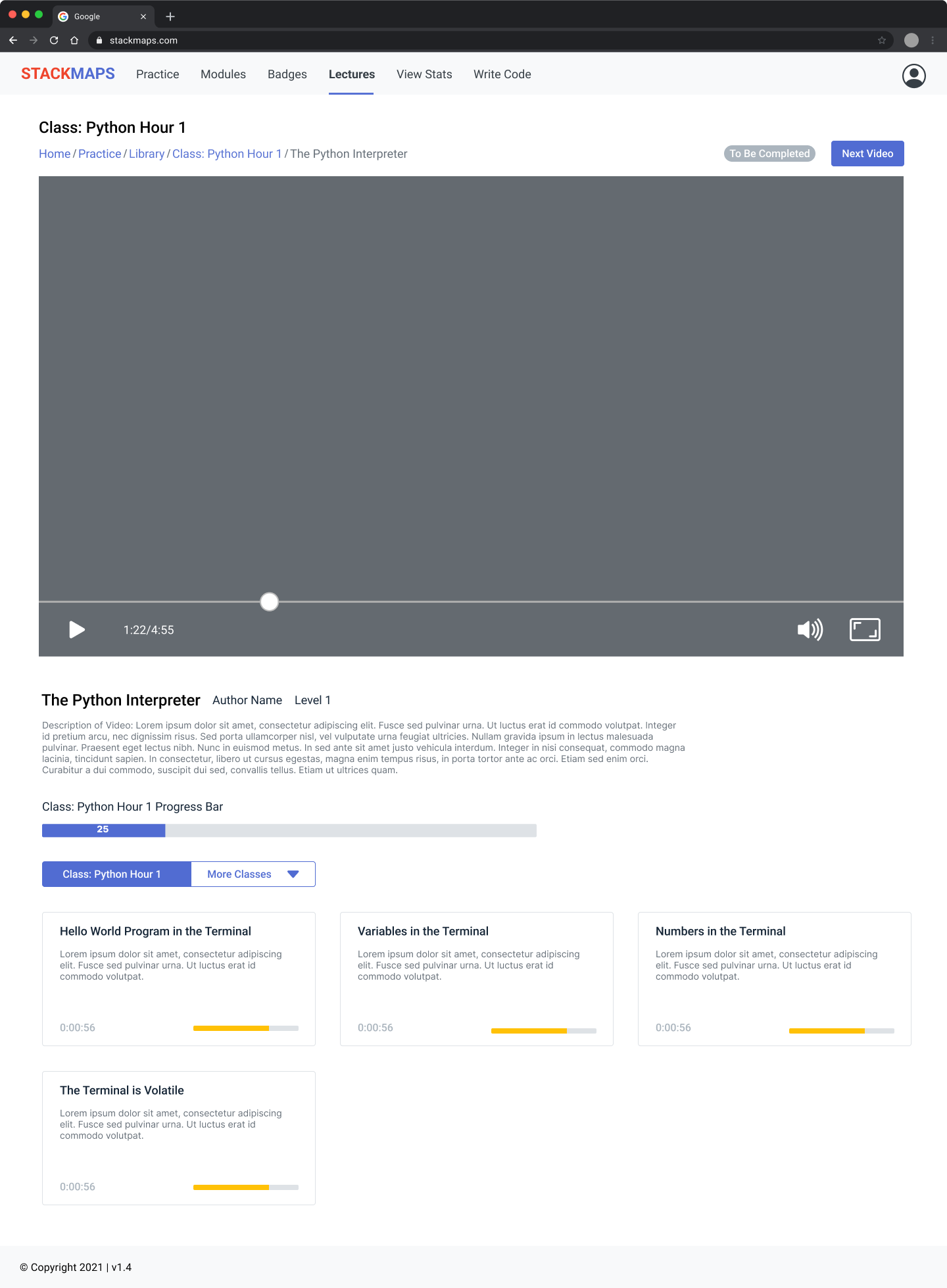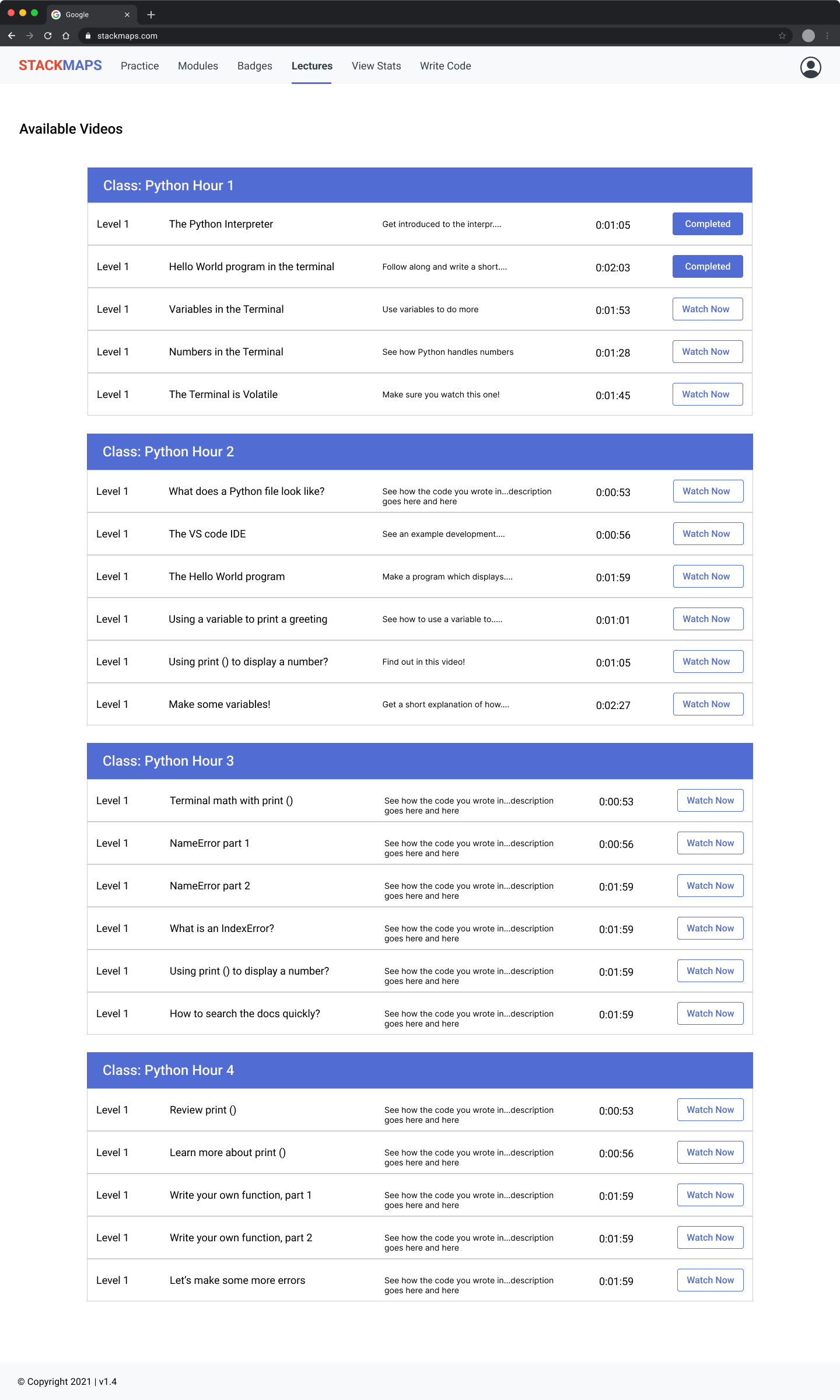 Debrief
From the client debrief, our team was informed about the following:
Main persona: Level 1 students learning to code in Python.
Project requirements:
Must be based on Bootstrap guidelines.

The client wants the pages to be more engaging for users and design a visual UI.

The user wants to know whether they have watched a certain video or not.

User Story
As a programming student, I want to keep track of the videos I have already watched, so that I don't waste time rewatching what I've already completed.

As a programming student, I want to watch this video without distractions so that I can focus on learning Python.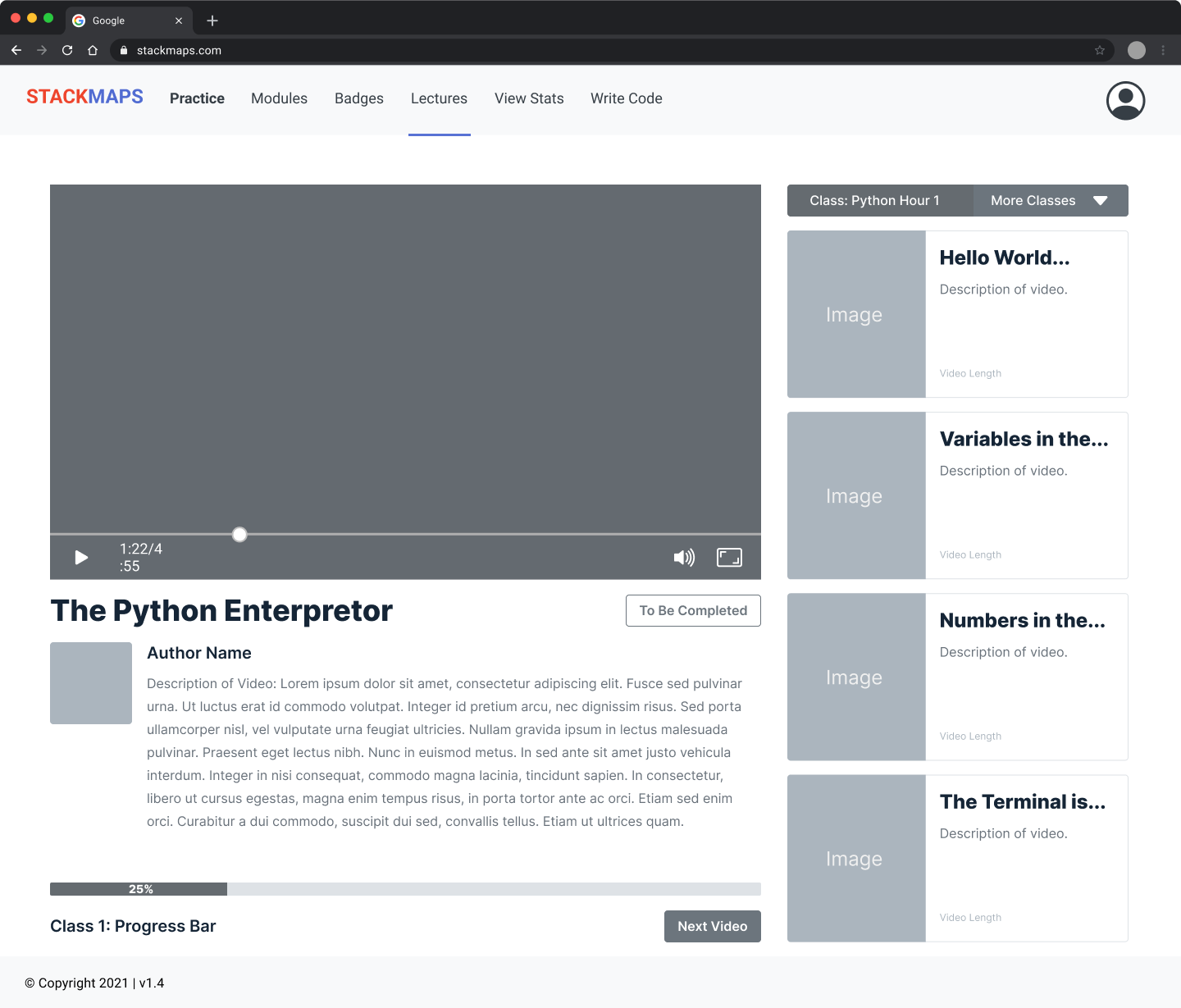 Wire Frame


Each team member came up with several solutions. My team met on Figma for a design critique session. Prior to the meeting each member presented their ideas. We then finalized the designs that we would present for the final design mockups.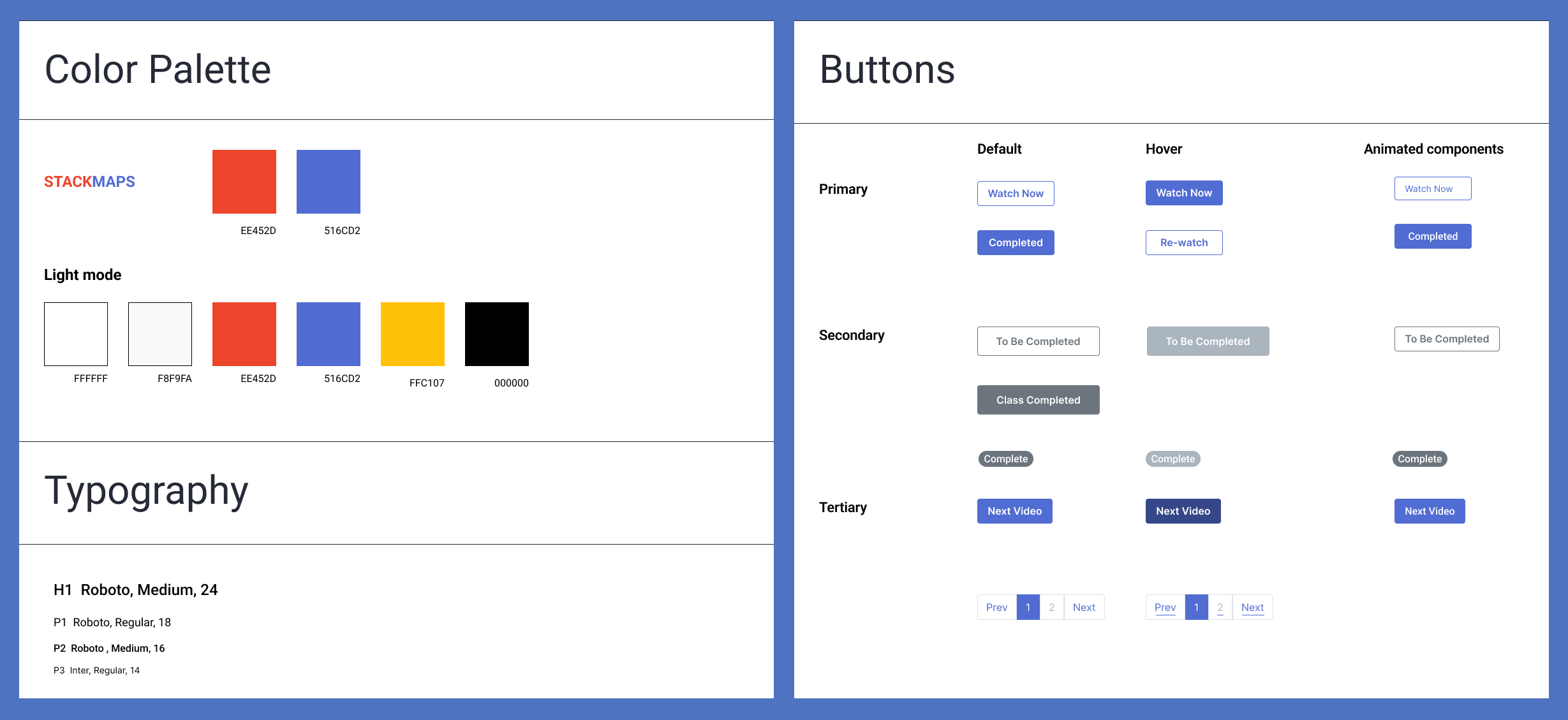 Style Guide
The colors and styles were based on StackMaps' existing UI. This helps to maintain consistency when designing the each screen for our designs.
Goal
Our main task was to make a user friendly experience for developers to easily access available videos to learn code. The client wanted us to follow Bootstrap guidelines which is the most popular front-end frameworks and open-source projects in the world. Our design utilizes many bootstrap components in our design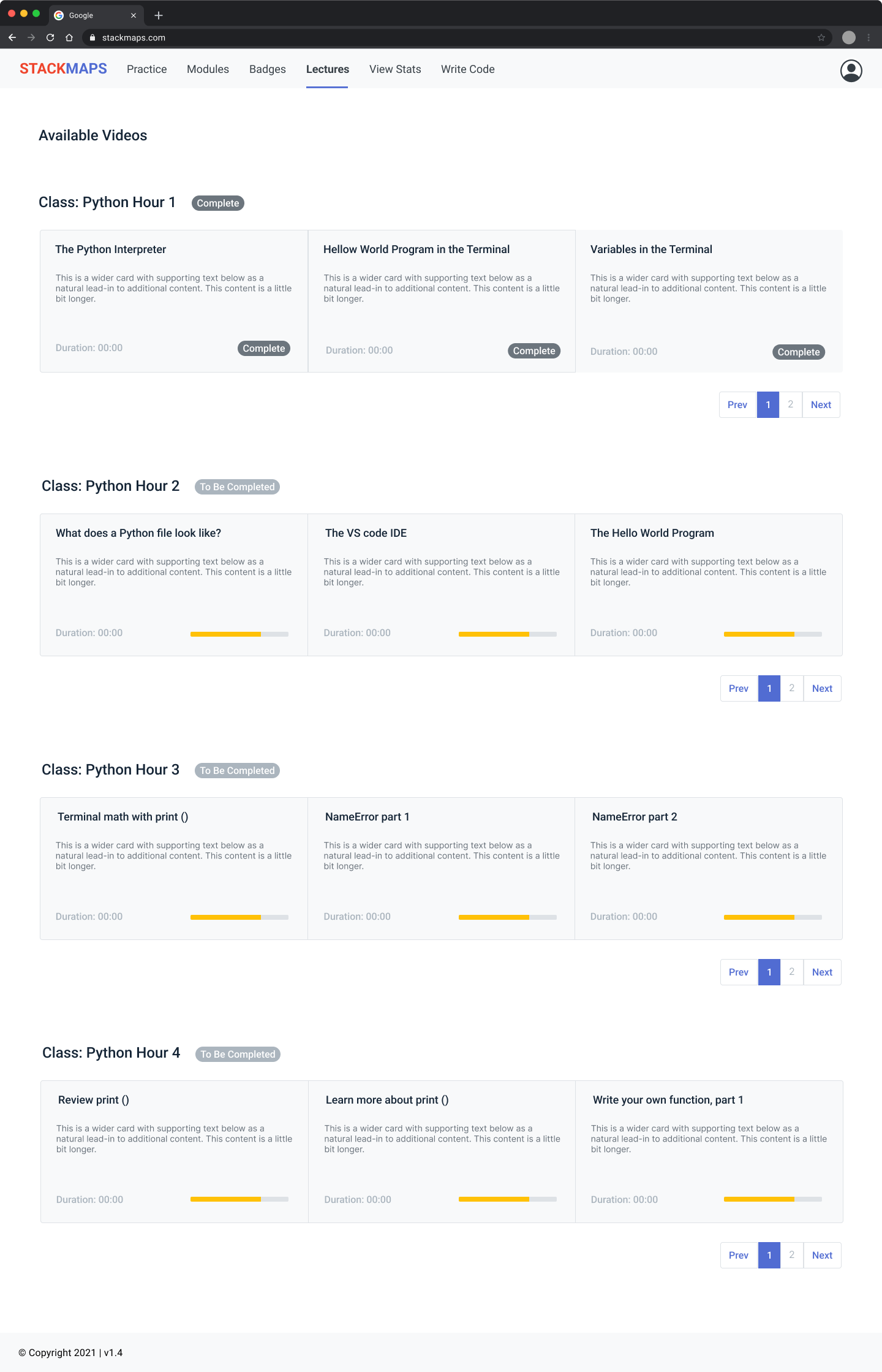 Hi Fi
The main goal in the design process was to make a simplistic experience for developers to easily access available videos to learn code. The client wanted the UI experience to be engaging for users and were open to any design decisions. The client also asked that we followed bootstrap guidelines which is one of the most popular front-end frameworks and open-source projects in the world. Our design utilize many bootstrap components in our design and incorporated UX best practices. For example, we used Card Layout due to it providing balance and a clear aesthetic that is simple for the users.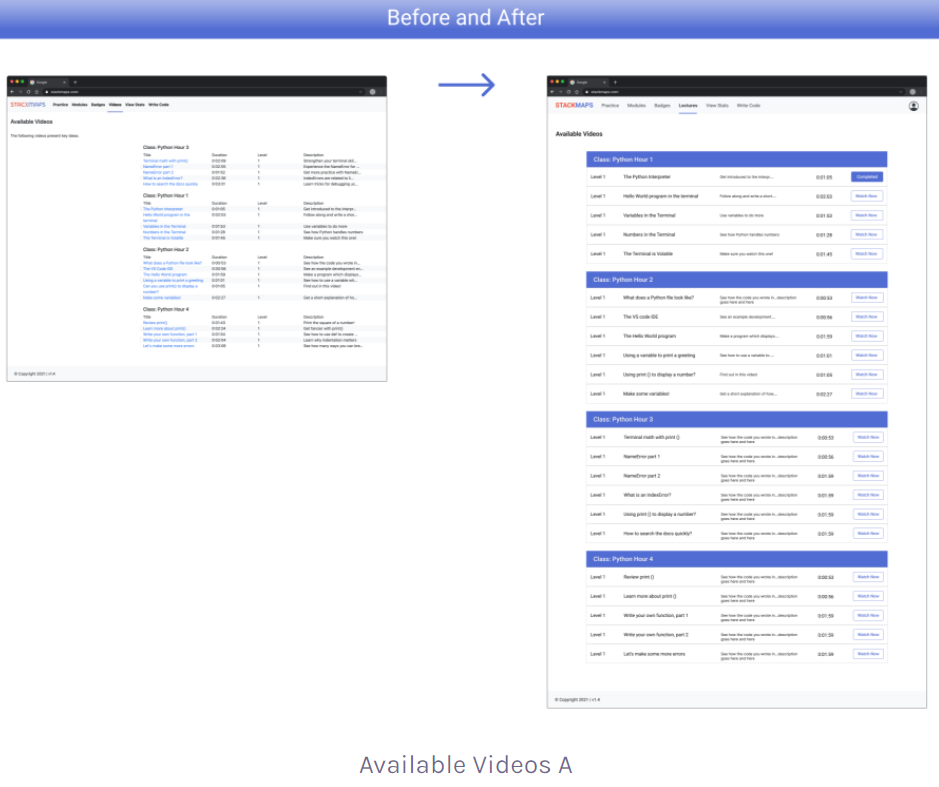 UI Re-Design
We decided to do to the following Design changes:
Easy to find titles without images (videos are all about code)

Clearly defined completed/watched videos versus unwatched videos.

Bootstrap-inspired tables allow users to glance at all necessary data. Organized information.

Tables are scalable as the portal adds more information.

Great for quick interface loading speed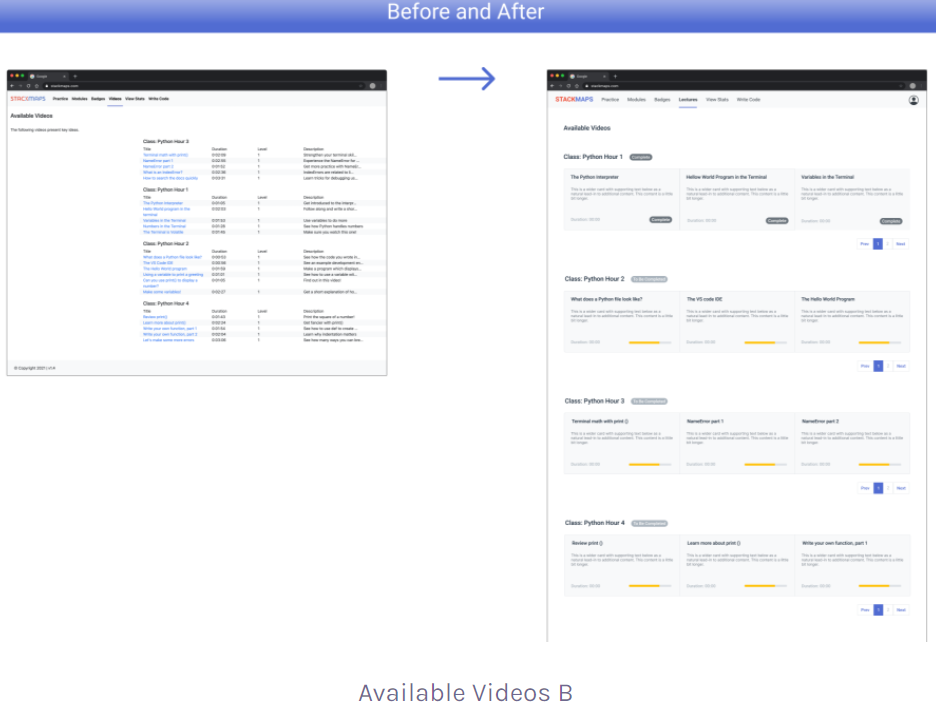 UI Re-Design
Design decisions:
Card design to provide organized information.

Progress bar added to increase user satisfaction and engagement. (Sense of accomplishment..."How much longer do I have left?")

Carousel to utilize space and showcase 3 important primary videos of a class..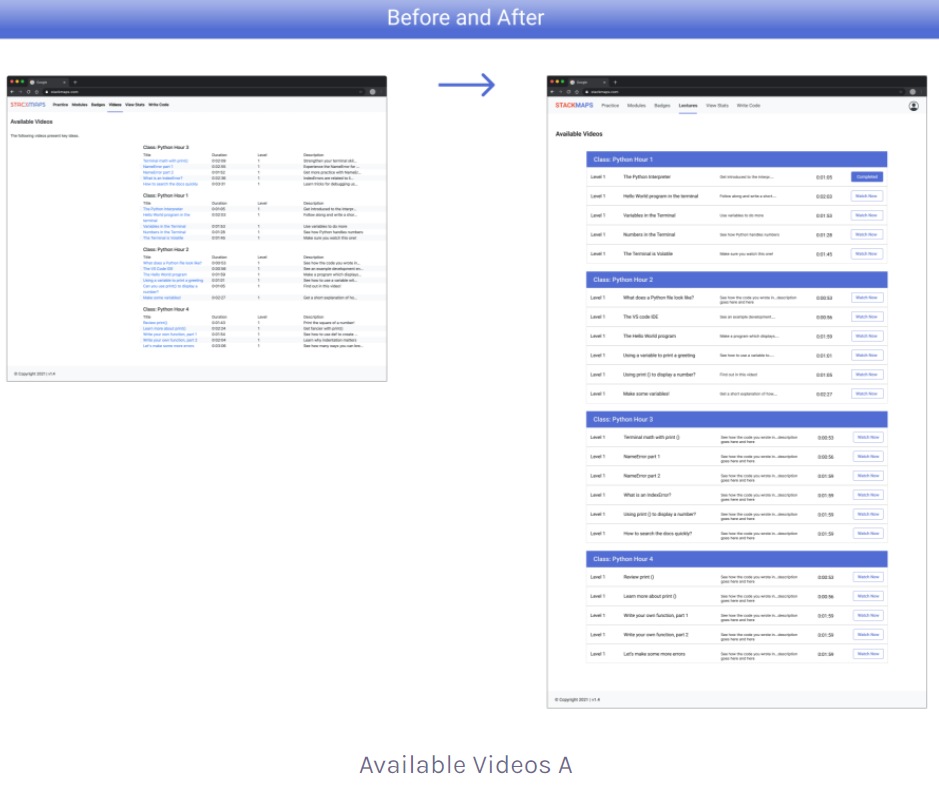 UI Re-Design
Design decisions:
Task-focused approach: watch to learn. Minimal distractions.

Youtube has more than 2 billion worldwide users. Therefore this design draws patterns from this familiar platform. This limits confusion for the user!

The progress bar allows the user to know how much learning they have left of a certain class.

Additional videos within the class are displayed below for a quick glance at what comes next.

Developer Hand off
Some quick highlights for an easy handoff
Notes were added about the specific Bootstrap guidelines
Conclusion
This project was a great learning experience due to being able to discuss different points of view during the design process with my team members. The client trusted our judgment and was happy with any ideas that we provided. I had some concerns with the project due to being unable to conduct user testing. I believe user testing provides great feedback and insight into one's design.