Heuristic evaluation and competitive analysis of a custom Learning Management System for STEM subscription kits and grades K-12 classes.
The Problem
Thimble.io is a STEM subscription box and online video platform that teaches kids a basic understanding of robotics, coding, and engineering. While Thimble already has an existing website for it's members, they are looking to expand into K-12 schools and provide an entire learning management software (LMS) that accommodates both students and teachers across the country.

Thimble has asked our team to provide recommendations for building a custom tool or working with a cookie-cutter solution.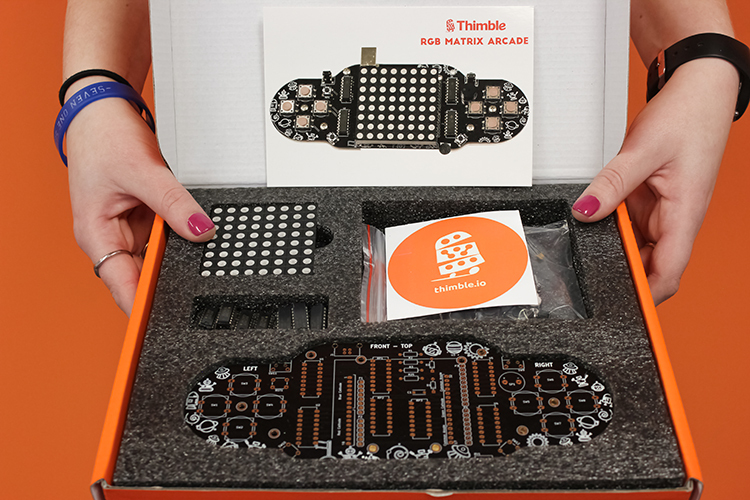 The Process:
1) Heuristic evaluation to determine if the current website and old LMS meet the client's expressed needs.
2) Research, analysis, and comparison of related LMSs to comprehensively assess what systems are capable of integrating with Thimble's current content.
3) Presentation of findings and a formal recomendation to communicate the best course of action.
Timeline
4 Weeks (July 2021)
Role
Researcher (Team of 4)
Our client identified several important features they needed in a new LMS.
For Teachers:
Login/password


Step-by-step written instructions with images and video tutorials


Ready-to-teach lesson plans

Lessons show alignment to curriculum standards

Lesson plans can be edited and combined with other external resources on the fly


Professional development library

Contains videos for teachers to teach themselves how to use projects and self-certify / earn teaching credits.


Ability to administer quizzes, assessments


Can manage individual student progress or class as a whole


Can grade students on work
For Students:
Optional login/password

potential synching with Clever or Google Classroom)

Step-by-step written instructions with images and video tutorials

Content presented in a way that is easy for students to consume.

Troubleshooting forum

If kids hit a wall, they can ask questions in a forum where teachers, students, or Thimble Support Team can answer.


Thesaurus with technical terms and theoretical concepts

A place where kids can find terms they don't understand.


Lessons offered in different languages (English, Spanish)

Student progress tracker

Badges and certifications

To award kids that have successfully completed a number of lessons


Potential coding interface

To teach kids coding multiple languages

Student Portfolios

For students to keep track of their own projects over time.
As a team, we evaluated two cookie-cutter learning management systems and eleven websites using custom built learning management systems.
We also identified three custom built websites specifically for coding that can be integrated with most existing LMSs.

Every website and system was compared against the client specified needs.
A Peek into the Evaluation Process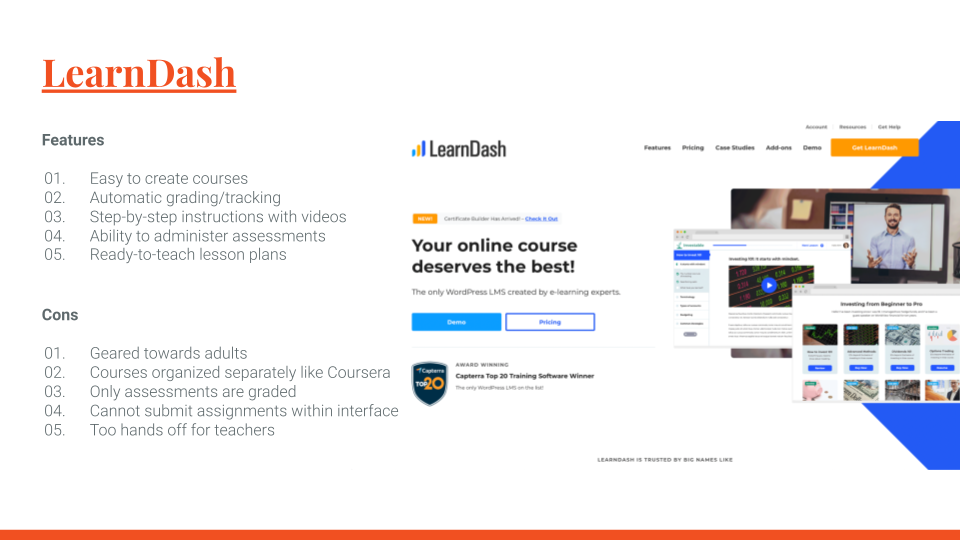 LearnDash is a cookie-cutter course builder and learning management system.
Although cookie-cutter solutions may work for "at your own pace" courses geared towards adults, we quickly found that a solution like Learndash would not be suitable for K-12 schools. Not only does it lack customizability for the teacher, there is also no way to grade basic assignments.
Once we realized that cookie-cutter solutions were likely not the best fit, we began our research on custom built solutions.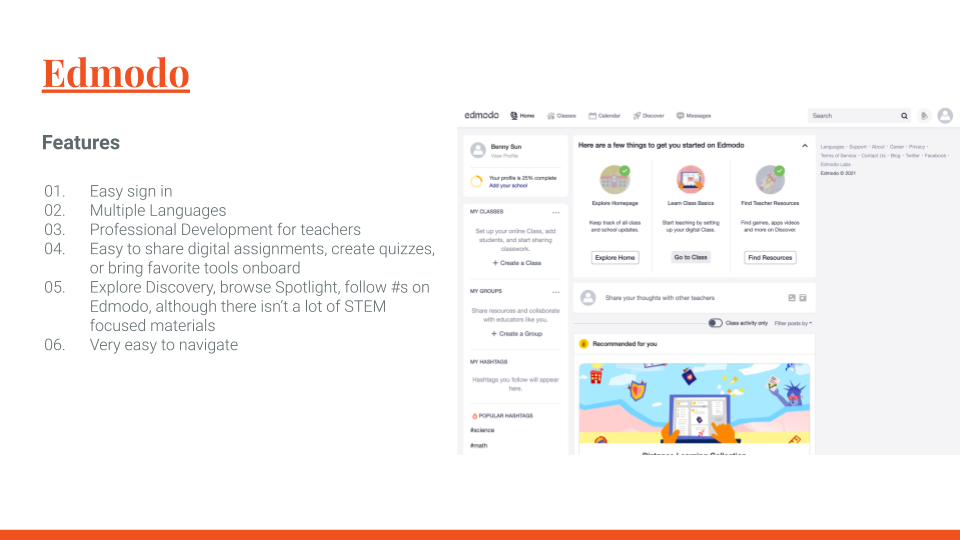 Edmodo is a customizable learning management system.
A number of learning management systems, such as Edmodo, Blackboard Unite, and Schoology, were created specifically with a K-12 audience in mind. As such, they contain many of the client's desired features.

However, Edmodo comes closest to meeting the client's every need with only one key component missing: a potential coding interface.
Since Thimble is a STEM service that focuses on coding, recommending an option that allowed for coding was a priority.
This motivated us to look towards coding specific platforms with the ability to be integrated into more popular LMSs.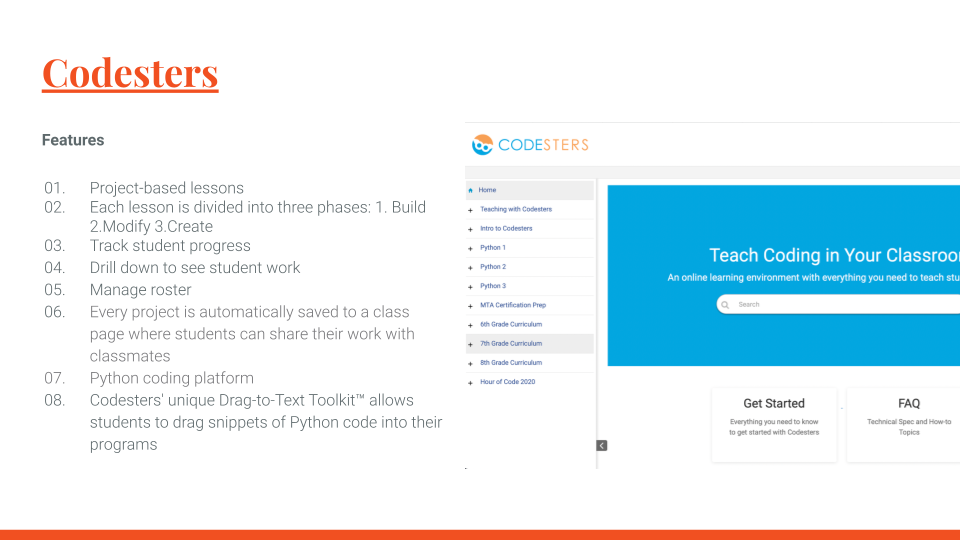 Codesters is a learning management system focused on coding.
Codesters is one of the three code specific platforms we identified as being able to easily integrate within a regular learning management system.

Employing one of these platforms would allow our client to utilize a coding interface without designing one from scratch.
After evaluating more than a dozen LMSs and coding focused K-12 websites, we have determined a custom built platform is going to be most beneficial for Thimble to present their lessons and project kits to schools. This will allow Thimble to integrate their curriculum within existing LMSs that schools already use. It will also allow for an interactive coding interface that cookie cutter solutions just can't offer.

A combination of a conventional K-12 LMS and a coding-specified LMS/platform should also be able to meet most of Thimble's requirements at the current stage. Although, with Thimble's rapid growth in the near future, this solution might not be able to keep up and offer a smooth experience for teachers and students.
While our client had a very straightforward set of requirements for a LMS, the number of options available made the decision making process difficult to start. Working together, our team was able to evaluate and present each option in a way that made it easier for the client to move forward.

Based on our recommendations, Thimble will now be deciding whether to use an existing learning management system with an integrated coding platform or creating their own learning management system from scratch. Our team will continue following up with the client and are ready to design a new LMS if that is the path the client decides to take.