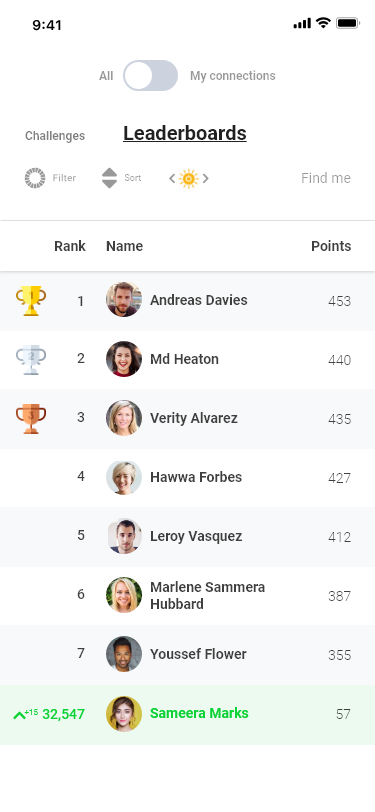 Product Designer at Impactr
THE SOCIAL MARKETPLACE FOR SUSTAINABILITY
I have a separated, personal project - working on sustainability challenges as part of gamification feature.
I also worked on personas, customer journeys, setting up testing platforms and making test plans, ideation sessions with CEO, strategizing and advising on the core features of the product, researching, analyzing competition and coaching new interns in the absence of our senior.
Our target audience is people wanting to make an impact, businesses offering solutions and experts giving advice on the platform.
Our current and biggest challenge is to get the product out with the best possible user experience in a short amount of time.
I started as an intern but quickly became a full-time product designer, managing a small team of other designers when our senior is away.
Problem statement
Impactr's product is offering products by businesses for users wanting to make an impact but doesn't know-how. However, our research had shown that it might not be enough and a feature is needed to support this goal.
This will impact the business by providing additional retention and engagement.
Our feature will address this problem by offering highly gamified challenges and possibly more gamification in further steps.
We will determine how impactful this will be by assessing NPS and conducting more user research.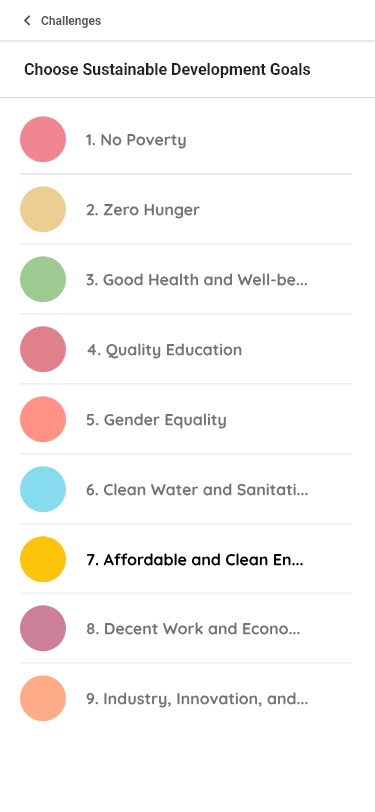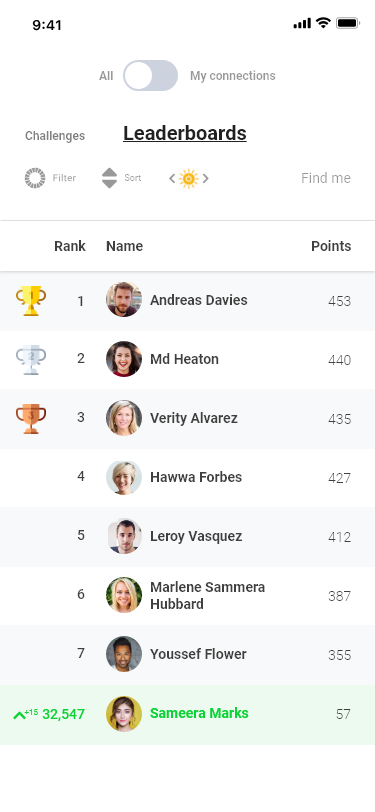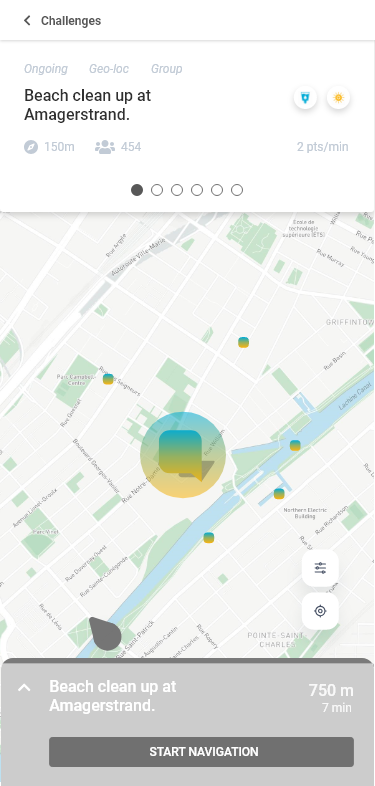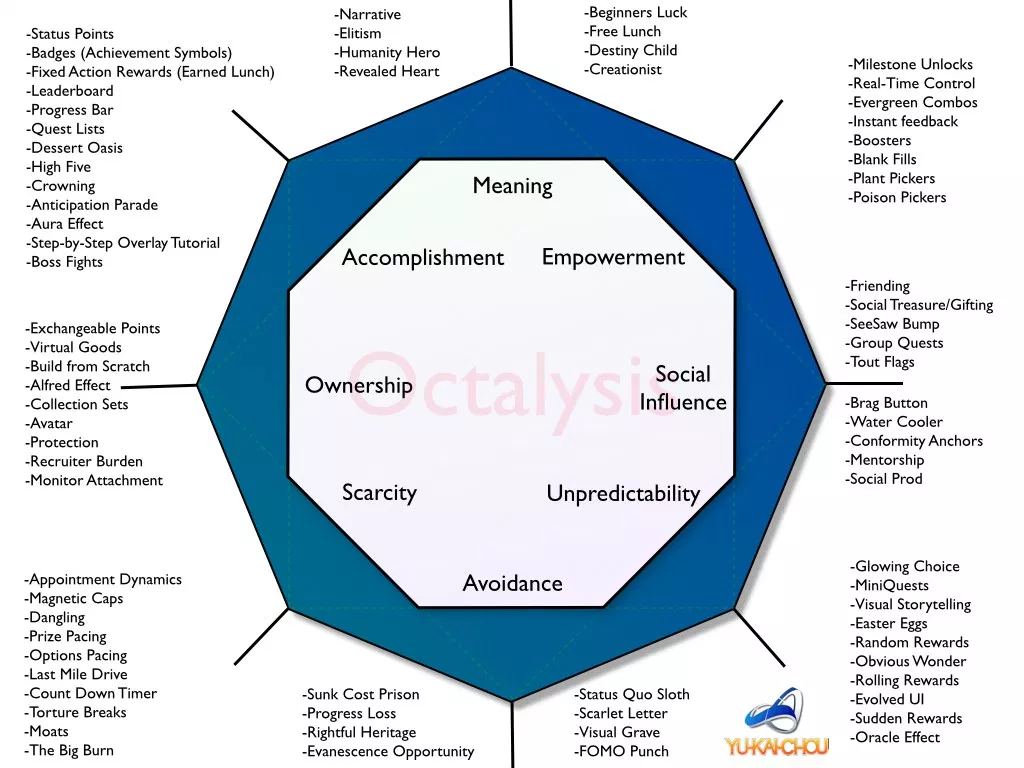 Gamification research
To get a better understanding of what kind of gamification feature we will need I studied Octalysis Framework by the gamification pioneer Yu-Kai Chou - https://yukaichou.com/. I connected his ideas with our brand personality and personality of our users.
Our users are mostly consisting of those who understand that sustainability is a necessity and are driven by doing good and helping the planet. Having that in mind I chose meaning (humanity hero, creationist), accomplishment (status points, badges, leaderboards), social influence (friending, group quests). Ownership was set at the base of the app as Impactr would also work as a marketplace for business to exchange their products, integrating that with points from gamification features - discounts, trials, products for earned points.

Our main focus should lie on Epic Meaning & Calling as the core drive where a user believes that he is doing something greater than himself. This core drive should be explored throughout the app - for example, a huge win would be inserting a status bar in the app showing progress reaching sustainability worldwide net-zero and a similar bar for individual SDGs, however this would require a lot more research to set a unified way of counting of different, individual actions. For actions on a more modular level a point-based system (invokes immediate gratification towards something tangible).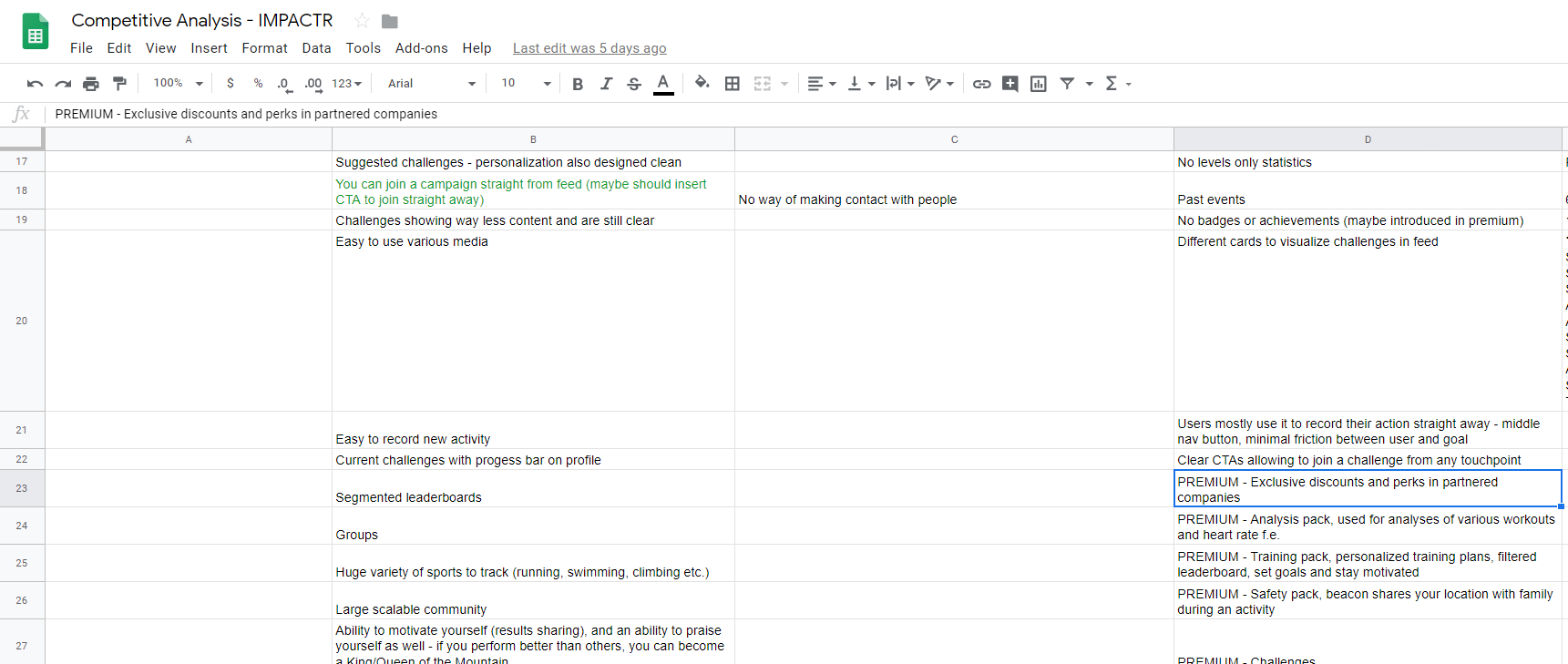 Competitive Analysis
For competitive analysis, I have chosen one direct (GreenApes) and one indirect competitor (Strava). GreenApes already tried having challenges but their app didn't get enough traction from users. Strava is a world-wide known app for recording your sports actions (running, cycling, swimming, etc..) who successfully introduced challenges. You can see all of it here.
Main Insights:
Certifying eco-actions via other apps (partially solves our issue with validating actions).

Through app store comment I learned that GreenApes mainly failed because of not enough rewards.
Strava offers a nice integration of challenges through the feed.
Users praising segmented leaderboards.
Confirmed that users are being driven by sharing results and leaderboards - One of the users mentioned that he was able to run way faster because somebody was simply better and that made him more motivated
Sense of security & inclusion Strava provides by gathering like-minded people, which confirmed our assumption to idea-sharing and not being worried to sound stupid when the community is close.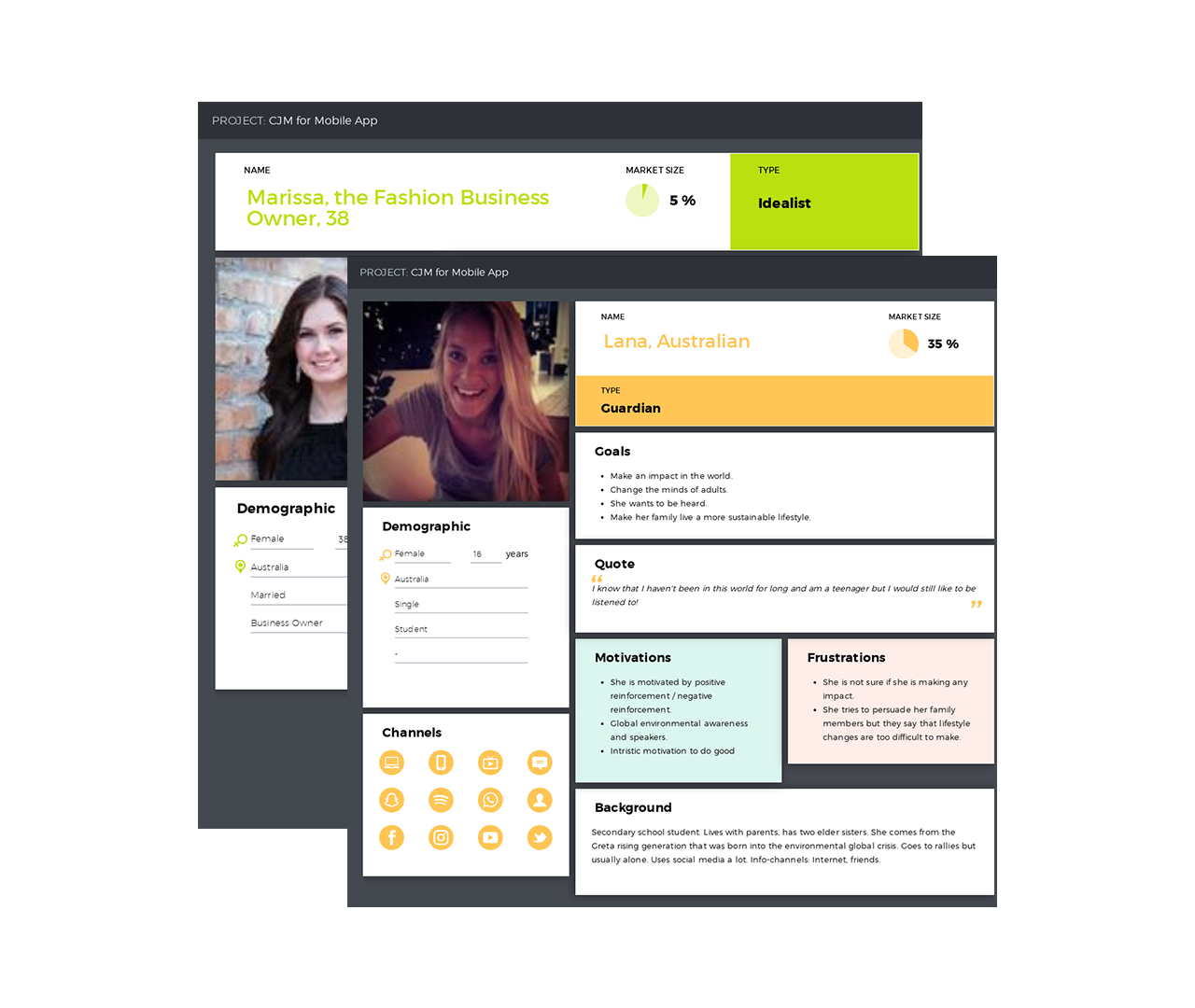 Personas
Based on interviews, data from our executives and other team members we set up a week-long workshop where we were meeting and setting up 6 personas. These two are just an example.

Based on the insights, competitive analysis and gamification research we decided that to solve their issues and increase retention and engagement we will create a challenges feature in our app.
Main Insights:
Our users want to make an impact but are not sure how.
They think that it is a huge deal and will get into their finances.
Younger generations want to persuade their parents but all the available data is too scattered.
They are not sure if they are making any impact at all.
User stories
In order to have a better overview of what our users need in the gamification feature I created epics and user stories to support our development.
Guiding Questions:
As a user I want to be able to recognize what kind of challenge it is for better information filtering.
As a user I want to be able to see how many points I will get for completing for better prioritization.
As a user I want to be able to see how many other people are doing a challenge.
As a user I want to be able to see how far a location based challenge is to see if I can get there easily.
As a user I want the button to be easily accessible in order to have minimal friction when taking a challenge.
As a user I want to see who is attending the challenge to see if I know somebody
As a user I want to see who is attending the challenge for a possibility of contacting other like-minded people.
As a user i want to be able to filter through challenges to find the most suitable one for myself.
As a user I want a search feature to look for certain challenges
As a user I want to sort challenges based on criteria to find most appealing ones
As a user I want to pick what SDGs I want to impact in
As a user I want to be able to navigate to the location of a challenge.
As a user I want to know which way I am facing to locate myself better
As a user I want to pause and restart navigation at any time
As a user I want to locate myself on the map
As a user I want to see other challenges on the map
As a user I want to be able to filter those challenges
As a user I want to know how far the challenge is
As a user I want to see how other people are doing to benchmark my own actions.
As a user I want to compete with other people.
As a user I want to see my progress on the leaderboard so I can check how I improved
As a user I want to see what challenges are currently trending to see what other people are doing.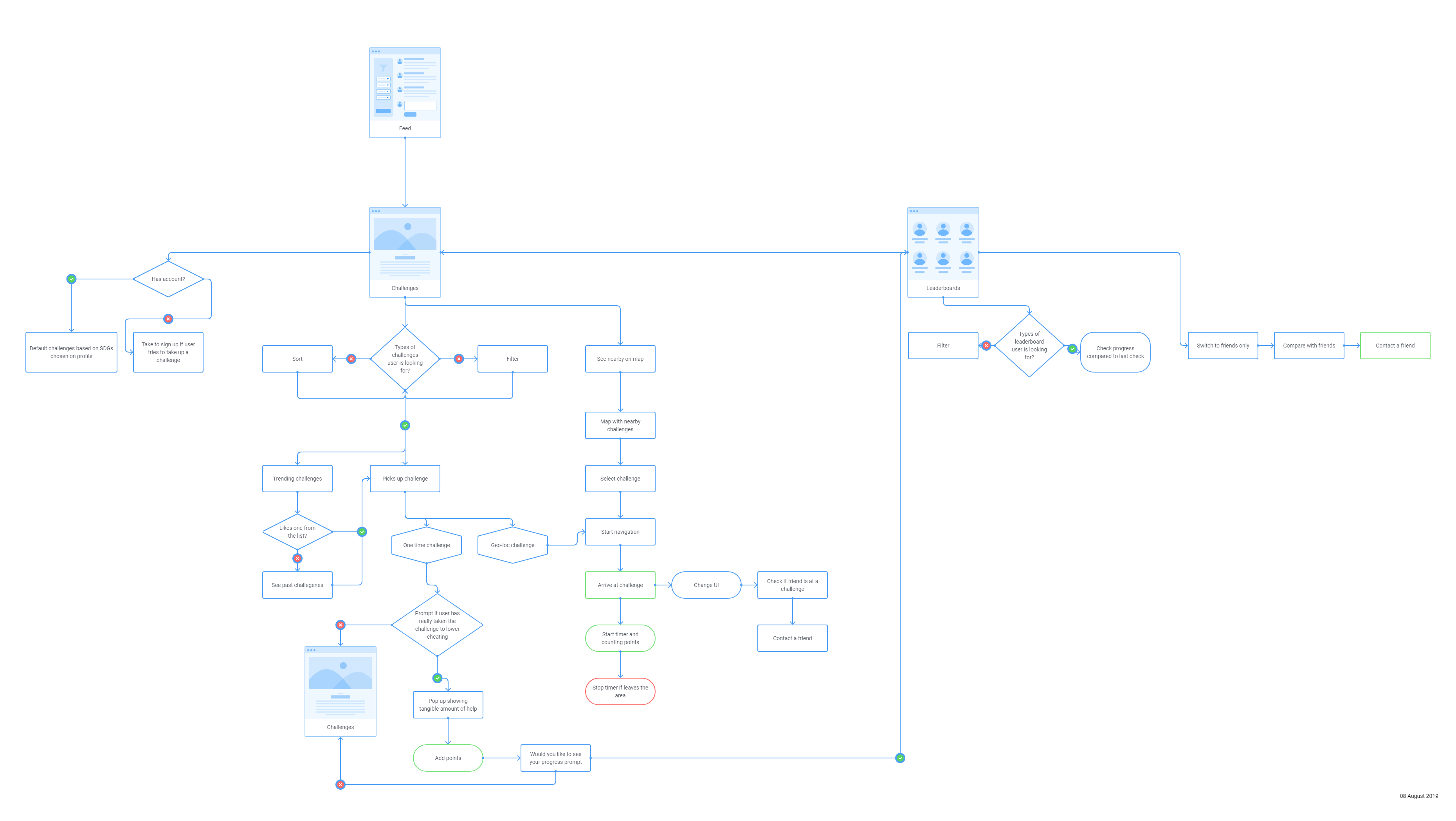 Flowchart
To understand the flow of the app, possible improvements, support of our user stories and later delivery to our developers to create a backbone for the feature I created a flowchart using Flowmapp.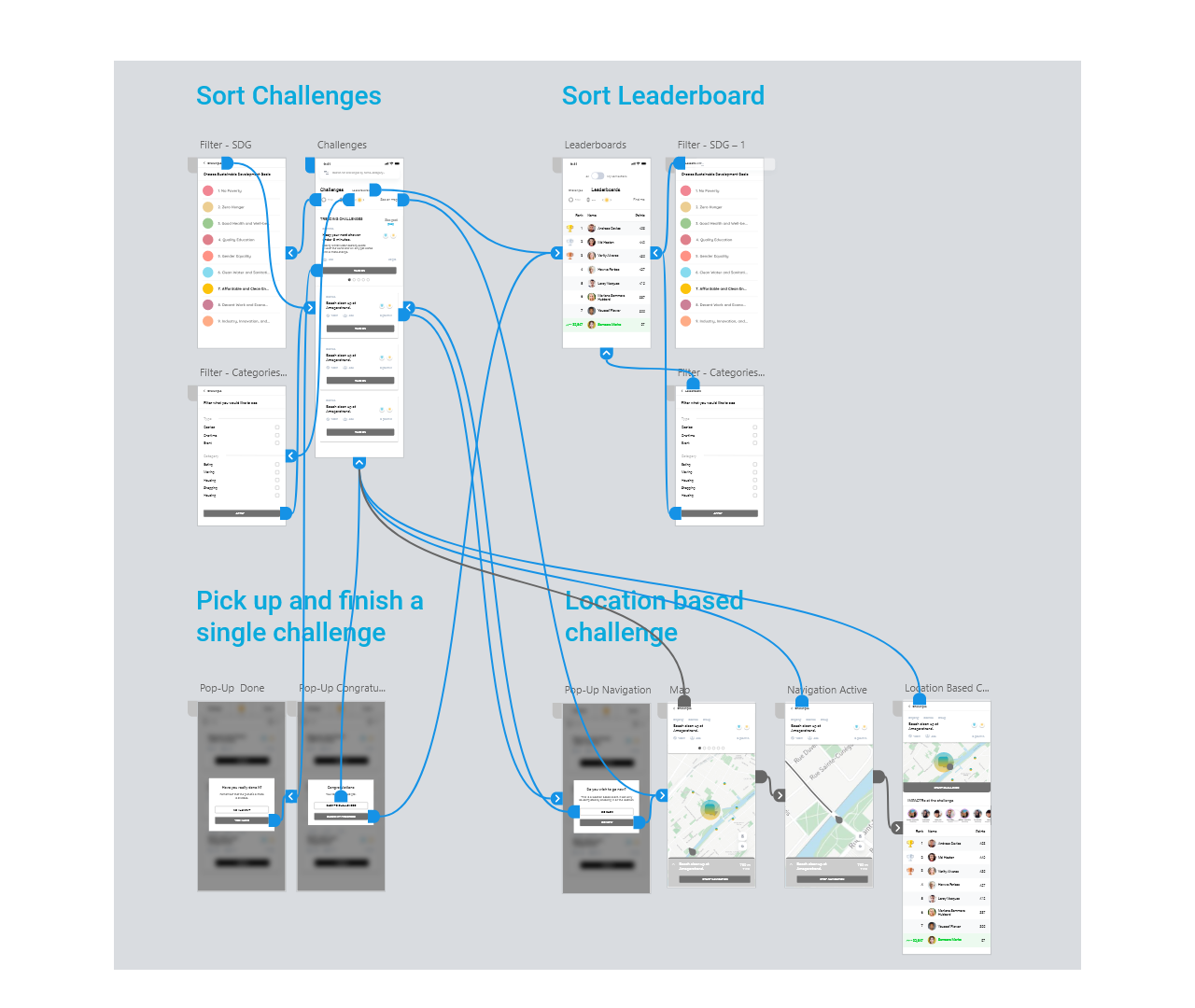 Wireframes and wire flows
At the beginning of my design process I sketched out various version of wireframes for choosing purposes based on user stories, competitive analysis, and visual research for later testing purposes and to show our executives what we have in mind. I also created wire flows so our developers could see what leads where to further support my flowchart.
Parameters
High Fidelity




I used Adobe XD




Later to be used for testing purposes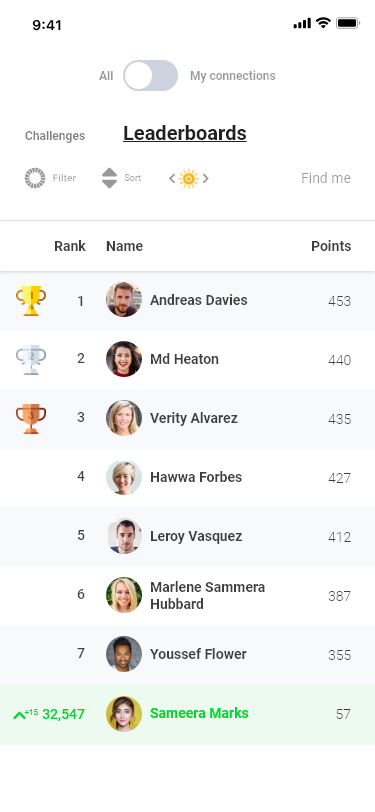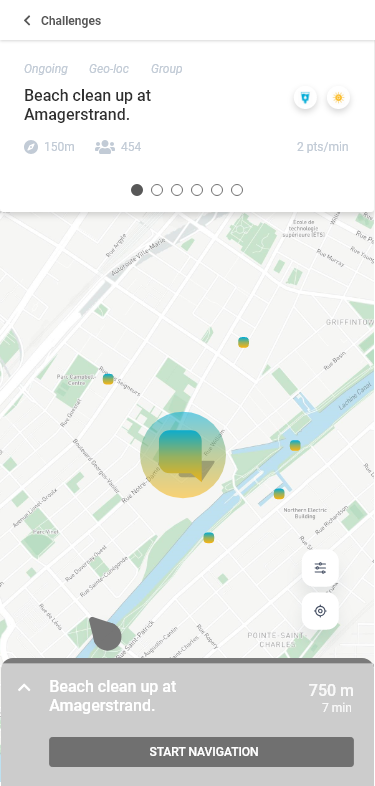 Customer Journeys
Our executive tasked us to make some customer journeys for funding purposes as some of our potential funders asked for them as a way to see something tangible. I went a little bit further and marked parts of journey where might be potential problems and how to solve them.
Insights:
Business owners like the idea of experts giving advice - major value proposition for landing page
Notification system regarding sales of business products- so they won't get overwhelmed with notifications - the single, main reason for people uninstalling apps

A monthly e-mail with statistics for business owners regarding product sales with segmentation with further research into programs they use for more integration

Set of questions to talk about in our "Happn feature"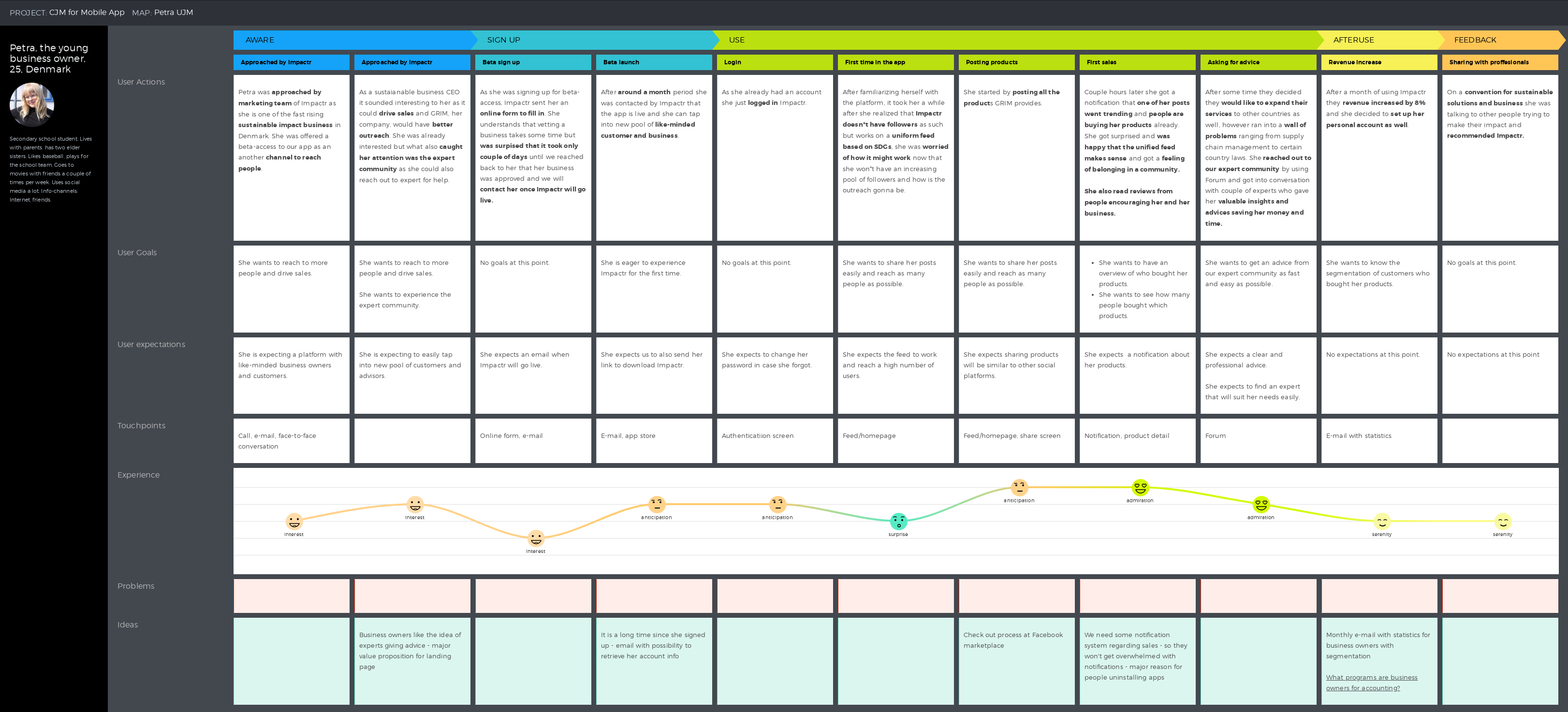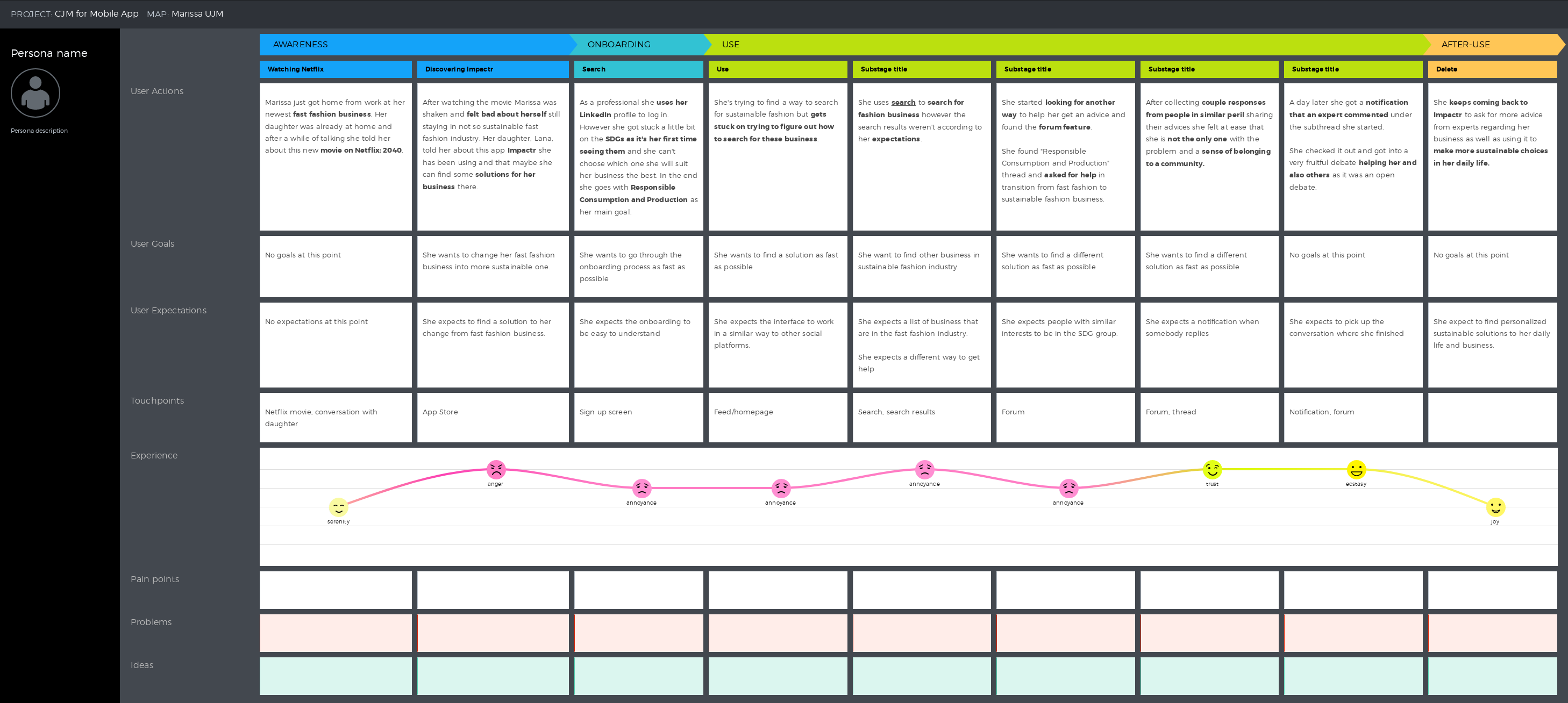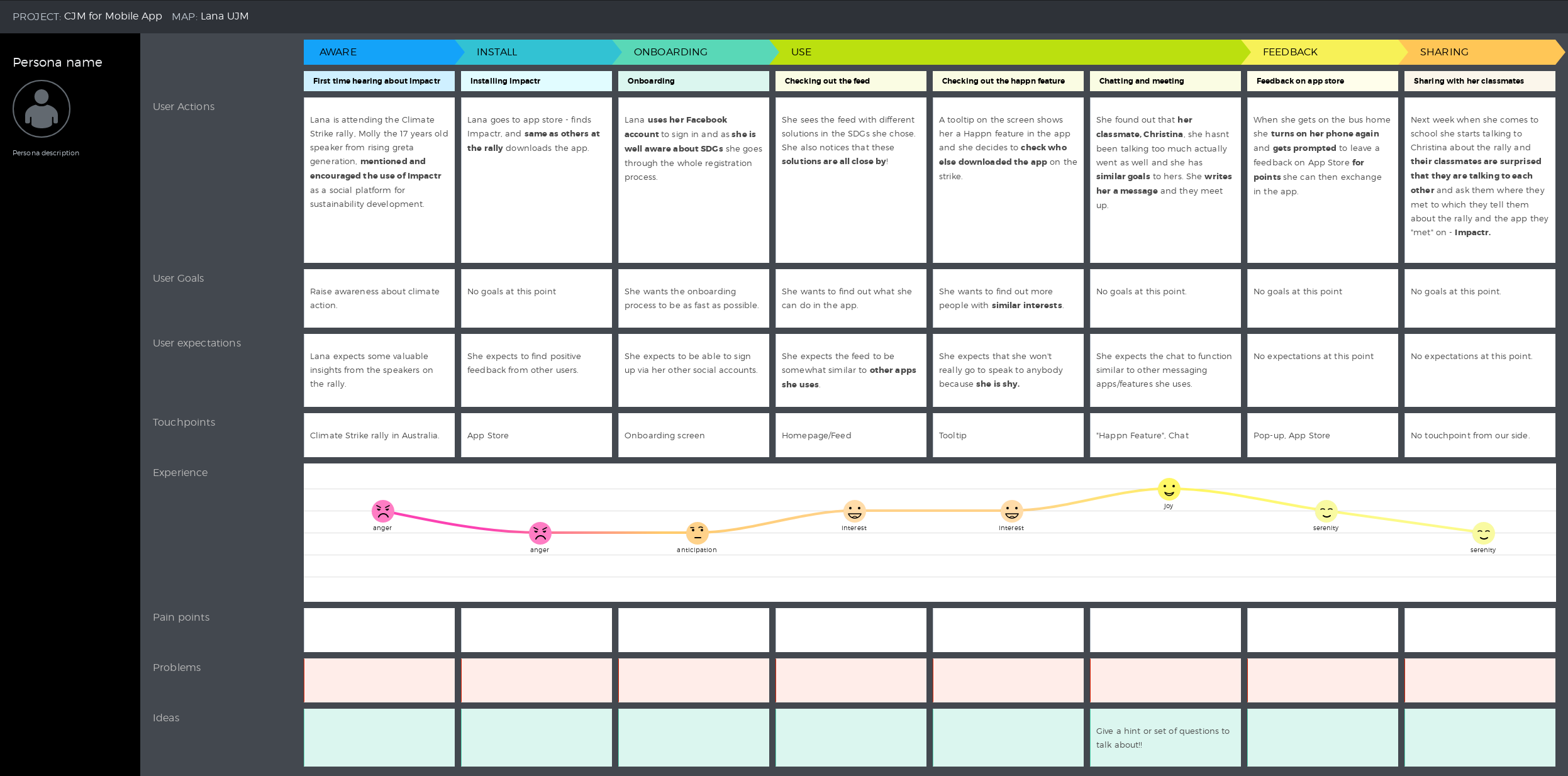 Usability Test Plan
I made a repeatable test plan for our future iOS device usability testing. However, it is still under the development process and therefore it hasn't been used yet to show results.
However, I planned and wrote the following:
Measurable KPIs individual to each of the flows tested
Carefully setting scenarios and tasks to avoid bias
Research objectives and questions for high overview
Preference questions
Plan for observers
You can see the plan here.
Designing feed cards for A/B testing with "slide-to-impact" feature.






What have I learned from this project?
I have learned a lot from this project so far as I have the luck of having great mentors (Amazing lady-leader Johannah Maher who showed me what really means to be a leader and not just a boss and been making me push my limits as well as letting me on board of marketing and overall decision to get a grasp of overall strategy, and a great senior UXer who has a proven experience in various fields of UX disciplines as well as great track of coaching - Keeya Wang-Jones) who have given me a great lot of freedom which I am trying to repay by my hard-work.
My biggest fear was to be in such an environment as one of the youngest employees surrounded by many talented people.




I overcame them by doing my best, asking for advice and reading a lot of books provided by my UX mentor, Keeya and many more that helped me stand on the same platform with those talented individuals.



My biggest achievement (still in progress) was learning to communicate my findings, articulate my design decision and persuade stakeholders.
I learned what it means to coach somebody myself and started my journey on becoming better myself to inspire others.