Red Bud Isle App
Helping New and Returning Park Goers
How it started.
Red Bud Isle is a unique 17-acre island and city park that sits in the middle of Lady Bird Lake just south of Tom Miller Dam. There are three distinct areas to explore: the main trail, the elevated center, and the water. You can drive across a short bridge and park on the island. I often venture here with my own dog.
This project was to design something the space needed. After testing and many surveys, I found that an app best helped serve this park.

I focused my audience on active 20- to 40-year-olds who own dogs and live in the Austin area.

This app supplies new and returning dog-owning park goers with general park information, current algae levels, and ways to keep in contact with one another.

Current algae levels will be easily accessible with this app to help keep dogs safe and give owners peace of mind when letting their dogs in the water. This feature will help distinguish the app from other park apps.

This was a solo project that I created from start to finish.
Surveys
In order to know what to design, I gathered data about the park and issues that other users experience. I set up an online survey and asked participants to fill it out.
This was a short 10-minute online survey with a variety of question styles.

Over 75 people completed the survey.

My results showed two main areas of focus: parking issues and overall park information.

Based on these findings, I tackled the way in which people could easily find all information on the park.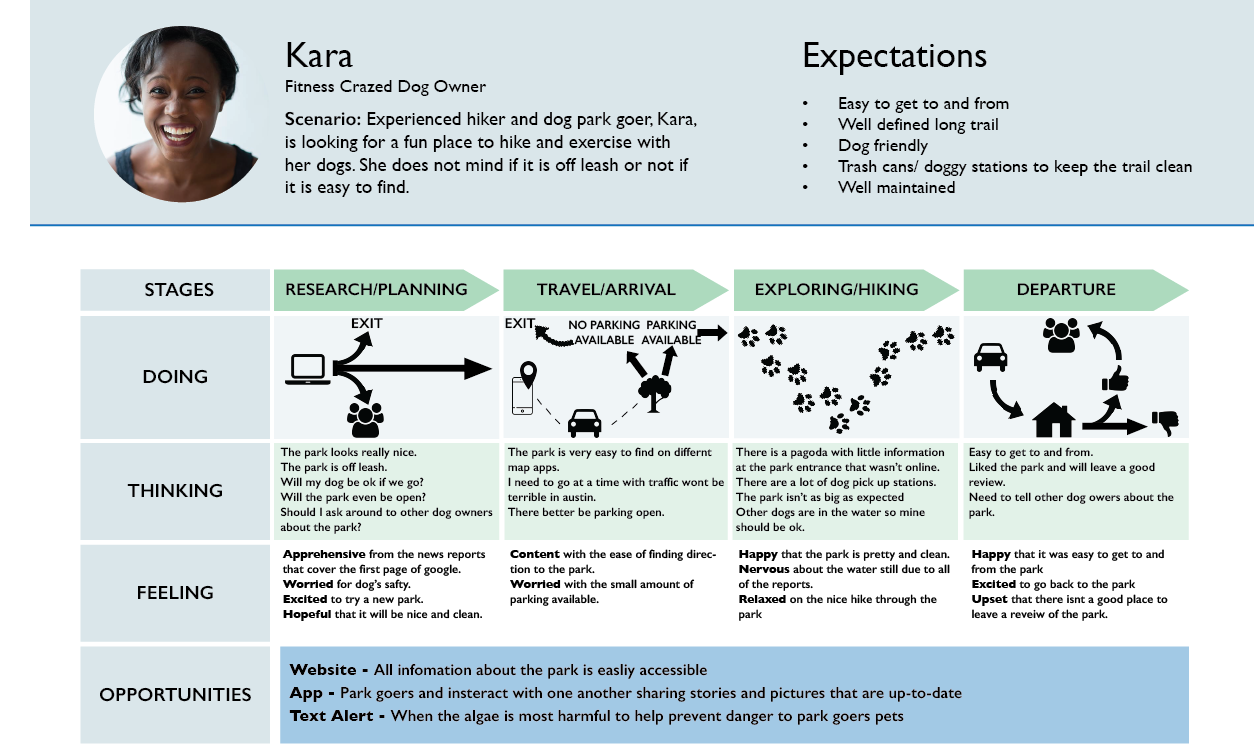 User Journey
I mapped out the users' steps to see how I could simplify their journey to help them reach their most important goals with the product.
I decided to do user journey mapping to help understand the park from a new perspective.

At each step of the journey, I uses a seeing-thinking-feeling method to truly see the space in a new light.

Without this step, I would not have so easily understood my personas or the environment itself.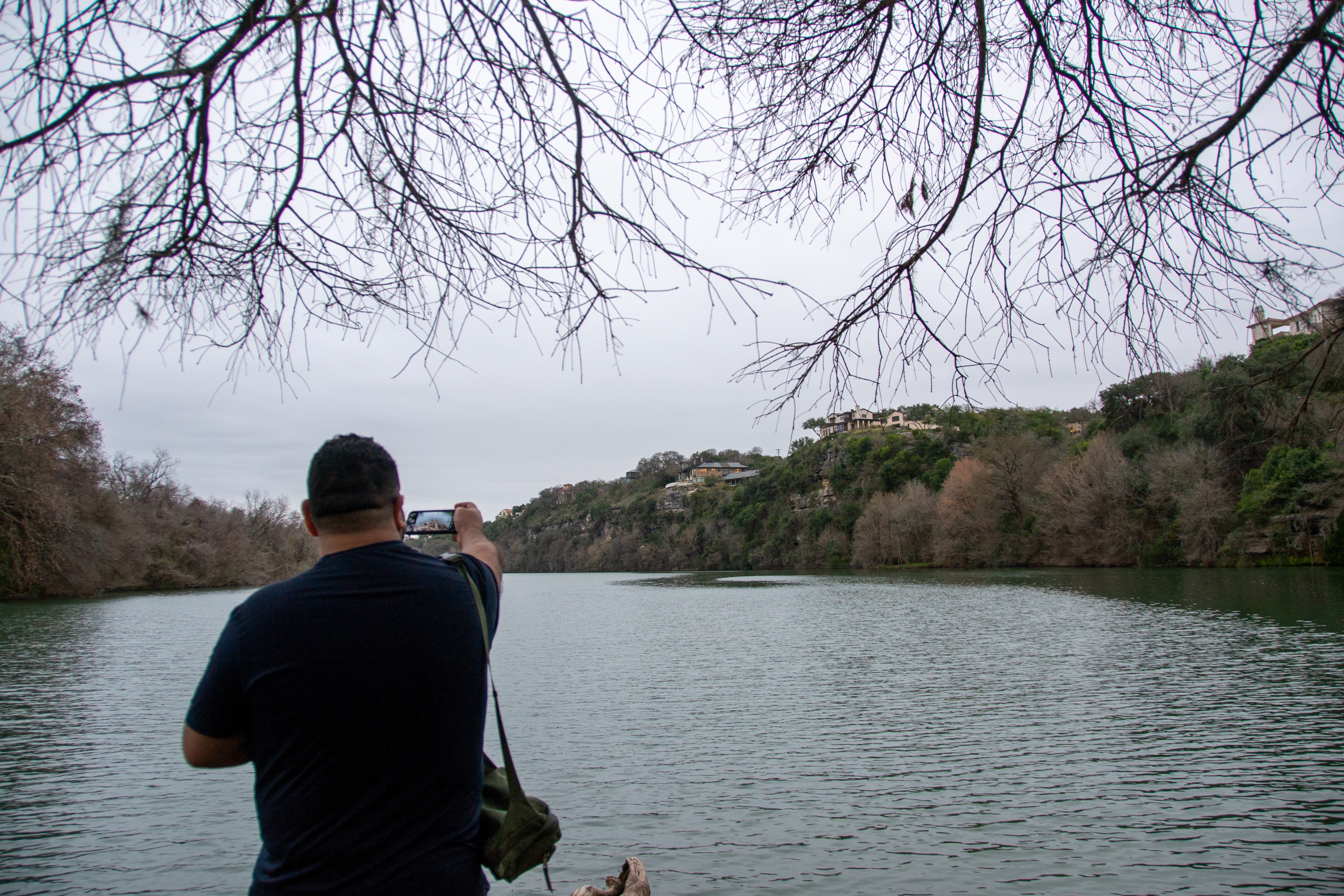 Customer Journey
To understand how customers find and interact with the service, I created a Customer Journey Map.

Early on, the user realized the need for a solution; it was challenging for him to find park hours and rules. He ended up going to the park without the information and just hoping it would be open.

He is a photographer and loved stopping for new photography moments on and off the main trail.

In addition to the user's difficulty with finding park information online, the next main pain point came in the parking situation. There were very few spots and you have to wait a long time for someone to leave because the only other close parking is about a mile away across very big and busy streets.

Therefore, I chose to tackle the first and most important task—how someone finds the park and accesses general operating information.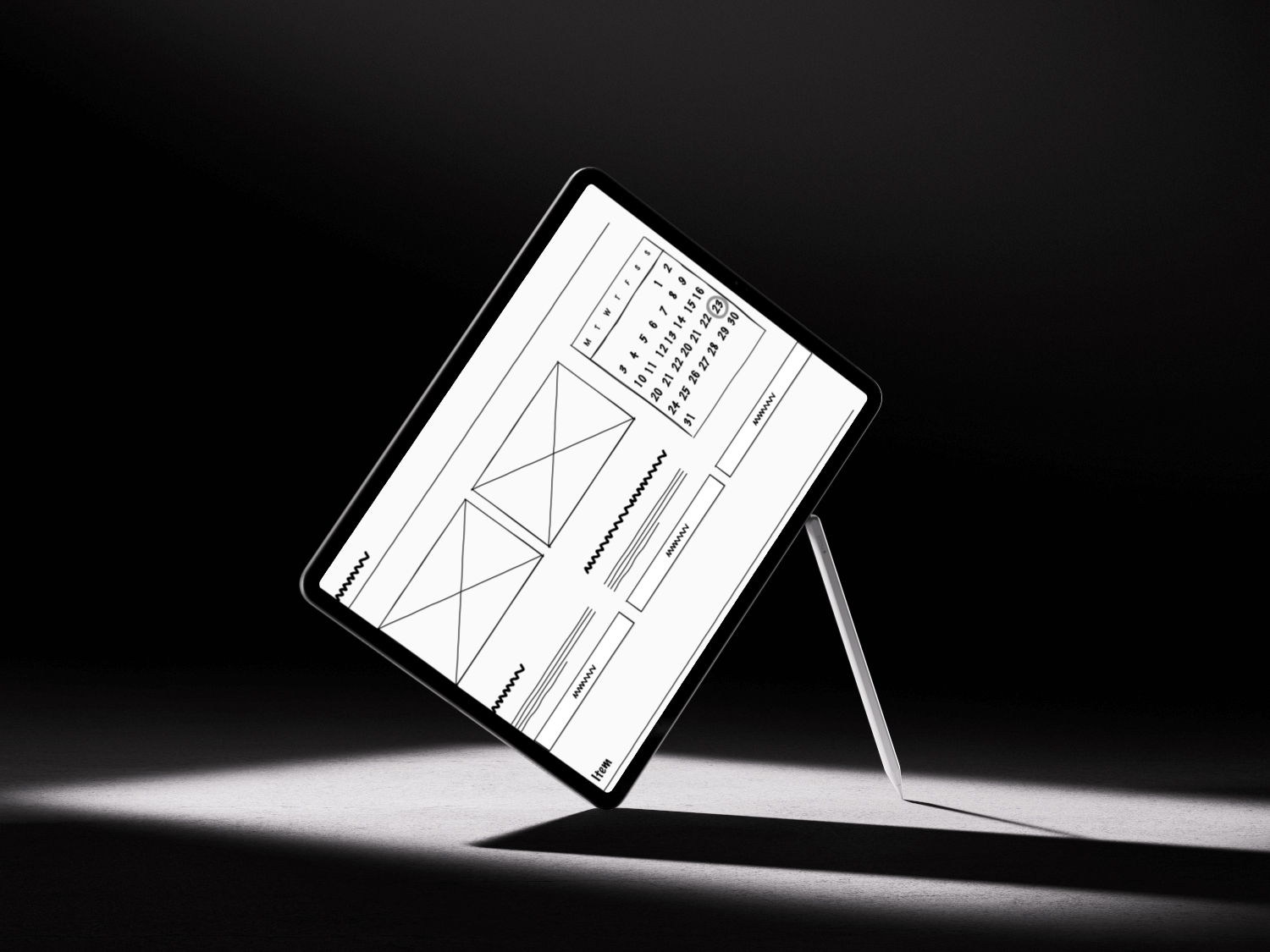 Sketches
I usually start the design process with low-fidelity wireframes. This is the way I iterate through many design options quickly.
These sketches help me brainstorm what is needed and a very rough idea of the layout.

I produced about 5 different versions of the app through sketching.

The main differences among these versions were what information was most important and where and how it should be displayed

I chose to proceed with my third sketch.

On the home page, I wanted a short overview of the most important park information; Latest Messages, Park Conditions, and Algae Risk. Because these are the main ways and reasons people interact with the app, I wanted them front and center.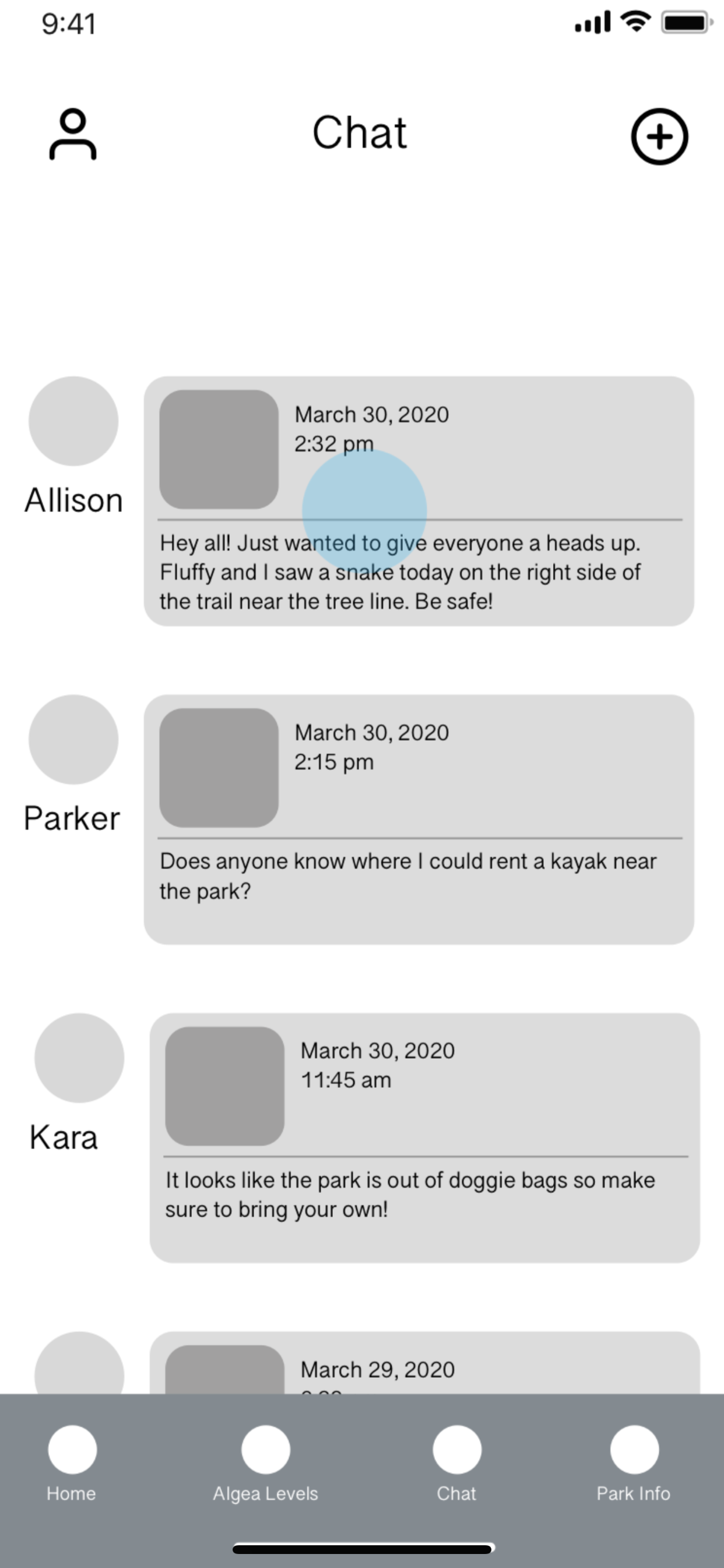 Wireframes
At the beginning of my design process, I created wireframes for testing purposes.

Wireframes always help me when deciding on hierarchy and layouts.

I work my way from very low fidelity to high fidelity.

I used Sketch to create my wireframes.

I did use these wireframes in testing.

I have 5 iterations of wireframes moving into higher forms of fidelity.

User Testing
Before launching the product, I did a testing round in order to reveal possible usability problems.

With user testing, I was trying to find the ease of use and flaws within the design.

I tested each new wireframe mockup I created. Once I made changes from the first test, I tested it again.

For my tests, I used current park goers and also people I know who have never heard of Red Bud Isle.

I used moderated testing.

Users helped me know what navigation needed to be changed; I also changed the layout to make the information more prominent.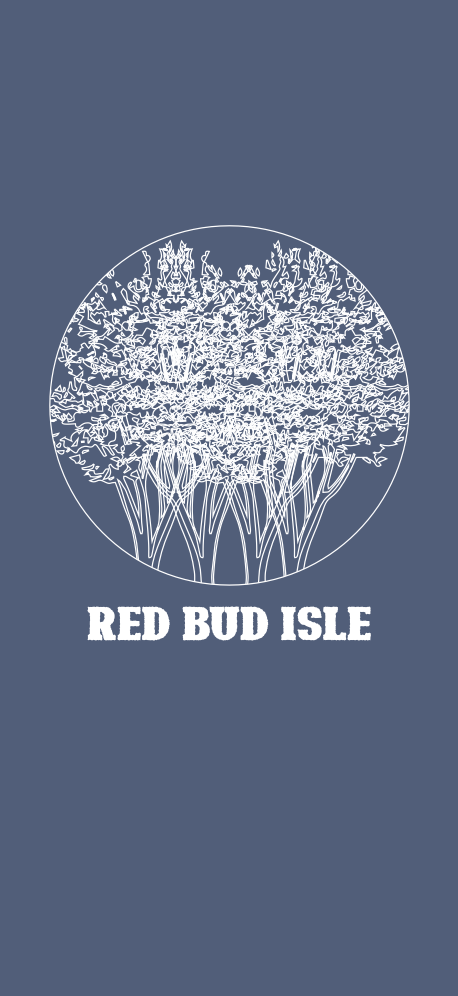 UI Design
Once I tested out all usability mistakes, I started designing the final screens in Sketch.

For this app's visual style, I went with the natural tones found in the park and a more rugged font.

The park's natural beauty helped inspire me in my design choices.

This app is designed for iOS, so I followed iOS guidelines when designing.

I love the roughly sketched artwork, which is different at the top of every page.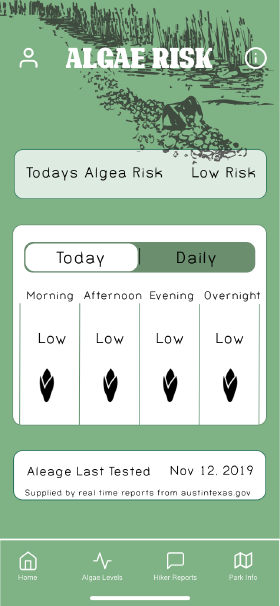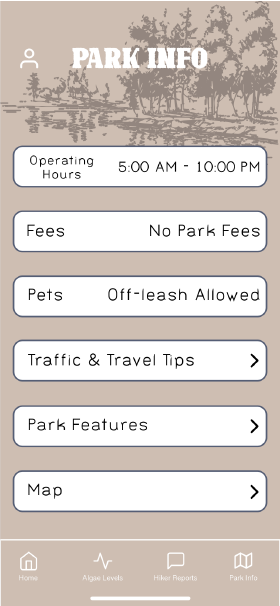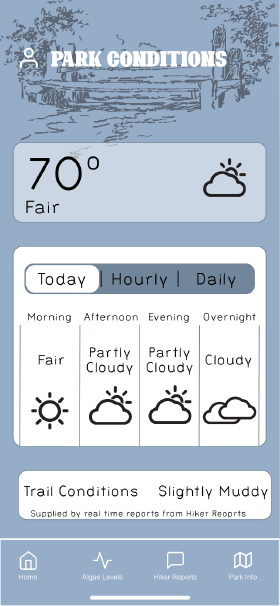 What I have learned
I loved getting to understand each part of the design process outside of just creating. It was interesting doing this full project from start to finish on my own.
I was intimidated at the thought of not having others to rely on and making tough decisions on my own.

Following each step and engaging in a lot of user testing helped me find validation in my design.
This process is tough, but I loved every bit of it.