Meredith Maines
UX designer
Optimizing rent-to-own "checkout"
My role: Lead UX designer & researcher
(Note: UI design during discovery phase completed by outside agency)
Aaron's hired me as part of the company's "digital transformation initiative."
I was brought on to help streamline a disjointed digital leasing experience across Aaron's e-commerce site, customer support center, and physical stores.
My main goal was to make the rent-to-own lease agreement process to map more closely to the e-commerce world's "checkout" flow. The challenge at Aaron's was that, since its site launched in 2015, each revenue channel had an entirely different customer experience and system architecture.
By unifying experiences, customers can "start anywhere, finish anywhere."
Previous customer experience
Disjointed experiences confuse customers — how they can be 'approved' by one channel and 'denied' by another?

Customers get attached to a product online before they know if they'll be approved for it.

Online customers can only purchase one product through the website every 90 days, which doesn't meet customers' expectation of an online "checkout"
Long-term vision
Build a streamlined, omnichannel lease agreement process

Increase customer confidence through a self-service wallet of persistent "buying power"

Enable a multi-product cart experience to mirror customer expectations

The store process (above) was different from the e-com experience (below)
Scroll each screen below to see the many steps of today's online application.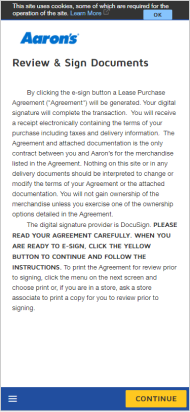 The multi-year roadmap was incremental; this case study will focus on Phase 2.
Phase 1: Support Center
Introduce the new risk model and application in customer support center
Phase 2: Checkout
Introduce the new risk & fraud models and application to an increasing percentage of online customers in checkout only
Phase 3: Full Funnel
Decouple application from product selection and introduce option to apply throughout shopping funnel
Phase 4: Advanced Cart
Create ability to begin multiple product lease agreements simultaneously, enabling a semi-traditional cart
Constraints & risks add complexity
Because this solution was powered by new machine-learning models for risk-evaluation and fraud-detection, it needed to be released slowly to train the model…potentially a very hairy customer experience in the interim for returning customers.

The rent-to-own industry is highly regulated, which means legal counsel often required us to communicate in a way that's not inherently user friendly.
Process, rooted in research: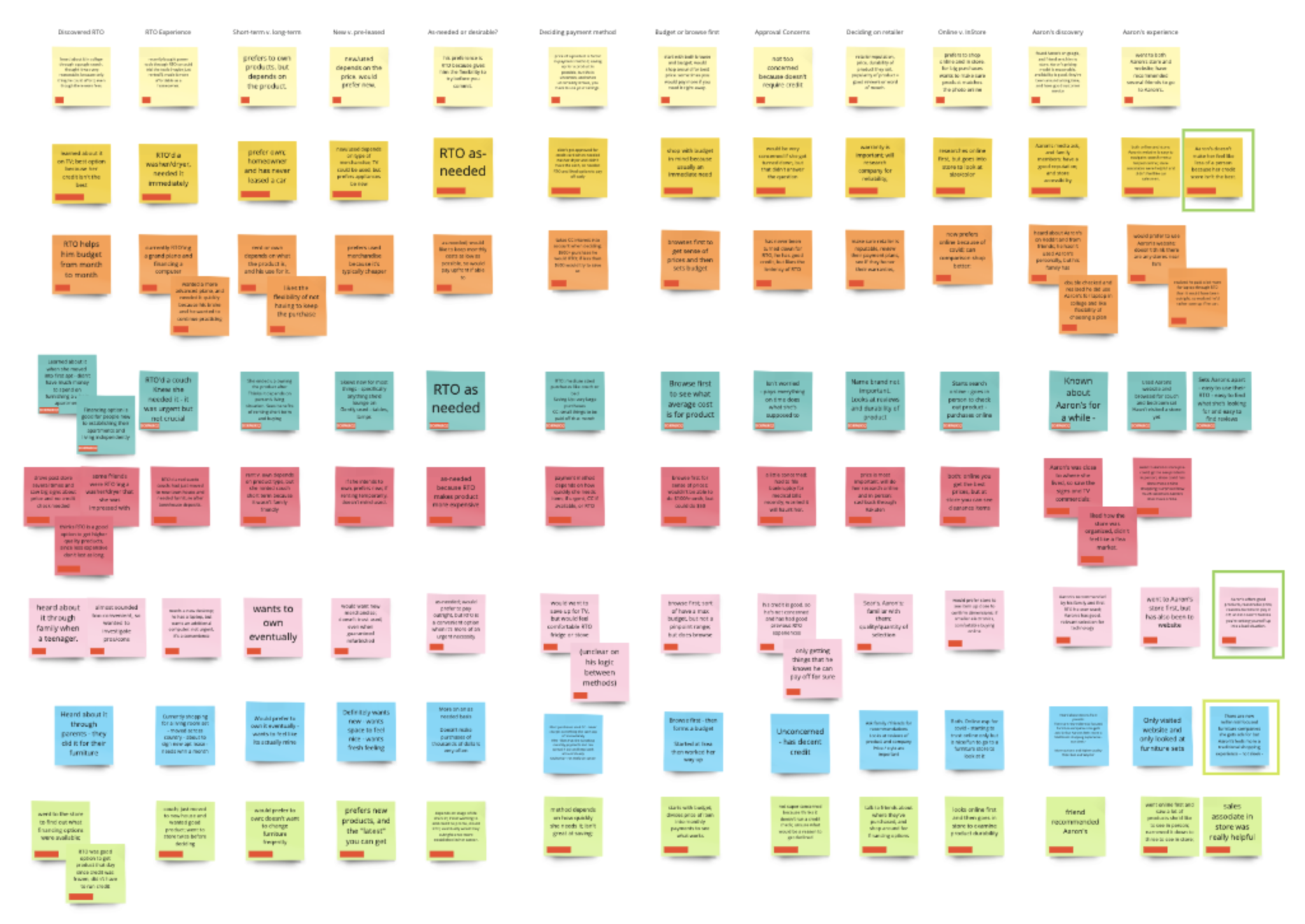 First, initial interviews bucketed user groups for concept validation
Aaron's target demographic was typically customers either without credit or with variable living situations. But through 8 customer interviews, I refined our understanding of their motivations.
I learned rent-to-own customers typically:
use rent-to-own to solve an urgent need - an appliance breaks, or an unexpected move requires furnishing an entire house.

browse to investigate price ranges to help inform their budget.

prefer browse online first, then visit the store to finalize.

and some, with more credit flexibility, seek out RTO's flexibility to "try before you buy" or switch decor styles frequently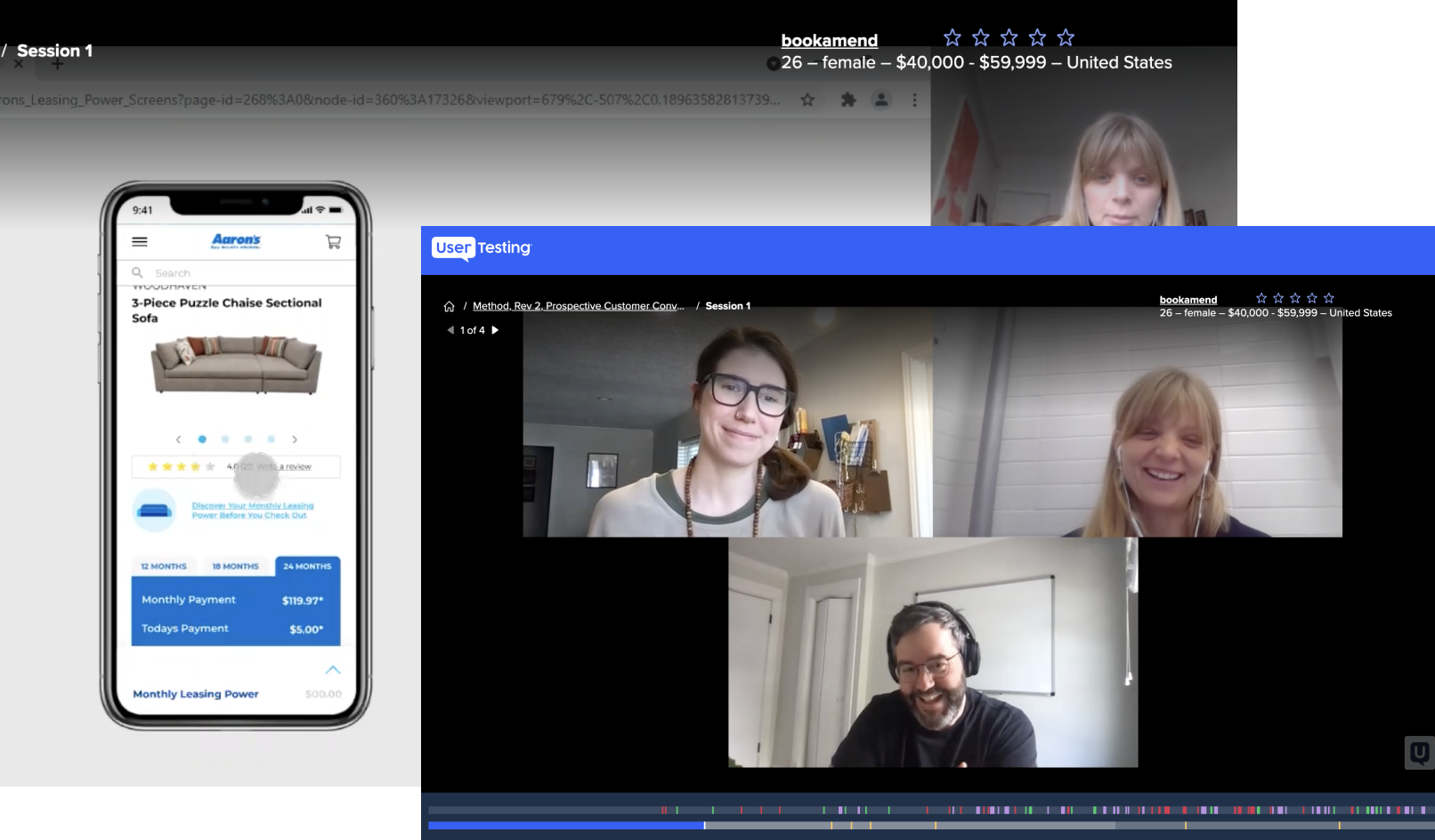 Next, concept testing confirmed customer expectations.
To determine what customers expect from a cart, I helped organize and conduct moderated usability sessions 16 current and prospective Aaron's customers to test a concept prototype created by our agency partners.
Customers understood the concept of "Leasing Power" as a way to shop confidently with an approval amount for multiple products.

They liked knowing this amount early in the funnel, but not all deviated from their typical shopping behavior in order to apply first. This means our experience must support multiple entry points.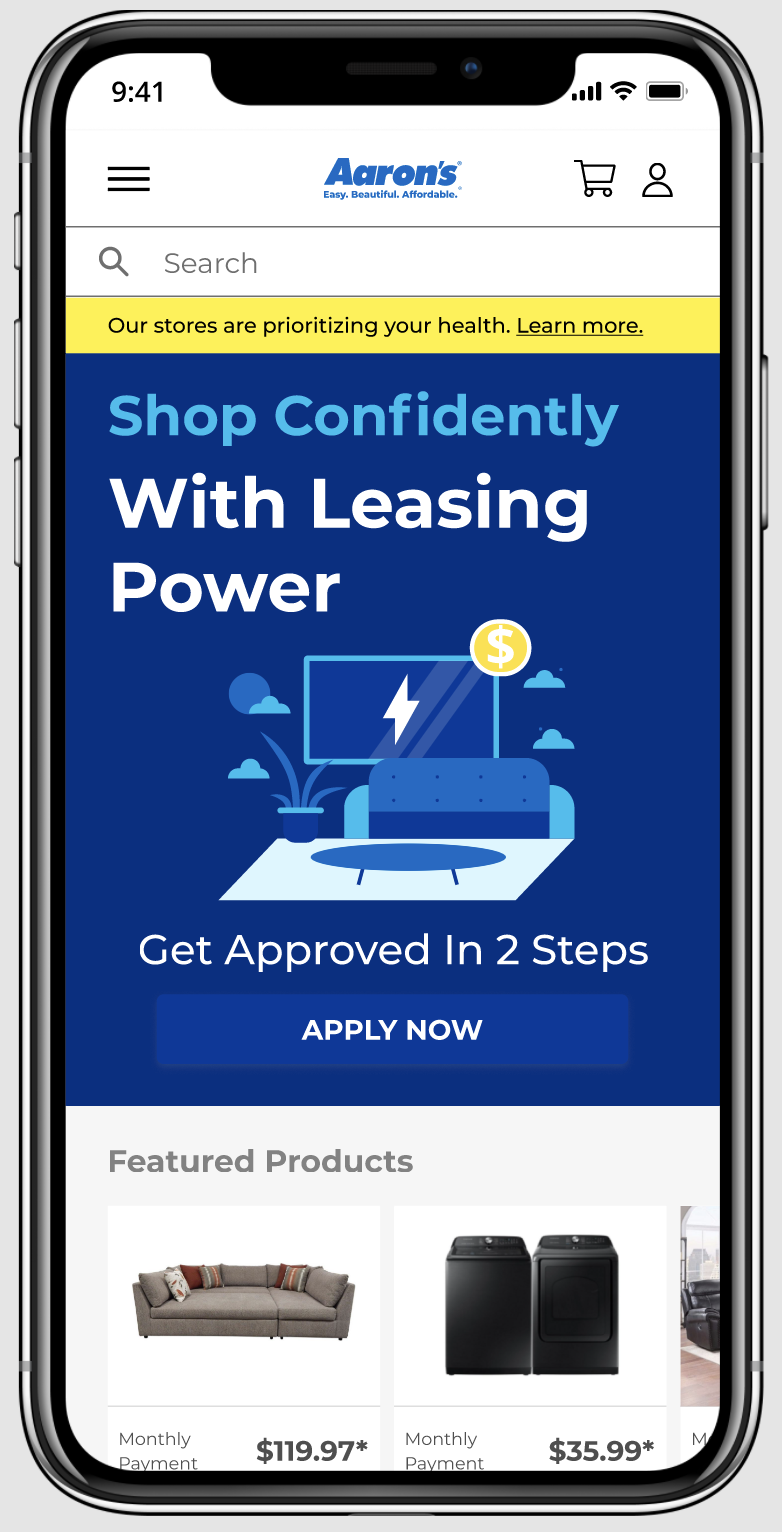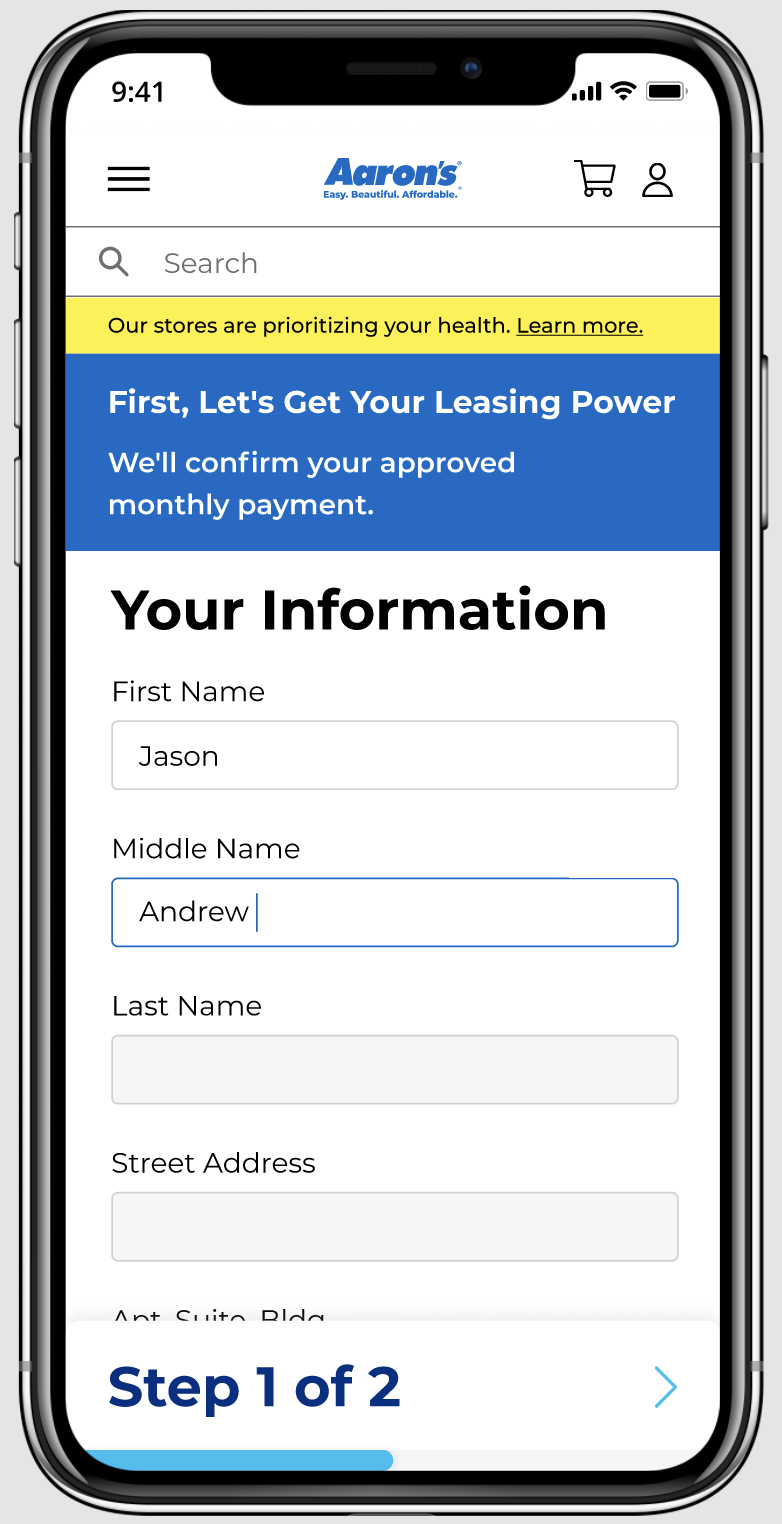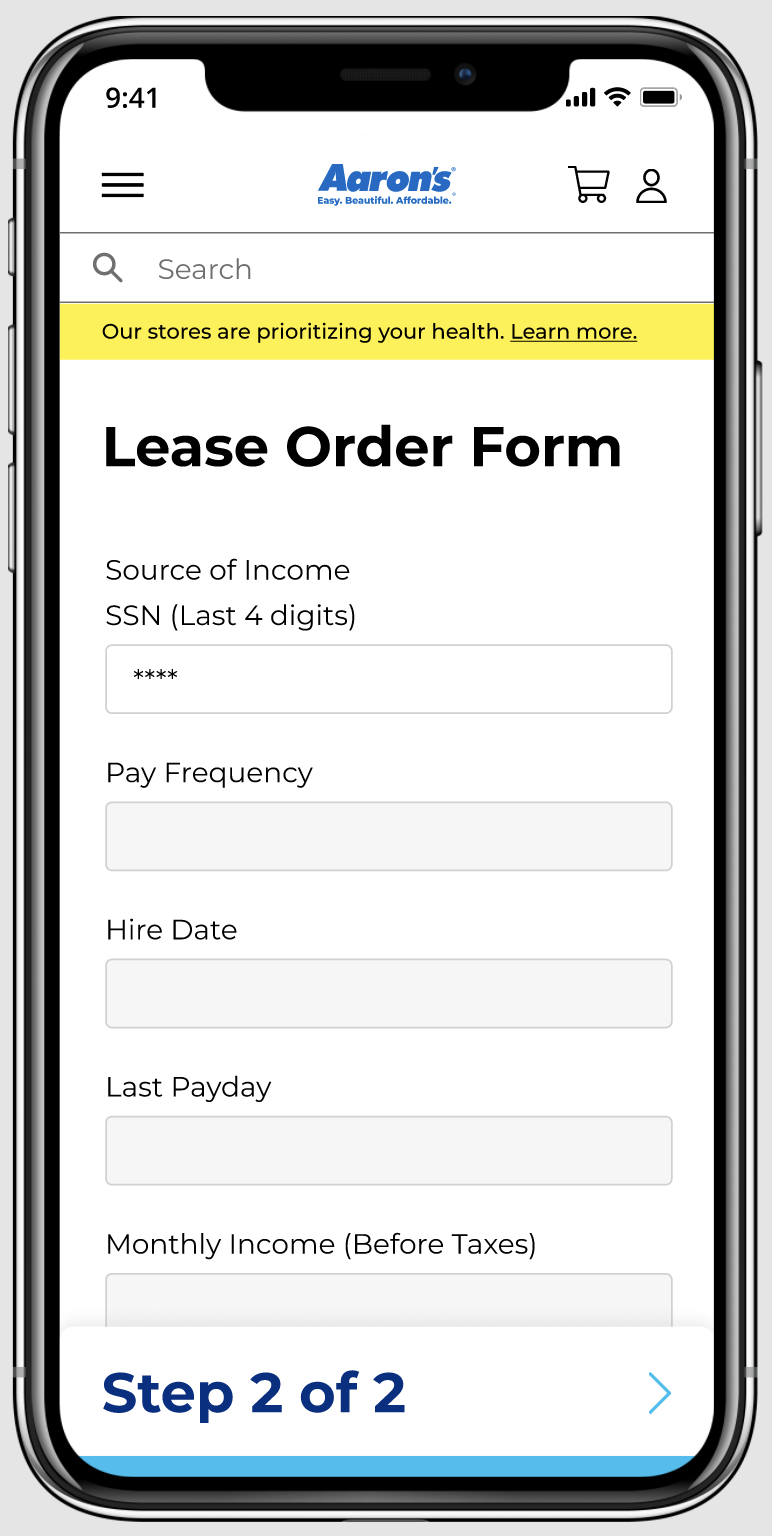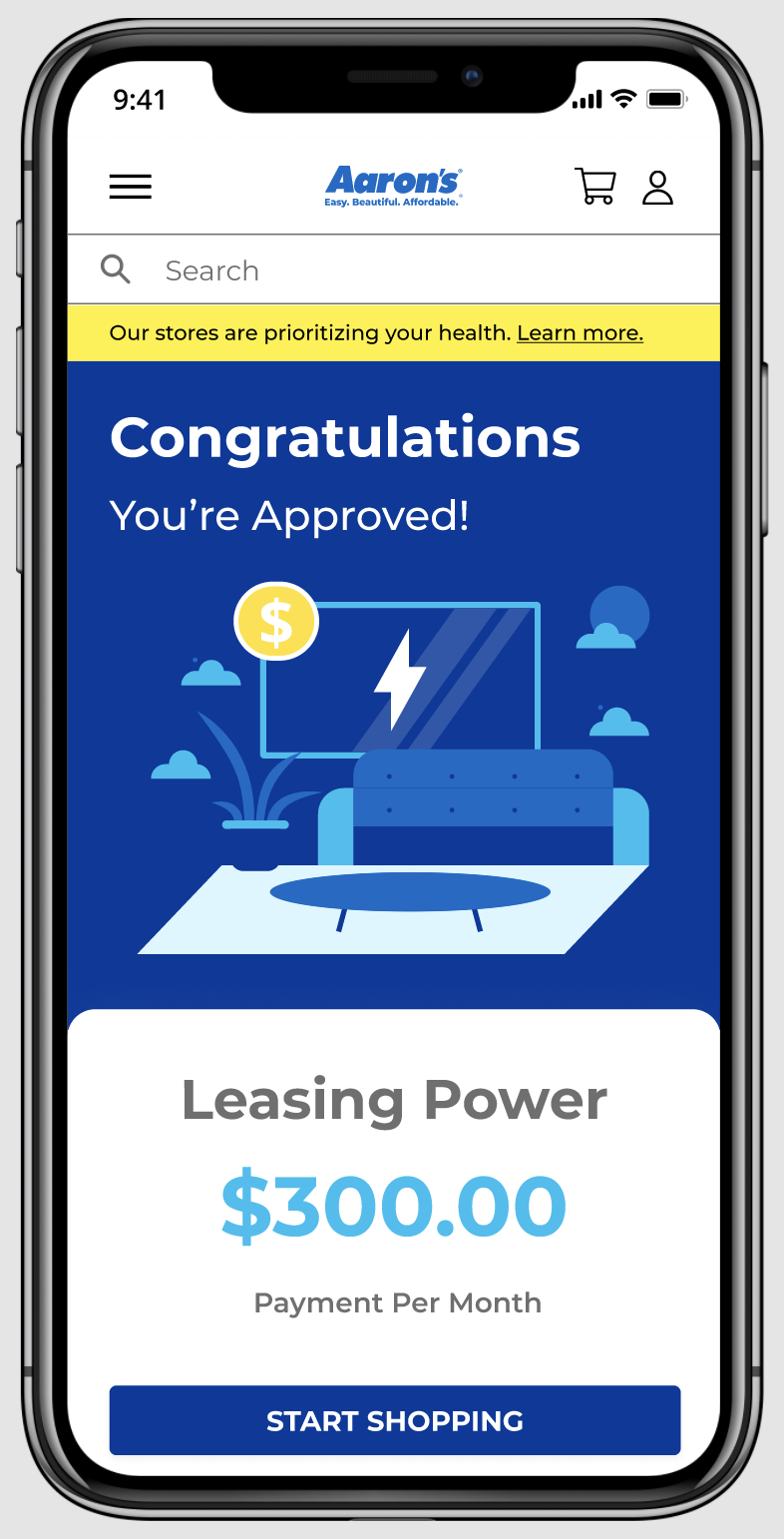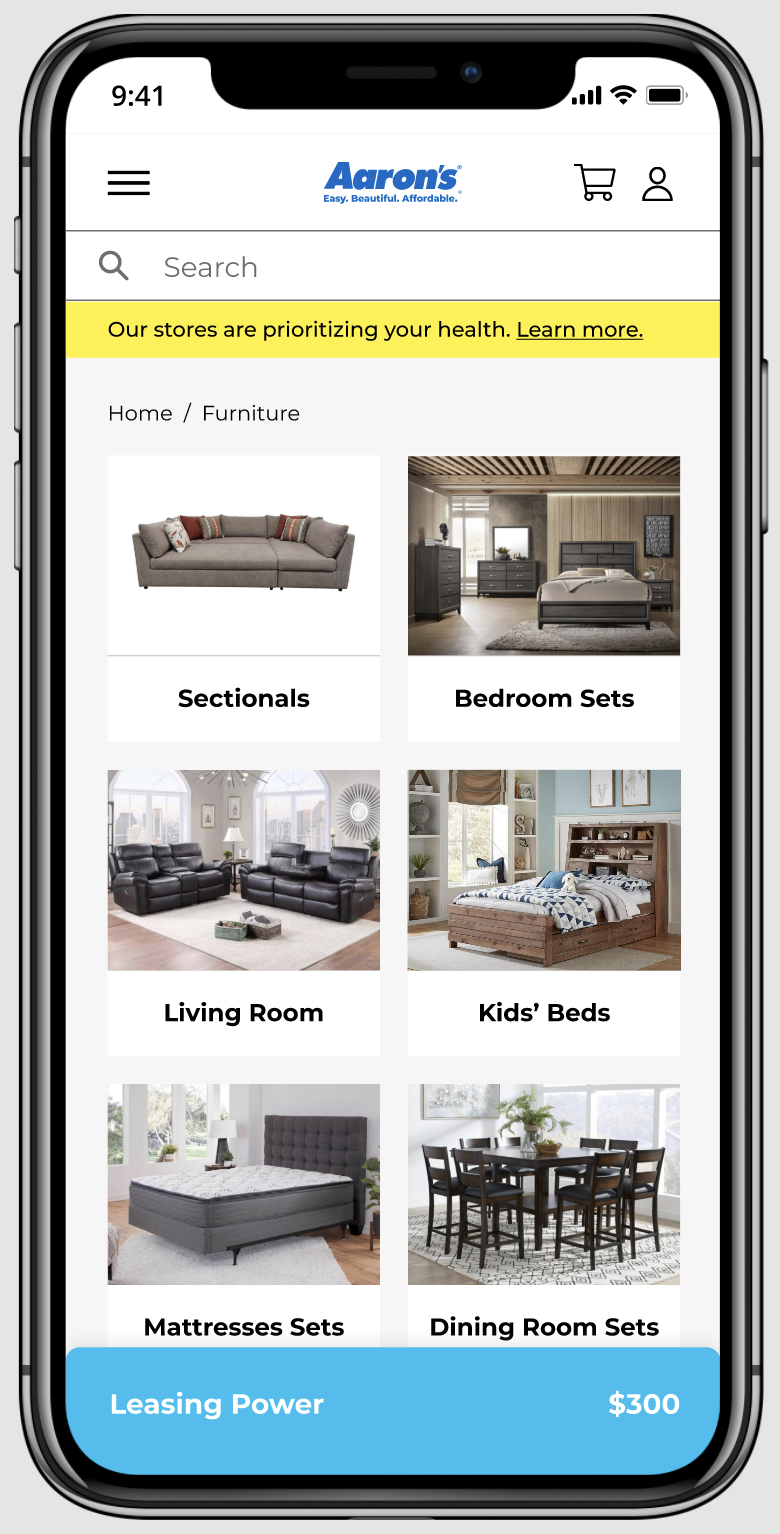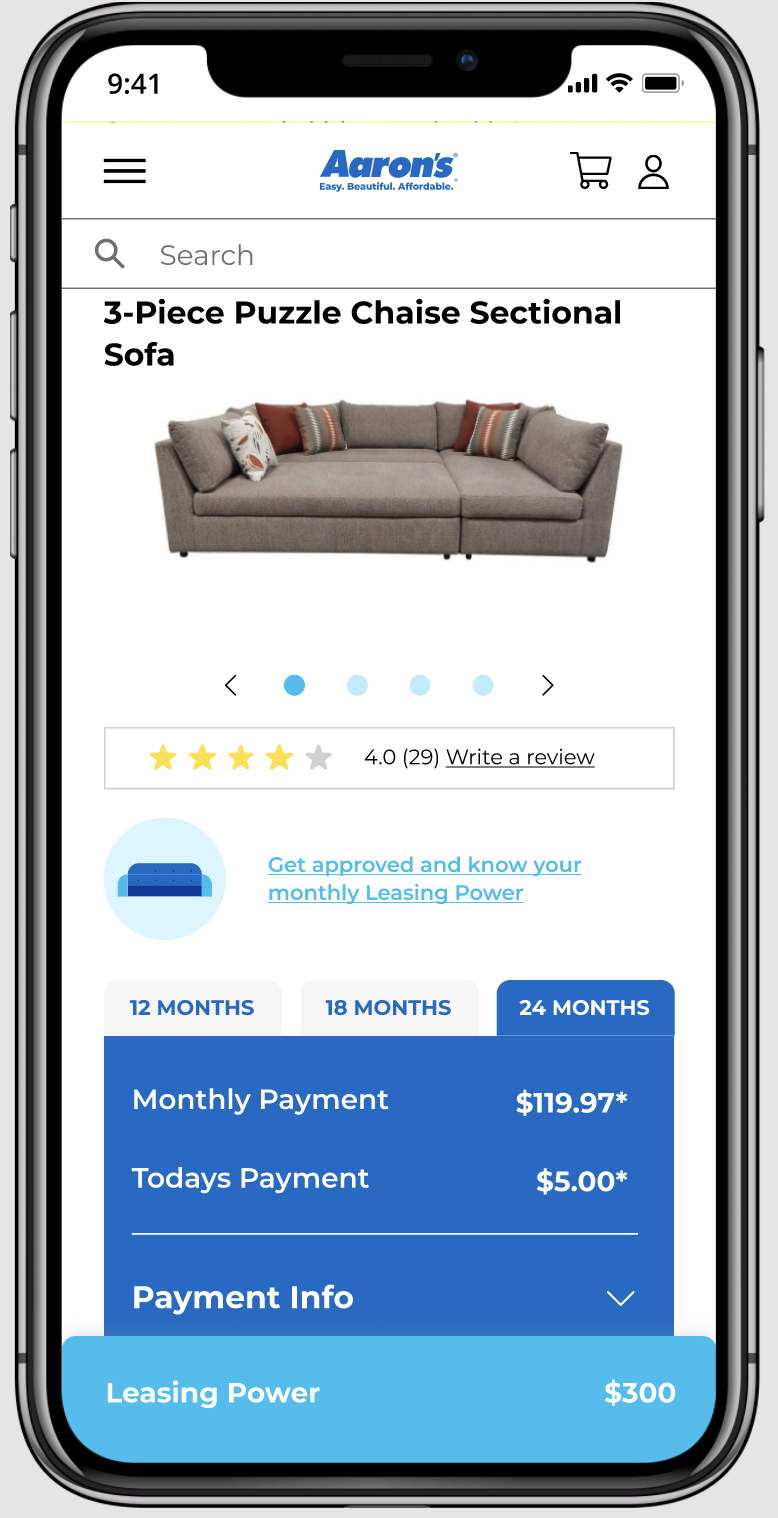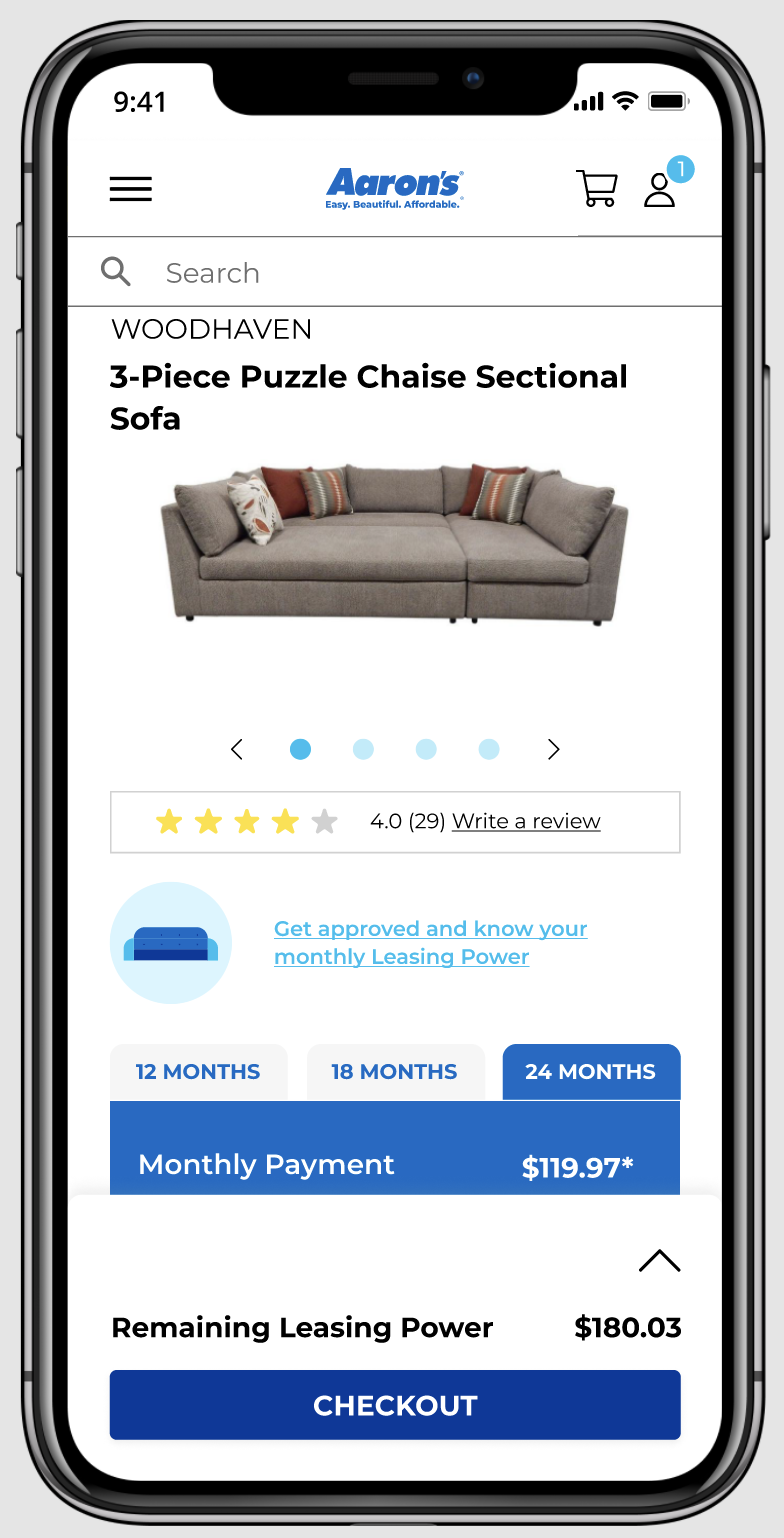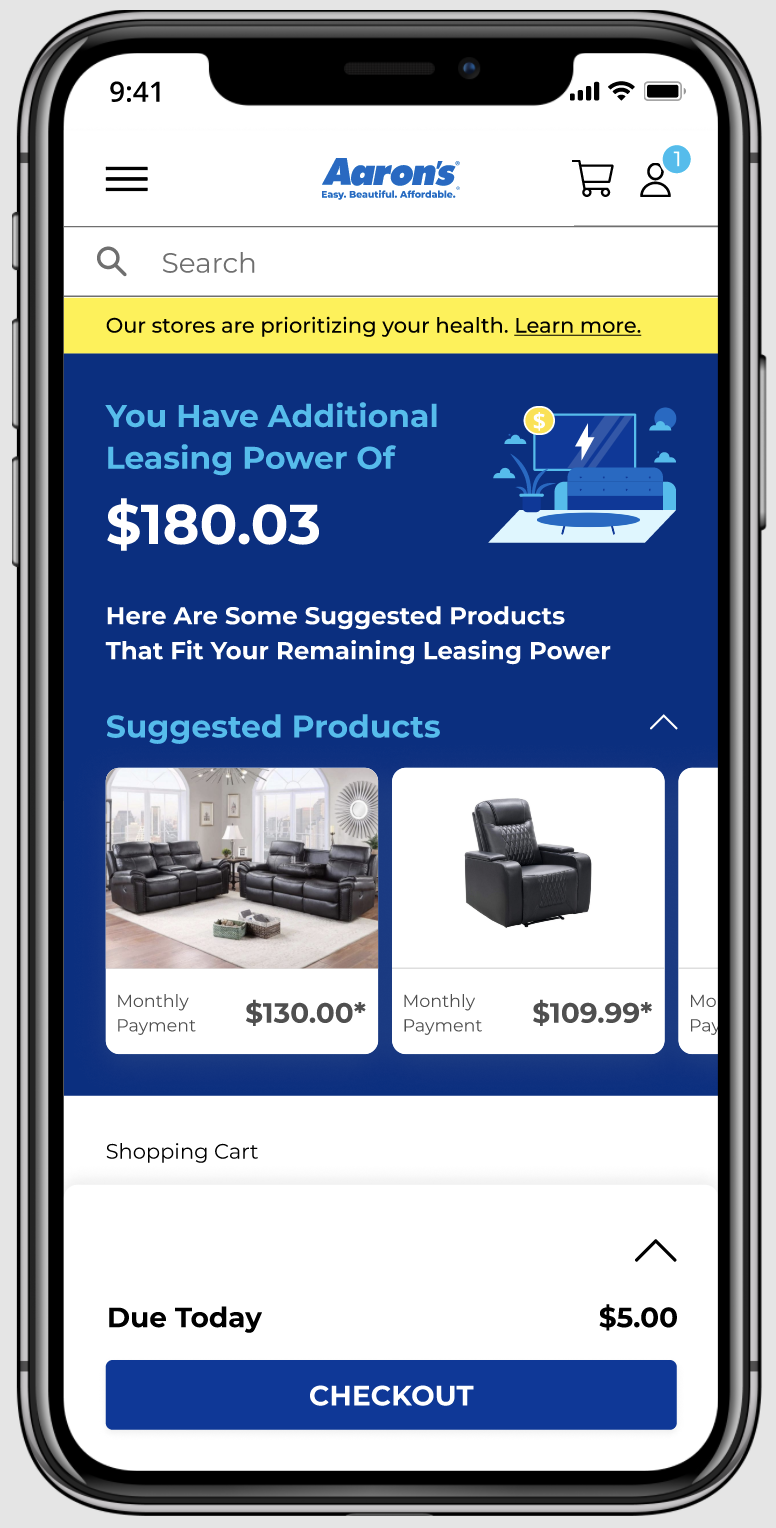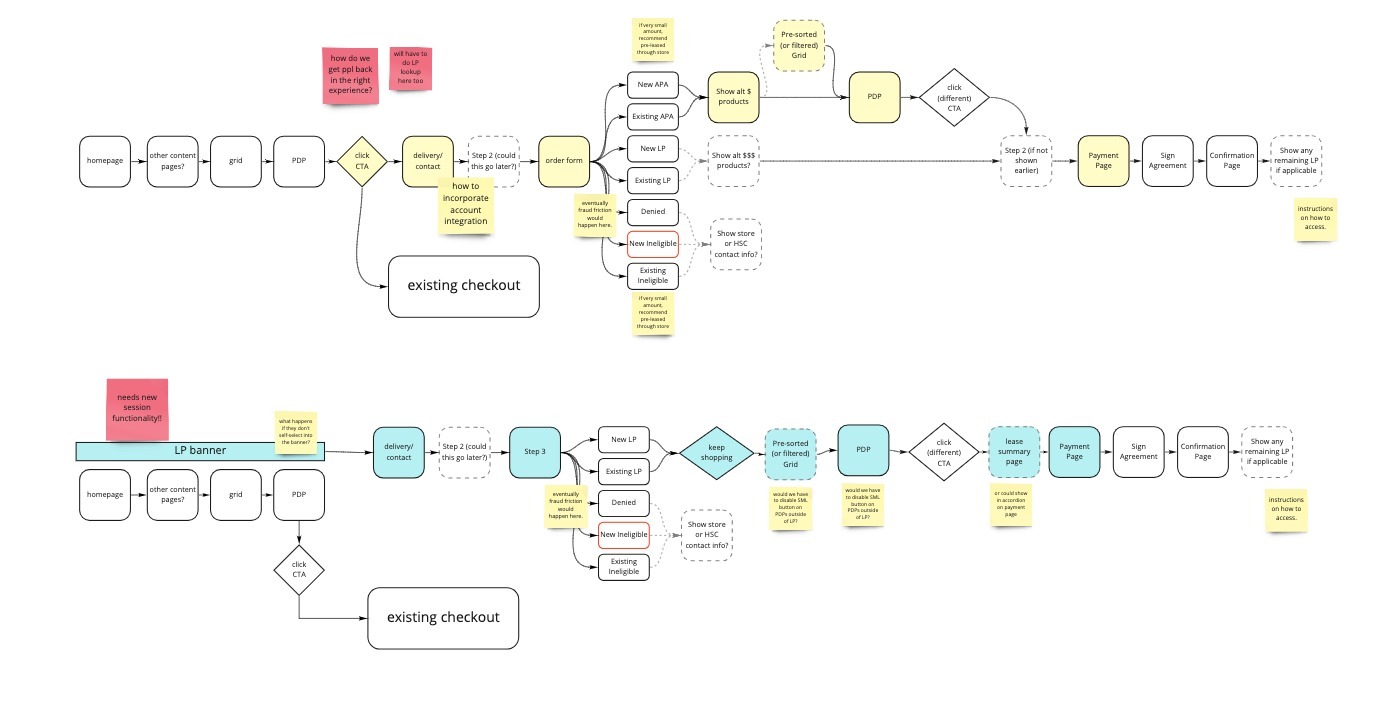 After discovery, comparison user flows fostered important conversations
With our discover phase complete, I mapped out the existing online checkout, with multiple options of where we could introduce the new application process, and the ramifications of each entry point, carefully documenting the unknowns along the way for technical and legal guidance.
When the team approaches new phases with assumptions, user flows are the quickest way I can build shared understanding.

Wireframes explore details for stakeholder buy-in
To get consensus with stakeholders, I created lo-fi wireframe prototypes and took them on an inter-team "roadshow" — first with PMs, then dev, and finally legal.
To improve usability, these wireframes:
reduce required application fields, supported by new AI model, to minimize friction in checkout

create a sticky "order summary" so customer is more informed while completing application and payment

balance the feel of a traditional checkout with the realities of a rent-to-own application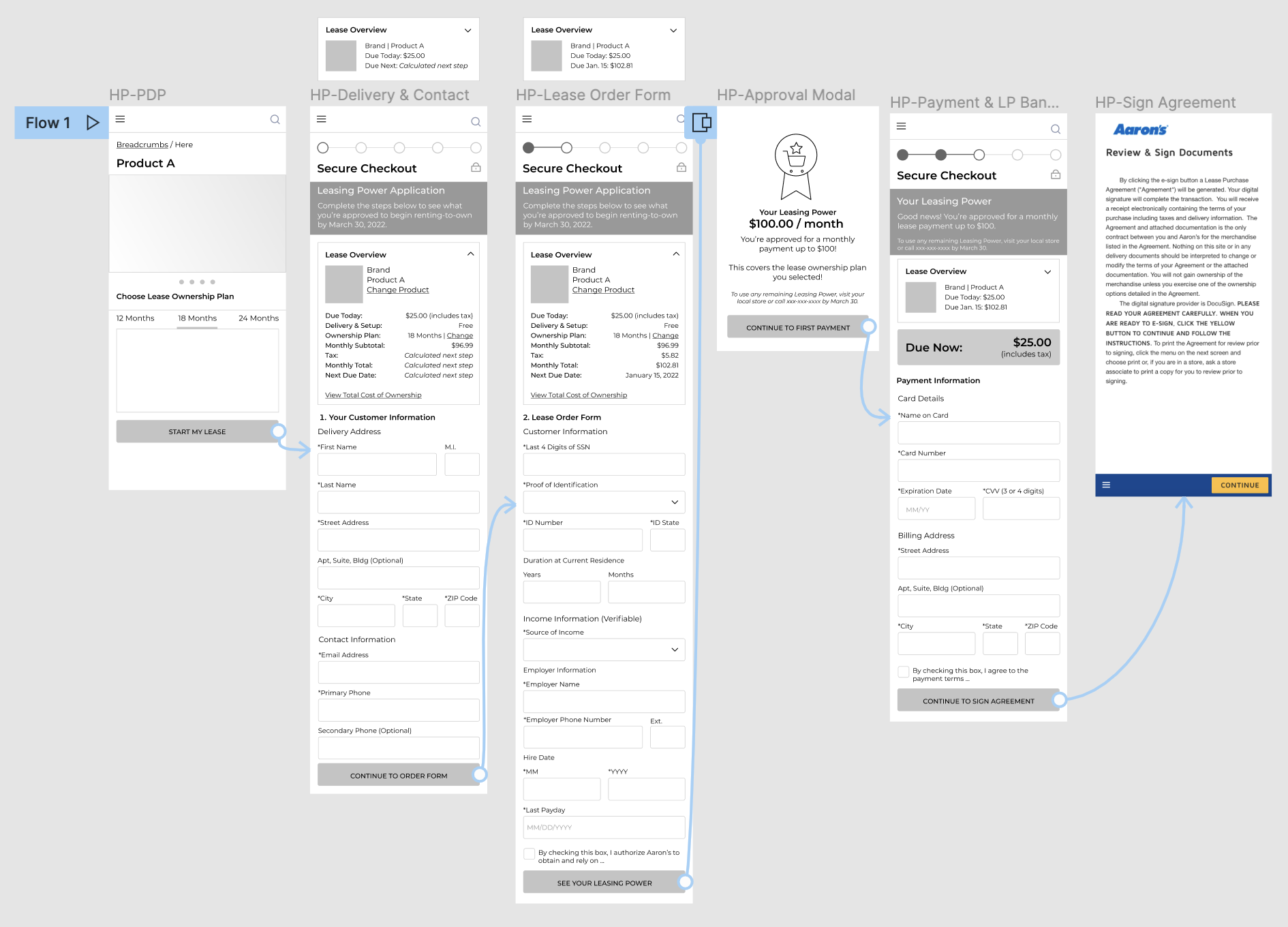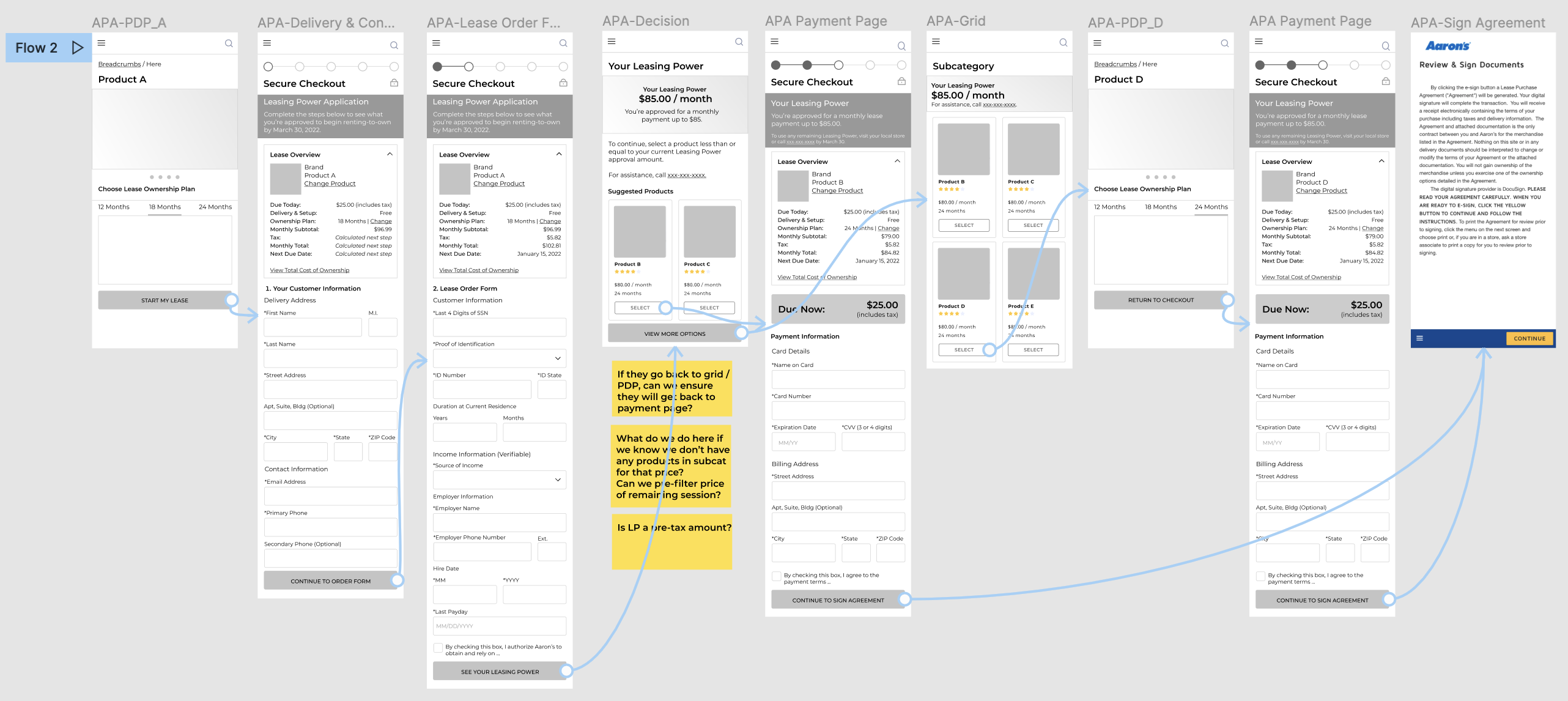 If I had remained on the team, next steps would increase fidelity:
I would have next translated these wireframes into a mid-fidelity prototype for usability testing with current and prospective customers.

After incorporating insights from testing, I would work to create new UI components and discuss interactions with our developers to finalize hi-fi mockups.

I'd then begin collaborating with our content marketing team to strategize how to introduce the concept of Leasing Power to customers throughout the shopping funnel

I'd work to get ahead of the roadmap by starting on advanced cart wireframes to restart the consensus cycle.
Lessons learned:
the "minimum viable experiment"
Customers want to rent multiple products simultaneously. From a user-centered perspective, it's frustrating to not be able to start there. But this process taught me the value of the "minimum viable experiment"—reframing my idea of incremental value.
Though it was slow going, the first three phases laid the groundwork for a sleek online cart that would empower customers to bundle products in a logical way that works best for their monthly budget.
It's not "move fast and break things," but hopefully more so "slow and steady wins the race."