Natalja Sapoznikova
UX/UI Product Designer
Made with
Travel Safer Web App
Get real information from locals/travellers about any dangers in your next destination city
Introduction
I always worked on projects related with finance, e-commerce field, etc. and only few times worked on travel projects. But I love traveling so much and already travelled in so many countries. So I decided to explore this field more and started from inventing some my own digital product concept in travel field. I was thinking how I can improve it, what valuable can create for improving this field and bring something new.

Research Process
I started from exploring different services available in travel field like apps for planning time and budget, planning trips, inspiration for travel, tours, etc. I was thinking what's new and useful I can create, what's is still not available on the market or what can be improved. Which new service can be very helpful for travelers. I got some ideas, insights, but after realised that without real feedback from people I can not invent something new and useful.
So, I started to think how to handle my user research, which questions to ask people, where to find users. I started from simple questionnaire from general questions, I wanted to know people opinions, their pain points when they travel, what they want to improve in their travel experience.
For me was important to make first phase of interviews to get an idea of what is lacking in travel filed, get some general idea about people opinions, so I created such questionnaire below:
1) What services you usually use when travel?
2) Which difficulties you are experiencing while traveling?
3) What you wish to improve in your travel experience?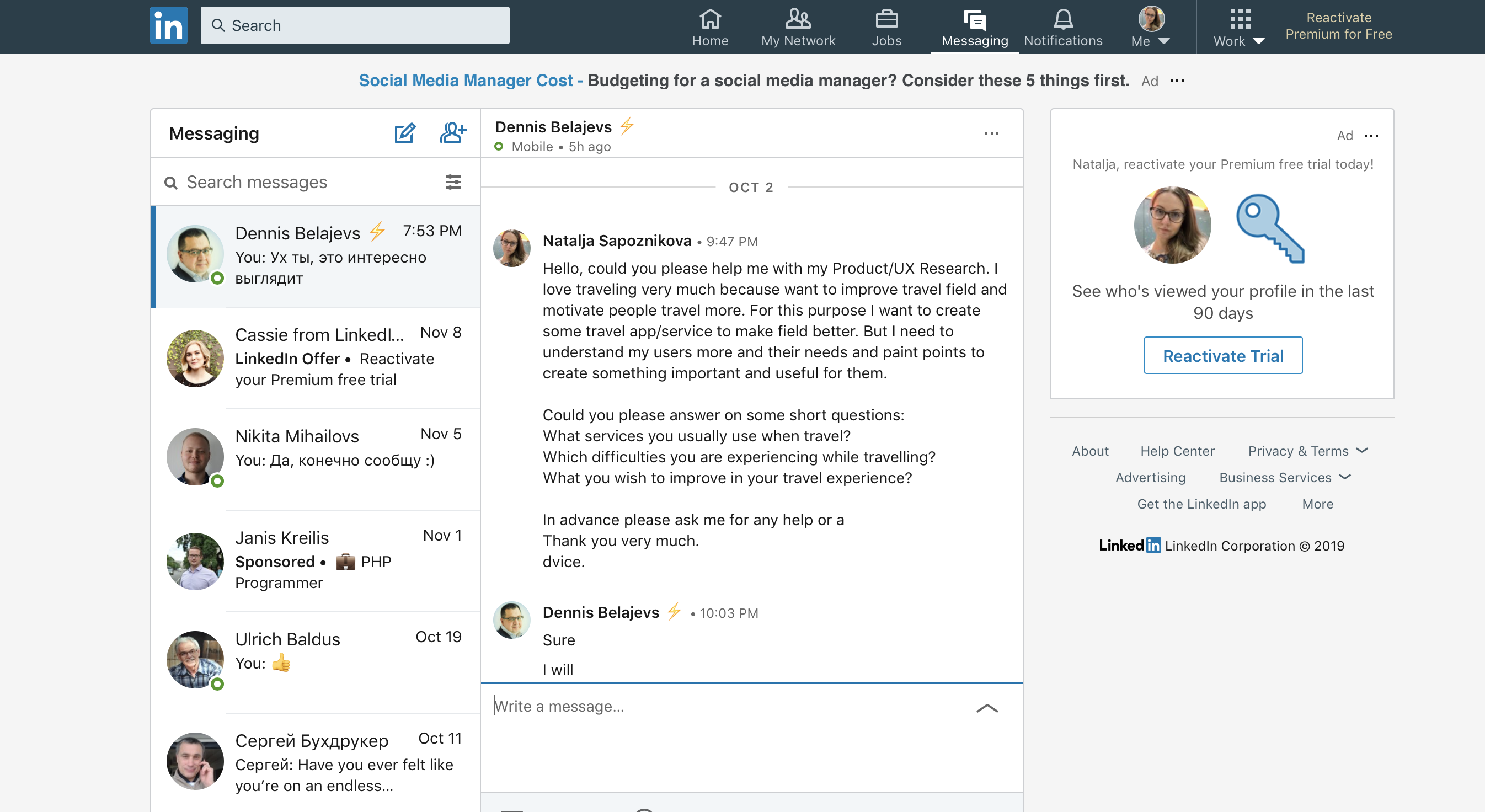 I added my questions on Craiglist, asked some of my connections on Linkedin, joined some travel groups in Facebook and asked these questions there. Got very interesting feedback. Also collected thoughts from my foreign friends.
I was focused mostly on people who love travelling with age between 25-40 years old, who live in different parts of the world.
Results of Phase 1 Interviews
So, from this questionnaire I got a lot of interesting ideas for my potential digital travel product. People was very kind and left a lot of valuable feedback and talked a lot about their pain points and difficulties during travelling. I will be using insights from these interviews to help me design a solution that solves real problems in travel field.
The most often mentioned difficulties which users experience during travelling:
- Time spending for catching the good deal and booking the services. People don't like to spend so a lot of time on catching best flight or hotel deal.
- Flight or train delays. It can make people very mad, especially if you are going on some assignment or business trip.
- Language and understanding the local culture. Sometimes people are tolerant to non native speakers, sometimes not.
- Sometimes people afraid of travelling, they are afraid of crime, theft, terrorism, protests, etc. If they travel, they feel uncomfortable and stressed.
- Some people think traveling is too expensive and prefer not to travel at all or travel not very often. When they travel they feel guilty, that spend so a lot of money on traveling.
- People who have mobility issues can experience emotional difficulties during travelling. For example one person mentioned that usually airport workers pushing the chair to some dim, distant miserable dungeon of a place where you can't get a decent coffee or meal.
- Some people are refusing to travel into specific countries, cities or even airports, because of the dirtiness and bad quality of services. They prefer to refuse any potential opportunities even for their career because of the long transfers, dirty restrooms or rude attitude from personal of airport.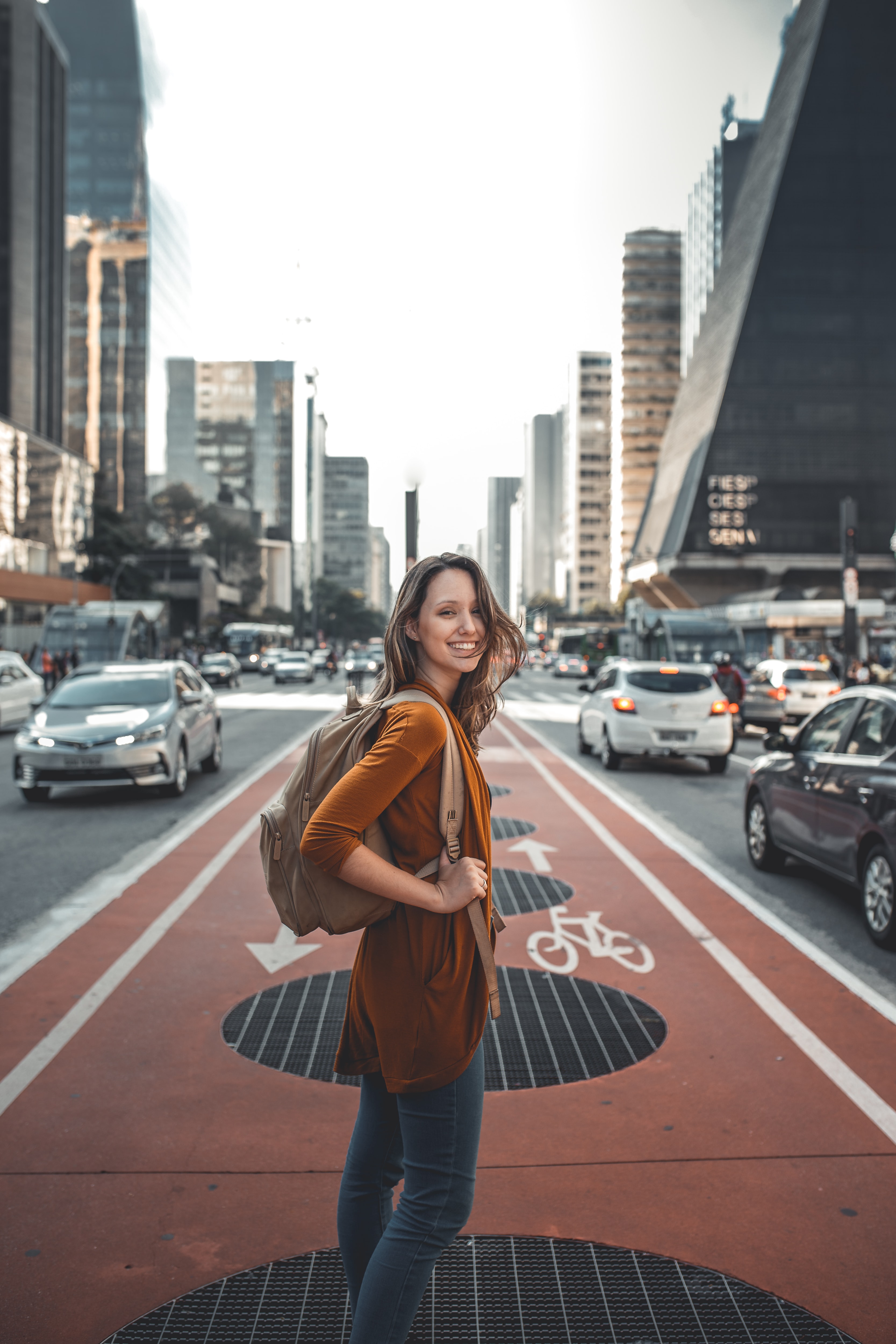 Problem
Sometimes is very difficult to believe that people don't want or afraid of travelling, it seems weird that someone doesn't want to get new adventures and see something new. I am person who is addicted by travelling just can not understand how some people can spend all their life in one city and not to go anywhere else. But such people exists and after my interview and research I found out that it's pretty big amount of people never travelled outside of their home city.
As I read from some resources in internet 11% of Americans never travelled outside of their state where they were born and never even booked a flight to another state or city and never had a passport.
People have different reasons of why they don't want to travel, some people afraid of crime, theft, terrorism, protests, some people think that travelling is very expensive and they can not afford it, some people afraid of public transportation trains, metro, airplanes, etc.
I realised that I can not affect on all people's fears, but at least can help with some of them. So after my research of existing travel apps, opinions from user interviews and my personal experience as a traveller I found out that there is no service to explore dangerous areas in the city you are visiting. Problem is that people very often say no to travelling because of the fear be robbed or injured in new country. If people will be more aware of wrong parts of the new city, they can fill more confident knowing where not to go.
Goal
Help people travel more by making their fears of travelling less and be aware of main places and potential threats to life which can wait them in other country.
Very popular services where traveller can find local tour guide who can show city or show some good places to eat, but no such service where local can tell to traveller in advance about any dangerous districts where not so good idea to go during night time or about any other dangers in the city.
I wanted very much to try new concept, not just redesign some existing concept. So based on my data which I got from interviews, I designed a new concept - Travel Safer web service. Where locals can help future travellers be aware of any dangerous areas or any type of behaviour which can attract not good attention to foreigners from locals.
Solution
- Design website where locals can register on the website and add their local city.
- Allow locals add information about any dangers, which can wait travellers in their country.
- It will be free service, kinda voluntary from the locals side, main motivation for locals should be wish to reduce crime and bad occasions in their country.
- Service can get some money from Google Ads to pay for hosting and domain.
- Travellers using search by country and city can get access to information about dangers in the city where they are going.
- Travellers also can contact locals via website to ask for some advice or specific question about the city and it's culture.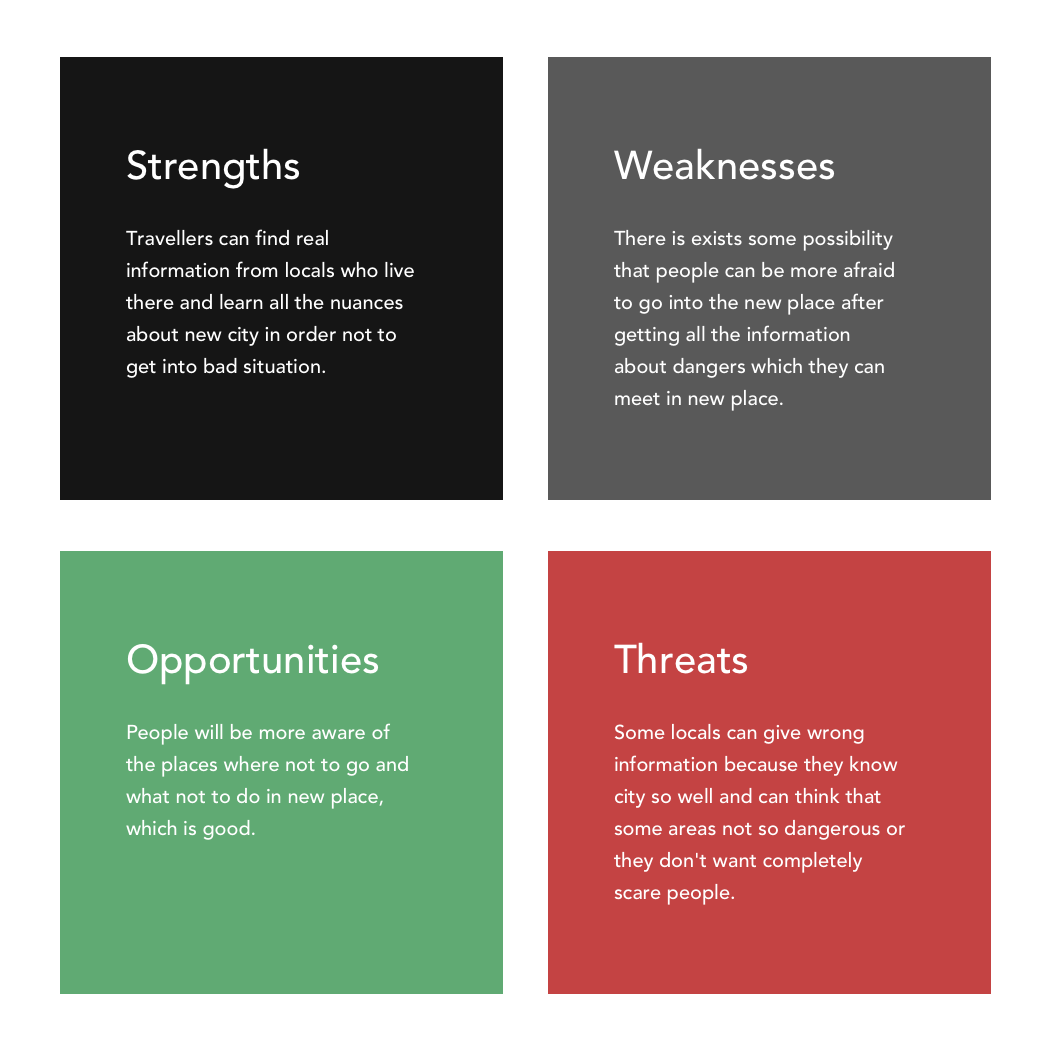 SWOT Analysis
During my study in university on my E-Commerce Faculty teachers was asking us to use SWOT Analysis pretty often in different fields. I found it very useful when you want to think about strengths and weaknesses of your Product Idea, analyse opportunities and threats. Because I decided to try this approach also in my small project.
After I got idea about my concept it was time to do some design work to test my idea more. My main goal was to present all the information in some fun and exciting way for potential travelers not to make them even more scared about any dangers in the new city. Say them that it's important to be aware of any dangers, but still stay happy and excited about traveling somewhere.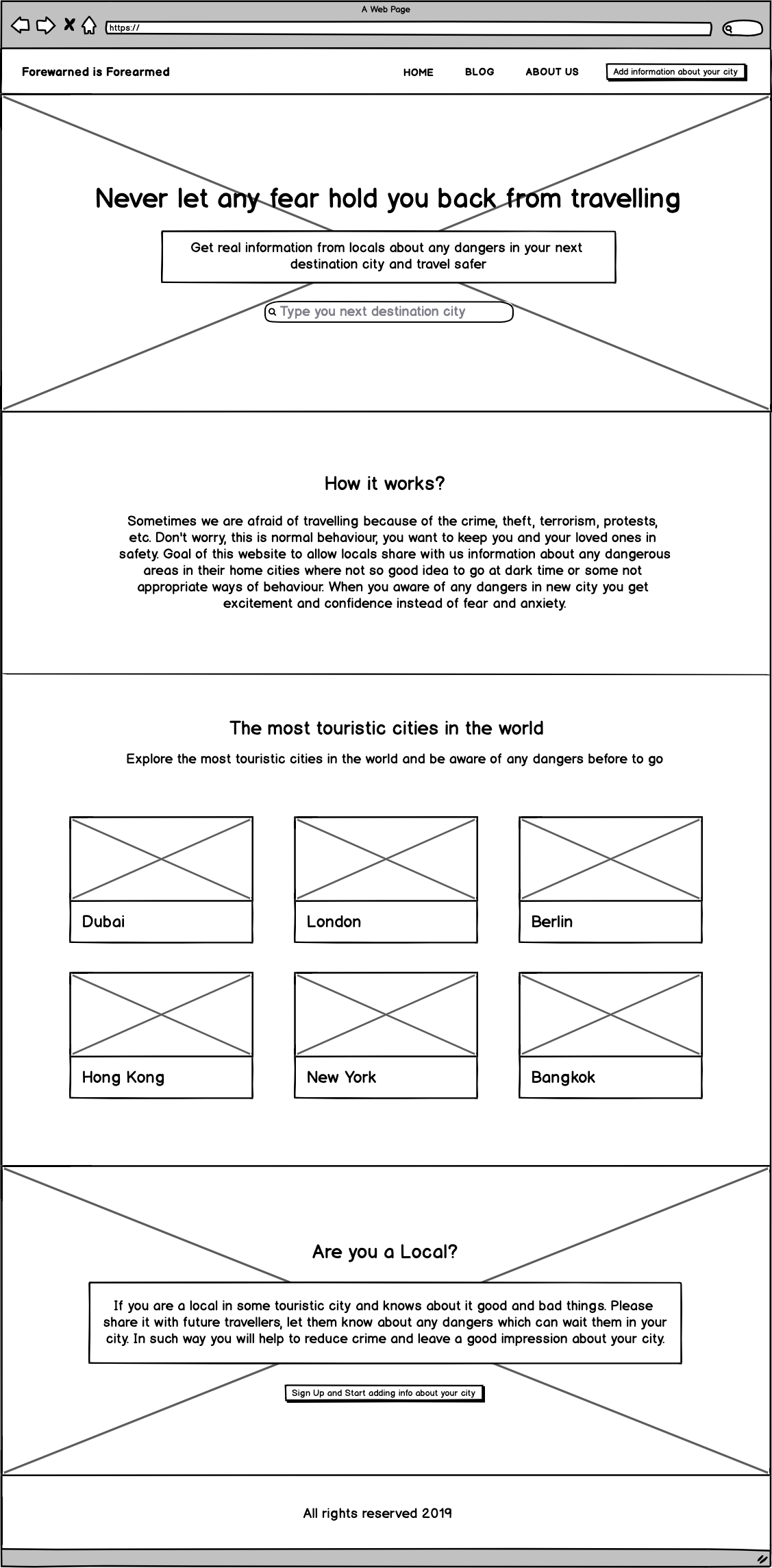 Wireframes
I started to develop my idea from wireframe of homepage. I was trying to understand thinking of people who afraid of traveling and what is inside their head. I tried to imagine which inspiring words and images for them will be best motivation to overcome their fears and book flight into some country and get excited about it.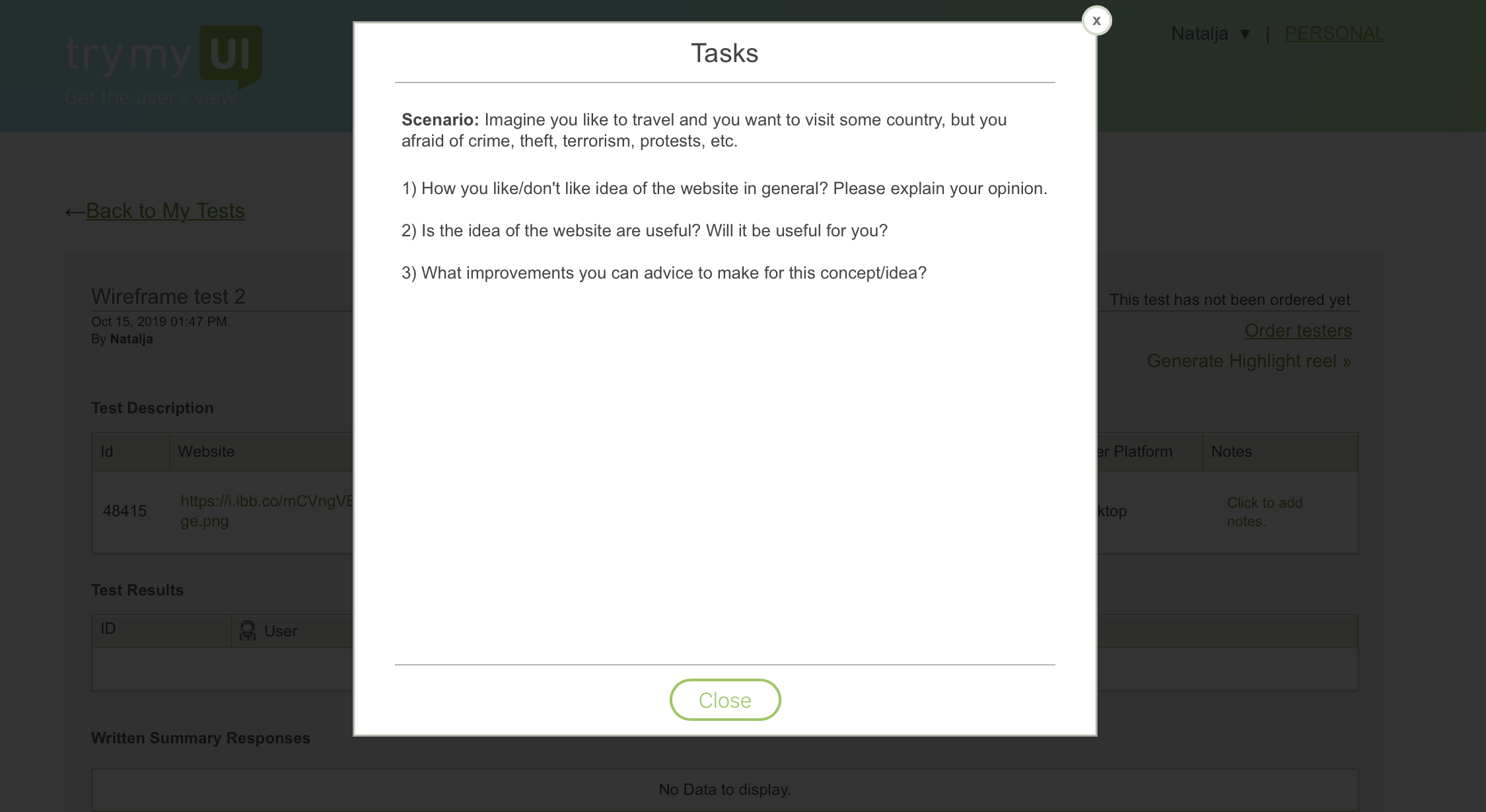 Phase
2 of Remote User Testing
I like to do more interviews with users on every stage of the project, so I decided to test my first version of wireframe which was just homepage. I wanted to test my idea and concept to see people opinions. I prepared some scenario and tasks for potentials users.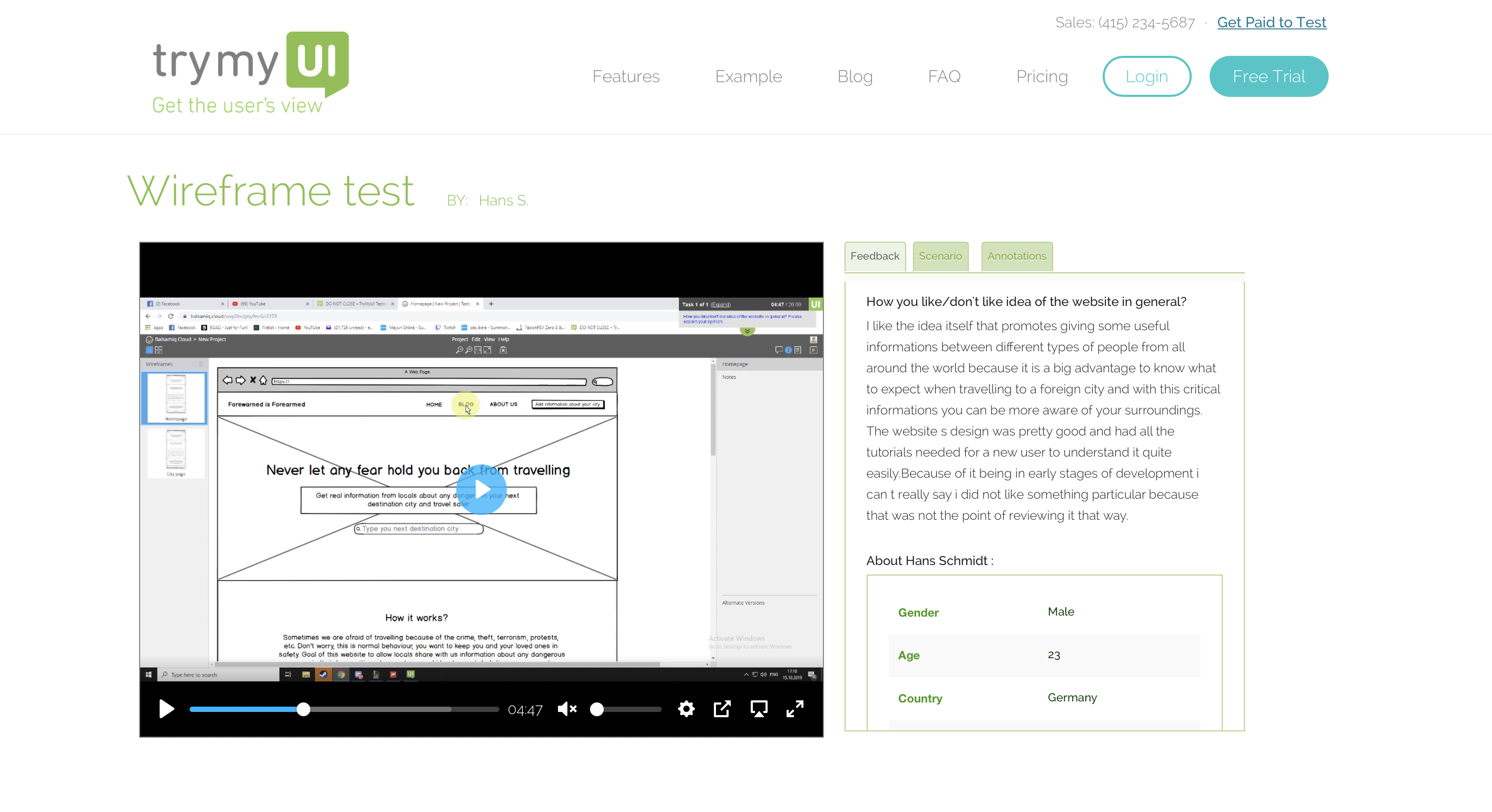 Interview Results
- In general users loved the idea and think that it can be very useful product for travelers. They think that idea is unique and they never met such kind of service before.
- I liked idea from some users about safety reviews where locals can leave their reviews about safety in some city. Some users even suggested to add some safety rating by scale from 1 to 5. This is very good idea which I added to my next wireframe version.
- Some users suggested not to use such words in text like "dangers" or "dangerous" because people can be scared even more. I agree completely and tried not to use it a lot.
So this is was my first user test of my idea, for me was very important to test my concept in general to understand will it be useful, will it be understandable for future users. I was very happy to hear such good feedback about my concept that people liked my wording and motivation.
Second Wireframes Version
I got very good feedback from users and made my second version of homepage below and added wireframes for other pages.
UI Design
After I developed first version of high fidelity designs.
Phase 3 of Remote User Testing
After I created first version of UI Designs, I decided to arrange third phase of remote user testing. I prepared general descriptions, scenarios and tasks for users.
I tried to test with two types of users with locals and travellers. And wrote two task scenarios and created clickable prototypes using InVision for both users to see how they behave with the designs.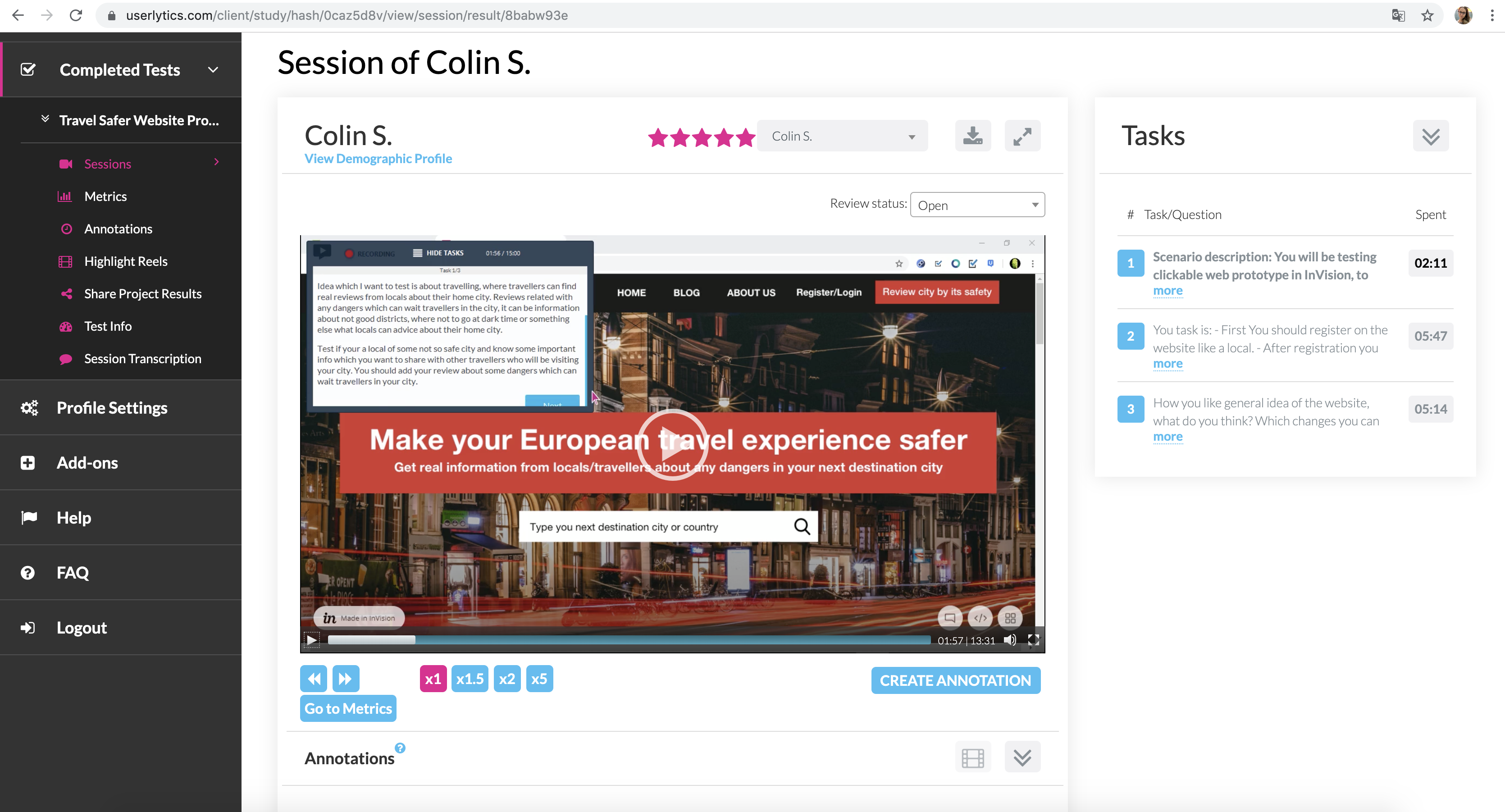 General User Test Description
You will be testing clickable web prototype in InVision app, to understand where you can click, just click at any place of prototype and you will see highlighted areas which you can click to test workflow.
Website prototype and idea which I want to test is about travelling, where travellers can find real reviews from locals about their home city. Reviews related with any dangers which can wait travellers in the city, it can be information about not good districts, where not to go at dark time or something else what locals can advice about their home city.
Two Scenarios
1 test scenario for local - if you are a local of some not so safe city and know some important info which you want to share with other travellers who will be visiting your city. You should add your review about some dangers which can wait travellers in your city.
2 test scenario for traveller - test if you are a traveller and going to travel into Amsterdam and want to find some information from locals about any dangers which can wait you in your destination city. You want to know districts where not so good idea to go in the night time, etc.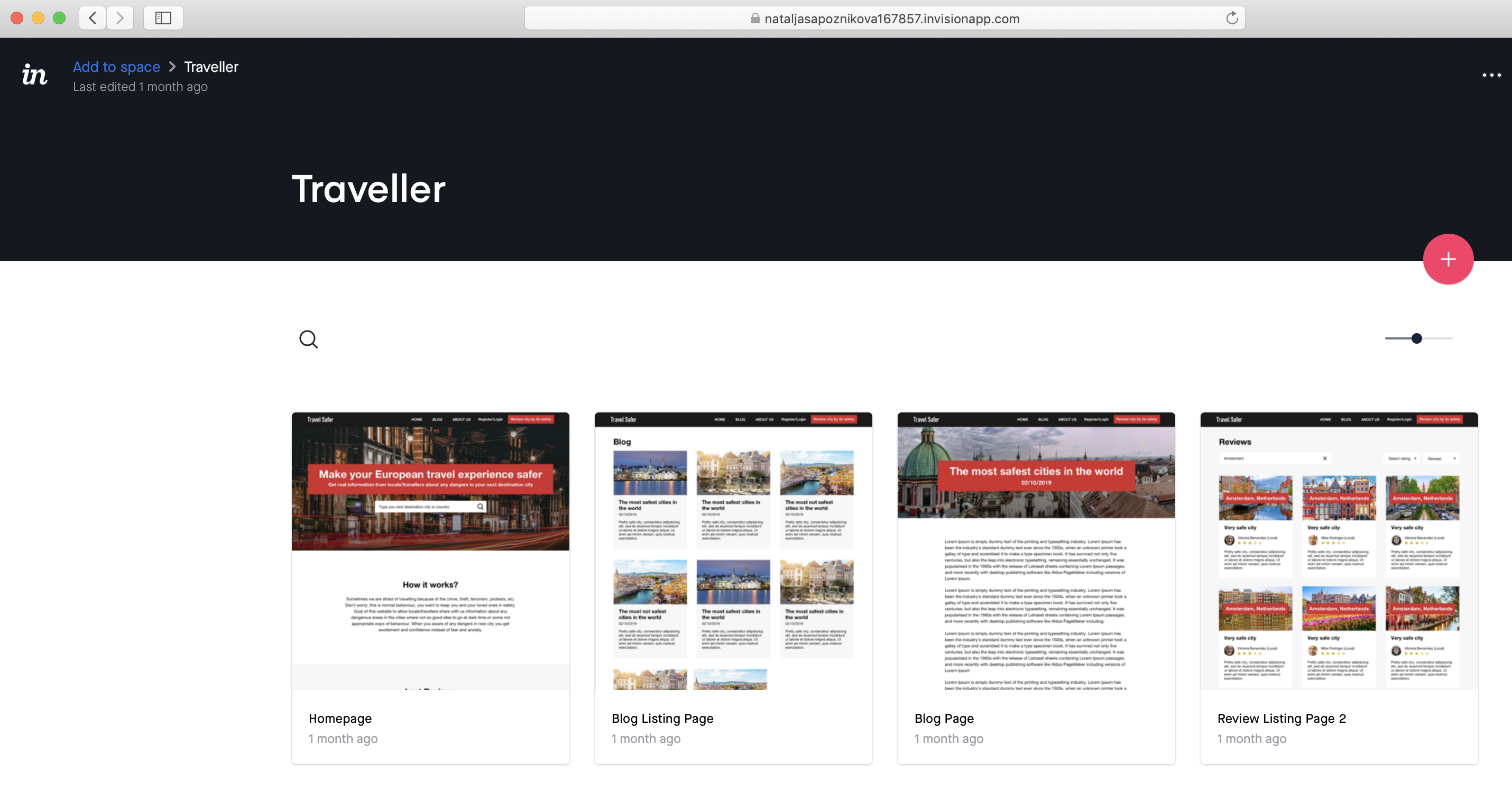 User Tasks
Task for local - https://invis.io/B5UNX4LKNVD
- First You should register on the website like a local.
- After registration you can add your city review. Think which useful information you can add about your city related with dangers. Your review will be about Amsterdam city in Netherlands.
- Imagine review was approved and added into the website, try to find your review on the website using search.
Task for traveller - https://nataljasapoznikova167857.invisionapp.com/public/share/EXX1BC46P
- Imagine you are a traveller and travelling to Amsterdam and want to know about any dangers which can wait you in the city. Try to find reviews about Amsterdam on the website using search field. Try to read the full review.
Last Final Survey Question
Survey question - how you like general idea of the website, what do you think? Which changes you can advice to make? What you liked and what you don't like? Please explain your opinion.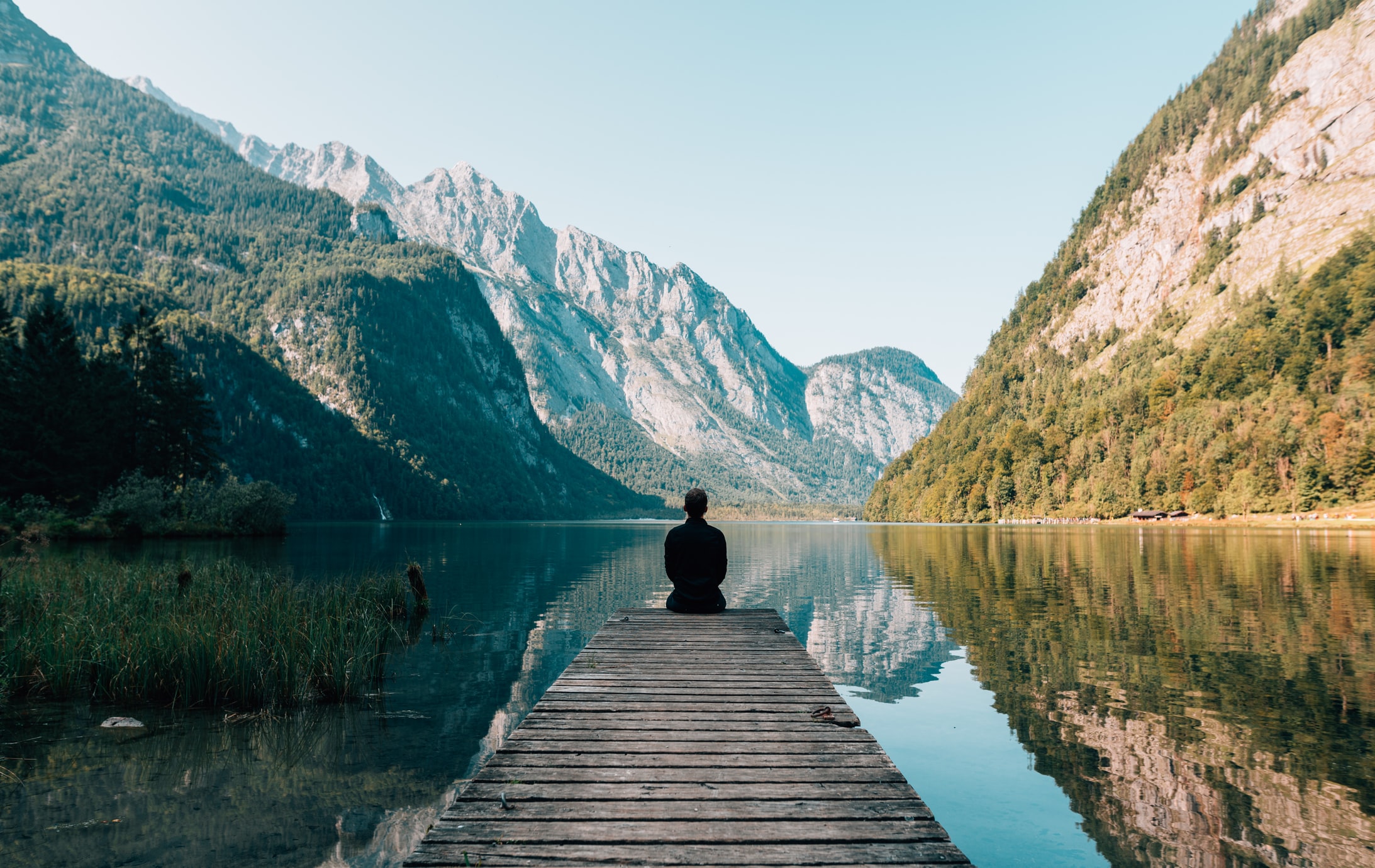 Results of User Testing
I got so a lot of interesting feedback from users, it was very useful for improving my designs and made my product better. After testing I found out the following improvements:
- add search field also on header, not only on homepage banner.

- in general users think that I got excellent idea, that only locals can know about any dangers in the city.

- one point which user told that I need to add some rewards for locals for their constructive reviews like some money or some other incentives.
- also good idea to talk not only about negative parts of the city, but also about positive things to add more value for the review and not to afraid people more about the city or country in general.
- also good feedback not to mention such words like terrorism, etc. not to afraid people too much.
- another good point to find a way to check reviews from locals, that they are honest and real. That reviews not so bad and negative. Maybe put some restrictions on language use for reviews.

What I Learnt
- I learnt how is important to do user testing at any project and on any stage of the project, is it idea testing or ready prototype or high fidelity design.
- I also learnt how is difficult to describe scenarios and tasks for remote testers in order they understand what to do and which is my idea and what I want to test.
- I found out also that moderated user testing is much better and effective than remote user testing, because during remote testing you can not control users right away. But when you don't have a very big budget, remote testing is better than nothing.

- So, after valuable feedback which I got from users, I will be happy to continue develop my idea in the future by improving my designs and add new and useful features.