NEOPASS
NEOPASS is a platform that was ideated and built to replace the traditional paper-based passport, eliminating the frustrations that arise from its renewal process, safe storage, and identity theft. It goes a step beyond the basic use and acts as a digital wallet to store a copy of any document such as a driving license, health card, e-ticket, or visa.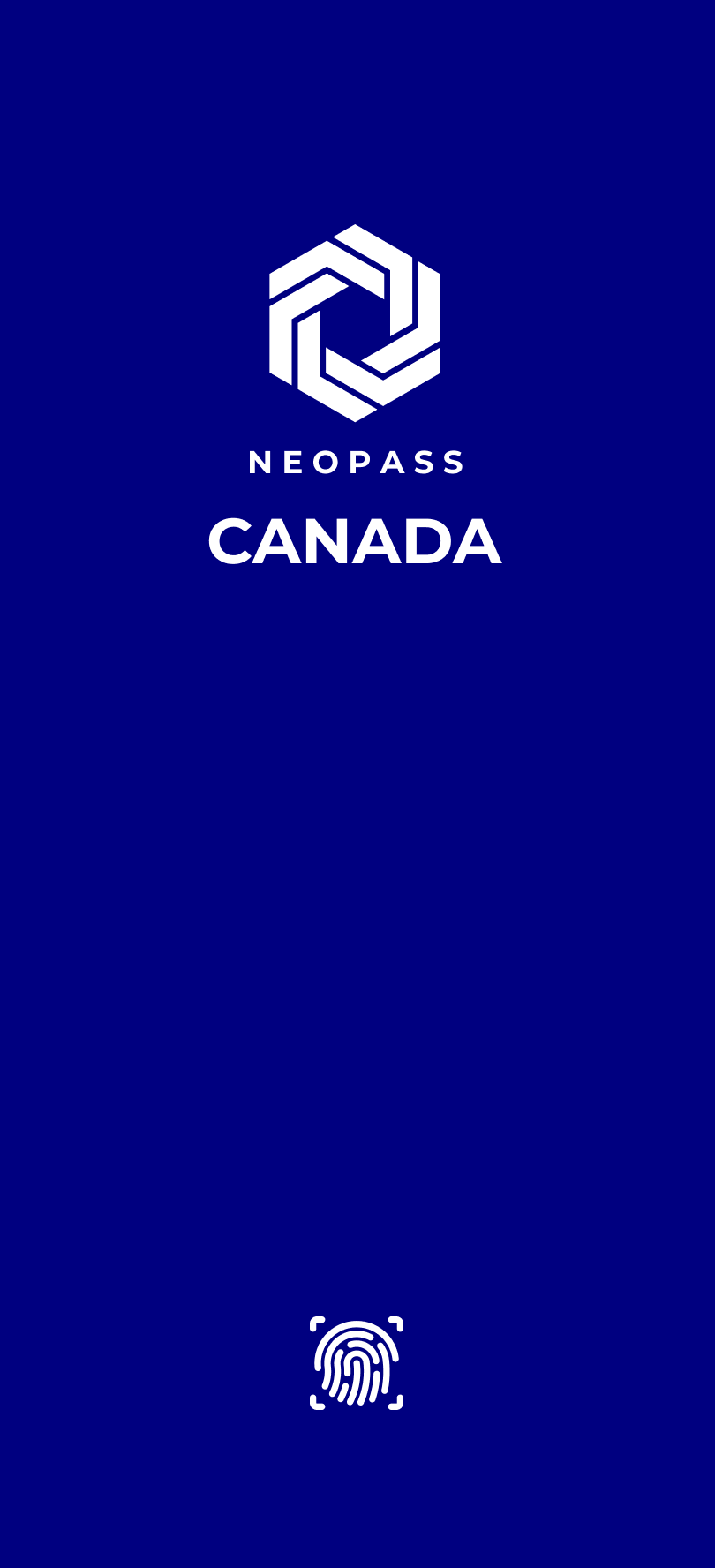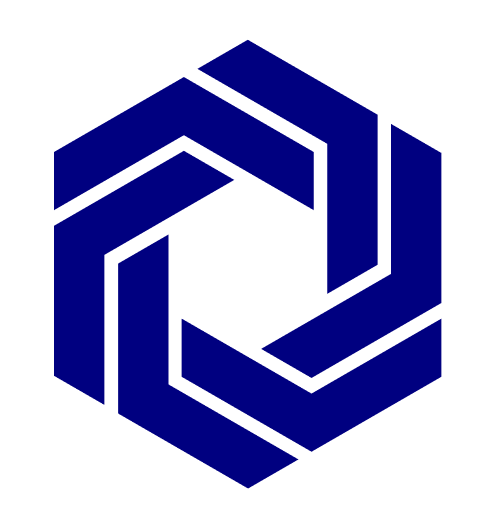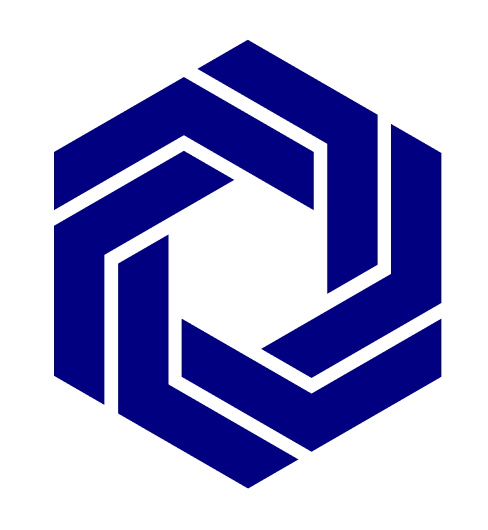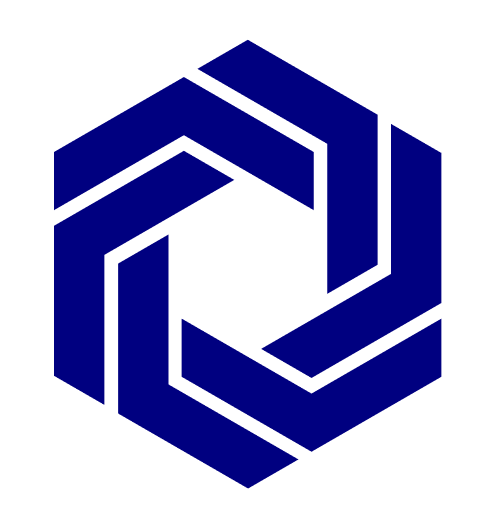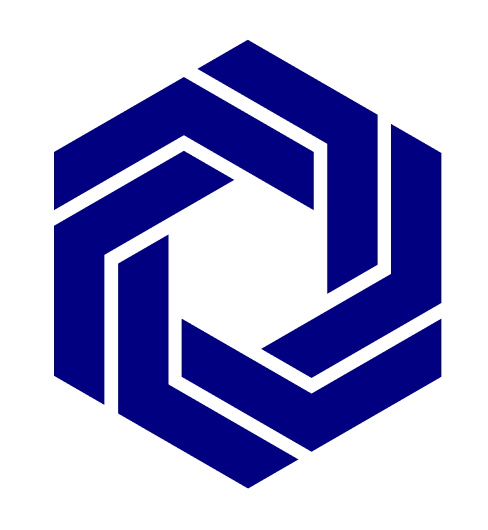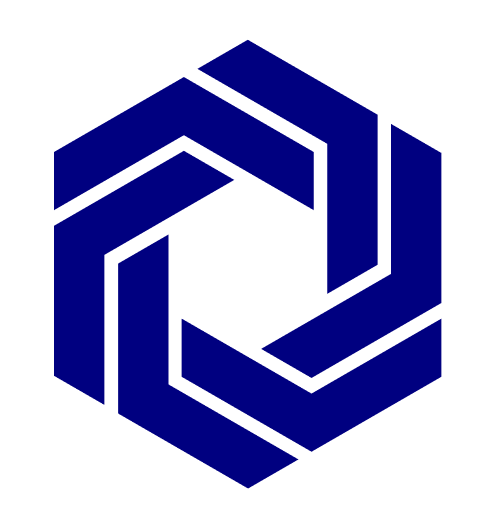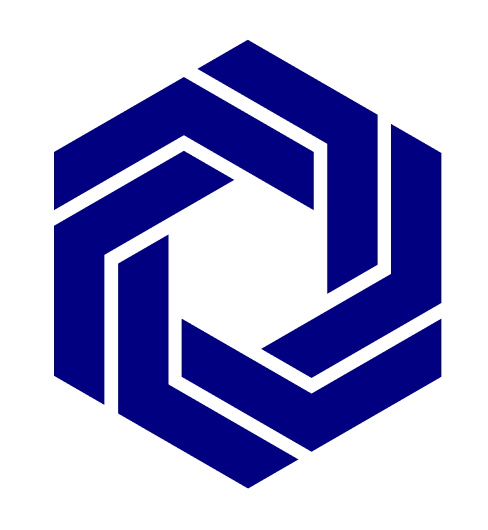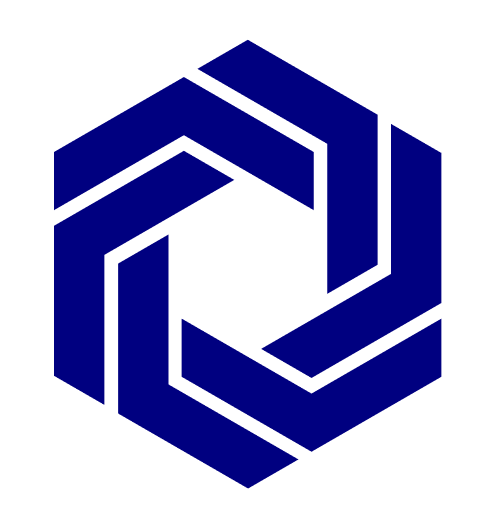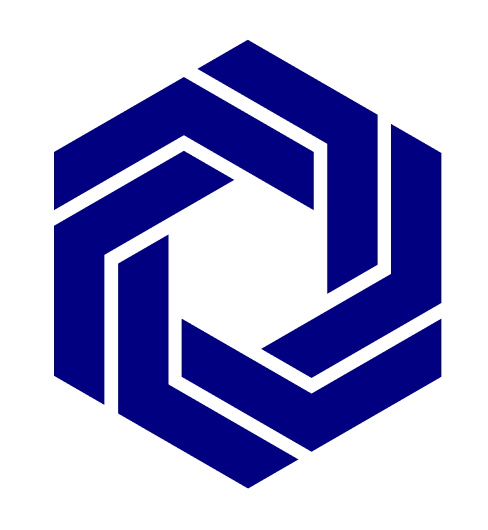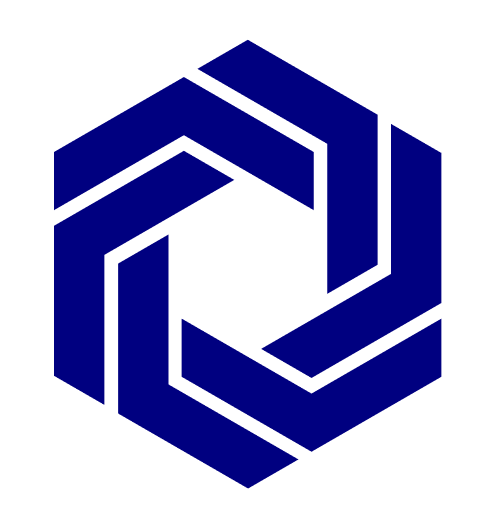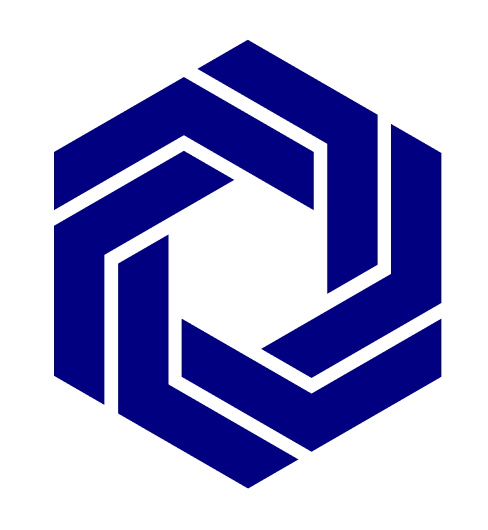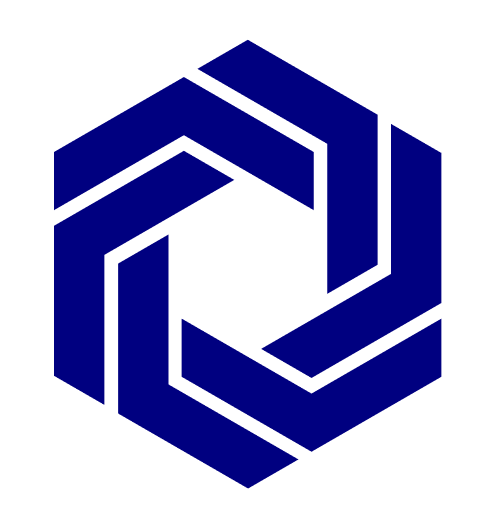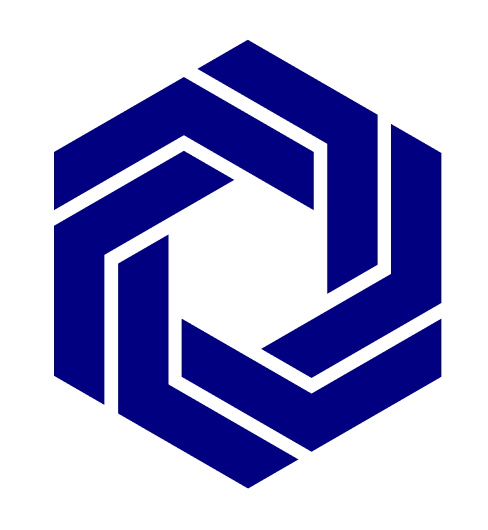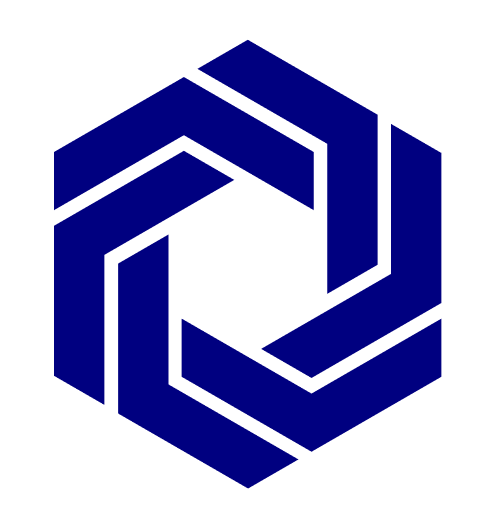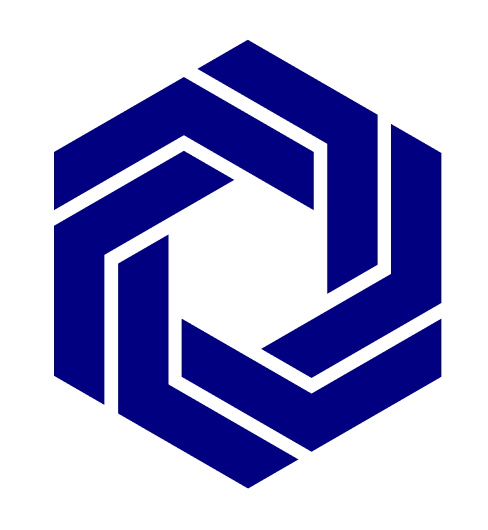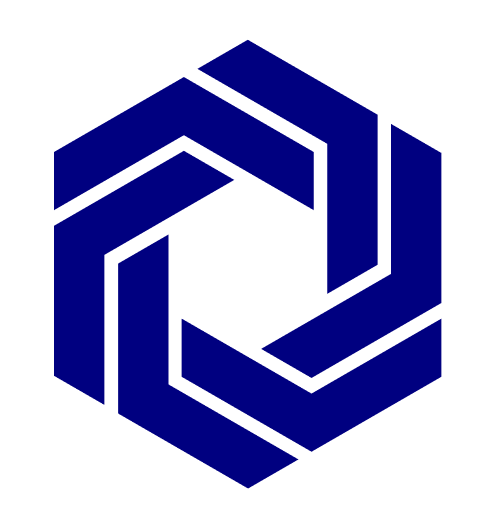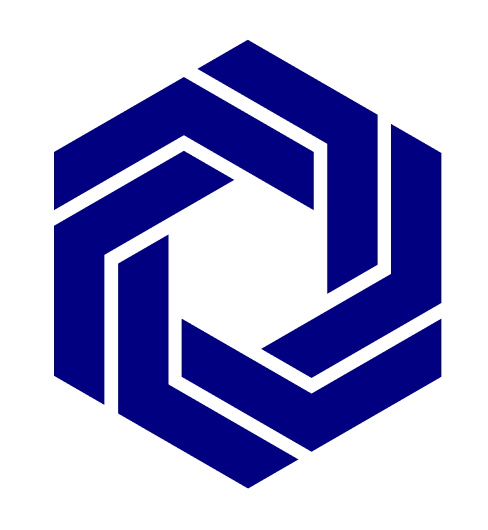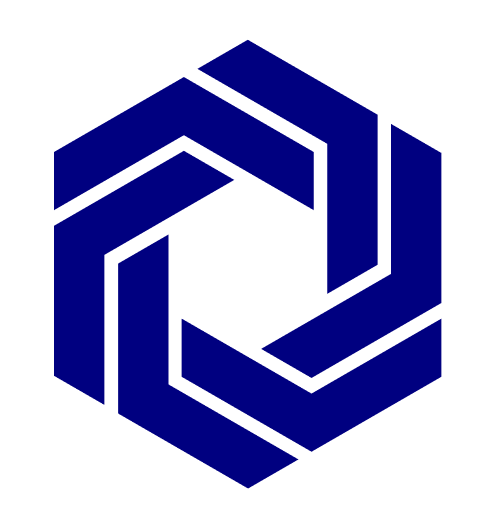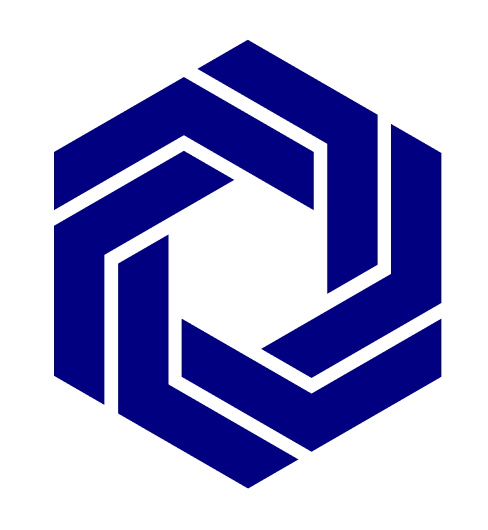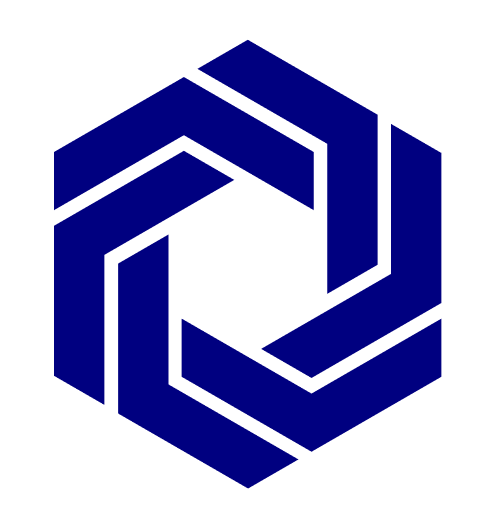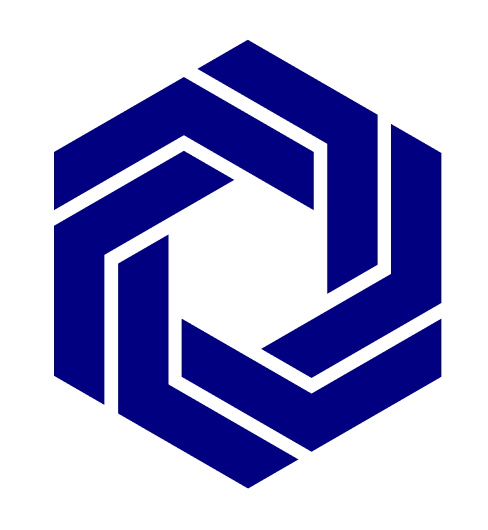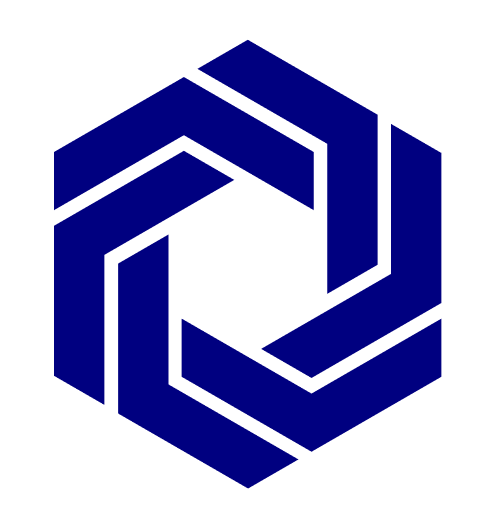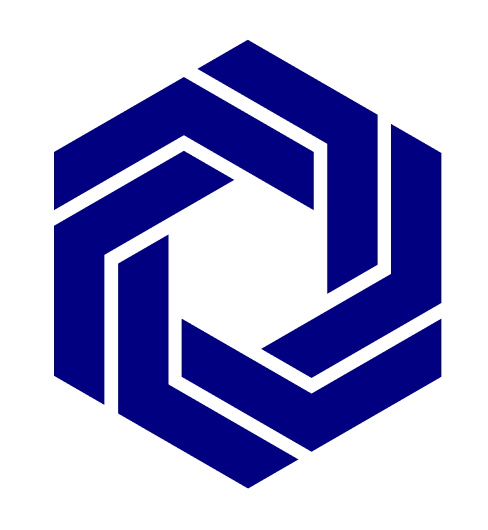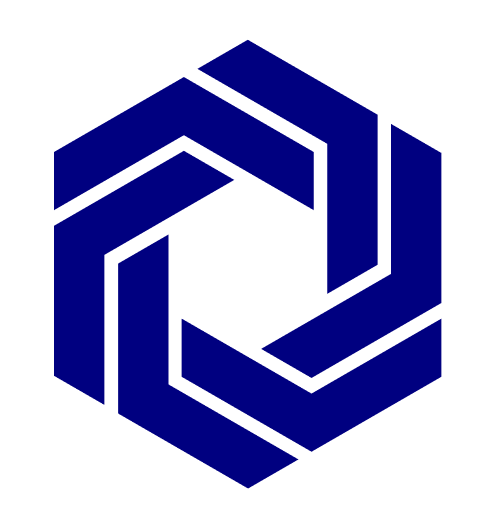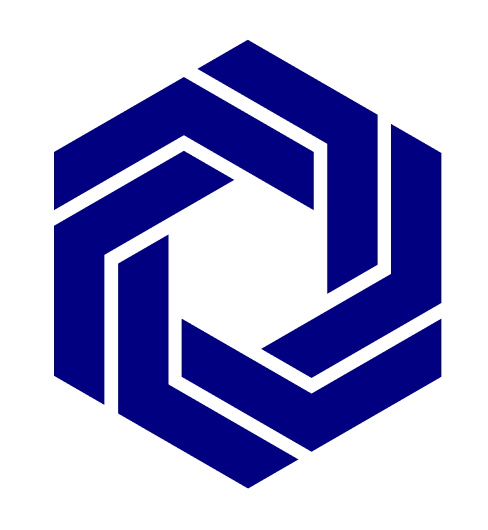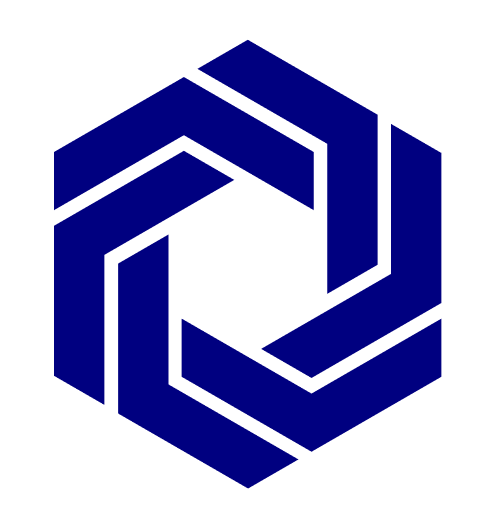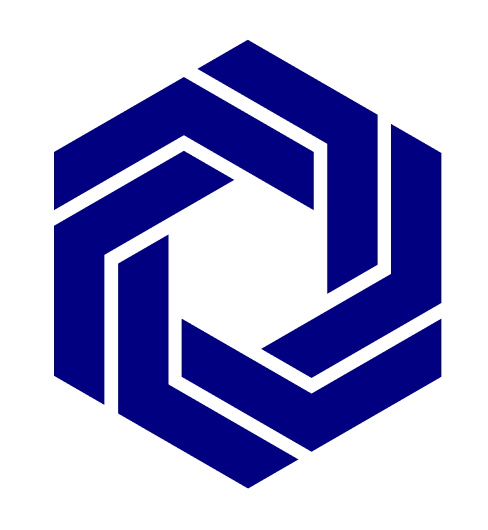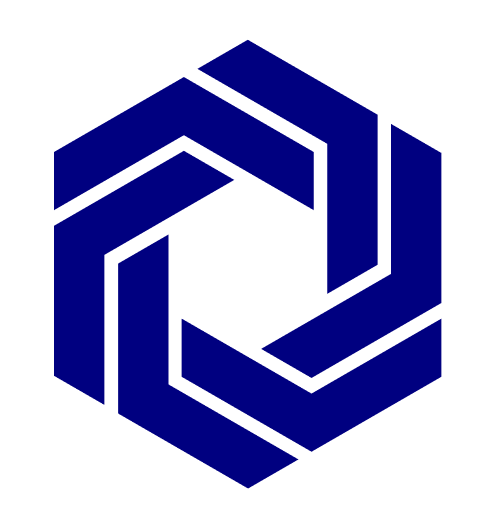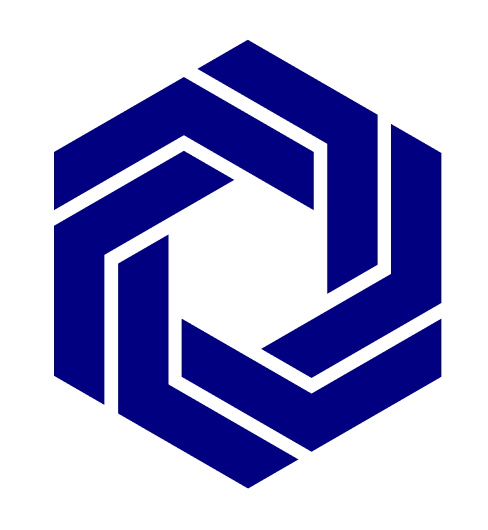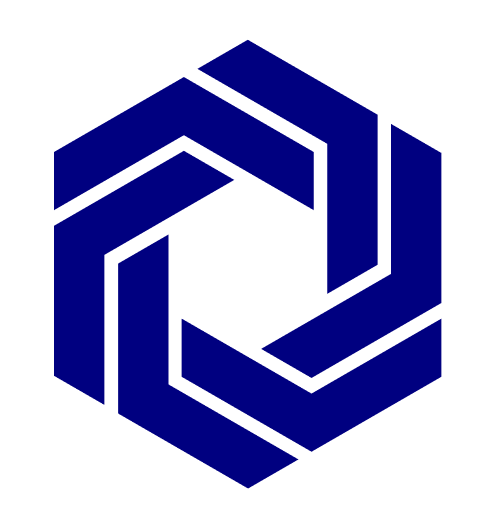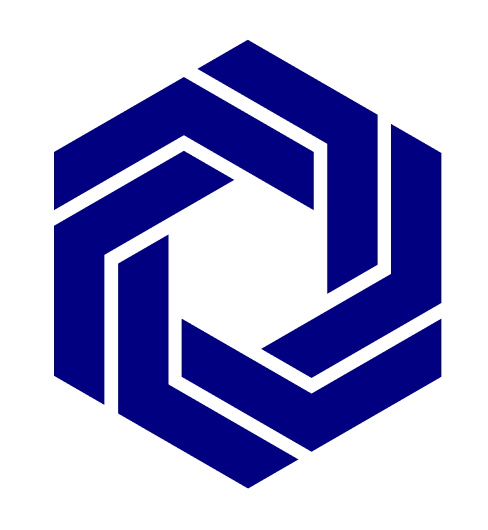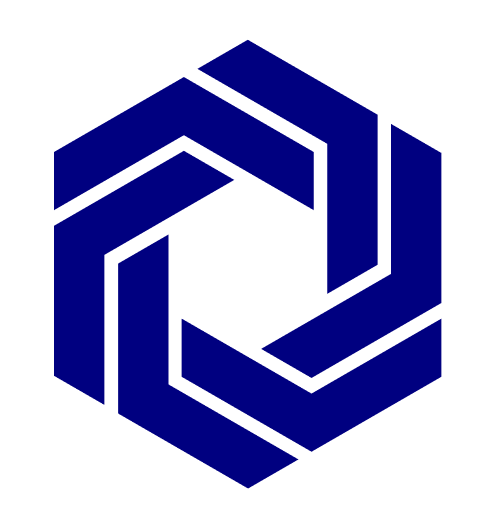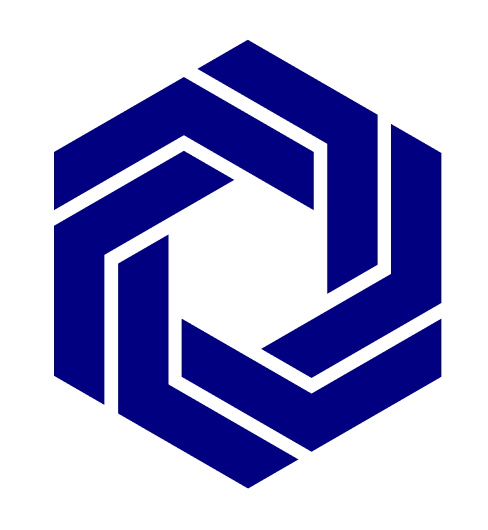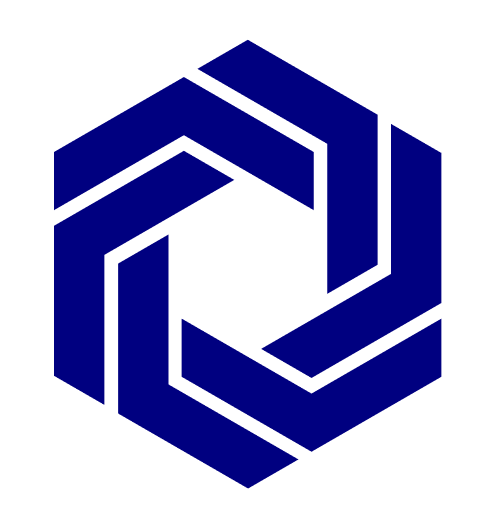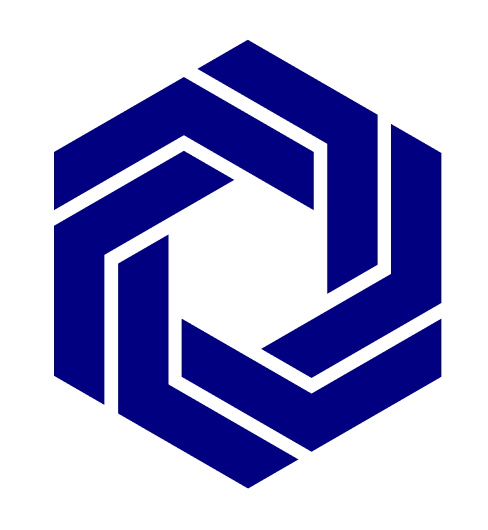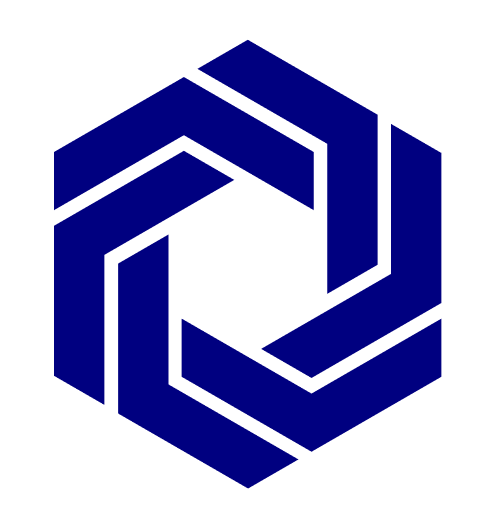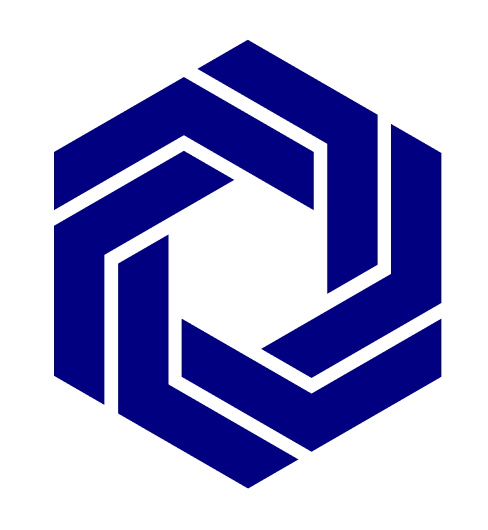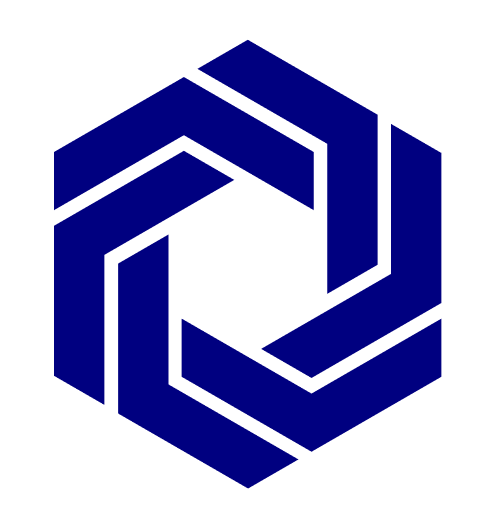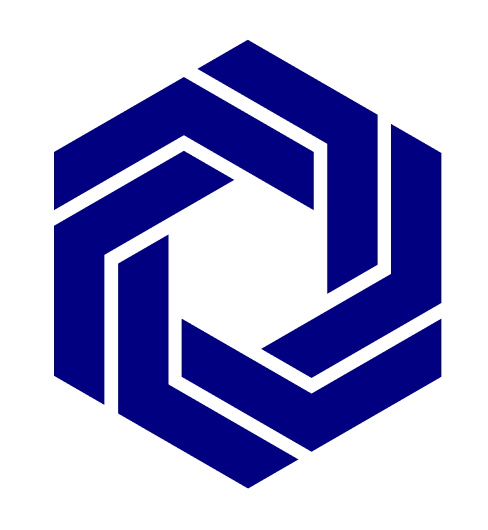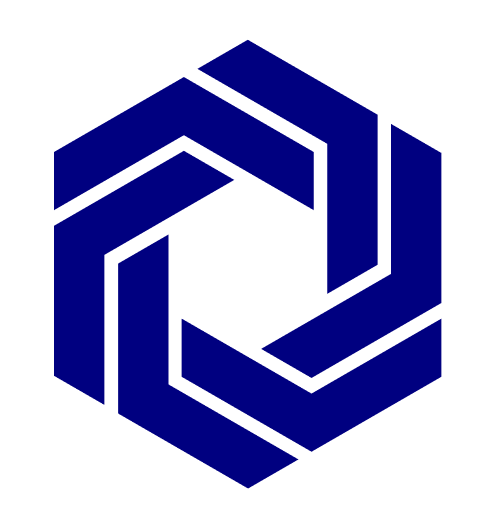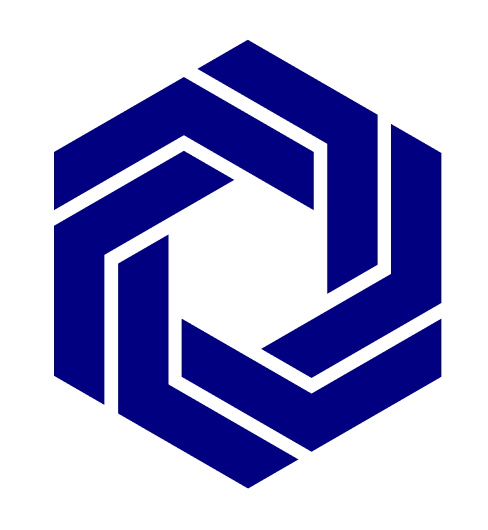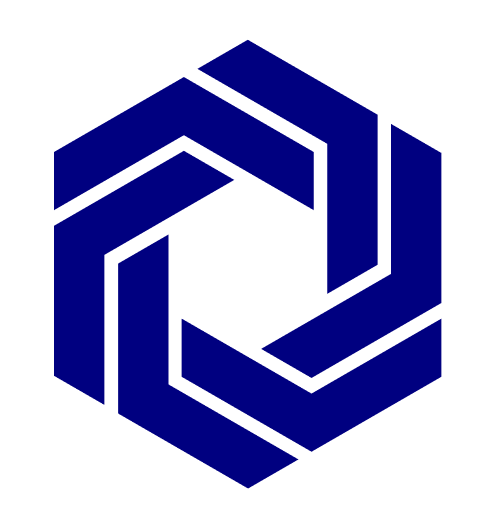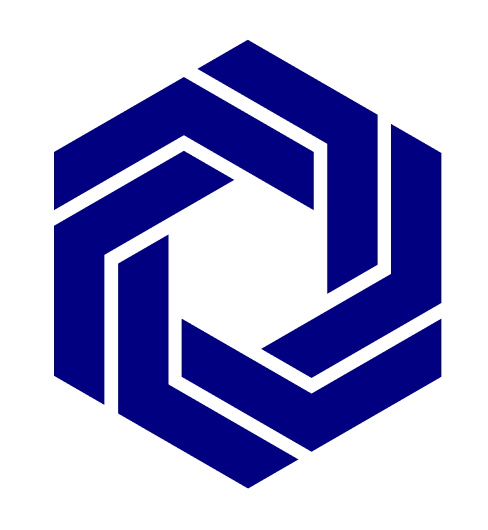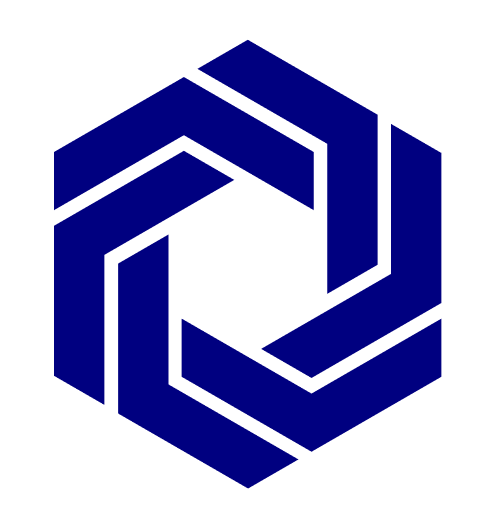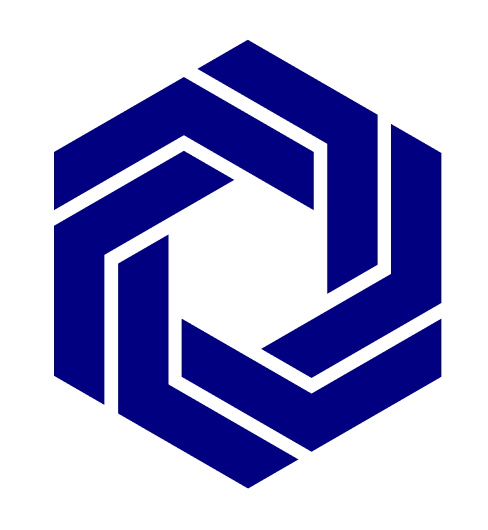 Problem Space
The current paper-based machine-readable passports were introduced in 1980 as part of the International Civil Aviation Organization(ICAO) standard.
In 1998 the first biometric integrated paper-based passport or e-passport was issued and as of 2019, 150 countries have adopted the same standard.
Being in an age where paper-based documents are becoming outdated with an increased risk of identity theft, Canadian citizens need a digital alternative that is secure, well-integrated with government systems, and has ease of access to ensure a stress-free travel experience.
Team & Role
Solo - UX Designer and Strategist
Deliverables
A minimum viable digital product prototype that can be built as a native application.
Tools
Figma, Invision, Adobe XD, Powerpoint, Sketchbook, and Pen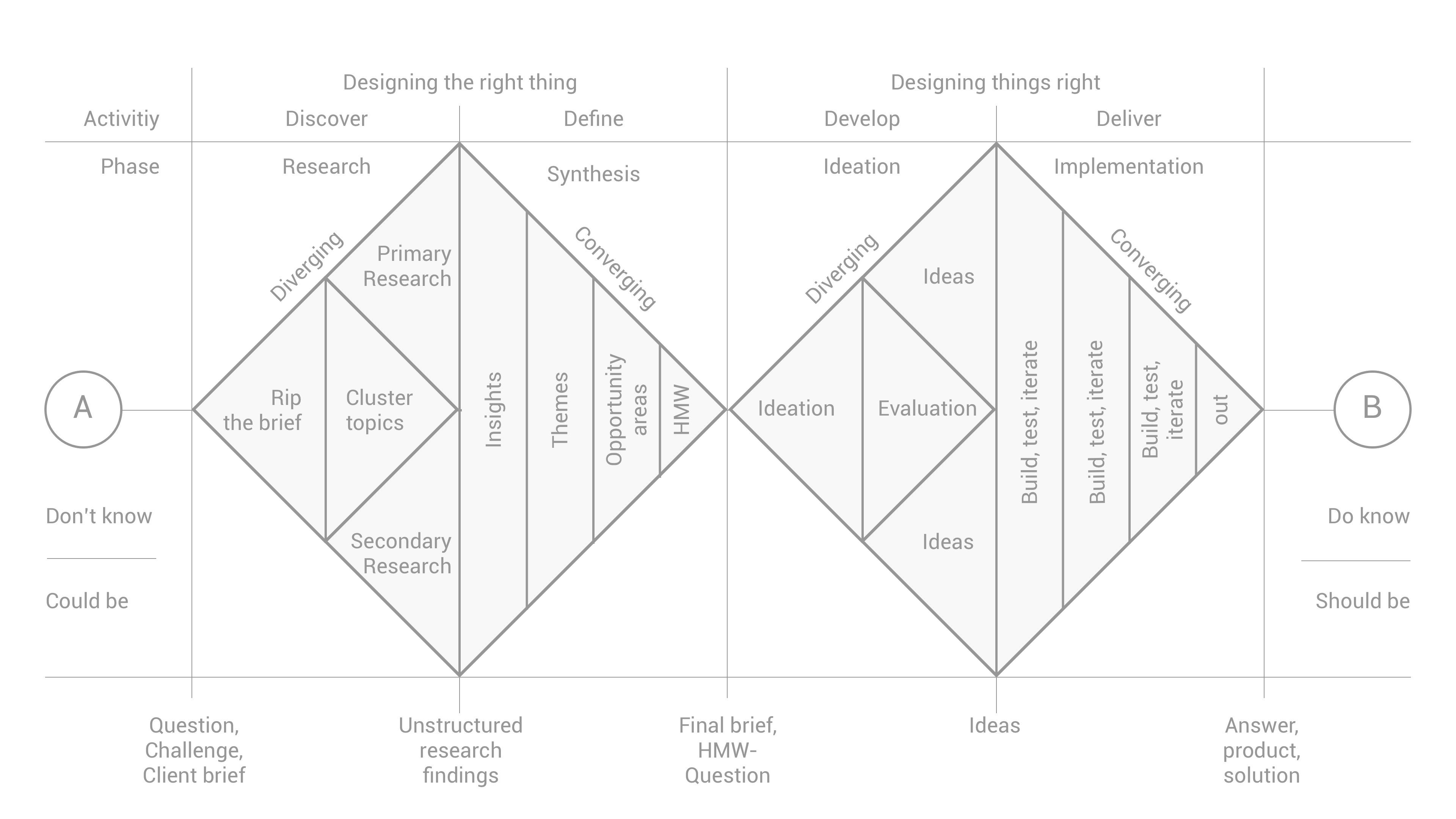 A non-linear path
The process involved discovering and defining a problem, then formulating a solution through multiple rounds of testing and iteration.
With a human-centered design in mind, I had to unlearn previous notions and approach this project with empathy and a mind that could absorb various emotions of the user.
The solution lies within the intersection of pain points, motivations, and behaviors of our persona who is a key factor in the whole process.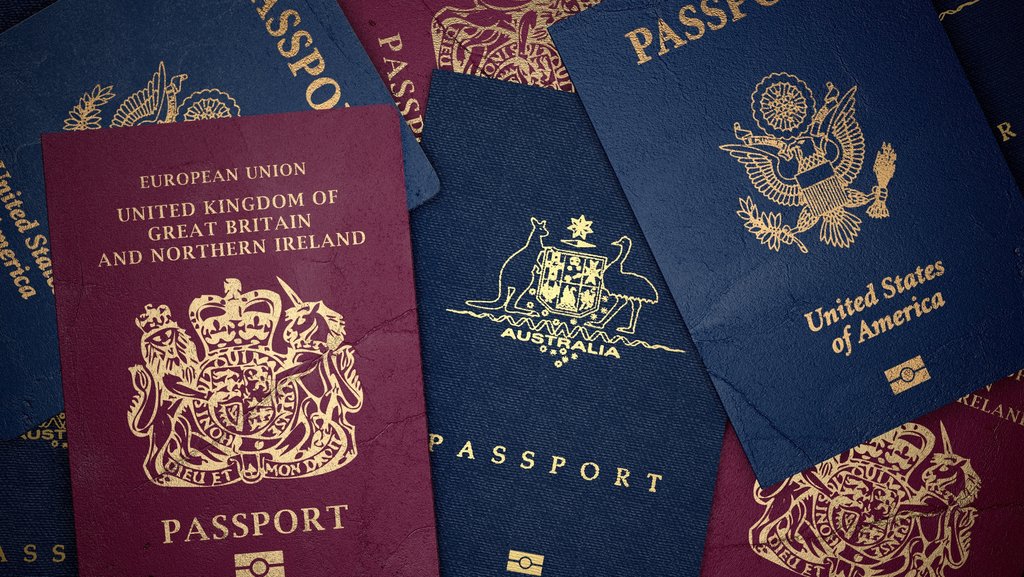 Renewing a Canadian passport takes on an average more than 20 days and involves physically filling out application forms and obtaining paper references.

Present technology in passports includes an RFID chip in the second page of the passport with biometric details of the owner. This is also known as an e-passport or digital passport.

Biometric details used in this system include facial recognition, fingerprint recognition, and iris recognition.

E-passports can be duplicated for as low as $120 after accessing the RFID information within them using wireless access devices.

More than 40 million passports are listed as missing on a database created by Interpol in 2002.

More than 37,000 passports are reported stolen or lost in Canada every year.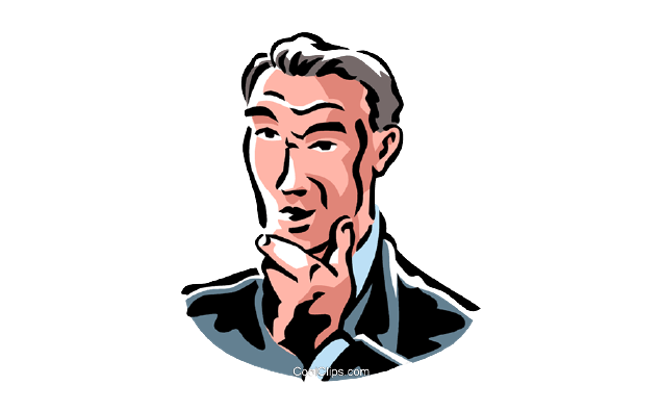 HOW MIGHT WE...
help Canadian citizens to renew their passports easily to avoid waiting in long queues at application centers and avoid the stress related to documentation errors.
Primary Research - Surveys
As part of quantitative analysis, I conducted a 10-question survey within the target demographics to obtain live statistics on the difficulty of the passport renewal process, international travel frequency, duration to receive passport application, lost/stolen passport statistics, and preference of passport being paper-based or digital.
Primary Research - Interviews
For qualitative analysis, I conducted a one-on-one research interview to better understand the participants and empathize with their needs. The interview comprised of open-ended questions to explore the participant's desires and gather some more general insight into their pain points.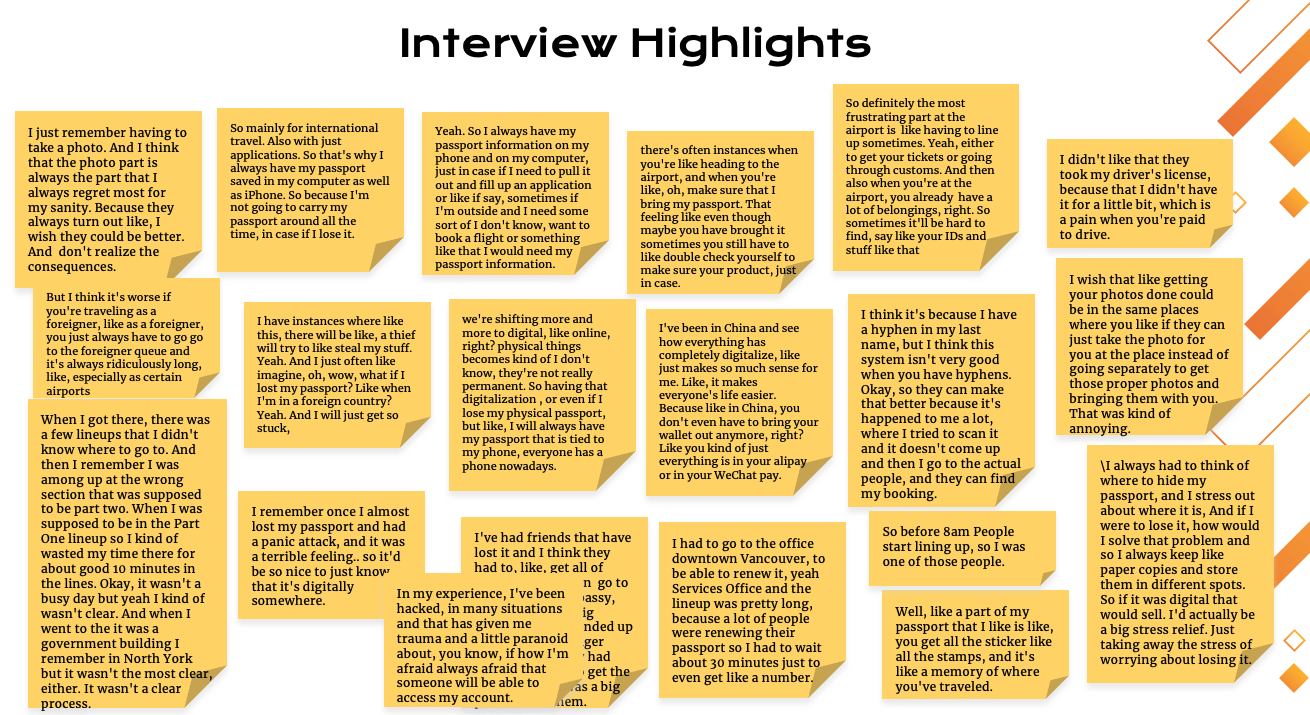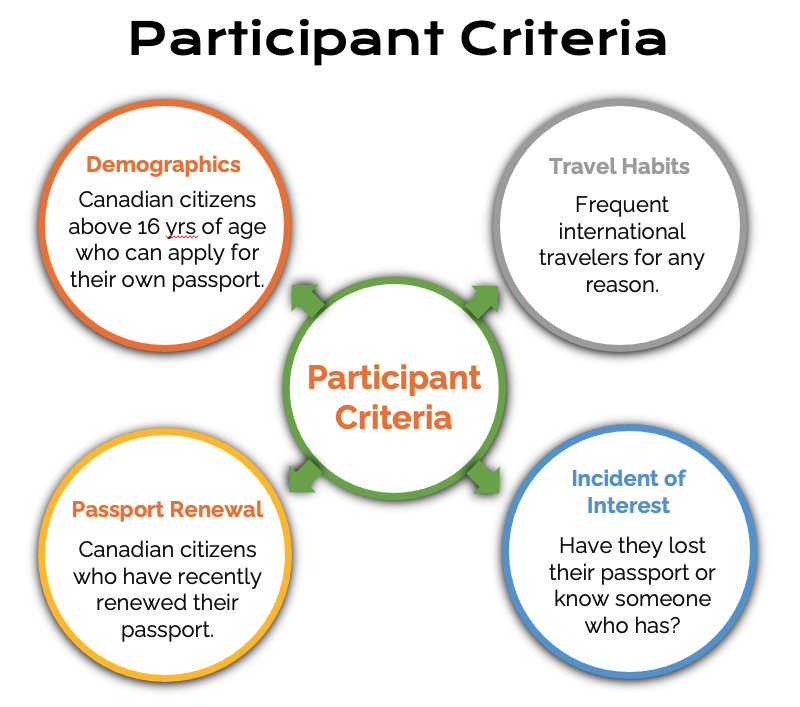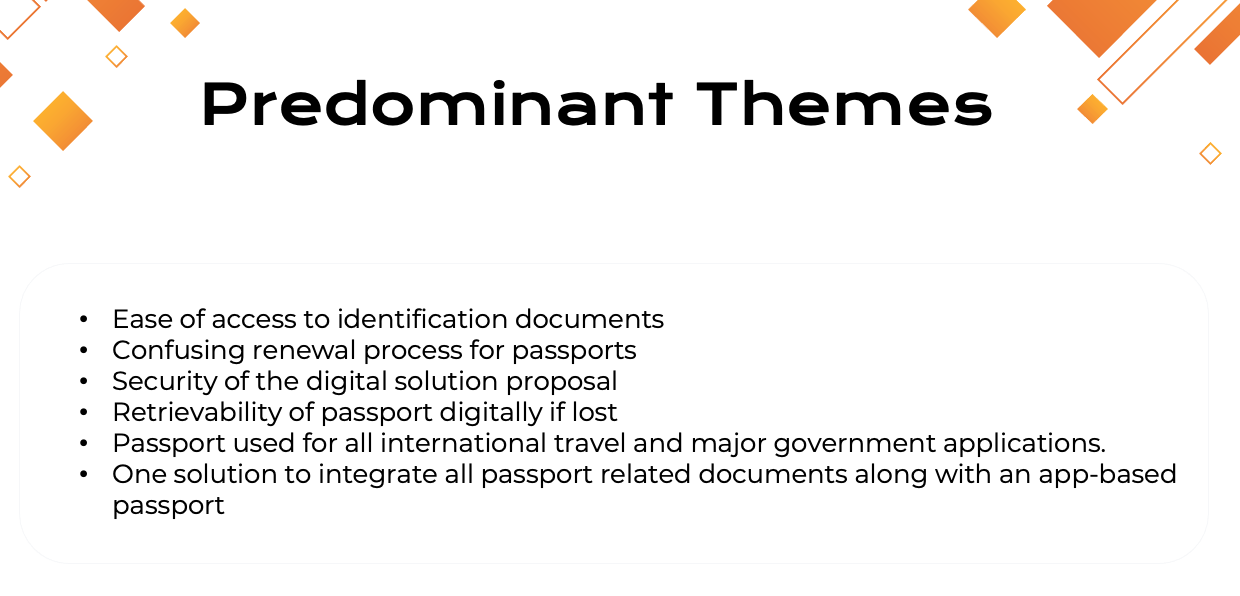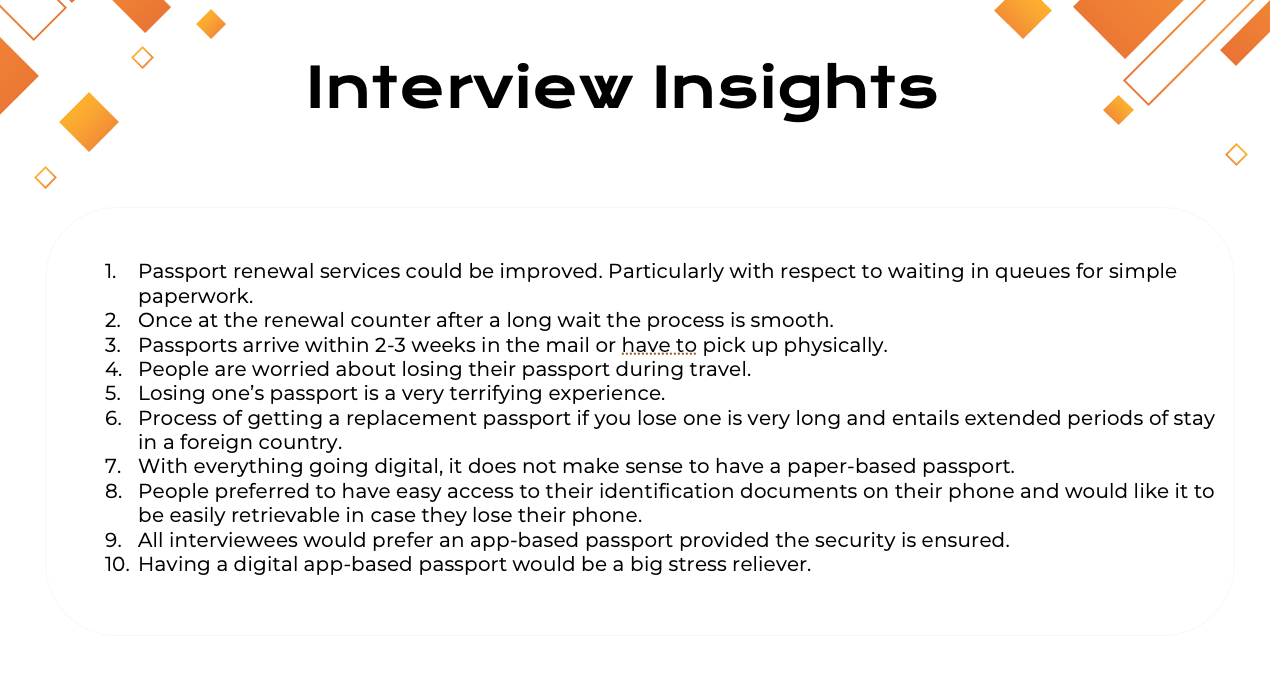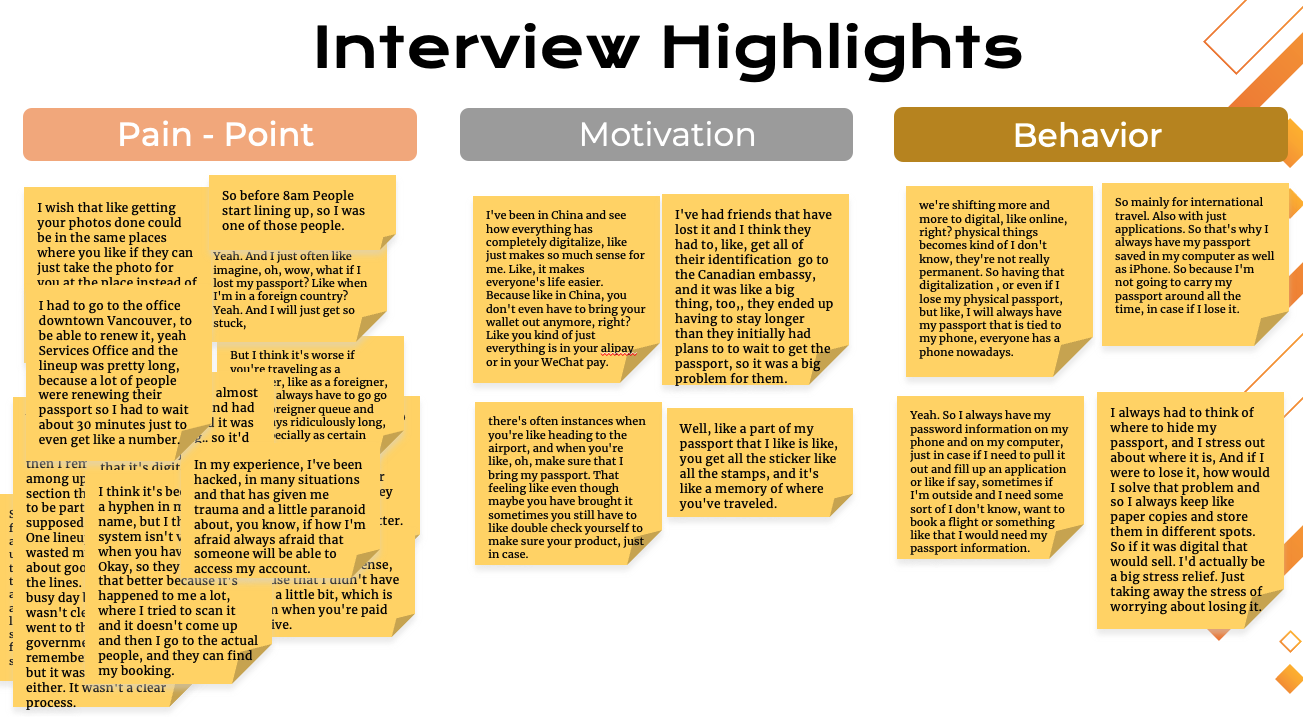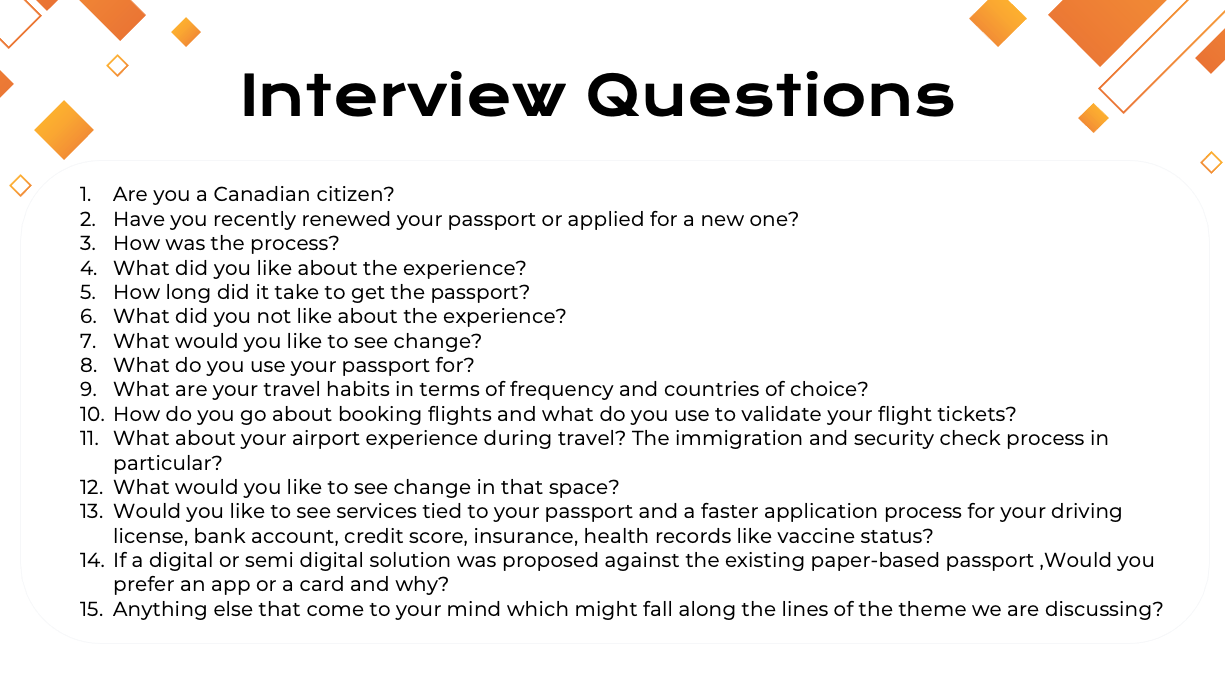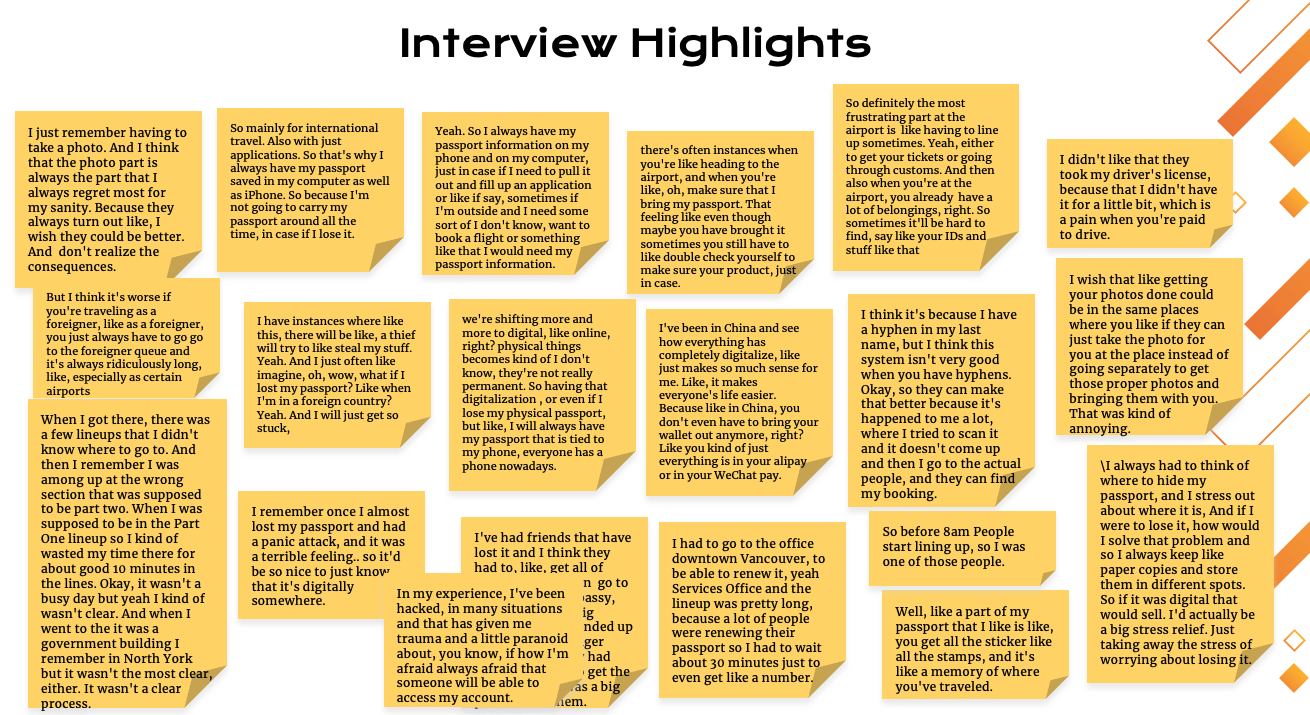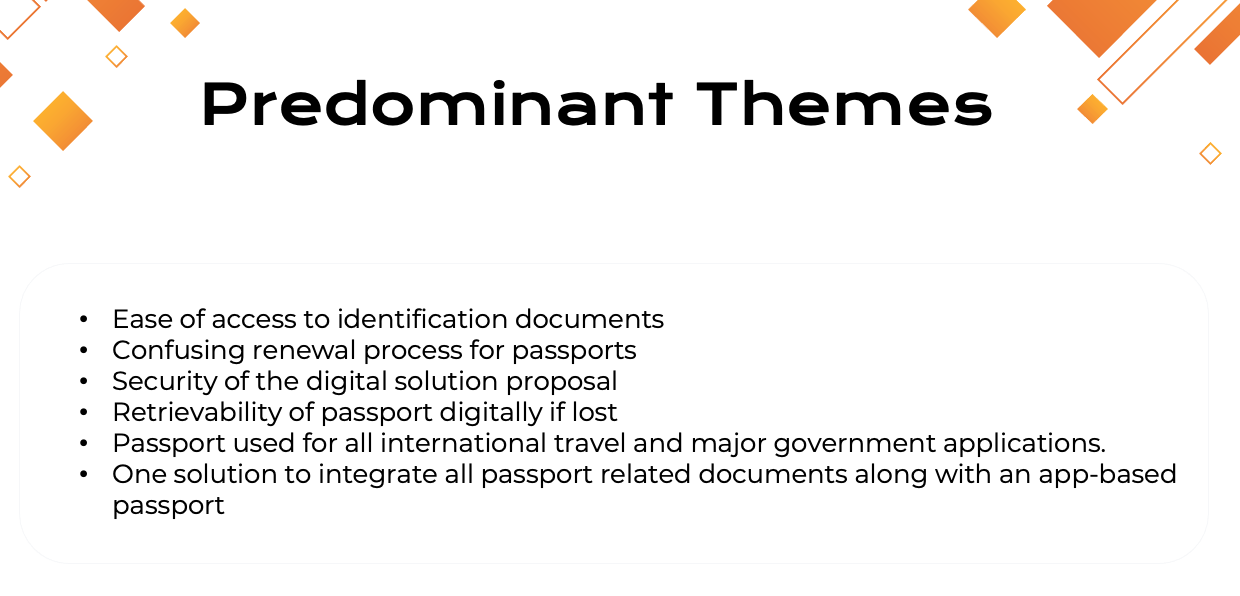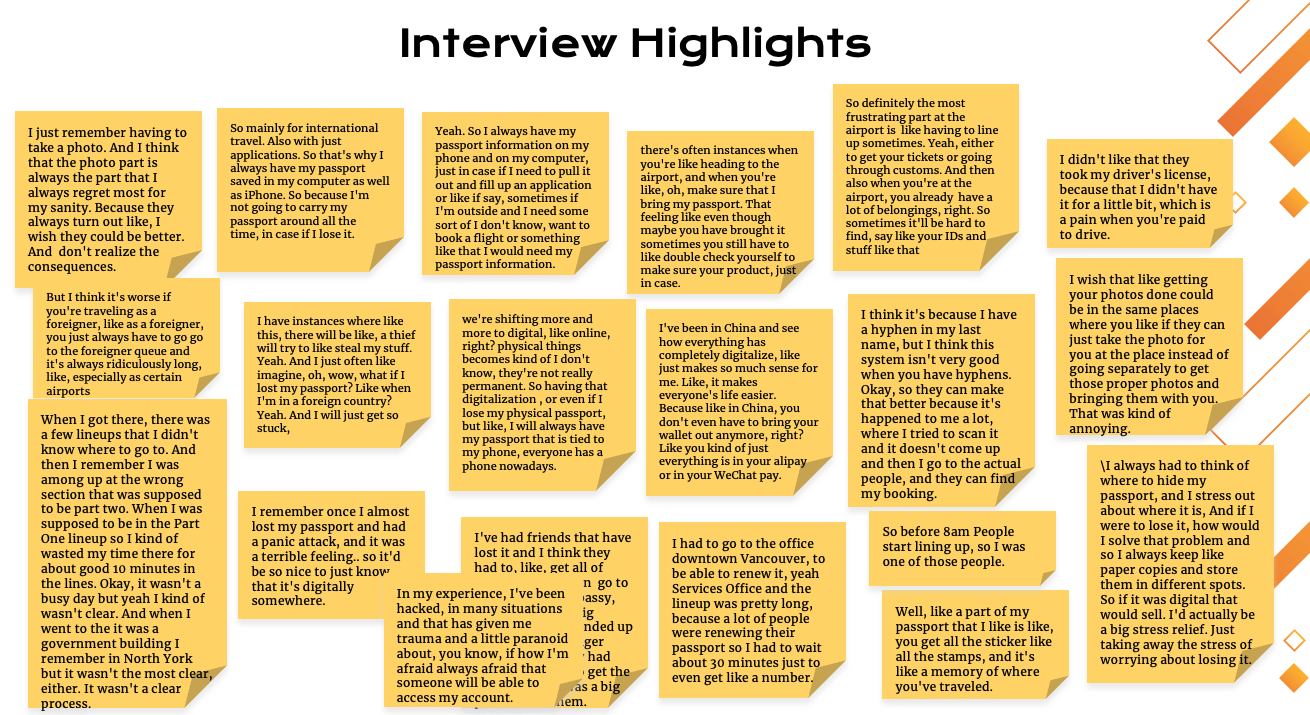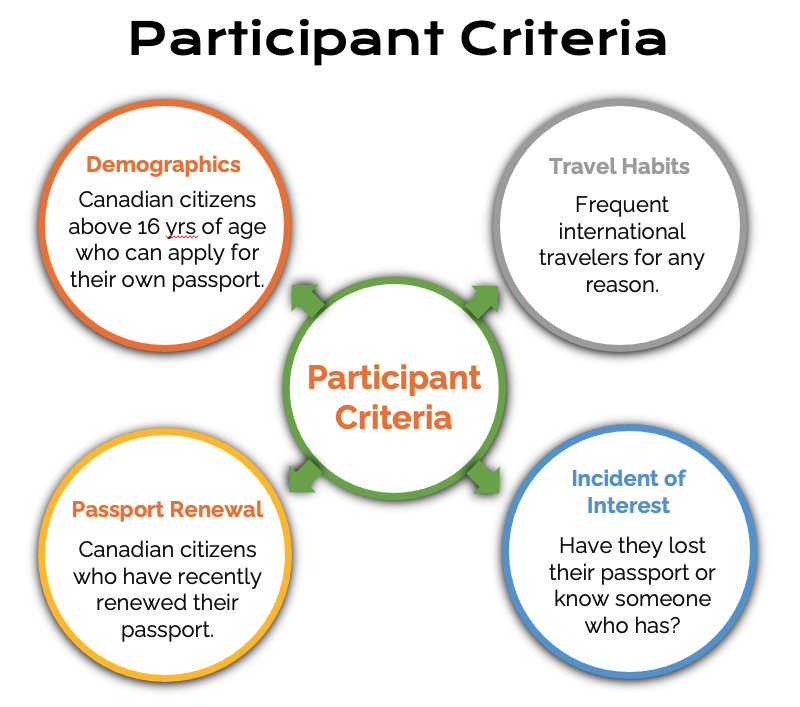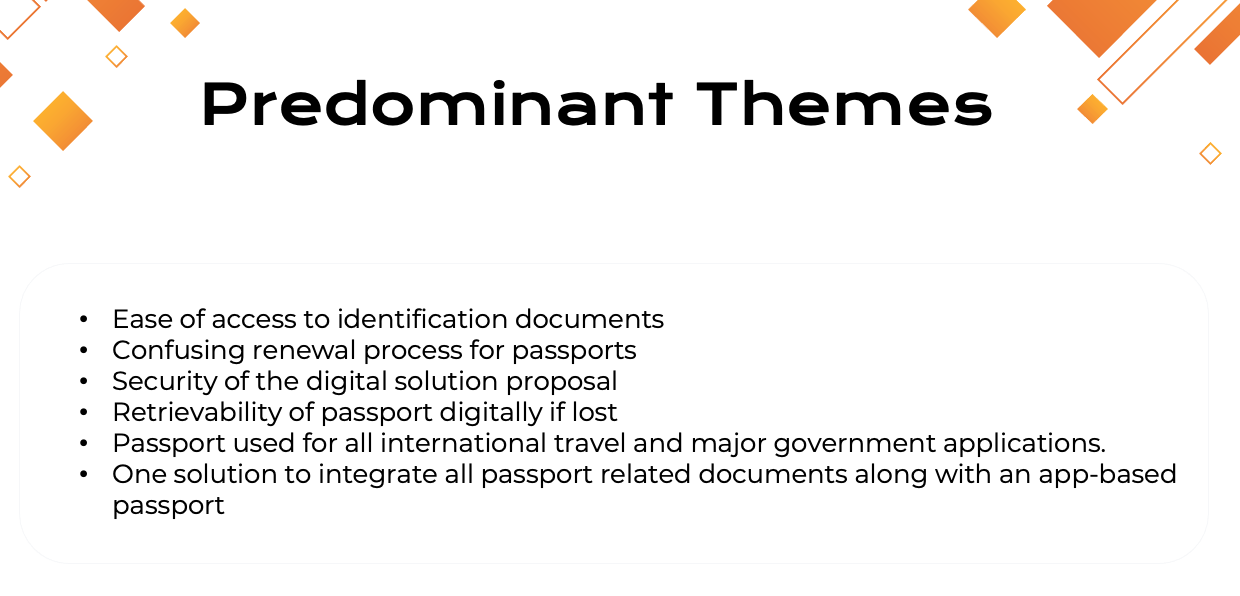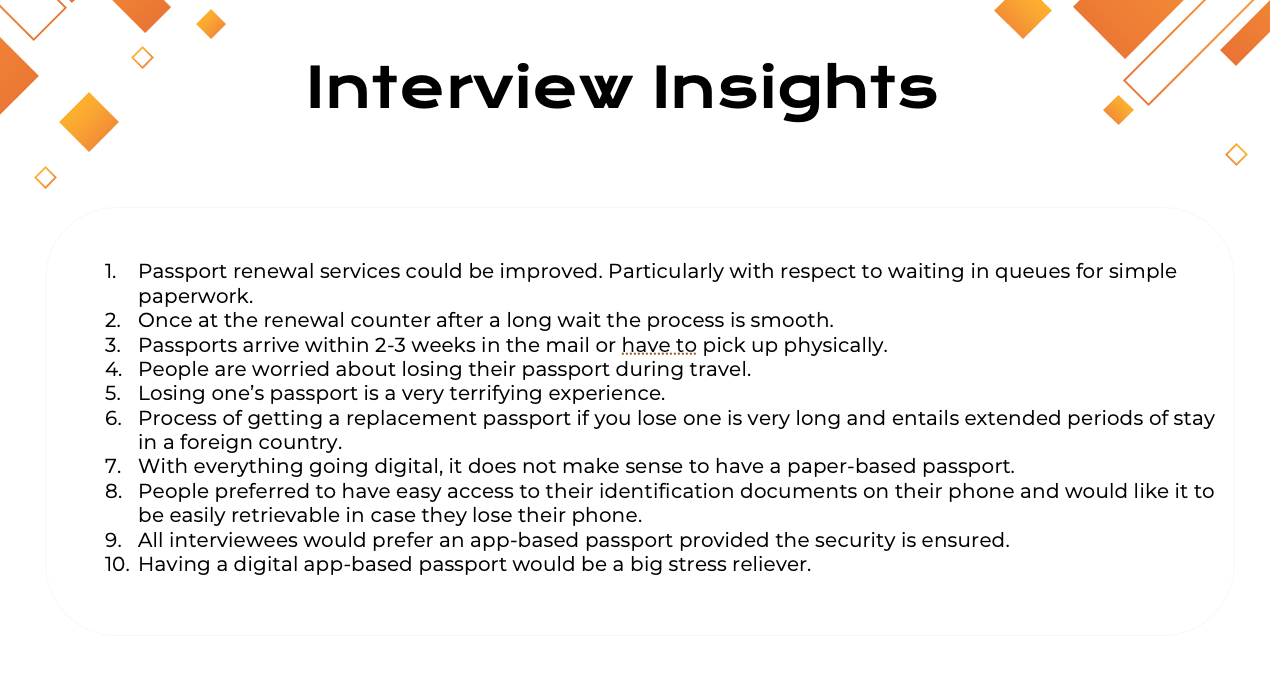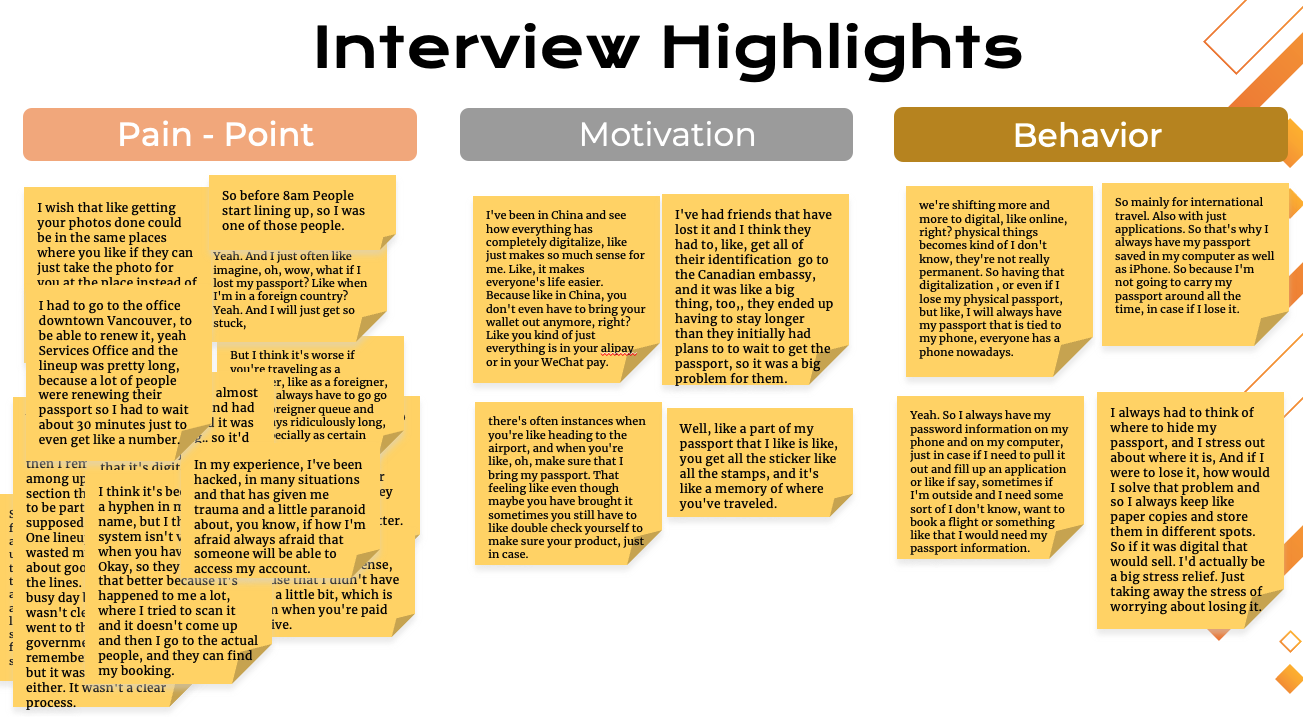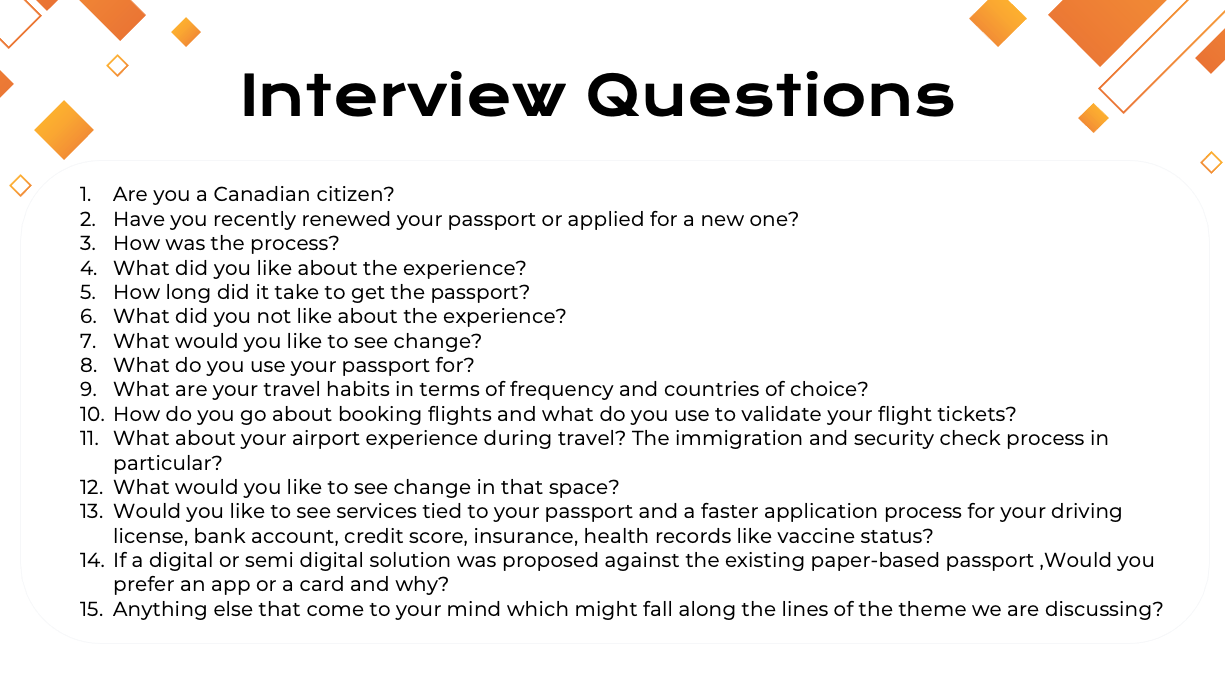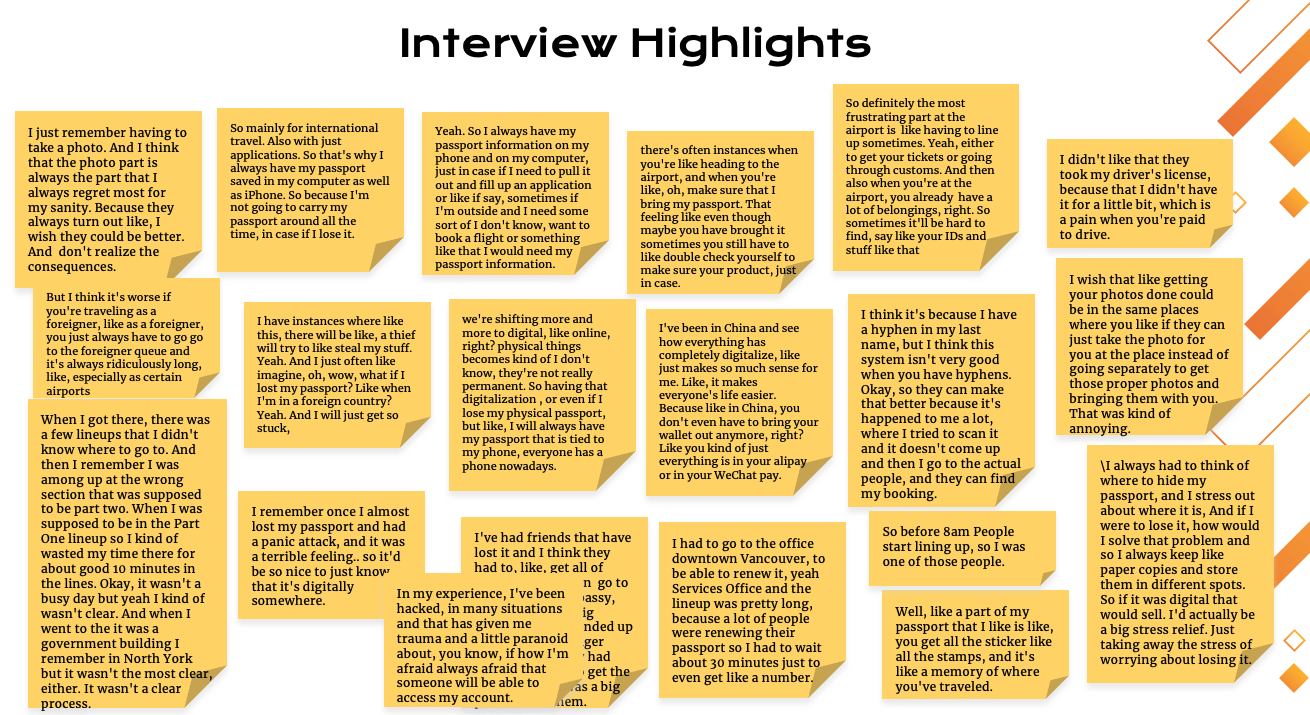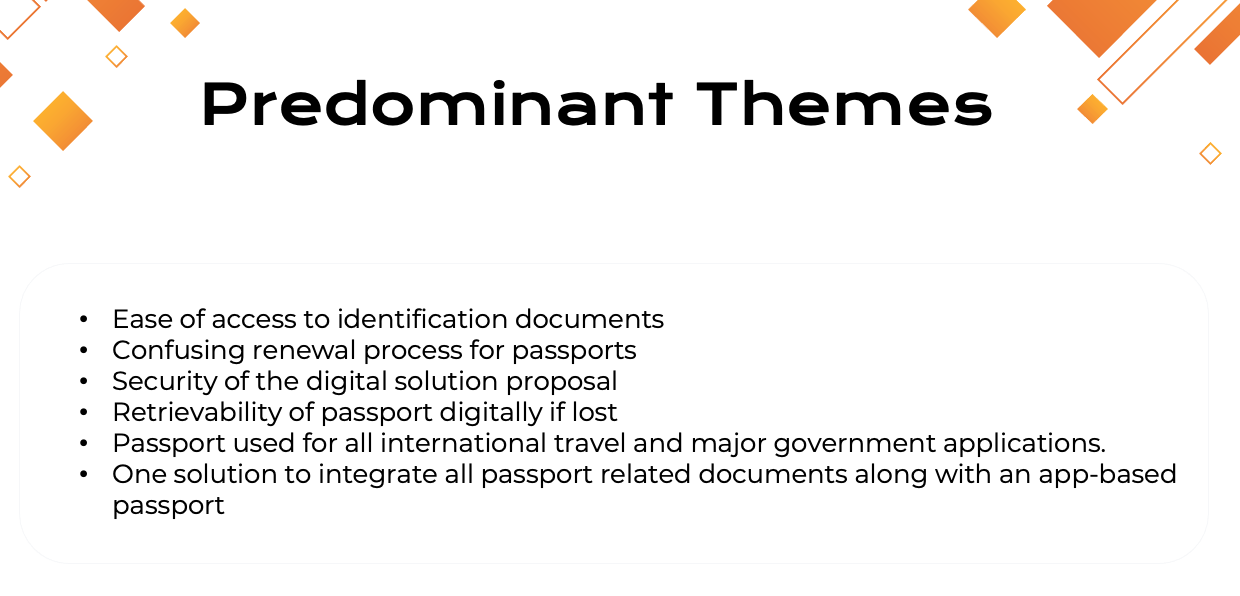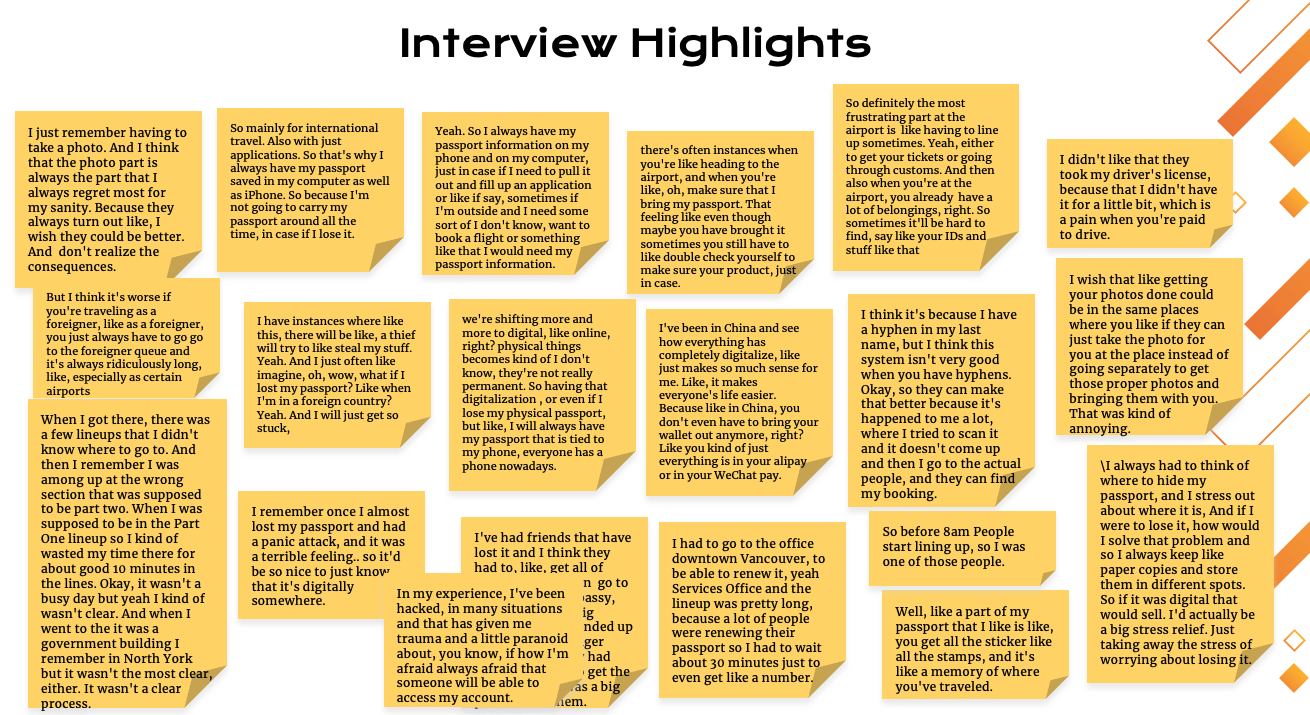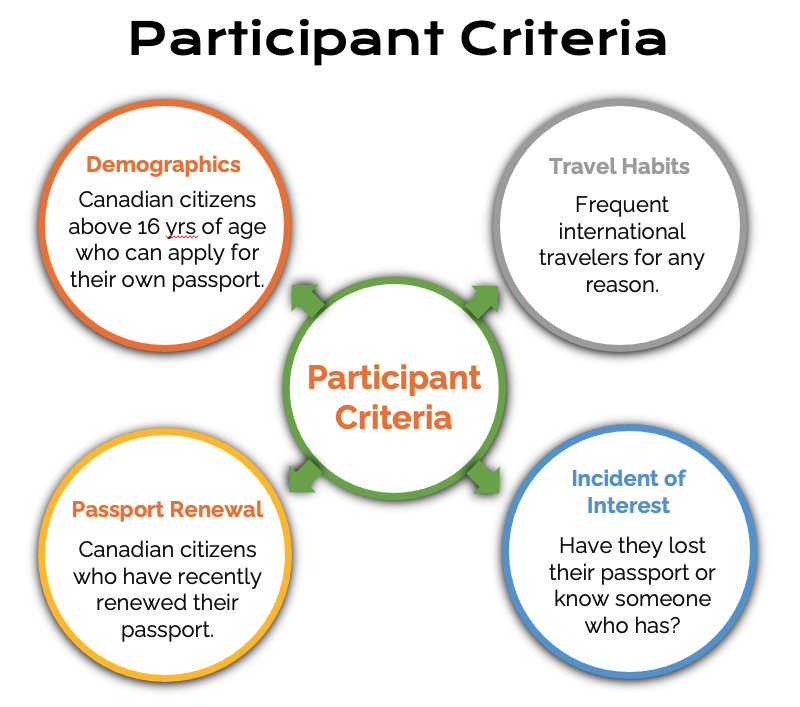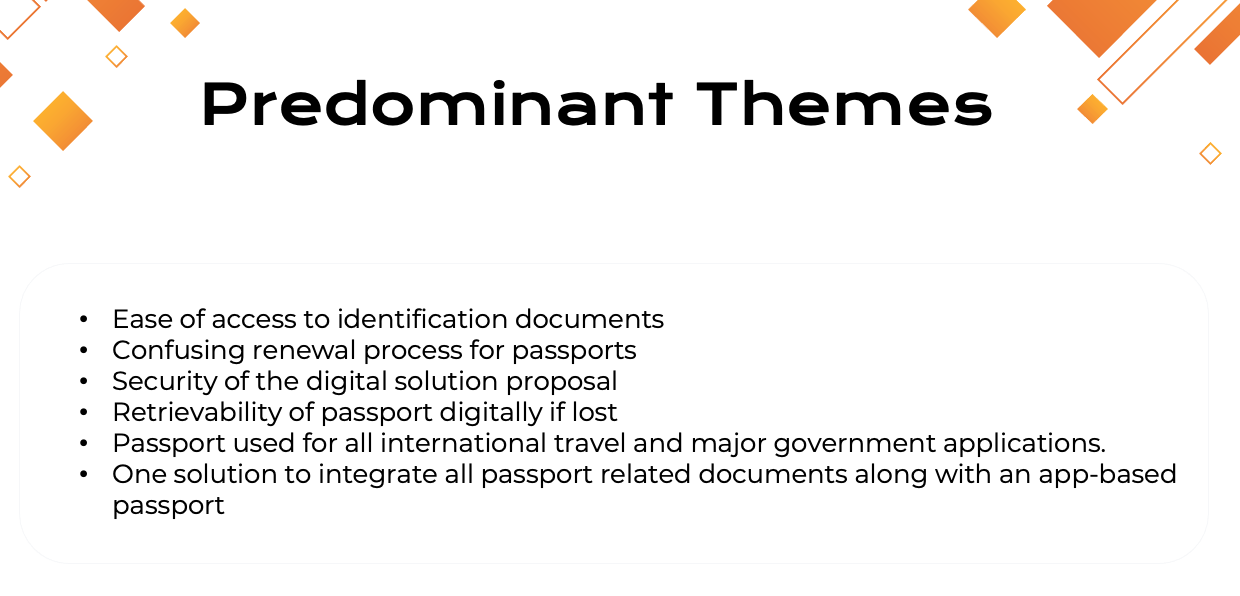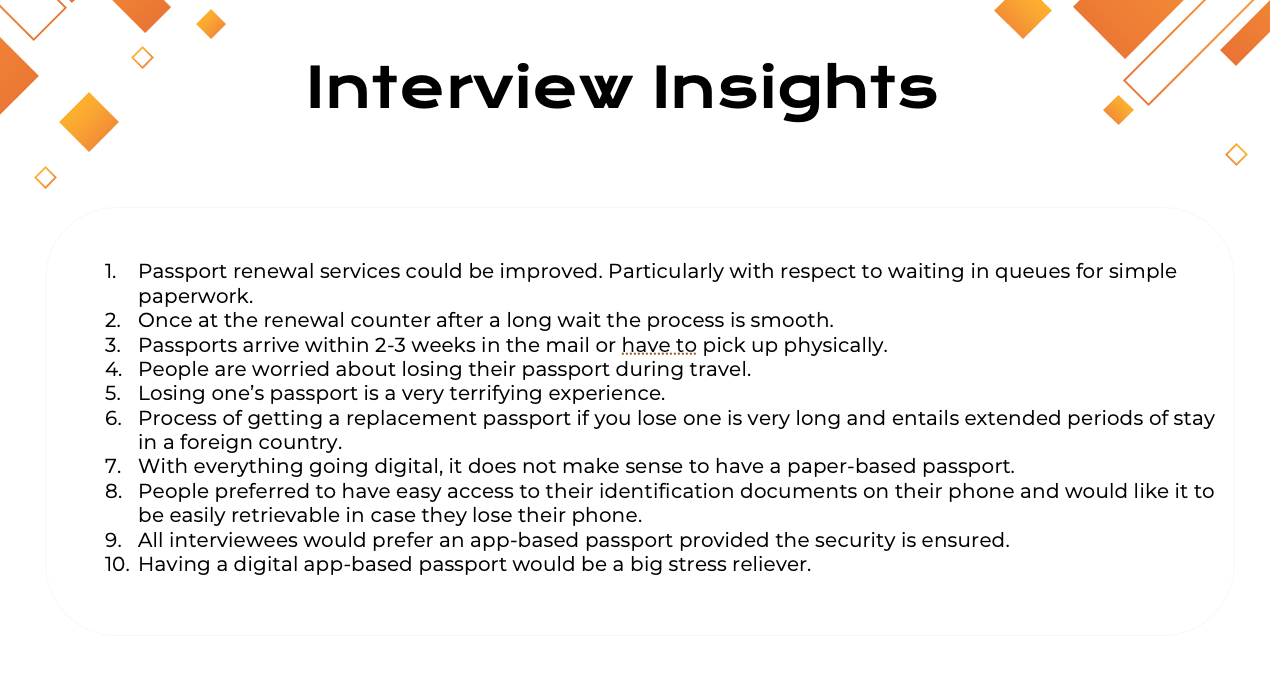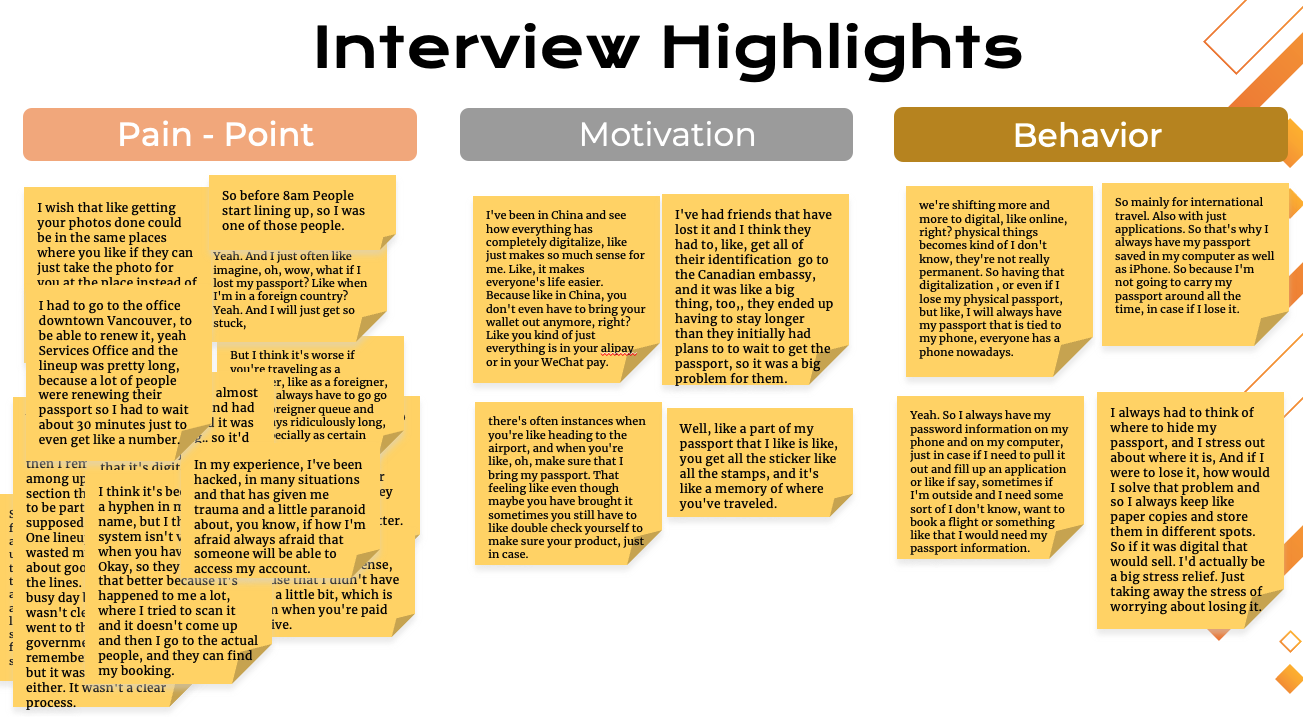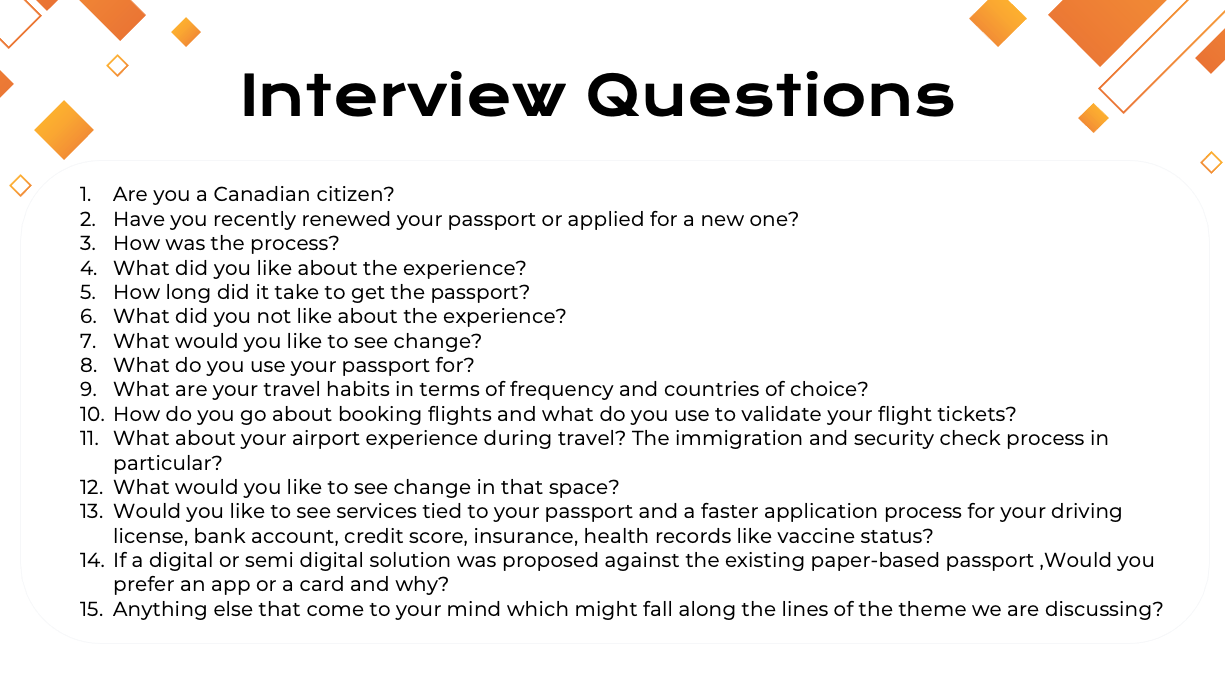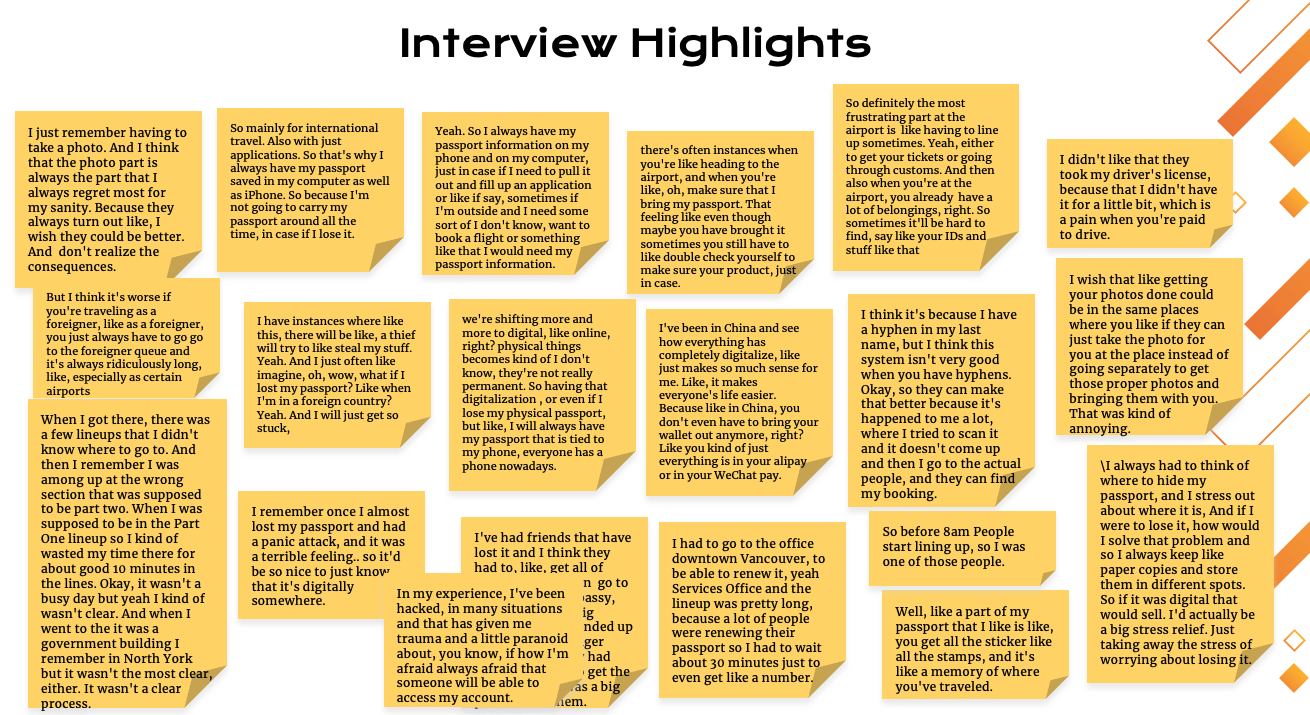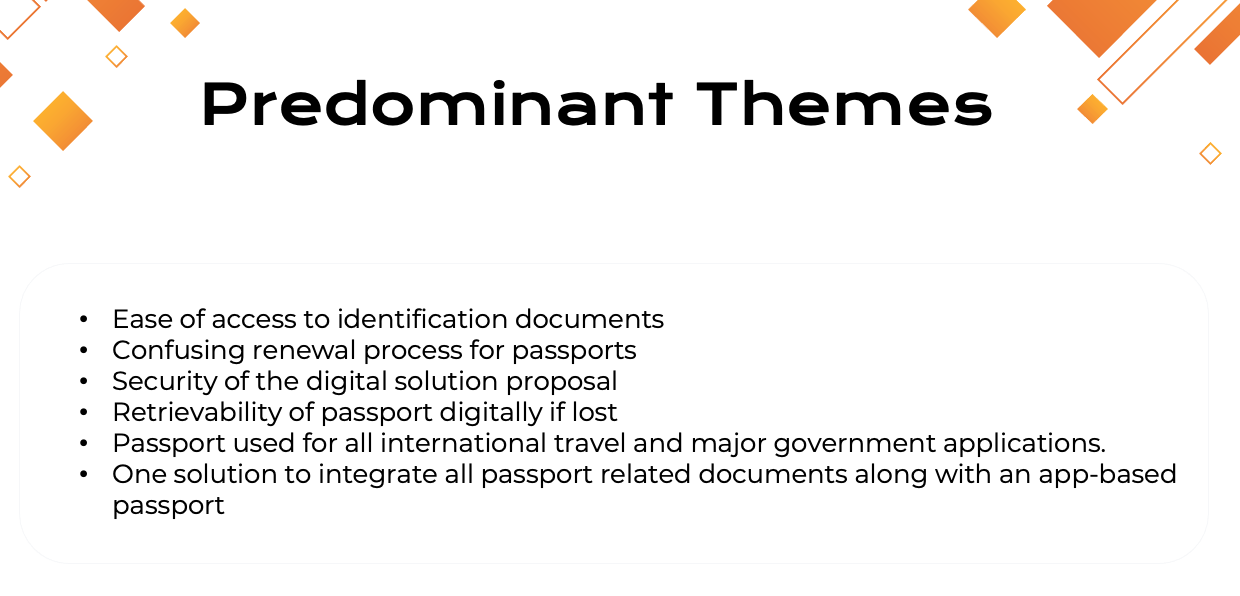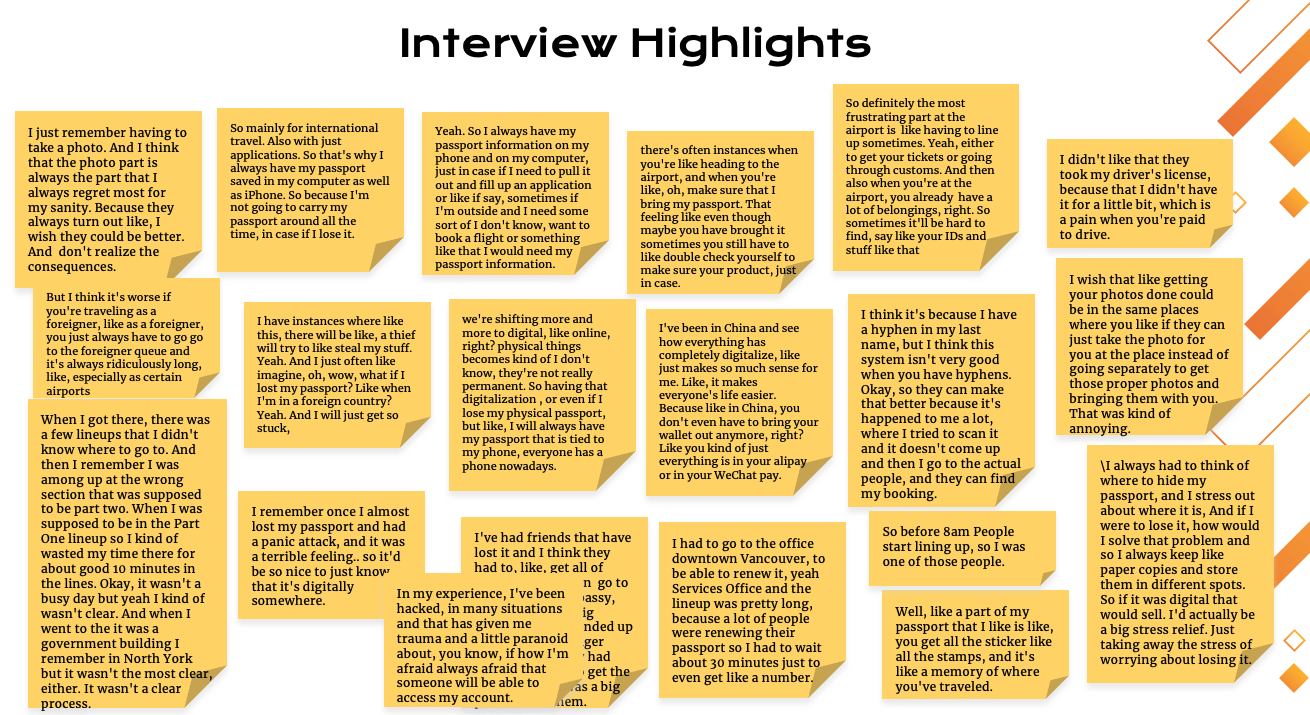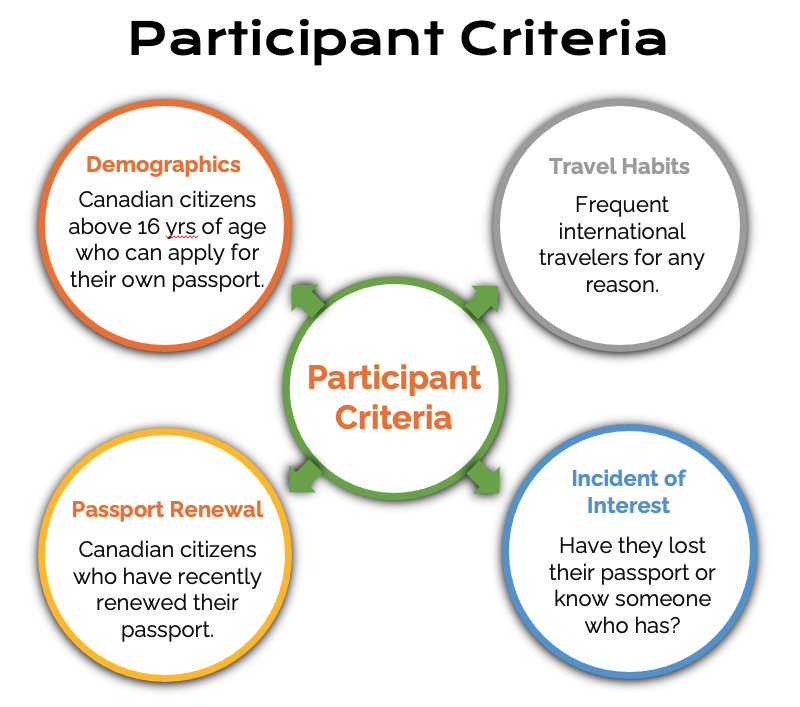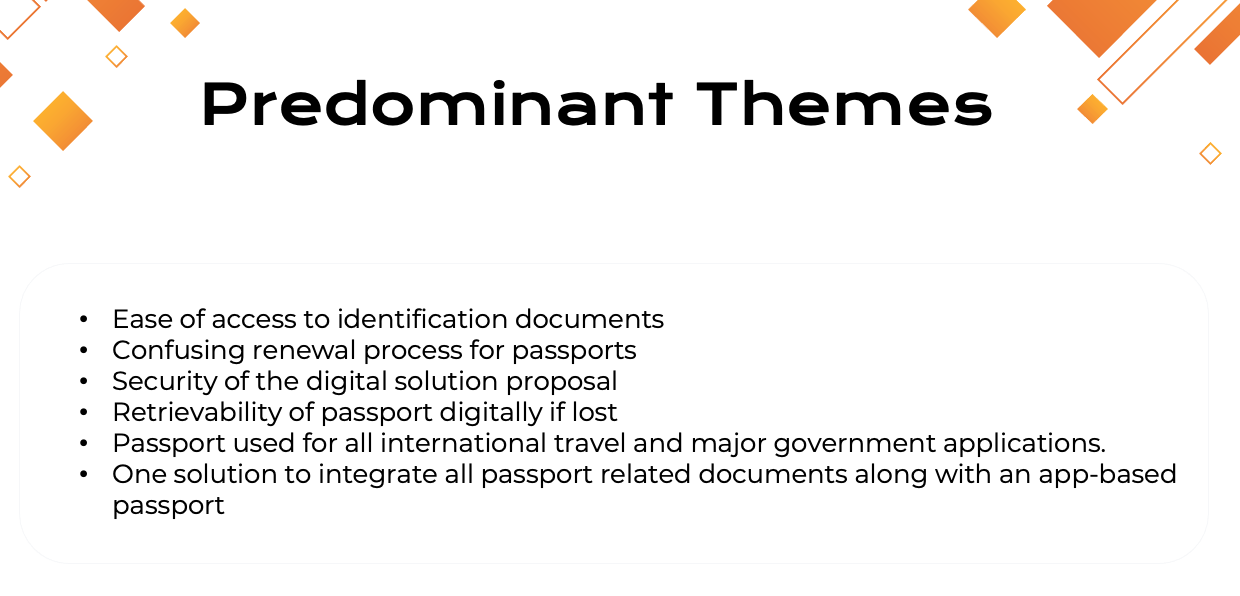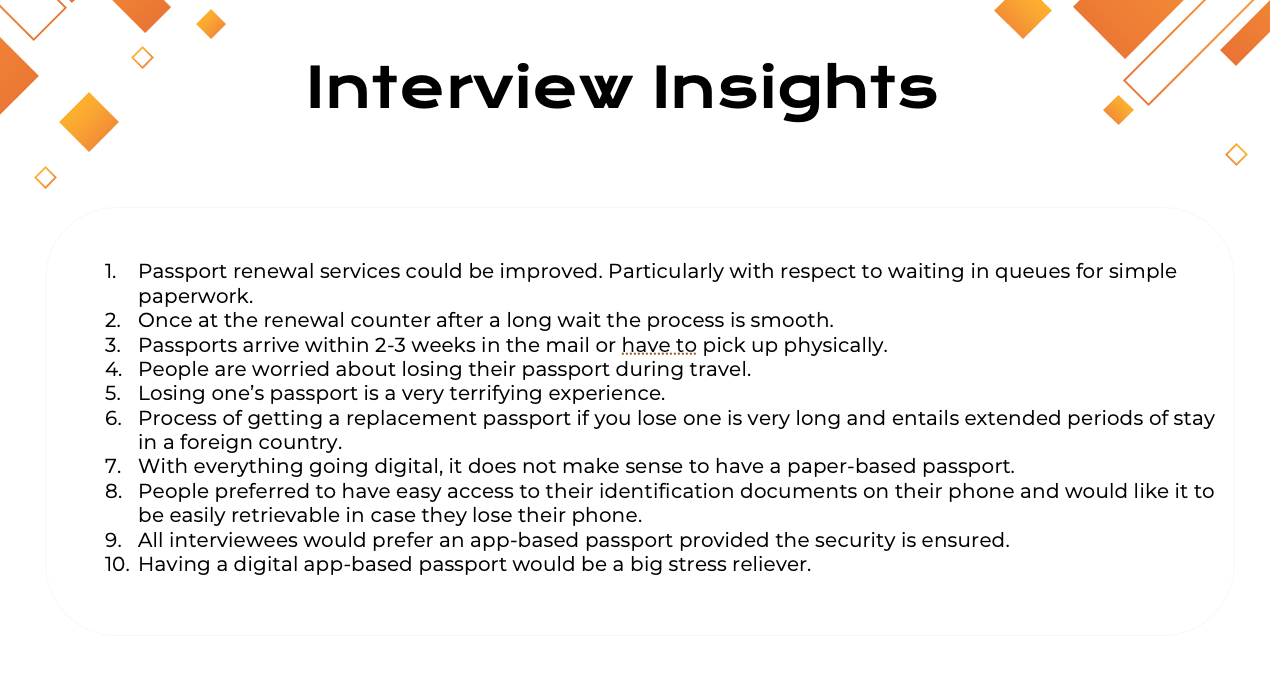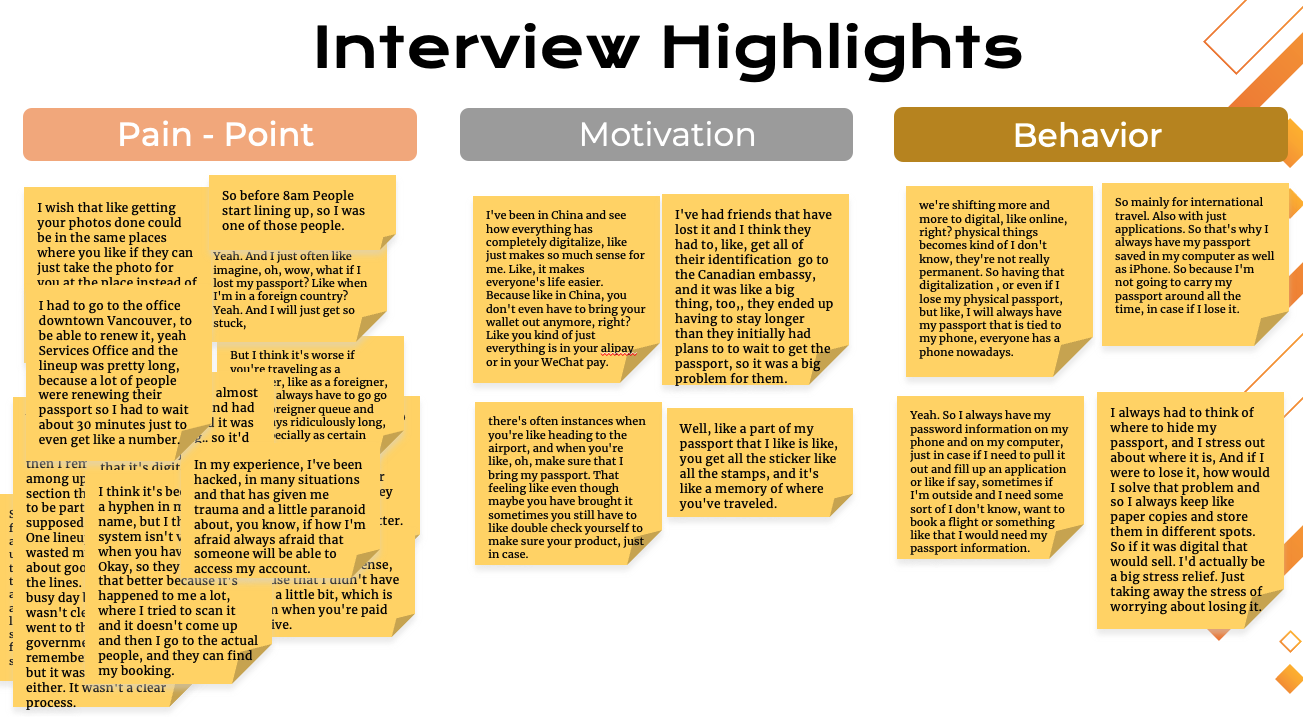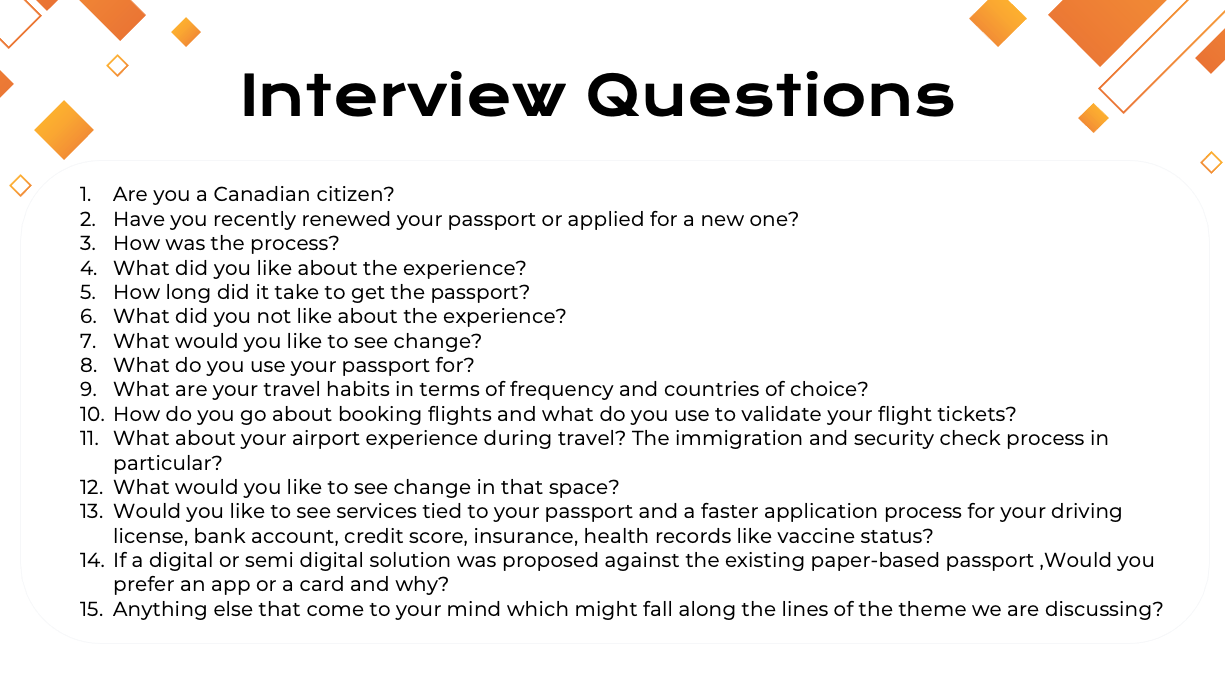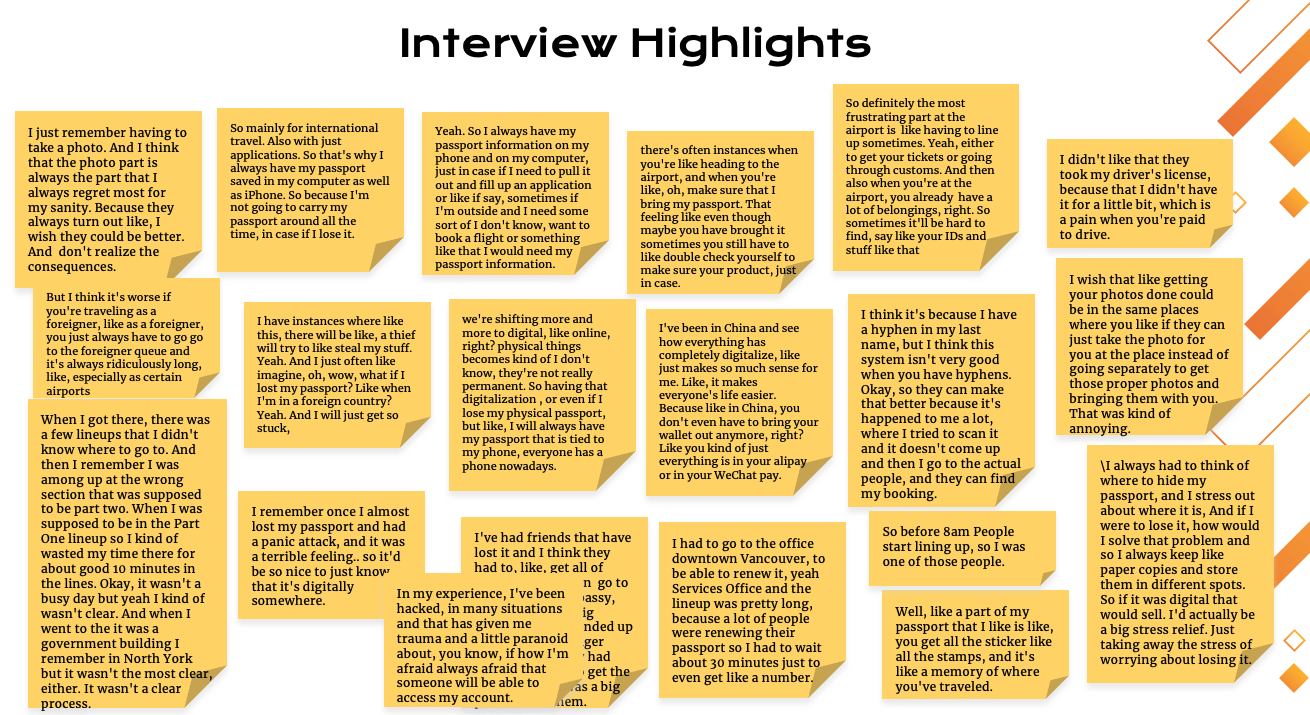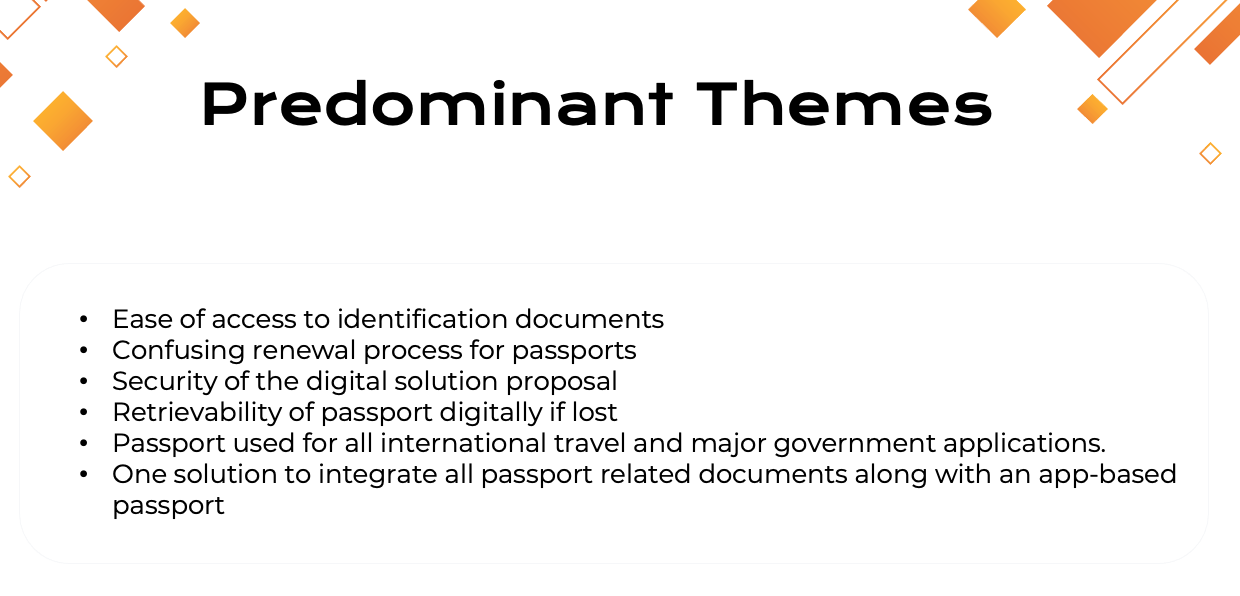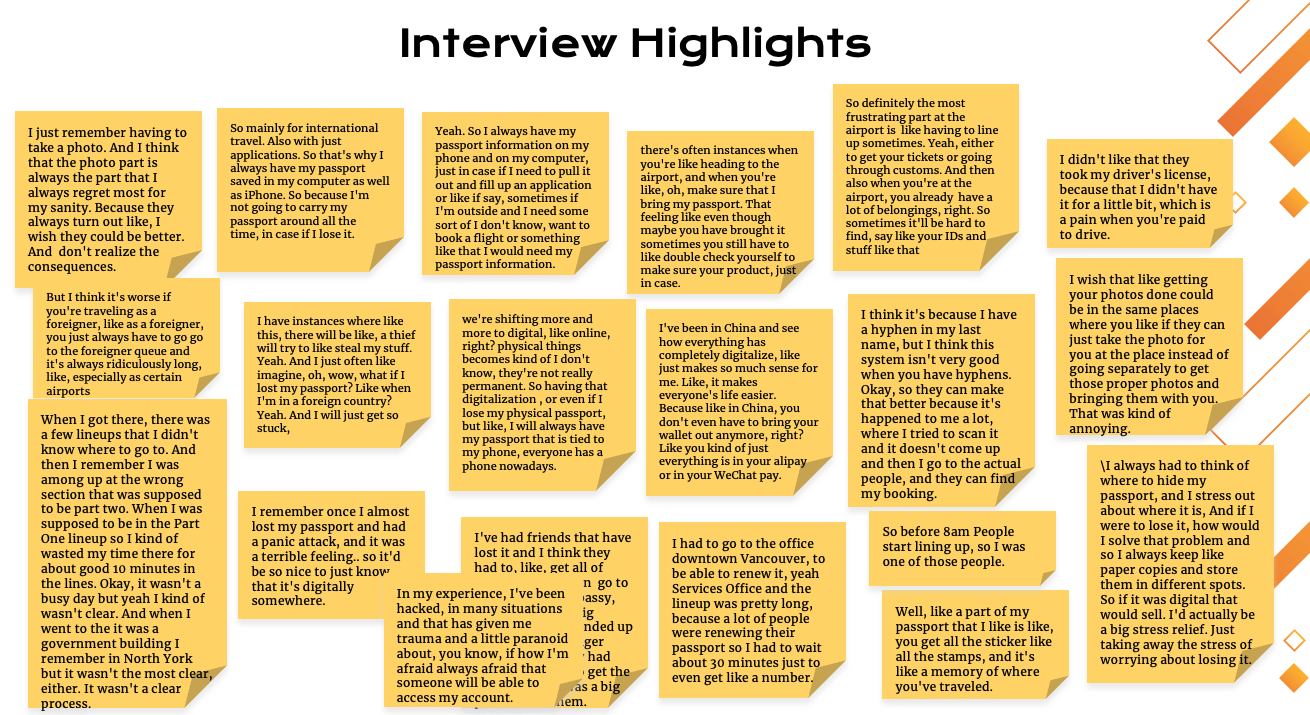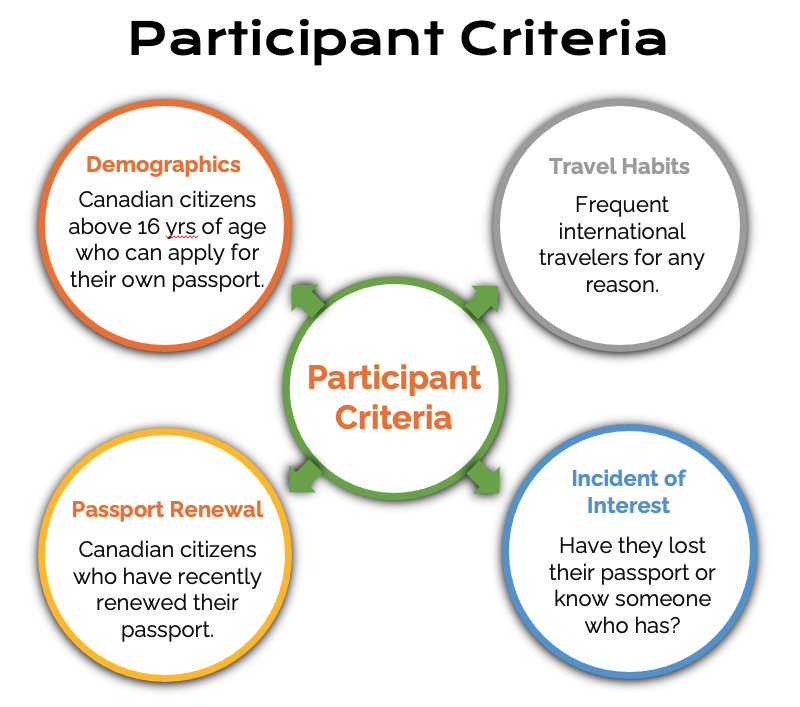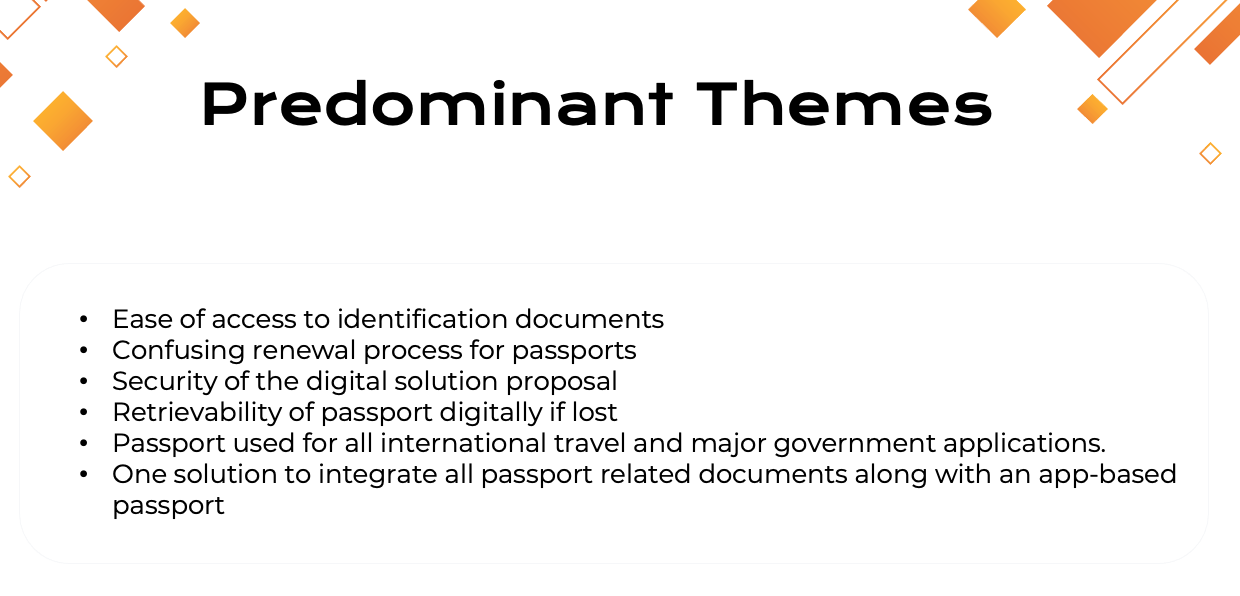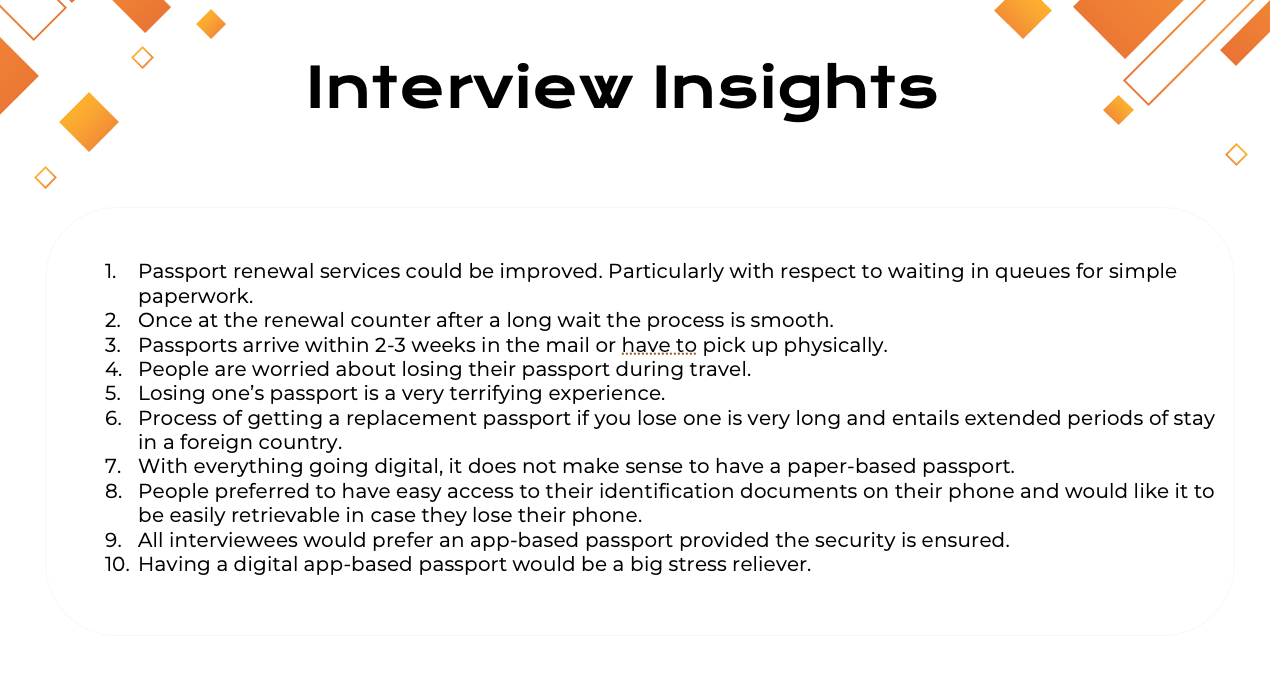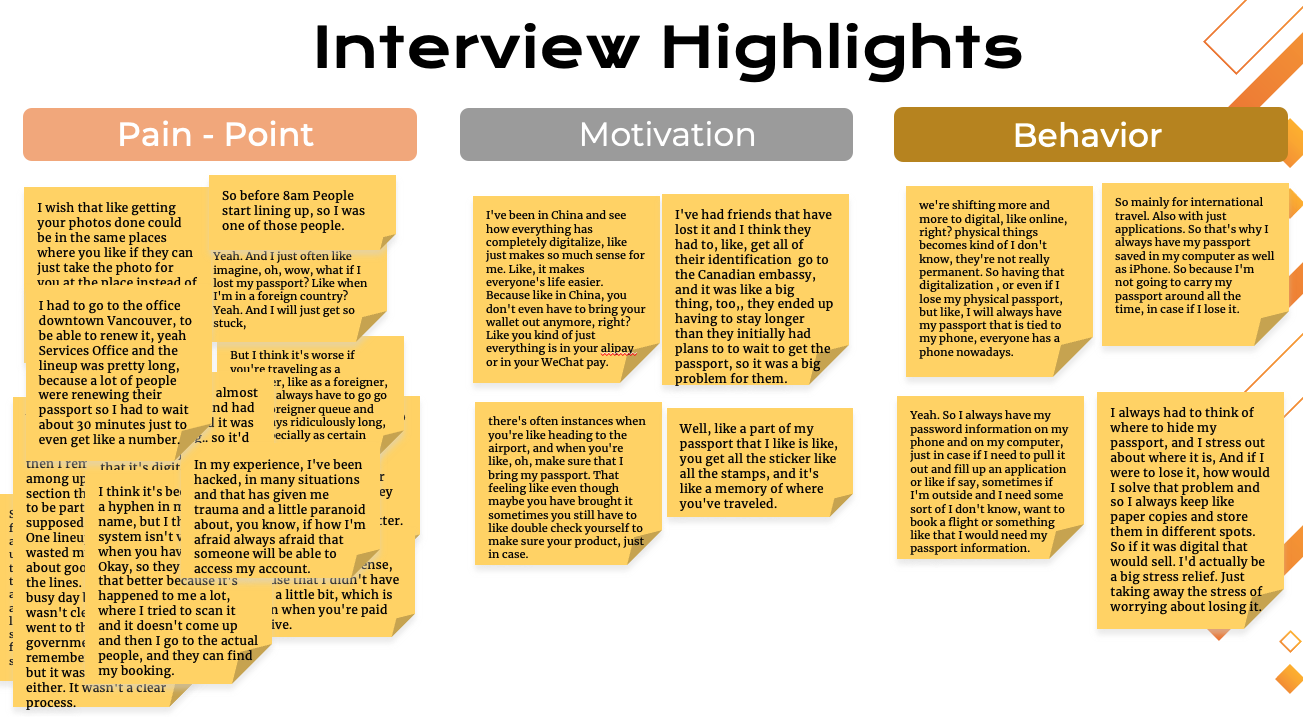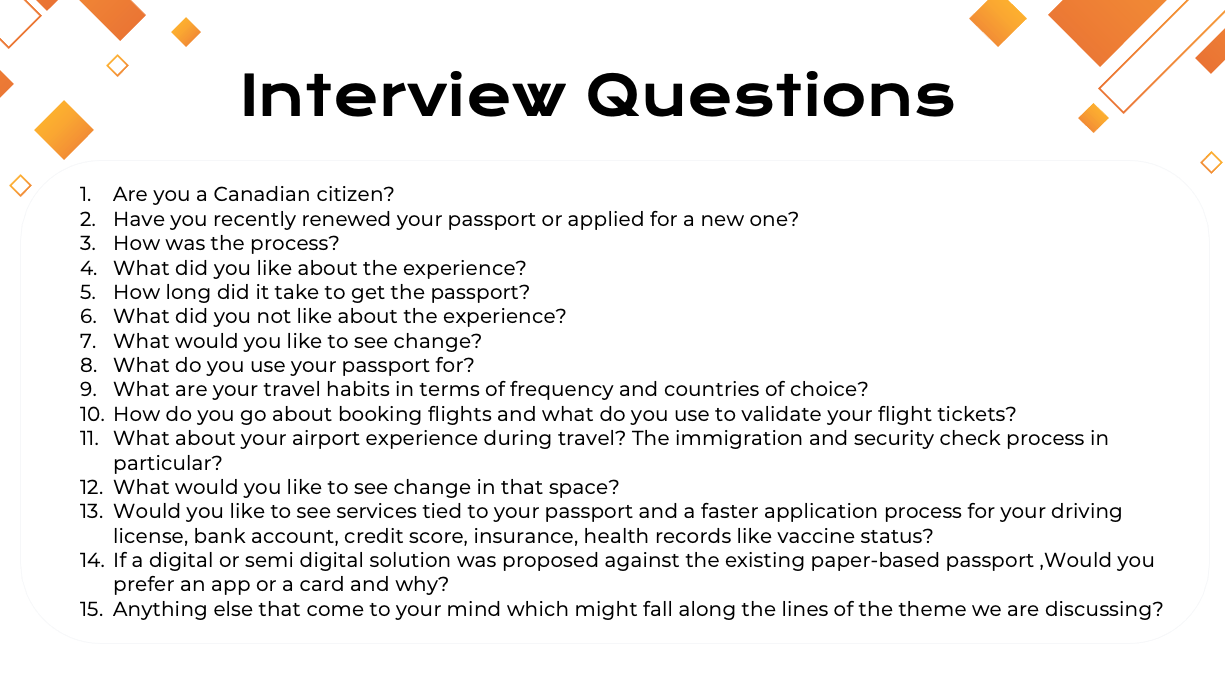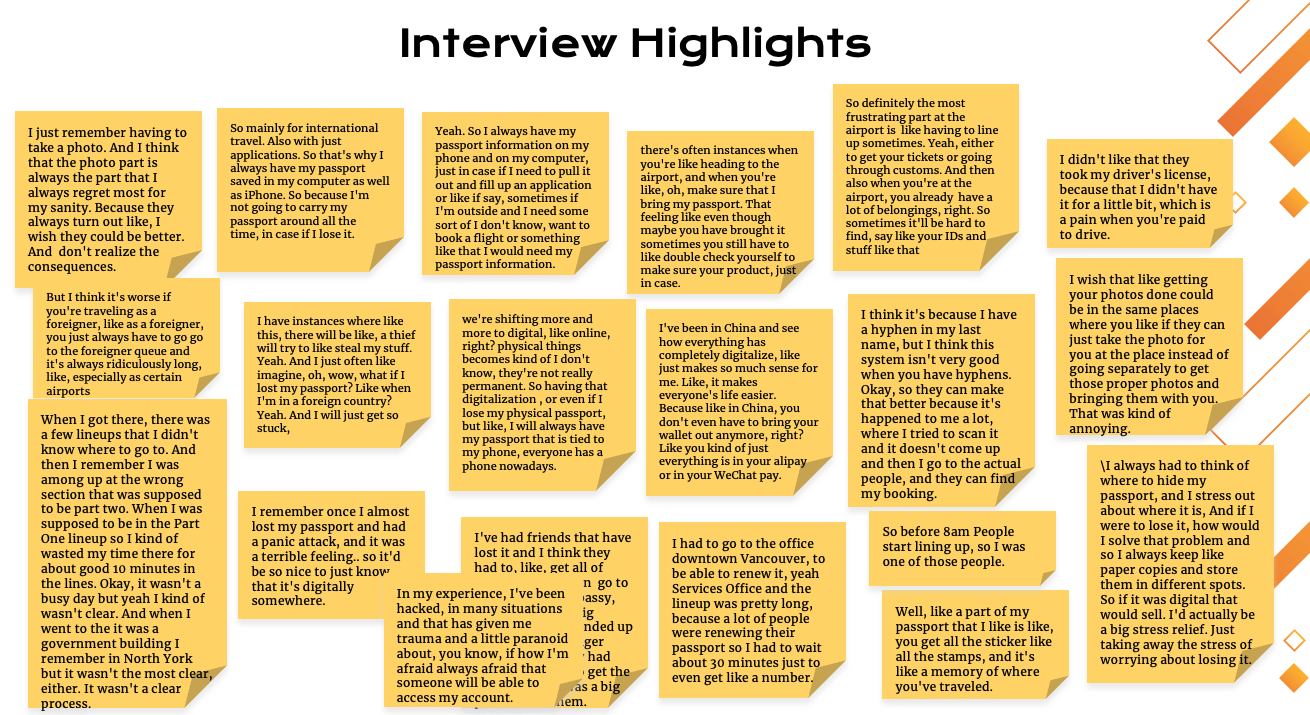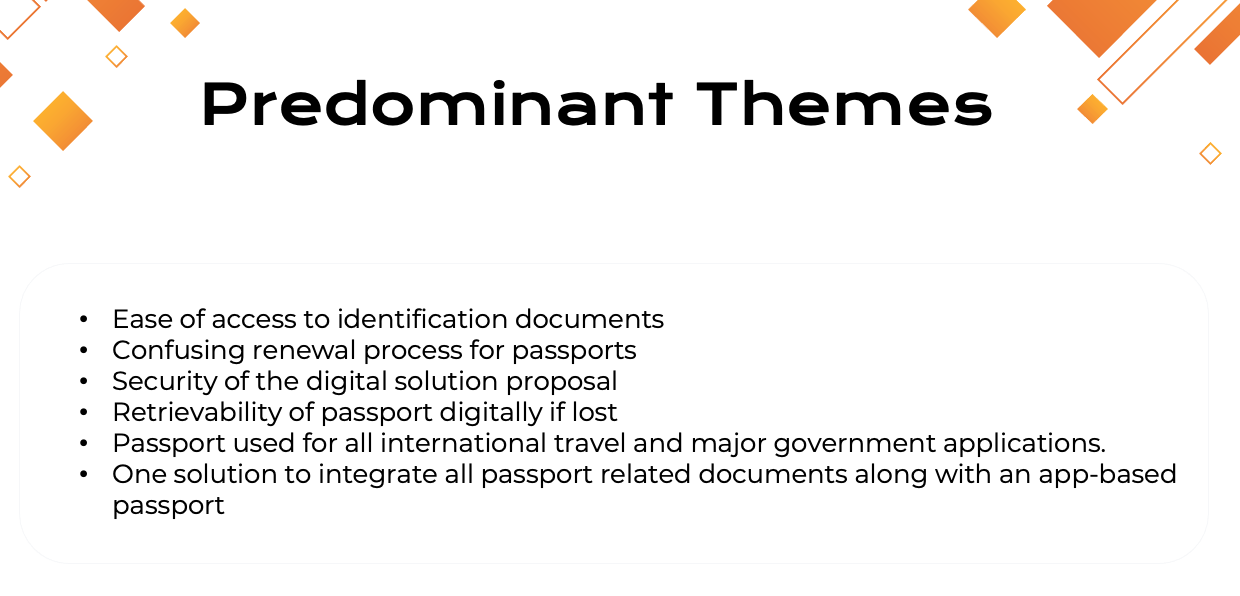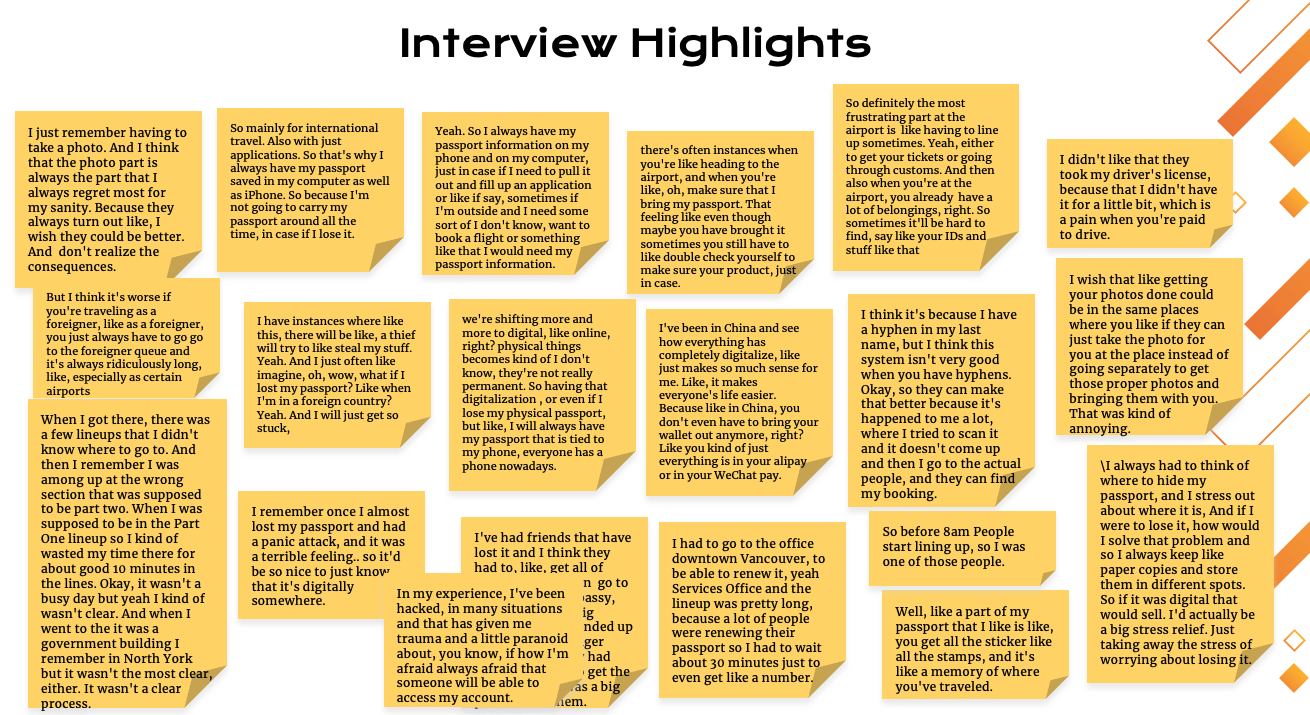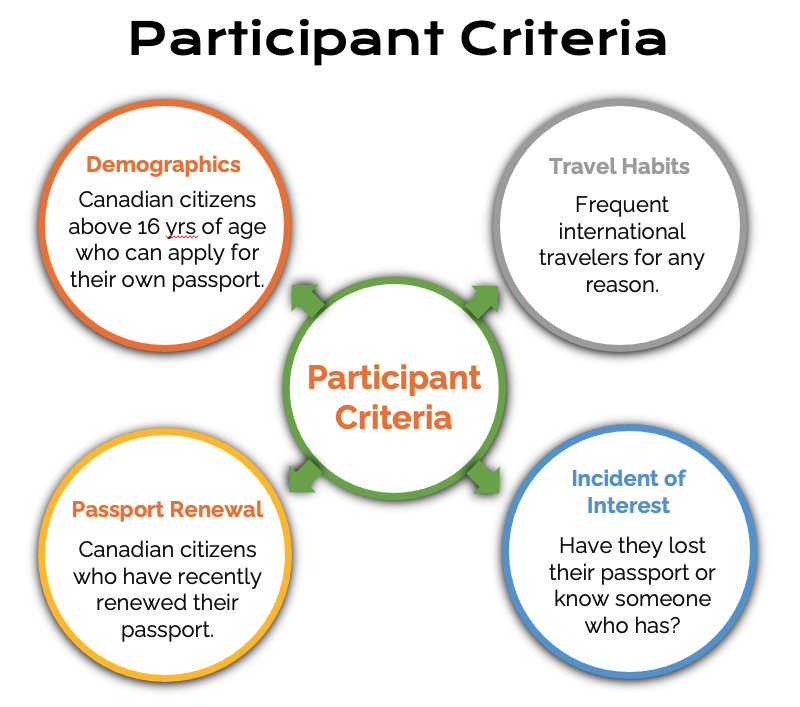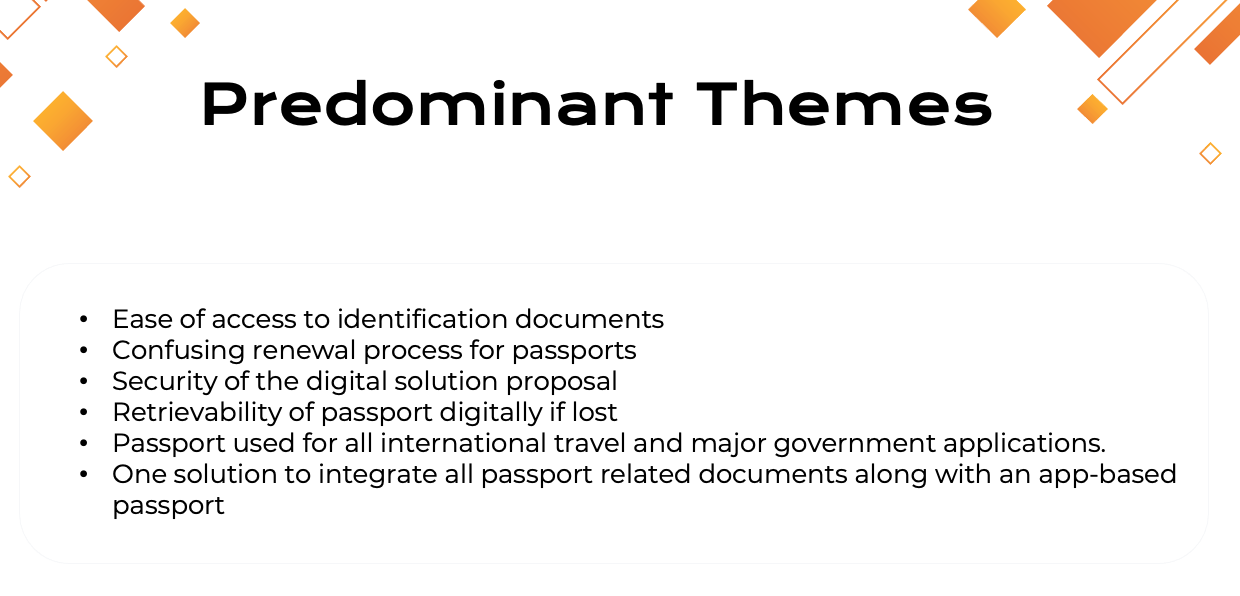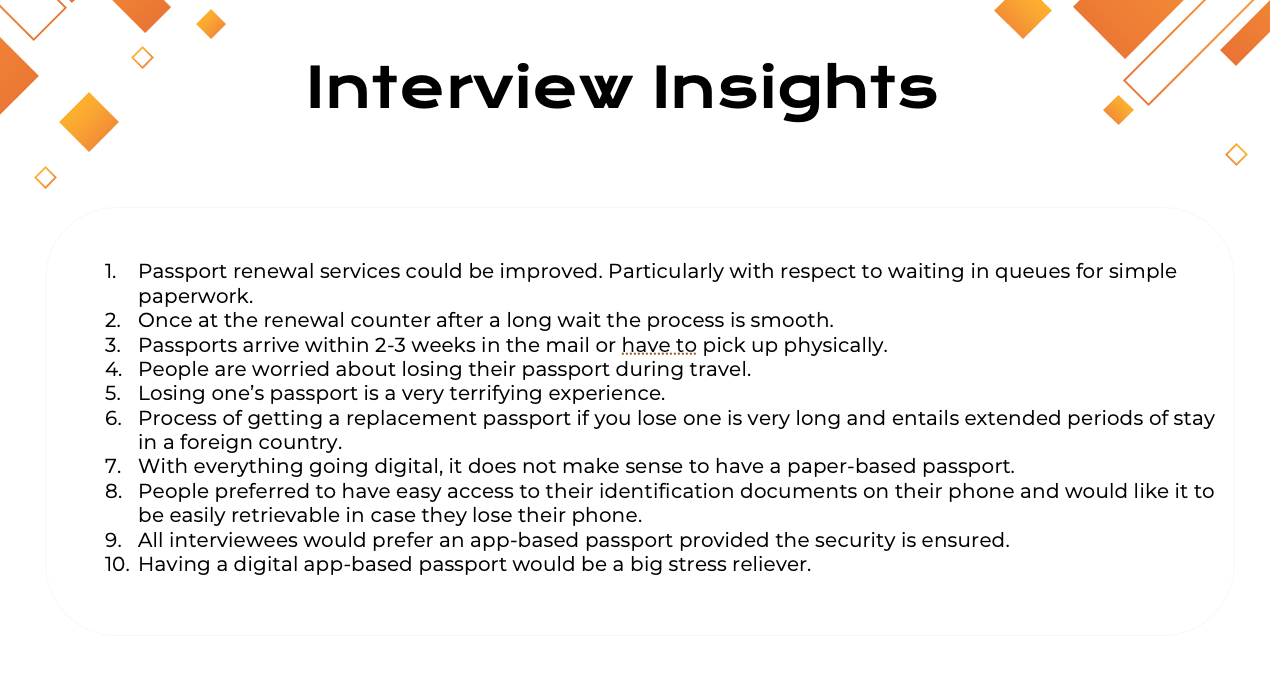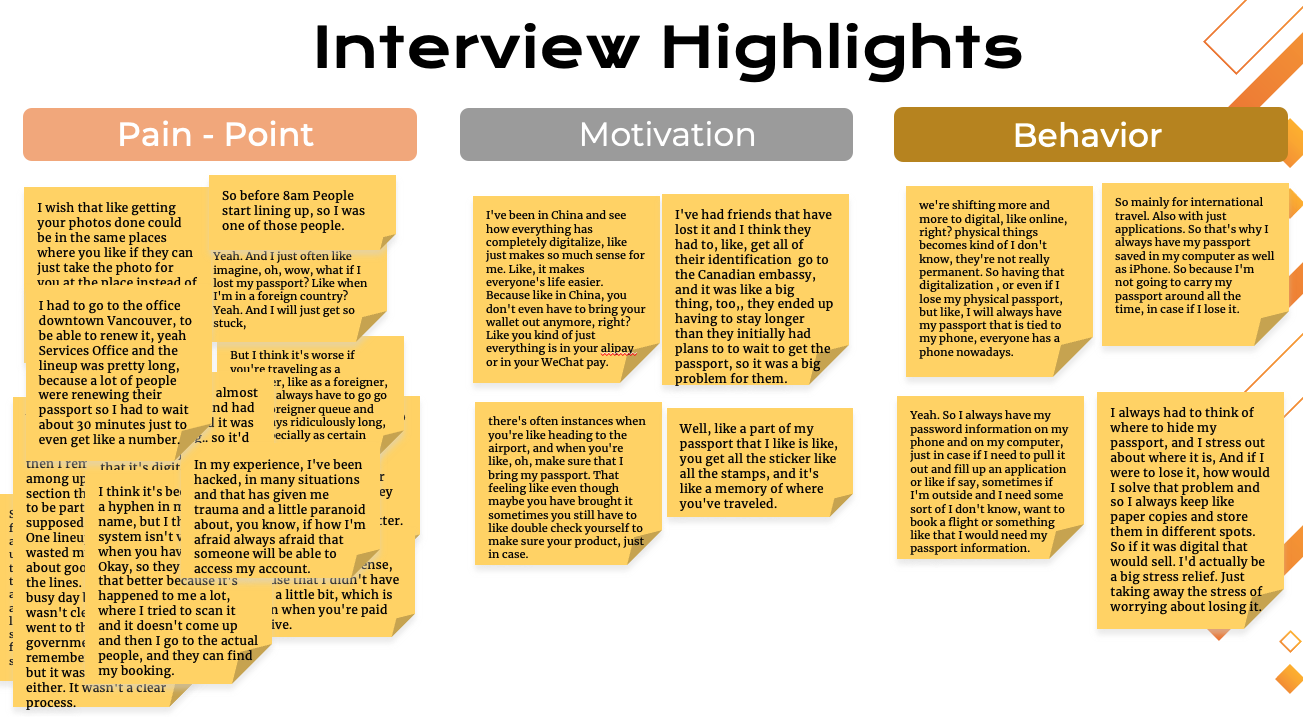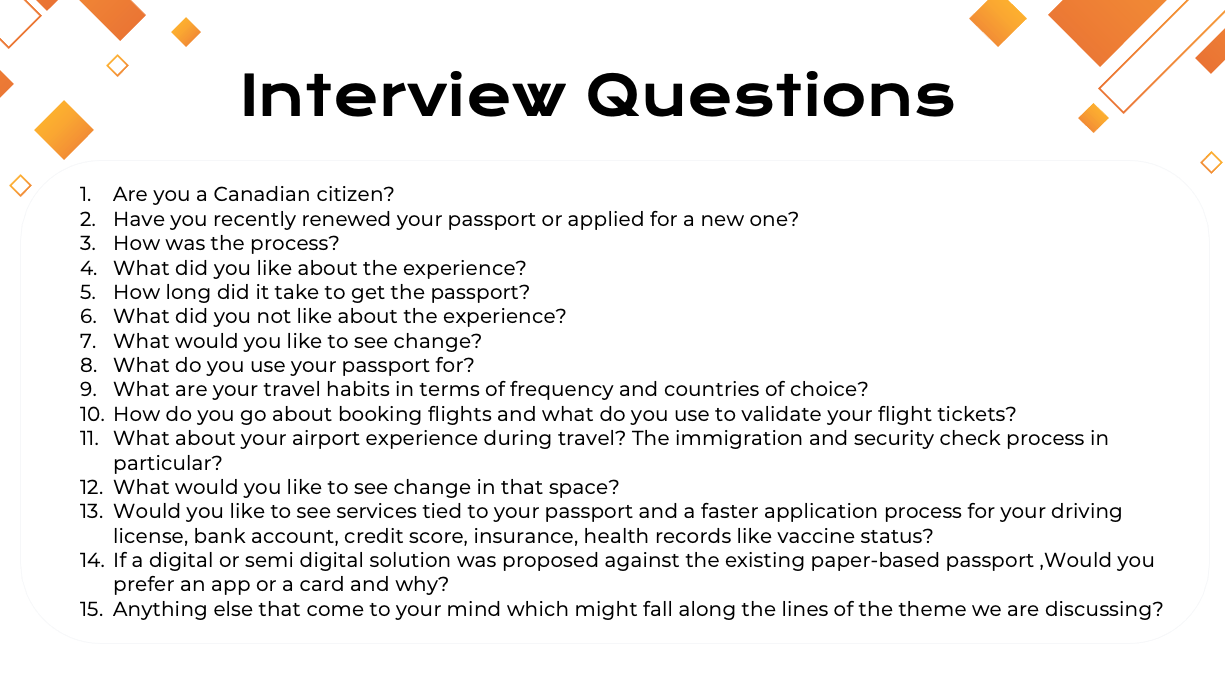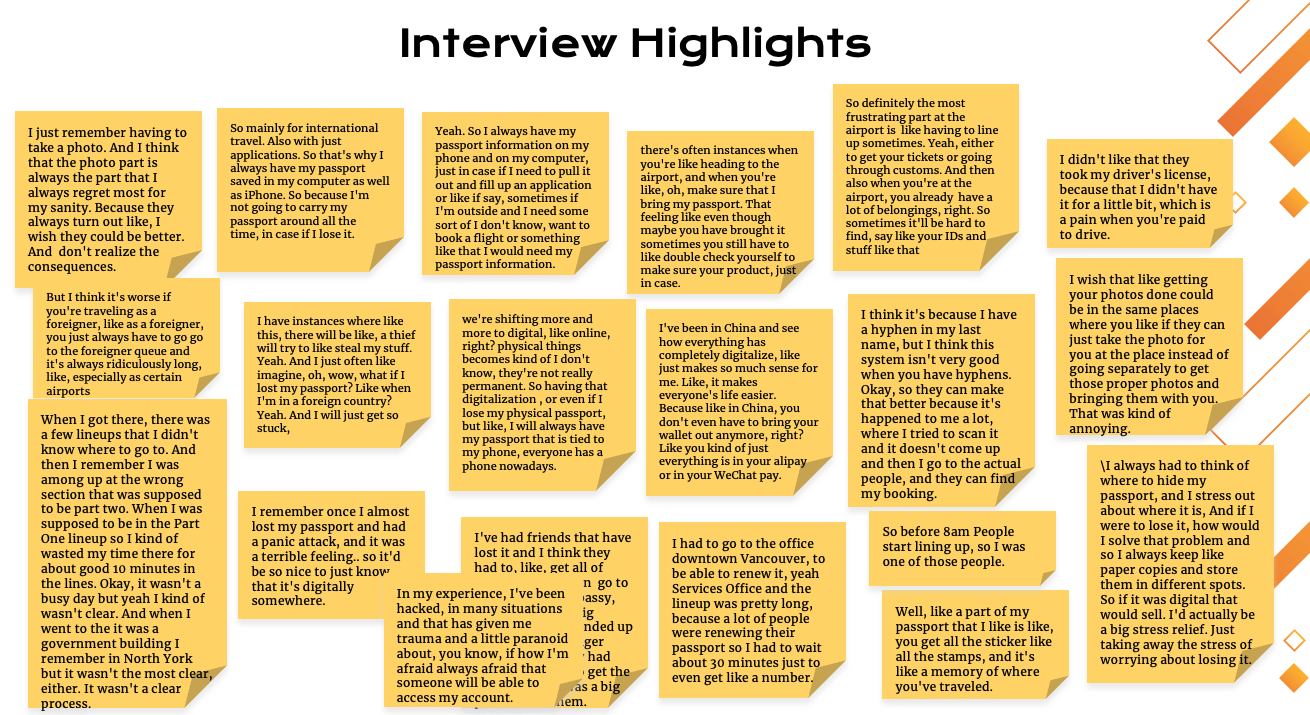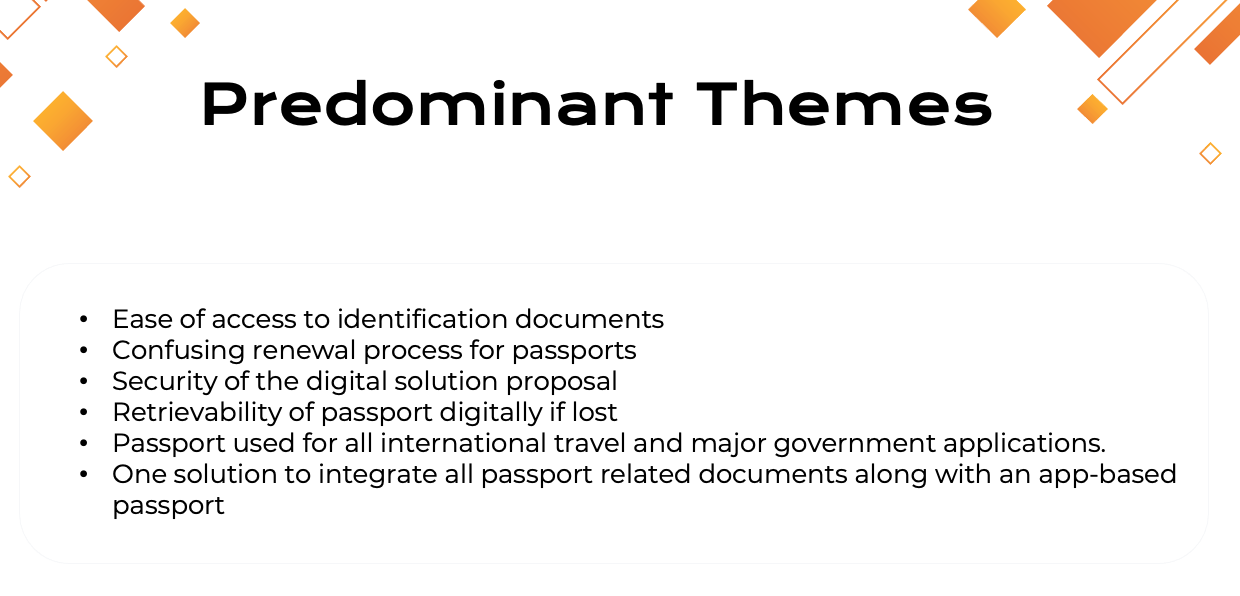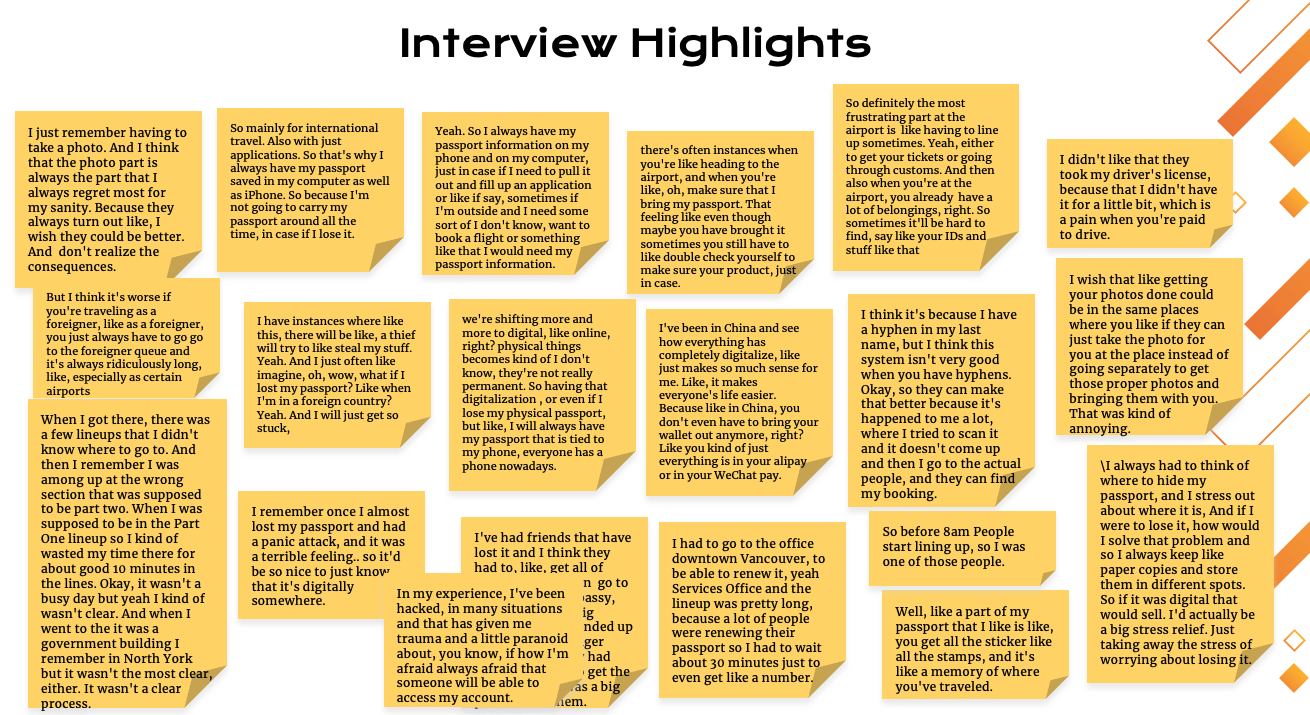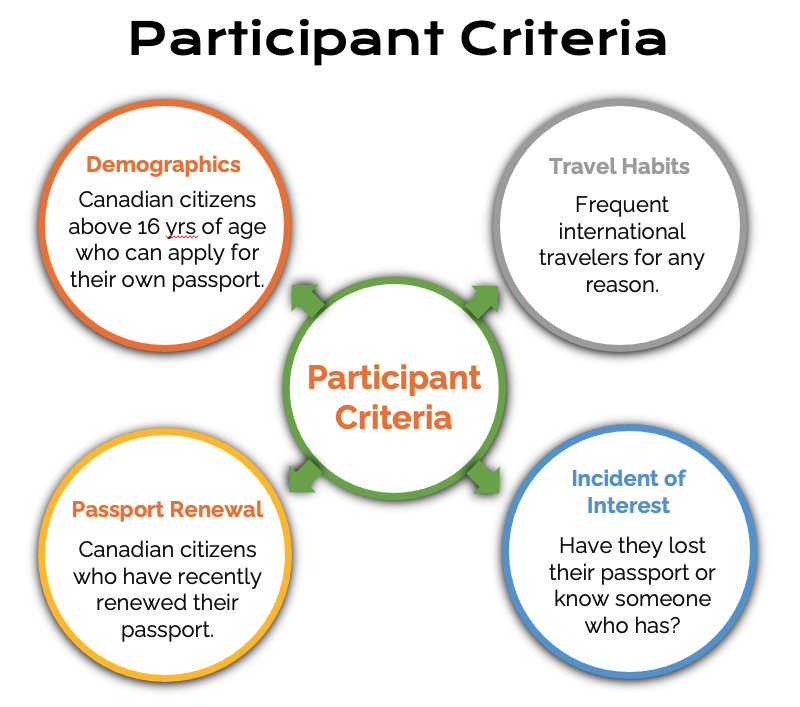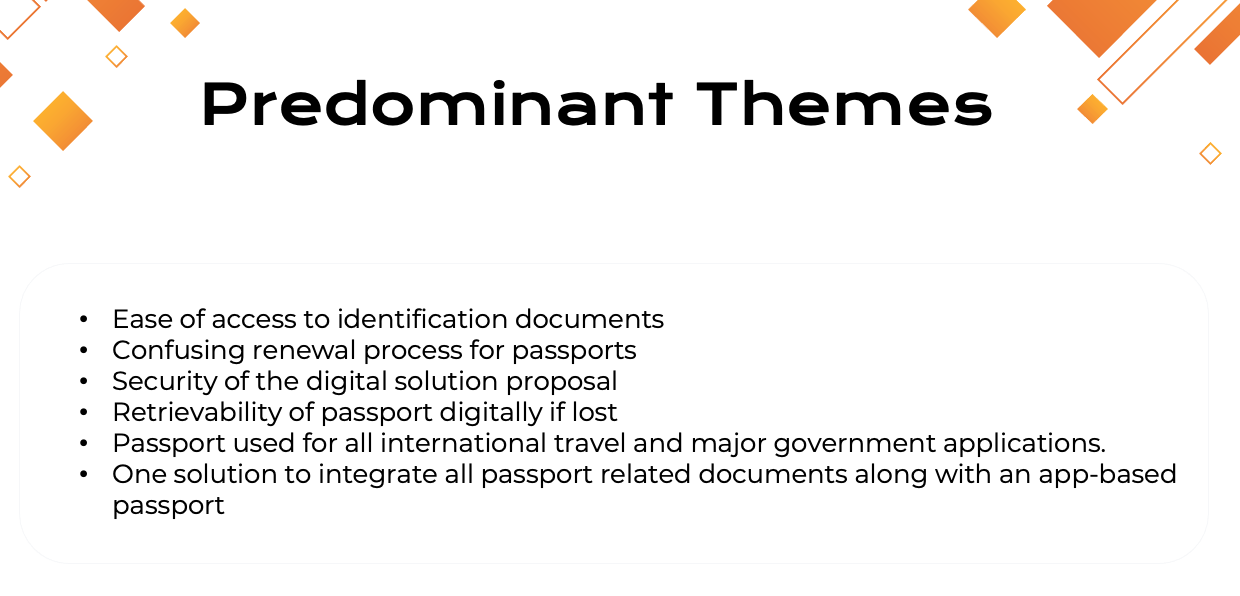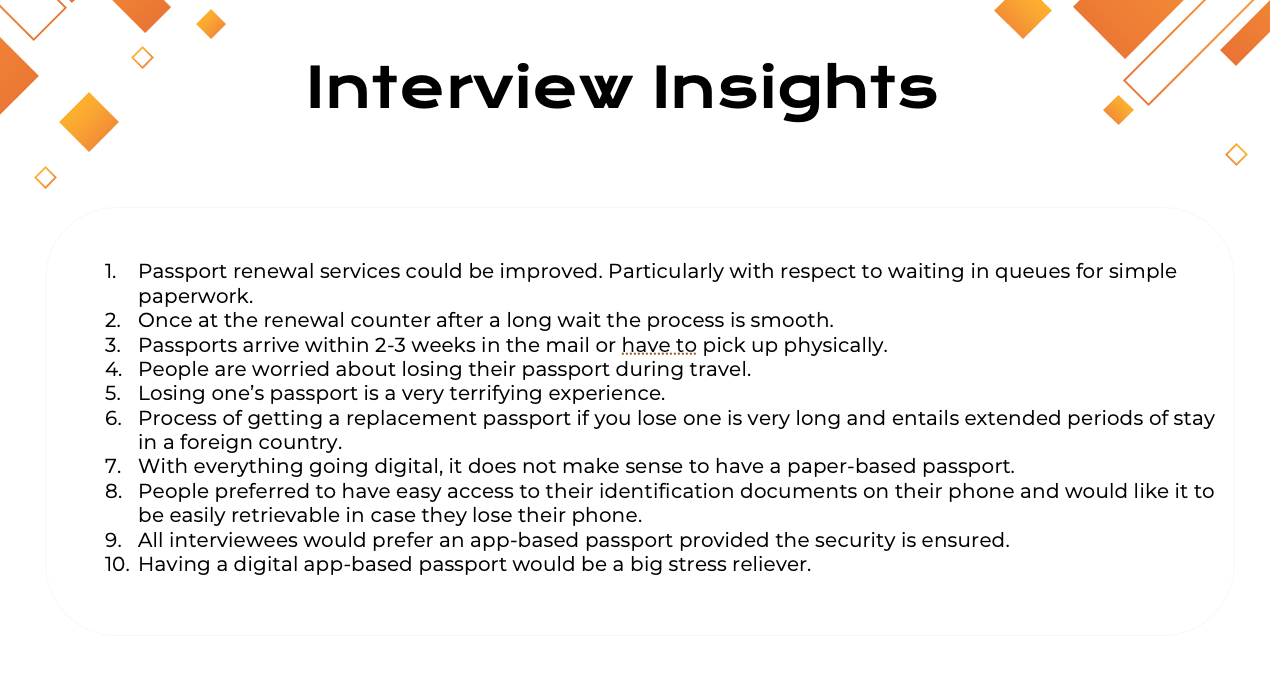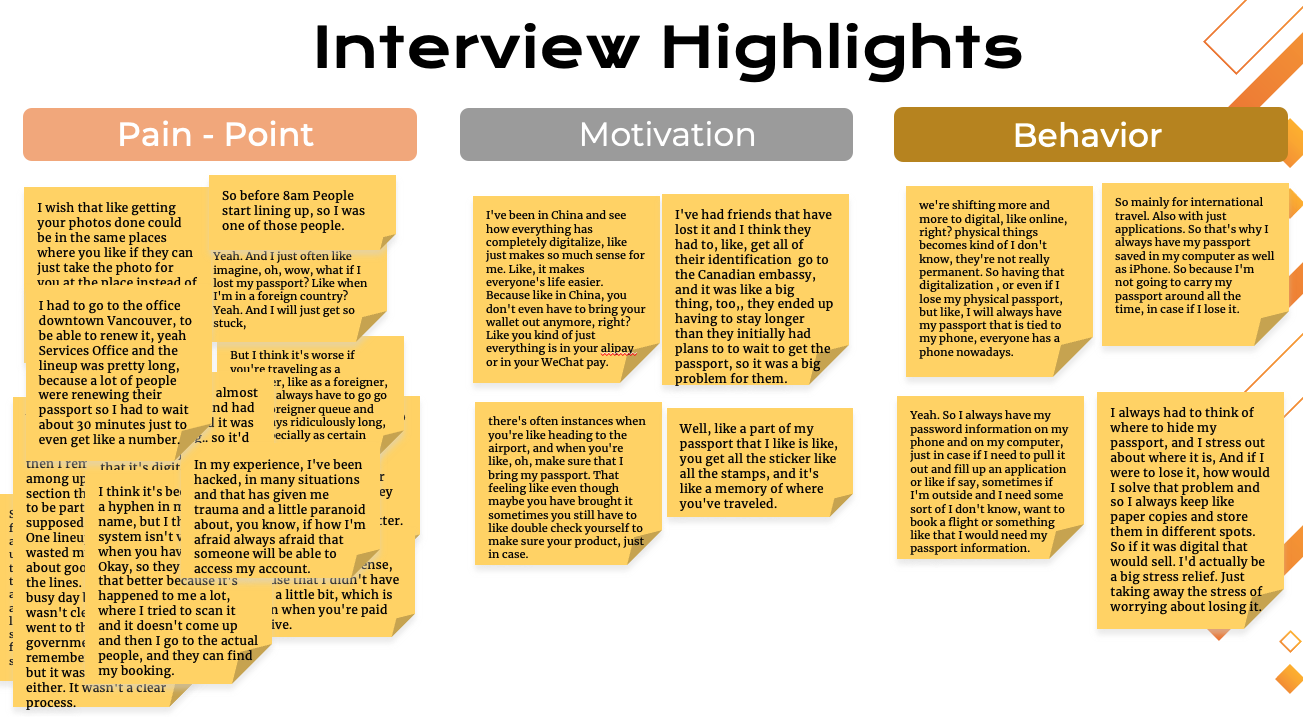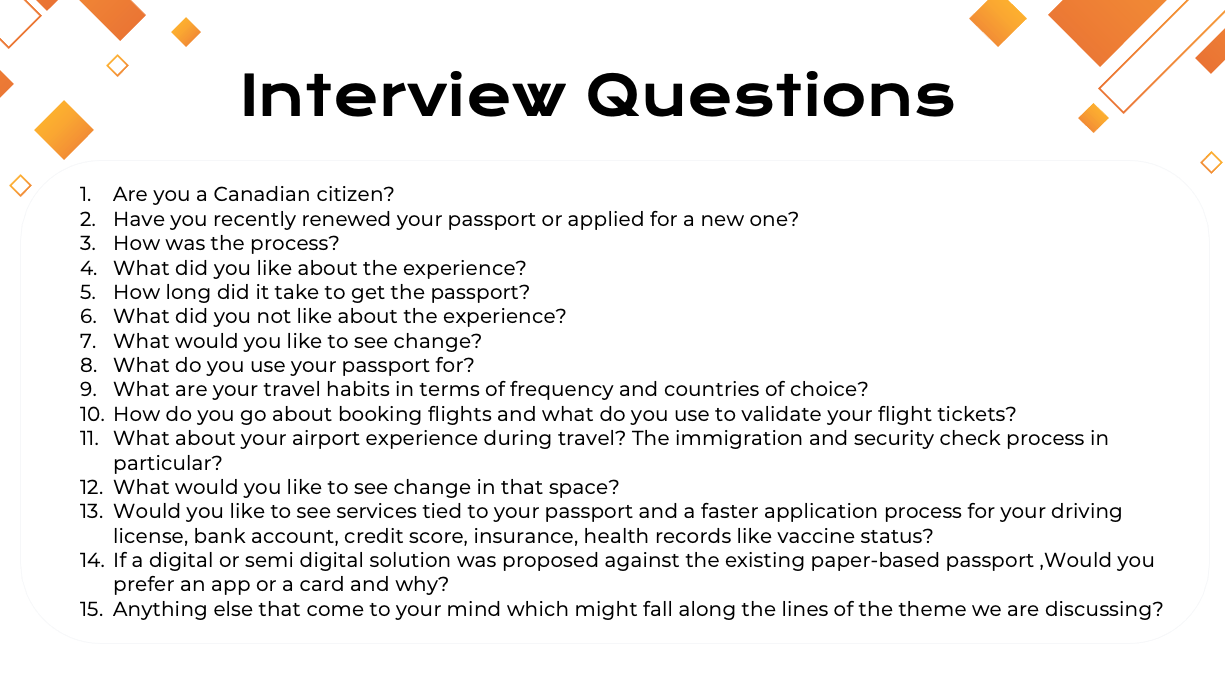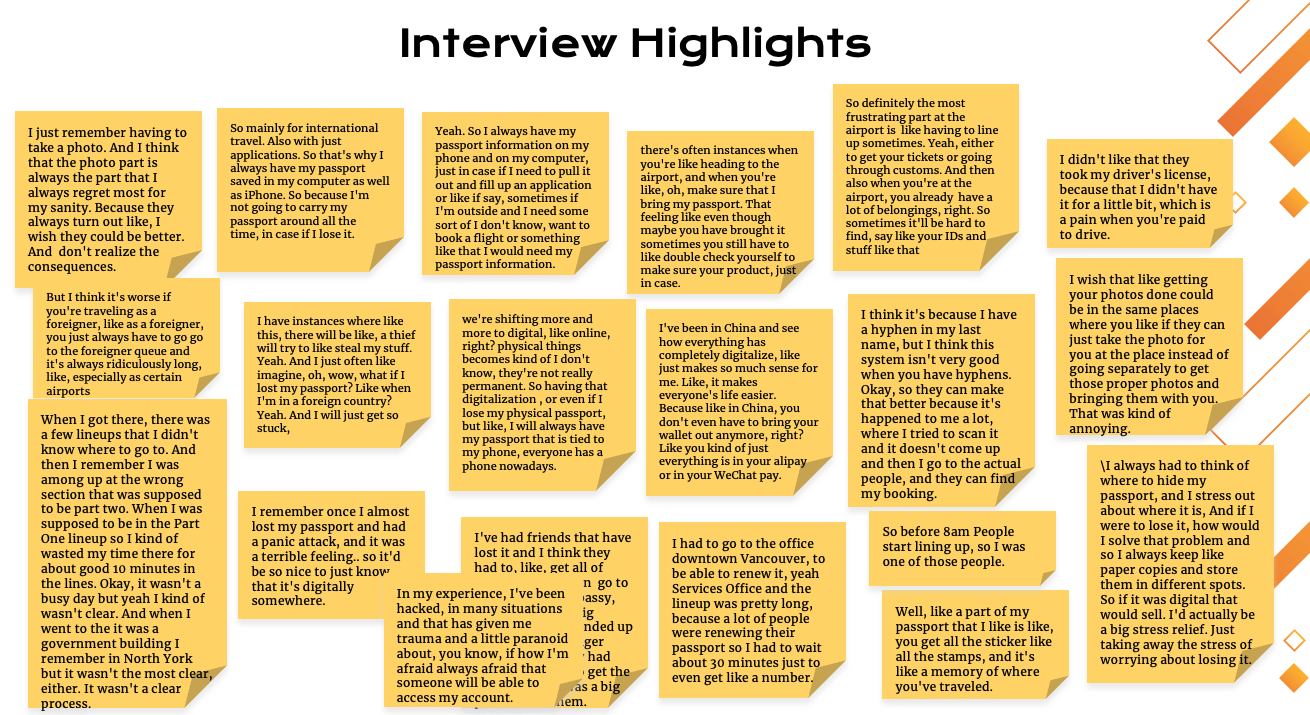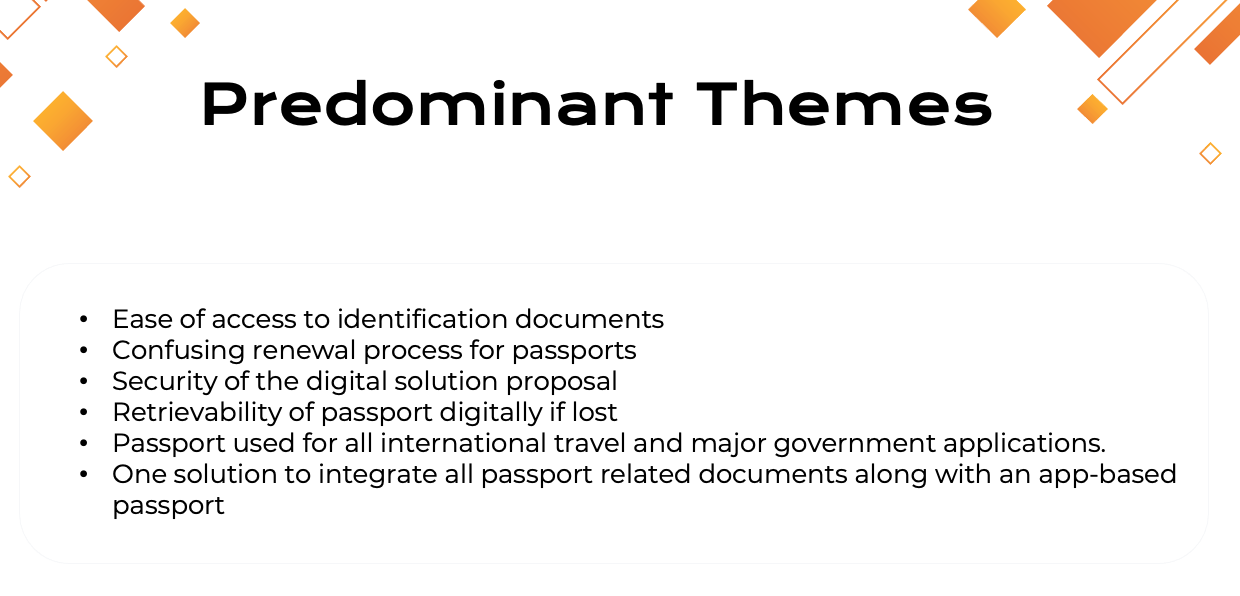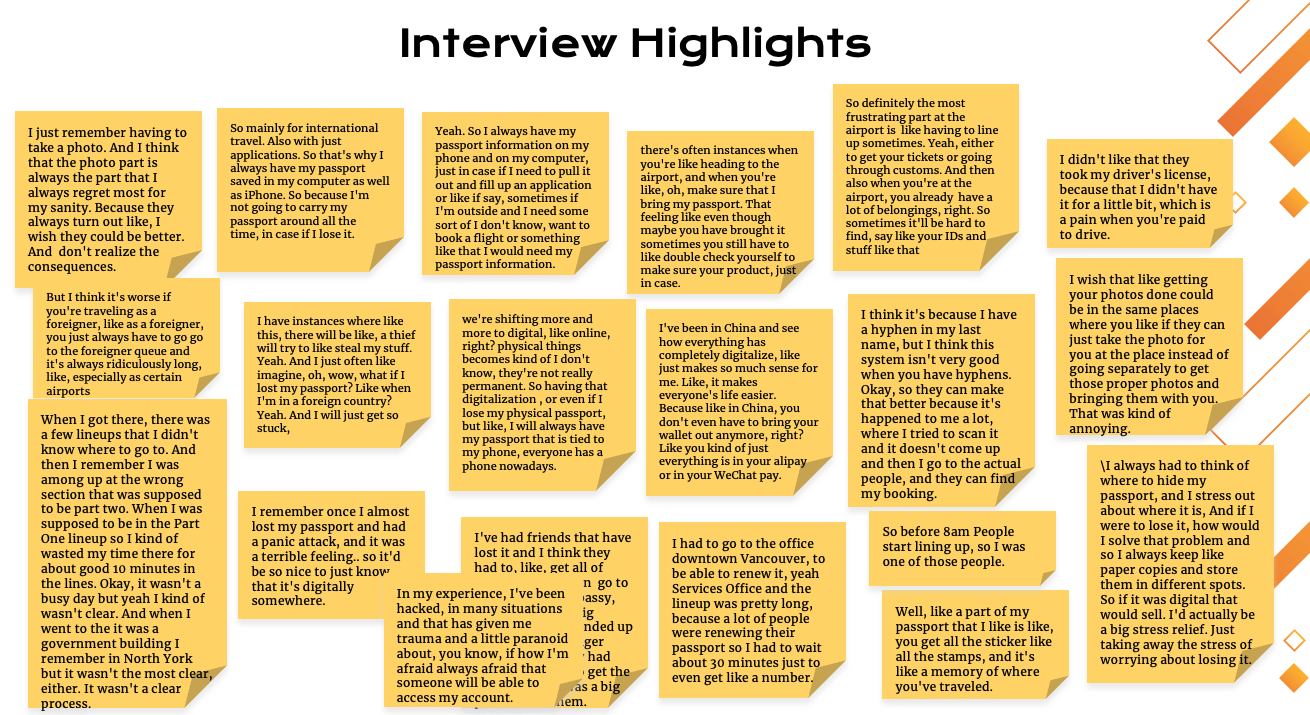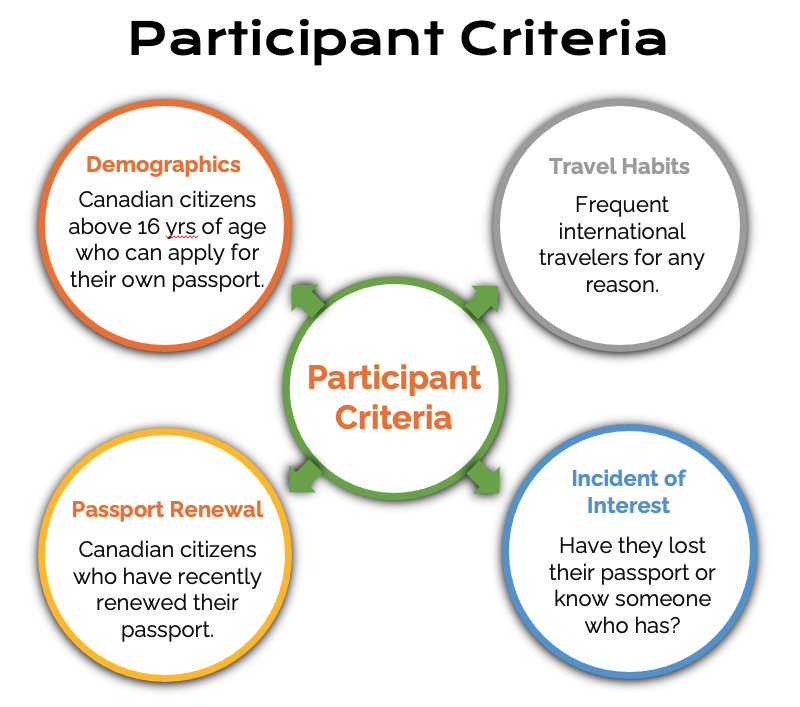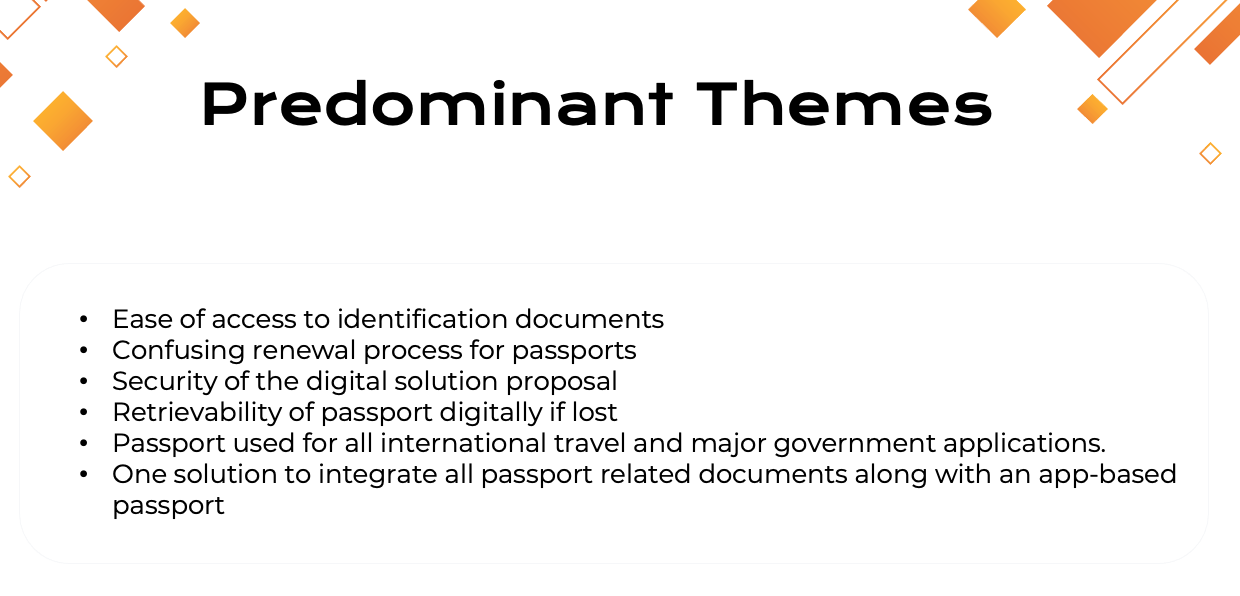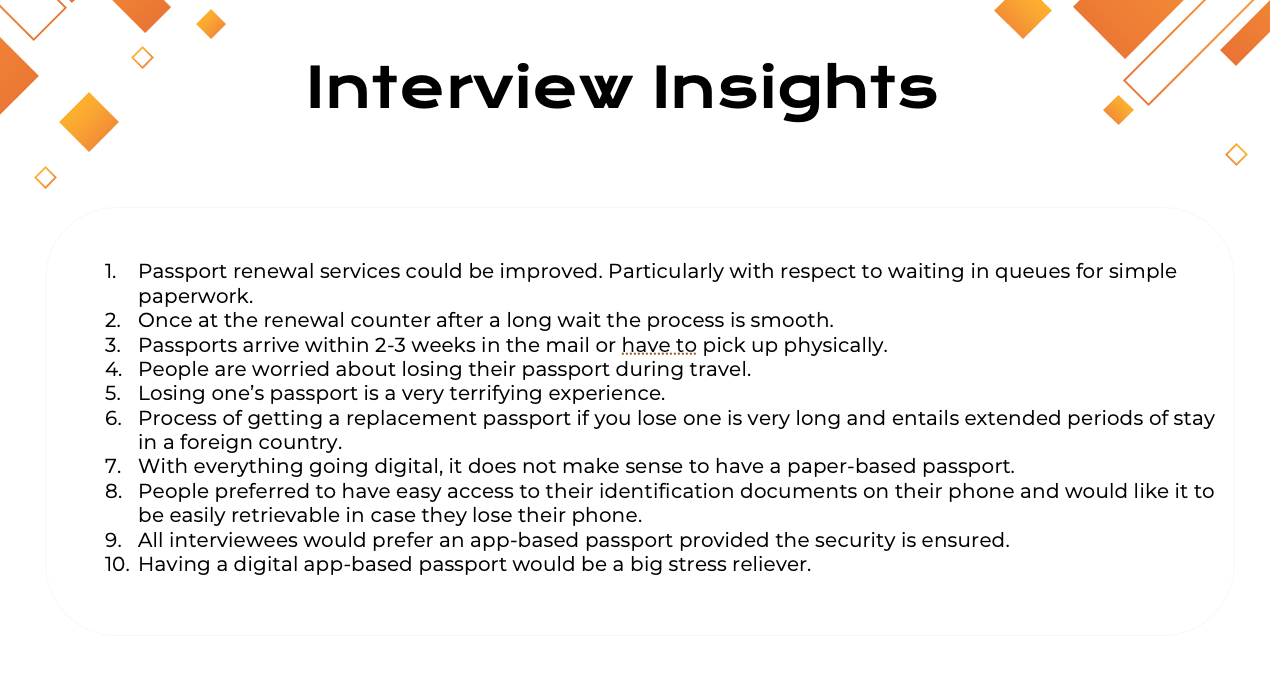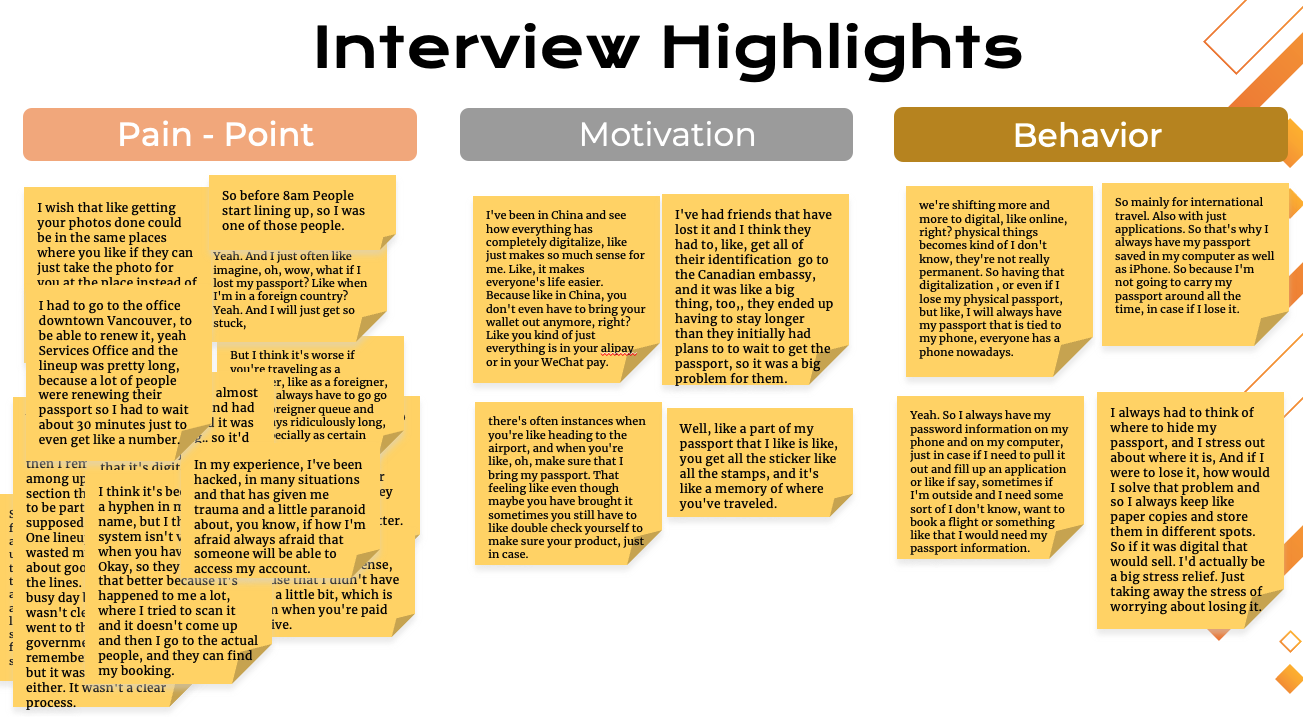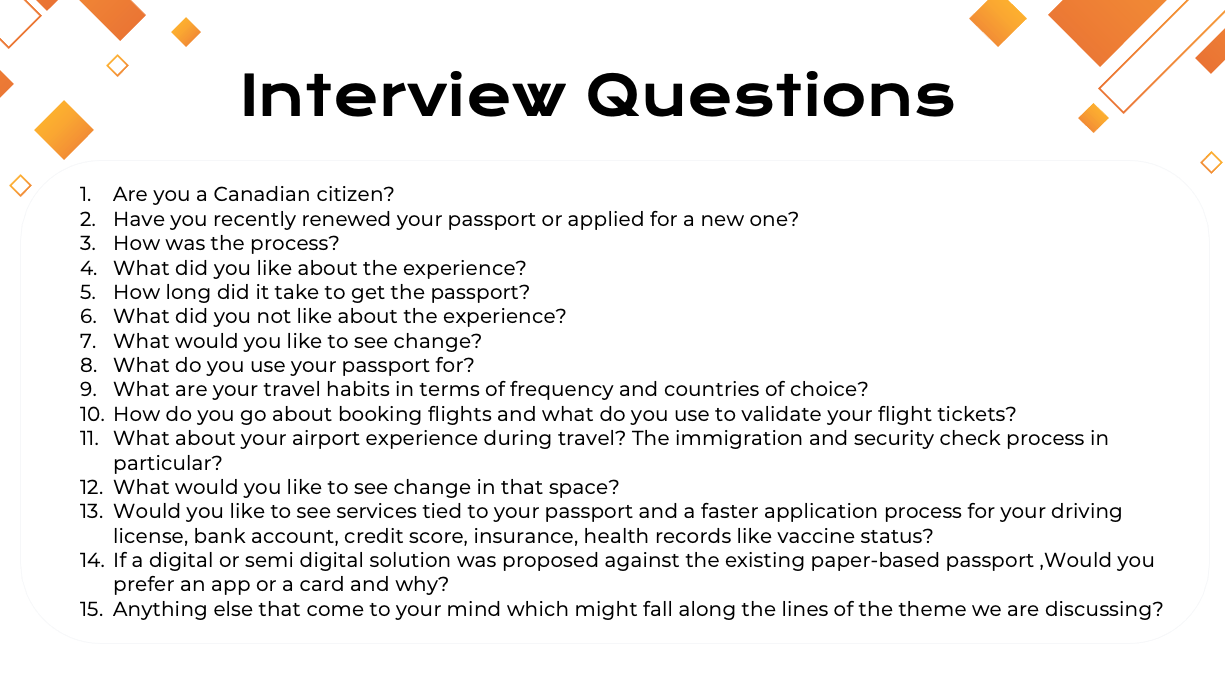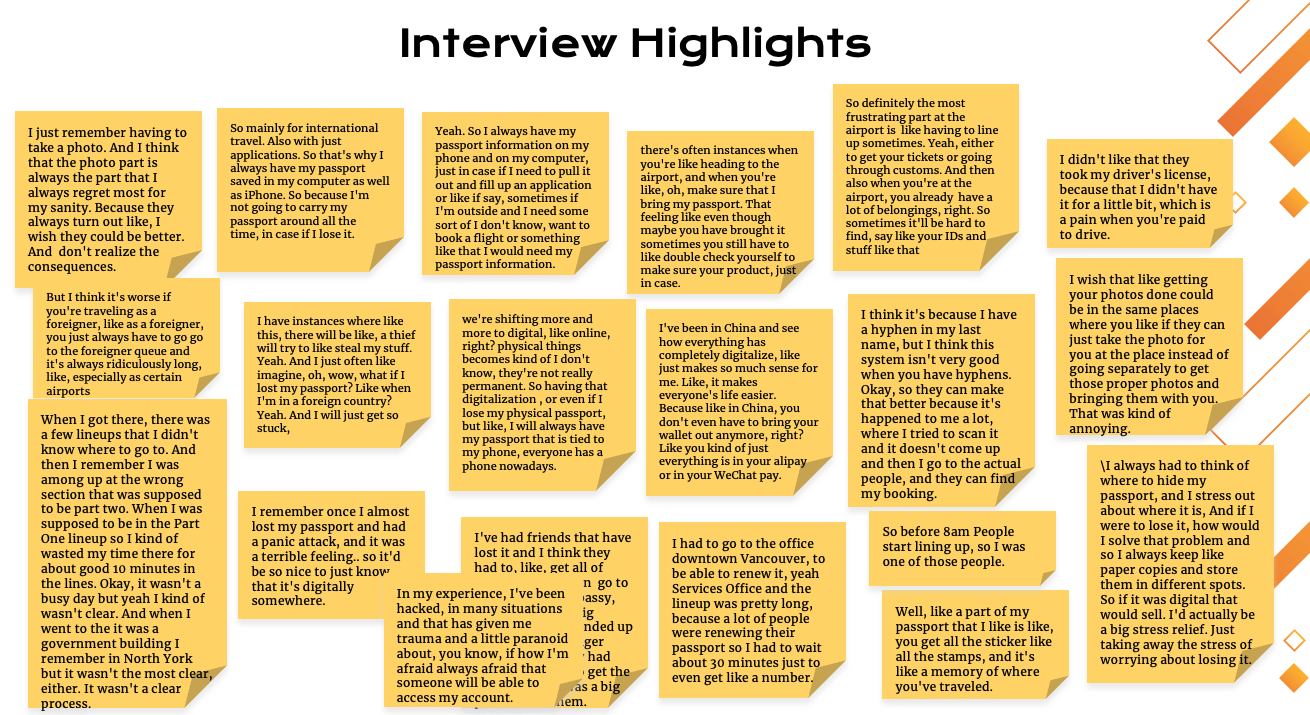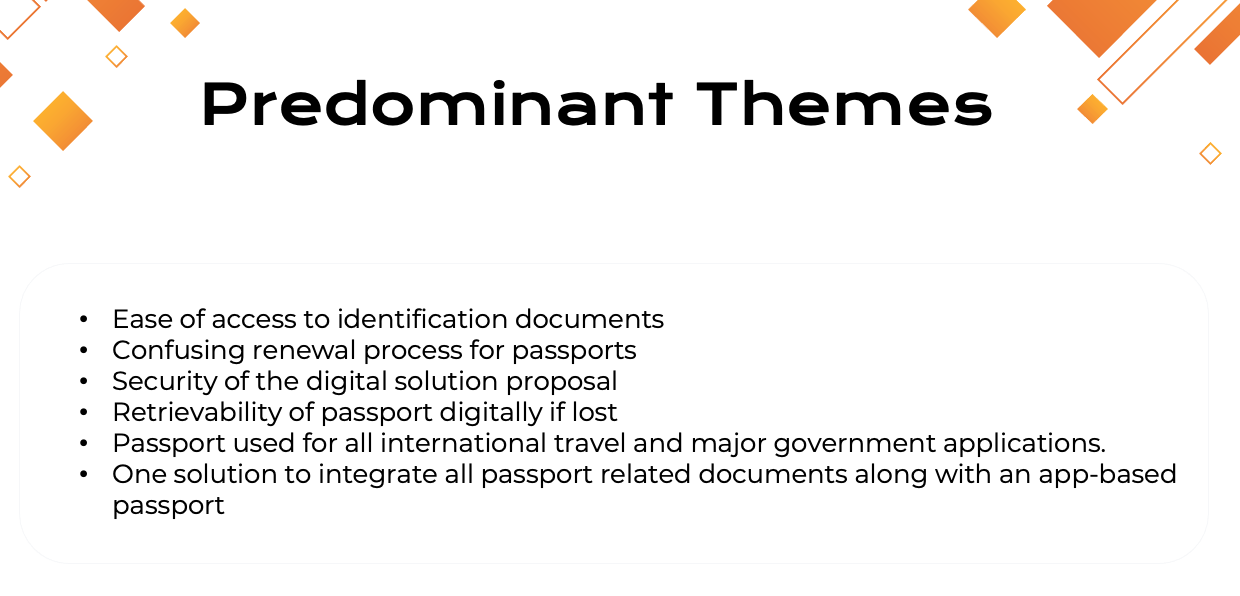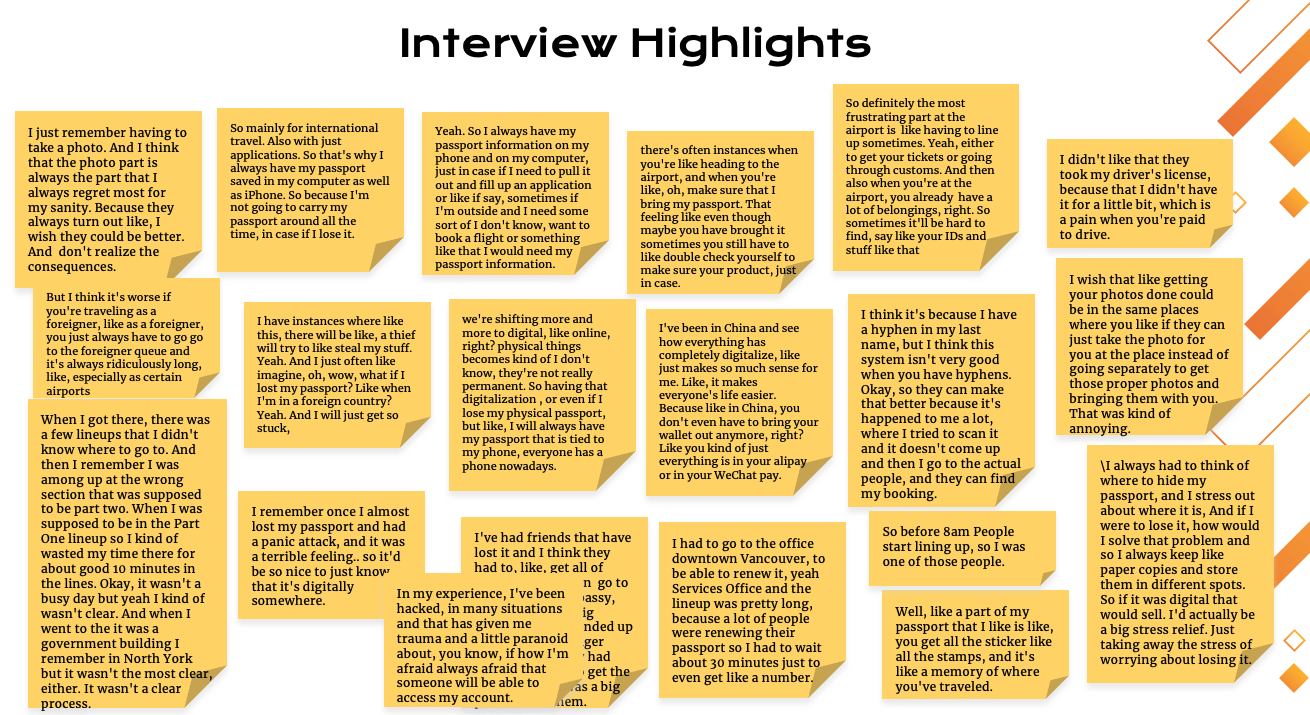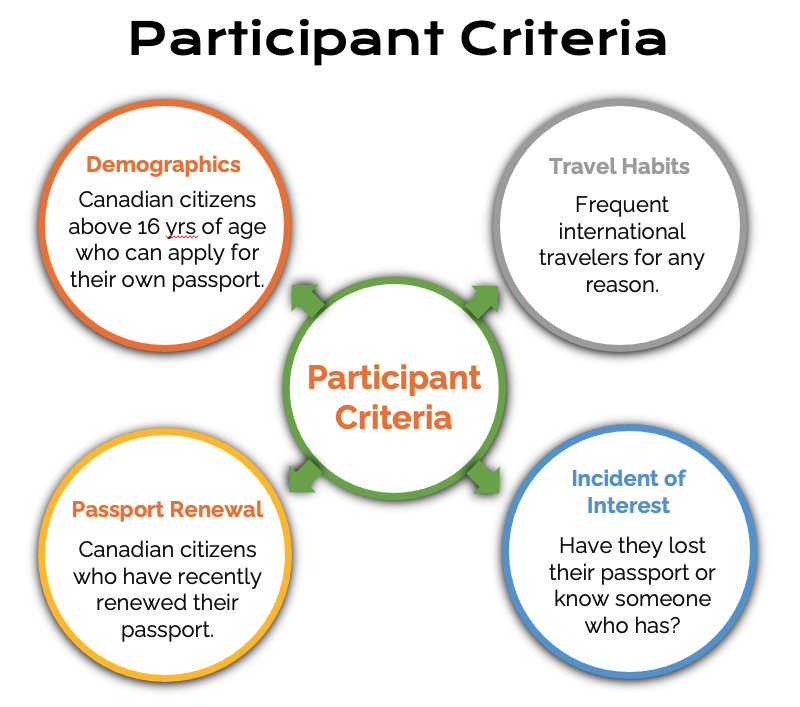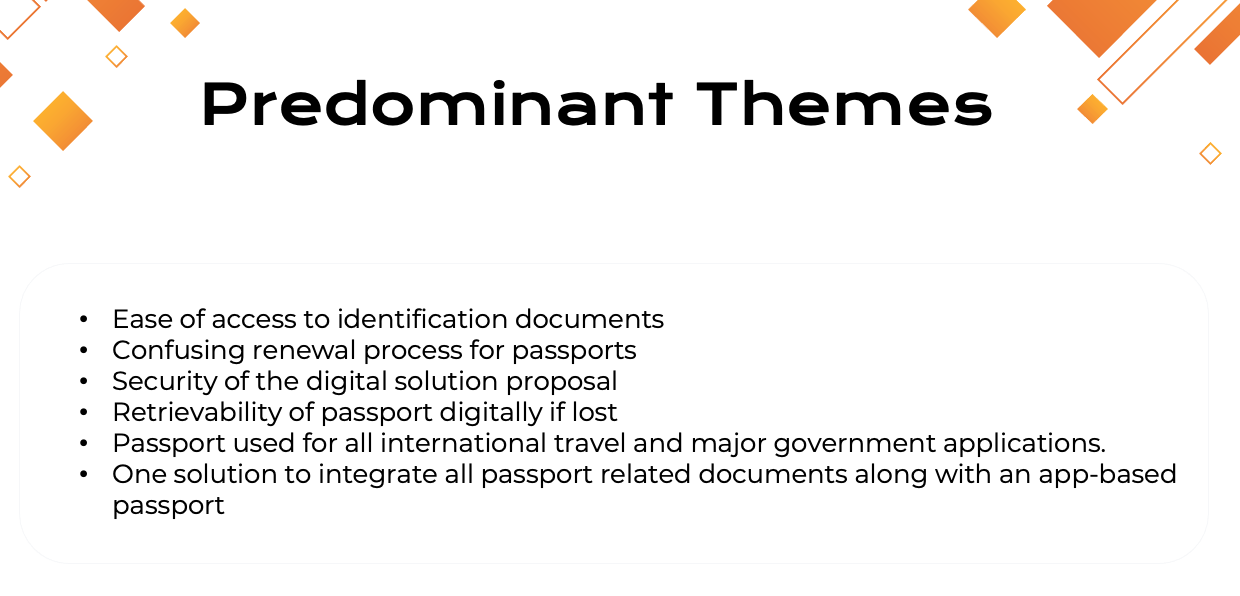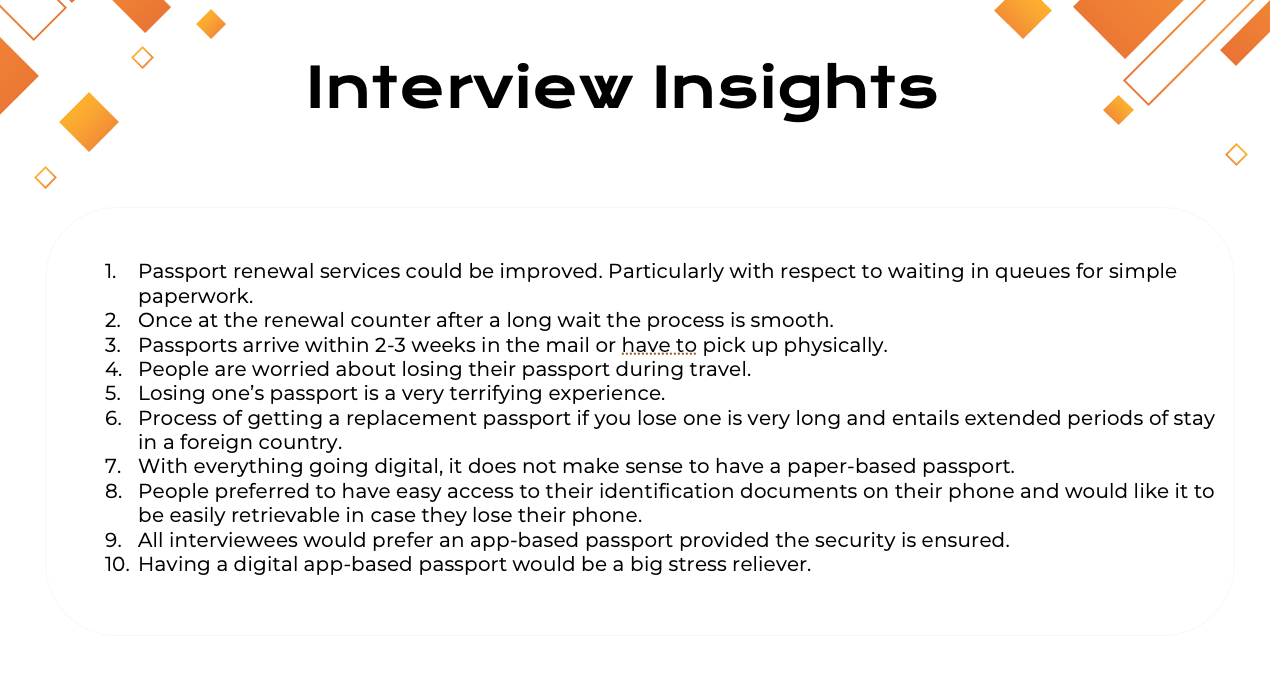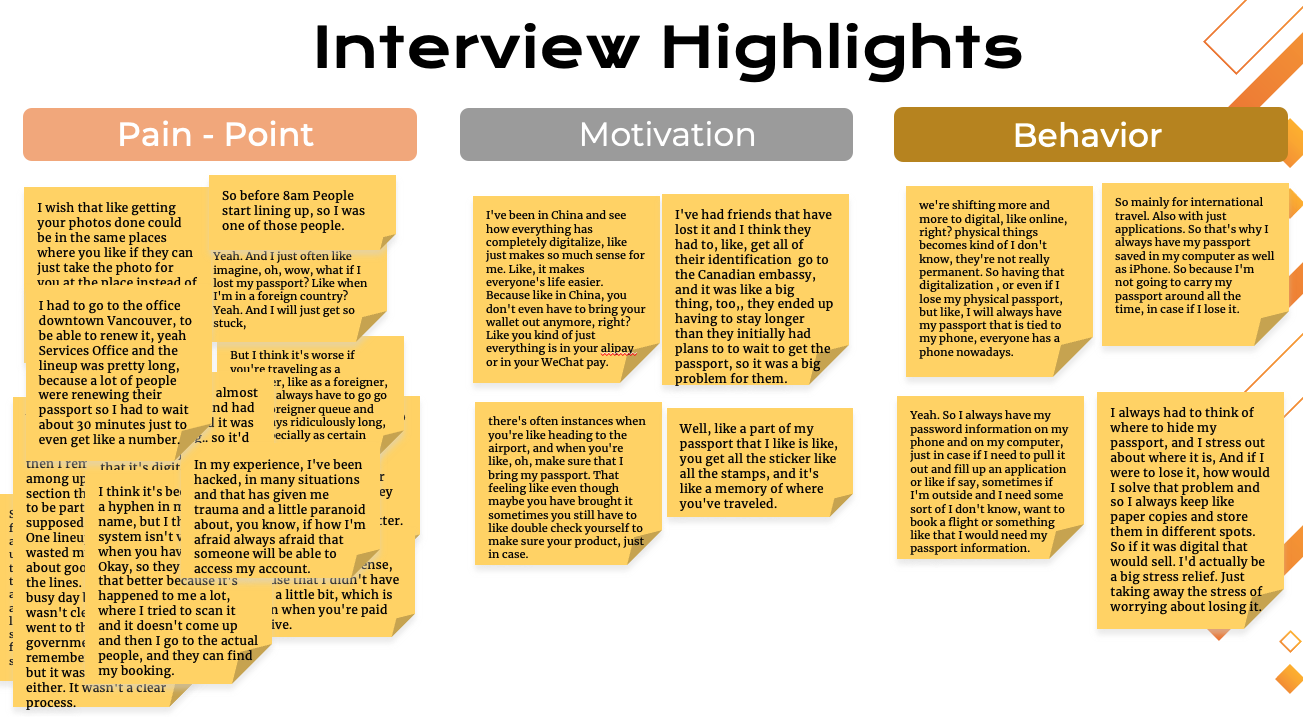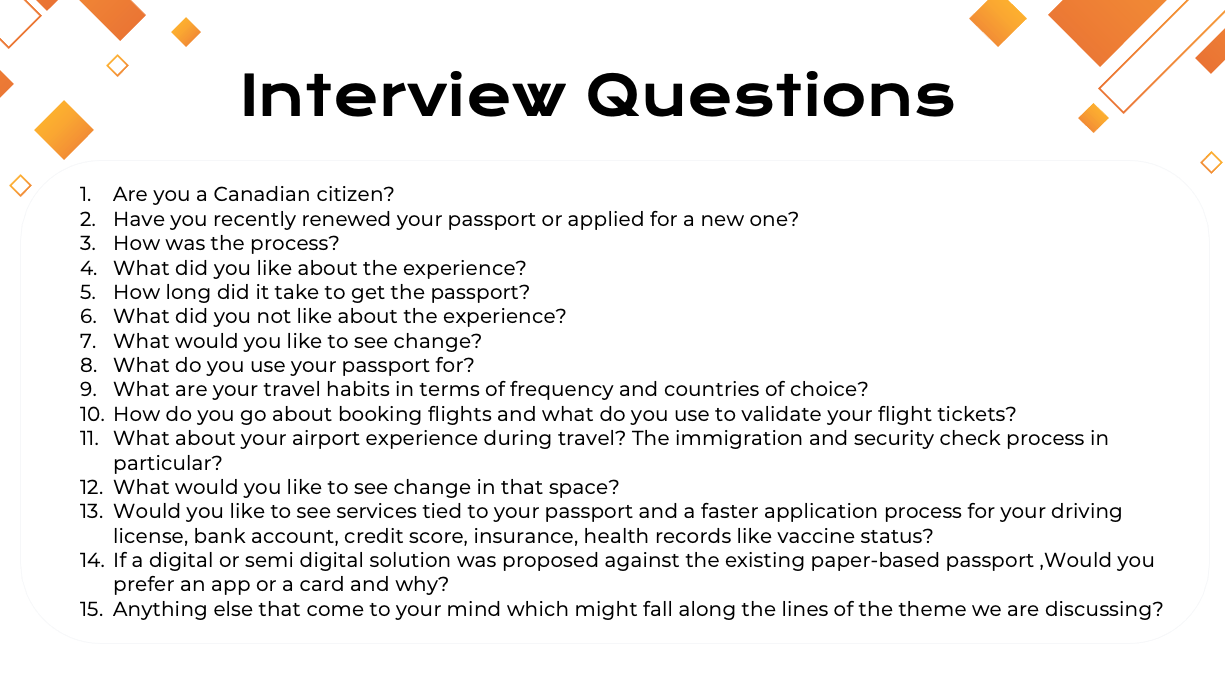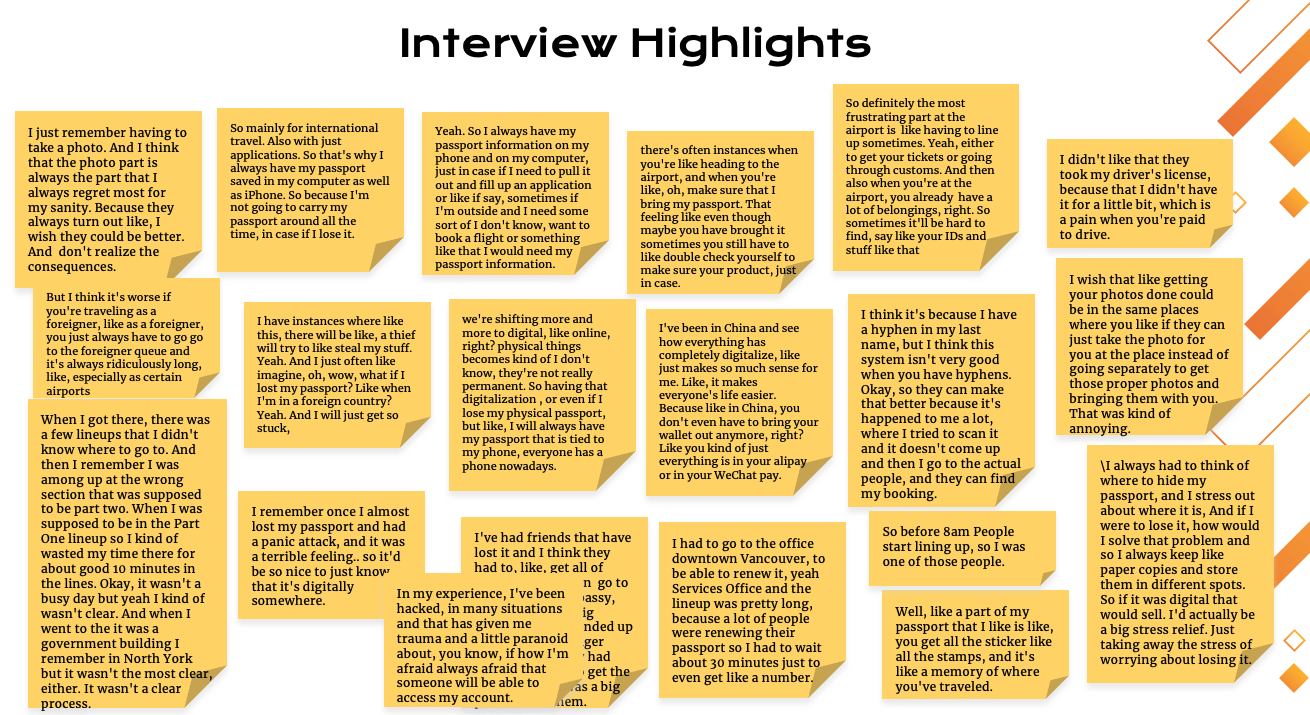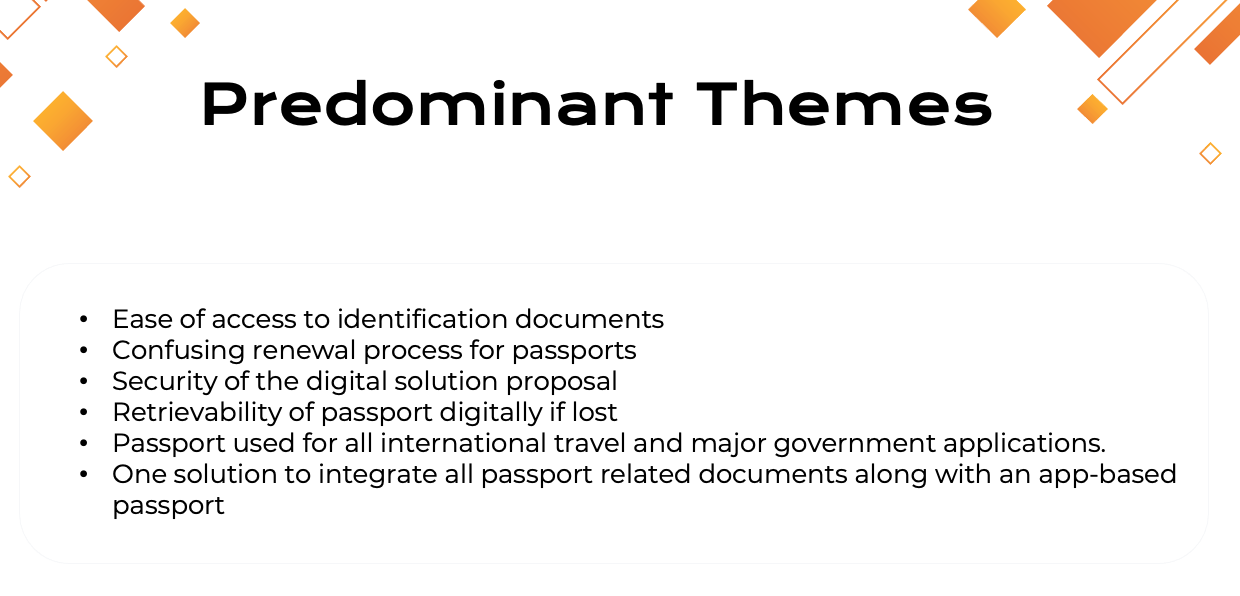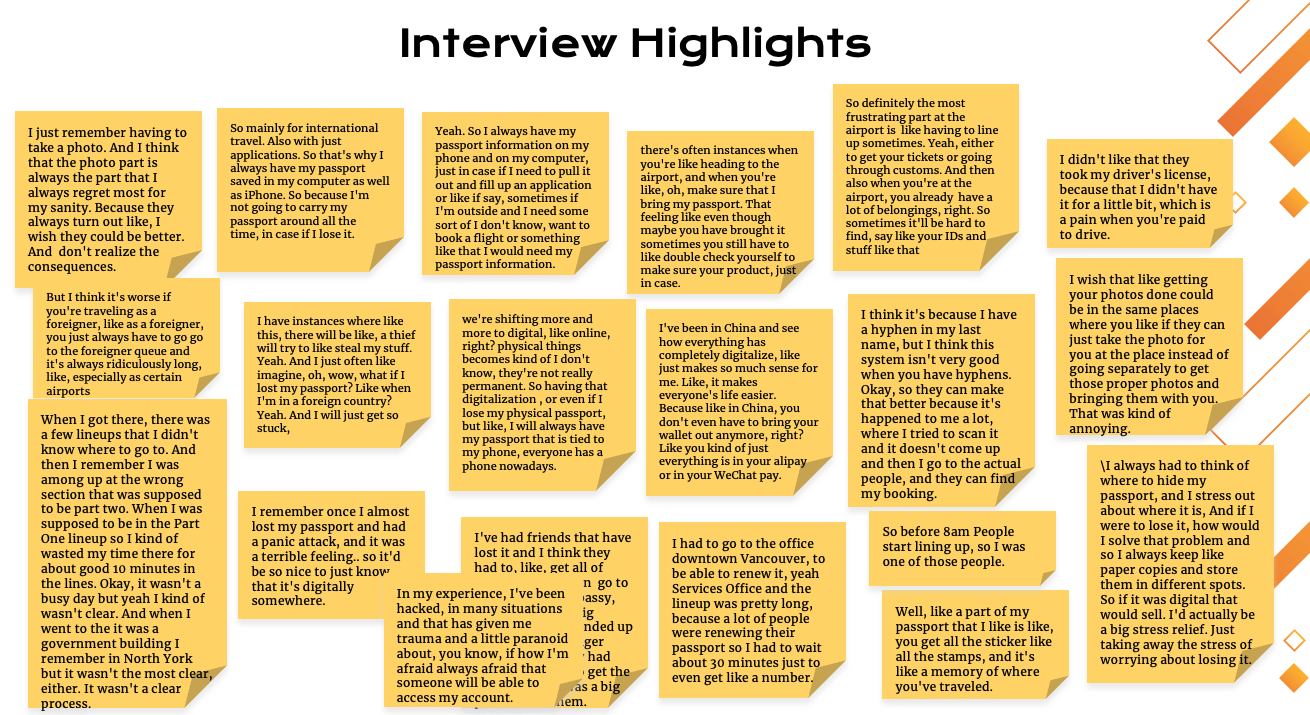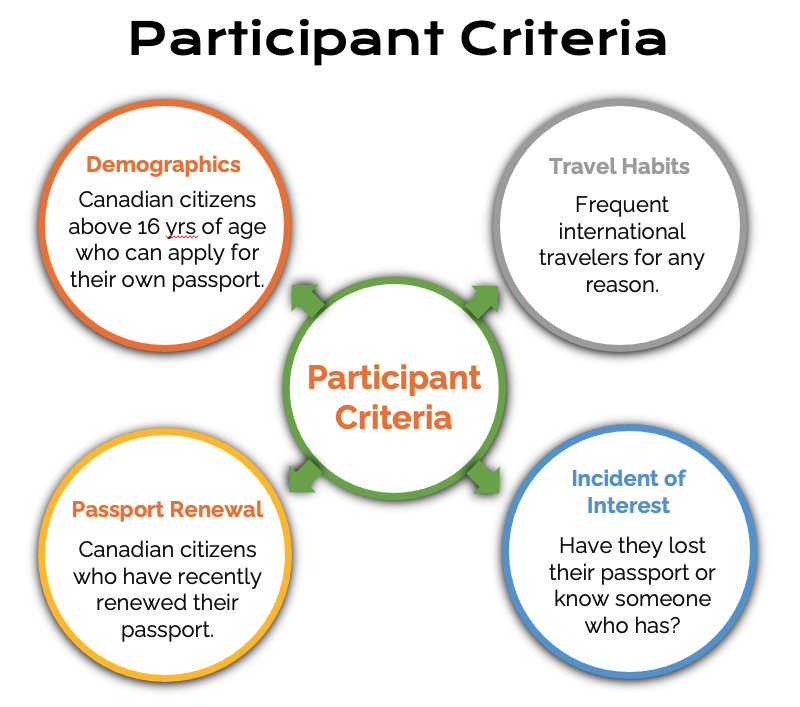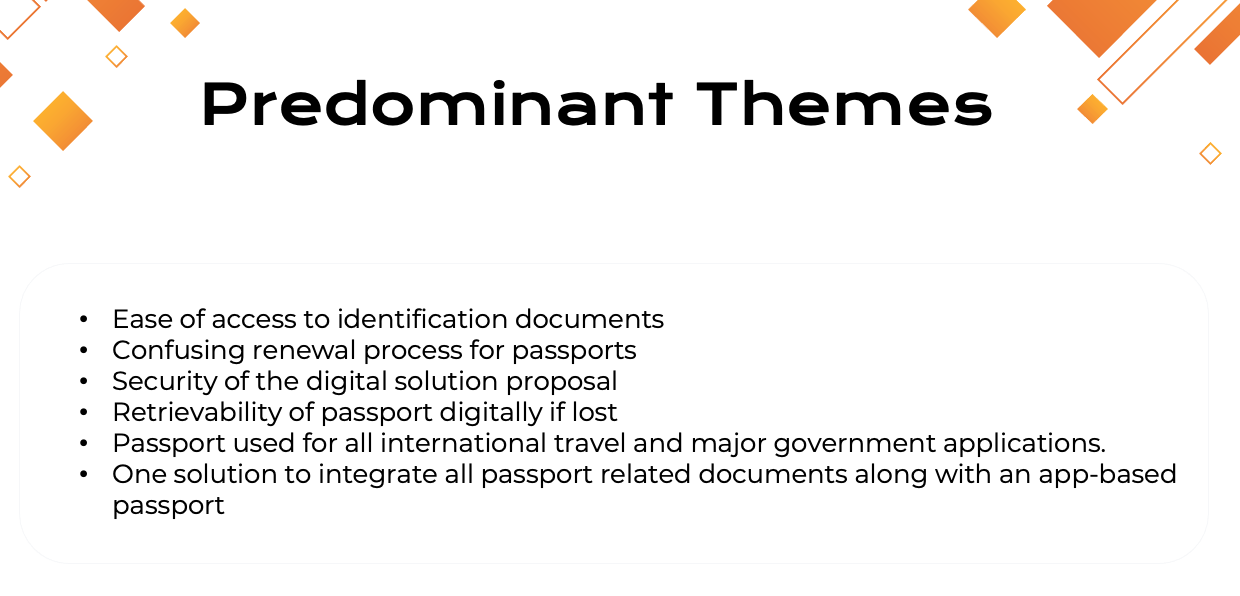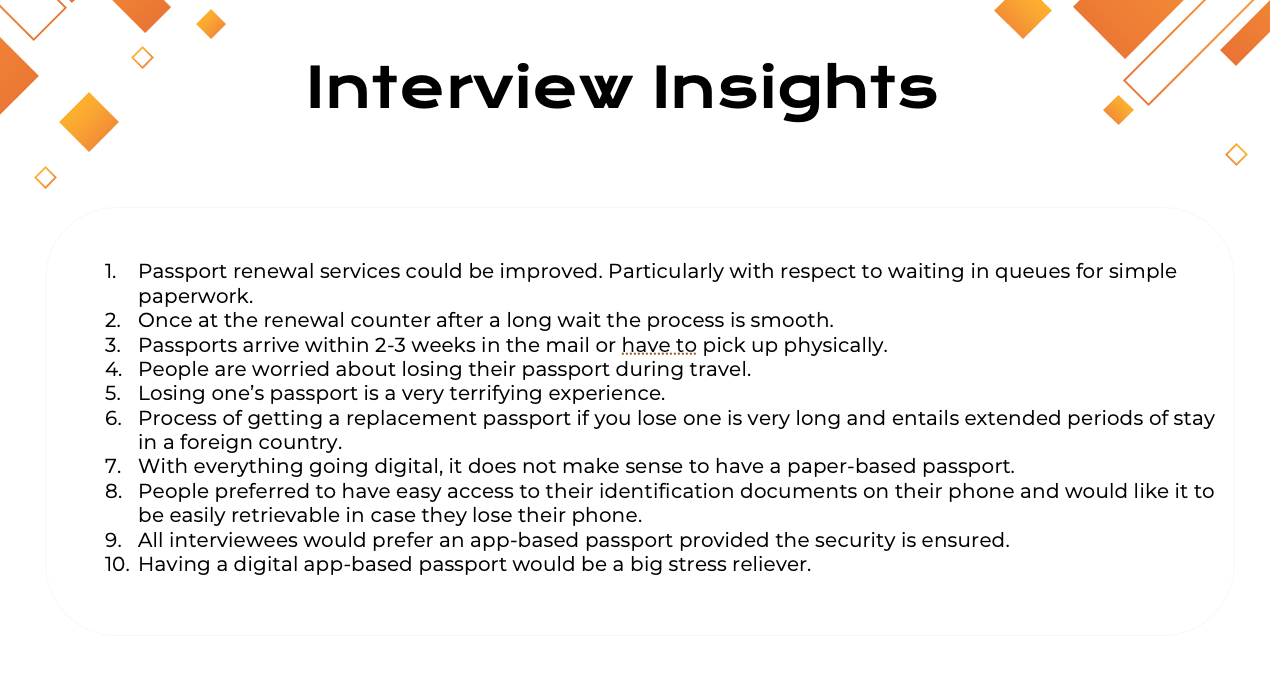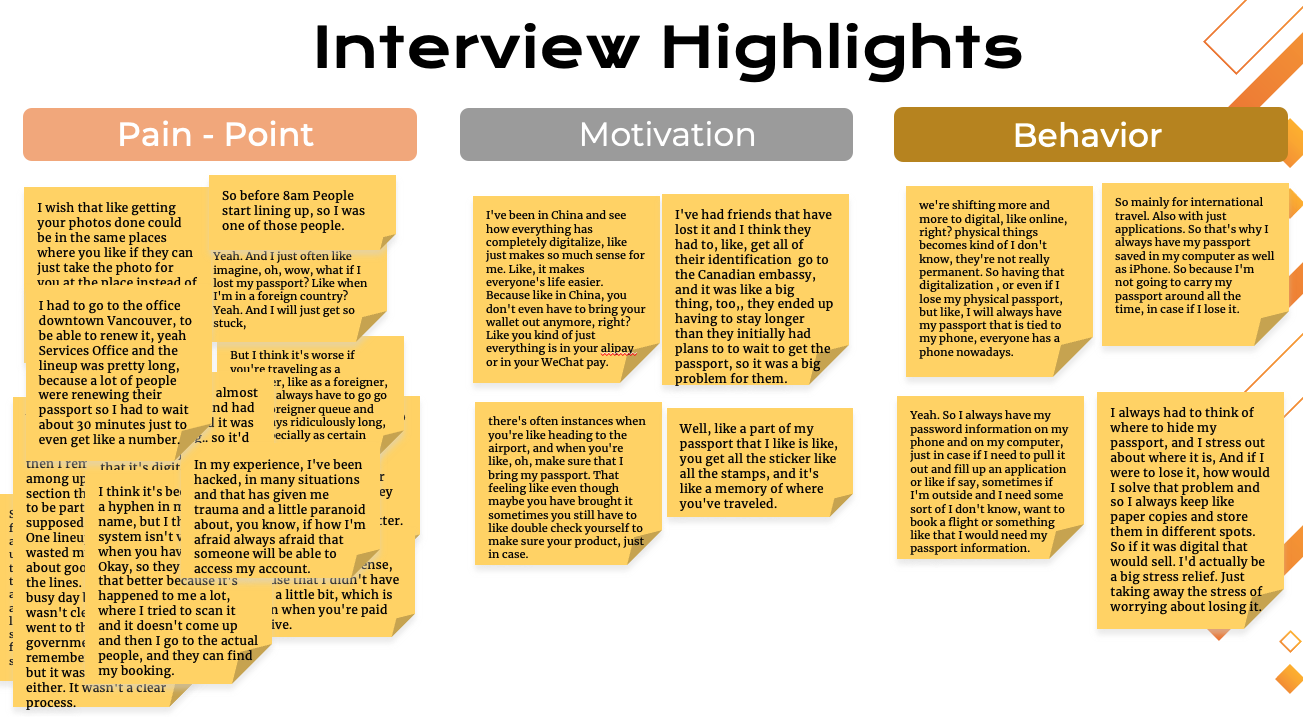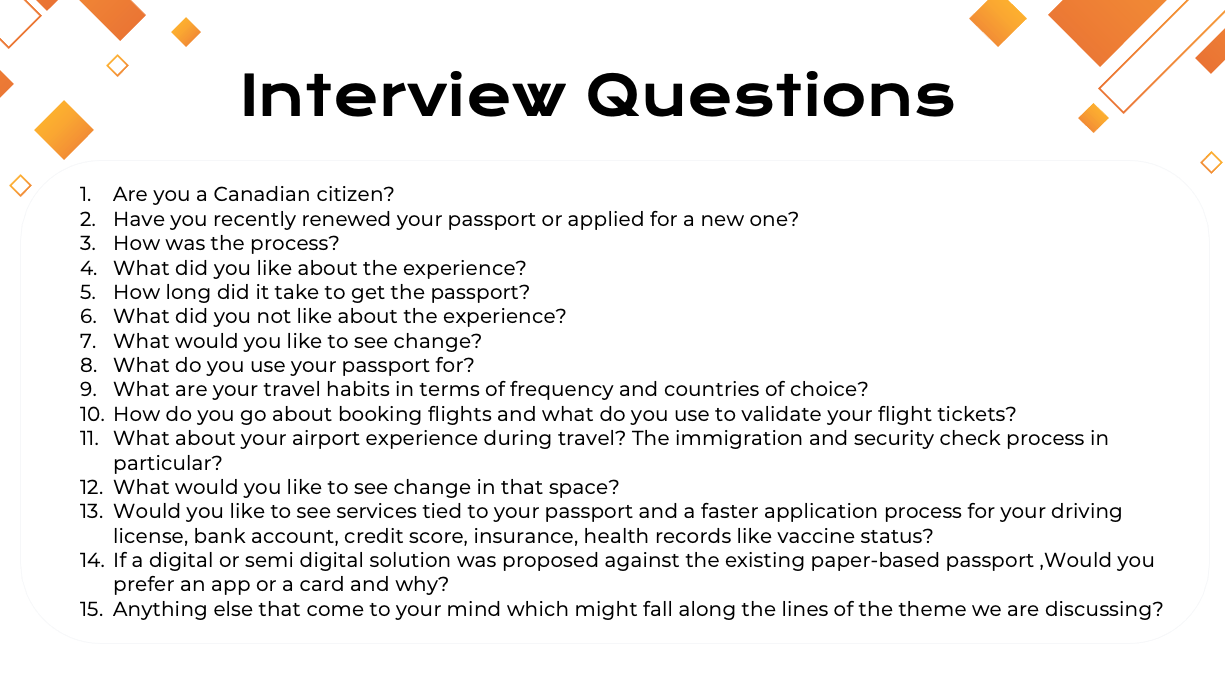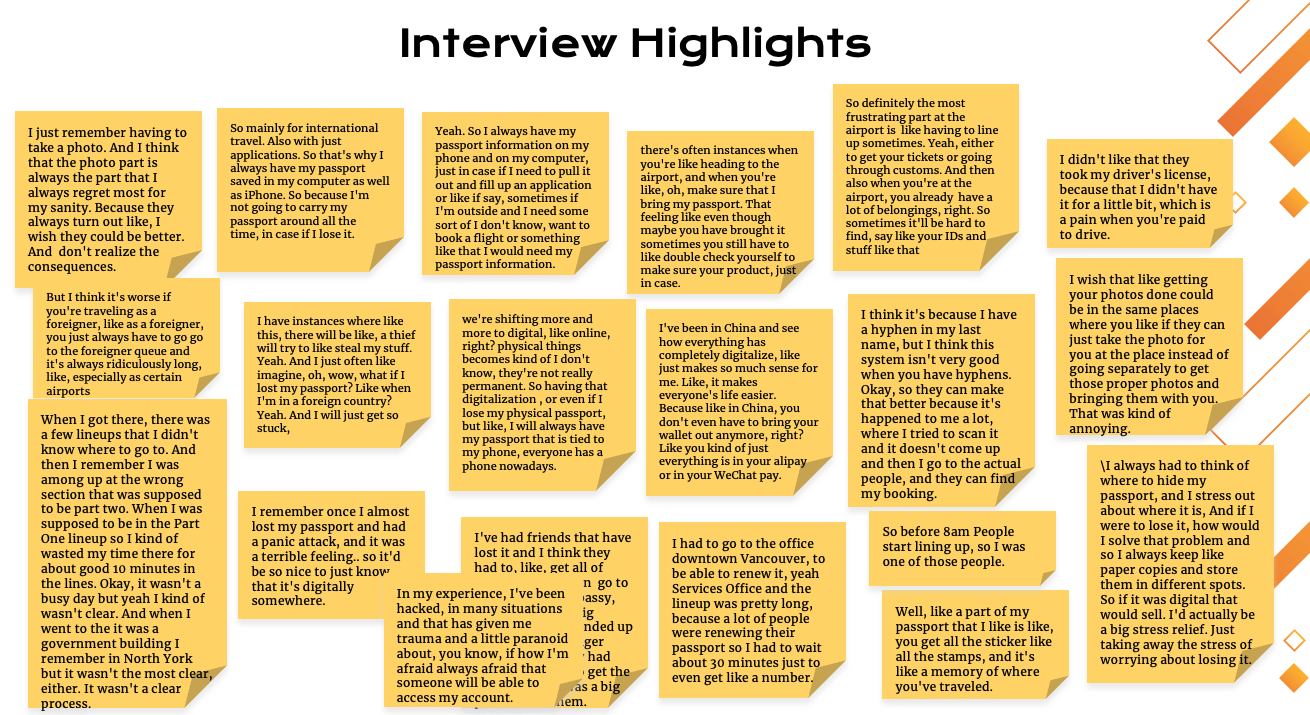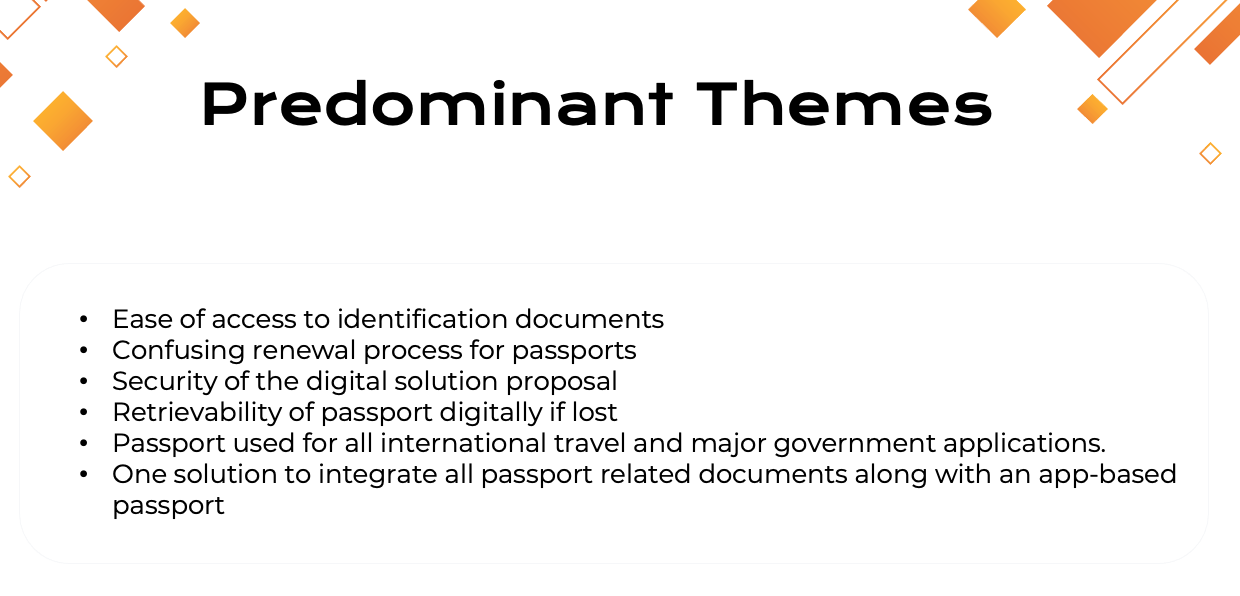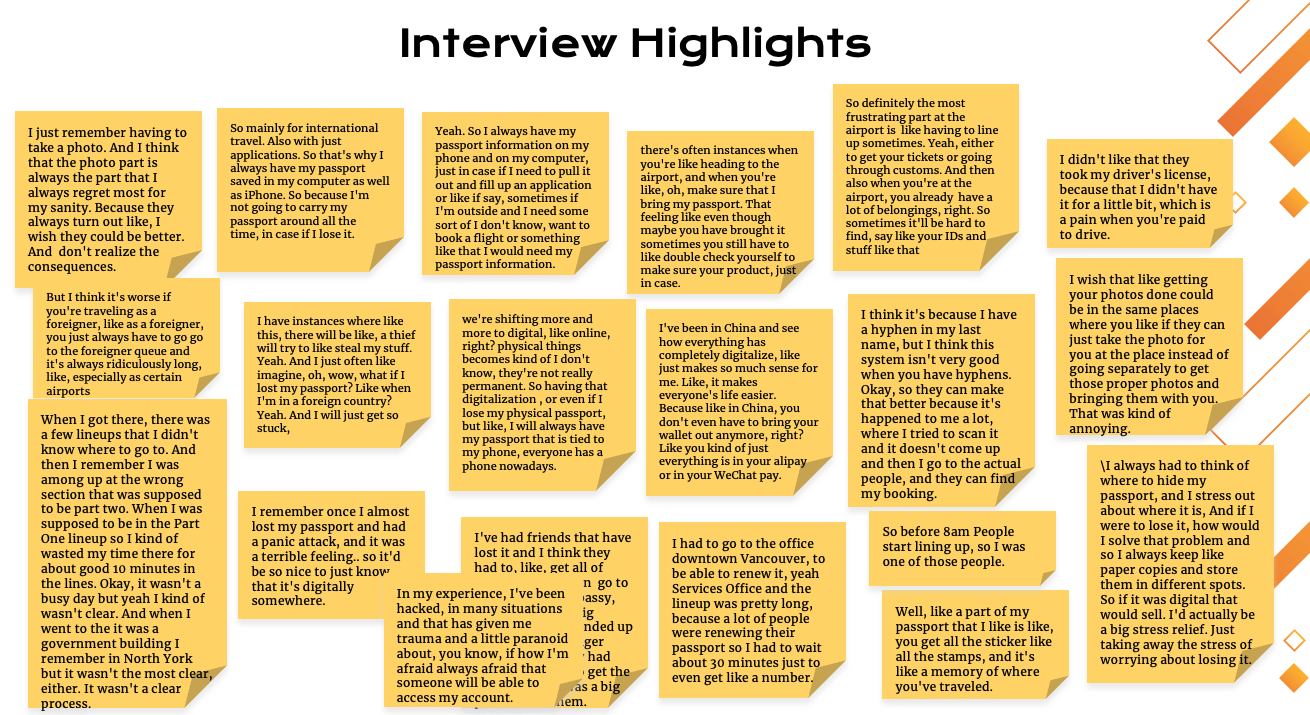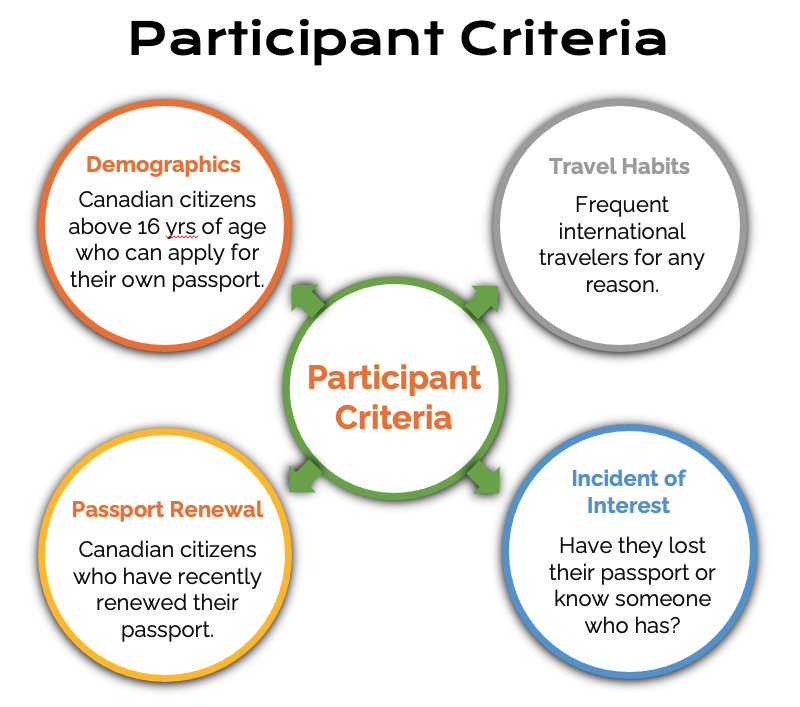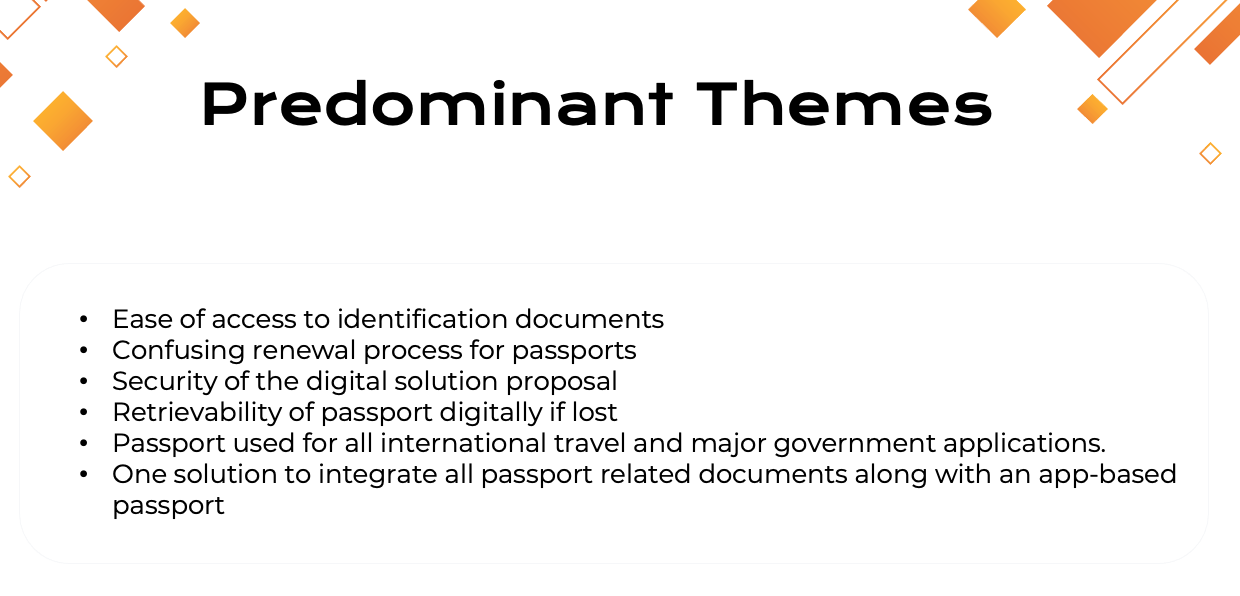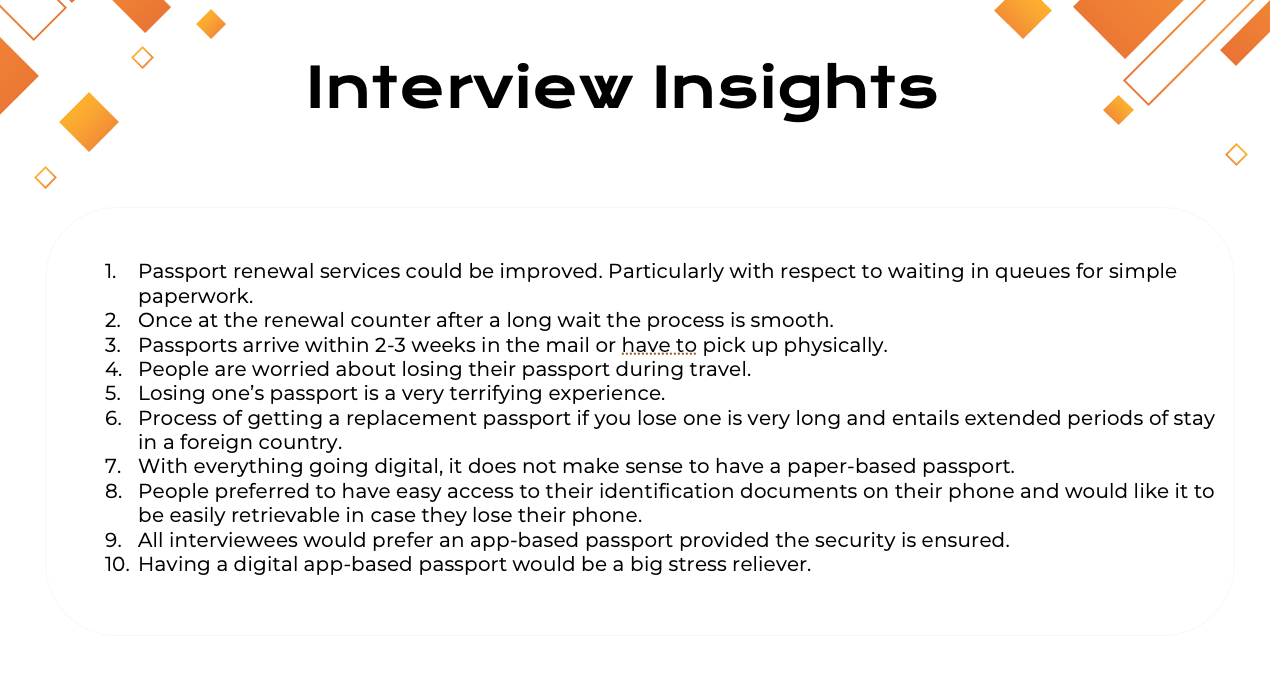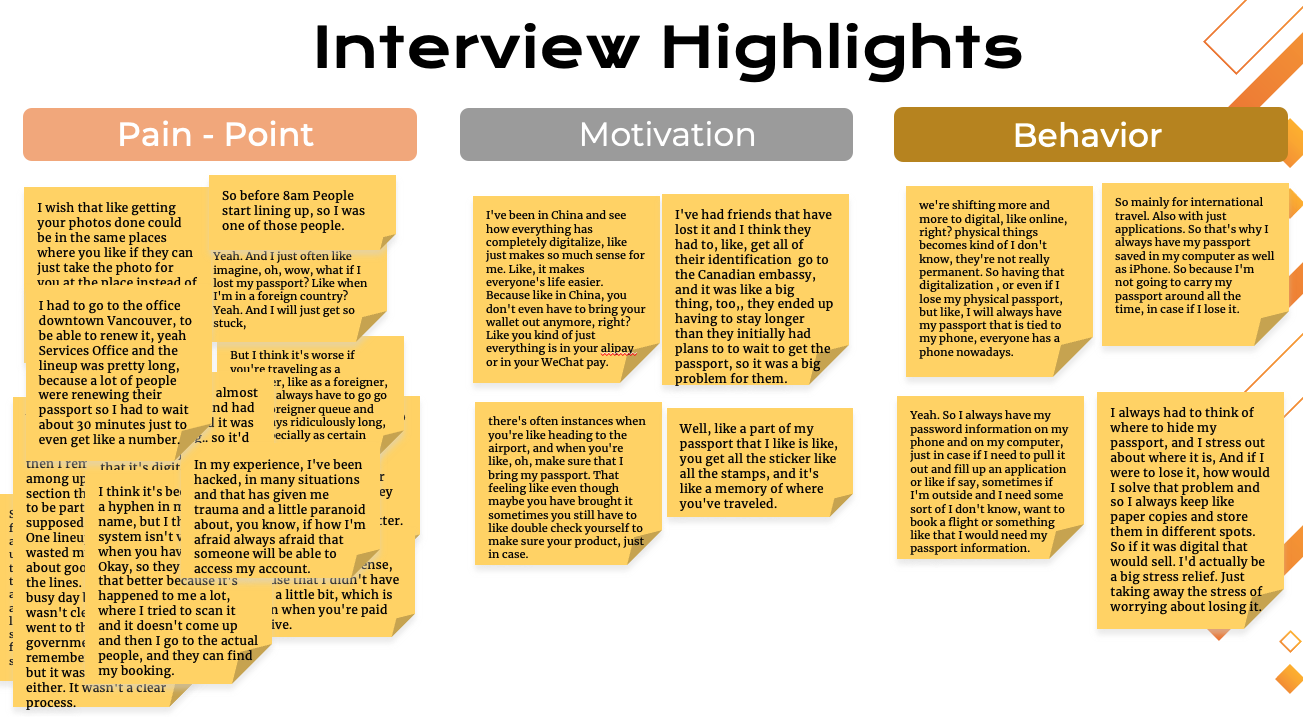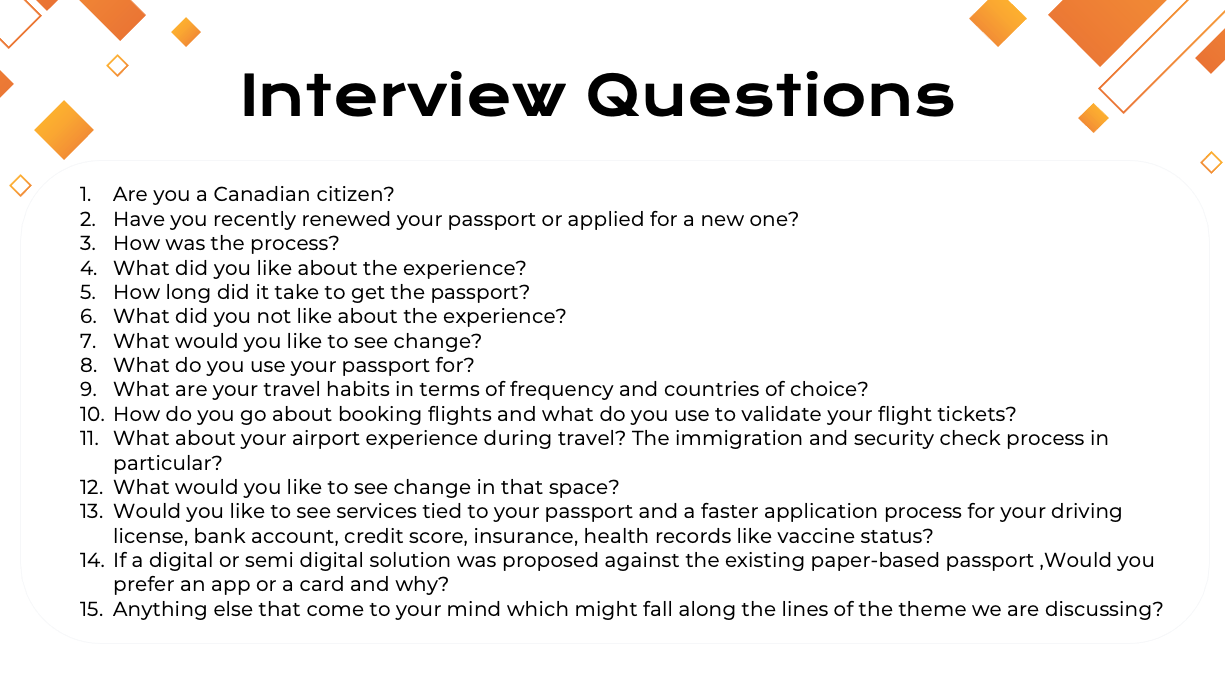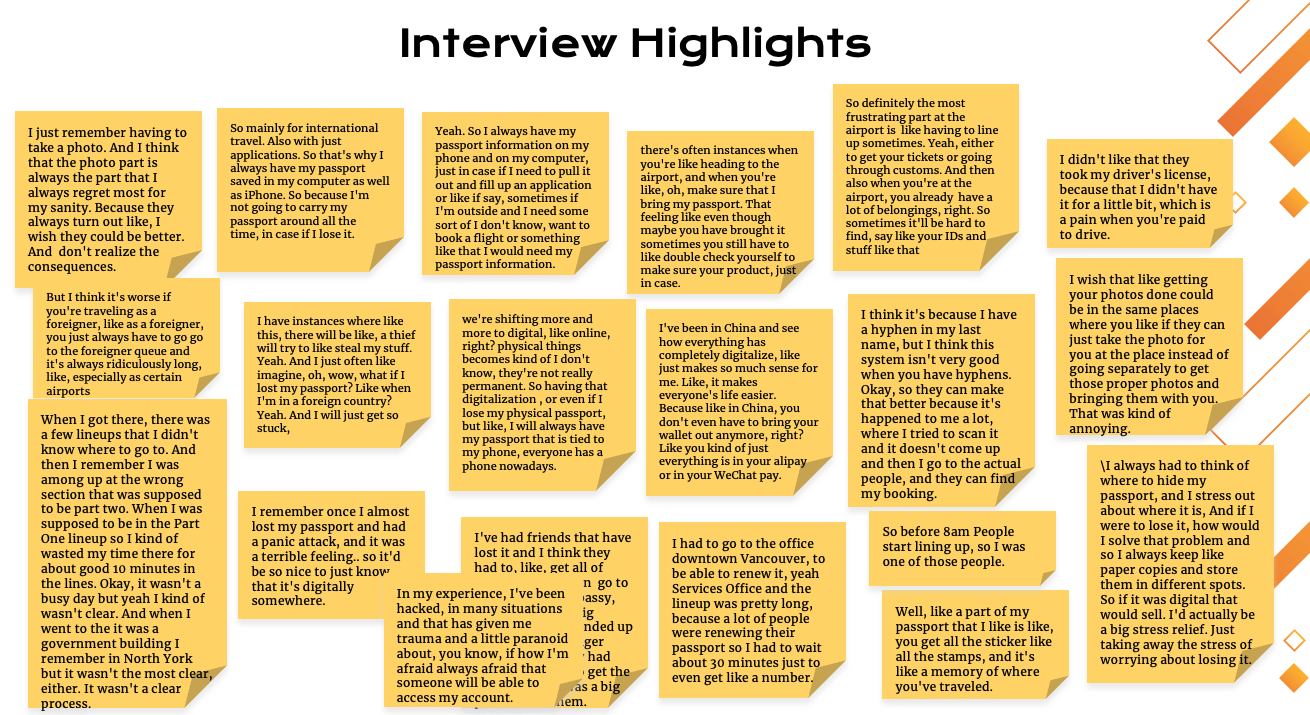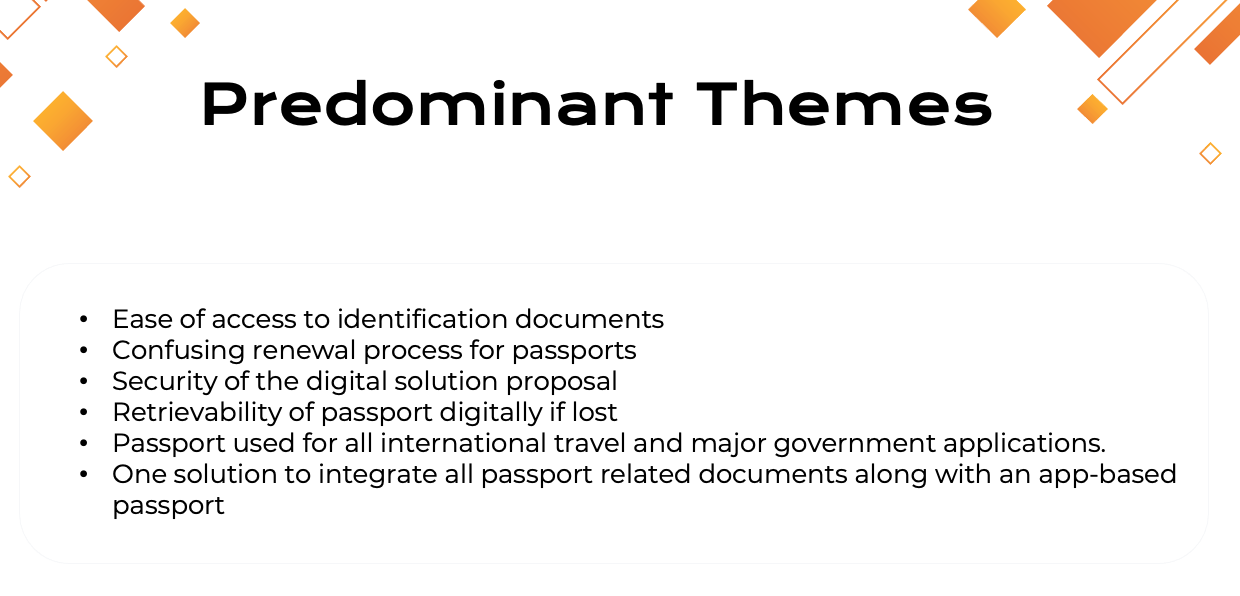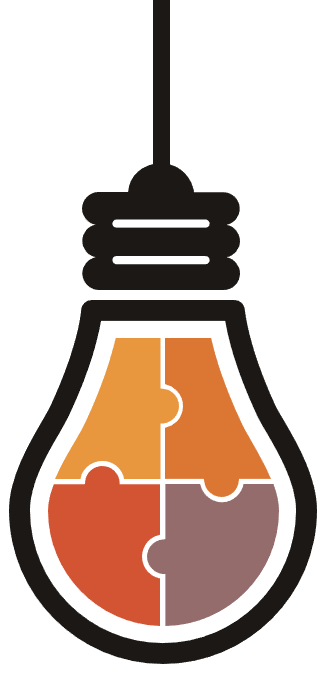 REVISED HOW MIGHT WE...
provide Canadian citizens a national identification document that is safe, secure, and can be easily retrieved if lost to help with the problem of identity theft?
Persona & Journey Mapping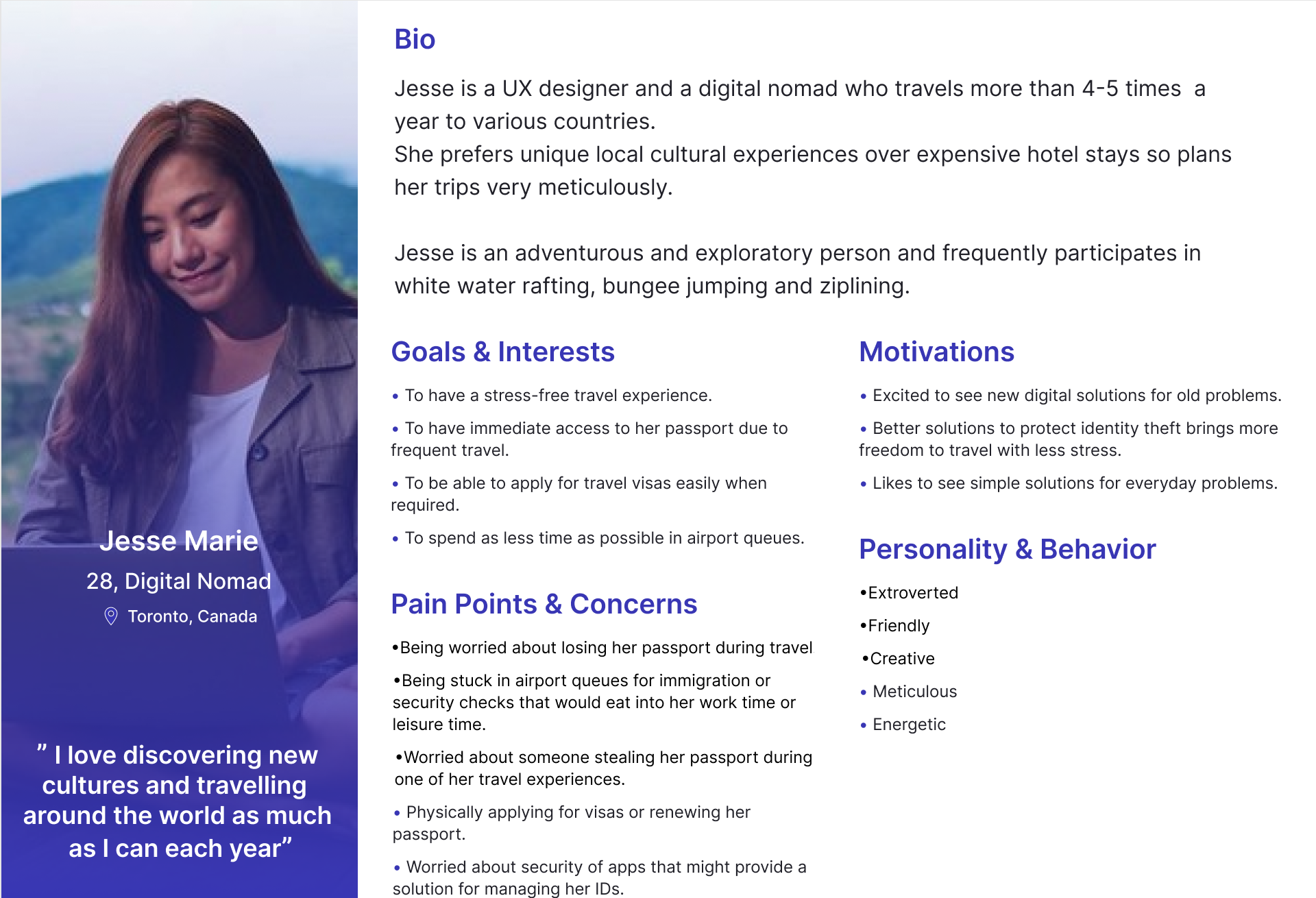 Persona
Based on the initial interviews that I conducted, I came up with the persona of Jesse Marie. Throughout the process, I referred to the various aspects of my persona for guidance.
This gave valuable insight into what the potential solution might look like and a ground for the initial product sketches and wireframes.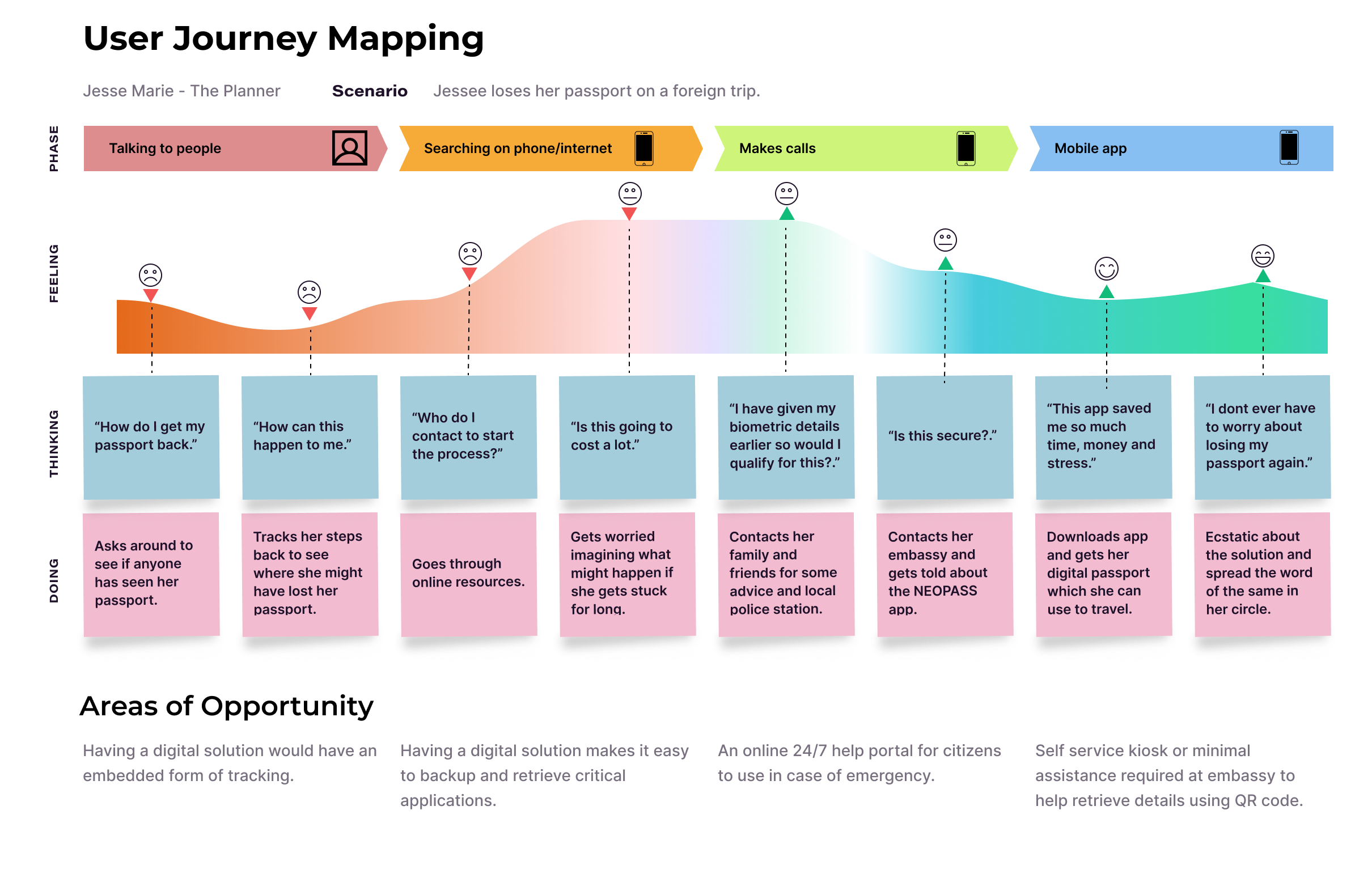 The user journey map was based on a real-life scenario extracted from the interviews that were conducted, where one of the interviewees lost their passport during foreign travel and the process she went through to get a replacement passport.
As a next step, I created user stories exploring Jesse's needs and expectations towards a possible digital solution. I organized the stories into epics to prioritize the task that would be relevant to her requirement.
Once this was done I created a task flow that allowed me to understand the series of steps I would have to create in the ideation stage for Jesse to use the digital solution.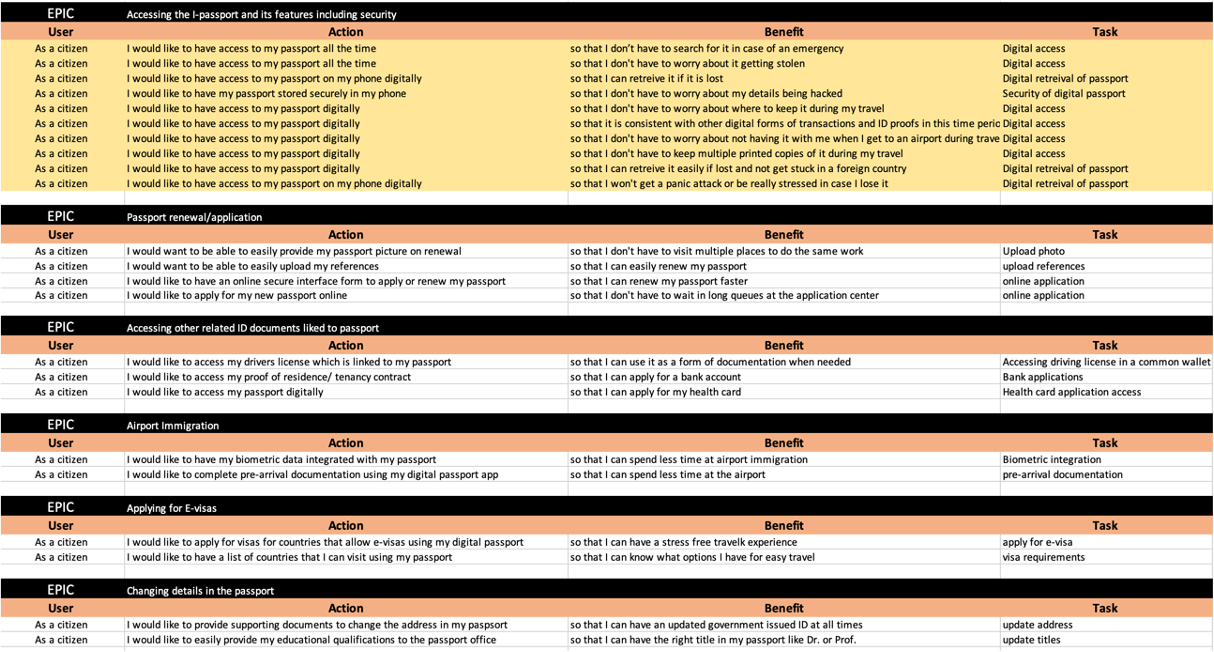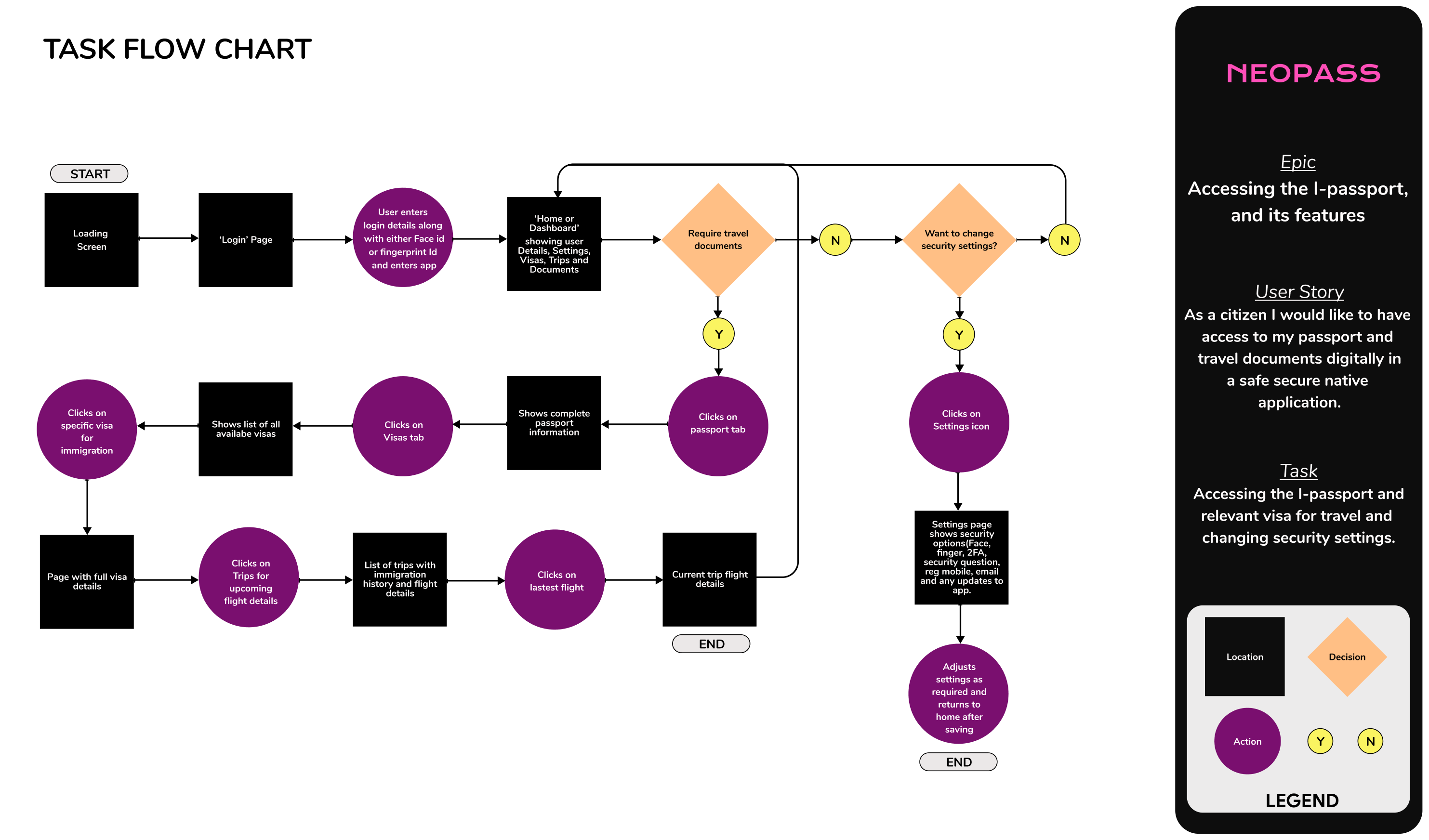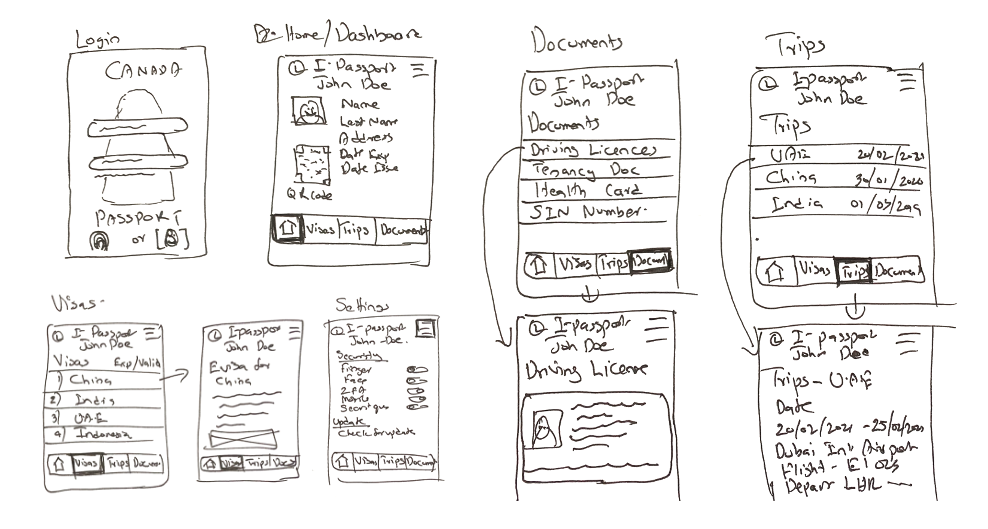 Sketches
After I mapped out Jesse's task flow, I started the ideation process. Using pen and paper, I sketched a few variations of the app's interface that would help Jesse find her digital passport after logging in securely, checking her travel documents, and adjusting security preferences.
I sketched a login screen, documents screen, visas, tickets, and settings screen.
Wireframes
I translated analog sketches into low-fidelity wireframes and assembled an interactive digital prototype that helped me move forward to the next important stage of the design process which was user testing.
User Testing
Usability testing is one of the most important parts of the design process, that exposes the hidden biases within an initial wireframe design and also helps to see what might be difficult and confusing for users.
In order to obtain practical, real-time feedback that can be incorporated to improve the design, I conducted 2 rounds of usability tests with 10 different people (5 per round).
Each participant was asked to complete 5 tasks that formed Jesse's core task flow.
Tasks:
Pass 1st and 2nd layer security to login

View passport details

View visa details

View ticket details

Adjust security settings to the highest level and save them for the next time you log in to the app.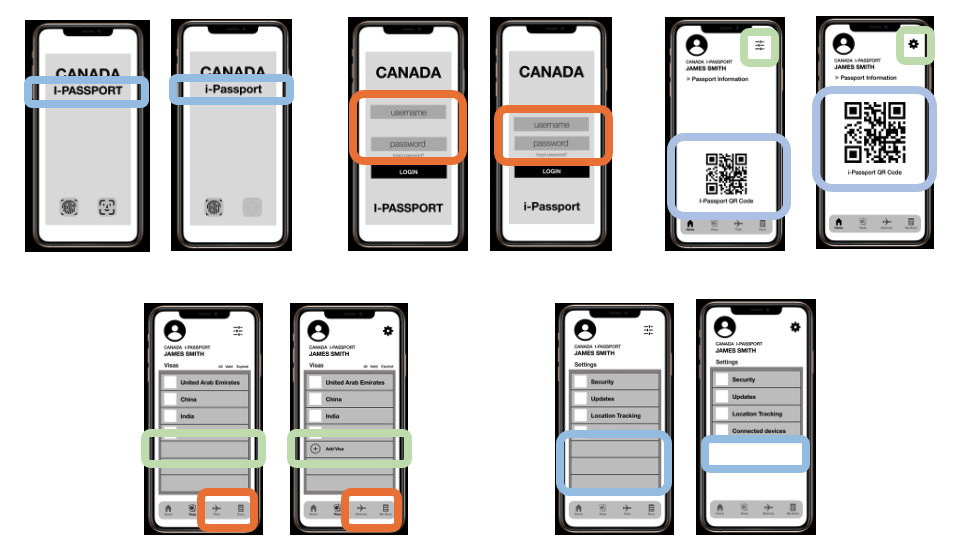 Multiple iterations
Having gained valuable insights from each round of testing and having a clear set of changes to implement, I enhanced the user experience by translating my grayscale prototype into a high-fidelity prototype by developing and applying a visual identity to my digital product.