Pateel Bedoyan
UX & Product Designer
Let'sMeet
A better way to connect and meet singles!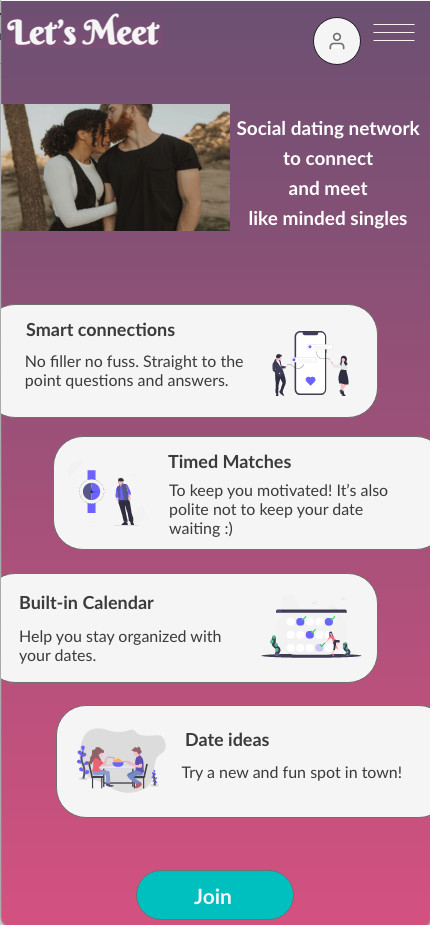 My Role
Project Lead and UX Designer
Timeline
May - August 2021
Tools
Adobe XD & Photoshop, Miro, Google Slides
Project Background
Concept Project - Let'sMeet is a platform that helps singles living in metropolitan areas and surrounding communities to meet like-minded singles, with the goal of finding meaningful relationships that align with their goals.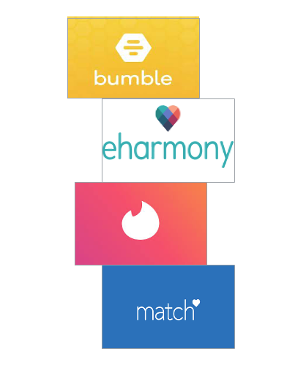 Problem Definition
Online dating scene is a competitive space dominated by few players, however, these sites have limitations:
No clear path to success during dating journey

Focus on quantity vs. quality matches

The conversations are open-ended, until someone makes the first move.

Conversations are abandoned due to a lag in response time.

Stigma associated with online dating, some users don't take online dating seriously.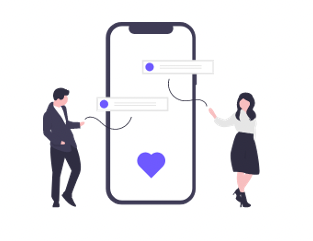 Value Proposition
Let'sMeet provides singles an alternative way to online dating, by providing matched users more opportunities to meet other eligible singles in person, to help assess suitability and compatibility, in hopes of finding a serious and a meaningful connection.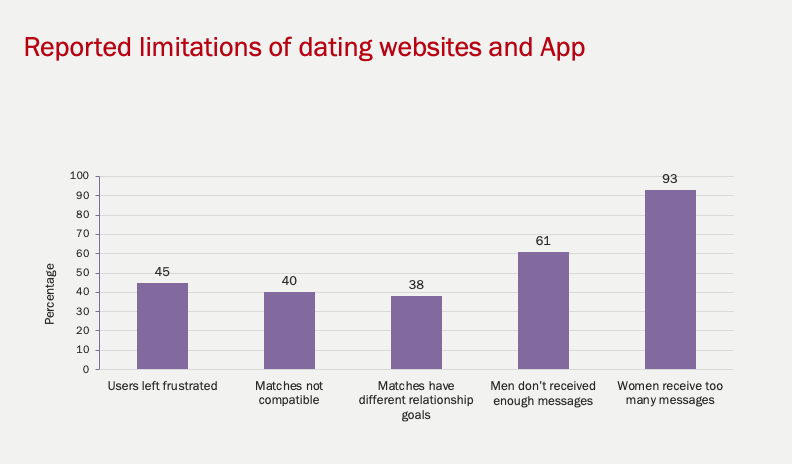 Users are challenged
The data shows some of the limitations of online dating sites, and how they leave users frustrated and challenged in meeting their relationship goals.
Source: https://financesonline.com/online-dating-statistics
Why our target users?
Based on the pie chart, users ages 30-45 years old consist of the largest segment in online dating. These users are seeking long term meaningful relationships, and are ready to meet with real and suitable connections.
Survey and Interviews
User interviews and survey have been conducted across 16 participants ages to 30-45 to gain breadth of insight and user needs.
Results:
Users have been unsuccessful at meeting their goals on other popular sites.

Users are interested in the idea of trying a new dating platform that helps them meet like minded singles.

Users don't want to waste time with the wrong match.

Users like the idea of meeting more people in person.

Safety and security are important in online dating.
Personas
These users are seeking meaningful relationships: long term, marriage or starting a family. Typically living and seeking singles similar in metropolitan areas and surrounding communities.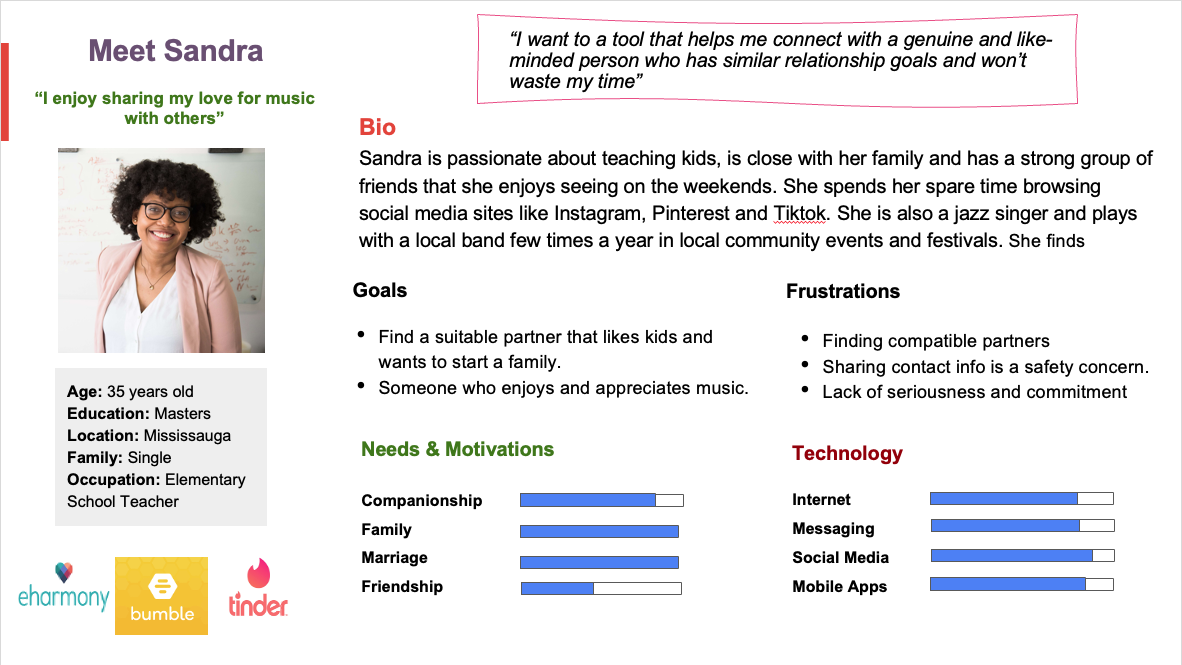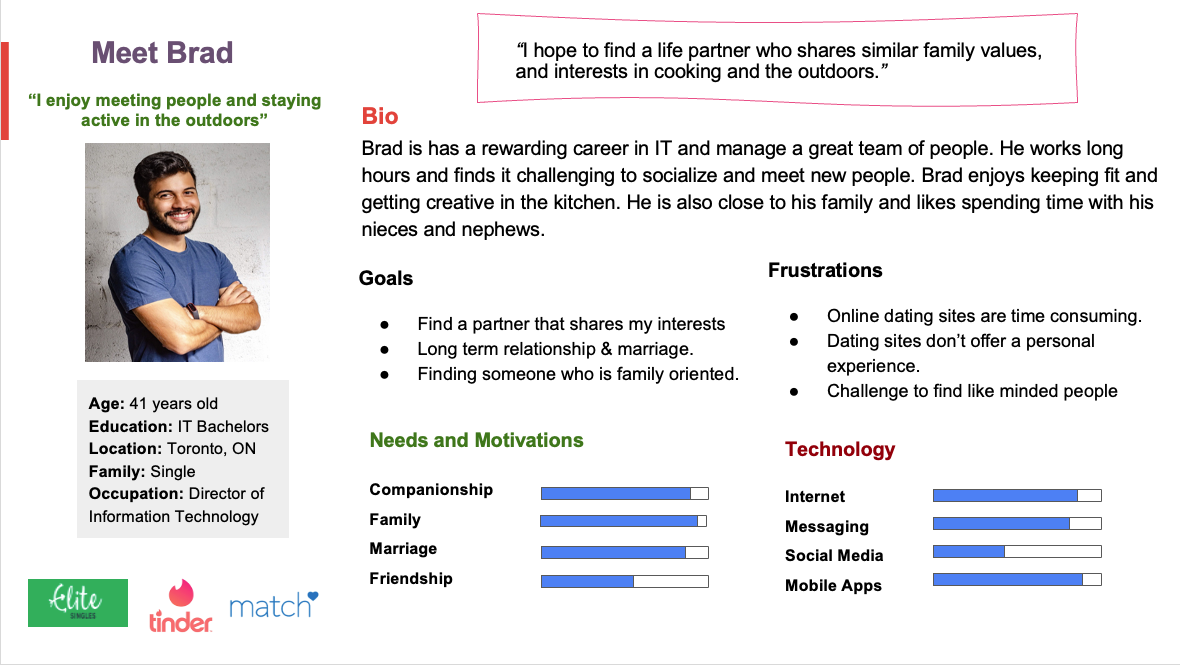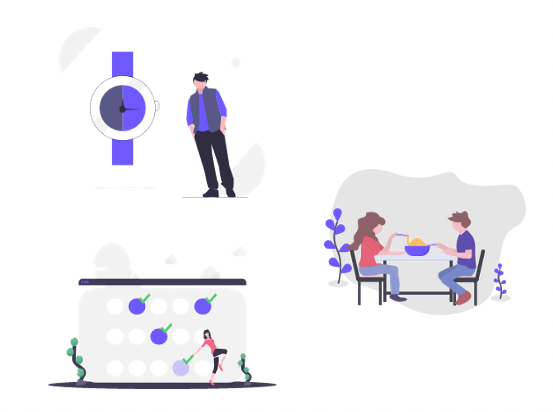 Solution
Let'sMeet simplifies the process by guiding users through their dating journey by take hesitation and guessing out of the online dating process. Let'sMeet helps facilitate in-person meetings within a specified timeframe to truly assess fit and compatibility
How?
Connecting users based on matched profiles.

Reduce the time frame between when users first connect and meet.

It prompts users to schedule in-person dates in a timely fashion.

It suggests public places to meet for added assistance in decision making.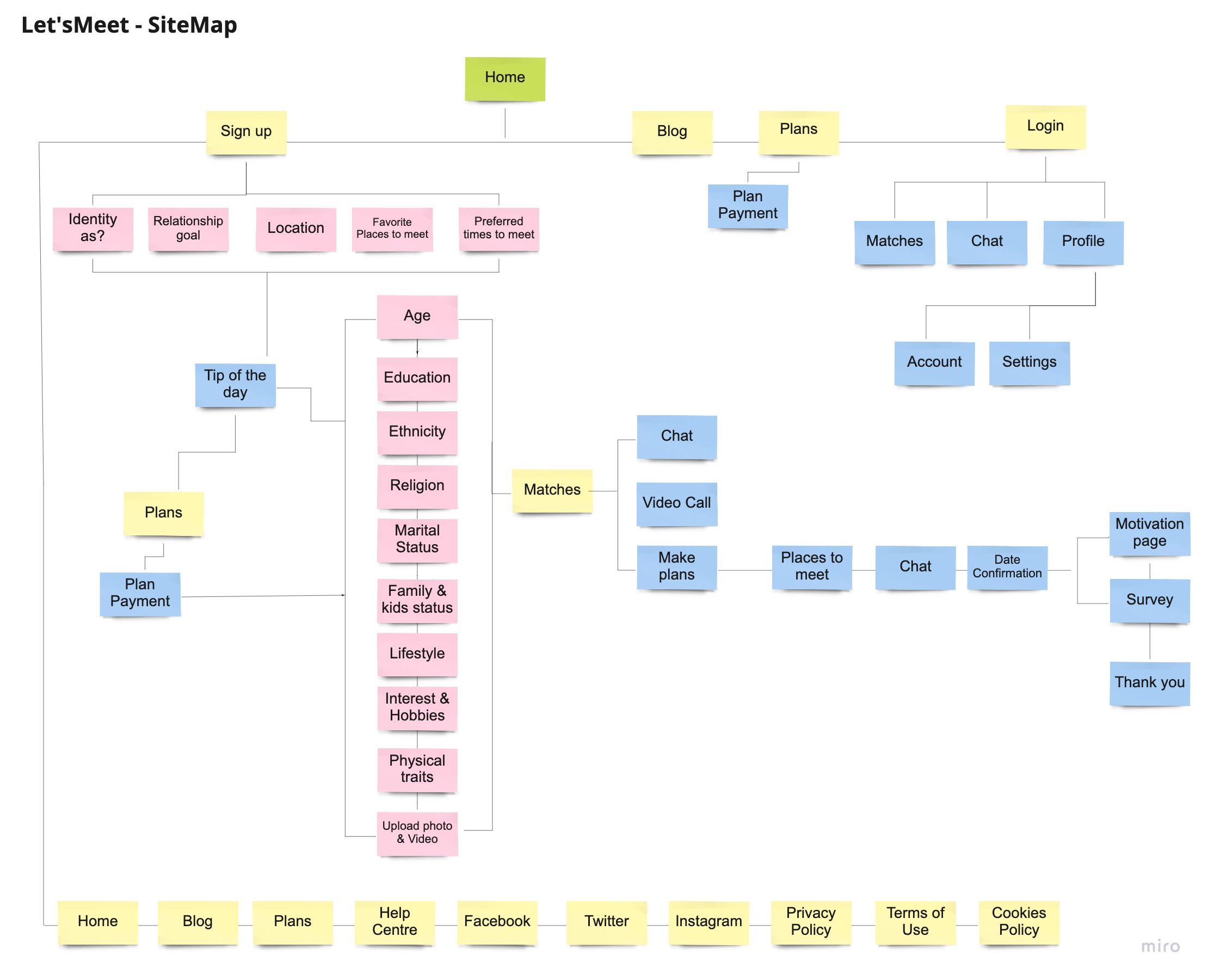 Site Map
I created the site architecture of Let'sMeet by following a mobile first approach, as most users will be using their mobile devices on dating sites.
The site follows a linear process for new users who are registering to become members. Once registered, users can easily access their profile page where they can connect, chat and make plans with other singles, as well as check their accounts, blogs, plans and social media sites.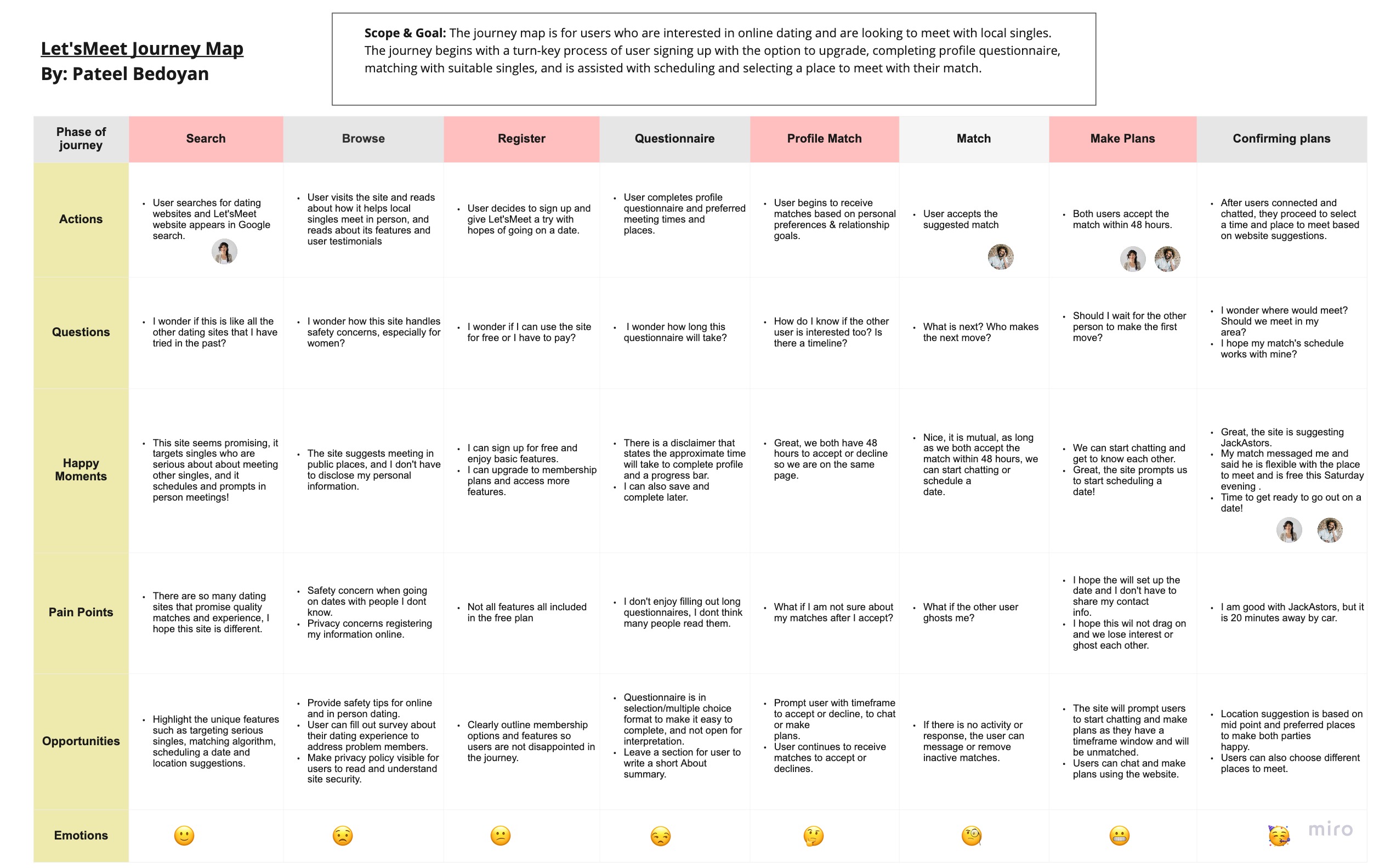 User Journey
I created the idea user journey path which takes the user from initial visit and sign up to connection and meeting in person.
Wireframes
Created initial wireframes to provide a blueprint for the hi-fidelity prototype. Completing this step in the design process helped me to see the layout of the design and make quick iterations before transferring to hi-fidelity prototype.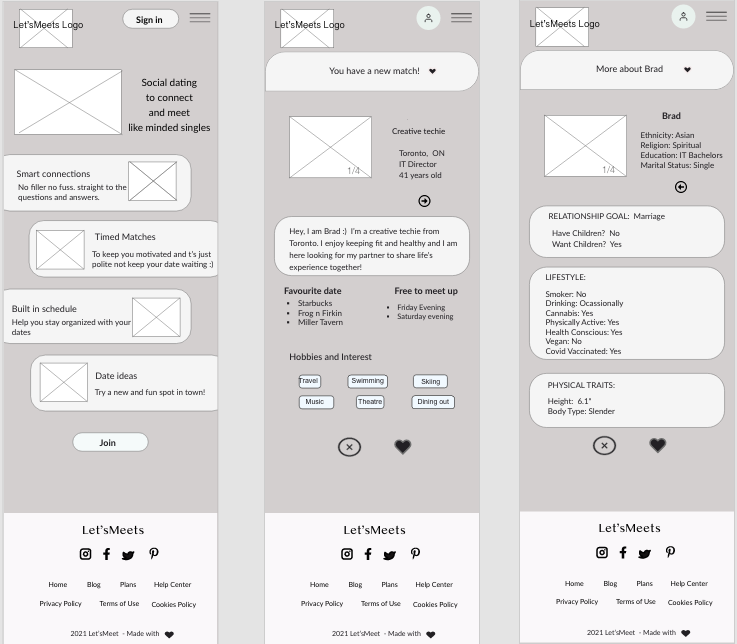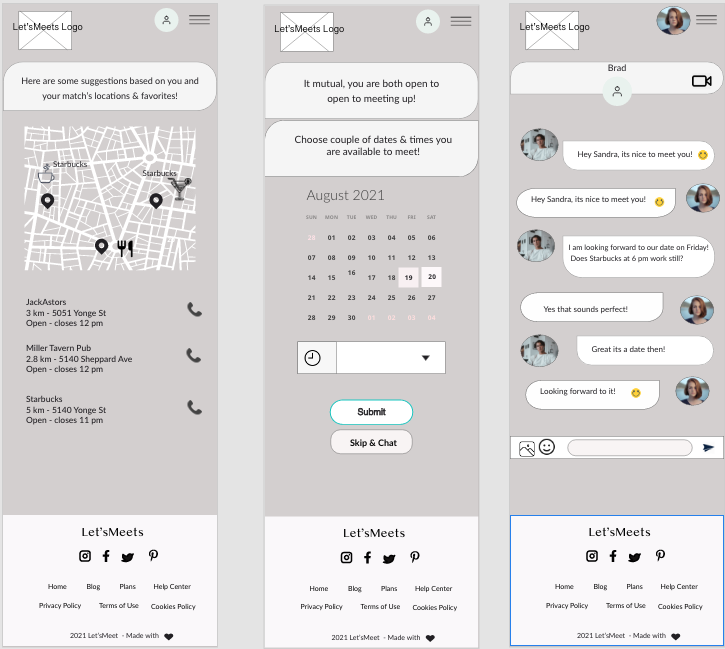 Prototype
I conducted 7 live usability tests with target user participants. I observed each participant as they completed the tasks and answered any questions they had. I welcomed any feedback and recommendation to improve the user experience of the product.
These tests provided valuable insight and a live simulation of the navigation and usability experience of Let'sMeet.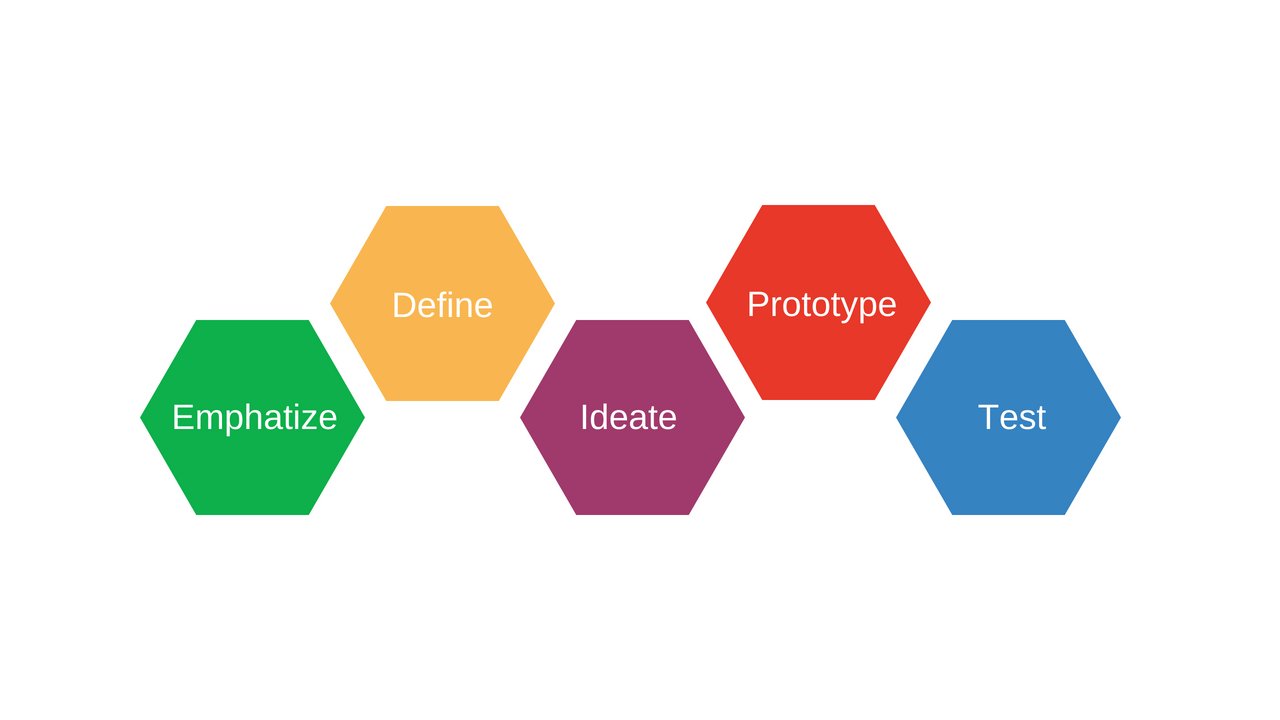 Project Reflection
Having managed the entire project has allowed me to truly experience the design thinking process from identifying a problem, research, design and testing.
What I learned from this experience is the ability to approach a user need in any product segment and industry, and create a solution that meets this specific need.
Creating Let'sMeet is an example of how to approach a problem in the competitive online dating space, and come up with a new solution that helps users experience online dating in a different way!