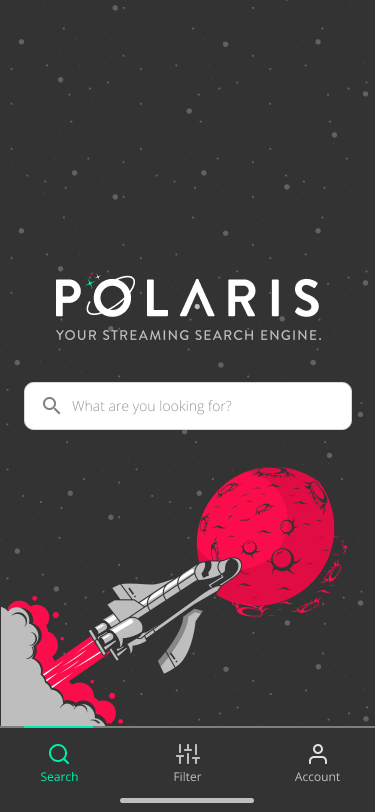 Overview
With all the choices we have in 2021, it can be overwhelming to find where specific programming is streaming in order to access it right away. Now more than ever, instant gratification is king. The number of streaming services consumers have to choose from can be paralyzing. Users may become frustrated, resentful, or resort to piracy if their content of choice is too difficult to access.
Client: Keegan Bird

Time: 6 Weeks (February - April)

Role: Lead UX/UI Designer: Research, Design & Testing

Tools: Figma, Invision, Miro, Adobe Illustrator & Photoshop
Main Challenge
Users become frustrated when they can't find the programming they are looking for in an easily discoverable way.
Solution
Create a way that users can easily discover where a specific movie/tv show is streaming, with an option to filter by subscription and/or save searches. Polaris -Your Streaming Search Engine.
Polaris
Polaris is a mobile application allowing users to find where their favorite programming is currently streaming. Polaris gives users the ability to filter by subscription and the option to create an account to save their searches. The saved tab quickly reminds users of which platforms their content is available on, in order to watch at a later date. Think of Polaris as your personal streaming search engine.
Secondary Research
To get an idea of where to start, I began researching how an excess of streaming platforms is impacting the everyday individual. From my findings, I discovered key takeaways including:
"One of the biggest headaches with watching shows (whether on cable or through a streaming service) is finding what you want."

"Consumers are frustrated by the growing costs, along with the experience of having to hunt and peck through an endlessly shifting sea of exclusivity arrangements and licensing deals that make it difficult to track where your favorite show or film resides this month."

"For the first time in many years, there's growth in online piracy of film and TV. Experts say consumers are getting sick of paying for yet another streaming service."
Based on this information, I created a research plan to get primary research for user interviews.
Research Plan
Identify potential users and find solutions to improve the speed and accessibility of streaming specific entertainment content.
Find out:
What causes the most frustration and resentment when trying to access programming in 2021?

How long of a process is it for an individual to find and access the content they are looking for?

How many individual streaming services are people willing to purchase to access all the content they desire?

Screener Survey
I sent out a screener survey via social media to assess the demographic I was looking for. Since the topic is something most of the population has experience with, I had plenty of interviewees to choose from. Out of 31 responses, five were interviewed to better understand user pain points and behaviors toward finding where to watch/stream specific programming.
Interview Questions
Can you tell me a story about a time you felt excited to use a streaming platform?

Can you tell me a story about a time you felt frustrated with a streaming platform?

If you were unaware of where (insert show/movie from above) is available, can you take me through the process of how you'd find out where to watch it?

How long would a search like this typically take you?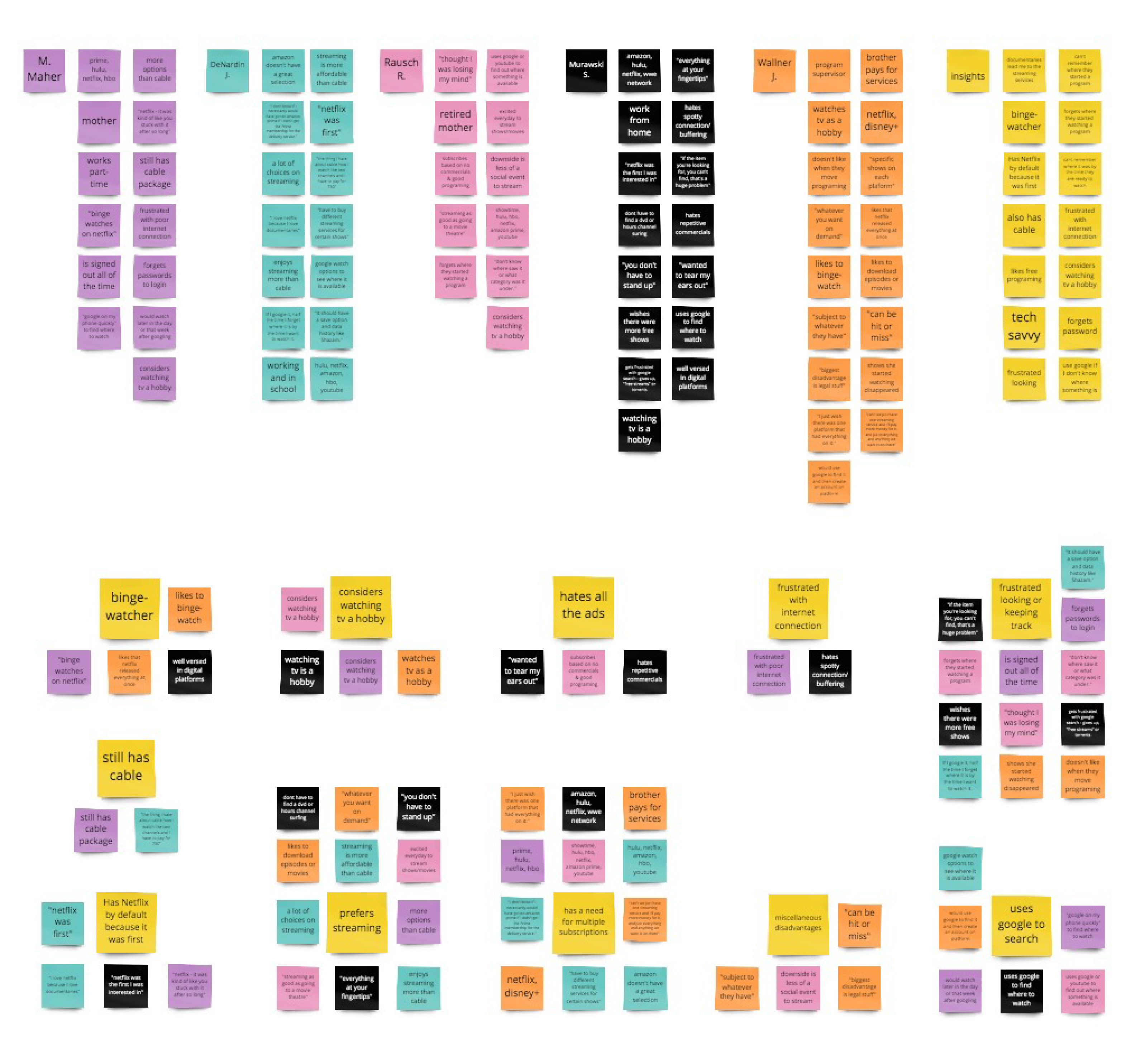 Affinity Maps
I analyzed the interviews to pick out the main quotes from each interviewee, in order to group similar findings and understand the relationship between the groups of data.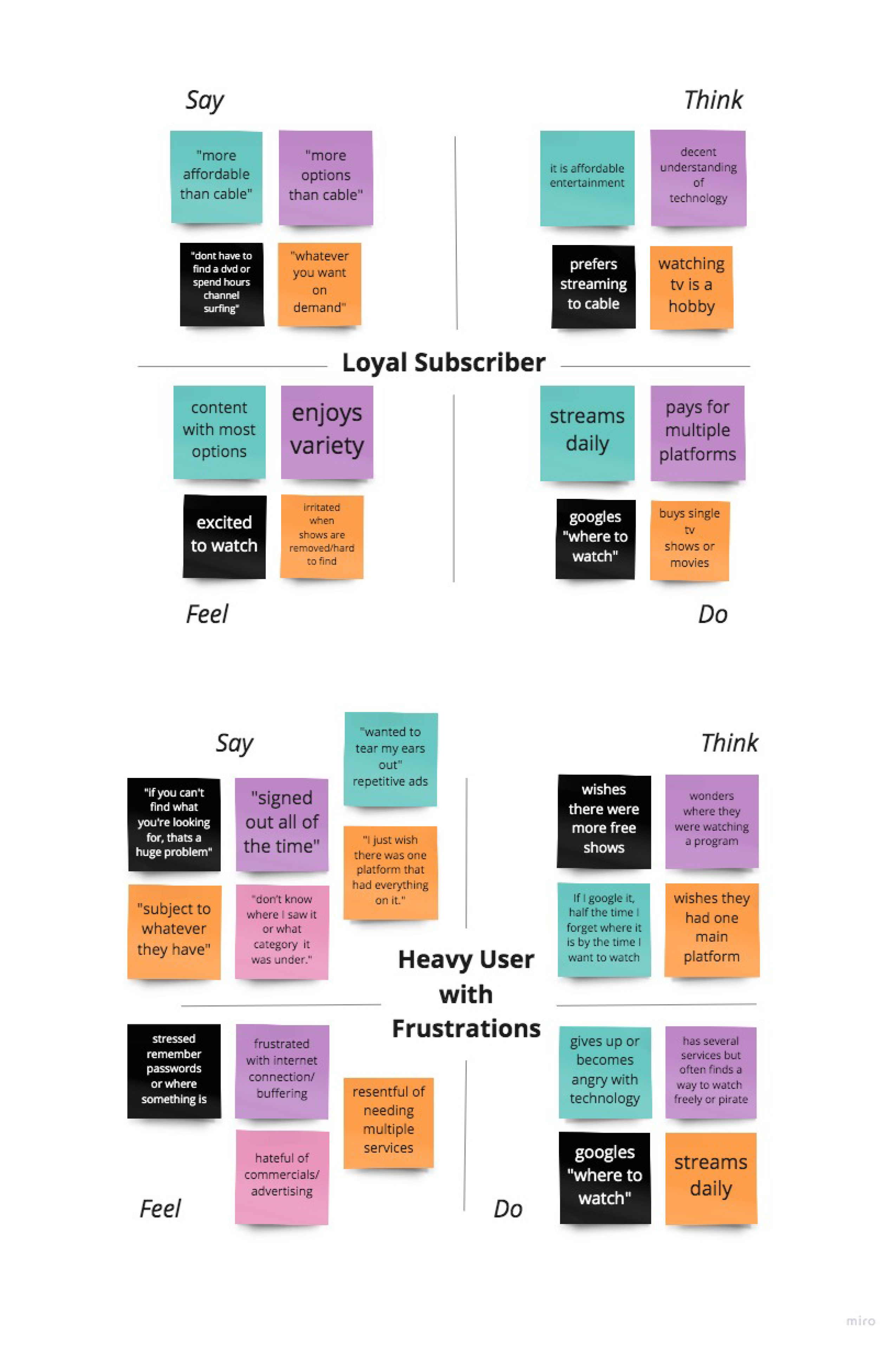 Empathy Maps
Empathy maps were created to better understand user needs. These maps were a visual guide to help organize insights, observations, and important quotes collected from the interviews. Through this, I was able to narrow down users' most common feelings, thoughts, and behaviors. This allowed me to identify two main personas (each with overlapping themes).
Insights included:
Users become easily frustrated when they can't find a program they are looking for.

Users get irritated when shows move or are removed.

Users have trouble remembering passwords.

Users have trouble remembering where they started watching a program/where programming is.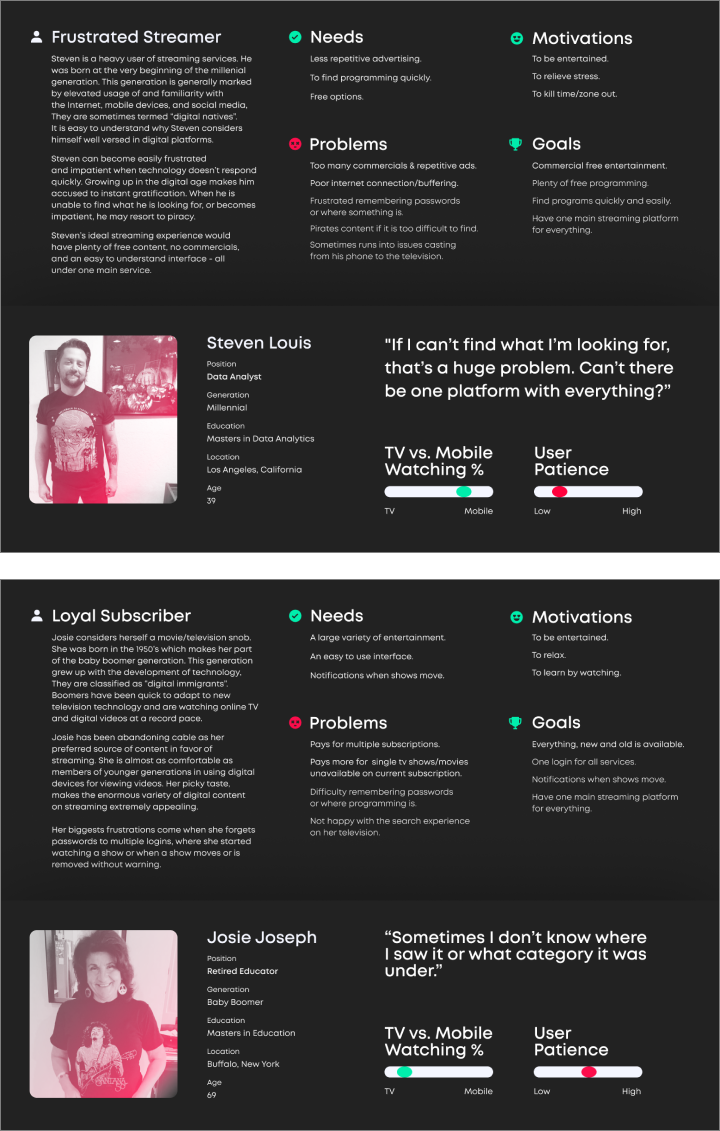 Personas
I was able to identify two main personas based on my research. This enabled me to make decisions throughout the design process based on the end users' challenges, motivations, needs, and goals.
The Frustrated Streamer
Too many commercials & repetitive ads.

Poor internet connection/buffering.

Frustrated remembering passwords

or where something is.

Pirates content if it is too difficult to find.

Sometimes runs into issues casting from his phone to the television.
The Loyal Subscriber
Pays for multiple subscriptions.

Pays more for single tv shows/movies unavailable on her current subscriptions.

Difficulty remembering passwords or where programming is.

Not happy with the search experience on her television or mobile device.
Problem Statements (How Might We...)
Now I was able to narrow down the problems I was looking to solve, including:
How might we find where a show is available/streaming quickly and easily?

How might we create an experience where all streaming options appear in one place?

How might we create a way for users to save their searches so they can watch them at a later date?
User Stories
As a user, I want to be able to choose to skip login so I can quickly find out where a program is streaming.

As a user, I want to be able to filter my searches by which streaming services I currently have so I can watch programming quickly.

As an unregistered user, I want to have the option to create an account, so I can have a profile to save my searches when I forget where a program is currently streaming.

As a registered user, I want an option to save my password so I don't need to log in every time.

As a user, I'd like a way to bundle all my streaming services in one easy-to-use interface, so I don't have to check each individually for programming.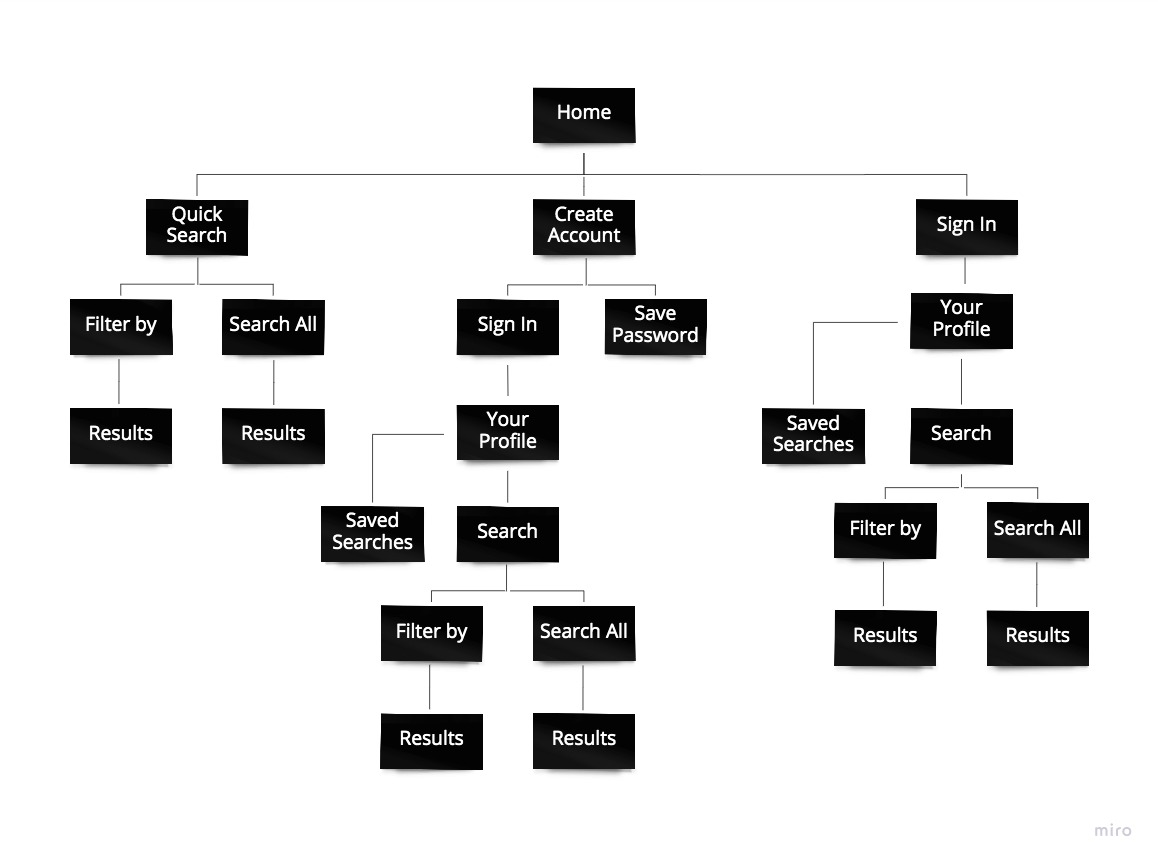 Sitemap
After reviewing everything I was able to identify three high-priority user stories, which helped me create my sitemap.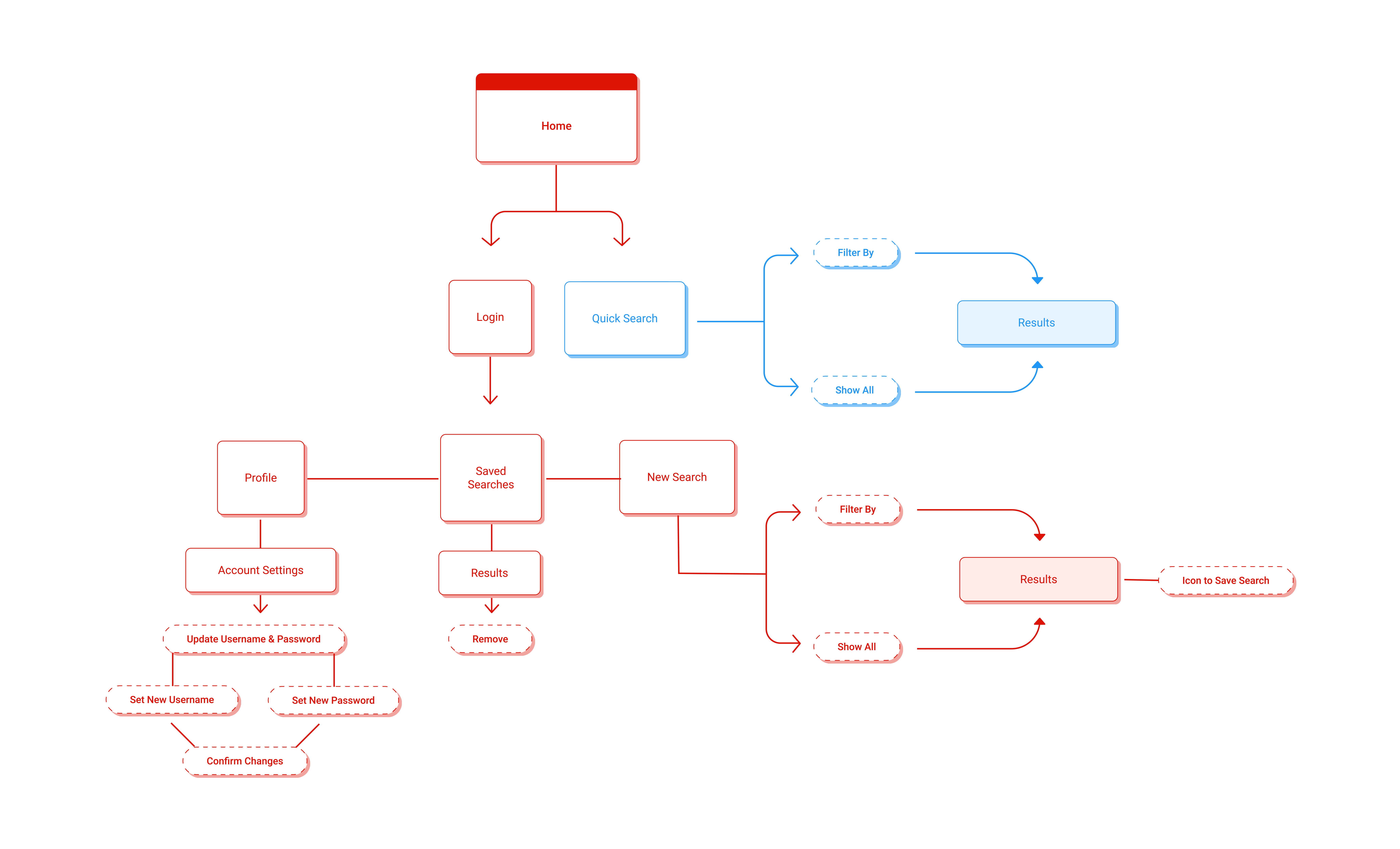 User Flows
Red routes are the critical and frequent paths that users take to complete tasks within the app.
Guest User Search Red Route: Search for where a tv show/movie is currently streaming (show all option or filter).

Create an Account Red Route: Sign up and create an account.

Registered User Red Route: Log in to account in order to save tv show/movie streaming search results.
Sketches
Based on my red routes, I put pen to paper again to sketch the key screens and user flow on an iPhone template to get an idea of the layout I wanted to use.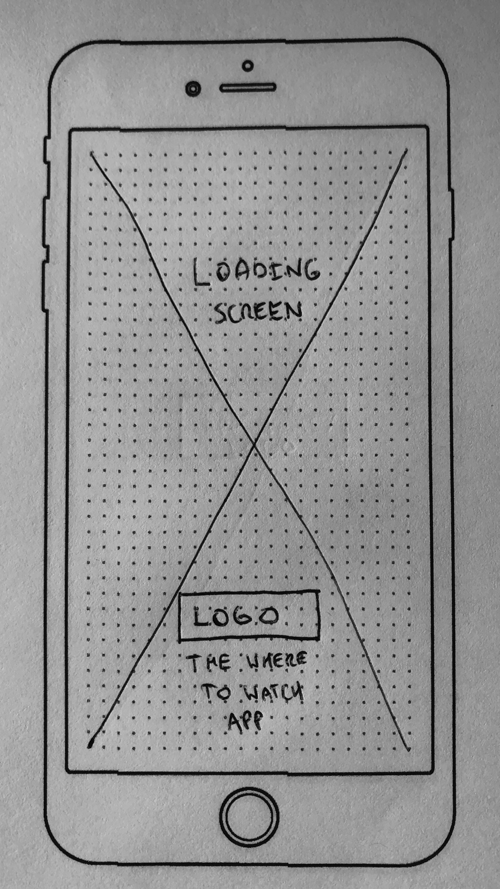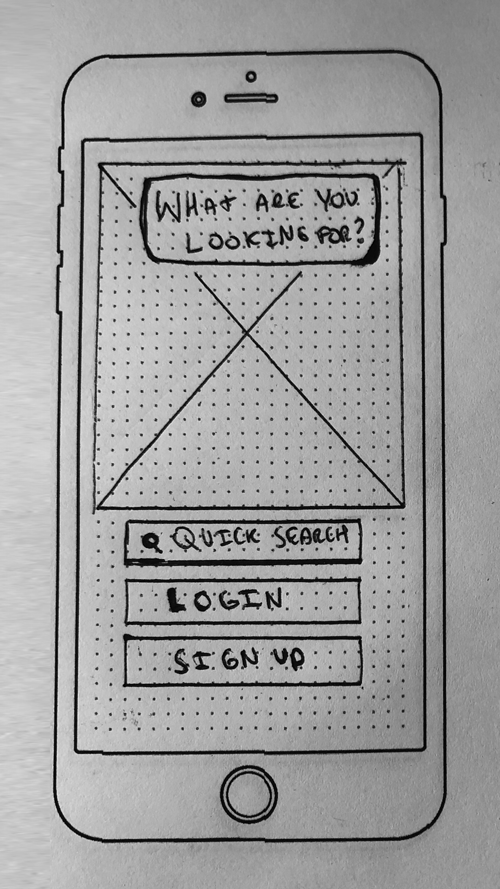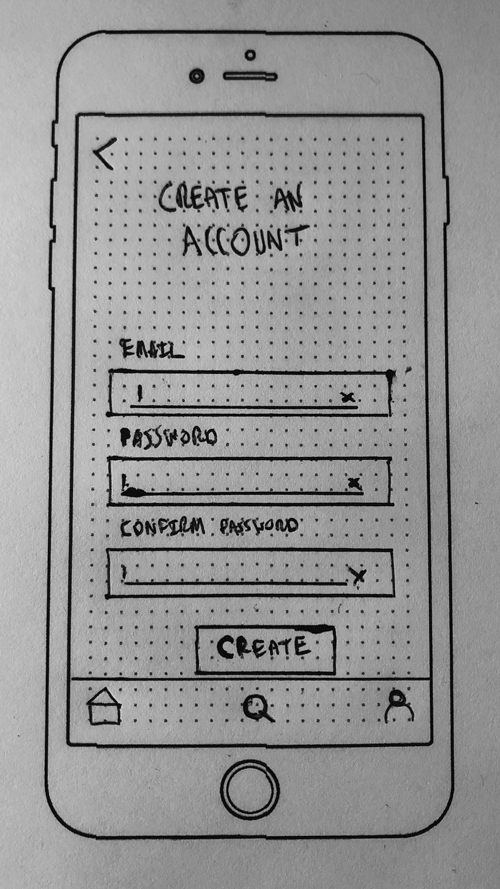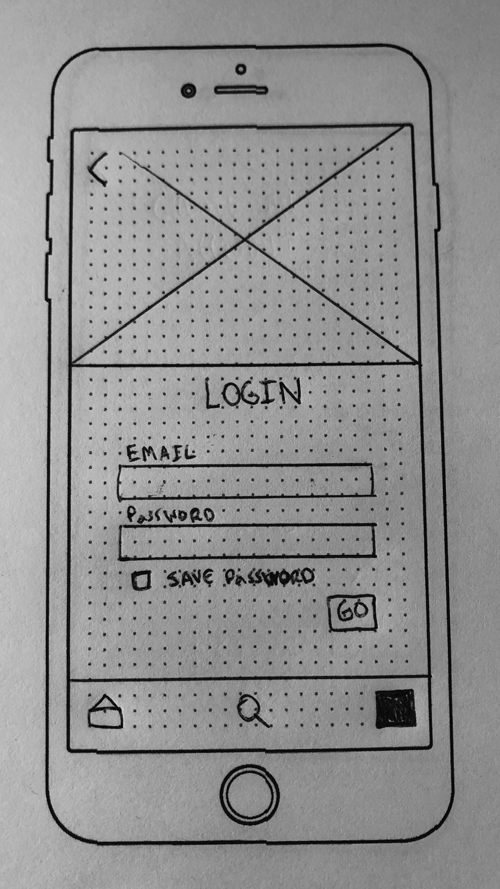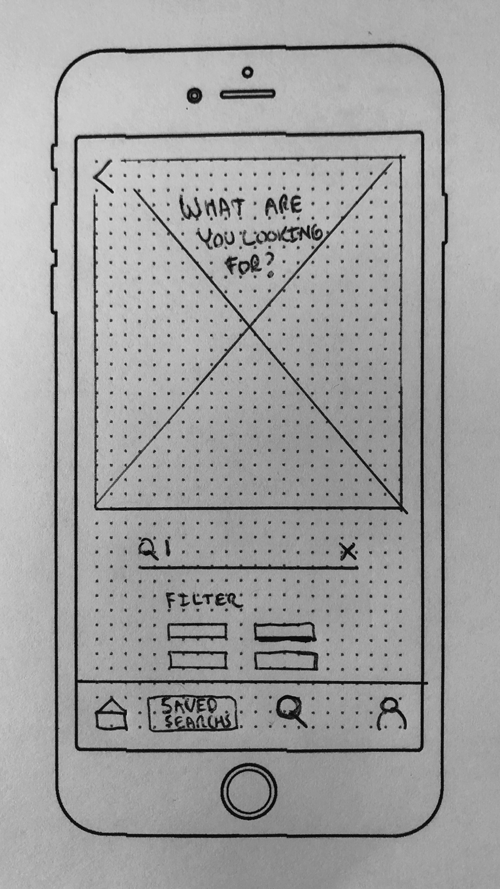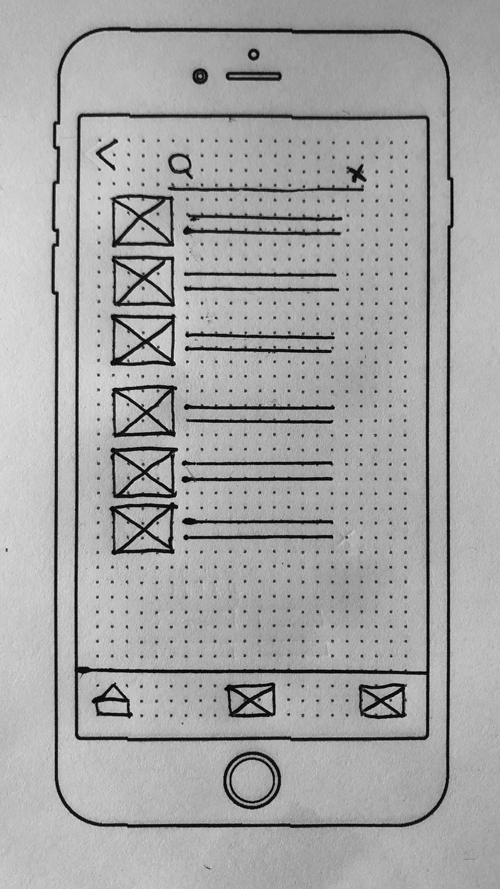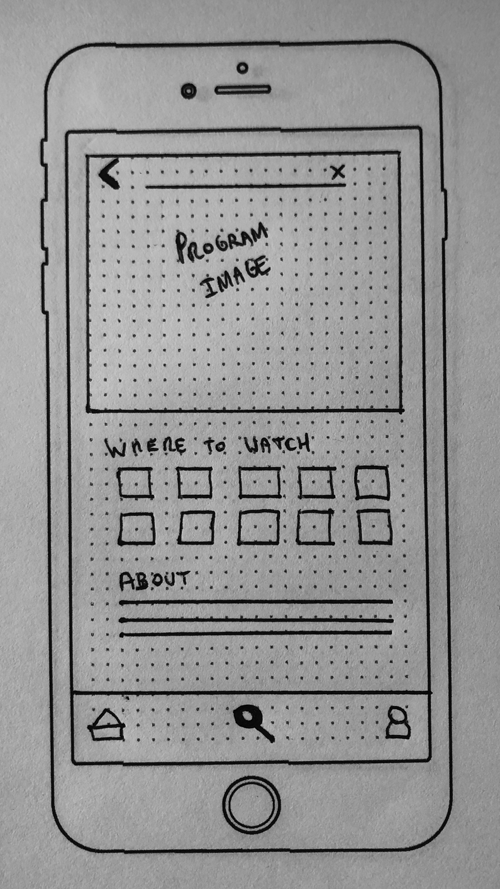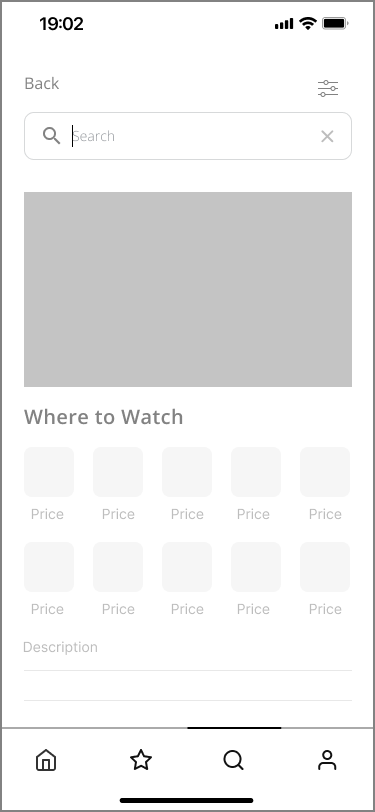 Low-fi Wireframes
Now it was time to transfer my sketches to the screen. Using Figma, I began designing my low-fi wireframes. I focused on hierarchy, size, spacing while referring back to my two main personas to stay on track.
Branding
As a graphic designer with over 13 years of experience, I was now onto the portion of the project I am most familiar with - branding. Thinking back to the end-user, I wanted the look and feel of the final product to be minimalistic and effortless. I wanted the application to look and feel like a respite in a user's day - not another hassle.
Brand Vision
Polaris: Your streaming search engine.
Brand Attributes
Intriguing

Straightforward

Reliable

Minimalistic

Effortless
I wanted the brand to feel intriguing while being straightforward and minimalistic in design. When a product is intriguing, it makes it more enjoyable to use regularly. When a product is straightforward and minimalistic, it provides an air of confidence to the user, creating an effortless experience they can rely on time and time again.
Brand Mission
Polaris makes the process of finding entertainment effortless. Search, save and organize where your favorite programs are currently streaming.
I chose this mission/vision because it encompasses exactly what the app can be used for in a barebones way. This brand should exude simplicity while allowing users to be in control of their experience.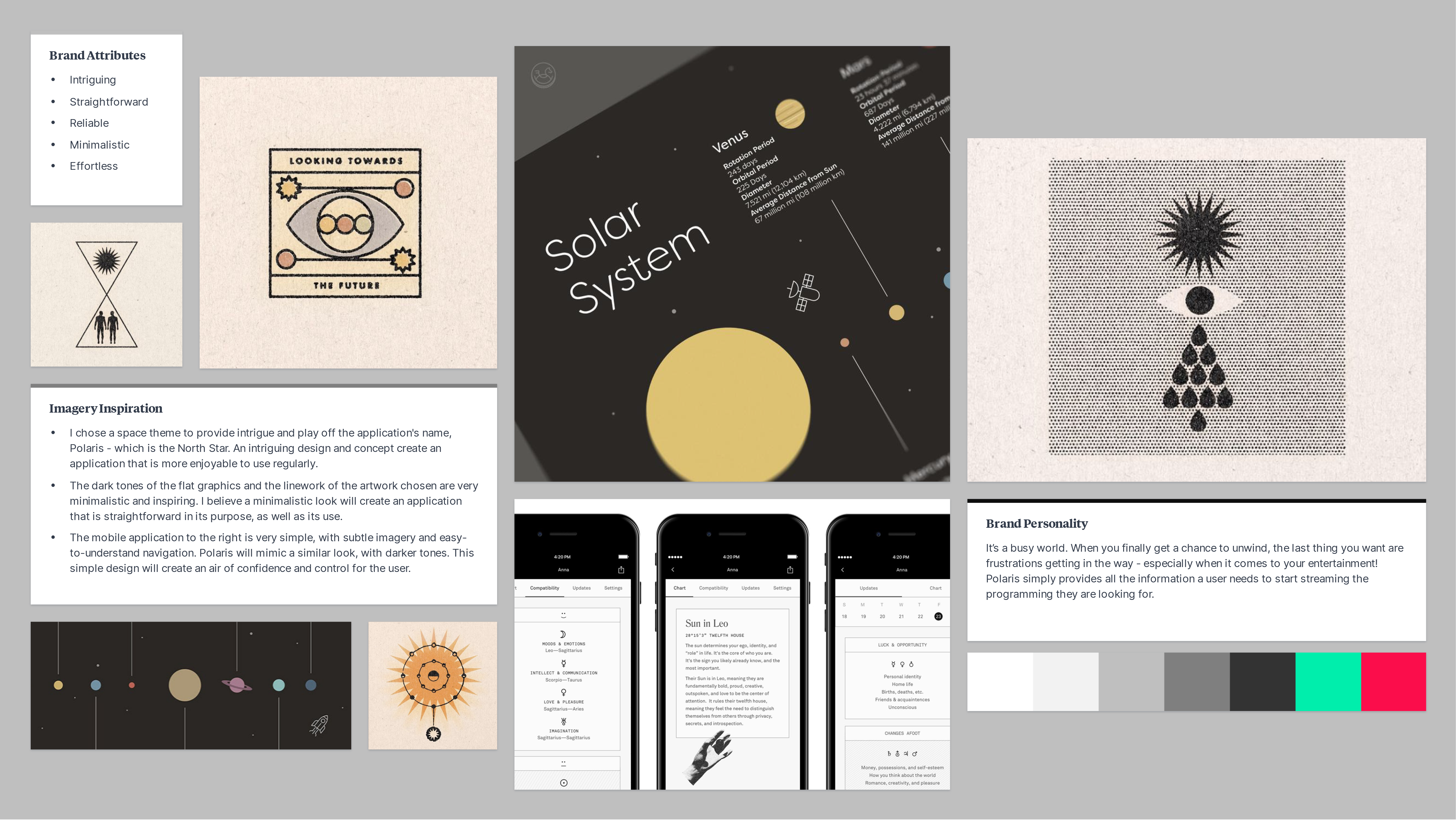 Moodboard
I chose a space theme to provide intrigue and play off the application's name, Polaris - which is the North Star. An intriguing design and concept create an application that is more enjoyable to use regularly.
The dark tones and flat graphics are minimalistic yet imaginative. I believe a minimalistic look creates a product that is straightforward in its purpose, as well as its use.
The simple design and minimal actions on the app allow for ease of navigation, creating an air of confidence and control for the user.
Style Guide
The style guide is something I had to pull myself away from after a while. As a graphic designer, it is sometimes easier to design for others than for yourself. I was very picky about every decision I made regarding the logo, logo mark, color palette, grid, and iconography.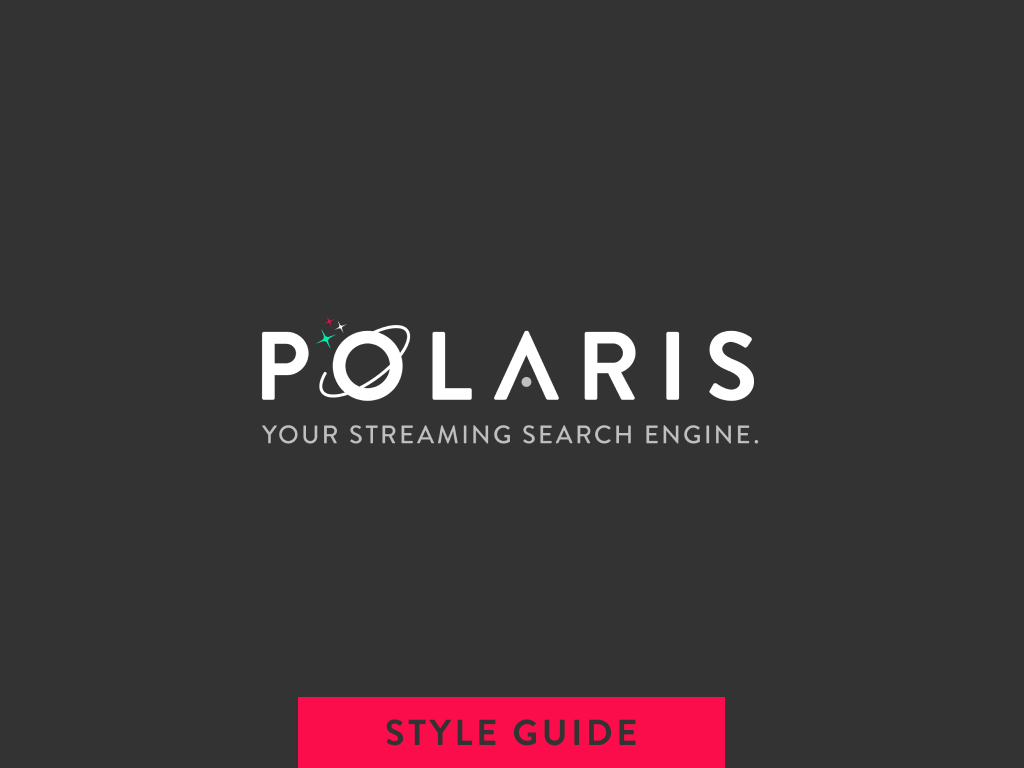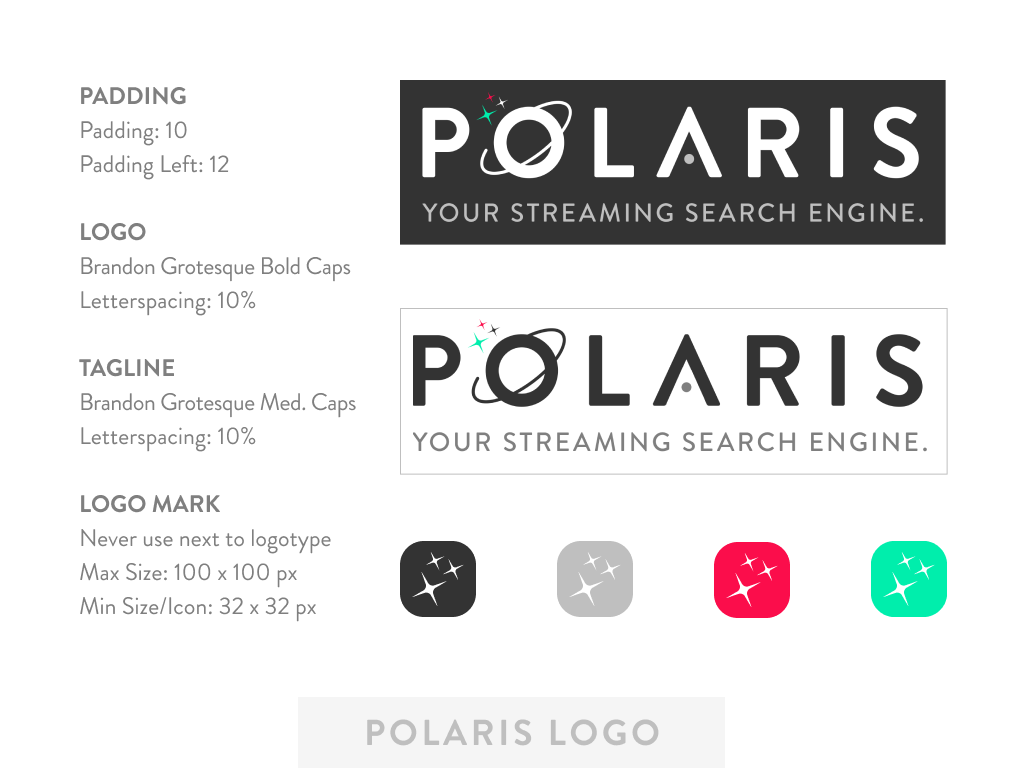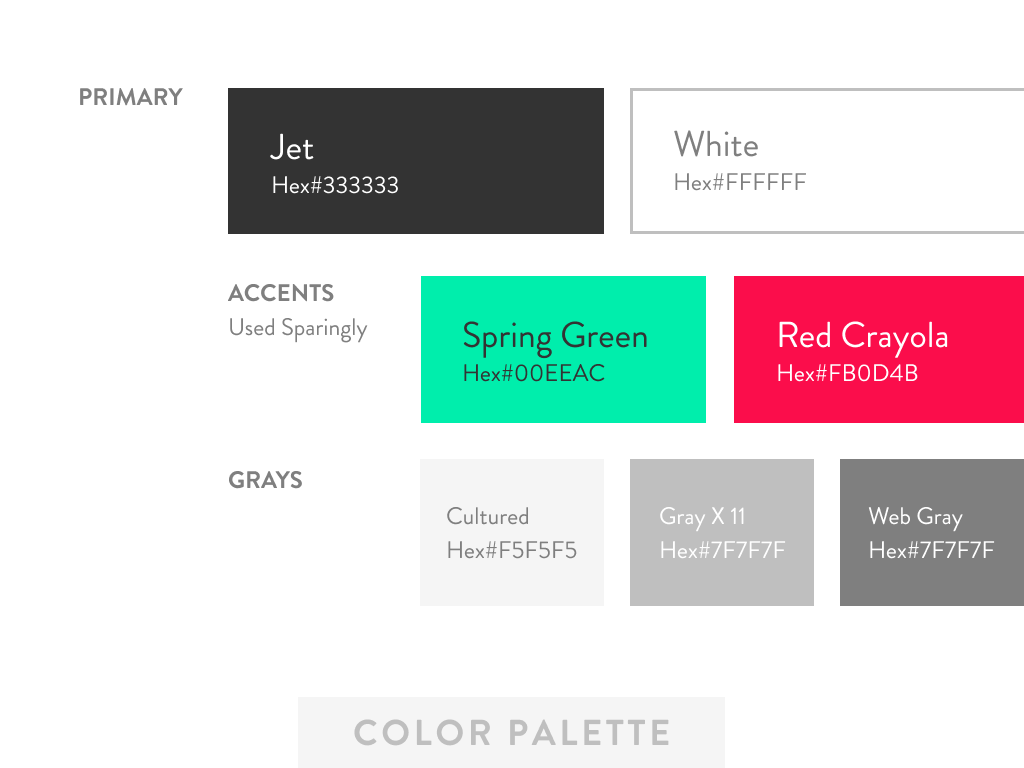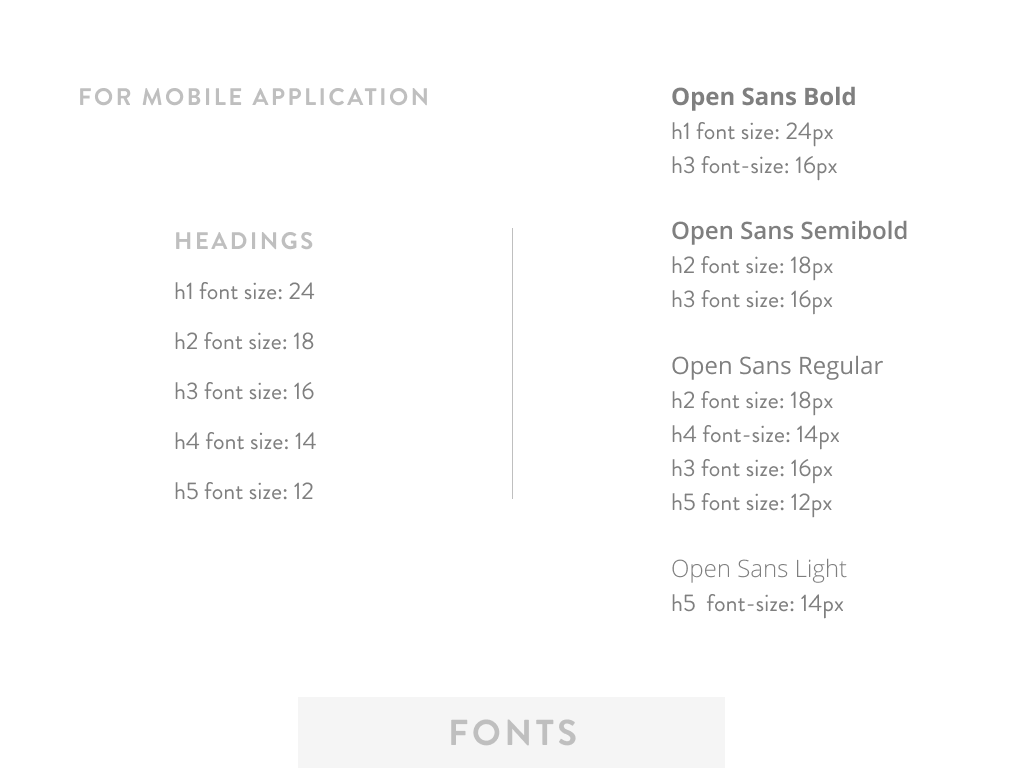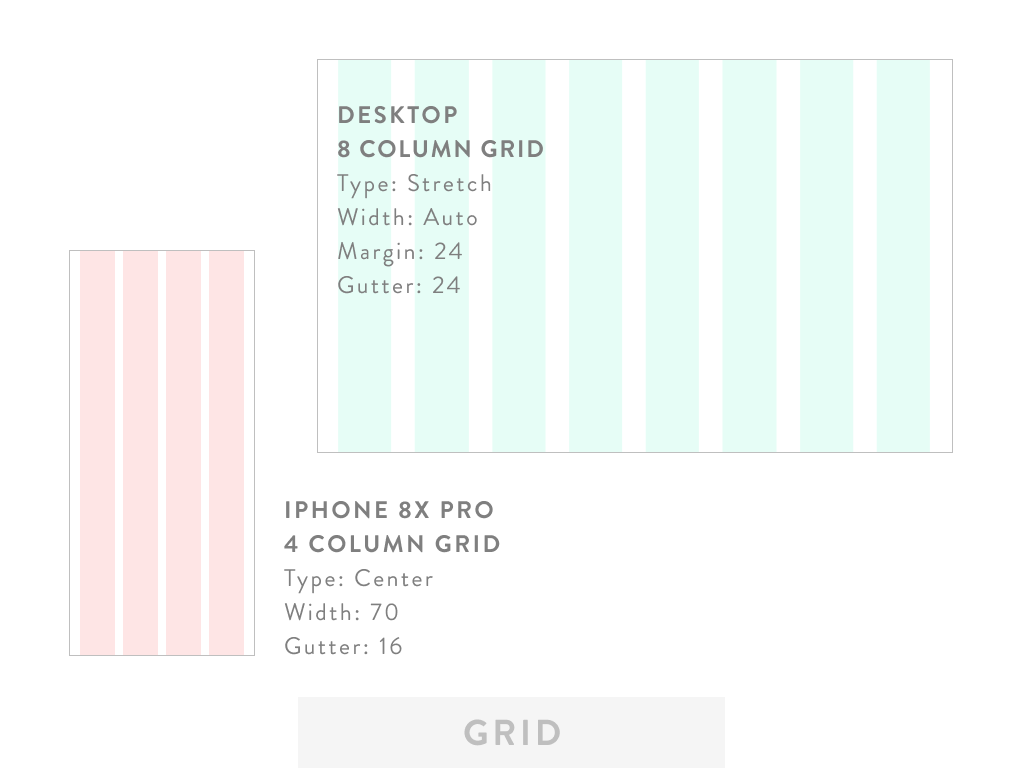 High Fidelity Screens
Next, I used my original grayscale wireframes as a blueprint to enhance the user interface according to my style guide.
I ended up with 17 total screens across three red routes. See below for a few of the main screens.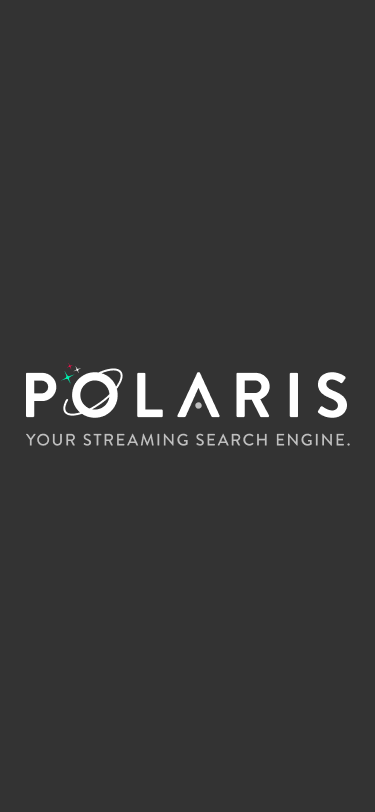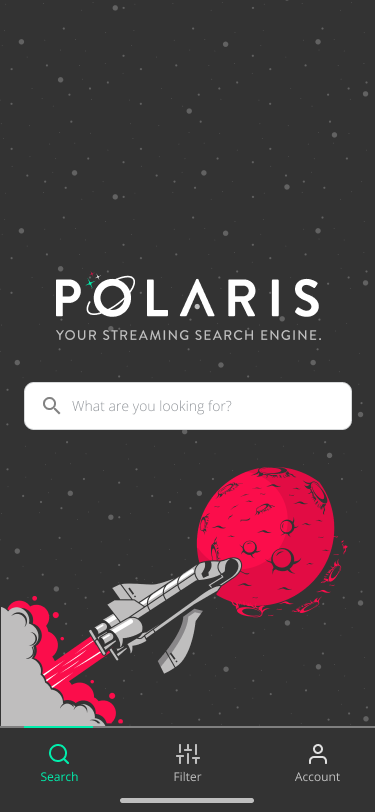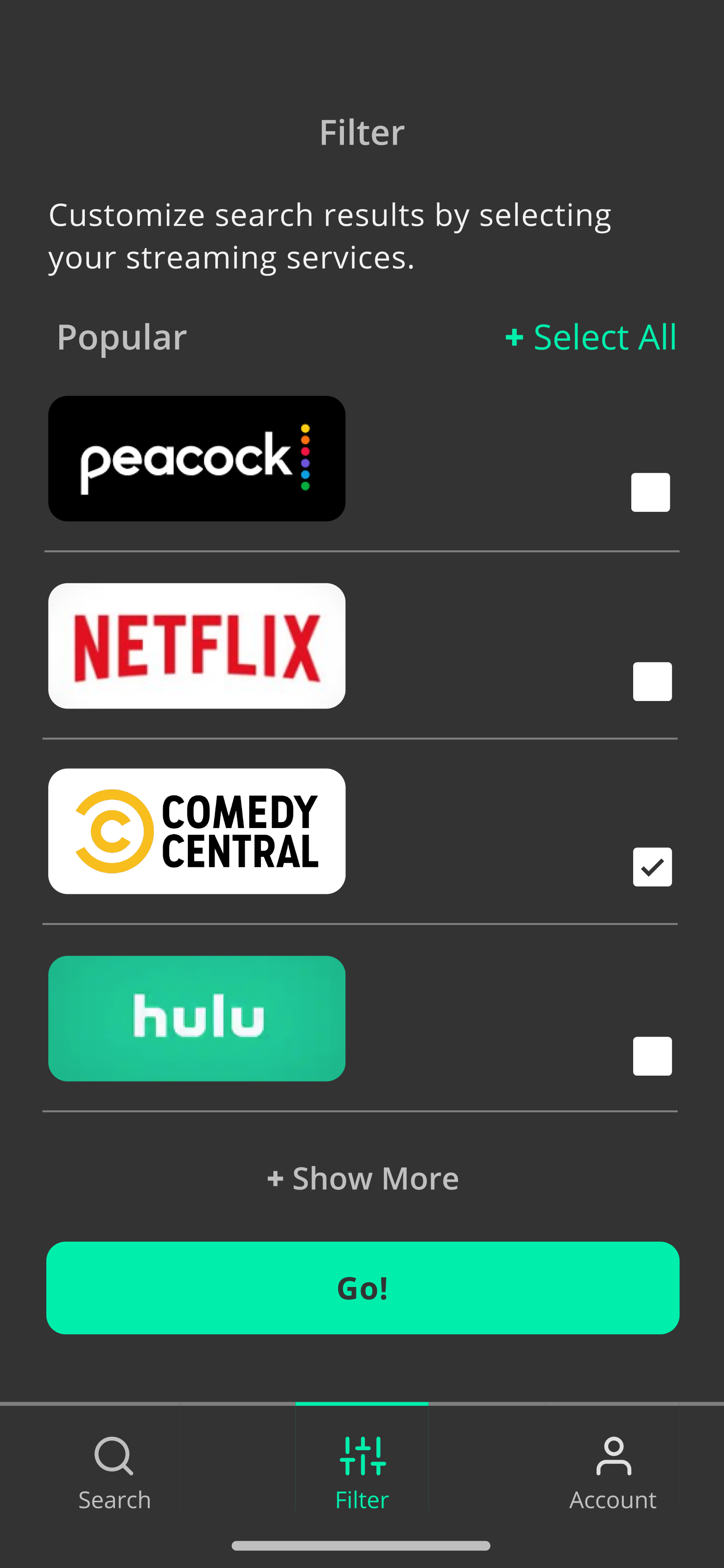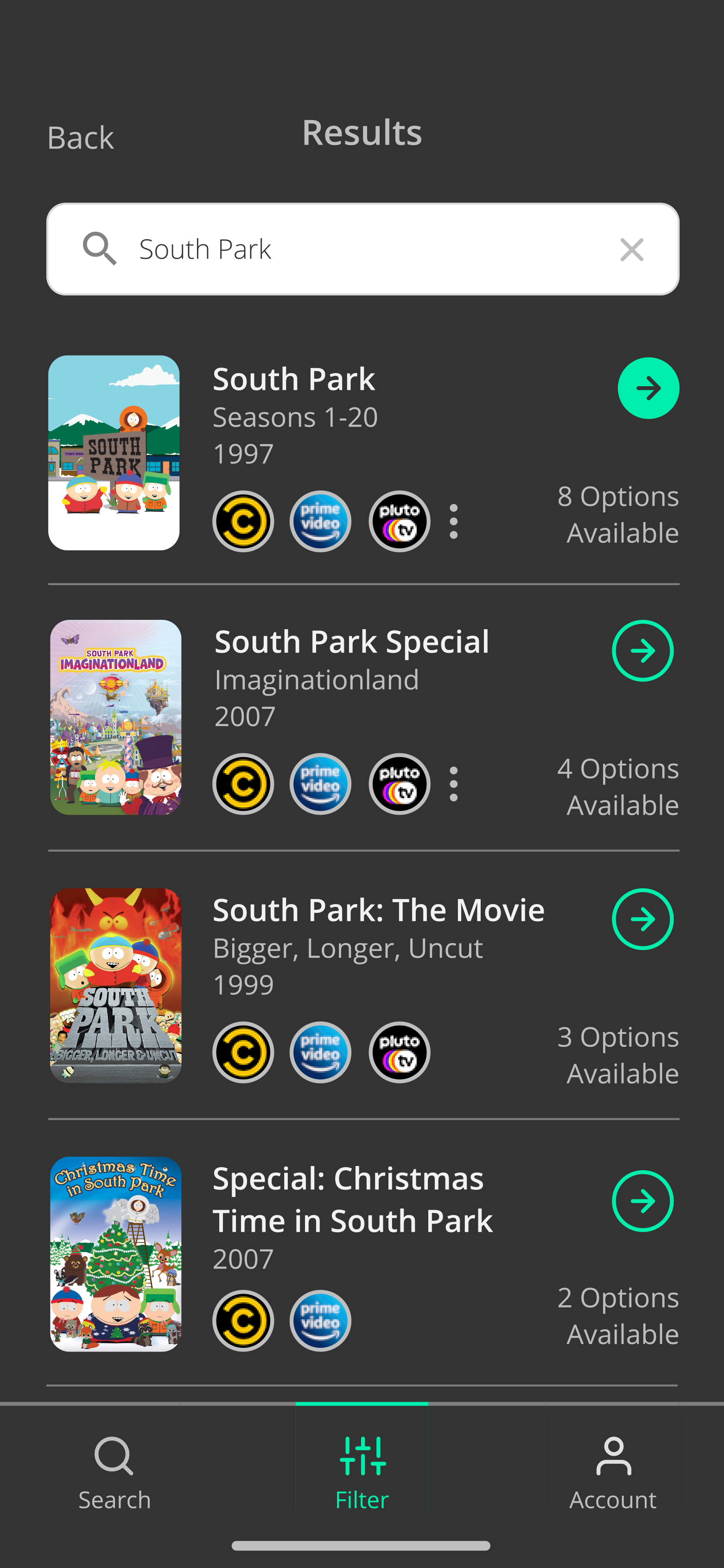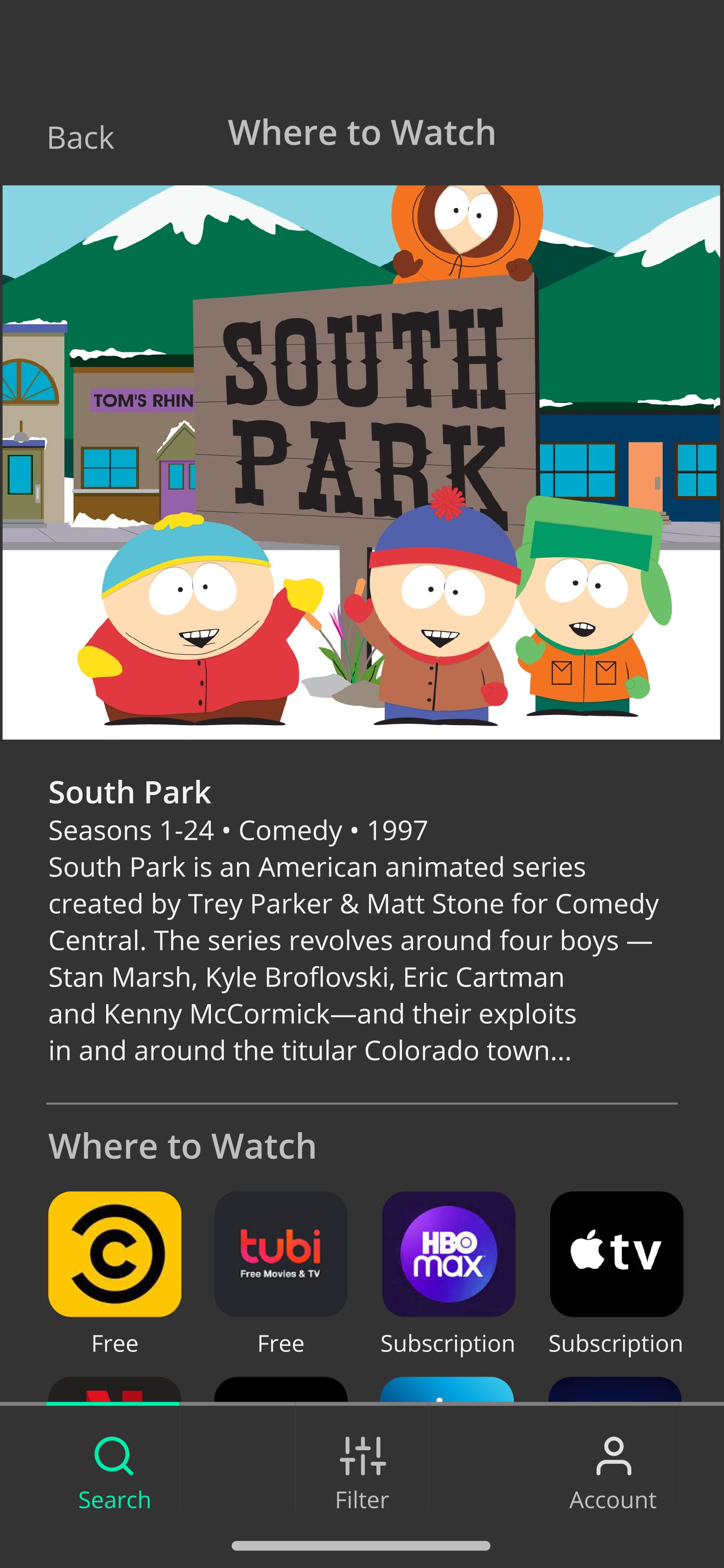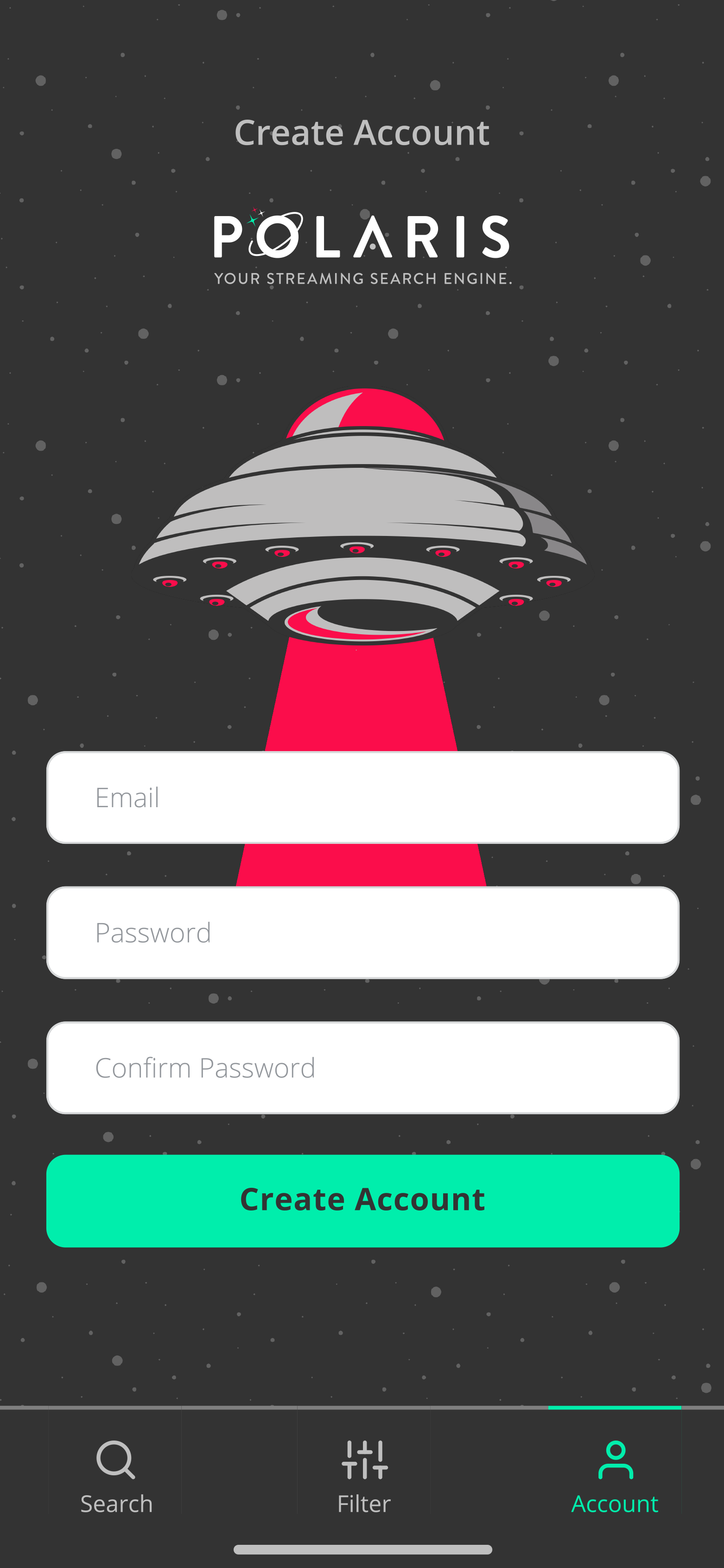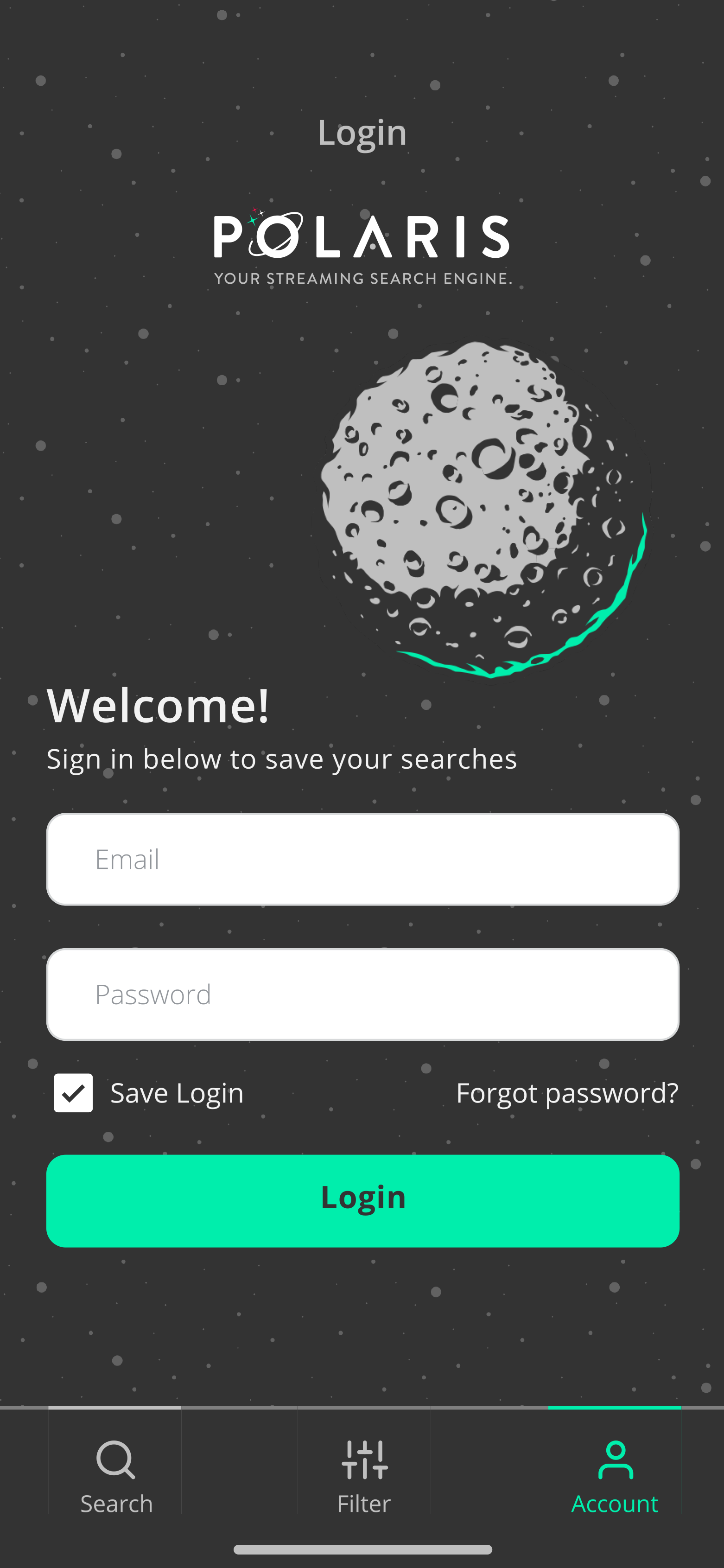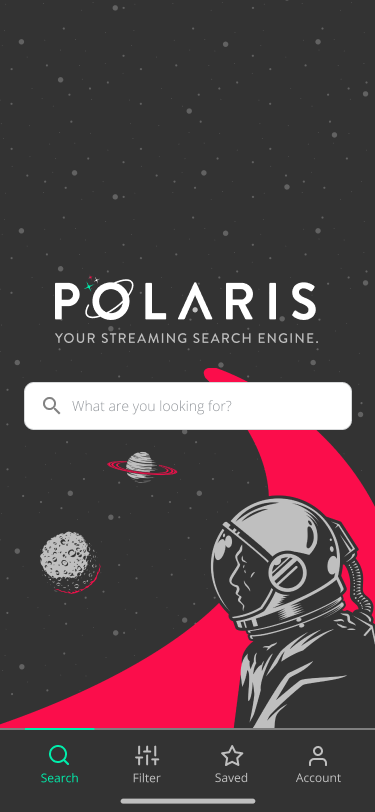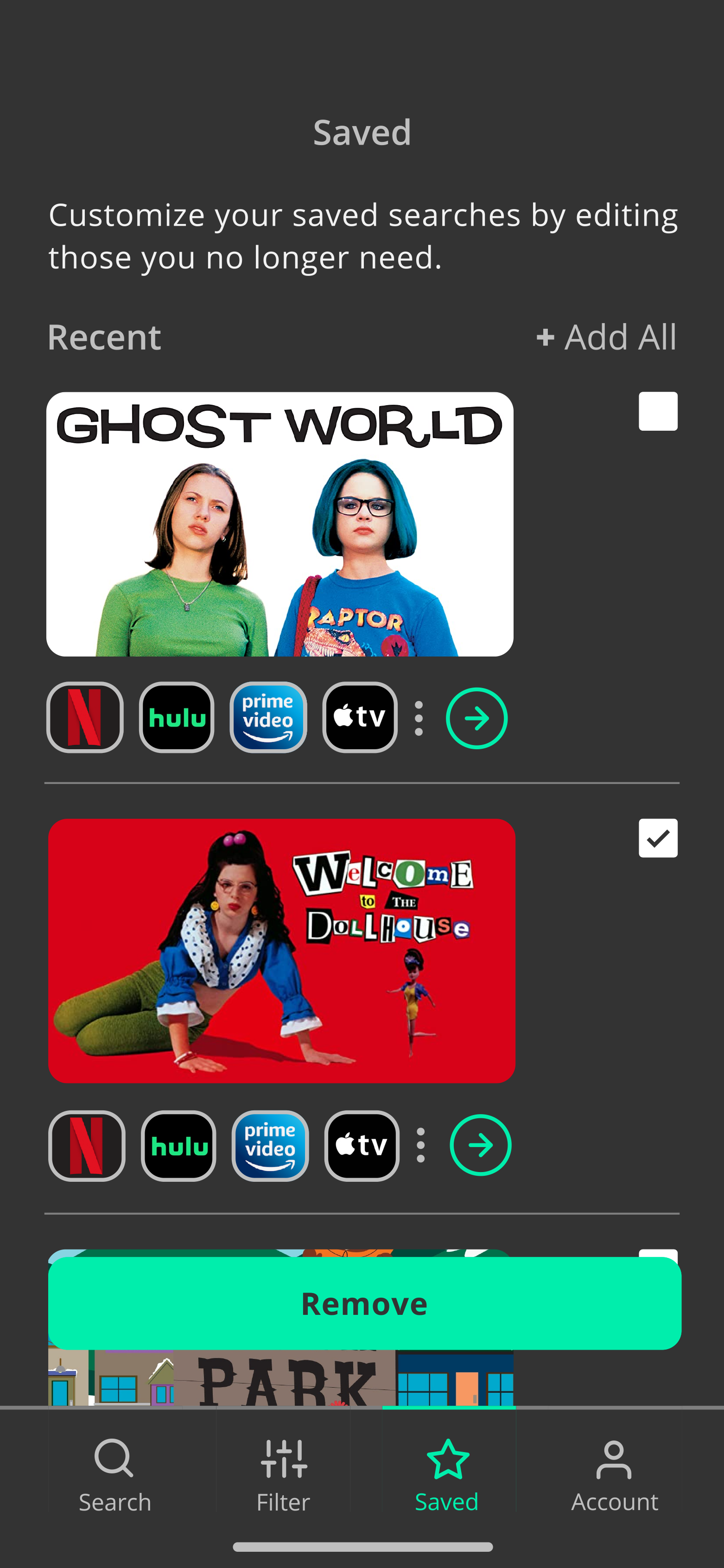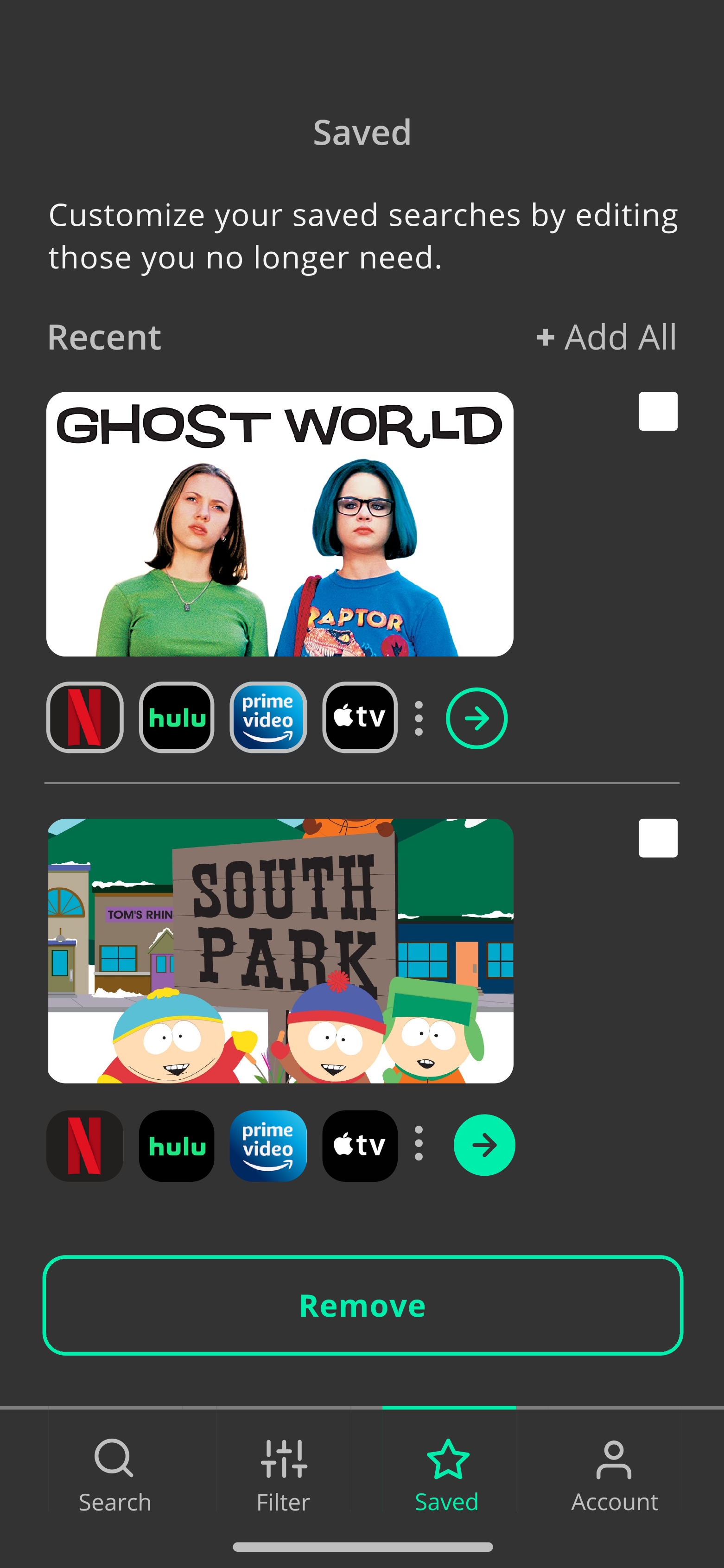 Prototype
The next step was uploading my screens to Invision to begin building the prototype. From here I created action buttons on top of my screens and began recruiting five participants for the testing process.
Testing the Prototype
Identify if the overall purpose of the app is apparent without overexplaining

Find solutions to problems that come up while testing red routes

Find out impressions on the aesthetics of the application
Some areas I was concerned about were mainly related to how users interacted with the prototype. I managed to tackle these before sending out the app to be tested. For example, I included adding text to the search box when a user clicked inside of it to mimic typing the title of what is being searched for. Some other areas I was concerned about included the "filter" button and the "removed from saved" task being confusing.
Test Questions & Tasks
Can users complete the process of filtering a search by service?'

Can users understand how to create an account?

Can a logged-in user find the saved tab and understand how to edit/remove titles?
Interview Feedback
I gained great feedback from all five participants interviewed. After reviewing all my notes, there were only a few minor changes that needed to be made at this stage.
Quotes:
"I like that it's simple and to the point. It looks clean."

"I like an app that's easy to use, and that's what I like about it."

"It feels straightforward. It's easy to figure out what to do. It feels intuitive to other apps."

"I think design is fantastic. It really matches the spirit of the app."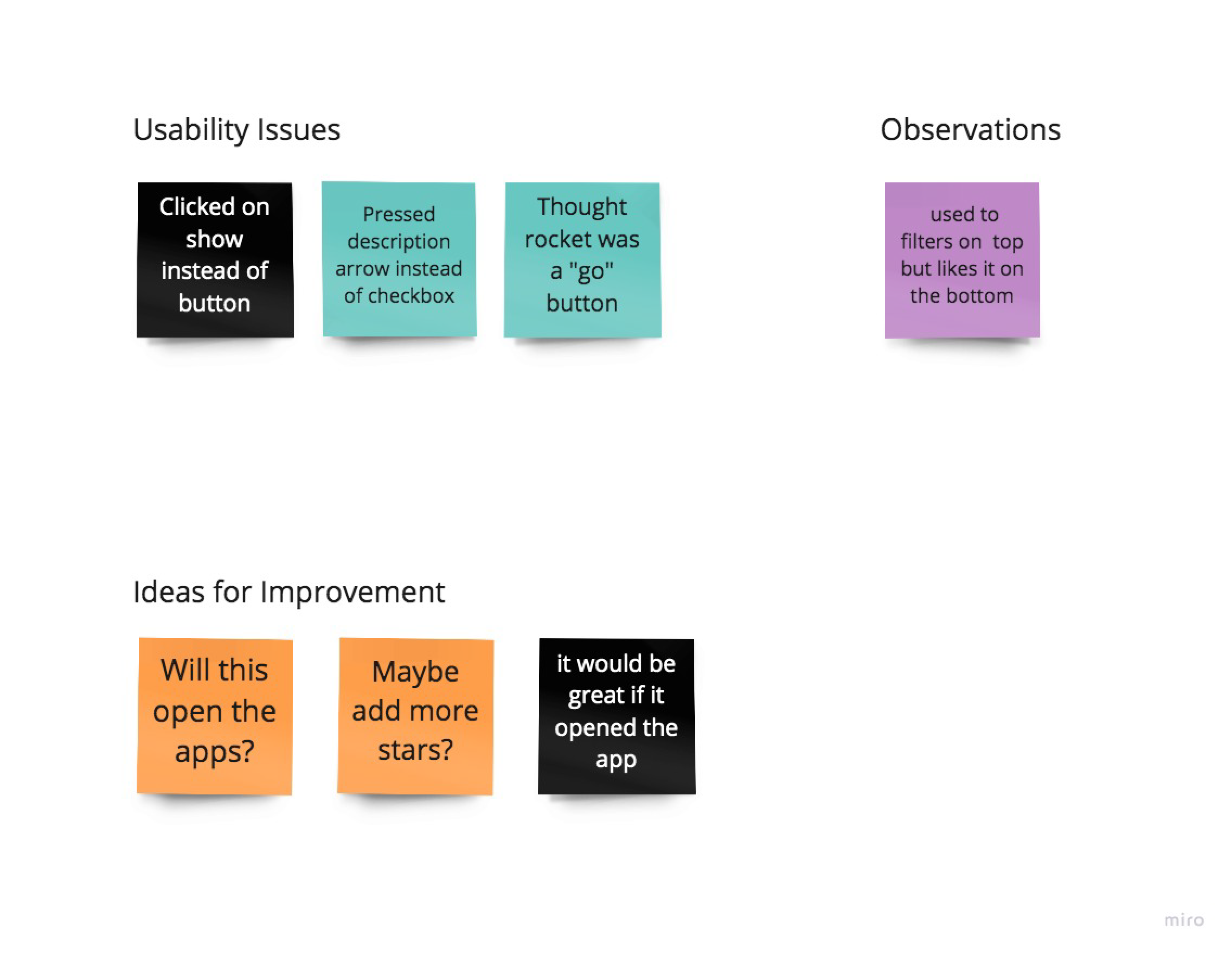 Usability Issues
• Most users thought the application was intuitive and similar to other apps. No two users had the same issue, so there were no critical or major issues reported.
• Issues mainly revolved around clicking the wrong buttons, although users were always able to complete the tasks or click the right button immediately afterward.
• The main button that was an issue seemed to be the circular arrow that takes you directly to the description.
Minor Redesign
• I made the program image a clickable button that could also take users directly to the "where to watch" page.
• I removed borders from the checkmark areas that seem to date the rest of the design.
"Happiness is the real sense of fulfillment that comes from hard work." - Joseph Barbara
Throughout the process, there were a few roadblocks that set me back, specifically when I hit the branding phase which I spent excessive time on. With my graphic design background, I knew I wouldn't feel satisfied unless I was able to showcase those skills. In the end, it turned out just as I was hoping for.
I really wanted the application to be minimal and straightforward and believe I achieved that. If I were to expand this project, I would make all the screens I have created fully functional to better enhance the prototype testing experience.
Overall the experience of creating an application from start to finish was exciting, challenging, and fascinating all at once. I wouldn't have it any other way!