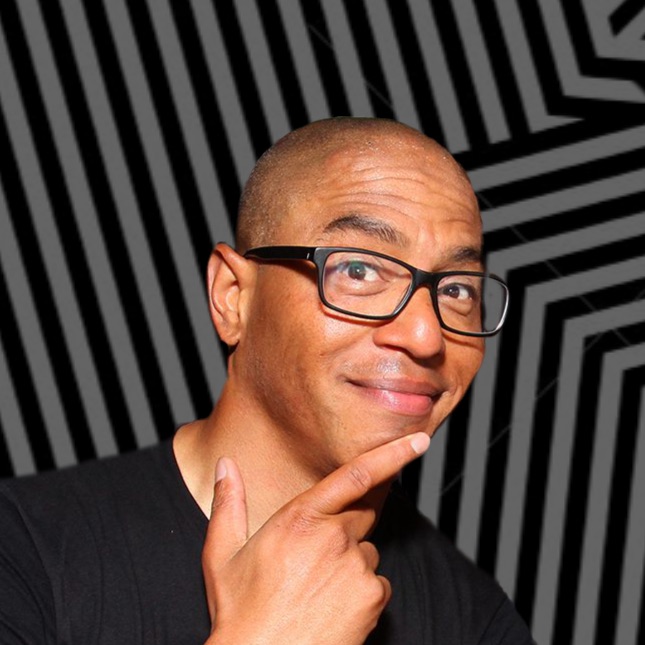 Selino V
Full-stack Product Designer
Principle Product Designer
My Journey with a $4.6M Healthcare Startup
Overview
I spent four fun-filled years as Principle Product Designer for Clariture Health, a healthcare marketing platform. It was a fast-paced startup environment with deliverables measured in weeks, not months. Here are some of the projects I tackled before our acquisition by Trilliant Health.
Pitching at Google Demo Day
Design Cycle: 1 week
The Problem
The CEO and Product Manager require impactful visuals to accompany their verbal presentation at Google HQ.
Solution
I decided to lay out the slide deck in Sketch and drop each slide into Powerpoint. Doing so would allow me to quickly iterate on high-quality visual layouts as the team made continuous edits.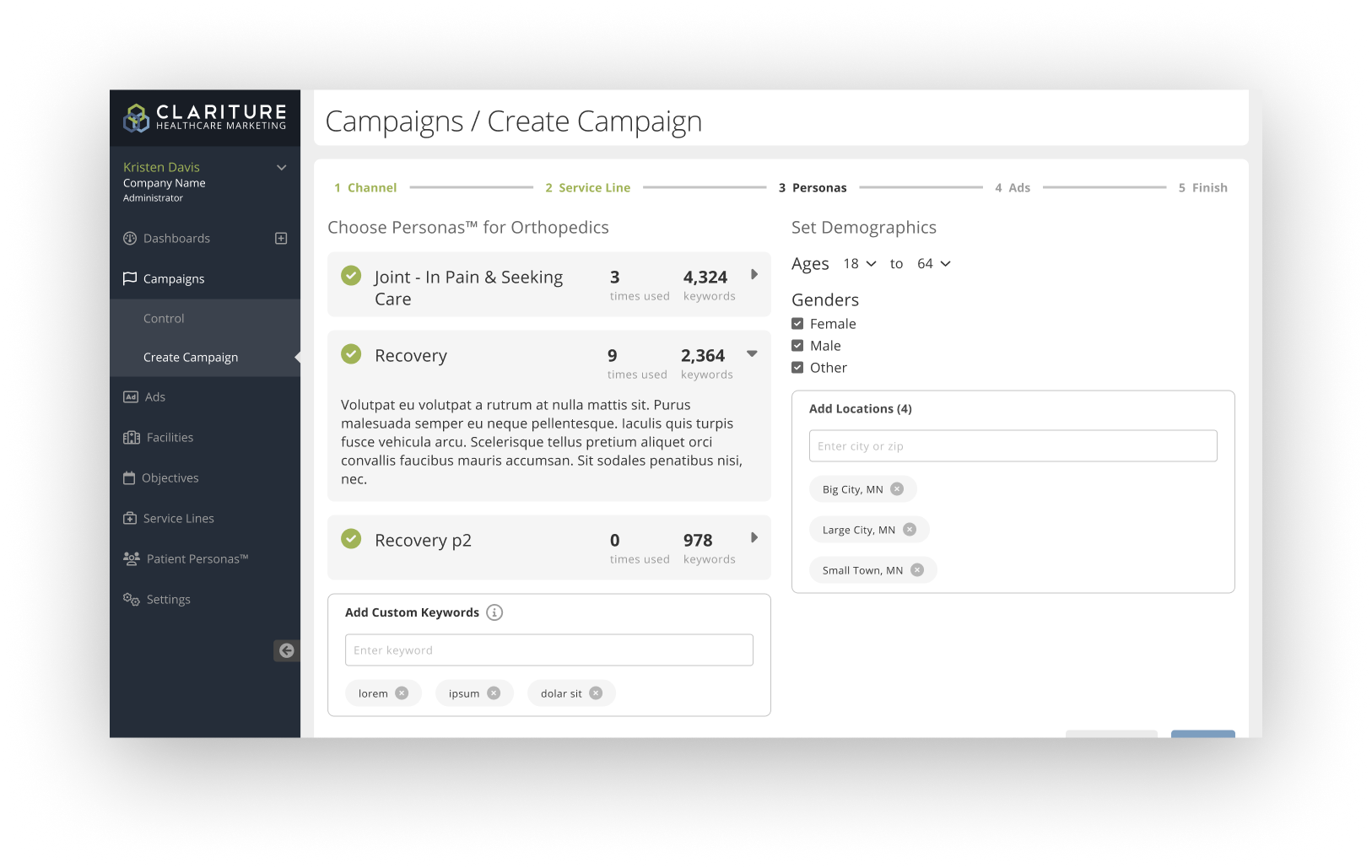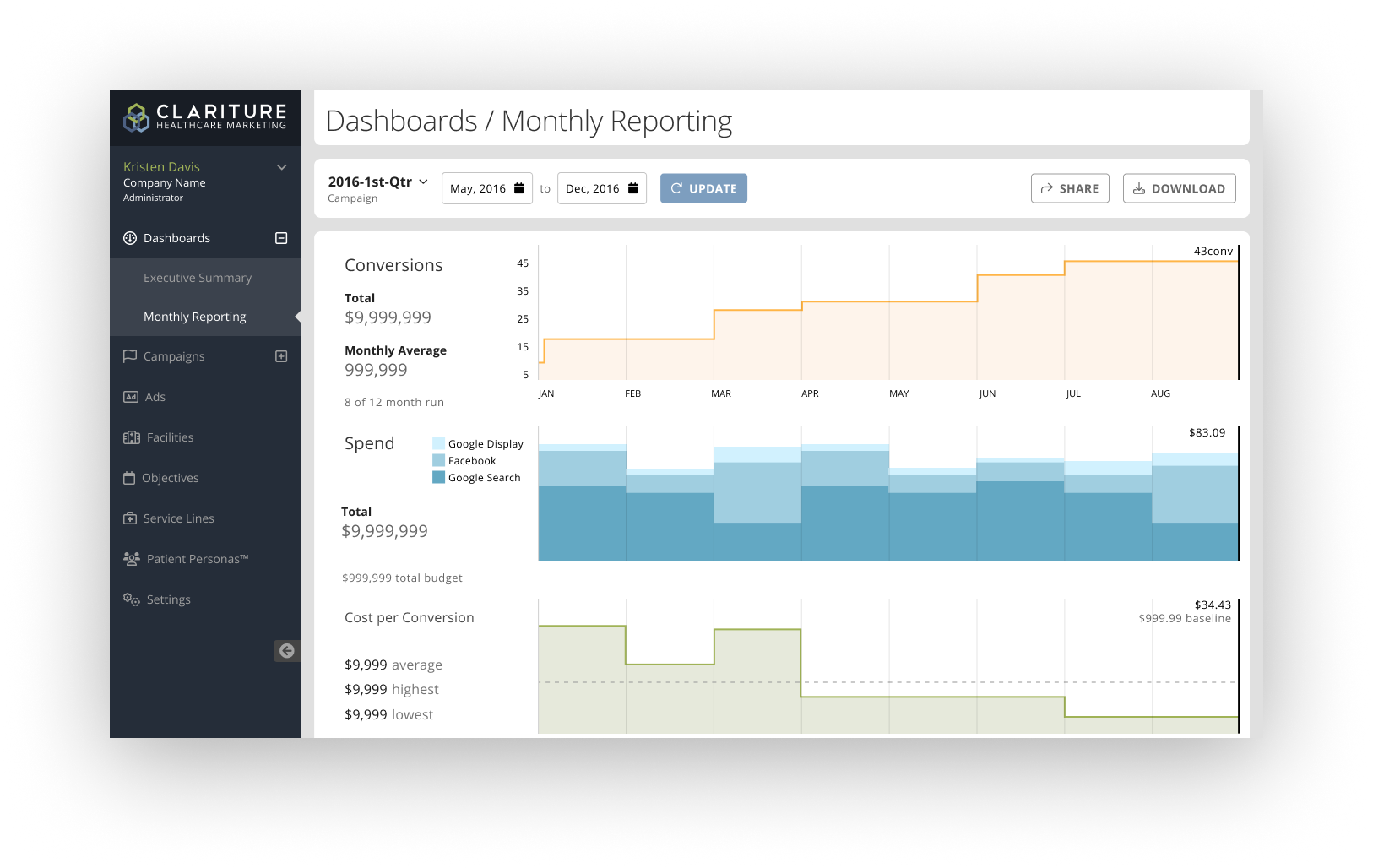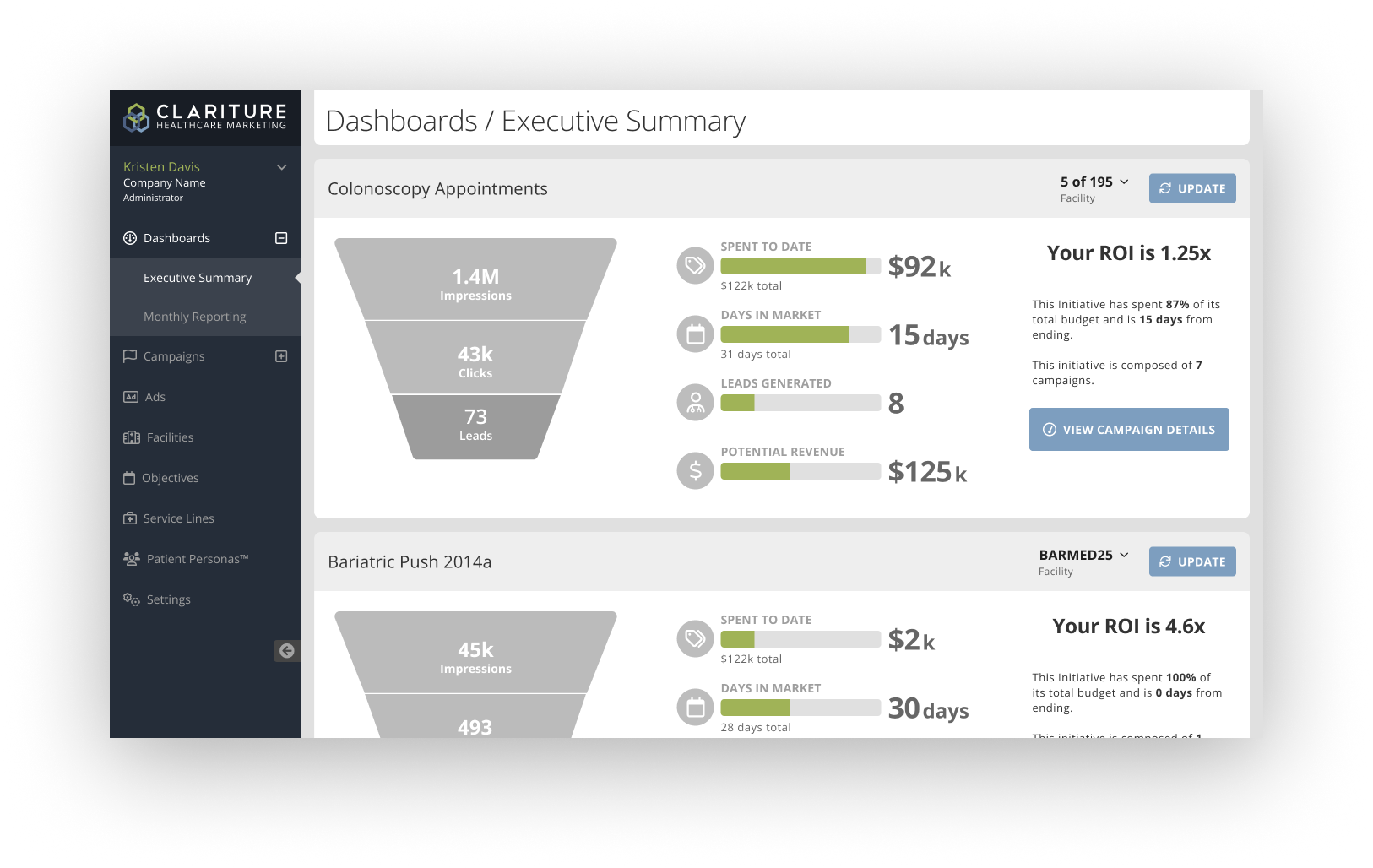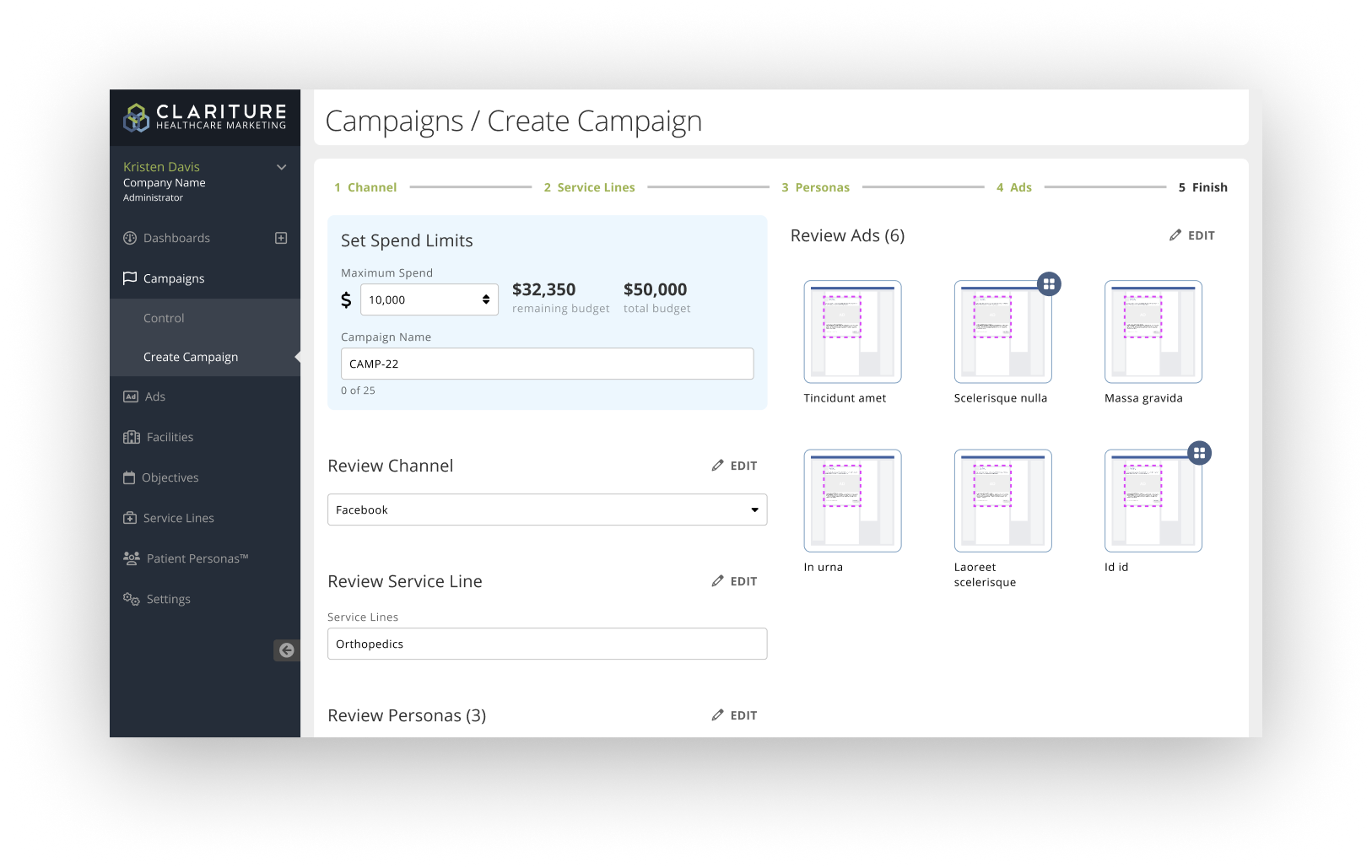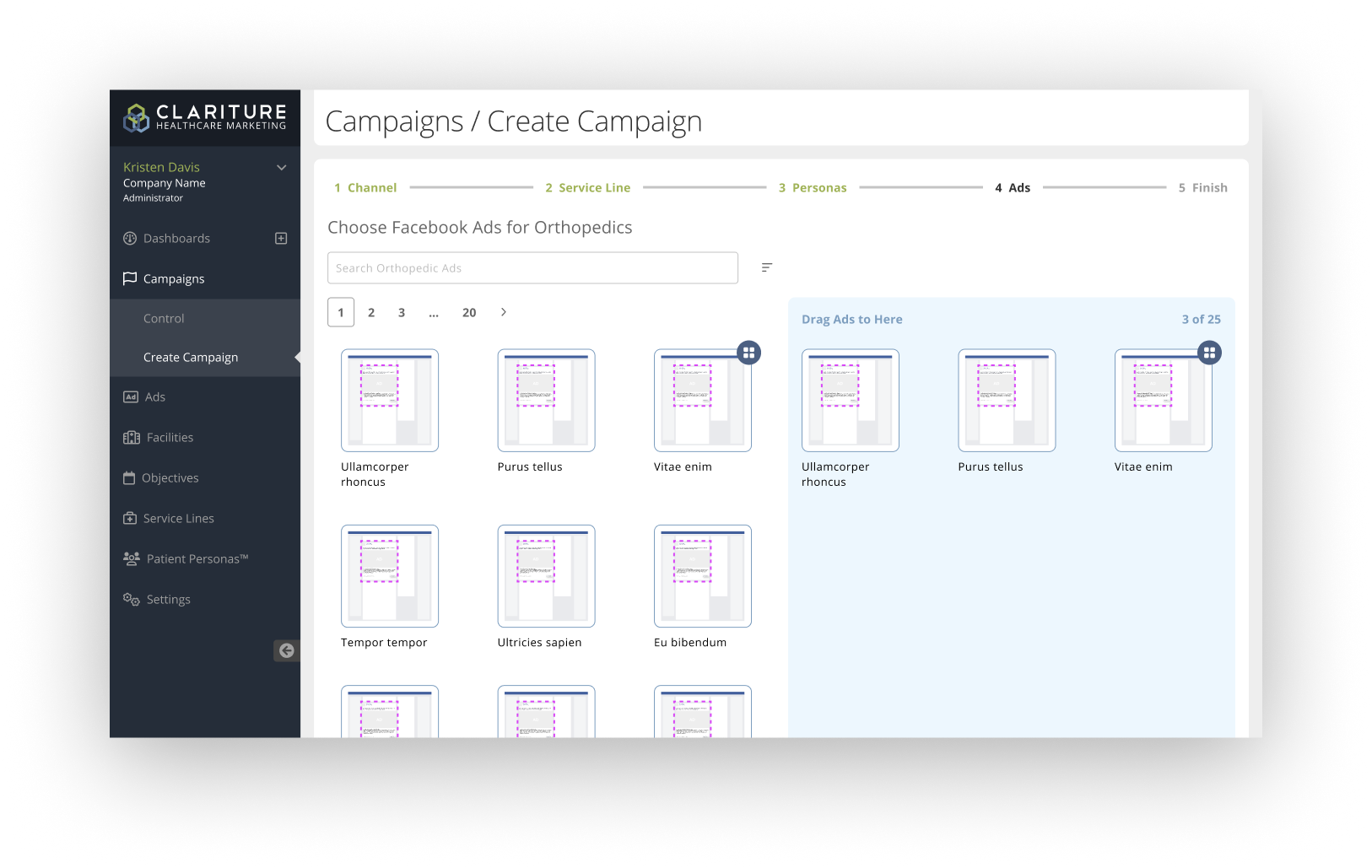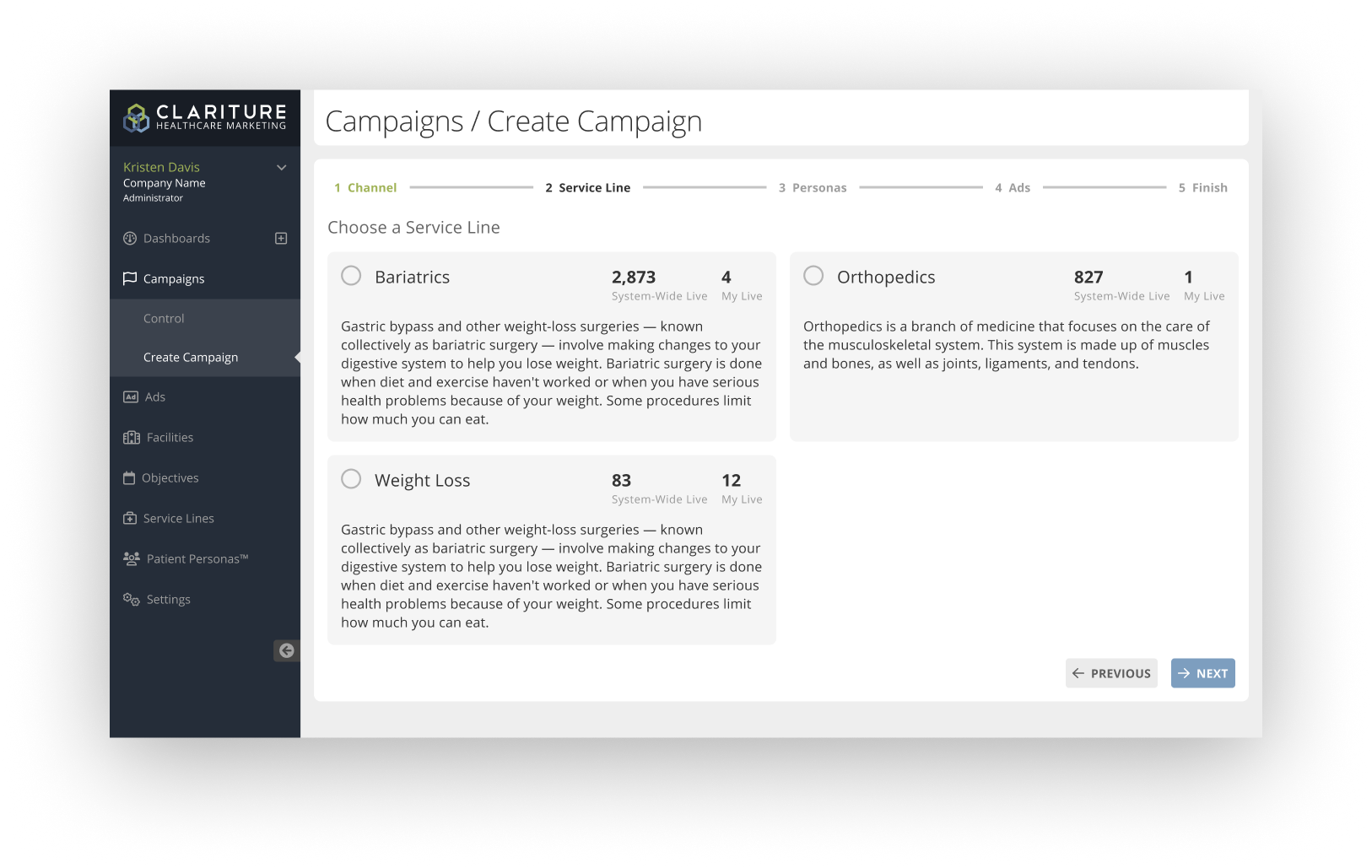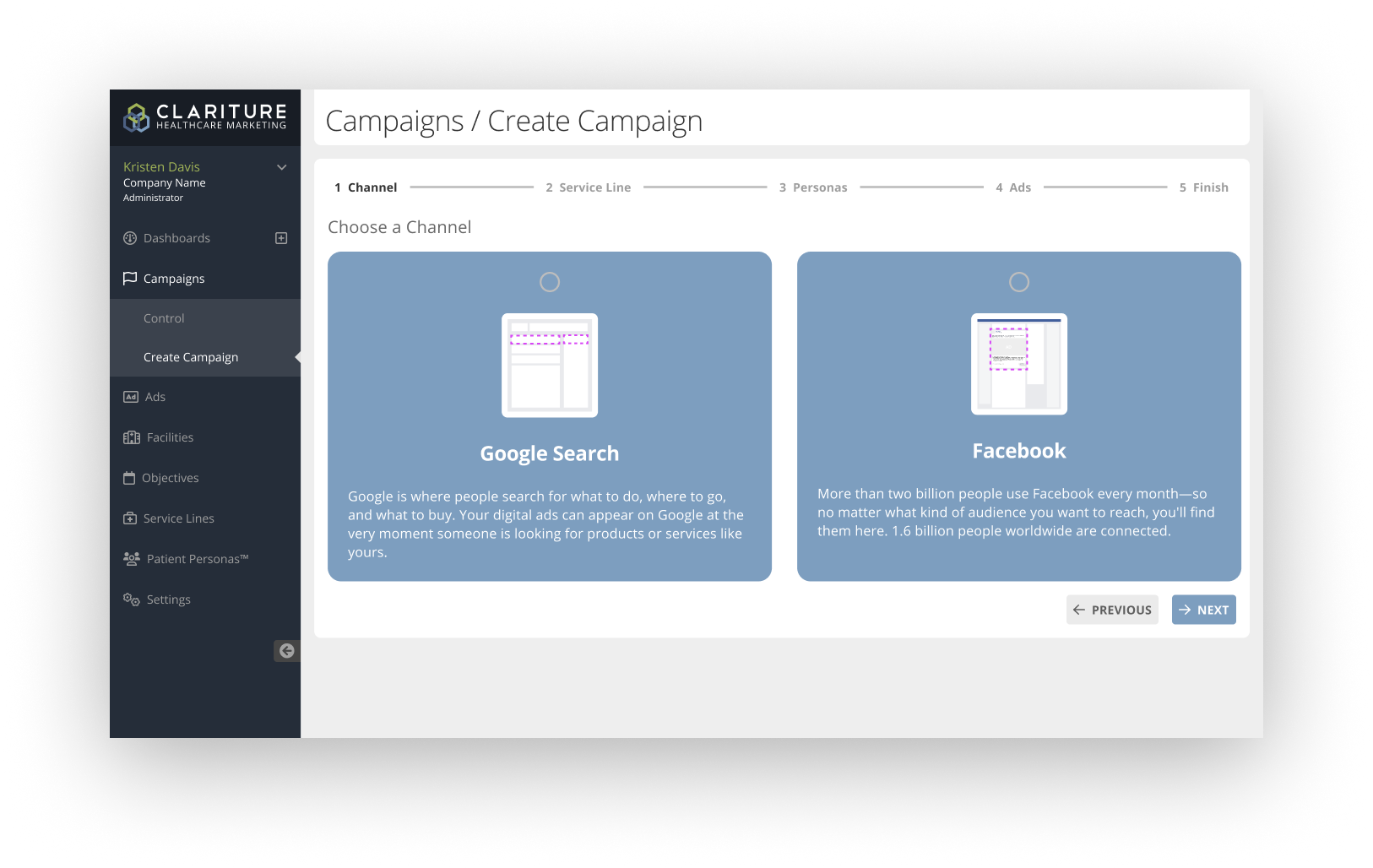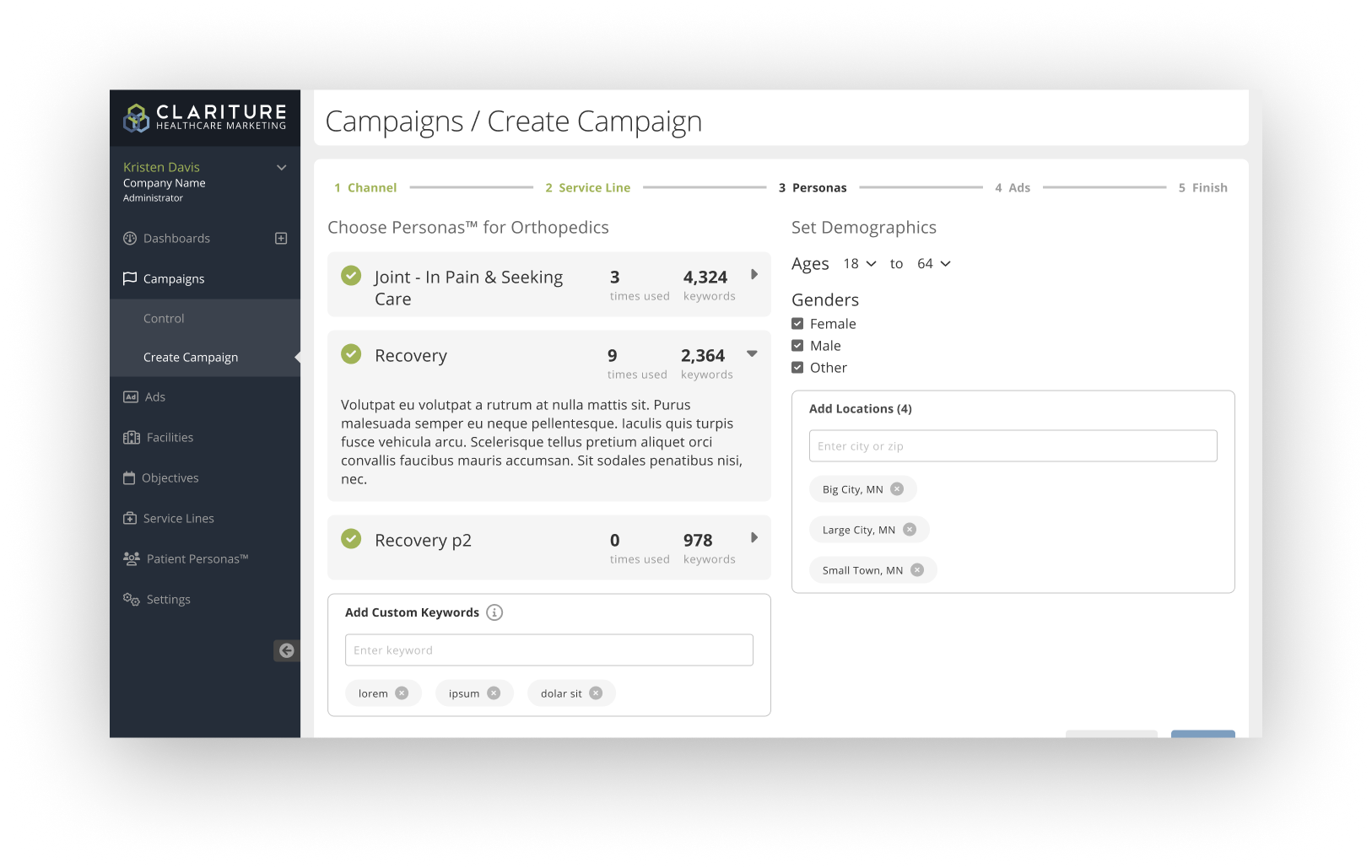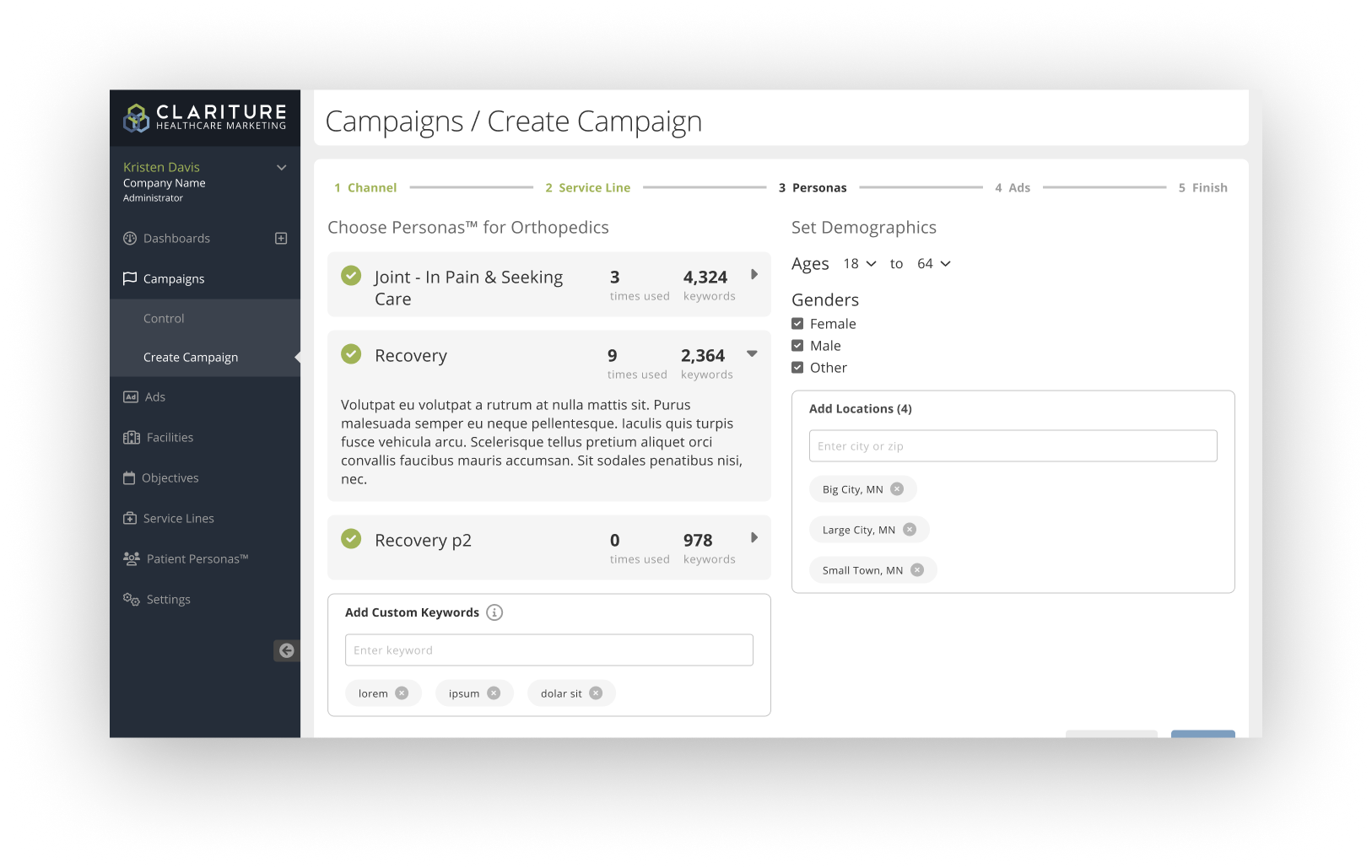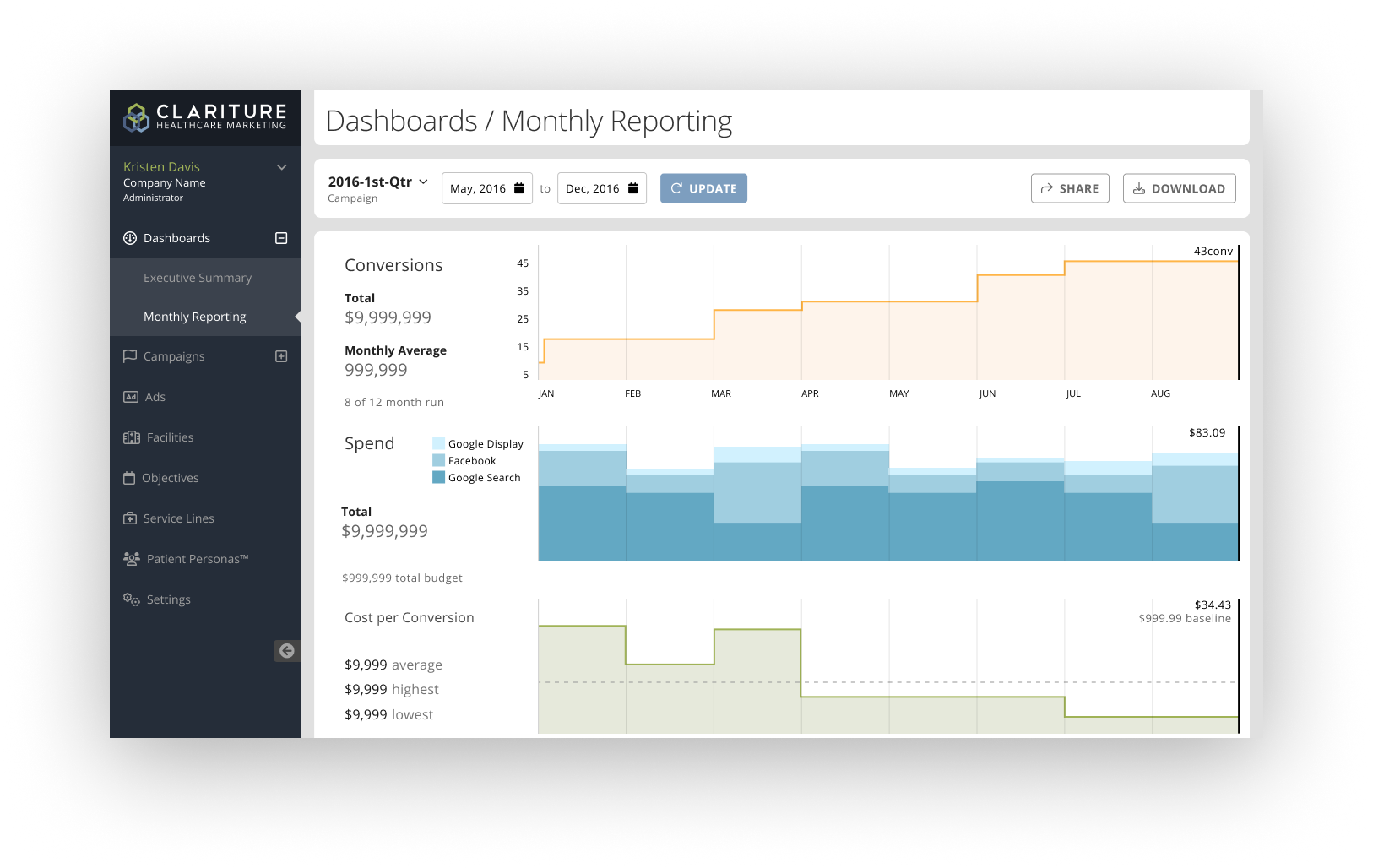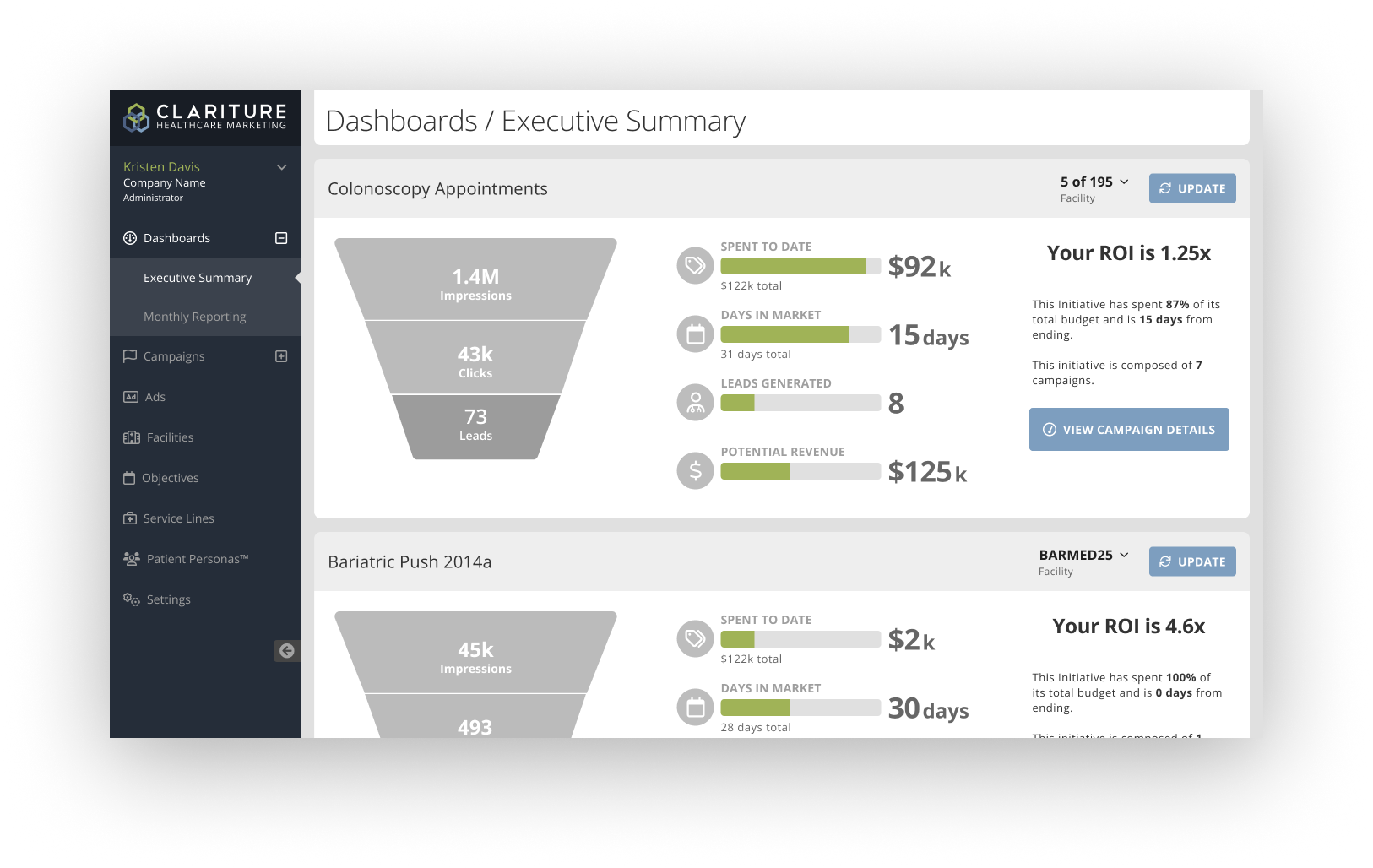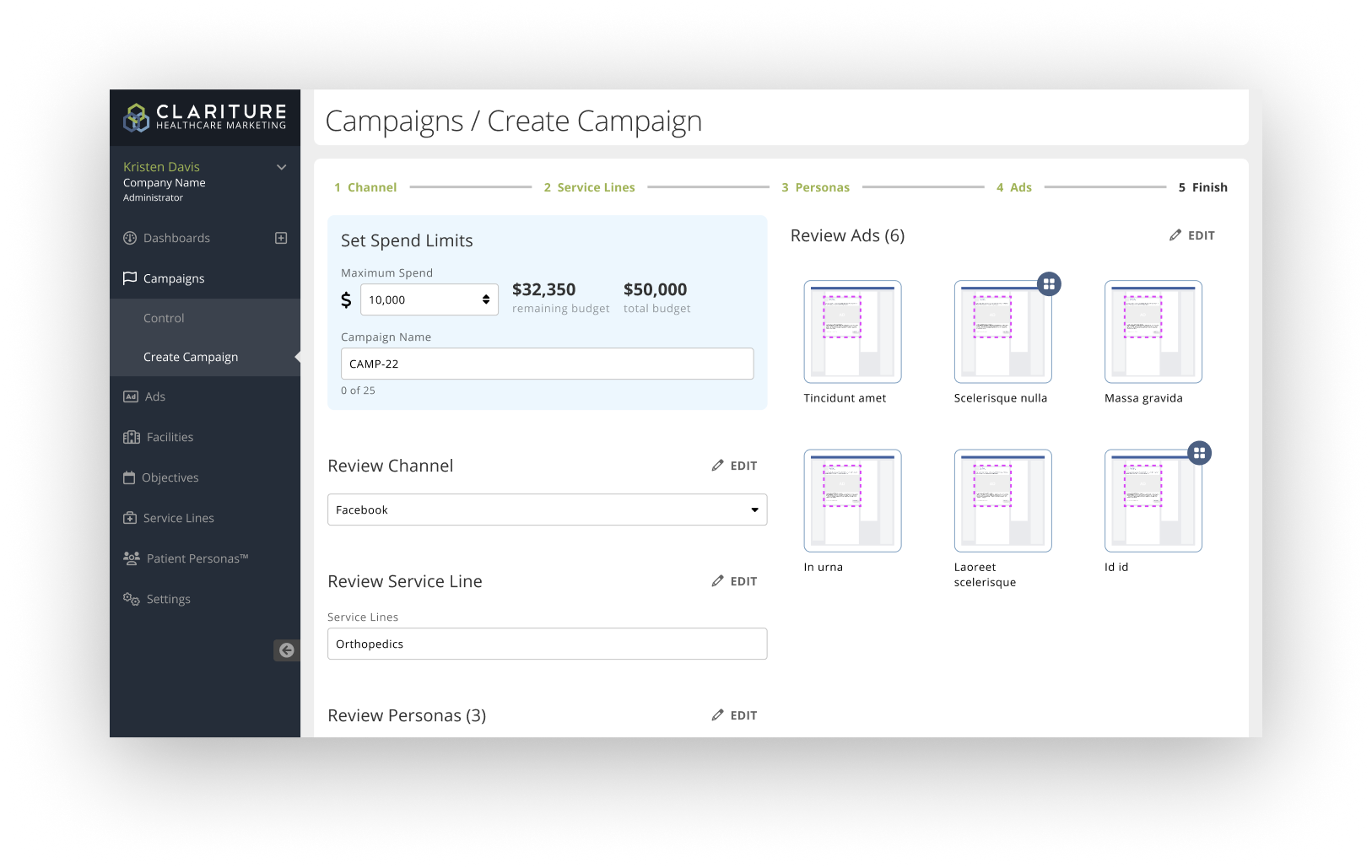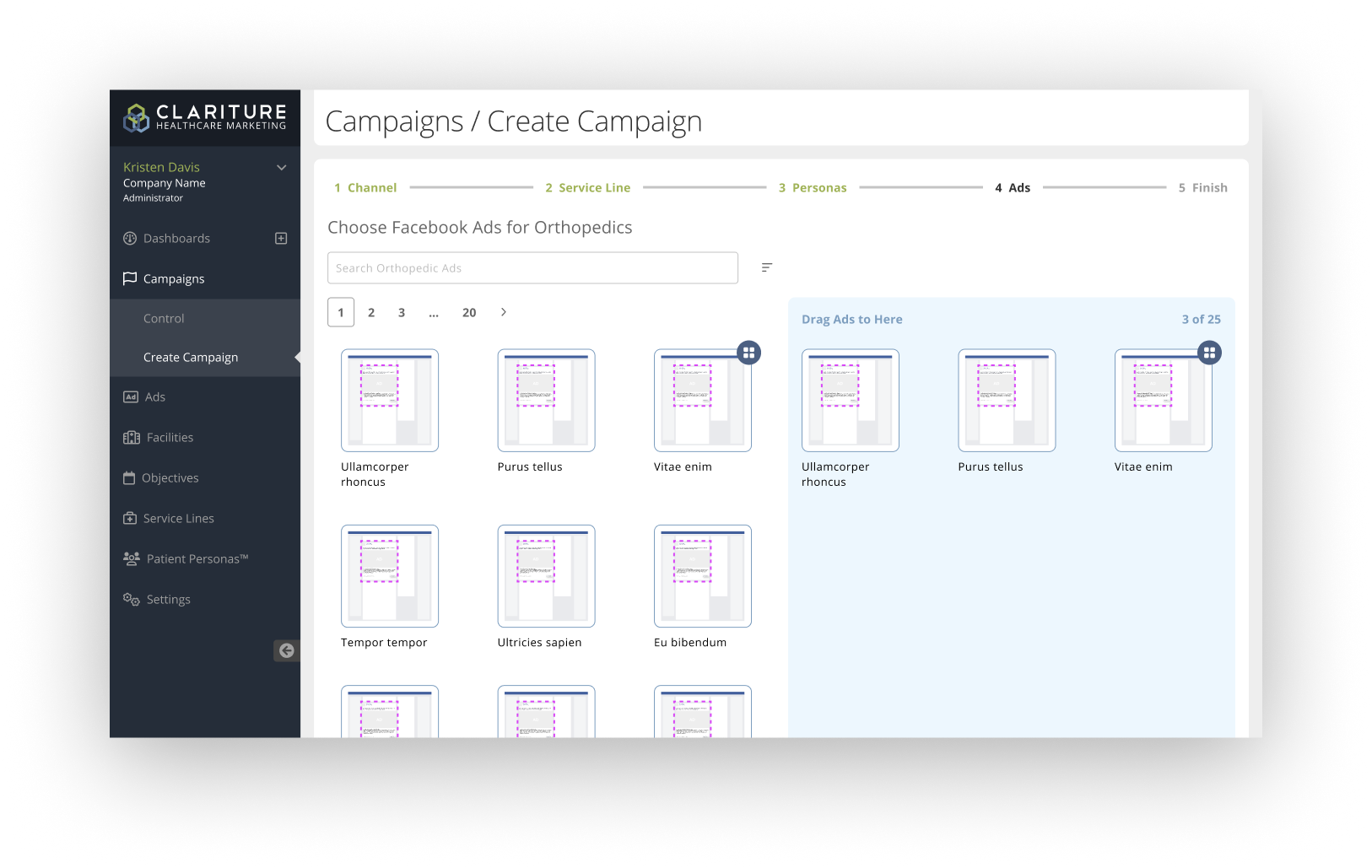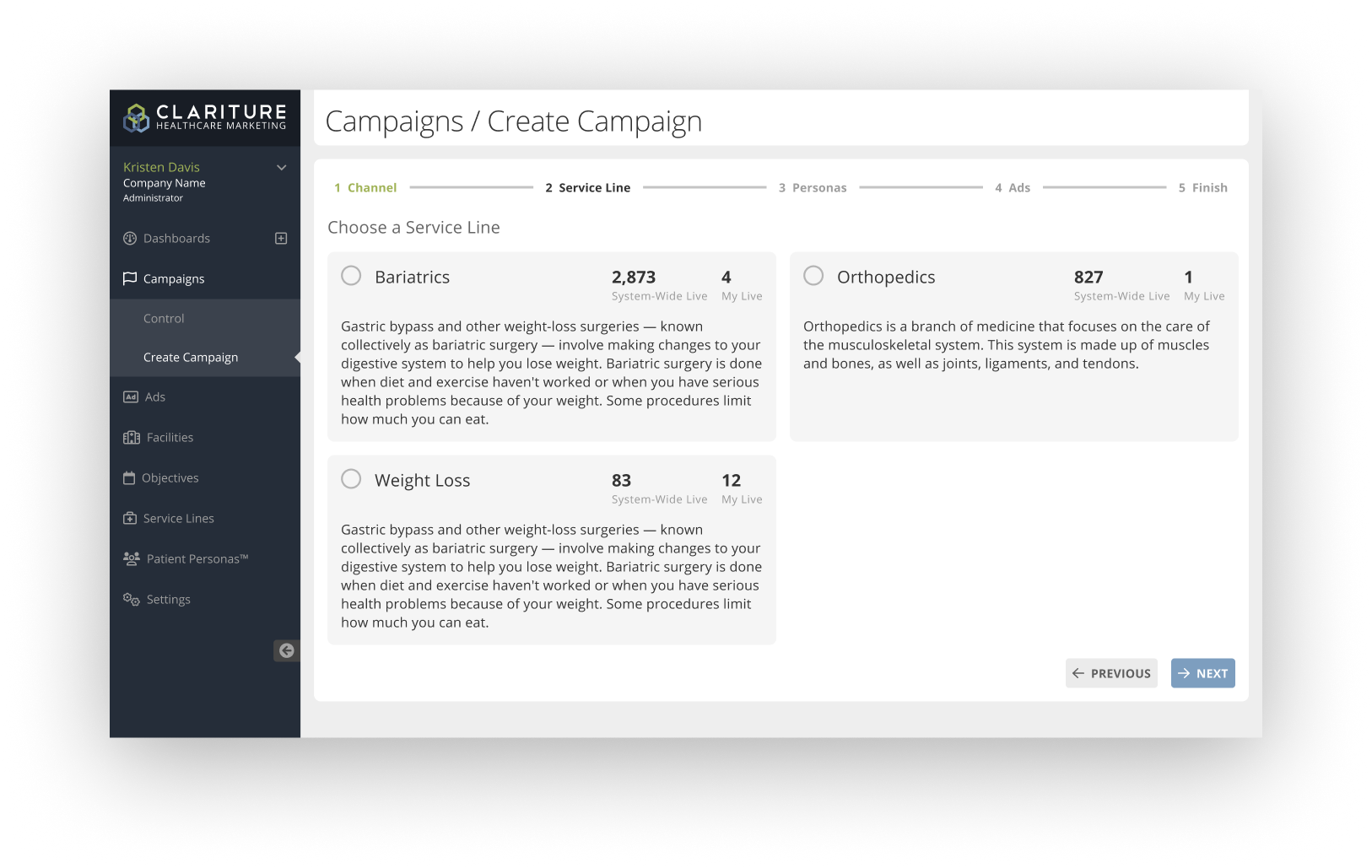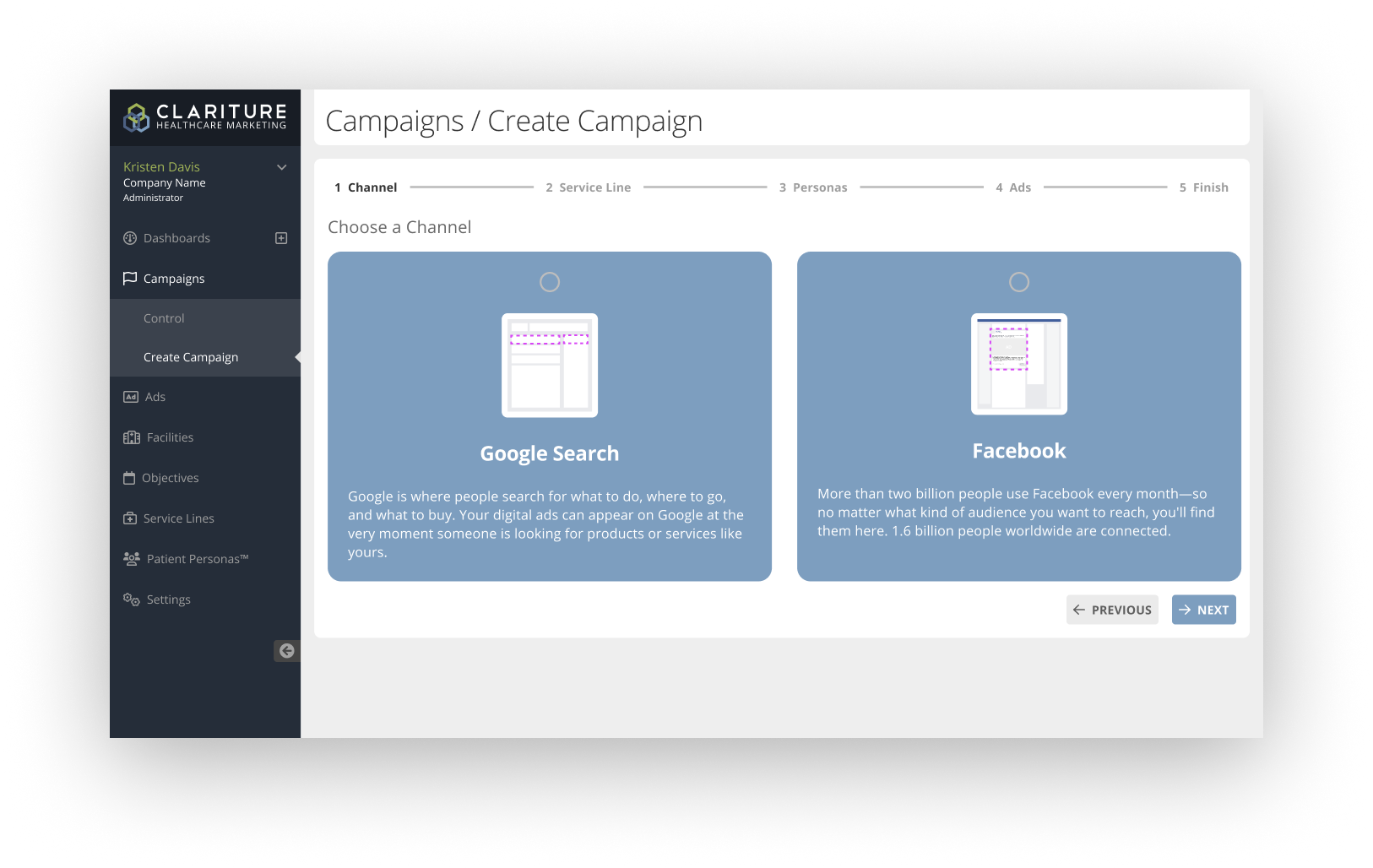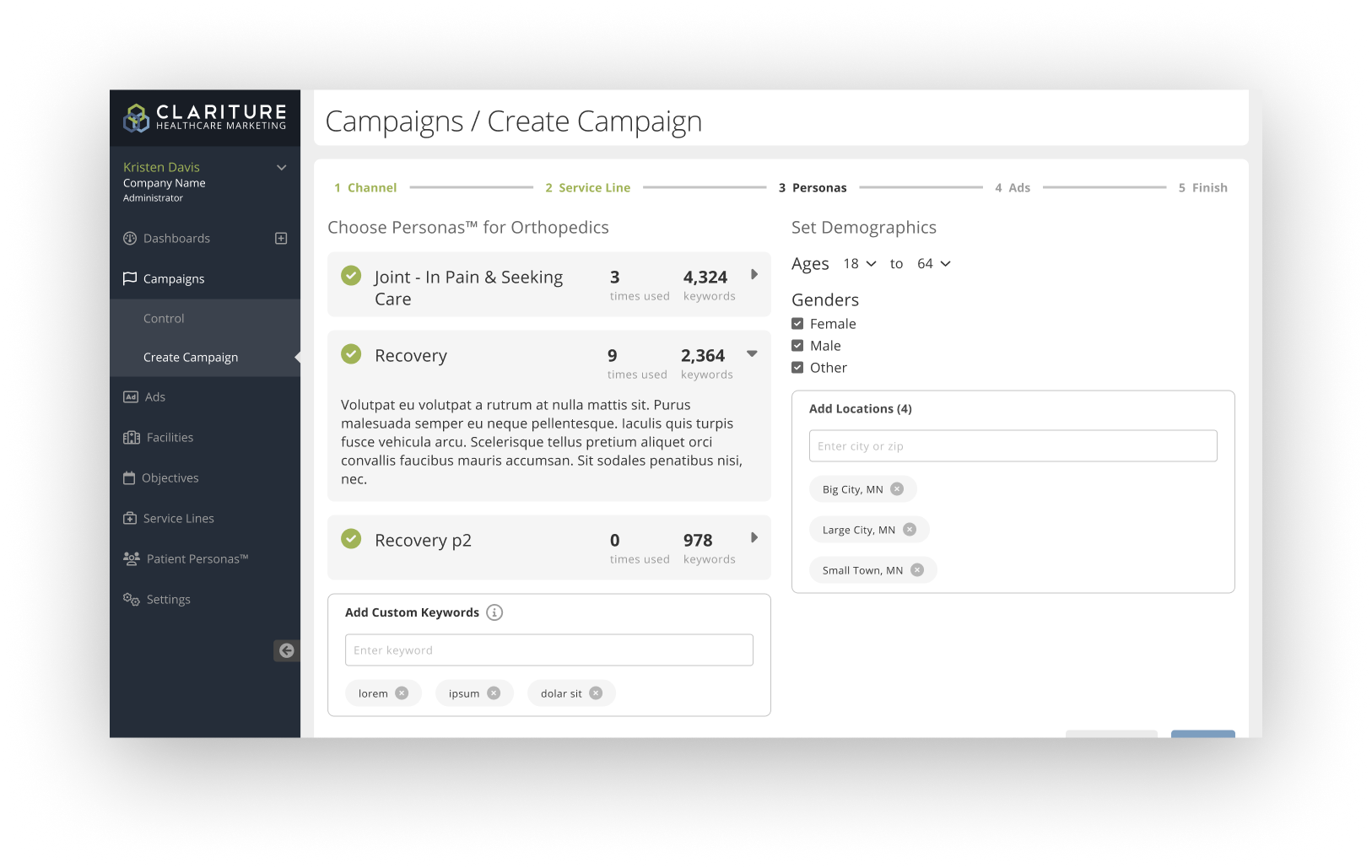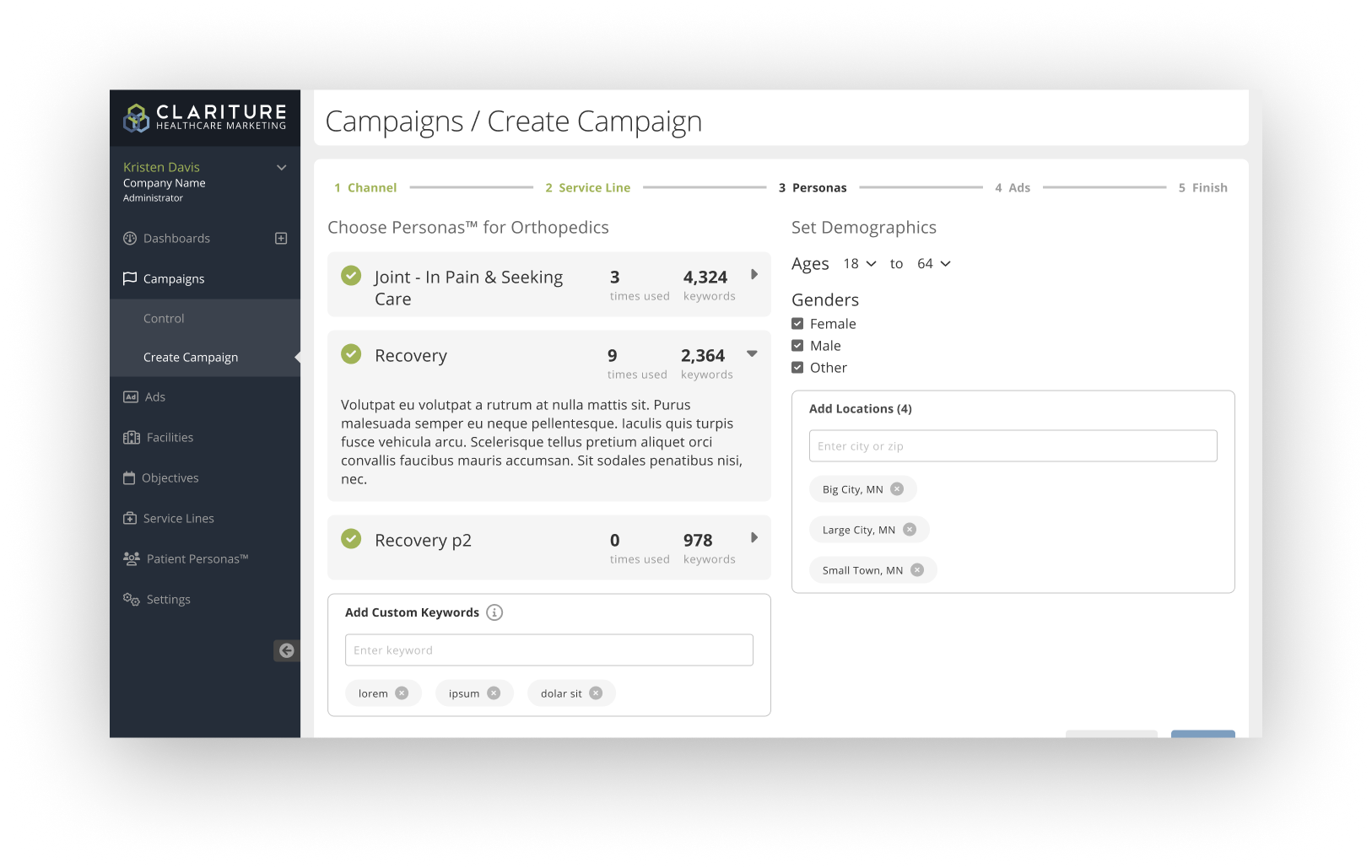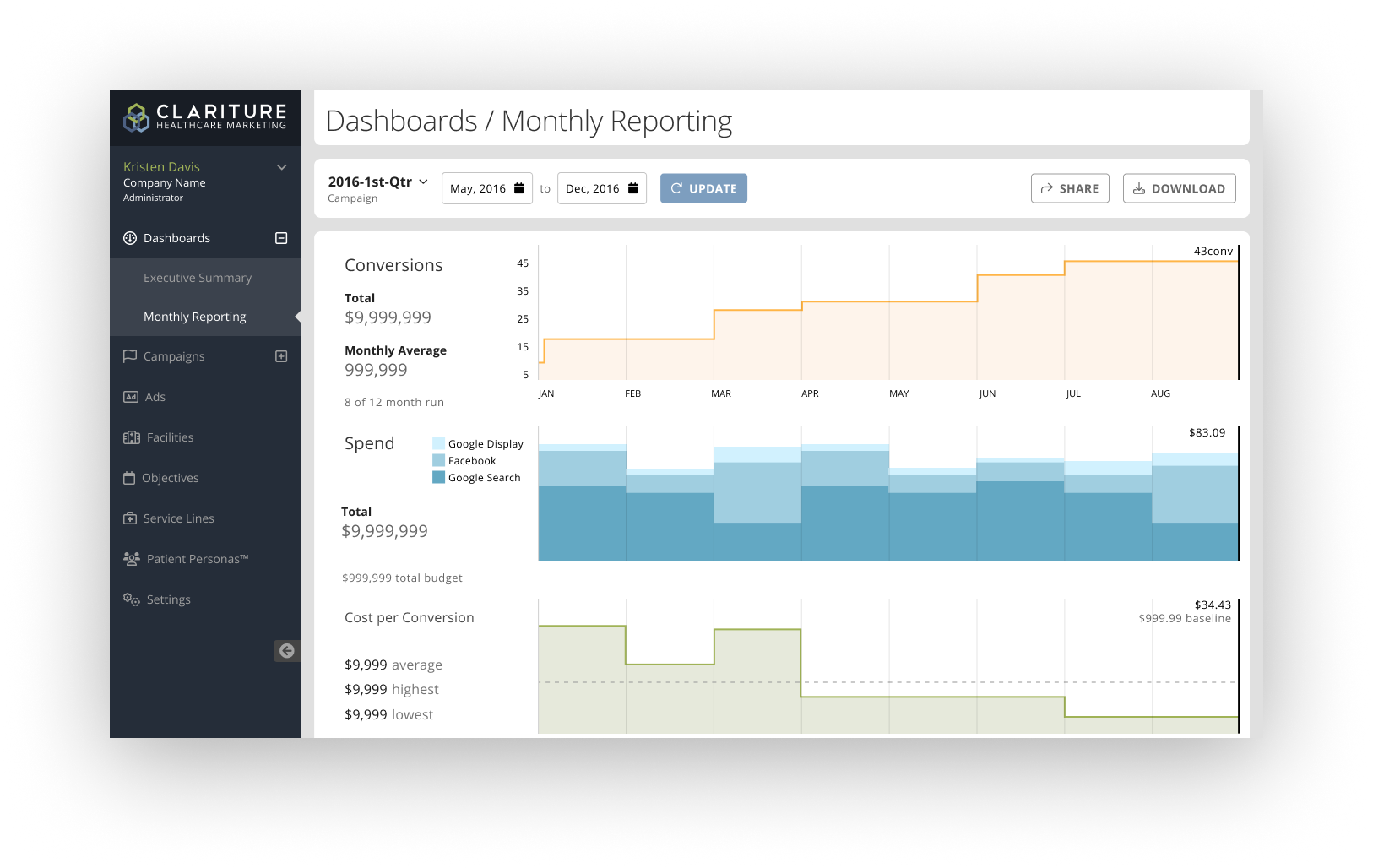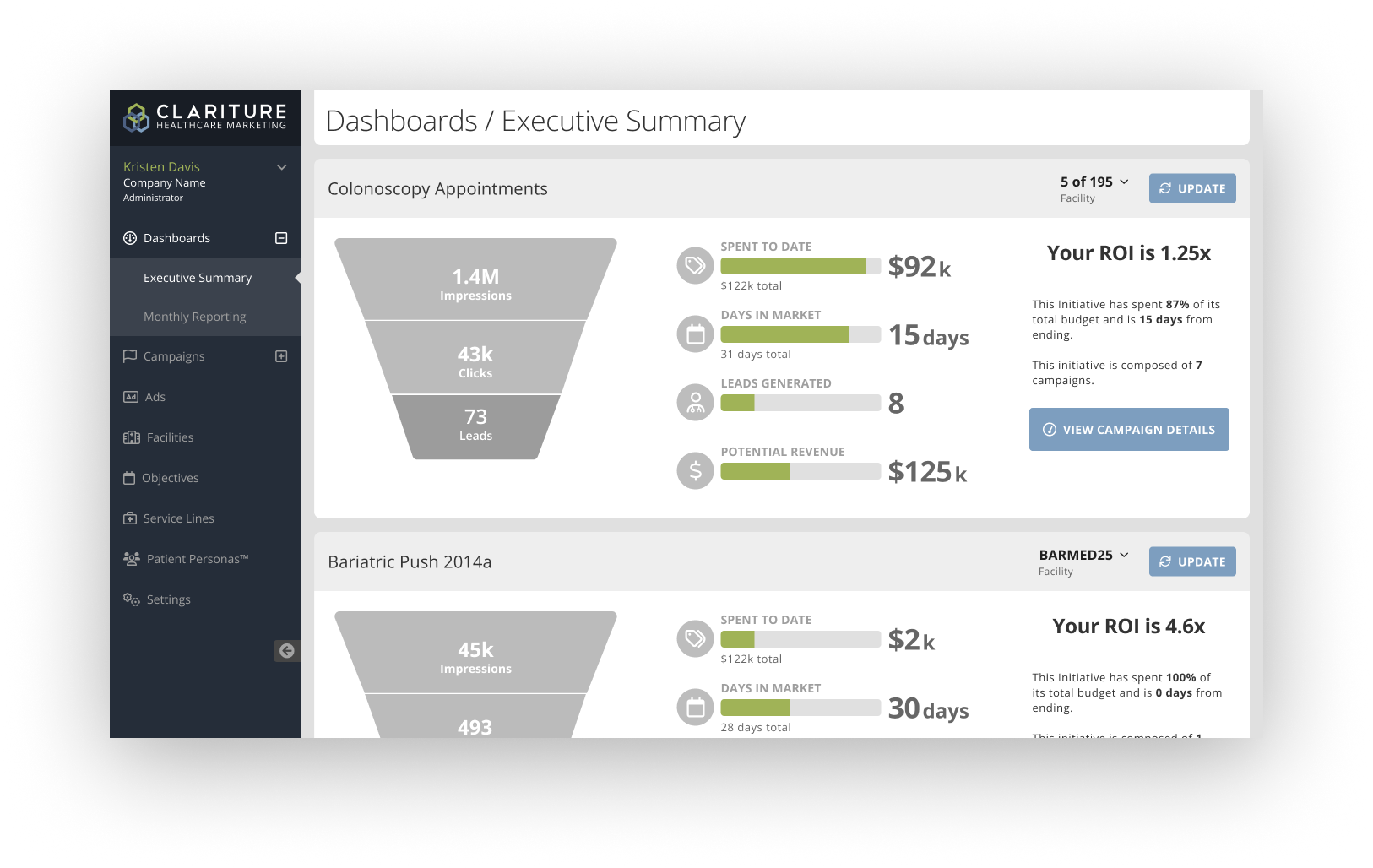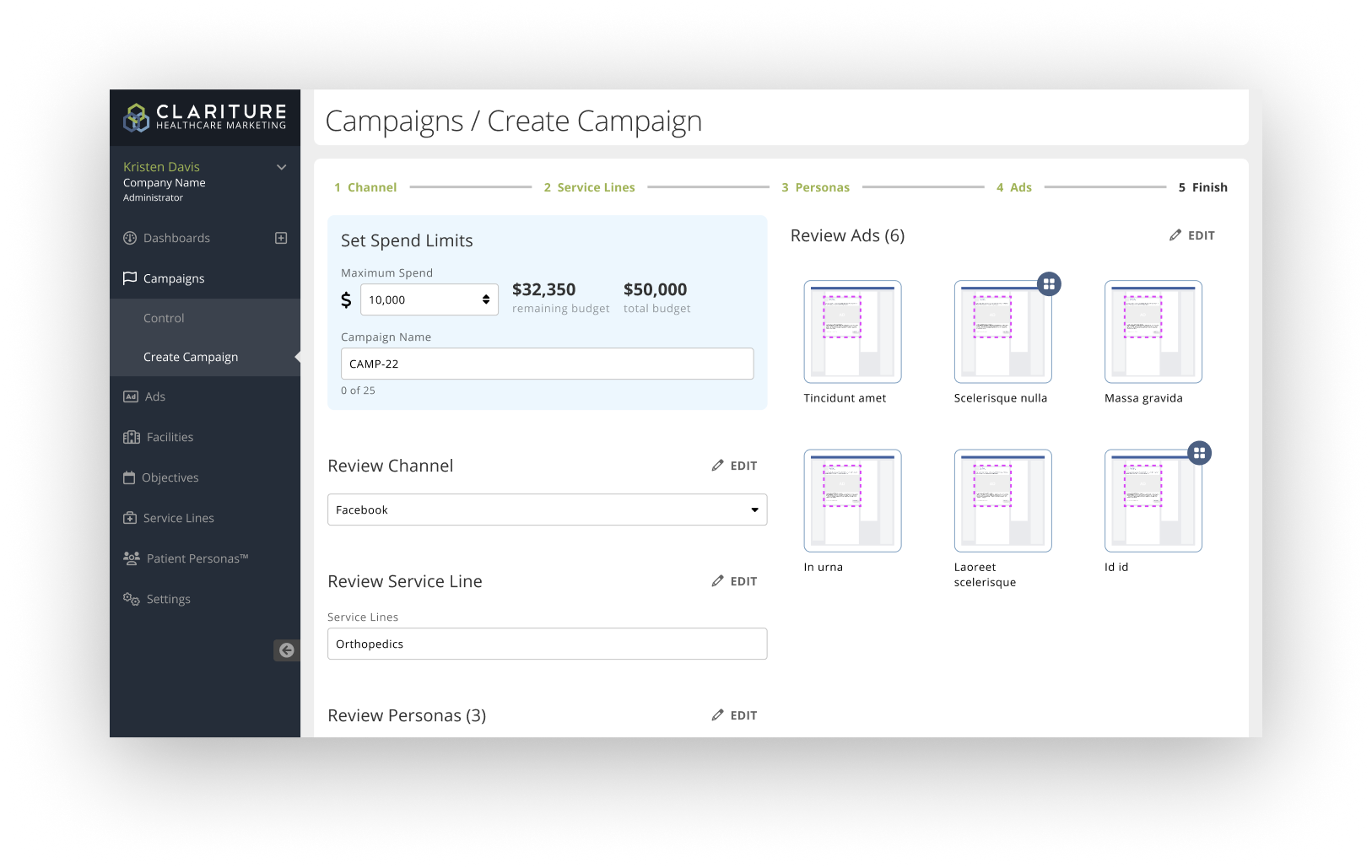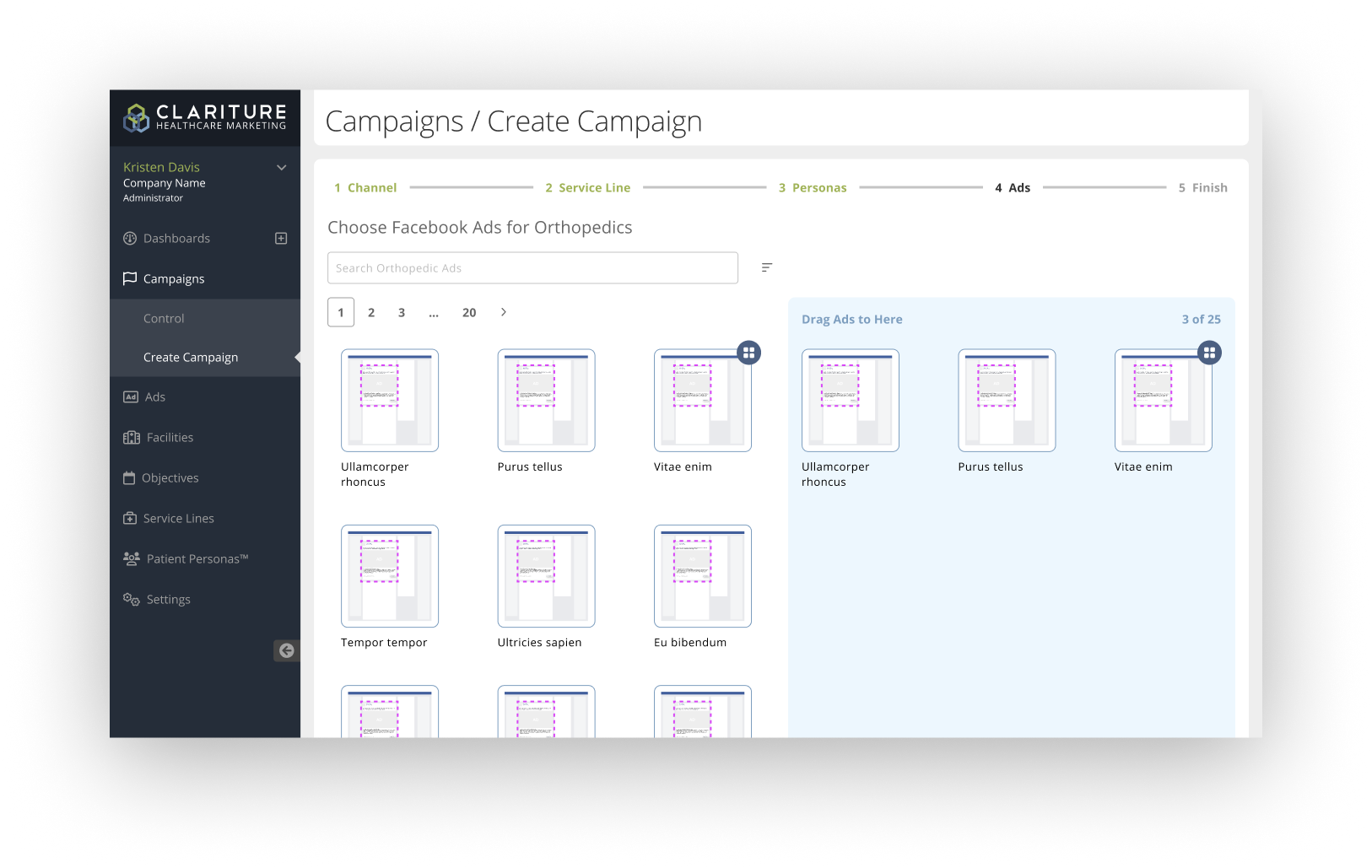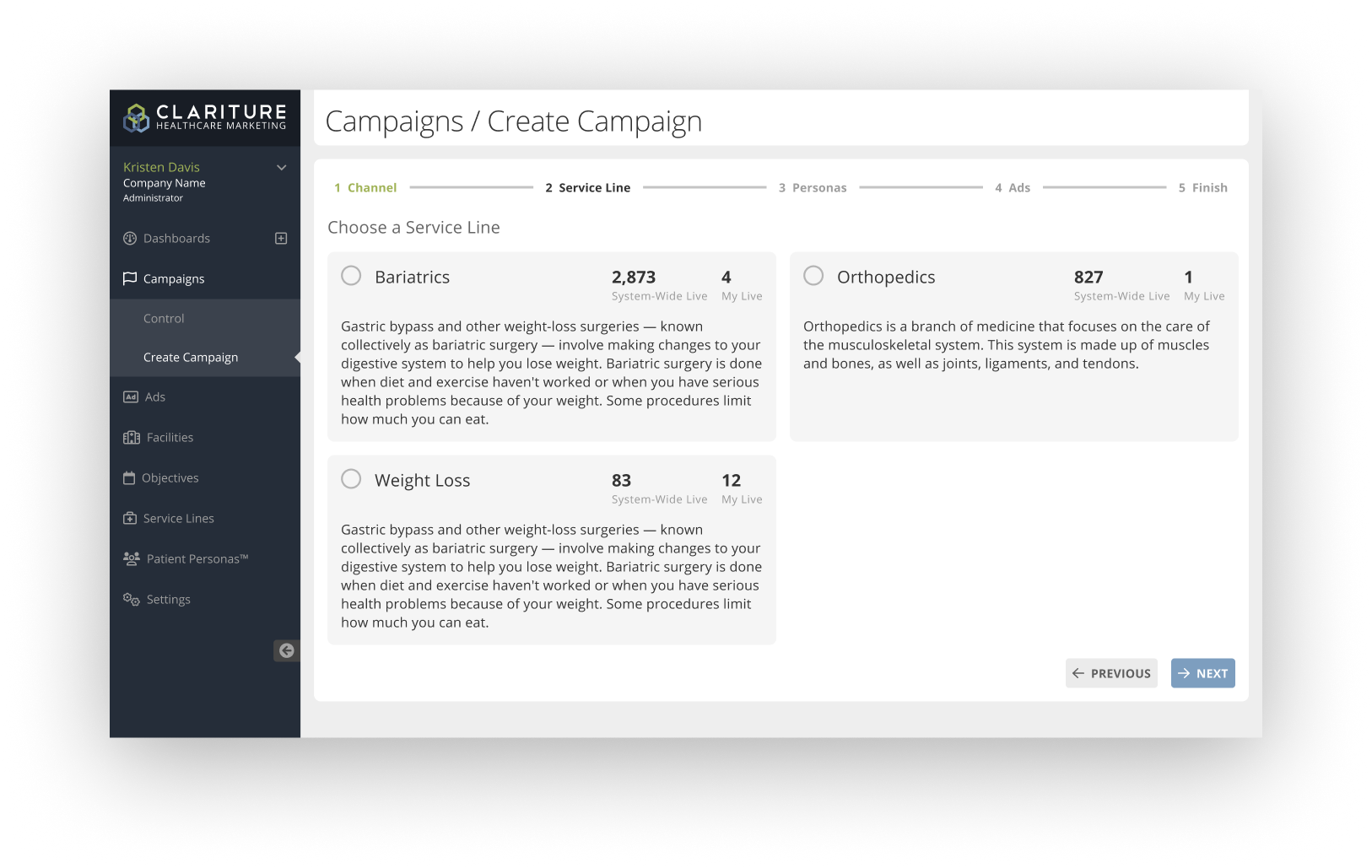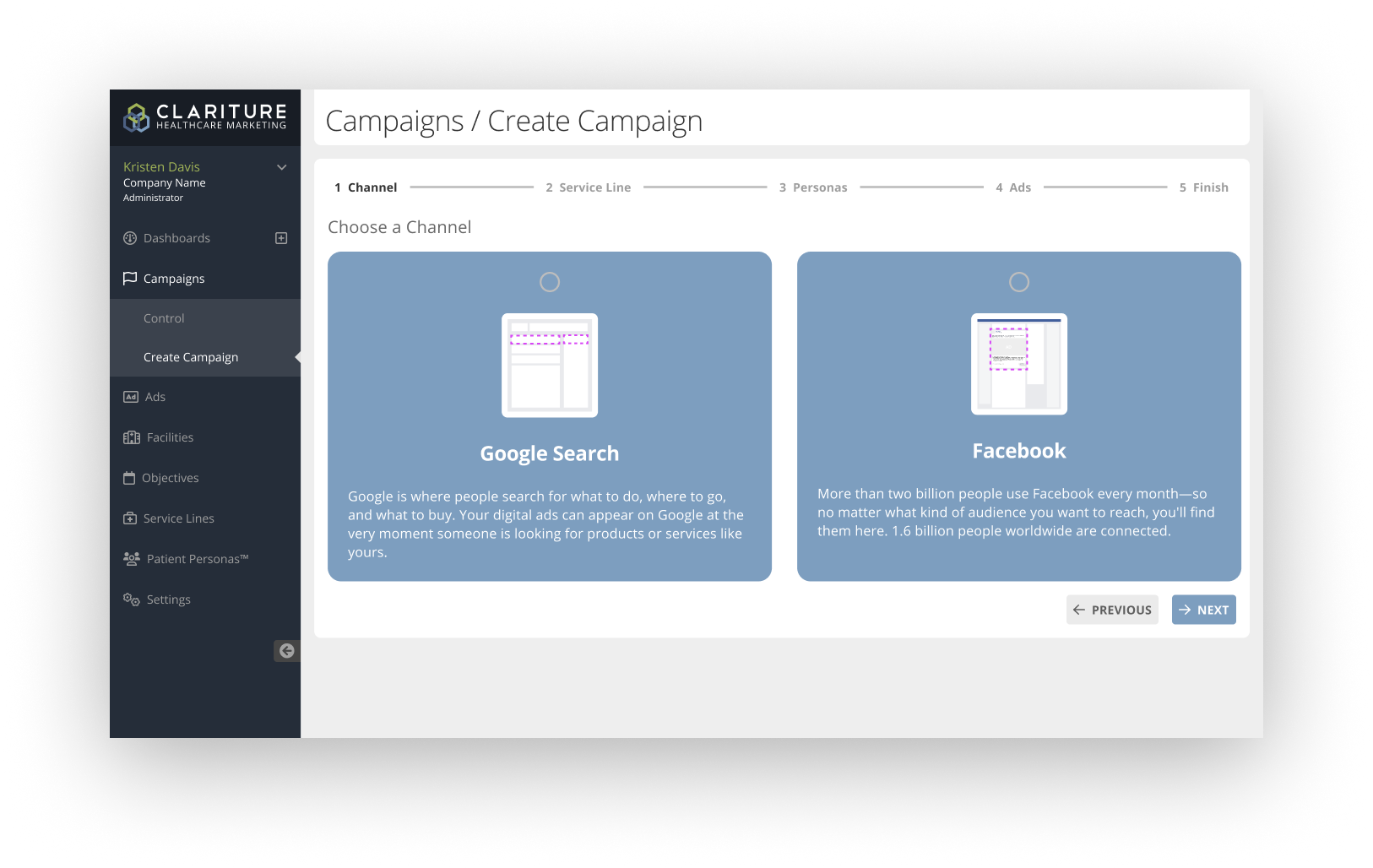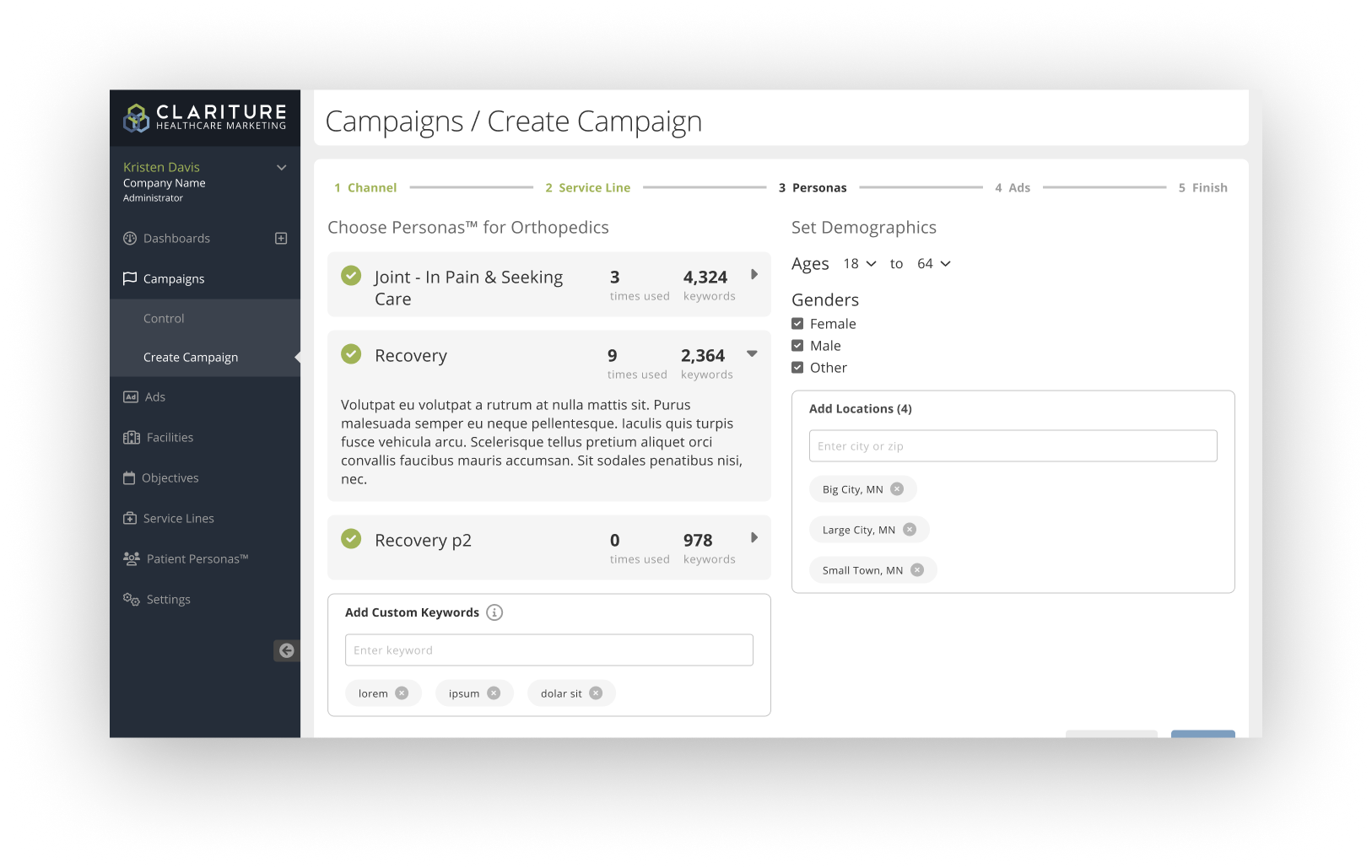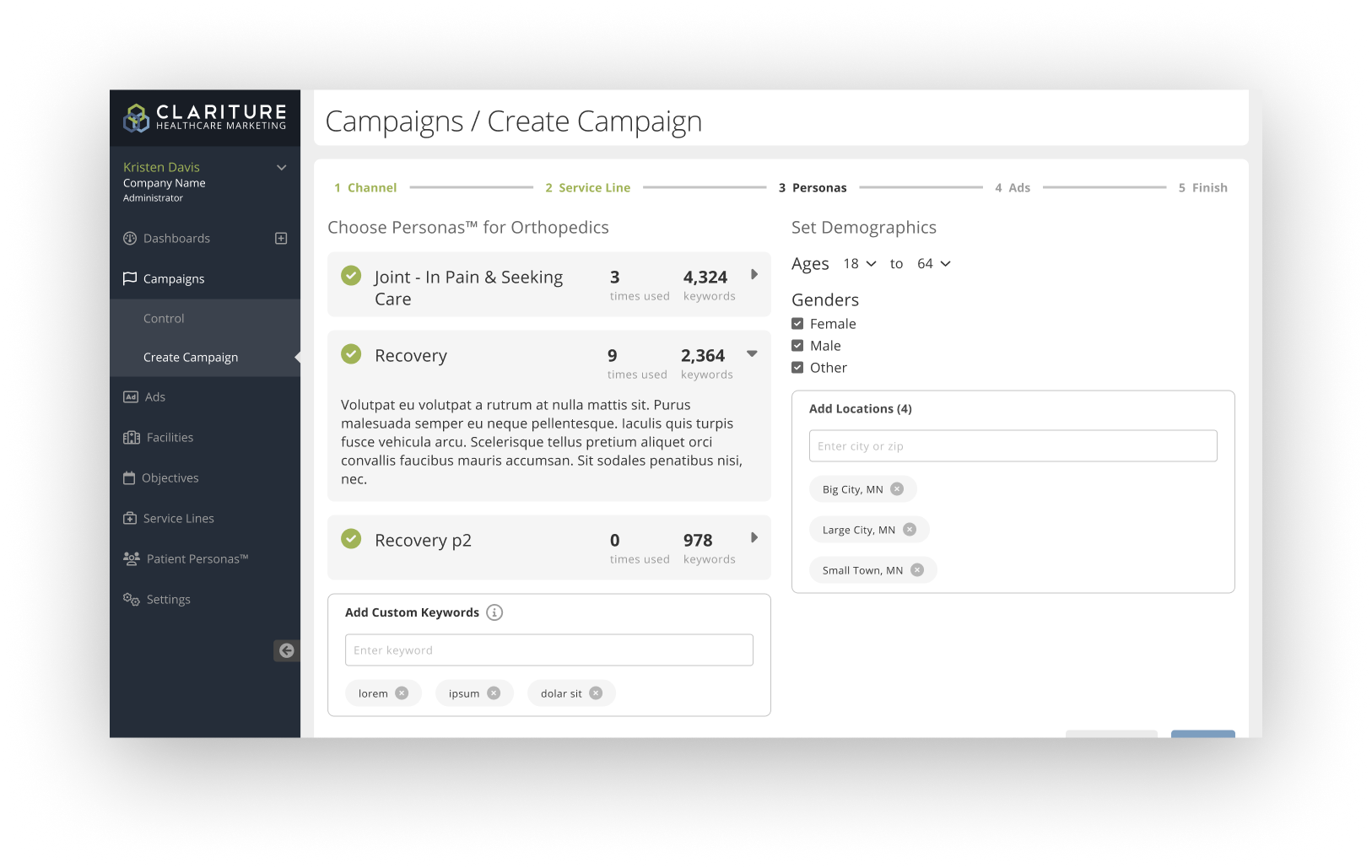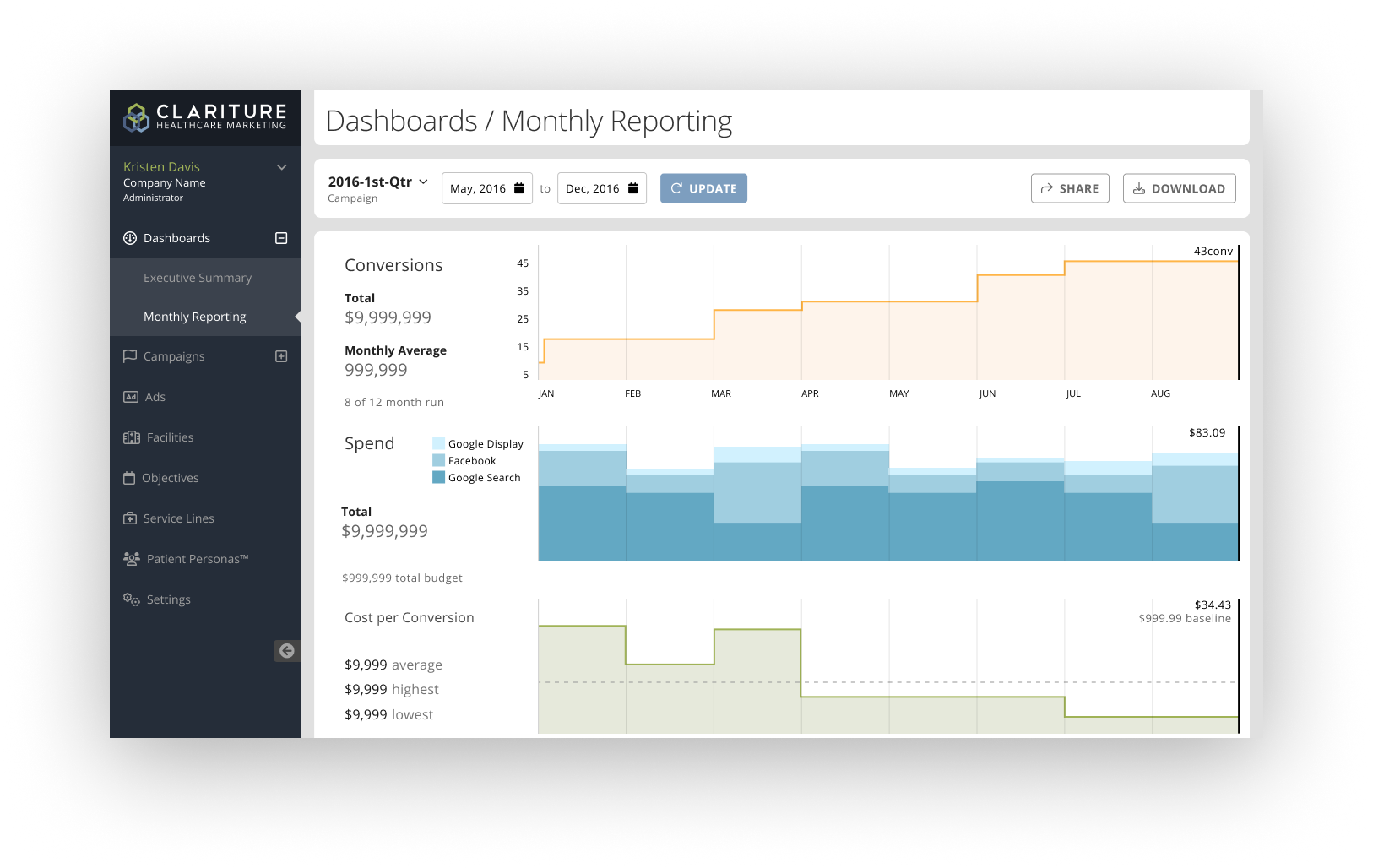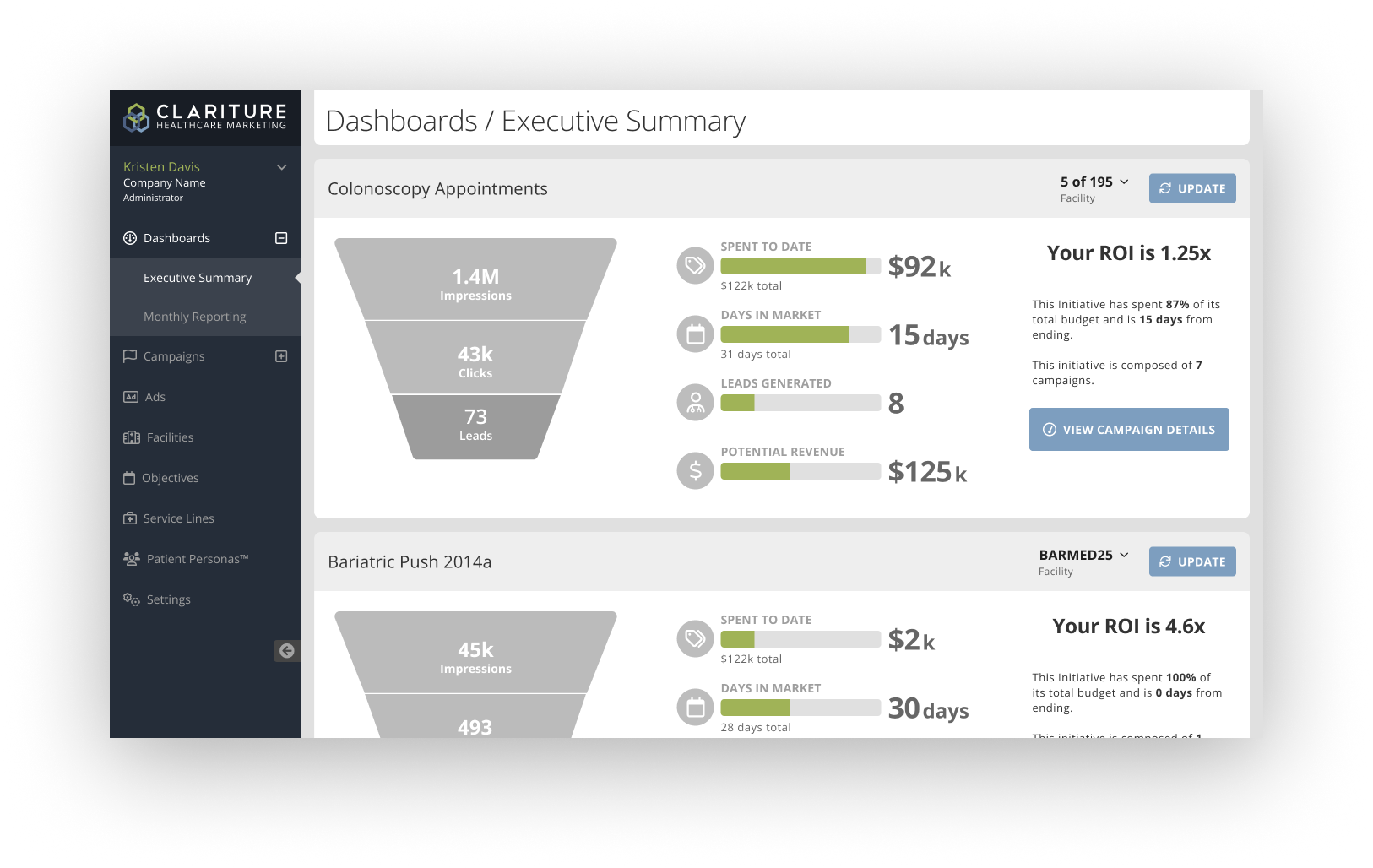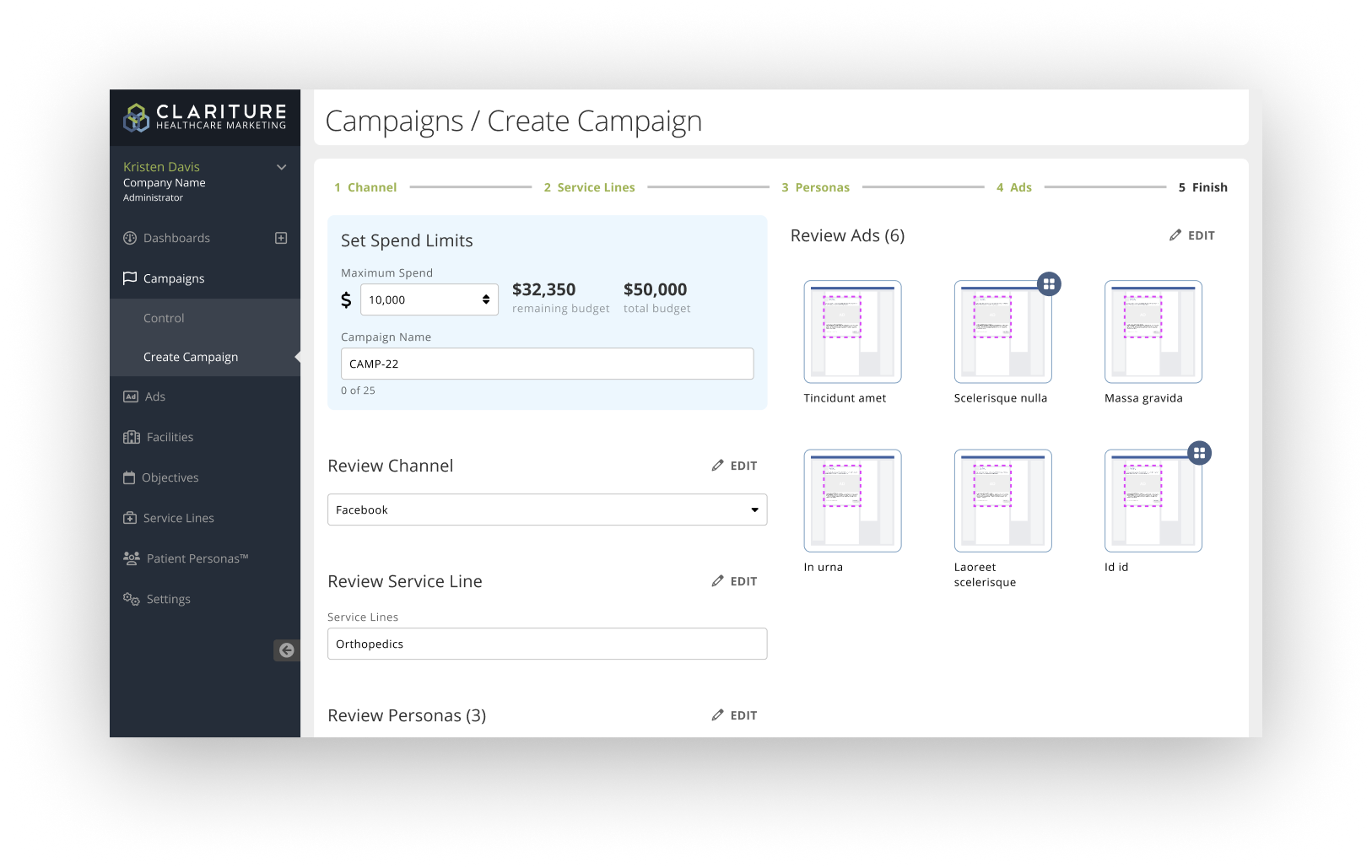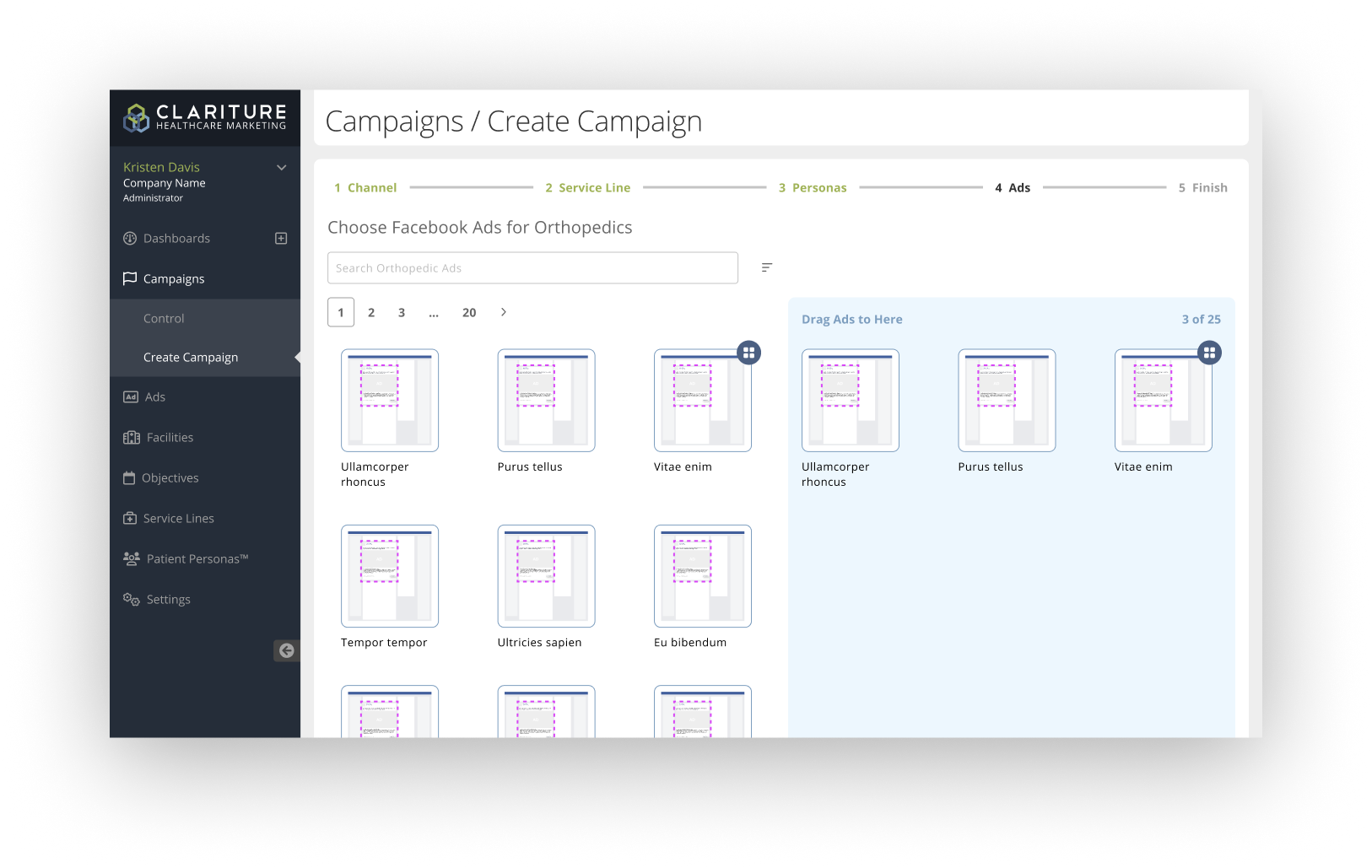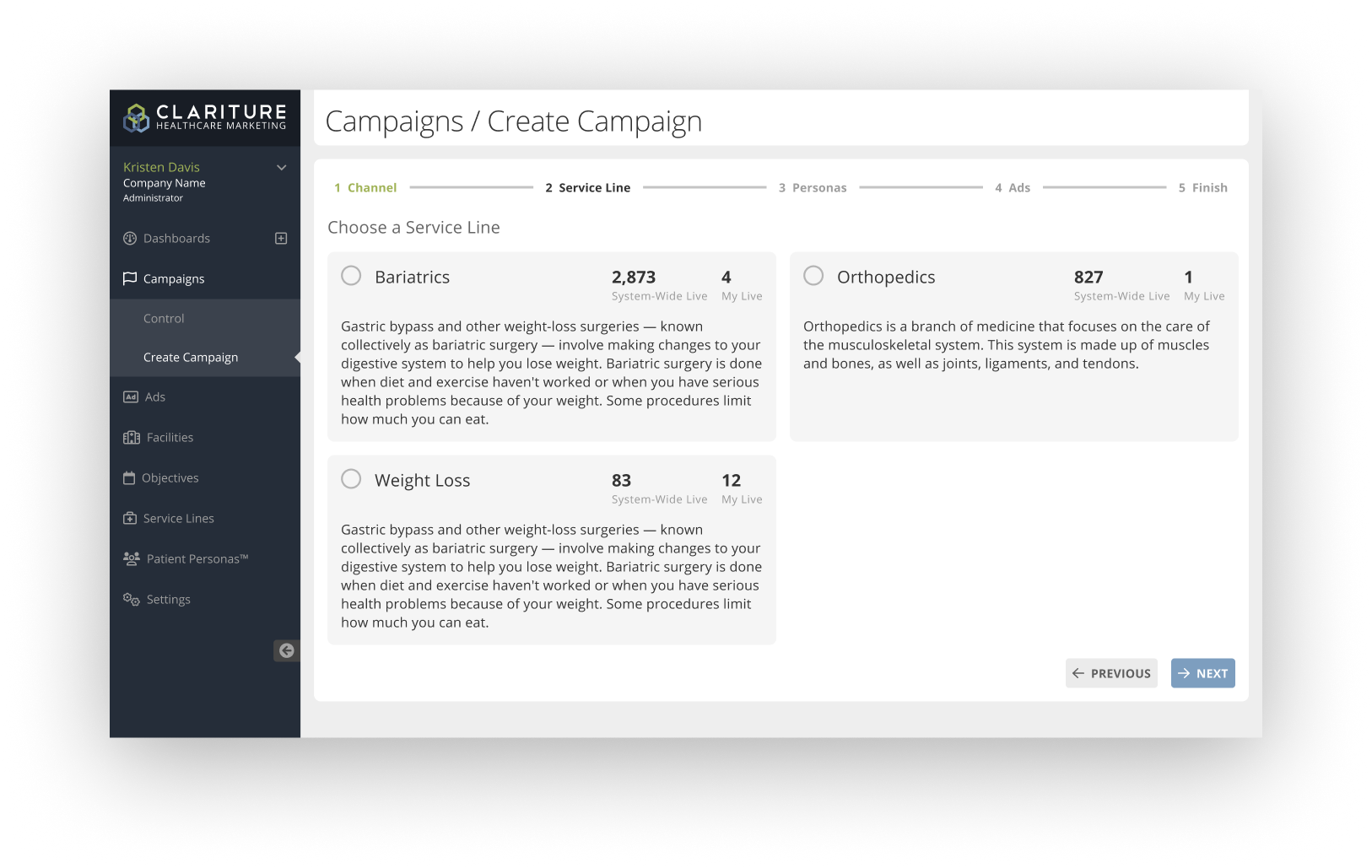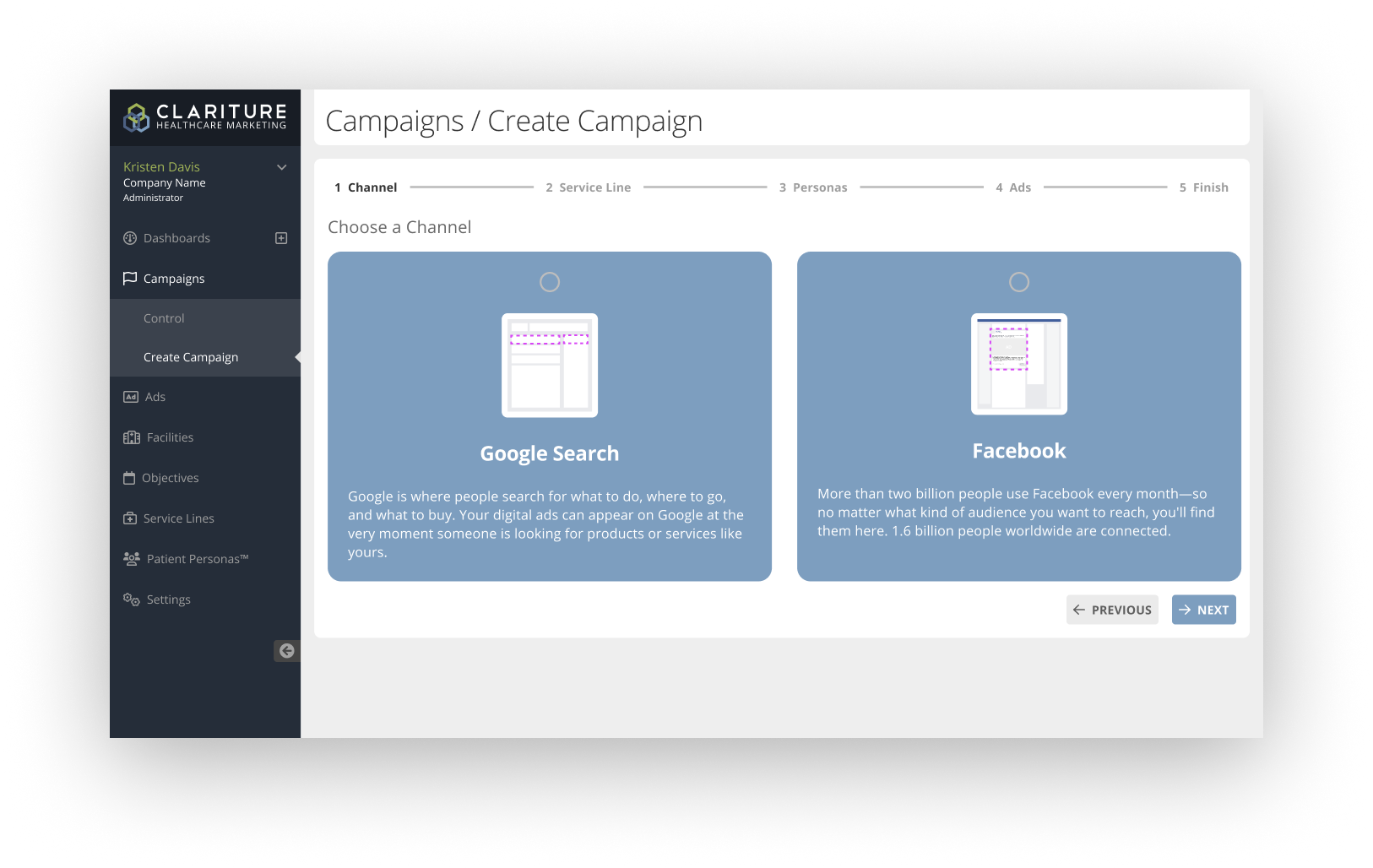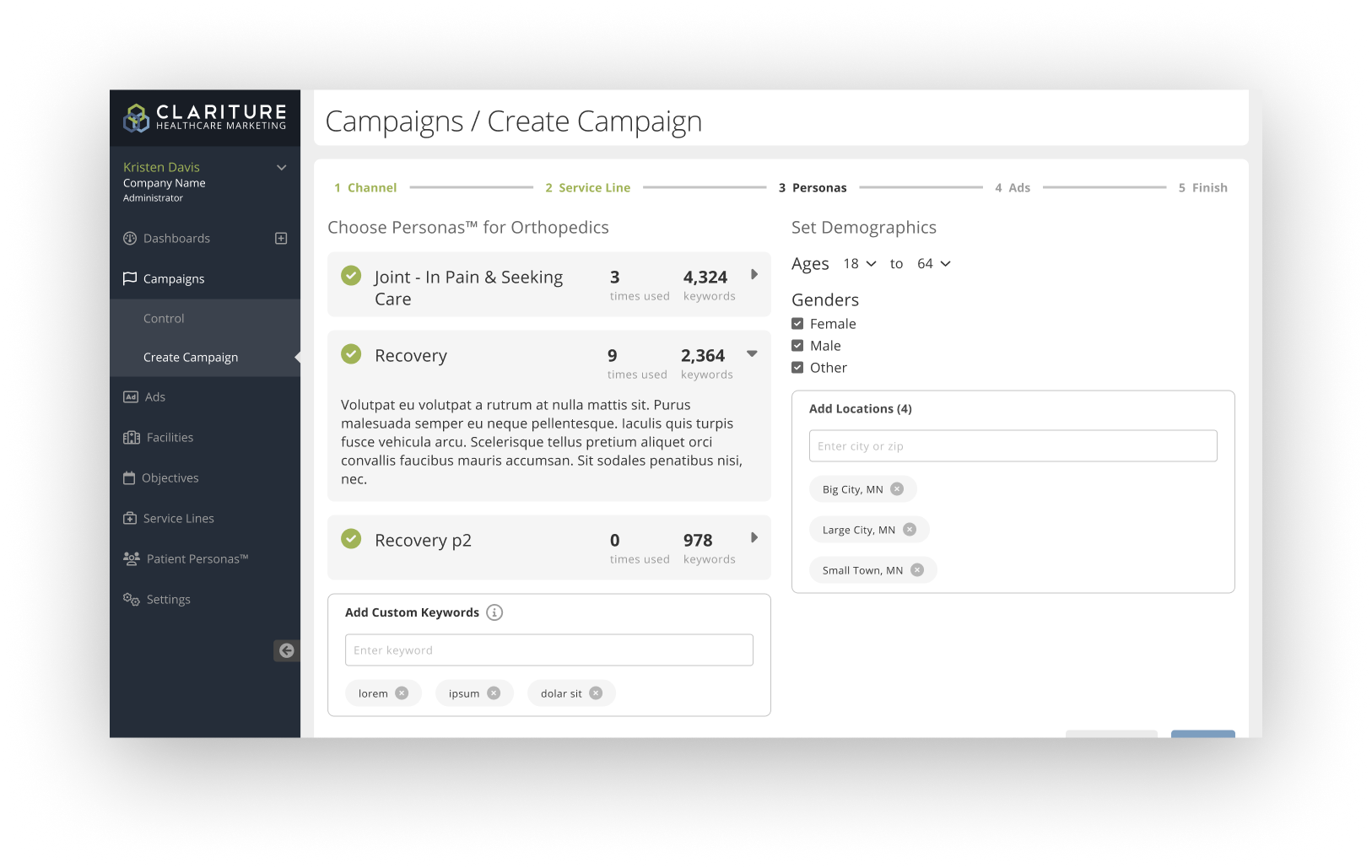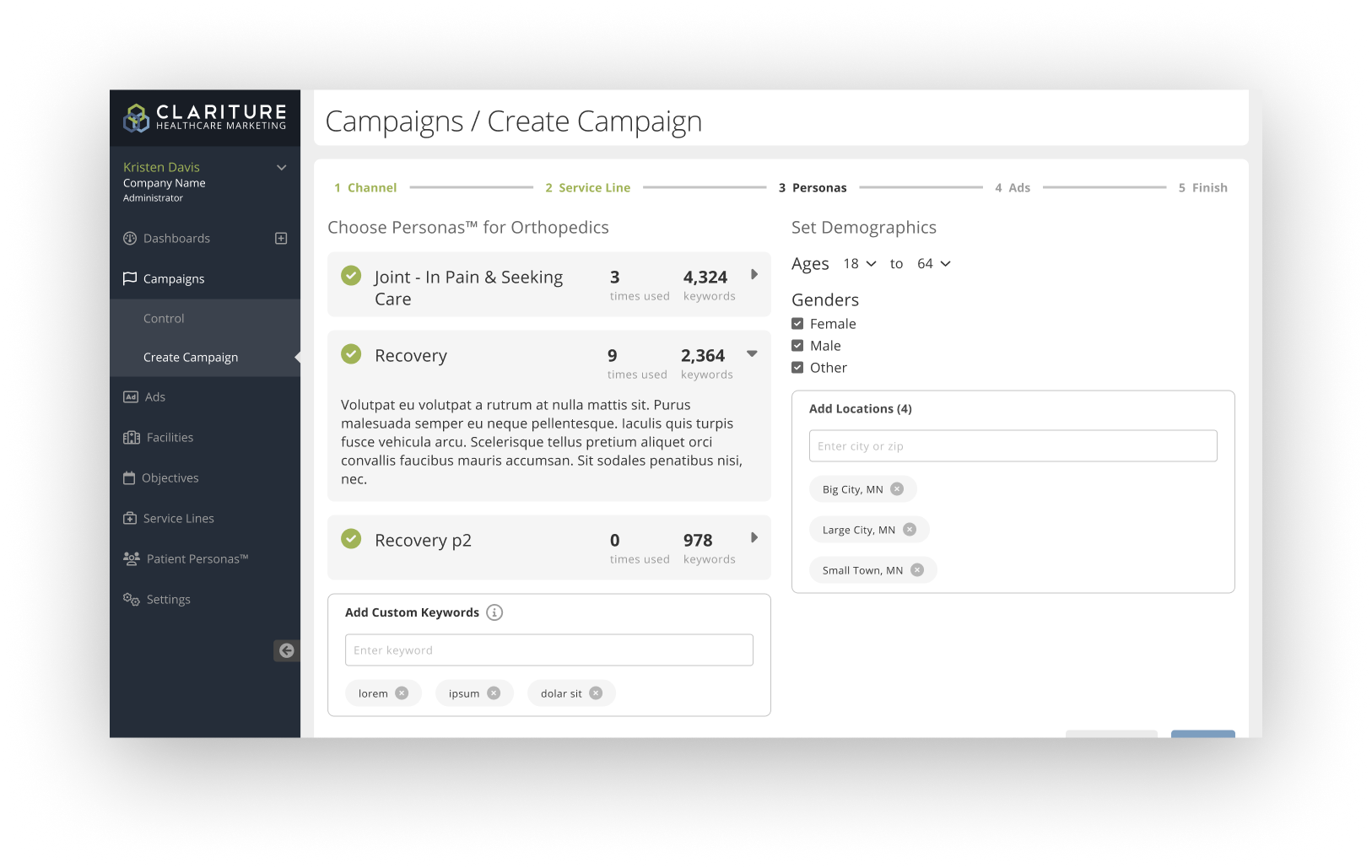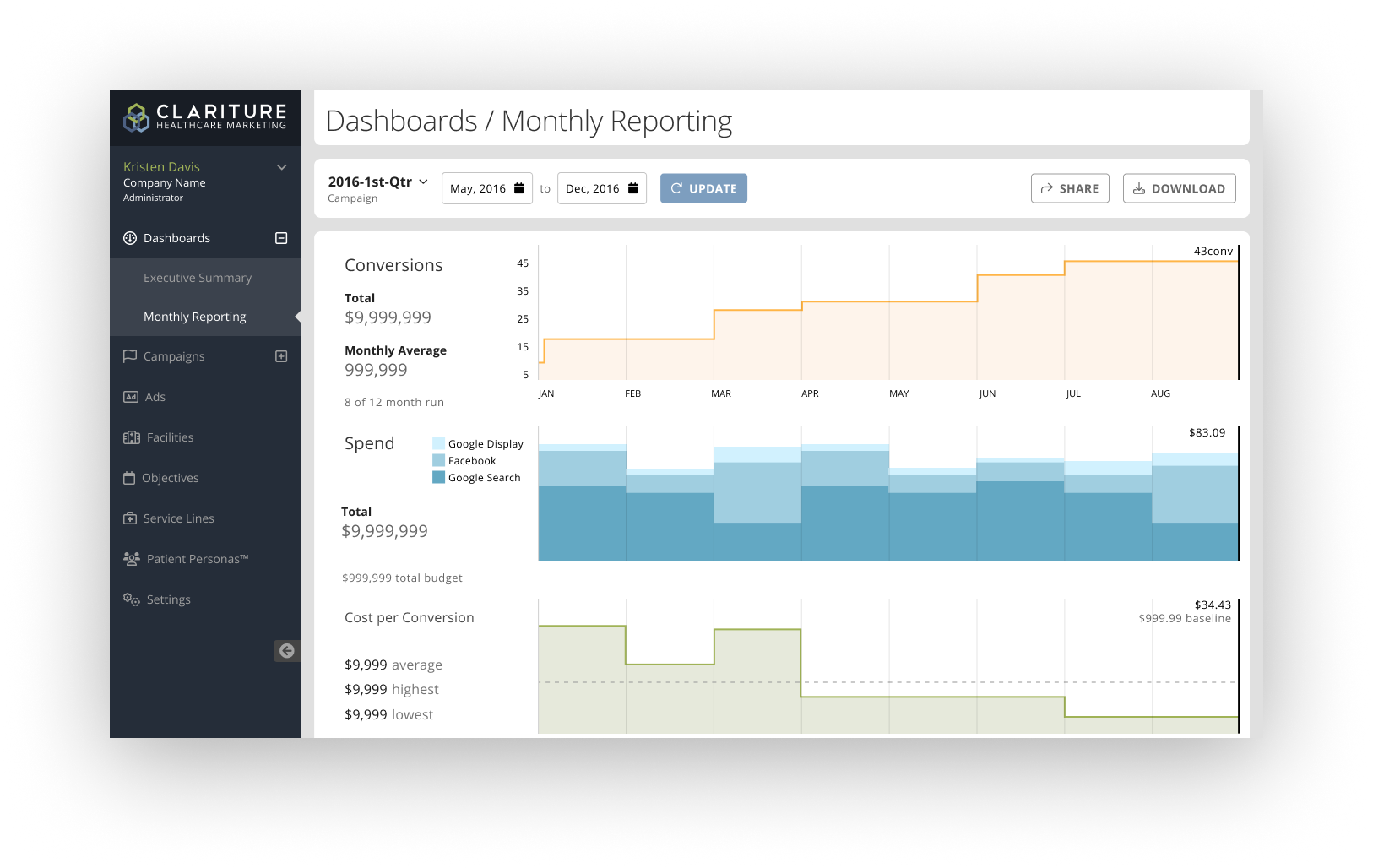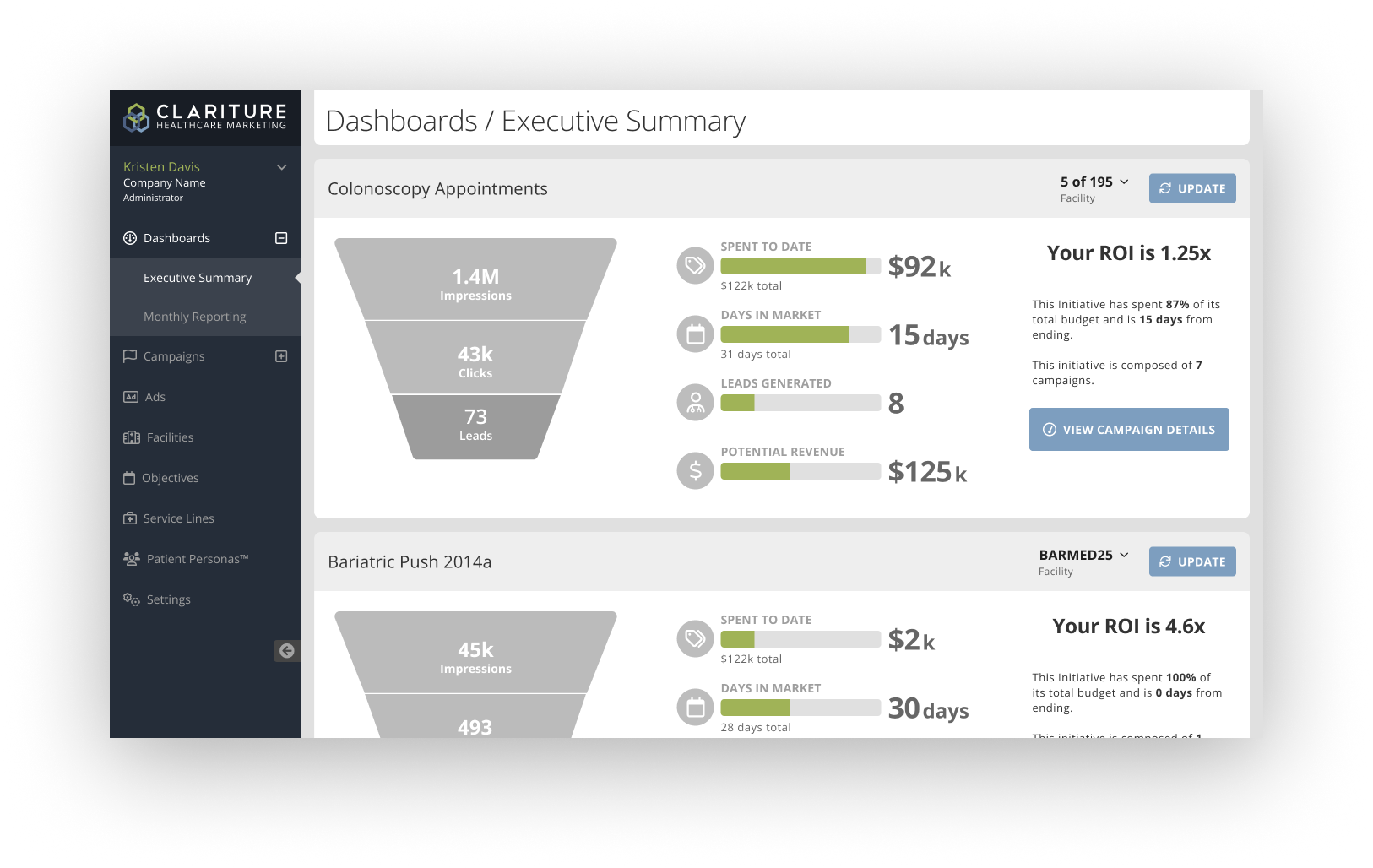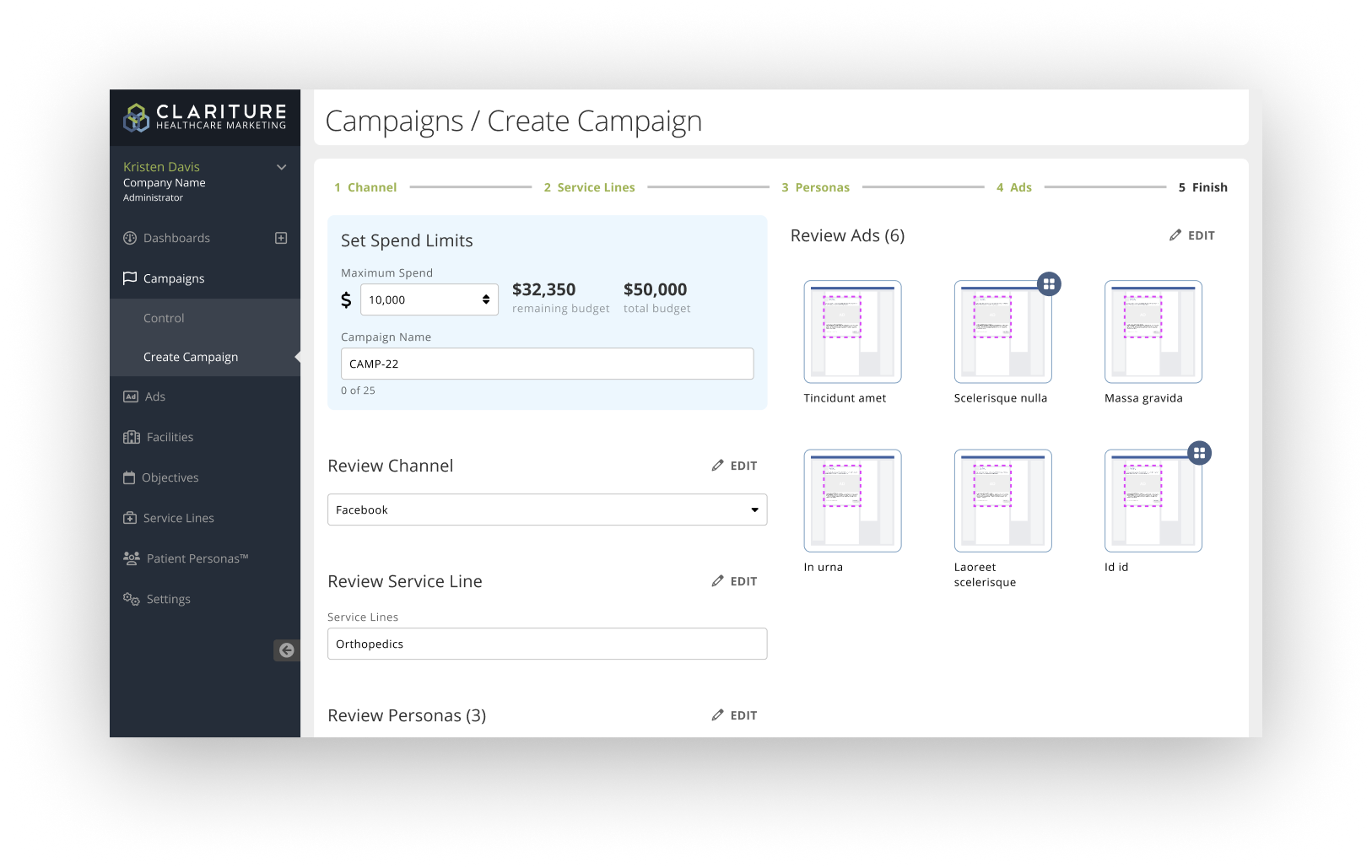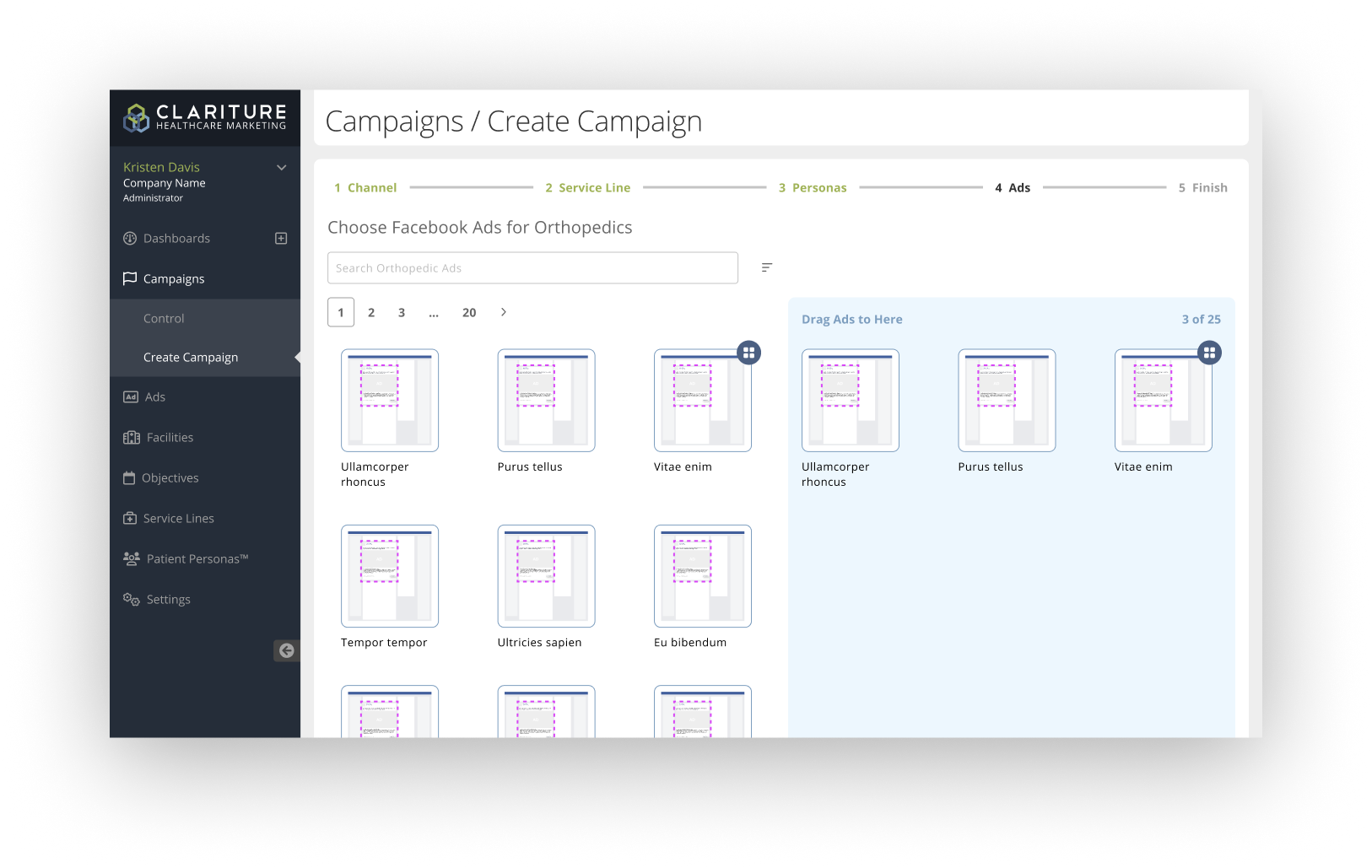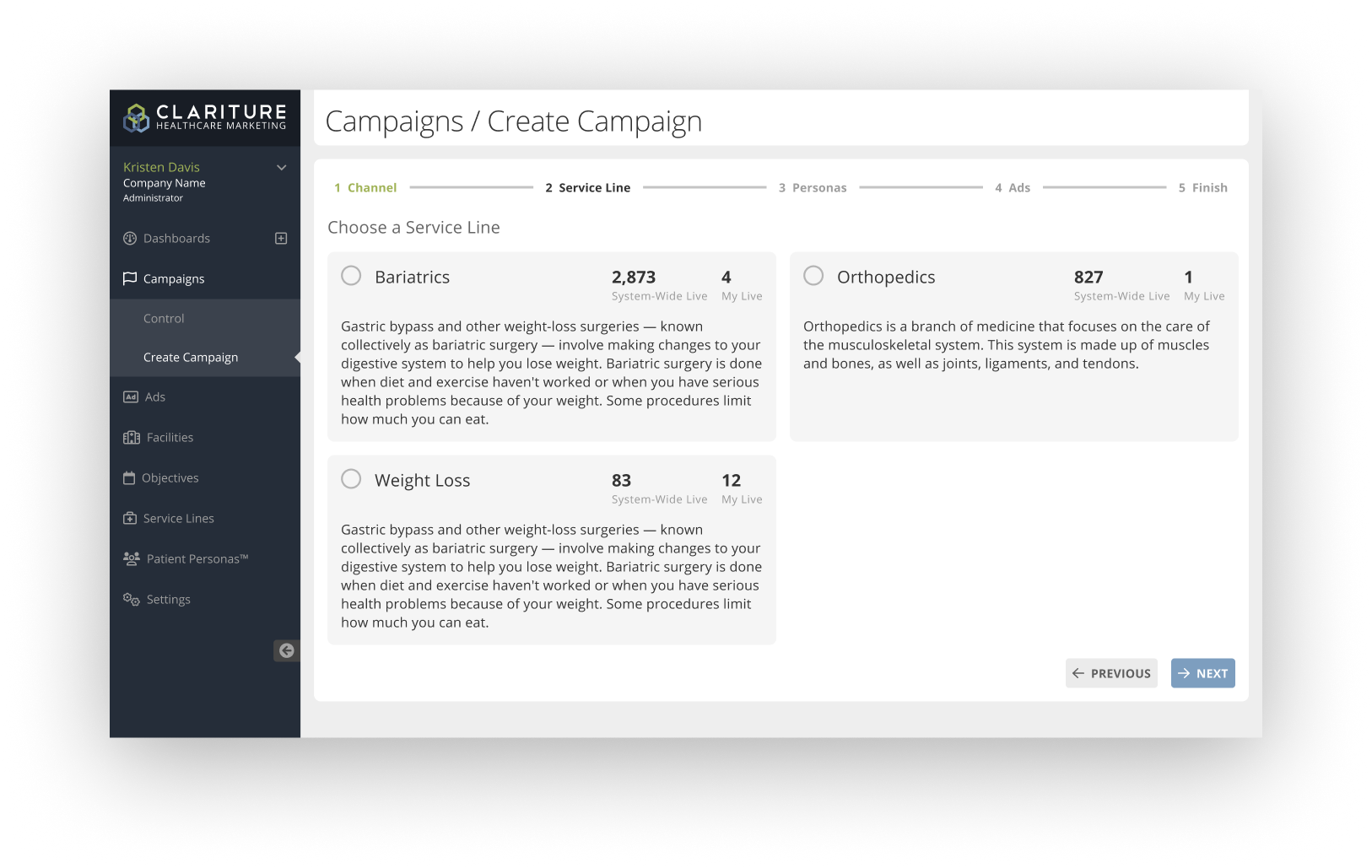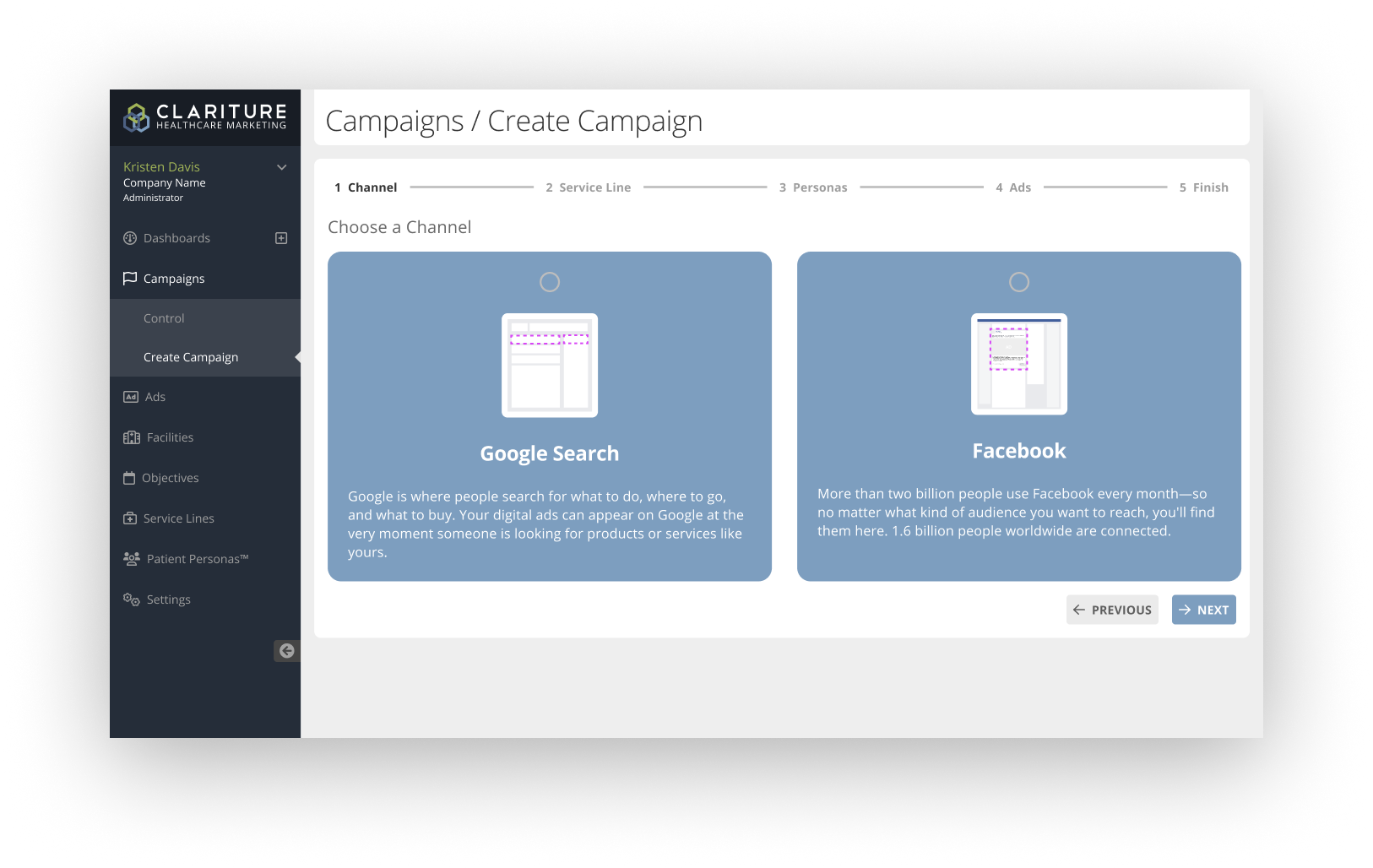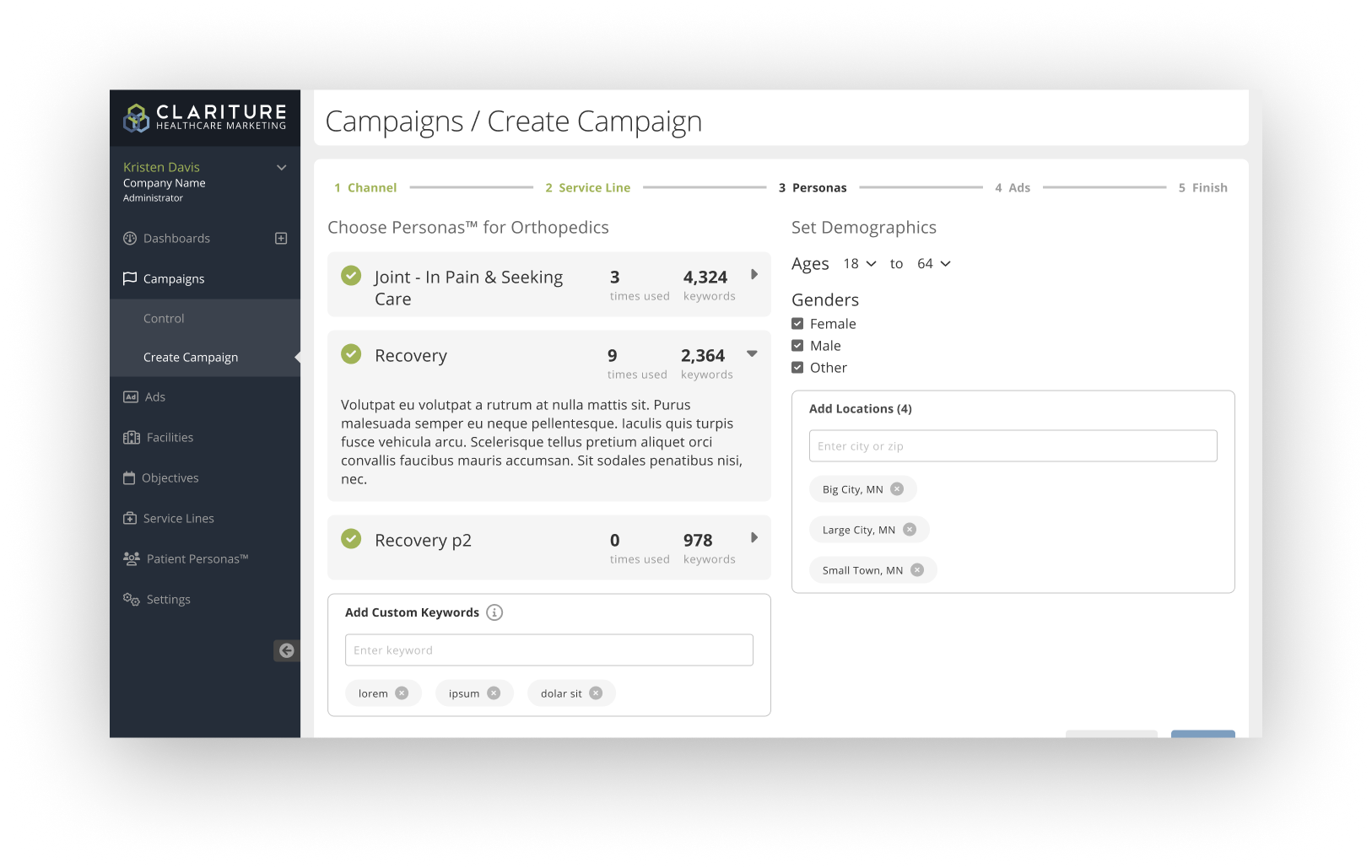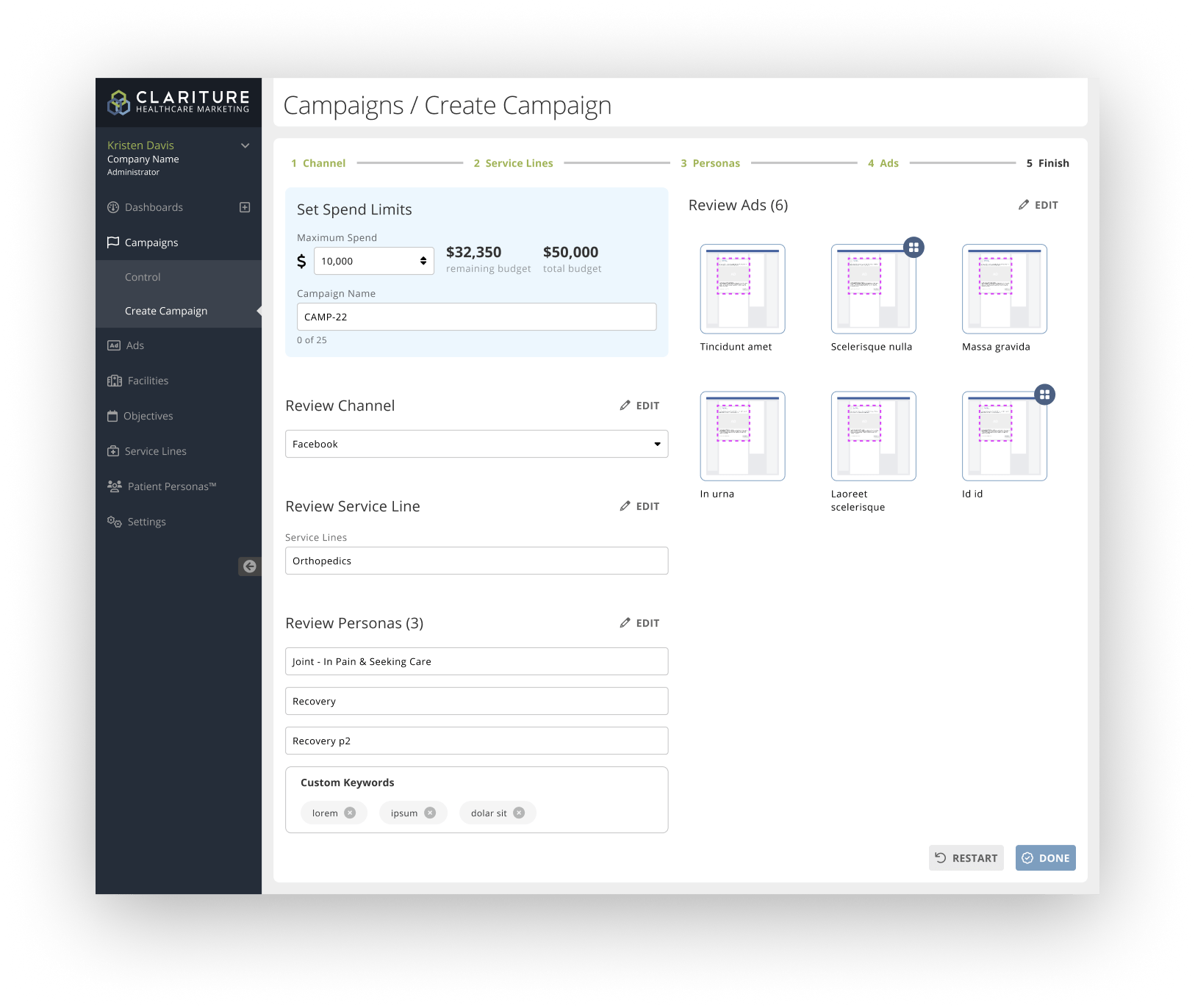 Campaign Creation Wizard
Lean UX Cycle: 2 weeks
Design Cycle: 4 weeks
The Problem
As a Marketing Manager, I want to create healthcare-focused digital marketing campaigns without being overwhelmed by the process, jargon, and limitations of using Google and Facebook directly.
Solution
I created a stepper¹ to guide users through. Ad Groups (premade collections of ads) and Personas (premade collections of keywords) enable me to break the process into manageable chunks².
¹ Miller's Law - The average person can hold only 7(+2) items in their working memory.

² Tesler's Law - For any system, there is a certain amount of complexity that cannot be reduced.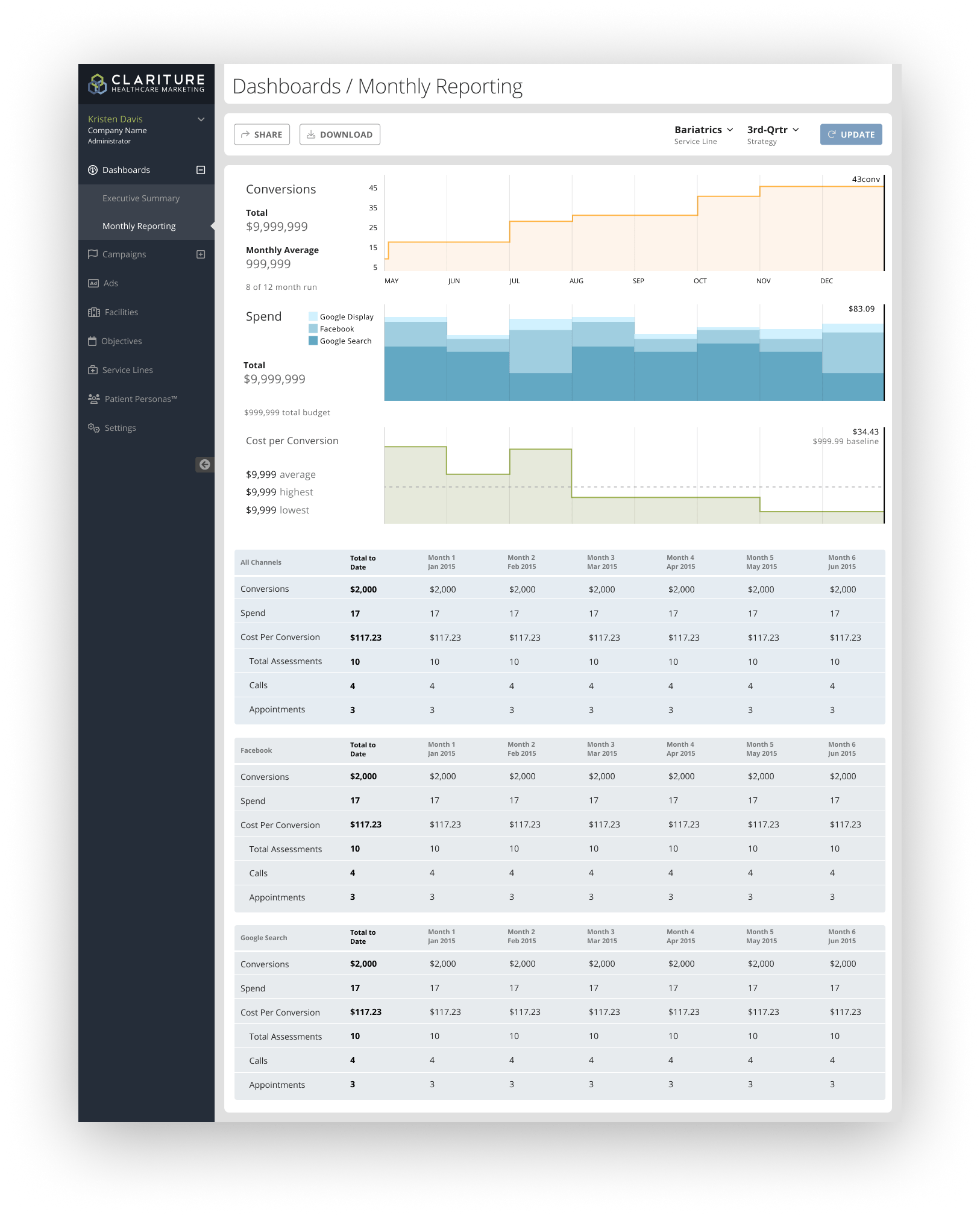 Monthly Reporting
Lean UX Cycle: 2 weeks
Design Cycle: 3 weeks
The Problem
As a Healthcare Marketing Executive, I want the power to spontaneously examine how our campaigns perform daily without being forced to dig into the data.
Solution
I delivered a combo layout that serves the opposing paradigms of "quick check-in" vs. "transparent data." The top would provide an interactive multi-metric bar chart, while the bottom supplies the standard data table that provides the executive a sense of data transparency.¹
¹ Aesthetic Usability Effect - Users often perceive an aesthetically pleasing design as more functional.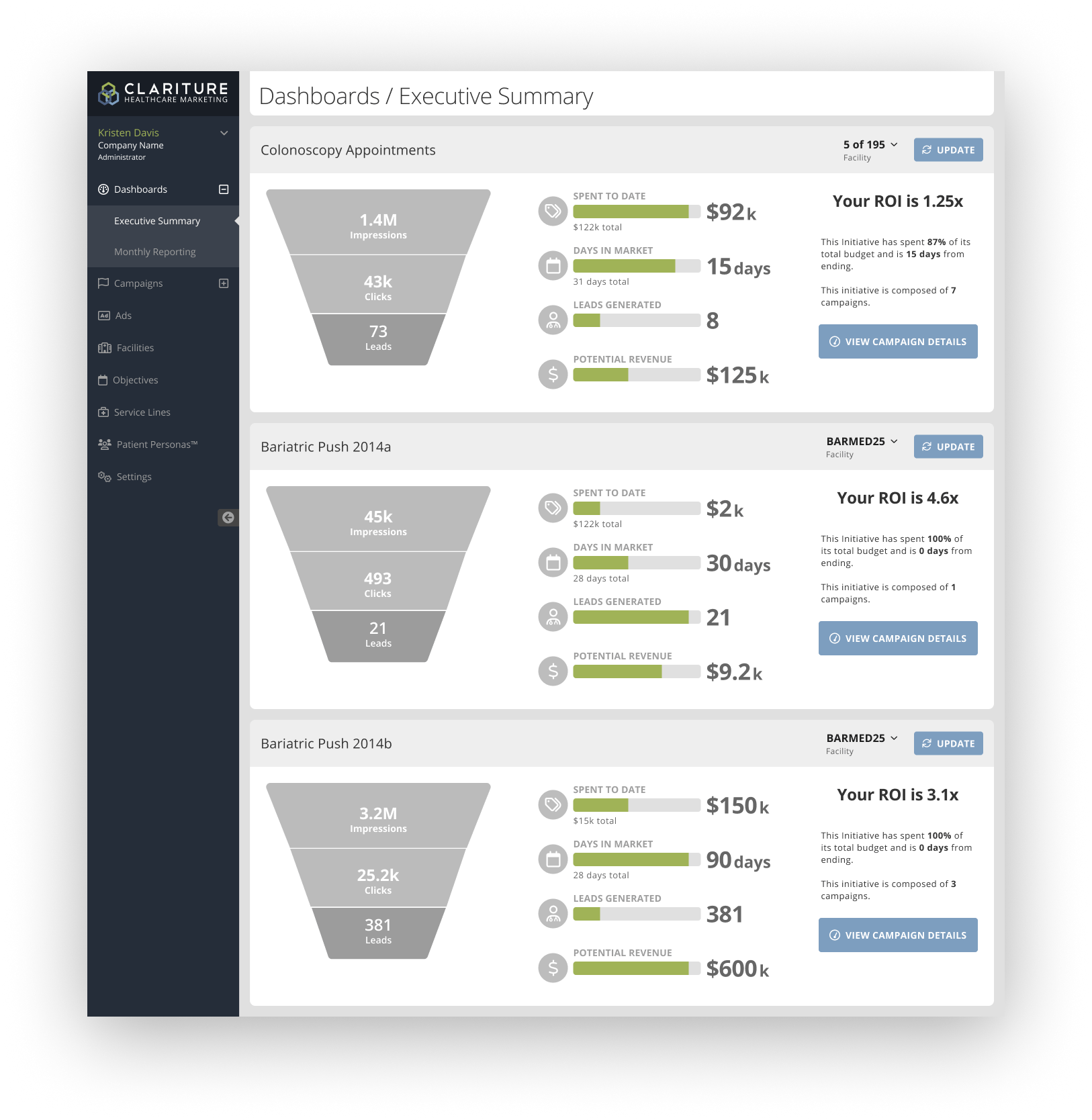 Executive Summary
Lean UX Cycle: 1 week
Design Cycle: 2 weeks
The Problem
As a Healthcare Marketing Executive, I want a simple report to prove our ROI to a Facility Director.
Solution
I fell back on paradigms that are universal within digital marketing platforms.¹ The conversion funnel, progress bar, and plain English summary are cross-functionally accepted patterns.
¹ Jakob's Law - Users spend most of their time on other sites, and they prefer your site to work the same way as all the other sites they already know.

Weekly Reporting Emails
Lean UX Cycle: 1 week
Design Cycle: 2 weeks
The Problem
As a Healthcare Marketing Executive, I need to monitor the pulse of my facilities' marketing campaigns without becoming bogged down in the daily details.
Solution
I delivered a weekly mailer that extended the functionality and experience of our web application. We crafted a scalable system for providing our customers with the same quality product every week and integrated the functionality into our web app.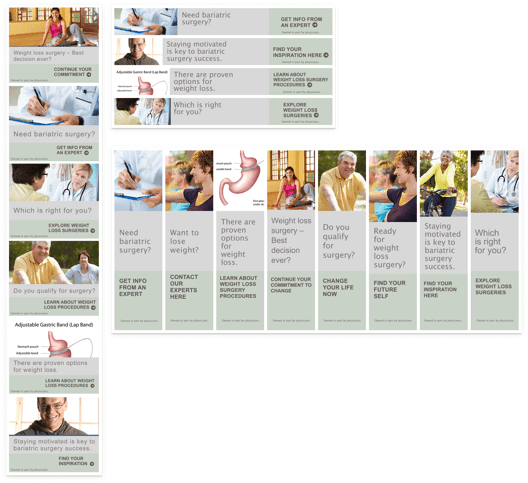 Producing Client Ads
Design Cycle: 2 days
The Problem
As a Clariture customer success manager, I need to generate ads from an Excel spreadsheet regularly.
Solution
I set up templates containing the sizes required and tokens for the data. The process can be delicate but is infinitely scalable. I like building solutions others can own and run with.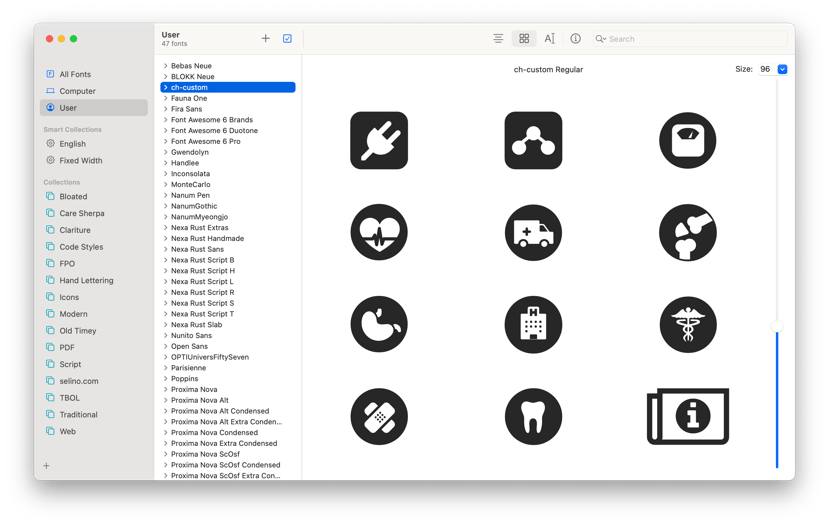 Making Font Sets
Design Cycle: 2 days
The Problem
As a principle product designer at Clariture, I'm continuously asked to supply others with versions of our health-related icon. Unfortunately, the process is tedious and problematic.
Solution
I've converted our service line icons into a font set that's easy to install and use for any team member, regardless of their toolset. In addition, updating and distributing the font is infinitely easier than responding to individual requests.
What have I learned from this experience?
My four-year quest with Clariture Health was an emotional rollercoaster as I watched three product managers, three engineering teams, and two CEOs come and go. When we were acquired and my position was made redundant, I took a whole year off to reset. My Silicon Valley startup experiences have made me quite resilient to pivots, reorgs, and the inherent risk of building new products.
My shortlist …
Build solid workflows, toolsets, and systems and then adapt them to projects.

Lean UX research is better than no research.

Coding improves my problem-solving skills, which enhances my designs and feature implementation.