GROW IT
The one-stop app where you can find and order
plants and get professional advice for taking care of them.
GROW IT
User Experience Design & Branding
People don't need to be professional gardeners or have a big backyard to enjoy growing their own plants. GROW IT is the one-stop app where you can find and order plants and get professional advice for taking care of them.


Problem
It takes a lot of time to find the right plant for specific weather, lighting, and living arrangement (apartment or house).

It's expensive to become a professional gardener.

It's emotionally hard to see the dying plants.

It's physically hard to buy medium to large plants and carry them to nurseries to diagnose their problem.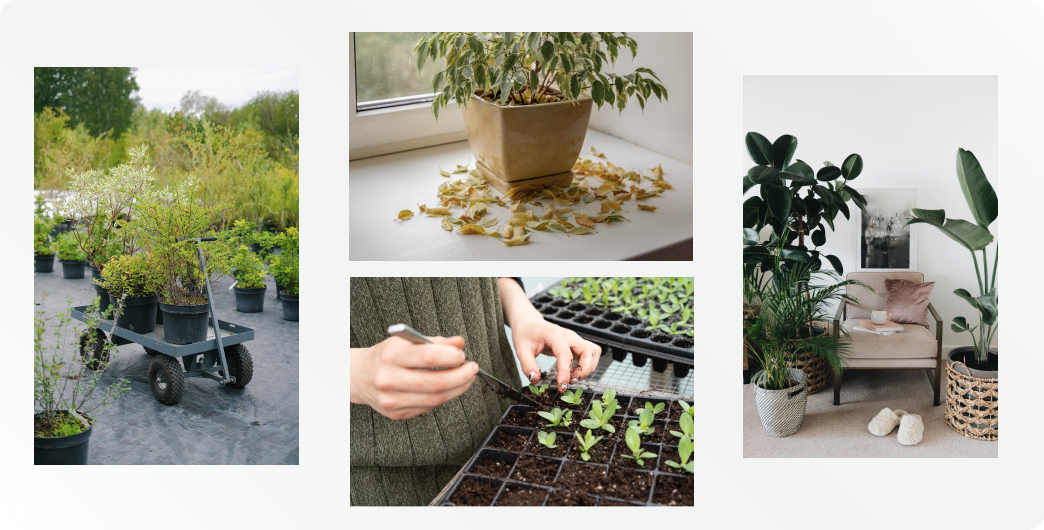 Insights
Most of our respondents stated that they were struggling to find the plant for their apartment and they spent more than a week searching for the right plants. Some people even said the online instructions for plants are not accurate and they ended up with dead plants. Interestingly, most of the people feel responsible to take the best care of their plants and keep them alive even knowing the full refund policy of some of the retailers.
Solutions
Create an application that has a large library of plants and gardening tools.

Recommend users what plants would be best for them based on their preferences (location, knowledge of gardening, etc.)

Deliver the plants and gardening tools to the users nationwide.

Connect with a professional gardener and receive plant maintenance instruction.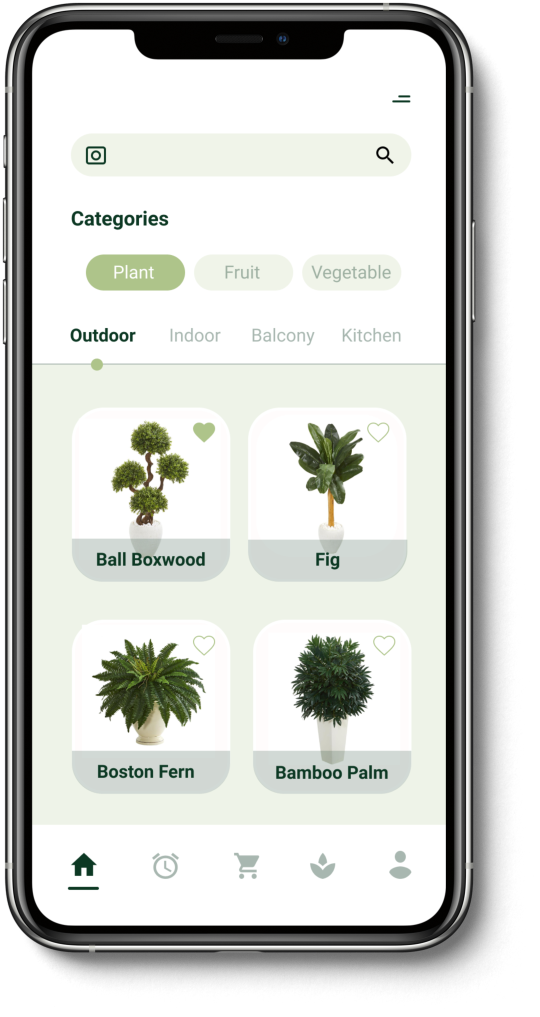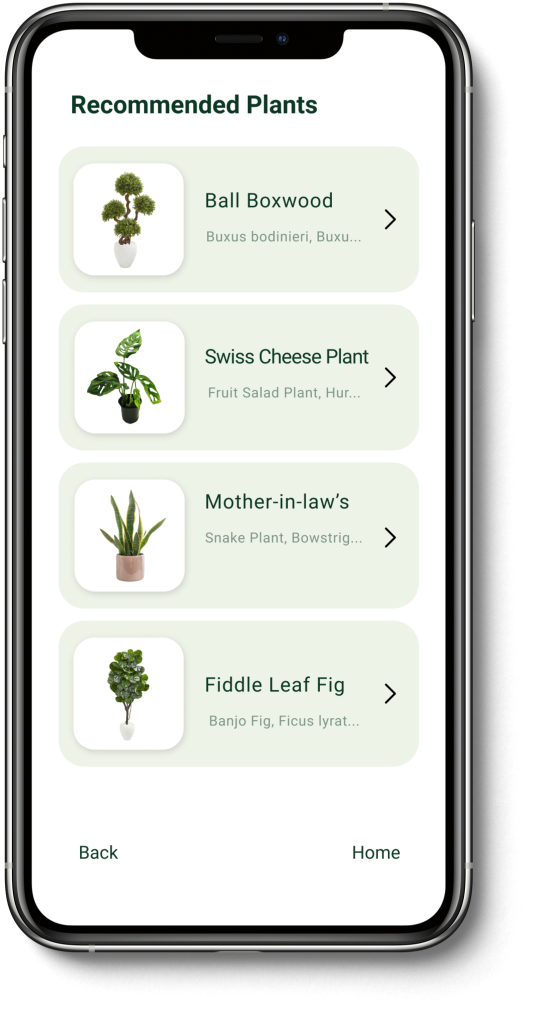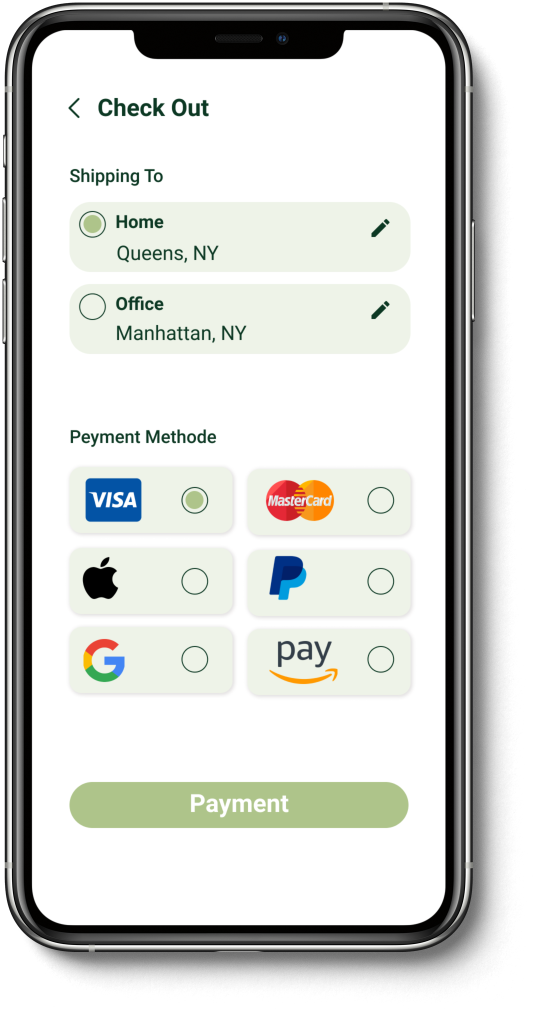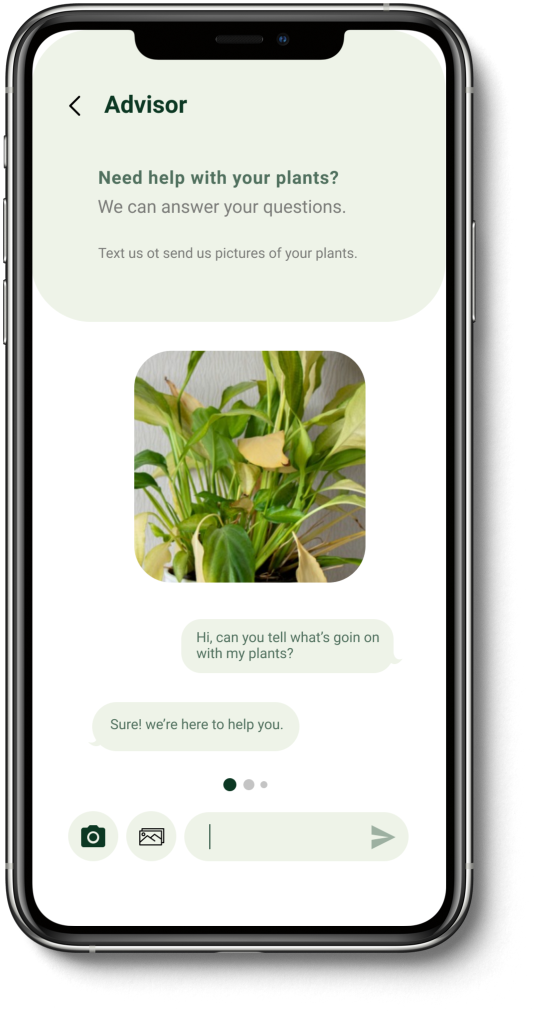 Assumptions
I made some general assumptions about people and growing plants at home:
People want to have live plants to be happier;

They don't always want to spend a lot of time and money on the plant that they have limited knowledge of;

Physical constraints like not having a vehicle or enough space in living arrangements stop people from growing plants at home;

People usually don't have access to professional gardeners, and it is hard to find the right solution online for dying plants.
Recently more people are working from home, and they want to bring nature to their homes, but they are so busy to physically buy plants. Even they find spare time to buy plants, their fear of killing plants discourages them from growing plants at home.
Research
To better understand the user needs for gardening products and services, I conducted a user survey with different demographics.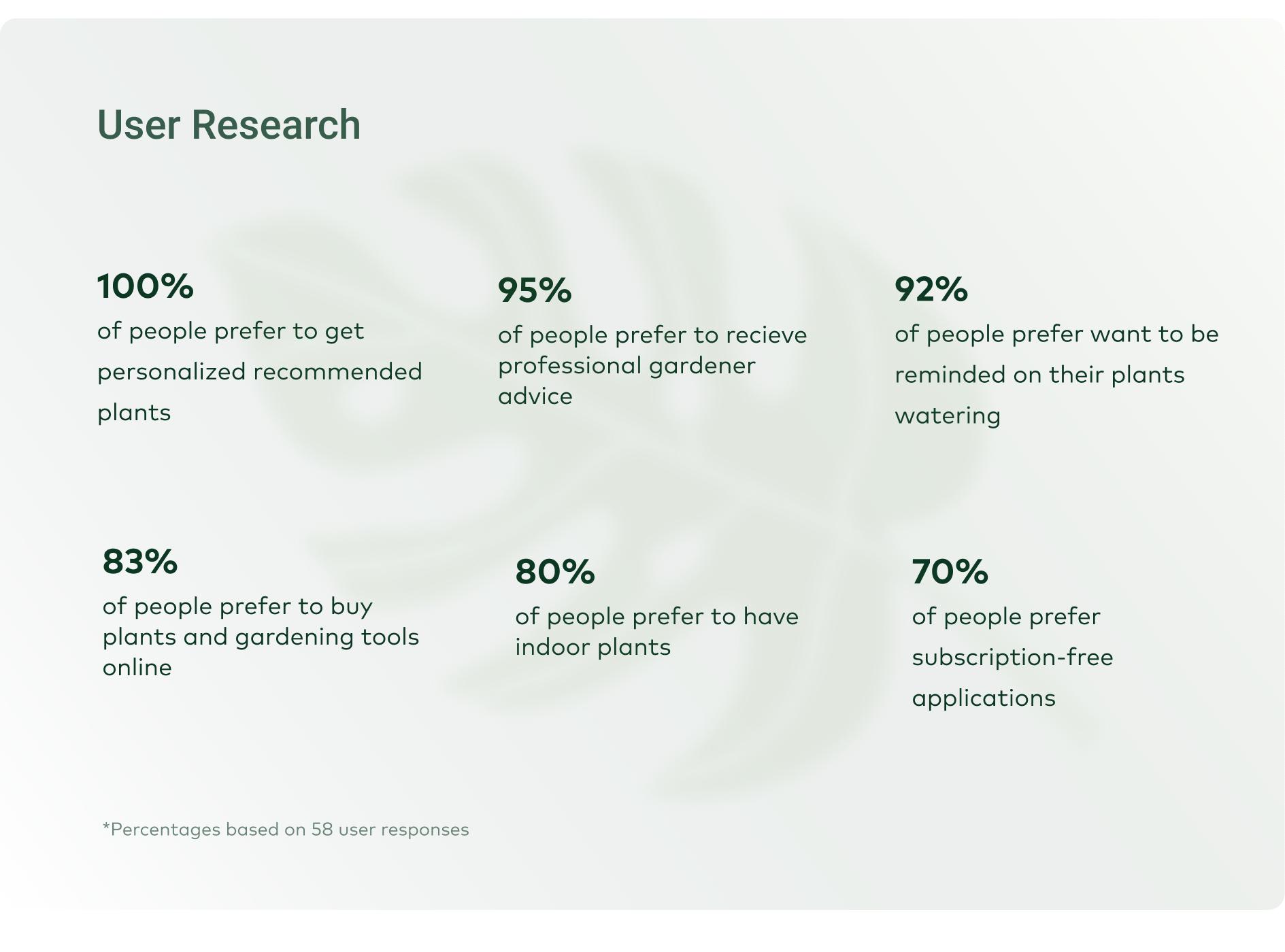 Key takeaways from my user research:
As users stated they want personalized recommendations on plants and gardening services, GROW IT should have a large library of plants that meets users' expectations.

Due to the time constraints of users and their limited access to personal vehicles in metropolitans, GROW IT should provide high-quality personalized gardening advice and online shopping services.
Persona
The insights I gained from surveys and interviews leading up to the persona. The main goal is to display those patterns and pain points, which allowed me to further empathize with users.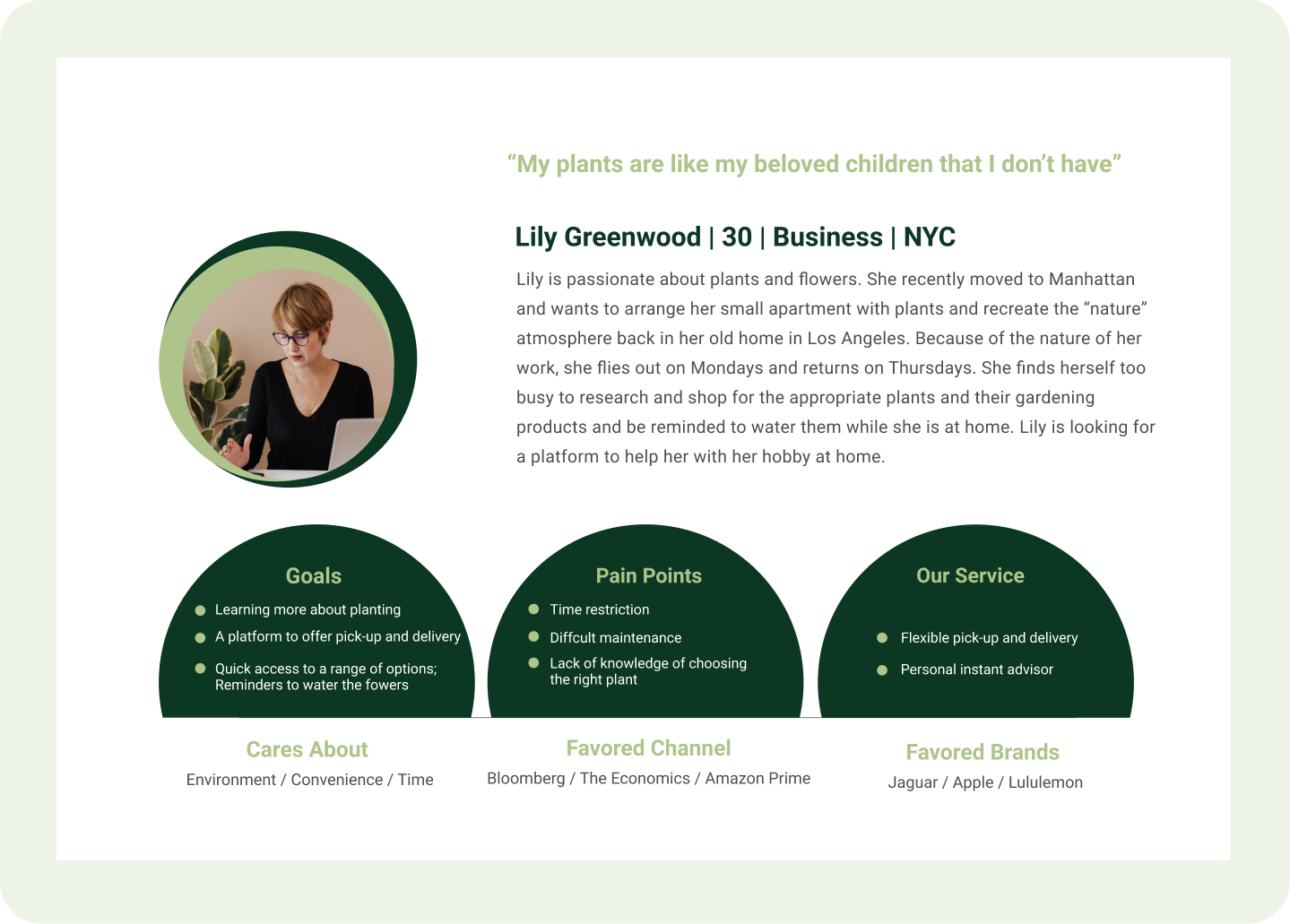 Considering Lily's goals and pain points, the main theme is to maintain the quality of gardening service for users while being time-efficient with personalized online services.
User Journey Map
Creating a user journey map helped me better understand the users' expectations and their experiences using the app. I illustrated the journey map for Lily from her situation and the steps she took to find GROW IT as the right solution for her goals that would include plant selection, purchasing them, and upkeeping with help of online gardening advice.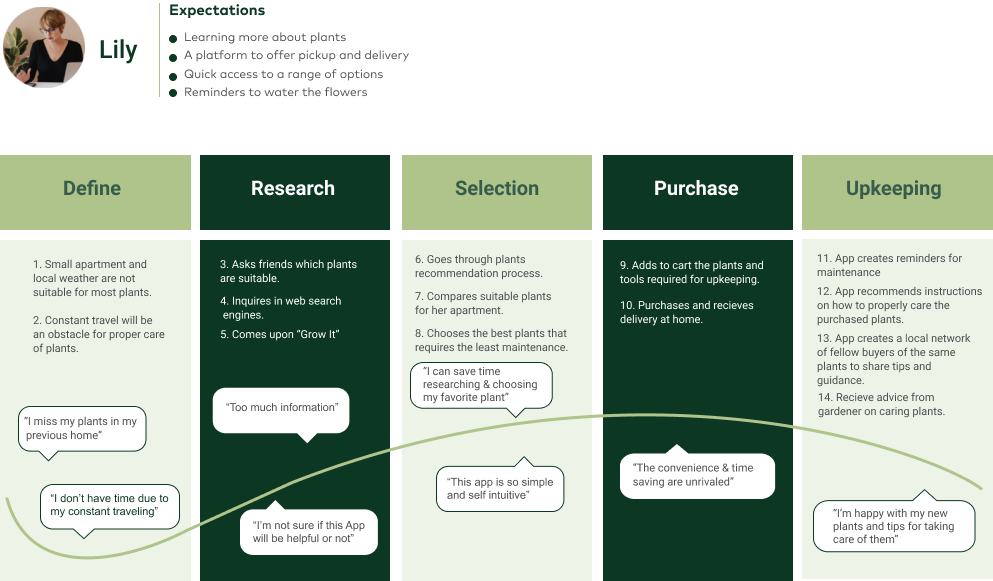 Competitive Analysis Highlights
To find a unique value proposition (UVP) for GROW IT, I analyzed top current competitors. In GROW IT, we offer the main features that competitors provide to the users while our app doesn't require a subscription or sign-up and offers most of the services free of charge. Also, GROW IT leverages AR/VR technology to provide a better user experience for plant selection.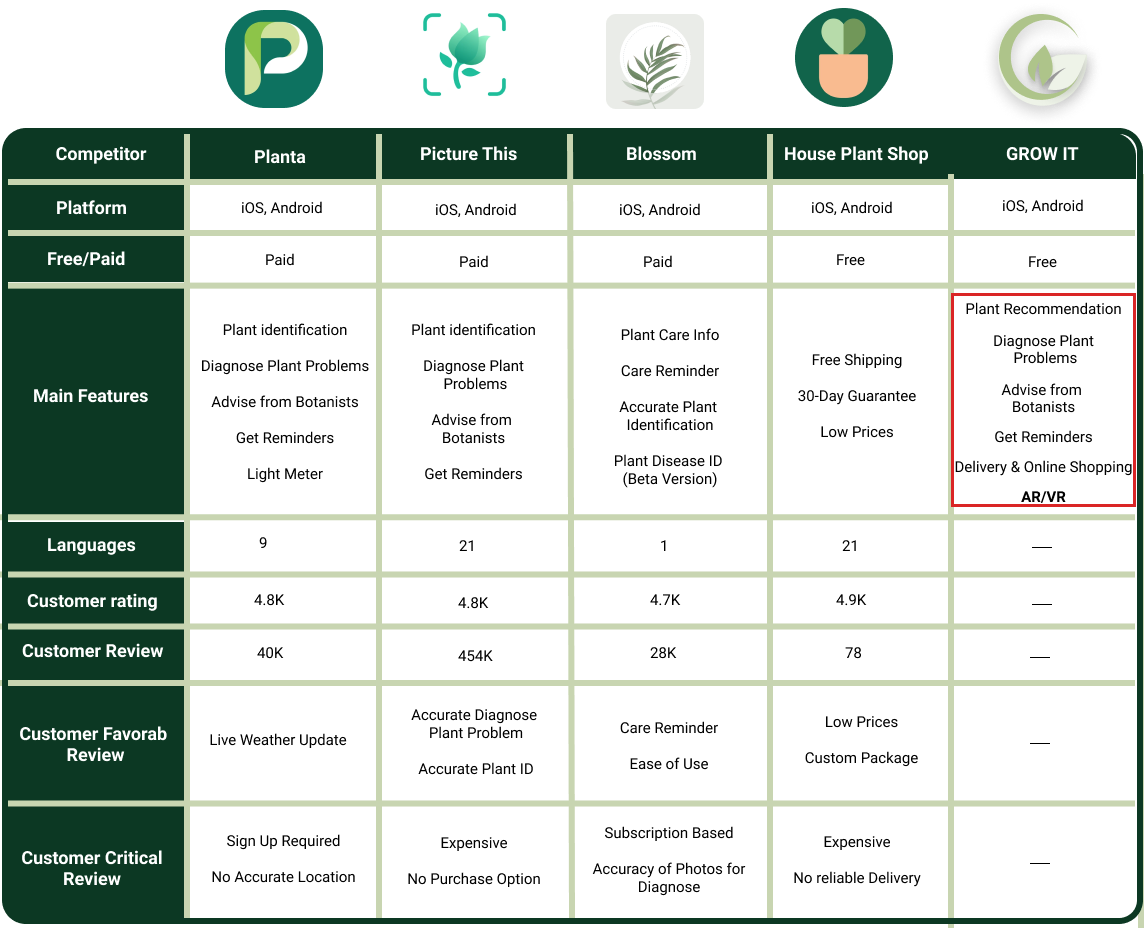 User Flow & User Stories
After conducting user and market studies, it's a good time to create user stories to highlight the main features of the product. The user stories were then converted into user flows done in Figma, to illustrate how the user would interact with the product and accomplish those goals.





Logo Design
The logo is the combination of leaves as a symbol of nature and G as representative of GROW IT brand. It illustrates growing and taking care of plants.
Logo Colors
The color logo options are the primary logo colorways to be used. The full-color logo is the preferred version and should be used whenever possible.

Below are the typography, icons, and elements that are used throughout the design of GROW IT application.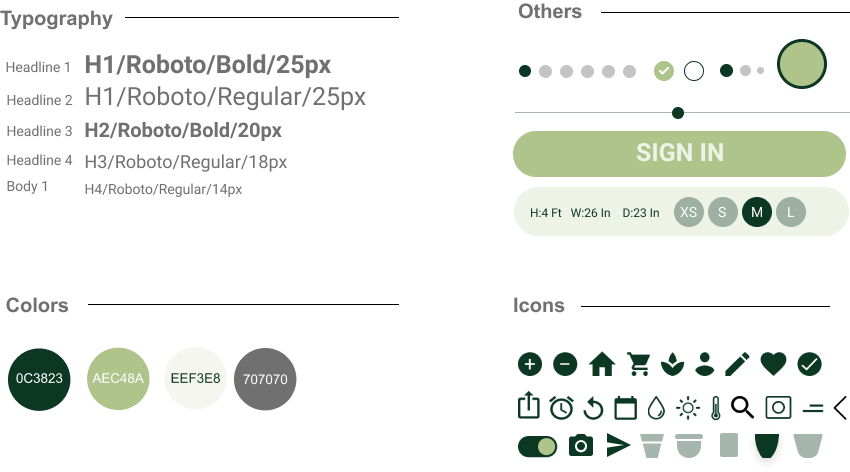 Hand Sketch Wireframe
I drew some sketches to lay out my different ideas for GROW IT features before spending a lot of time on the gray-scale wireframe.

Wireframe
I created wireframes in gray-scale to have a defined template of the screens.
After gaining valuable insight and feedback on the frames, I made a lot of changes in the design. The feedback from my user tests:
The initial onboarding process was too long. I was explaining unnecessary information.

It wasn't an option for users to skip from onboarding, so I included the skip option.

On the sign-up page, it wasn't an option to skip for users to shop as a visitor.

On the home, page users prefer to have information either up/down or left/right not in both directions.
It was imperative that those changes were made before moving forward to hi-fidelity.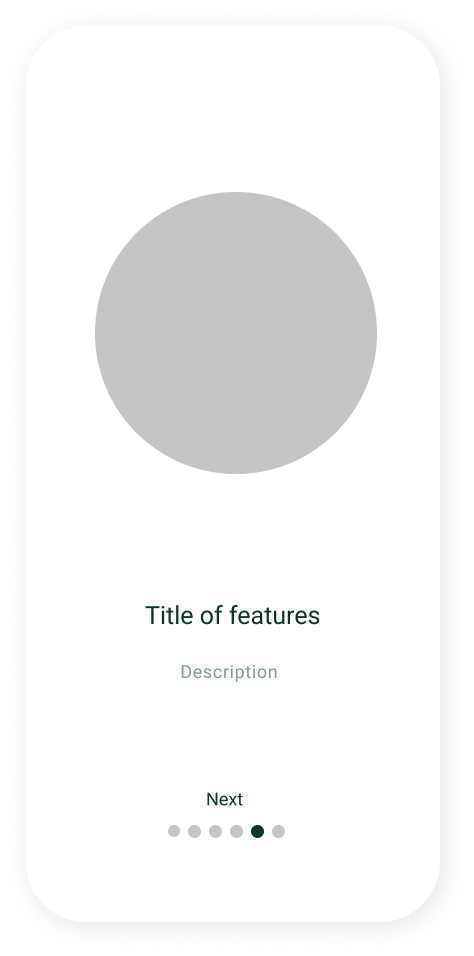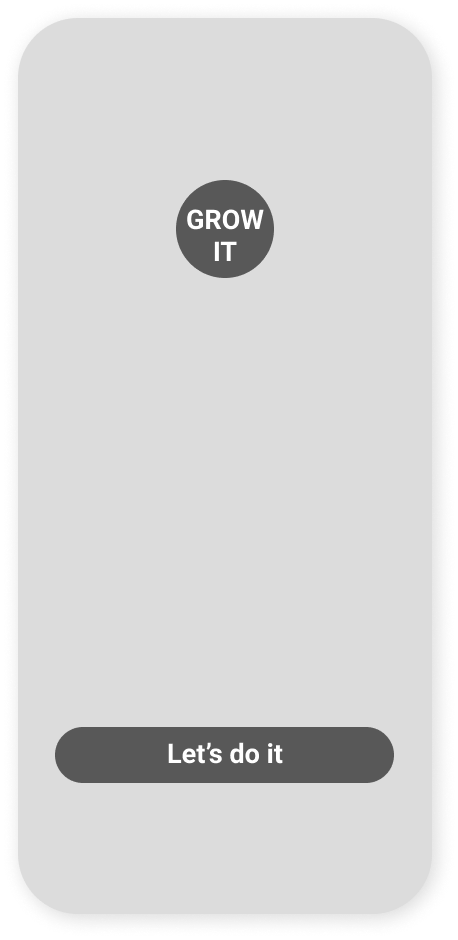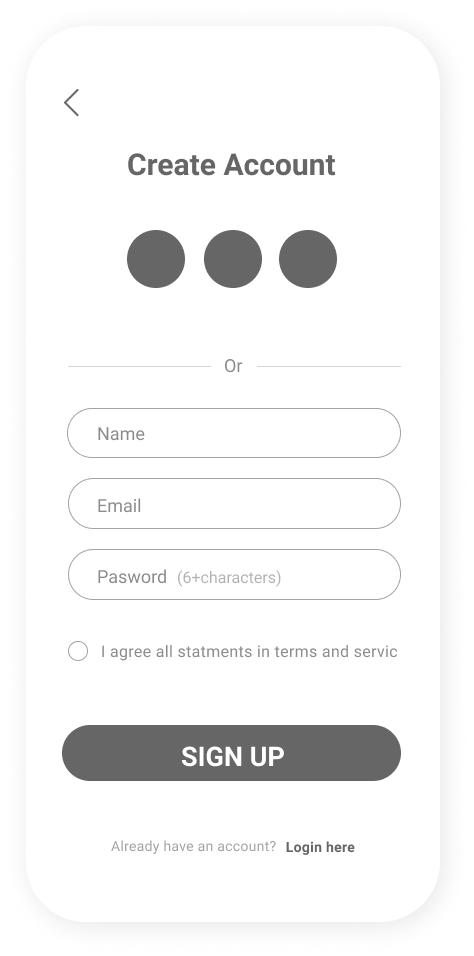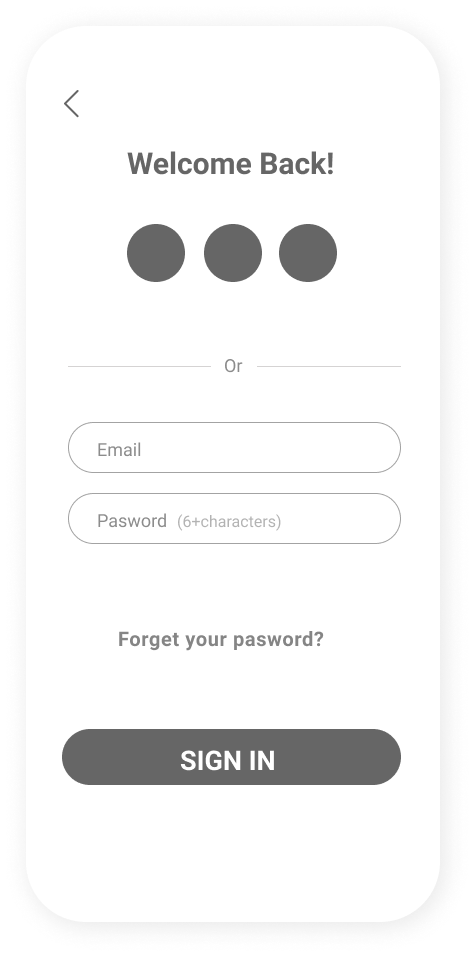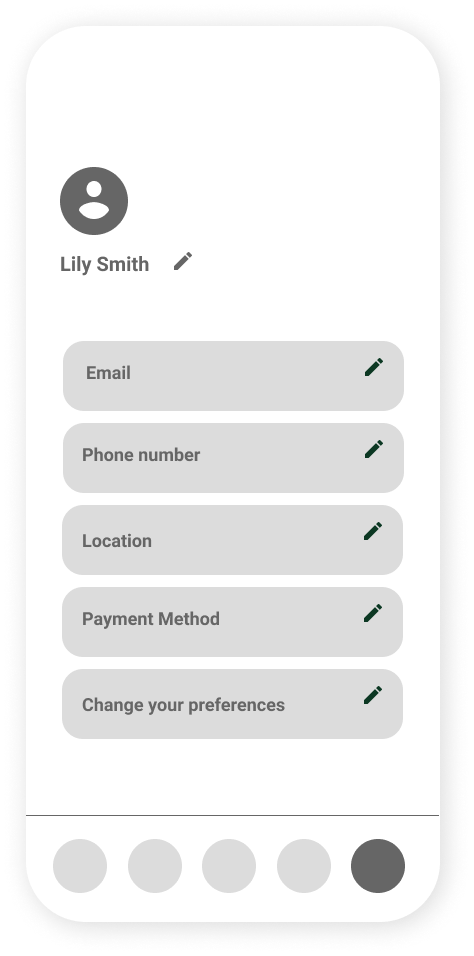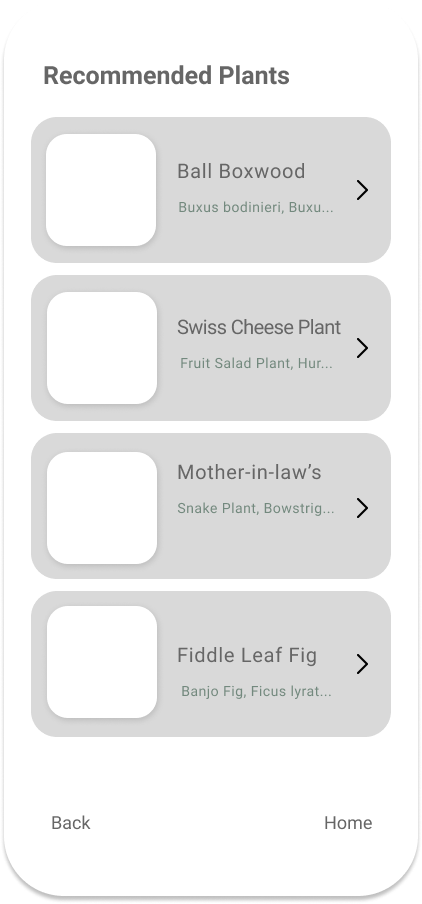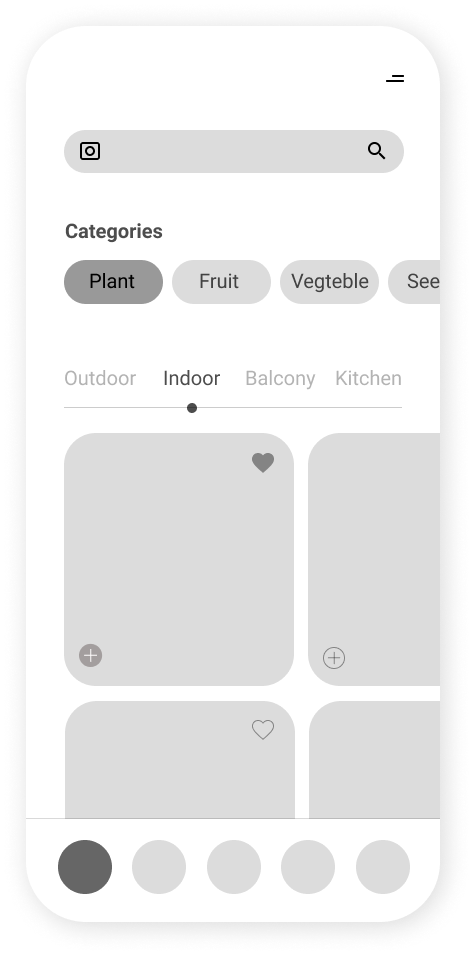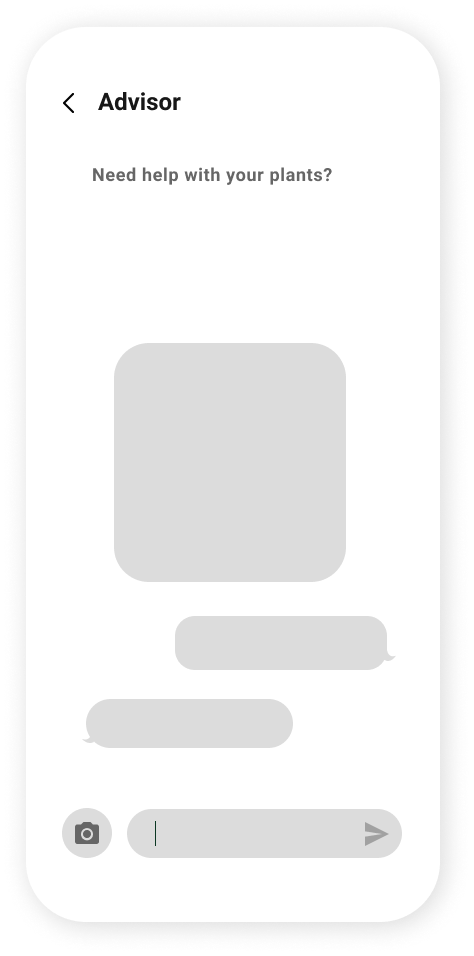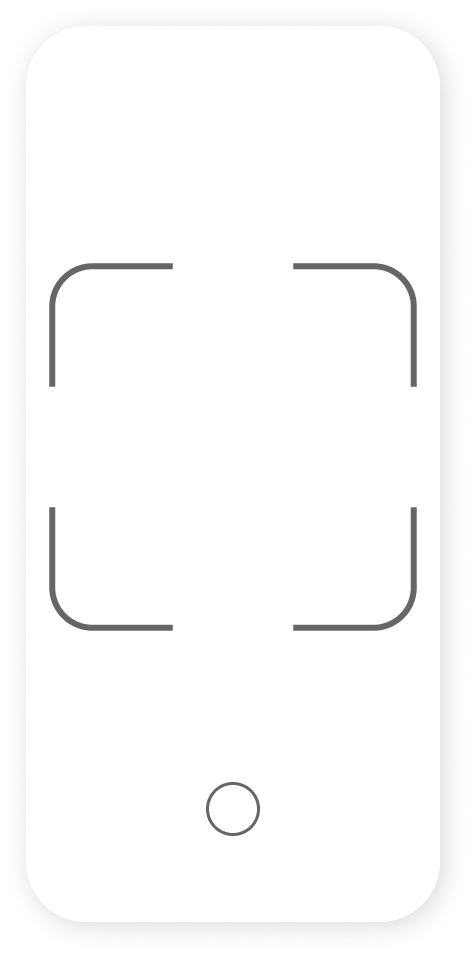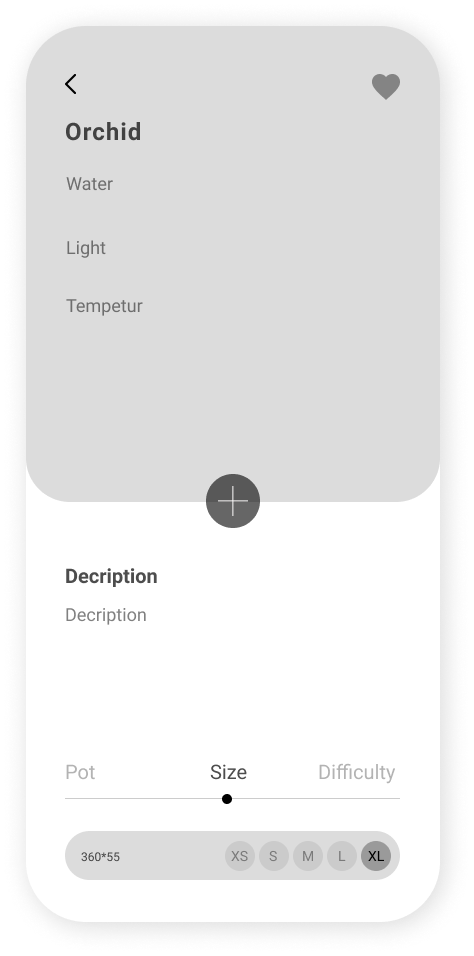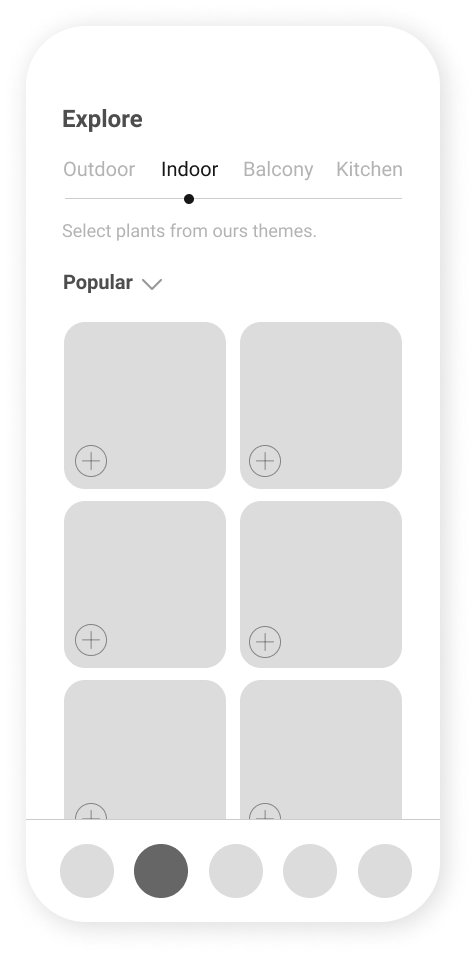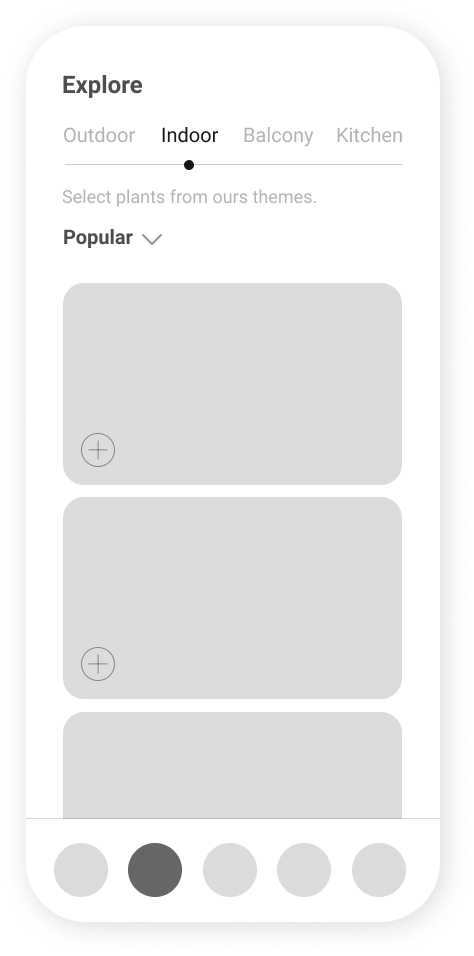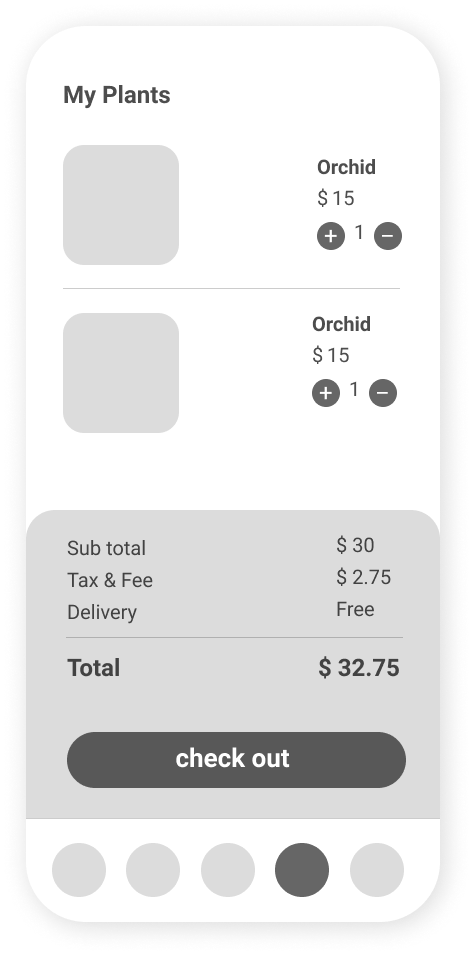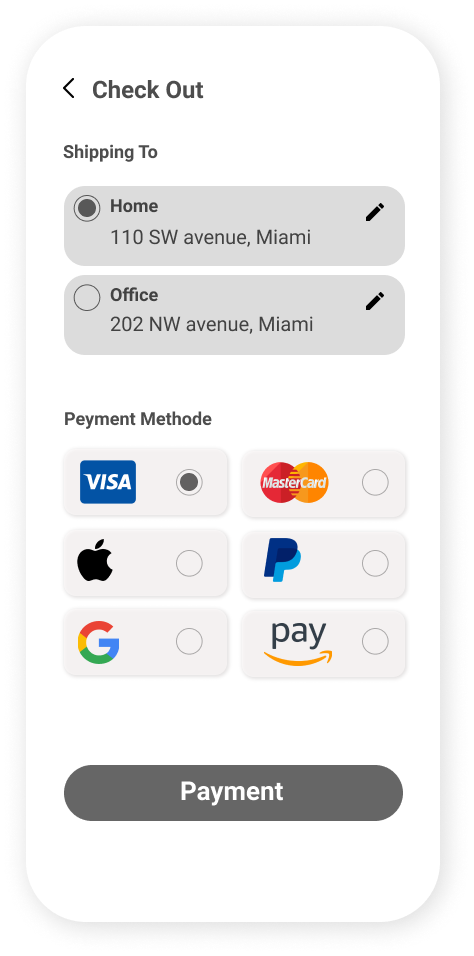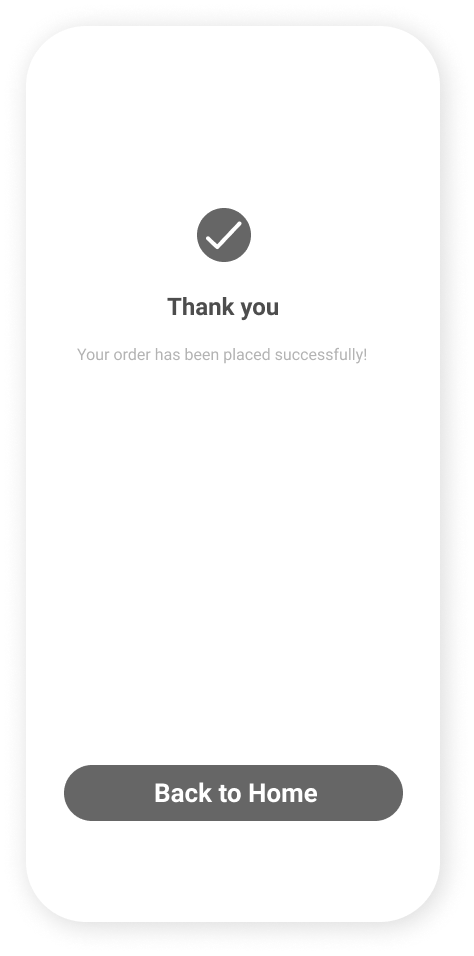 User Testing
I conducted 5 user testing to test the functionality of the application.
While I was creating the high-fidelity prototype, I was able to do a few user testing and A/B tests to validate the confusing instances.
After gaining valuable insight and feedback on the prototype, I made many changes in the design. The feedback from my user tests:
The buttons were too small, which does not look professional.

Not all of the clickable items seemed clickable.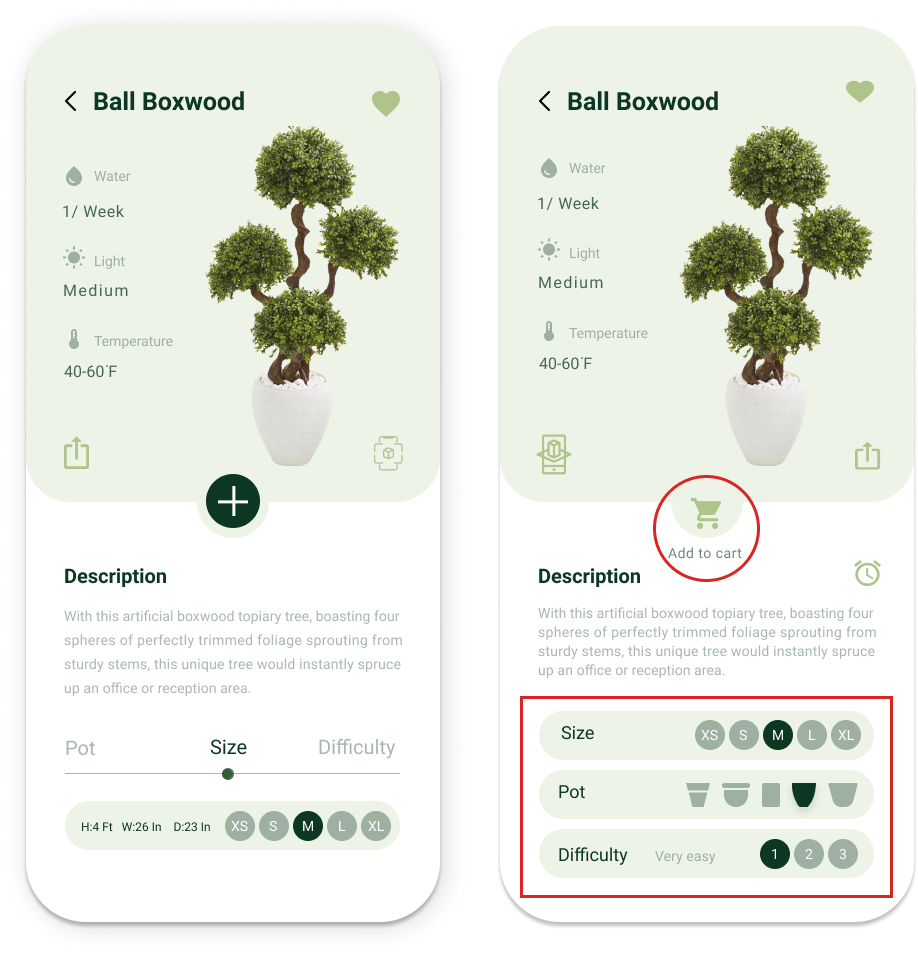 Some users did not understand the Plus (+) button. So I decided to put the shopping cart icon and "add to cart" under this button.
Users were confused with the last section of the page on how to change the pot shape, size, and difficulty. Hence I added different sections for each of the items to show all of them in one place.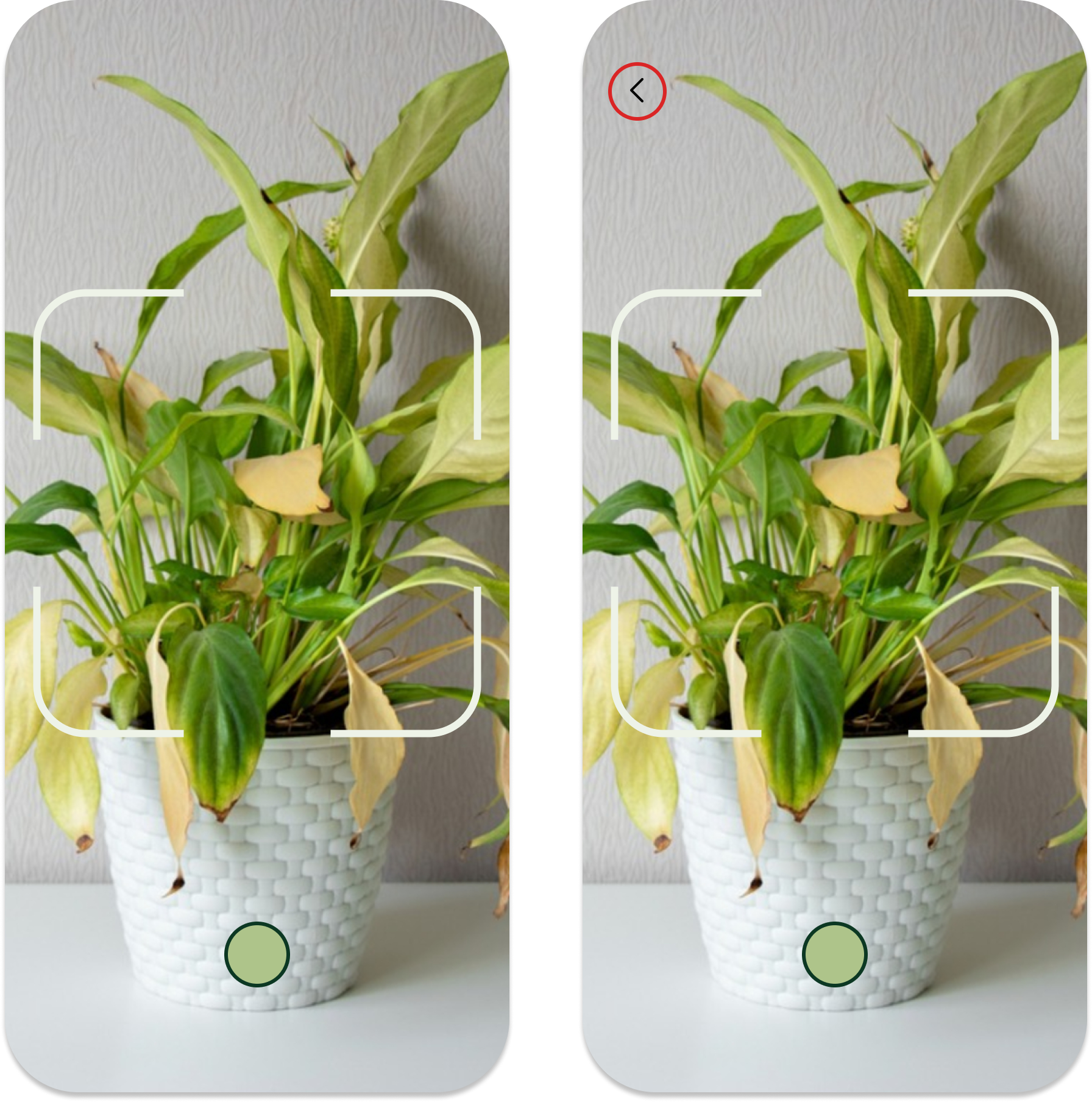 On the capturing photo page, there was no option for the user to go back to the advisor page if the user didn't want to take the photo, so I added a backward arrow.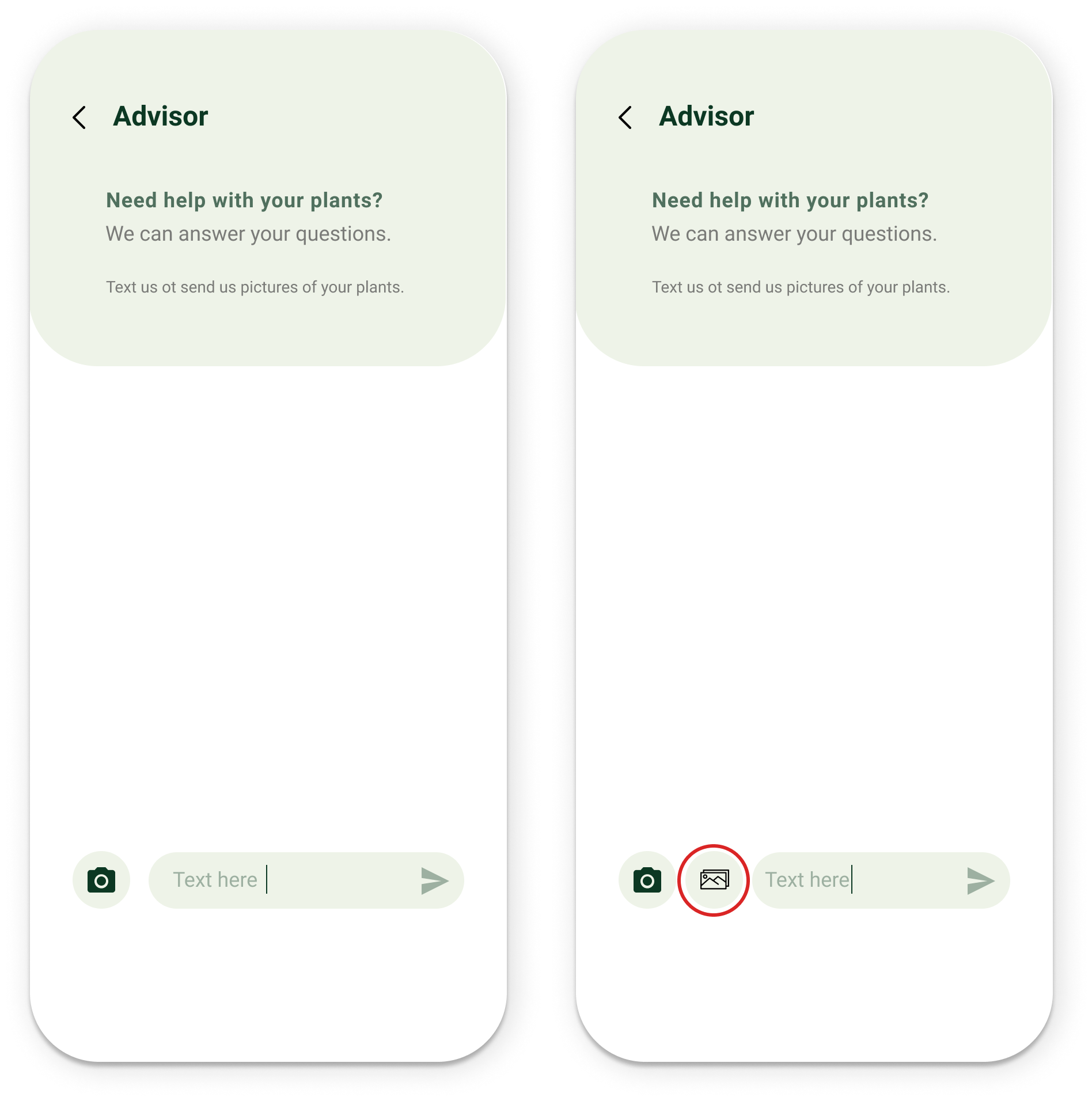 There was no option on the advisor page to attach the photo, so I added a photo button.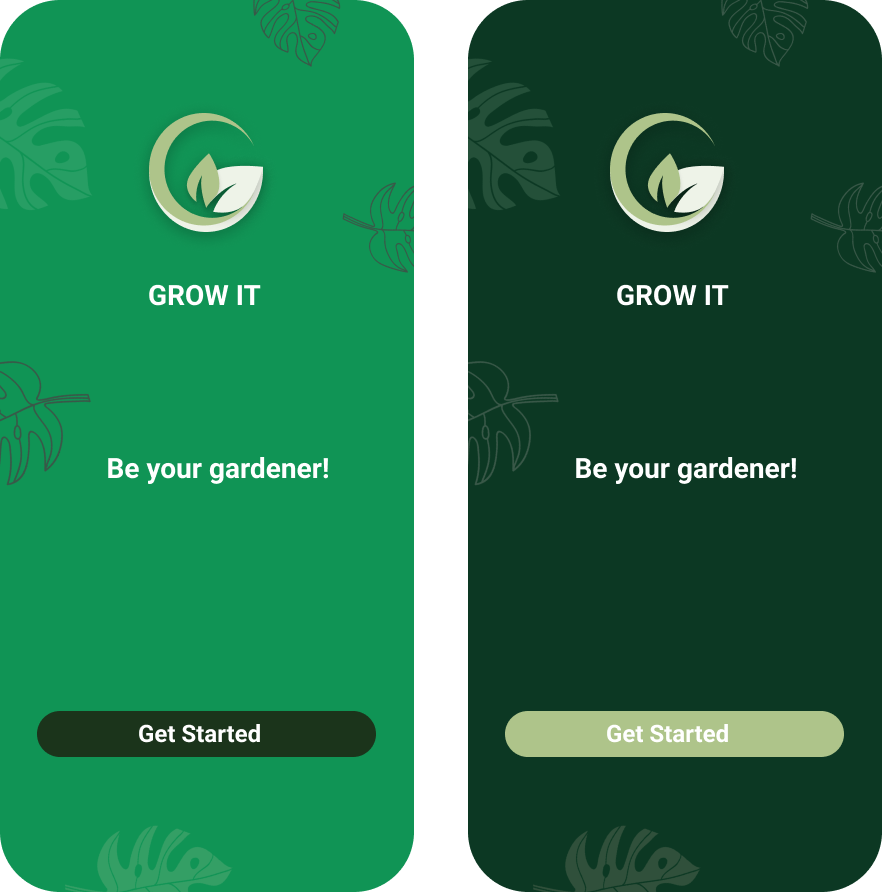 Iteration
Users believe the right design is "Fun but too flashy"
so I came up with the second design.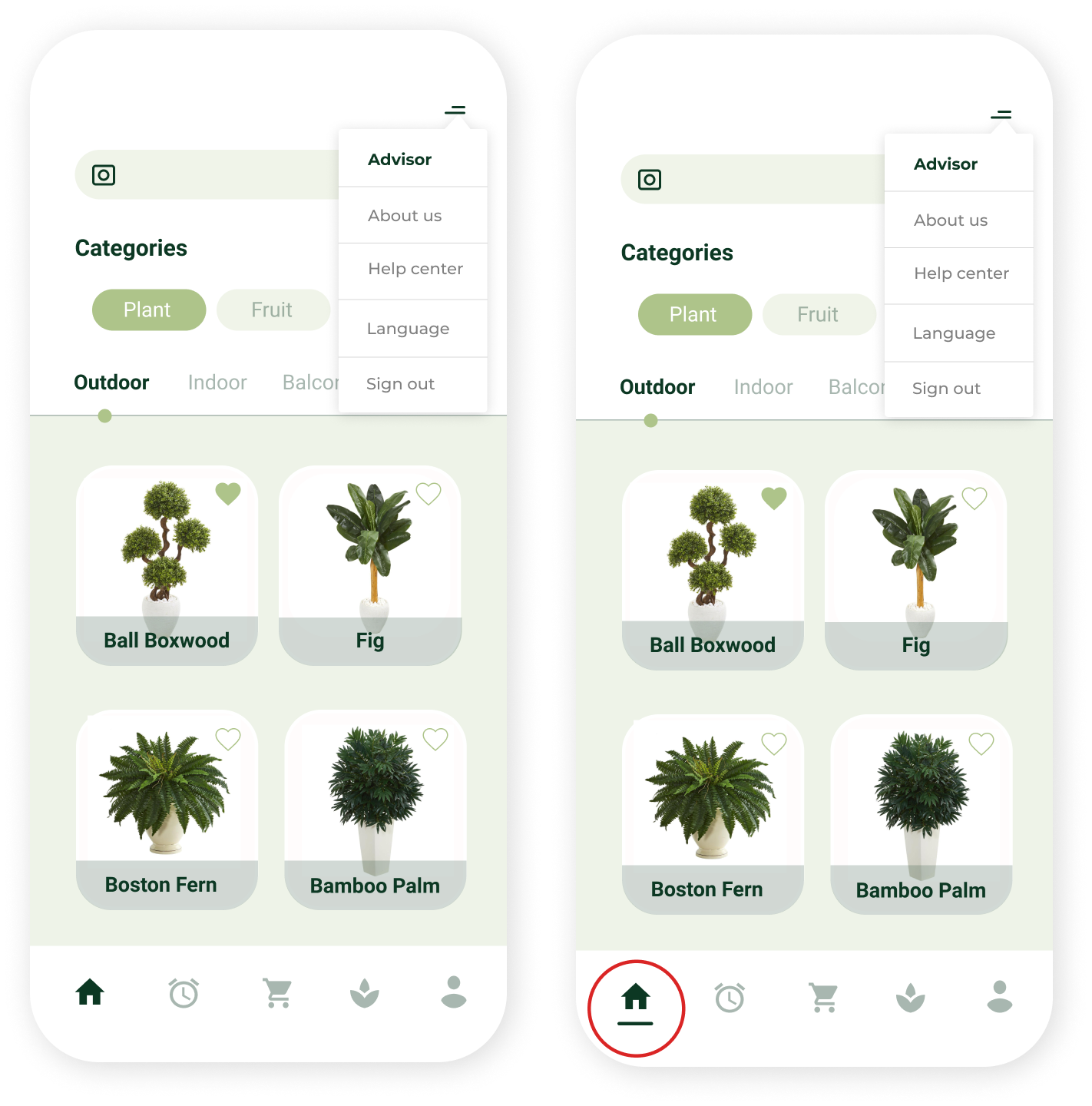 Accessibility
For users with visual impairments, it's hard to understand which page they are navigating.
So I added a line under nav-bar icons to clarify for users to know which page they are browsing in.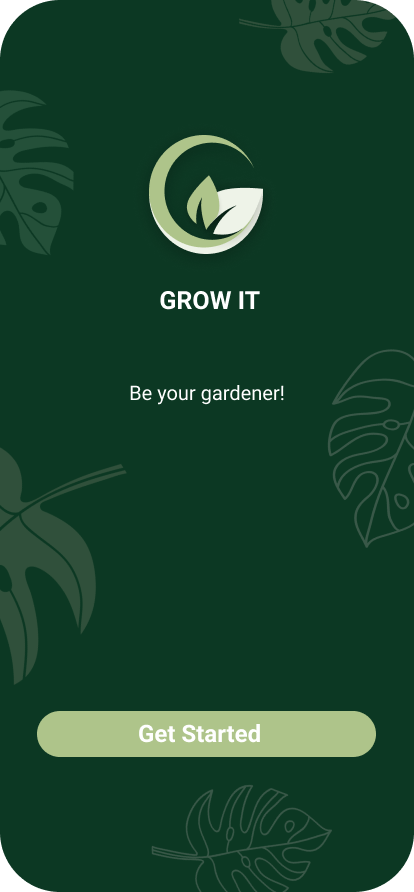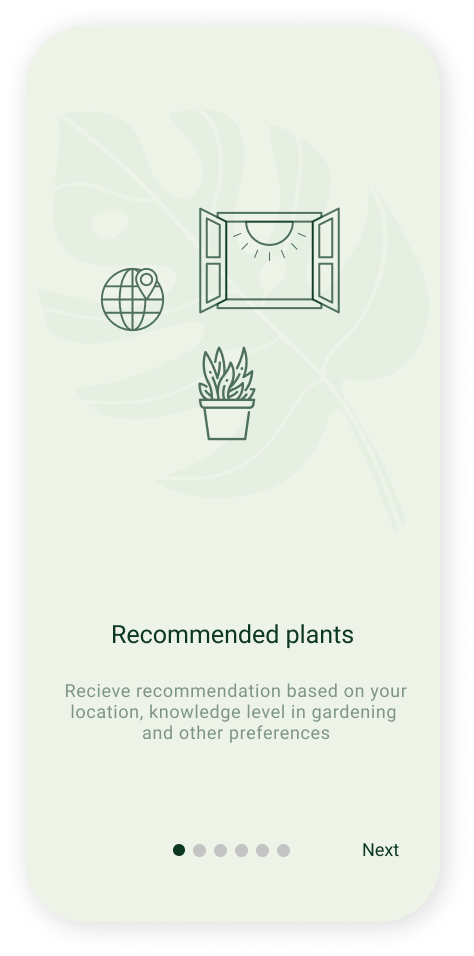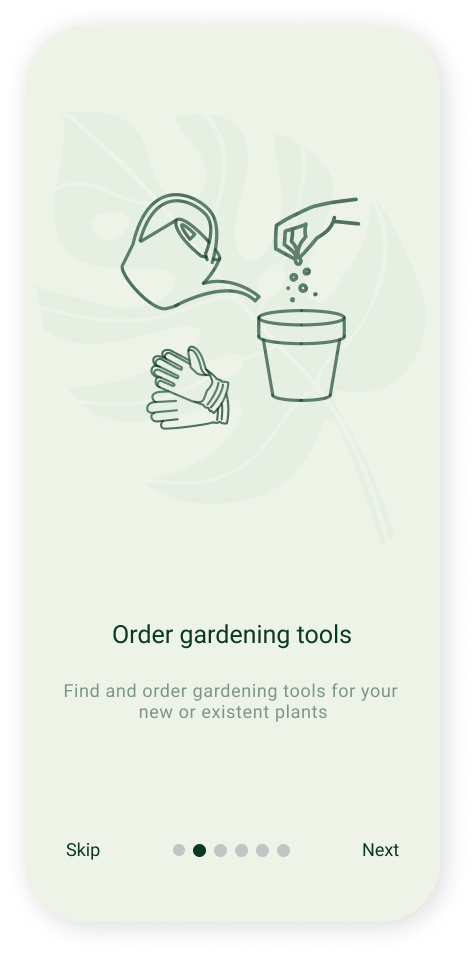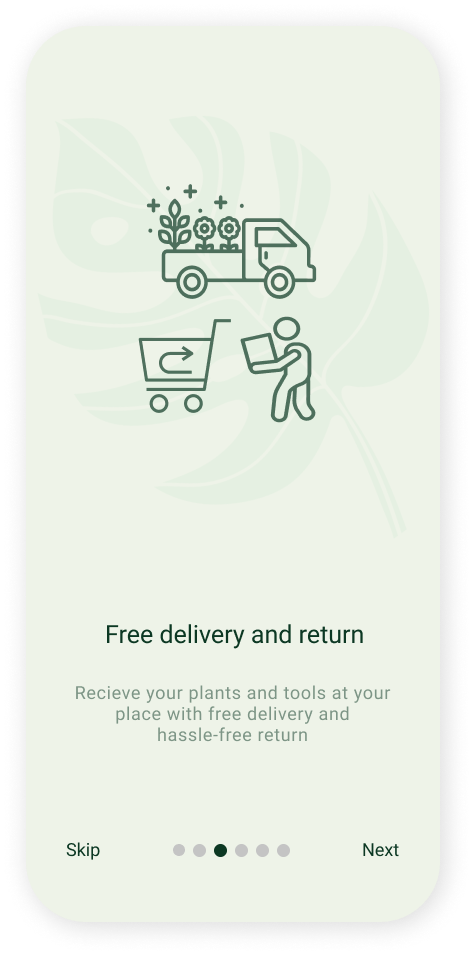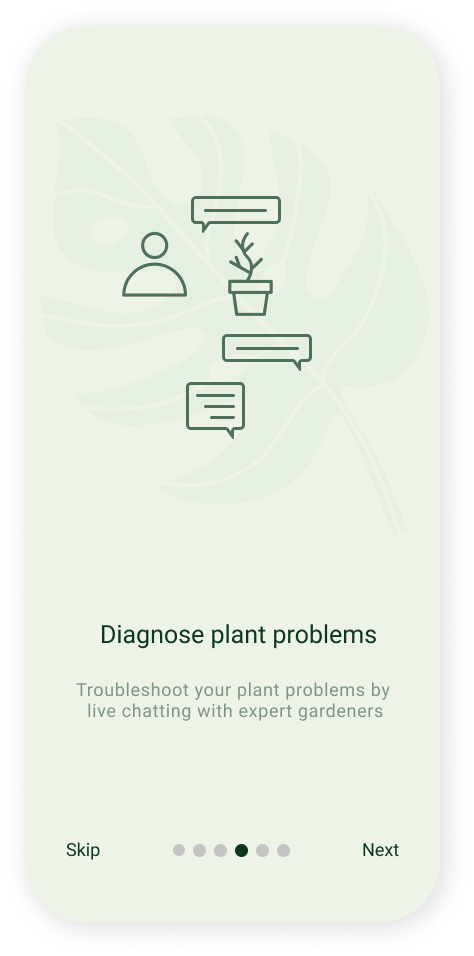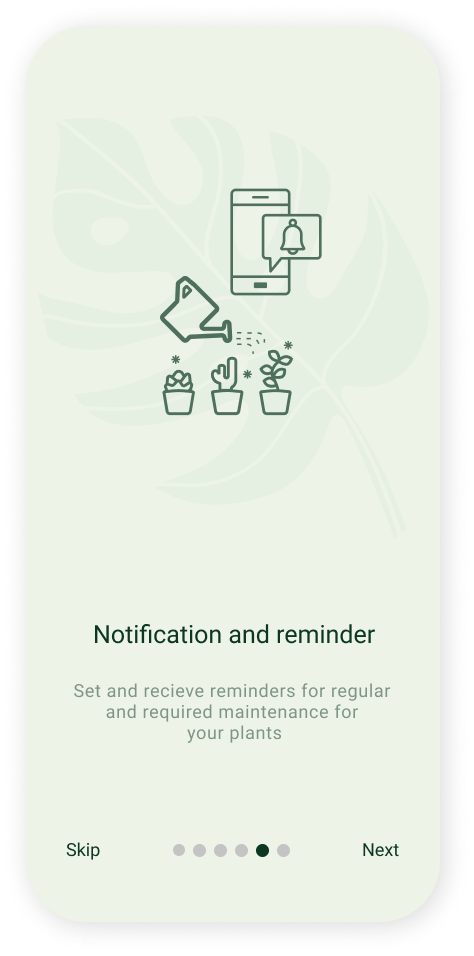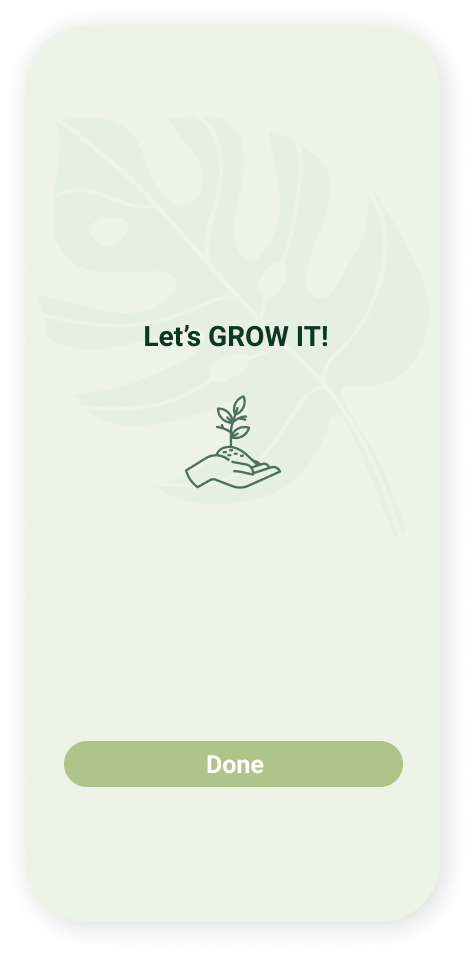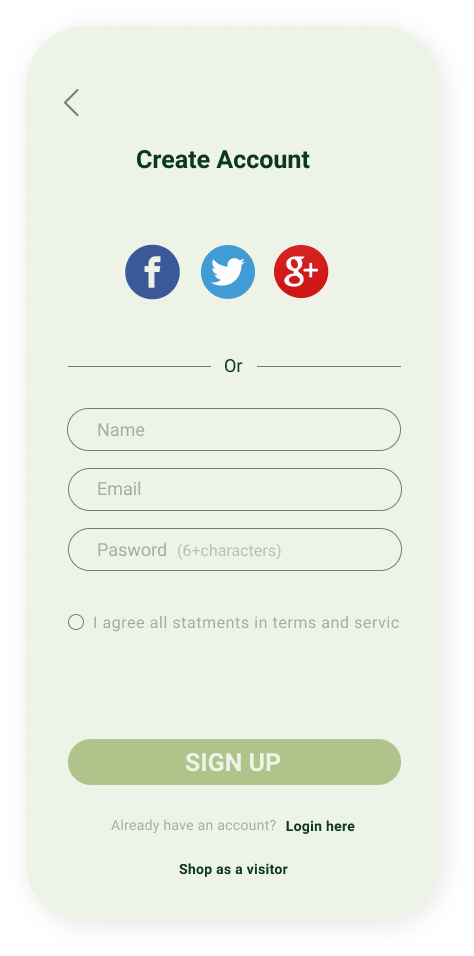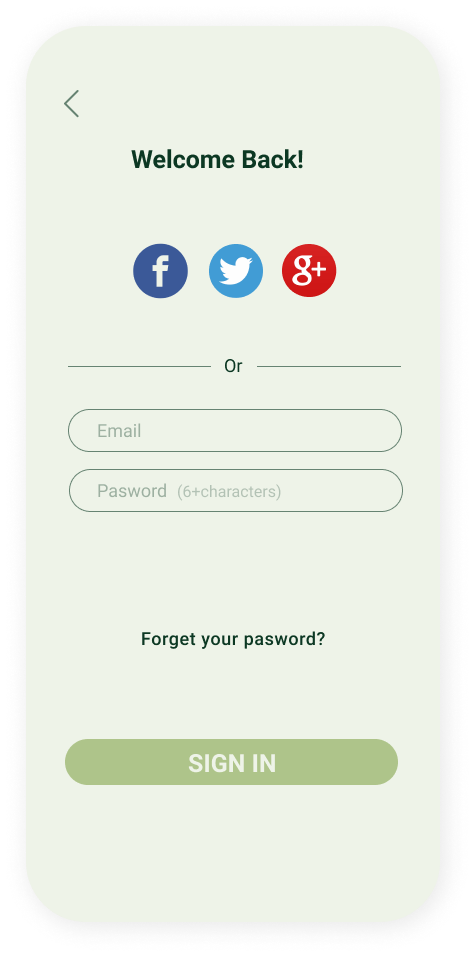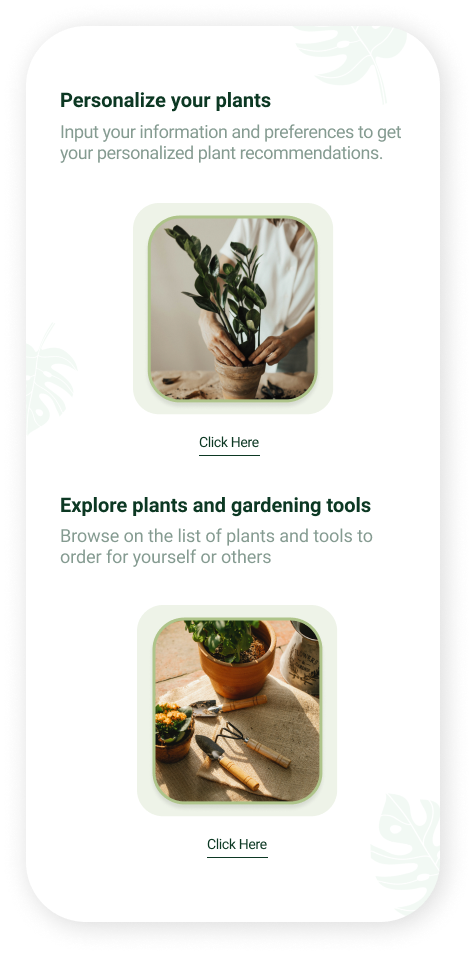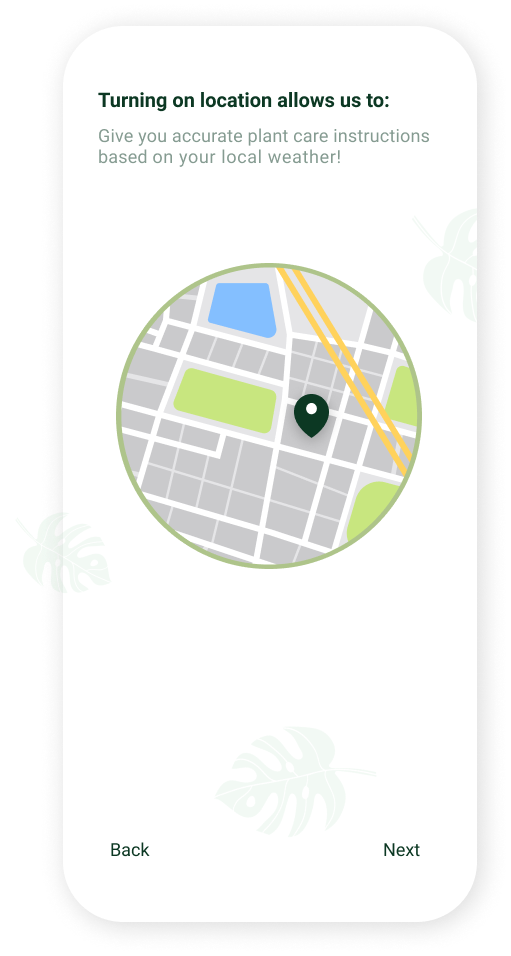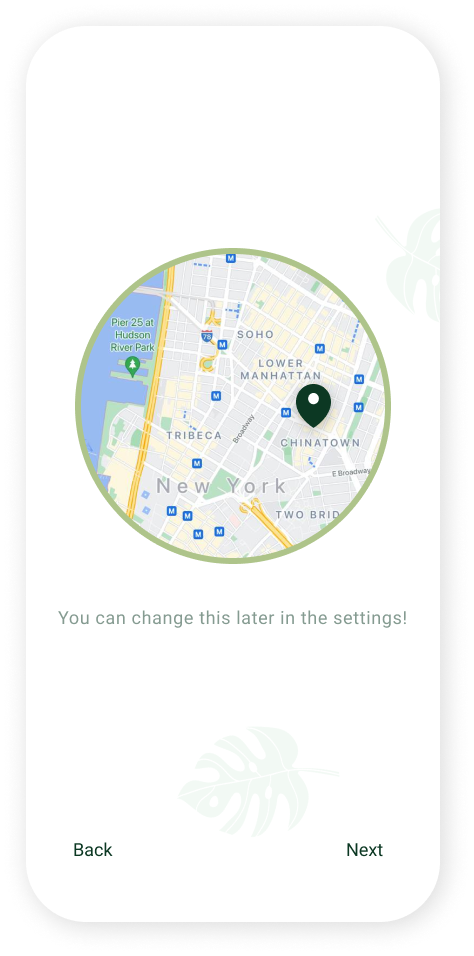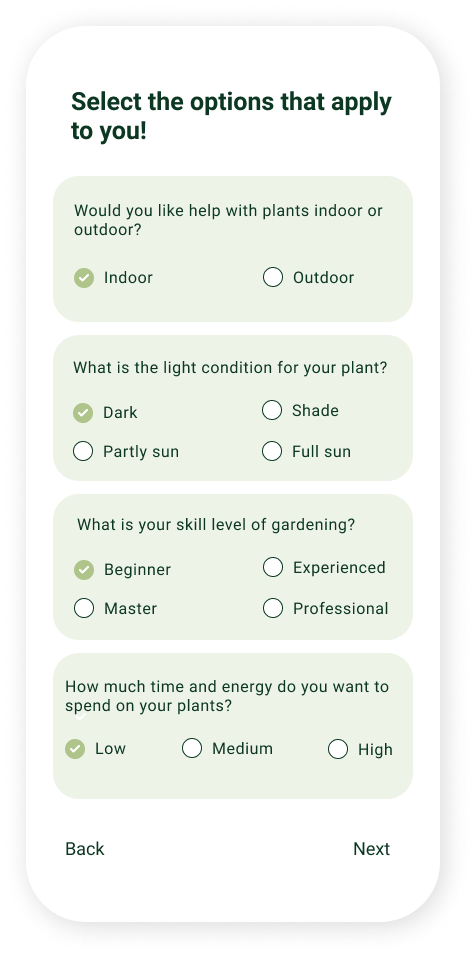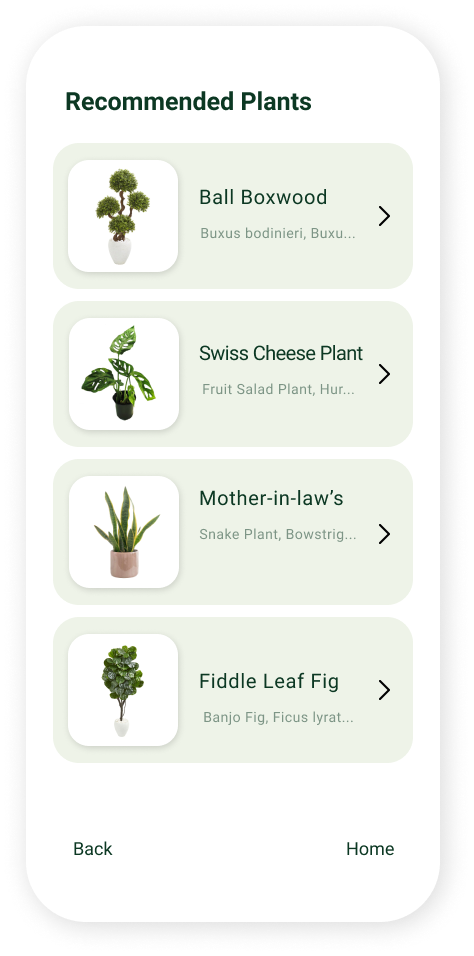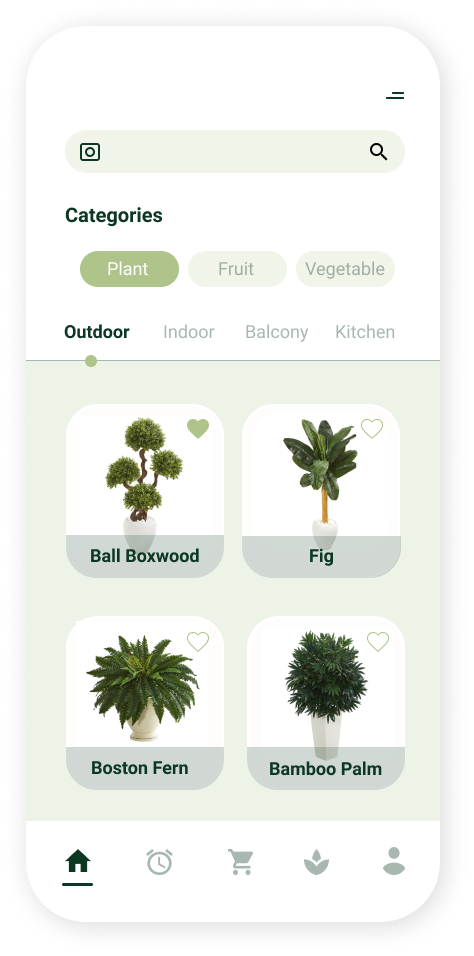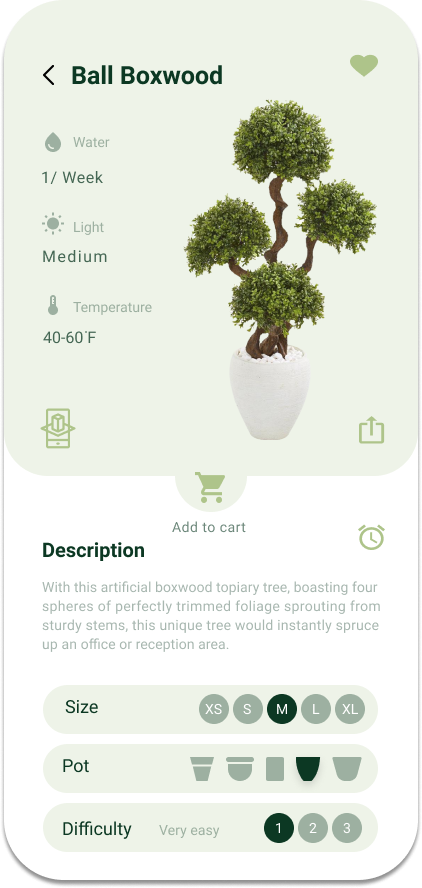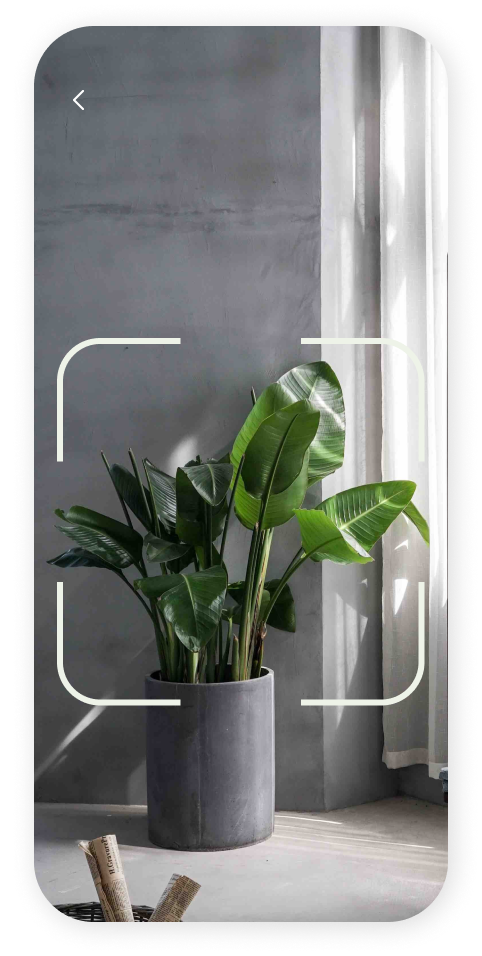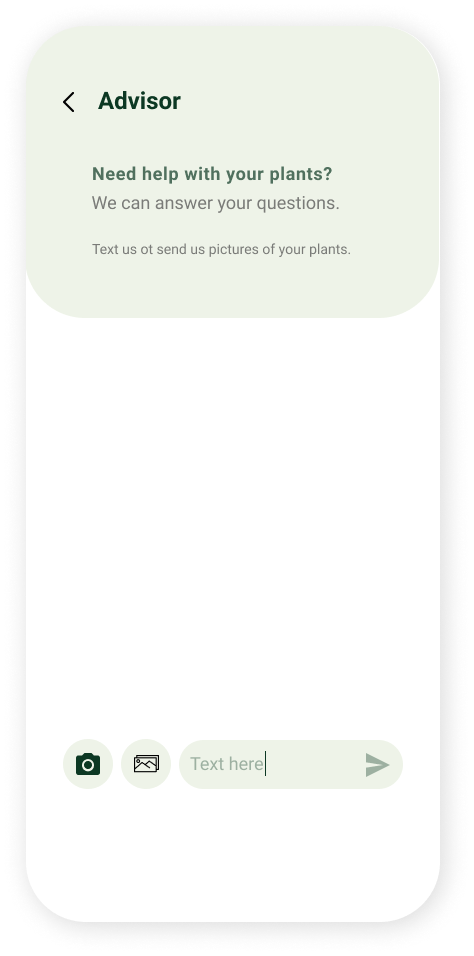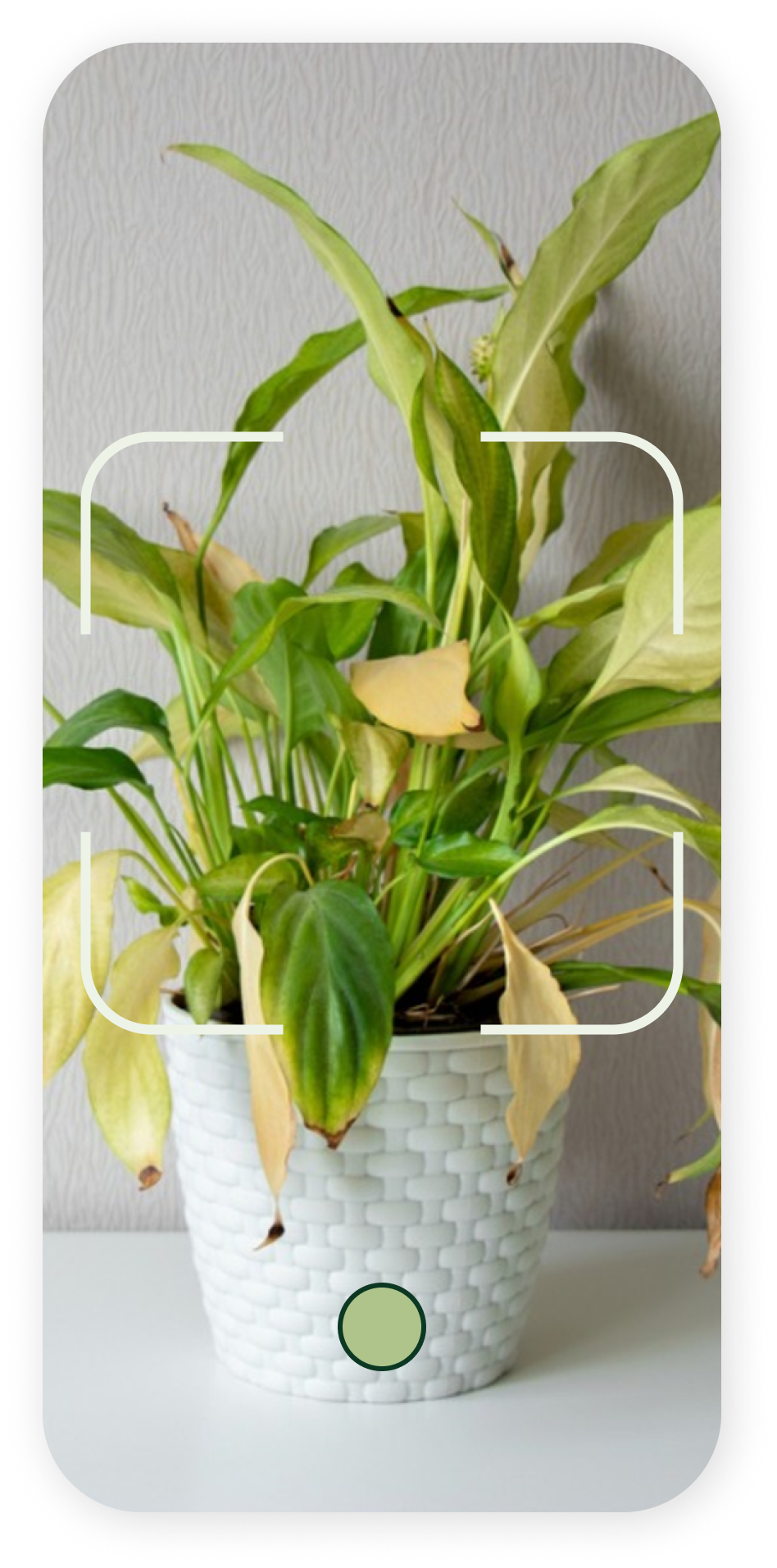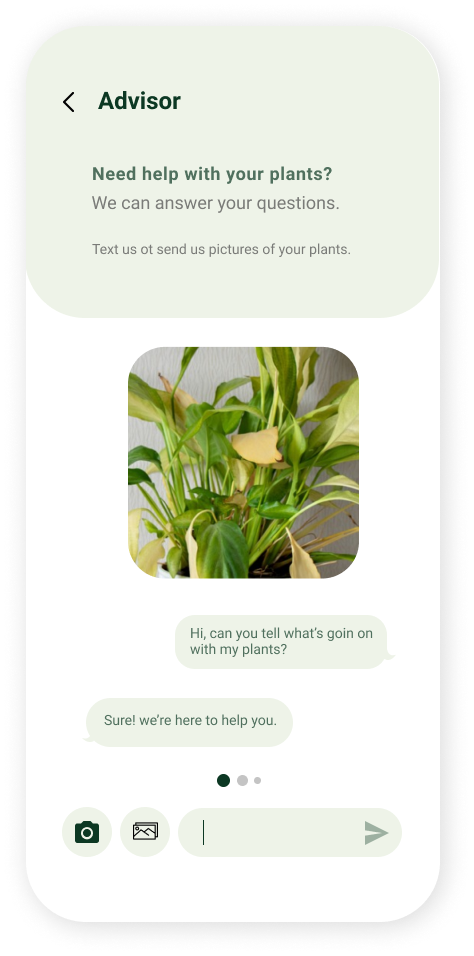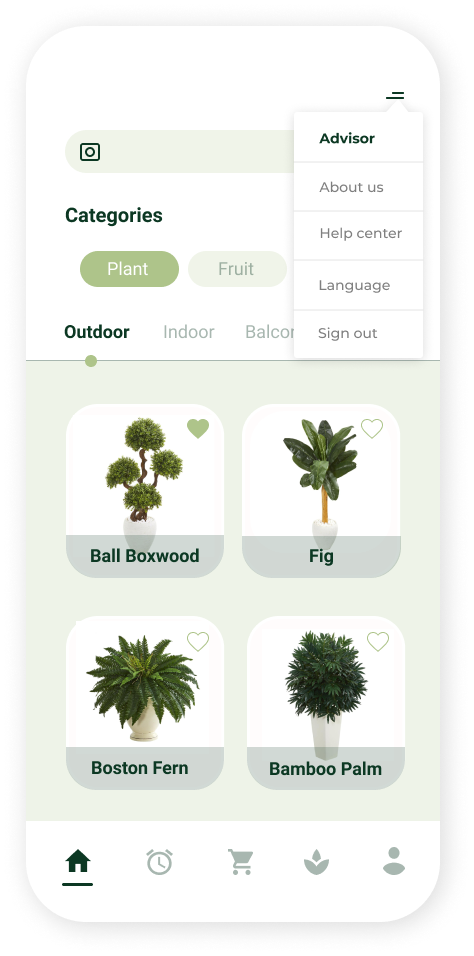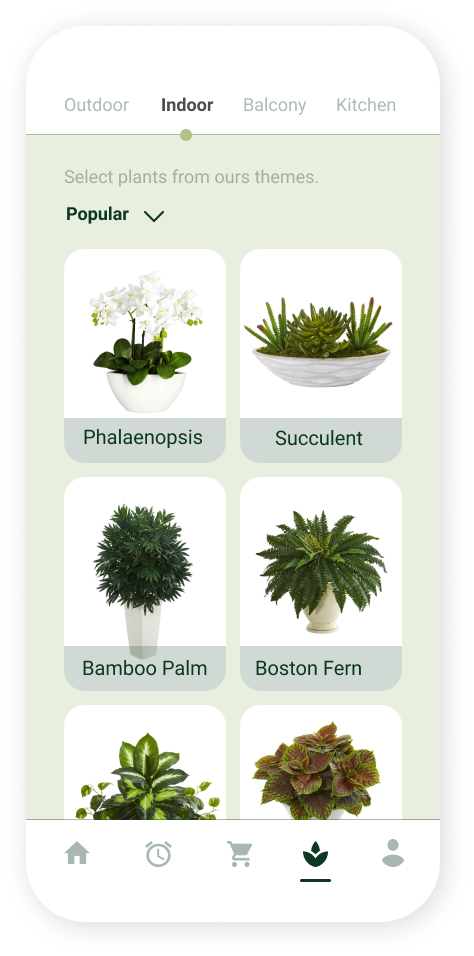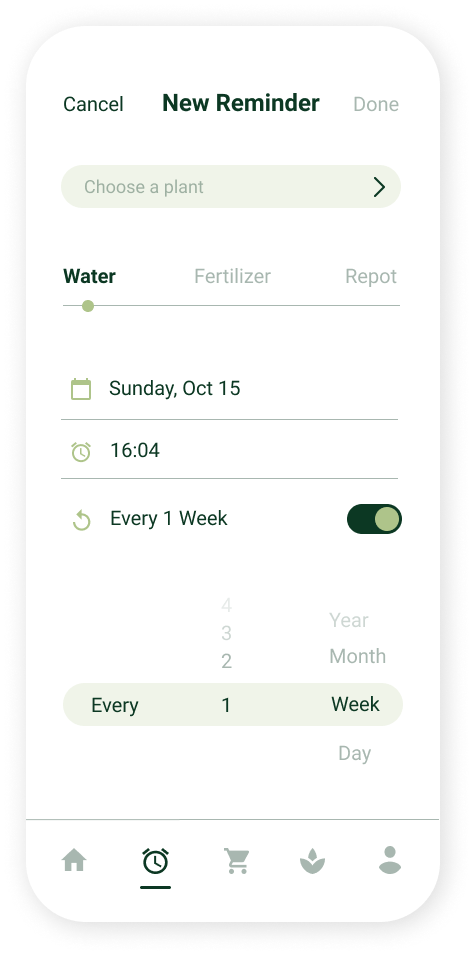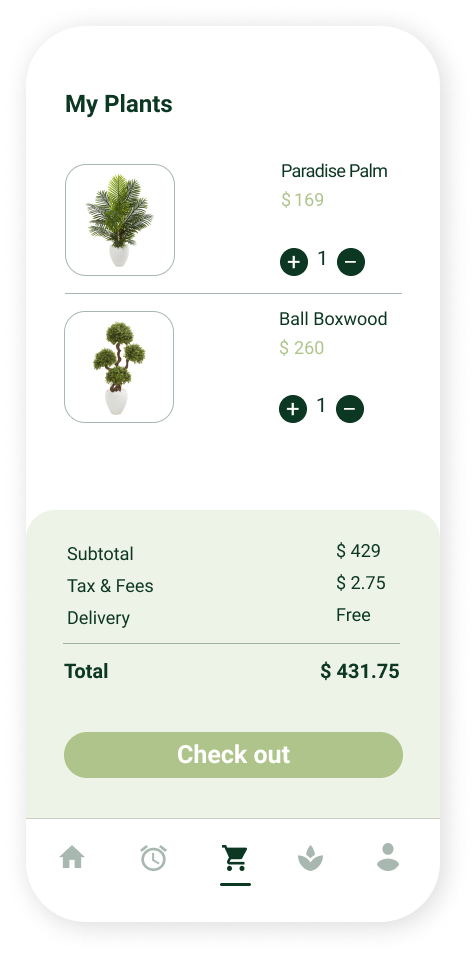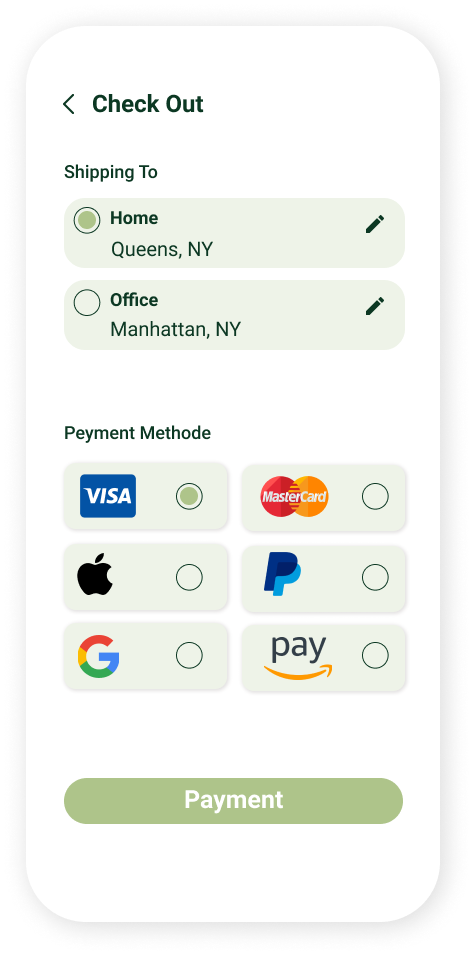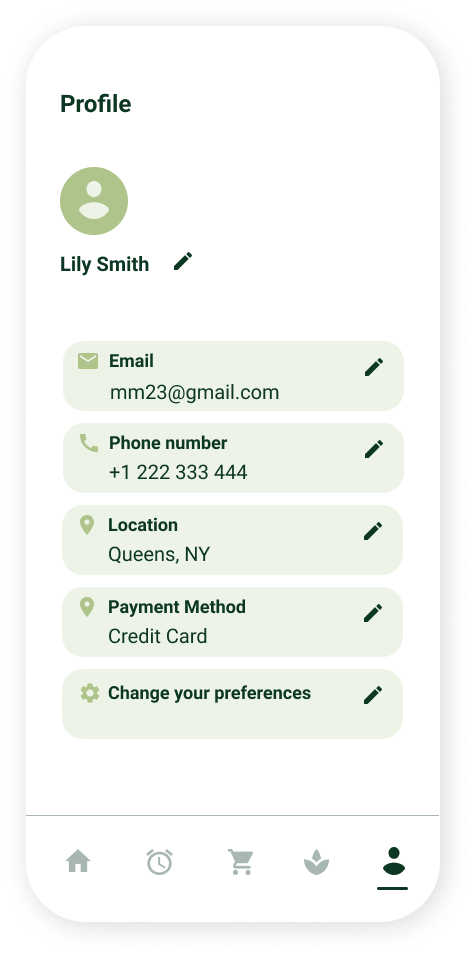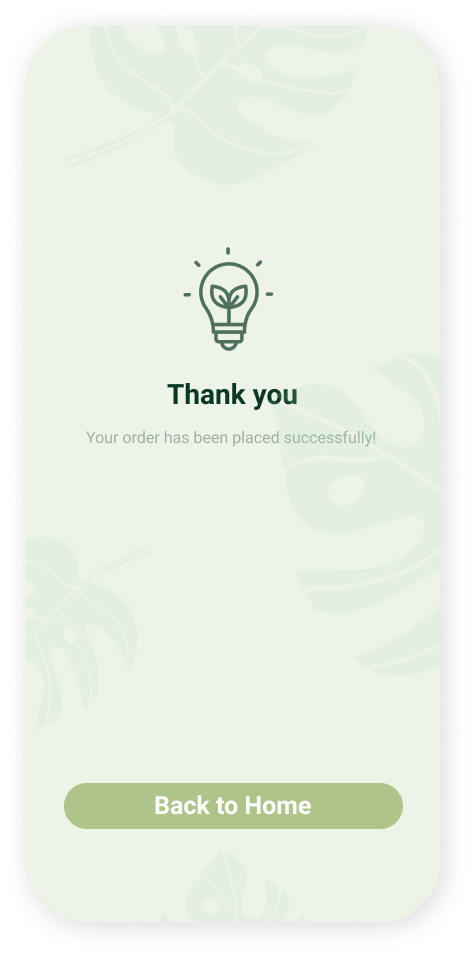 Final Clickable Product
Let's put all of that research and user testing to work.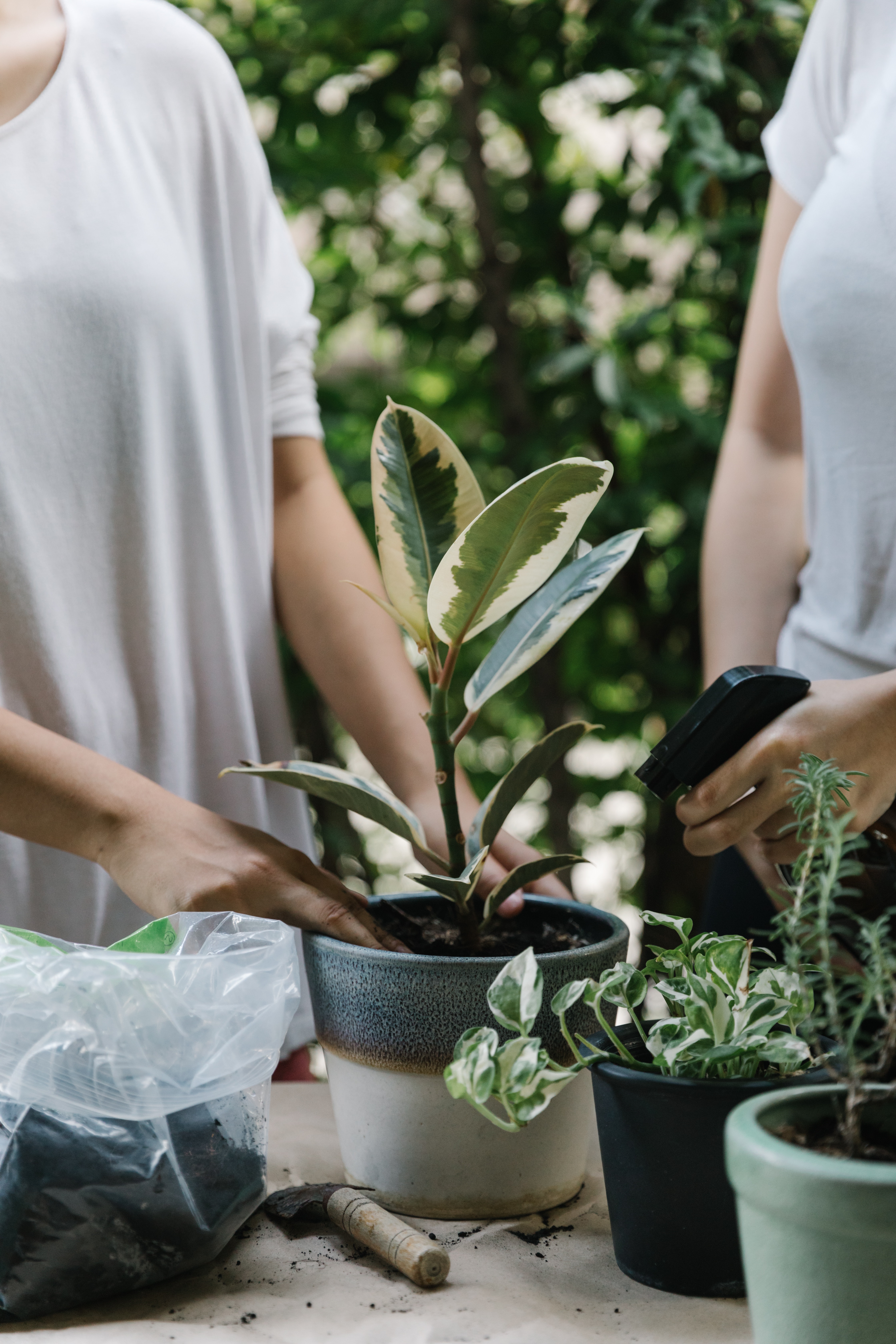 Next Steps
Blog
I will consider adding a blog for users to share their insight, tips, and recommendations for plants and gardening.

Plant Exchange
I will provide a platform in our app for local users to exchange or donate their plants with each other.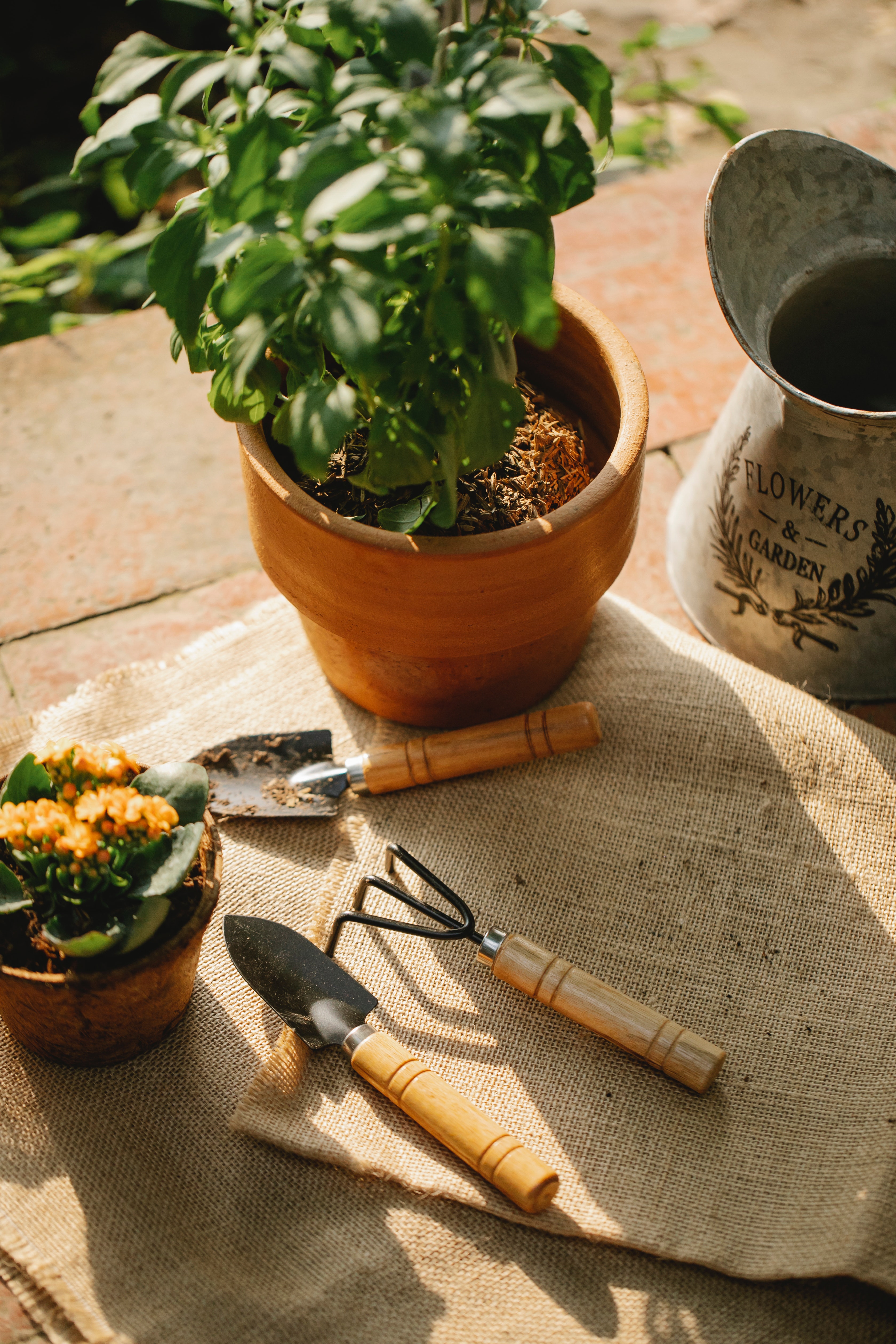 Lesson Learned
Attention to User Convenience
I learned the importance of user convenience in any part of the user journey, including carrying large plants after purchasing and maintenance.

Priority for Live Product
After conducting user surveys and interviews, I learned the cost of plants is not the top priority for most of the users as they care more about how to keep the plants alive.