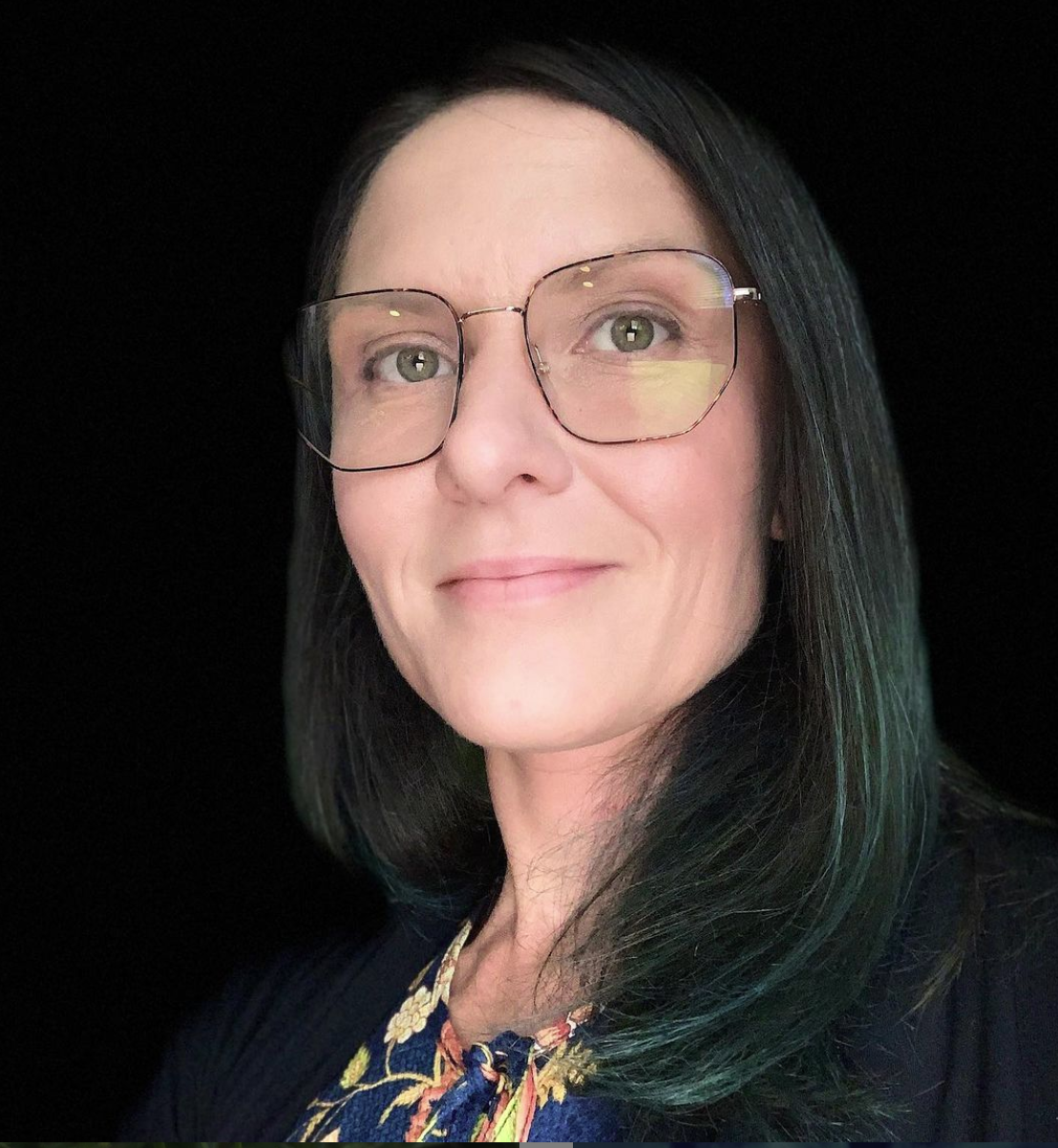 Tara DeAngelis
Experience Designer / Art Director
Process Harmony: SEO Content Outline for New Sites and Redesign Strategy

Integrating Page Strategy, Design, Writing & SEO from the Start
When I write the version of this article in 2015, I called it how to create a Site Map. I overcomplicated it, and misconstrued the word "sitemap". But my SEO was so good, I ranked #2 for "How to Create a Sitemap" 2016, and misinformed thousands of visitors all over the world whom I creepily watched and quietly rejoiced as they copied or shared my blog post (thanks Hotjar recordings). So, if you have also misused the terminology, there is a .005 percent chance you can blame me. After realizing I was wrong, I changed the article title to "How to Create a SEO Map" which was also the wrong terminology. So, making ammends here...it's not a sitemap, it's not a mindmap, it's not even a SEO Map. It's a boring content outline. Nevertheless, I've learned a lot since then, including appropriate terminology, and figured out how to simplify the process in a user-friendly way that doesn't use complicated visual software (hello, Word document).
The reason I felt the need to write this article originally was because I wanted to figure out a way to offer web design services for less money, and prevent working way over what I quoted originally and taking the monetary hit. What I saw happening was clients would say SEO wasn't important to them, but they wanted a website. Then a few months later, they would come back to me and say they decided they wanted to think about SEO, and I would have to sadly inform them that for their SEO to be really good, we would need to put xxx amount of work into it, and do some redesign which was not in their budget.
That's the background. Now what is a content outline?
A content outline is a more detailed IA of important pages. It's important for the efficiency of workflow. It's important for SEO. It's important for site cohesiveness and story flow. It's important for keeping costs down. In a workflow, it is helpful to have a version 1.0 of a sitemap to start. The content outline involves a simple (you guessed it) outline created in your favorite word processing software that orders page content by importance for page purpose, user needs, and business goals. It also identifies the page's keywords the client wants to rank for, and the KPI's (yes, KPI's should inform design decisions) that measure the page's success. It helps an entire site to be more integrated, speeds up the design process, makes it easier for a copywriter, and reduces the need for rework, creating a better user experience for users and the creators behind the scene. Oh yeah, I mentioned SEO before. It improves SEO.
On a side note: It's important to have a talented copywriter that is a prolific writer. Many businesses strategize in outlines like this, BUT end up with a website that reads as cheap and meaningless. Hire a good writer. They may not have SEO skills yet, but it is usually easy to teach a good writer a few fantastic SEO writing tricks, than to teach an SEO writer how to write great content that moves your audience into action.
Content outlines are good for new websites, website overhauls, and less well-known, up-and-coming company websites. Larger more established sites may benefit from targeting specific pages, not necessarily the whole site.
Before a content outline is started, there should be some keyword research reports completed (don't ask me for more info on the report details, I am only a basic SEO knowledge kind of gal).
Usually, the important pages included in a content outline are the home page, landing pages, other really important pages for SEO ranking, and a general outline for blog posts, detail pages, etc. A good content outline will be a collaboration document between UX, SEO, Content Strategists, & Lead Copywriters. Don't get too many cooks in the kitchen though, or it could be unnecessarily complicated.
In most cases, it's unrealistic to be 100% complete and final with a document like this before wires are needed. Whiteboard sketches are helpful in this process if you are a team with visual thinkers working in-person. Figma is a good tool when working with virtual or hybrid teams. Having a good amount of this complete, or at least in a first-draft state, is pretty essential before wireframe concepting begins. In a lot of cases, discoveries are made during the wireframing concepts that inform a content outline or improve it. But before high fidelity wires begin, the content outline should be in a final, approved state.
Anyway, enough explaining and onto an example, here are some screenshots from the document I made and use: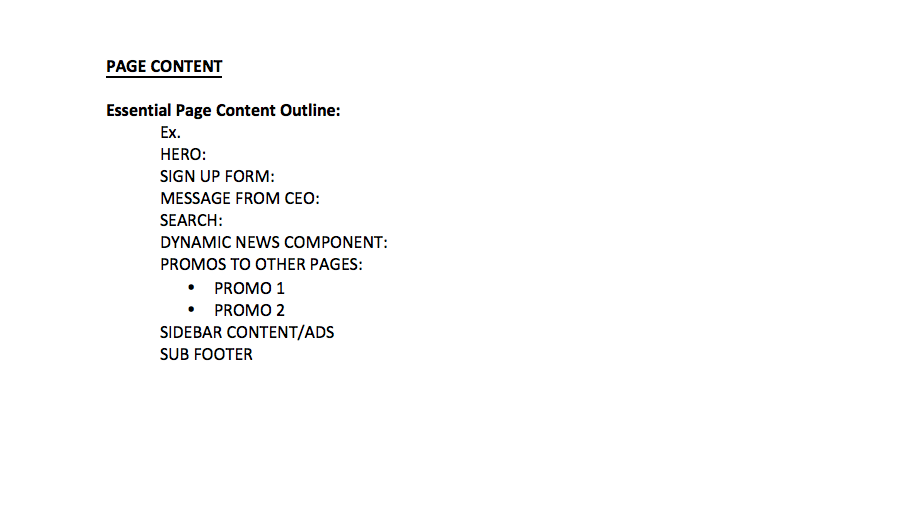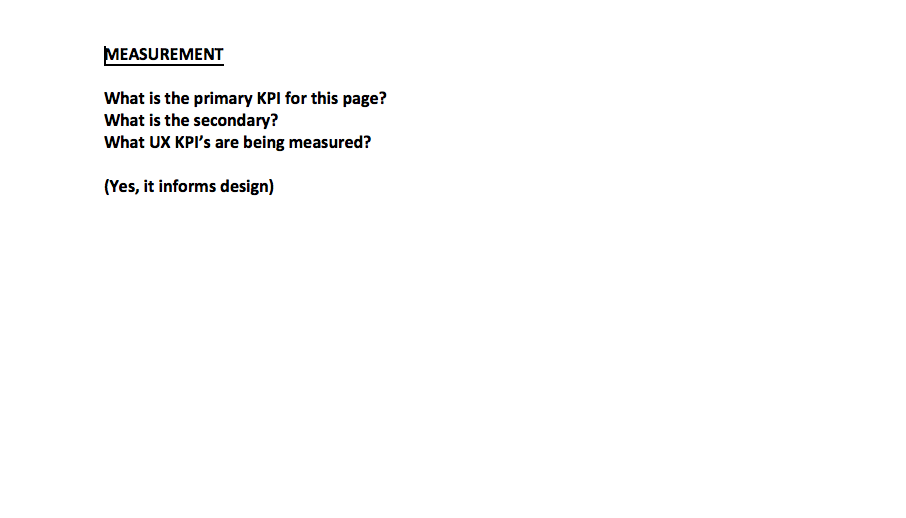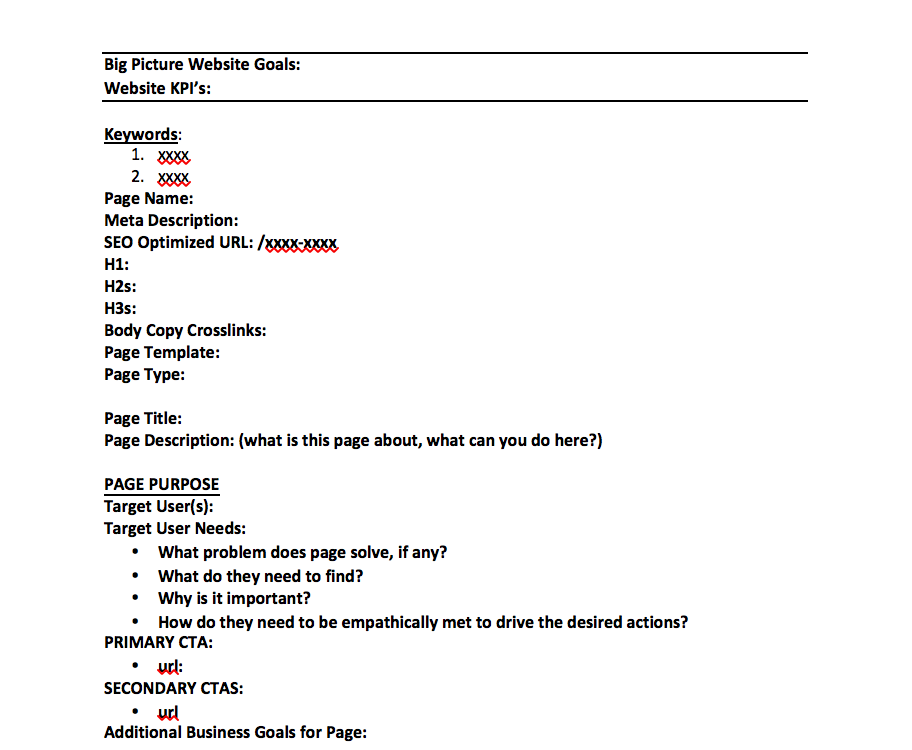 Hopefully, this is helpful to you. You're welcome.