Days before her 20th birthday, she overdosed.
She had overcome so much: trauma, depression, anxiety, and addiction. When she graduated from an alternative high school, she addressed her classmates as their valedictorian but also as a beloved friend and a source of inspiration. Nineteen years old and college-bound, she was a mental health success story.
Less than a year later, she was dead.
What happened? Were there warning signs? Could it have been prevented? We had so many questions as we absorbed the terrible news and grieved her loss. Some details we were able to piece together, some things we will never know. But over the weeks and months that followed, a single question emerged:
How can we make sure this never happens again?
Answering that question became our raison d'être, our reason for being. And Adams Place was born.
This Is Your Brain
Before continuing, take two minutes and watch this trailer for one of the products we created to help solve the problem.
Framing the problem
As we engaged with the problem and began foundational/generative discovery research, "How can we make sure this never happens again?" broadened to "How can we support those affected by mental illness?"
We then framed the problem to focus our efforts and pursue user-centered design as we continued to navigate the problem space.
Who are our users?
Adolescents (teenagers/young adults)

Their friends and family
What do they need?
Encouragement

Connection/Community

Education

Empathy
Where are our users?
Why would they use our product?
To save lives

To improve lives

To improve relationships
How can we deliver it to them?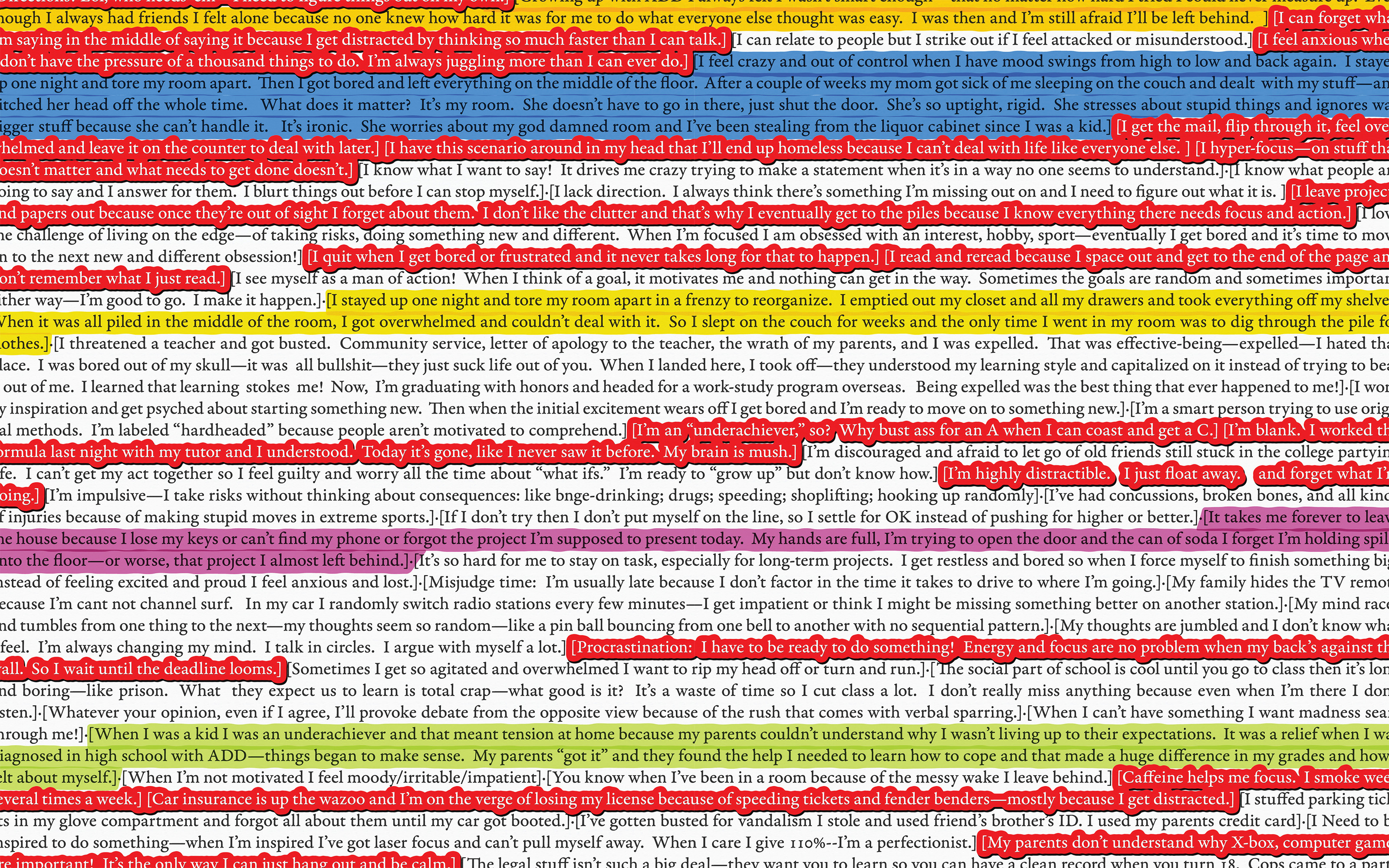 Research
I gained a rich and empathic perspective on living with mental illness by engaging with hundreds of individuals and their stories, including:
1:1 interviews

Meetings with parents or family members

Mentoring and co-creation

Creative artifacts: art, poetry, essays, letters, diaries, quotations/personal statements

Ethnographic immersion

Adams Place focus group meetings (included evaluative feedback on product iterations)

Schizophrenia Alliance (formerly Schizophrenics Anonymous) group meetings

National Alliance on Mental Illness (NAMI) Colorado meetings and events

Mental Health First Aid (MHFA) Colorado and the Colorado Behavioral Health Council (CBHC)

Denver Art Society meetings and events

Crazy prototype feedback (evaluative)
I also obtained quantitative data through an extensive literature review of public health studies, clinical psychology, and neuroscience. Other secondary research included a historical and biographical study of notable people with mental illness and a survey of the portrayal of mental illness in the media.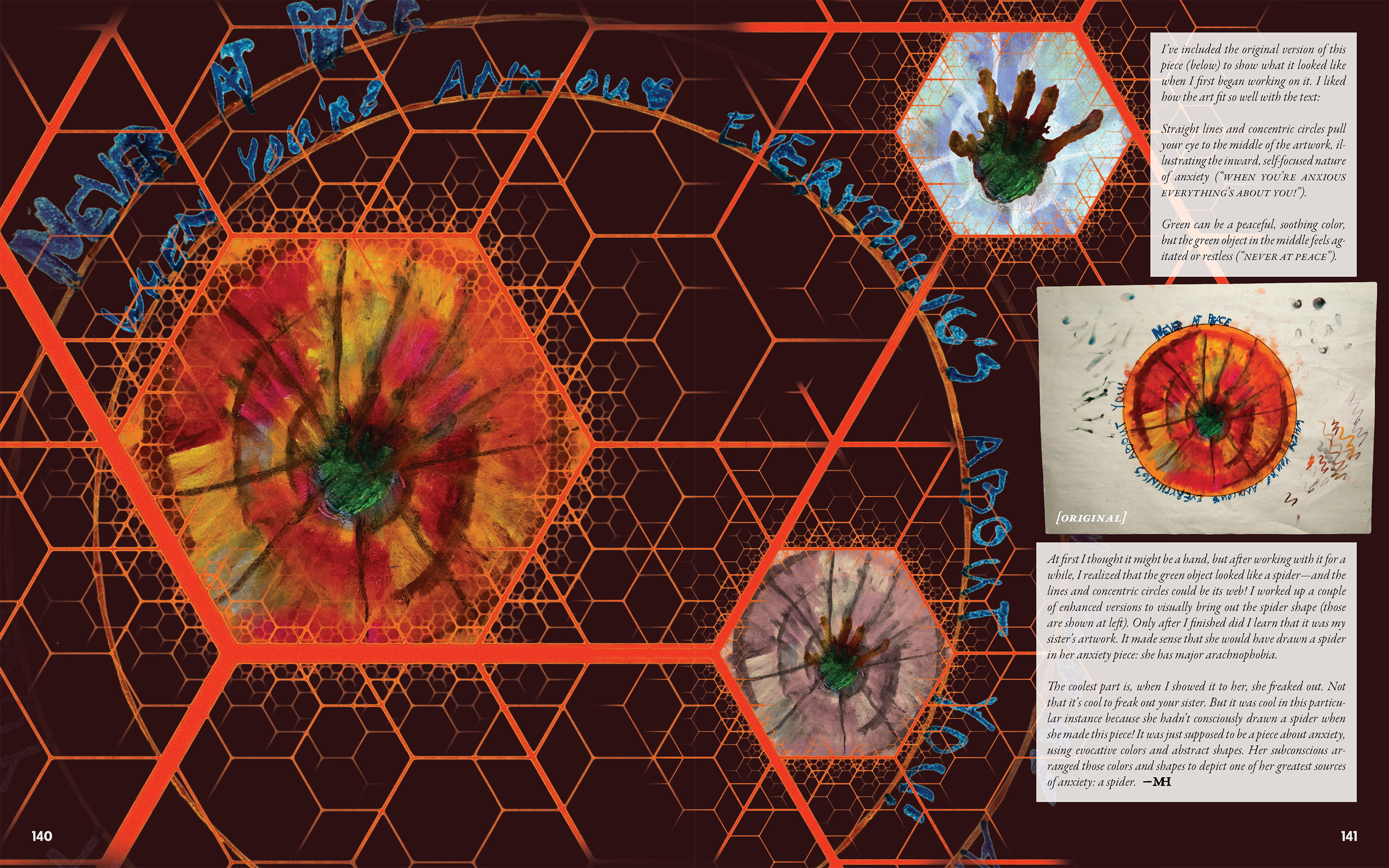 Analysis
I analyzed all the data with some assistance from other Adams Placers. Because the data included so many creative artifacts (contributions from 150+ people), some creative analytical techniques were required, including:
form and composition

handwriting

"mistakes" in grammar and spelling

pattern recognition

symbolism and archetype

other subconscious/unconscious indicators
My ability to perform this kind of analysis—along with more typical analytic techniques used for quant data, interviews, focus groups, etc.—enabled me to extract profound insights from a huge amount of data.
Groups
One of the solutions we explored was the "clubhouse" community support model: places for kids to come hang out, like what we had at Adams Place.
Ultimately, we decided that there were too many challenges for us to replicate the unique phenomenon that was Adams Place. From a product perspective, it had high desirability, low viability, and low feasibility. Therefore, we looked to the other potential solutions we'd identified: books and videos.
But here's a video and some photos of the artists, authors, focus group members, and friends who were part of our Crazy efforts.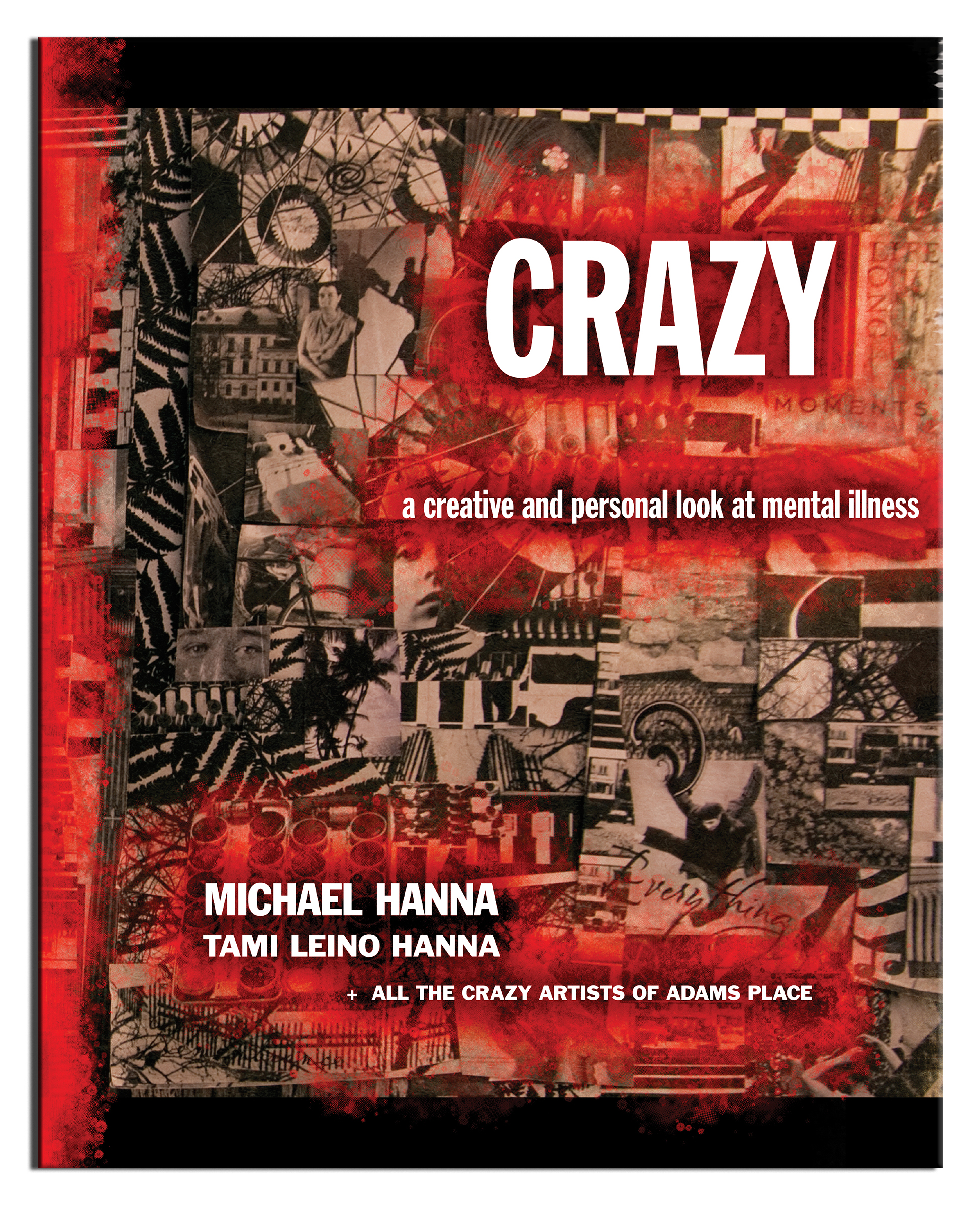 The Book
Based on survey data and access to an existing archive of content, we decided on a book as the most desirable, viable, and feasible product. We might have made a different determination in 2022. But in 2009, a group of teenagers and young adults chose to make a book of art. And they chose to call it Crazy.
I began ingesting and organizing content and created mockups for weekly focus group meetings. The best spreads were chosen for inclusion in the book. I shared subsequent versions and iterations with the group, but whenever possible I worked directly with the artist(s) whose work was being incorporated into the design.
Because education was an important component of our solution, we decided to include clinical information and statistics alongside the art. I used different data visualization techniques to present statistics, crafted analogies to make the clinical information easier to understand, and used design elements to make big-picture connections.
We printed a 50-page prototype in 2010 and distributed it locally to solicit feedback. Budget considerations precluded a second printed-and-bound prototype, although I continued to share iterations of chapters as printouts of two-page spreads.
The final 272-page book was printed in 2012. The next year, it received the Colorado Book Award in the Pictorial category.
Crazy: A Creative and Personal Look at Mental Illness
Winner of the 2013 Colorado Book Award (Pictorial Category).
Watch the 2-minute trailer for a glimpse. See below for photos from the prototype and the finished book.
Video products
The book is an amazing product. But there are limitations to the format. Once again, based on survey data and the creative assets at our disposal, we chose to create products that were desirable, viable, and feasible: short videos.
To fit the needs of our users, we created standalone and presentation videos.
Standalone videos: all our videos can function as standalone videos. Any user can watch them and receive the encouragement, connection, education, and empathy they are designed to impart.

Presentation videos: these videos are constructed so they can be easily integrated into a presentation by stopping them at key moments and resuming them later. Each was created for a specific talk, but I have since used them in several different presentations or public speaking engagements.
Below are a few examples.
The Sad Hatter
Presentation video. I play it at the beginning of the talk, pausing just before the big reveal when I disclose the identity of the Sad Hatter. If the format allows for small group discussion (or includes an intermission where people might chat about the video), I wait until after they've had time to think and talk about it before playing the rest of the video. It makes for a highly effective icebreaker activity: talking about notable people with mental illness and solving a puzzle based on a set of clues. It also helps get people thinking about mental illness in a slightly different way, which may make them more responsive to the rest of the presentation.
Mentally Ill Will
Another presentation video, the same concept as The Sad Hatter.
Talking Crazy
Our first standalone video, designed to explain and reclaim the word "crazy" and to stimulate conversation.
This Is Your Brain
Our greatest video achievement, "This Is Your Brain" was conceived as a presentation video for use in high school classrooms. We planned to roll it out to schools statewide, collecting entry and exit survey data and conducting interviews with students and teachers for use in a documentary film. The rollout project was selected as a semi-finalist for the Rose Foundation's 2015 Innovate for Good grant but did not make it to the finalist round.
Nevertheless, we released the video on YouTube and it has made its way into a number of high school (and college) classrooms, mental health events and support groups, and several presentations I have given myself. The rest of the 6.7k+ views have been "standalone."
Half an hour is a big ask. But if you ever get the chance to watch it, I can guarantee it will be time well spent.