Phase 1: Research
This page covers the Research Phase of the Upscape Hotels case study. Use the numbered navigation below to skip to the methodologies I used, or scroll down to first read about the full project and the challenge presented.
Project Summary
Upscape Hotels, my (fictional) client, is an international hotel chain based in the U.S., newly formed through the acquisition of existing brands and independent hotels—each with its own website. They wanted to unify the chain identity and create a consistent user experience across all their properties by building a comprehensive website from scratch. They sought "to create an online booking experience that is simple, accessible, and based on a deep understanding of [their] target users."
Our (fictional) firm created two project teams, one for mobile and one for desktop. I researched and designed the booking pathway for the desktop team. My end products were a clickable medium-fi prototype and a set of annotated wireframes, ready for a developer and a UI/visual designer to bring to life.
Context and timeframe
UX Design Institute (Professional Diploma in UX Design)
July 2021 - February 2022
What did I do?
The full UX process:
Research - competitive benchmarking, online survey, in-depth interview, usability testing

Analysis - affinity diagramming, customer journey map

Design - user flow, interaction design hand sketches

Build - clickable mid-fi prototype, annotated wireframes
My role was limited to the desktop version of the site and focused specifically on the hotel booking process: how users search for and book hotel rooms online.
To create an online desktop booking experience that is simple, accessible, and based on a deep understanding of our target users (leisure travelers).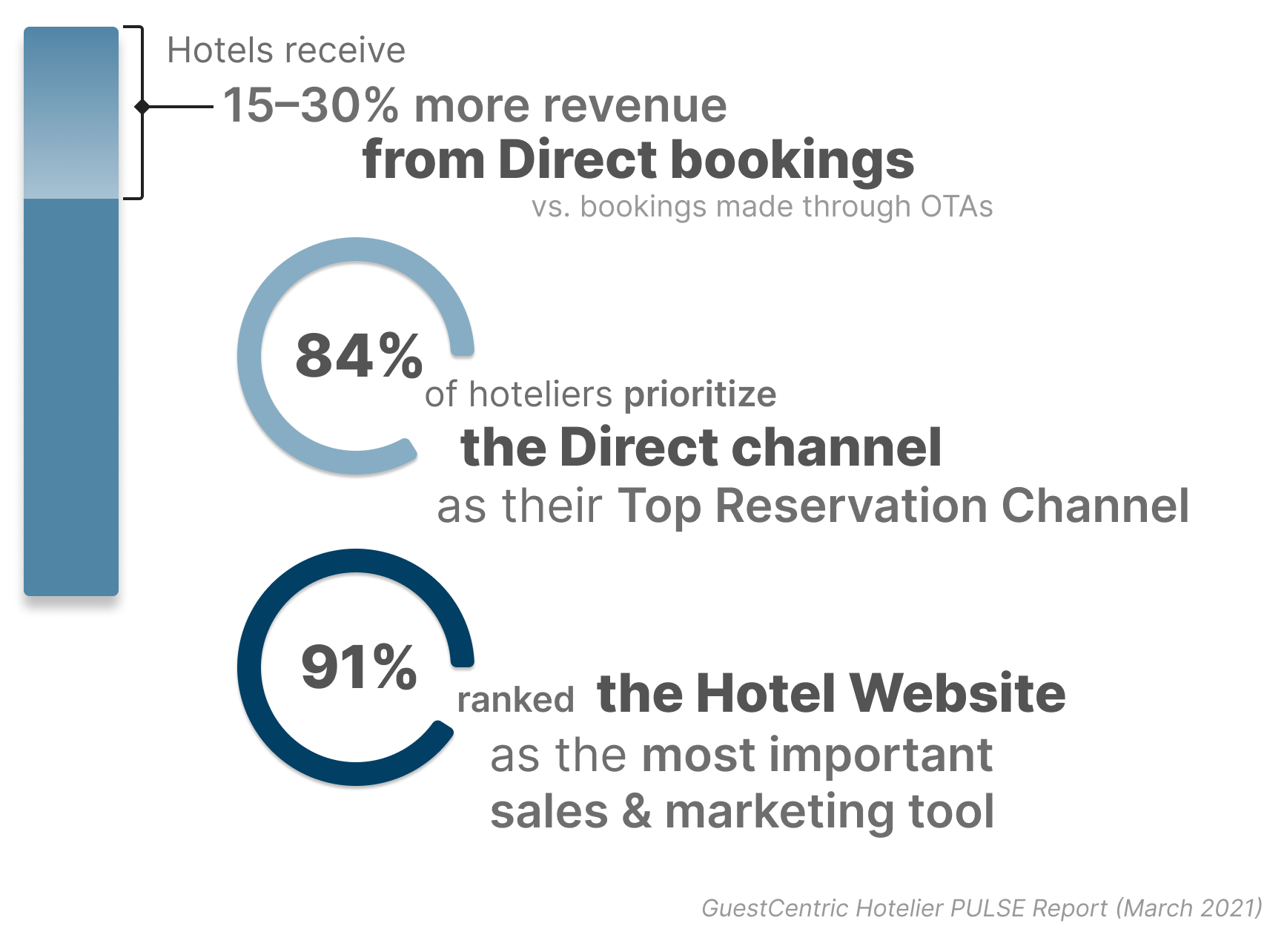 To maximize revenue through Direct bookings, a hotel chain must have its own booking website
Hotels receive 15-30% more revenue from direct bookings (e.g. bookings made through the hotel's own website) compared to bookings made through OTAs (Online Travel Agencies like Booking.com).
Direct bookings gained market share over OTAs even as the COVID-19 pandemic decimated the travel industry.
Bernstein Research predicts continued "market share shifts to direct bookings" in its new report, Online Travel Agencies: "A Rough Guide to Online Travel."
"...direct booking is a key piece to the revenue puzzle." Hotel Tech Report January 2022.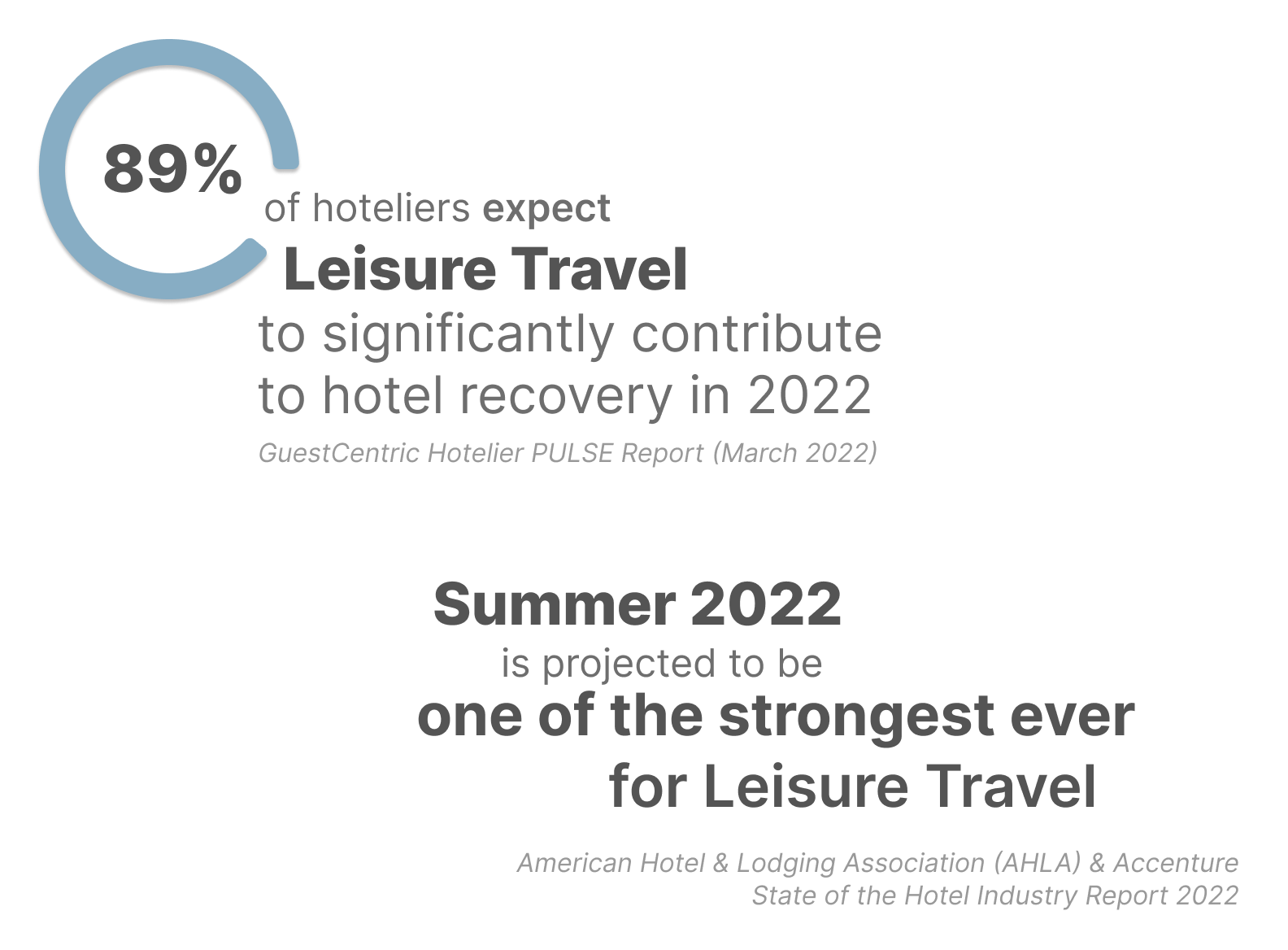 The target user is the Leisure Traveler
Online hotel bookings are almost exclusively leisure or "bleisure" (combining business trips with additional days for leisure). Commercial travel arrangements are made through different channels.
Leisure travel now makes up the majority of room revenue (pre-pandemic, business travel generated more revenue). American Hotel & Lodging Association (AHLA) & Accenture State of the Hotel Industry Report 2022.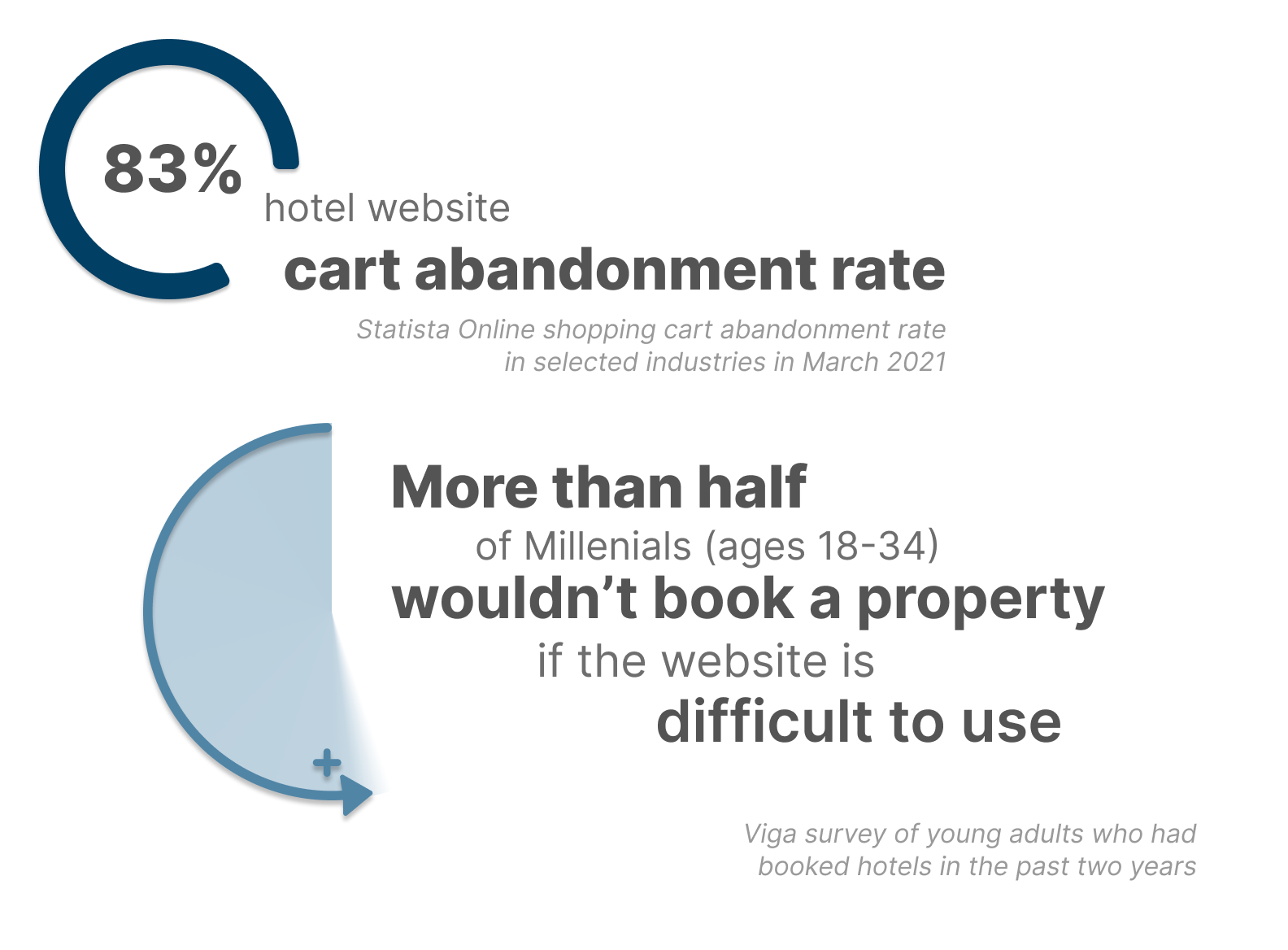 An excellent (desktop) user experience is crucial
Hotels have an online cart abandonment rate of almost 83%. Statista, March 2021.
More than half of Millennials say they wouldn't book a property if its website was difficult to use (Viga survey of 1,000 young adults aged 18-34 who had booked hotels in the past 2 years).
"Compared to business travelers, leisure travelers want more guidance for the booking process and more information about the destination." American Hotel & Lodging Association (AHLA) & Accenture State of the Hotel Industry Report 2022.
Although more users now research hotels on mobile, the vast majority (over 70% of U.S. users) still use a computer to do the actual booking. EyeforTravel, SaleCycle.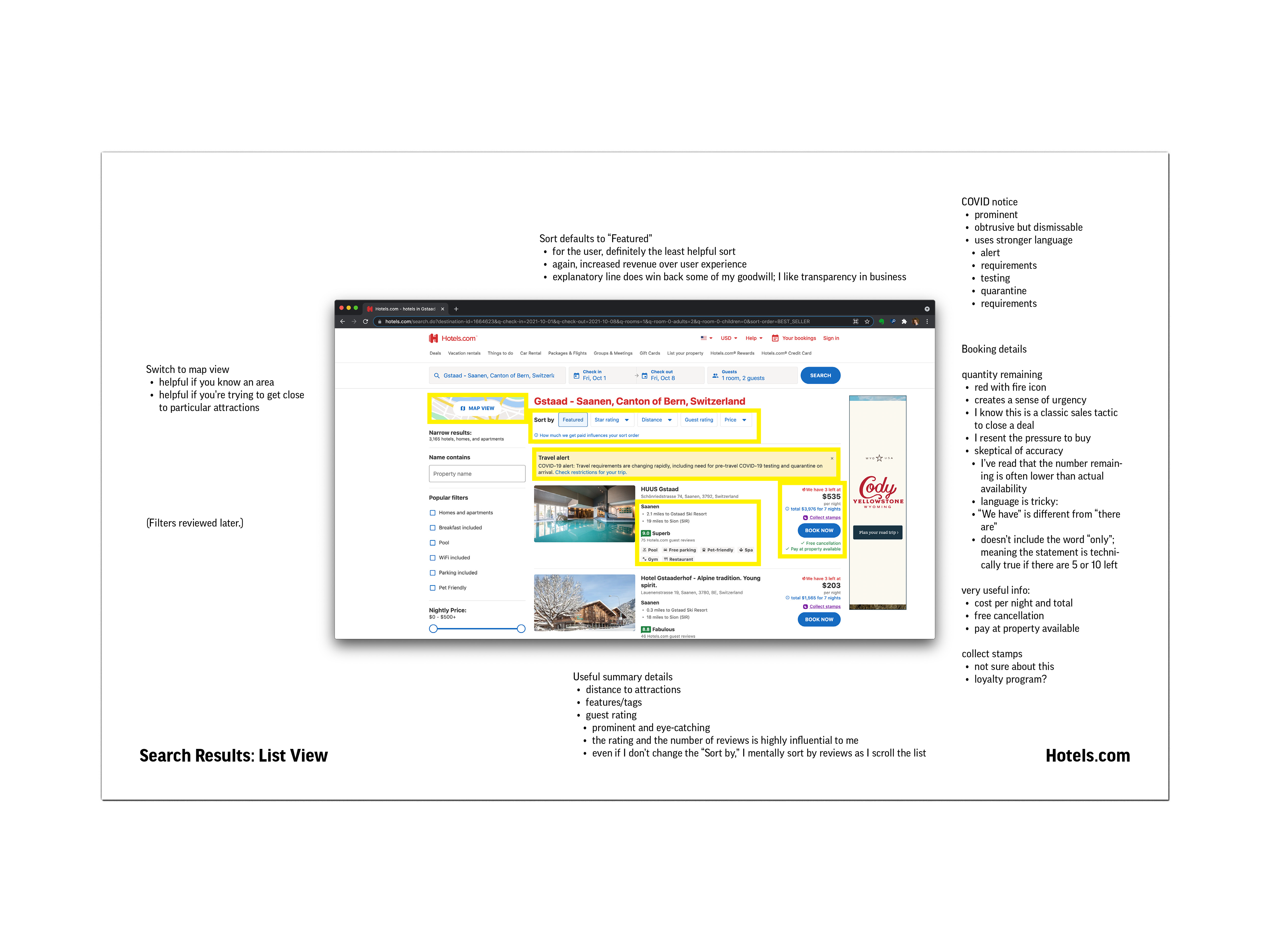 Competitive Benchmarking Analysis
To familiarize myself with conventions and design patterns in the industry, I began by visiting different types of hotel search and booking sites: aggregators, online travel agencies (OTAs), large hotel chains, and individual hotels.
From these, I selected four sites for an in-depth competitive benchmarking analysis: one OTA, two large chains, and one individual site. Because aggregators do not handle booking (they only collect search results), I opted not to include an aggregator in my benchmarking.
Goals:
Mental model - User expectations will be shaped by conventions and design patterns they encounter often on competitor sites. Should be included in our site unless there is a compelling reason not to.

Positive - Things done well. Consider emulating.

Negative - Things done poorly. Try avoiding.
Online Survey [Typeform]
I conducted an online survey to learn about people's recent experiences using competitor sites, receiving 18 responses. The survey focused on four aspects of their experience:
Discovery - how did they get there?

Goal - why did they go?

Success - were they able to accomplish their goal?

Change - what would they change about that site?
The open-response questions (Goal and Change) provided the most interesting data. However, it's possible that the suggestion text for the Goal question biased the responses: 1/3 of respondents used the exact phrase that appeared as the first suggested response. Maybe it was just a really good suggestion...or maybe people don't like thinking too hard and tend to go with the first thing they see that sounds about right. With a much larger sample size, we could run an A/B set of surveys to see if different suggestion texts yielded different responses. That would be useful to know for future surveys, but wouldn't necessarily benefit this case study.
If I were to do it again, I would change the Goal question to be a checkbox answer question: multiple choice, choose all that apply. There are only a handful of primary use case goals, and I could include an "other" option for anyone with a fringe goal. It would require less effort from the respondent and it would be easier to tabulate the results.
Summary of survey results is included with my Customer Journey Map on Miro ("Data Sources" frame).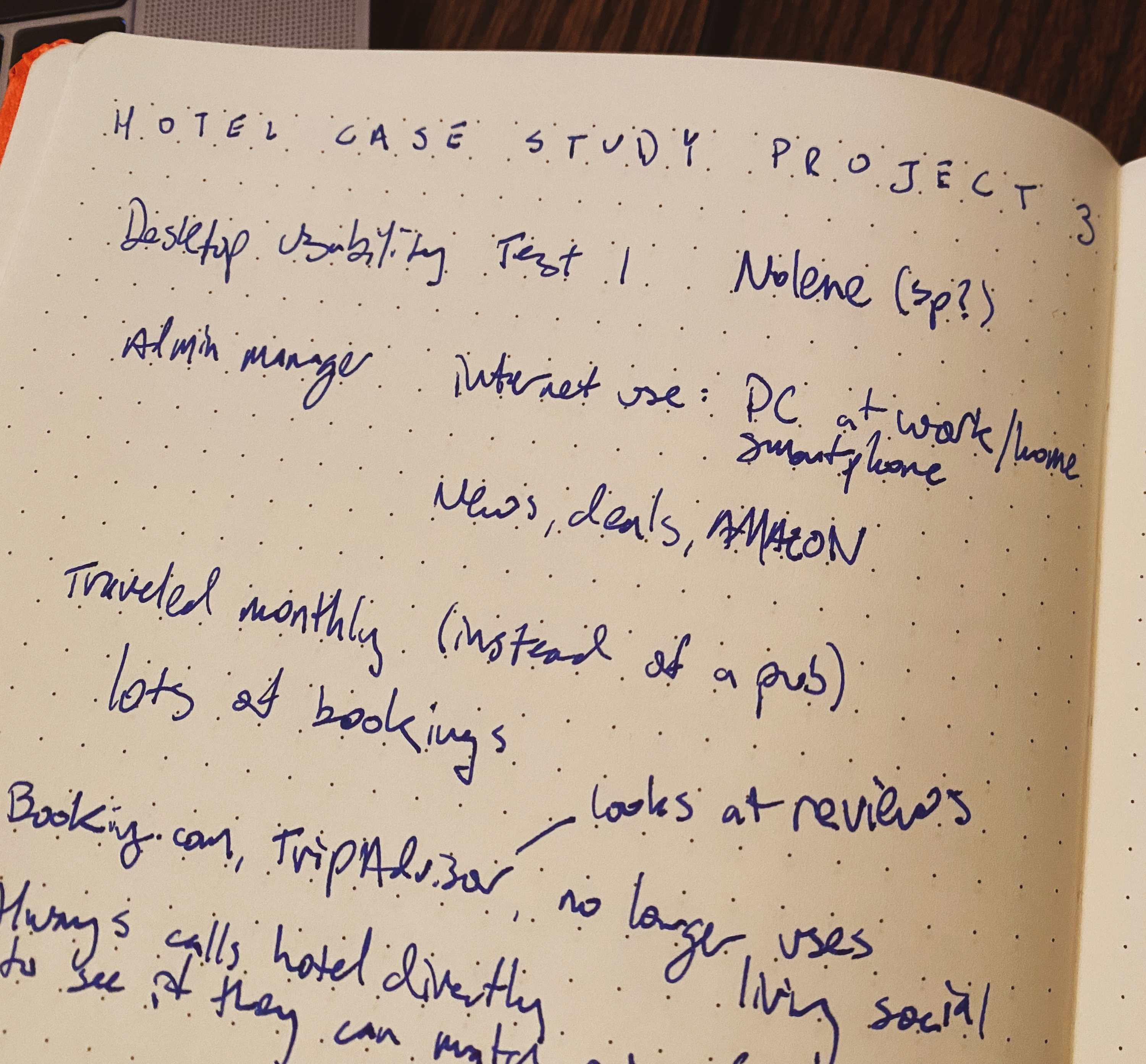 In-Depth Interviews
At the start of each Usability Test session, we interviewed users to learn more about their past experiences with online hotel booking. I interviewed one user, a colleague interviewed two others. Interview topics included:
Context of use
comfort level with technology

type of devices they use

apps and sites they frequent
Behaviors
where do they travel, why do they travel

how do they usually go about booking hotel rooms online
Goals (focusing on their most recent online booking experience)
what did they expect to accomplish

how successful were they

what helped and what got in the way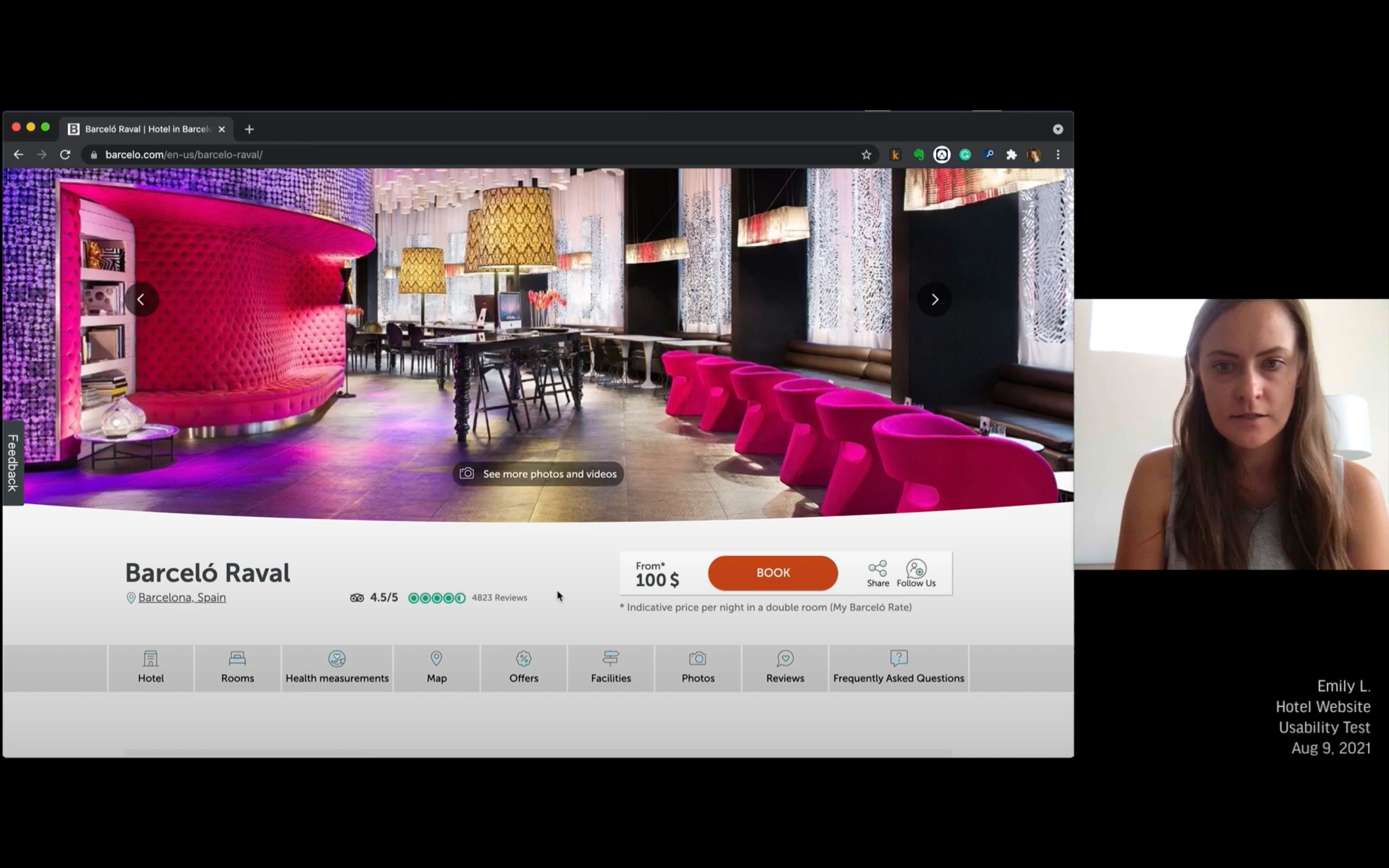 Usability Testing [Screenflow]
We conducted usability tests to gather qualitative observational data and real-time feedback about user experiences using two competitor sites. This was generative research conducted relatively early in the overall development process and might also be termed competitive usability evaluation. But the method itself was qualitative usability testing. I conducted one test, a colleague did two more.
These tests yielded lots of rich insights, including:
Pain points and areas of friction on the user journey.

Effective and ineffective implementations of conventional elements.

Positive and negative emotional responses to certain design decisions.

(Reflecting on the entire case study, not just this phase.)
I conducted this case study as part of my Professional Diploma in UX Design from the UX Design Institute. Along the way, I gained firsthand experience with the full UX process. I increased my proficiency with several tools, including Sketch, Adobe XD, and Miro. And I saw how my perceptions, personality, and creativity make me a great fit for the field of UX.
This project underscored a few key principles for me:
UX is fundamentally a research discipline

Qualitative and observational data are the most insightful

Collaborative, multisensory analysis activities can help you absorb and internalize data

Being able to sketch lo-fi wireframes by hand is a useful skill

Take notes on the things you want to do better in the next project. Not everything will translate from one project to the next, but each is an opportunity to hone your craft.

Never stop learning, never stop getting better at what you do.
Want to see more from this project?
Drop me a line and I can share anything not linked above.