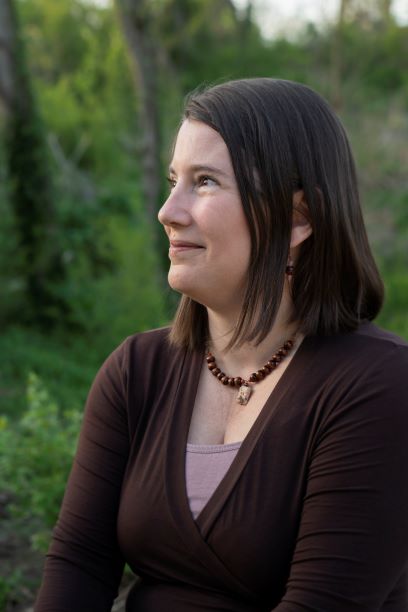 House 2 Home
Using the Design Sprint process
to create a home accessory e-commerce app
Project Overview:
Using a modified version of the Google Ventures Design Sprint process, I created a simple home accessory e-commerce app for a fictional company, House 2 Home. It took about one week to complete the entire process from understanding the problem to conducting remote user testing and interviews.
My Role: UX Researcher and Designer, UI Designer
The Process:
Understanding the problem
Conducting competitive analysis
Designing and testing a prototype
Users and Audience:
House 2 Home is designed for a target audience of urban and suburban adults who are shopping for home accessories for their new home or apartment on a budget.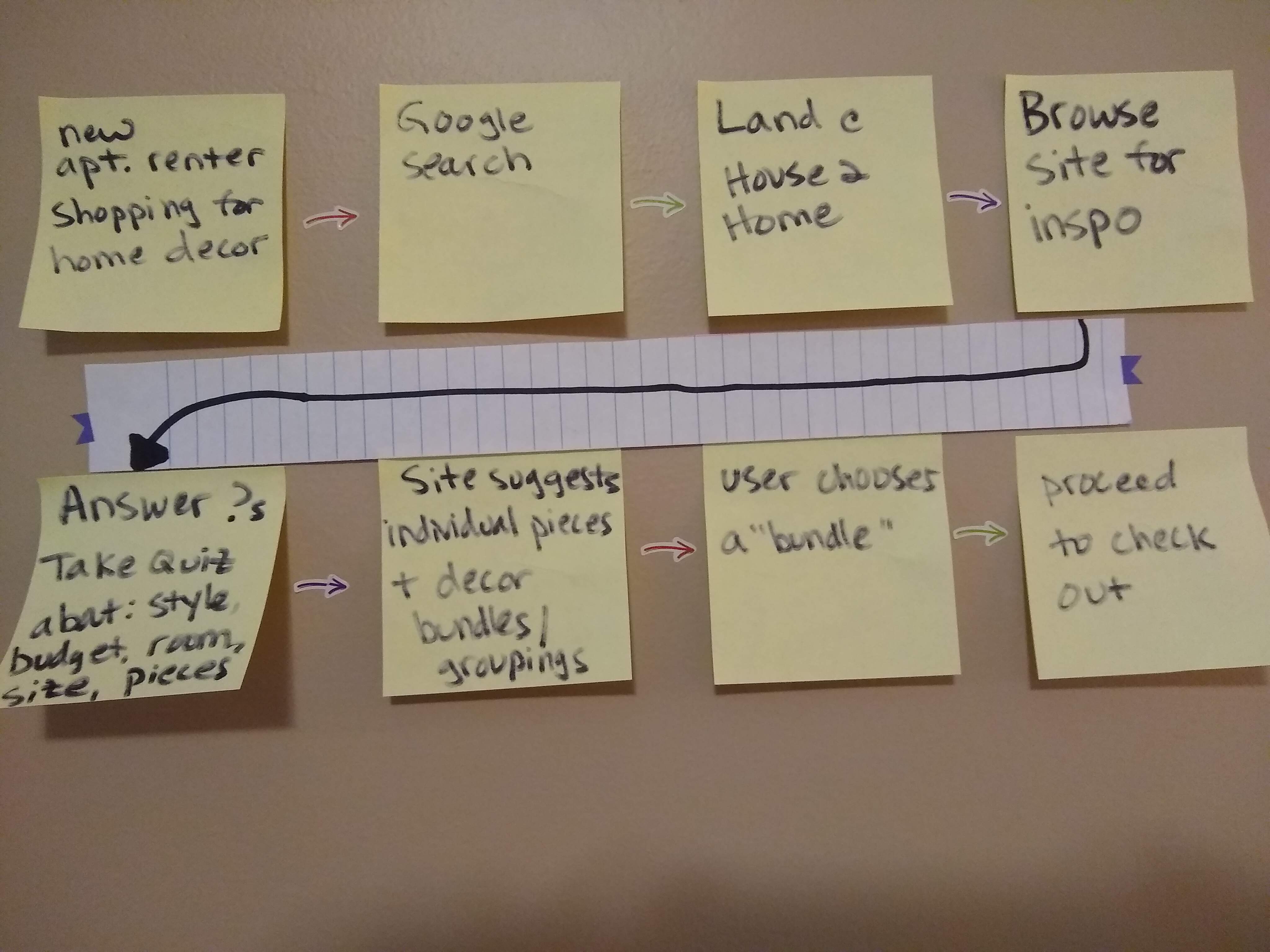 The problem to solve:
Young, urban professionals want to decorate their new living space, but they're having a hard time making decisions about what to buy and how to achieve the look they want on a budget.
House 2 Home can help them overcome this choice paralysis by learning about them and offering a curated bundle of decor items to fit their budget and style.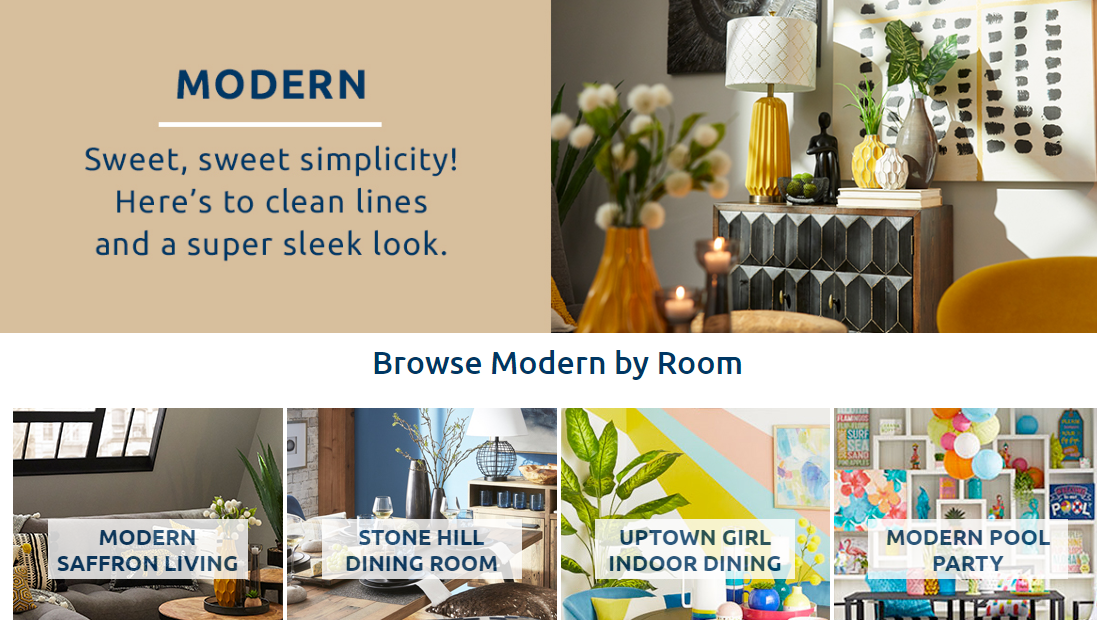 Modified lightning demos
This section includes screenshots and written reflections about products I researched for inspiration in designing the House 2 Home app.
On the At Home homepage, there's an "Ideas and Inspiration" menu item at the top of the page that allows you to choose from 5 different decor styles and then browse by room or item (rugs, storage, lighting, etc.)
Once you choose a room, the individual items in the photo are listed below with prices.
This site was clean and easy to use, offered some distinct styles and choices but not too many options as to overwhelm the user.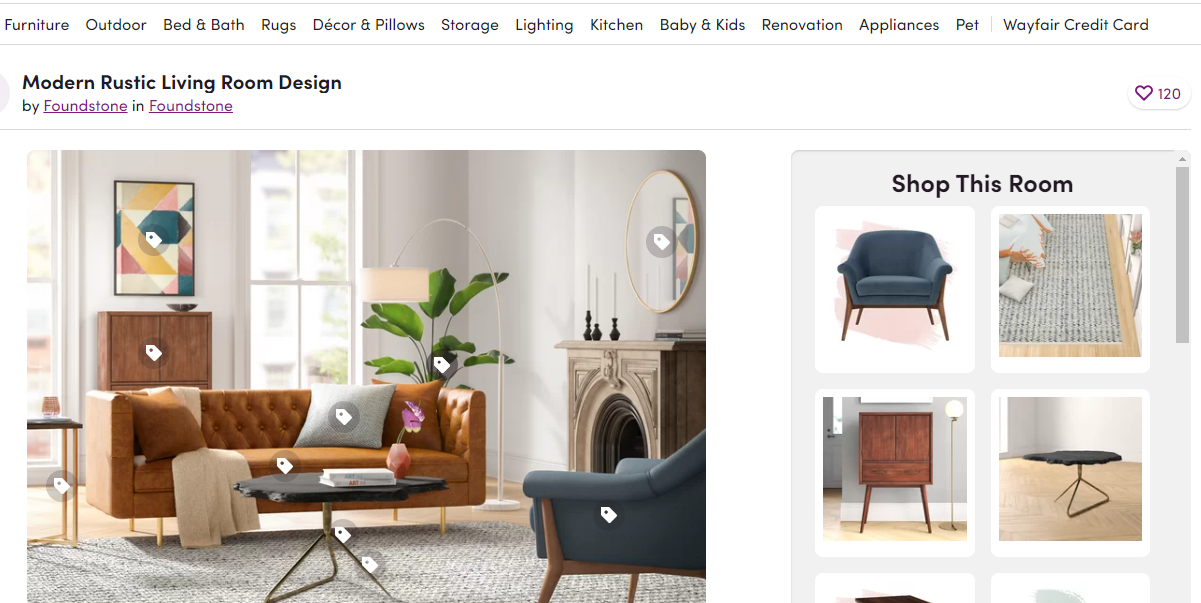 The Wayfair homepage has a "Room Ideas" button at the top of the page, where you can choose which room to view.
As seen in the living room photo at right, items in the photo are tagged, and you can click on them for more information and pricing.
I liked how you could view the rooms with the items tagged and linked in the photos for a closer look.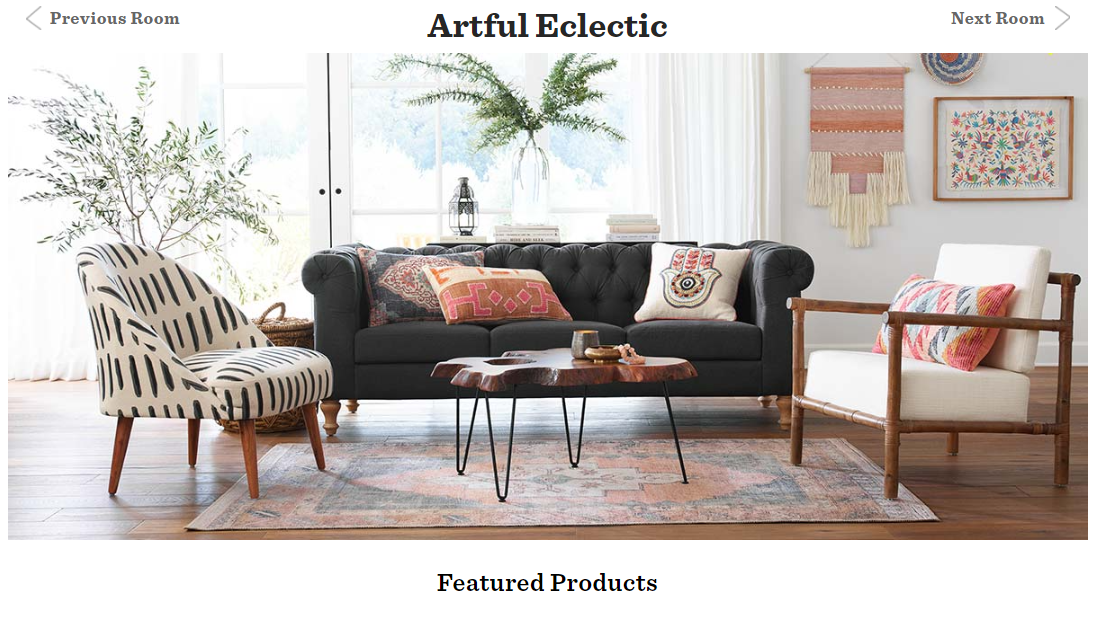 World Market has the option to shop by room, and similar to the other sites, shows you the items in the room individually, lower down on the page.
World Market has a lot of options, but the rooms and styles are organized pretty well. It also has some more decorative items in budget-friendly prices.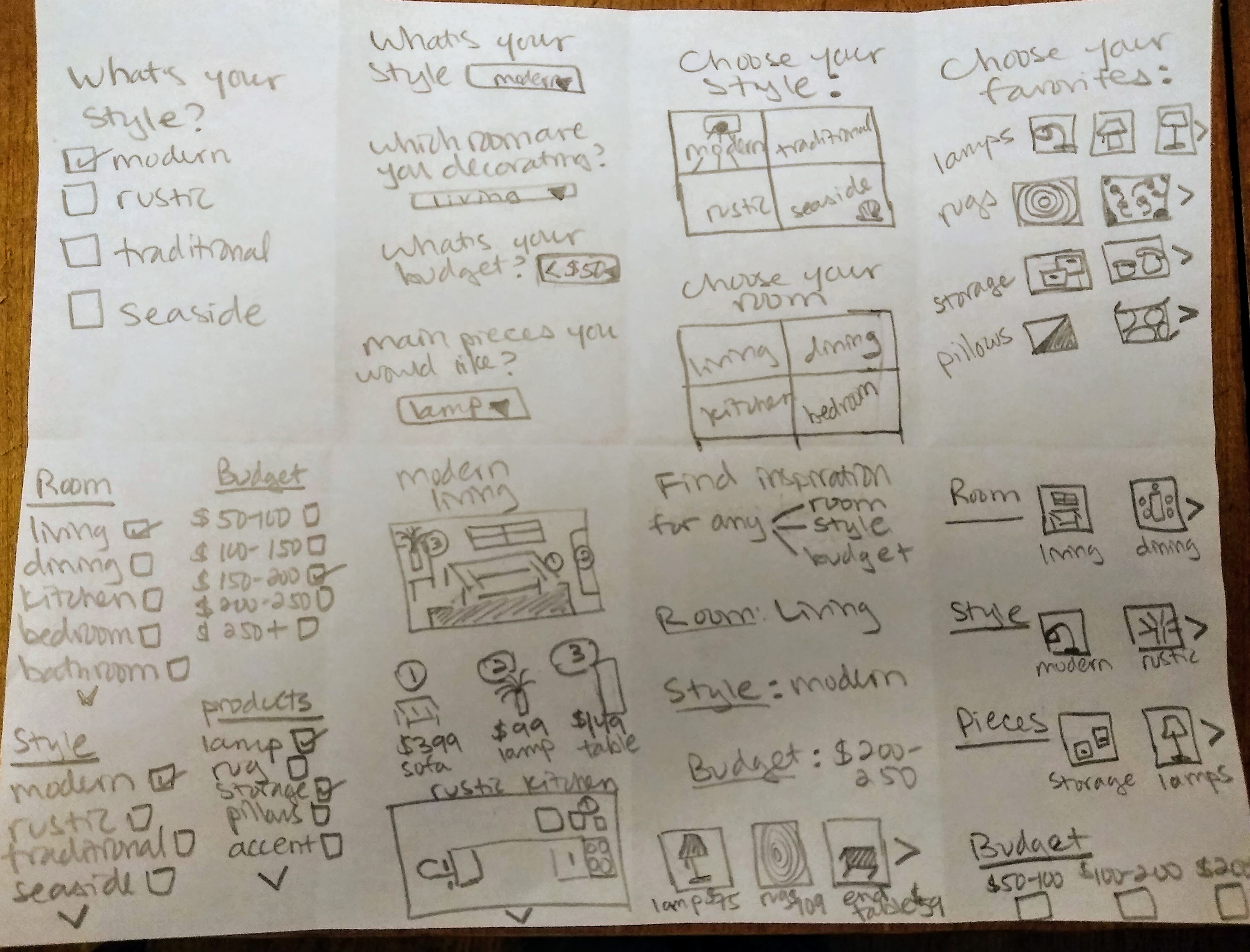 Crazy 8s Brainstorming Exercise
Since House 2 Home specializes in curating a specific look for each customer and offering them a bundle of multiple pieces that work together, the "most critical" screen selected is one where the user will choose their specific: style, room, pieces, and budget.
House 2 Home will then show the user a photo of their chosen room featuring pieces that fit their style and budget. That same screen will include stand-alone photos of each featured item with price and link to order.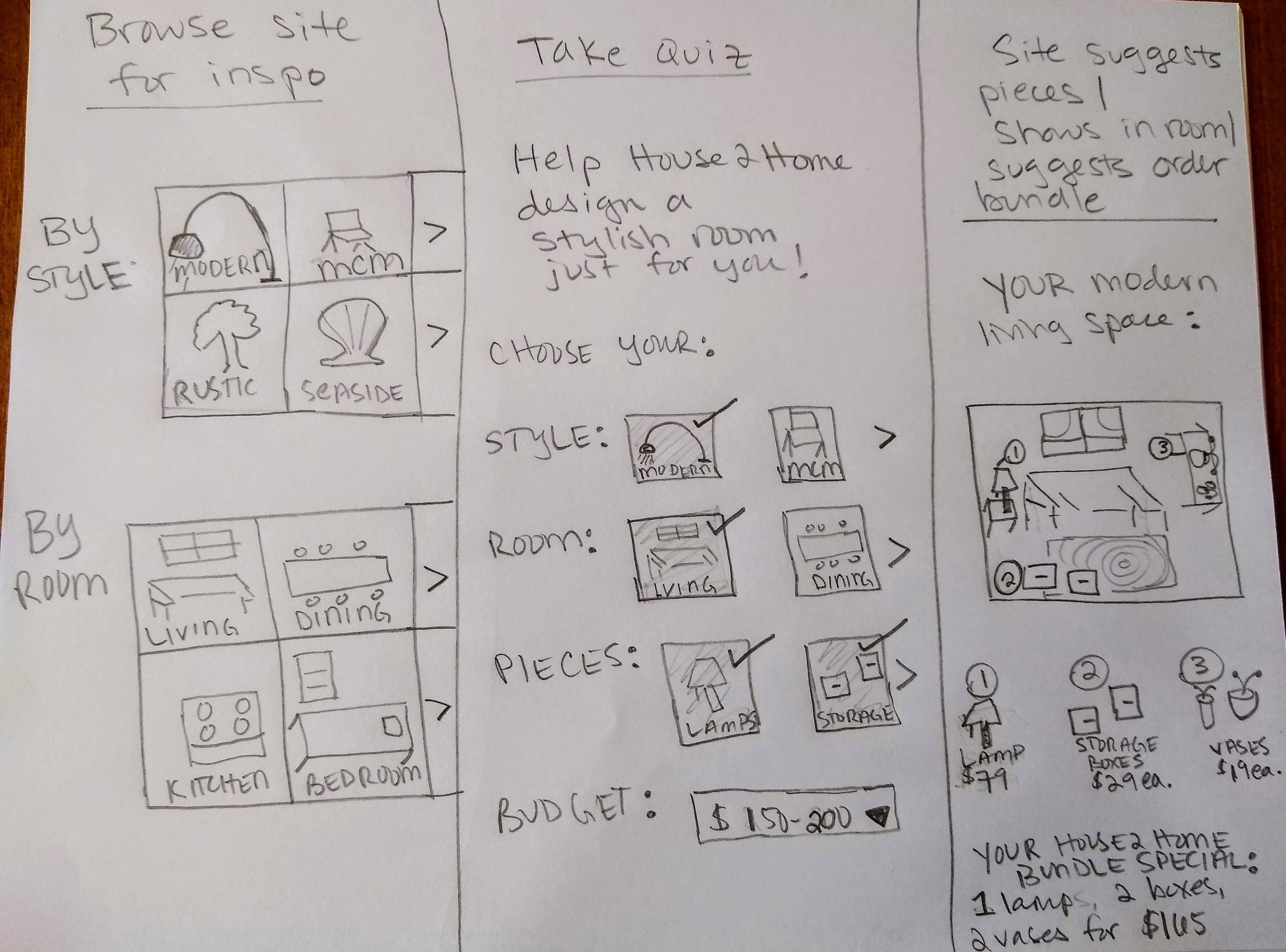 Solution Sketch
A three-panel board of the screen that comes before the critical screen, the critical screen itself, and the screen that comes after

Day 3: Decide and
create a storyboard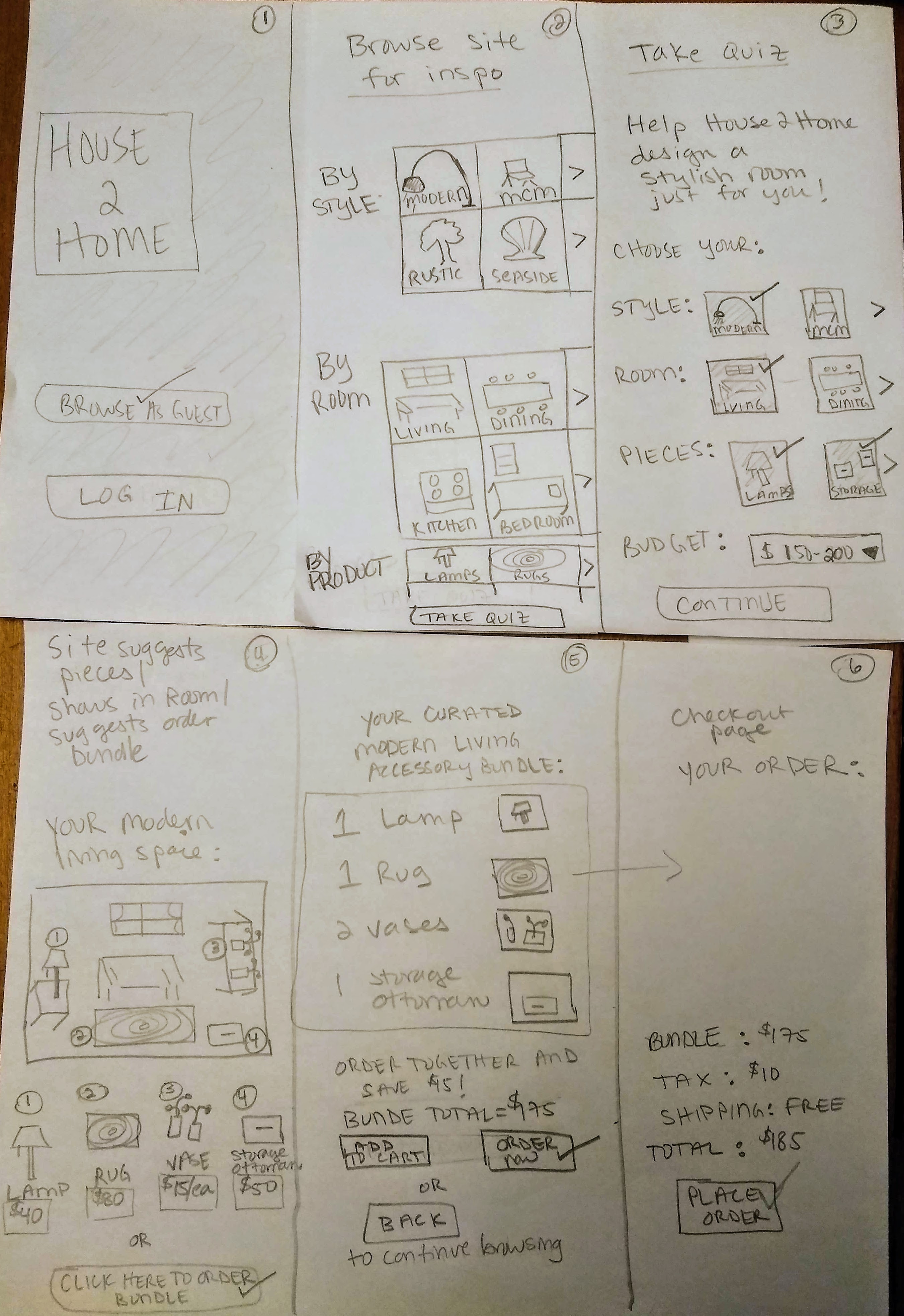 Sketching a storyboard
I decided that my solution would continue exploring the best way to offer a "curated bundle" of stylish products at a budget price to meet the needs of target users.
I created a storyboard that shows how the user would interact through the most crucial steps they need to complete the task of ordering a bundle of curated household items.
They can choose their style, room, and products they'd like to browse, see them in a room, and then order them together for a discount.
This basic flow allows the user to accomplish their goal in a straightforward way.
Day 4: Prototype
your solution
Thoughts on building a one-day prototype
I designed this simple House2Home e-commerce browsing, shopping, and checkout experience to meet the needs of target users who are decorating their new living space on a budget.
This was the first time I had designed an e-commerce user experience, so it was a challenge to do it in the context of a design sprint. If I had more time, I'm sure I could fine-tune both the visual design and the overall experience.
I utilized some UI kits and icon packs available online to help speed up the process since there's no need to design a site like this from scratch. I'm getting better at searching out those resources, and I need to continue to utilize them in my work going forward.
The prototype did not change much from my original sketches, and I was able to incorporate a number of ideas from the "Crazy 8s" exercise into the prototype.
Screenshots of the House 2 Home user flow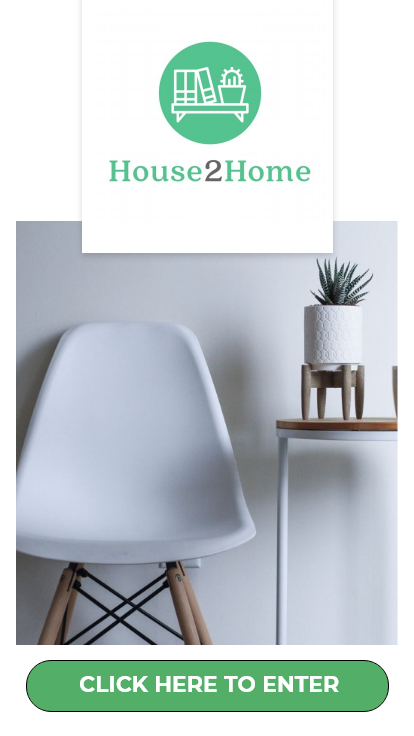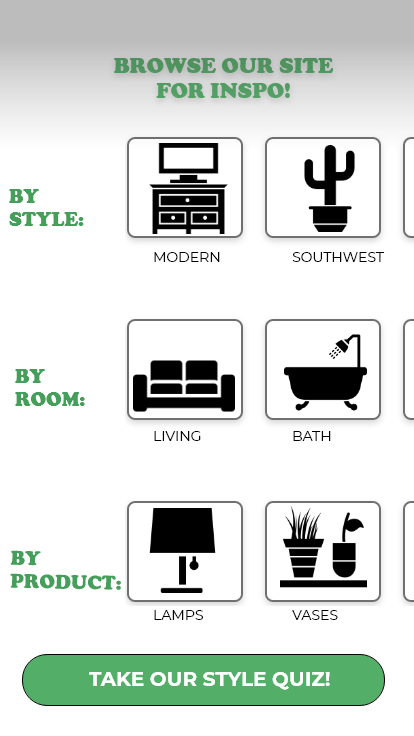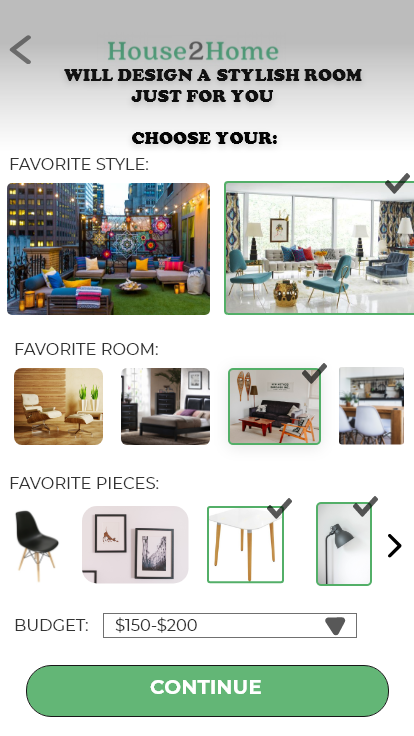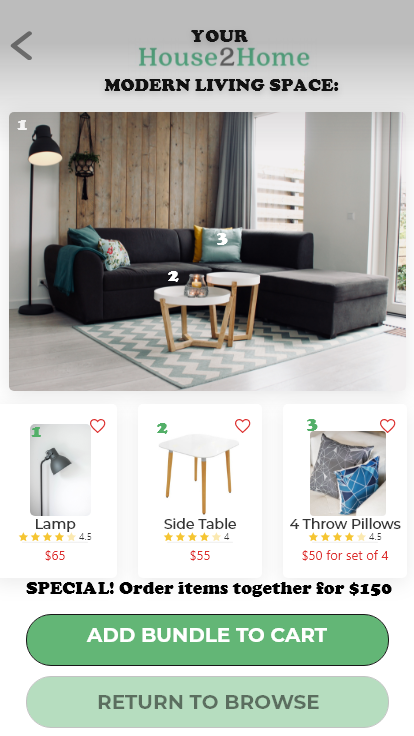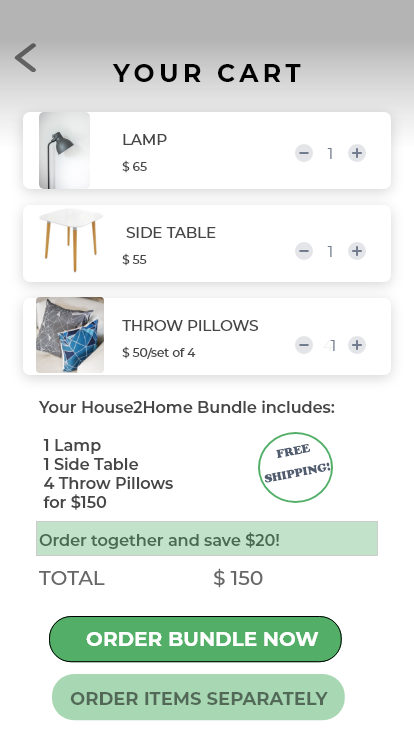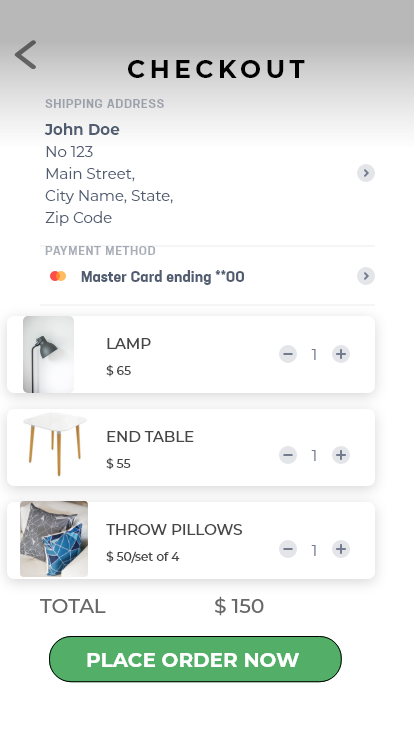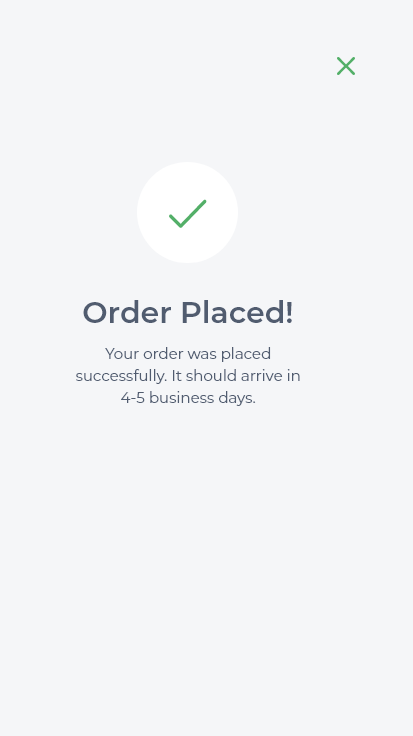 User Testing and Feedback
For this step, I conducted 5 remote user tests and follow-up interviews to reveal any possible usability issues.
Overall, users found the app to be useful and fairly easy to use, but they did have some feedback for improvement.
Some of their suggestions are quick fixes, like:
Adding a line to the first screen indicating that you can order household accessories on the site, and it's not just an idea site
Using actual photos on browse page instead of icons (which were used due to time constraints)
Tweaking some of the buttons, fonts, and colors
Adding email confirmation at the end of the flow so users can track their order
Some of the users' suggestions were more complicated, and really beyond the scope of the design sprint, but could be for "House 2 Home 2.0," these included:
Adding the capability to switch out individual pieces in the room setting and experiment with different looks before ordering
Ability to swap out items in the order bundle
Having a more interactive quiz that can take input given and make better suggestions based on how the user answers questions about their style
Lessons learned from this project
The solo design sprint process was intimidating at first because I had never done it before and it involved a tight turnaround time.
I was mainly concerned that I wouldn't be able to find enough usability testers to do all the tests on the same day, as specified in the project guidelines. Due to scheduling conflicts, we ended up doing the tests over two days, but it worked out in the end.
Since I am not an experienced artist, I did like the fact that the sketches were expected to be done quickly and simply. I learned that I can sketch something acceptable and usable when under pressure.
This project really pushed me not to overthink things (which I tend to do), and just get ideas down and quickly decide which to move forward with. Overall, it was a good exercise and experience, and I feel quite proud when I look back on what I accomplished in such a compressed time frame.