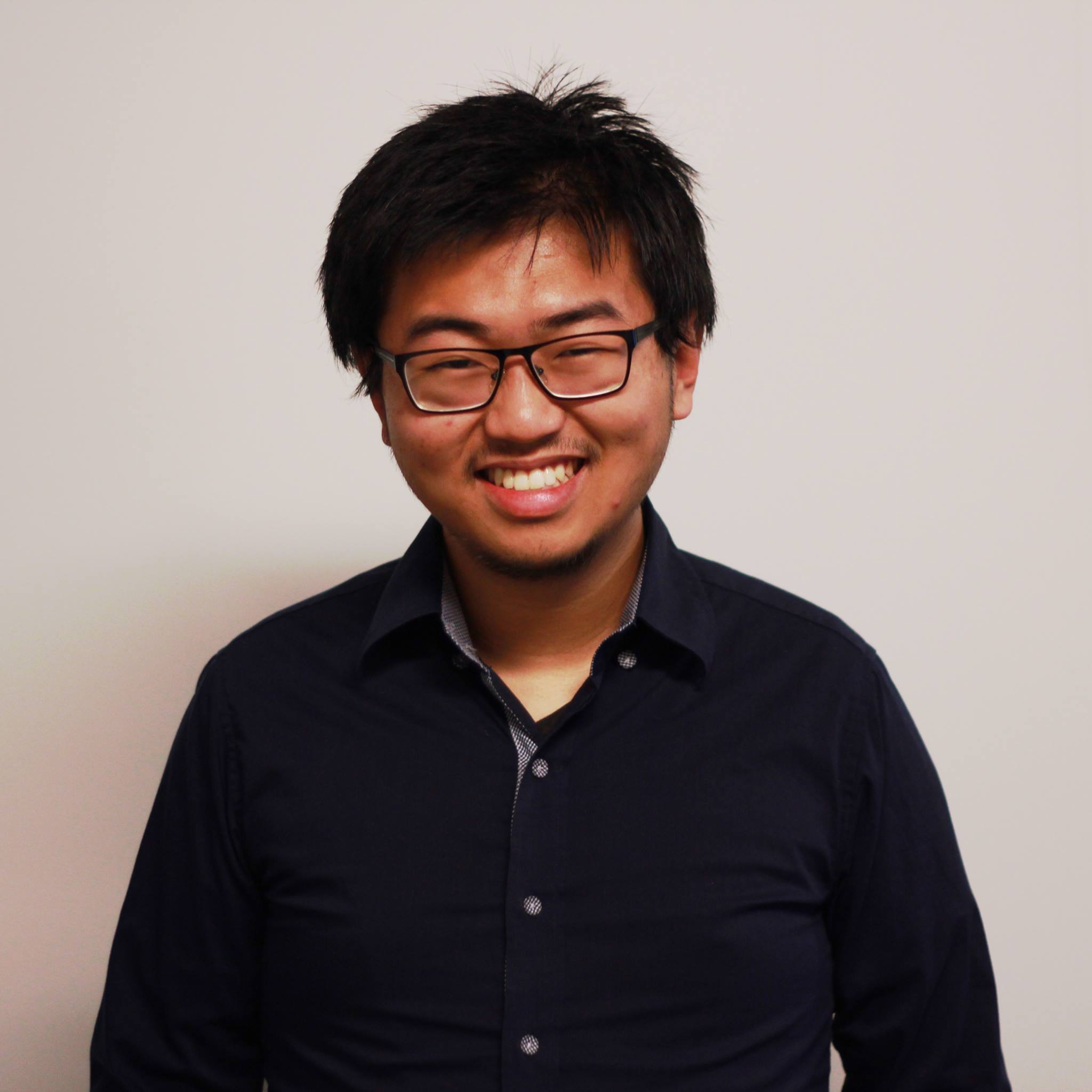 Tian Zhao
Product Designer
Kapture
Toronto, Canada (remote) as a
Digital Product Designer (Full-Time)
at Consensys - Team Kapture.

Consensys is the name of the business behind Kapture - an AR and blockchain-based experiential brand engagement platform that enables new, unique brand marketing and engagement by making followers and brands, "good friends." It's also a product that's pioneering a new concept known as the "decentralized brand economy". Decentralized brand economies are communities and decentralized marketplaces for brand-related assets.
Scope of Work
Admin
Product Timeline (inclusive dates): November 2019 to Present
Product Platforms: Mobile (Consumer) & Web (Enterprise)
Product Type and Status: For-Profit Enterprise | 1.5+ years old
Work
Team Structure, I collaborated with with 3 developers, 1 product manager, and the CEO of the product.

Client and/or Problem Statement: research has shown that more than half (58%) of consumers aged 25 to 34 say they'd be likely to spend more money on a brand's products and services if they are part of meaningful brand communities.
Product Verticals
Product Summary: B2C/Consumer Social Media and B2B/Enteprise SaaS
Business Vertical:  Social eCommerce + Entertainment
Technology Vertical: Distributed + Cognitive + Connected Computing (Blockchain + AI + AR)
Background

Product: https://kapture.studio
Company: https://consensys.net/
To learn more about this company, check this article out published by Consensys called Decentralized Brand Economies: The Key to Blockchain Mass Adoption
What is Kapture?
Digital Collectibles: A user may receive a digital collectible based on brand follower engagement milestones. This enables gamification through sharing, trading, and redemptions.
Experiential Quests: Longer running storylines drawn on a digital creativity canvas drive deeper engagement than independent tasks, as evidenced by the successes of online role-playing games such as World of Warcraft. This interactive style creates the opportunity to engage more often, trigger rewards, collectibles, and gives followers the chance to reach influencer status.
Reward Points: A customer may accumulate "Reward Points" by attending or watching events, through on-platform/ecosystem purchases, etc., and exchange them for collectibles, personalized experiences, and/or merchandise.
Decentralized Marketplaces and Brand Teams: Brand followers bring the community to life through sharing, trading, and redeeming digital collectibles and rewards points within and across brands. This creates network effects that will drive decentralized brand community economies.
Challenges & Objectives
User Problem(s) and Product Goal(s): twofold, Kapture would:
For consumers - provide a one-stop shop for consumers who are fans or superfans of whatever intellectual property they love to be immersed in a digital economy and entertainment lifestyle. This lifestyle would involve fans partaking in a variety of activities that are ultimately a part of a networked narrative such as collecting digital collectibles by taking photos, solving puzzles in a community to uncover fan points and collectibles as a practical outcome of delving deeper into the storyline, as well as being able to trade and redeem said items in order to be a part of something larger than themselves.
For enterprises - provide a one-stop shop for brands to engage with their fans in a more meaningful fashion. This value lies in the fact that pragmatism is built into the fabric of the fan experience. We do this by enabling brands to create network narratives in a more practical way by embedding digital collectibles and fan points into the entire user journey. By doing this, brands would be creating fan engagement ecosystems as opposed to gimmicky experiences. Brands are already trying to capture as much mind-share as possible, but instead of competition - we'd be enabling a cooperative environment where all fan communities can flourish.
User Research, Strategy, and Analysis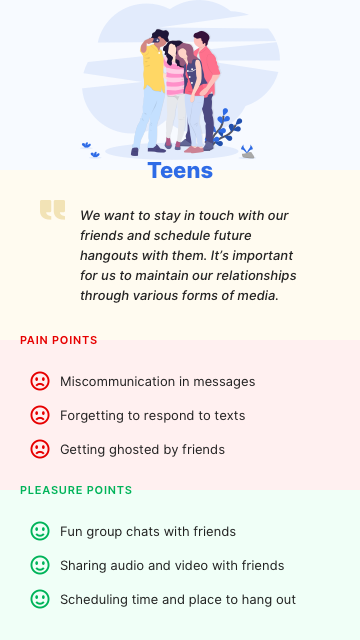 Persona
89% of people used a cell phone during their last social interaction. 82% felt it degraded the conversation.
40% of Americans identify as lonely, up from 1 in 10 in the 1970s.
One in four Americans have no trusted confidante; up from 1 in 10 in 1985.
Less than half of American kids live in a traditional family home, a significant decline in family households since the 1970s.
There has been a 40% decline in standard measures of empathy since the 1990s.
There has been a 24% rise in suicides between 1999 and 2014.

Only about half of Americans trust their neighbors, and even fewer younger and more urban people trust their neighbors. (Fast Company, 2018)
Ultimately - teenagers were the first to popularize the use of social media and therefore Web 2.0, therefore teenagers will be the first to popularize the use of this Web 3.0 version of a prime example of social media.
Empathy Map
I mapped out the users' steps to see how I could simplify their journey to help them reach their most important goals with the product.
We decided to do an empathy map to best understand the value Kapture is providing for its users so as to have this be a guiding star for us moving forward.
The most important goal of centralizing, consolidating, and optimizing the rewards earning experience for a user was chosen by conducting a JTBD exercise.
The areas of the Empathy Map were determined by utilizing a strategy consulting concept called MECE, which stands for "Mutually-Exclusive and Comprehensively Exhaustive". This was used in conjunction with the methodology of Hierarchical Task Analysis.
Additionally, a mix of guerrilla user interviews and secondary user research was carried out to understand how the users felt as per the empathy map and helped me to better understand how to apply existing UX principles and laws into improving the design iteratively.
This empathy map helped to roadmap out new features and how best to update our copy as well as focusing the design of the product on the concepts of "experiential engagement", "economic utility & control", and "networked narratives".
Ultimately this helped determine the Happy Path that needed to be optimized for:

"I need to be a part of a brand ecosystem that I'm a fan of by being a part of a networked narrative. In order to derive value from that, I would need tangible outcomes from this experience such as collecting items that can be traded and/or redeemed vis-a-vis deciphering codes and uncovering clues to delve deeper into this brand's world"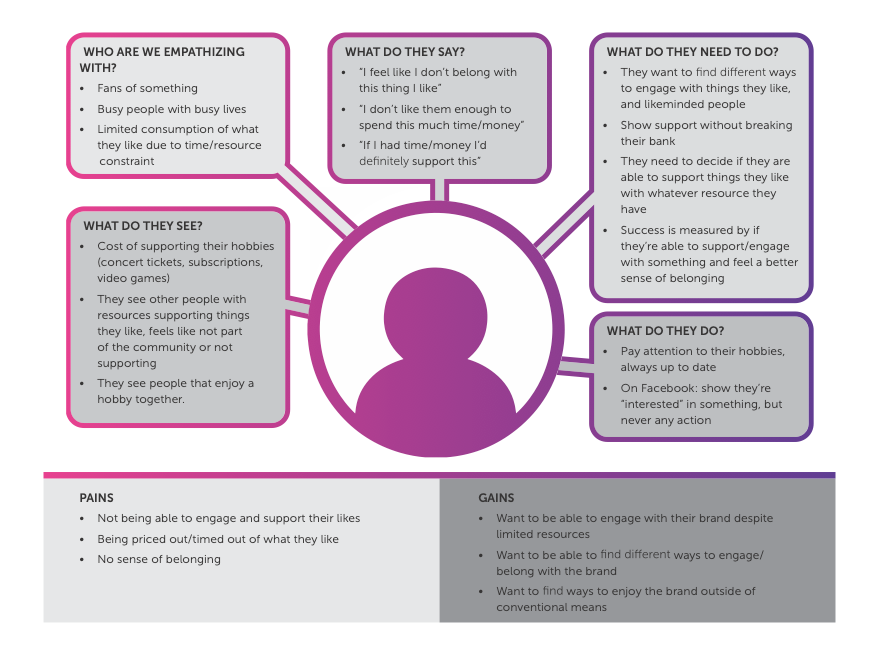 Wireframing
At the beginning of my design process, I created some high-fidelity wireframes using Sketch in order to convey the concept to my team before I went ahead with my first set of mockups. There were 2 iterations of mockups that came after this first and only round of wireframing.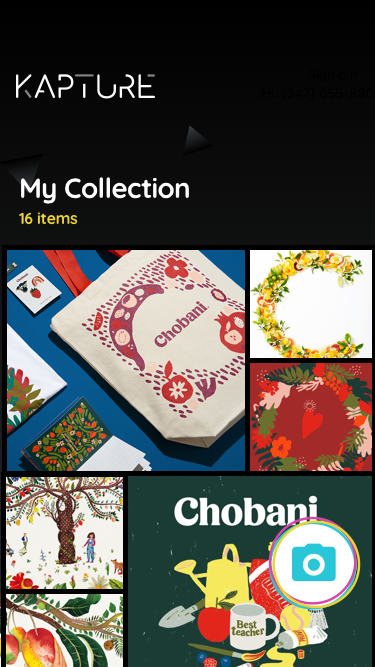 Before Shots - Mobile Designs for Consumers
The following were areas I had made improvements in:
Atomic + Molecular + Organisms:

Navigation
Overall Branding
Collection & Campaign Cards
Collectible Details
Profile and Points Wallet
Historical Transaction Details
Empty + Error + First-Time States

Templates & Pages

Onboarding
Collecting a Collectible & Fan Points

Redeeming a Collectible & Fan Points

Sending/Sharing a Collectible & Fan Points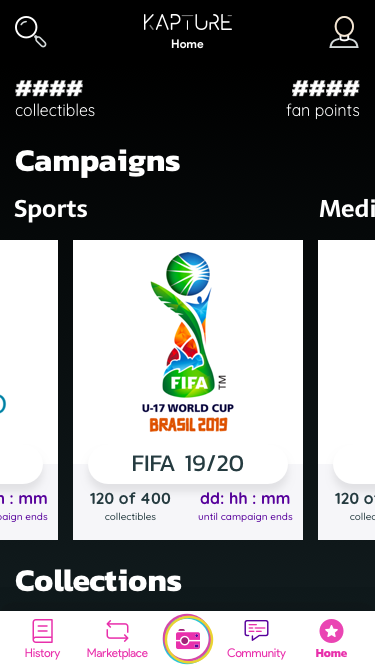 After Shots - Mobile Designs for Consumers
The following are the major design principles that I applied throughout my redesigns:
Aesthetic Usability Effect
Fitt's Law
Hick's Law
Jakob's Law
Miller's Law
Parkinson's Law
Postel's Law
Tesler's Law
Law of Common Regio
Law of Proximity
Law of Uniform Connectedness
Peak-End Rule
Serial Position Effect
Von Restorff Effect
Zeigarnik Effect
Current MVP Prototype
This is the current prototype of the Kapture MVP in its Ionic-framework design.
The reason why Ionic was chosen was for its multi-platform ease-of-use for developers to work on. Kapture being a Progressive-Web-Application and being a team comprised of intern developers mostly meant that we had to work efficiently and therefore Ionic was chosen by our senior product designer as a means to expedite the developers' work.
We do intend Kapture to be a native mobile app in the near-term, however.
Graphical/Visual/Marketing Design
The following are all the design assets that I worked on for all of Kapture's marketing/business-development endeavours leading up to the Ethereal Summit 2020 launch/activation.
You can learn all about the Ethereal Summit 2020 launch/activation here: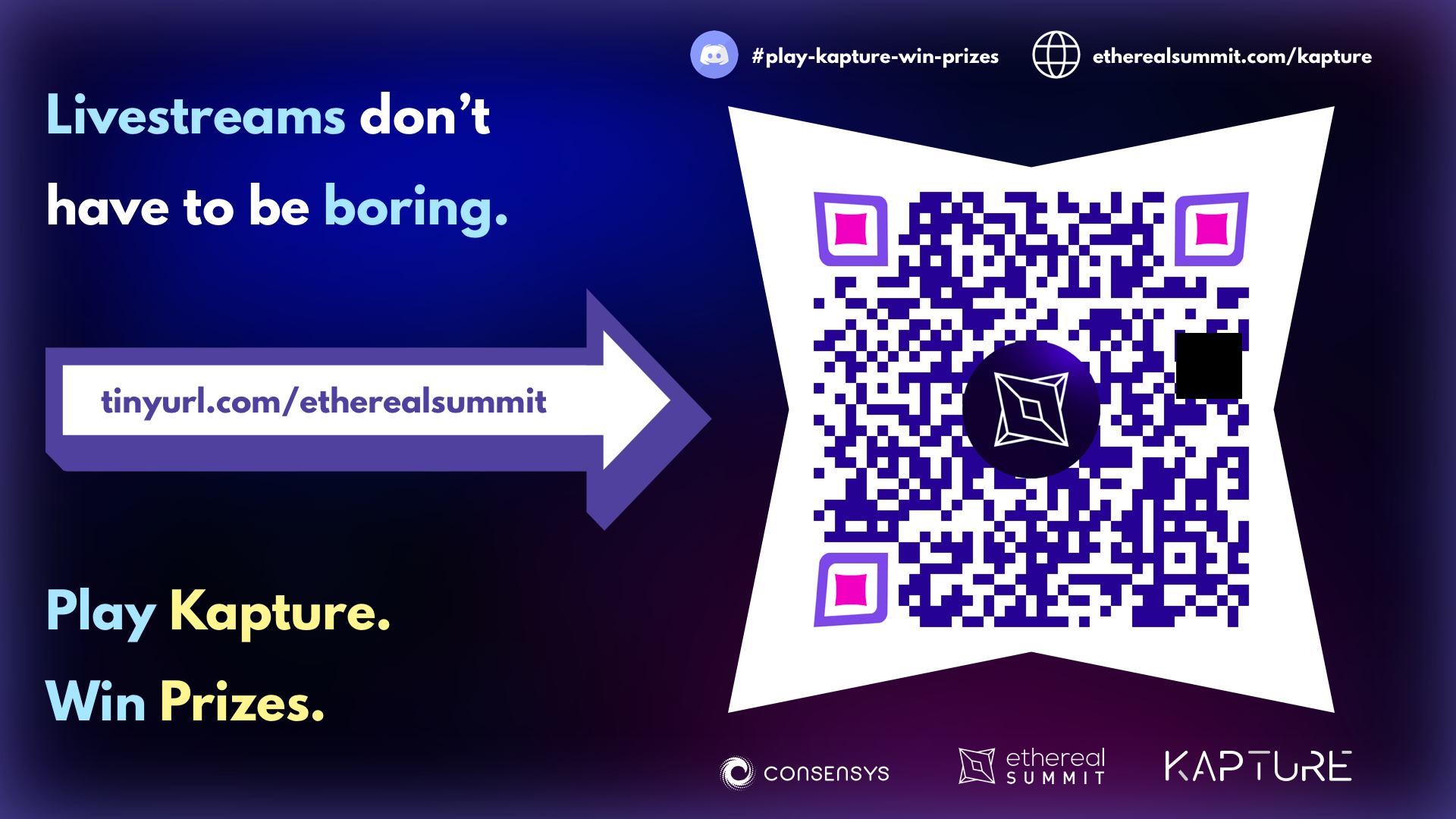 Onboarding Banner
This was used during the Ethereal Virtual Summit 2020 to entice participants/viewers to scan and therefore receive their very first onboarding collectible. Additionally:
The bottom are all the imagery I designed whereupon the user is supposed to snap a photo of in order to "Kapture" their collectibles. In other words, a viewer is supposed to take a photo of these images in order for Kapture's image recognition software to detect a collectible for the user to be able to save to their collection.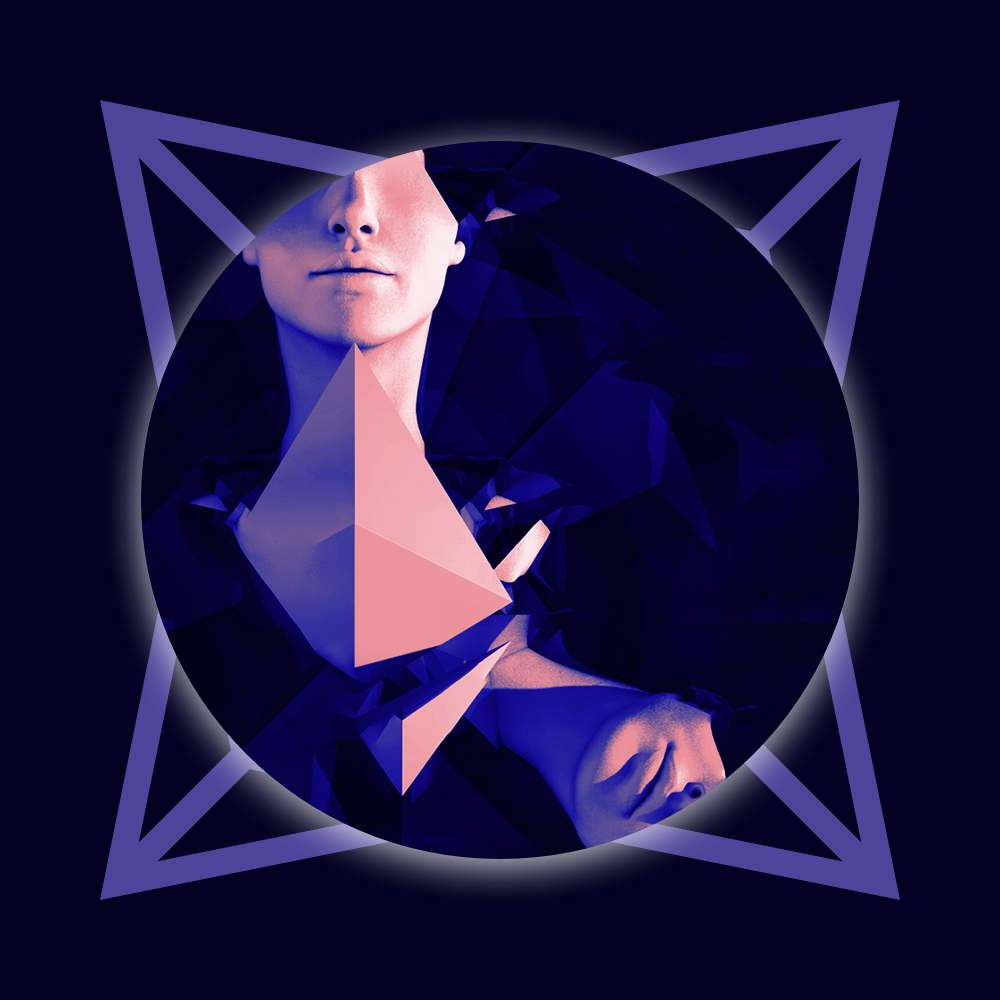 Collectible Imagery
To the right and bottom is all the imagery I designed of the collectibles in-and-of-themselves. In other words, these images are of the digital collectibles that would allow the user to be able to send to others as well as redeem for real-world prizes. These digital representations are recorded on the Ethereum blockchain as an ERC-721 token and thus are unique, each, and every one of them.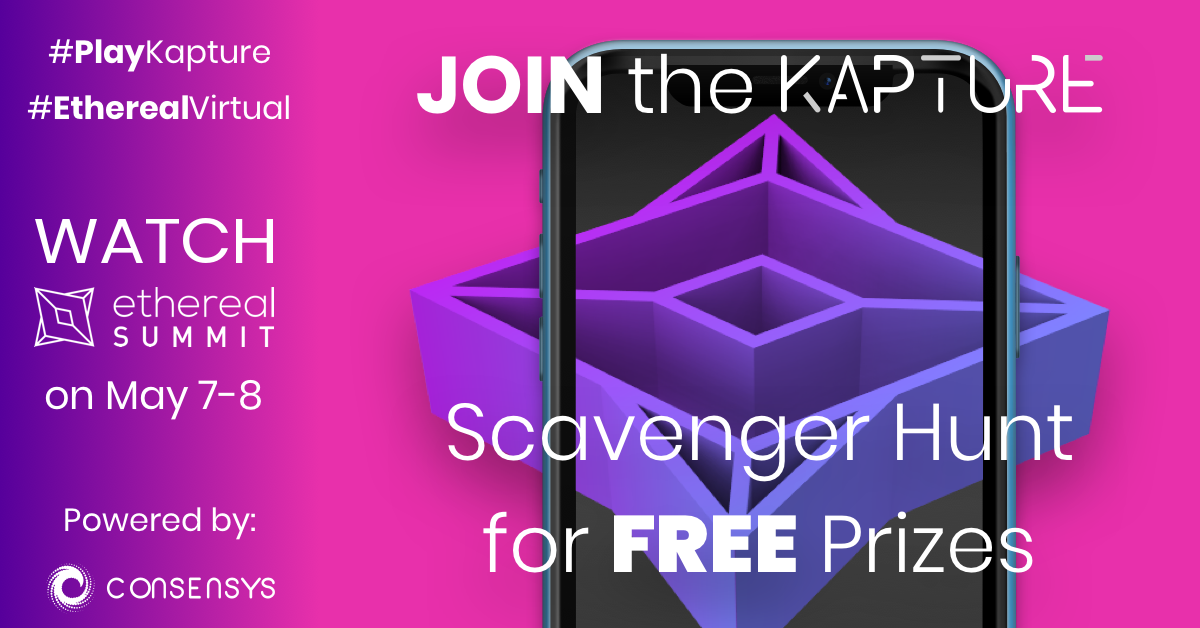 Social Media Banners - LinkedIn, Facebook, and Twitter
To the left and bottom are all promotional imagery used for the Kapture X Ethereal Virtual Summit 2020 launch.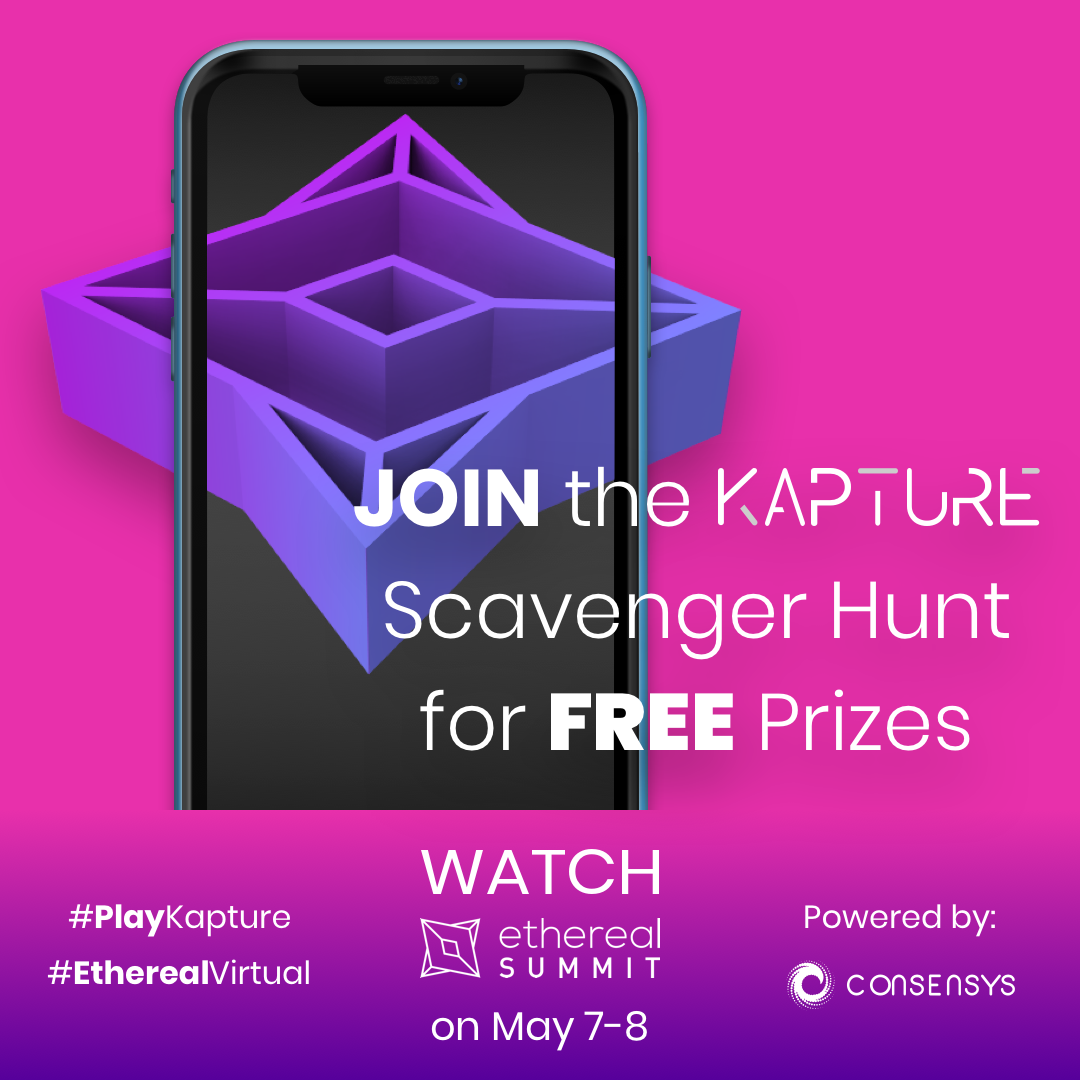 Social Media Banners - Instagram
To the right and bottom are all promotional imagery used for the Kapture X Ethereal Virtual Summit 2020 launch.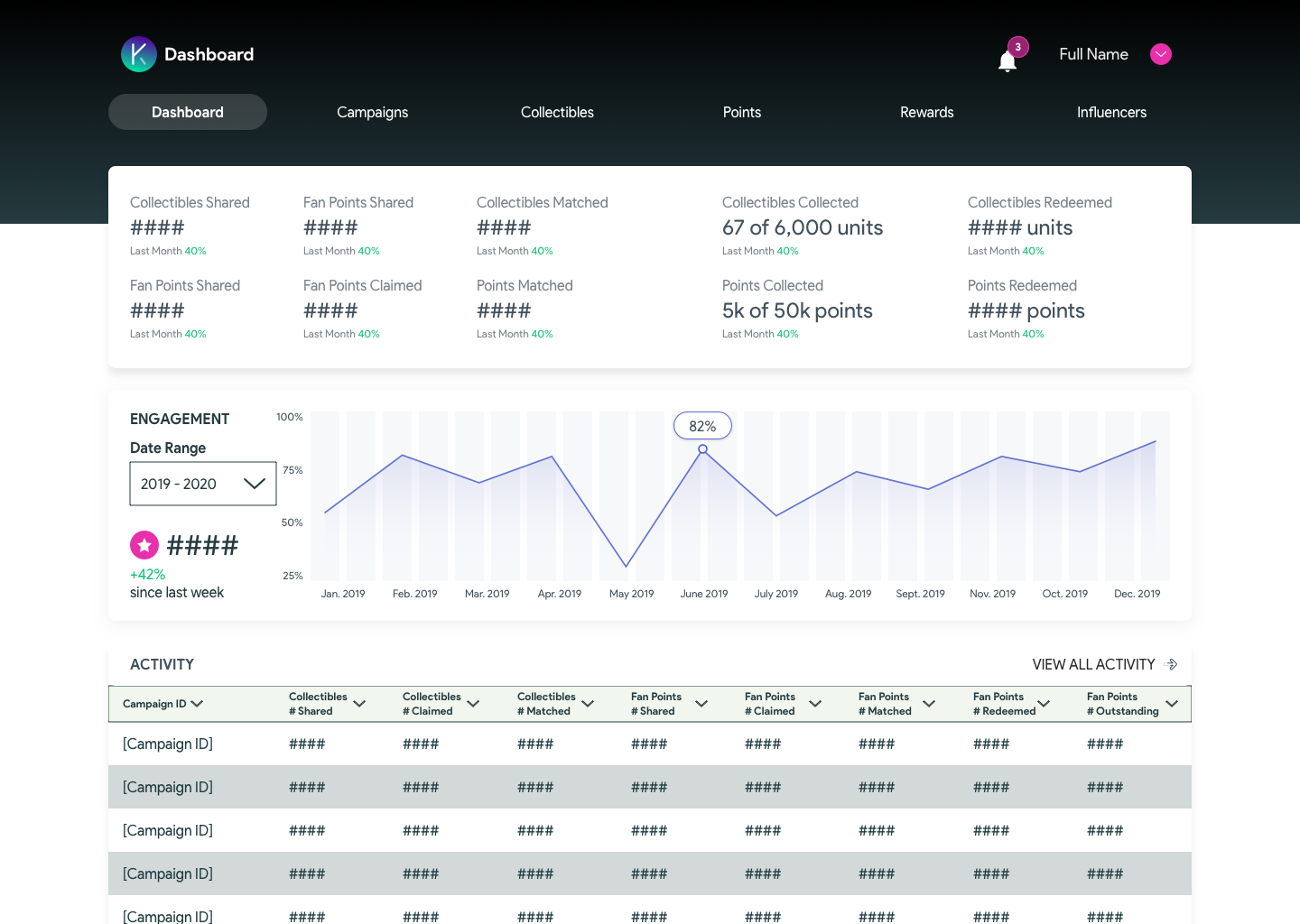 Web Design for Enterprise
The following are the major design principles that I applied throughout my redesigns:
Aesthetic Usability Effect
Fitt's Law
Hick's Law
Jakob's Law
Miller's Law
Parkinson's Law
Postel's Law
Tesler's Law
Law of Common Region
Law of Proximity
Law of Uniform Connectedness
Peak-End Rule
Serial Position Effect
Von Restorff Effect
Zeigarnik Effect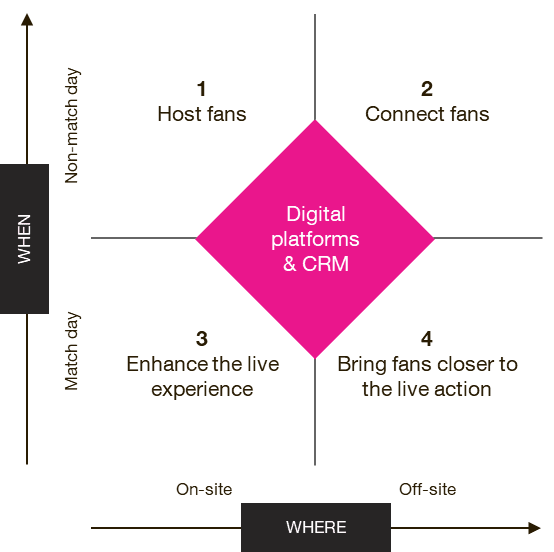 Insights
Let's take a look at some of the relevant broader trends in brand community engagement. The sports industry is a great example, as it has been, and still is, building active digital brand communities around its many forms: traditional sports teams, leagues, fantasy, and eSports. The sports industry was an early adopter of new strategies that support high daily engagement. For this, and many more reasons, the sports industry is an exemplary representative of what other brand verticals are currently going through, and will face in the future.
Learnings from the digitization of the sports industry:
Trends set to revolutionize the sports fan experience further include:
Personalization
Interactivity and gamification
Real-time fan engagement
Creating sporting moments
Marketing in the moment Brian Josephs (2019)
Fan engagement with AR emerges as one of the most promising segments within the sports tech industry. ISPO (2019)
GDPR presents us with an opportunity to build better relationships with sports consumers who actually desire a relationship. (LiveWire Sport, 2018)
OtherMedia (2019) succinctly summarized that the right innovation:
Makes experiences shareable to maximize social media impact
Ensures the means to share – be that apps that connect easily with social media or providing a fast, free internet connection
Listens to their fans
Acknowledges, thanks, and rewards fans
Collaborates with partners, such as sponsors, ancillary service providers
Gathers data and uses it to tailor what brands can offer to their fans' needs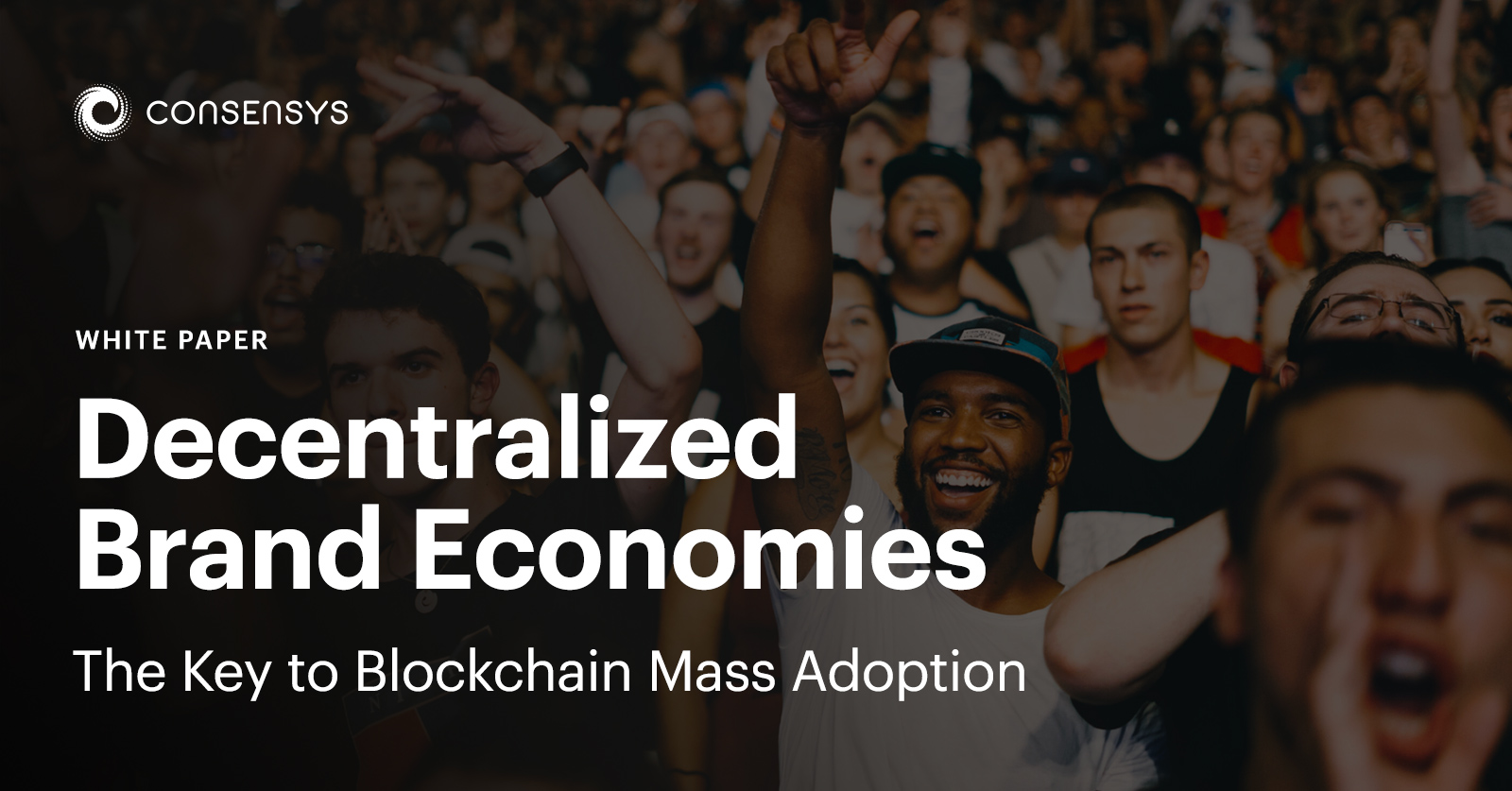 Takeaways
Kapture is a practical implementation approach for a blockchain-powered brand community engagement platform as it brings an experiential, engagement-based decentralized brand community economy to life:
Engagement is about activation, and blockchain by itself is not a great activation technology. However, it is an excellent incentivization technology. A brand would, therefore, need to combine blockchain technology with an activation-friendly technology such as AR/VR, and audio combined with Machine Learning/AI to create an experiential end-consumer focused platform.
The next step is to figure out what is the engagement and economic fabric of stories, quests, collectibles, loyalty points, and marketplaces that enable economic utility for brands and their followers and how this fabric could be stitched together. This brings us to the user value proposition.
Tian, as an intern, took on the role as the lead designer on the ConsenSys Kapture product team. Despite impossible go-live timelines for two product activations in March and May of 2020, including a feel User Interface redesign, he produced high-quality designs that the front-end developers could readily use. He also was always ready to push the envelop and make recommendations on more fundamental design options such as around activation gamification. He was a great team player and very passionate about the product and its larger purpose of creating a digital village at a global scale.

Tian is a wonderfully kind and compassionate human being and I am looking forward to the day we will have the chance to collaborate again.
Andreas Freund - Founder of Kapture
99%
Final Task Success Rate
89
System Usability Score
92%
Customer Satisfaction score
1,300+
Active Users within 2 Days
35K
Transactions made within 2 Days